Laos PDR Map – GT Rider Touring Map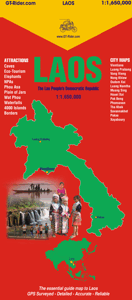 The GT Rider Laos guide map – the best, most accurate, reliable and detailed guide map of the Laos PDR.
The GT Rider Laos map has been approved, recommended & used by the National Tourism Authority of Laos. Copied by the Lao government National Geographic Mapping Office, used by NGOs & recognized by govt agencies – Lao & International – it definitely is the best guide map for the country.
AREA COVERED
The whole country from Boten and the Chinese border in the North, to Veun Kham and the Cambodian border in the South. Laos is at the crossroads of Indochina and there are 16 international border crossings on the map to help you decide where to enter and exit the country.
A highly accurate map, ridden & surveyed on the ground with a GPS = accurate road classifications & kilometers, plus village names checked & read from the village sign posts – not fudged from old military maps. The amount of accurate detail on this map can keep an adventure rider exploring in Laos for a month.
With thirteen city maps and ten road elevation profiles of the country's most spectacular roads it makes planning your trip a lot easier. The elevation profiles are an absolute must for cyclists travelling in Laos.
Wherever you start from in Laos, this is the only accurate reliable map to use for touring Laos!
Laminated- waterproof – indestructible. You can't lose, hundreds of kilometres of twisting mountain roads – asphalt & dirt!
1st Edition November 2002
2nd Edition August 2003
3rd Edition November 2005
4th Edition March 2009
5th Edition March 2012
The 2012 GT Rider Laos guide map has
1. The topography beautifully shaded in
2. Hundreds of kms of new dirt roads & trails – GPS Surveyed
3. New more detailed city maps.
4. Two new elevation profiles on Route 1C: Pak Mong – Vieng Thong & Vieng Thong – Xam Neua, making a total of 13 elevation profiles of the Northern Laos' best motorcycling roads. Perfect for cyclists too!
LAOS CITY MAPS
1. Vientiane
2. Luang Prabang
3. Vang Vieng
4. Nong Khiew
5. Oudom Xai
6. Luang Namtha
7. Muang Sing
8. Houei Xai
9. Pak Beng
10. Phonsavan
11. Tha Khek
12. Savannakhet
13. Pakxe
14. Xayaboury
LAOS GPS ROAD ELEVATION PROFILES
1. Route 3 Houei Xai – Vieng Phukha
2. Route 3 Vieng Phukha – Luang Namtha
3. Luang Namtha – Oudom Xai
4. Route 13 Oudom Xai – Pak Mong
5. Route 13 Pak Mong – Luang Prabang
6. Route 13 Luang Prabang – Phou Khoun
7. Route 13 Phou Khoun – Vang Vieng
8. Route 7 Phou Khoun – Phonsavan
9. Route 1c Pak Mong – Vieng Thong
10. Vieng Thong – Xam Neua
Item Price: $8.00 + Registered Airmail: $5 + 7% Tax
Hard Copy – Sent to You via Registered Air Mail
NOTE: the Map Sales Cart & Checkout options are located at the bottom of the right sidebar / column.