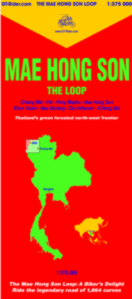 The GT Rider guide map to Thailand's rugged North-west frontier on the Burma border. This map covers Asia's legendary Motorcycle Loop – The Mae Hong Son Loop and the road of 1,864 bends.
The map is highly detailed showing scenic highlights, highways, distances, accommodation and activities en route.
Mae Hong Son Loop – Area Covered

Chiang Mai  – Pai – Soppong – Mae Hong Son – Khun Yuam – Mae Chaem / Mae Sarieng – Doi Inthanon – Chiang Mai.
First timers can easily spend 4-6 days on the loop, and dirt bike fans can spend even longer exploring the intricate network of trails criss-crossing the jungle clad mountains.
Surveyed with a GPS it is incredibly reliable, with accurate road descriptions & scores of dirt trails for the dirt adventure rider; to make most riders want to stay longer for more exhilarating action.
The Mae Hong Son Loop has the best dirt tracks and dirt bike riding in North Thailand; and this map is guaranteed to please off-road fans with its hundreds of kilometres of dirt trails. Buy one today and start planning your trip. There's at least a week of good trail riding waiting out there for you.
With the topography,  eight city and three environs maps, plus thirteen elevation profiles it is undoubtedly the most accurate map guide to The MHS Loop.
1st Edition November 2002
2nd Edition November 2003
3rd Edition November 2006
4th Edition December 2009
5th Edition January 2015

The 5th edition of this famous GTR guide map has
· 8 City Maps
1. Pai downtown
2. Outer Pai
3. Mae Hong Son downtown
4. Outer Mae Hong Son
5. Soppong
6. Mae Sarieng downtown
7. Outer Mae Sareing
8. Mae Chaem
· 3 Environs Maps
1. Pai Environs
2. Mae Hong Son Environs
3. Mae Chaem Environs
Plus
· 13 Elevation Profiles
· 30 Waterfalls
· 41 Temples
· 7 Golf Courses
· 8 Hot Springs
· 18 Caves
· 20 National Parks – Wildlife Sanctuaries
· 39 Resorts – Hotels – Guesthouses
· 10 Elephant Camps
· 12 Scenic Viewpoints
· 34 other attractions / points of interest

Unbelievable detail & information. The absolute best!
Laminated- waterproof – indestructible. You can't lose, hundreds of kilometres of twisting mountain roads – asphalt & dirt!
Item Price: $9.20 + Registered Airmail: $5 + 7% Tax
Hard Copy – Sent to You via Registered Air Mail
NOTE: the Map Sales Cart & Checkout options are located at the bottom of the right sidebar / column.