208 kms.Click Map for full-size Image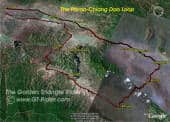 Routes 1001, 1150 & 107.
A much better big bike loop than the Samoeng loop, this is an excellent fast half day ride, with good scenery and beautiful forest between Phrao – Chiang Dao – Mae Taeng. It is best ridden in an anti-clockwise direction Chiang Mai – Phrao – Chiang Dao – Chiang Mai.
If you want to take your time then stop off at the Bua Thong waterfall
Get away late & spend the night back to nature at the Doi Farang Bungalows / Khoom Kam Kaew organic gardens in Phrao.
Run by German Michael, they have some charming classic Lanna style wood bungalows or some smart modern brick, aircon/ hot water / TV bungalows in huge gardens surrounded by fruit trees. There is also a clean well maintained pool to chill & hang out by.
Minimum 3 hrs fast ride. Ride nonstop to Phrao, and have a drink. In Phrao stop at the Then ride across to Chiang Dao and take a break at the Krua Chiang Dao.
Recommended as half day ride for a fast ride for sport / road bike riders, or take your time with recommended drink stops;
Pa Mai
Phrao
Chiang Dao – Krua Chiang Dao
More on GTR in this trip report.