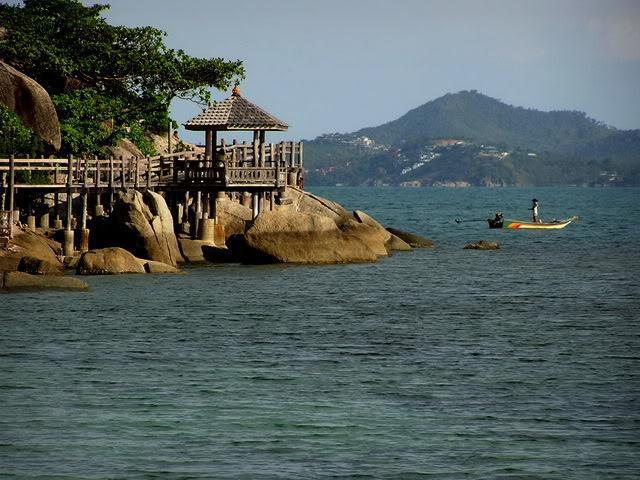 A gem island, laid back less development and a perfect idylic island to unwind.
Koh Phanggan is a little island slightly north of Koh Samui, less famous and always shadowed by the much talked about Koh Samui. Koh Phanggan is known for its full moon parties no doubt, sort of a congregation island for the backpackers. Most bikers would leave out the intenery of visitng koh Phanggan and head on to Koh Samui instead. Even if they do visit Phangan, they would leave their bikes on Koh Samui and travel to Phangan by boats.
So, 6 of us, mostly on small bikes made a plan to ride from Kuala Lumpur specificaly for a visit to Koh Phangan. The plan was to ride from Kuala Lumpur on the PLUS higway, into Sadao border crossing into road 4, to Surat thani. From Surat, catch the ferry to Koh Phangan and stay for 3 nights before heading home using the coastal road 401.
We started off at 12 midnight from Kuala Lumpur. sort of midnight express, an all nite ride towards the border. Travelling on the expressway PLUS is very safe at night, and convenient too. The rest and recreations stops along the hiway are strategically placed to, very convenient for our little tanks to be refueld, as we travelled on little bikes. 3 cubs 125cc, 1 scooter 175cc, and er6n and me on 150cc yamahan FZi.
8 hours later, we were already at the border, clearing our bikes enty permit, and immigration into thailand.The next phase was to ride straight up to Surat Thani and to the ferry terminal at Don Sak. We have travelled road 4 more than a dozen times, and we knew it was not going to be not an exciting one, but it sure is fast and we need to get to the ferry before 4 pm to catch the ferry to Phangan. Thus on the 1st day, we travelled a little over 1000km in one leg.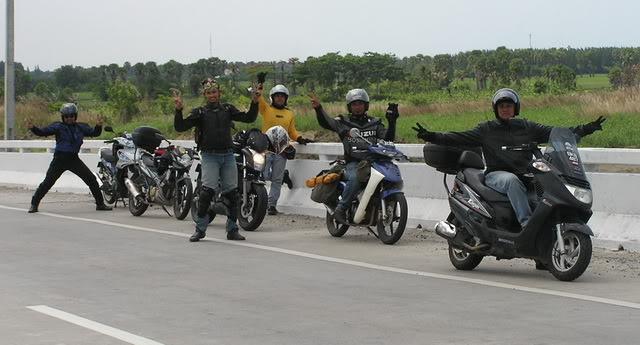 Our little bikes, mopeds and scooter.