Better Late Than Forever Quiet…
Long ago I pledged to post a report on our 1-week ride thru the gorgeous North. That was 2008. Well, little did I know how pleasantly cool the weather would be back in BKK! Yes, I admit it, I like riding far more than composing reports! Go ahead and kill me, guys!…..
Well, our vacation started on Friday November 28 when we were supposed to fly from BKK to CNX. As it turned out, our flight wasn't too comfortable and took a total of 9 hours including a short stopover at Nakhon Sawan International for dinner. We landed in CNX at almost midnight :lol:
After a good night's sleep at White Chalet, we were excited to pick up our Shadow at Boonma's warehouse, but couldn't help fretting about the battery that had so miserably failed us only a week prior. Thank God, there was enough juice, the V-twin burst to life! Our first destination: The Chiang Saen Bike Rock Party. Because we got out late, we took the 118 to CR, then the 1 to Mae Chan and finally the 1016 to Chiang Saen where we met up with our buddies from Triple M Lampang at Ban Khiang Doi Resort, a very simple place with 300 baht bungalows.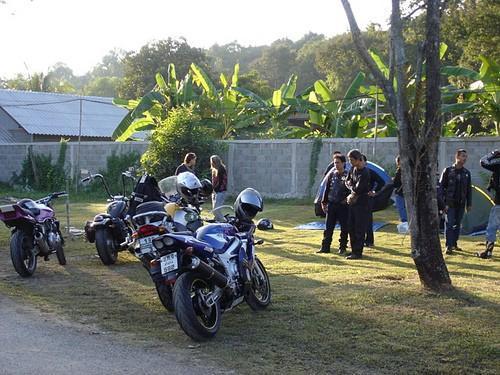 The Triple M gang made quite a noise when we rumbled into the bike week on our 28 bikes! Regrettably we couldn't quite match the locals in cool factor, as none of us chose to burn rubber in the parking lot… 8)
The party venue was in town and seemed a little cramped. We didn't find too many booths selling cool bike gear, but lots with cold biker beer :wink: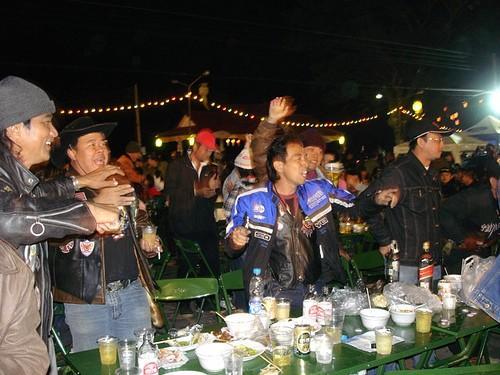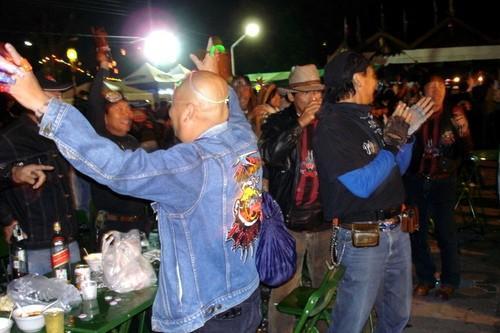 When the imitation Ad Carabao band took to the stage, the crowd rose to their feet!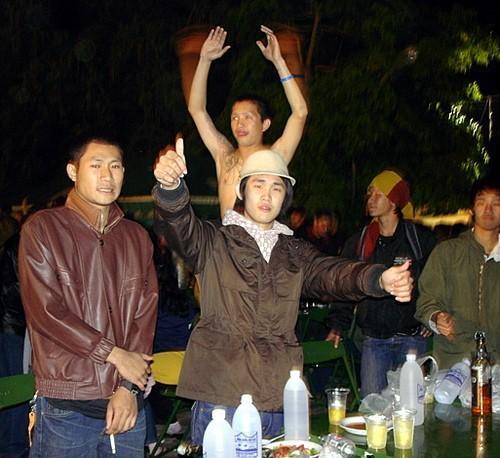 In fact, the music was so hot that at least one biker ended up dancing topless … at what seemed to be freezing temperatures! And all that without coyote gals!!
We were supposed to meet Ray from Udon at the party, but he was a little under the weather and opted for a good night's sleep instead.
On Sunday morning our group headed out about 9 am: Hangovers left, right and center! Time to bid the Triple Emmers farewell once again.
From Mae Chan we took the scenic 1089. This crisp quiet morning, the road made for an extra delightful ride. Thanaton Orchard in Tha Ton was the right place for a hearty breakfast and strong coffee. When we stopped in Mae Ai to buy something, guess who turned up to ask where we were headed? The one and only Ray23!!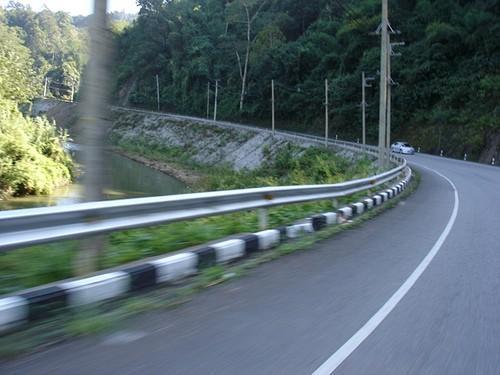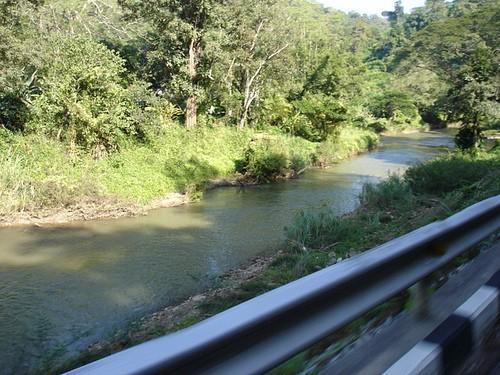 From Fang we traveled down the busy 107 and made it into Mae Malai mid-afternoon, where we found a very nice, clean room with good bike parking at
Mae Malai Mansion
for 350 baht (053/842620; 471266). The place is on 107, a mere few meters south of the intersection with 1095.
In the morning we started up the 1095 to Pai. We had ridden this road before, about 2 years ago when it was in substantially worse condition. Traffic was light, so we didn't encounter that kamikaze pick-up driver hell-bent on obliterating everything in his path! :evil: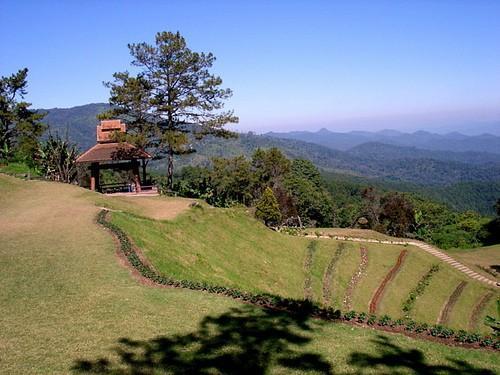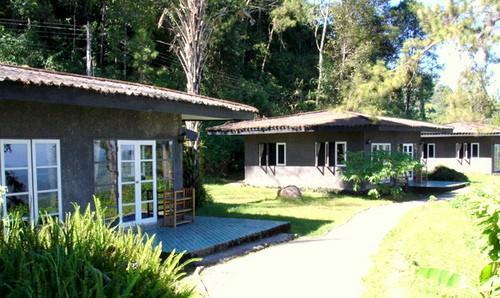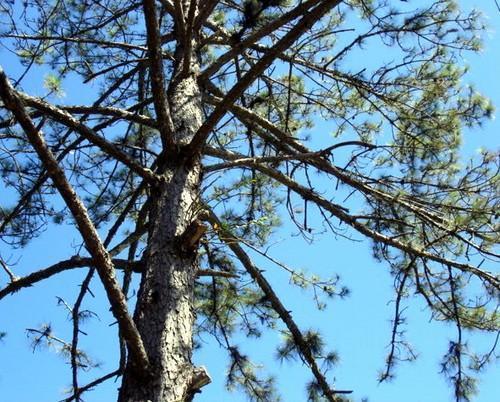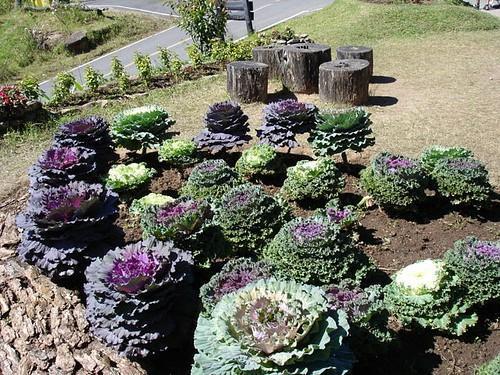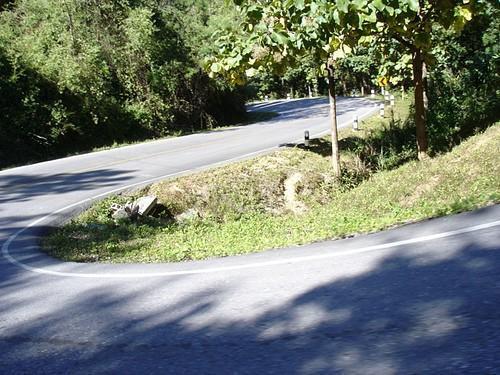 This time we took a detour to Huay Nam Dang NP, which turned out to be highly rewarding for the spectacular view and beautifully landscaped grounds at the park HQ.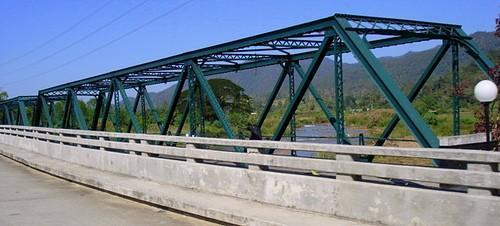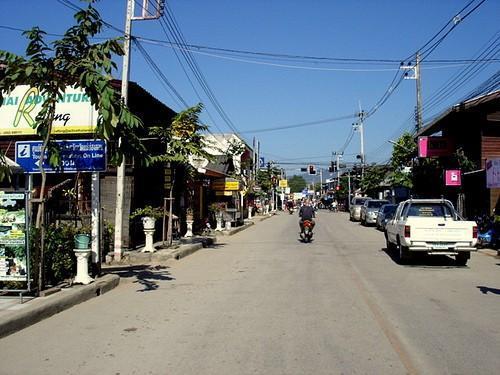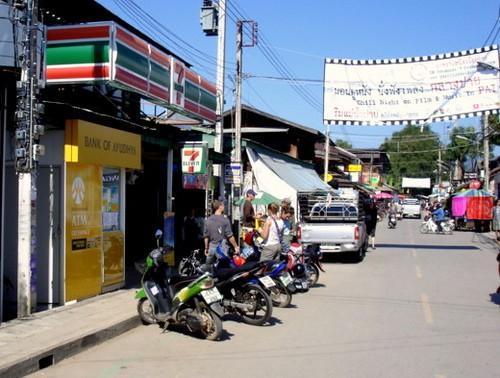 We liked Pai even less than previously, but decided to have lunch at the Ban Mai Khon Muang Pai anyhow. Its breezy garden and scenic location on the creek side make for a relaxed setting, and the food is authentic and delicious. The owner took the time to have a long chat with us.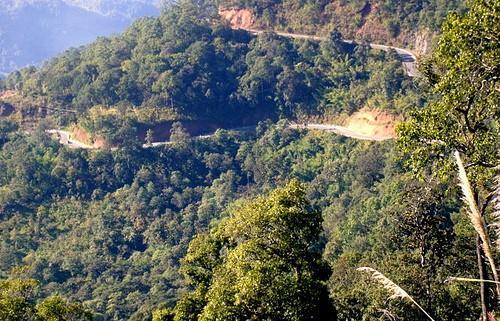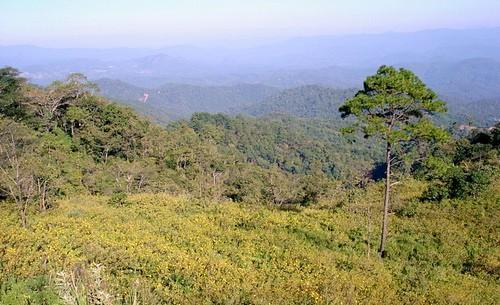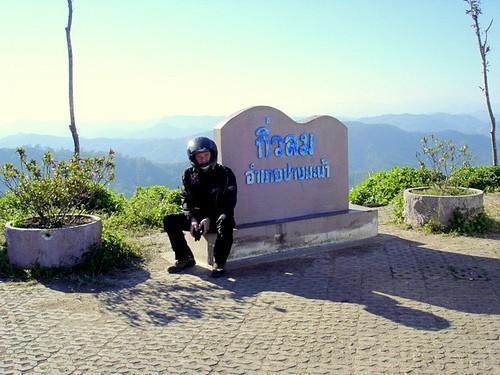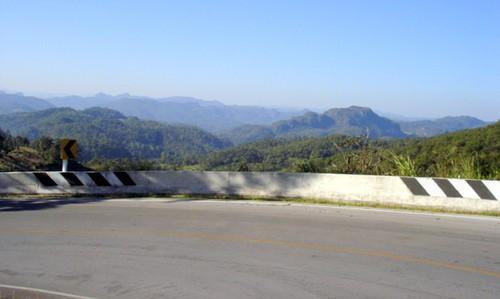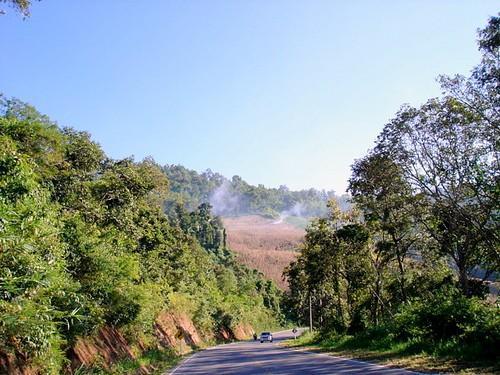 Along the route from Pai to Pangmapa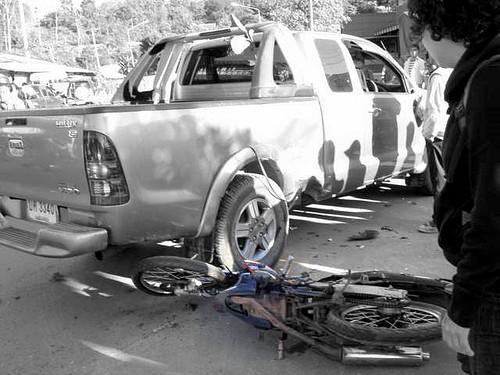 No, this wasn't us!
We reached Pangmapa at 16:00, where we checked into the quaint and comfy, but expensive
Little Eden Guesthouse
(053/617053-4; 089/9528870;
http://www.littleeden-guesthouse.com
).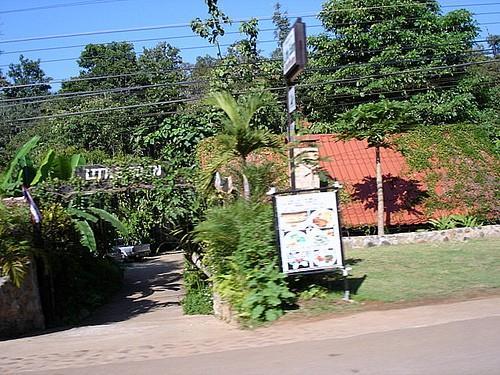 In the early morning mist we visited the Pangmapa market.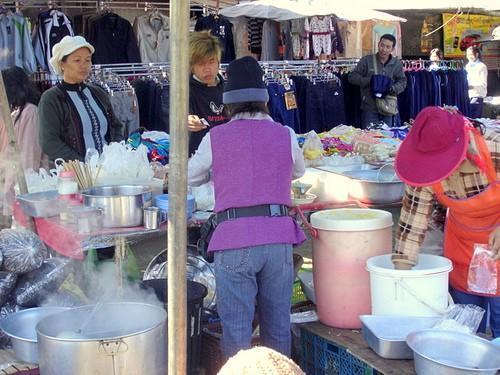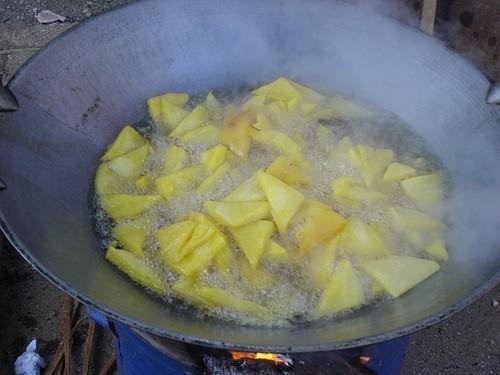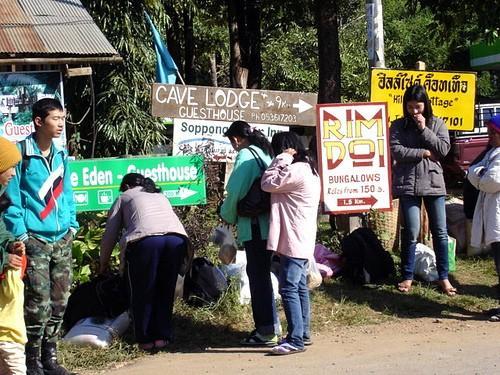 Then we wanted to see Lot Cave, but we had committed a blunder: We had already packed all our belongings onto our bike. Now we were worried about leaving our stuff unattended for such an extended period, so we made a U-turn at the parking lot.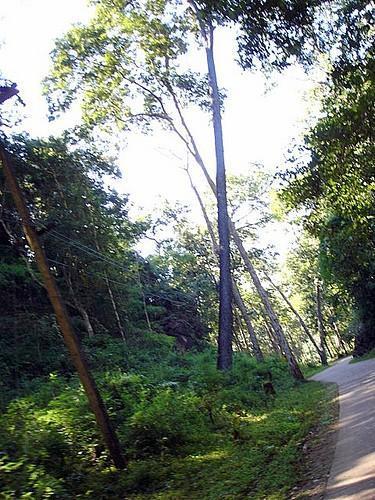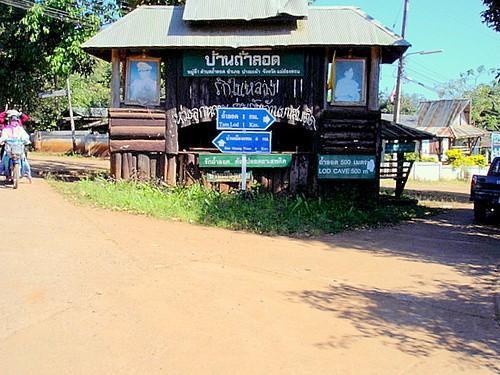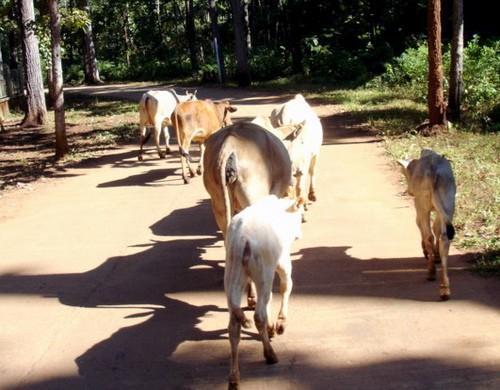 From Pangmapa it is only about 90 km to MHS. We arrived early afternoon and looked for a room: Piya – Baiyoke – Palm – Ban Suan Klang Muang Guesthouse. All full! We found a nice new bungalow for THB800 at Jong Kham Place (same soi as Khai Mook Restaurant) and had a deliciously authentic and inexpensive local dinner at Ban Pleng Restaurant which is located on Khunlum Prapas Road near the PTT station, right opposite Mountain Inn. One good Thai massage later, Ray turned up at the Night Market. It was good to get together after our extended efforts of the past few days.
We devoted the entire following day to local sightseeing. After breakfast and coffee at Crossroads, we roared out to Ban Rak Thai, a Chinese community on the Burmese border that was founded by Kuomintang soldiers.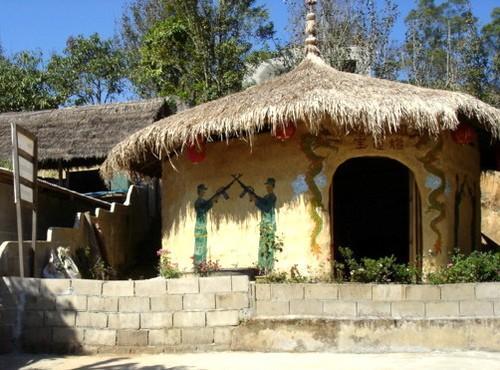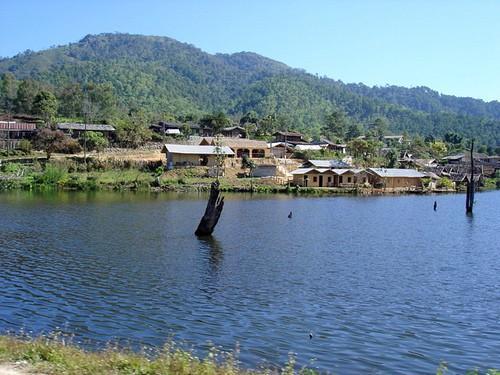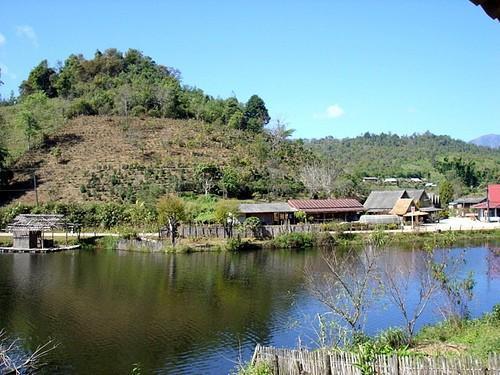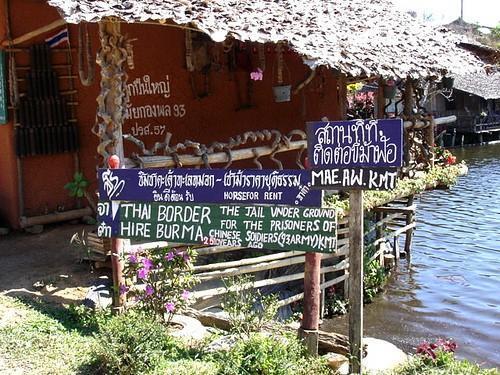 The population's primary source of income is growing and selling various types of tea. The picturesque town on the lake was very quiet when we visited.
Interesting
permanent
sign!!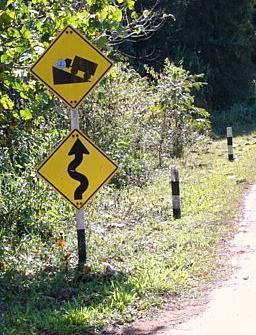 Next we hit the Pang Thong Royal Project & Palace and were amazed at just how extensive and well-maintained the whole area is: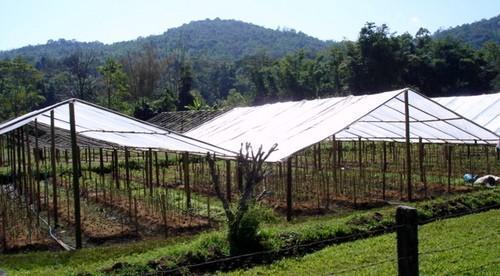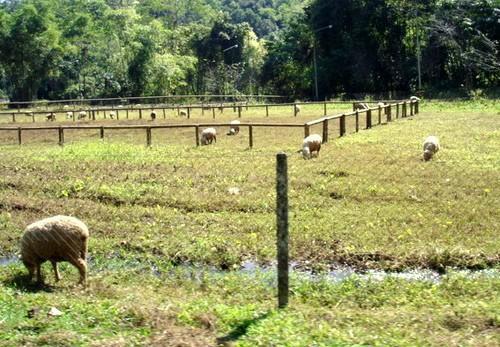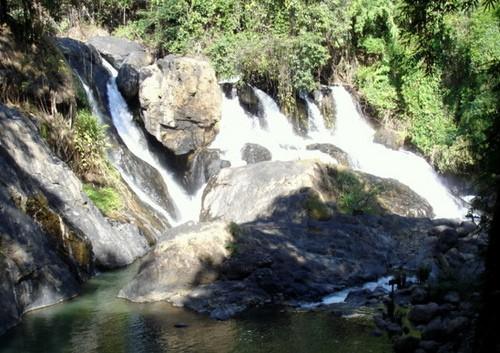 The Pha Seau Waterfall was a rewarding experience in the cool weather and with only a few other visitors. Isn't it beautiful?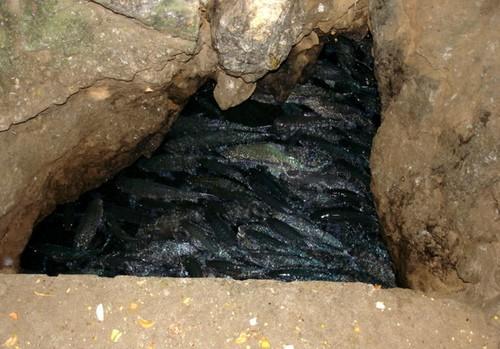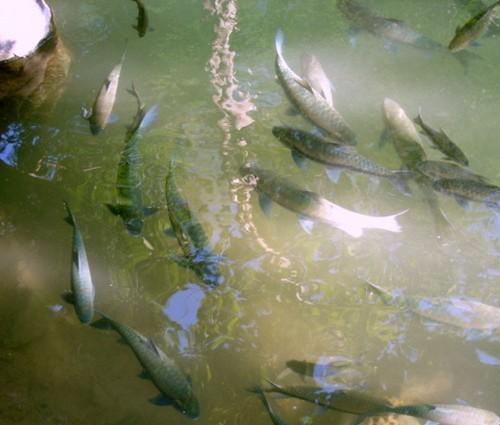 We can't say we were overly impressed with the Fish Cave. It's quite a walk from the car park to the actual attraction, but it's not much of a cave and we had just seen millions of fish at Pha Seau Waterfall.
We descended on Phu Klon Country Club where we actually decided to strip our MC gear, just to be smeared full of mud from head to toe. To prevent damage to your expensive PC screens, I have decided only to add a miniature picture of yours truly in the new black suit…
All in all, a great day of Mae Hong Son sightseeing that we rounded off with cold beer and a dinner on the lake shore with Ray and Terry from Udon and their lovely partners.
During our whole trip we exchanged SMS with Marco from Ubon who was doing the MHS loop in the opposite direction on his 2-wheel stretch limo (BMW LT) with a few friends. (see the report at
https://www.gt-rider.com/thailand-motorcycle-forum/viewtopic.php?t=4889&highlight=riders+north
). On Thursday 04DEC our paths were to cross while they were en route from Mae Sariang to MHS. We made an early start (well, early for us, 08:45 after breakfast..).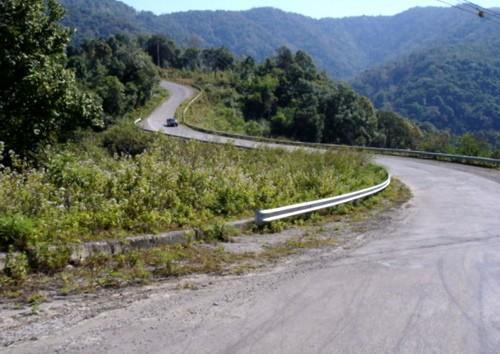 Around 10:45 we arrived at the famed Buatong flower fields – and were fairly disappointed to find them way beyond their bloom.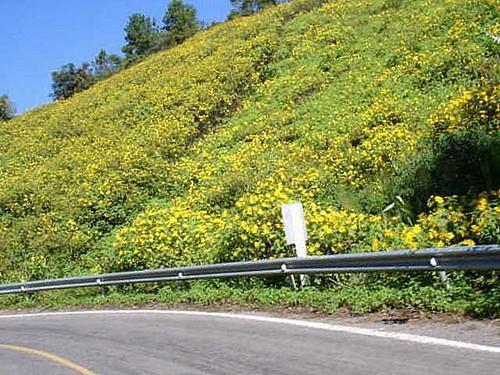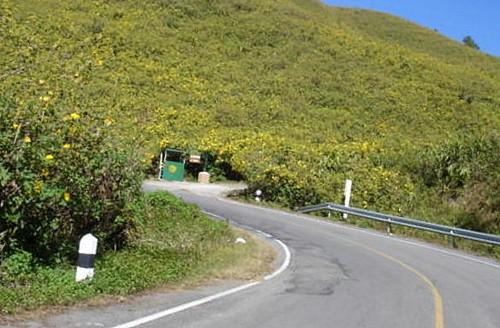 Although the road to the flower fields wasn't exactly unpleasant to ride, we notified Marco and suggested them to skip the place. There isn't even a restaurant where we could have had a coffee while waiting for them. The whole infrastructure consists of a viewing platform and some market stalls up the road! :shock:
We were a little concerned that we may not make it back soon enough to catch Marco and the boys. We had hardly made our left turn to route 108 when, lo and behold, a blue knight on a silver stallion appeared on the horizon!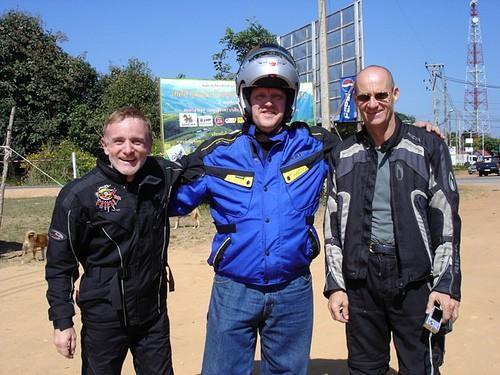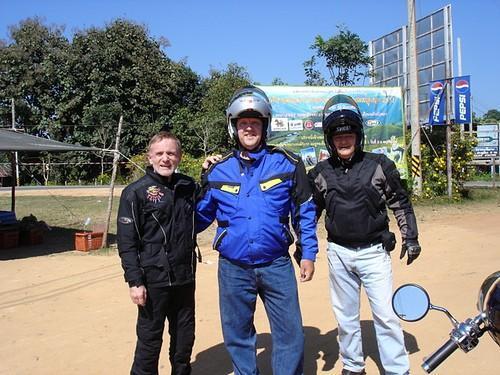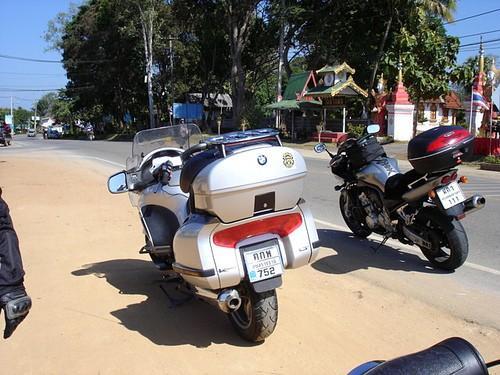 Marco was accompanied by John and Peter; we stopped for a chat and vowed to get together for cold brews in CNX.
We had a hearty lunch in Khun Yuam and then took off on our second leg into Mae Sariang.
Unfortunately it was quite warm when we pulled into town (too warm to be wearing bike suits). Soon enough we happened upon the Riverview Hotel that's housed in a cozy wooden building right on the riverside. The comfy room set us back 1,000 baht. It was worth it.
Mae Sariang is a sleepy town. There was definitely no night life to speak of, we can vouch for that. Tourists were few and far between. We hit the sack early.
The following day (King's Birthday) we embarked on the final leg of our MHS loop, route 108 via Hot – Chom Thong – San Pa Tong – Hang Dong into CNX. It was a gorgeous day that started off nicely with lots of long, fast uphill sweepers and good tarmac. Soon enough oncoming traffic grew dense. Plenty of folks doing the MHS loop clockwise, just as expected!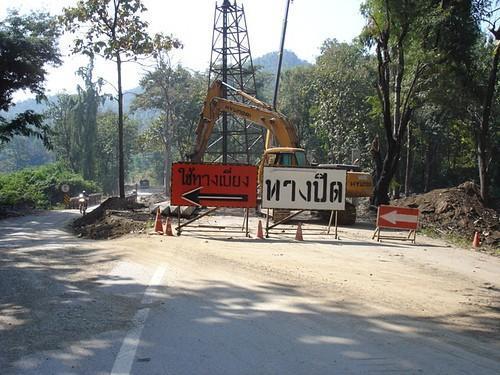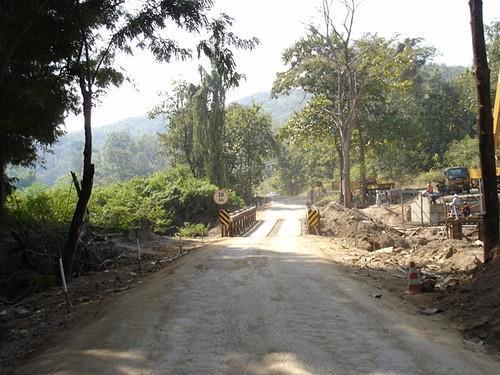 Before long, our lane got busy and the road surface deteriorated. To save our nerves we decided to adapt our attitude and go with the flow. In Chom Tong we stopped at a good-looking coffee shop. By 1:30 pm we arrived back in CNX. We were relieved to park our bike and shed our gear. The mercury was on the rise!
That evening we hit the Kafe for a bite with chilled barley juice and were delighted to find a whole big group of GT Riders assembled there, among them John, Peter and Marco as well as the dudes that had left BKK that morning on fast sport bikes (see the report at
https://www.gt-rider.com/thailand-motorcycle-forum/bkk-to-chiang-mai-to-chaing-khong-to-nan-to-bkk-in-5-days-t4838.html
) – ,
those that were left after the arduous ride, that is!
Tony, Trent, Andrew and Anthony are the names that I managed to retain in my haze. A fun bunch of guys, and it was good to get acquainted with some of the regulars in this forum at long last!
Unfortunately we didn't take photos and therefore have no evidence whatsoever of that night. Perhaps it's better off this way …:lol:
We had to fly back on the night of the Bike Week, so we had to return our bike to the trucker's warehouse on Saturday morning. Without our bike it just didn't feel right to join the GT Riders at Ian's X-Center. It hurt, but we skipped. There's always a next year…
We want to express our sincere thanks to all the GT Riders who in some way, knowingly or otherwise, contributed to our memorable journey.
We are grateful that we had the chance to roam this gorgeous land in such total freedom and hope to be back to the North for more fabulous riding before too long!
And lastly, a big kiss to my wife Kai for being such a terrific riding buddy!