What a fun trip! BIG thanks to Franz for putting it all together and letting me join at the last minute.
Here's Thursday's ride:
I met up with the guys at a nice shady spot just past Prachin Buri on Route 319-
Nice group of bikes- 2 Yamaha FJR 1300's, a Fazer 1000, a Ninja ZX12R, a Harley Davidson Heritage Classic and my little Ninja 250R.
I usually cruise at about 100-120km/hr, but I had to up the pace to keep up with these guys! We cruised to Kanchanaburi averaging 120-140km/hr and made very good time.
Only got a little lost once-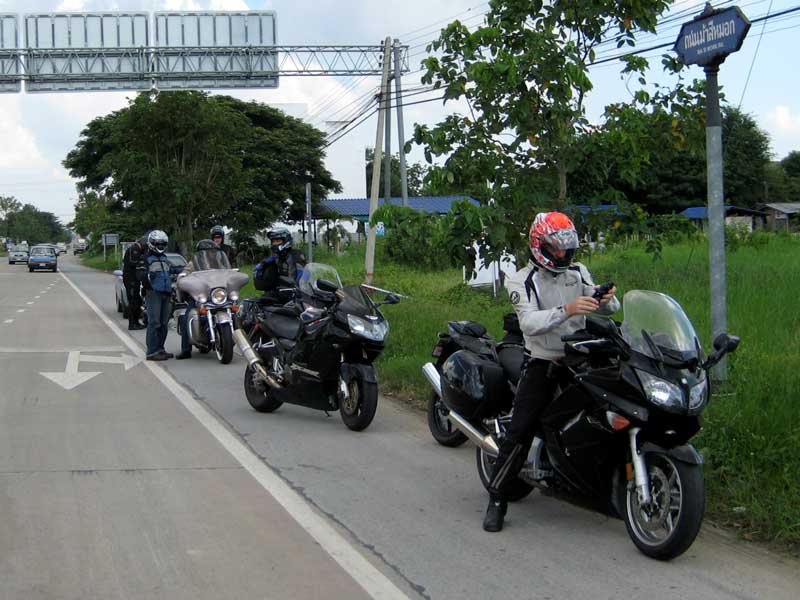 John's GPS came in quite handy
It was a HOT day and we rode about 330 km. Upon arrival in Kanchanaburi we checked into our rooms and met up on the deck of the River Kwai Resort from some much needed beverages!
Here's the view from the deck-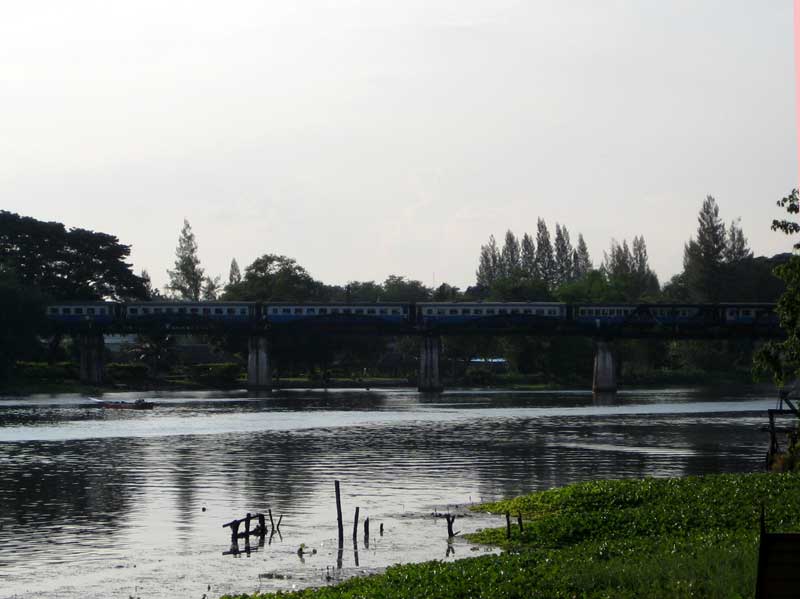 Nice, huh?
DAY TWO-
Breakfast at the Jolly Frog (highly recommended!) and we set off to explore the beautiful winding Route 3199 that leads to Erawan Falls and Dam and Si Sawat-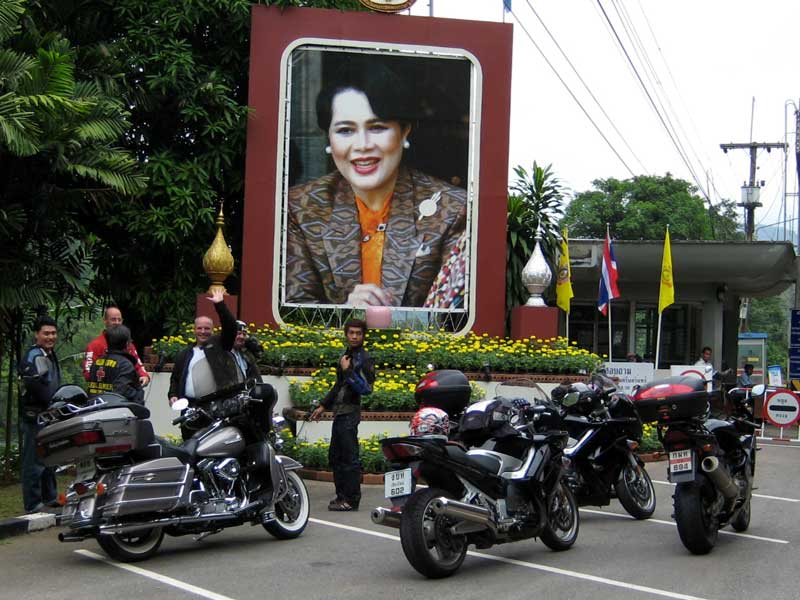 At the entrance to Erawan Falls and Dam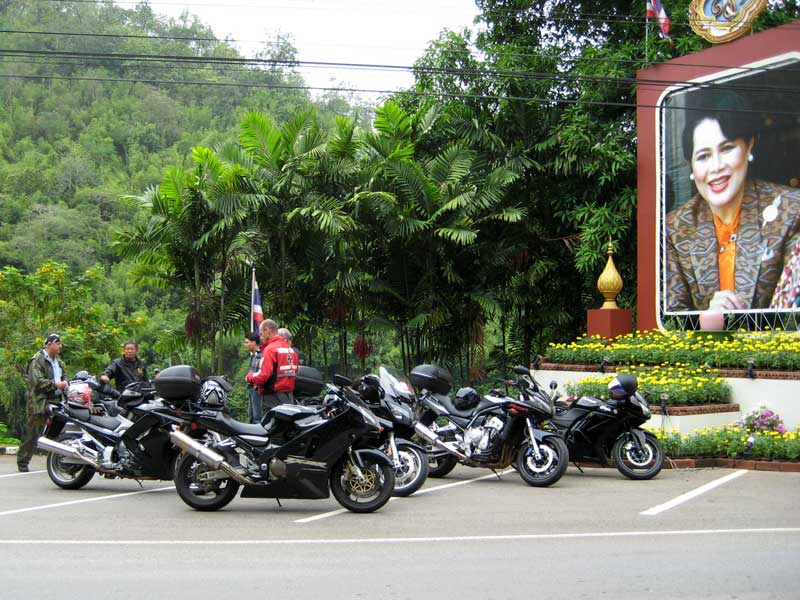 Here are some pictures we took on top of the dam-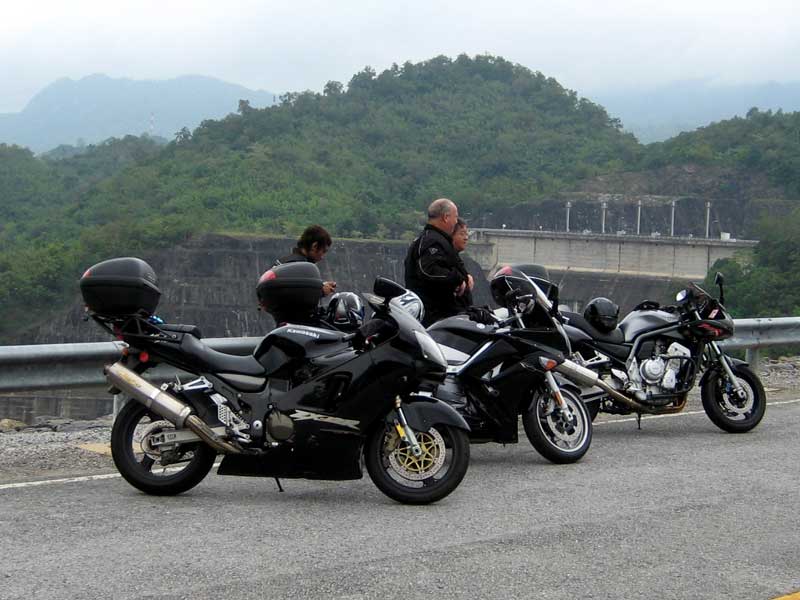 Somebody is ready to RIDE! 8)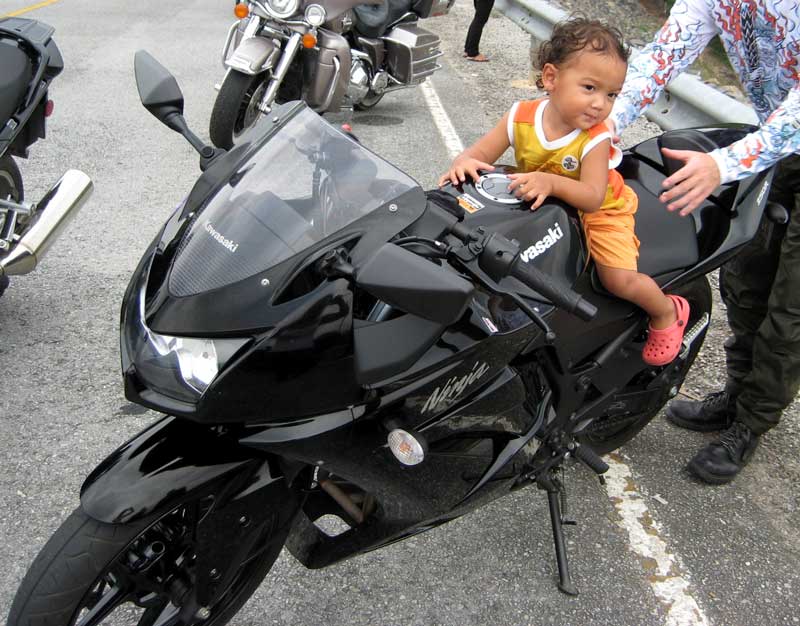 What a view!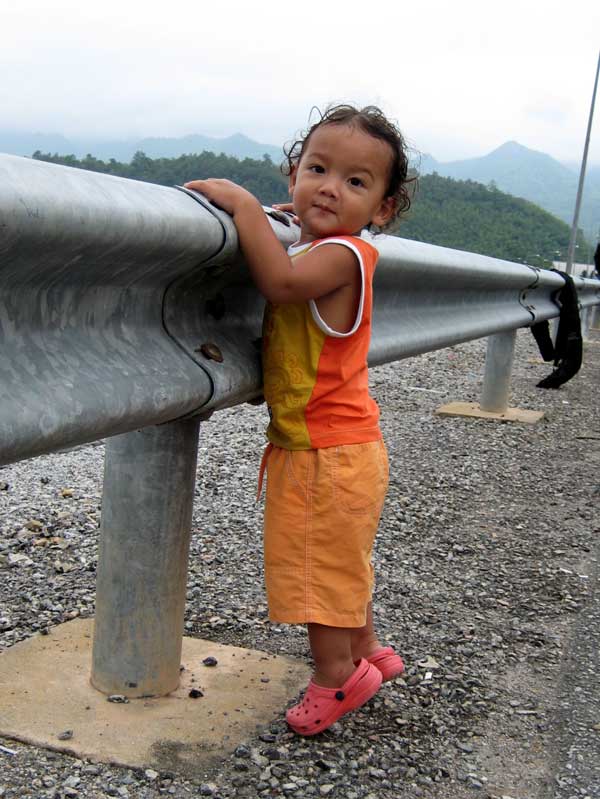 On to the reservoir and lunch on the lake at the Heaven Lake Resort-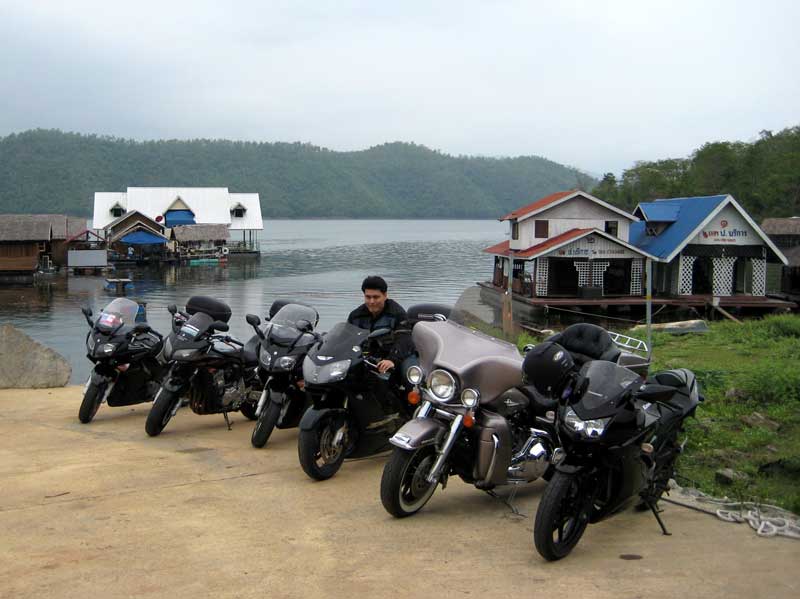 I'd heard a rumor that these GT Rider guys like to eat... It's TRUE!!! :wink:
Here's John showing us his special drinking technique-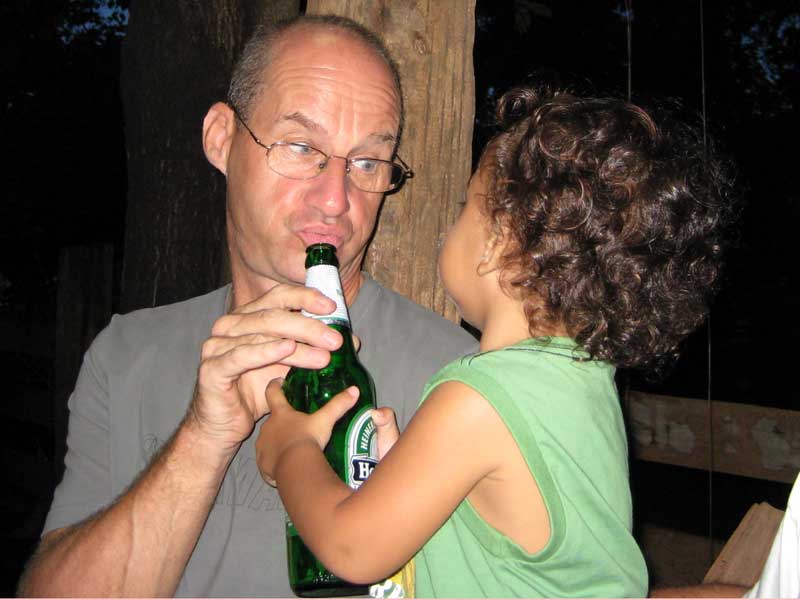 And here's my son showing John how it's done :wink: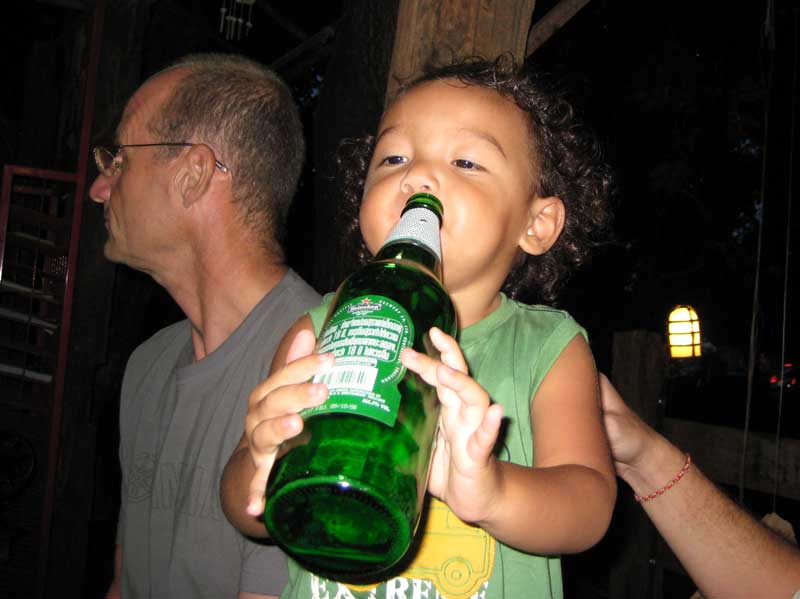 Peter introduced my son to the joys of splashing in puddles-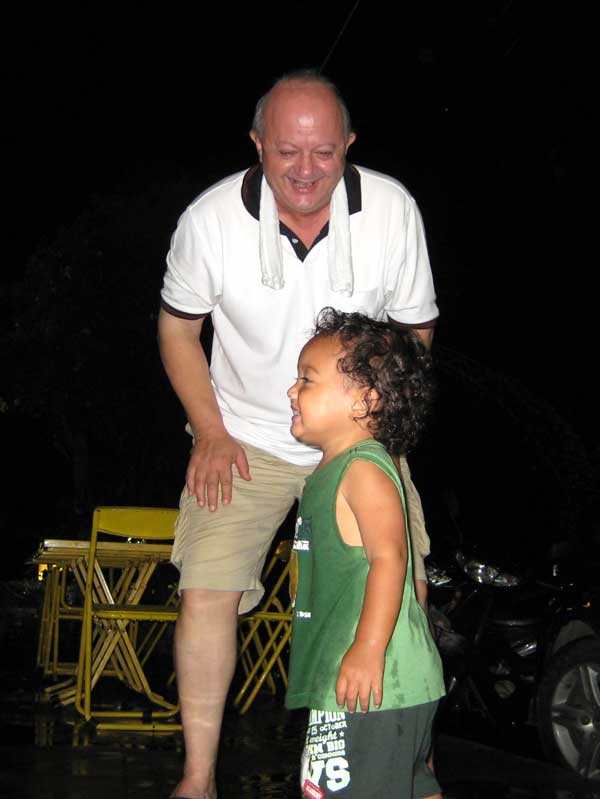 That kept him occupied for a good part of the evening-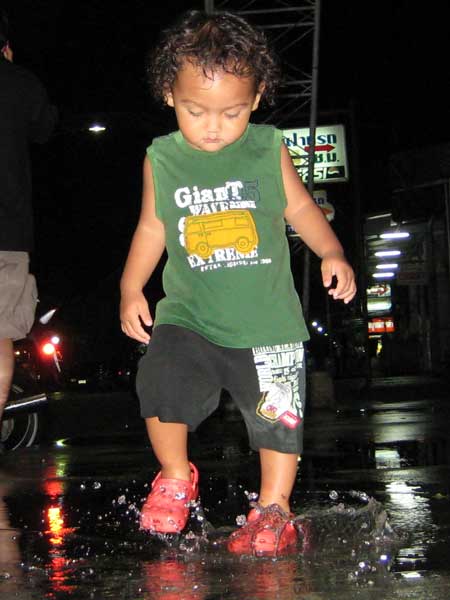 DAY 3-
Most of our group headed home on Saturday and those who remained decided to relax at the resort and have a couple of beers. A wise man told me that means 1 beer + 1 beer which makes 11 beers... :wink:
Had to see some of the tourist sites-
I wanted to ride some more so I set our for Sai Yok in the direction of the Three Pagodas Pass on Route 323-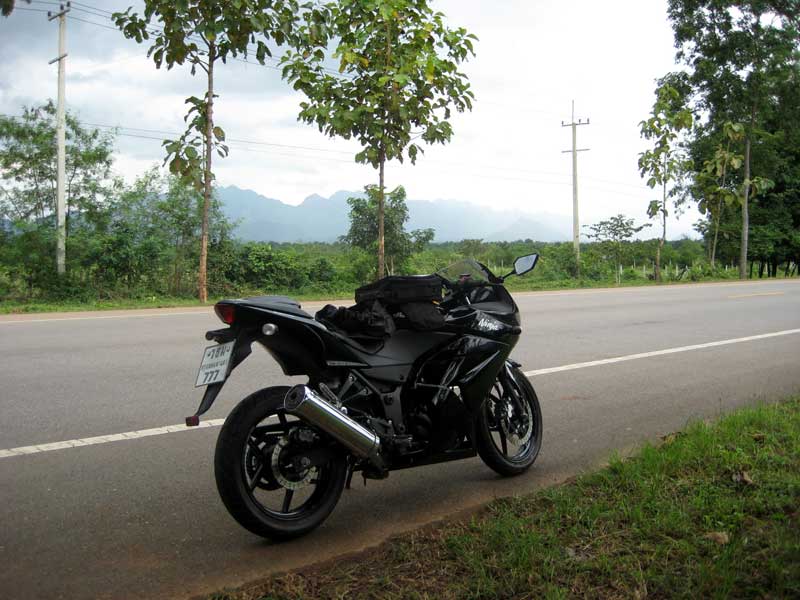 Happy Trails!