Excerpt:
Northwest Laos, with Muang Sing and Luang Namtha, was on my itinerary for this trip. Driving my bike, I followed friends visiting the region by van. This gave me the chance to participate in whole days walking or cruising excursions. From Chiangmai this region is just a short loop away.
A short Loop to Northwest Laos
The complete photo story can be found at : https://picasaweb.google.com/111845057494533452431/LaosNorthWest

See my other trip reports around Laos (2)
Chiang Khong border crossing

I had enough time, but left Maerim early morning, to rest in Chiang Khong, my favorite city on the Mekong's rim. November is a good travel month and I was looking forward to my third loop to Laos that year. On my bike, I followed friends, venturing on a similar itinerary, in a tourist minibus.
I had never crossed to the "Kingdom of the Million Elephants" from Chiang Khong, but was familiar with this city, my last visit being just four days earlier. The journey from Chiangmai, on route 118, 1152 and 1174 was a quick jaunt, without many picture stops, but a compulsory coffee interlude, half way down, in Mae Suai's "Charin Backery". Invigorated by the fresh season's temperature, I glided happily to my destination.
Many opportunities to stop, for visits and pictures, exist along the 290 kilometers itinerary, to Chiang Khong, but, this time, I was eager to quickly reach my destination. As usual, I checked in to Tammila were I let my thoughts flow with the big river, while waiting for my friend's arrival.
A foggy morning draped the Mekong, filtering the red light of a pale sunrise. After "Tammila breakfast" our group moved to the pier. I am usually early for check in and, that day, it was again a wise choice.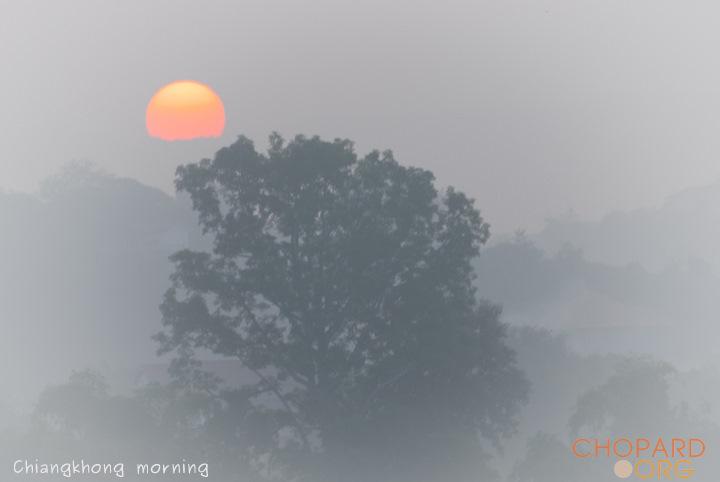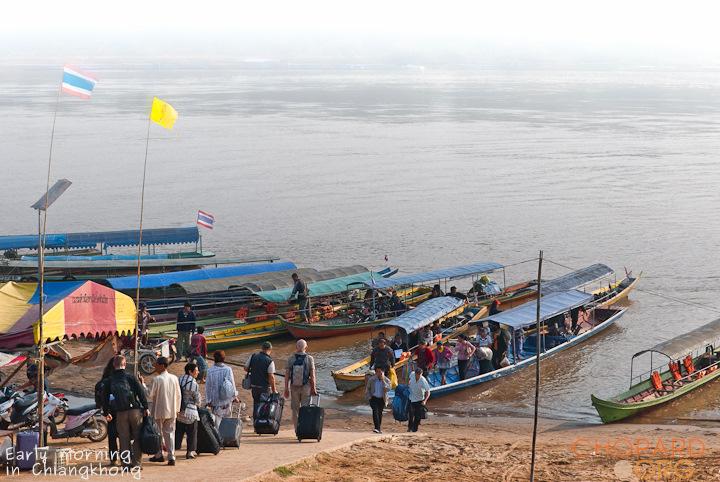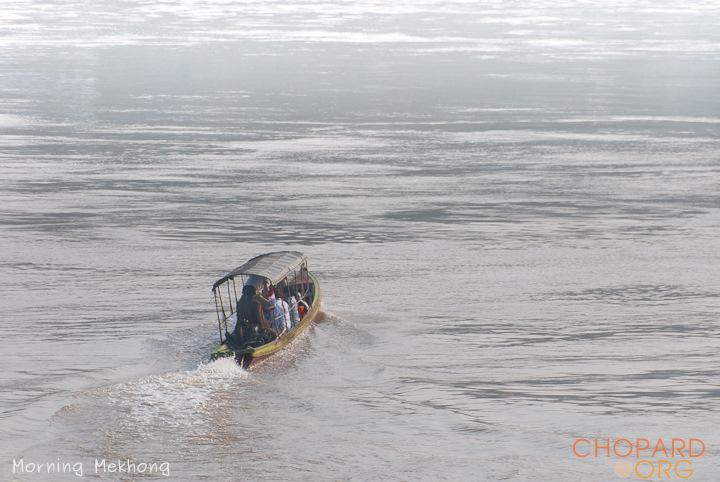 Border offices, in Chiang Khong, open at eight o'clock and I cleared out of Thailand with the first backpackers. At custom, the computer was warming up, before my data were typed in. As always, I handed out different papers, downloaded from GTR website. This time, however, only my passport and the bike's green book seemed useful copies.
Suddenly, a red warning flashed on the display: "This bike can not be exported, it did not come back last time". It was an embarrassing statement, for everybody, as I was physically there, with the bike.
My guess, and the assumption of the high ranking officer, was that something went havoc during my last border crossing, in Nong Khai. Phone call after phone call, the time regularly flew toward mid-day. I had to return to downtown, were amiable and helpful people did their best to bail me out.
Officials from Nong Khai pointed on my failure to submit the custom papers, and asked for a fine. In a flash, I remembered signing a 650'000 Thai Bath warrant to re-import my bike, but was sure that I had returned the documents at the border, maybe at a wrong counter. Nevertheless, as nothing was returned to me, it was not (totally) my fault.
Some calls later, with the kind intervention of Chiang Khong's custom "Boss", I got a clearance and the computer printed my departure document. «Thank you Thailand", no worries, I am coming back, … with the bike.
For a comprehensive border crossing procedure see also David_fl report (1)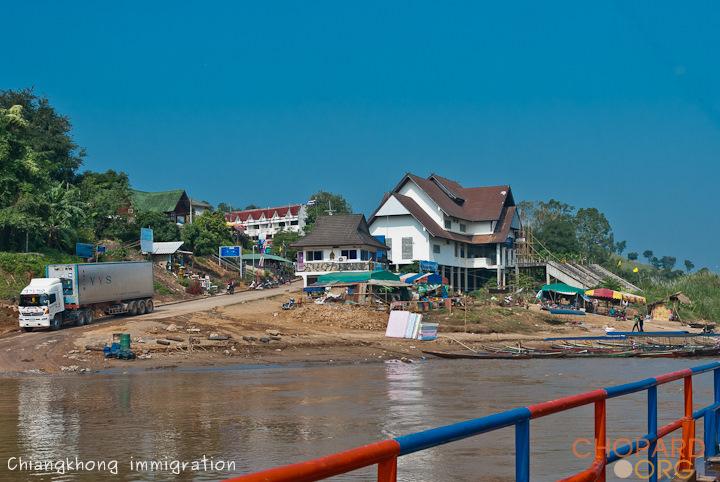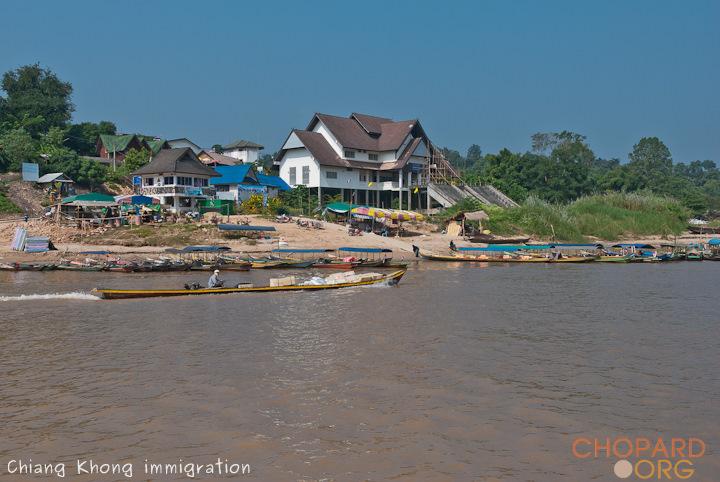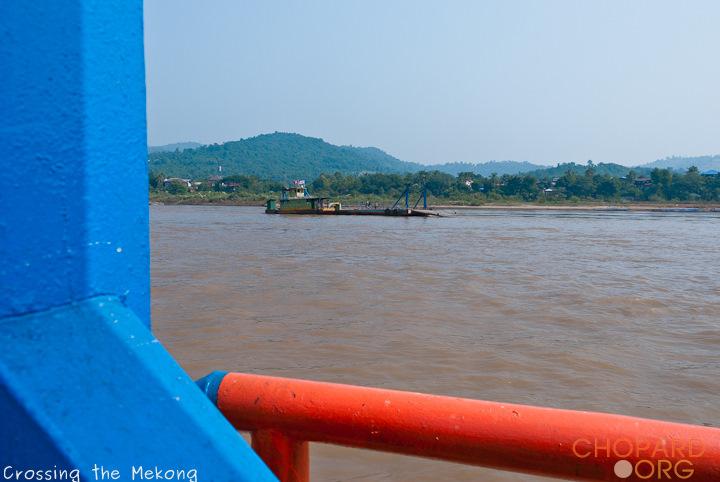 A 500 THB ferry cruise, brought me to Houei Xai were the procedure is a little tricky, compared to the land crossings at other borders (2). I passed the inconvenient and crowded arrival parking place, but climbed straight to custom's check point. From there, a short walk leads to a counter were the bike's arrival papers are filled in. Finding an insurance agent was a challenge, but eventually, I got my 100 Bath coverage, for a week.
This itinerary is probably partly incorrect, but it worked conveniently. My bike existed legally in Laos, and it was my turn to get stamped in.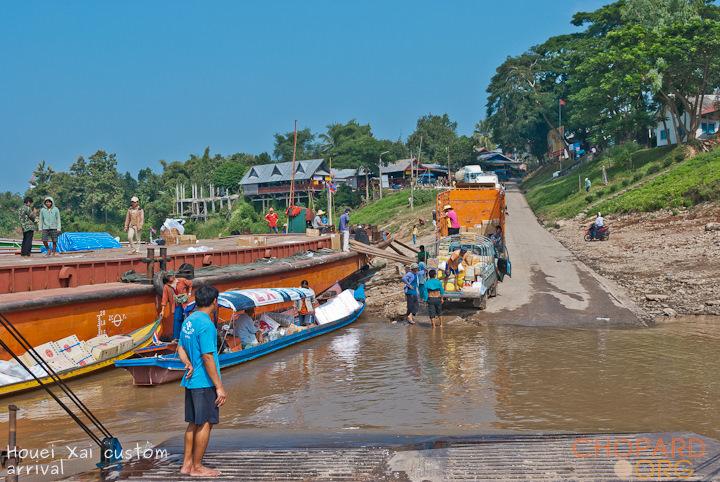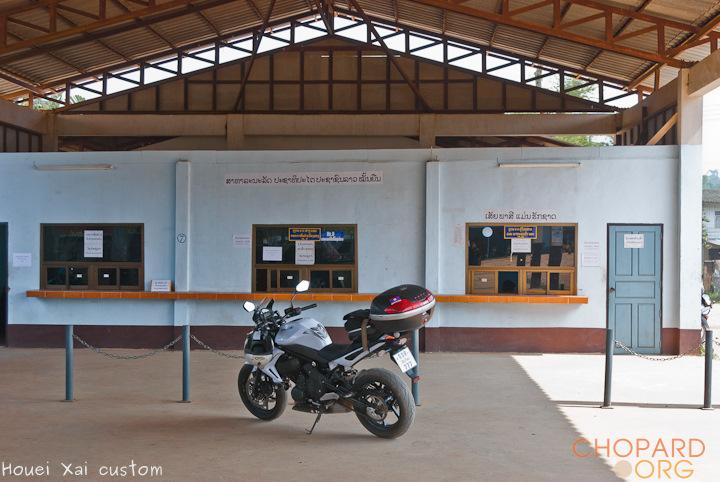 Immigration is about one kilometer down the road, in a small "soi" leading to the pedestrian boat landing. I insisted that Swiss citizen can stay two weeks without a visa, and, around one o'clock, was all set and eager to hit the road toward Luang Namtha.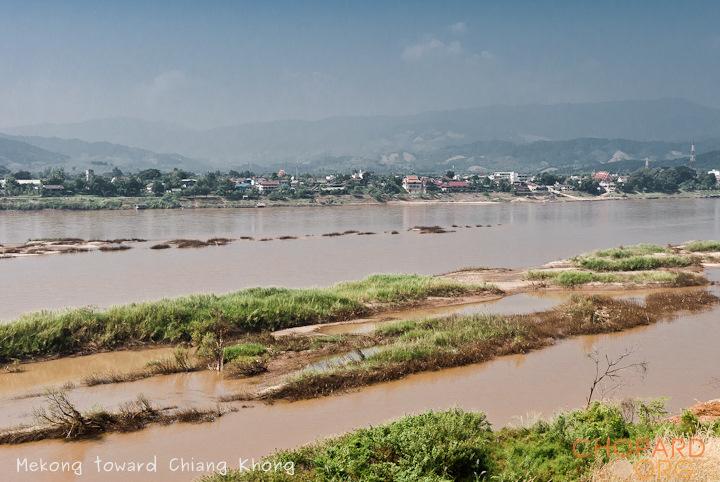 As described by David_fl (1), the first 80 km are shaky, worn out or under construction. Jumping through potholes or on boulders and breathing dense dust is unpleasant for a road biker, but finally, the bad sectors were limited to twenty kilometers.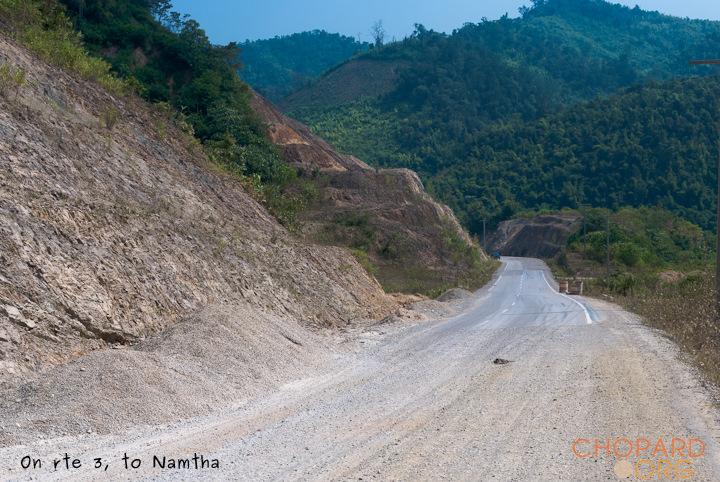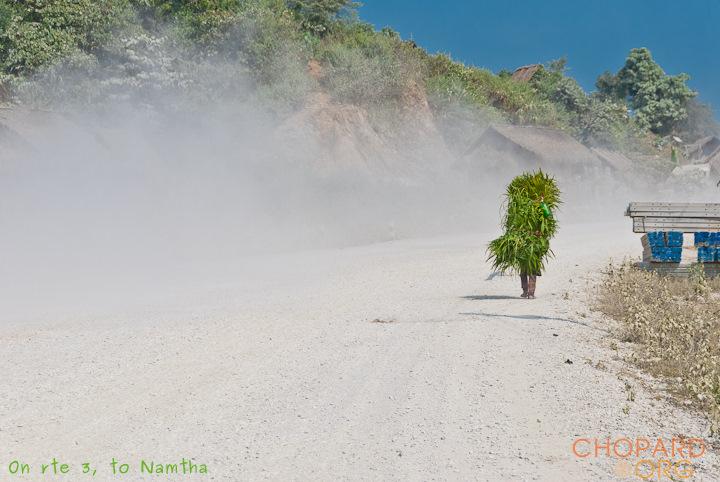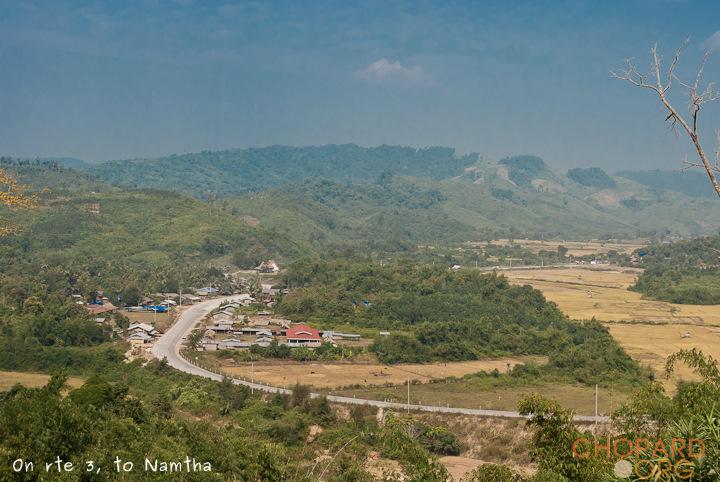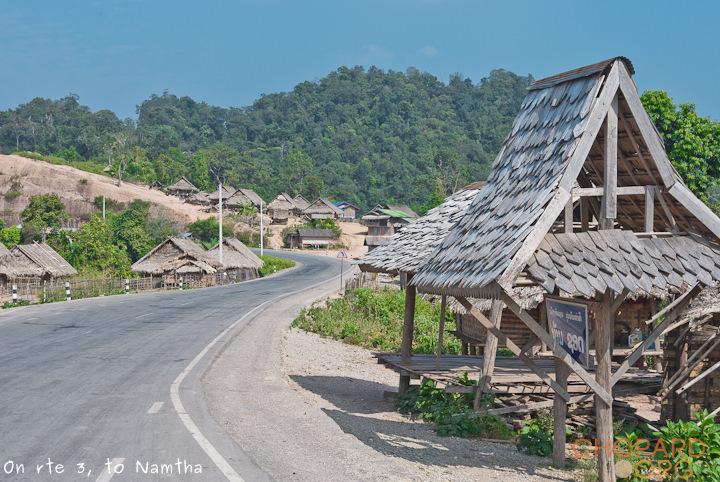 An agreeable winding mountain road, passing Vieng Phoukha and linking many hamlets, is the treat for the last 100 kilometers. My picture stops, however, were infrequent, as I preferred to reach destination before twilight. I also knew that I would return on the same way.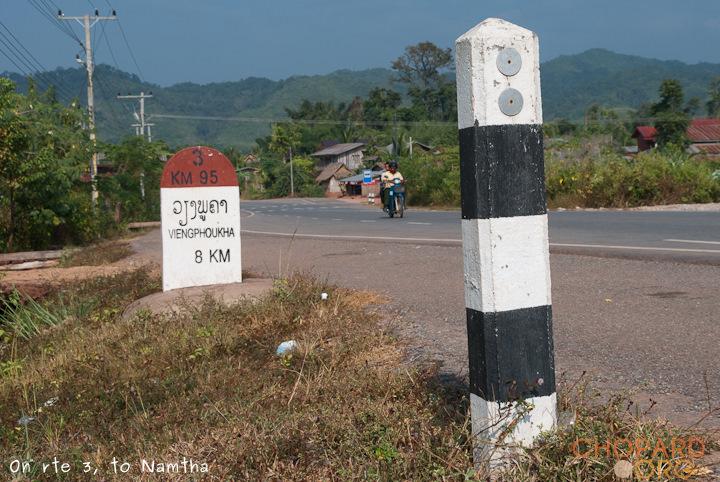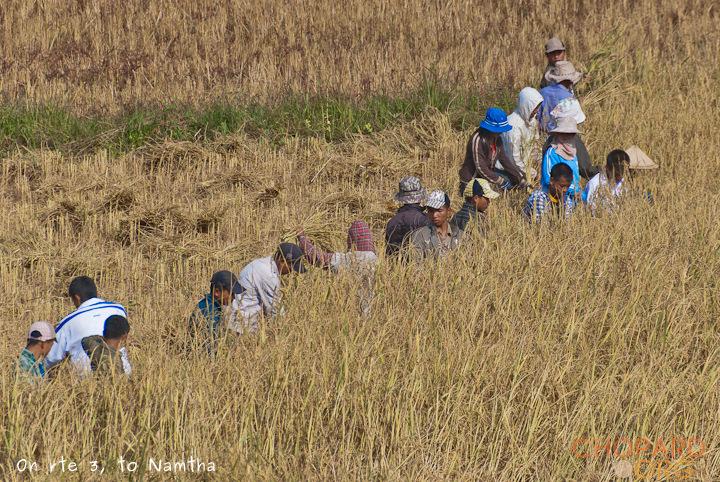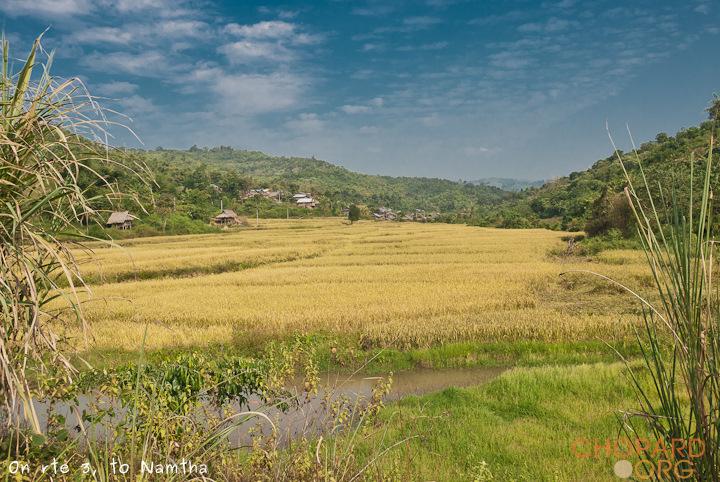 In Luang Namtha, I checked in to Dokchampa hotel (room rates @ 60'000 kip with fan, 80'000 kip for aircon and 100'000 for double - recommended choice -). After changing my biker's cloth, I rushed to buy a pullover. Despite an altitude of only 560 meters, the evenings seemed cooler than in Chiangmai.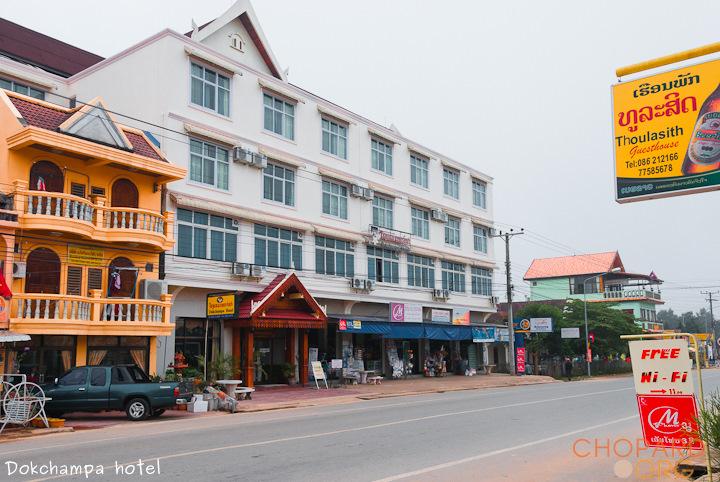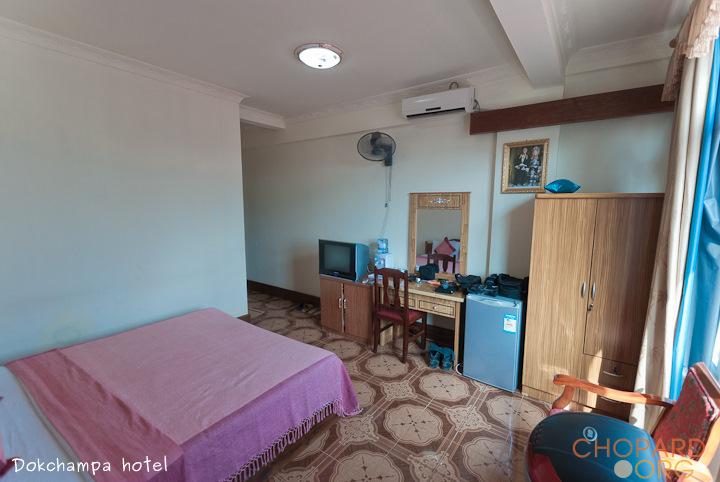 In a rather sleepy city, Manychan guesthouse is the most animated hangout. People come to eat, drink, chat and use the free wifi. This was also my choice as I watched the day flowing to an early end.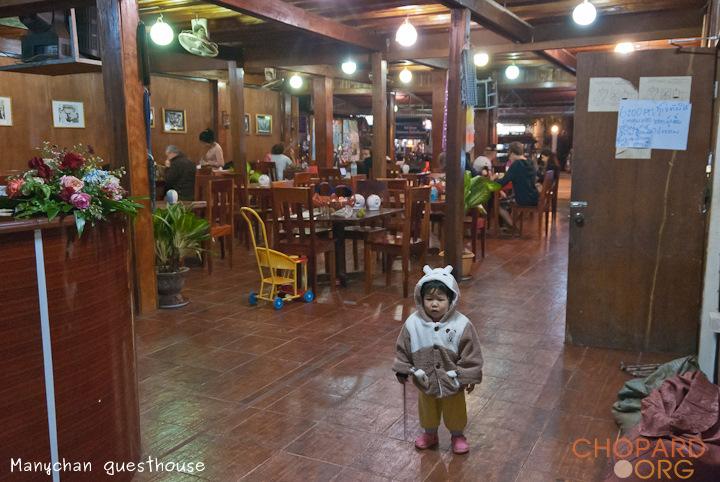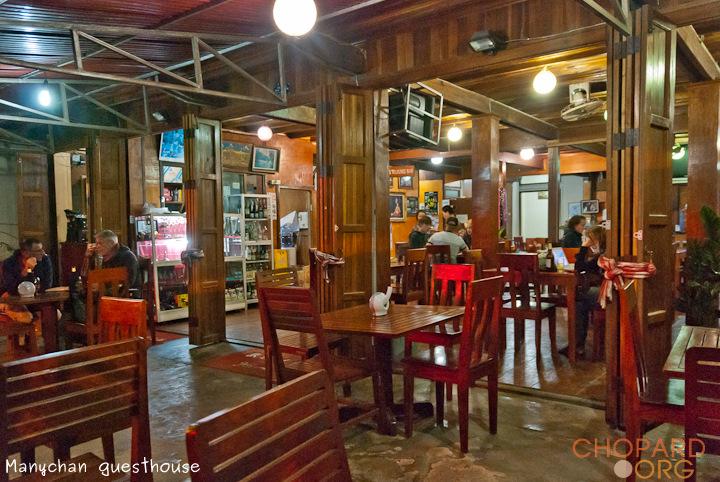 Luang Namtha
After a cool night, the morning in Luang Namtha was fresh and enshrouded with heavy fog. It was still dark when I walked to the market, but slowly dawn broke and morning light played with the vivid costumes and the colorful products of the mountain folks.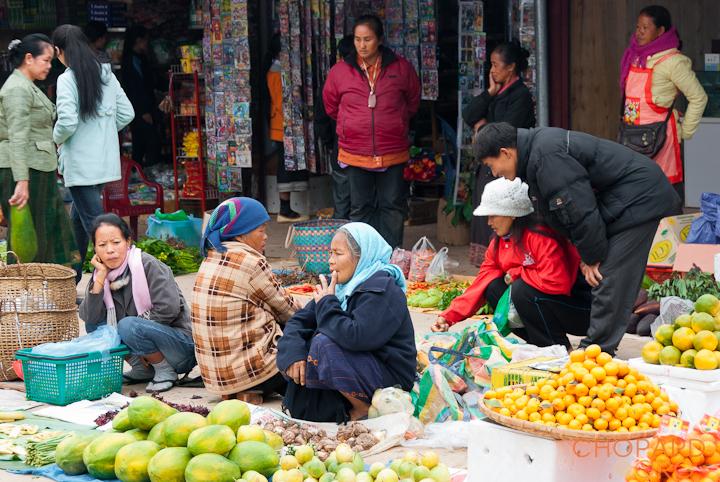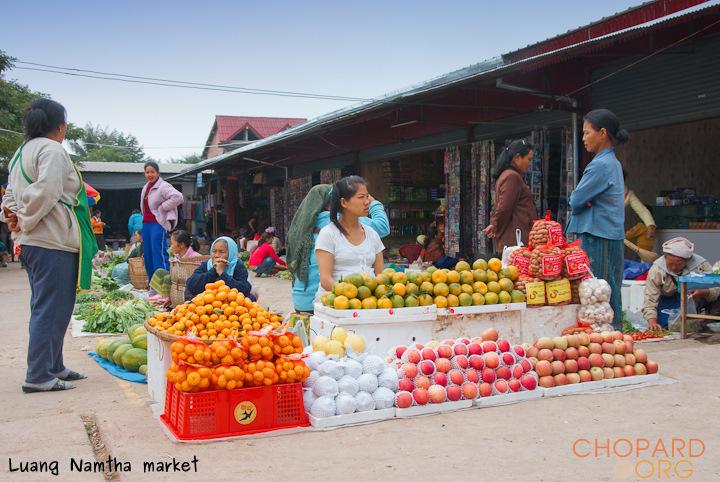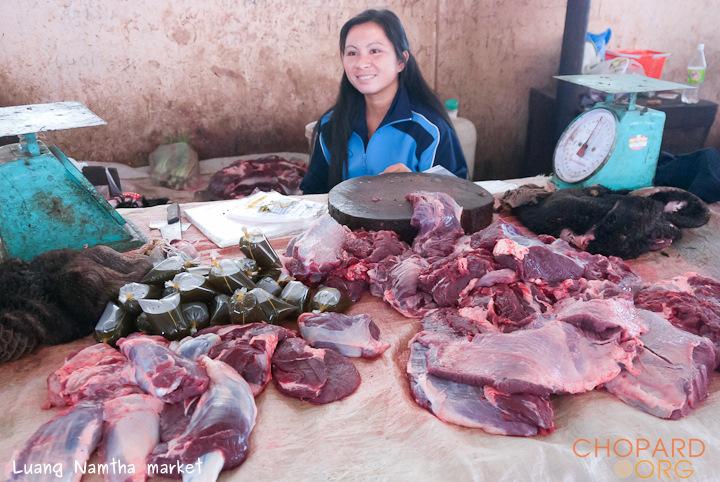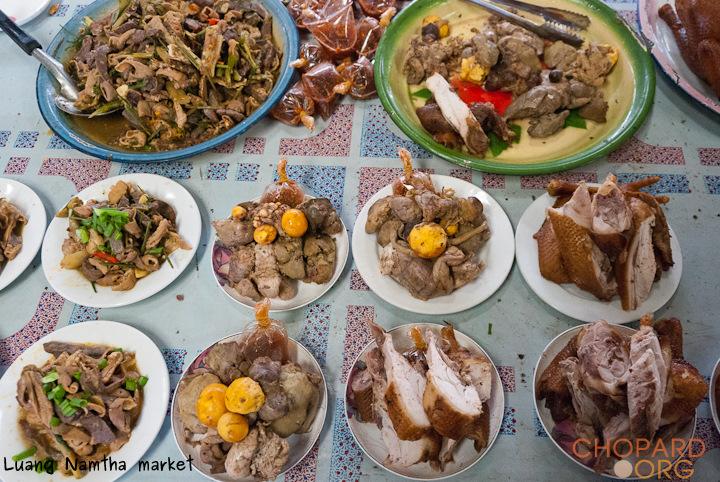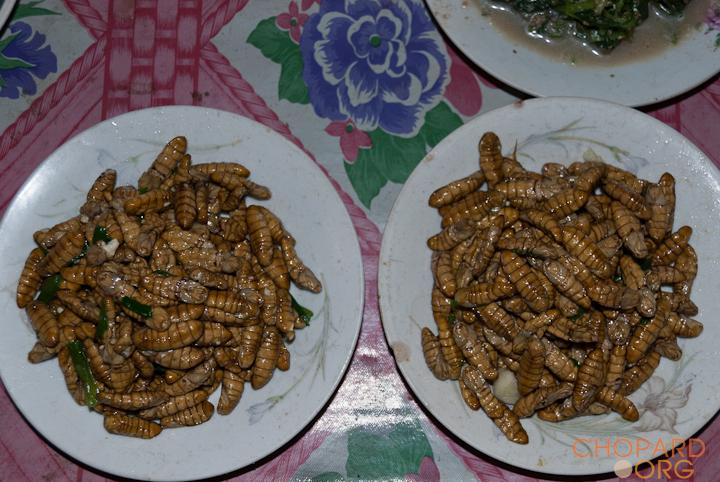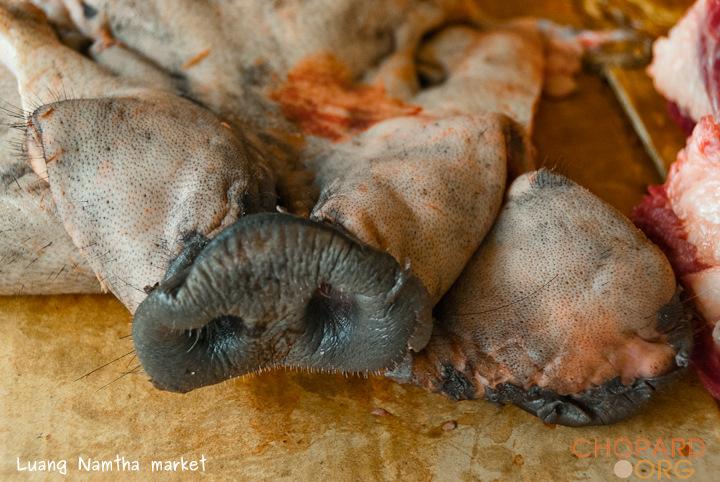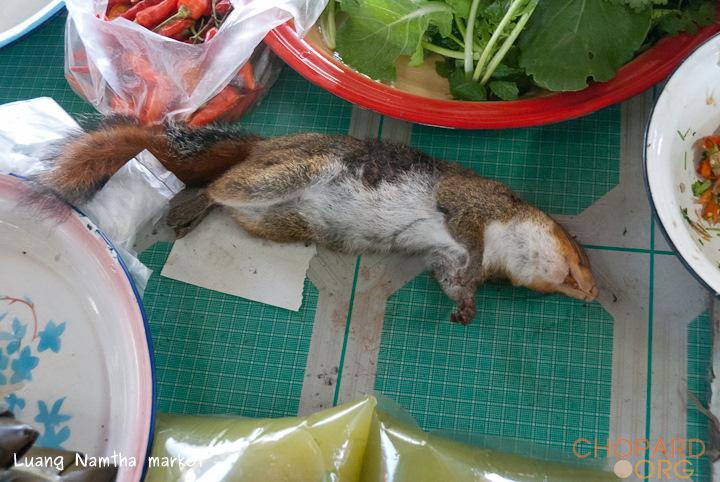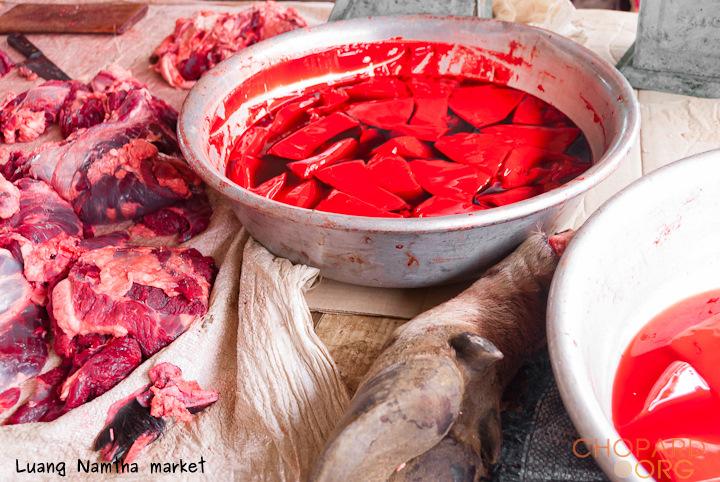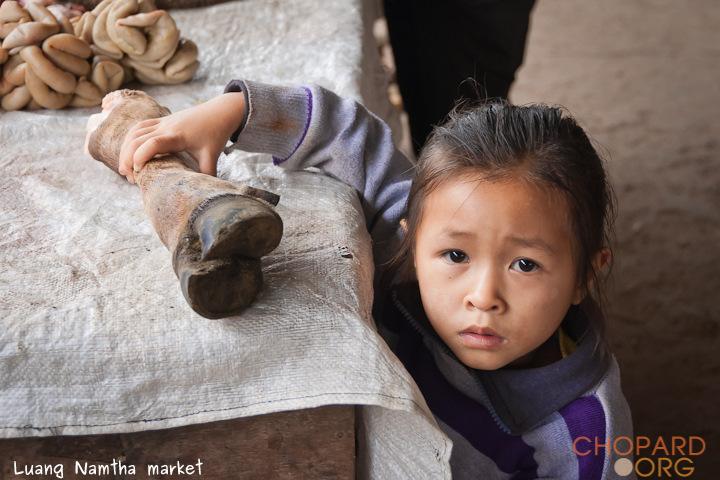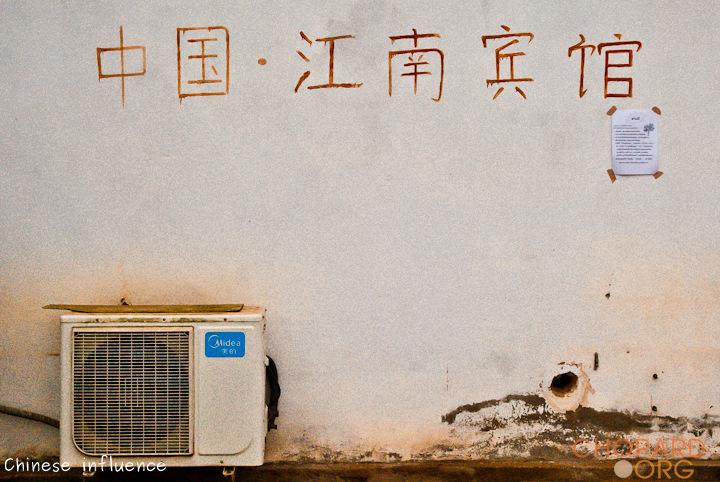 Manychan was open when I returned downtown, a good time to indulge in a French "petit dejeuner". I also changed my hotel, as it is convenient to combine hangout and lodging places .
My friends had taken a longer circle to Luang Namtha, cruising down the Mekong and spending a night in Pak Beng. They would arrive only in the evening, and I used the day rambling around the neighborhood's villages. The valley is mostly flat and clustered with rice fields, drawing yellow shade patterns.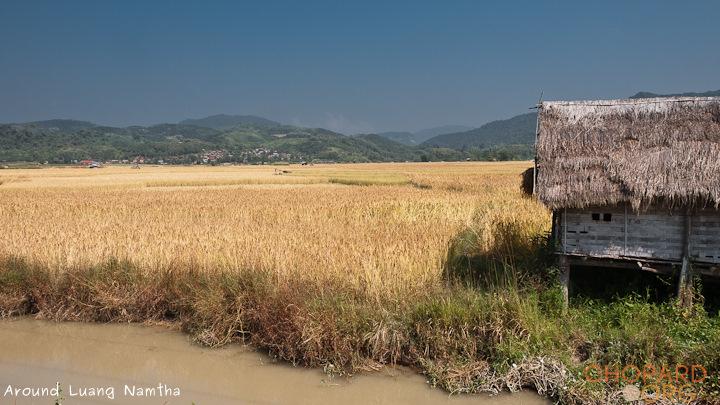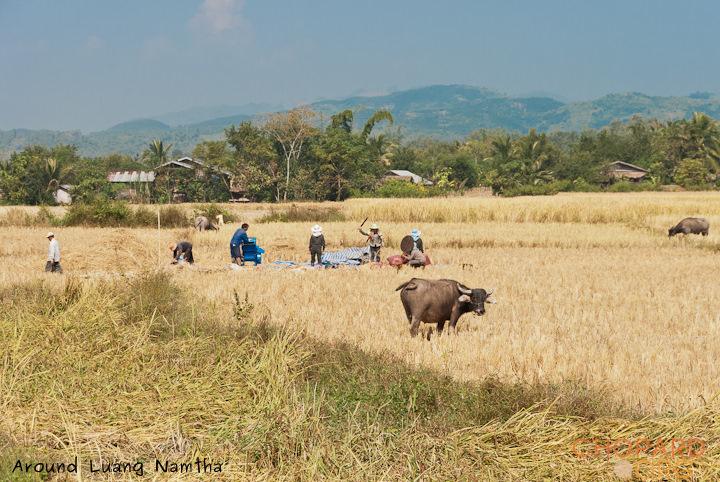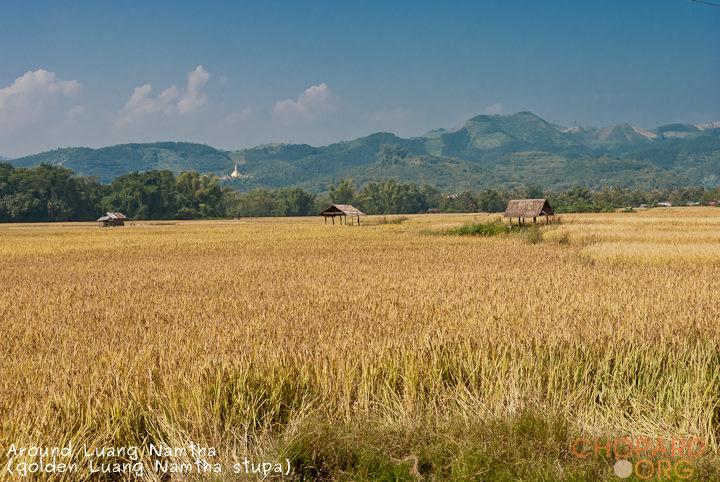 From afar, the golden Luang Namtha stupa, on a northwest hill, is a flashy landmark. A short steep roads leads to this shiny monument. It is set up against a mountainous backdrop and provides a glimpse down to the valley.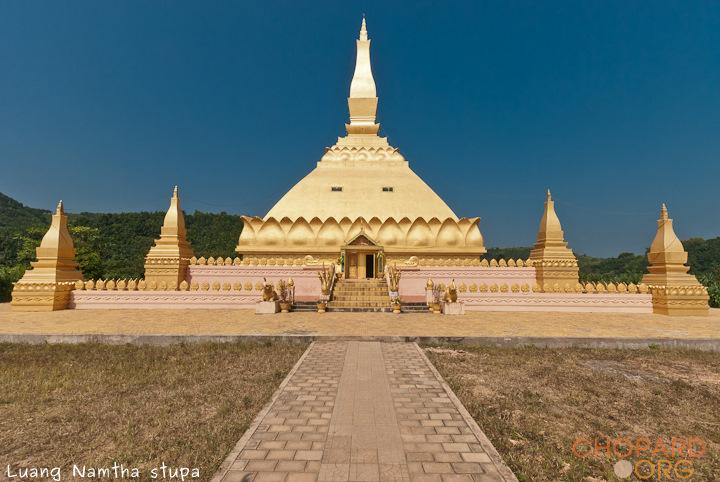 Another religious compound is located southwest of the city. I eat a considerable amount of dust while driving the 3 kilometers sandy and rocky road to the hill, were stairs lead up to That Phum Phuk. Next to a recent gulden chedi, crumbled stones testify about a glorious past. In addition to the ruins the all-embracing view toward the valley is worth the trip and the small 5000 kip entrance fee.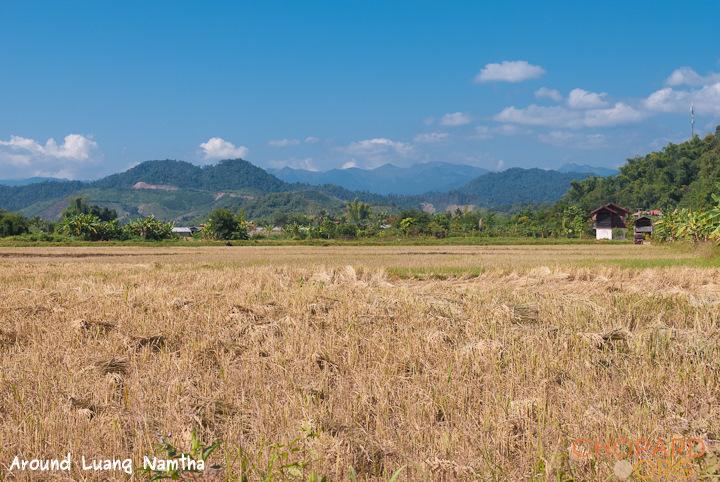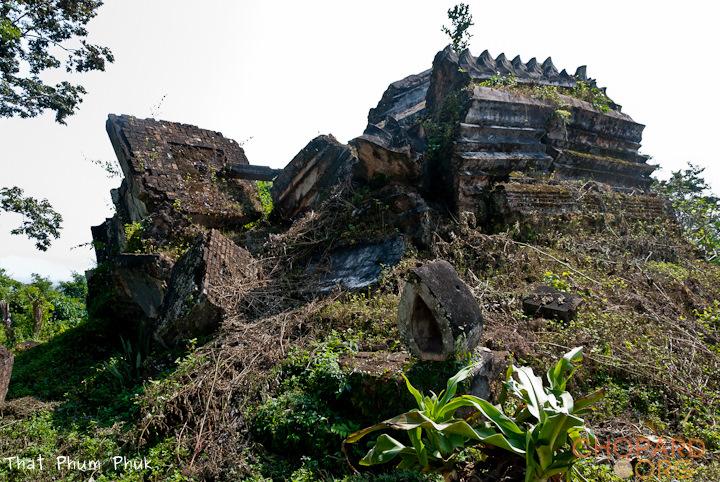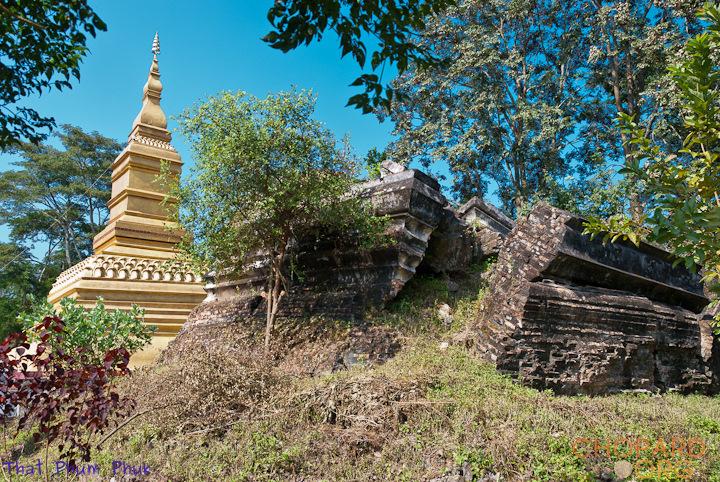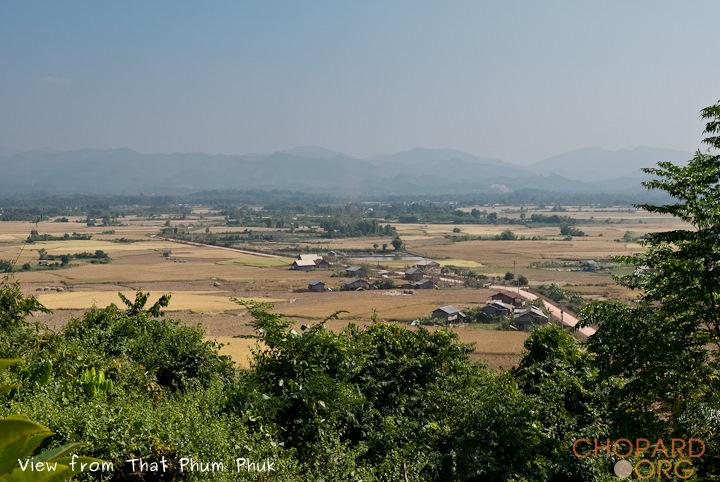 Back in town, I rounded up the afternoon with drinks and wifi, waiting for my friends. Dinner, was booked by the travel agency at "Banana Restaurant", a reasonable choice, but a place with little character. As our final watering was again in Manychan, I just climbed a couple of stairs before switching off the light.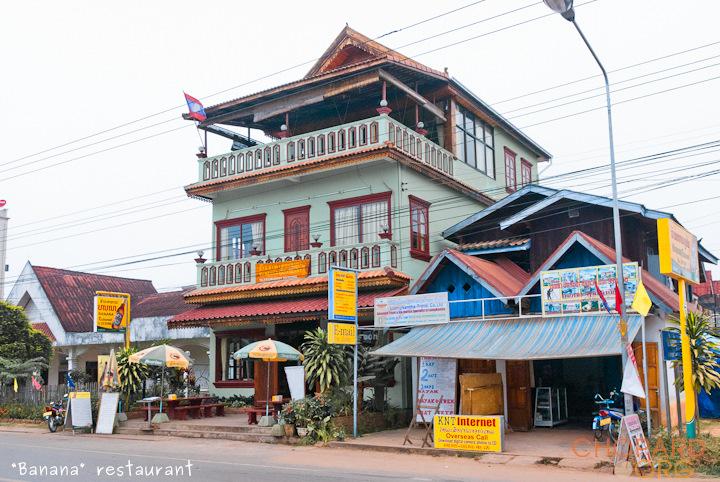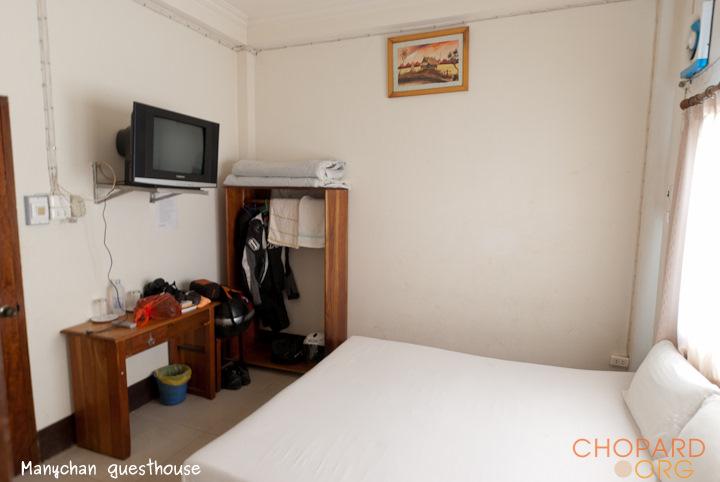 River trip
While I joined my friends for a boat excursion, I gave a day off to my bike. The departure for the cruise is outside the city, at the "Boat Landing Guesthouse". There we boarded a pirogue and glided down the Namtha, following his shaking and vigorous waters. In November, the level is high enough to allow such trips.
Guided by skilled boatmen, the small embarkation floated smoothly or, at times, jumped through cascading rapids, shaded by by vegetation and again in open waters, boarded by high sided banks.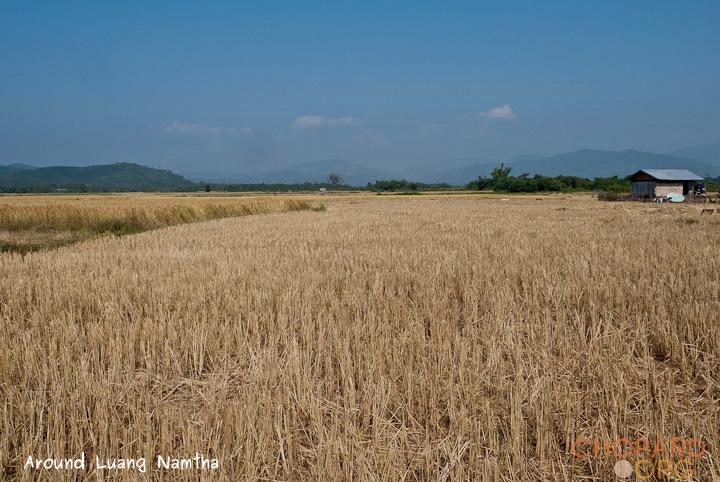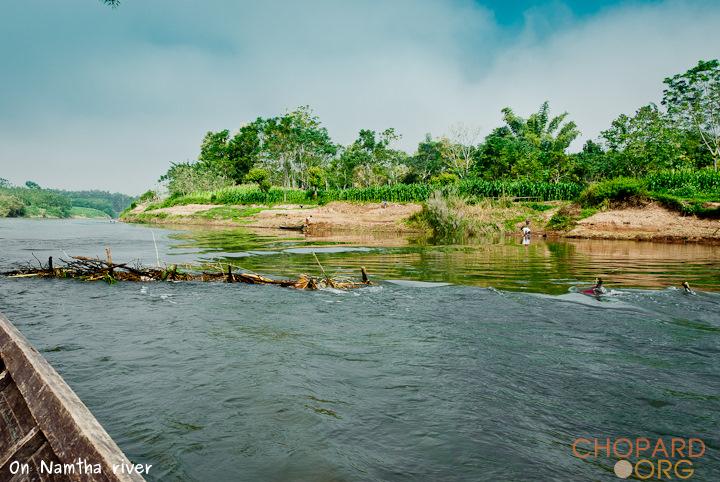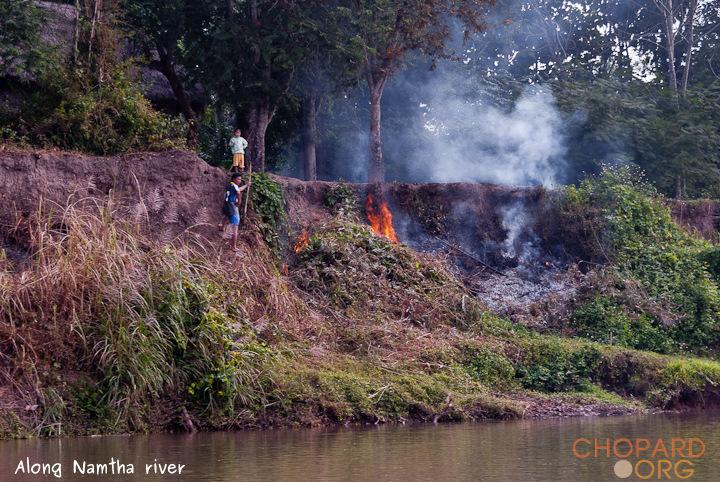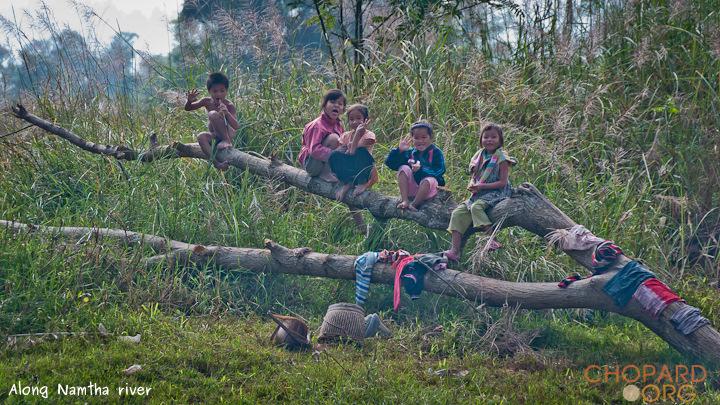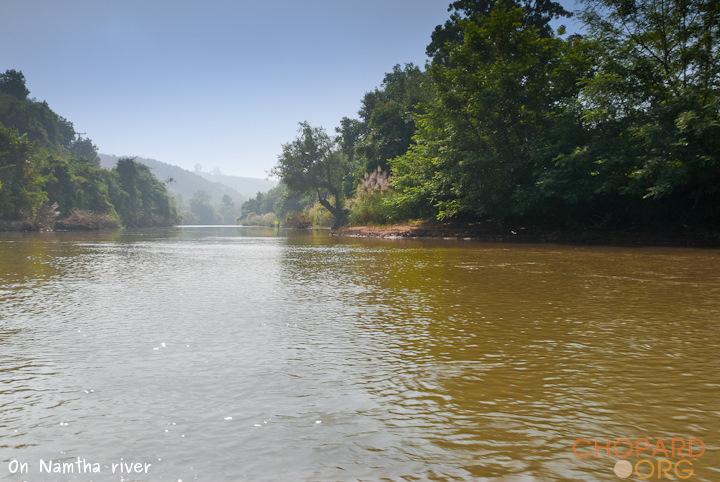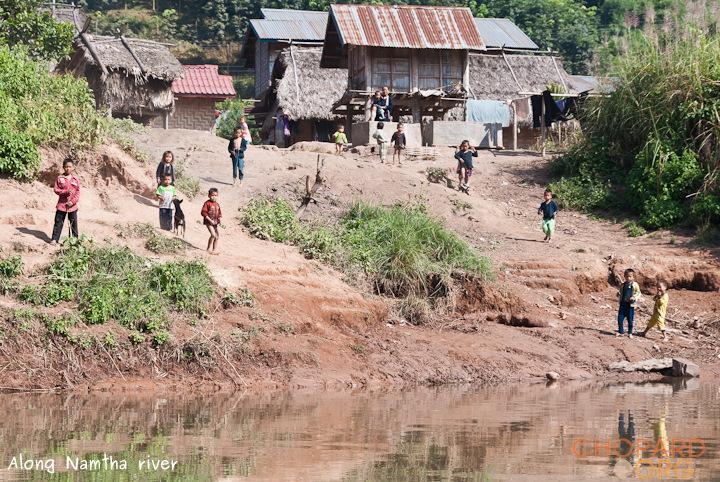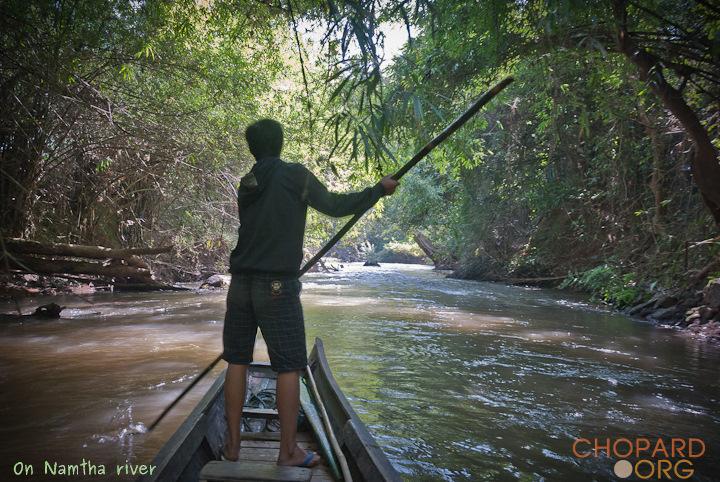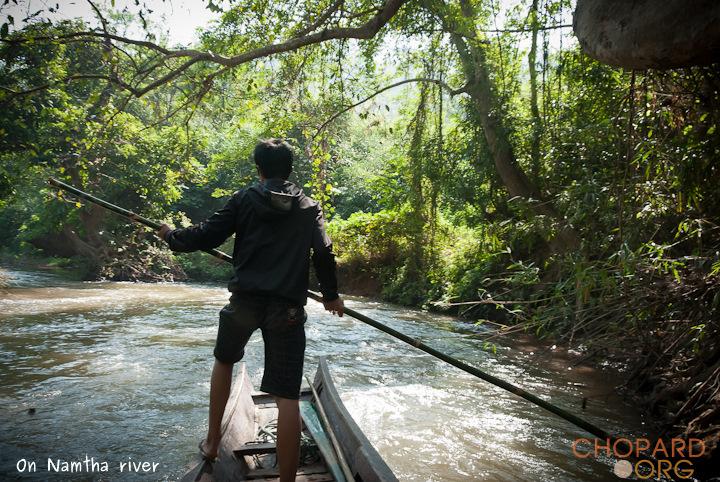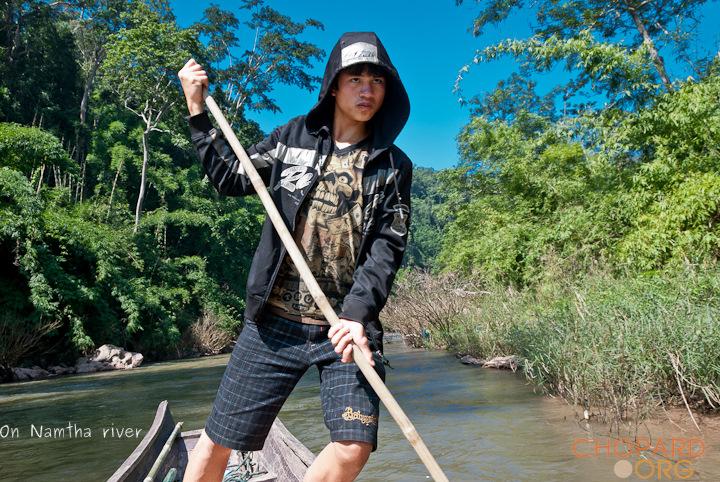 At one place, all passengers had to disembark and ascend to the trail on the river's rim. The crew navigated the pirogue through a difficult sector, while we were walking on the road.
Farther down, we stopped at a small Kammu village, and soon, the journey went back, up the river, against the flow.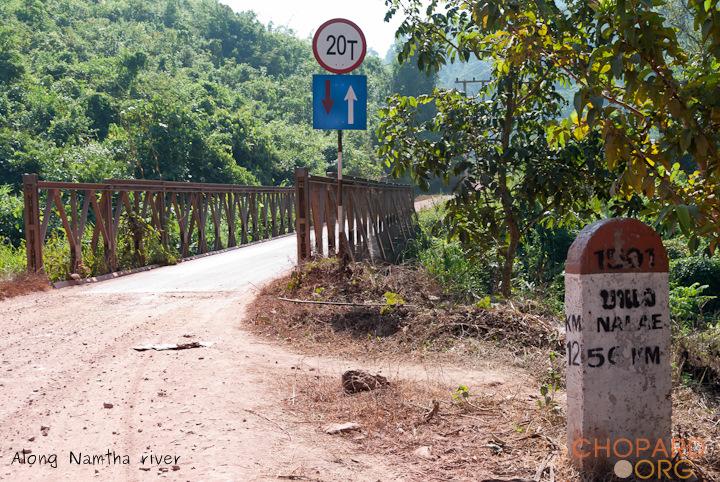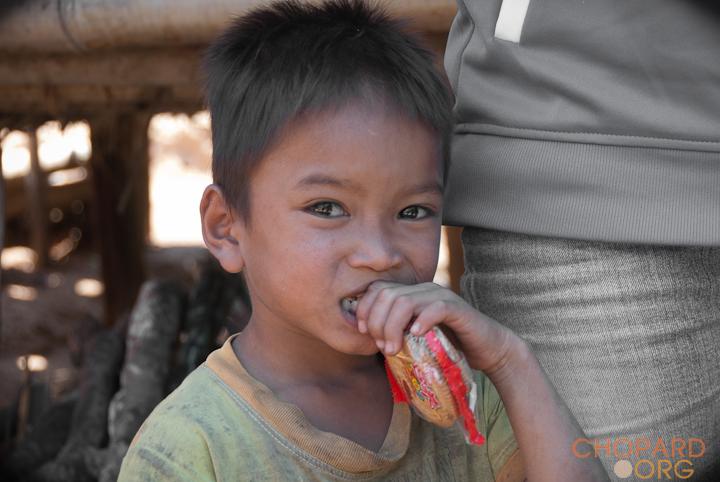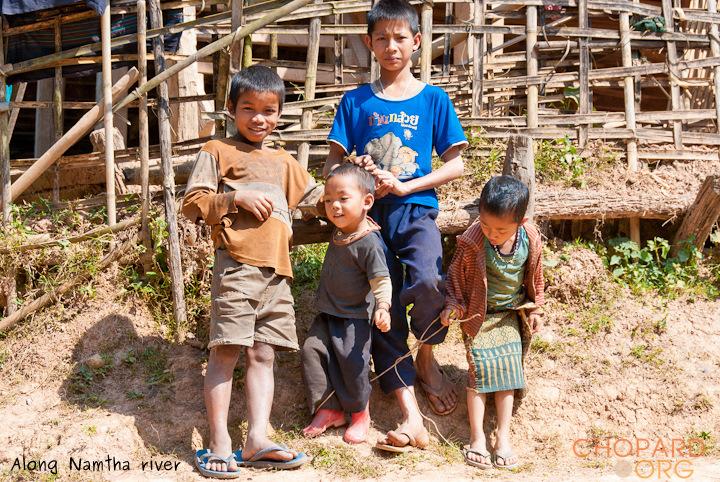 It is easier to control the boat upstream, and, that time, we did not disembark for the passage through the rapids.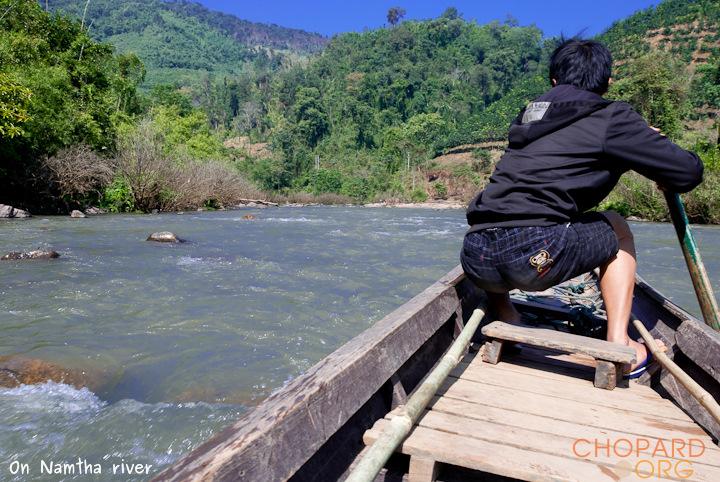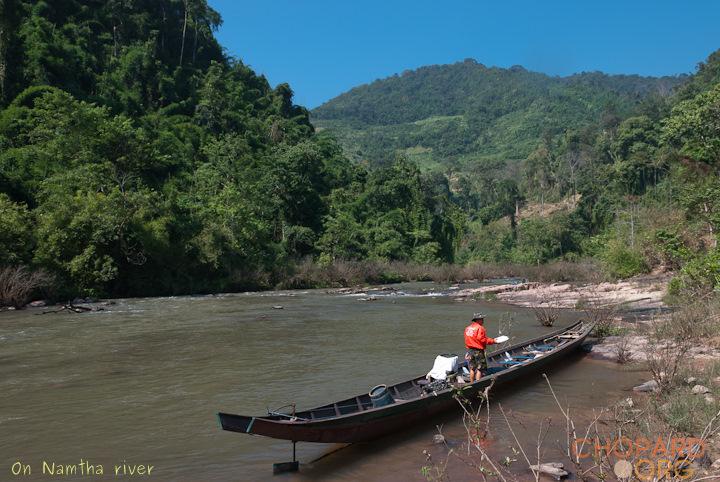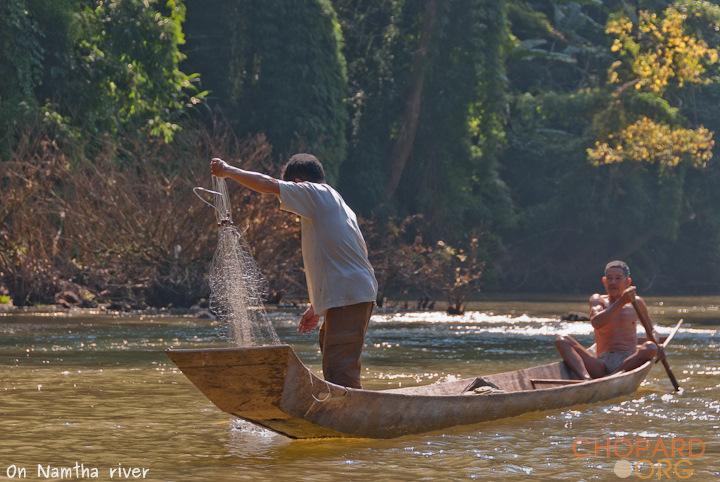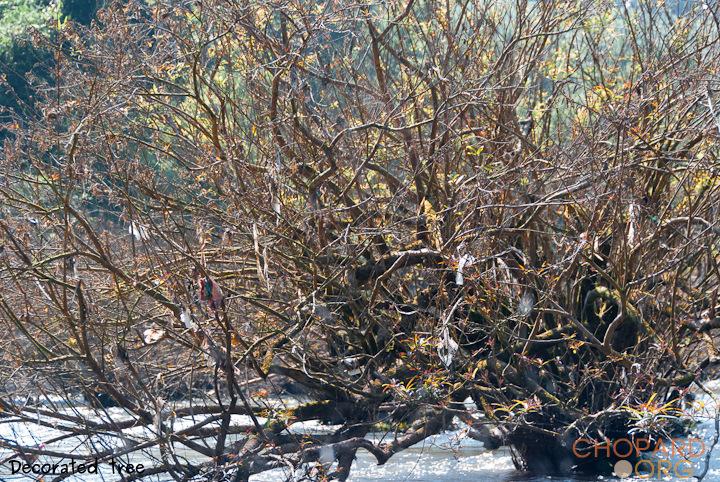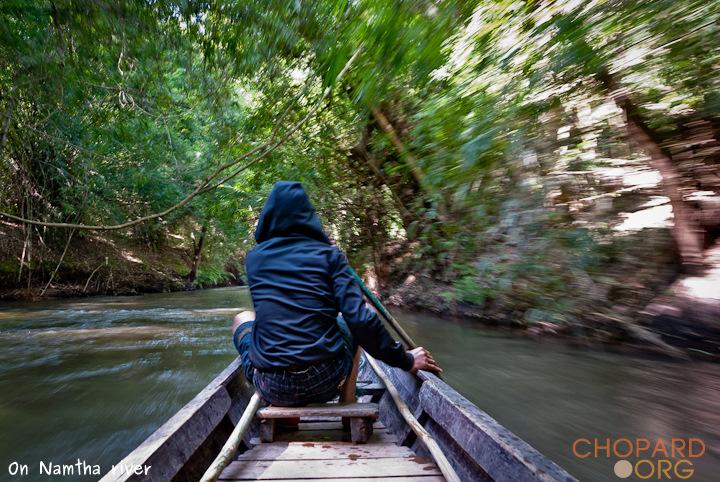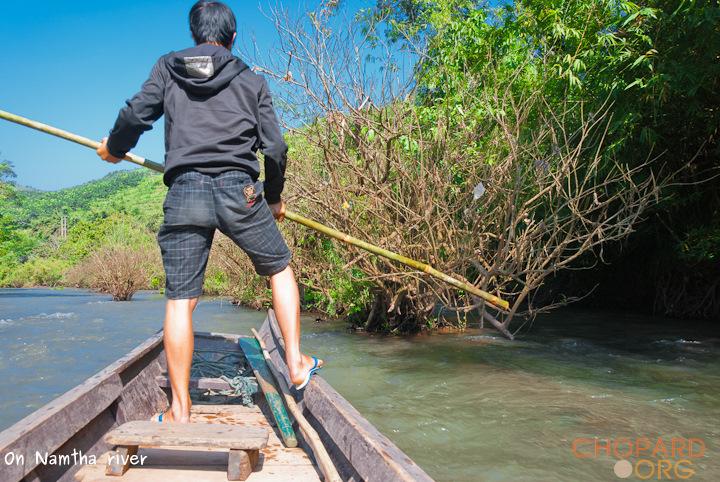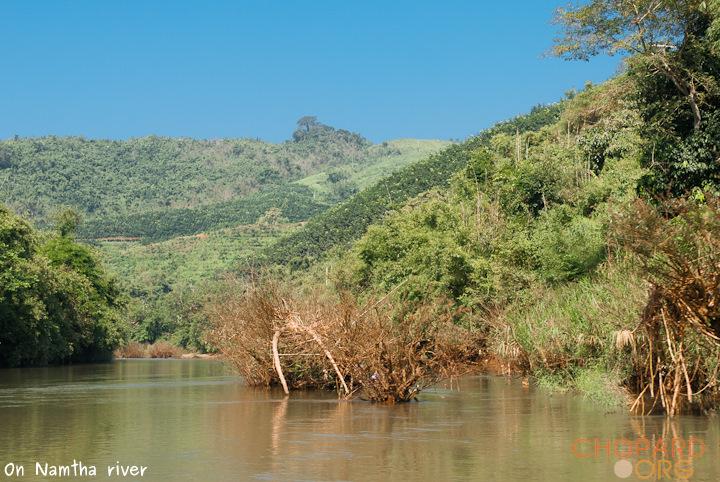 Another stop, on the river's bank, allowed us to visit a Tai Dam village, an ethnic-group known for their silk weaving craft.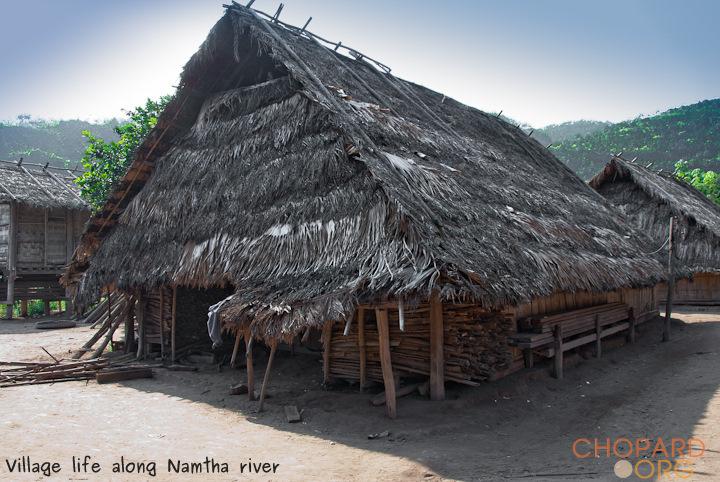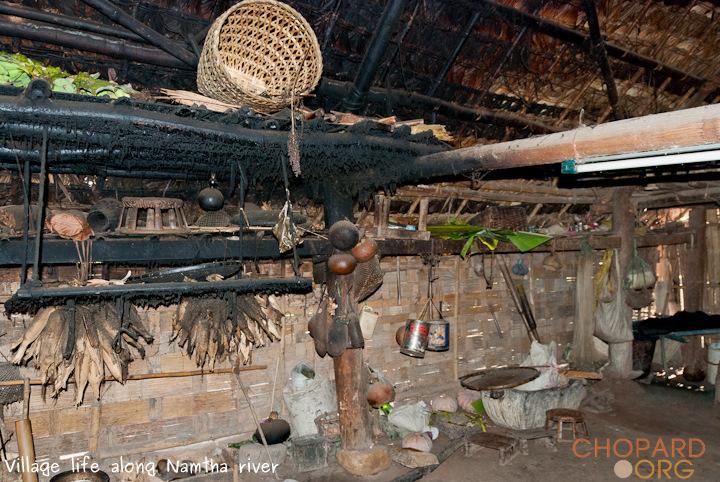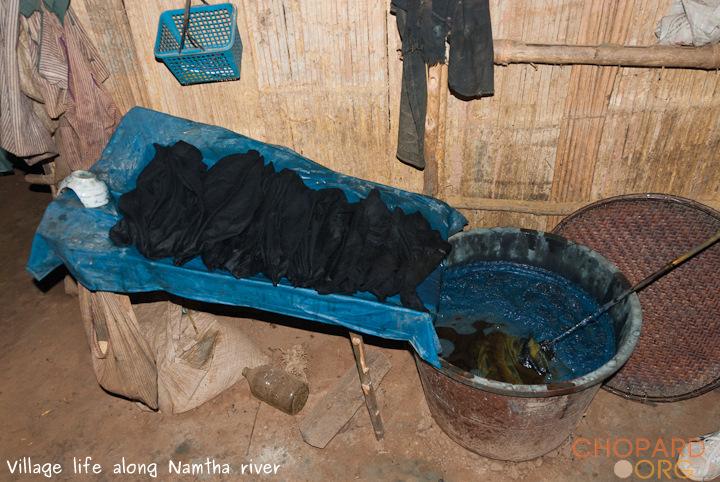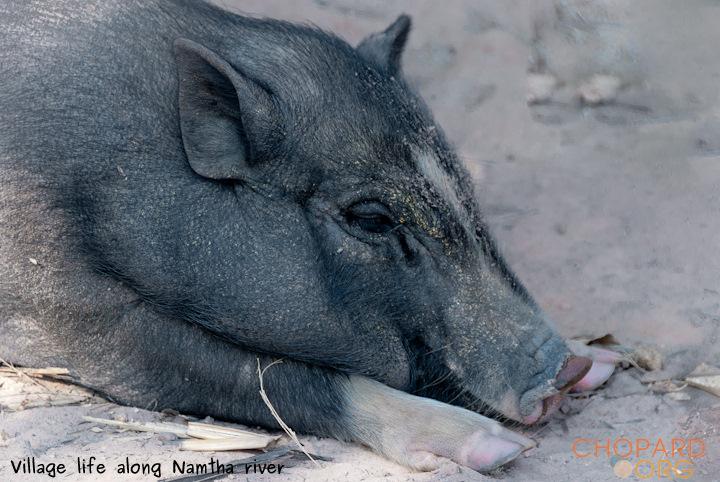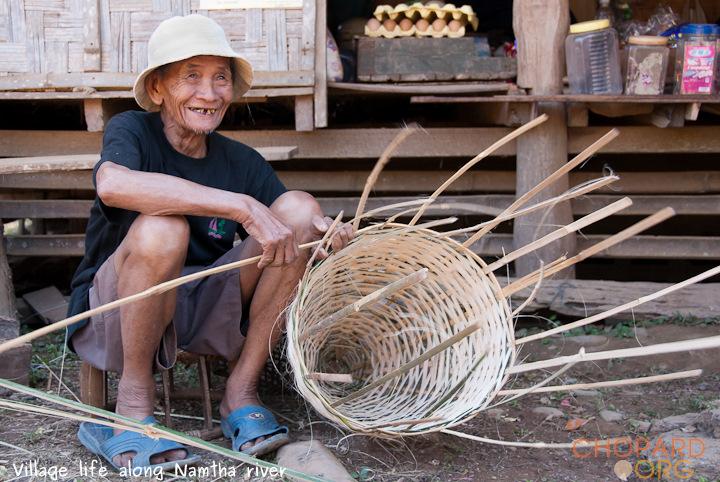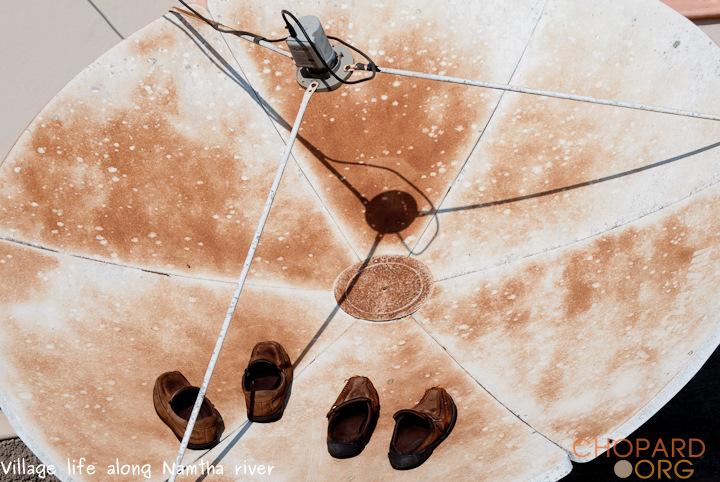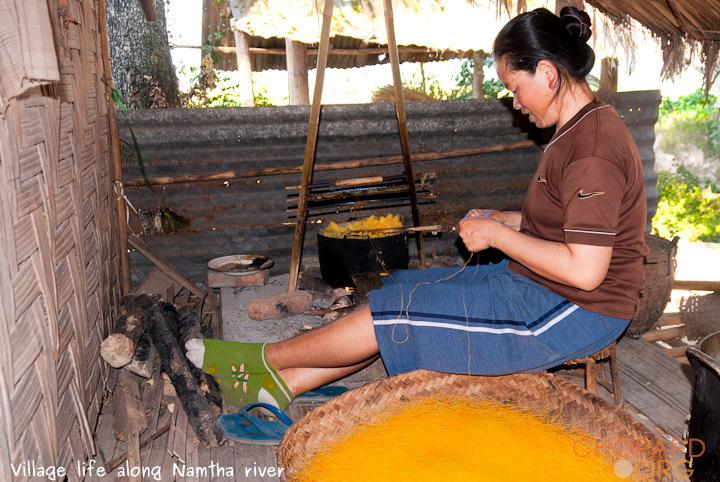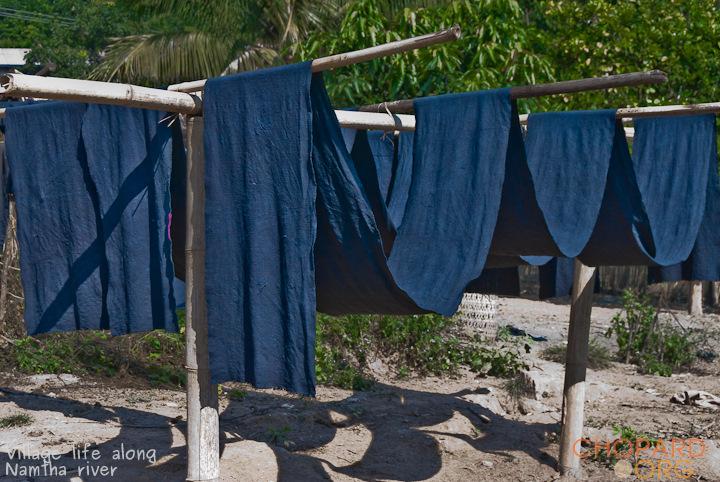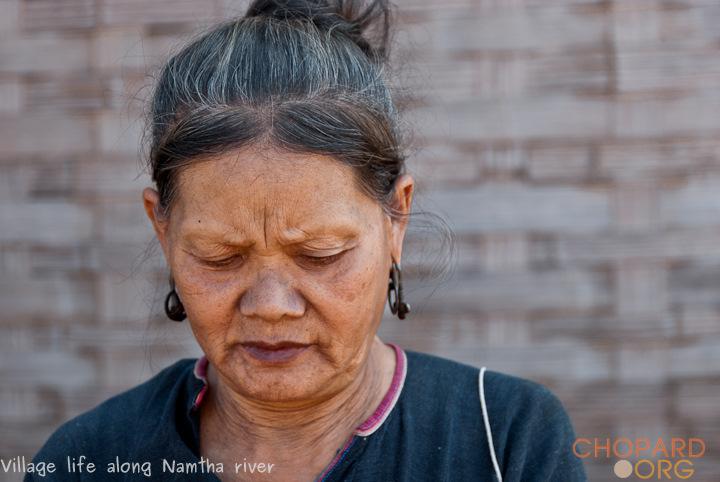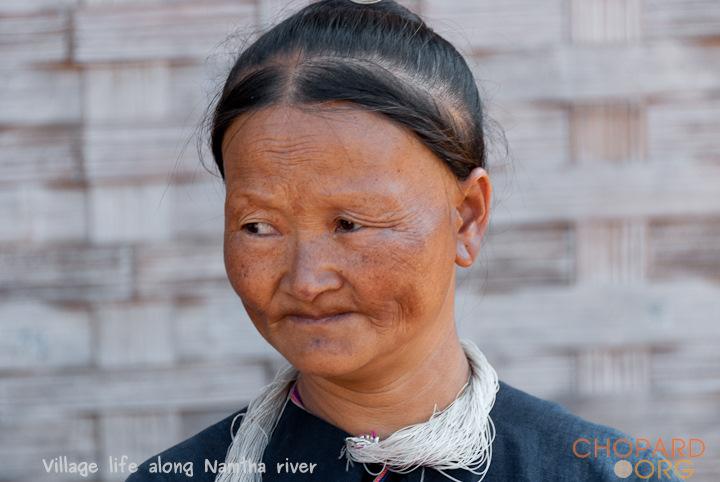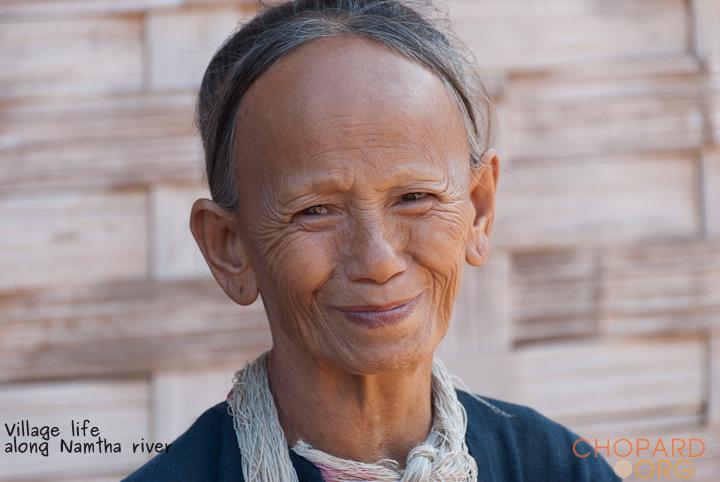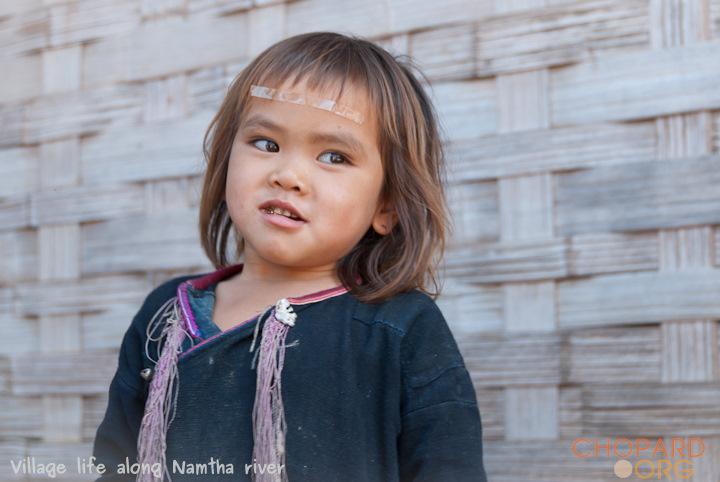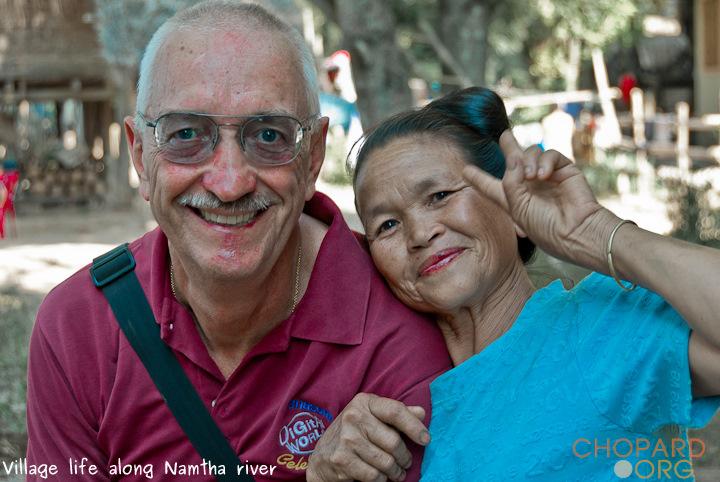 Boarding the pirogue again, we headed to the pier, next to « Boat Landing Guesthouse », were we had initiated our cruise in the morning.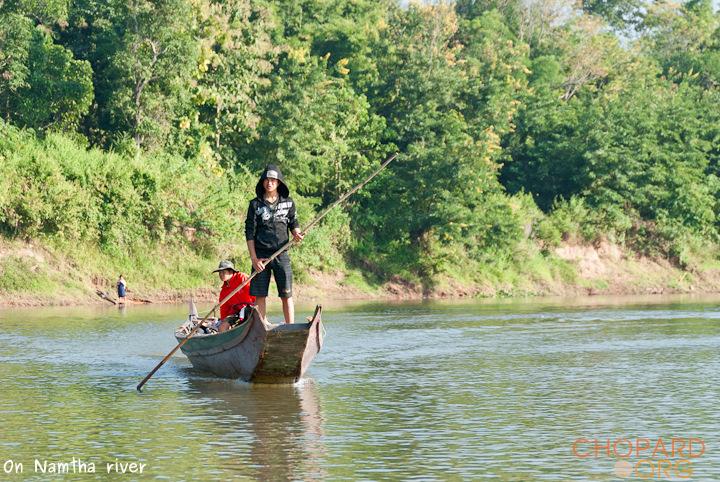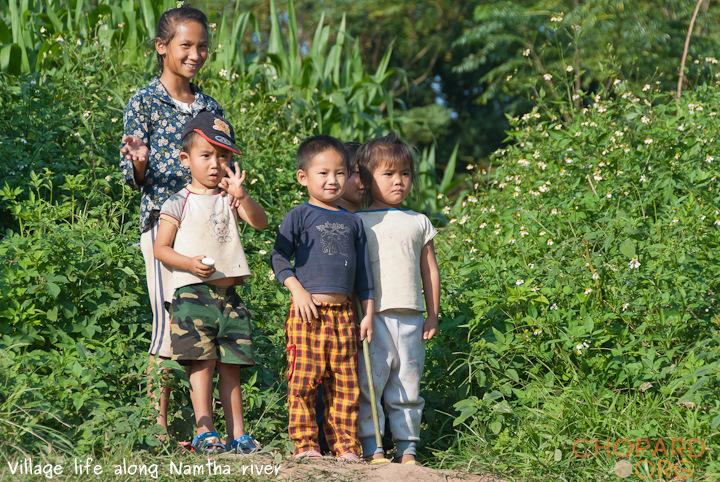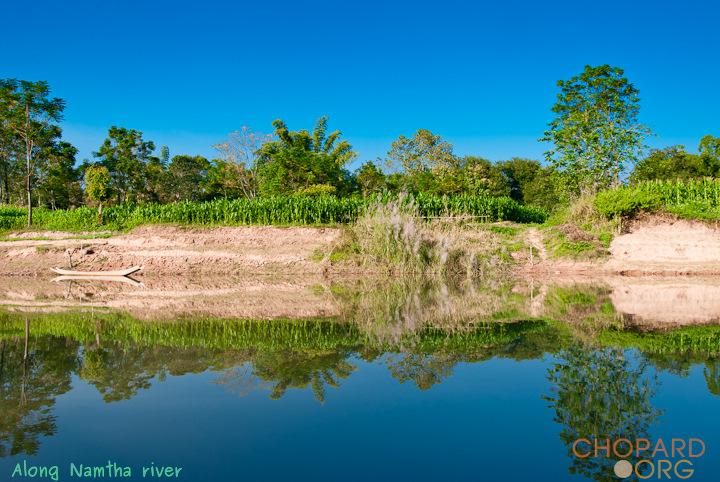 Muang Sing
The next destination, on the day's itinerary, was Muang Sing; however, before leaving Luang Namtha, additional visits had been scheduled.
We jumped quickly through the museum and his small collection of artifacts (taking pictures is prohibited). As I followed the van on my bike, I swallowed again That Phum Phuk road's dust. This time, instead of climbing the hill, we bifurcated on another track and visited Nam Ngane, a "Thai dam" village, specialized in rice wine distillation (lao lao).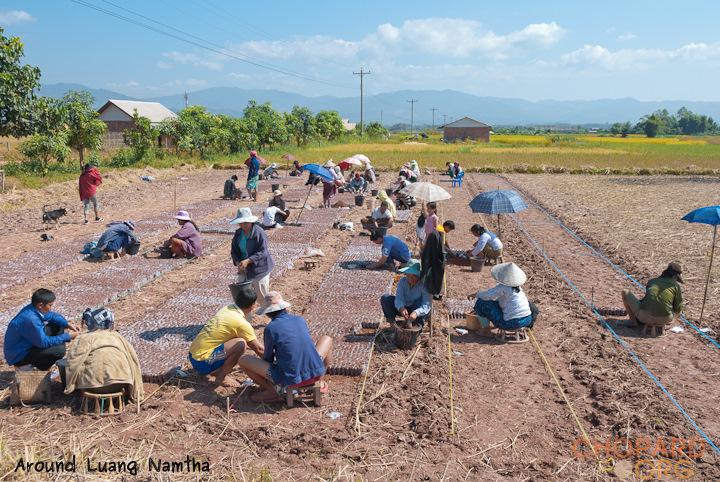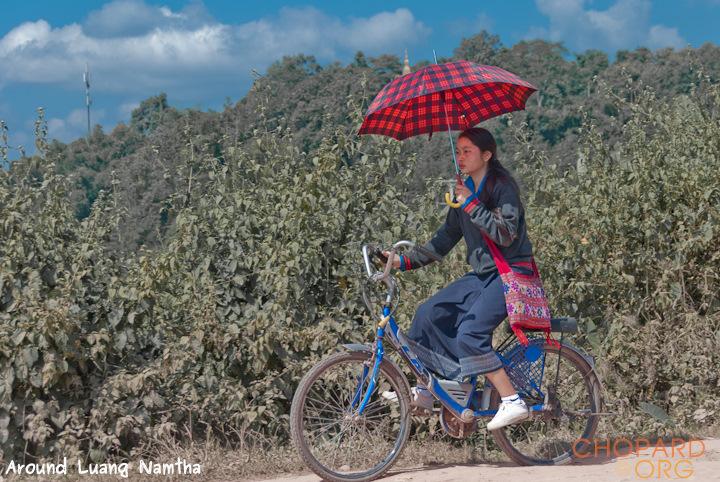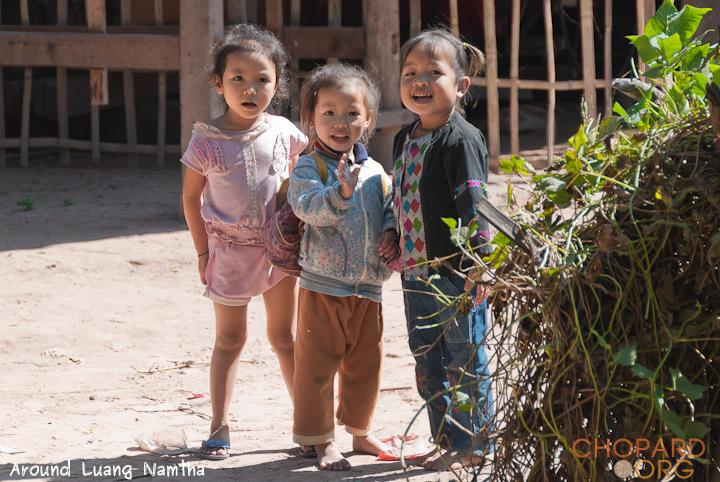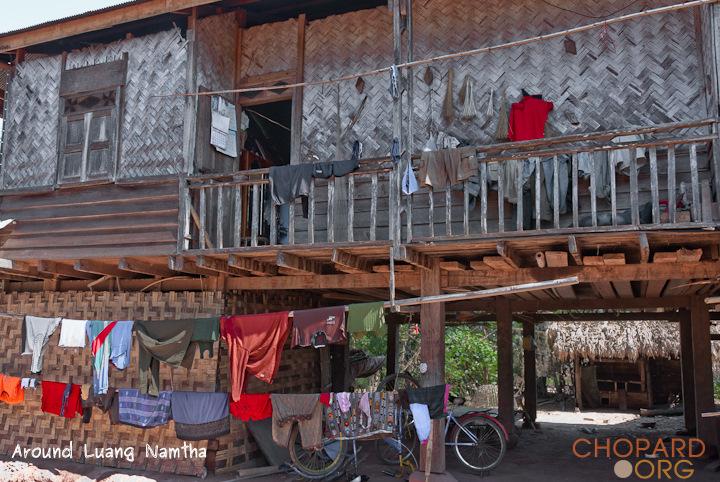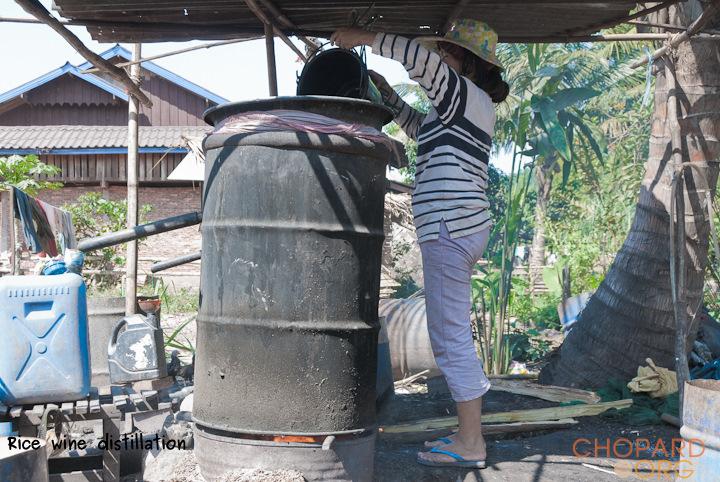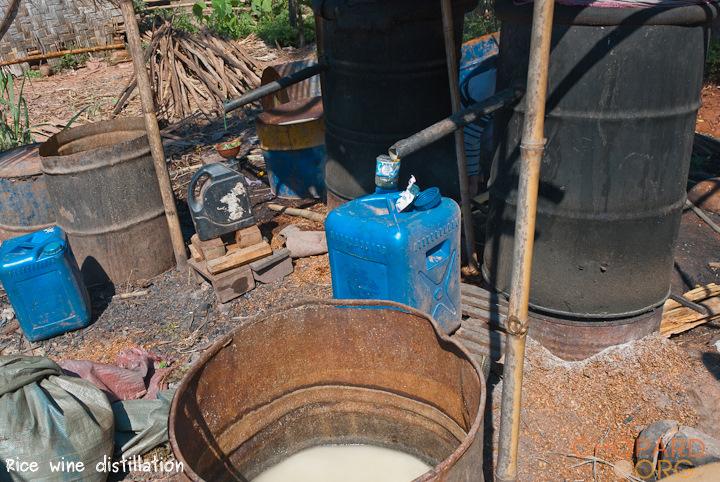 Eventually, we were on road 17, heading toward Muang Sing. It is an interesting drive and I was pleased to ride it twice, as I would come back on the same way, two days later. Our first « touristic stop was at an Akha village.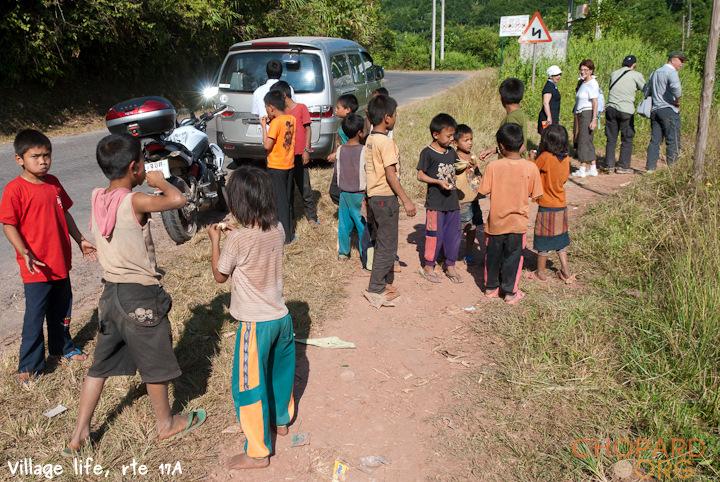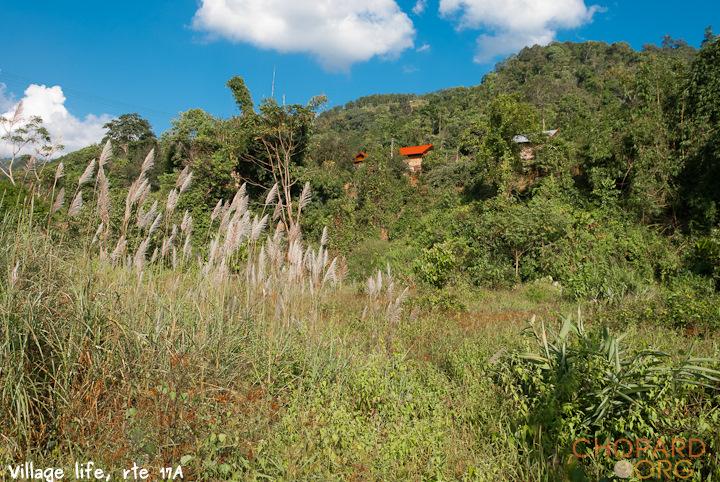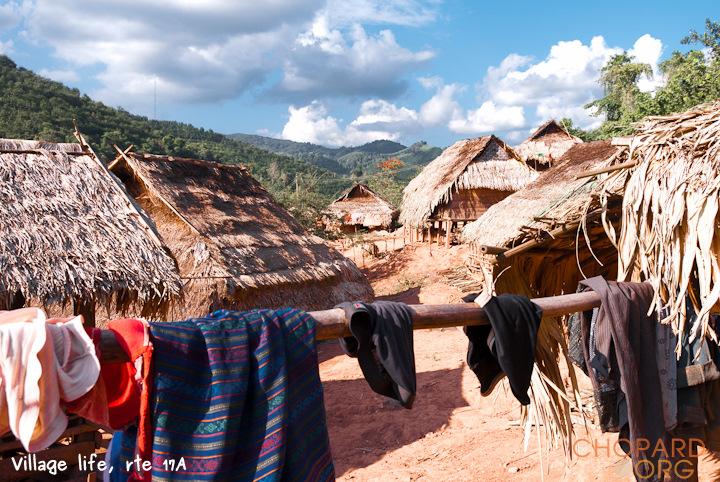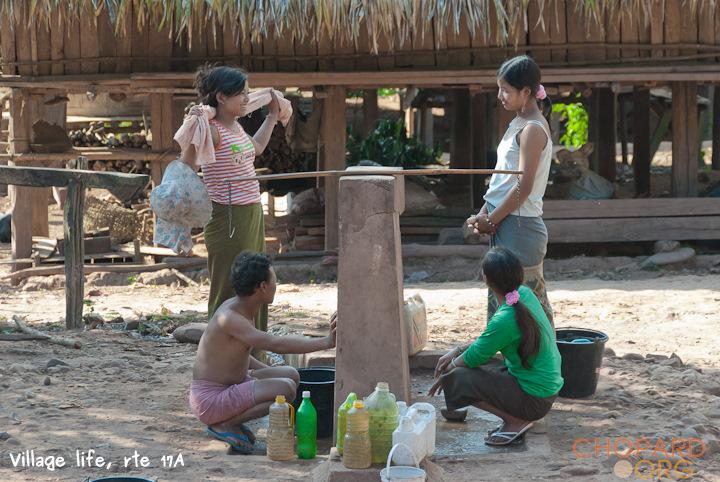 Before Muang Sing, we stopped at another settlement, this time a Thai Dam village with weaving looms and locals people happy to sell their crafts to the tourists.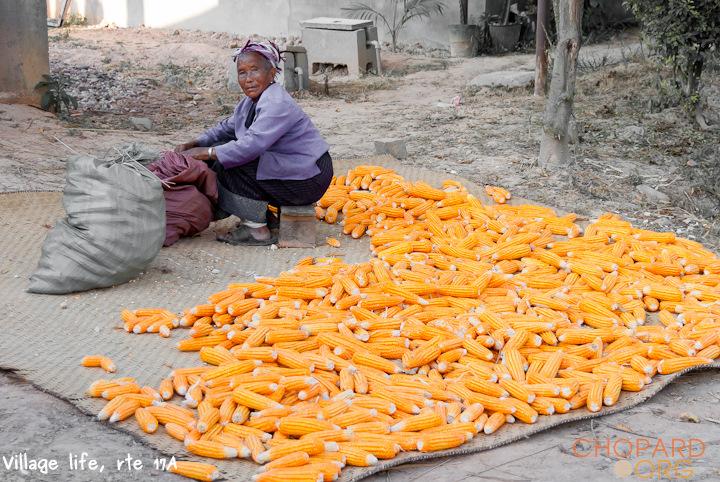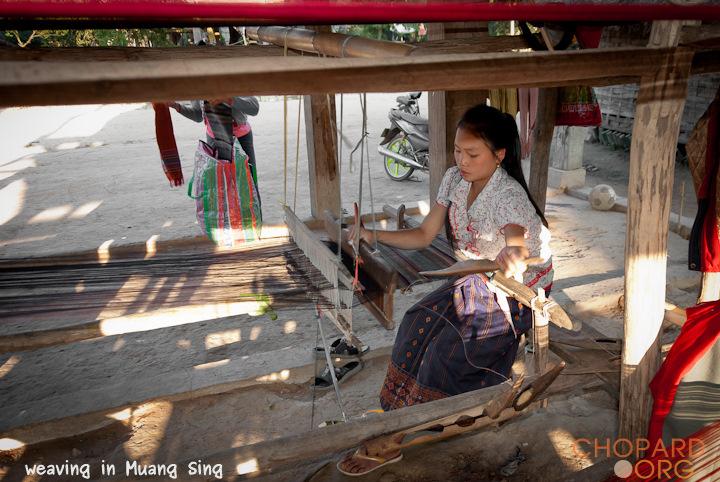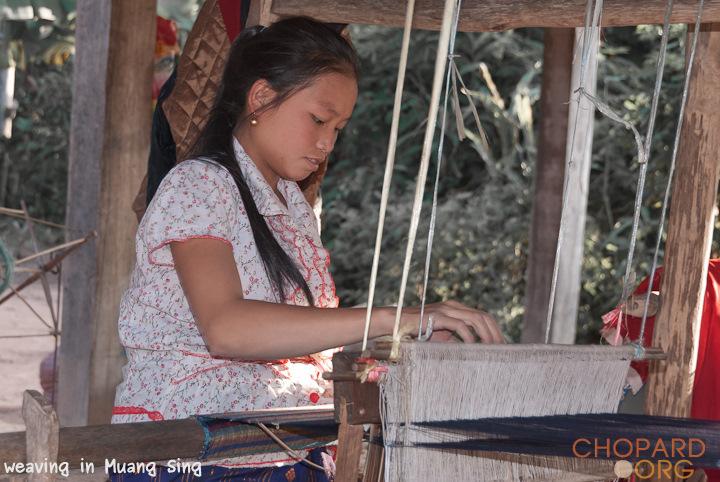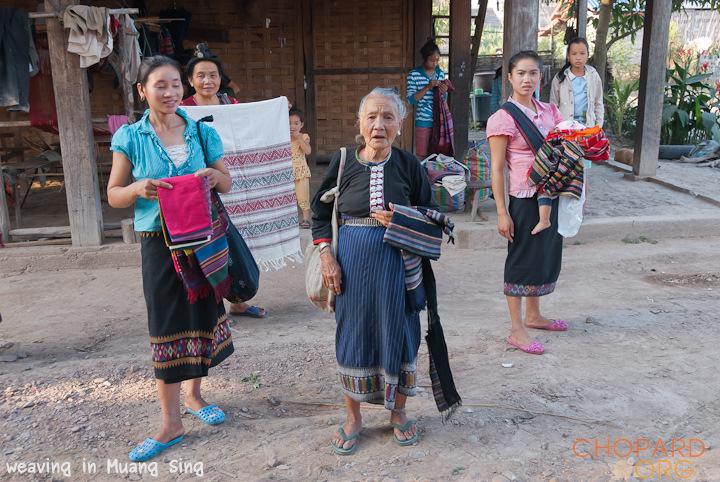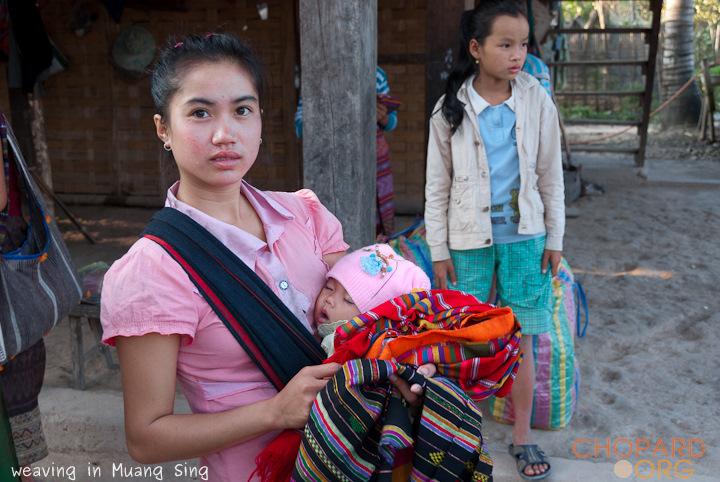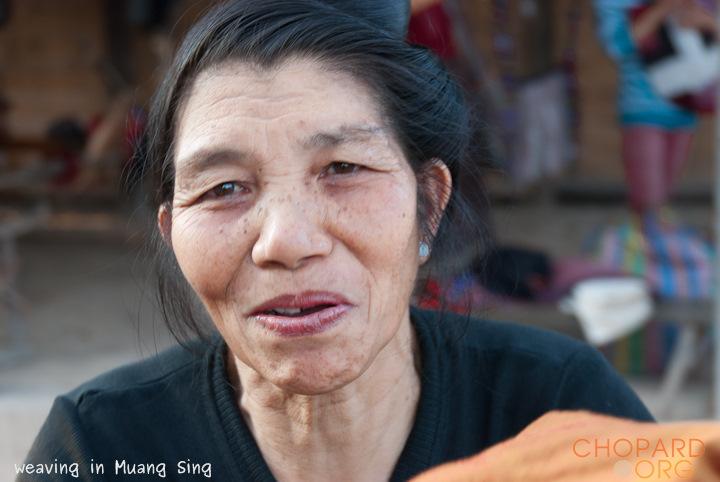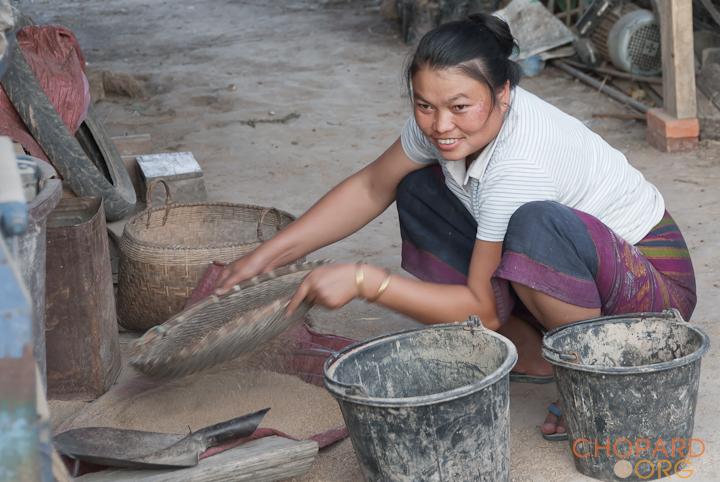 The travel agency had reserved "Pou Lu 2 Guesthouse" for my friends, but, at 40 US$ a night, I preferred another option, three hundred meter away, and checked in to the new Chanthimmeng Guesthouse (60000 Kip). From the first floor, a panoramic view reaches the horizon, over rice paddies. Unfortunately it was cleaning season and the torching added fumes to an already foggy atmosphere.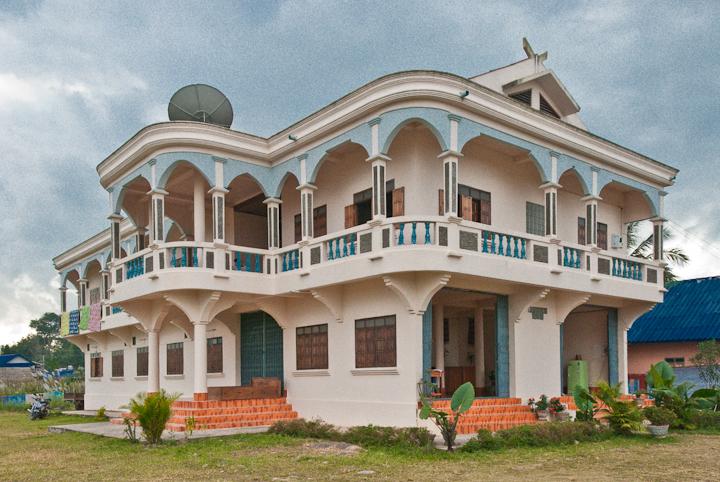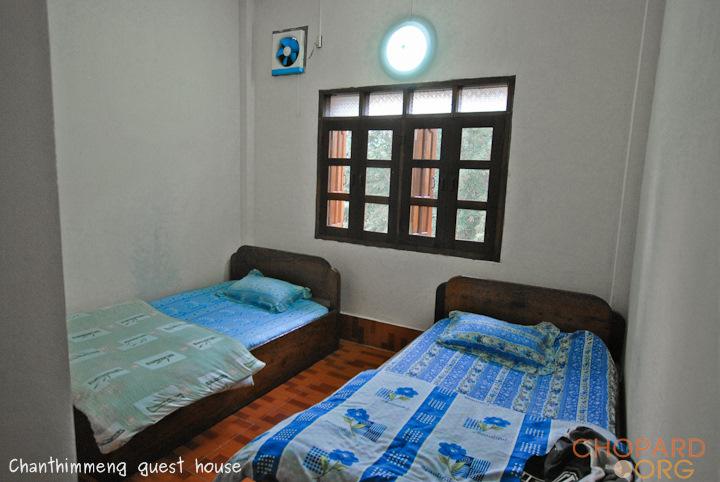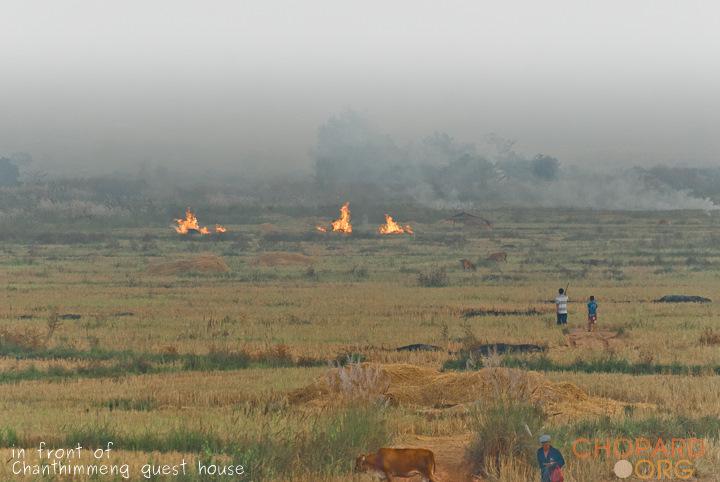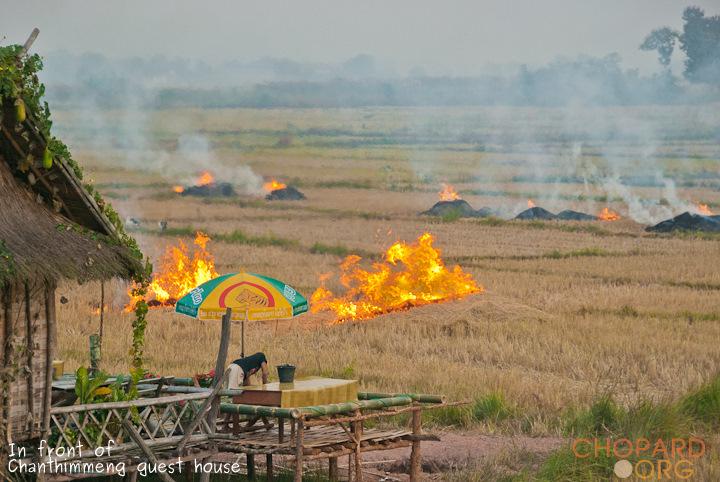 My bike got a second holiday, as trekking was on the day's the program. Before breakfast I rambled around the foggy morning roads, already filled with activities.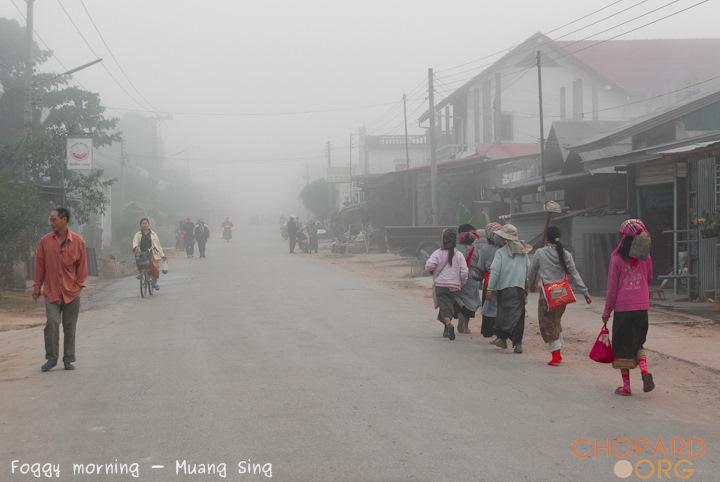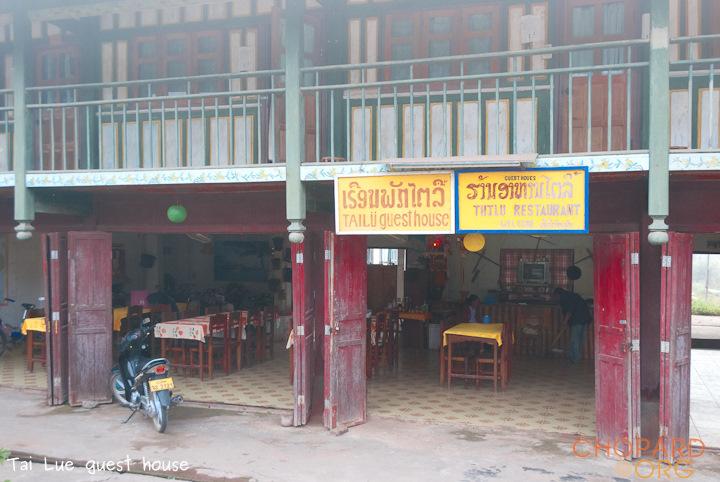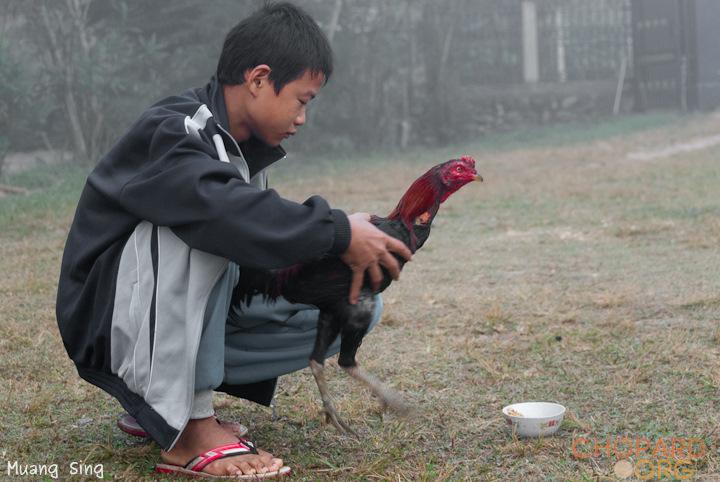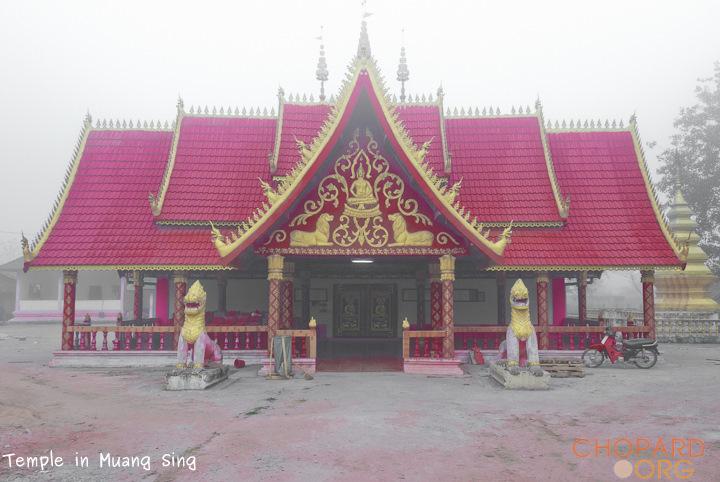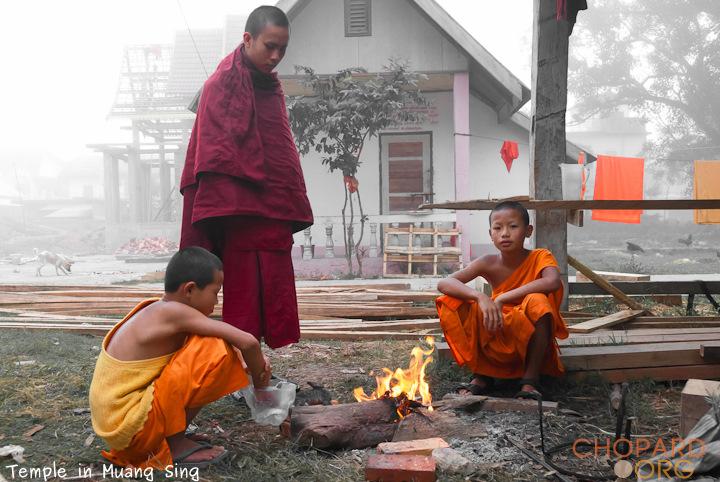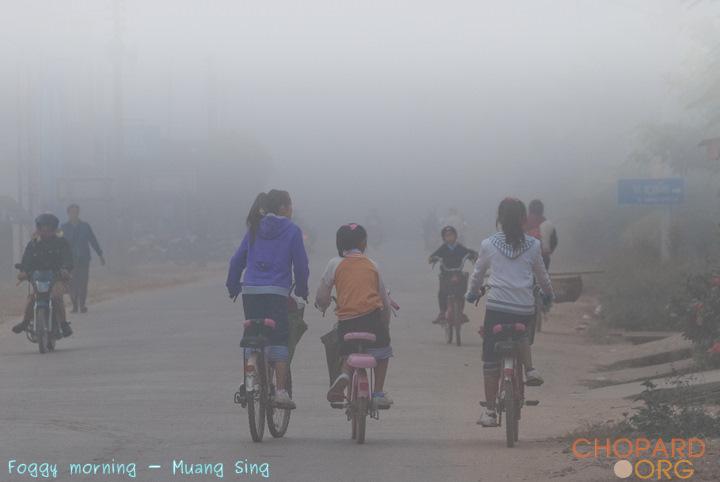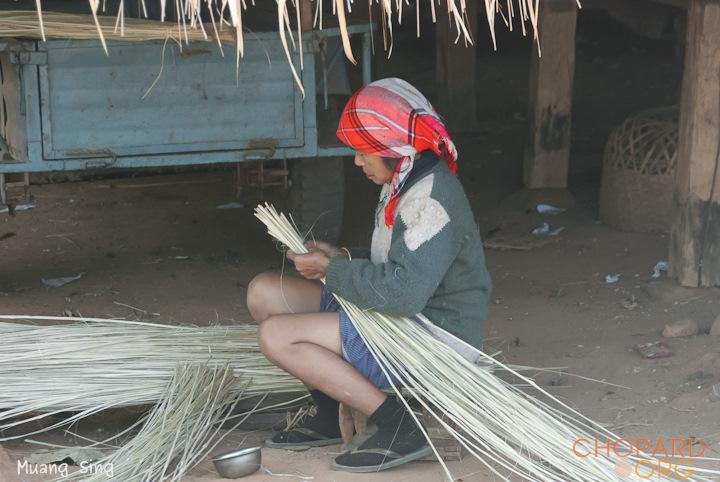 A mini-bus sent us a short distance outside Muang Sing and we started our journey, walking with a local guide.
The first village visited was again Akha, a tribe often avoiding picturesque encounters. Old and young people fear loosing their souls to the spirits residing inside the cameras.
A traditional swing, used for the September thanksgiving ritual, was erected along the way and, before leaving the place, we passed near the sacred gate, two typical features of this tribe's settlements.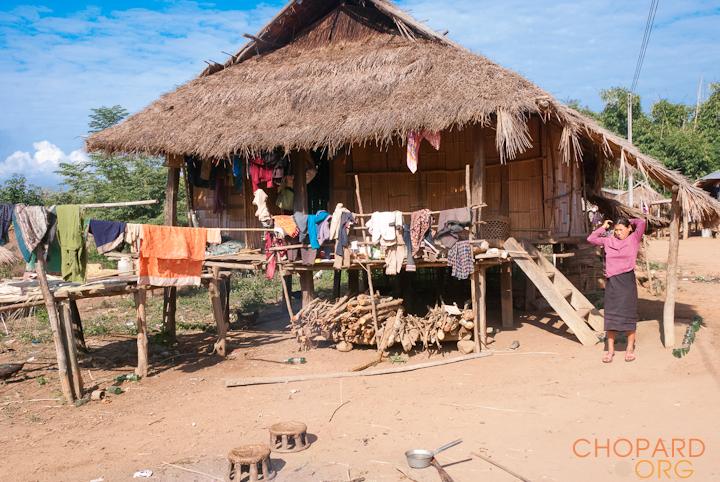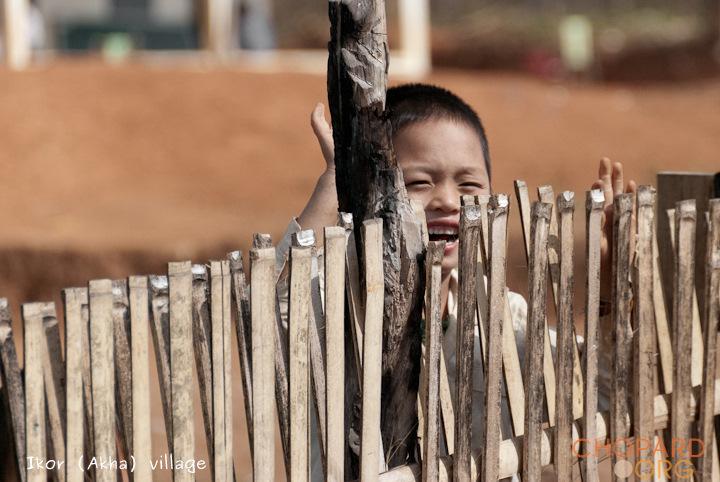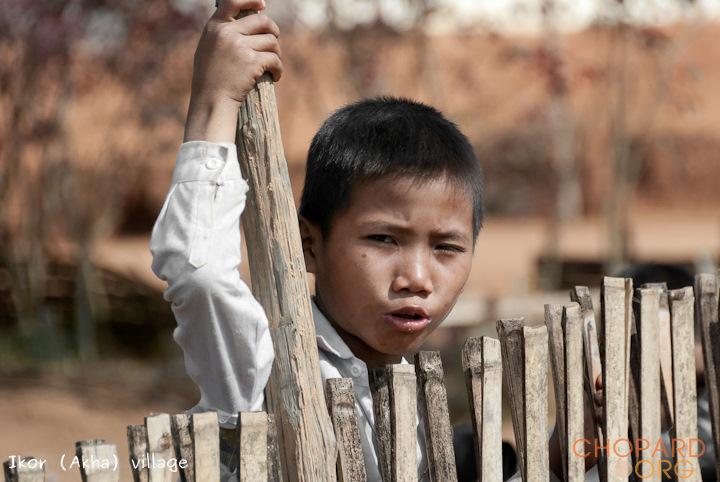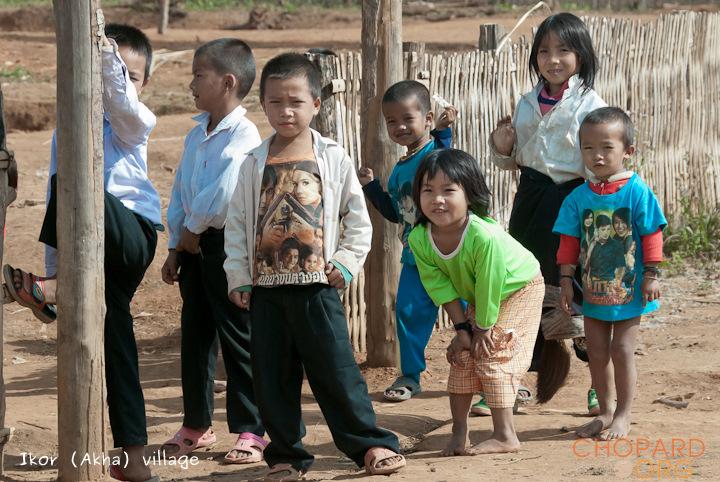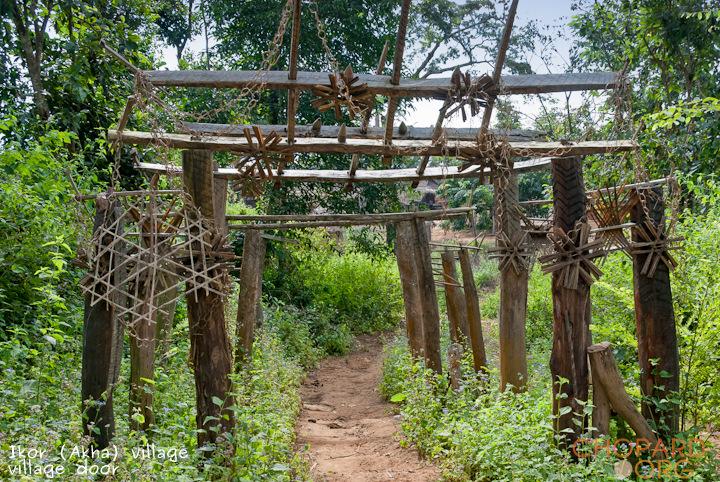 The trek meanders slowly through soft hills, crossing sugar cane fields, passing along forests and hevea (rubber trees) plantations or sapling nurseries. Cotton, sesame and various other plants can be observed along the way.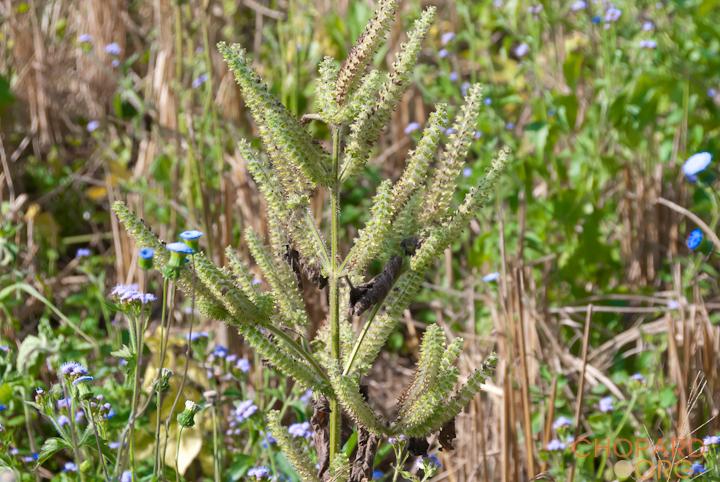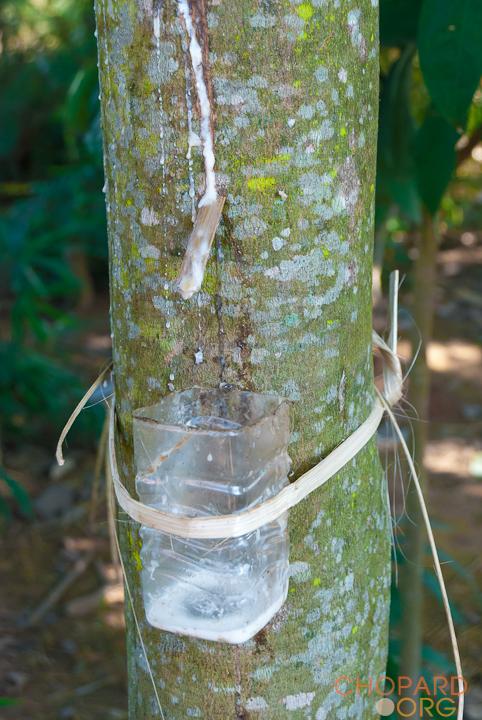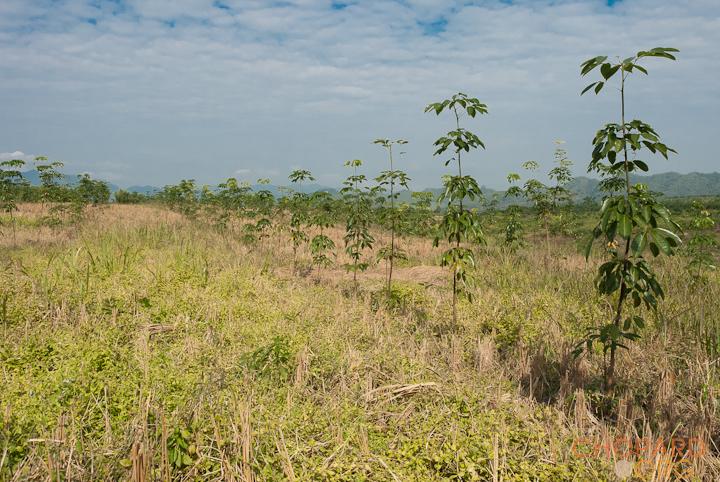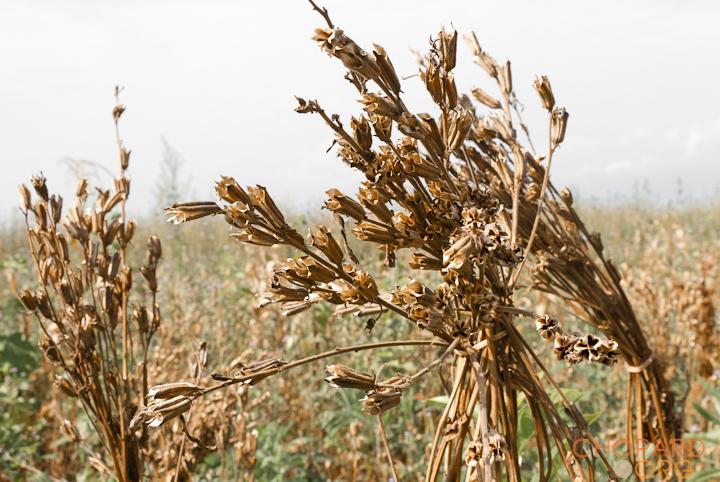 In addition to Akha villages, some rice fields also feature spirit doors, consecrated by religious ceremonies.
The region around Muang Sing is rich in ethnic diversities and a day promenade crosses several hamlets were children cheer the foreigners and adults proceed with their daily chores.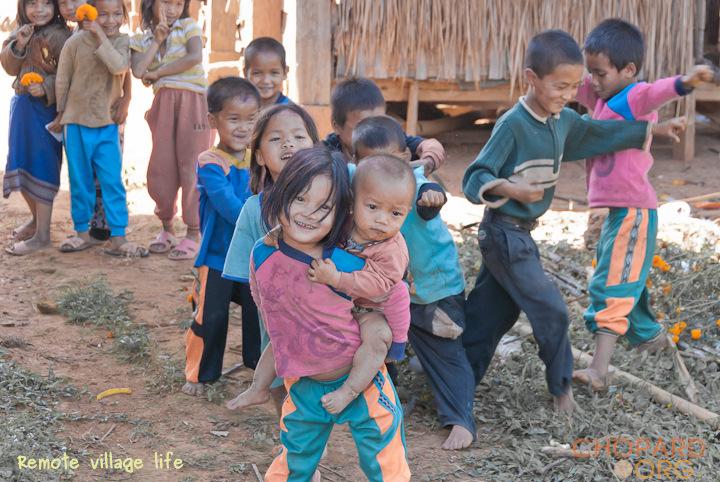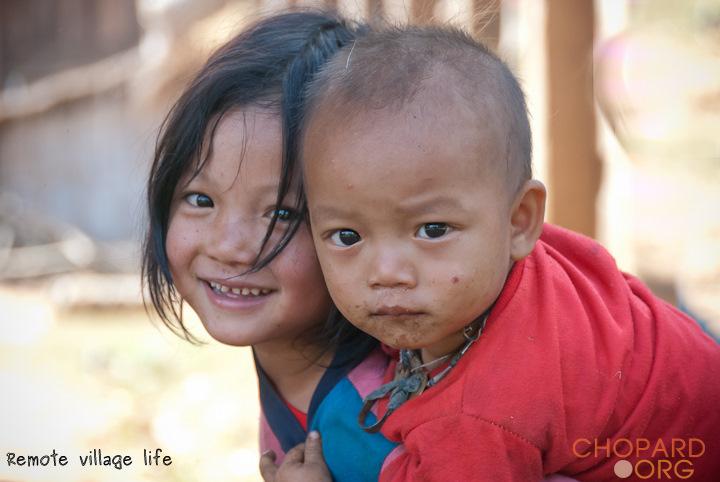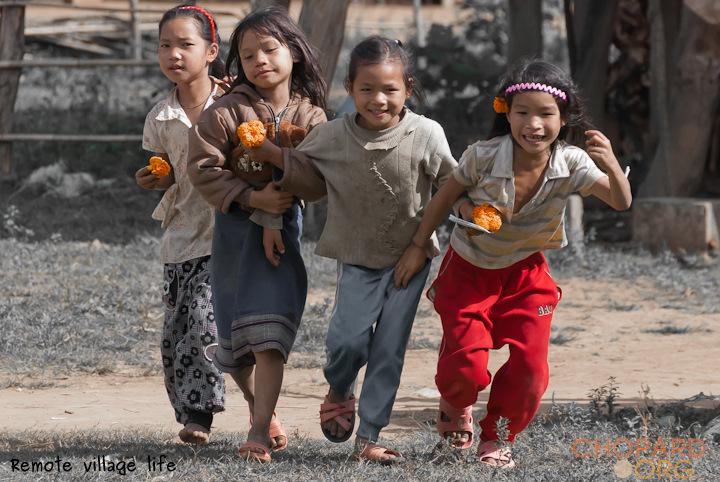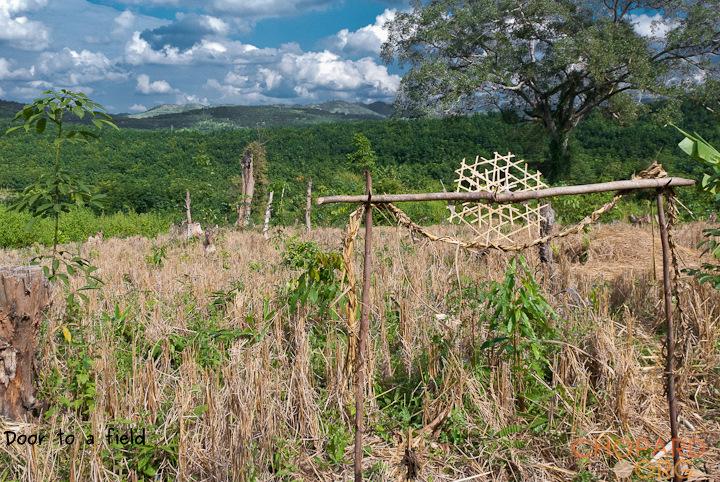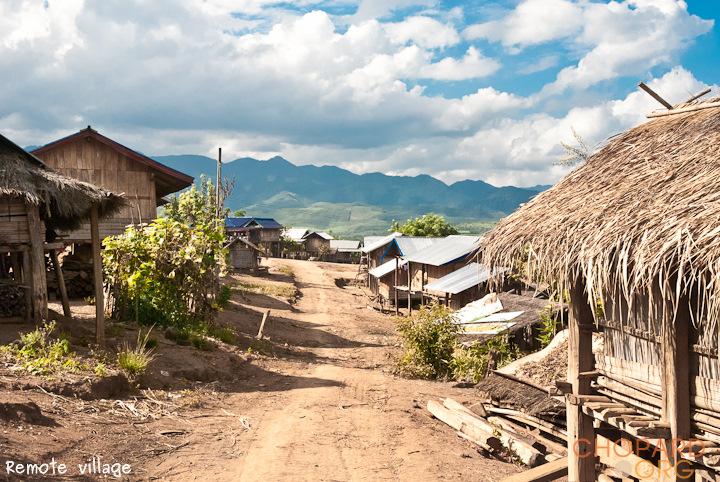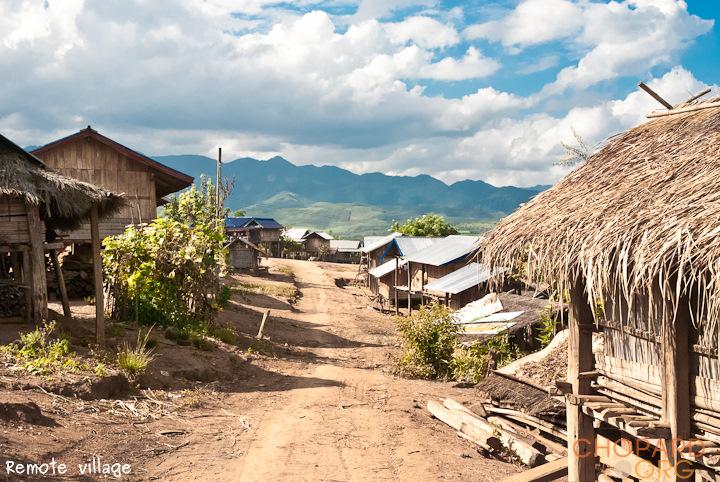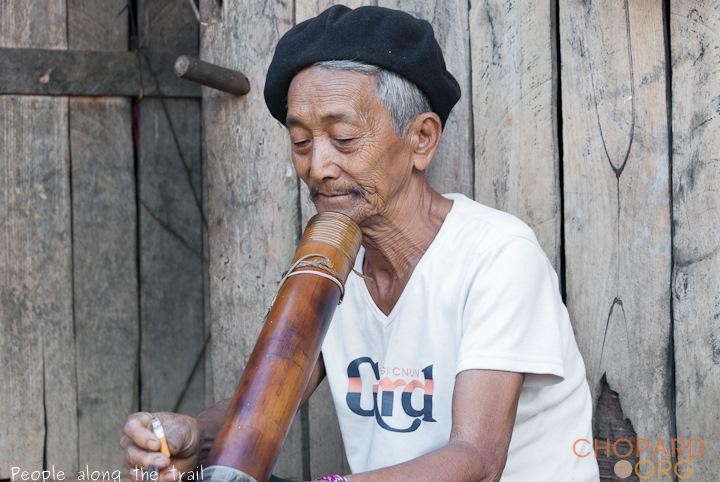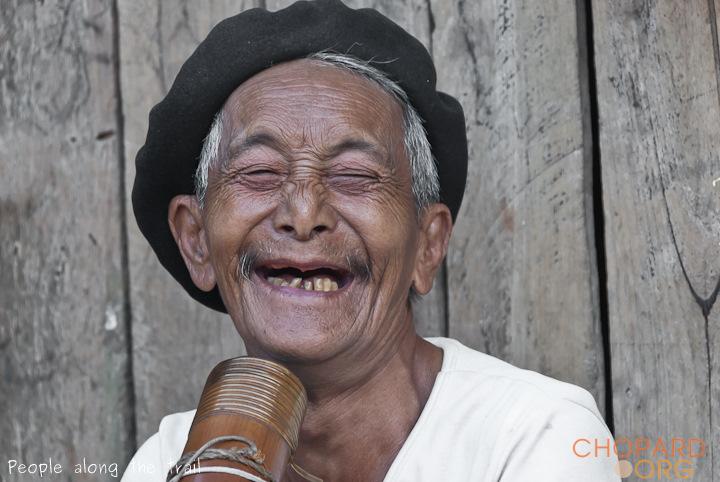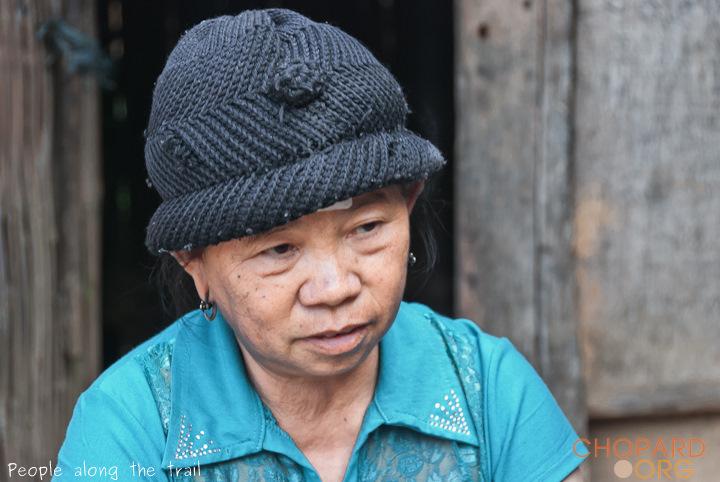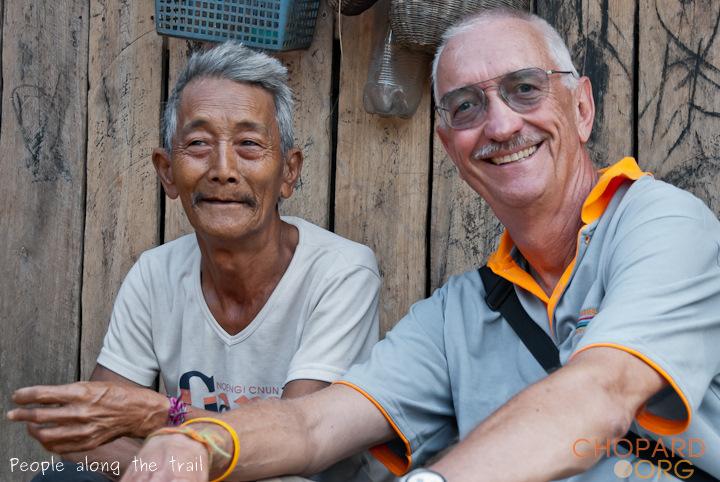 Shelters are rare along the trail and a dark curtain, enshrouding the mountain, became a concern. Soon, however, we reached the last village, a Tai Lue settlement with his typical elevated houses. This was the meeting point for the bus who hauled us back to the guesthouses.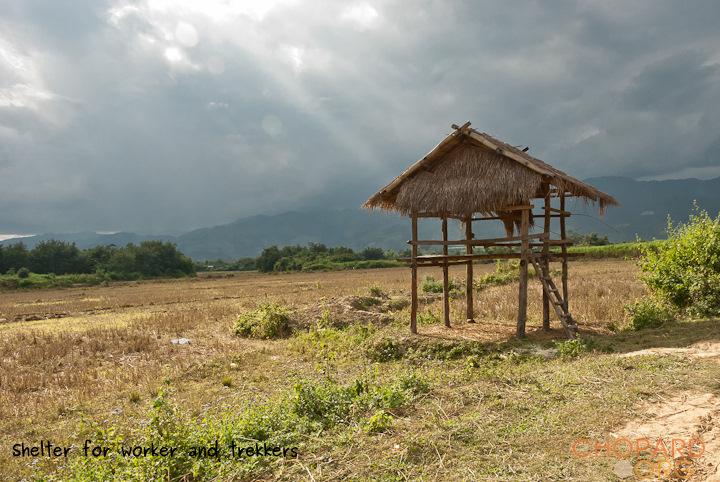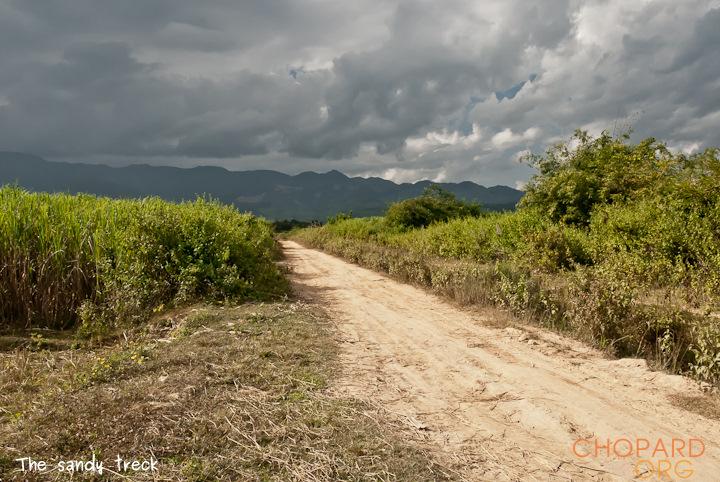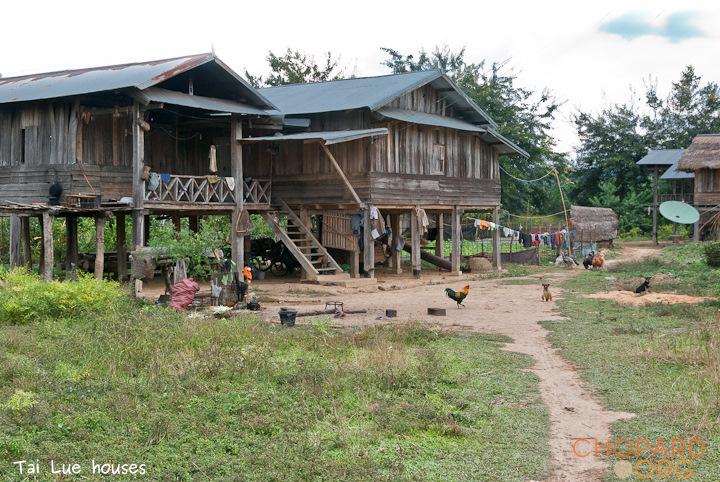 Back home – Muang Sing to Chiangmai

Early rosters, and the national anthem broadcasted through loudspeakers, are the wake up calls in Muang Sing, at least for visitors. In November heavy fog blankets the city and even driving to a breakfast shack is hazardous.
Around eight thirty I started my journey, climbing the hill on route 17, toward Tin That and Luang Nam Tha. With the increased altitude, the haze dissipated and I could drive at a normal pace.
The asphalted road is bumpy, but in acceptable condition. It is, however, recommended to watch the steps for treacherous potholes, sandy and humid curves as well as scattered rocks, spoiling the path.
During sixty kilometers, the charming mountain trail crosses primary forests, and offers glimpses of hilltribe hamlets or of the Nam Tha river. Closer to destination the cover becomes an hevea monoculture, a monotone spectacle of rubber trees.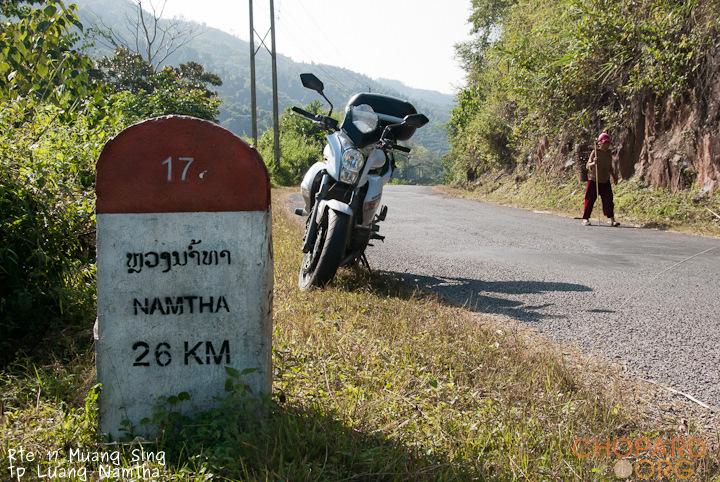 From Muang Sing, my friends were pursuing their journey toward Oudom Xai and Luang Prabang, leaving me on my own.
I made another stop in Luang Namtha, again in "Manychan Guesthouse". My afternoon, in this popular hangout, was relaxing and lazy, as I was spoiled with drinks, good food and wifi access.
Late evening, when the place was closing, I climbed to my room while my bike was safely parked inside the restaurant.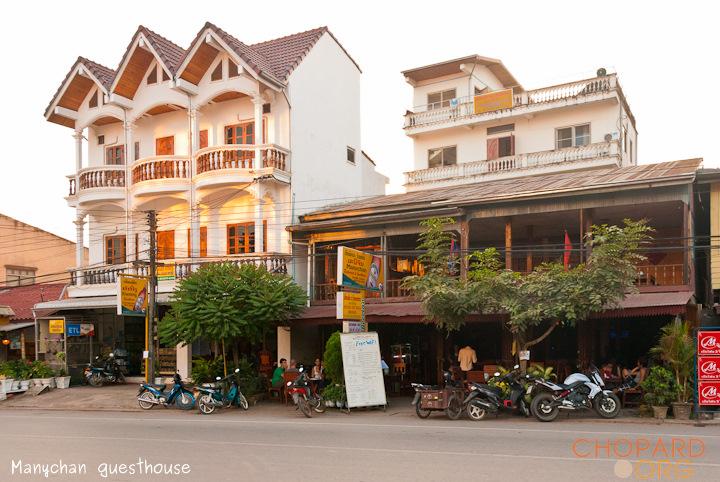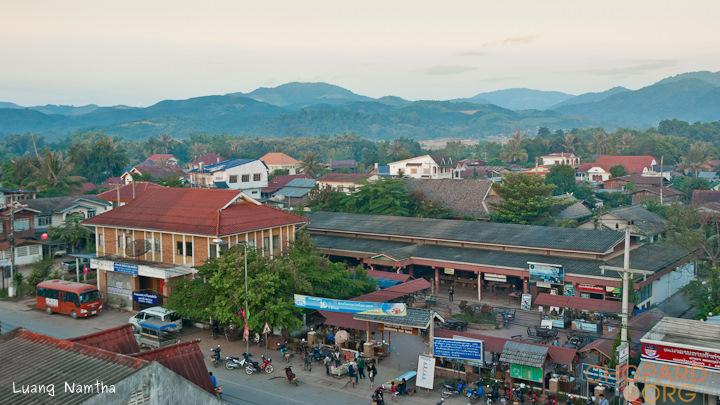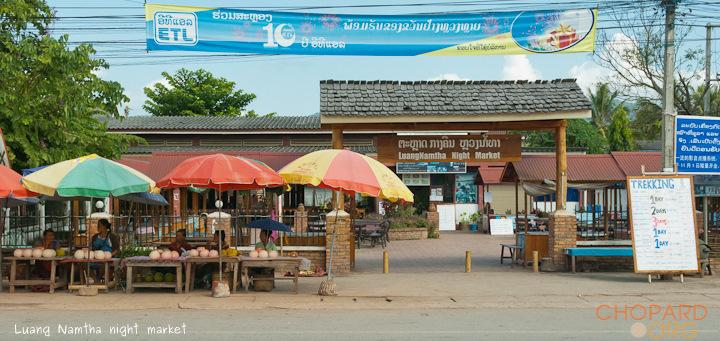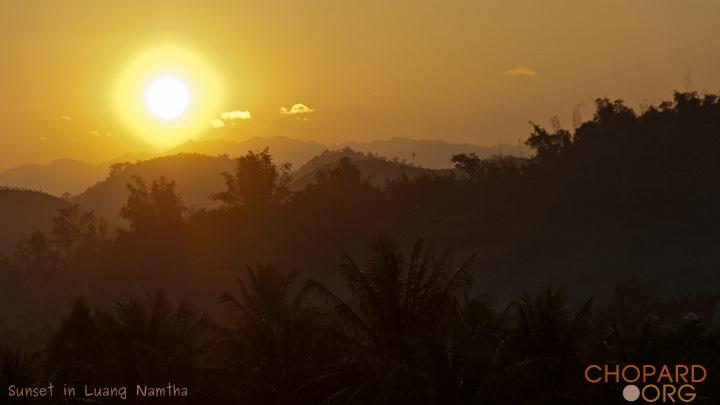 Morning mist was falling down, a vaporous rain moistening the atmosphere. Outside Luang Namtha, the landscape became surreal, a fairy tale backdrop, with fragments of blue sky playing with clouds and fog along Nam Ha national park.
For one hundred kilometers, the pavement is nicely smooth and allows to appreciate the countryside and to observe life in the small villages punctuating the way; a exhilarating drive passing Vieng Phoukha, another trekker's heaven.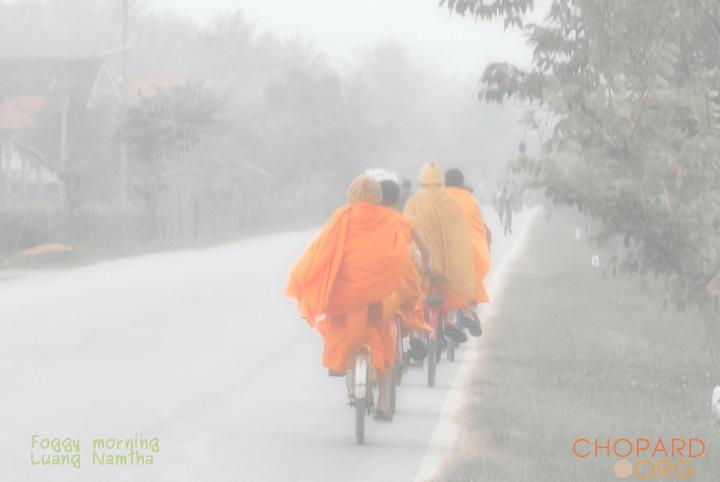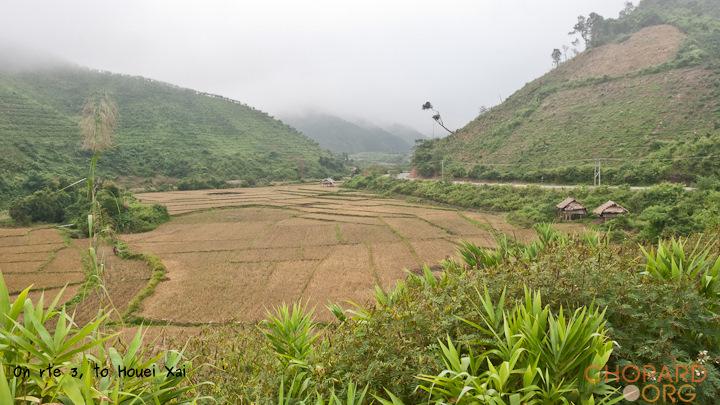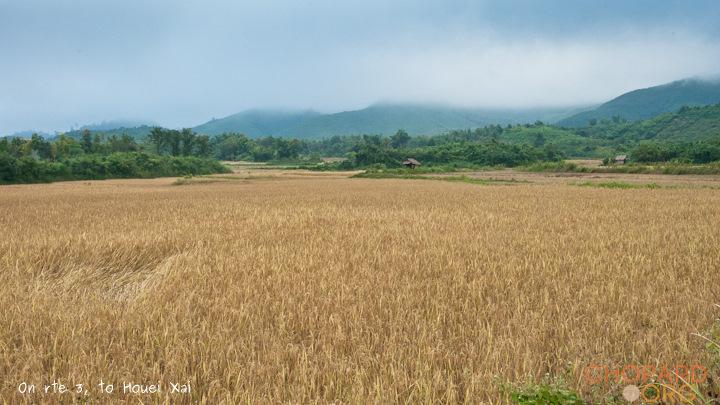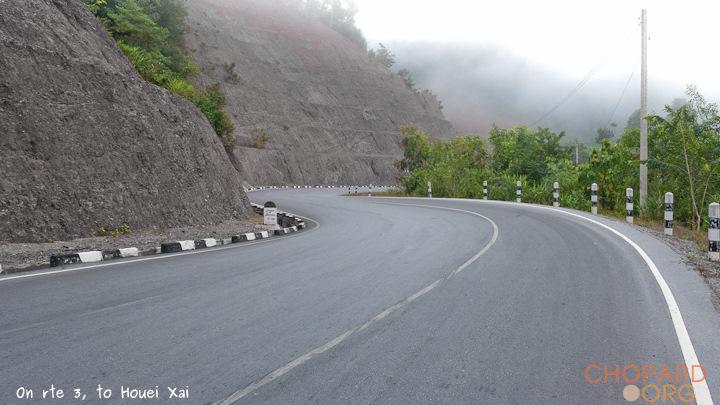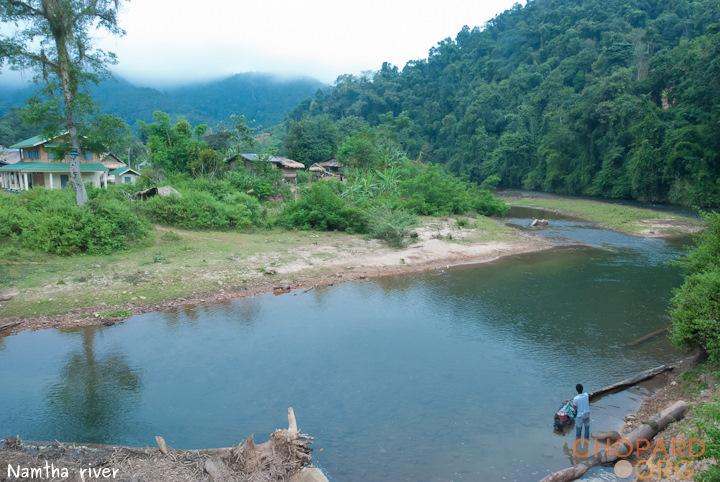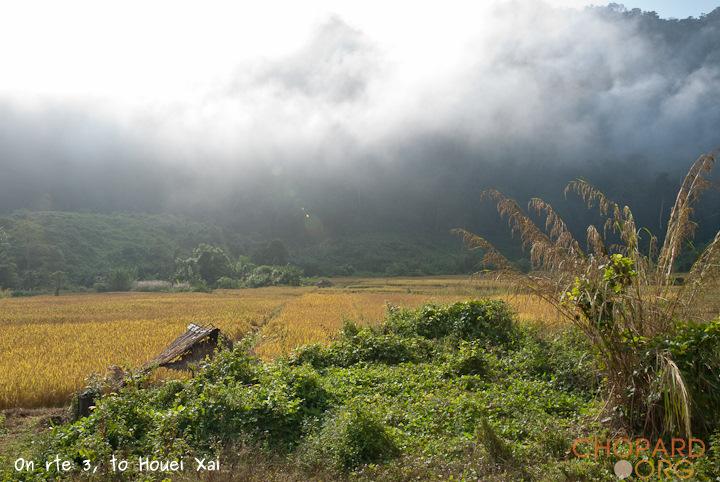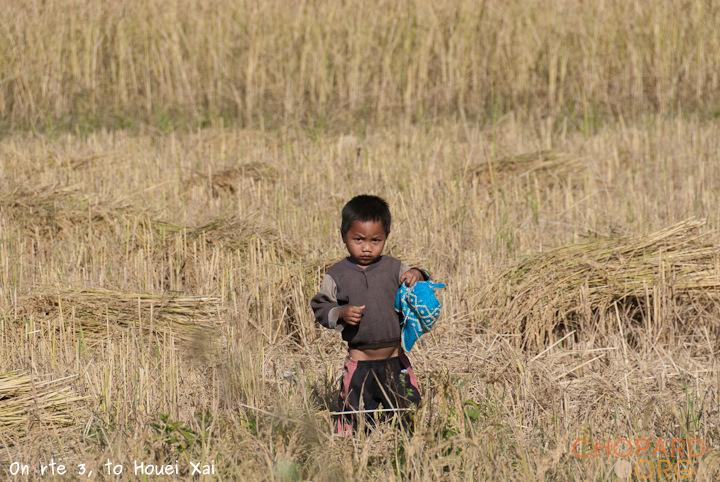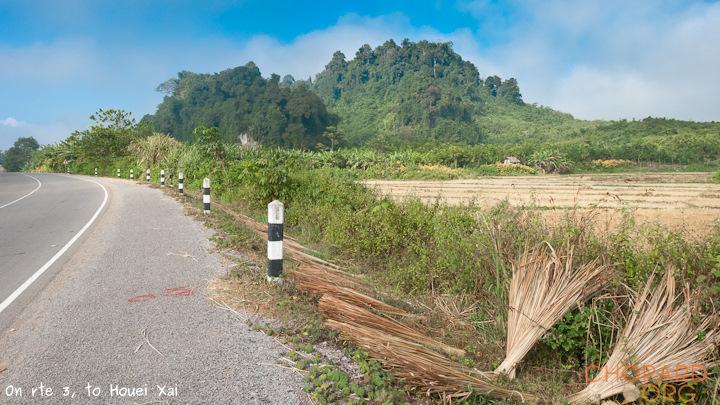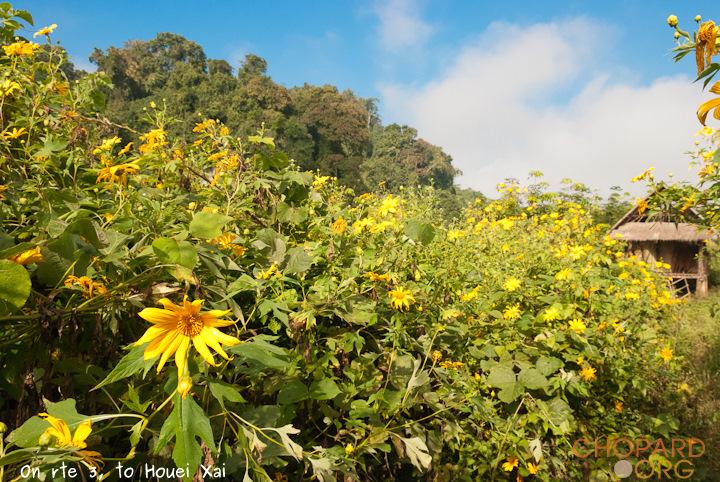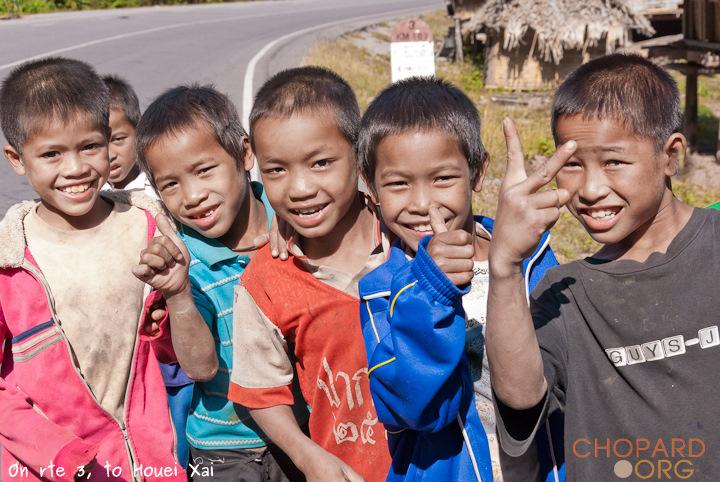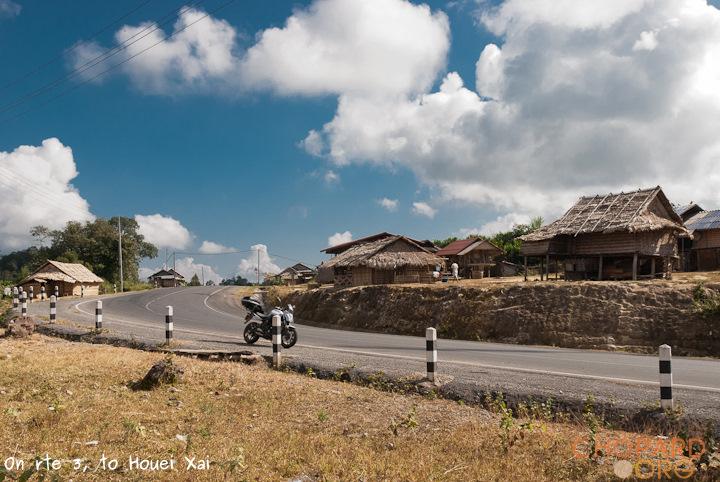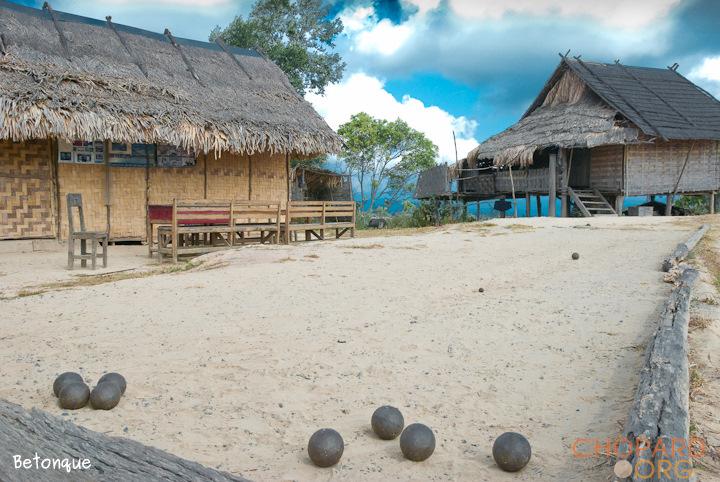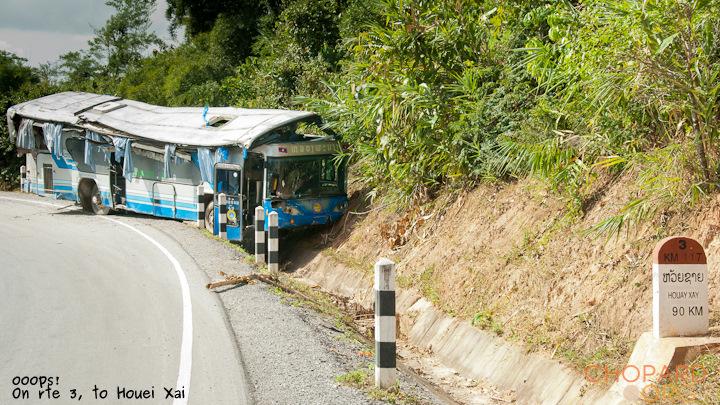 Unfortunately, this enjoyable ride comes to an abrupt end on a sector under reconstruction. Heavy work in progress and a crumbled surface cater for a bumpy and dusty adventure. The worst part last only twenty unattractive kilometers; then the road reverts to worn out, nothing problematic, just a regret to find such degradation on an almost new road (see also David_fl report (1)).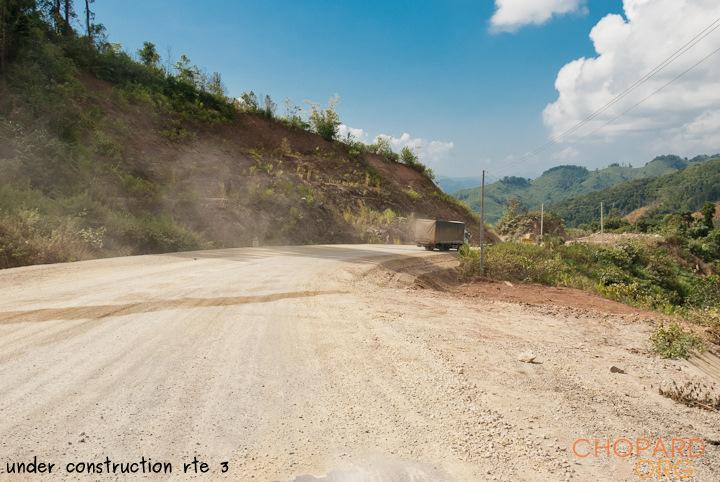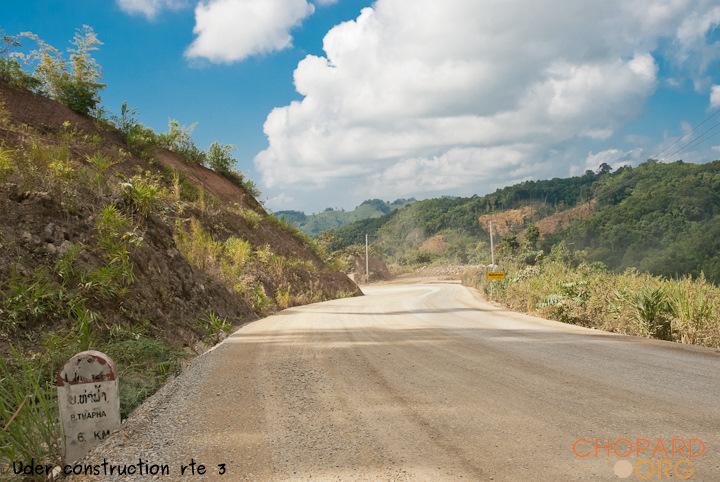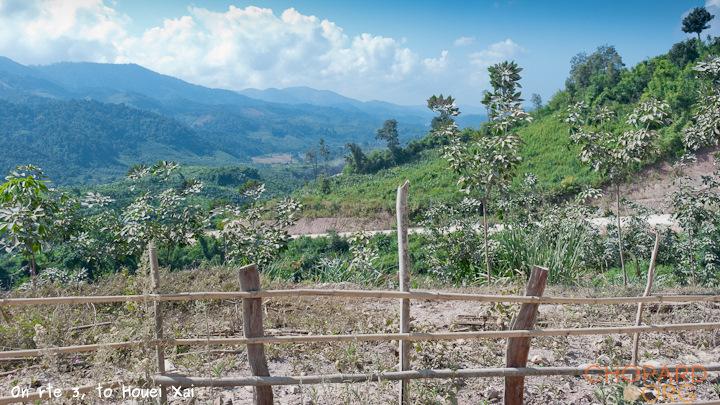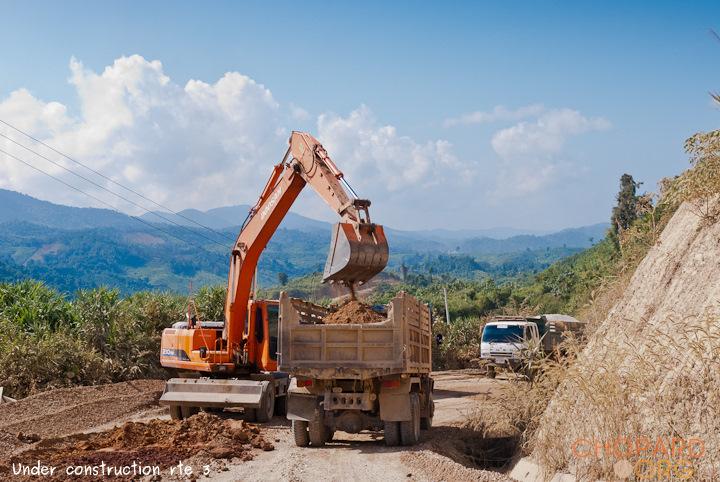 The last sector, before Houai Xai is in better shape.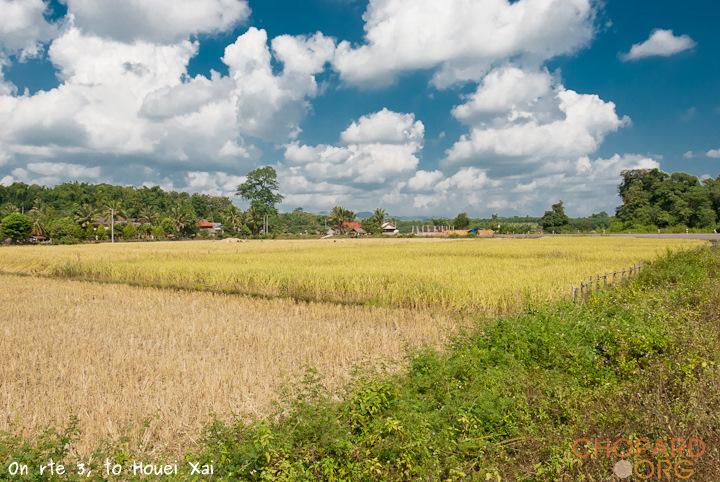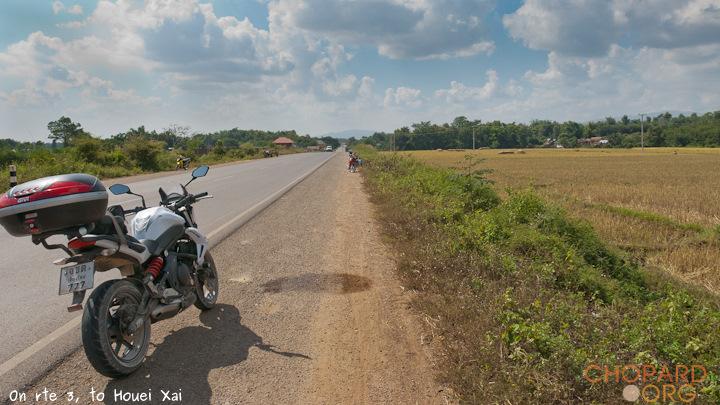 Departure formalities, at the border, follow a reversed procedure; first immigration, then driving up-road to the custom's office. My timing was unlucky; I arrived during the lunch break, when officers were unavailable.
After my bike's clearing, I had another waiting; ferries leave only when loaded with, at least, three or for vehicles. Again, no rush in Laos, but the opportunity to have lunch on a Mekong balcony restaurant, before the short cruise over the river.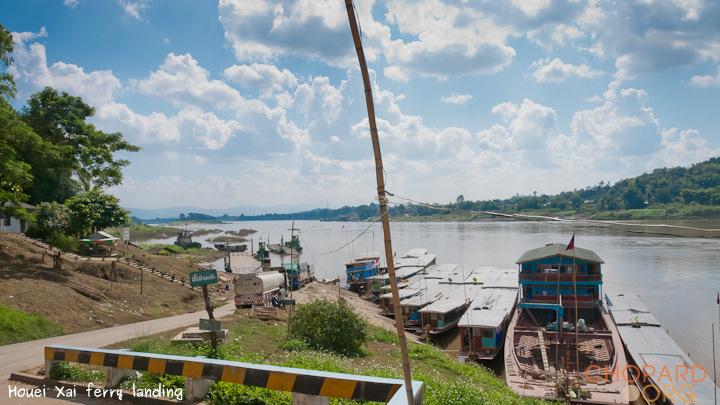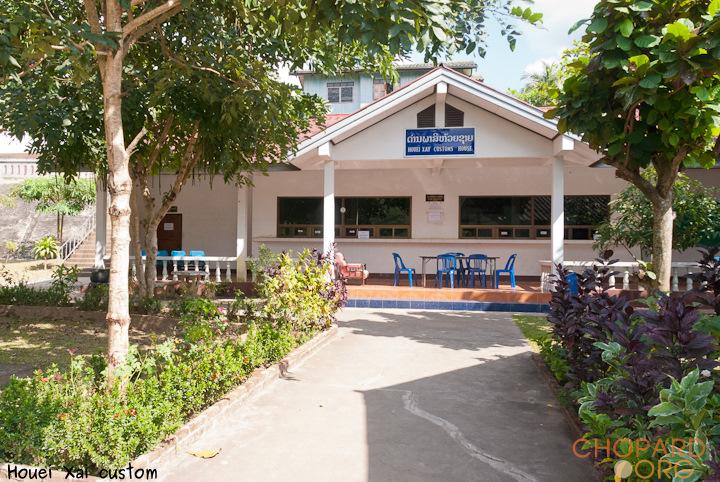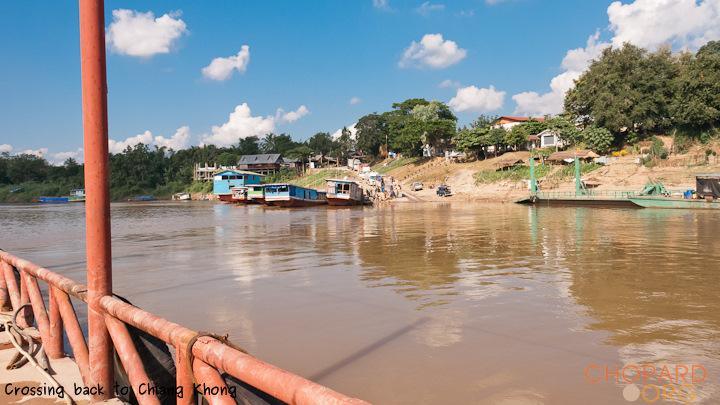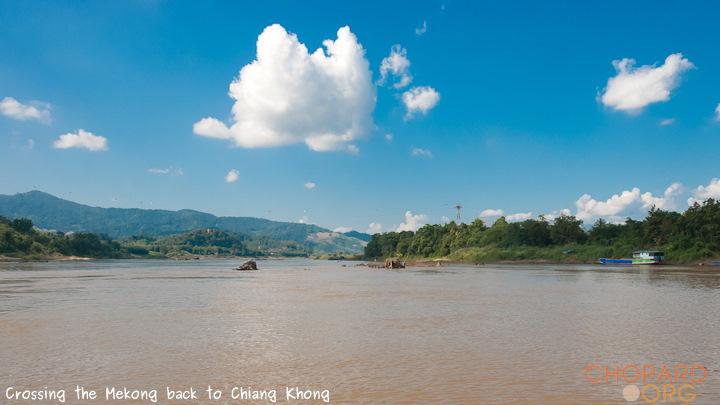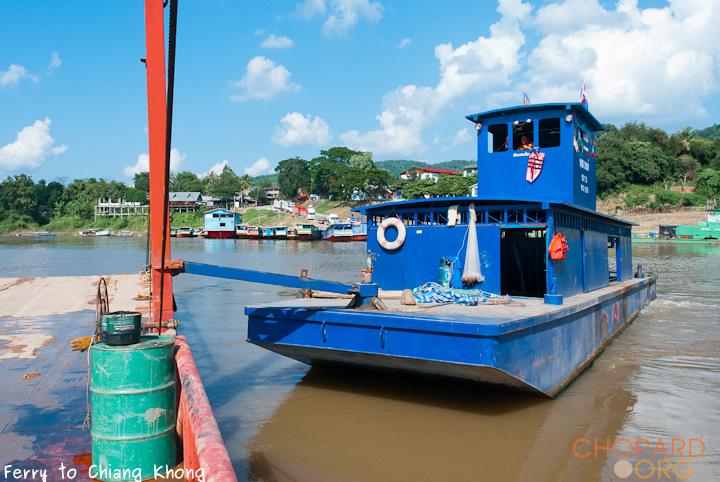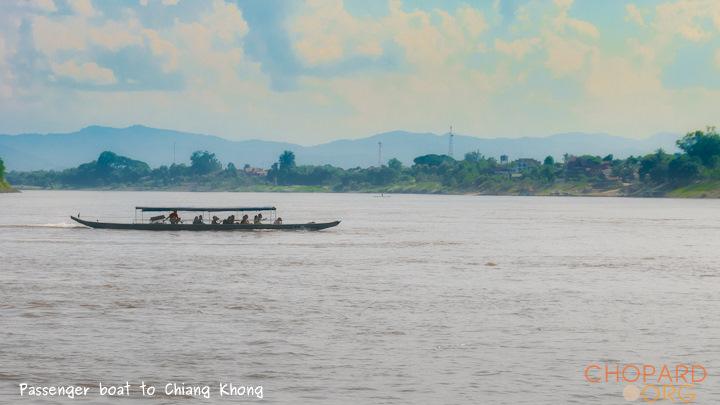 At Chiang Kong's custom, officers cheered my arrival; they remembered my departure saga. Friendly and helpful people!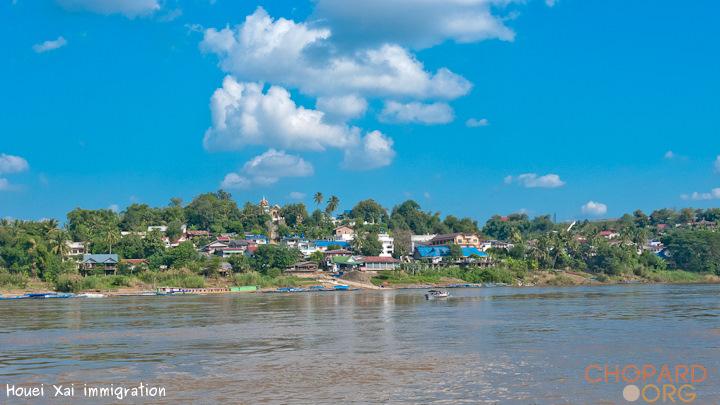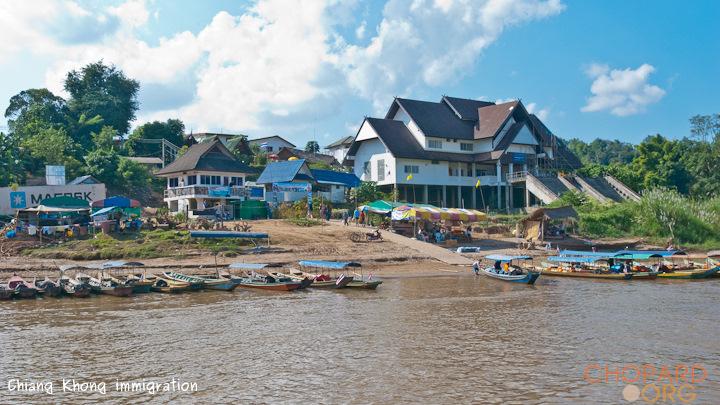 Farewell Houei Xai, I will soon be back, good evening Mekong and Chiang Khong.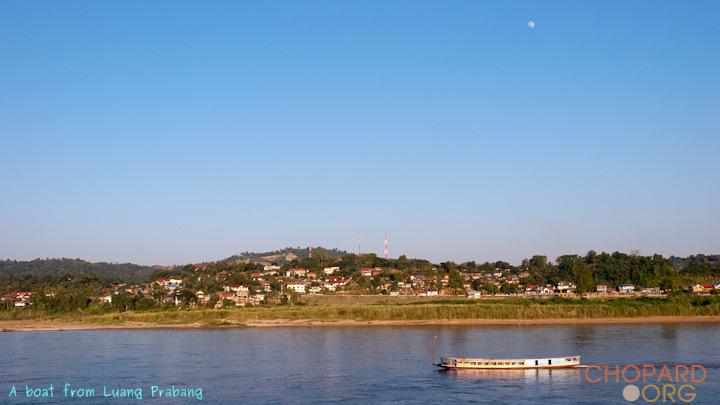 Total
tour distance: 1145 km
------------------
(1) For comprehensive information about the border crossing and a description of the full loop, through Luang Prabang, see the report of David_fl :
https://www.gt-rider.com/thailand-motorcycle-forum/threads/32138-A-quick-Luang-Prabang-Loop
(2)
References
to my other Laos trip reports. All suitable for road bikes and "solo" driving:
North-Central Laos:
https://www.gt-rider.com/thailand-motorcycle-forum/threads/33280-An-Easy-Road-to-Laos-1-Crosing-the-border
https://www.gt-rider.com/thailand-motorcycle-forum/threads/33379-An-Easy-Road-to-Laos-2-The-Road-to-Luang-Prabang
https://www.gt-rider.com/thailand-motorcycle-forum/threads/33573-An-Easy-Road-to-Laos-3-Plain-of-Jars
https://www.gt-rider.com/thailand-motorcycle-forum/threads/33925-An-Easy-Road-to-Laos-4.-Back-to-Nong-Khai
South Laos:
https://www.gt-rider.com/thailand-motorcycle-forum/threads/34187-South-Laos-1-Ferry-Tales?p=264916#poststop
https://www.gt-rider.com/thailand-motorcycle-forum/threads/35164-South-Laos-2-Around-the-Bolevan
3 – A trip in Central Laos – under construction
If you appreciate GT-Rider website,
"like"
it on Facebook:
http://www.facebook.com/the.gtrider