Finally got something put together. Lots of material to sort, convert from .mov to .wmv, compile, and upload as you can imagine. But we had a great ride over there and anytime you can ride 3 weeks in Vietnam without an accident or mechanical or tire issue, I would say it was a successful effort. The roads, the scenery, and interaction with the locals was just a bonus.
We did a counter-clockwise loop out of Hanoi as follows:
Hanoi to Bai Chay (Ha Long)
Bai Chay to Dinh Lap
Dinh Lap to Cao Bang
Cao Bang to Meo Vac
Meo Vac to Dong Van/Lung Cu
Dong Van to Ha Giang
Ha Giang to Bac Ha
Bac Ha to Sa Pa
Sa Pa to Nghia Lo
Nghia Lo to Mai Chau
Mai Chau to Hanoi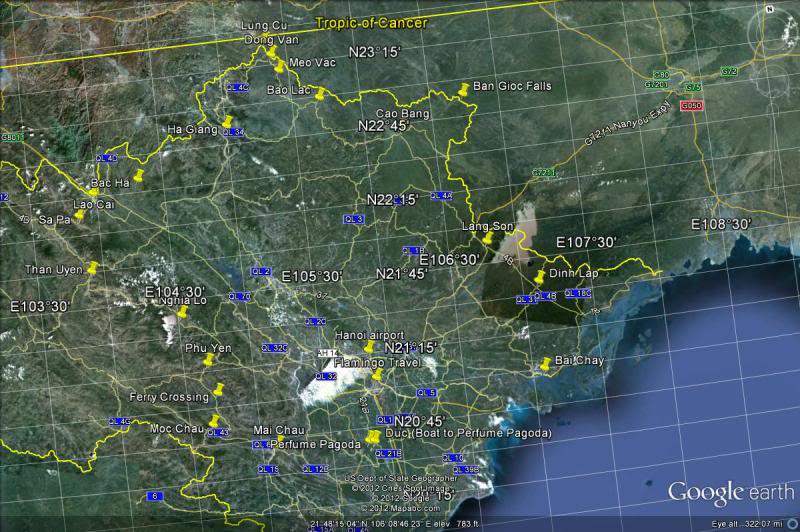 Very sorry about the shaky video footage. At the last minute I decided to pack my old beatup Arai helmet instead in case of theft or crash. Only problem? It did not have the Contour adhesive cam mount installed. Doh! Minor detail. So I shot it all while riding one handed and holding the bugger as still as I could. Tried to rig up a mount with hose clamps and twine on the bars but no good, didn't want to lose the thing so I gave up. We will definitely be going back next year to rent from Hung's Flamingo shop in HCM and ride up to DaNang/Hoi An along the coast and loop back down through the mountains. Hope you enjoy the vids. Rhidian also has a ton of material that I have not seen yet, he's trying to put something together so will post when/if he does.
Part 1 -
Part 2 -
Part 3 -
Part 4 -
Part 5 -
Part 6 -