The complete photo story can be found at :
http://picasaweb.google.com/campusadvis ... lturalTrip
Second part
of an Isan trip report.
See also:
mekong-in-upper-isan---chiangmai-to-nong-khai-t6910.html
Total tour: Chiangmai (Maerim) - Dan Sai – Tha Li – Hua river – Mekong river – Chiang Khan – Sri Chiang Mai – Nong Khai - Udon – Ban Chiang (loop) – Sahatsakhan – dinosaur park – Somdet – Mukdahan – Mekong river - Nakhon Phanom – Bung Khla – Nong Khai – Tha Bho – Nam Som – Loei – Phu Rua - Dan Sai – Na Haeo – Ban Khok – (Nan national park) - Na noi - Wiang Sa – Phrae – Long – Lampang – Chiangmai (Maerim). Total : 3500 km (including side trips).
Upper Isan, particularly Loei and Nong Khai provinces have great motorcycle itineraries, crossing mountains, passing national parks, following legendary rivers and meeting plenty of friendly and helpful inhabitants. But globally, the North East is mostly qualified as Thailand's impoverish region as it has, for sure, more than it's share of hardship. Often people look down to it, without having a real knowledge of it's impressive heritage, his significant historical importance, his vibrant culture and lively traditions.
When biking in the region there are opportunities to pay homage to Isan's legacy and to slow down in some villages to get a better acquaintance with the most friendly folks of Thailand.
I had ended the first part of my "upper Isan" trip in Nong Khai and decided to climb to Udon for some "cultural" discoveries.
After checking in at the White Elephant hotel, my first visit was for Nong Prajak lake and park. It is a relaxed spot, in the middle of the city, with day and evening basic entertainments. The Udon Thani museum (Rachinuthit Building) is located there and a short visit gives a first overview of the historical and cultural heritage of the province.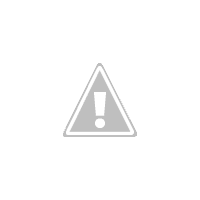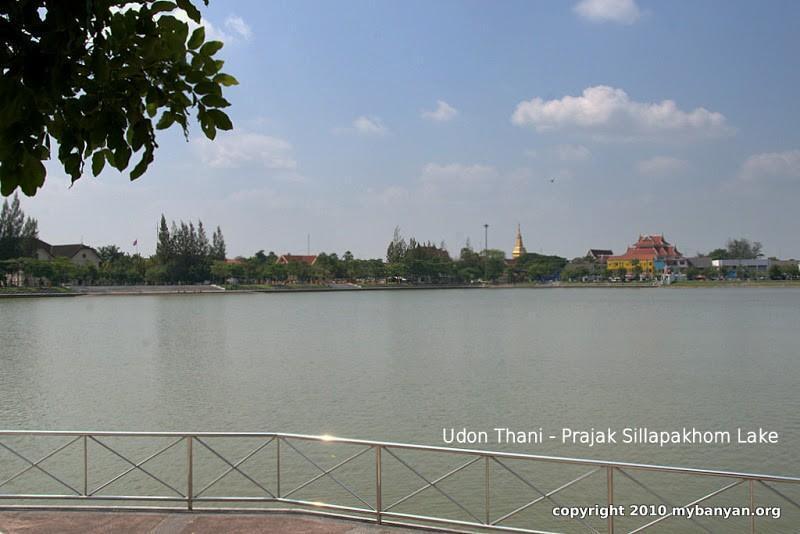 A Chinese temple (Pu Ya shrine), testimonial of the important Thai-Chinese community, can be visited near the lake. It is smaller than the main temple at Non Bua lake, but still worth a stop if passing by.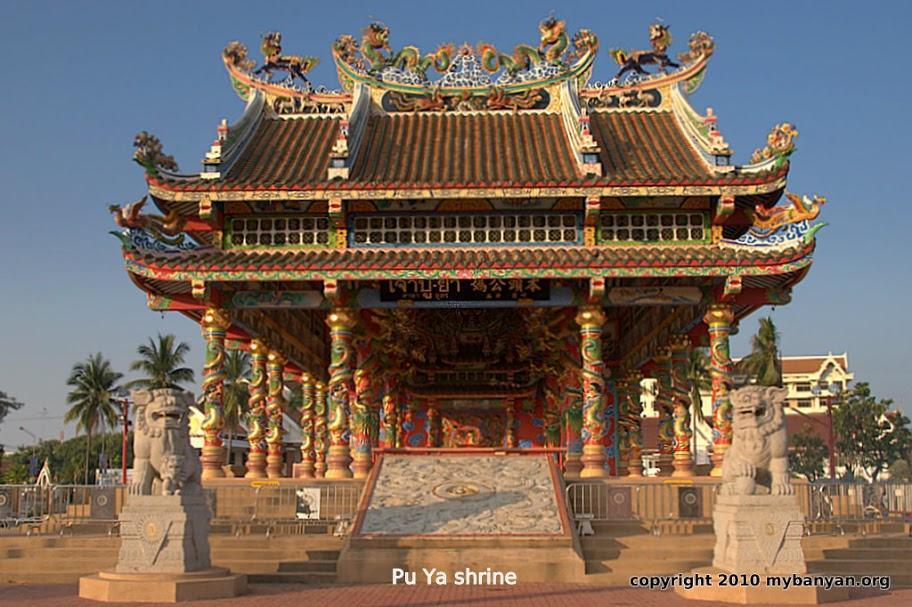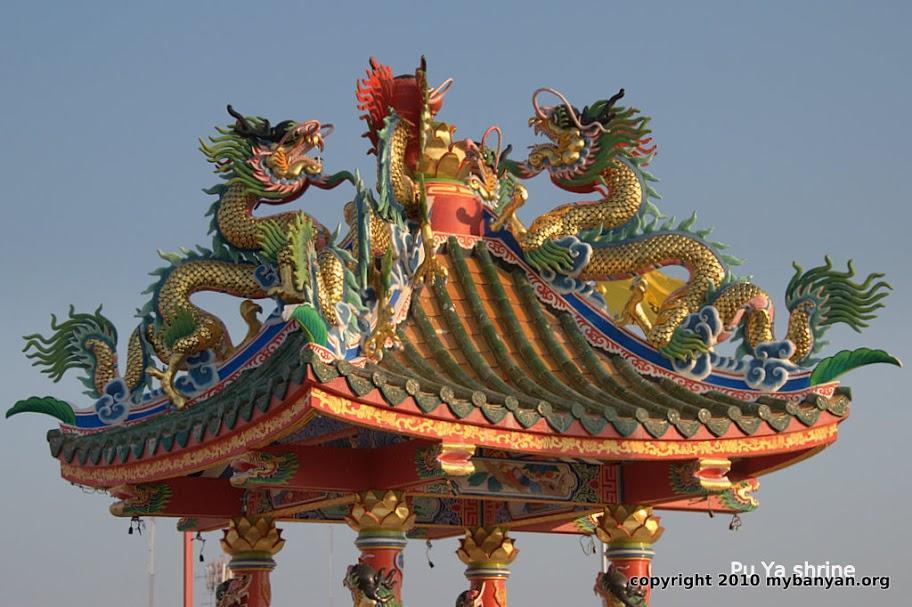 Once I had finished to scout the neighborhoods of the lake, I decide to spend again some time outside of the city. Driving back Hwy 2 for about 16 km I went to visit Ban Na Kha. It is a cotton-weaving and silk trading center. I was not hunting for bargains but looking for insider information about the famous khit design and about artisanal work. It was rather disappointing, or I did not search hard enough, as I just found a market with ready made products.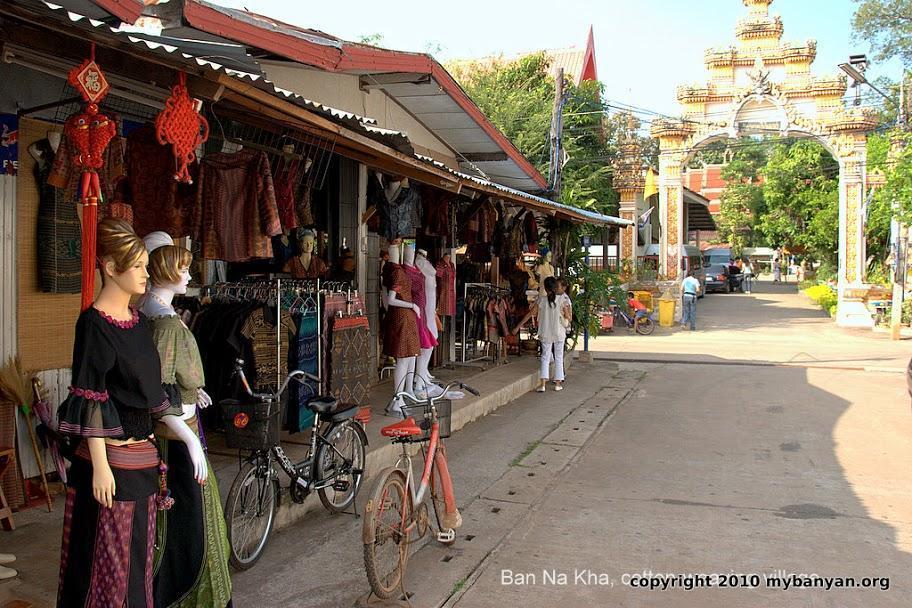 In the evening, I sampled the kitchen of Jaqui, the owner of the White Elephant, and met folks of the French expats community of Udon Thani. I am from a different country, but for a change it was fun to use my mother tongue again.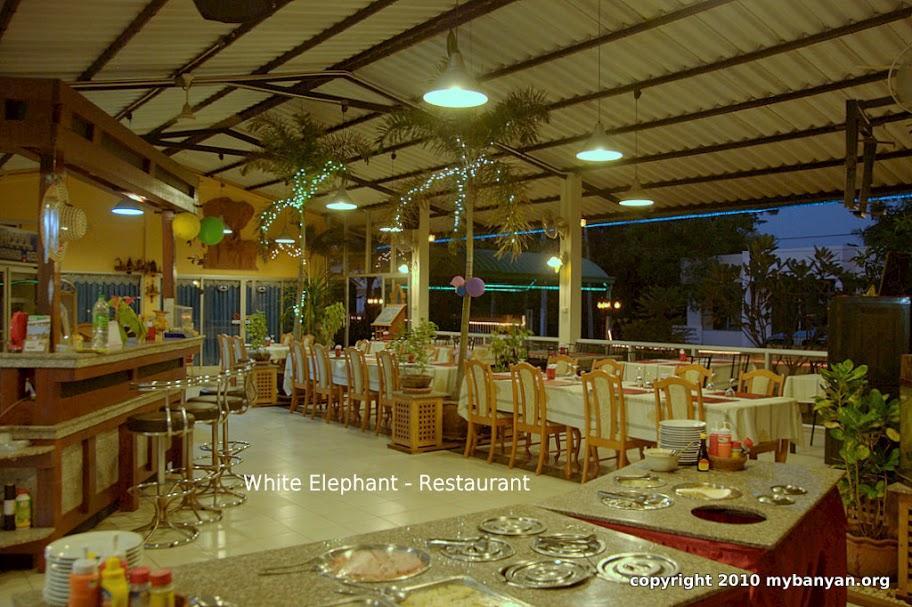 The next day I decide to visit Ban Chiang, starting the short journey (56 km) very late in the morning. The itinerary this village goes through route 22, in direction of Sakon Nakhon (starting on the Udon ring-road), followed by a short sector on route 2203. Two main sites can be visited (as well as lot of souvenirs shops). The first is the Banchiang national museum presenting pottery and artifacts as well as archeology work and historical reconstitutions. The second spot is Wat Phosri Nai, the actual site of the excavations. These places are a Unesco world heritage and are testimonials of a flourishing civilization, dating back more than 5000 years, one of the oldest in the world.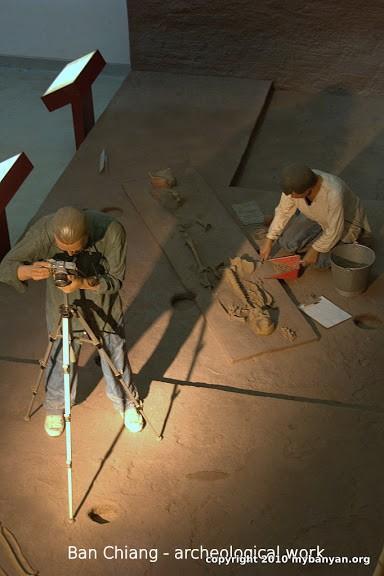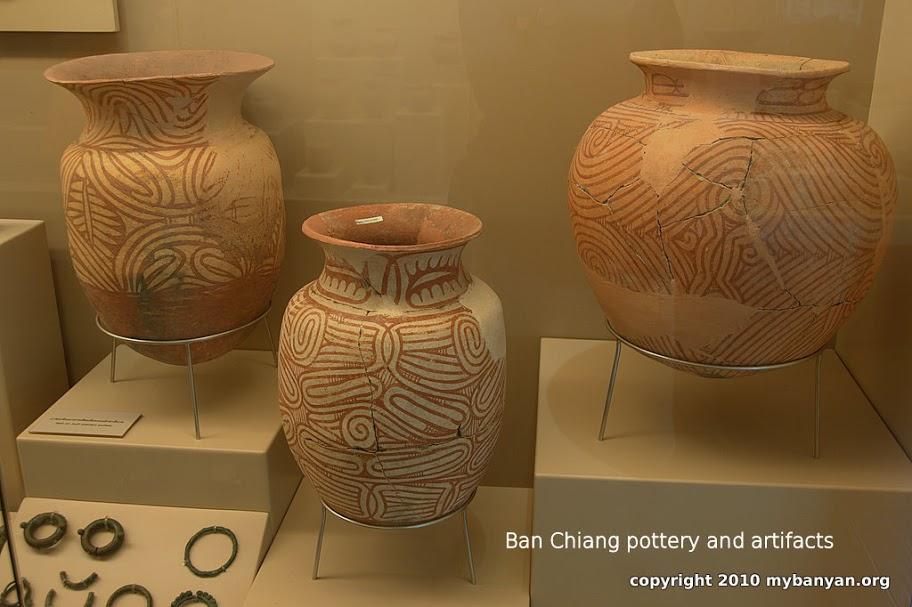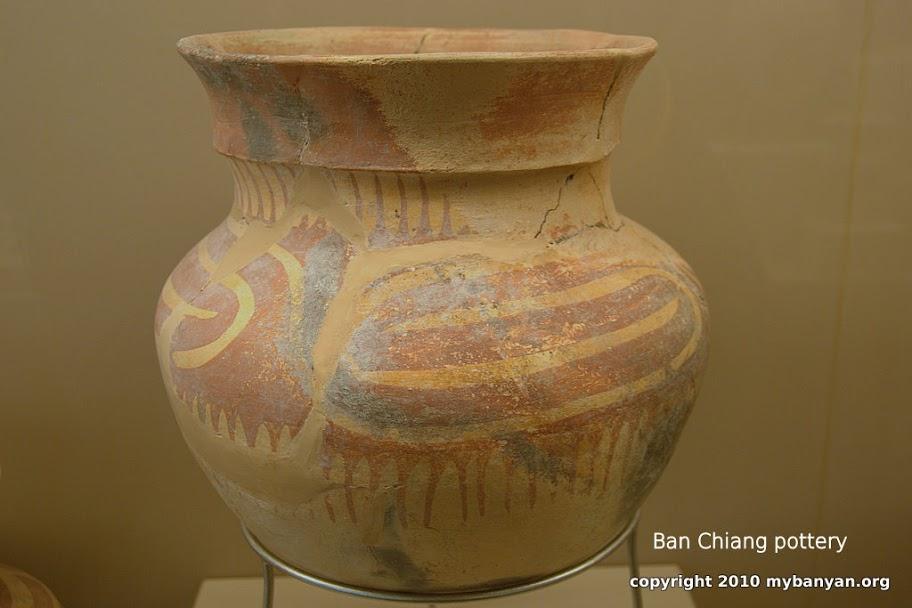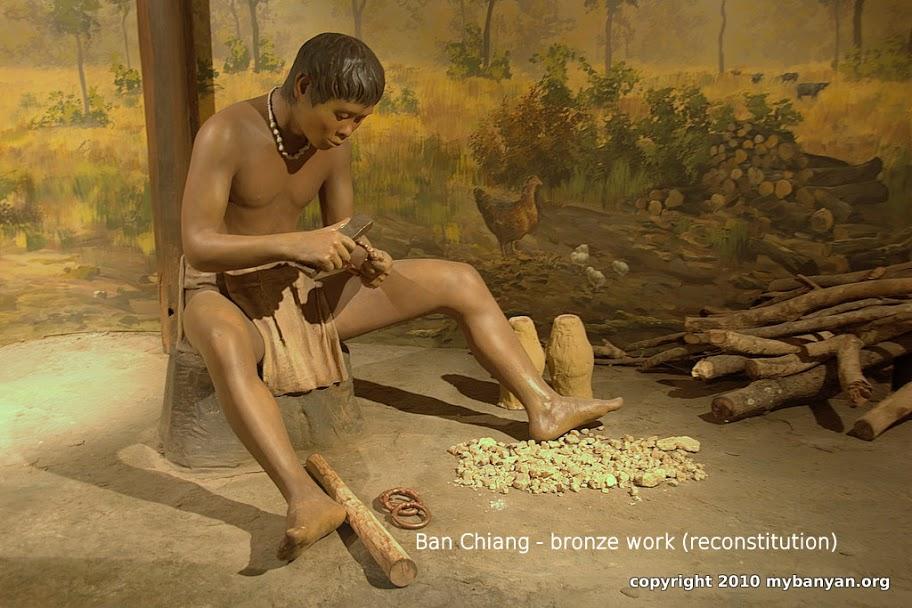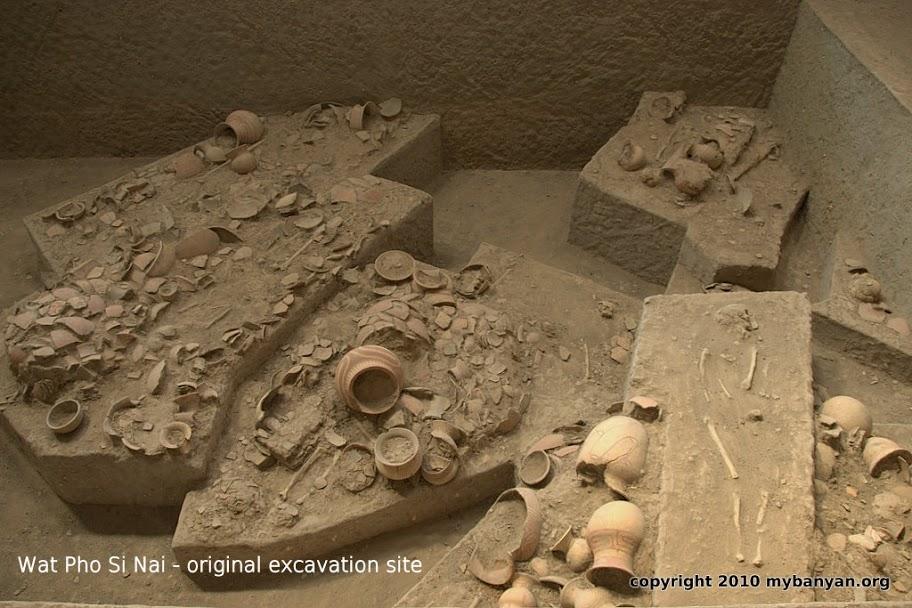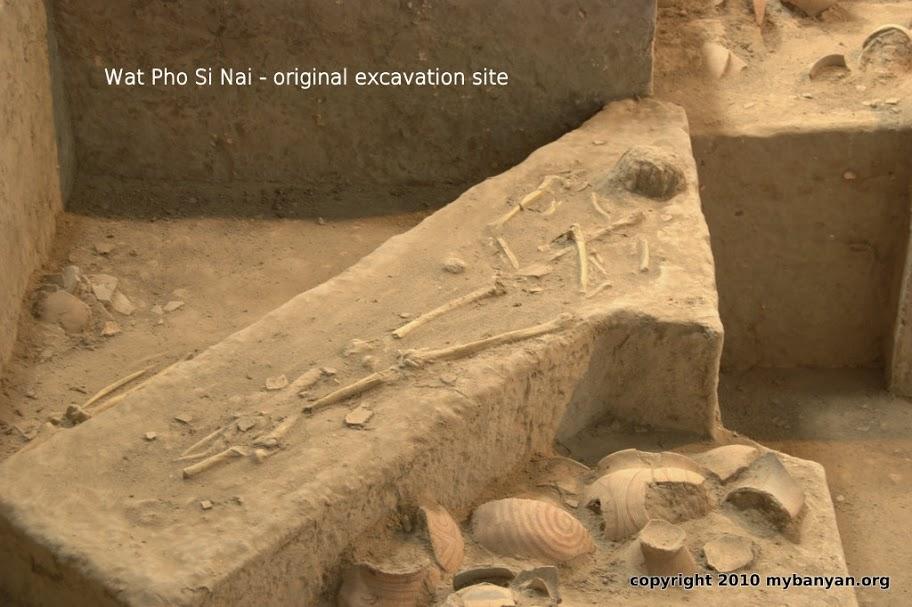 Touring the less traveled Isan's backcountry has a particular appeal for me. The attractions are not the scenic views, the great roller coasters, the never ending curves or the great speedways with perfect pavements. The flat Korat plateau offers few of these treats (outside of the Northern provinces). Here I find my contentment in the observation of rural life, passing traditional wood houses villages, crossing local transport means filled with all sorts of passengers, from monks to students, or cattle. Peace seems to be everywhere, not the calm of lonely mountain roads, but the slow pace of daily life in a land where development still takes a back seat. With their friendly smiles and amazed grins at strange looking farangs, their readiness to help and to chat or enjoy a drink, people of Isan are part of big biking adventures.
Whilst traveling, I always keep in mind the beautiful books of Pira Sudham, an exceptionally accurate Isan writer, trying to put pictures on his poetic words. As I had enough time left, after the visit of Ban Chiang, I decided to scout some side roads and pointed Phibun Rak, on my map. I still wonder why I chose this destination, probably because it is difficult to find. As often, I tried all wrong roads and dead ends, before speaking to helpful locals. They invited me to their house, offered water and prepared a detailed map drawing for a suggested itinerary. It was an opportunity for me to peek into a traditional house and to watch a home made mat weaving.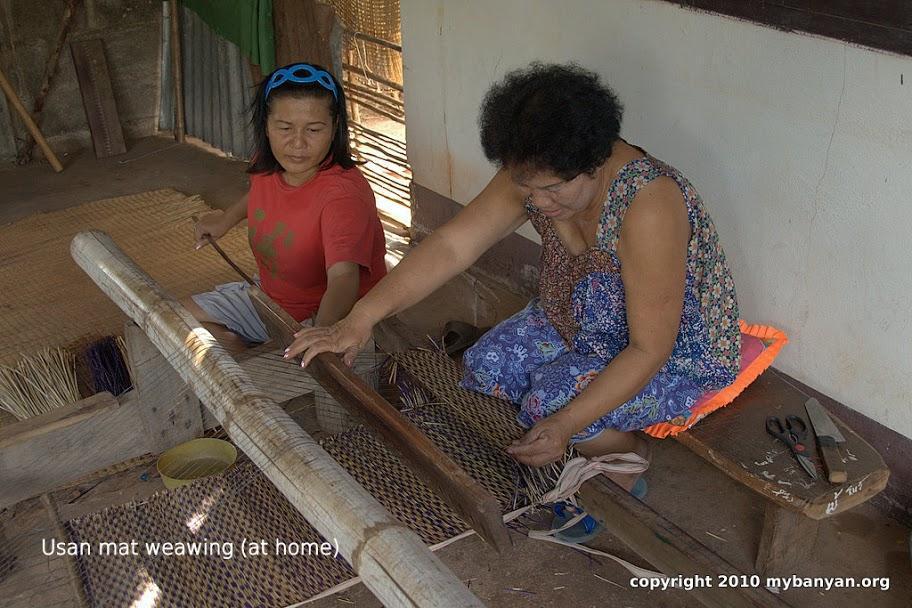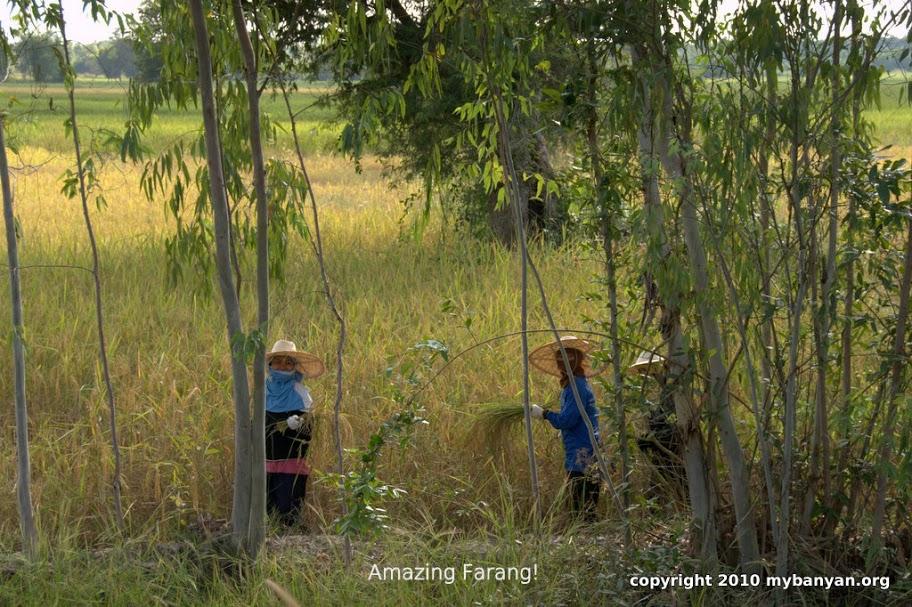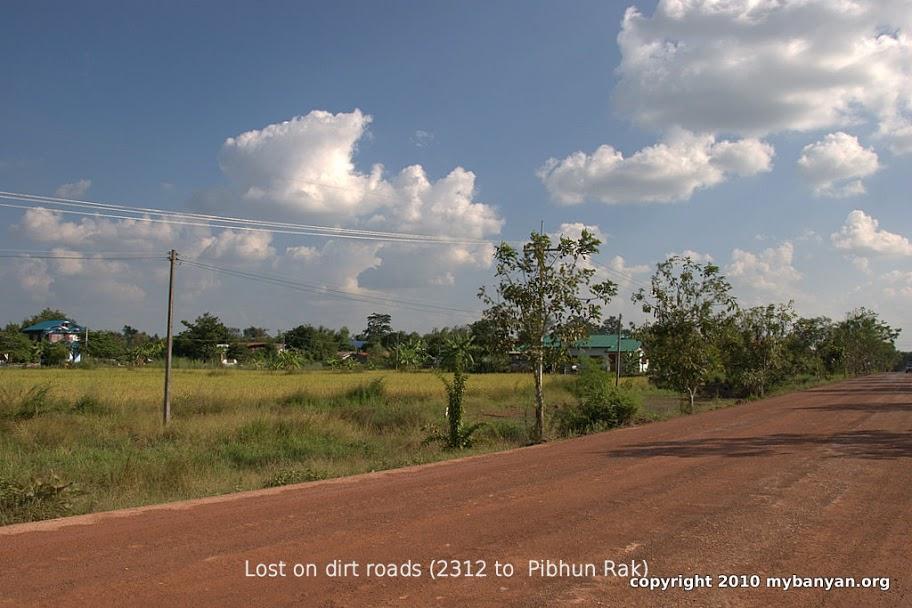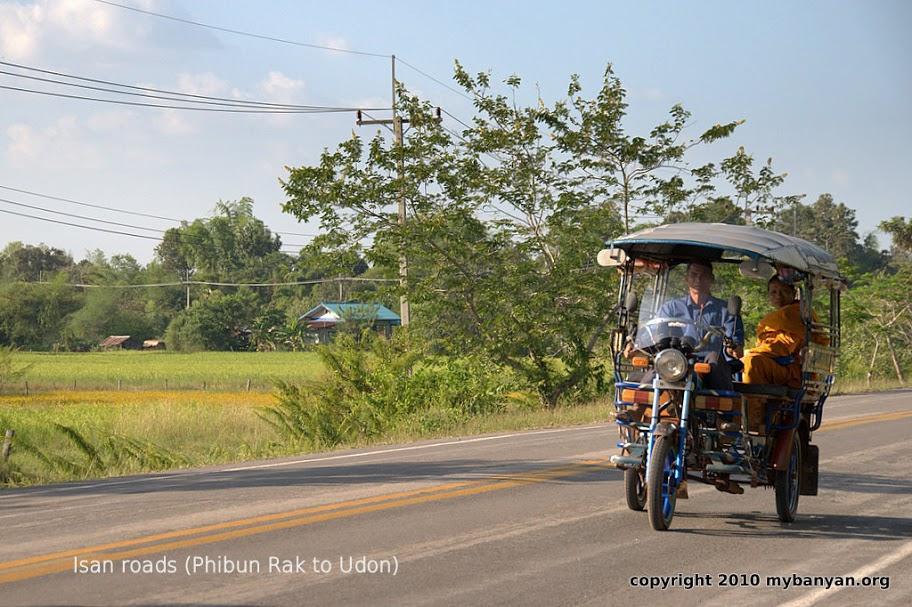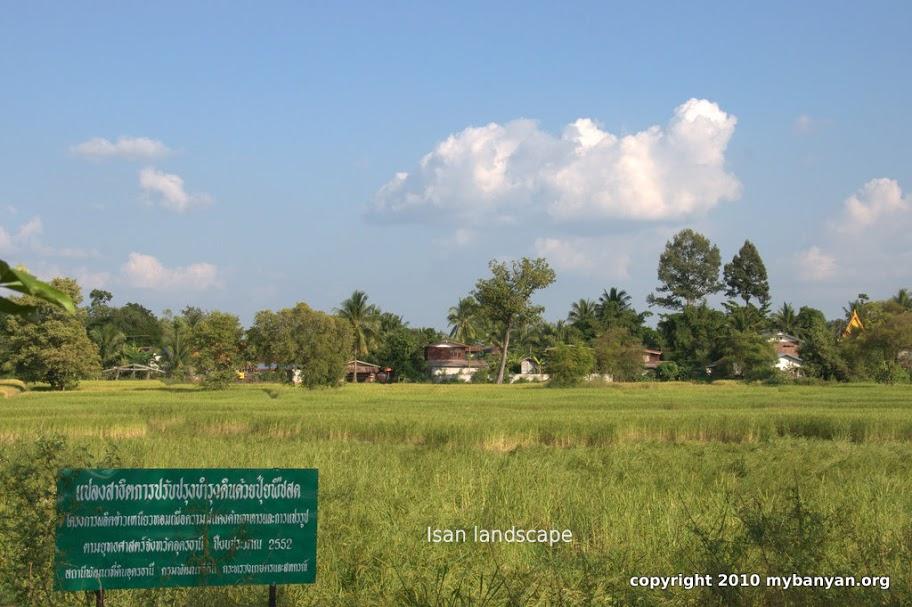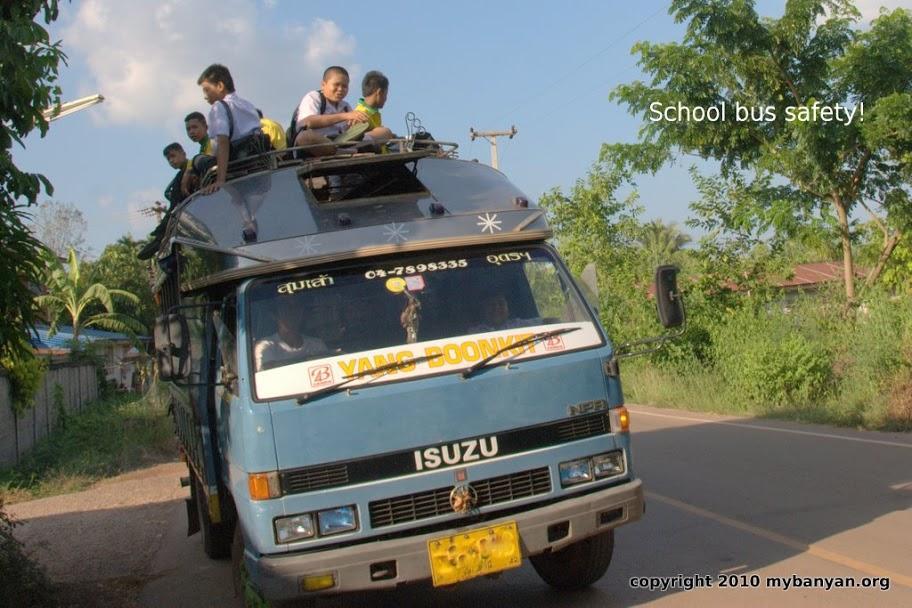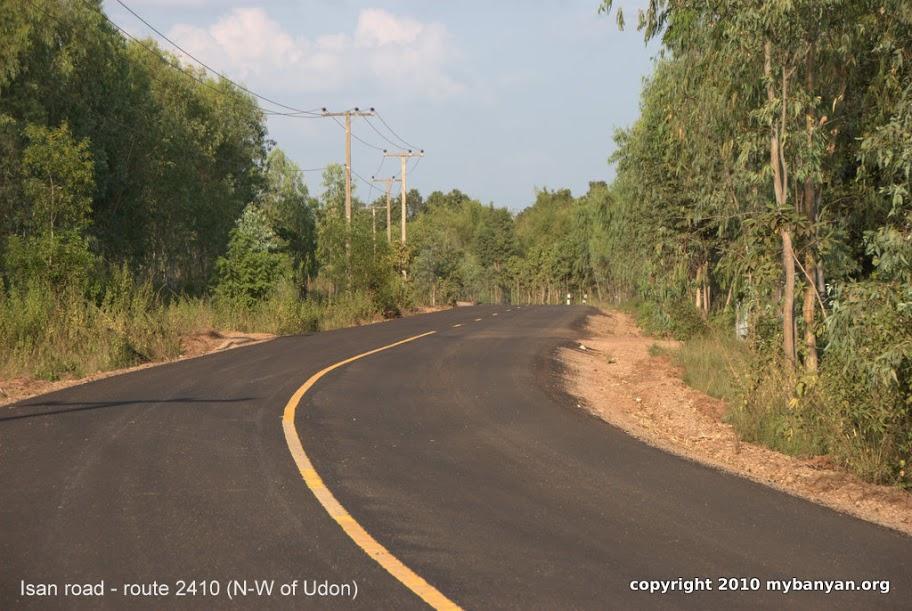 I spent a second evening in Udon and started early next morning in direction of Kalasin. I had no specific itinerary for the day but wanted to visit the dinosaur park in Sahatsakhan. After a sector on hwy 2, I went out to Kumphawapi on route 2023, 2289 and 217.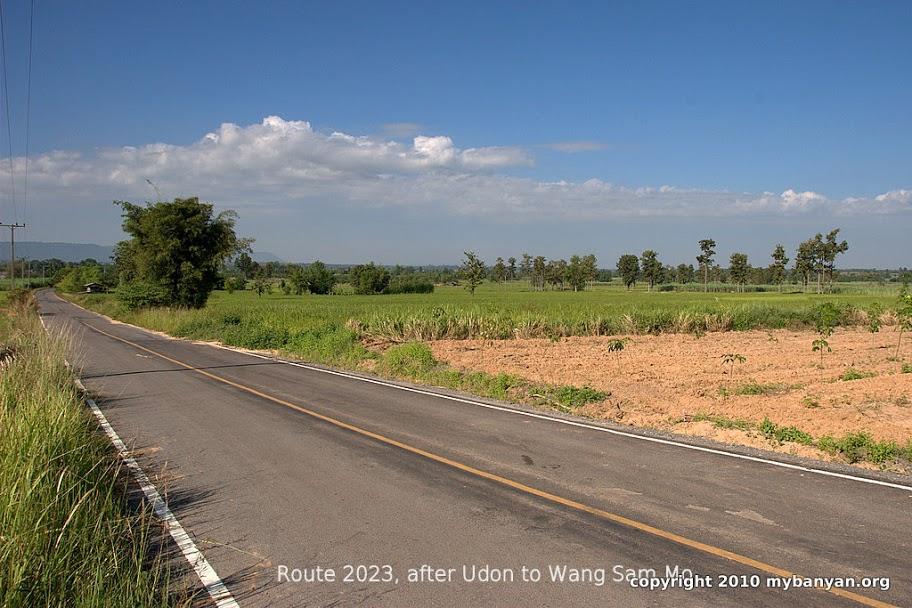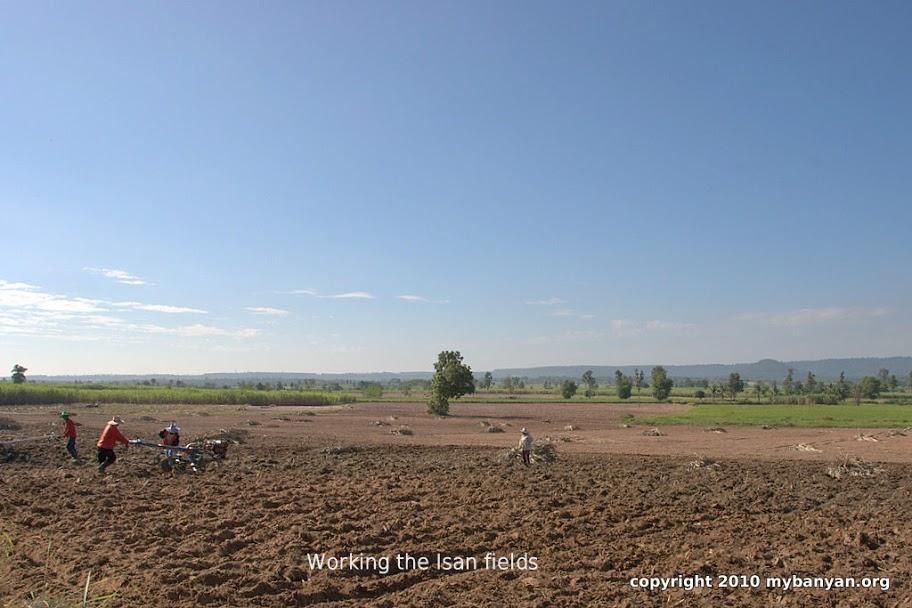 The Sahatsakhan Sirindhorn museum is located on the foot of a hill where 800 bones of different types of dinosaurs were found. Some are displayed and some stored for research in a big laboratory. The environment of the museum, designed as a theme park, is already a family attraction. The time to spent there is certainly proportional to the interest to learn about a past dating 130 million years. Even a short visit will convince about his important contribution, putting Isan on the worldwide map of fossil research.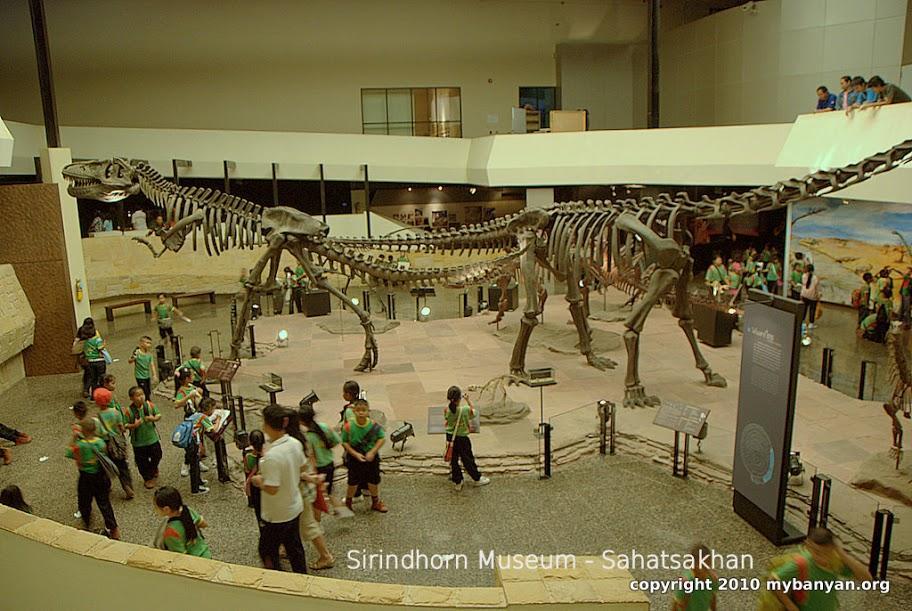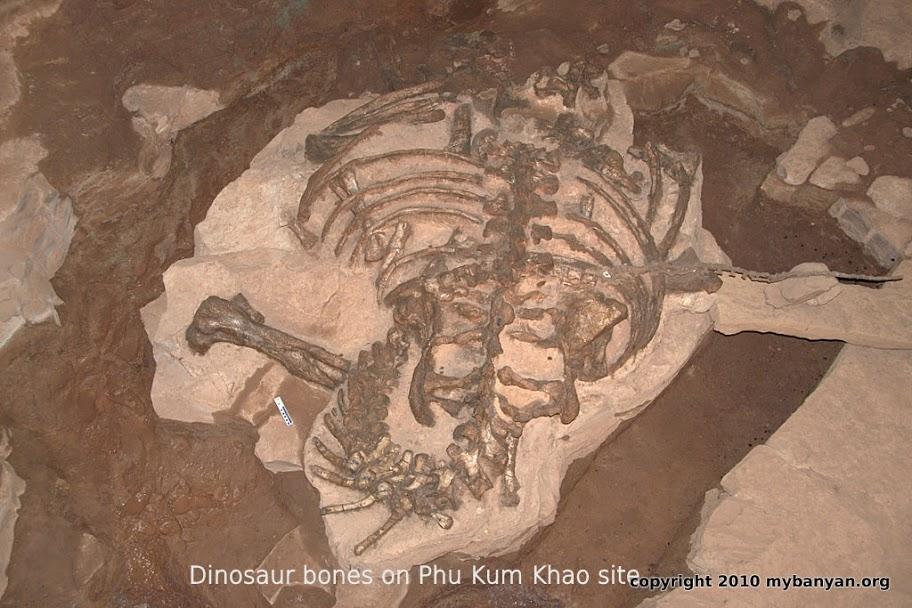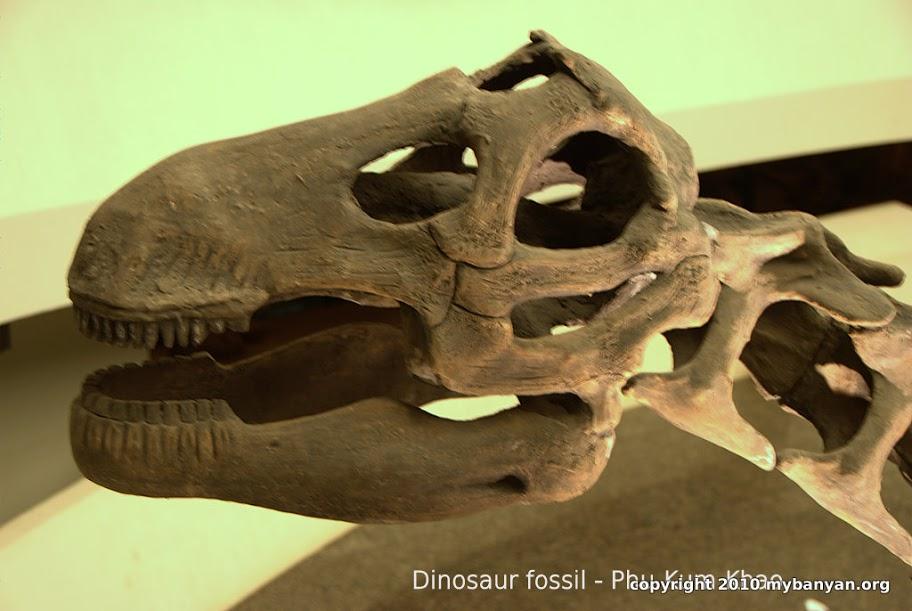 After the visit in Sahatsakhan I decided to drive down to Mukdahan, going back to Somdet and then on route 2041 and 2042. There was nothing really fancy on this itinerary, following mainly straight roads with traffic.
Udon to Mukdahan: total trip 398 km