After reading David's review of Assero gear's tropical trousers I checked out their
website
 to see what else they had to offer.
I had been after a Kriega tool roll, but although Kriega UK had been really helpful, Panda don't stock the item, and weren't going out of their way to get any repeat business from me. The Malay distributor / retailer was really great, but after shipping the price doubled from the cost of the UK price ( the equivalent of 40 quid instead of 20 in the UK )
Thailand's 
Omegaracer
make a beautiful/classic canvas & leather roll, but I wanted something a little more substantial & modern. 
Assero's tool roll
caught my eye.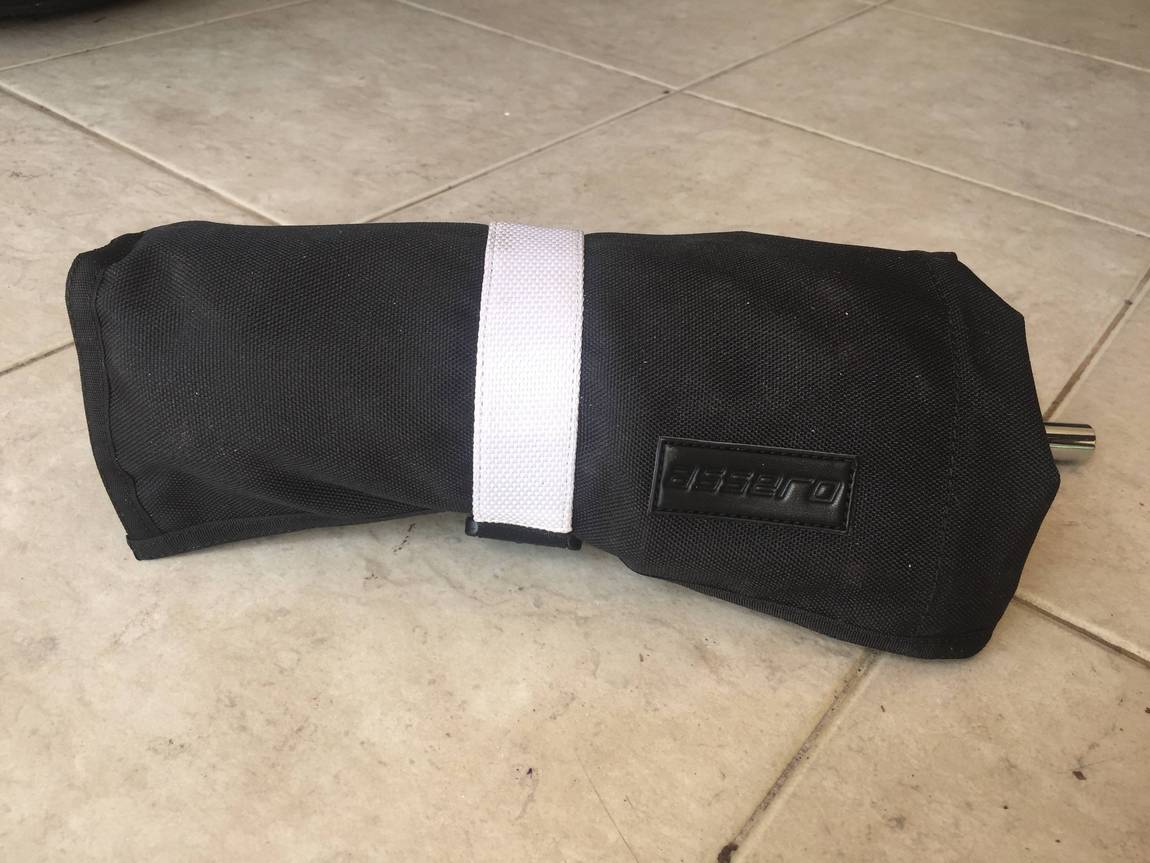 I contacted James who seems a nice enough guy and I like to spend my cash with guys over in Asia, building a small business on skills acquired in the west and using local labour or materials. He was good enough to offer a small discount and free shipping. I discovered James was over in Indonesia and we came to an agreement, that as I was in no hurry then he would post the next time he was in Thailand, which was a week later. It also worked out a similar time frame than if it was to be dispatched from Indo.
Here's what Assero says
Heavy duty double layer of 900D air-textured Nylon fabric. Abrasion resistant and strong.
Large tool window and retaining strap. Convenient for tools which are longer than the roll itself.
Zippered side-pocket with mesh and an internal white lining so small parts are easy to see.
1" webbing strap and two D-rings enables the tool roll to fit into smaller space than the usual buckle and clasp.

Dimensions: Tool Roll Width x Height: 16.25" x 9.25"  (41.5cm x 23.5cm). Small parts pocket (attached): W:4" x H:8" (10cm x 20.5cm).

The Assero tool roll contains four small 1.5" (3cm) wide pockets, three medium 1.8" (4.8cm) wide pockets, one large 2.3" (5.8cm) wide pocket, and one extra-large tool pocket 3.25" (8cm) with a 2" (5cm) square window and a Velcro retaining strap. When the top flap is folded out the total height at the highest point is 17" (43cm).
I already had my tools stashed in a fake Pelican box ( 5"x3"x2" ) so it was just a matter of 'moving house', I planned to keep the box, to store the puncture repair kit, superglue and the like.
Here's how everything fits.
The main body houses spanners (10,12,13,14 & 7/16") - Combinaton screwdriver - long nose mole grips - crescent wrench - Allen keys ( 5 & 8mm ) - 1/2" T-Bar + 6" extension - 14" ratchet drive + 1/4" T-Bar + 3" extension + 5,6,8,10,12,13 mm sockets - telescopic magnetic thingy - craft knife - Toothbrush wound with tape
The flap pocket holds a few cotter pins - 8mm spanner - tiny crosshead screwdriver - Allen keys ( 4,3 & 2.5 ) - lighter.
The flap pocket is constructed from the same strong rot proof 900D material and has a mesh panel, the panel is of a double mesh fabric, so small  thin objects like screwdrivers or pins aren't going to pierce it; which is a neat feature. On the back of the pouch is a white nylon "webbing" for those times when you need to put a small screw or pin down and find it easily, another simple and helpful feature.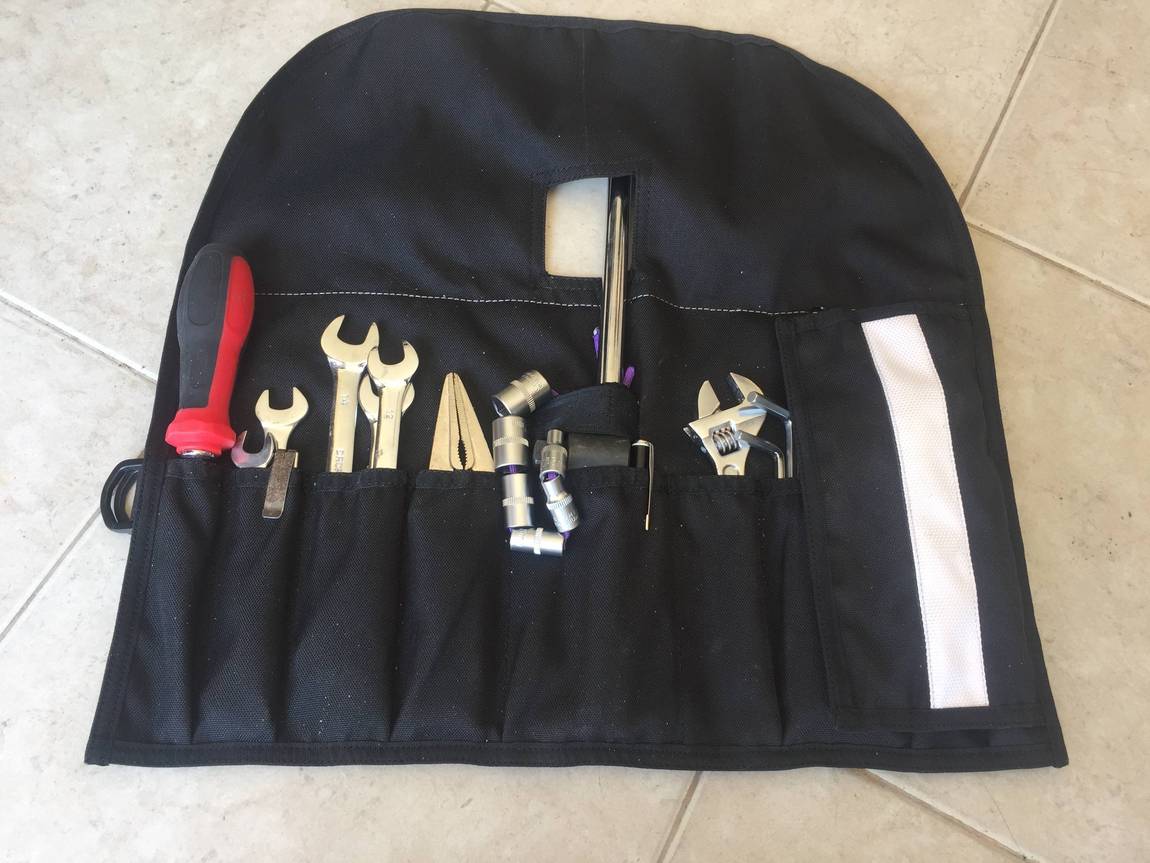 The other selling point or design point of the roll is a hole in the wrap over which allows tyre levers / longer bars to be kept in the roll.
On the whole I'm pretty happy with my purchase, looks well made, well thought out and looks like it will last forever. What more can you say about a tool roll .. It does what it says on the tin.
One thing I would also say, the roll looks like its there to be used, it didn't take hours of deciding where to put the tools to get a perfect roll - I just threw the tools into the first pocket available which turned out to be the right one. The same would be if you ever needed to use it on the road, after the bike is fixed you could just throw the tools back in any pocket, roll it up and be on your way. Quite a different story if you carry technical luggage with lots of pockets and straps.
The downside: I hunted out the best combo-screwdriver I could find ( at the factory driver always jams in the handle ) and the sturdy handle is just a fraction ( 2 cm ) too long to fit nicely. As always, I found a work-around by placing the screwdriver first.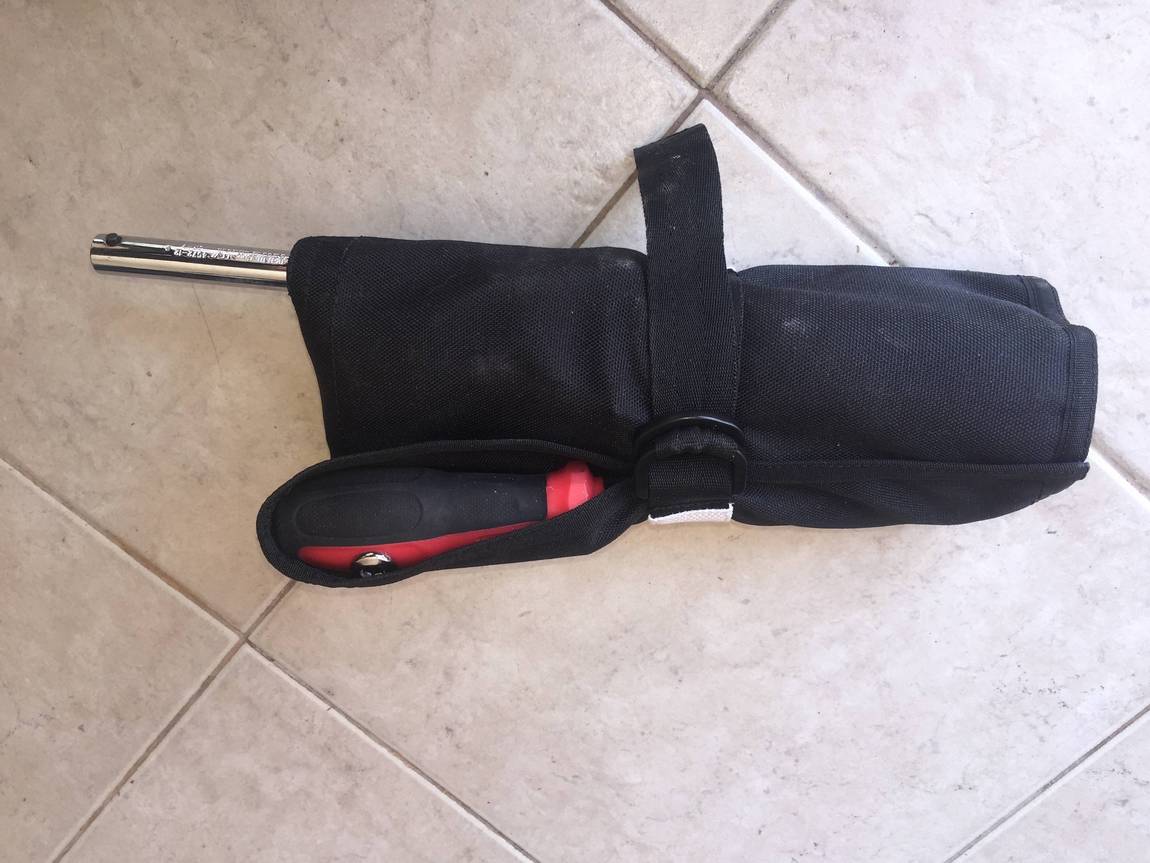 The roll fastens firmly with two well made plastic D-rings. You can see the oversize handle showing, although still held in place with the overlap cover.
I would have preferred some smaller pockets say 3" deep to house the smaller allen keys and the smaller t-bar and extension gets lost in it's pocket, ( James has since informed me that the problem with smaller pockets is that tools drop out ) maybe I would have liked narrower pockets to house individual spanners, but I'm sure James thought this through, narrow pockets = less tools.
Is it better than the kriega ? I don't know, I have abandoned the idea - I can't help but look at Kreiga's design, although looks attractive but maybe too technical, great for people suffering with OCD, and would the elastic tool straps start to perish after a year or two of cooking in the tropical heat of metal panniers ?
The Kriega is 55cm long, Assero's is 14 cm shorter as 41cm long, but with as with most 'travel' packs, the bigger the roll, the more tool you fill it with with the more weight you don't need to carry. Maybe James will come with version 2, using the 14cm to house a double layer of smaller pockets one day ?
I couldn't find a way to keep my long nose pliers and 16mm plug socket so they will live with the 27mm socket in the old pelican box .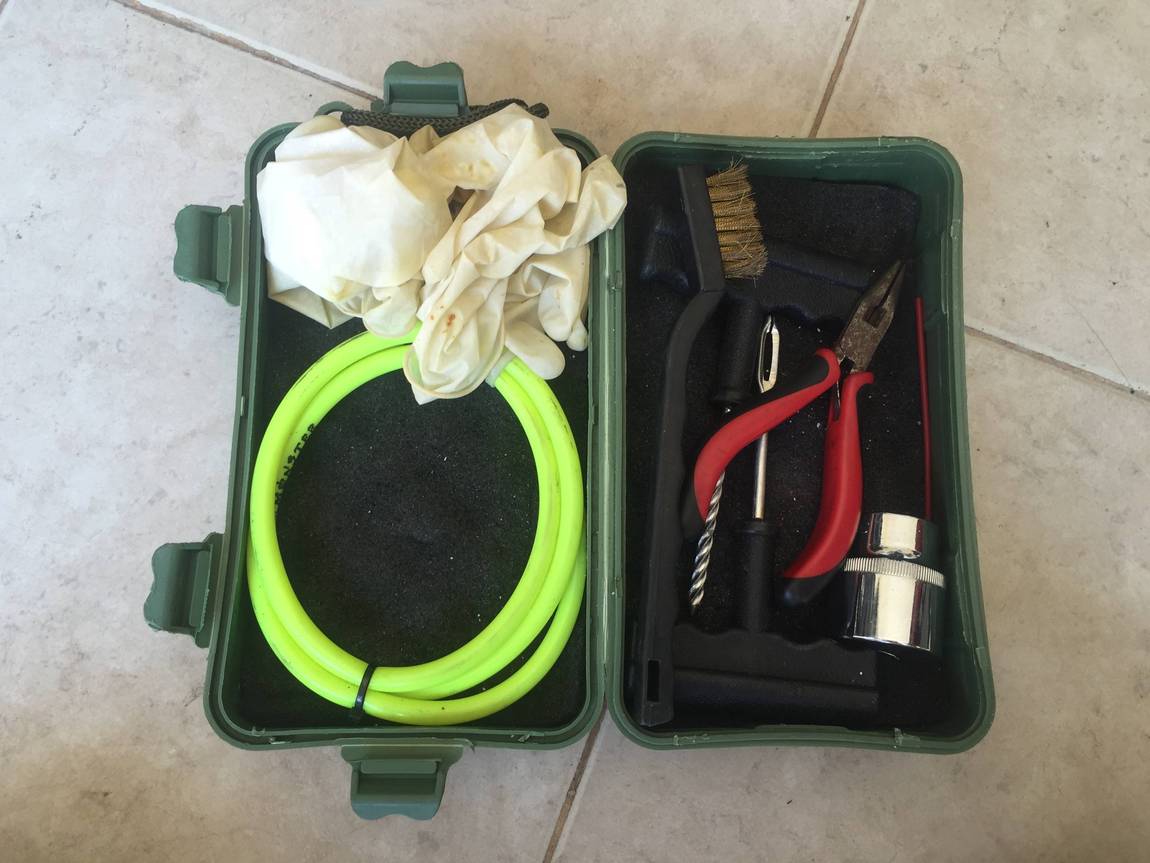 The listed price is around 900 - 910 THB ( Depending on exchange rate )
Assero can be contacted at
[email protected]
or assero on LINE messenger or
through his website - Assero.