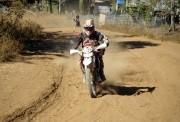 Mar 30, 2010
2,139
278
83
GPS Make / Model:- Zumo 660
GPS Track Name:- Attapue - Lake Nong Fa
GPS Track Recorded by:- brian_bkk
Start :- Attapue
End:- Lake Nong fa
Way Points:-
Date :- January 2012
Season :- Cool
Conditions :- Cool and dry.
Link to trip report :-
https://www.gt-rider.com/thailand-motorcycle-forum/showthread.php/35971-Two-white-guys-and-there-white-Kawasaki%92s-explore-Southern-Laos
Other comments you would like to add:-
The paved road to the border is great.. except for a huge Cobra that reared up across the road as we went past....
The trail up to Lake Nong Fa is a bit disappointing. Dusty, steep with gravel and in general.. not that pleasant.. Guess that is due to the gold mine along the way..
The lake itself is not that special. 1,200 metres high and cold.. No real option for a swim.. though looking at the mountain ridges away from the lake is impressive.
The lake is right in the middle of below image.. As Rex said.. Looks more impressive on Google Earth..or below in this case than in real life
Attached files
Attapue - Lake Nong fa.gpx
(939.4 KB)