Well I'm envious. At the moment I would much rather be clocking up the miles even on a rented dog from Mr Mechanic (actually, they're not too bad) but my UK bike suffered snapped throttle cables just before New Year and it left me trudging around for a week. To fill in the free time sans transport the amateur mapping thing that grabs my interest now and then got another bashing
I find Google Earth is great fun to use but its use of the Shuttle terrain data (called DEMs) is quite low resolution. It's really geared up for finding your house in built up areas and for that it's truly astounding. Once you zoom into street level, I'm sure it pulls in aerial photography and so off the beaten track the resolution drops way off. I think you have to pay for the GPS features and the Earth will soon fill up with points of commercial interest. But I mustn't bad mouth it, the internet that is now developing is the moonlanding of today.
I discovered that the LandSat satellite images of Thailand are a much higher resolution than that of say, South England! Once they are overlaid a DEM it can look amazing. Since there are reams of GPS tracks out there, perhaps waiting to be visualised, here's some of the stuff I managed to progress. In the end I had to move away from Kashmir3D but still used to edit my GPS tracks. If you are feeling generous, then perhaps this is ersatz trip report.
Compressing the pictures hasn't helped when showing the mapping detail especially the GPS track.
This is my old favourite of the Chiang Mai area and the Phrao loop. Google is much better here but this resolution is maintained everywhere.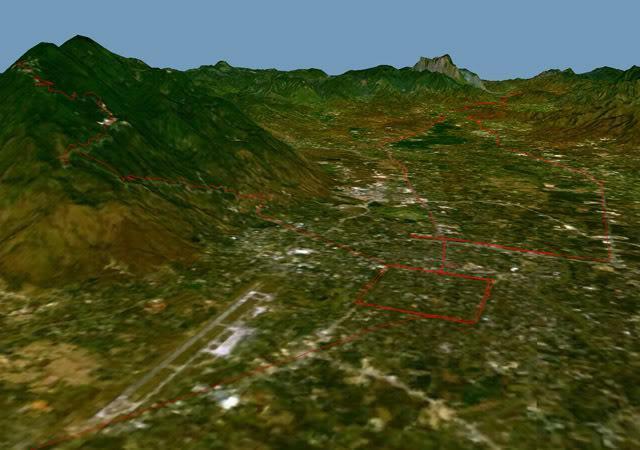 LandSat images were taken in a number of wavelengths and this one is great for showing rivers.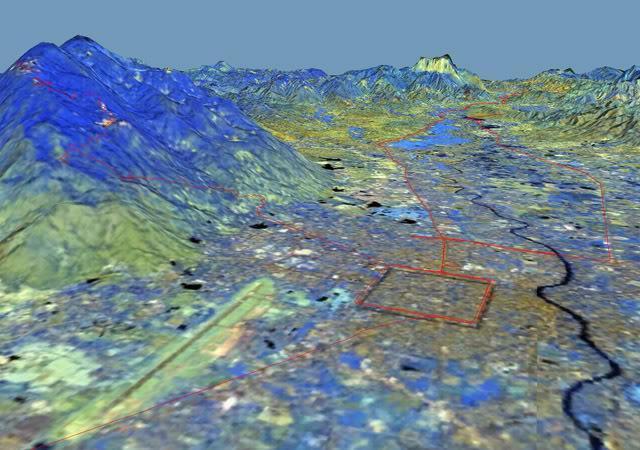 Here's a link to a Youtube video with a little flypast. Again compression hasn't helped.
During the summer of 2006 I did around 3500Km, once again looping through Phisanulok, Leoi and Nong Khai. Roads that I had travelled before I tried to cover in the opposite direction.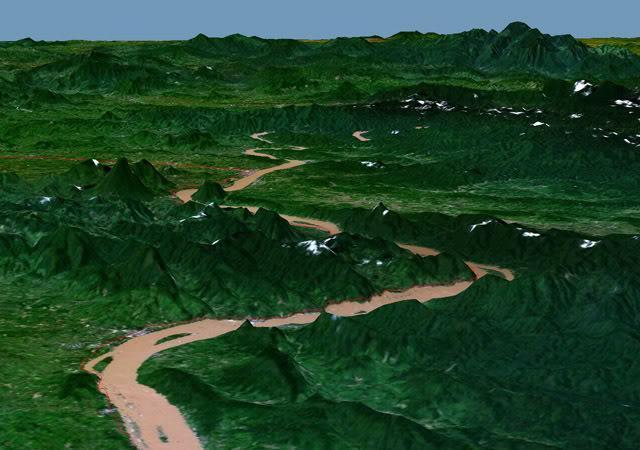 Finally, I got around to taking in the celebrated Nan loop with its wonderful climb along the ridge line. This was a fantastic day trip except for the long downhill section of missing road surface. It was like driving on a 60 degree slope of loose granite Toblerone chips.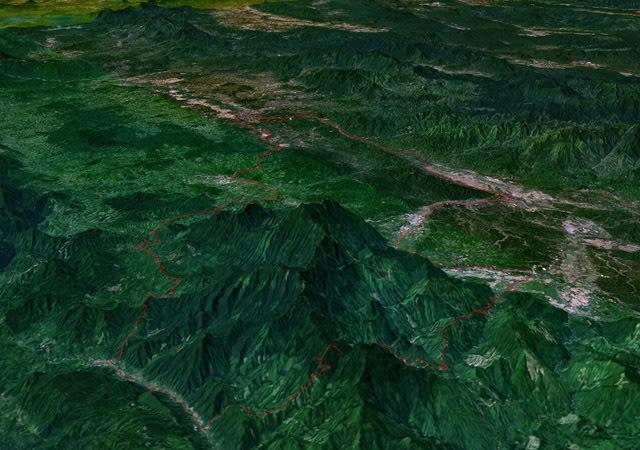 Another YouTube video beginning on Route 210 heading for Udon Thani and then following the Mekong along the 211 before turning for Leoi. After that, Phitsanulok and then a shortcut directly north to Nan although of course I drove via Phrae.
So, that's it. I think I'm about done with mapping for a while and it's back to work tomorrow. I hope it's not been too off-topic