With Mae Sot now open again for doing a border run, I might as well make a two day bike ride out of it. Leave early, be up there in the afternoon, then I don't know where best to stay the night. P'lok perhaps, Sukhothai, or maybe just Tak...
Distance BKK-Mae Sot-P'lok: 729km.
to Sukhothai: 668km
to Tak: 579km.
Have done a few 700km dayrides on the CBR250 before and it handles it great, no bother, but depends on how long the bordercrossing will take. Anyone know if it's possible to get them to just stamp you in and out without having to go over the bridge to Burma for a few extra $?
The next day up early and time for a nice ride... perhaps to Lom Sak and then down the 21 back to Bangers... What do ye think?
Any suggestions, route changes, best roads etc. happily taken on board.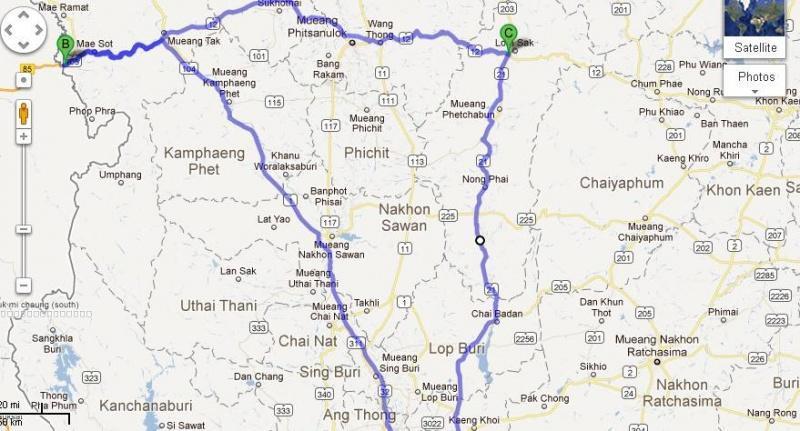 http://maps.google.com/maps?saddr=Bangkok+Thailand&daddr=Route+105%2FAH1+to:Route+12%2FAH16+to:15.65869,101.0385+to:Bangkok+Eastern+Outer+Ring%2FKanchanaphisek+National+Hwy%2FRoute+9%2FAH2&hl=en&ll=15.612456,100.969849&spn=2.72433,4.938354&sll=14.939477,100.50293&sspn=2.733082,4.938354&geocode=FZbh0gAdhgUABinzYQ0oMmAdMTEgSOJdsgABAQ%3BFTC8_gAdalvfBQ%3BFYKv_wAdvi4IBg%3BFcLu7gAdpLkFBiknLYHuEbcfMTEAm8uEVPsEEw%3BFToV0wAdTCsABg&oq=Mae+Sot&mra=dpe&mrsp=3&sz=8&via=3&t=m&z=8