Chad Reed Crash Video: Motocross Racer Flies Off Motorcycle, Keeps Racing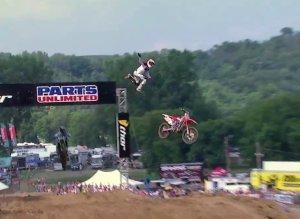 Chad Reed's spectacular crash may be six days old, but it's just too ridiculous to pass up.
On July 16 at the
2011 Lucas Oil AMA Pro Motocross Championship in Minnesota
, the Australian motocross racer suffered what would appear to be a crash that would make anyone think twice about getting back on the bike.
Not wanting to give too much away, but
Yahoo! Sport reports
that Reed launched 35 feet into the air before crash landing.
Vid here
The Daily Mail reports
that Reed was not seriously injured in the crash.
"I hit some bumps and the front wheel just went out from under me,''
Reed told Australia's Herald Sun
. "The next thing I knew, I was flying through the air. I'm just happy to still be here."
Amazingly, Reed
finished the race in 14th place
.