Chai Lai Orchid; an ethical elephant experience!
(..with this being such a unique kind of place, I have written quite a detailed outline on it. Hopefully, it is interesting and not too long-winded!)
Tucked away in the Thai jungle of Mae Win close to
Doi Inthanon
(the highest mountain in Thailand), lies the tranquil elephant sanctuary of Chai Lai Orchid.
​
This non-profit organisation is staffed by local indigenous Pga k' nyau Hilltribe peoples, with 100% of proceeds donated back into the community through
Daughters Rising,
an anti-
trafficking organization that helps at-risk women and girls.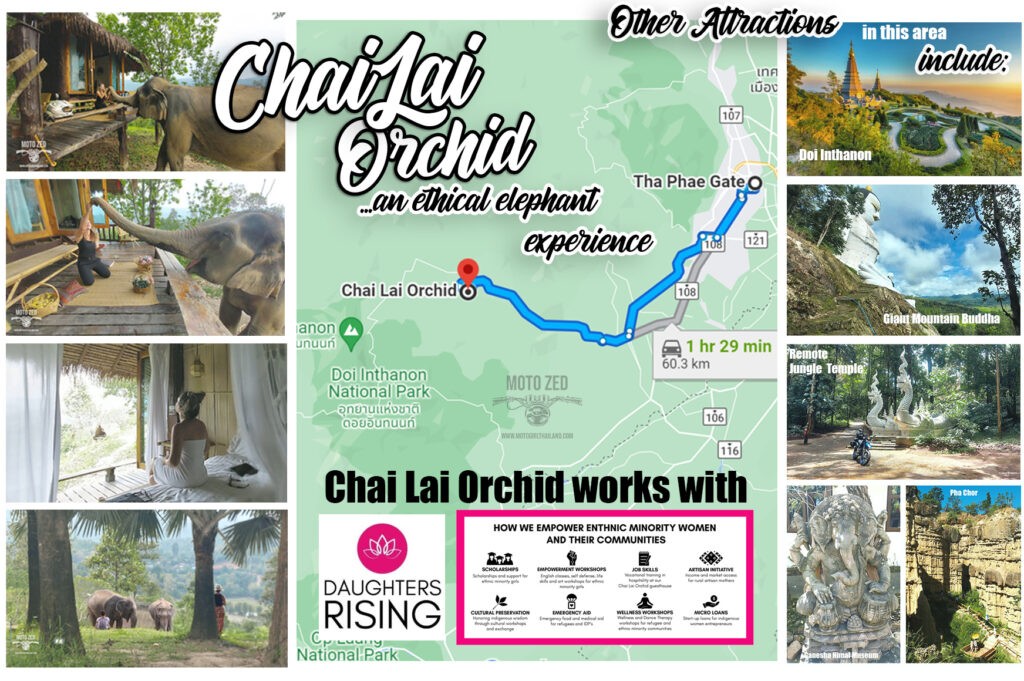 Location:
Chai Lai
Website:
ChaiLaiOrchid.com
Getting There
Driving:
Most of the route is paved.
However, approximately 700 meters close to the mountain view camp is
a narrow craggy road followed by 200 meters or so of dirt.
Parking
The parking area is a sloped dirt area.
There is no covered parking area.
Amenities
Free Wi-Fi in the common area
*NOTE* NO WIFI in bungalows
(I used my AIS phone hotspot to gain internet access and reception was great)
In-room massage available
Walking distance to waterfalls and swimming
On-site Restaurant and Bar (including a
Buy One Get One Happy Hour
)
​
The Elephants​

For over 8 years, Chai Lai Orchid has been rescuing and protecting elephants from abusive practices. Elephant babies remain with their mothers, and each elephant has their own mahout (carer). The elephants are not chained or tethered, and of course, there is no riding. Guests at Chai Lai can help care for them and observe them in nature and the mahout will help guide guests on how to interact with them. The elephants are brought around to visit at various times in the day and in the morning they will come to your balcony, which is when you can feed them. Also, swimming with the elephants whilst they bathe in the river is permitted. So, there are plenty of opportunities for photos as well as just observing elephants just being elephants!
​
Accommodation​
Chai Lai eco-bungalows are private, comfortable and clean, with en-suite open-air showers. You can choose from either a mountain view or a river view bungalow. (I chose mountain view).​
Food & Drink​
The on-site restaurant has a delicious array of dishes to choose from
(including vegetarian/vegan).
Breakfast is included (which includes a basket of bananas for the elephants, which come to visit you on your balcony). All other dishes will be added to your bill. The ingredients are all locally sourced and served fresh. There is also a buy one get one Happy Hour special. I enjoyed several dishes, which I chose to have sent to my bungalow. See the
menu on the Chai Lai website
, for more info.​
Activities​
You can learn about the culture of the local Pga k' nyau people who live in the region in traditional sustainable ways. Or, visit local handicraft workers and artists. Or hike to multiple waterfalls and visit the stunning remote jungle temple of
Wat Luang Khun Win.
.. and much more! Personally, I chose to relax in my quiet bungalow, enjoying the elephants and eating the delicious food from the restaurant (using locally sourced food). It was peaceful bliss.
​
The Setting​
The mountain view bungalows offer a stunning view of the Mae Win valley.​
The entire area is very peaceful with the occasional sound of elephants trumpeting during the day and evening. Chai Lai adopts a fair few animals, so expect to see several dogs running around the area (all are friendly and quiet). Also, being right in the heart of the Thai jungle means you should expect bugs! Actually, I didn't see any during my stay (and the mosquito netting over my bed kept out any potential pests). In fact, I slept like a baby.

​
Shop​
There is a
shop on-site (and online)
, selling local handicrafts. The profit from the sales of these items goes directly to the local people.​
Special Occasions​
Chai Lai also offers wedding and Honeymoon packages, private events and other special occasions. They can also provide a professional photographer. More info
here
on the Chai Lai website.
​
Other Places of Interest in the Area​
Final Note: Why it's Good to Choose Ethical Experiences​
As a final note, I wish to say that my experience at Chai Lai was absolutely wonderful. The staff are helpful and kind. The food is delicious. …and of course, the elephants were just amazing to be around. The added bonus was knowing that I had a fantastic experience that also went towards an important non-profit organisation, as well as choosing an experience which helps keep elephants safe and happy. Supporting organisations such as Chai Lai Orchid truly makes a difference, so, please consider supporting this fantastic place!
​
Last edited: