After responding to a request from a
Sharlkhan Shah,
a Malaysian member of a fb BMW GS1200 group, and seeing the photos of
Klong Hue Rai
from
tehsk30
started
here
, I bribed the missus with the prospect of food on a 'May day' weekend mission into Phattalung.
Although only an hour or so away from home we made a plan and started ringing around for places to stay, we found a couple of interesting places but even a week prior and being a long weekend most were fully booked. Despite the fact we headed off on the Friday morning.
DAY ONE

First stop -
Raparoon Dim Sum
, Tamot - ( 7.352608 100.123874 ) For brunch ( Sorry, no photos ) of dim sum and 'Ba-Ku-Te' which is a 'noodleless-noodle soup' with pigs intestine, liver, etc. Not bad, little pricey at 200B nd the coffee needed the coffee / sweet milk quota balancing up.
Onwards to our first random destination, carefully selected by the first blue sign I saw ..
Na Chang waterfall
in Tamot ( 7.281120 100.012964 ). A nice off road run, through the rubber trees, culminating in a steep gravel downward track, we arrived at the waterfall. Unfortunately, the waterfall as far as we could tell was just another stream with a few boulders, as we are at the end of the dry season, there was just a trickle of water flowing round the stones.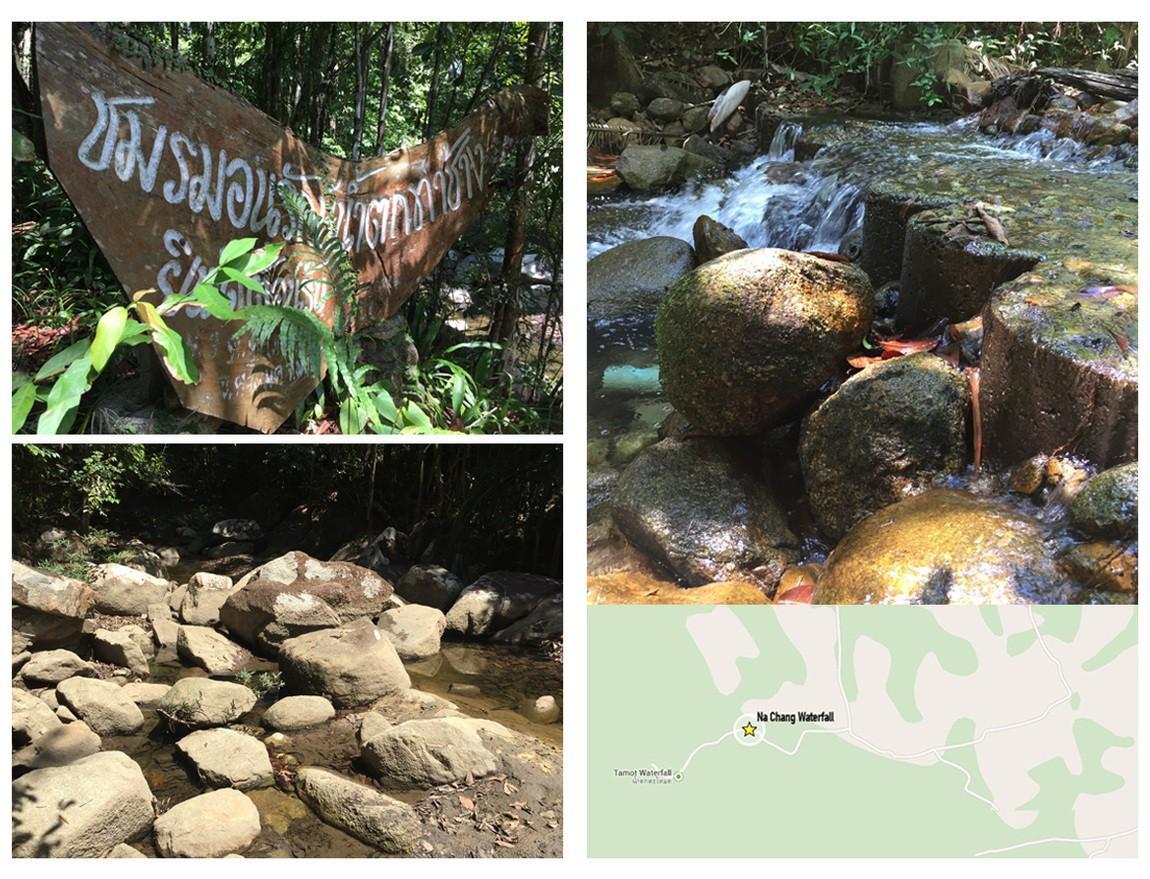 However, looking at the map and comparing with our coordinates, you will see another waterfall further down the track. It was impossible to get the Versys any further, but possible with a lightweight vehicle. I had an idea, that even if we continued on foot that there would be little water at the destination and we turned back in search of refreshment.
After speaking to the locals, we were directed to another fall, not far -
Mom Chui Waterfall
( 7.301344 100.021935 ) On arrival we found the place to be deserted, all the gates open and the buildings in a state of disrepair. We took the bike as far as I wanted and set off on foot.
We found a series of secluded deep pools in the middle of the jungle, a perfect place to take a break and get wet along with a few locals who were doing the same.
I'm confused about the jurisdiction of theses places, I know that to enter onto a national park, there is a charge - I understand that, in some cases the fee goes to maintaining the excellent facilities and upkeep of the park ( such as Tarutao Marine Park ) and in some cases, where the fee just seems to dissapear ( as Hat Yao Mai, Trang ) - Mom Chui, seems to be
forestry division
or some other government organisation. Despite that, its free, there were a few litter bins and the area was spotless.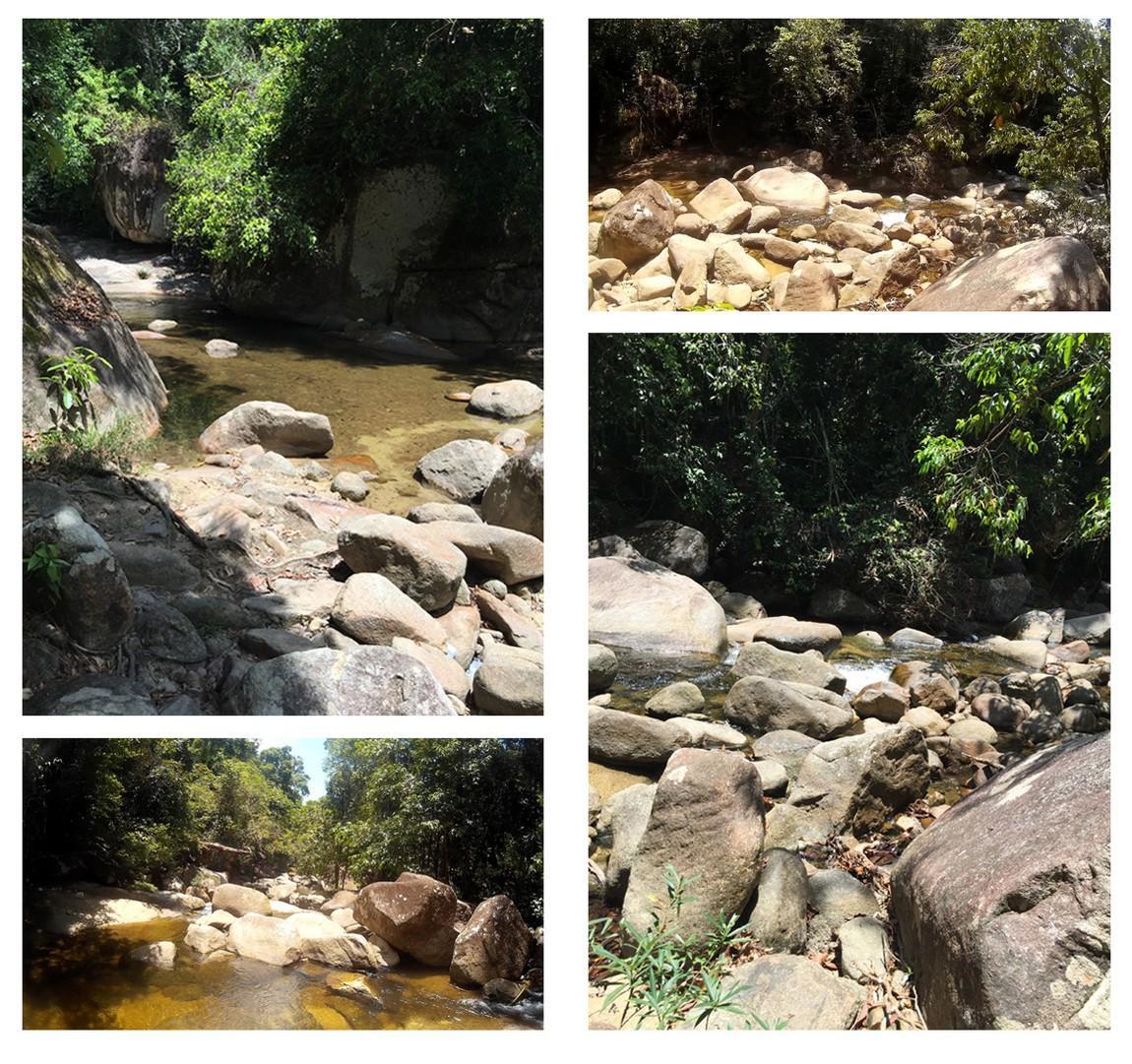 After spending an hour at the falls, we headed to
Thale Noi
, in search of a bed for the night. We made the 80 km trip and ended up on the banks of the lake. There were a few options on the road that runs along the lakeside, being 'Boutique' travelers, we stopped at Thale Noi Boutique guesthouse, only to find it booked out, but the owner was happy to call her friend at
Chuan Chom Resort
who had some bungalows around the corner. We rode around, checked out the room ( acceptable ) and paid the 800B ( slightly overpriced ) but inclusive of a breakfast.
We stashed out things and took a walk out to lake.
Heres a review from
virtualtourist
You must, must, must experience this beautiful place! This shallow lake is a basically a swamp, but a very beautiful one filled with so much life, colour and movement.

Lake Thale Noi is the largest waterbird reserve in Thailand, and its second largest freshwater lake. It is home for 186 species of birds and covers 450 square kilometres, divided into 422 square kilometres of land (94%) and 28 square kilometres of water (6%), or Thale Noi. It is one kilometre north of Songkla Lake, Thailand's largest lake, which at times feeds into it.

The best times of the year to visit are from October - May, but the best period is in February. During June to October the birds are nesting and less of the flora is blooming. It is best to visit the lake during the morning as all the lillies are open. Some of the waterlillies close during the middle of the day.

You will pass through many different areas of growth as you cruise around the lake. Flowers change from deep pink to cream to violet and back again. There are even some miniature waterlillies.

This place is so beautiful that the Princess of Thailand has a house here, built over the lake.
I got the vibe, that this place was a big time tourist trap, there were coaches parked, the guesthouses seemed full, every shop seemed to sell woven reed souvenirs or dried fish, the seafood restaurants were doing a brisk trade. Even tho' it was early in the afternoon, long tail boats were still doing good business, and local tourists prepared to pay the national park fee ( 20b ) to walk out on a viewing platform - I'm not too sure what they saw, all the lotus flowers were closed and the birds well hidden.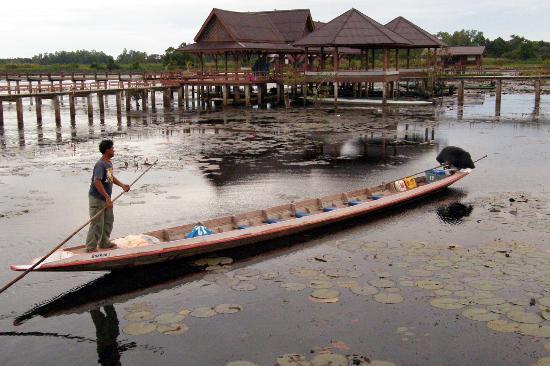 I feel we were lucky to find a bed, although there were a few guesthouses / bungalow operations, there were obviously more tourists, hence the inflated prices.
After a cool off we headed towards the national park, and as it looked as rain was approaching we dipped into
Tham Phut Kadoom
or
Buddha Kadoom Cave
​ ( 7.560929 99.885335 ).
This was interesting, when we arrived, we were approached by a little kid, no more 10 years old, who led with "hi, where you from, etc". then went onto tell us he in Thai he was a guide and we could procure his services.
We started on giving him a hard time, and told him to watch the helmets for 20B .. He didnt give up, and carried on his pitch - I asked him if his Mum knew what he was upto .. In reply he told us his "story" his Dad was dead, through drink, his mum collected betel nut and sold it - they didnt have enough money so his mum told him to get on his bike and get a job. When he said he would accept 2B for showing us around, we thought it was time to give the kid a break.
The kid cracked us up for the duration his tour, he called my wife 'grandma' and carried on rattiling off all his acquired knowledge, actually without him we wouldn't have got far, the cave was well lit, but wasn't signposted, so he showed us the route through the cave and round back to the entrance. In the unlit parts he had a stash of candles and a lighter, which he whipped out for us and wanted to take us to another cave half way up the mountain where we would see the bats exiting at dusk, but we couldn't climb any further.
After the tour he ran off chasing his next customer, dismissing our 2B in search of greater wealth. In the end we shouted him back an handed him all the small money we had - If your passing through the national park, stop off at the cave - just for entertainment value of this little dude.
We returned through Pattalung city, only one central road with 6 sets of un-synchronised traffic lights and rode out to Lampam, then took the shore road running north back to Thale Noi.
In the evening, we headed to a new "floating" market being built at the far end of Ban Thale Noi, we bought plenty of snack food and retired to the bungalow.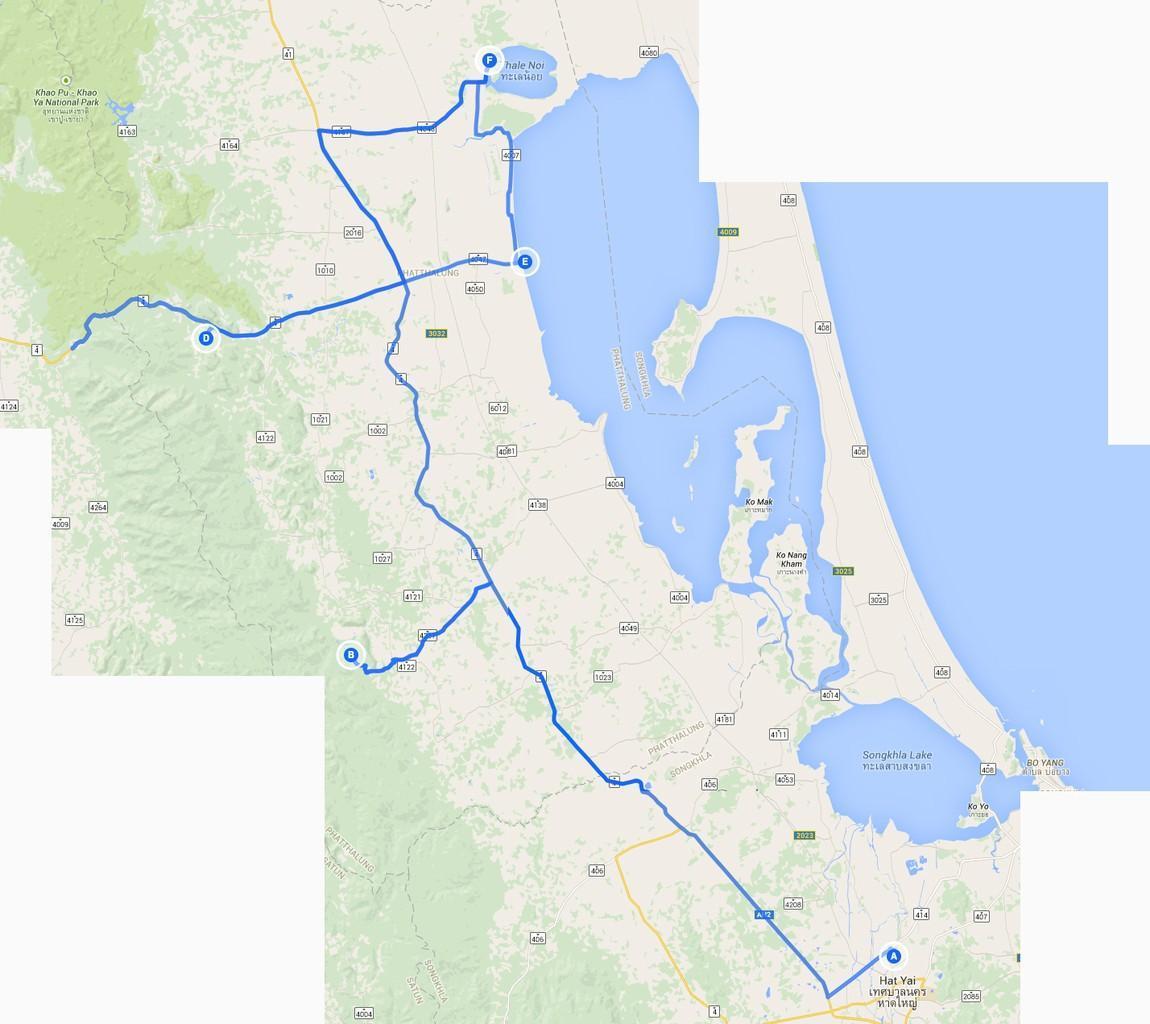 DAY TWO
The main reason for staying in Ban Thale Noi is to be close to the lake for the daily lotus bloom, we set the alarm for 6.00 AM and headed out, after wandering along the shore we realised that in order to see anything, we needed to hire a long tail to take us out and witness the morning bloom. As we we headed to the jetty, we saw a few adventure BMW's along with a convoy of cars and buses heading for the carpark. Seems like the early morning spectacle is quite a draw amongst Thai tourist.
We received the run down from the guy organising the boats, 450B for a hire of the boat, we saw boats being loaded with around 12 people, and we took our own for the same price. Each boat heads off in different directions through the 'pathways' in the lagoon, so although were could see other boats, we were pretty much alone.
The boatman was careful to stick to the path, and when he saw groups of feeding birds he slowed the engine and gave us a run down ( in Thai ) on the birds we saw. I knew that I saw some cranes, the odd asian cormorant, solitary terns, and some strange but beautifuly coloured relatives of the English moorhen. The lotus flowers were beautiful to see in colours of lilac to light pink to white. People were out collecting the fish from the traps and the lotus roots to sell as vegetables in the local market.
It's times like these, that remind me how beautiful Thailand is and how lucky I am to get out on a bike and have the freedom to visit places like this.
The guy offered to take us to Ko Si Ko Ha, for a further 350B, probably a good deal, as its a fair way into Songkhla lake, but really we wanted to enjoy the splendor of the morning and didnt really have a great deal of interest in our feathered friends. Ko Si Ko Ha, is a uninhabited island on Songkhla lake where the nests of swifts and swallows are collected for sale. After an over an hour, the sun was heating up my face, my backside was going numb and my stomach rumbling, the guy took us down the causeway linking to Songkhla Lake, and then back to base. Where he ploughed into a patch of lotus flowers so we could take selfies with a backdrop of flowers.
We walked back the short walk back to the bungalow, where the missus stumbled on some old woman drowning some cakes of fish roe in warm palm oil, so it was of great importance to sample those. I was happy to wait until the bungalow resort provided us with a fried egg, a sprinkling of ham, sausage & bacon, a piece of toast, coffee and banana.
After a shower, we were on our way.
We needed to find a new spot to sleep, and we spotted a place the night before in Lampam that looked ideal, Lampam resort, however on arriving we found it fully booked so we headed into Phattalung and stumbled upon
Mountain View Resort
( 089 657 4794) ( 7.622211 100.096371 )with a great view of the mountain, Khao Ok Thalu. The boss checked the room and I was happy to pay the 500B for a clean bungalow, set in the owners immaculately kept garden. No messing around here, both husband and wife were ex-government school teachers.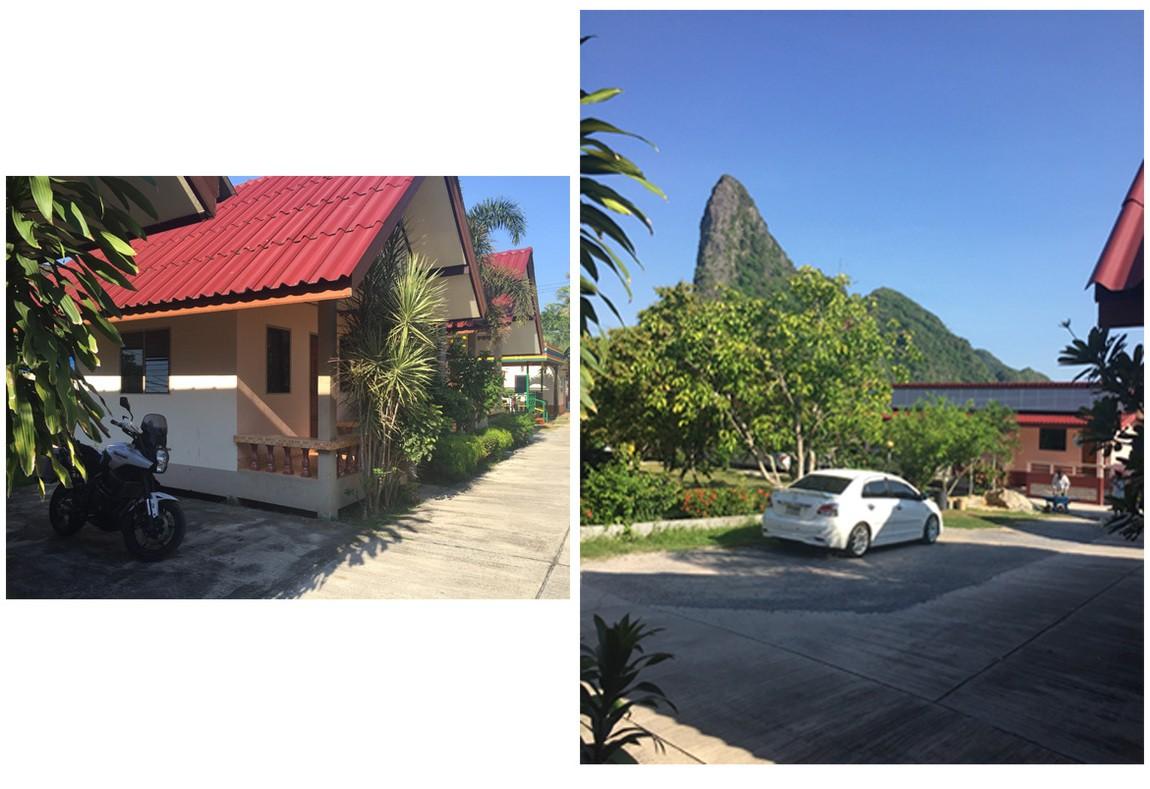 The previous day, we were told of Wat Tham Suwano back into the national park, I thought a wise idea to escape the sun and head in that direction. On arrival, it seemed we crashed into a meditation retreat for ladies held in the main chamber. The full time nuns welcomed us and encouraged us to walk about, it seemed that although we felt like we were imposing, the ladies made use of us by getting us to take photos on their phones sitting next to the various buddha images.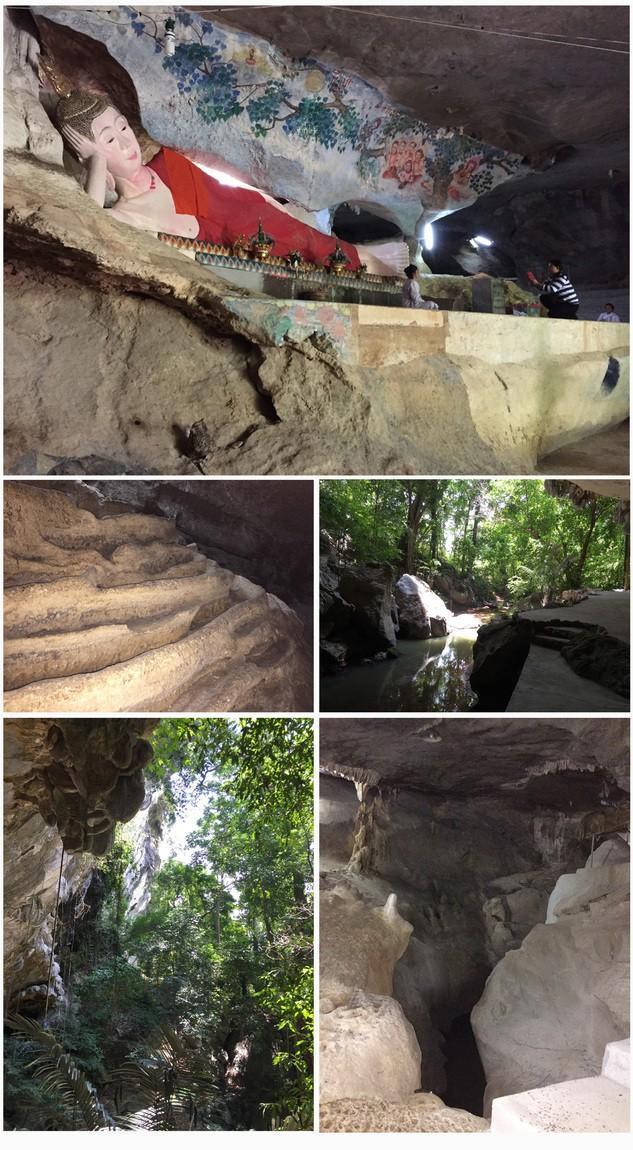 The temperature was really nice and cold, as we followed a nice concrete path running over bridges that crossed the river running through the stack. The meditation lecture started and we made tracks, I'm sure they appreciated the sound of the Yoshimura pipe as it cracked the silence on departure.
Following the first random blue sign, I headed off down a gravel track, between the rubber trees in the general direction of
Fa Lan Waterfall
( 7.613376 99.920426 ) - Which was well worth avoiding - it was a dry man-made concrete weir.
I could see
Riang Thong waterfall
( 7.703418 99.810895 0 on the GPS, so we headed north - a nice ride off the road, ending in another well kept forestry department area, alas, no water, but this place would be a nice stop off in the rainy season, easily accessable tarmac road, apart from that little strip of gravel road thats alway round that blind corner, always after the fast straight.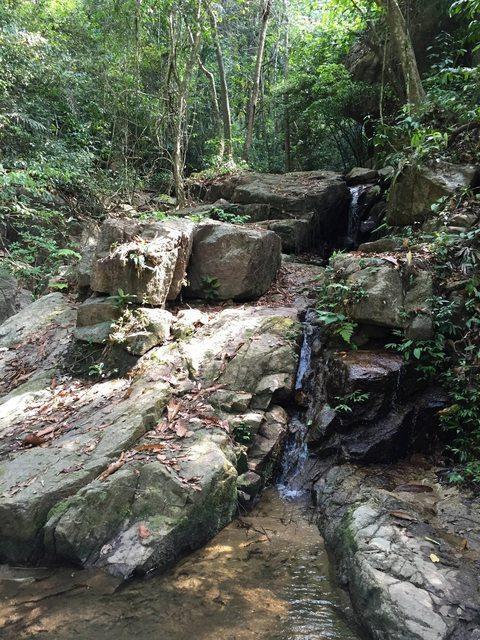 While I was taking photos, the wife had been searching the web and came up with
Nam Sawan Waterfall
, google came up with the fact that it had water all-year round, but it was a way in the north in Nakhon Si Thammarat province, not far from a place in the hills I had visited before,
Huai Nam Sai
reservoir
, I knew the roads were fun and twisty and ended in a dirt track around the reservoir so i was easily sold on the idea.
On arrival, we realised it was a small, commercial venture, locals were running around with tractor inner tubes. A guy approached us and snagged 10B to park the bike, he warned us not to leave the helmets on the bike, but to walk back to the road and keep them at his shop as stuff had gone missing from bikes in the past. hmmmm.
We walked down to the falls, the photos on google were very creative, it was another puddle with some water overflowing, small children were lying in the pools whilst their parents munched on a picnic. I gave the wife a good beating, we laughed and carried on our way - at least the run their was fun.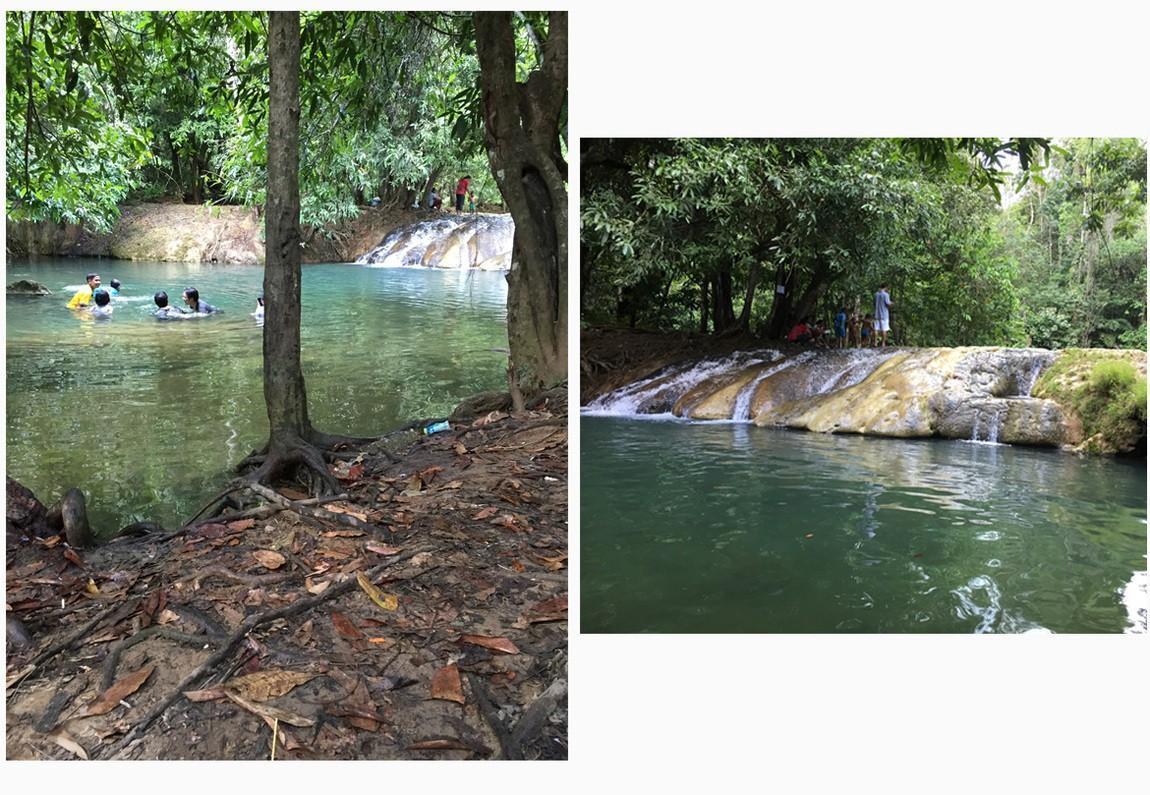 We returned to Lampam and walked around the night market, bought a BBQ fish crusted in salt and some pig intestine salad, and returned to the bungalow.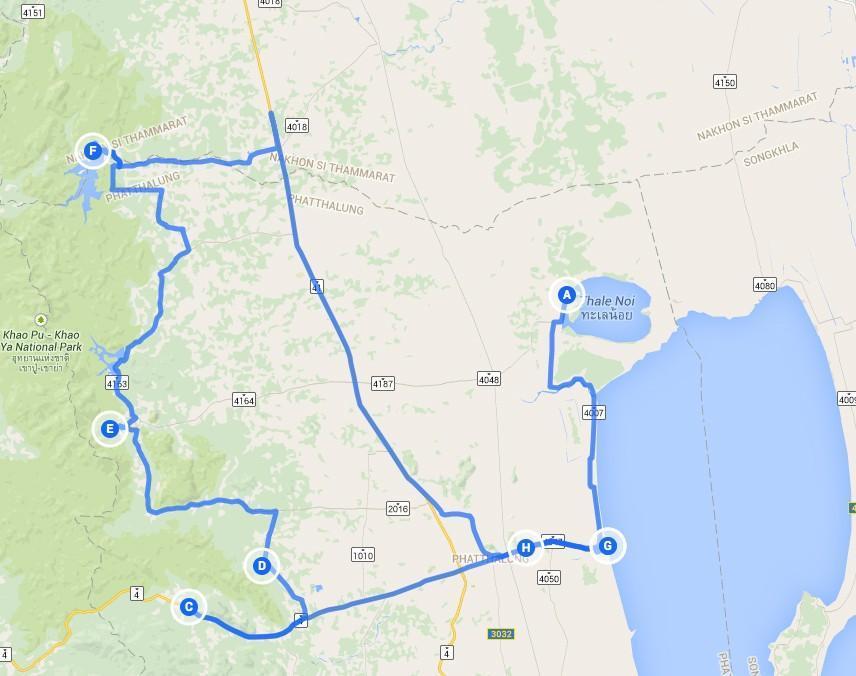 DAY THREE


Time to head home, I planned to swing past
Klong Hu Lai
on the way back, we took the interesting backroads through some pristine looking villages, past the hot springs at Khao Chai Son, in search of the river bed restaurant. We followed the sign from Chai Son, under the shadow of a lovely mountain and stopped to ask directions from some old women butchering a pig at the side of the road - All through the weekend, I'm amazed at how beautiful and untouched Phattalung is, we saw two western faces at Thale Noi, and that was it. When we asked at local shops what the waterfalls were like and would we see water, people just laughed, they don't visit them. I guess its kind of the same in the UK, but if you asked me about Southend pier, even 15 years since I visited I could tell you a little.
The same with Klong Hu Rai ( which sounds a little like hoo-ray, right ? No ! ), we asked the butcher and her customers, all looked totally confused and pointed in three different directions, it became comical as they began to argue with one another on who was correct. We followed our noses and asked at a local town, it seems that the pronunciation is way off -
Basically, Its called
Keang Hoo Lay
or
Keang Nam Hoo Lay
or Tan Nam Hoo Lay, It's not Klong at all, Keang and Ten are words for what we would know as 'white water' or 'rapids'. 'Long Keang' is white water rafting. Anyway, lesson over, some of the blue signs direct you to 'cold water stream' and you can find it here ( 7.417898 100.141094 )
We eventually arrived at 10.45, parked up and walked down to the stream. There was a group of young couples 'on' the regency. We chose a spot in the middle of the river.
Placed our order, the ice and water arrived promptly - then after 15 mins the place started to get really busy. As we thought it brunch time, the wingman ordered som tam crab which arrived pretty swiftly, I thought it was sharp and zingy, but she thought not.
The other dishes arrived after, Kruan keang Gai - a chicken fried with curry paste, a splash of coconut and basil leaves and a plate of seafood fried rice.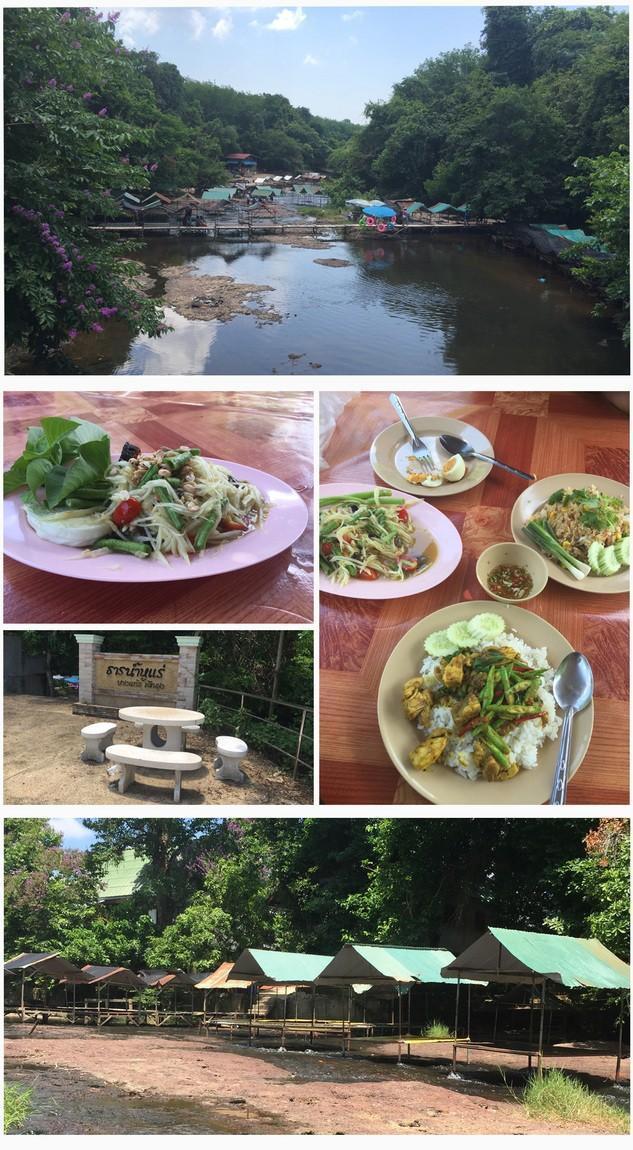 Anyway, cut to the chase - The food was pretty bad, Nit said there was MSG on the Som Tam, curry had no coconut milk and was just too spicy to eat, the shrimps still had the shell on and were on the dubious side, the squid like leather. If a Thai person thinks that food served in a Thai restaurant is bad, then you got to believe them, I wasn't as critical, maybe make up your own mind.
Not the end of the world, 180b for dishes, 2x water and ice + kanom koke ( BBQ sticky rice in baitoey leaf ) and a BBQ egg - 20b
We looked around at others, they had brought their own picnic and ordered a couple of dishes or drinks from the restaurant just so they could occupy the huts and let the kids paddle in the water.
After the tin roof heated in the mid-day sun, we paid the bill and left.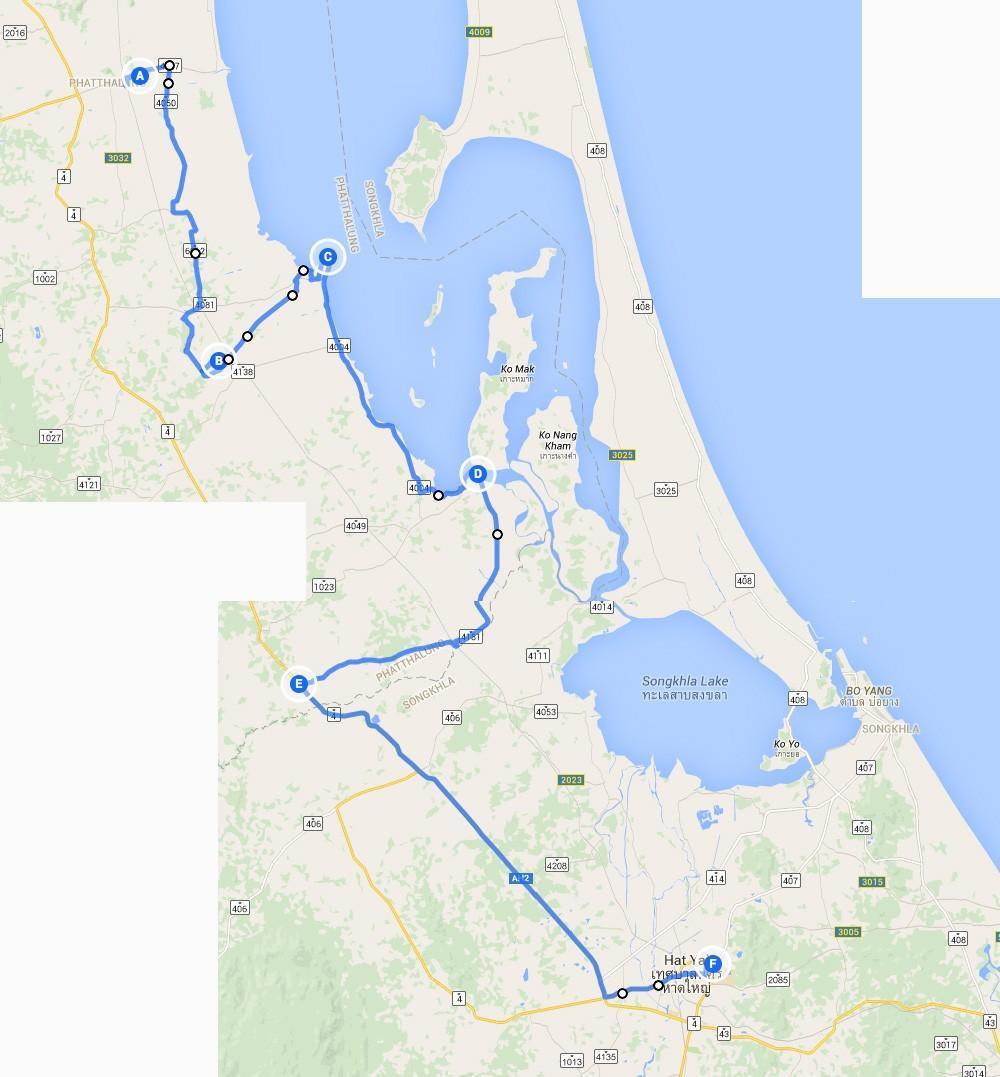 I took a few roads in various states of disrepair and headed out to Laem Chom, where we saw some nice waterside restaurants, then to Khai Tao beach ( which is a bit of a lie ) and ending in Pak Phayoon before stepping it up a notch and heading back to Hat Yai on the Petkasem road. Just as we reached the ring road, the heavens opened and we got a good soaking, but apart from that not a drop.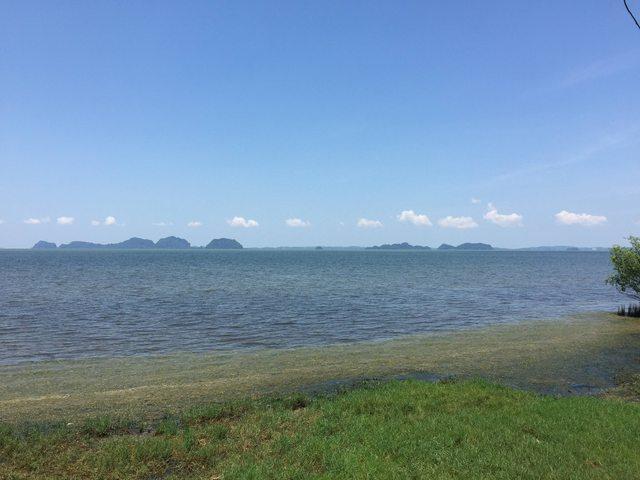 All in all a great weekend.