In the wee hours of Friday the 29th December, 2013, 9 Ulysses members (8 from Shearwaters and 1 from Yarra Ranges) left Tullamarine airport on a Thai Airlines flight to Hanoi for a motorcycle trip. What we got was more adventure than we could ever have imagined.
Some 9 hours flying found us in Bangkok for a 2 hour layover before our flight to Hanoi, arriving at our hotel (
the Gia Thinh
) in the old quarter (or backpacker country) around noon on the Friday. The afternoon was taken up dealing with the last bits of paperwork and final payments to
Flamingo Travel
who we had contracted to supply the motorcycles, a guide, and a support vehicle and driver. They also sent along a mechanic to look after us, and he was invaluable not only in that role, but also ended up a relief rider on the couple of occasions one of could not ride for a while. Australian Dollars were changed and we all became instant millionaires, lunch was found and a tasting of the local brew commenced. A short stroll took us to Flamingo's garage, and then the trading began. We had initially booked 9 Minsk 125's, but ones that Flamingo had modified with a modern 4 stroke engine, and an upgraded front suspension with a larger diameter tyre, and a set of dual purpose tryes. 3 of the boys eyed off the new
Honda XR 150's
, the 3 girls decided that the
Yamaha YBR 125's
would be better suited, 1 took a shining to the Sufat, 1 stuck with the
Minsk
and I grabbed a Honda Baja. (Ugly ugly bike, but ran beautifully)
Back to the Flamingo office to pay for the additional costs, then to the City View Cafe
City View Cafe
for dinner and drinkies overlooking Hoan Kiem lake.
Early start on Saturday, Flamingo picked us up in a minivan for a day at Ha Long Bay. three and a half hours in the chaos left us pleased we weren't riding, then a relaxing 4 odd hours cruising around, picking some of our lunch from the floating village, exploring the caves, and did I mention a few drinkies? Back in Hanoi just after dark and down to
Le Pub
for a last Western feed for a while.
Some of the crew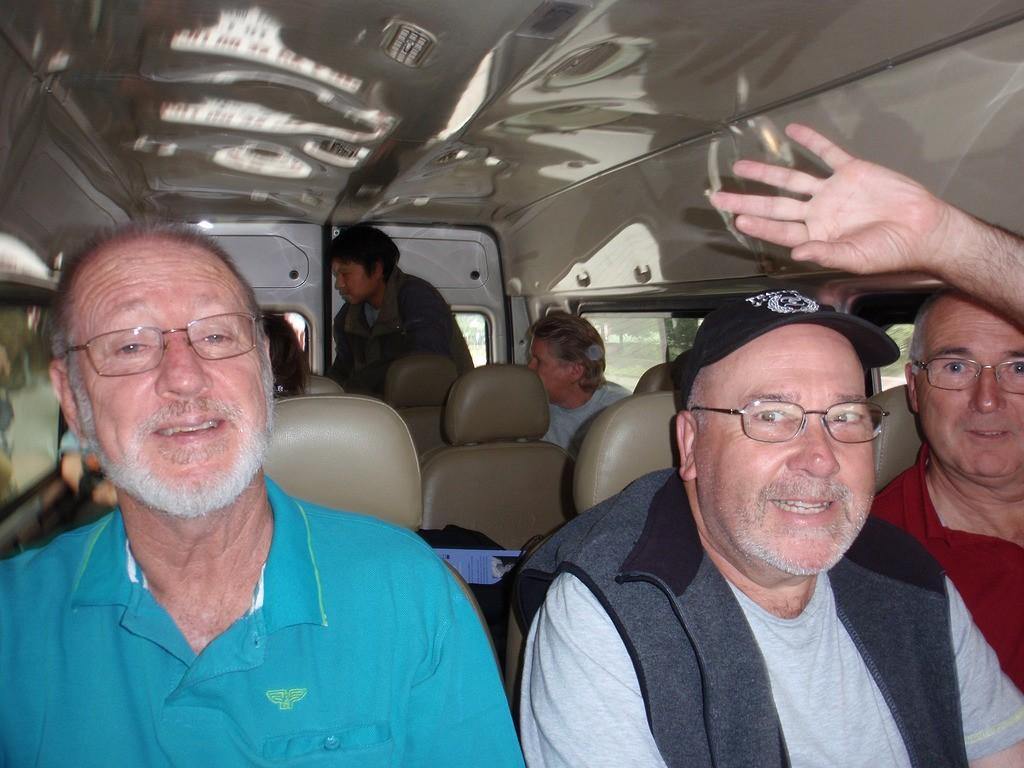 And some more. The orange thing Rob has on his right arm is a spot tracker.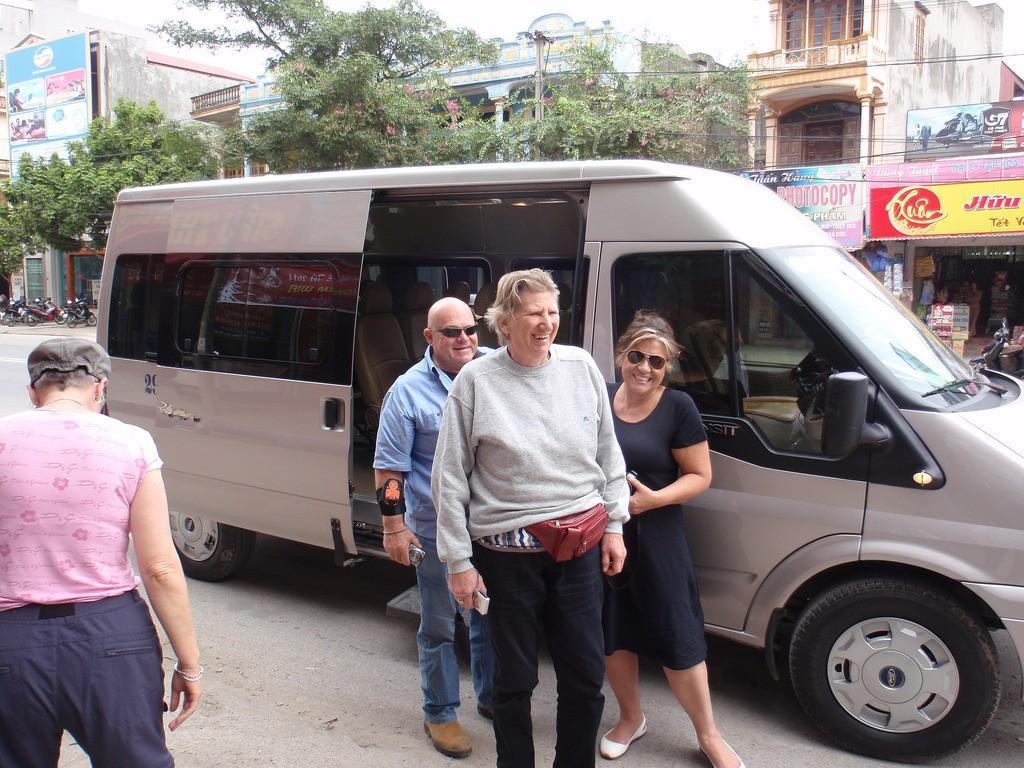 Meals on Wheels
and dessert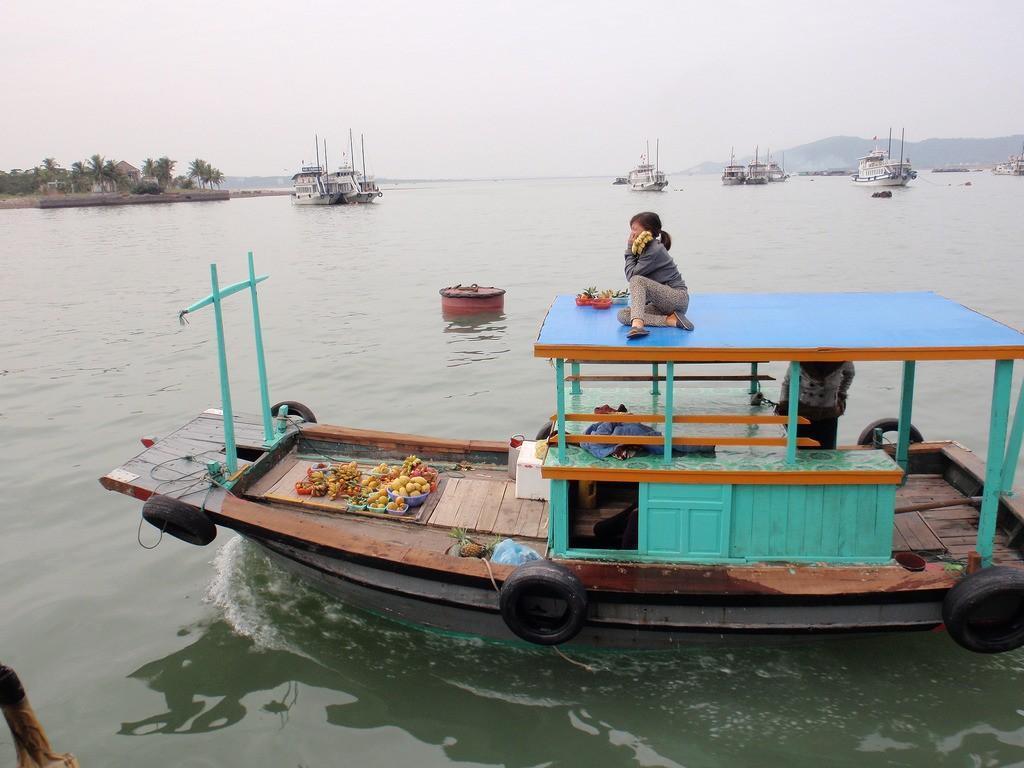 Floating Village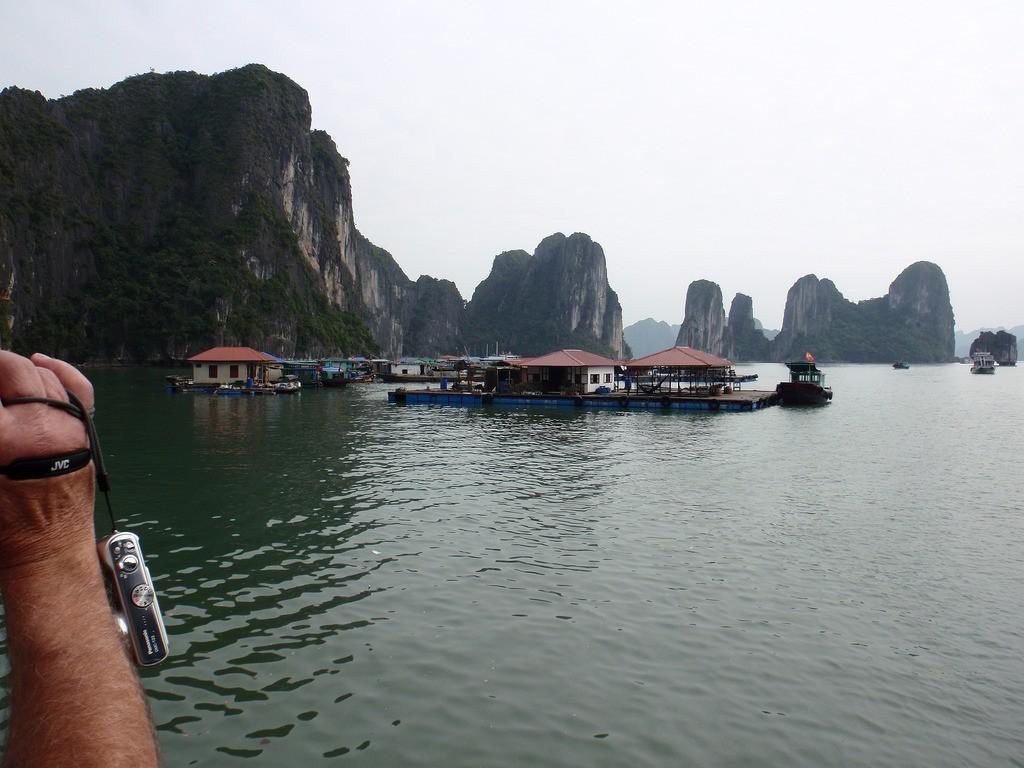 Most boats only had a small number of people on them. Hard way to make a buck.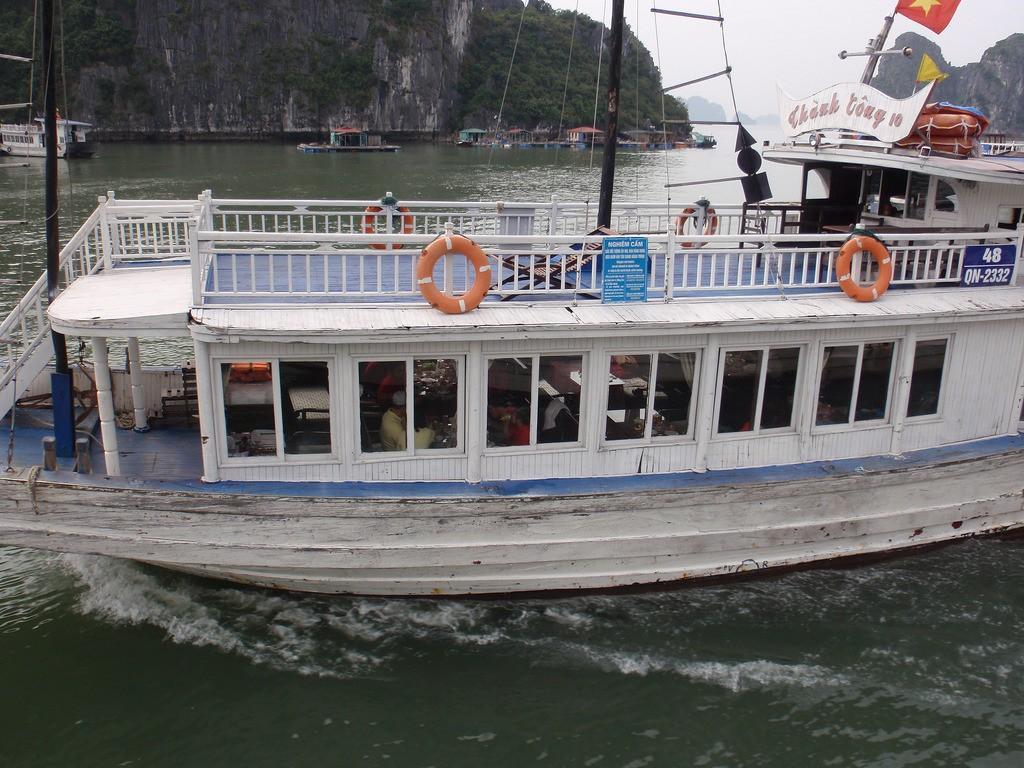 Yours truely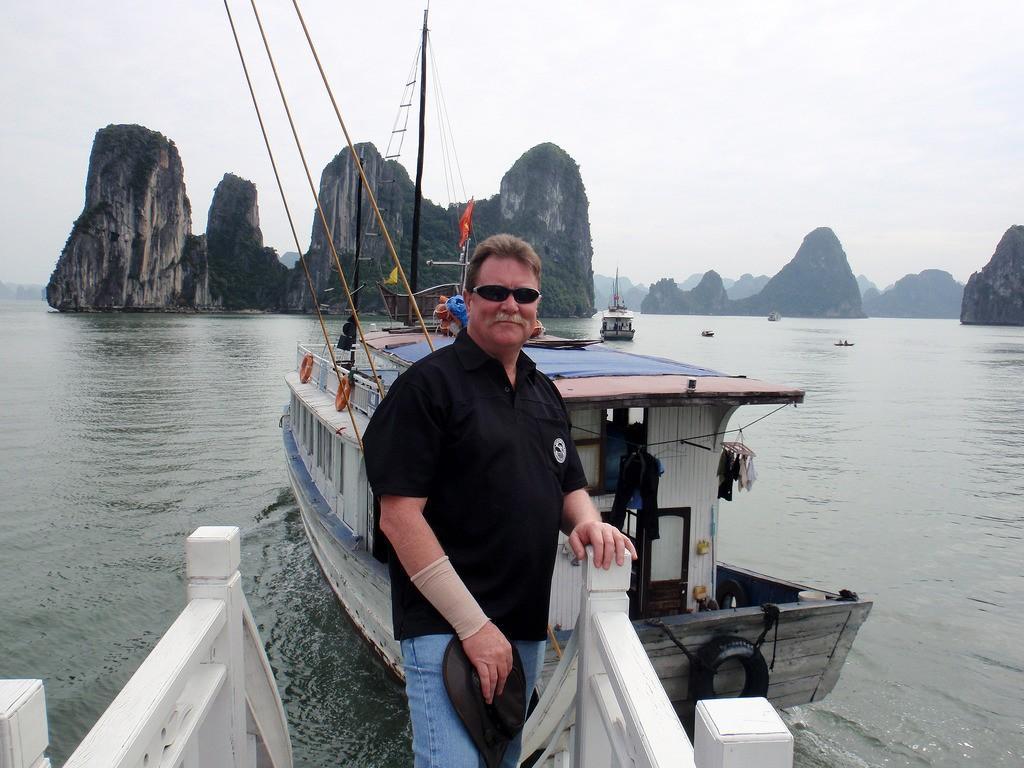 And our guide Crazy Minh. he was to live up to his nickname...
Buying lunch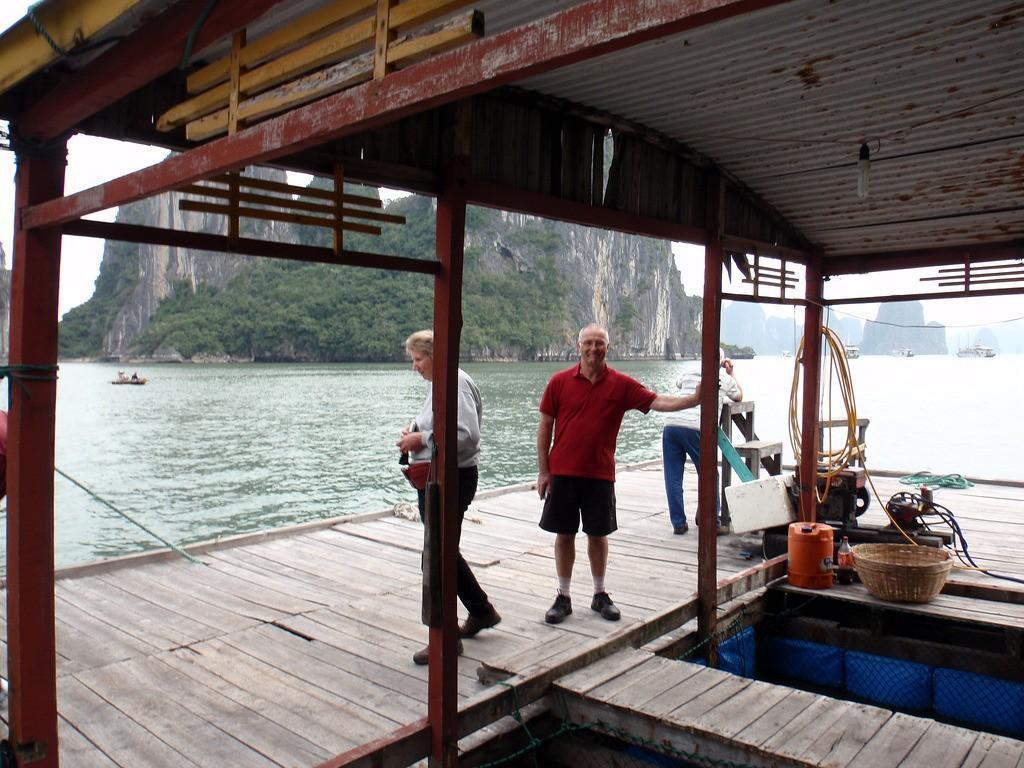 And the consumption thereof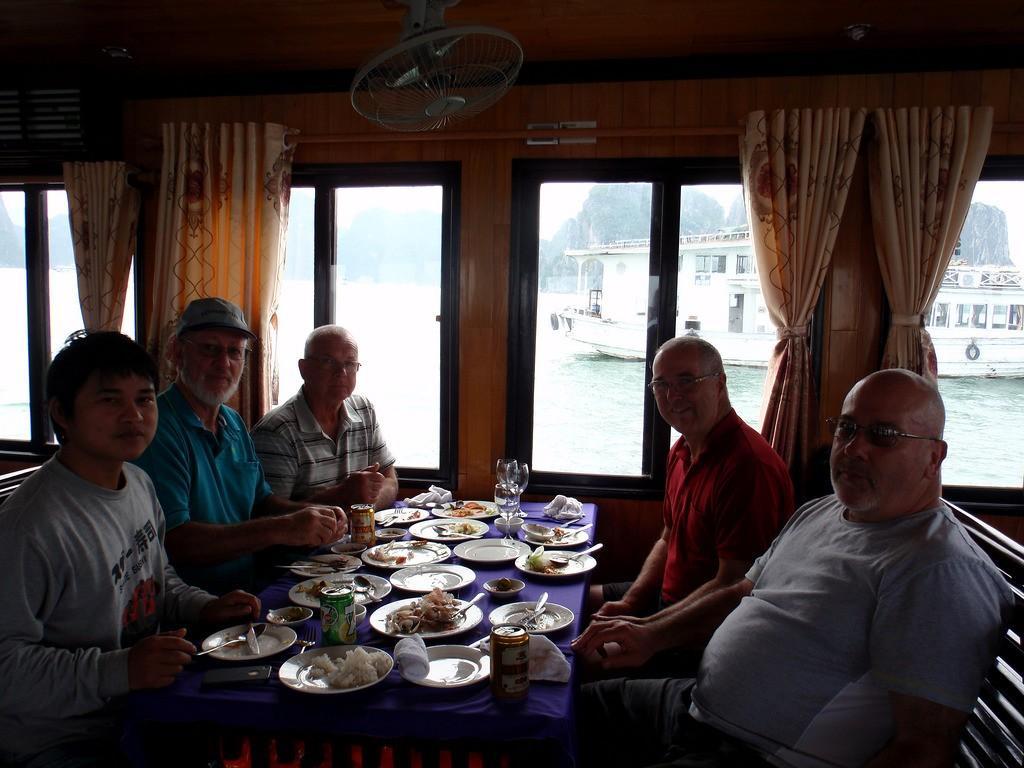 Fresh....
Last Western feed for a while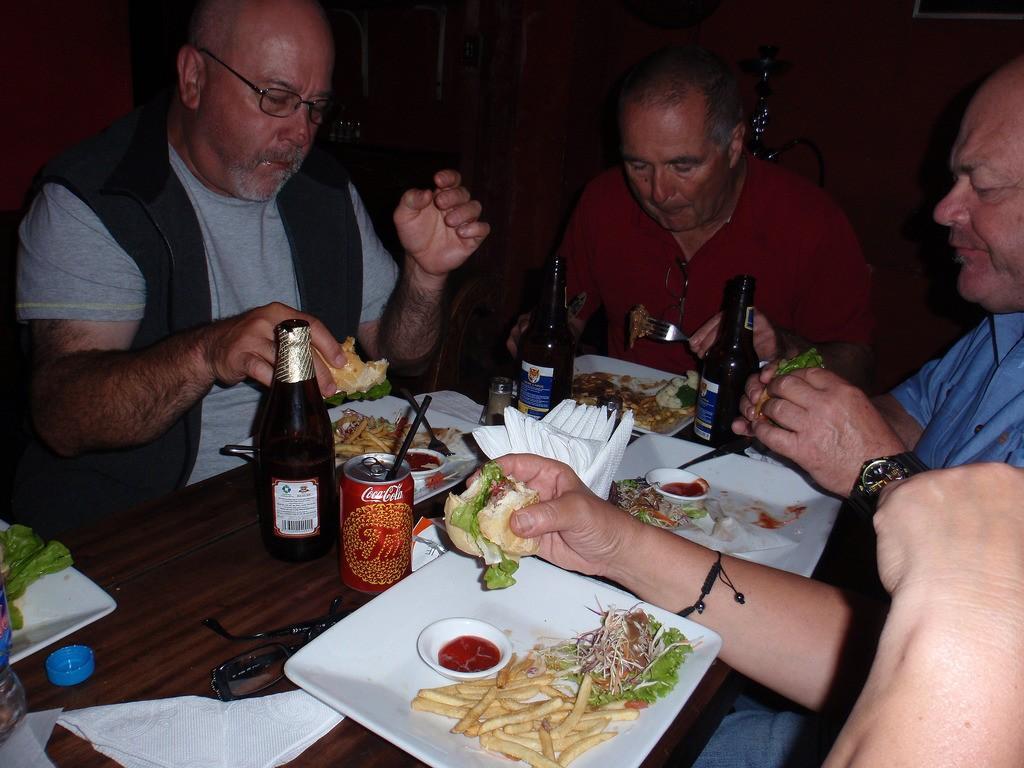 More to come