WARNING: IF YOU DON'T WANT TO KNOW WHAT HAPPENS BEHIND THE CLOSED DOORS IN THE MOTORCYCLE TRADE STOP HERE!!!
THE HUSQVARNA LOGO.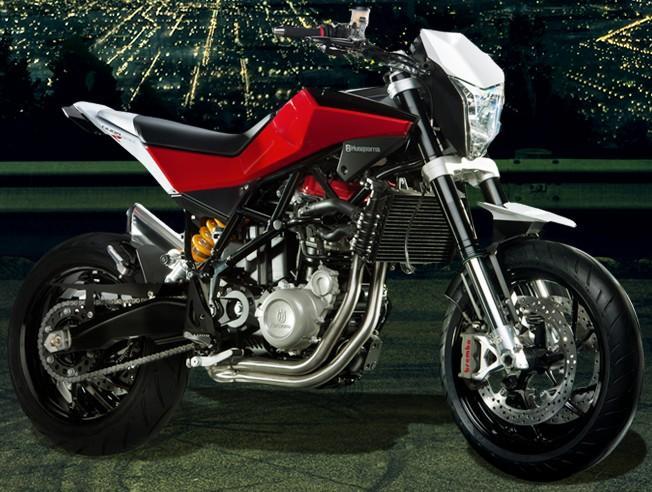 THE HUSQVARNA 900 NUDA PICTURES.
AND THE HUSQVARNA 900 NUDA VIDEO:
The Tiger Rally 2012.
BMW is selling the Husqvarna factory to the Pierer Industrie AG:lle owned by the managing director of KTM Stefan Pierer. Stefan Pierer has also the majority of the KTM factory together with his partner Rudolf Knὔnzin. 45,6% of KTM is owned by the Indian Bajaj Auto Group.
PICTURE OF STEFAN PIERER.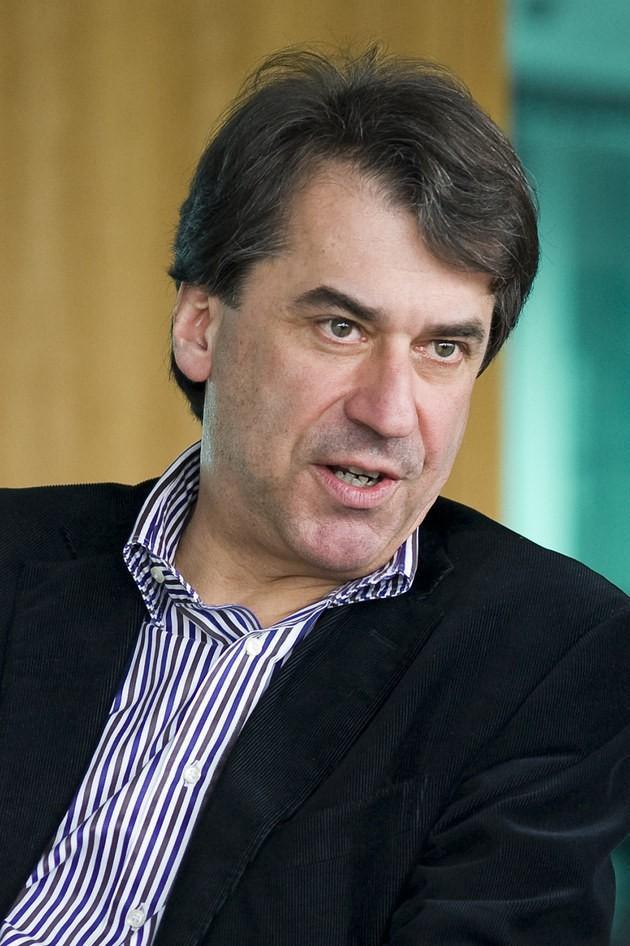 PICTURE OF RAVIV BAJAJ. Interesting now is to see why Stefan Pierer bought it himself. Is there building up a conflict between the Indian and Austrian owners? Is there some friction between the long time partners Stefan Pierer and Rudolf Knὔnzin? Why did BMW sell just now when Husqvarna was about to make a turnaround?
Or are there a merger on the way between the biggest off road motorcycle manufacturer KTM and another big off road manufacturer Husqvarna. And will the European Cartel Controllers give green light to the deal. We have to remember that KTM already owns another quite big off road bike manufacturer the Swedish Husaberg, which is on old off spring of Husqvarna.
SNOW VIDEO WITH HUSABERG FE 390:
Maybe the reason for the little strange ownership situation is to secure that the deal will be accepted since it is not made directly with KTM? All big major acquisition within EU borders takes time. In this case most likely the EU Anti Trust Authorities – put in place to ensure that free competition is ensured, stopping cartels monopolizing markets- will stop the attempt or at least put some restrictions, if they regard the off road racing market as one market.
Anyhow Mr. Pierer is a very clever Businessman but also sometimes quite "ruthless". He is well-known for turning the KTM factory from bankruptcy to a very successful company some 20 years ago, He raised the necessary capital by using all financial instruments available on the financial market by that time. And if there were some financial instruments he needed not available he invented them himself. Mr. Pierer is a financial mastermind and wizard.
The old KTM went broke when the old owner died in the late 1980:s and a bank controlled lawyer syndicate took over the company and split it into 4 divisions, Radiators, Bicycles, Tooling and Motorcycles. The last one was named KTM Sportsmotorcycle GmbH and a few years later KTM Sportsmotorcycle AG. This is the KTM Company we know today.
This company was sold to the Mr. Pierer and Mr. Knὔnzin run Cross Holding AG an investment company specializing in restructuring companies, financing startup companies and takeovers. I am not sure but I think that KTM was one of their first companies. Cross Holding AG:s name was later changed to KTM Power Sports AG. That company has since then owned the majority of KTM Sportsmotorcycle AG and that company has been the vehicle to control KTM and an arena for "power struggle".
When Cross Holding AG changed name to KTM Sportsmotorcycle AG they had to disinvest their interest in Cross Services GmbH and in a fire equipment company called Rosenbauer. Probably they wanted to focus on the motorcycle industry and products related to them and they needed the money to expand and to maintain their ownership power.
In 1995 they bought the Swedish Husaberg Factory. That company was established by the very talent engineers who worked at the Husqvarna motorcycle factory when the Swedish Company Giant Electrolux traded their Motorcycle division to the Castiglioni Brothers of Cagiva. Electrolux thought motorcycle business was too small globally and they wanted the Italian washing machine brand Zanussi. The Castiglioni brothers were quite ruthless business men. The Aermachi Owners knew it, The AMF Harley Davidson learnt it, Electrolux knows it, the Malaysian Proton Group knows it, BMW have some experience also and now lately the Harley Davidson have learnt again and some others along their byway… The only one who "survived them was Texas Pacific Group who bought Ducati but even they were srewed up when they found out that the stock of Ducatis missed some pistons despite that they were supposed to be "ready for deliuvery. The Castiglioni Brothers had unpaid invoices to the manufacturer of the pistons…But for sure the Castiglioni Brothers would be worth a story…
The engineers at Husqvarna were left without work despite promises that the production will remain in Sweden, so they took the 4 stroke know how with them and established Husaberg. Some of the know how also came from another, primarily engine designer/manufacturer Swedish Folan. Folan also made an engine for the Formel 2 cars, a 2000 cc 5 cylinder two stroker!!! Some years later they also designed, according to some rumors the engine to the American Cannondale MX bike. That project put the American successful bicycle company into receivership.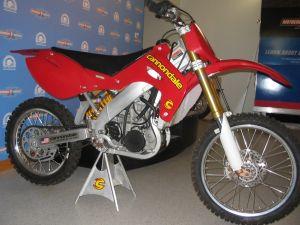 CANONDALE MX400
Mr Pierer bought the factory to KTM and some of the engineers got upset again and went to make Folan/Husaberg based Highland named Enduro bikes. Another Swedish engine company makes/try to make Rollox named single cylinder and V2 off road bikes. Redline Snowmobiles also used Folan Husaberh engines and KTM bought Husaberg to get hold of the Folan technology to manufacture their successful KTM LC4 engines. Even Sachs made at least a beautiful prototype with the Folan engine./
FOLAN TWO STROKE 1000 CC ENGINE IN A SIDECAR MX: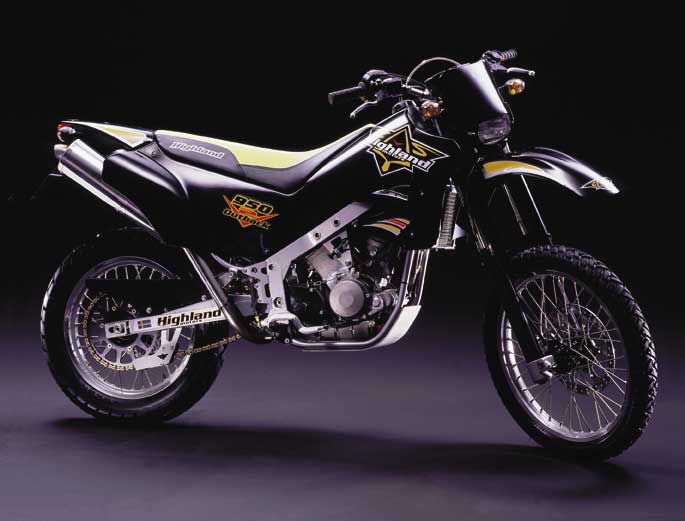 HIGHLAND 998 COMPLETE BIKE
HIGHLAND 948 ENGINE.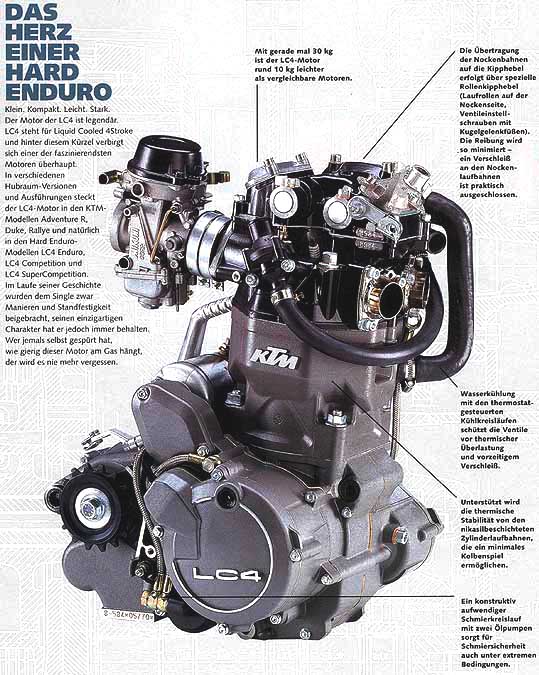 KTM LC4 ENGINE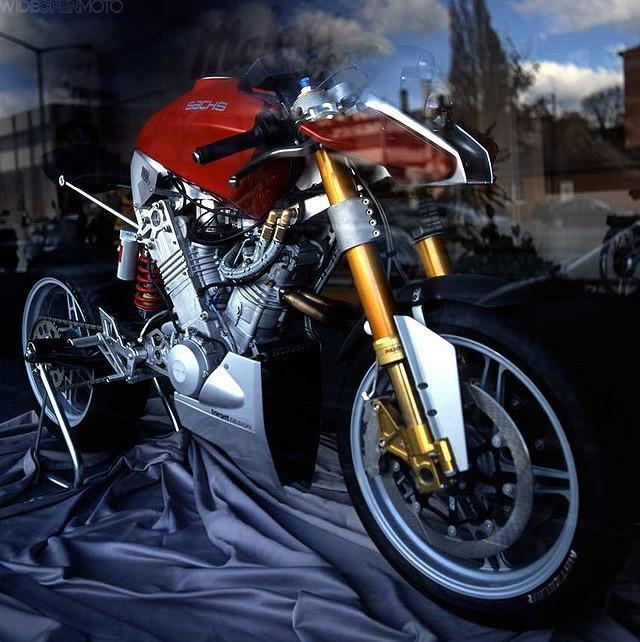 THE SACHS FOLAN PROTOTYPE.
Some of the engineers went to US and established the Oklahoma based US Highland Motorcycles; Before they started manufacturing they died in a Cessna plane crash and the company was left with components and unpaid rents at the factory.
The landlord sold everything to an American investment company and they hired a former Harley Davidson and Indian Motorcycle Executive to run the company and he promises that they will start production this year and sell 10.000 single and V2 four stroke off road bikes…This Indian executive had to leave Indian Motorcycles when Polaris/Victory motorcycles took over the company a year ago.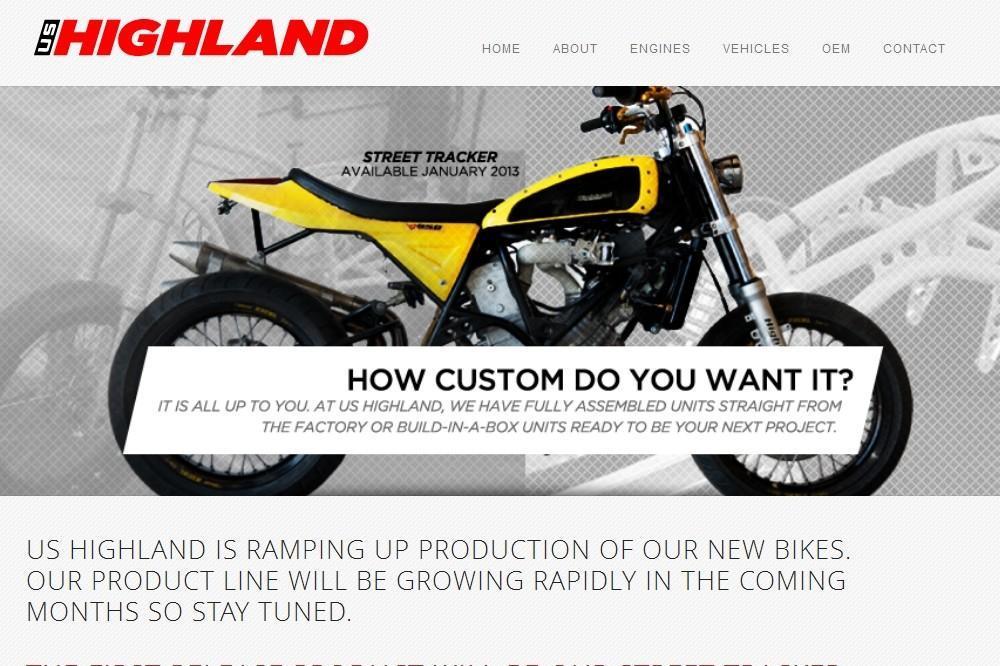 US HIGHLAND AD.
Some of the Husqvarna/Husaberg/Folan/ Highland engineers established a new Nya Sweden Highland Motors AB and made a partnership with the Chinese Luoyang Northern Enterprises Group Co., Ltd. The name of the partnership is Luoyang Luojia Highland Motors Co., Ltd and they are supposed to manufacture some hundreds of thousand small high tech bikes for the Asian and African market and then single and V2 four stroke off road bikes for the western world…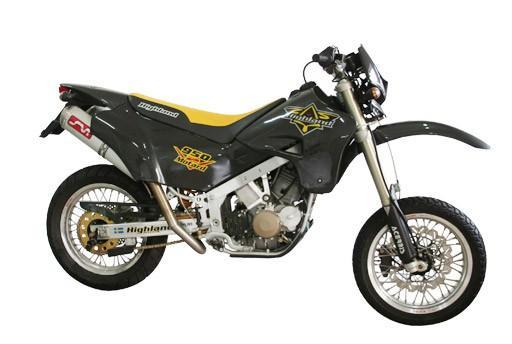 THE CHINESE HIGHLAND.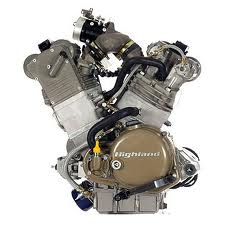 THE CHINESE 950 ENGINE.
The Husqvarna sale to Cagiva caused a chain reaction in which the Husqvarna/Folan/Husaberg/Highland 4 stroke technology was transferred all over the world and KTM made a success of it through the buyout of Husaberg. And now we are there again with the KTM owner buying up the Husqvarna factory.
1997 KTM Sportmotorcycle AG took over the legendary White Power Suspension Company then named WP Suspension. The company was founded by a Dutch suspension Guru, Henk Thuis, who later established many other suspension companies like Technoflex, Intrax and in some way he has also been involved with YSS suspension in Thailand and Ohlins in Sweden. Later KTM moved the factory to Austria and included other automotive products in the product line and renamed the company WP performance systems. The company is nowadays owned by a new Cross Motorsports System AG owned by Mr Pierer.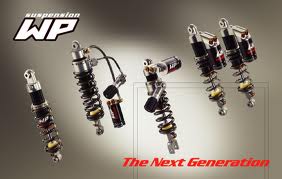 WP PERFORMANCE SYSTEMS
When Mr. Pierer took over the KTM from the bankruptcy he had plenty of financiers at different stages. Anyhow he succeeded to keep control of the company with the help of his partner Rudolf Knὔnzin. One financier was a London based British private equity house BC Partners who helped them with a 57 million euro deal. When Mr. Pierer and Mr. Knὔnzin bought it back to their Cross Holding AG their shares of KTM Group raised to to 89.2%.
But at the same time they needed money to finance this deal so they had to sell quite a big amount of their Cross Holding Company to new investors one among them the Swisspartners Insurance AG, a subsidiary of Swisspartners Investment Network Ltd., a Zurich-based neutral asset management firm with approximately Euro 4.3 billion in available capital.
In 2004 on the 19th July the Minnesota based big Snowmobile manufacturer Polaris Industries Inc. who also owned the Victory Motorcycle factory (better than Harleys) announced that they had bought the 24.9% interest in KTM Power Sports, former Cross Holding AG from Swisspartners Insurance AG for 62,6 million. The buyer was Polaris Austrian or German subsidiary (Polaris Beteiligungsverwaltungs GmbH),
The same day KTM Power Sports announced that they have bought the remaining outstanding shares 10,8 % in the KTM Group GMBH from the Hofer Foundation. So now the KTM Power Sports AG majority controlled by Mr. Pierer and Mr. Knunzin owned the KTM motorcycle business by 100%.
Polaris and KTM had a deal that either company merges into each other in two years. The Formula was stipulated into the contract and based on financial performance during 2007. The deal failed and the only result of the cooperation was that Polaris got some sport Snowmobiles and ATV:s with KTM engines instead of Fuji engines. And KTM got KTM snowmobiles which I actually never have seen on the market. Probably the failed deal left some mental tensions…
Mr Pierer certainly knows how to turn around a "sick" motorcycle company but maybe some people also says that he also know some rather "dirty" financial and legal tricks….But he is a good manager and there are a few management books about him. What I do not understand is how he has time to make all his financial maneuvers and at the same run the day to day businesses of the KTM in a rather successful way.
But the Story doesn't end here, Mr. Pierer sold 14,5 % of KTM to India's second largest two wheel manufacturer Bajaj Auto in 2007. Probably that was a friendly and agreed acquisition. Slowly they bought more and more stocks up to 47,6%m all the time claiming that they are not aiming for a majority ownership. Most of the deals are made on the open market so probably Mr. Pierer cannot control everything. The deals are made by the Bajaj Auto International Holdings ( BAIHBV), a Netherlands-based wholly-owned subsidiary of Bajaj Auto.
At the same time Mr.Pierer and Mr. Knὔnz took tighter control of their other partly owned subsidiaries that owned KTM shares and maybe want to sell them on the open market at a premium price. These takeover bids are made through a syndicate run by Mr. Pierer and Mr. Knὔnz and all the take over and the syndicate papers are official, because they have to be delivered to the Vienna Stock Exchange. These takeover bids cause a high risk of ending up in termination of the trading of the KTM shares in the Regulated Stock Market (Geregleter Freiverkehr) of the Vienna Stock Exchange because there are not enough of free floating stocks available on the market. In such a case the KTM will go more or less private into the hands of Mr. Pierer and Mr. Knὔnz at a cheap price. Also some regulations of taking over companies will also end…I wonder if everybody involved knows about this…
When Mr. Pierer took KTM from bankruptcy to the off-road number one manufacturer and the biggest two wheel manufacturer in Europe he knew what he did, and he probably had both number A and number B plans thoroughly thought through. It is interesting that the seller BMW don't seems to know to whom they actually have sold the company and it is even more interesting that the Indian Bajaj Partners still not have as far as I have seen officially commented on the deal Where they aware of the deal in advance or not? But Mr. Pierer, CEO of KTM Sportmotorcycle AG and now also sole owner of Husqvarna has a fantastic business track record that is as good and colorful as Soichiro Honda's, but at a smaller scale. For sure He will have plan A ready where everybody is happy and some more plans if somebody is not happy. Maybe Bajaj Auto is not happy and they are rich!!! Maybe the EU is not happy and they have the political power. I am not even sure if the cooperation between Mr. Pierer and Mr. Knὔnz is frictionless. Somebody is playing a high risk gambling game.
What also is interesting is "why the heck" did BMW sell Husqvarna just after 6 years. They put a lot of money into upgrading the production lines at the factory in Varese. They put a lot of money in modernizing the product range and now Husqvarna has quite an interesting line up also on the street bike market. And Husqvarna had a 15% sale increase last year despite a very tough market but a little more than 10.000 bikes is not so much. KTM sells some 110.000 bikes, and Bajaj close to 4 million…
Now I am sure that somebody believe that I am just making up these stories by googling. Of course I can google but actually I wrote most of this text when I was killing time on the terrible long 10 hour flight from Helsinki to Bangkok last Monday. I will shortly tell you why I do have some slight inside know how about KTM.
In the late 1980:s when KTM went bankruptcy I was involved a little in the motorcycle trade but another main profession was consulting for financial companies all over the world. Probably I was also a KTM dealer in Finland. Anyhow the KTM importer in Finland got problems because KTM had sold all the receivables to Post Bank in Austria and they demanded immediate payment of some 180 000 Euros. I was contacted, actually by the wife of the importer because she had worked for me a few years and maybe knew that I was quite a good trouble shooter.
During the process the KTM factory was overtaken by Mr. Pierer and I met him a few times at different mc exhibitions in Europe. My KTM friend struck a deal with the new KTM and Mr. Pierer and the import of KTM was transferred to my friend's new company and everybody was happy except Post Bank Austria and they employed the most expensive lawyer in Finland to collect the outstanding debt. At first we/I made an offer to him to pay all the outstanding debt in three installments and no interest because Post Bank had changed the rules of the game without informing us. We also wanted to deduct some guarantee claims against the old KTM factory. The lawyer laughed at my face so I told him to go to the court.
And so we went, I changed the name of the old KTM importer to a new rather stupid "Motorbike and Mopas of a suburb of Helsinki" so that every clever person should understand what it was all about. I also took over the company and the management responsibility and we started to fight. The name of the company we wanted to save because it had a very good reputation and the company was still solid and had some assets but not cash immediately in the low season. The reason why I took over the company was not because my friend wanted to escape any responsibility and he was in damned good physical condition driving Enduro and MX at high level. He was also a very good salesman for KTM and run the KTM business in a good manner. Unfortunally he was not mentally fit for having a difficult legal fight and at the same time building up the "New KTM" business. I was on the other hand quite "experienced", I knew the wicked world of banks, bankers and ruthless businessmen and I hated greedy lawyers. And I also knew a little about motorcycles which my "opponents" didn't.
Running legal processes in any country is a long and time/money consuming process. So we started to send different papers to the court. I think I wrote something about, what was a generally accepted KTM practice, that during low season bills due during low season, didn't have to be paid on time and they hadn't carried any interest during the 20 years long cooperation my friend had had with the old KTM. It is difficult to sell motorbikes when it is 30 Celsius freezing and you have 1 meter snow outside…
The most funny memory from that episode was when we made the guarantee claim against the old KTM. I was working in Denmark and Norway at that time but flew back to Finland most nights. My KTM friend picked me up in the evening at the airport and then we sat a few nights writing guarantee claims against the old KTM. We also drank some wine…The claims were very specified and well documented with all information about the bike with frame numbers, engine numbers, color etc. All the info about the buyer was also supplied, name address profession and more. The damage was also very well and colorfully specified with spare part numbers, retail price and factory price together with used repairing time. The later the night became and the wine level in the bottles got lower, the specifications became more and more complex… Of course I knew that the greedy lawyer had to translate everything to his principal in Austria to the German language and most lawyers do not know what a reed valve, a piston pin lock ring or a gasoline tank breathing tube is. I think that in the end of the nights we even invented some new parts like molecule switches and sterile tire air… But it was great fun. We wrote them in the Finnish language, if the greedy lawyer would have been Finnish speaking I would have done them in the other official language in Finland Swedish because most of the lawyers with the mother language Finnish are not so fluent in Swedish…I think we produced some tens of pages.
Then nothing happened for some two years but one day my mobile phone ringed and the greedy lawyer told me that his principal suggests that if we pay the legal costs accumulated in Finland so far they withdraw the claims. The sum was about 5 % what I suggested we pay two years earlier. I telephoned my friend and told him if he can go and pay the sum to the bank because I was abroad and I never have heard anybody driving so fast to the bank to pay a bill…
I returned the company to my friend and everybody was happy except maybe Post Bank Austria. Later I heard that the greedy lawyer had met my lawyer who is my friend, a good lawyer and not a greedy one, in the court house and he had asked if he knew who this Hiko is? Probably my lawyer had informed him and the info went to Austria and they threw the towel into the ring.
Anyhow during this case I had to learn a little about the history of KTM. I am aware that you cannot predict the future from the history but it can help you to be a part when future is made.
But my KTM story doesn't end here. Some five years later the new KTM terminated the KTM deal with my friend ending in 3 months. No compensation to my friend for some 35 years of work for KTM. I sent an angry letter, I think in German to Mr. Prierer informing him about the fact that my friend had worked for KTM since the Penton days, that he was known as Mr. KTM in Finland, that he had won so and so many Finnish Championships with KTM on MX bikes, Enduro bikes, on sidecar MX:s. I told him that it is not fair that You just take over a successful business for free and establish Your own company in Finland, He understood it and my friend got a golden hand shake. That was my KTM story and now you maybe understand why I know a little about KTM.
So let us round up this terrible long story with a few videos of Juha Salminen, 13 time world champion, by far the most top podium world champion race wins and probably one of the best, if not the best Enduro drivers the world ever have seen. Juha was BMW factory rider before and is now Husqvarna factory rider. I also put some Husqvarna pictures and a picture of my Husqvarna cap I got last week signed by Juha Salminen when we had a chat at the motorcycle Exhibition in Helsinki Last week.
http://www.juhasalminen.net/
http://en.wikipedia.org/wiki/Juha_Salminen
RIDING IN THE SNOW WITH A NEW HUSQVARNA MX SNOW MOBILE
TESTING AKRAPOVIC ON THE HUSQVARNA TE 449.
JUHA SALMINEN, TOGETHER WITH THE ISLE MAN BORN DAVID KNIGHT, AND FINN MARKO TARKKALA TESTING THE BMW G450X
MY CAP SIGNED BY JUHA SALMINEN.