Parts 1 and 2
https://www.gt-rider.com/thailand-motorcycle-forum/showthread.php/39618-Laos-Trip-report-16th-Feb-to-21-Feb
Part 3
https://www.gt-rider.com/thailand-motorcycle-forum/showthread.php/39634-Laos-Trip-Report-Part-3-%28Feb-19-21%29
Woke up pretty early in our guest house in Phou Khoun ,slept with most of my clothes on after a freezing nights sleep.
The town had no electricity so no hot shower,and no fuel pumps either as we were to find out.
Managed to find a lady with a hand pump so we could fill our tanks,but weren't sure which direction to take.I was keen to get to a lower altitude so I could warm up,but Phil was keen to push on towards Luang Prabang.So we rugged up as best we could and turned right along route 13 towards Luang Prabang.
As we were about to leave town I saw a few people climbing a mountain above the town,so we rode up to see what was going on.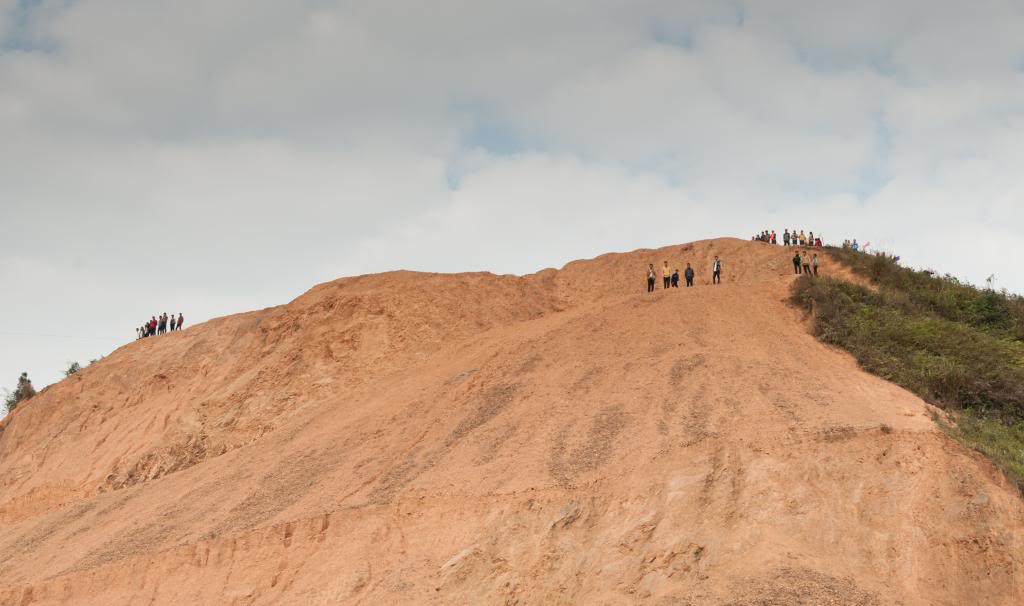 Seemed to be some form of festival/ceremony,as there was lots of school kids all formed up in lines,and Laos flags (and communist ones too) were handed out.
Looked quite surreal with the rays of the early morning sun peeking through the cold air.....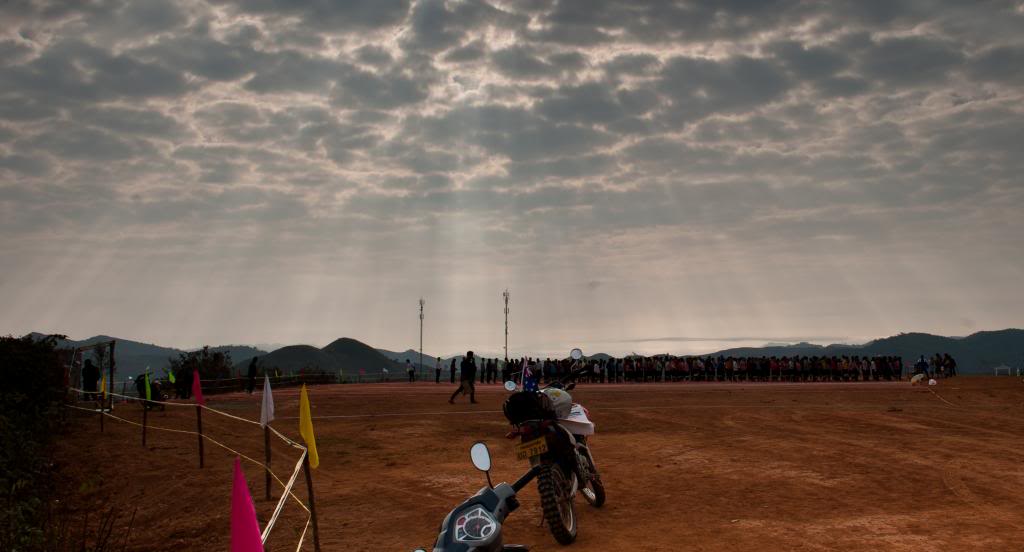 I didn't really want to travel along the route we took,as I was bloody freezing,but....I'm glad I did because it was the best day's ride on the whole trip!
There was bugger all traffic,the road was brilliant,and there was lots of little villages along the route,where you could see how the local people passed the hours.
Did I mention the excellent roads??

You had to slow down through every village as there were chooks and pigs etc running free,and lots of little kids waving at you as you slowly idled through their little collection of roadside shacks.
Didn't stop to take many photos along this leg of the trip,these roads were made for riding!
Phil however stopped many times to get photos of mountains,tractors,mountains.....but I didn't mind too much as I was enjoying myself too much,carving up the twisties,then idling through the towns as I waited for him to catch up.
Finally arrived in Xiang Ngeun to refuel our bikes and bodies,saw this resort being developed as we entered the town.....looks like they expect a bit of tourism soon in the area.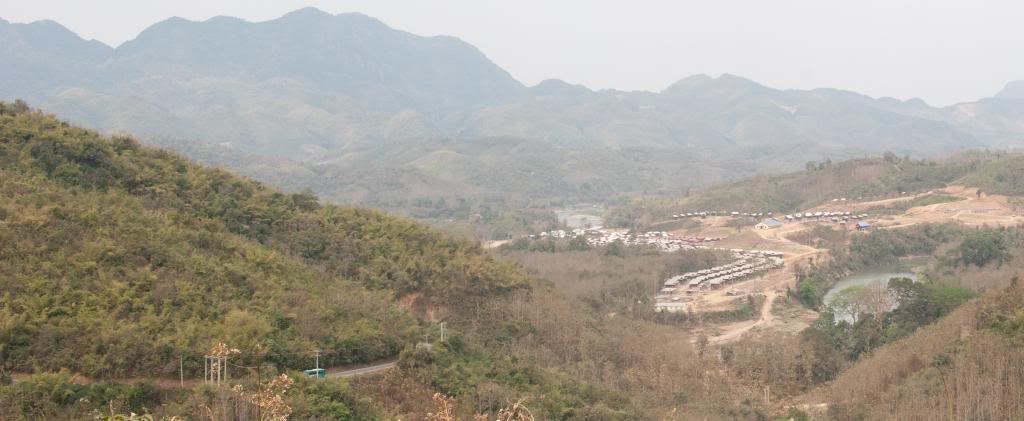 After our little break we headed down route 7 towards Xayaboury,but I had an epiphany and turned off towards Kasi.
What a great decison that was,easily the most fun road I found in Laos!
Some of the bends even had the right camber!!!!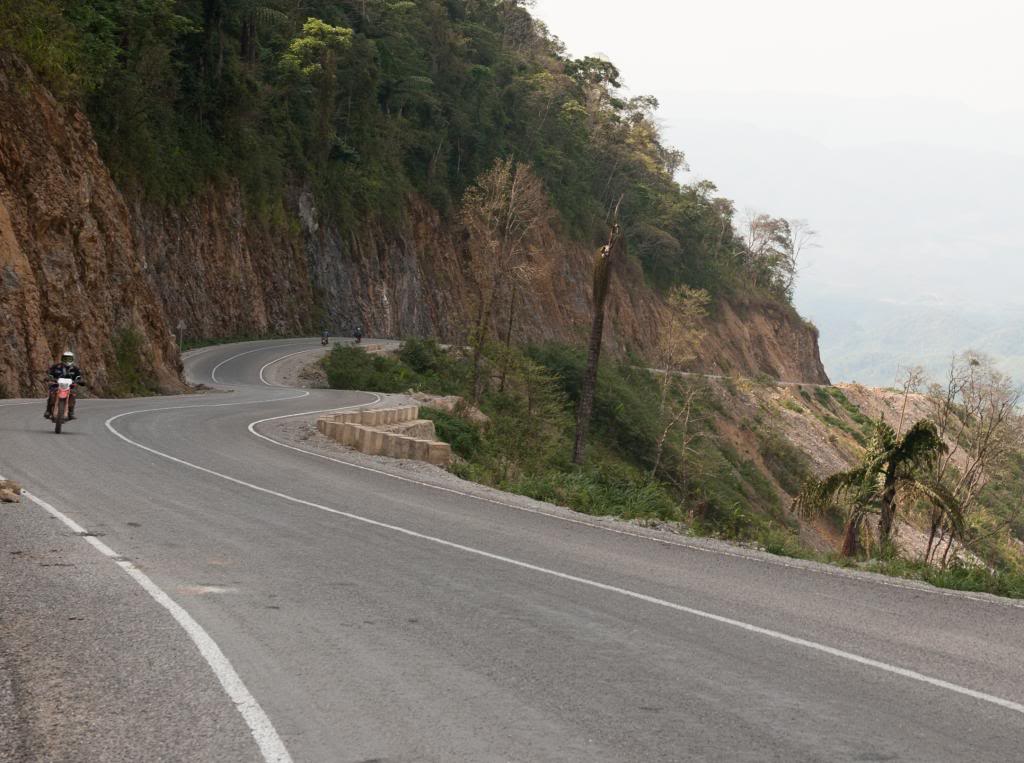 Riding the XR400 along this road made me wish for sticky roads tyes,but the knobbies I had handled it ok,and I loved the engine braking available from the single cylinder engine....suited my riding style perfectly!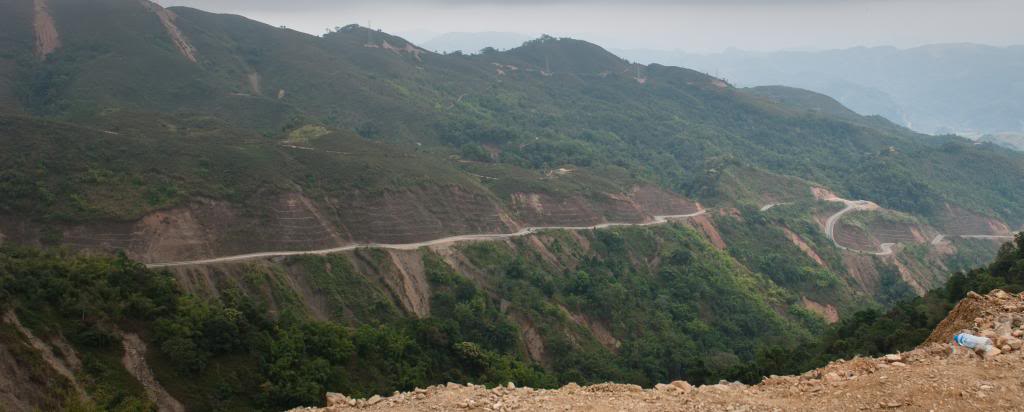 Ever been riding through mountainous roads and wondered why there are lots of rocks just sitting on the side of the road?
They are to chock the wheels of the many broken down trucks you see along the way.
We eventually came to one of the landslip areas (there are a few,and more to come!) and there was a couple of excavators clearing the roads.Had a few hairy moments passing one of them,got pushed out into the mud and slosh as I had to dodge a reversing truck,but managed to stay upright......much to my relief!
Stopped for a breather after that and came across a couple of Chinese guys riding up to China...big trip two up on a 250cc bike!
The pillion chap was busy snapping away with his DSLR camera....so of course I had to whip mine out......
He was impressed (by the size of it)!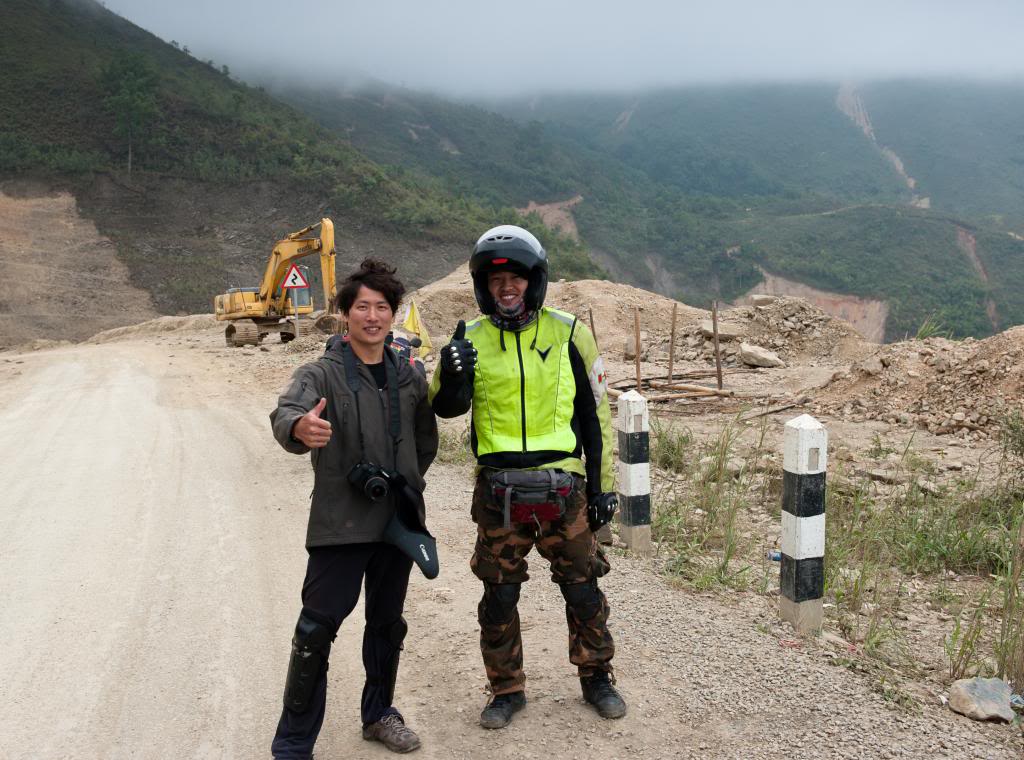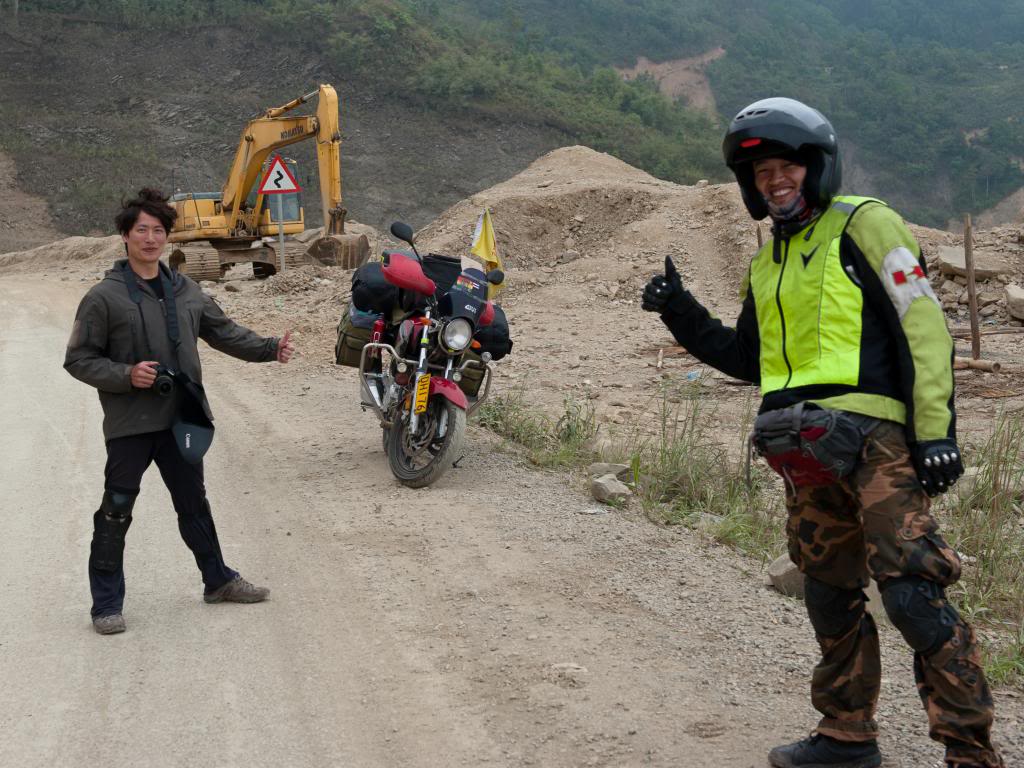 The temperature was warming up nicely,but as we climbed up the range there was a band of low level cloud,and the temperature started dropping rapidly....but just when I thought I was going to freeze again we started descending down to Kasi,much to my relief.I am so soft these days!
Late lunch in Kasi,where the attractive girl in the restaurant tried to marry her sister off to one of us (still at school!!),then it was onwards to Vang Vieng for the night.
Hot shower,beer Lao and pizza and we were done for the night.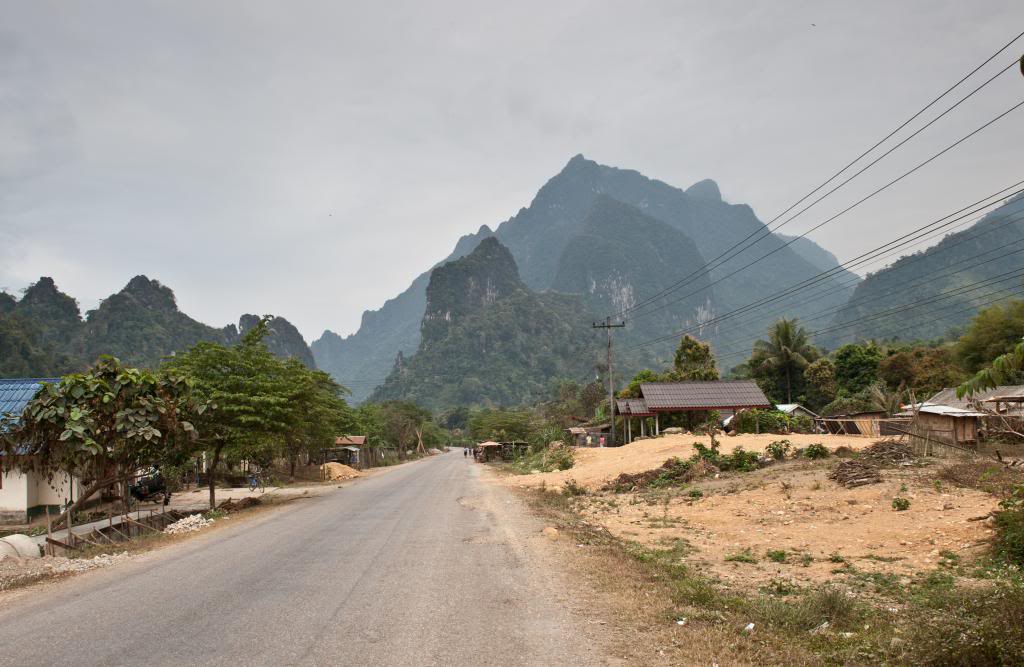 Had to laugh at the way oversize loads are dealt with in Laos!
Hope the pole was insulated!
Next day back to Vientiane to drop off the bikes,then back to Udon Thani where Phil and I went our separate ways,to join up again 4 days later in Chiang Mai for the Golden Triangle leg of our holiday!
I will be back in Laos probably later this year with a few other friends,and I have a lot more knowledge now about the country,and a few do's and don'ts.
DO have a tank bag so you can keep your maps handy for viewing.
DO everything you can to get a 3g simcard!
DO allow more time to stop and take photos!
DO back up each others photos,so when someone loses their camera there still are copies of their photos available (I'm looking at YOU Phil!!)
DO try to take time to engage with the Lao children,it is one of my regrets that I am so conditioned by my country's paranoia about taking photos of children that I was reluctant to capture their happy smiling faces.To see them struggling to walk up the steep mountain roads as they make their way to school,but still have the happy demeanour to smile and wave at you made my heart break at times.Just be careful throwing a frisbee to them.
DON'T carry 8kg of camera on your back!
DON'T get a VIP bus to Chiang Mai (at least not the one I caught)
DON'T leave your smart phone in the seat pocket of a Thai airways plane...you WON'T get it back :silent:
DON'T eat rat!