0
Staff member
Subscribed
Jan 16, 2003
14,082
5,080
113
69
Preparing a bike trip in Malaysia
Malaysia is a tropical country with more than 330 803 Km2 of land.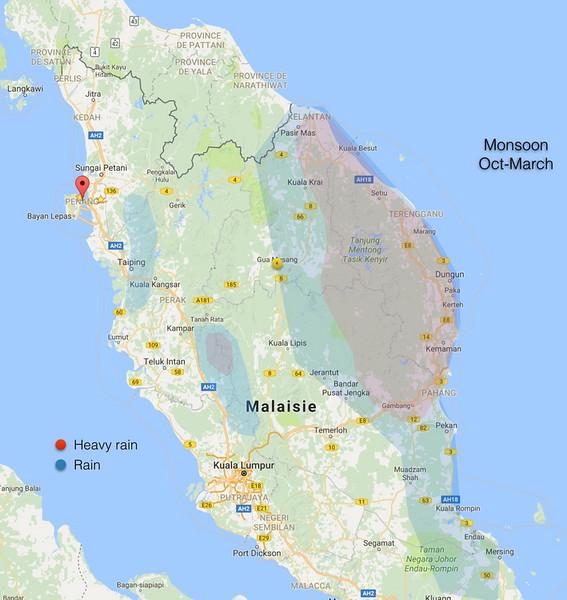 It is divided in 2 : the peninsular Malaysia, attached to the southern Thailand and Singapore, and East Malaysia (Sabah) attached to Brunei and Indonesia.
Roads
If Malaysia is not as famous as its Golden Triangle neighbours for motorcycle touring, it has great roads and landscape too to offer, and can please as much speedy and curvy roads fans than the small and winding ones.
Malaysia's road network is one of the most comprehensive in Asia and covers a total of 144,403 kilometres. The regional roads are very good, and sometimes has a surprisingly good quality of tarmac. You will find lost areas with almost no traffic and roads looking like GP circuits.
The country is producing petrol, which is likely to have a positive impact on its capability to maintain its roads.
Of course, big trail riders will find as well some « bumpy » bad quality tracks to have some fun.
One big highway, the « Expressway » is crossing the western part of the country from north to south (Thailand to Singapore). Except maybe at the north or Ipoh, this 800km 4 lanes highway is of no interest and you have plenty of alternatives to skip it for your trip. This said, because of the rainforest and mountains, these alternatives may drastically increase the duration of your trip.
Some highways will have a dedicated line for « bikes ». Don't get fooled : it is not designed for big bikes and can be even very dangerous with big ones with paniers. Besides it can diverge from the highway and bring you to some red lights or crossroads.
However, it is a must take by law. You can take the risk of staying on the main road with the cars or get a ticket if the police stops you. This said, the tickets are cheap compared to the physical risk to keep the small line.
Only pro is that it allows you to bypass the toll gates as highway is free for motorcycles.
Culture
Malaysia is an Islamic country, but has a multi-ethnic, multicultural, and multilingual society. The Malaysian constitution says it guarantees freedom of religion while making Islam the state religion.
When traveling in Malaysia, this is something to keep in mind, when you want to book accommodation for instance : some will not serve pork not alcohol, while others will do.
In big cities, it is quite easy to find « international » food and alcohol such as beer, but if you go more on the country side, you may have to accommodate with small street food stores, serving pure Malay buffet (fried fish, eggs, chicken, vegetables…)
This may impact the dates for you trip as well, especially if you plan to come during the Ramadan during which you may have difficulties to find any restaurant opened during the day if you are riding the country : only lunch will be found in the fuel stations, as long as you like chips and biscuits.
Bike culture
As we saw in the roads chapter, Malaysia typical motorcycle is the small moped, not the big bikes, and the infrastructures are not planned for them : small bike lines on the highway, small parking lots, Car parking lots forbidden to bikes etc.
You will cross big bikes on the roads, but not as many as in other countries.
One reason is that most of bikes are heavily taxed on import, making their price out of reach for the average revenue as it is more expansive than in Europe.
This said, you have a lot of bikers communities or clubs, even for the mopeds. You will see some gathering or groups of them, most of time wearing the same shirts and the same bike models.
The most common big bike in Malaysia is the Kawasaki Versys which presents in the country the best value for the price. It is a good allrounder bike for travel, even if it comes with only basic features.
Unlike Thailand, it will be very difficult to find big bikes to rent, and impossible to find premium brands bikes for rent (BMW, Triumph, Ducati…).
Unfortunately it is quite a nightmare to import your bike in the country, even temporarily.
If you have your own bike, it may be easier to come in from one border.
Unless you really want to drive a BMW R1200GS or so, renting a bike is probably the cheapest and easiest solution.
Riding in Malaysia
If you see from a car how people drive and ride in Malaysia, you may think you'd better not take the risk of riding here on 2 wheels. This said, you will quickly notice that the danger comes from the motorcycles. Cars indeed pay a lot of attention to motorcycles, change slowly their lines or directions and will leave the space for them to pass. It is the opposite of some European countries where cars just don't care of motorcycles and will make a 90° without looking in the rear mirror.
Probably this care is due to the fact that the insurances always consider the motorcycle as the victim.
As a rider, most of your attention will have to be payed on other 2 wheels, which can come very quickly from behind and pass you over very close.
You may cross bikes taking over cars in a corner with no visibility, etc. Just be careful and remember to ride on sight.
Other typical things are wild dogs by the road which, if they are usually still, can cross without notice.
By night, monkeys, and eventually elephants near the Thai border are to be expected.
Landscape and Weather
Peninsular Malaysia can be split in two regions : Eastern Malaysia and Western Malaysia.
This is critical to know when planning your trip as the two regions have two different raining seasons.
The Eastern Malaysia has a real monsoon from October to March.
Western Malaysia best season to ride is from November to May. However be careful as February can be very hot if you are not accustomed to tropical weather.
Besides these seasons, you are likely to have rain anyway during your trip : it is still the tropics !
This said, « normal » occurs mainly during the night.
Some areas - typically near the mountains- like Ipoh are famous for their almost daily rain, which can be very intense and may force you to stop. You will notice in Malaysia all along the highway special shelters for bikers to get some protection from rain or change. Most of time they improvise one under the bridges.
One rule in Malaysia is to always have one rain suit on the bike, just in case.
Otherwise, most of usual rains are small and refreshing and you won't put your suit at all as you will be dry in the next 10mn anyway.
Central Malaysia is mainly mountainous (Belum - Cameron Highlands - Fraser's Hill).
Coastal is flat, at sea level, at the exception of Penang which, on 1 056 km2 merges perfectly both beach and mountain landscapes.
The tropical landscape makes the valley still very nice to cross.
Cameron Highlands can surprised many by its cold temperatures : can be as low as 10-15° which, for the country is very low. You may see winter caps and coats there. Beware of hotels which have no heating in the bedrooms.
Eastern Malaysia offers some very nice sites like Lake Kenyir, Kota Terengganu Mosque, but its main attraction is the Perenthian Islands (along with other Islands). This is to be enjoyed from June to September.
The western center offers a beautiful rainforest area known as Taman Negara which is awesome to do treks in the wild.
A smaller but still nice alternative for jungle experience is the Royal Belum Rainforest, more at the north : it is in the middle of one of the main east to west roads while Taman Negara is a dead end and you need 1h to go in, and 1h to go out.
Because of a wider choice of roads, variety of landscape and sightseeings and drier weather, Western Malaysia is usually a better choice for discovering Malaysia on motorcycle.
Best roads and stops of Peninsular Malaysia

Penang
: despite its small size Penang Island is quite a jewel in Malaysia. It is full of nice places to visit, nice beach cafés to have a drink at, nice and small roads in the mountains with a beautiful view on the ocean, and is very close to great roads like the Cameron Highlands or Royal Belum.
Ipoh to Tanah Rata (Cameron Highlands)
This is one of the must ride in Malaysia. From Ipoh, there are two ways to get to Tanah Ratah tea plantations : one old road from the south and one new road from the north. Each has an exit from the Highway.
The southern road is winding, quite bumpy and traffic can be dangerous. Not because of the amount of vehicles, but because some trucks can drive crazy there and have low-no care of bikes. You'd better stop before a turn when you spot one of them.
Otherwise the view is beautiful : it is in the middle of the forest and you have many typical shops by the road selling local goods.
This is our recommendation for big trails such as BMW GS family bikes.
The new road has a good quality of tarmac and is much larger. The curves are most of time progressive and you can have a lot of fun at even 90km there. Only issue is the view which, at the top of the Highlands offer many plastic green houses and earthworks disfiguring the landscape.
For both safety and beauty of the view, we recommend to cross the Cameron starting from the southern road and ending by the northern road.
Royal Belum to Jeli
This road is in the tropical forest mountain and offers very nice turns.
Highway north to Ipoh
The highway makes its way to the mountain and goes through a tunnel. Doing so, it offers lots of turns on a pretty quick road. Safe and funny if you have sport bikes. Others will prefer to go by the federal roads around.
Gunung Hill
This hill is in front of Penang Island and offers - if no clouds around- an amazing view on the area. It is 1217m high and a very nice -but tricky for beginners- road brings you up there.
Fraser's Hill
This hill stands at 1 200 m and the road to go there is very small and fun.
Planning your trip
When and where ?
Have a look at the local public holidays, especially the ones on friday and monday as some roads to big cities can be crowed. Pay attention as well to the month for the weather.
Some places are very popular at some seasons like Penang for Chinese New Year, Perenthians for July-August, Cameron for January-March etc. so book early the hotels if you want availability or choice.
Bike
As explained above, we recommend that you rent a bike in Malaysia, unless you have a very specific bike type requirement.
Clothes
You will see many riders on short pants and short leaves. Don't be fooled, if you want to go for a serious ride, you need real bike gear : proper full helmet, pants, jacket, gloves, at least.
Weather is quite hot, so you would pick up the « desert style » versions of clothes range (aerated ones, multiple layers…), and not the European touring ones.
Some gear come with inner rain protection layers, but unless you have pouring rain all the day, it is better to have an external rain suit you keep in your top box as you will need to be able to put it quickly and take it off 30mn after.
Have sun visors in your helmet as the sun can be very shiny.
If you are not planning to stop at fuel stations regularly, bring a camel bag with isotonic drink eat to avoid dehydration.
You won't need any cold weather clothing.
Your boots should better be waterproof, or at least water resistant.
Rental only or guided tour ?
For safety reasons, but as well as it can be quite tricky to define a trip that goes through most of best roads without passing and re-passing on the highway, we recommend, if you can, to get a local Tour guide with you.
Besides, he will bring you to other beautiful roads that are not listed here (can't be exhaustive sorry !),like some unknown roads through small villages, which you would never find on the map.
Tour guides know as well the sightseeing features and will avoid you, for instance to reach the Tea plantations the very day they are closed or after opening hours !
Finally, many touring companies here do include the fuel, the meals etc. in their price, and even for a day ride, the price difference may not be worth struggling by yourself.
Useful addresses :
Hidden Malaysia
(Penang)
Tel : +60(0)12419 3920
www.HiddenMalaysia.com
[email protected]
For For Versys 650 rental, one day or multiple day guided tour with certified tour guide.
Last edited: