First part of an Isan trip report.
Total tour:
Chiangmai (Maerim) - Dan Sai " Tha Li " Hua river " Mekong river " Chiang Khan " Sri Chiang Mai " Nong Khai
- Udon " Ban Chiang (loop) " Sahatsakhan " dinosaur park " Somdet " Mukdahan " Mekong river - Nakhon Phanom " Bung Khla " Nong Khai " Tha Bho " Nam Som " Loei " Phu Rua - Dan Sai " Na Haeo " Ban Khok " (Nan national park) - Na noi - Wiang Sa " Phrae " Long " Lampang " Chiangmai (Maerim). Total : 3500 km (including side trips
-----------------------------------
After a rainy night over Chiangmai, this was a dull and wet Sunday morning. The perspective to spend a nicer evening in Isan pushed me out of my bed and on the saddle. Leaving Maerim on the boring and humid ring road, I passed Lamphun and Lampang were the rain had stopped and the sky began to clear up. I had started without breakfast and found my most needed fresh coffee (kafe sot) and some cake at Yonok intersection, just after Lampang. It is a friendly spot, linked to a gas station.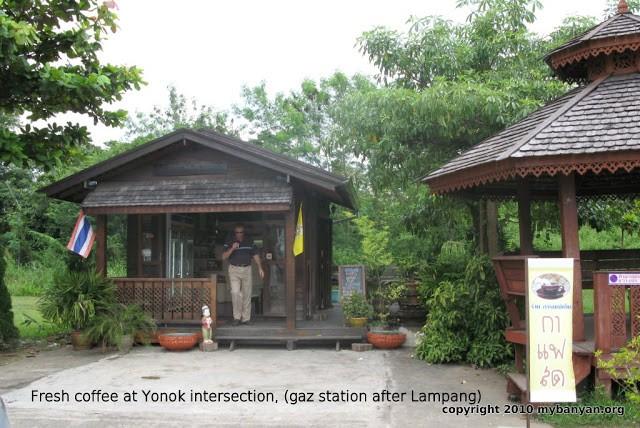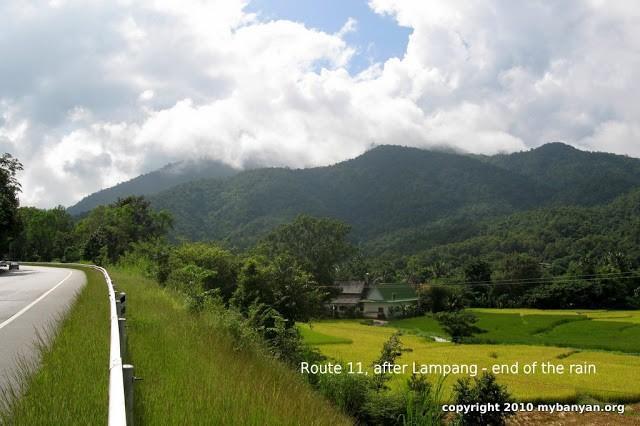 Going up the mountain, route 11 begins to be more enjoyable, the road was dry and the sky remained decorated with some harmless clouds. At Den Chai intersection, circulation from Phrae increased the traffic with a couple of careless drivers. Speeding and dangerous overtaking became the norm for a while, probably just bad luck and not an average behavior on this sector. I pushed my way, passing Uttaradit, maybe a little too hard, as the temperature light lit on. This was for sure going to be a bad day and I was considering a unpleasant overnight in a roadside hostel. Fortunately, it is Thailand and there is a mechanic in every village, working everyday of the week. I drove slowly outside the highway and let my "AX1" in "specialized" hands, whilst driving to the next noodle shop on a small borrowed bicycle.
It took not longer than a quick lunch to have oil and water replenished and the ventilator checked. I was ready to ride again and to climb the way to Dan Sai.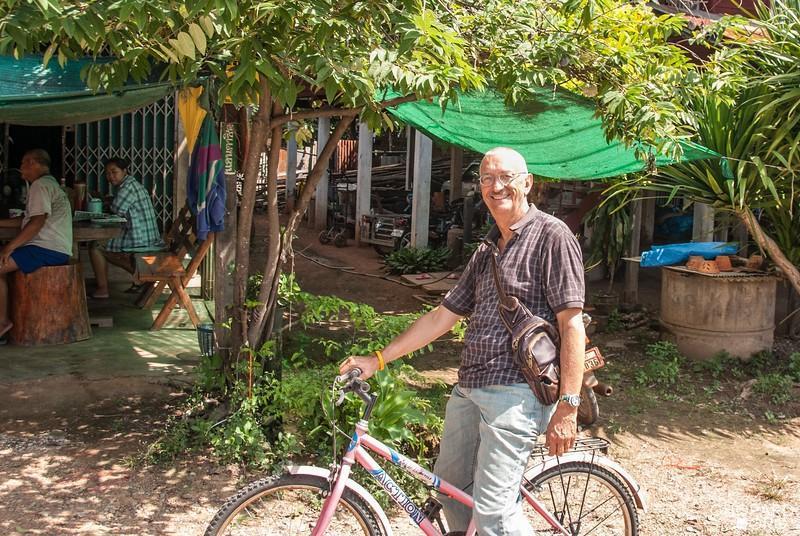 After leaving route 11, I took route 1246, 1143 and 2013, linking Phitsanulok province to Loei province. This was a great change and an enjoyable ride through rice fields, small villages, and along rivers were kids, "tone on tone" color with the water, were having fun splashes. In Chat Trakan, I nearly got a shower but a couple of curves, in the right direction, saved me from the downpour. Many bikers enjoy their ride even under harsh conditions, but they have the right equipment. With a denim pant and a camera hanging somewhere around me I do not rejoice so much in getting wet.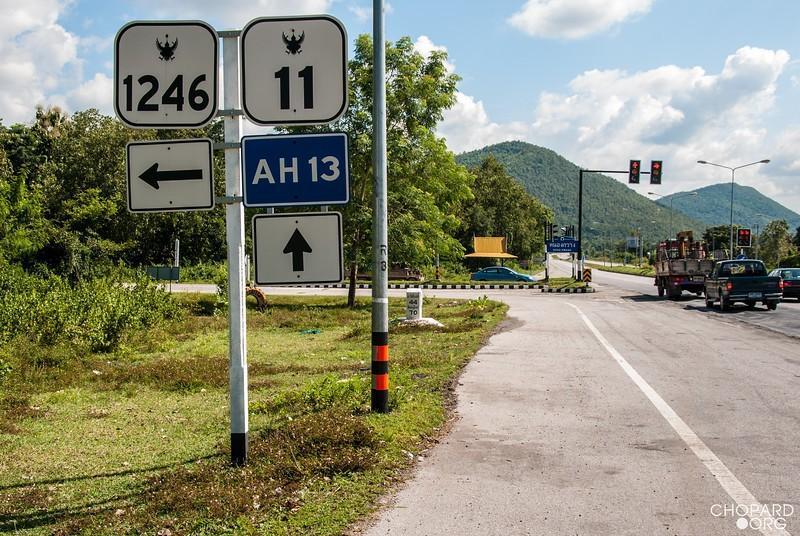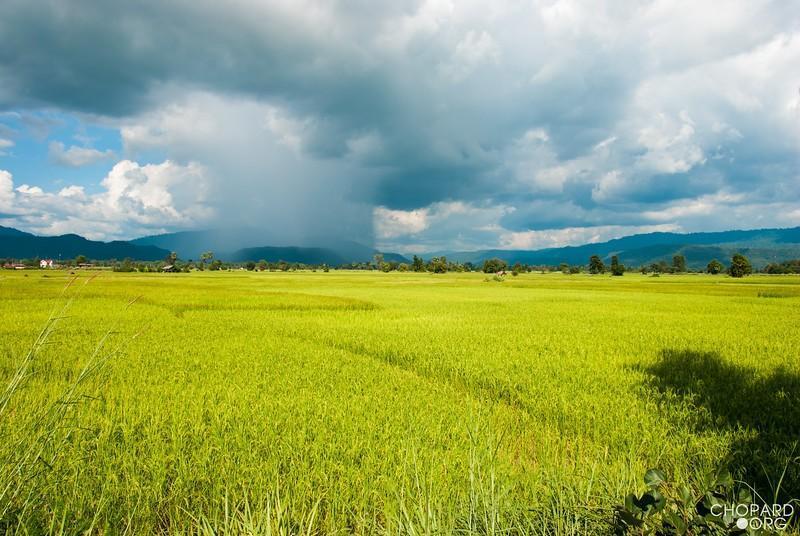 Dry and in good mood after a roaring climb, I reached the Phitsanulok province limits and the entrance door to Isan. It is just a couple of kilometers before Dan Sai, the Phi Ta Khon city. I checked in at SB Resort hotel, prepared for a very early nap, as the only watering hole in town seemed to be a 7/Eleven.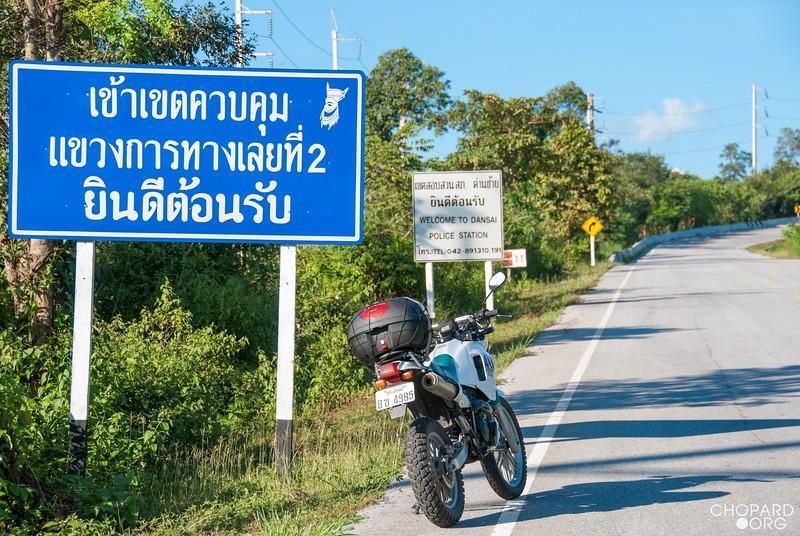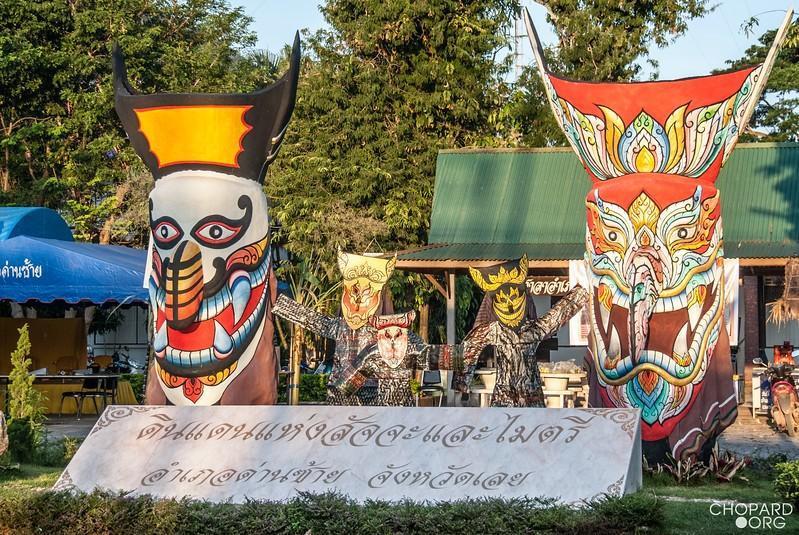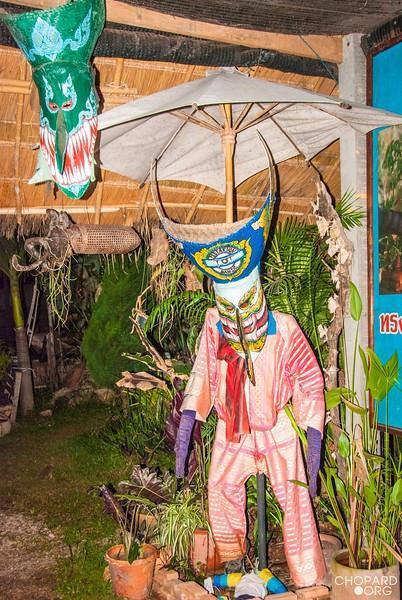 Rambling around the city, in the evening, I discovered a friendly restaurant (Krua Im On) with good food and a pleasant service. After dinner, local songs attracted me toward a big hall, allowing me to glimpse into a wedding party with 500 guests. It seemed to be just average, as I was informed that similar events often entertain more than 1000 people. A little further, in front of the city hall, another venue was getting my attention. Monks were chanting and teaching Dharma for a Tot Kathin ceremony. It allowed me to make a much needed merit, as important on Thai roads than a helmet.
At the end of the ceremony, friendly local people invited me to the traditional dance party and I had no way to avoid an inelegant "jumbo" apparition in their fine circles.
Isan might be a poor region of Thailand, it is rich in warm hearted peoples, always ready to have fun and to socialize, even with long nose Farangs!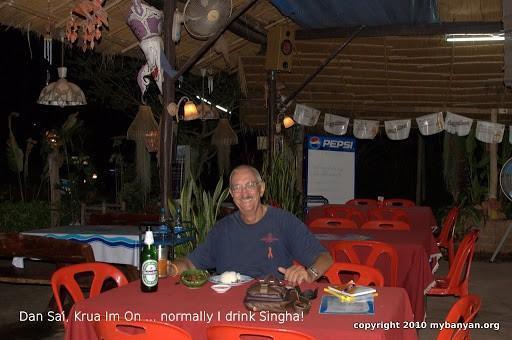 I like to get up early and left Dan Sai in the fresh and humid morning hours. My internal GPS showed me the way, as usual wrong but often fun and unexpected. I was heading toward Phu Rua, probably on 2114 or on another erratic trail. The fog was quite dense and once I had cleaned the helmet shield it still sticked on my glasses. Nevertheless the view, or what I could grab from the neighboring landscape, was magic. Small lakes were covered with haze, mountains came out of the mist and, at places, the rising sun was strong enough to shine through the clouds.
Finally, I reckoned that I would never find coffee on this remote itinerary and used my tongue to get local advises. It was nothing short of an U-turn, all the way back to Dan Sai and a new start on route 2013 and 203.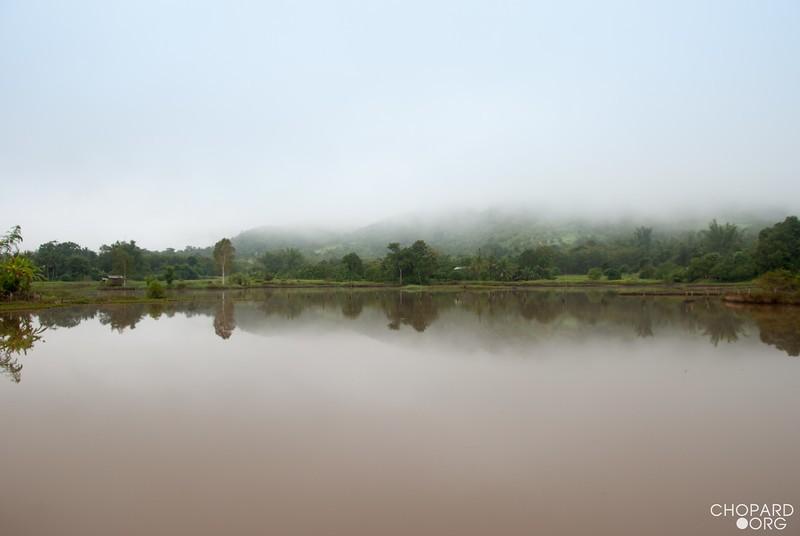 Helped by the uphill drive and the increasing strength of the sun, the air became more transparent and the vision cleared up. Viewed from Phu Rua, Dan Sai was still hidden in the fog. On the mountain, coffee can be found for breakfast (or anytime, just to enjoy it). There are also a couple of resorts to spend a night, but I did not check the prices.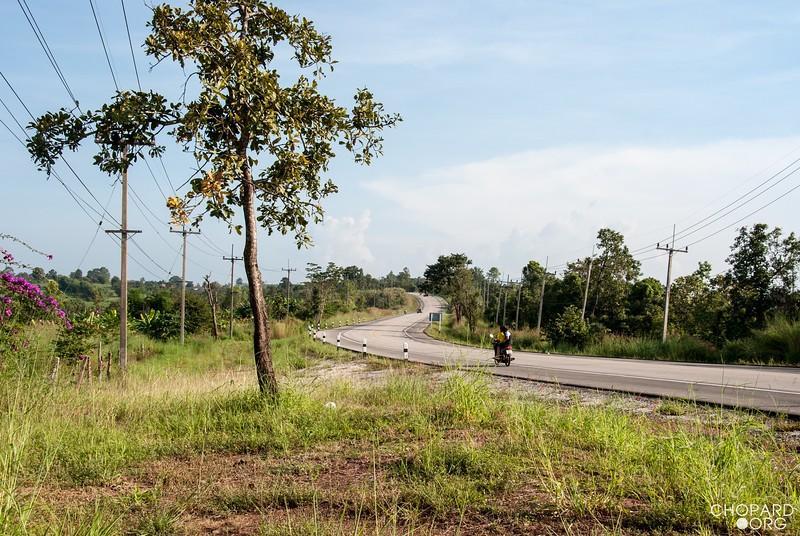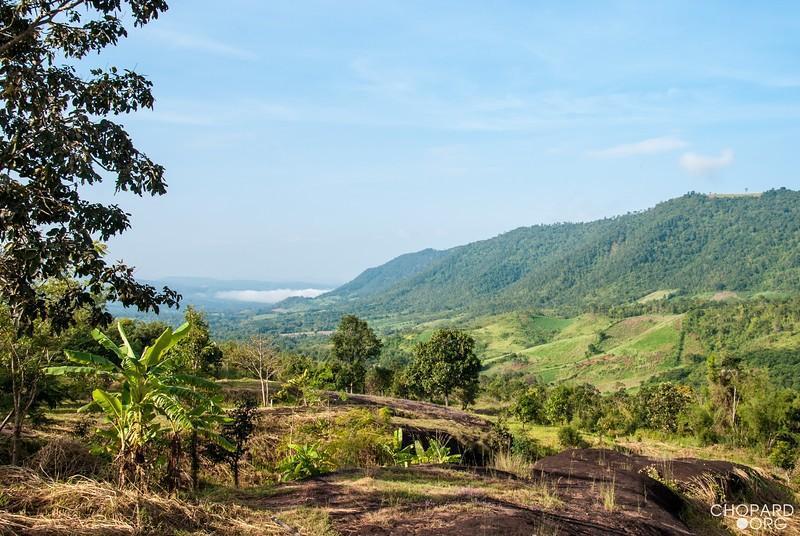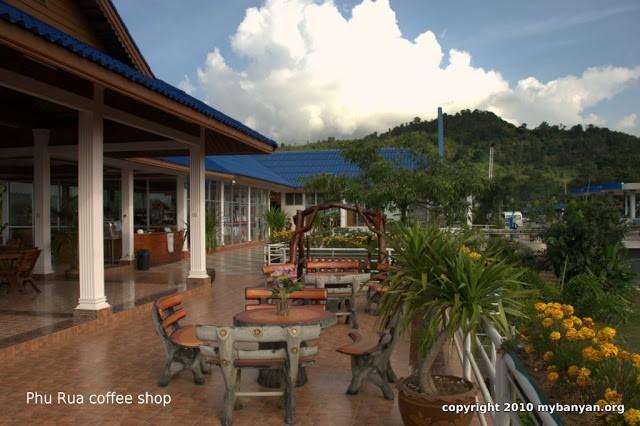 My itinerary was heading toward Loei as I wanted to spend a night in the provincial capital. Route 203 is quite enjoyable but I got a "flash" when a left turn panel indicated "Luang Praban 400 km". I was attracted to this dream destination, despite the fact that I had no way to cross the border with a provisional "green book". Nevertheless, I followed route 2399 in direction of Tha Li, lured by a promising "view point" announcement.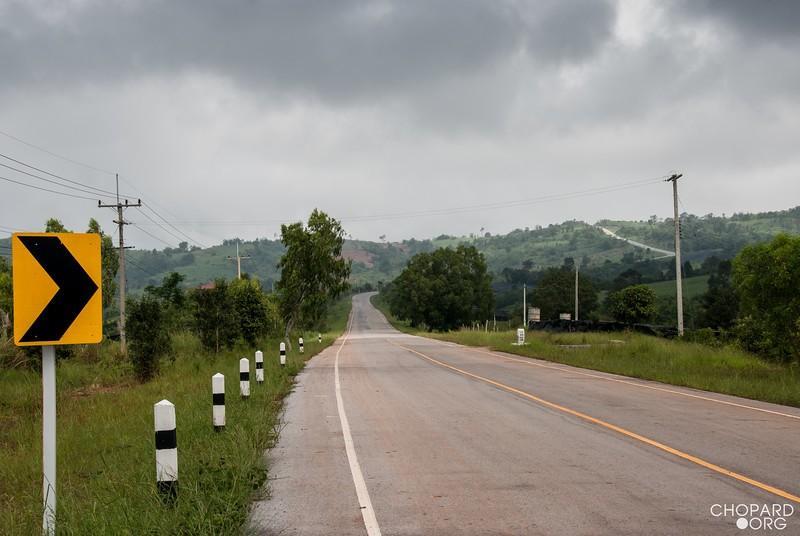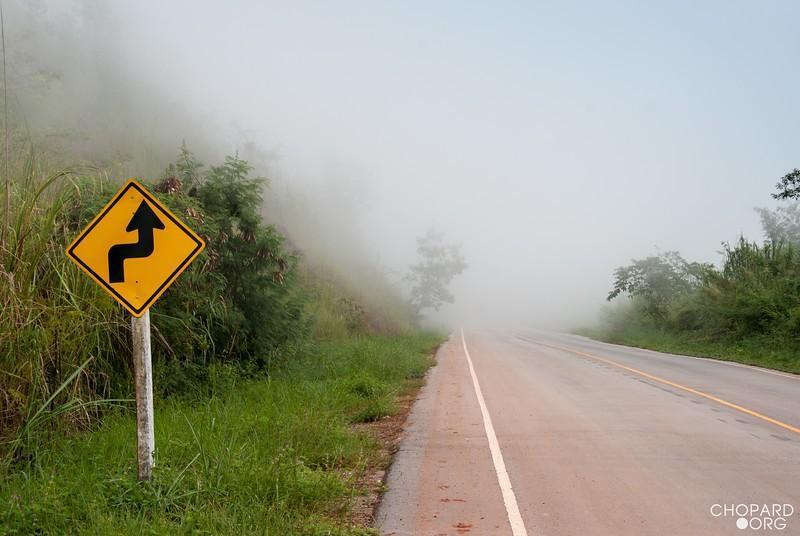 The fog was too dense to peek into the valley and I decided to have a closer look down hill. The steep 2399 is a nice "down fly" and it eventually leads to a "Friendship Bridge" to Laos, this time over the smaller river Hua. It is not as great as the bridges in Nong Khai or Mukdahan, but still worth a stop over when passing in the region. At least it can be crossed by walking, quite near to the Laos border check point, without formalities or hassle.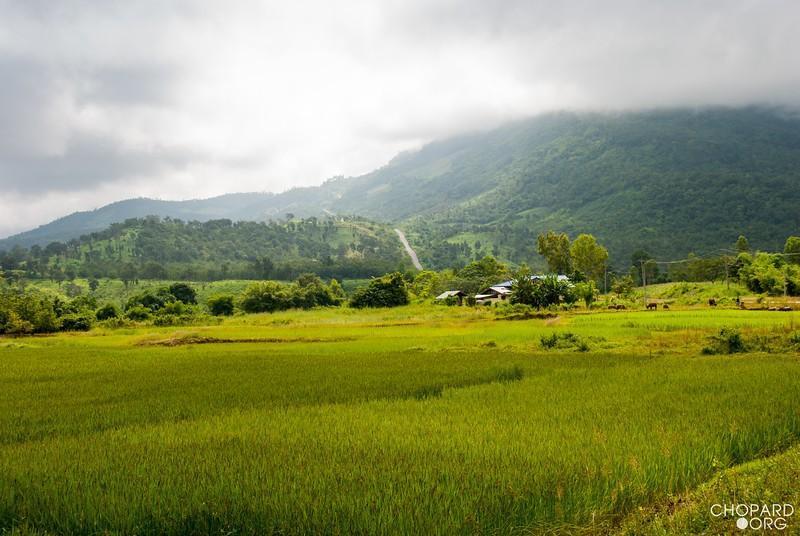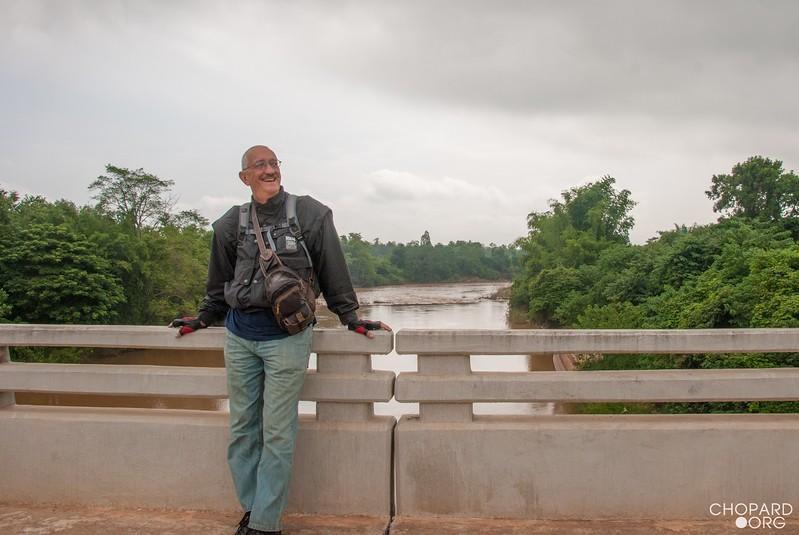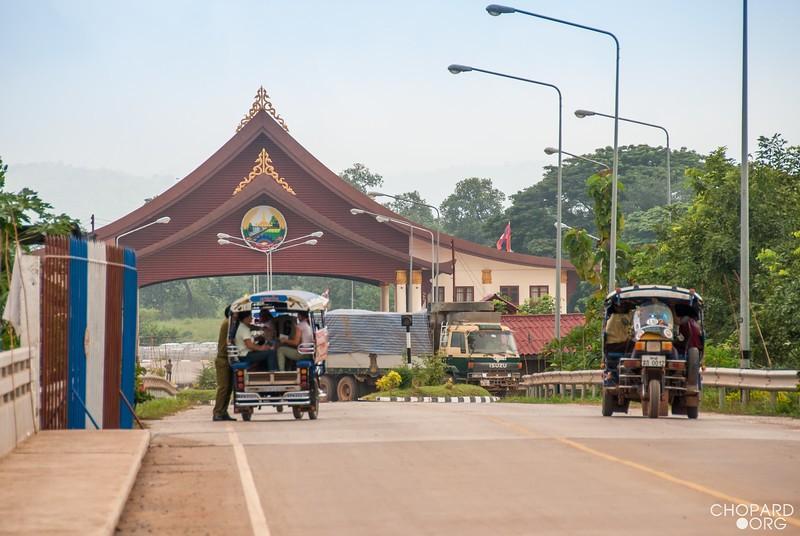 From the "Friendship Bridge" in Tha Li, I was in no mood to climb up to Loei again and I decided to drive down, along Hua river and then along the Mekong, in direction of Nong Khai. The first sector is nice but the river can only be seen occasionally, often a curtain of trees or bamboos is hiding it. The pavement is also deteriorated or under renovation most of the time. It was fun on an "AX1" but would not amuse all "road big bike" riders. After this "pastoral" way, the sector on the rim of the Mekong becomes really interesting and one of the great routes in Thailand.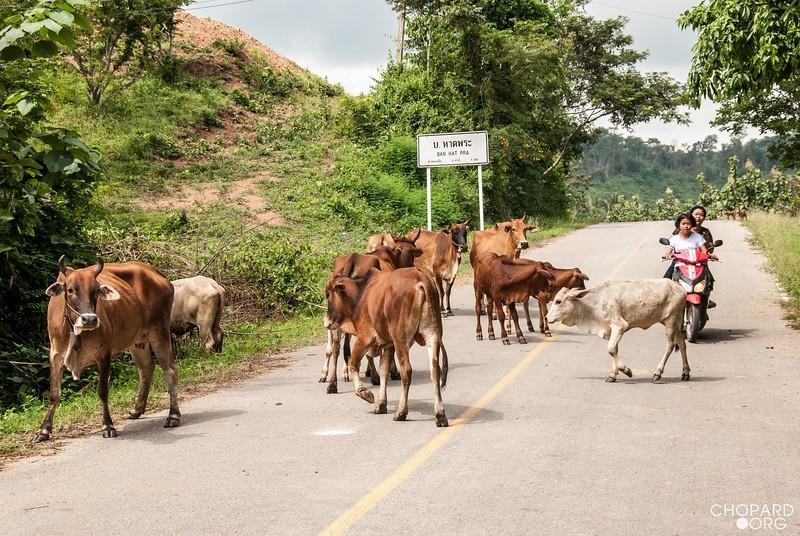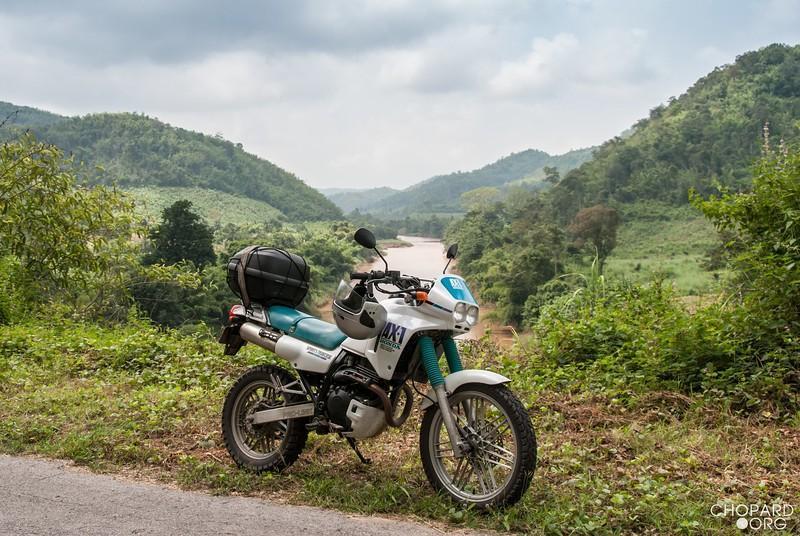 Chiang Khan is picturesque and still a very quite village. A number of guest houses, boarding the river, are inviting to a lazy day, watching the curse of the majestic Mekong. It was still early to stop for the night and I was happy with a shot of fresh coffee (only 3 places serve it) with some French baguette.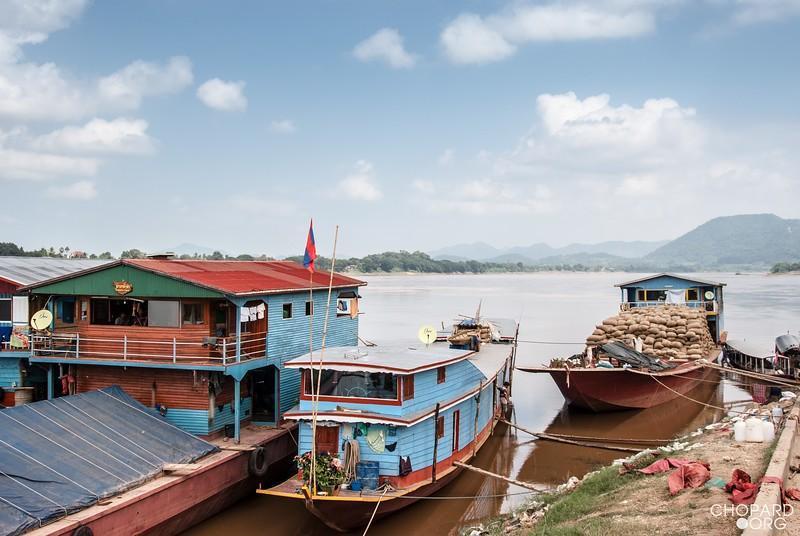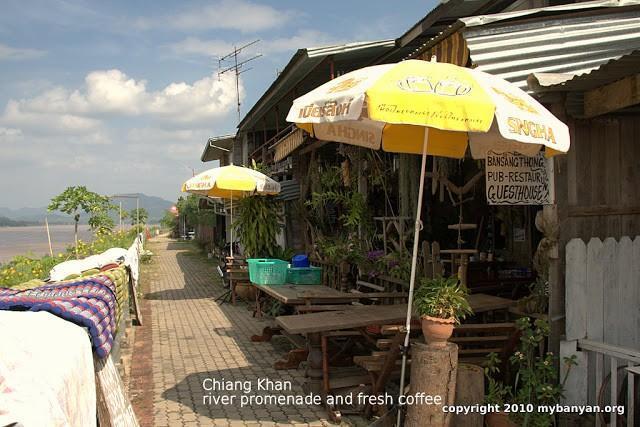 Route 211 toward Pakchom and Si Chiang Mai is a great, enjoyable itinerary. I had a recommendation for a hotel in Pakchom, on the shore of the Mekong (Rim Khong Resort, 400 THB). It seemed quite nice, but still too early for a stop.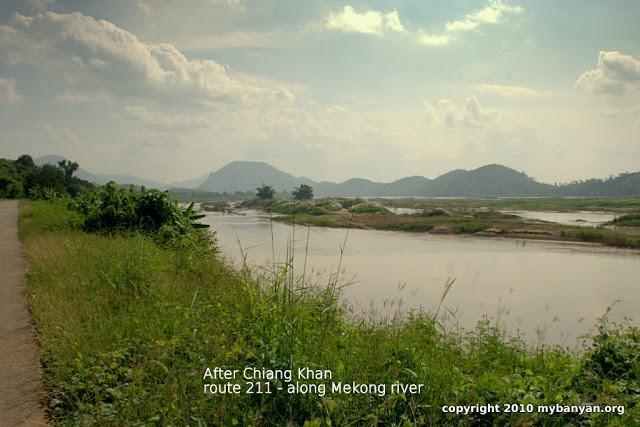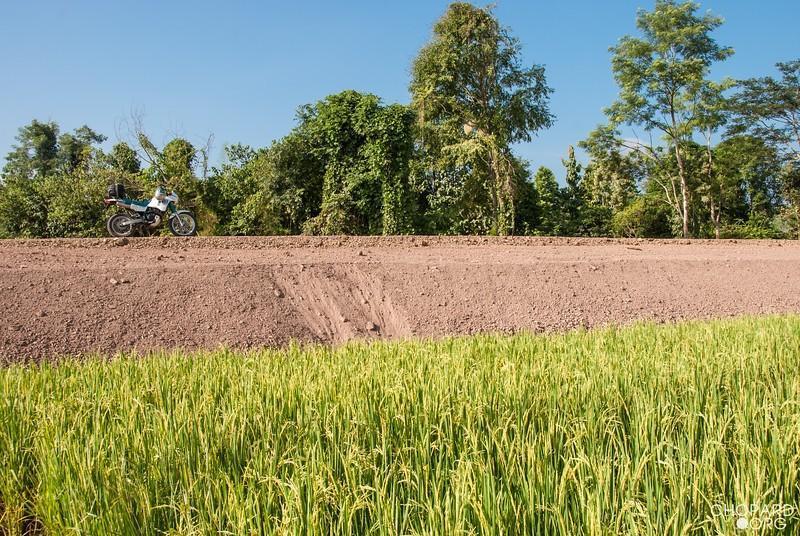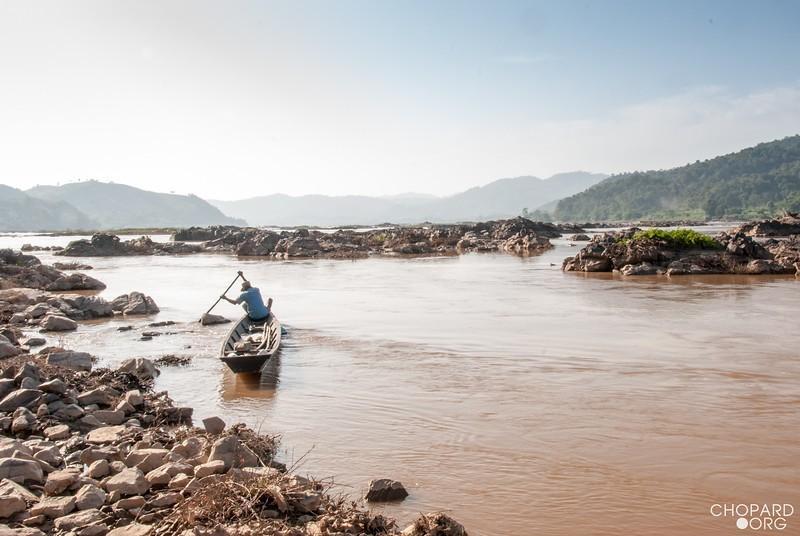 Driving to the East has a certain advantage in the late afternoon; the sunset was always in my back. I would not have enjoyed the itinerary so much in the opposite direction.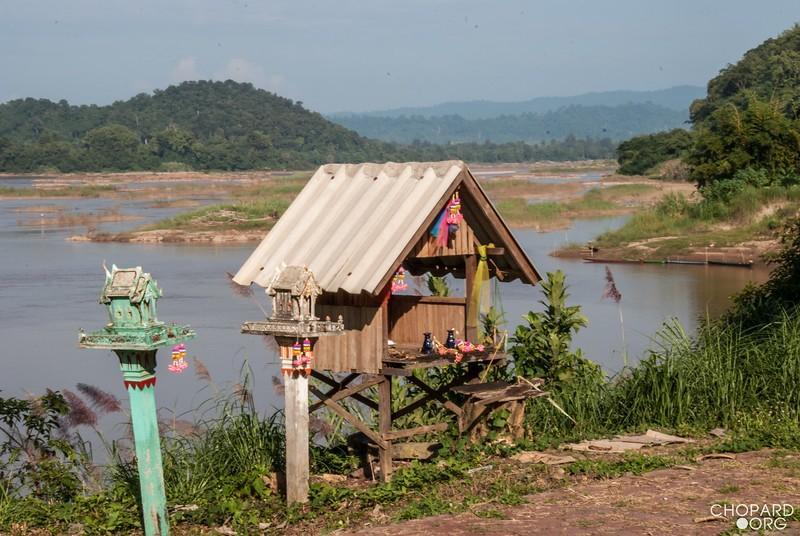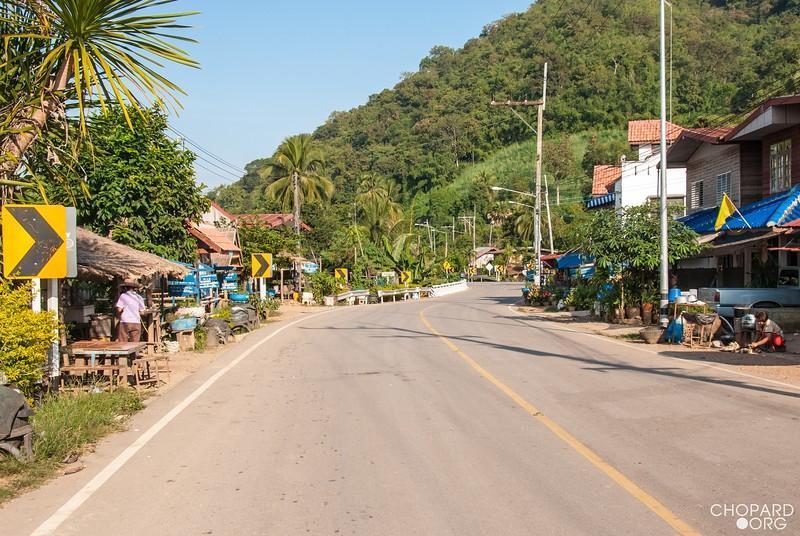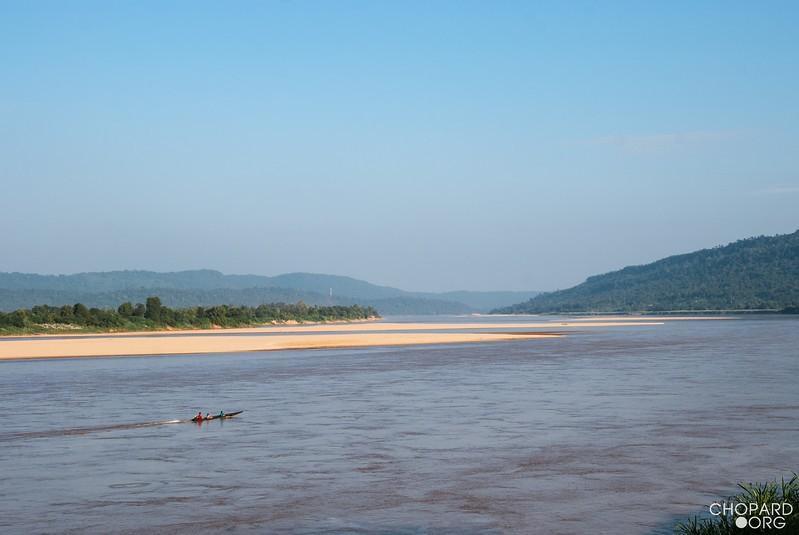 When I arrived in Si Chiang Mai, it was about time to jump off the bike and I checked in at
JTM resort. It offers everything from rooms with international TV (400 THB), to karaoke and life music, as well as a view on the Mekong. It is just opposite of Vientiane which draws a tranquil shoreline of hotels and small buildings.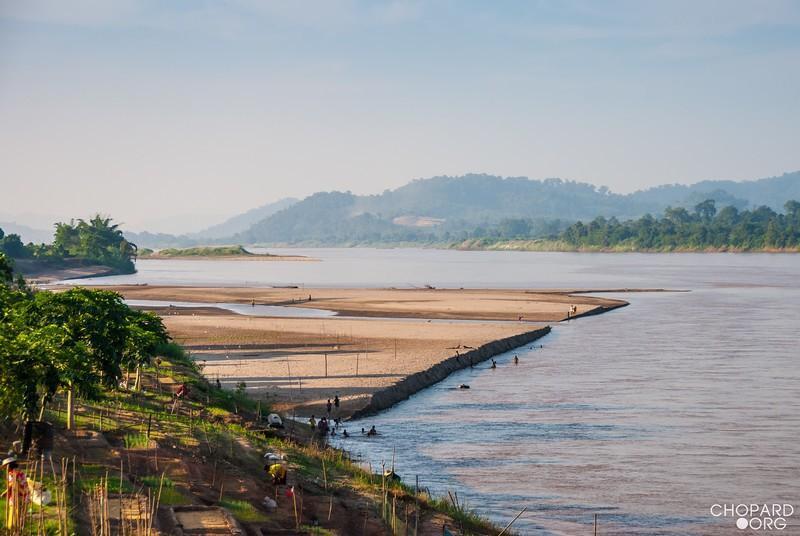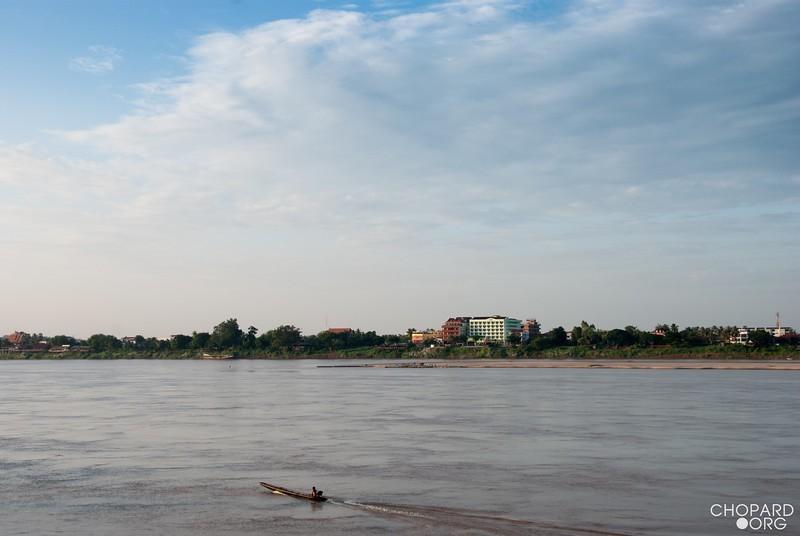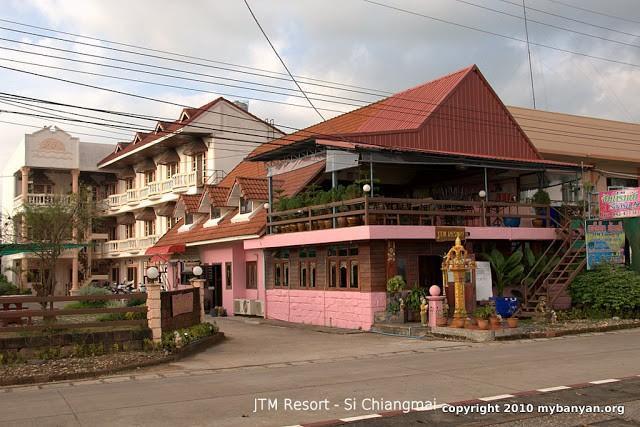 The next morning, Nong Khai was just a short drive away (30 km). The road is not so fancy anymore, despite the ubiquitous presence of the Mekong. I was able to check in at the "legendary" Mut Mee guesthouse, were relaxed breakfasts are one of the attractions. As a "budget" pick from Lonely Planet it is often crowded. It is worth to try it first, but there are plenty of other choices in town … without the Mut Mee character and his addictive tropical garden (reservations are possible).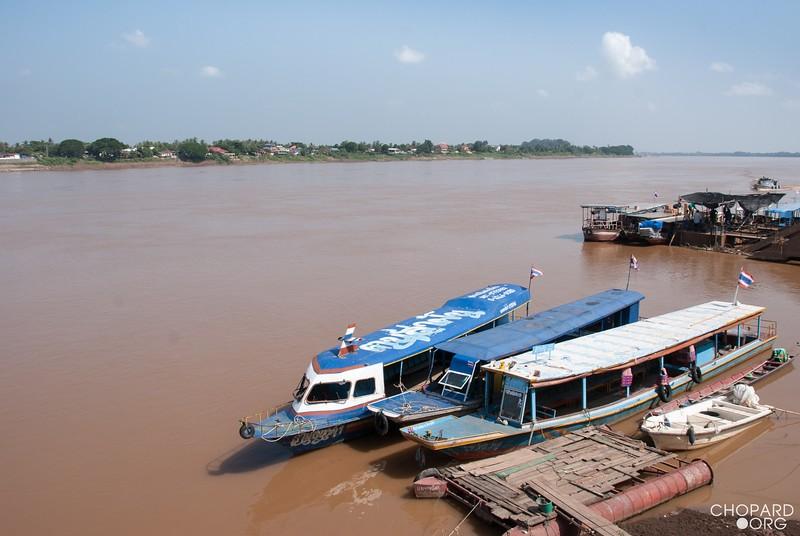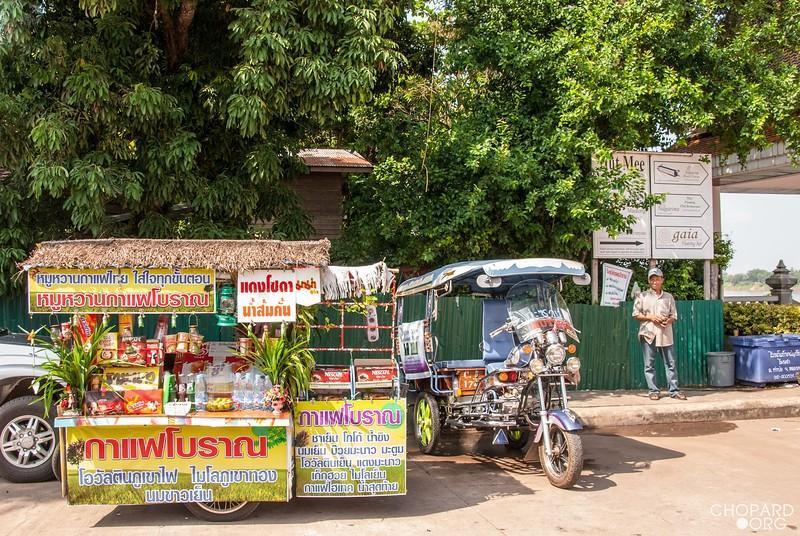 One of the curiosities of Nong Khai is Sala Kaew Koo. It is a sculpture park, brainchild of a Lao shaman and features gigantic religious sculptures.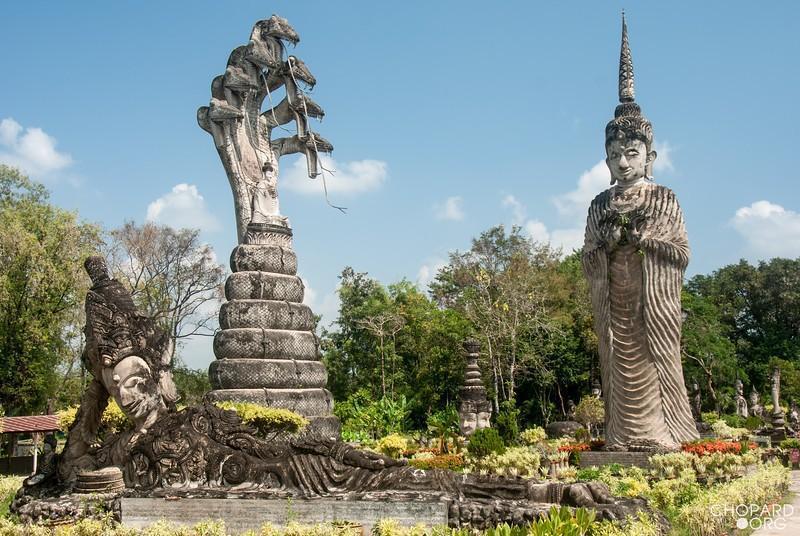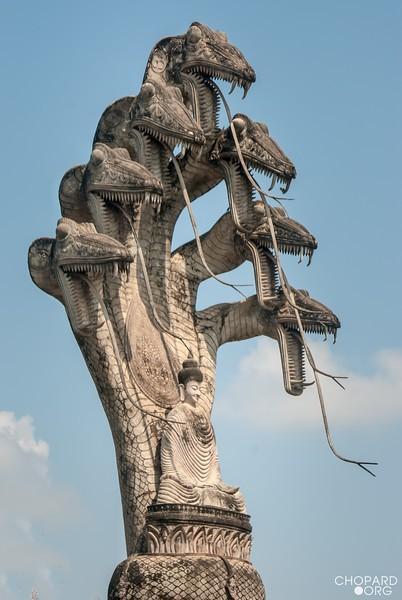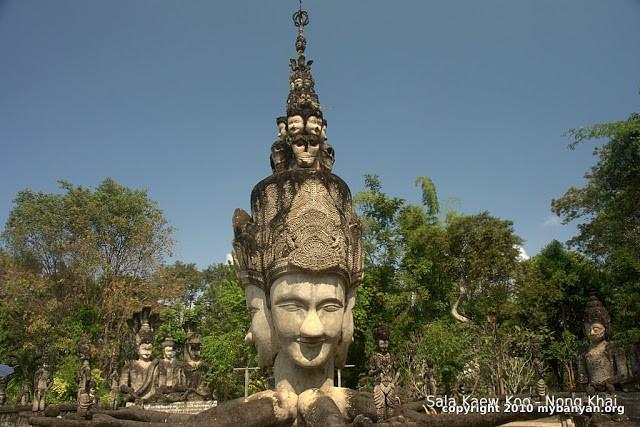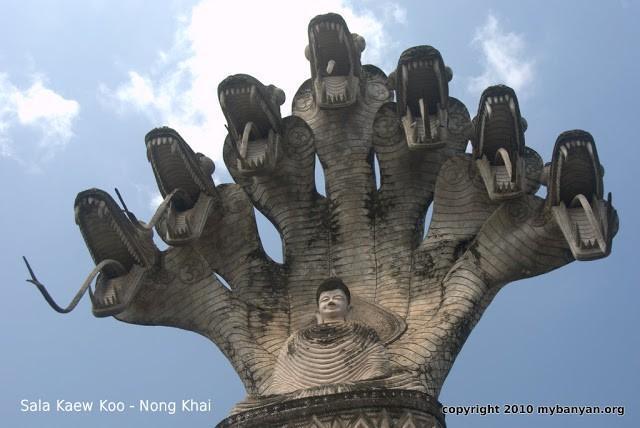 Of course, the main attraction of Nong Khai is the "Friendship Bridge" to Laos. Many tourist just use this city as a gateway to the neighboring country. But the mighty Mekong is not only a border. Cruises are organized on his waters and evenings or mornings can be spent watching the sunset or the arrival of a new biking day.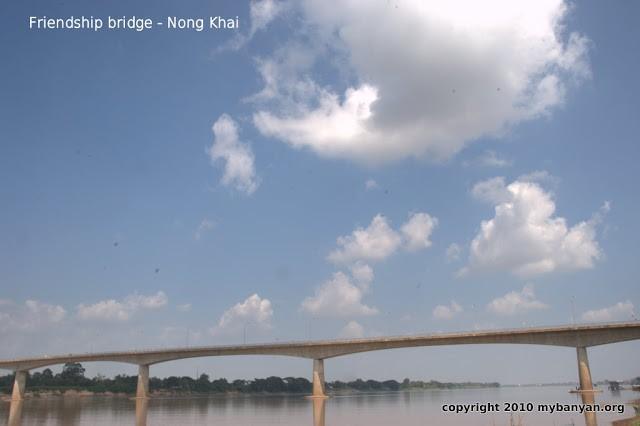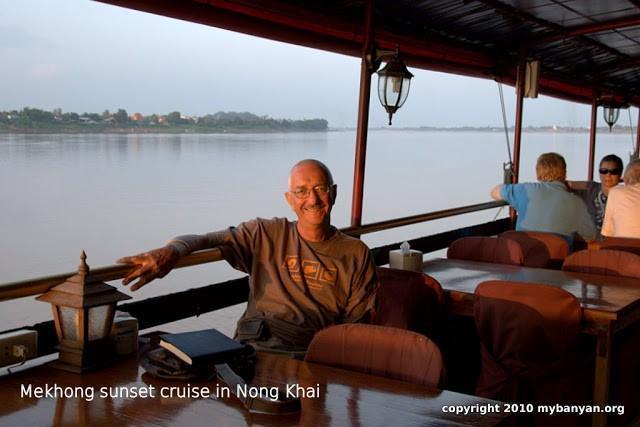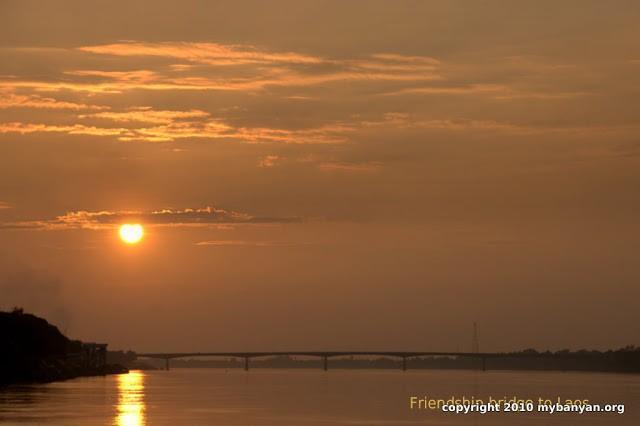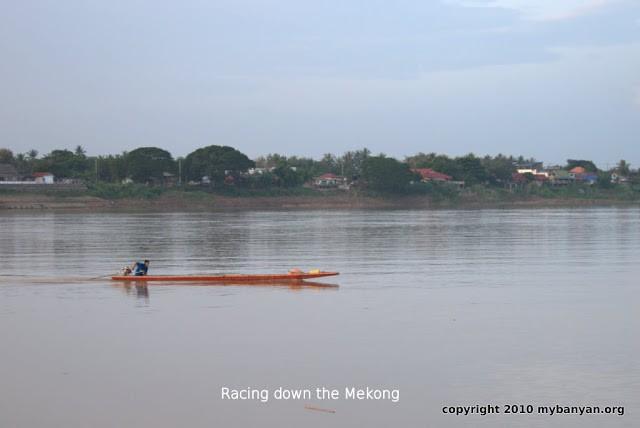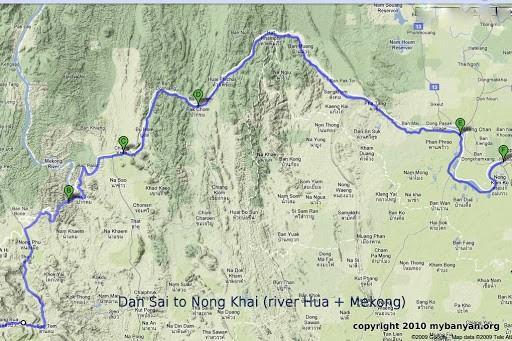 Last edited: