Hi friends!
I would like to share my pleasure with you all here... :lol:
I feel like a little boy who just got a new toy! But a big one... a 2007 BMW F650GS (650cc), in the "red flame" color, 17000 km and nearly as in mint condition!
It runs great and is very easy to handle. Slim and light with a comfortable seat, it obeys pleasantly to all what you're asking, no surprise... Very efficient in city, on roads as well as on dirt roads... Brakes good (first time I get a bike with disengagable ABS: surprise-surprise!) and though it offers "only" 50 hp and 6 mkg of torque, I expect it will be "sufficient" for riding on some dirt roads and large trails here in the north... No X-cross for sure and not the target!
The Rotax/Bombardier 650cc engine is bomb-proof and very determined, though a bit "noisy" (especially when cold). A BMW engineer said some years ago it can run indefinitely at 7000 rev without failing: it's done for that!..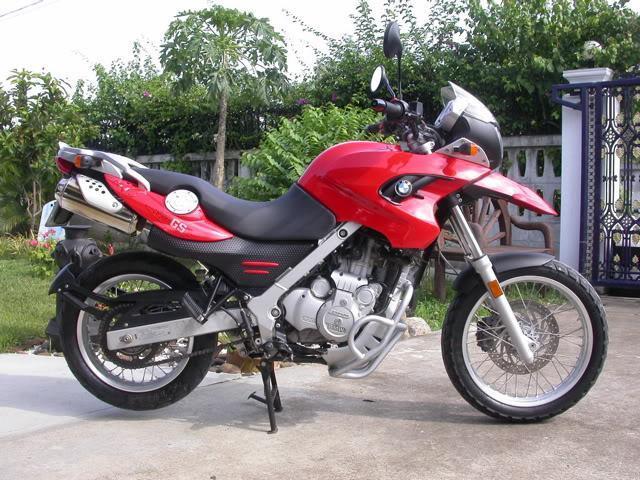 In fact, though I'm the happy owner of a Yamaha FZ6 Fazer (what a bike! IMHO), I've been looking for a middle-class dual-purpose bike for many months. At first time I was going for a Honda Africa Twin, but no matter to find what I was expecting (not in good condition or green book not "clear" or way over-priced: till 330 KB for one 2001 model with 10000 km on the clock in BKK!)... Then, after checking some different second hand japanese dual-purpose bikes, I turned to the F650GS. So early last year I checked for a brand new one in Barcelona, but 570/580 KB were not in my mind in this time... planning to buy a street bike.
Well, some weeks ago, I went back to Barcelona show-room here in CNX and had a look at the new F650GS (800cc), and no, I've not been impressed at all: more street-bike than the previous F650GS and a lot of cables, wires and plastic pieces stiking out here and there... So had a look at the F800GS... Ah, yes, great dual-purpose bike (a bit "for the show" IMHO), but hey!, 770 KB... And a little too"sporty" for me...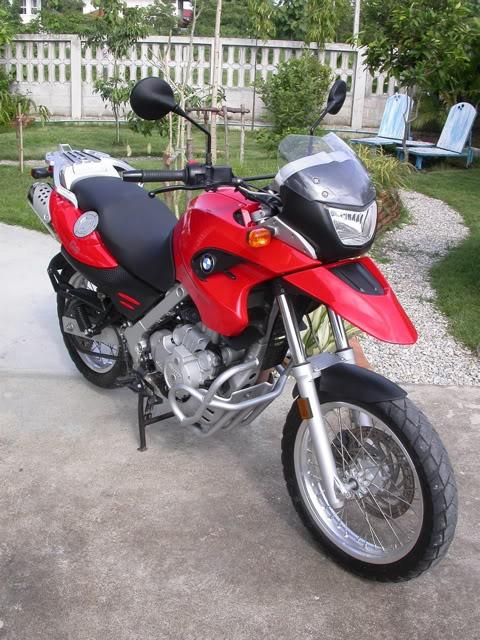 OK. No problem... Hunting for a previous late F650GS model could begin.
Same for every bike model on the second hand market: not "so good" condition, a bit "old", over-priced, green book not "clear"... And I was looking for a very-very good condition bike at a "normal" price.
One day, by chance, some two or three weeks ago, speaking with a thai biker of my friends, he had heard of some second hands F650GS for sale in CNX. Just a quick drop there, and I had the choice between 3 BMW 650: one red, one black and one titan blue (see ad in "buy and sell")...
I had deep checks and tests during maybe 2 hours (great and very kind people there), and finally decided to purchase the red one, though the 2 others are in good condition...
Just tyres have to be changed on my new (second hand) bike (price negociated for this with the seller)...
Et voilà!
Happy "street plus dual-purpose" biker, about biking what may I ask more?.. Nothing indeed! I feel fulfilled, happy... and, of course, lucky.
To be fulfilled and happy, is for sure what we can hope for our friends. And it's what I hope for you all here, through biking...
:wink:
Thanks to all to take time to read me here and to share my great pleasure.
Cheers,
Gobs