Phi Ta Khon 2008 - Dan Sai - Loei Province
Day 1: Chiang Mai to Dansai
Day 2: Dan Sai
Day 3: Dan Sai - Loei
Day 4: Loei - Chiang Mai
The Riders:
David Unkovich - Africa Twin 750
Ben Kemp - Honda Shadow 1100
Departed Chiang Mai at 1100 hours in wet weather gear, owing to the steady rain. David had kindly loaned me a pair of undersized PVC rain-pants which were so tight, I could not extract my wallet whilst wearing them - to the amusement of the ladies at the Kafe... dropping one's overpants to pay the bill is apparently not something they see every day! What with the jeans plus the overly tight overpants, and the raincoat over the flash new Alpinestars armoured jacket, I was feeling like a mobile sauna as we pulled away from the Kafe.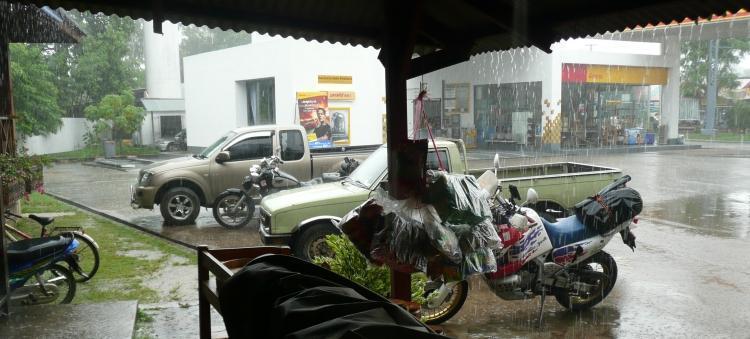 The weather was less than optimal for the 187 kms run to Den Chai. At that point, it absolutely pissed down while we were having lunch and coffee. David set an extremely brisk pace, and I can't say I liked the feeling of the new Michelin rear tyre when we hit smooth wet asphalt... slicker than snot on a doorknob!
The Shadow proved extremely thirsty at high speed - not sure if the airflow is impeded by the Mustang aftermarket seat sitting too close over the air-intake or what... On the run to Den Chai at a steady 80 - 85 mph, I hit reserve at 80 miles! Usually, its 125 miles when cruising at 65 - 70 mph. As a result, there was an anxious period where I ended up coasting downhill for a couple of kilometres. Due to my foresight, I was wearing my lucky necklace, and I came to a halt within rock-throwing distance of a rustic village 'shop' which had a few nam pla bottles of gow neung tamada for sale at 100 baht apiece... 3 of those got me rumbling down to Den Chai. We compromised on a steady 75 mph velocity from that point onwards, which made the fuel consumption manageable again.
Not long after Den Chai, the rain faded away, and we shed rain gear like lizards changing skins as we emerged into the sunlight.
A Captain Slash hotspot appeared in Nakhon Thai, just as my caffeine levels dropped into the red zone - time for the obligatory snack-stop, and cafe yen x 2. FL ate icecream+chocolate+sport drink - he wound the AT up, blasting out 2013 on a sugar high!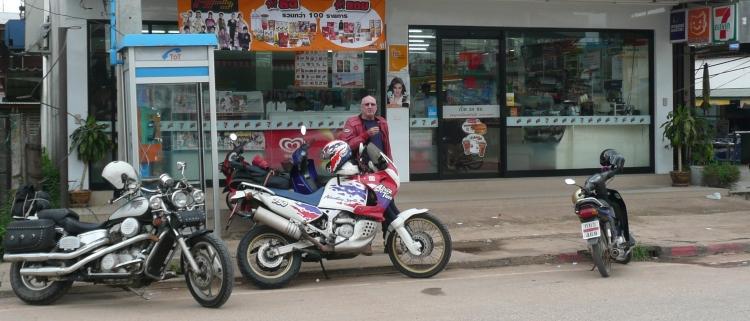 Fuel stop at Nakhon Thai - the AT is a monster, and guys often wander over to check it out while its being fuelled up.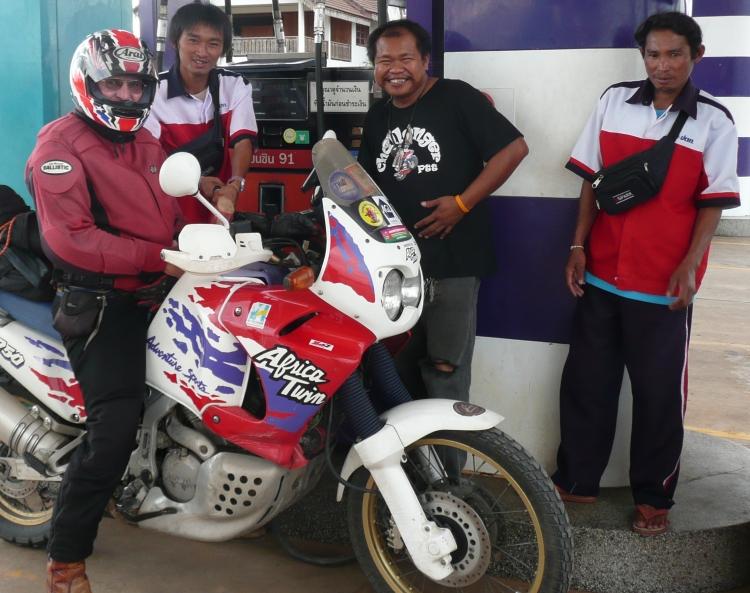 Arriving a couple of days ahead of the main event was great as the place was a hive of activity and we sat and relaxed and watched as the locals prepared for the influx of festival goers. The main food court was excellent, and we met up with a couple of gents with their wives, over from Udon Thani and had some refreshments with them on Thursday evening.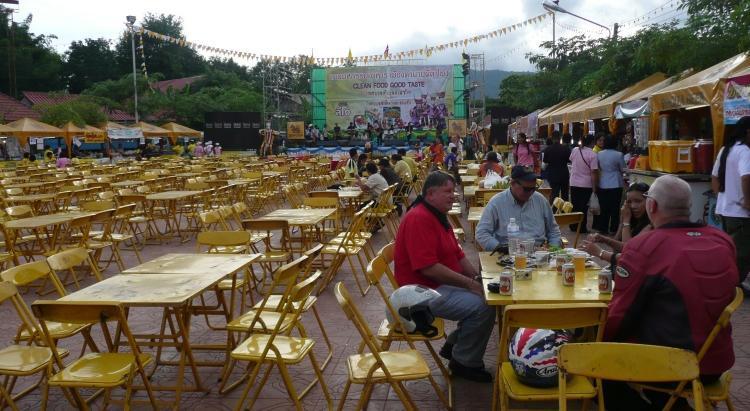 Friday was a tough day... Its damned hard work sitting and watching busy people, and drinking beer for hours... my arms were tired from lifting glasses, and a couple of friendly locals offered to give me a shoulder massage... 8)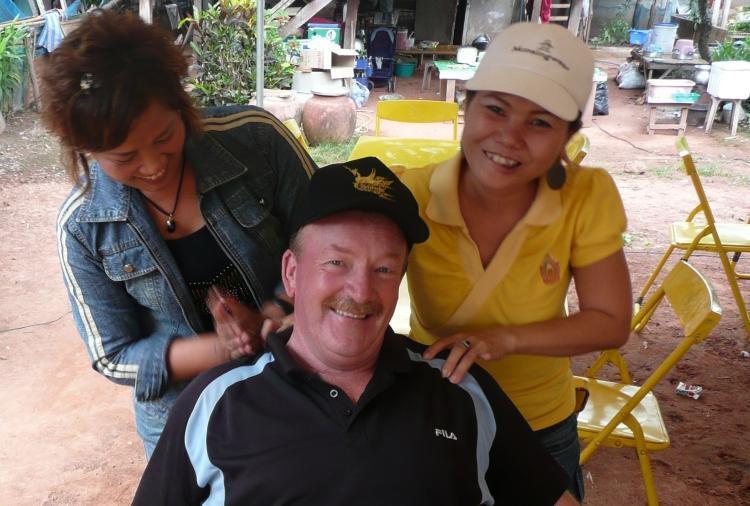 There was a rehearsal during the afternoon, with the main parade sheduled for Saturday.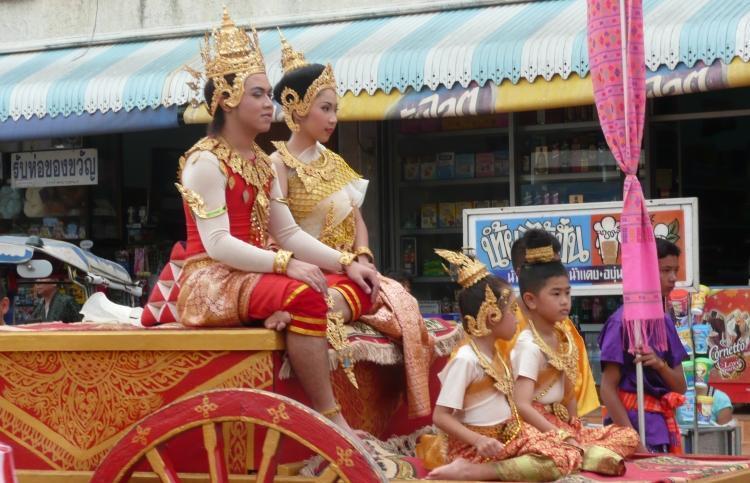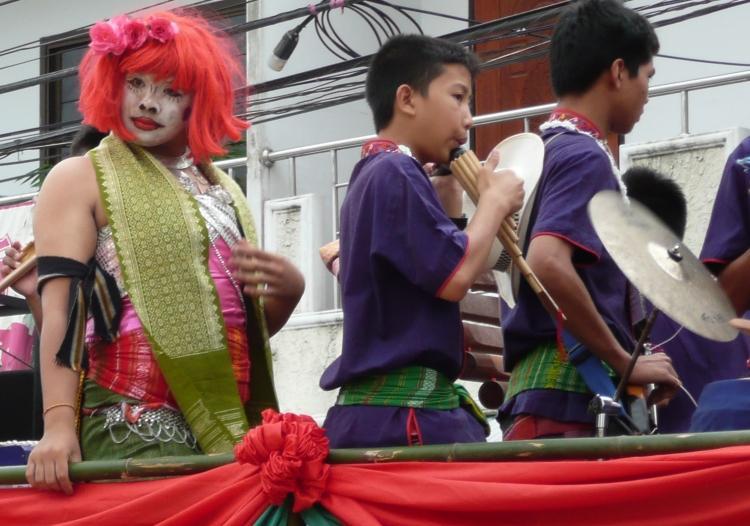 The phallic symbolism is not always subtle...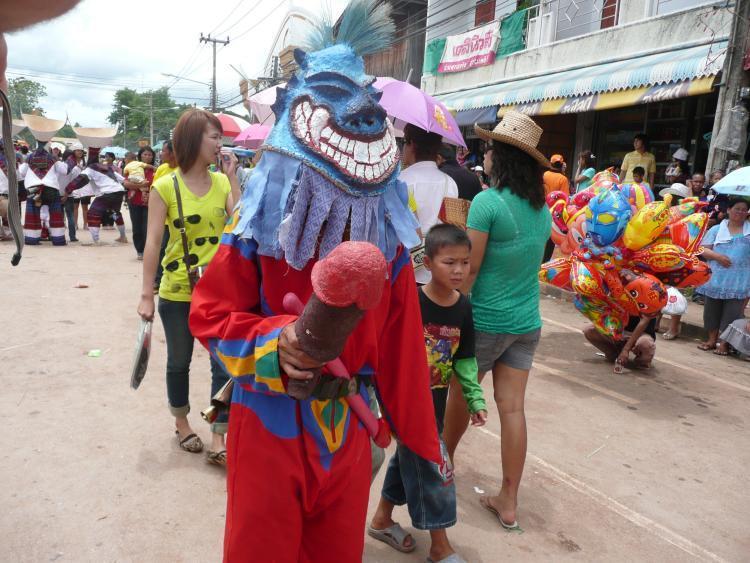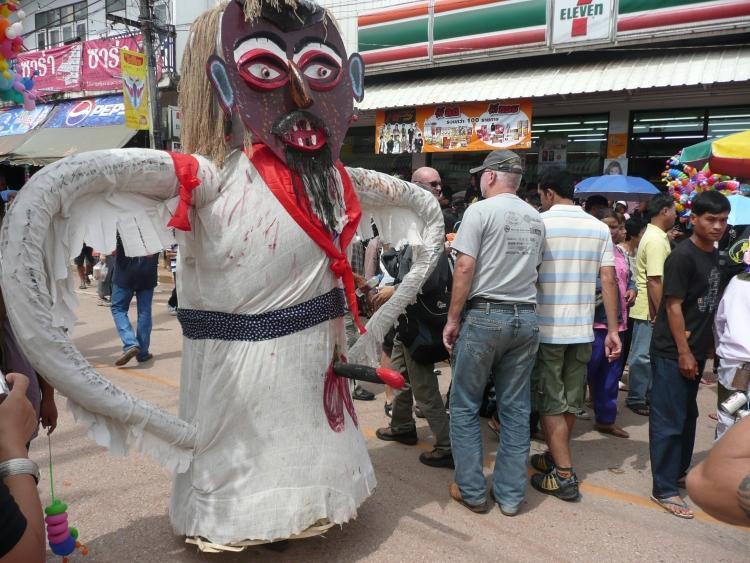 Modest crowds on Friday, and it was still possible to ride though the streets.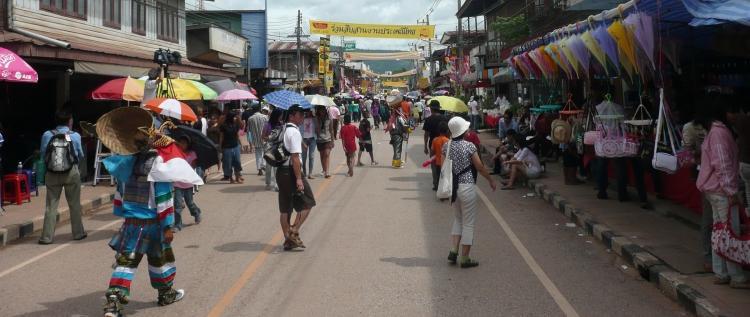 After the culture shock of enormous phallus displays, we retreated to the lovely temple overlooking the town of Dan Sai.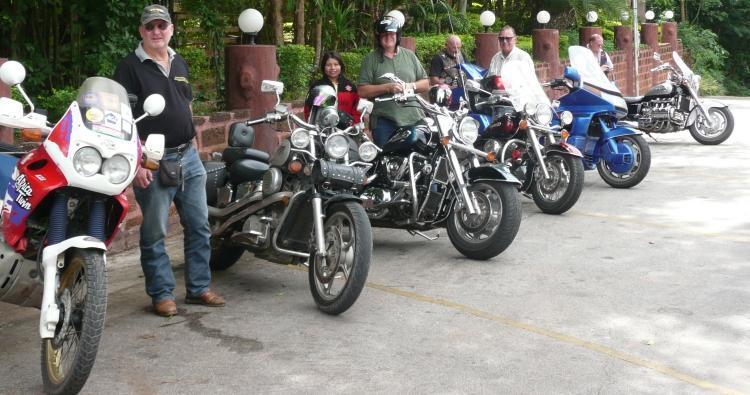 The group was a little bigger this time, a couple more guys from Udon tagging along for the ride up the hill.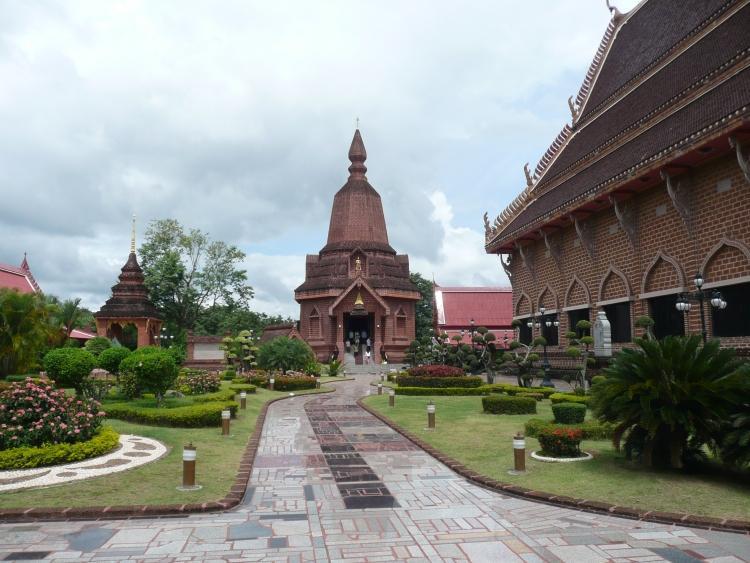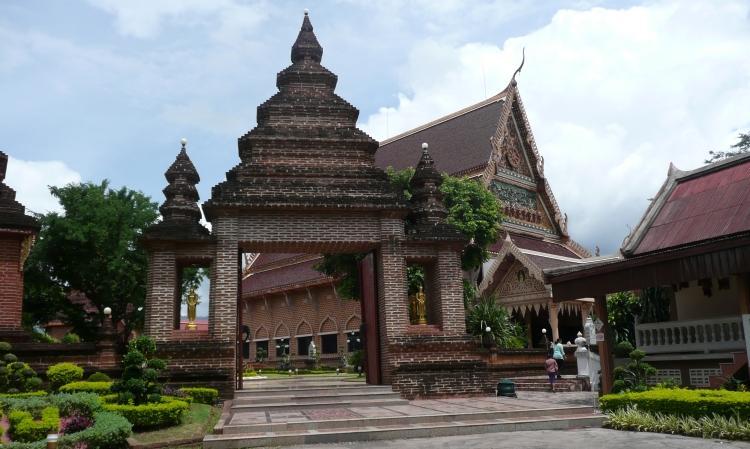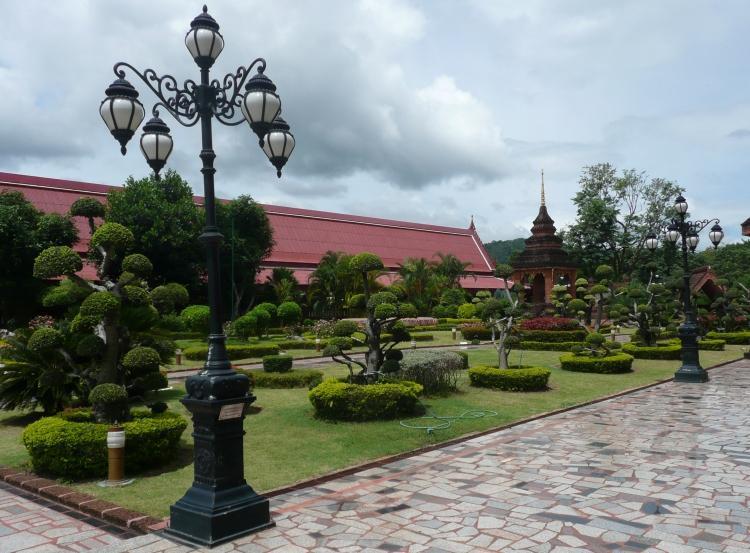 The locals are lovely people - we stopped to talk to an elderly couple that David knows - and before long we were drinking coffee on the edge of the street with a bevy of Dan Sai sisters...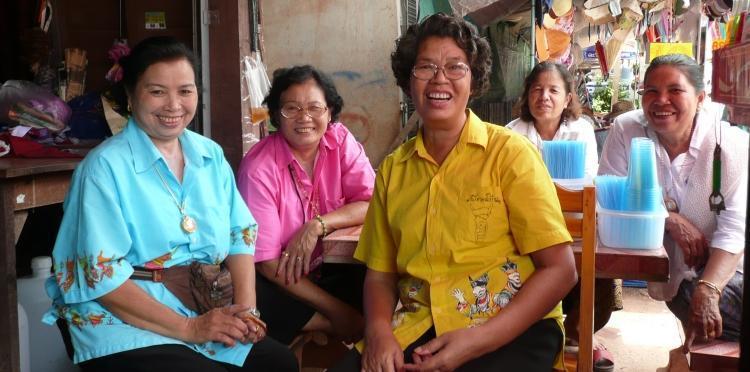 There's a relatively new museum behind the white temple, on the main street midway between the bridge and the highway. There is a display of masks and costumes, and information panels explaining some of the history of the festival and the area. A couple of craftsmen were at work, this gentleman was painting a mask.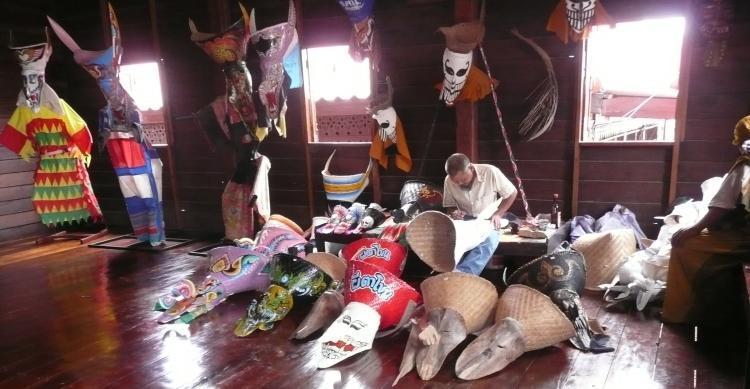 The nice lady at the museum shop has the cutest dimple! Its about the same size and placement as mine...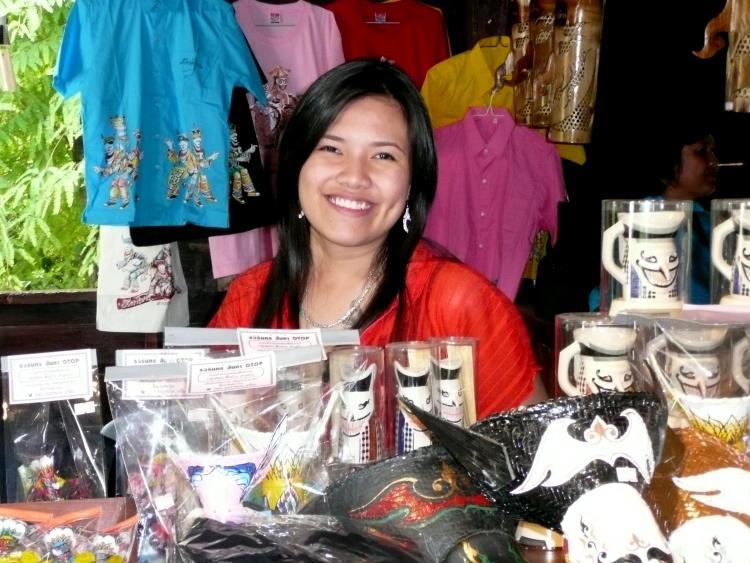 This young gentleman wanted his photo taken... with me - but he looked a lot better on his own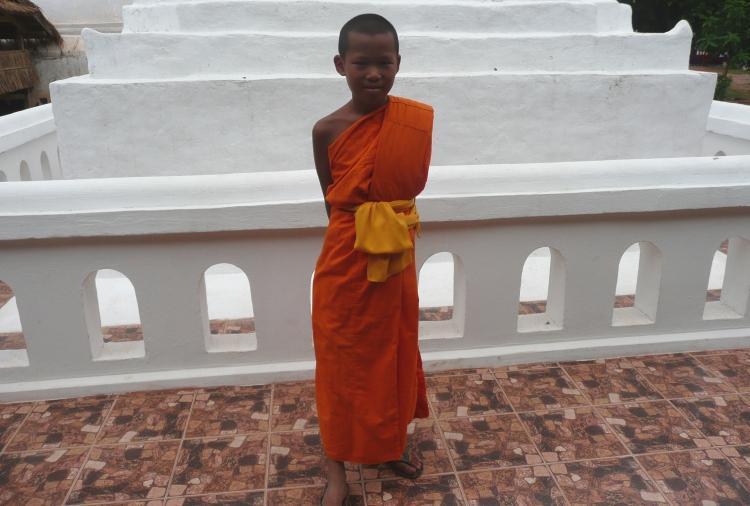 A novel twist to the PG girls scenario - promoting cigarette sales...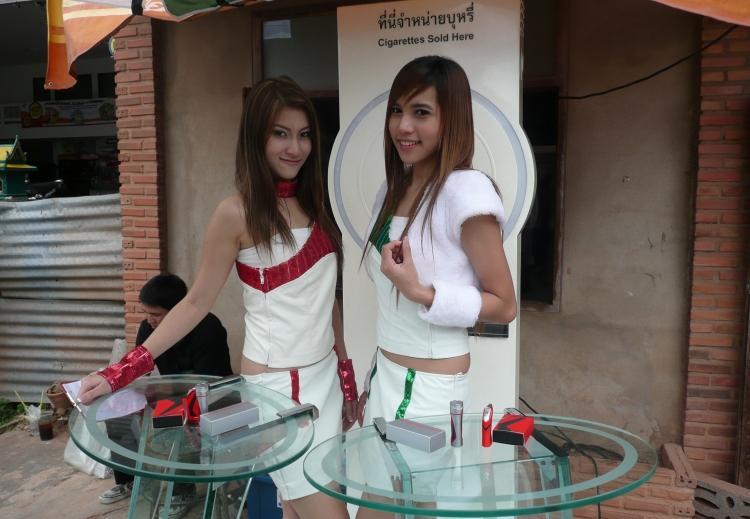 There are an extraordinary variety of colours in the costumes...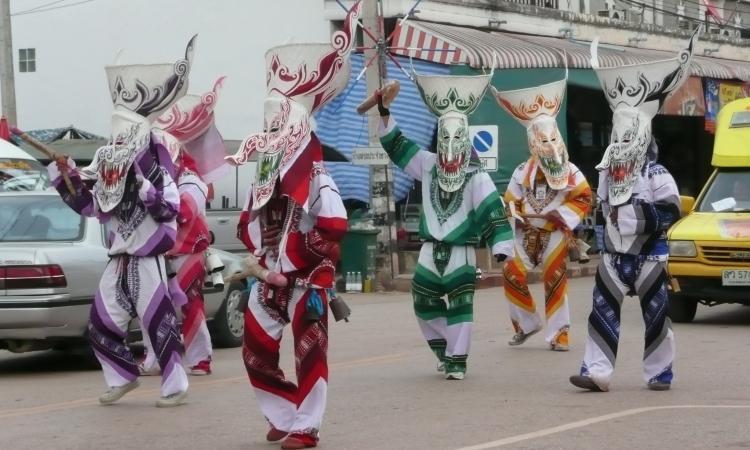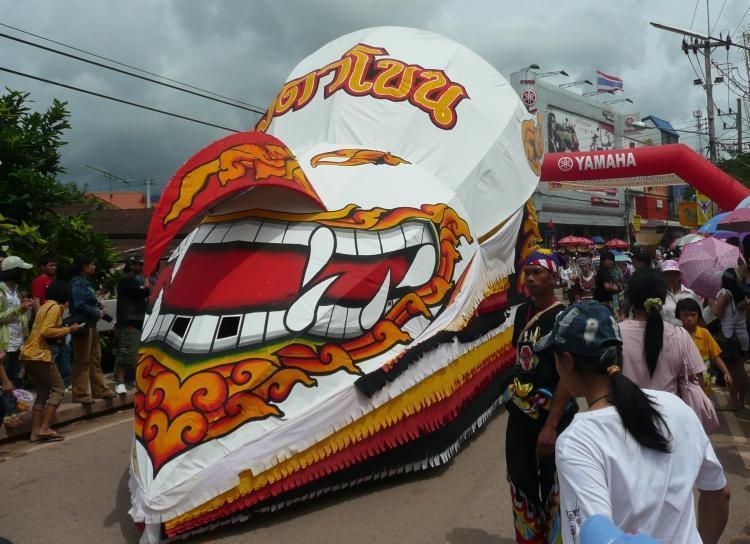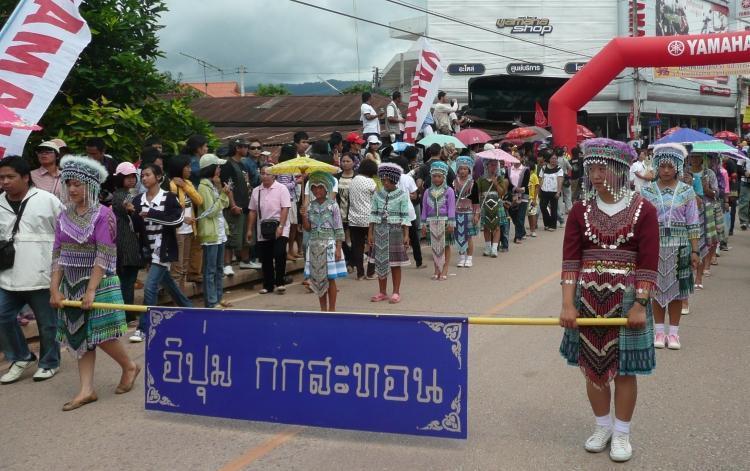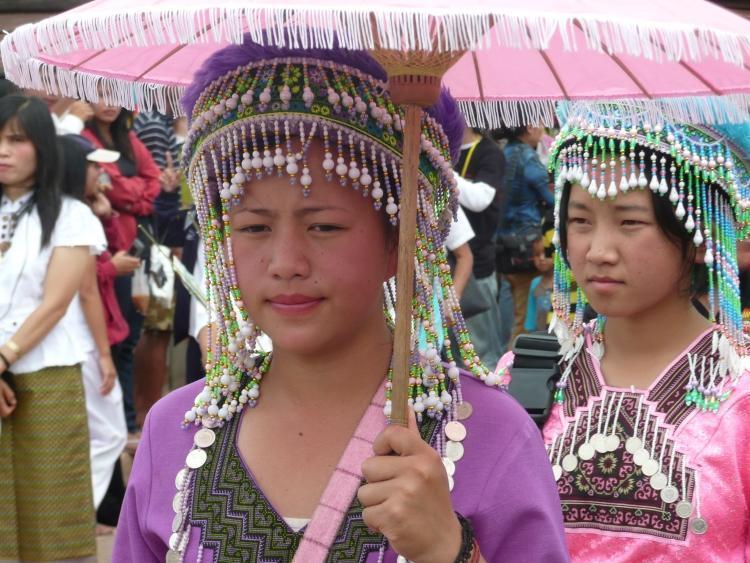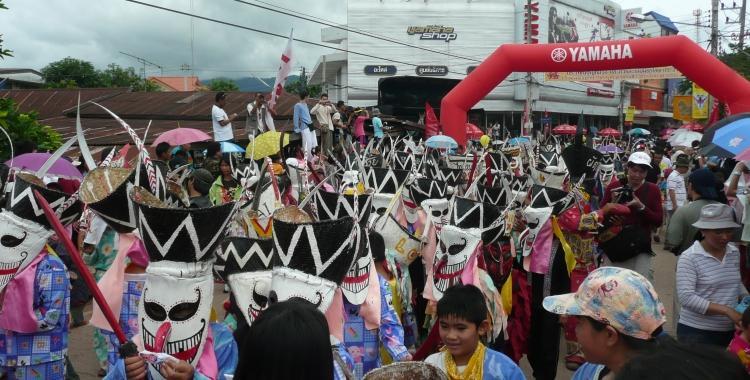 This little angel missed most of the excitement...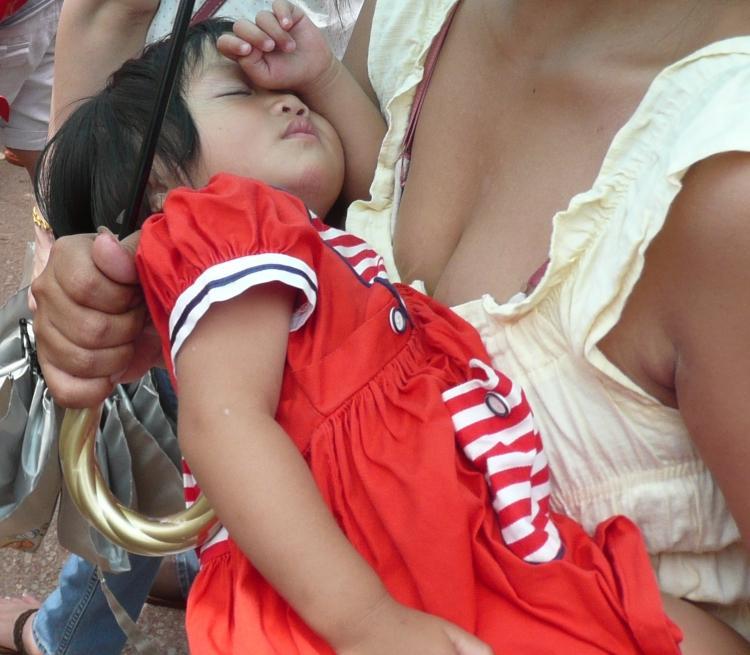 But this little angel was right in the thick of it...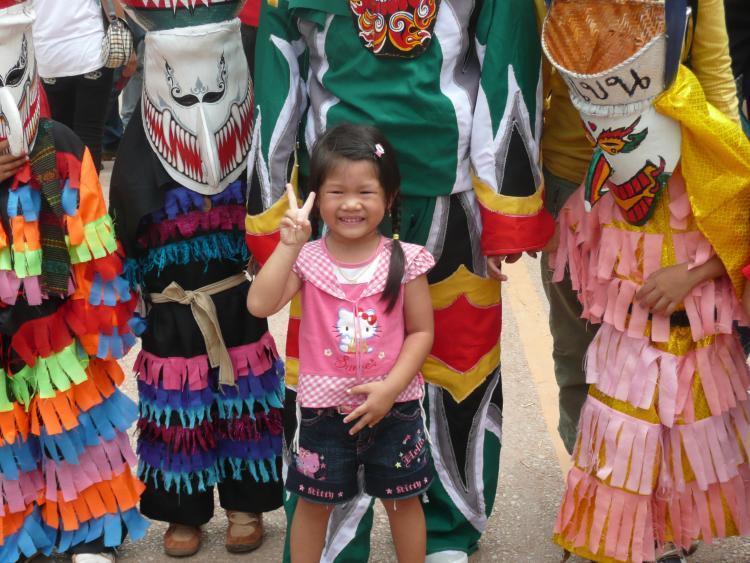 God help these boys when their mother's see the state they are in...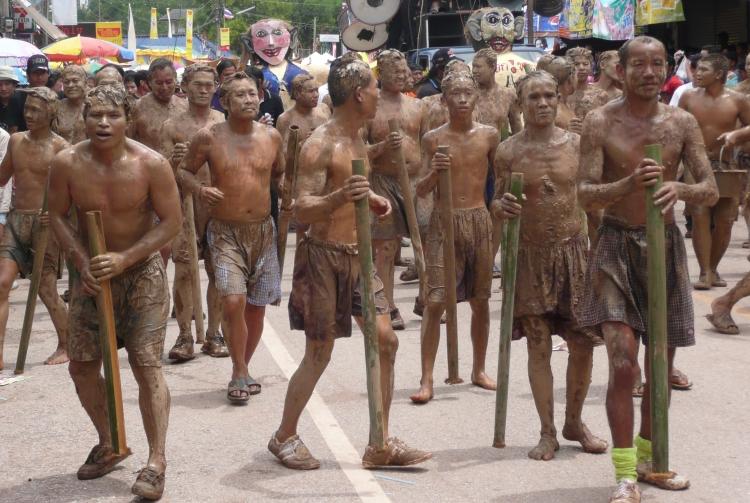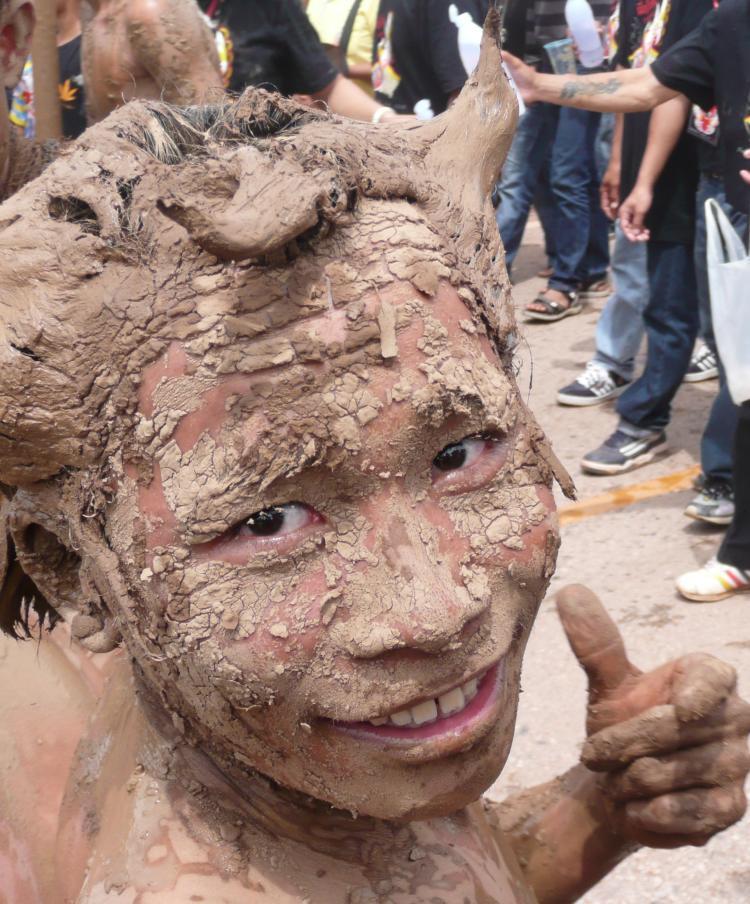 First, there was one photographer... then there were two...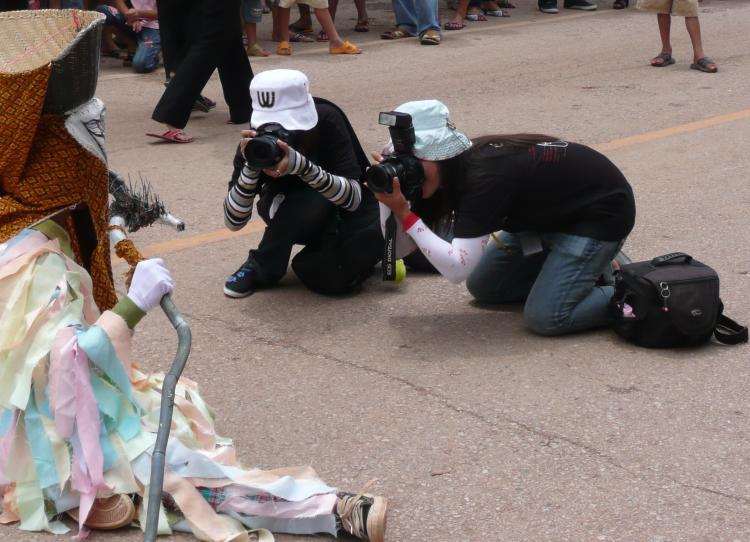 and soon thereafter there was a veritable swarm of them! :roll: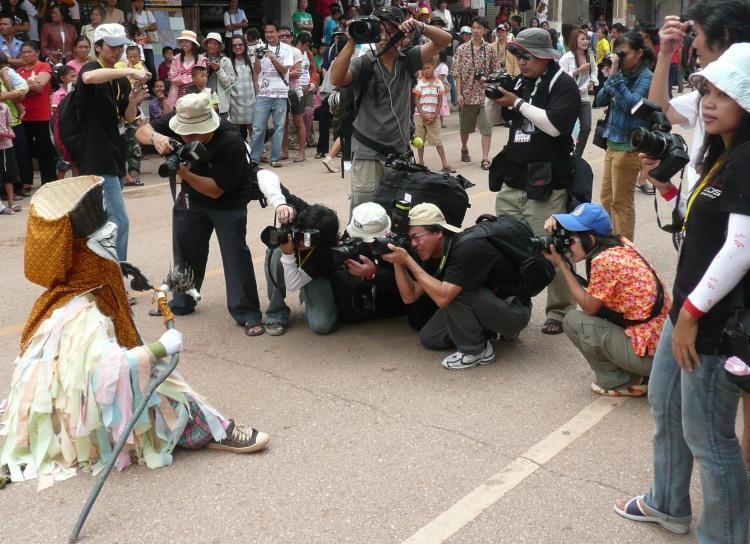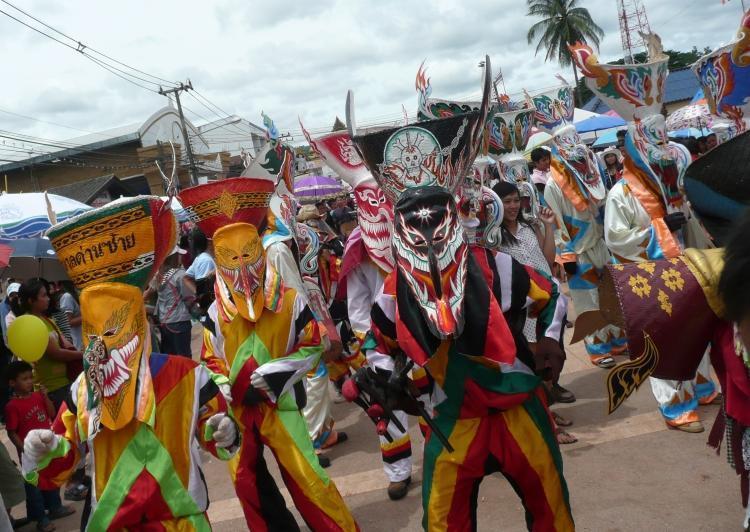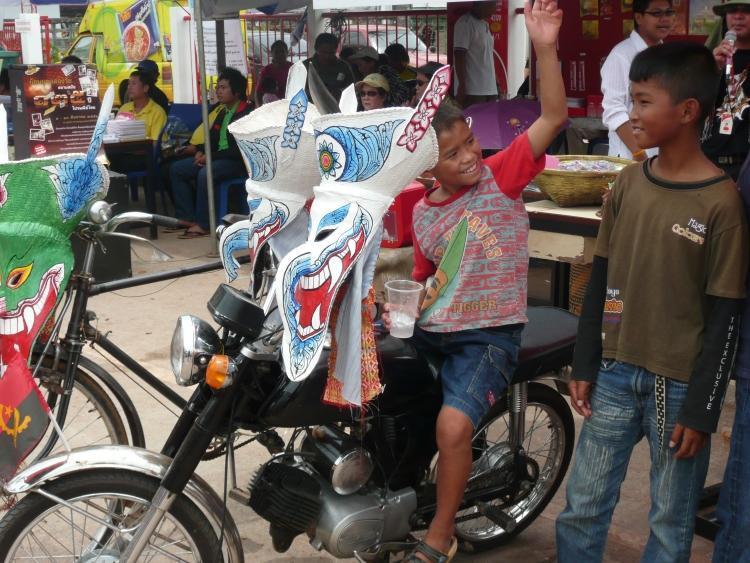 There were actually quite a lot of bikes around...
And the legendary Dreamchaser himself was there - khun Sukie (white t-shirt)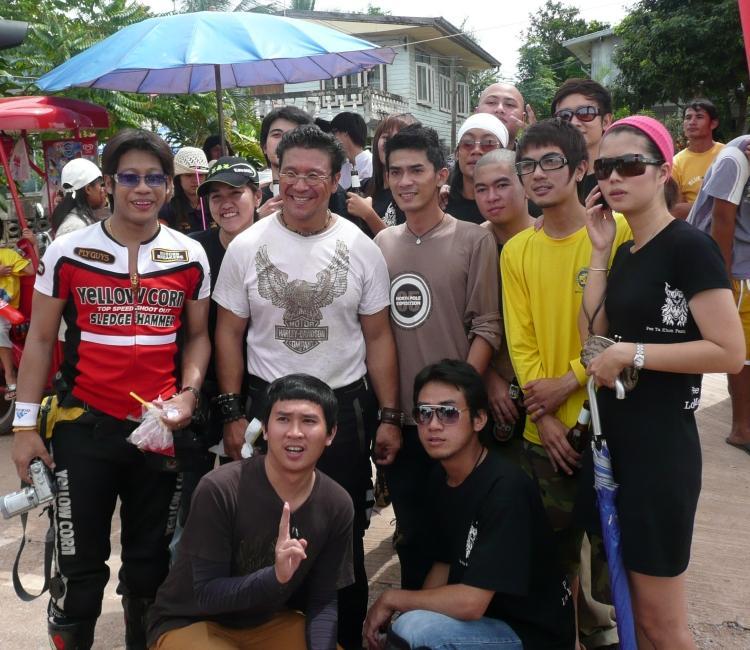 Like several others present, this was the first time I've been to this festival. It was David's 14th attendance, and I can quite understand why!!! Hell, its a "must see" deal, and its great to see country people having a ball, and warmly including outsiders in their big event. The food and hospitality was excellent, and all in all - I had a ball...
Late Saturday we went to Loei - a fast and wild ride through heavy motorcycle traffic - the highway was congested with hundreds of kids on various scooters / step-thru's / Vespas and 2-wheeled vehicles the likes of which I've never seen before
We met a group of other Chiang Mai gentlemen there (Mike, Richard, Robert etc) plus Sukie and his riding buddy. We all stayed at the King Hotel - a good choice! 450 baht a night, excellent rooms, good little coffee shop... After dinner, we attended a Loei biker's party for a while.
The plan for Sunday morning was for the Chiang Mai contingent to assemble for breakfast at 9am, departing homewards at 10am... I woke up at 6am, could not get back to sleep! Slipped a note under FL's door advising him of my early departure, checked out and headed sedately off homewards.
Never having been to Loei from CM before, and having neither map nor GPS, I was relying on memory to get me home.
The advantage of this route-finding methodology is that you get to go places that you did not know you were going to...
It all worked well until some time after Nakhon Thai... I left there on the right road, but must have zigged when I should have zagged somewhere... I do remember a sign that said 97 kms to Utteradit... but about an hour later, I saw another sign that said 64 kms to Utteradit... at that point I'd done a hell of a lot more than 33 kms, and a hell of a lot of miles after the fuel stop at Nakhon Thai - and I concluded I was probably heading north to north-east of Sirikit Lake...
Right about then, 64 kms to Utteradit seemed like a good deal, calculating that the reduced pace should mean enough gas in the tank to get that far! I finally found a gas station about 20ms out of Utteradit - 106 miles / 170 kms with out seeing one!!! Starting to sweat a little, I was... The odds of running out of gas along side a benzine vendor twice in 3 days would be stretching the powers of the lucky necklace a little... it worked hard all weekend.
Coming home, there was a ittle boy - maybe 4 or 5 yrs old - in a little village along the way, riding his bicycle on the left verge... The little tyke decided to do a wheelie and swerved out almost to the centreline just as I was about to go past... He was lucky as well - bloody lucky I was already out on the centreline giving him a wide berth, but he got real close! :shock:
An hour or so later, damned if a small dog did not do the same kind of thing - a last minute dash for the opposite side of the road. Not sure how lucky he was... the front wheel missed him by a whisker, but there was a hell of a thump and a yelp when he went under the right side footboard! I was cruising at about 70 mph at the time and dramatic swerving is certainly not a viable option. In the mirror I saw him keep on going, but he must have been hurting...
My return trip was 378 miles (608 kms) and I arrived home from the rain-free run at 2pm, after a 7:30 am departure from the preliminary fuel stop at Loei. Four more 'Michael Schumacher' fuel stops, plus a khao pad gai kai dao and a Sprite at Den Chai - and my inadvertent "scenic detour" did add a little overhead to the journey.
However, I rather like being misplaced - and the ride down the river from the Sirikit Dam entranceway was very cool... as was the stretch of mountain that delivered me to there... I'd like to know where the (wrong) road I was on was going to end up - it looked interesting... :lol: