Today we had the inaugral meeting of the GT-Riders, Phuket division, in a harbour side restaurant on Chalong Bay. .
Bush Pilot (Alex), arrived on his 1100GS, Pico Pico (Pico) on his Honda Silverwing 600, with attached sidecar, Tropical Johno (John) on his Honda Degree 250, and Siinthai (Simon), on his workhorse which at present is a trusty Honda Wave with utility sidecar.
Alex gave details of his recent Iron Butt ride, Songkhla to Chiang Rai, John bulshitting about everything as usual, Pico discussing his 'photo album', and Simon 'champing at the bit' waiting for his Honda Degree which should be arriving in the mail any day now.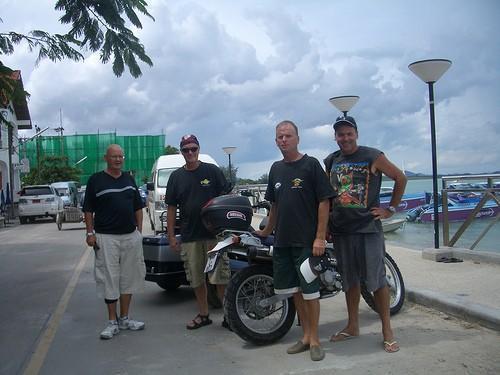 L-R Pico, Alex, John, Simon