Administrator
Staff member
Subscribed
Jan 16, 2003
12,867
3,401
113
67
William Young, Who Helped U.S. Organize Secret War in Laos, Is Dead at 76
By THOMAS FULLER
Published: April 3, 2011
From
The New York Times
CHIANG MAI, Thailand — William Young, a missionary's son who mixed evangelical zeal with covert missions for the C.I.A. in Southeast Asia and who helped organize the "secret war " in Laos for the United States during the Vietnam War, died on Friday at his home here in northern Thailand. He was 76.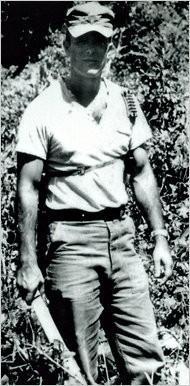 William Young, circa 1963.
The Thai police said he apparently killed himself. Mr. Young was found dead from a gunshot wound, a handgun next to his right hand and a crucifix in his left, the police said. He had been suffering from emphysema and numerous other ailments, his friends said.
Born in Berkeley, Calif., on Oct. 28, 1934, Mr. Young spent most of his life in the hills of northern Thailand, Laos and Myanmar, which was British-controlled Burma when his grandfather first arrived as a Baptist missionary in the late 1880s. His family converted countless members of the Lahu tribe to Christianity and became celebrated figures among the region's patchwork of ethnicities.
Mr. Young's father, Harold, was recruited by the Central Intelligence Agency and led intelligence-gathering forays into southern China in the years after Mao Zedong's Communist takeover.
William Young followed his father's path and joined the C.I.A. after serving in the United States Army. In the early 1960s, as the war in Vietnam escalated, Mr. Young assembled an army of local tribespeople in neighboring Laos, a force that at its peak reached several thousand men.
"We used to jokingly call him the American warlord," said Bertil Lintner, an author and longtime friend of Mr. Young's. "He was ideally placed to organize the secret war in Laos."
Most of the Ho Chi Minh Trail, the network of jungle paths that North Vietnam used to funnel supplies southward, ran through Laotian territory. The United States wanted to interdict the supply route, rescue American pilots shot down over Laos and aid anti-Communist forces in a continuing civil war, but was hampered in doing so publicly because Laos was officially neutral. Thus, the secret war.
Missionaries were the best assets the Americans had in the region, Mr. Lintner said. "They spoke local languages and were respected."
Mr. Young led his fighters into battles against Communist forces and directed the construction of airstrips to be used by Air America, the C.I.A.-financed airline that supplied the hill tribes with weapons and supplies. Among those he recruited was Vang Pao, the ethnic Hmong warrior who later led the C.I.A.-backed anti-Communist forces, and who died in January.
Mr. Young became disenchanted with the C.I.A. over differences in strategy. The falling out was mutual. He was dismissed from the C.I.A. in 1968 as the war in Vietnam was raging.
"He was extremely patriotic, but he felt that the American government had dealt their hand extremely clumsily in Indochina," Mr. Lintner said.
Mr. Young went on to trade in gems, own a fruit orchard, run a guesthouse and work in Sudan as a security consultant for an oil company.
In recent years he advised the Drug Enforcement Administration on the drug trade in northern Myanmar, a hub for heroin and methamphetamine production.
Mr. Young is survived by five children and two grandchildren, said one of his sons, Jerrick Young.
Comment:
In Chiang Mai, the zoo once belonged o the Young family, but was given to the government.
RIP Bill you were one of the real legends of the Golden Triangle.
My condolences & sympathy to Bills family & friends.
Check out New Mandala for other info on Bill Young & the Young family in the GT.