Britbikes launched the new Tiger Explorer 1215cc 1,100,000THB bike at the Impact Arena on Saturday last
at the
Bangkok
Super Car and Import Car Show
.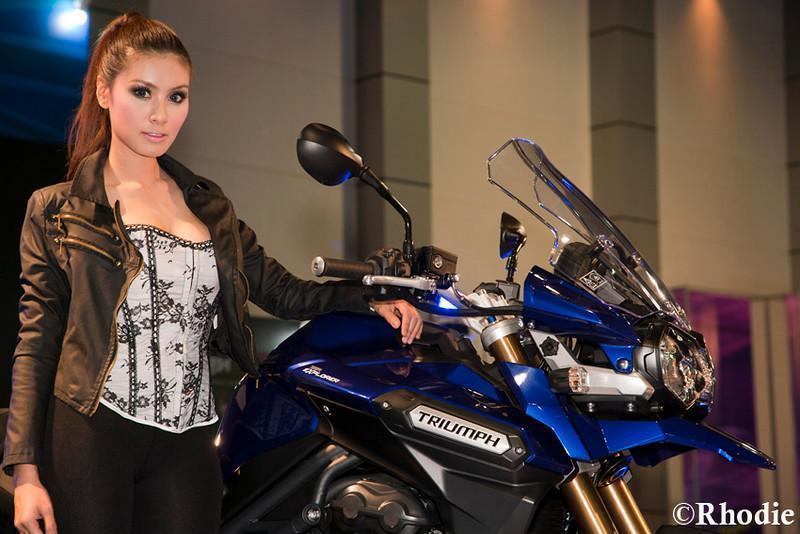 The fact that BritBikes and KTM and Ducati were there midst the Lambos, AMGs Ferraris
et al
shows that the growth in the "Thai biking experience" is specifically aimed as a "lifestyle choice" for the Thai wealthy. Not really for the serious biker, who knows what he wants and expects value and brand performance, especially when it comes to servicing.
Next to the Triumph stand was an importer with a red car and a prancing popsie.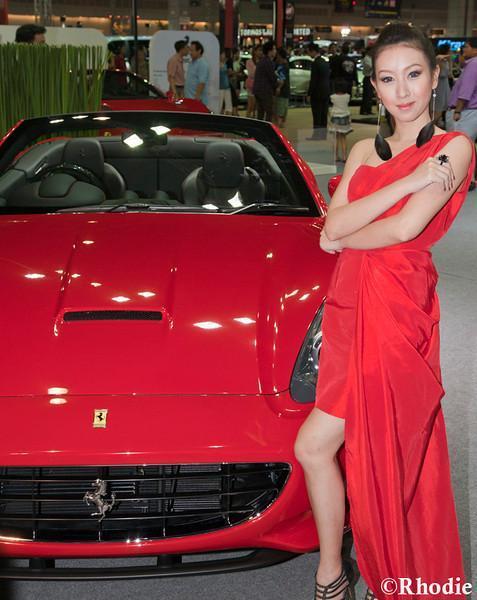 SWMBO took to the show like the proverbial duck, and before you could say "Paragon Tractor", had unleashed the formidable Thai enhanced interrogation technique upon the clearly clueless Range Rover salesman -who had far too much gel and pointy shoes for my liking- who made a similarly poor impression in my view as the "cut'n'shunt", Evoque.
"Only four-and-a-half million. Good, No???"
Bless her.
GRRRR!
The five Explorers imported have already been sold by the end of the show, with five more coming in September – one of which has already been spoken for. So get your order in soon if you are really interested.
I was told there is to be a demo bike available at RCA this week – though that may have been sold considering the response.
One can see that Triumph have clearly identified market leading BMW's R1200GS as their target and to some extent appear to have back engineered it. Maybe that's being a bit harsh, but all the reviews I have read appear to be impressed by Hinkley's efforts with the Explorer's bags of torque and much more grunt than the now rather long-in-the-tooth GS.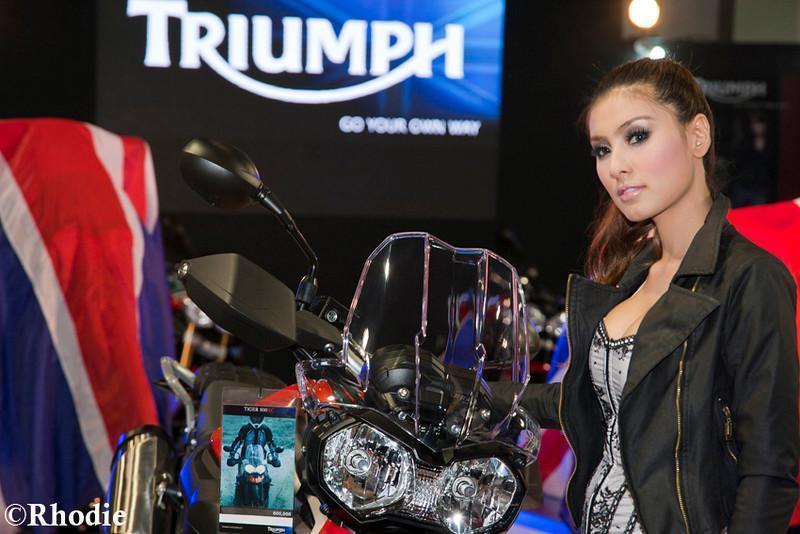 When the dust has settled and comparison reviews have come in I will have to take a look at the Explorer, as my Bavarian barge is now showing its age. Also, Triumph have upped their game by having two very good mechanics in Bangkok and I am told by Ian, Tuk in Chiang Mai is doing a great job. This bike & Triumph could really take BMW and Barcelona on providing BritBike maintain their service standards and oversee their roll-out. Udon and Khon-Kaen are next on the list apparently.
But back to the evening where Britbike's had laid on a buffet for their growing -almost entirely Thai- faithful.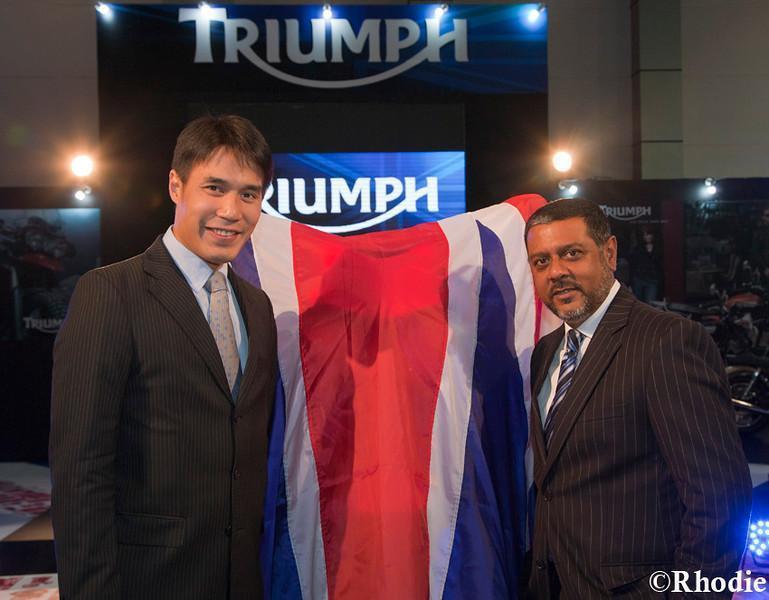 K Dom and K Asawin rightfully proud of the unveiling of three new models
hidden resplendently beneath Union flags.
Things have come a long way since they first opened in RCA in 2007.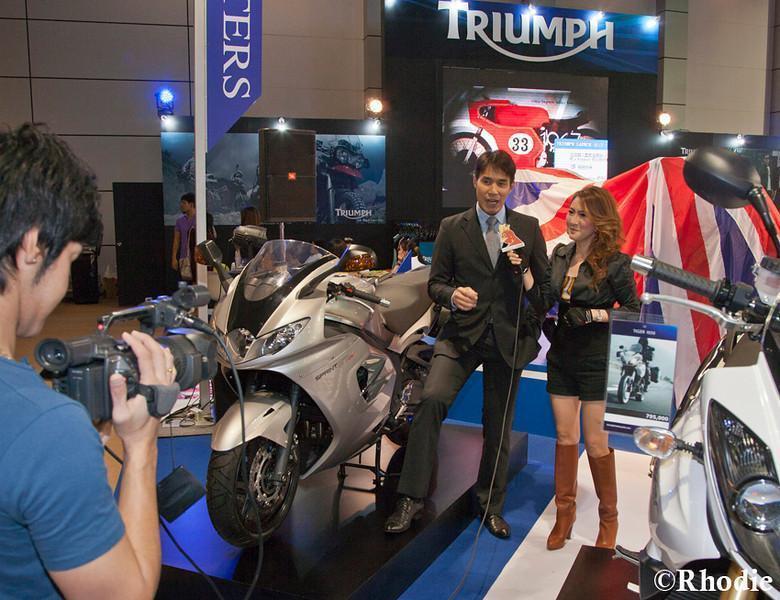 TV Gal getting stuck in amongst the Trumpets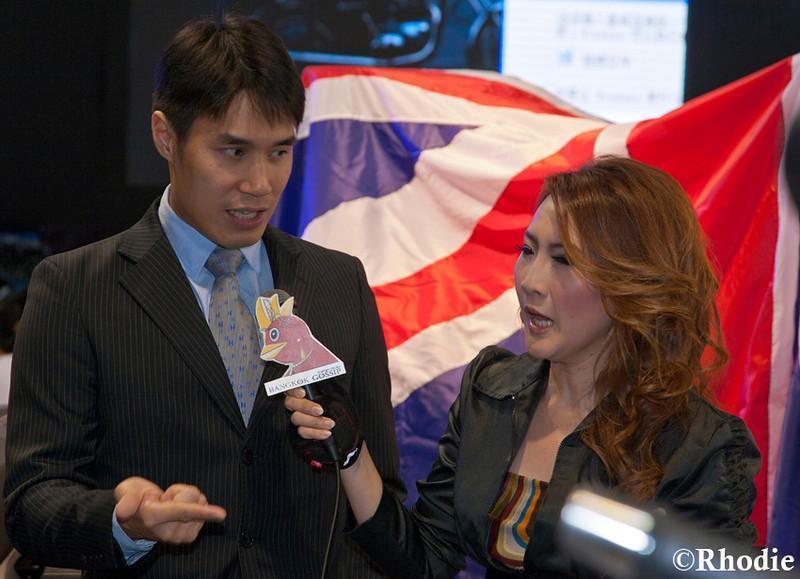 "Now listen here chook, these bikes from Ingret are number one…."
The 2012 Tiger 1050 has not changed.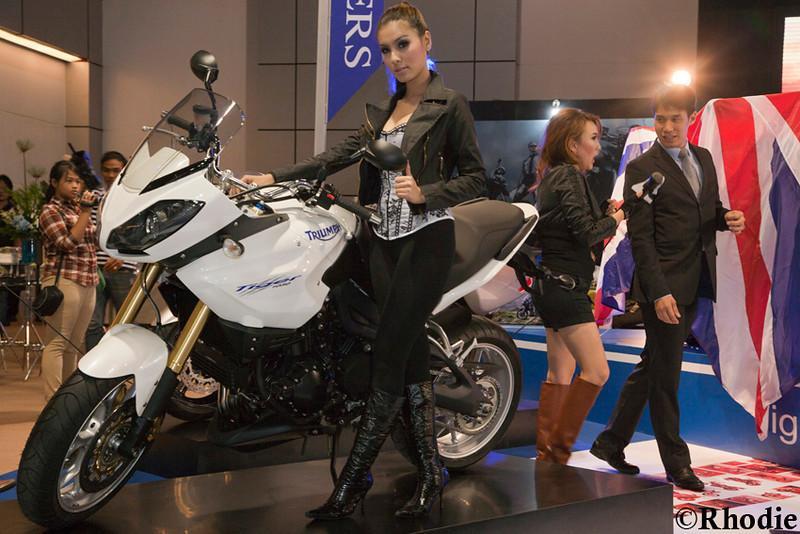 Ian had asked me to check it out – gratuitously.
Was told to expect big changes for next year.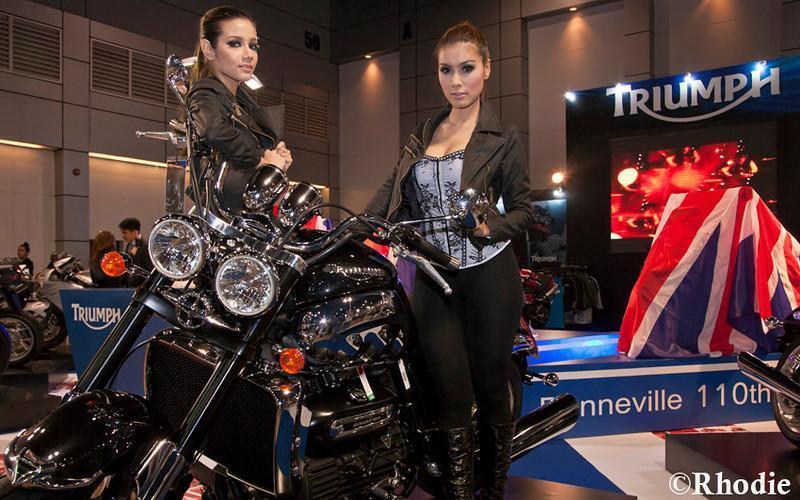 Whilst waiting for the unveil was a difficult time,
having to look at the Rocket III
again
.
DJ Varot Pitakanonda (Por), himself a Triumph Thunderbird rider,
worked the crowd into a mildly wild frenzy.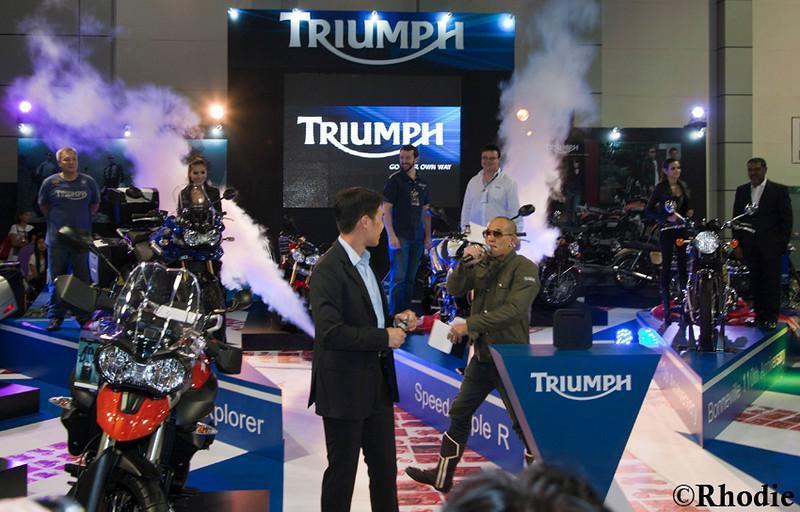 The new Speed Triple R took centre stage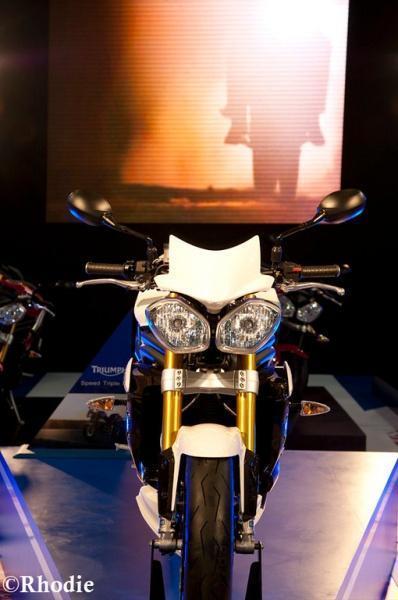 Trick forged PVM wheels, rock solid Ohlins suspension, Brembo calipers and Supercorsa SP rubber
among other parts put this ST at 970,000THB, a mere 100K more than the standard Speed Triple.
But it was the Tiger Explorer that clearly everybody came to see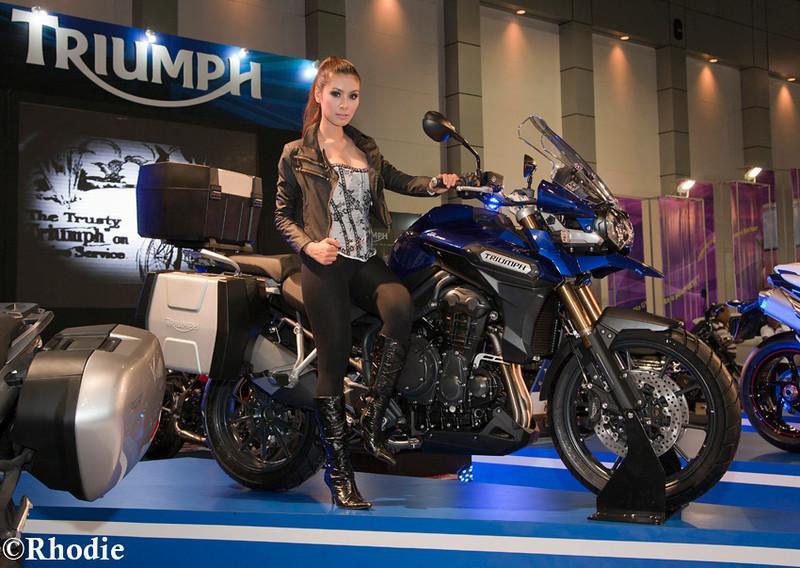 K. Dom listing the Explorer's attributes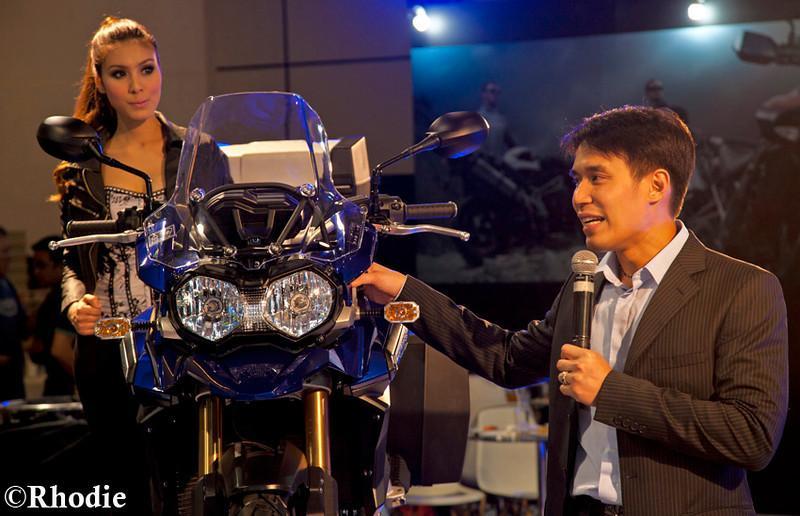 – the new ride-by-wire controls,
larger capacity stator, single-sided swing-arm, 135bhp etc.
Nearby a brace of gals, happily beaming in red.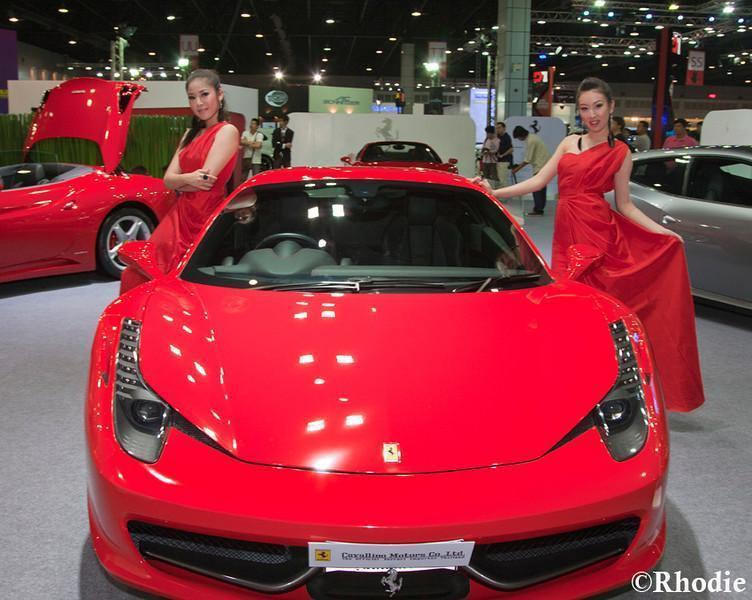 The 110[sup]th[/sup] anniversary Bonneville 770,000THB special edition.
The three available were quickly sold by secret ballot.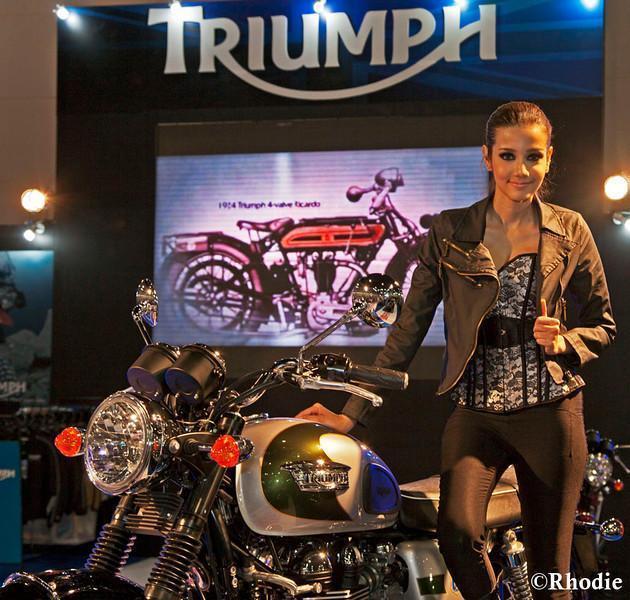 Triumph has introduced the 2012 Bonneville T100 110[sup]th[/sup] Anniversary bike.
The limited edition motorcycle is based on the standard 1902 No. 1 Bonneville T100 model.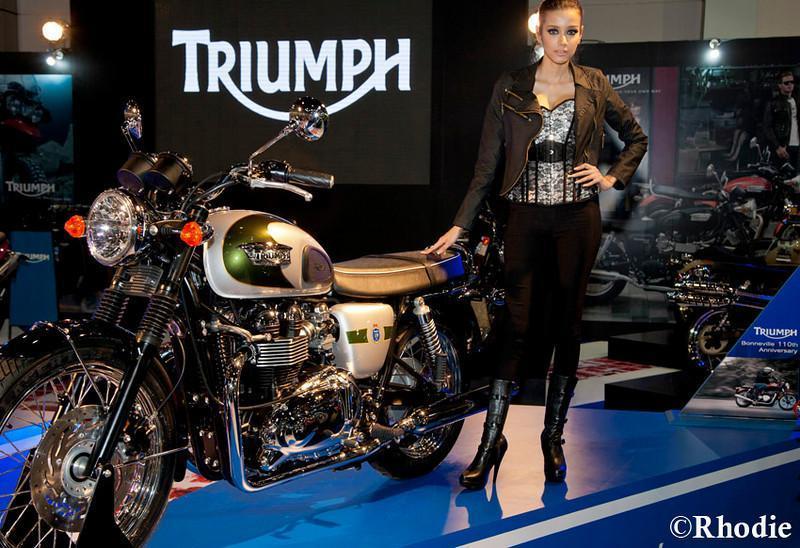 Nice lines & livery.
The Triumph Bonneville 110[sup]th[/sup] Anniversary Edition bike features a classic Khaki Green and Aluminium Silver paint scheme and comes with a special crest on the side cover inspired by classic Triumph tank badges. Other unique items on the 110[sup]th[/sup] anniversary edition bike include a chrome chain guard, chrome pillion grab handle, and a chrome cam cover.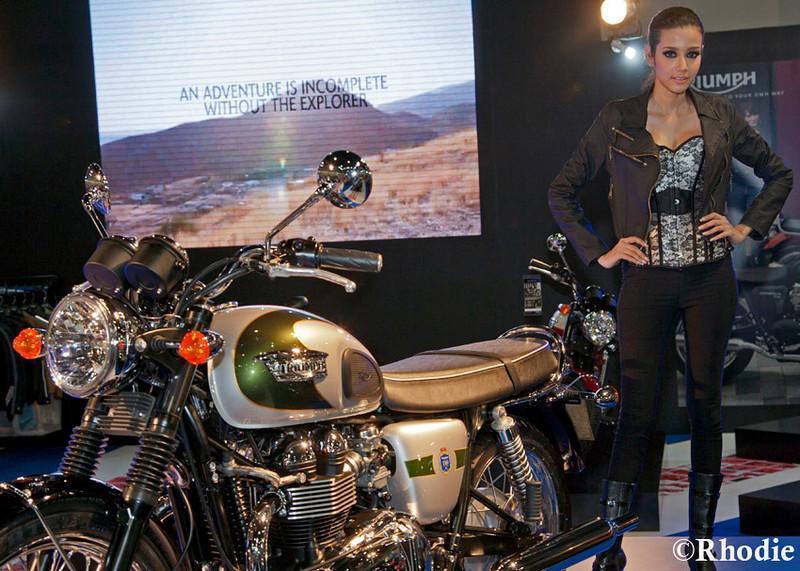 Speaking to a Brit from the factory in Rayong, Triumph are now producing 52,000 bikes a year,
with 38,000 being made in Thailand.
Ah-ha, so what about approaching the BOI?
Apparently this is
now
being looked into, as Asian emerging markets are considered to be a very important element for future Triumph sales.
But I did not get the impression that this was high on anybody's priority list, even though Ducati has surprised everyone by dropping their prices on Thai-made bikes.
The belief and rule number 1 of the inscrutable Thai equation, being less money=less prestige.
MCN's Tiger Explorer first ride video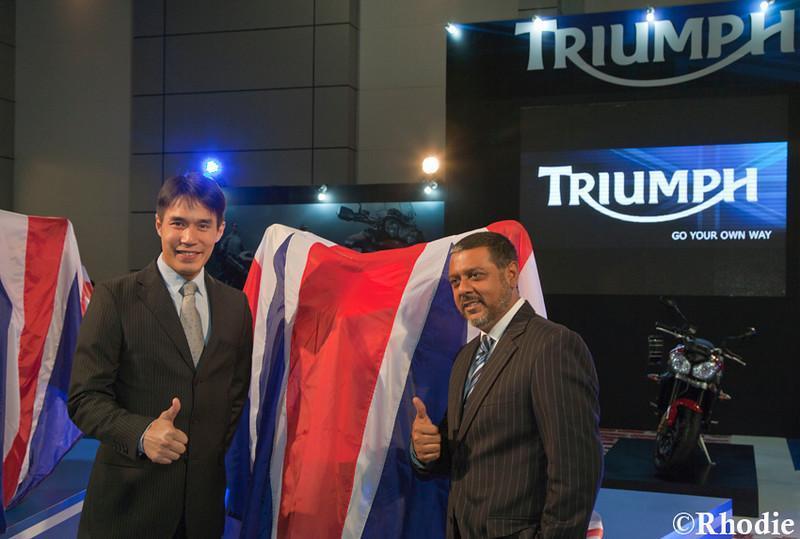 A Great Launch Lads :clap:
Best of British to them both!