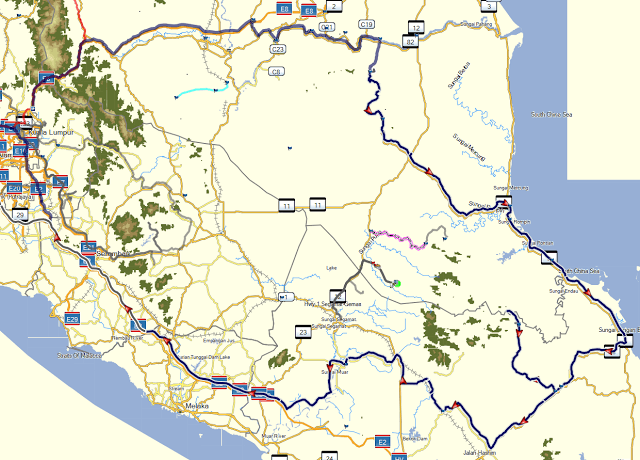 Labis Permanent Forest Reserve is situated at the eastern of Johor surrounding the southern border of Endau-Rompin National Park, 200km southeast of Kuala Lumpur. The 45.67 hectare area is a buffer zone to Endau Rompin National Park and were emplaced to limit the impact of human activities around the national park and maintain ecological integrity while securing the wildlife and other biological diversity within. In order to contain human activities, entry to this forest reserve require a permit from Johor State Forestry Department.
After a few correspondences with Mersing's Johor Forestry Department and submitting form JPNJPM2, we were granted a permit to enter the forest reserve and we planned to ride south and camp overnight at Lemakoh Waterfall campsite, which is situated on the riverbank of Lemakoh River, right at the edge of the National Park border.
This is my fourth ride to this area after Ride around
TamanNegara Endau Rompin (2014)
,
Ride to Pantai Penyabong through Bekok and BukitIbam (2015)
and
Ride and Camp to Lubuk Merekek (2016)
. My tenacity for coming to this area is nature that this place has to offer, which I am contemplating it'll last long for our future generations.
Joining me in this ride is Hashim & Shah from Selangor, Yusuf from Johor Bahru and Basri from Muar. This is Basri's first try at offroad on his Versys and he is riding alone from Muar. Hashim and Shah will meet me at BHPetrol Gombak on Saturday morning while Yusuf and Basri will meet us at Gerai Makan Leban Condong. Yusuf and Basri later changed their rendezvous point to Forest Ranger Office at Kahang.
It was a grizzly morning with temperature around 26°C when I took off from Rawang around 6.50am and the highway surface was wet. I met Hashim at BHPetrol Gombak whom has arrived earlier and Shah arrived slightly later.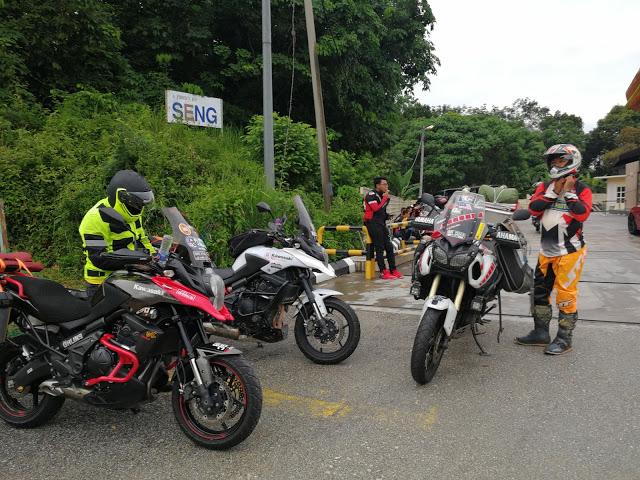 We departed around 8.00am towards Exit 821 Chenor on East Coast Expressway E8 and the weather was cloudy along the way with little traffic heading on the same direction. We arrived at the exit around 9am and went to route C108 along Pahang River.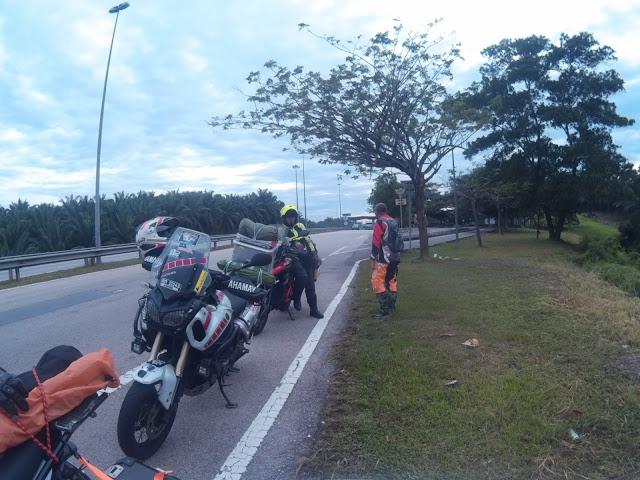 A lot of road repair works were in progress and we have to ride slowly here but the road condition improved as we were near Sungai Chini.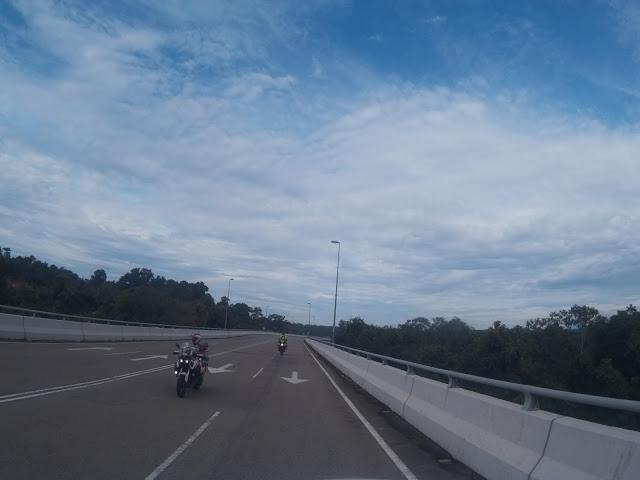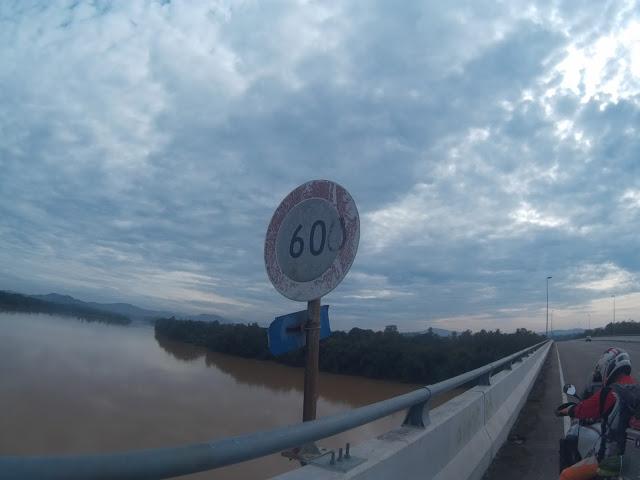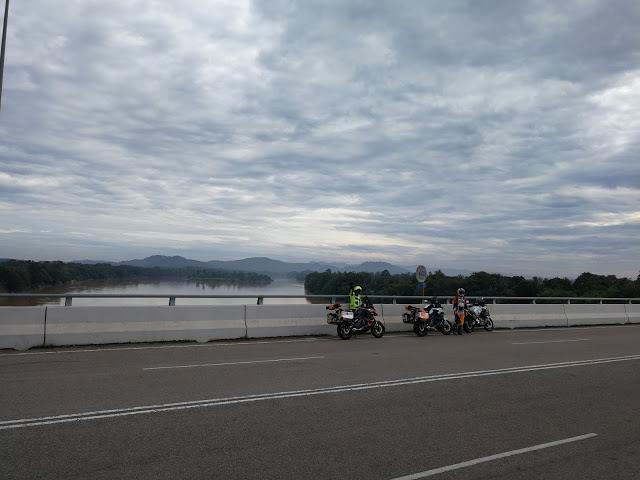 the weather was cloudy that morning but visibility was good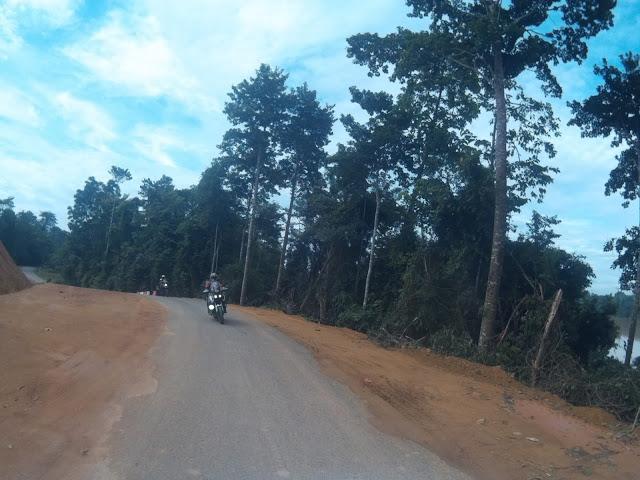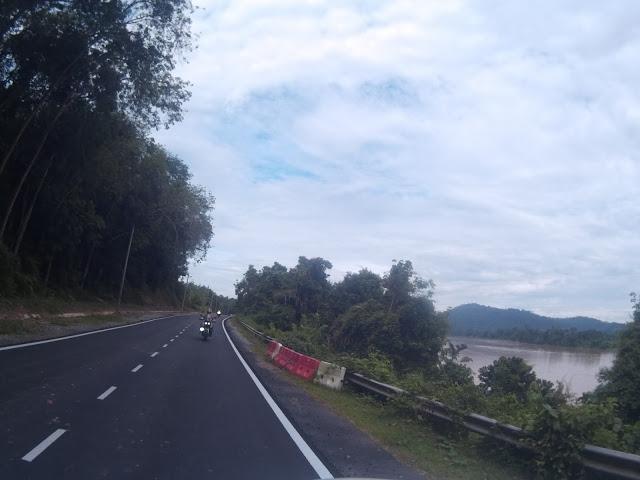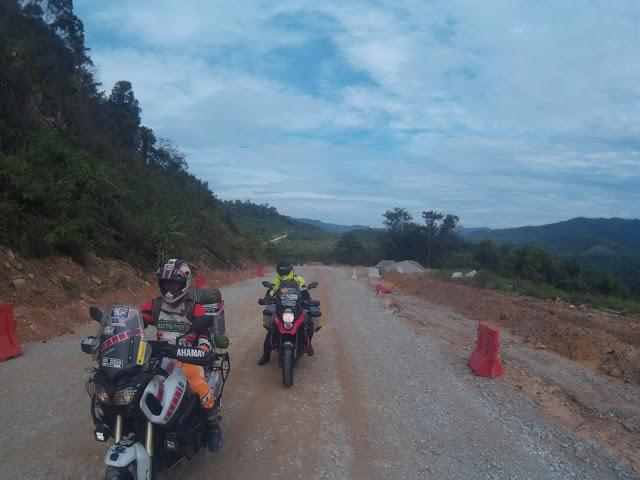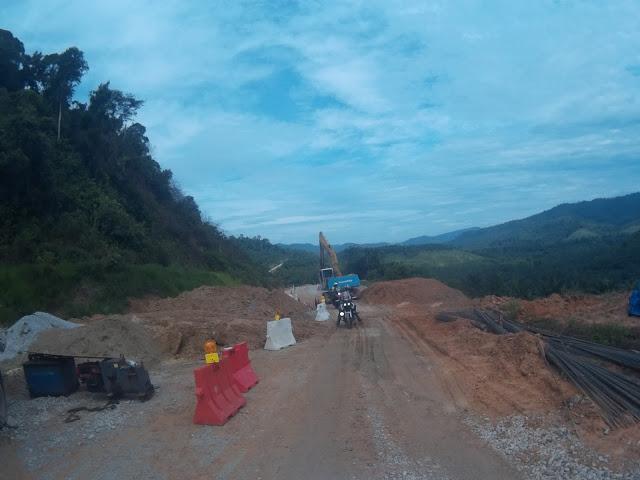 We then took a right turn towards Felda Chini heading towards Chini – Bukit Ibam bypass.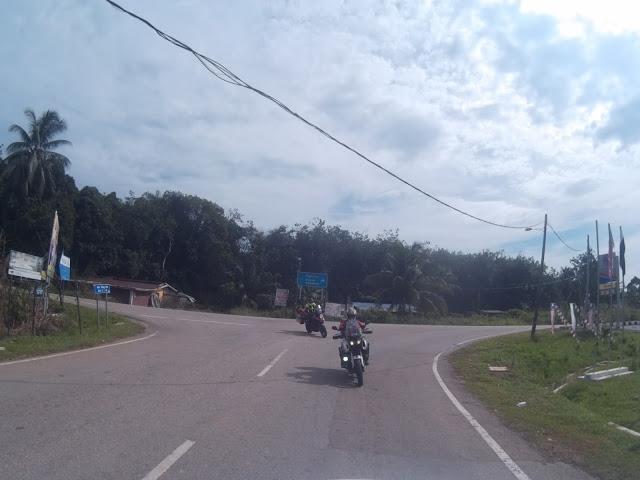 After a quick refill and rest at Petronas Chini we went to Kilang Sawit Chini 3 and arrived at the waypoint around 10.50am and reduced our tire pressure.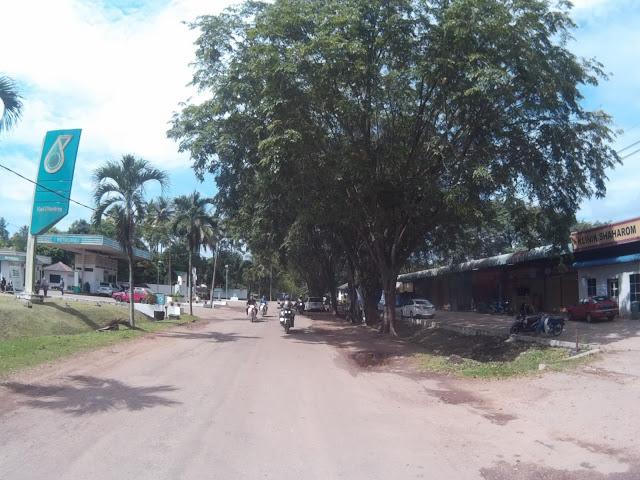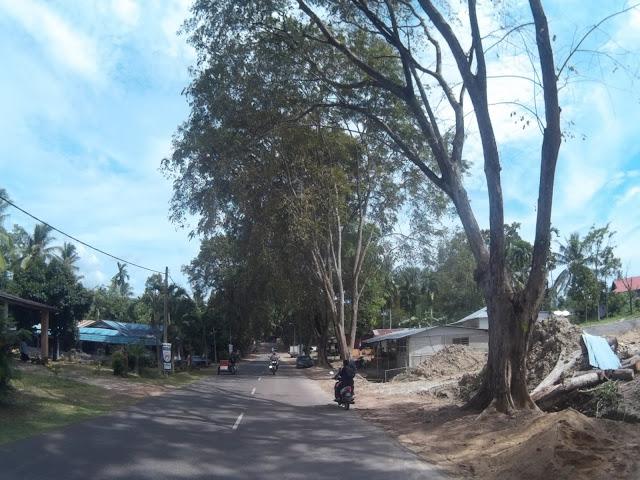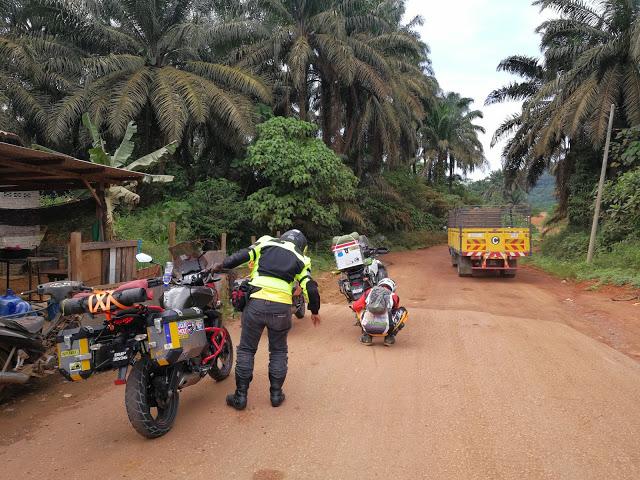 Chini – Bukit Ibam bypass waypoint
GPS 3.36426, E102.92921
This was my second attempt through this bypass but the trail condition was completely different than my first ride through here.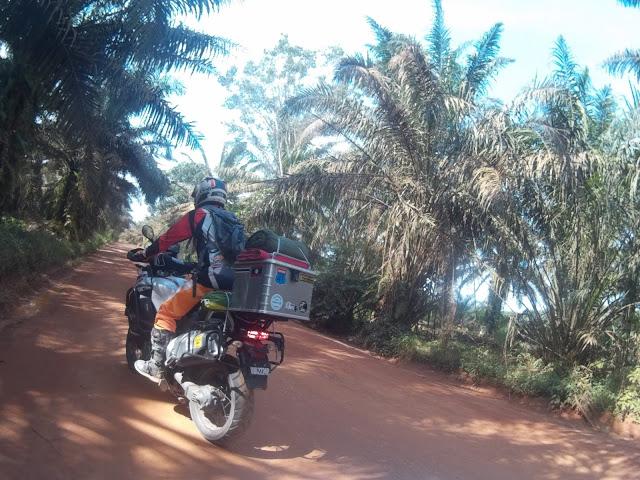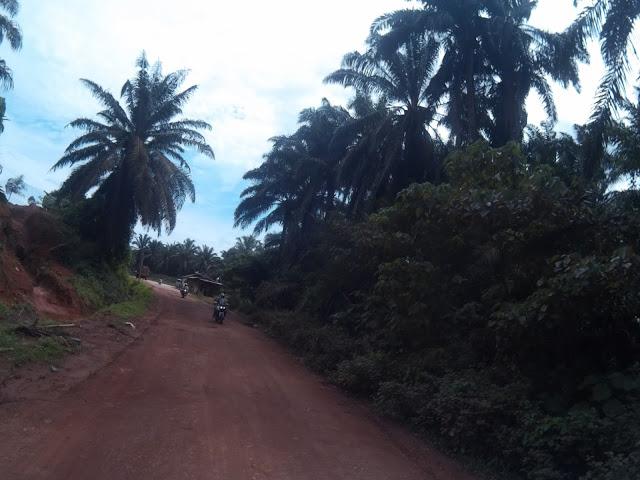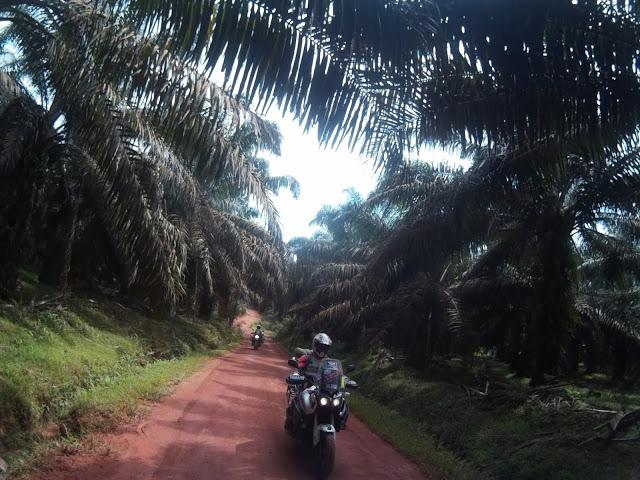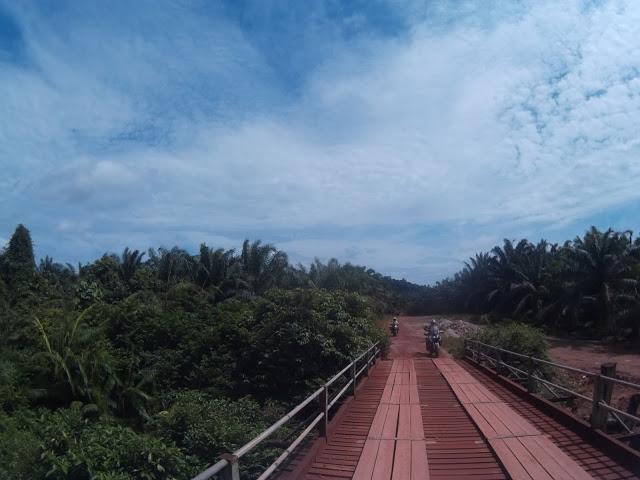 We were lost in the palm oil estate as there are too many unmarked junctions and Saharudin helped by using Google Satellite image to get us to the right direction.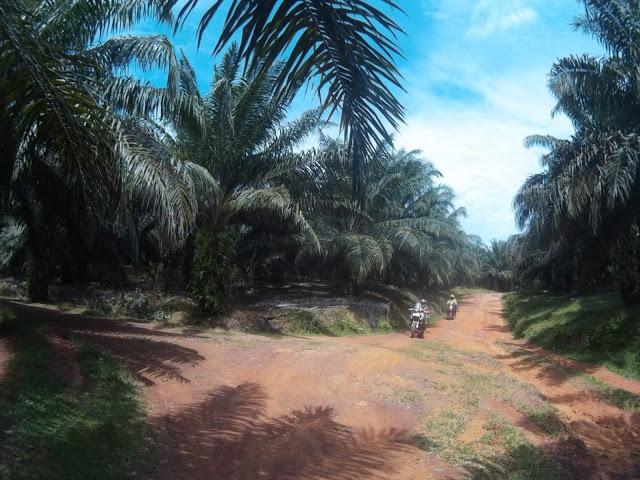 Eventually we found the trail towards the jungle of Bukit Ibam. Massive land clearing and lesser trees are seen in this area compared to my last visit.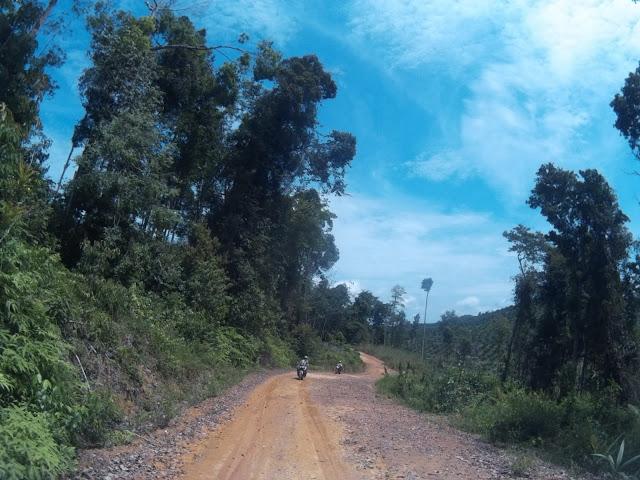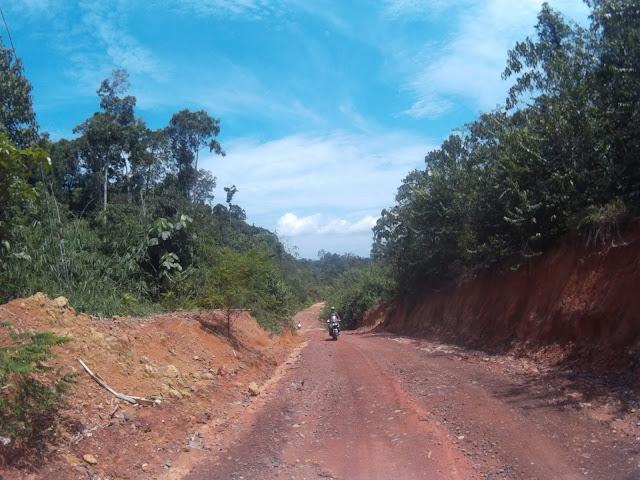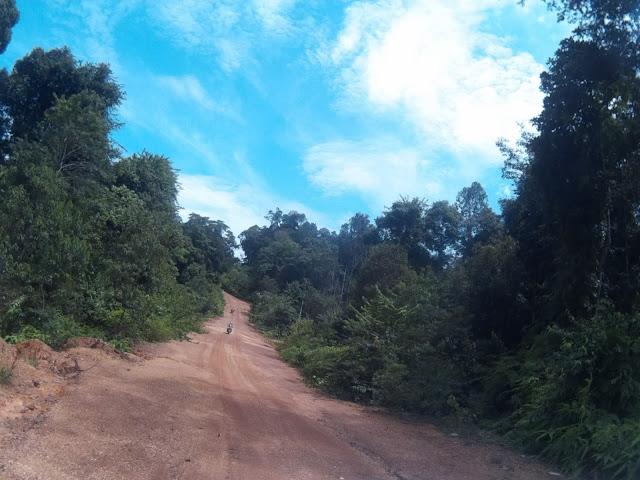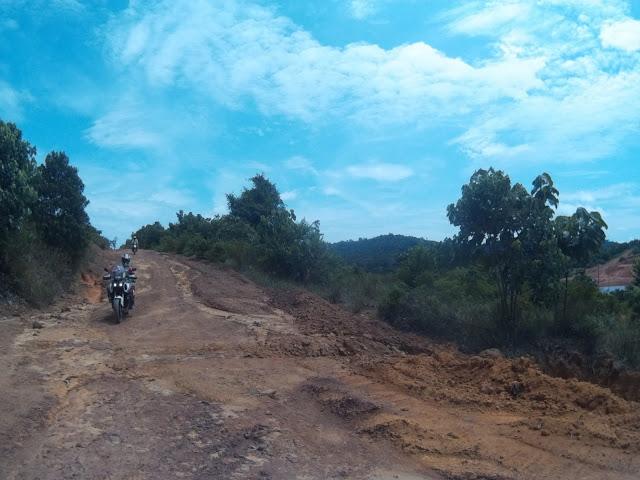 At one climb section, I stopped in the middle of the hill to avoid a deep ditch but unable to stop properly and fall.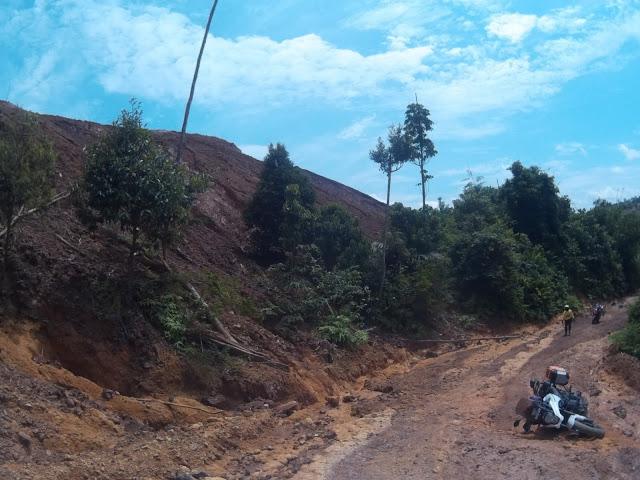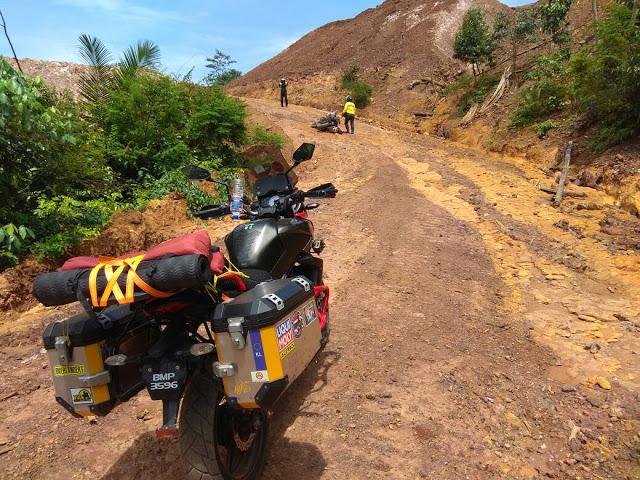 Photo Credit to Saharudin Jumali​
There were a spot where the trail was collapsed by a crossing stream of water and we went down to the water level to cross.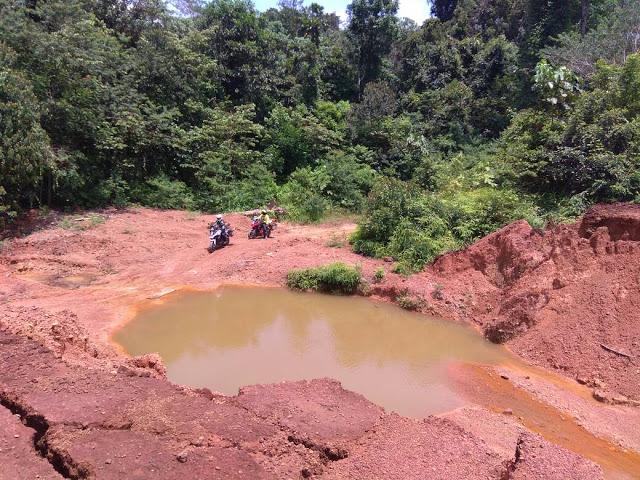 Photo Credit to Saharudin Jumali​
We were nearly lost again here and that's when I spotted a cub with 2 orang asli riders and we quickly followed them onwards. After the collapse bridge, the trail became very small and barely passable by a motorcycle.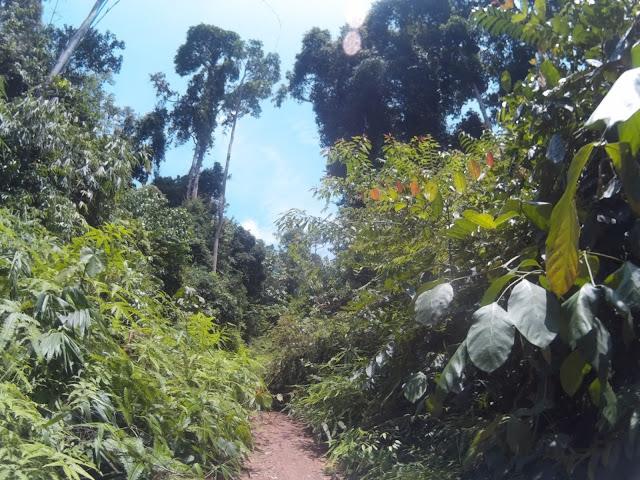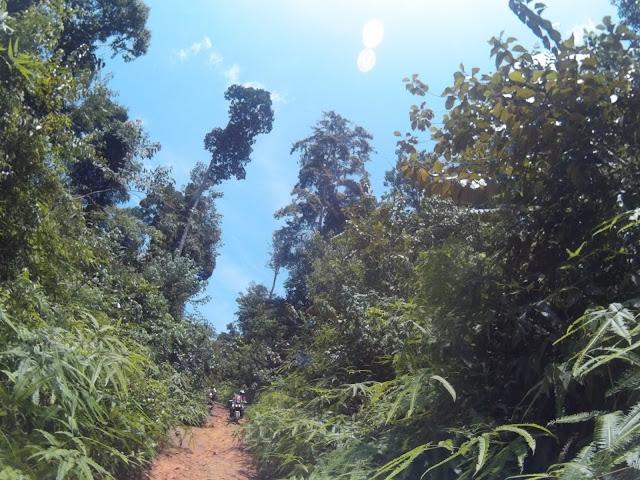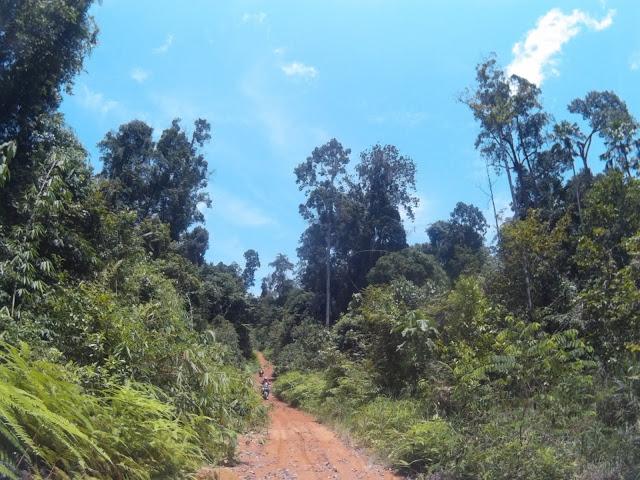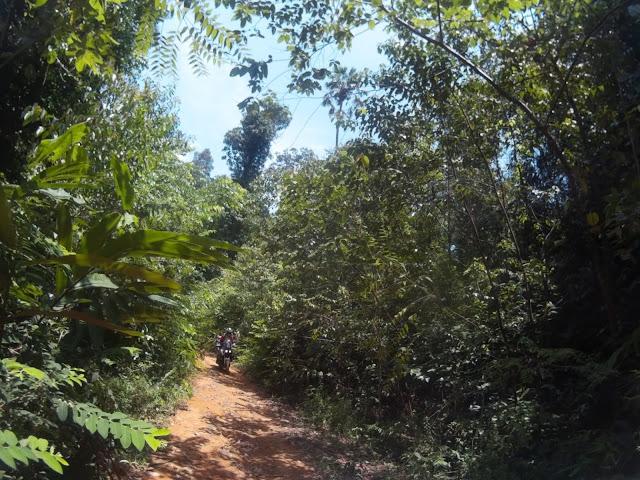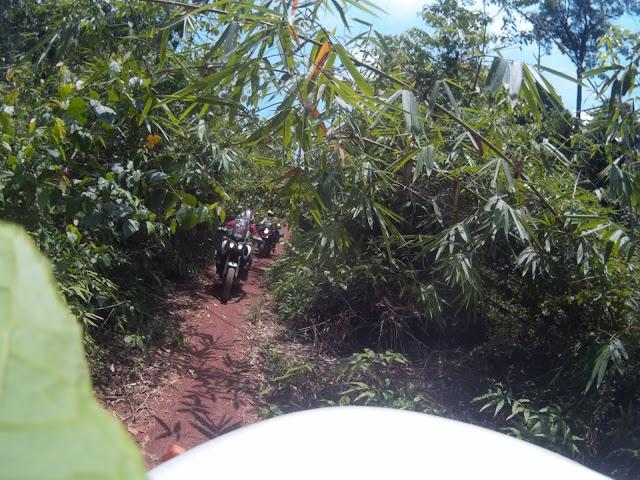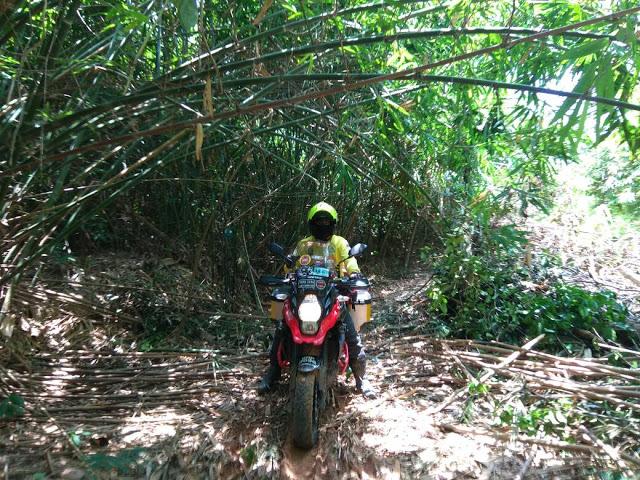 Photo Credit to Saharudin Jumali
​
Photo Credit to Hashim Omar​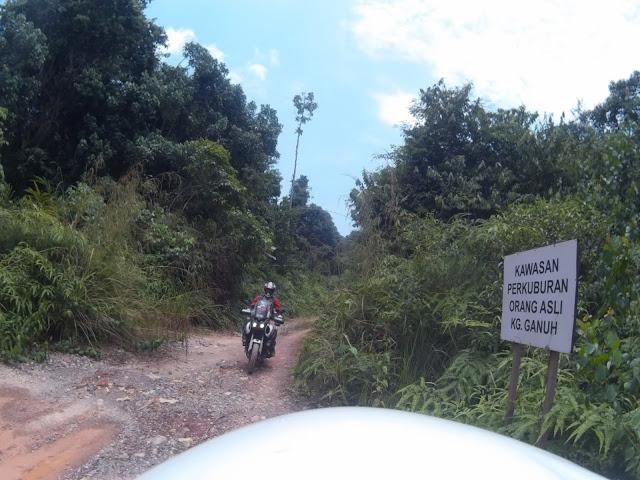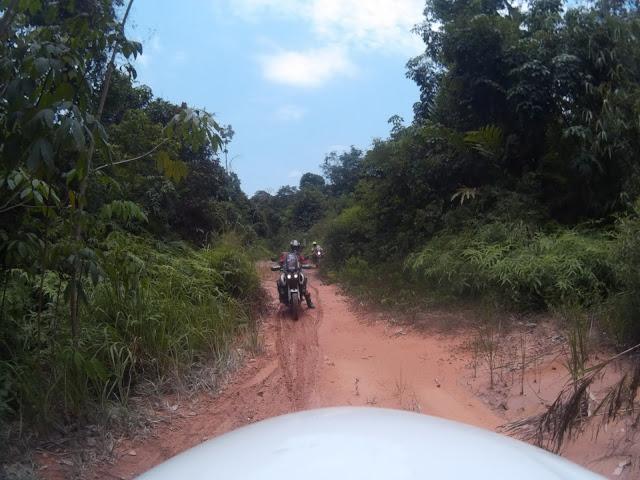 We arrived at Kampung Orang Asli Kampung Ganuh and relieved we were finally on the right route towards Bukit Ibam. We have finally arrived at TUDM Bukit Ibam around 1.20pm, 2 hours later my original estimates.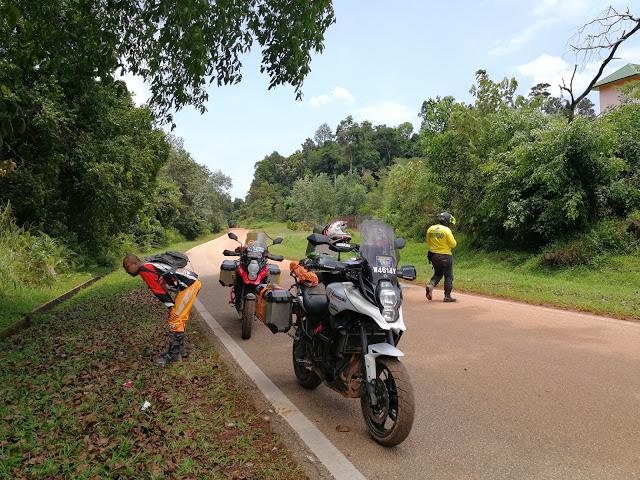 At this point Yusuf messaged us and he has arrived at the designated rendezvous point. Since it is already late, our plan to have lunch at Leban Condong (about 60km away) were scrapped and we have lunch at Muadzam Shah instead, after we refilled our tanks.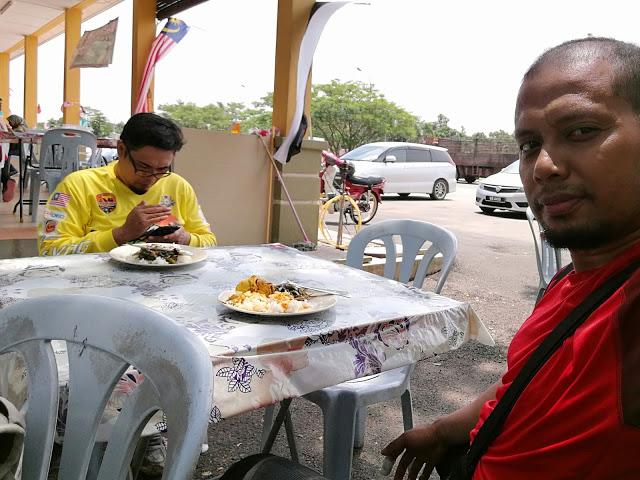 First thing to do when you found a phone signal, report to your family of your whereabouts​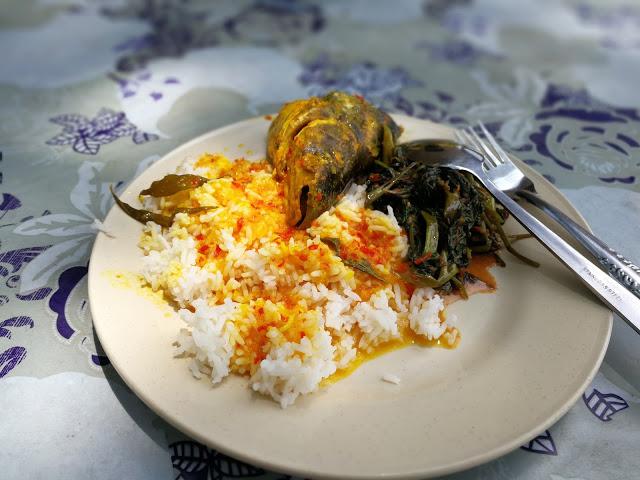 Patin Masak Lemak for lunch
After a quick lunch, we went to E63 towards Kuala Rompin before taking a right turn towards Mersing through FT3. It was very hot around 36°C and I was sweating heavily wet inside my helmet and jacket. We eventually arrived at Kahang's Ranger Office around 4pm.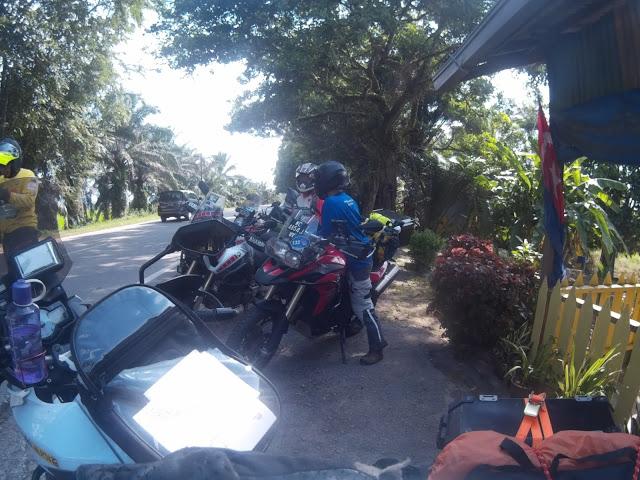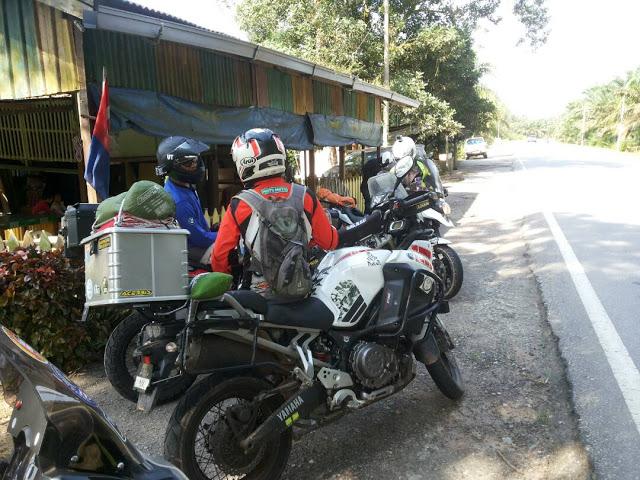 Photo Credit to Hashim Omar
Yusuf and Basri were waiting at a nearby restaurant and they have already taken the key to Lemakoh trail earlier and we departed towards Kampung Peta waypoint.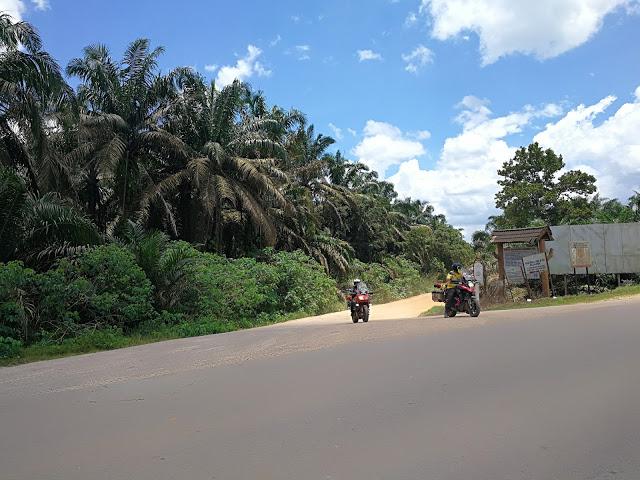 Kampung Peta Waypoint (through several estates)
GPS 2.24990, 103.58400
The first section towards Kampung Peta are plantation road and it was pretty busy with lorries and trucks when we passed through.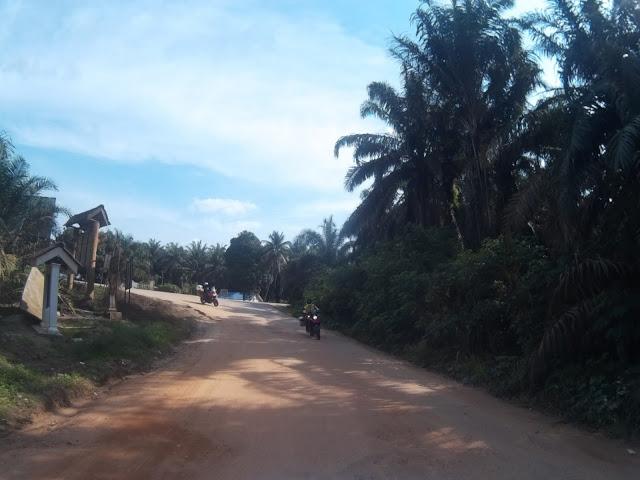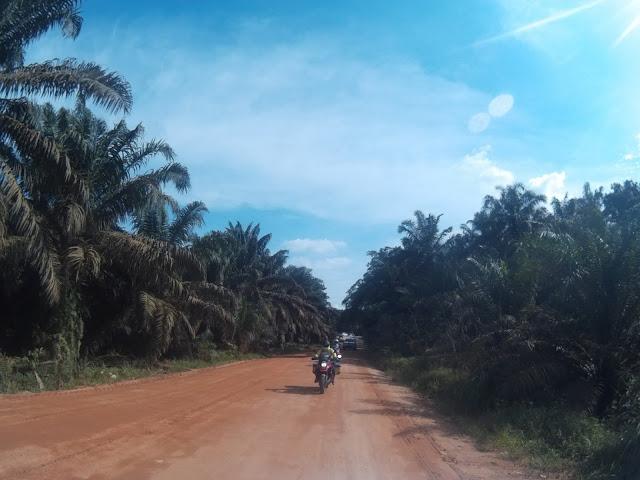 We stopped after a while to reduce our tire pressure again as the fully inflated wheel are losing traction on the track of loose gravel, red compacted soil.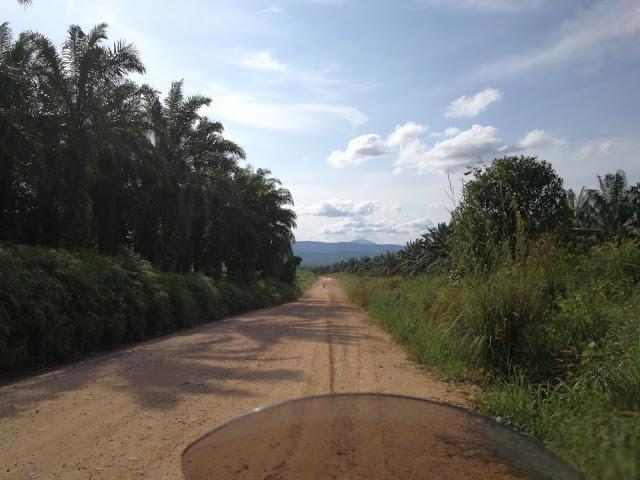 After that we were riding fast ala Paris – Dakar rally through the plantation road including a few small jumps over humps. The second section is a nice tarmac surfaced road of Jalan Kampung Orang Asli Peta and 43km into both sections we have arrived at the trail gate around 5.15pm.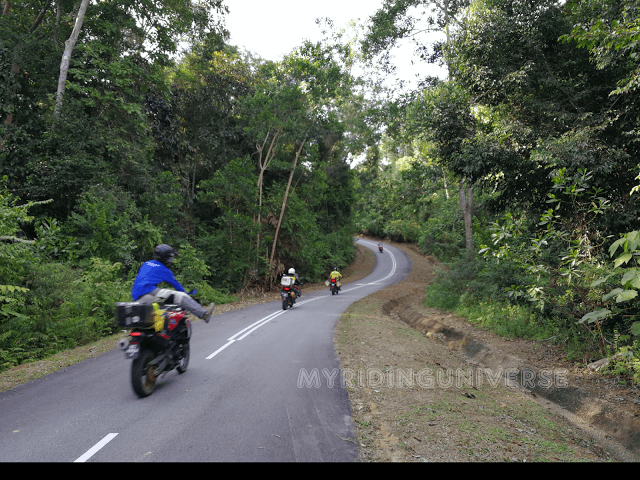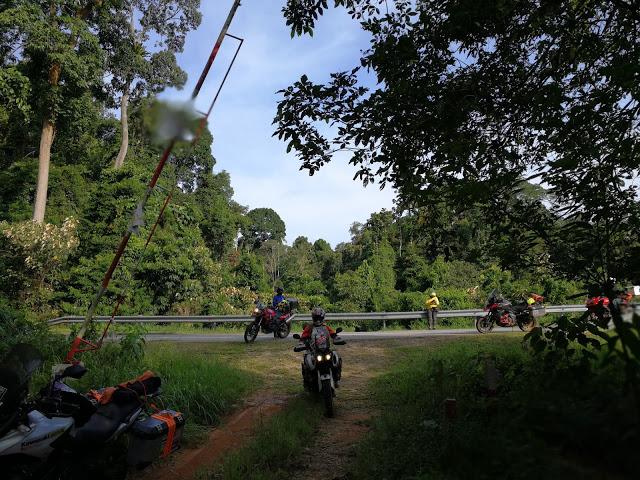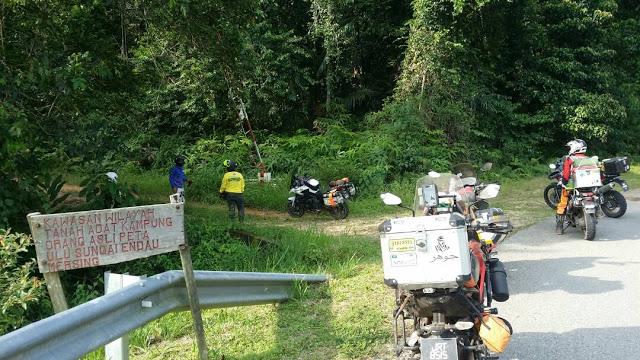 Photo Credit to Basri
Lemakoh Campsite Gate (Locked)
GPS 2.48468, 103.45466
The trail to the campsite started flat with dirt and compacted soil but eventually started climbing after a few kilometers into it.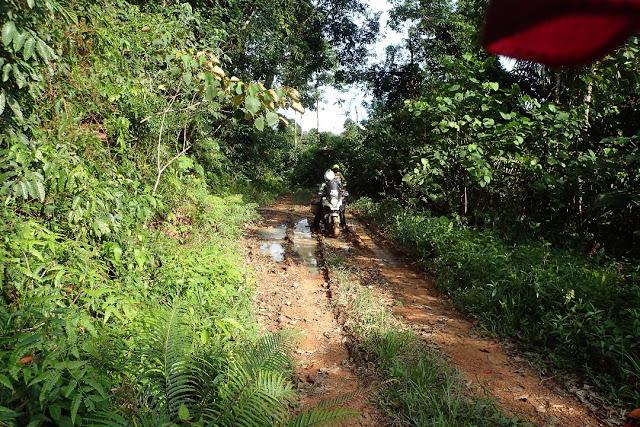 Photo Credit to Yusuf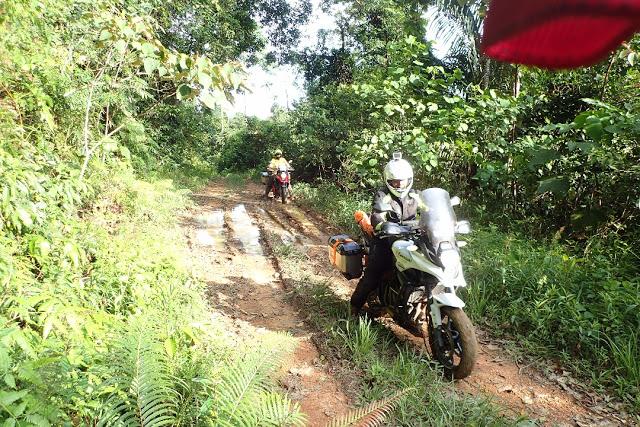 Photo Credit to Yusuf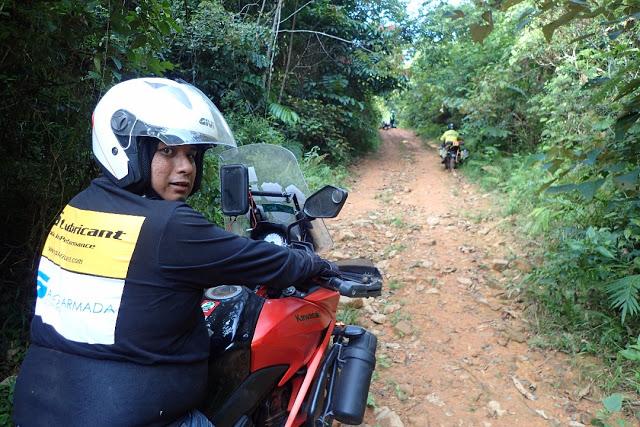 Photo Credit to Yusuf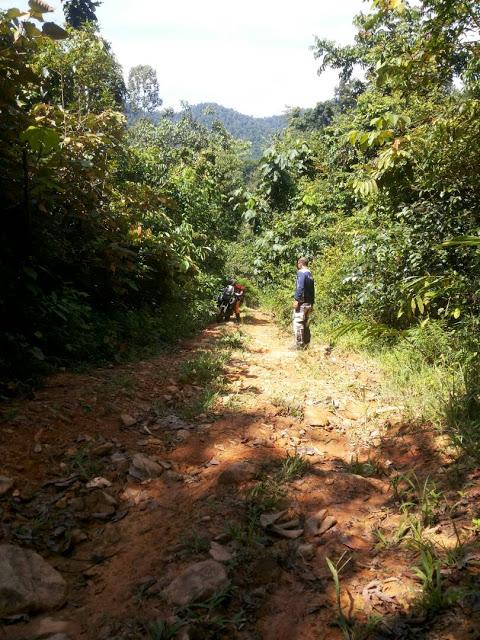 Photo Credit to Hashim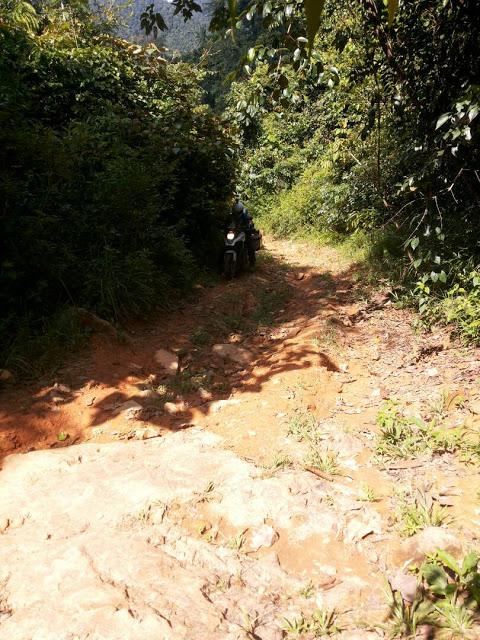 Photo Credit to Hashim
The climb section was yellow soil with a small water fountain at the side making it relatively slippery to climb. Proper offroad tire is required if you do not wish to push a climbing bike like us. Basri was on a road tire and he struggled the most to climb this section.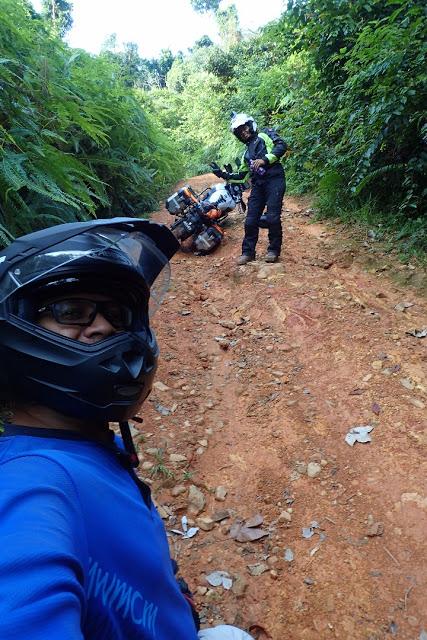 I was climbing and stopped in middle of it, unable to stop properly slipped backward and fell
Photo Credit to Yusuf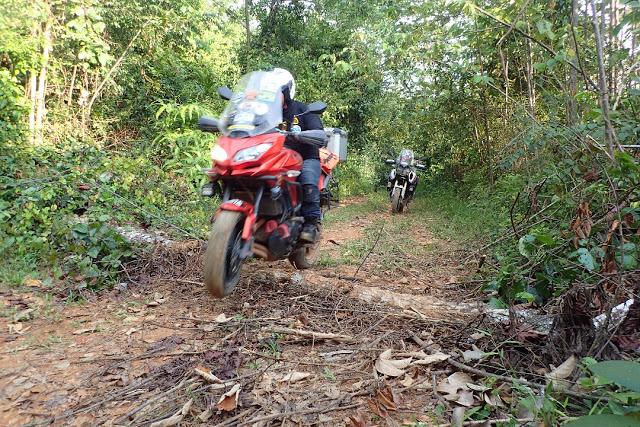 Photo Credit to Yusuf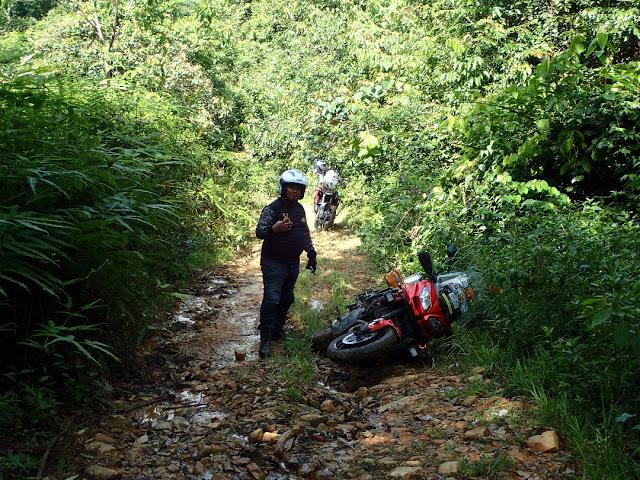 Photo Credit to Yusuf
We worked as a team and helped each other to pass through challenging section.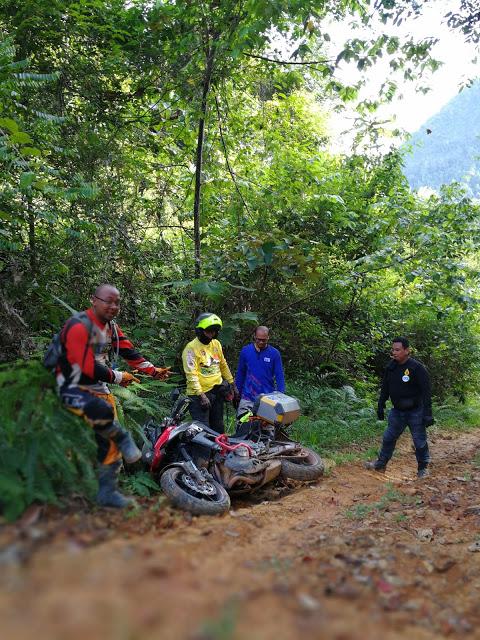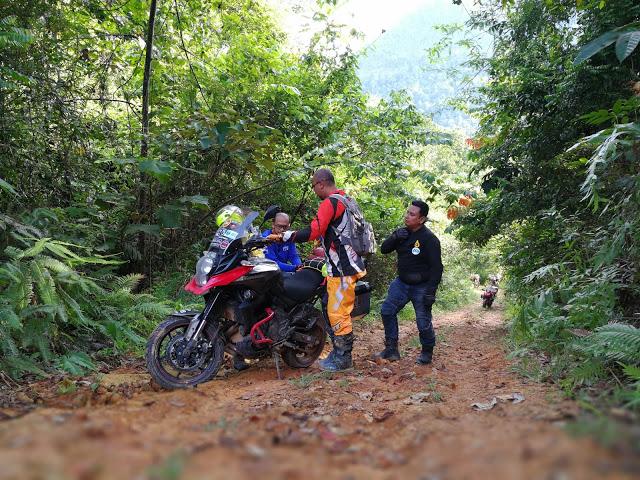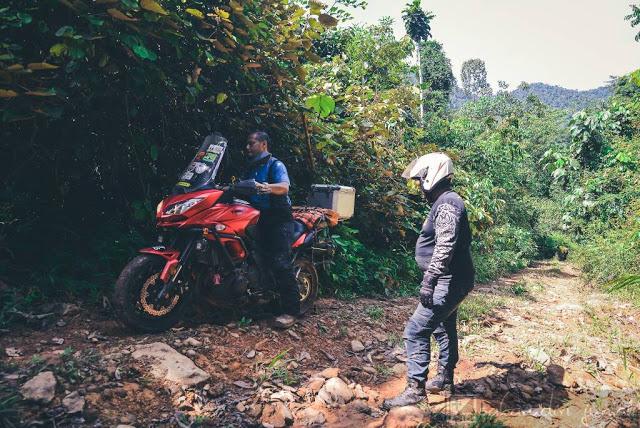 Photo credit to Saharudin Jumali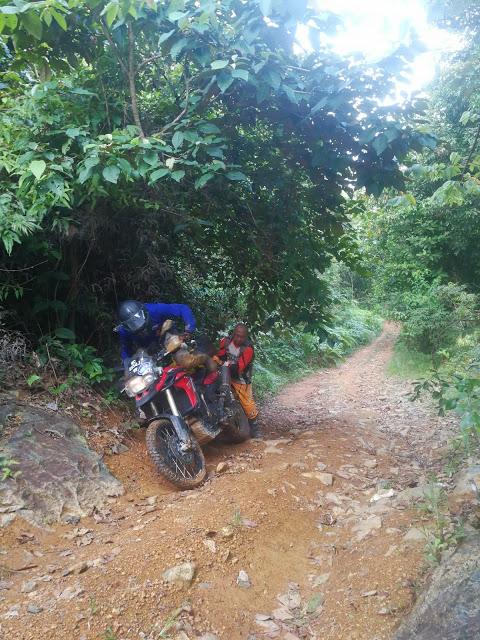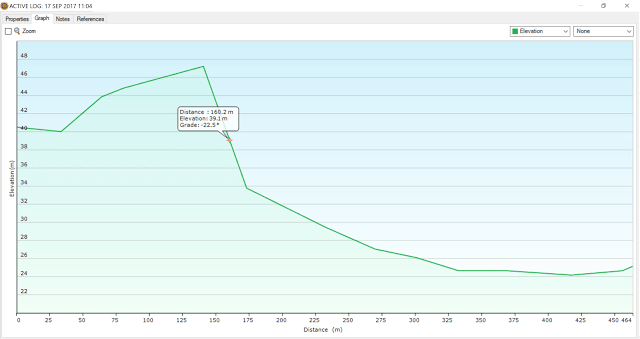 Climb section details. Checkout the steep line between 125m to 175m. That is 50m drop of -22.5 degrees
It took us about 1 hour to pass through 6km trail from the gate to the campsite and the weather is clear with ambient temperature around 32°C when we arrived at 6.25pm.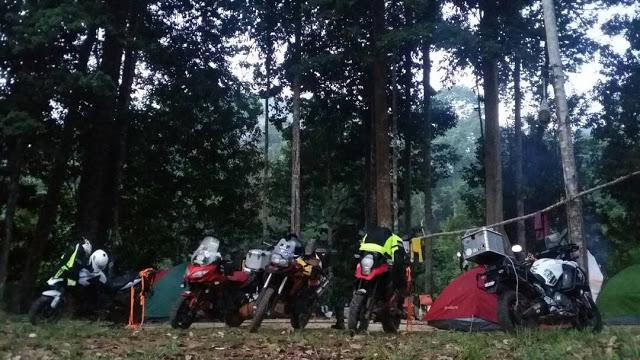 Photo Credit to Basri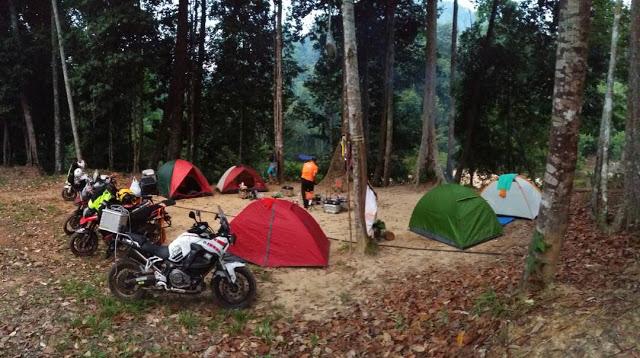 Photo Credit to Basri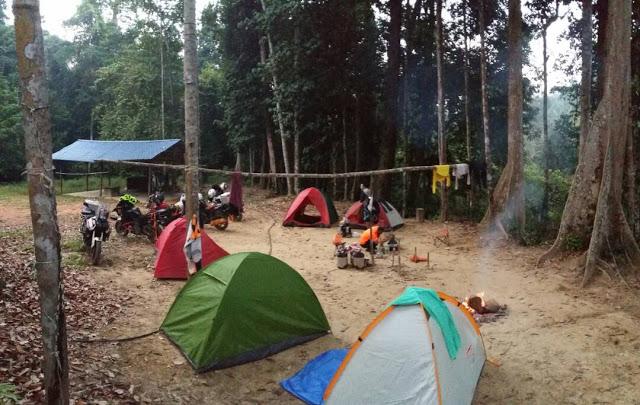 Photo Credit to Basri
Lemakoh Waterfall Campsite
GPS 2.48897, 103.44341
It was my turn to prepare dinner and I cooked white rice, vegetables soup with chicken barbeque while the rest gathered firewood and setting up tents.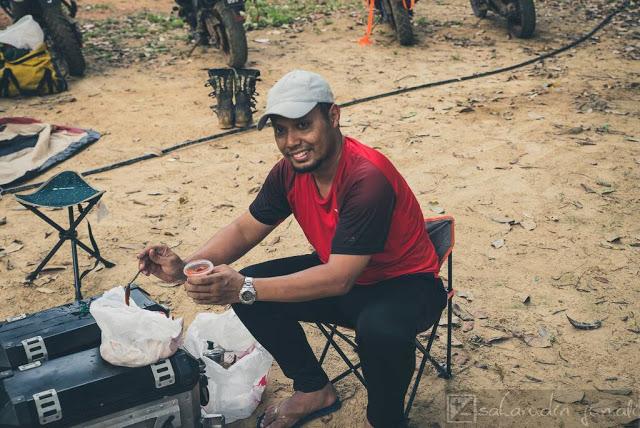 Photo credit to Saharudin Jumali
After sunset, Hashim prepared double cheese sandwiches and we gathered around campfire exchanging stories.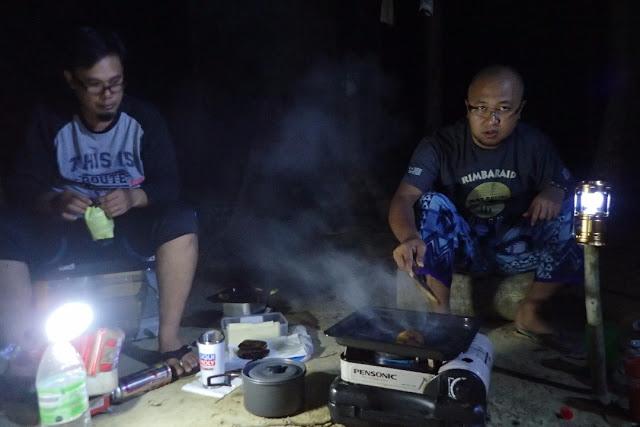 Photo Credit to Yusuf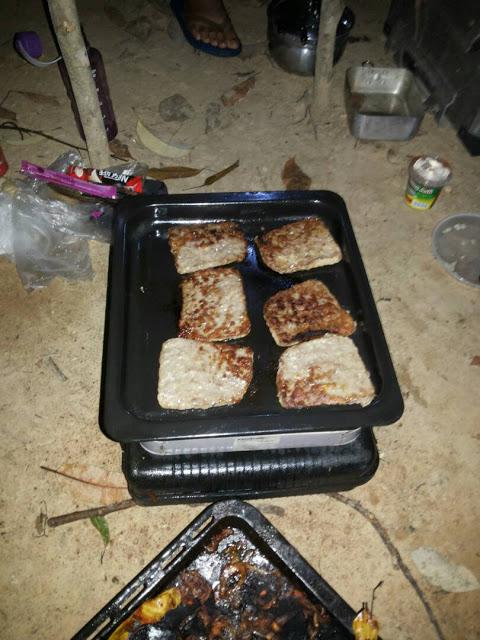 Photo Credit to Hashim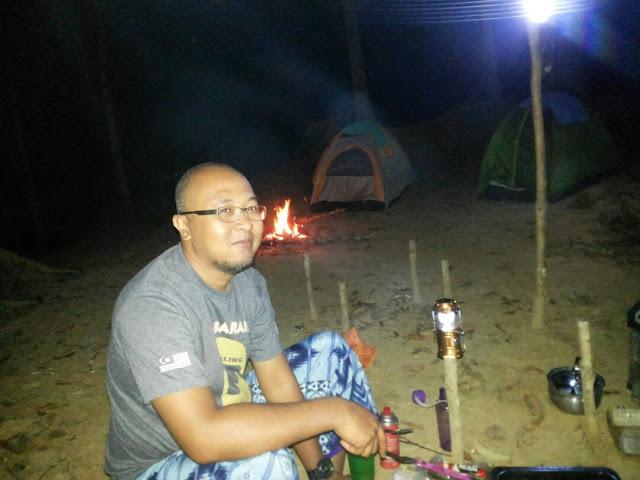 Photo Credit to Hashim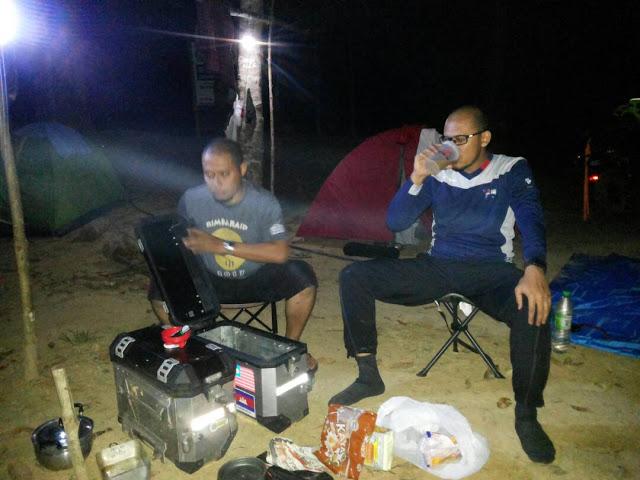 Photo Credit to Hashim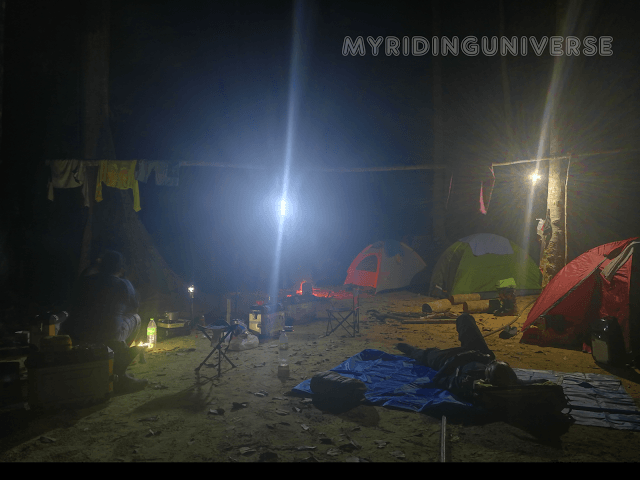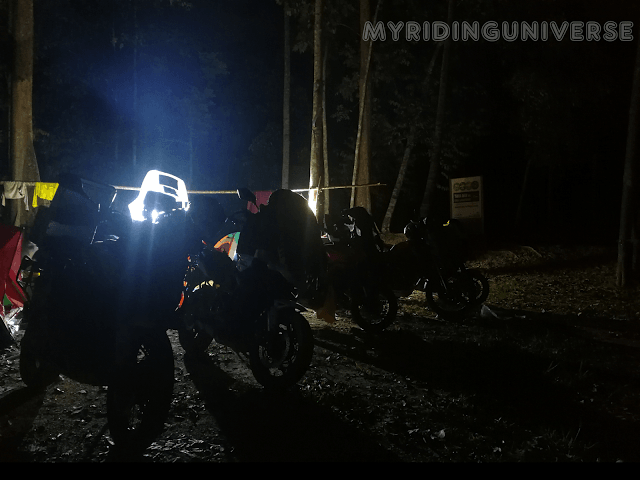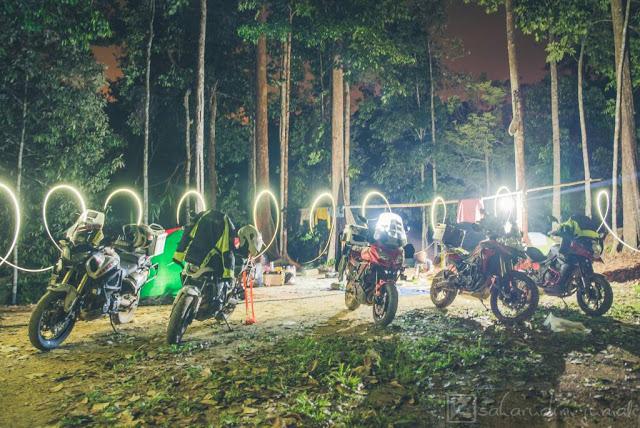 Photo credit to Saharudin Jumali
Around 11pm, I retrieved to my tent and Shah is still trying to get the best star pictures for the night.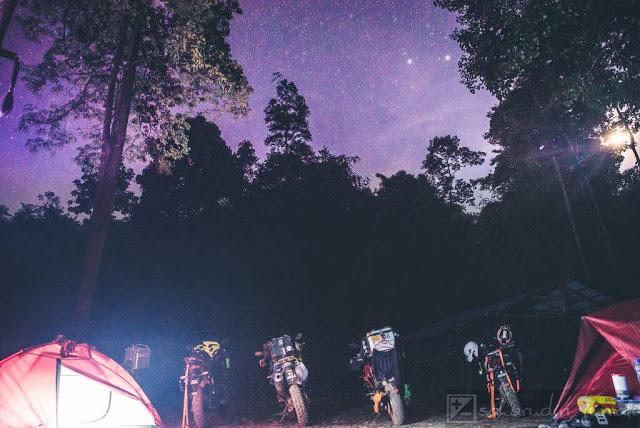 Photo credit to Saharudin Jumali
I was awakened around 6am and Shah was already up while Yusuf woke up shortly after. After a cup of coffee, we went to photograph the waterfall.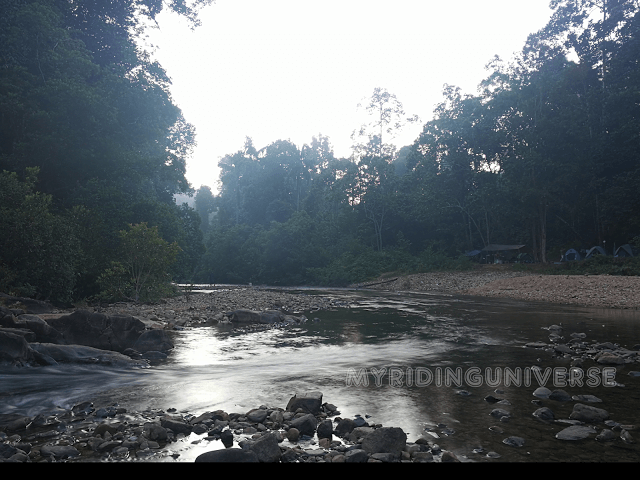 Lemakoh River in the morning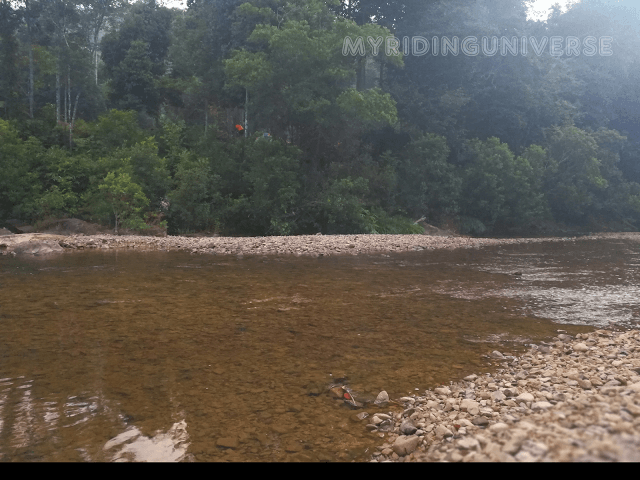 Our campsite from the river, spot Yusuf in orange color shirt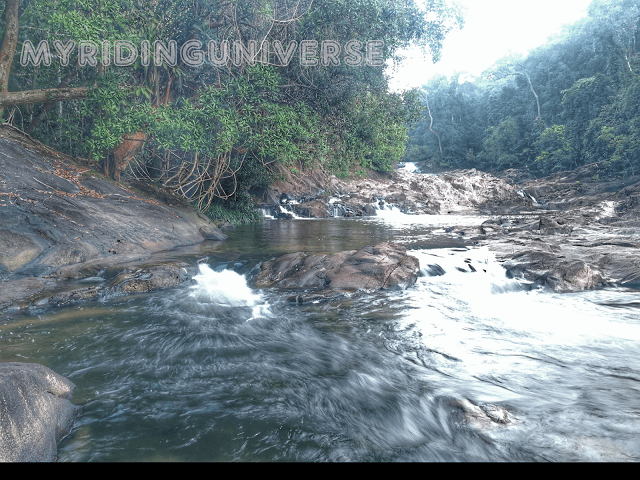 Multi-level falls, Lemakoh Waterfall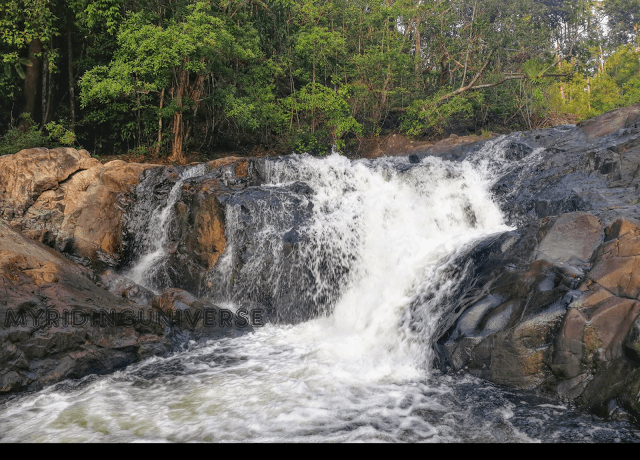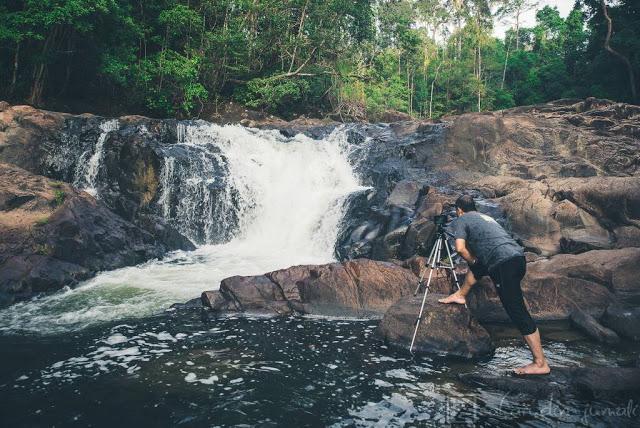 Photo credit to Saharudin Jumali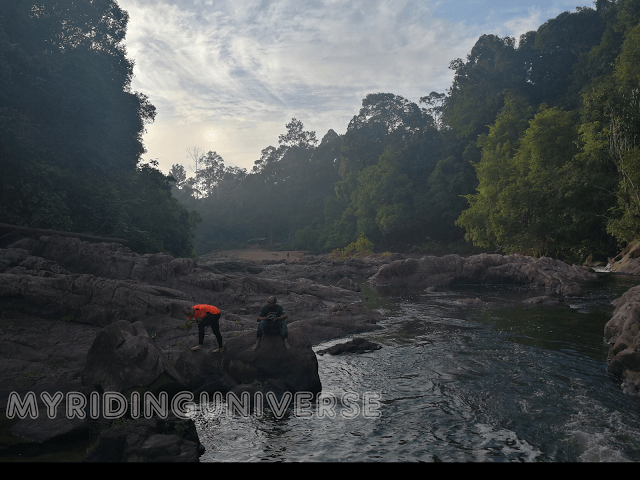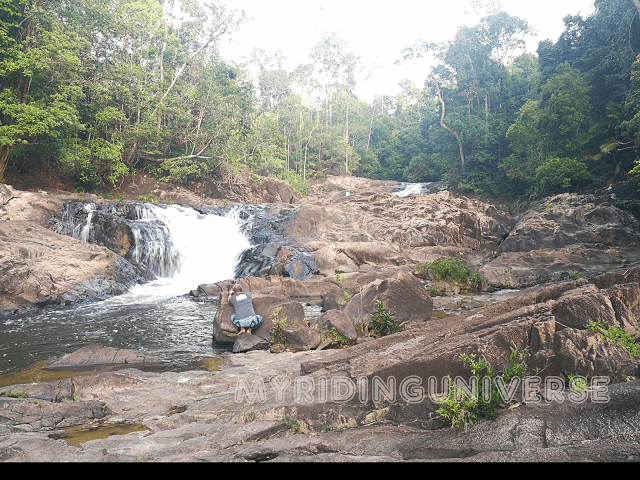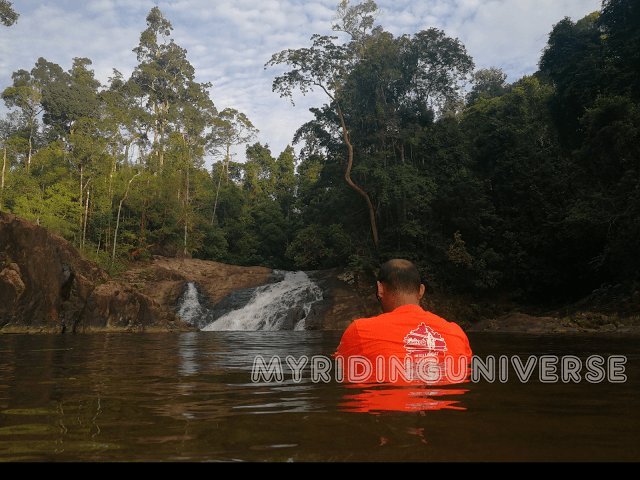 Top level pool. Deepest one.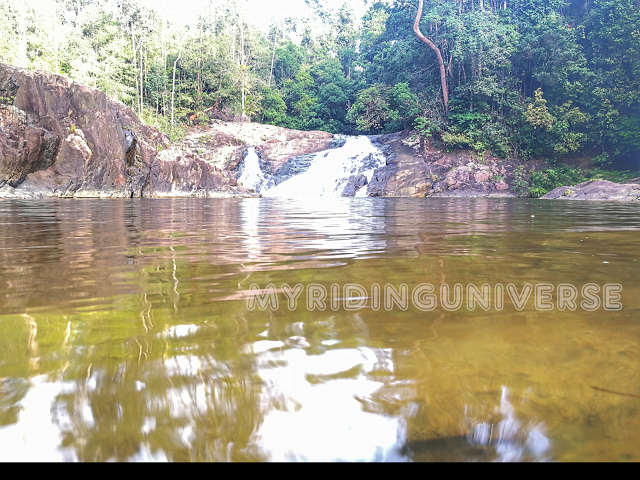 Photo credit to Saharudin Jumali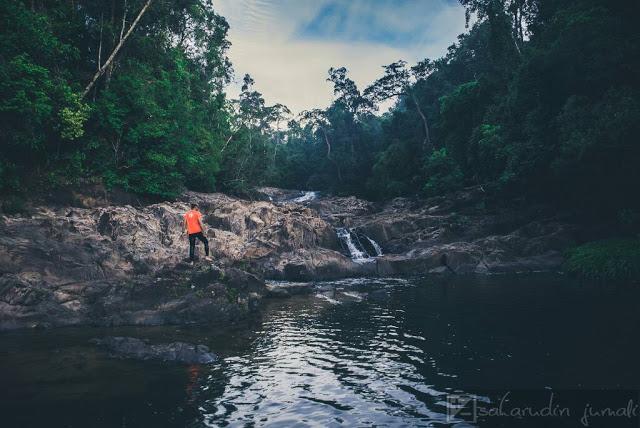 Photo credit to Saharudin Jumali
We had breakfast of instant noodle and began packing our tents & stuff as it was already late. We cleared our campsite around 10.30am and headed out through the same route as yesterday.
Photo credit to Saharudin Jumali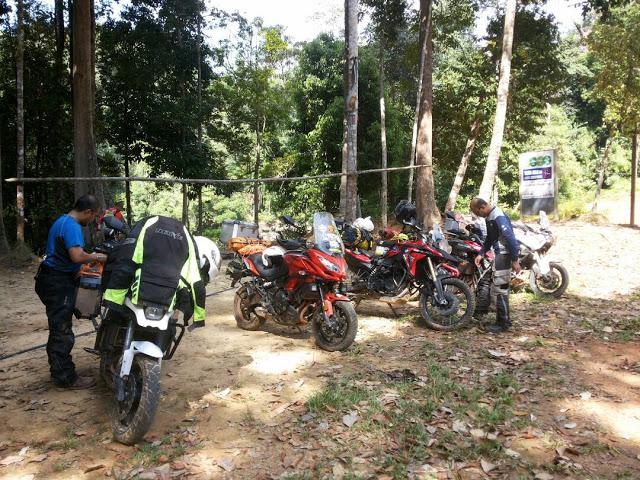 Photo Credit to Hashim
After climbing the same section yesterday, Basri created a scare to us as we thought he have busted his clutch plate and we have prepared to pull his one-year-old Mark-3 Versys using a rope. His bike was unable to engage to 2nd gear but upon further inspection, he found out that his clutch was slightly over-pulled after the last fall and it was fix easily. We made it out in 45 minutes and went to Endau-Rompin National Park at Kampung Peta.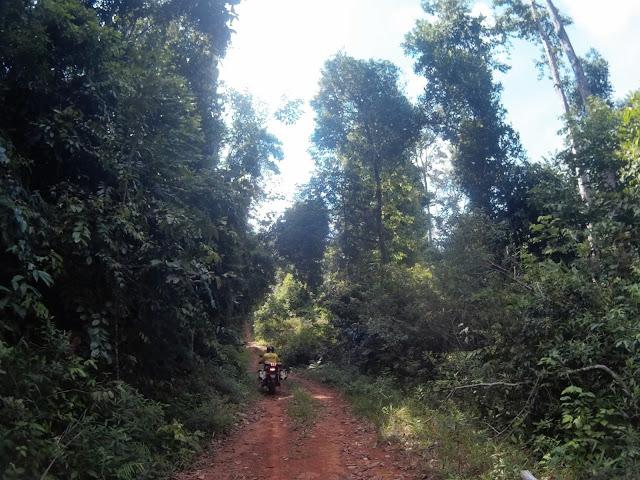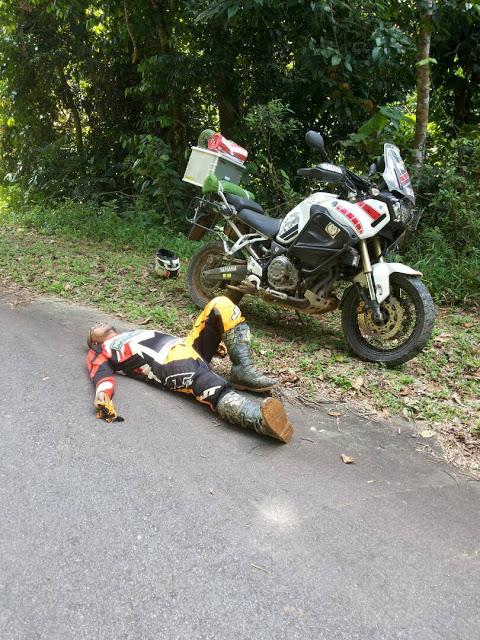 Photo Credit to Hashim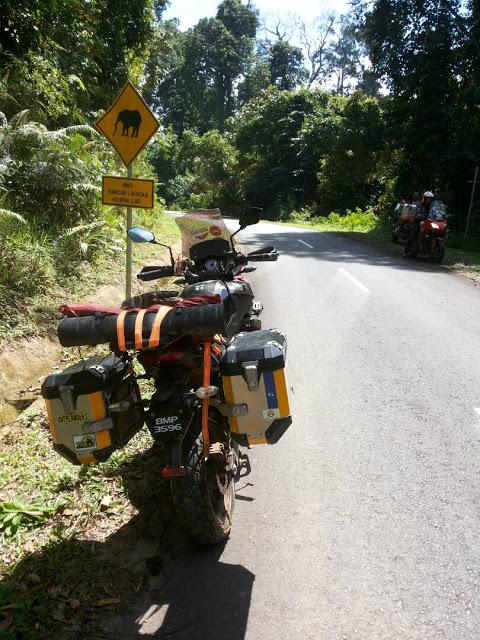 Photo Credit to Hashim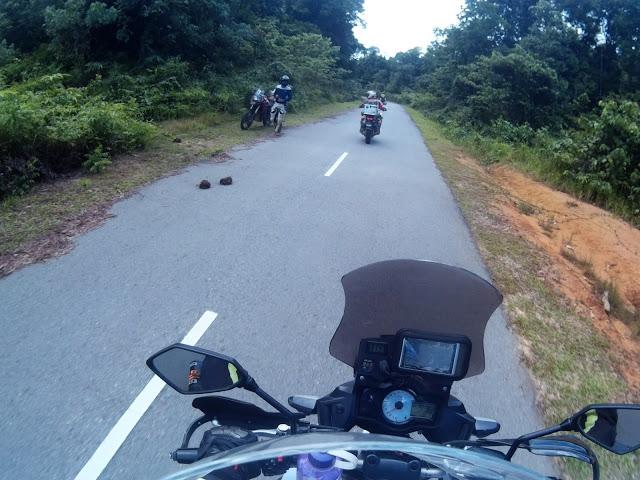 saw warning signboard and dropping but not actually encountered any elephant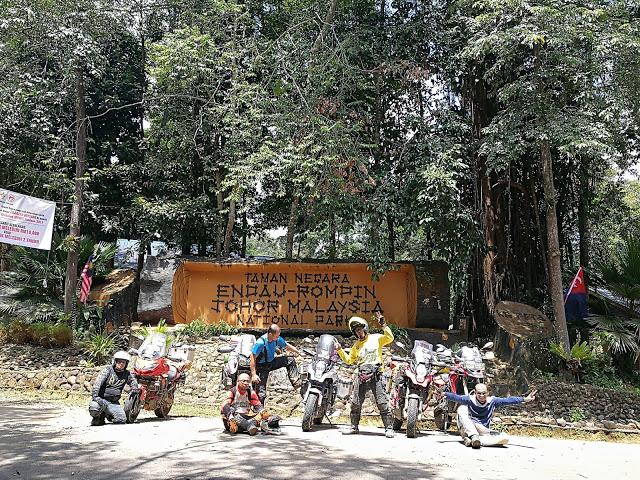 From the park compound we headed out to Kahang and it was ala Paris Rally again.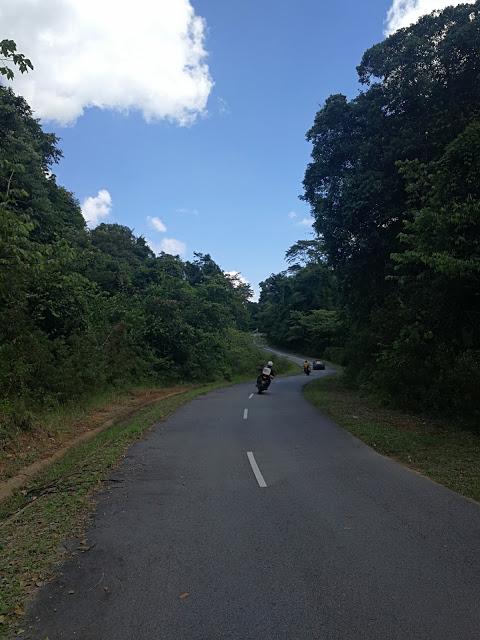 In one of the jump, Shah loses control and fall but quickly regain his speed and we made it out in 45 minutes.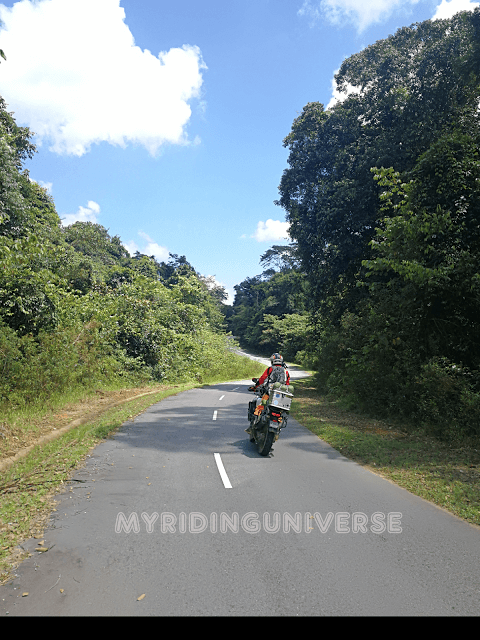 Yusuf went to return the gate key while the rest of us went to Shell petrol station nearby. After a quick petrol refill and refreshment we went to Paloh through FT50 and J16.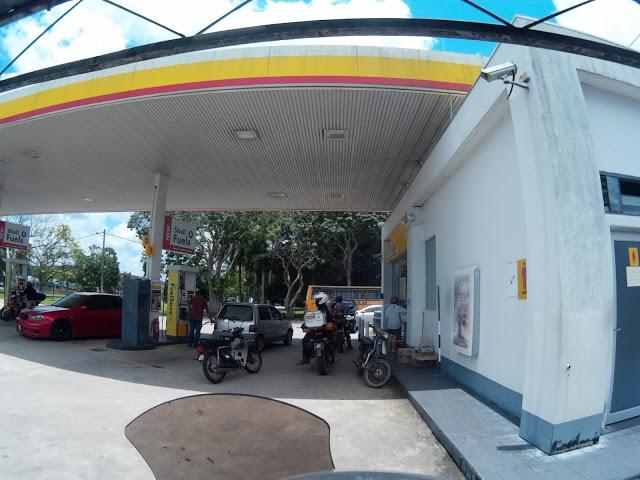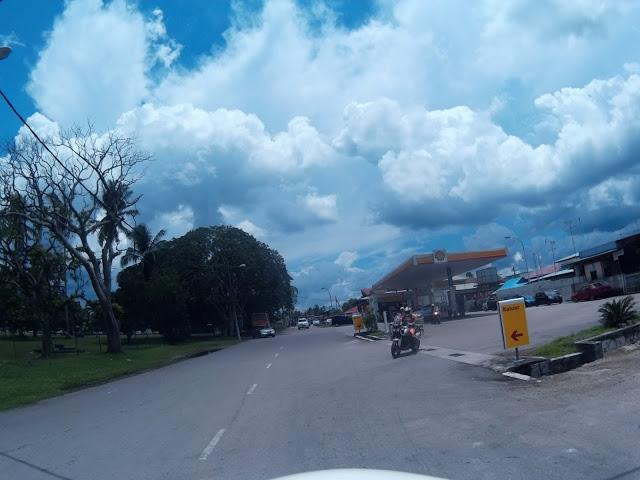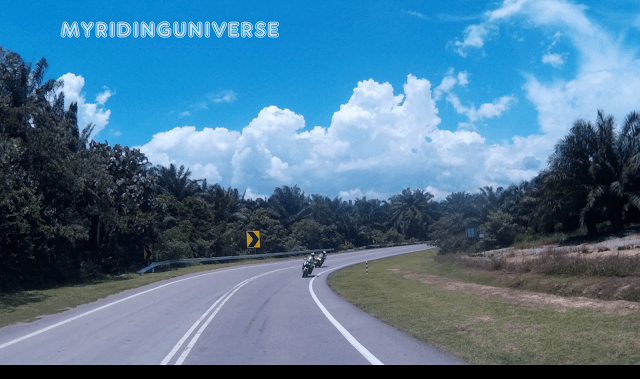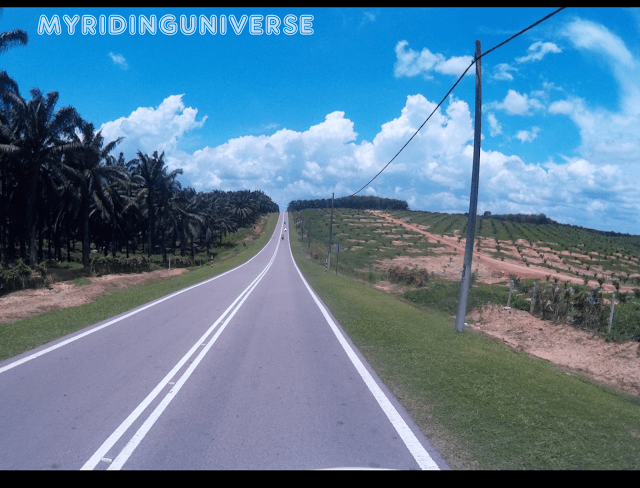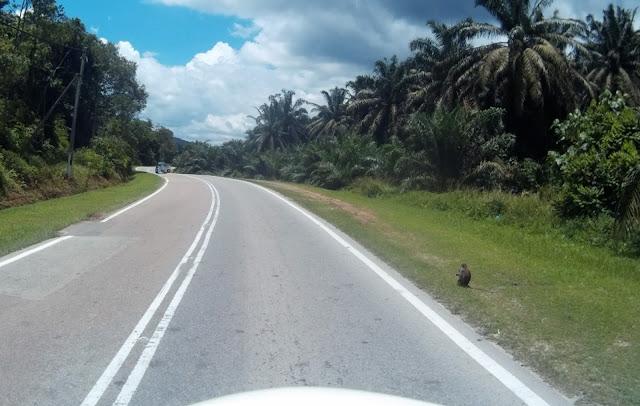 we had a couple of wild monkeys greeted us on the roadside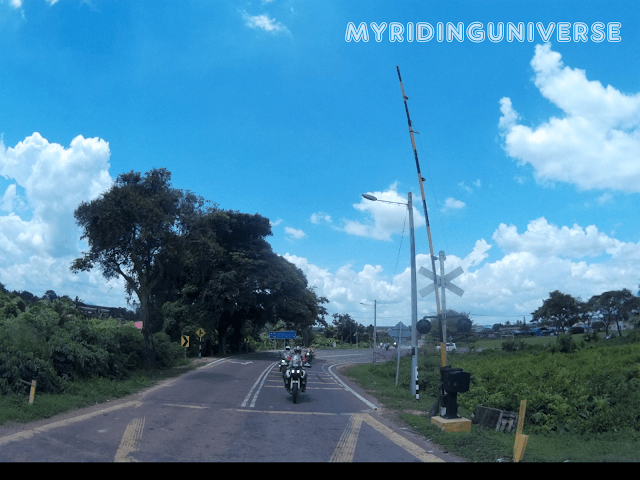 Right after Paloh we went to Paloh – Bekok shortcut through palm oil plantation.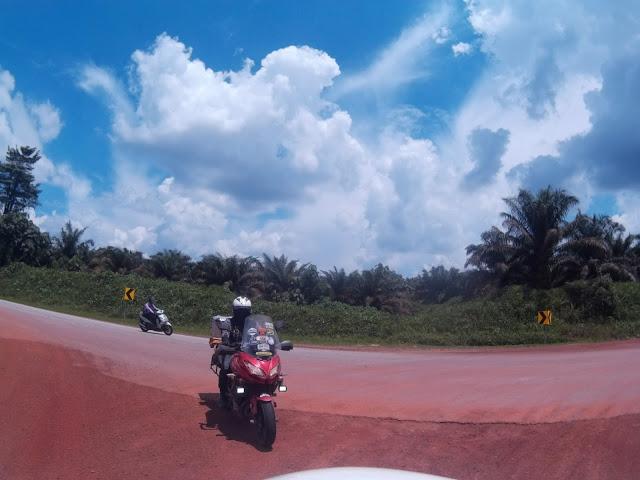 Paloh – Bekok Shortcut waypoint
GPS 2.18281, 103.18304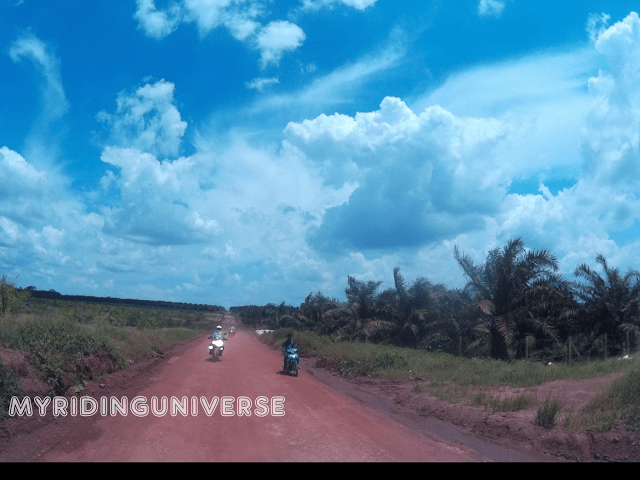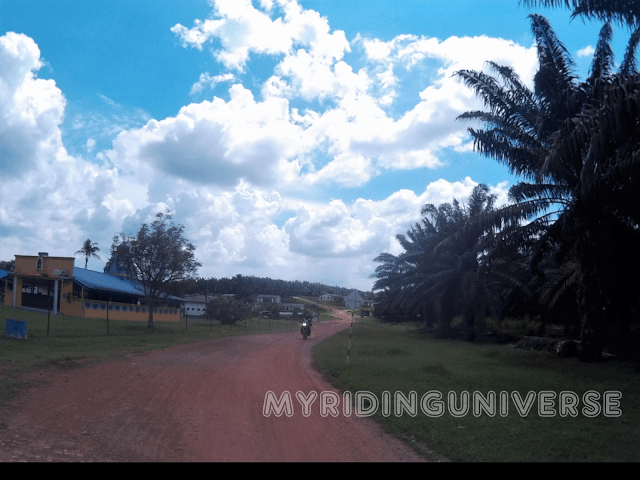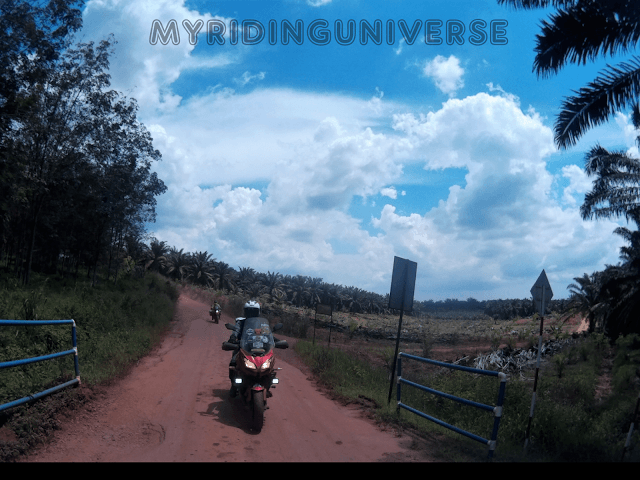 I am not sure what went wrong with my gps navigation on this ride but we are lost.. again in the plantation.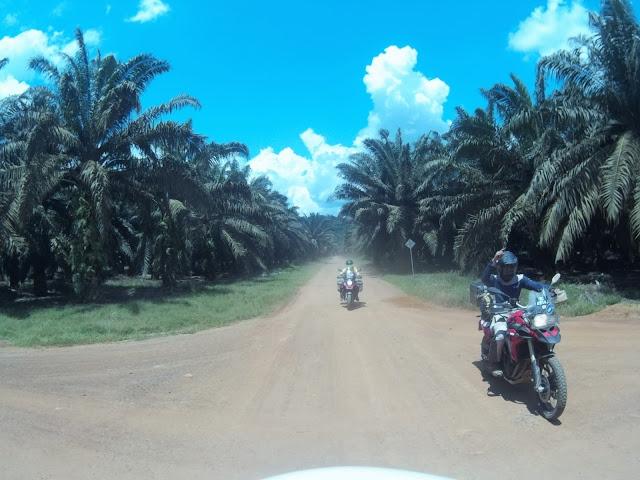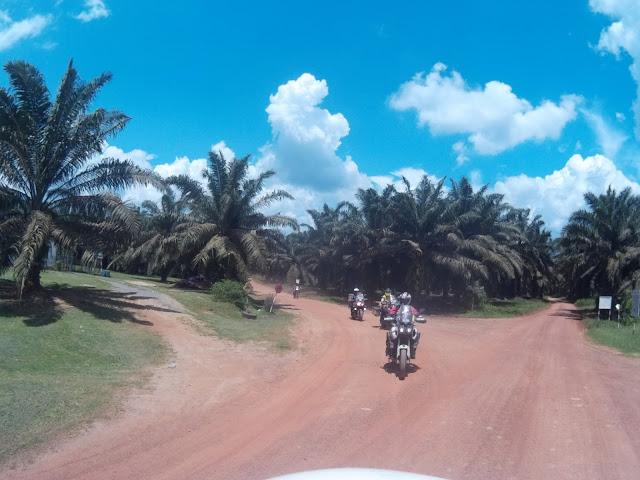 After asking a few people around and finally we are on the right direction to Bekok.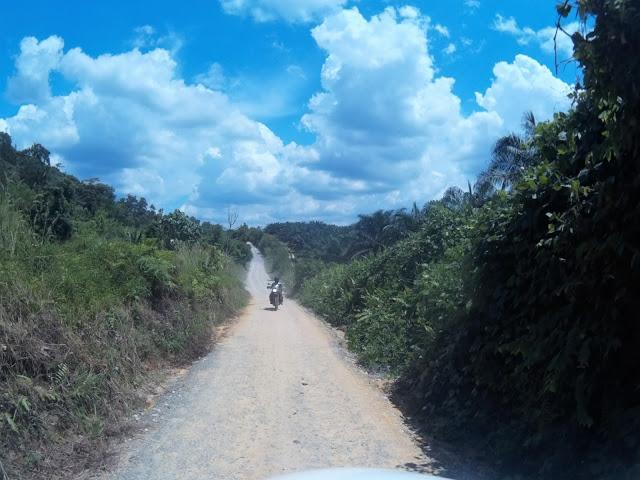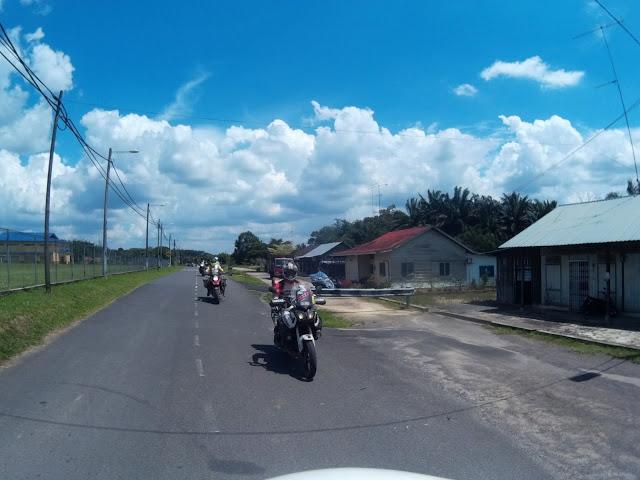 As it was late, the original plan to lunch at Bukit Kepong was changed and we have lunch at Bekok instead.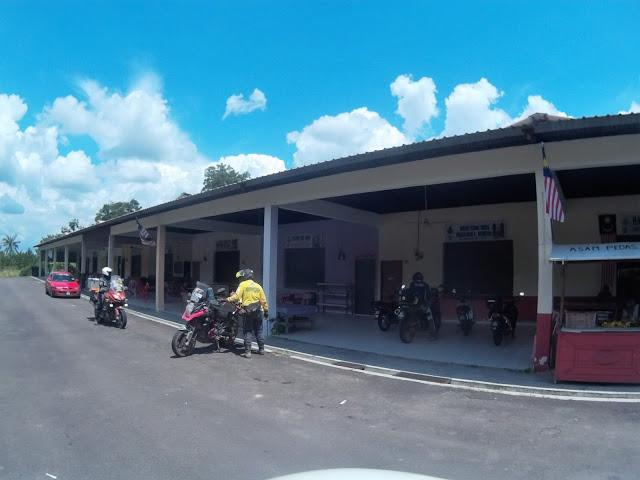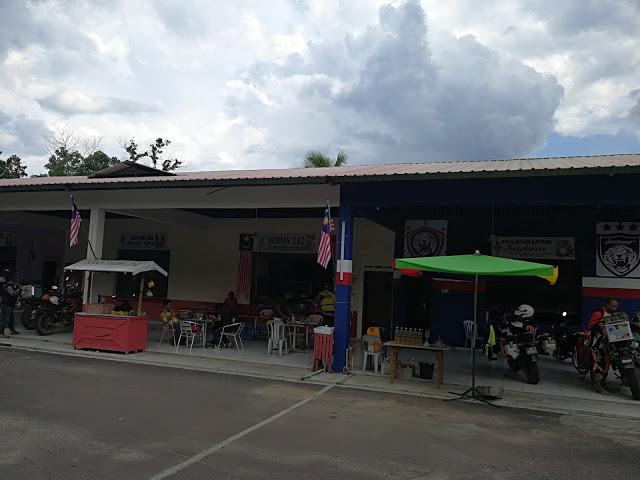 After lunch, almost everybody wanted to reach home before nightfall, thus we went towards North South Expresway E2 through Bukit Kepong, Seri Jaya and Grisek. After some refreshment and prayer at Bekok we headed off after saying goodbye to each other. Basri went straight through J32 at Bukit Kepong towards Pagoh when we made a right turn towards Seri Jaya. We arrived at Exit 236 Bukit Gambir around 4.53pm and went straight to Kuala Lumpur.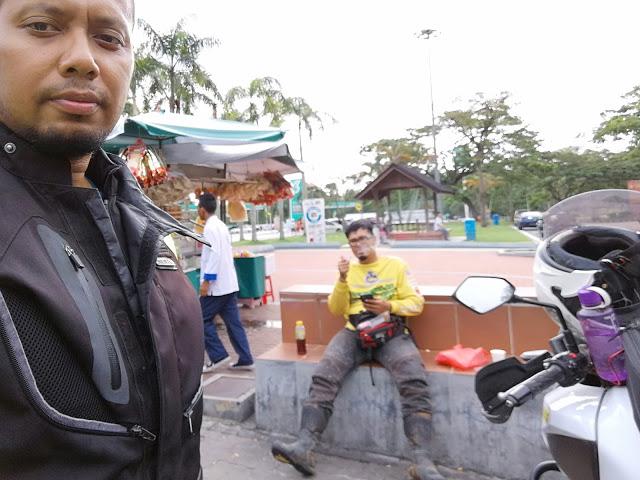 Hashim and I made one last stop at Senawang
Hashim and I parted at Nilai while we lost sight of Yusuf and Shah somewhere before Air Keroh. I arrived home around 7.15pm and it was again a grizzly afternoon.
Having a chance to visit one of our country's nature attraction is a really good opportunity to help capturing and recording what is the current situation of this site as these forest reserve generally has always been under a threat of deforestation for plantation or urban development areas. In addition, it is considered a norm in this country that if a place receives a lot of visitors, it will be dirty, filthy and damaged, so we have a very important role to reverse that norm.
In an adventure trip as such this, we work closely as a team and helped each other to overcome obstacles while learning one thing or two lesson from each other. I am really grateful to be blessed with a good company along this ride and can only wish they enjoyed it as much as I do and make good memories out of it.
Permit to enter forest reserve: RM150 (max 15 people per permit)
Vehicle permit (bike): RM5 /bike
Kahang Forestry Department: 07-788 1212
Mersing Forestry Department: 07-798 1030
**********************************************Originally posted on myridinguniverse.blogspot.com********************************