David encouraged me to post this and finally got around to doing it. Hope everyone enjoy.
Trip Special Report: Bangkok - Sangklaburi
This one is for all you Bikers out there
What is the meaning of a Biker?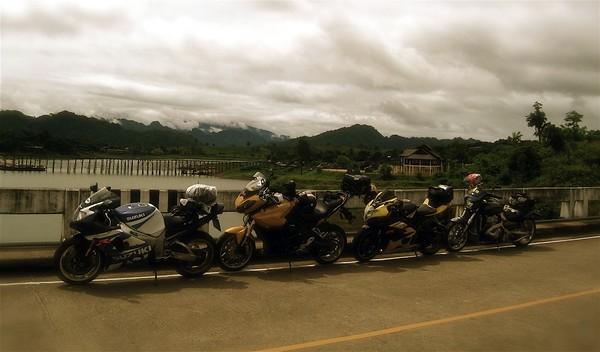 Bikers
Ajarn Dang 54 Suzuki K1 Professor of Physics
Sukie 38 Triumph Tiger TV show Producer
Jod 35 Honda X41300 Government Official
Not 24 Suzuki K5 Graduate Student
Date
June 12-13 2008
Route
Bangkok-Kanchanaburi-ThongPhaPhum-Sangklaburi (and back)
Total Distant: around 800 km
I ran into Jod 5 days earlier and he asked me if I wanted to join him on a trip to Sangklaburi this coming Thursday. I haven't done a big trip since back from filming Dreamchaser and jumped at the chance right away. I have been to Sangklaburi twice and the road between Thong Pha Phum and Sangklaburi (HW 323) is one of the most beautiful in Thailand. Although I new it would probably rain like hell I didn't care, any chance to ride.
We met at 7/11 in BKK and right away I felt sorry for Ajarn Dang and Not; with there Suzuki Gixxer, it's going to suck when it start raining hard.
A few km before entering Kanchanaburi on HW 323 we stopped in Chai's Coffee Shop close to the Caltex gas station. Chai is also a biker (R1150GS) and had just opened his Coffee shop especially for bikers riding through on their way to Muang Khan. About 7-9 other bikers joined us from Chai's place to Thong Pha Phum. We took the longer but more scenic way heading toward Erawan waterfall on HW 3199 and then turning left on to HW 3457, which brings us out around Sai Yok waterfall. I haven't ridden with a bunch of bikers in awhile and it was fun.
From Thong Pha Phum to Sangklaburi it rained like hell. I was ok on my bike but felt bad for the guys on their sport bikes. The sky cleared up about halfway and we were then able to enjoy the surrounding scenery. We arrived in Sangklaburi around 4:00 pm, founded a place to stay, got something to eat and hang out together all night: me, Jod, Ajarn Dang and Not – which brings me to the point of this story!
What is the meaning of a BIKER?
The main reason I wanted to write about this trip was because the 4 people that went were completely different people, all from different background, all doing different things –the one thing that brought us together were our common passion for biking.
Ajarn Dang – age 54 from Mae Sot - still riding 1000cc sport bike (one crazy dude) Is professor of physics at college and is also head coach of Thailand Physics Olympic team. Have dreadlocks down to his ass and too many earrings to even start counting. Ride a motorcycle to work everyday!
Sukie – age 38 was in the music industry before, played guitar in a rock band, now doing Dreamchaser TV show
Jod – age 35 work for a government agency, educated in England and have a one of a kind customize Honda that he loves dearly. I do not come across too many people that rides more than I and Jod is one of them.
Not – 24 from Chonburi – currently a graduate student studying in Canada. Enjoy skiing during the winter but misses home in Thailand.
The 4 of us couldn't had been more different , yet, we had a hell of a time hanging out together.
A few weeks back I was talking to some Bikers and one ask me if I new and understood the true meaning of a Biker? – In which my reply then was "I don't care."
Harley Davidson – t-shirt & jeans, cruising along, in no rush, just hanging with the guys. With a Harley no need to go fast, just the roar of the engine is enough. Is this the meaning of a biker?
Japanese sport bike – younger crowd, leather racing suites, some just saved enough money to buy their first Big Bike (CBR400), some enjoy going fast, been on the track/gotten their knee down. It this the meaning of a biker?
Vespa – not very technical but more about lifestyle. Mostly artist background, forget about knee down, just get me to my destination with my friends. Low speed, not very comfortable – but hey, "I like it." Is this the meaning of a biker?
Adventurer – usually Beamers: got all the gadgets – GPS, aluminum cases, Touratech products and special seats - extreme long distant both on and off road, staying in tents. Motorcycle clothing good for all weather condition. Is this the meaning of a biker?
The above are just a few examples!
My point is - there is no definite meaning of what a biker is.
My personal view is as long as:
1) you know yourself
2) you know where you stand
3) you know what you are doing and for what reason
4) you are happy with it and realize what you get out of it
Once you know this, you (along with everyone else) would have your own meaning, answer and understanding to what a BIKER is.
Not everything in this world has to be black or white. Just be happy with what you are doing - right now riding motorcycle makes me happy – so in my humble opinion my definition of a biker is:
"Someone who riding motorcycle makes them Happy"
"Live to Ride / Ride to Live"
(I have no idea who came up with this quote but I like it)
Best and Ride Safe,
Sukie