1252 AGAIN….Never say die………..
Fri. 18 & Sat. 19 June 2005
RIDERS: BobS, Silverhawk, "Fon".
WEATHER: Overcast, Sun, Drizzle, Downpour (all the same day).
ROUTES: 118-1252-1035-120 -118
Also see-
Sukhothai and the North's Worst Shortcut ………………
Link removed
1252 The Good End…………..
Link removed
I garnered the name "Silver Hawk" from the name of a boat & charter service I had in the States. Prior to "Silver Hawk" I had a boat named "Nemesis". It seems that 1252 is now trying to become my nemesis. It just does not want me to make it from end to end in one piece.
After doing 1252 more than a year ago I have been waiting for it to become a complete "do-able" route. David U had said that he was told it was now paved from end to end (118-1035). I think someone else had claimed this in a post, but I did not believe it was possible already, so I was determined to find out.
With all the dirt biking David and I have been doing lately I bought a Suzuki 250 and was anxious to try it out. My friend BobS had also recently acquired a 250 so we decided to give it a try.
We set out about 9:30AM on Saturday and met each other on 118 near Sansai and headed North. The turn off for 1252 is not marked by road number but by overhead signs pointing to Chae Hom. The right hand turn is follows the sign, and is just after a left hand curve and bridge which makes it easy to miss. It is just a small road that actually doubles back parallel to 118 before making a left curve and then heading what feels like straight up the mountain.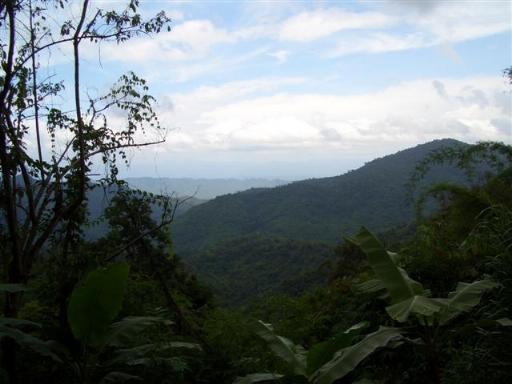 See the report
1252 – The Good End
for info on a good loop this way.
Of course the road has some of the usual Thai road hazards along the way.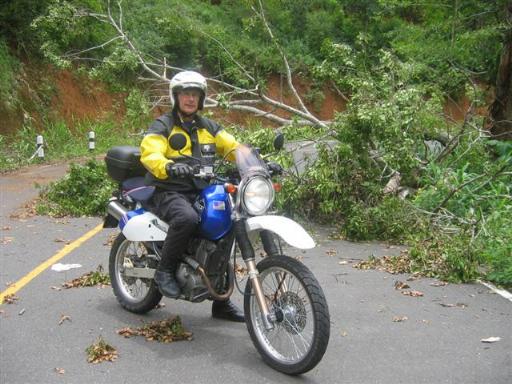 BobS and I passed the junction just past Mae Torn "The Homestay Village", and just a short way later I could see where the pavement had ended previously and now sported a fresh blacktop finish. What a surprise!
But good things don't last long. We soon discovered that they were working on getting 1252 paved, but were far from completion. We dodged road graders and heavy dirt rollers in a couple spots and stayed between the berms of freshly dumped dirt which were being used to lay a new road bed.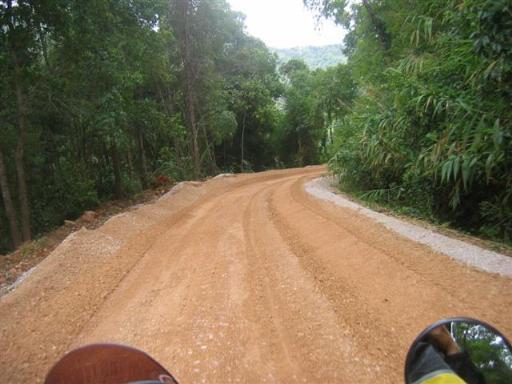 And of course at this time of year where there is dirt there is the inevitable mud.
We passed through the little village of Mae Chaem (not to be confused with the MHS village of the same name) which is a good stop for a quick drink or snack. The road continued in about the same condition, some parts better-some worse, for a few more k's and then;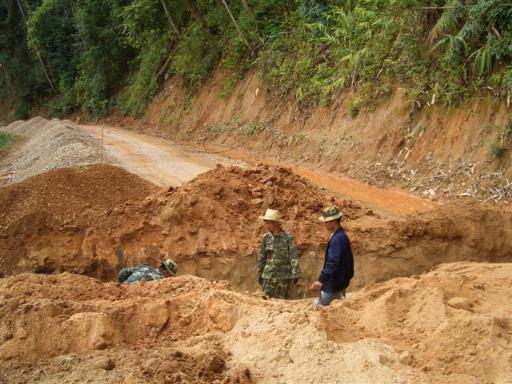 As you can see. We were going no further. The road guys said they would be finished in a few hours.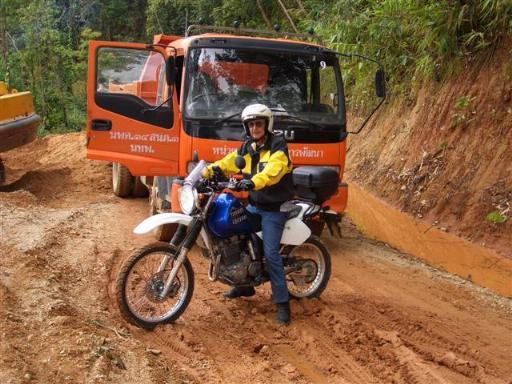 We weren't going to sit and wait, and there is no where else to go, so we turnned around and backtracked, until turning left at the Mae Torn intersection and working our way back through San Kamphaeng and on to Chiang Mai. Foiled Again. Just to add insult to injury, while we were eating in Chiang Mai the skies opened up and I had a wet ride back to my home in Sansai.
Saturday-Try, Try Again
BobS was not available so I asked my favorite pillion rider, Fon, if she was up for a little dirt riding. She love's riding and we got a late start but were headed back to 1252 around 11:00AM.
In the village of Kampaeng Hin (I believe is the right name), the only village of some size on the route, we saw a sign pointing down a concrete rd which said "Scenic Area, 4km (Phu Dao?)". "Try It?", "Why not".
Well in the first few hundred meters we went from concrete, to dirt, to grass, to 4 stream crossings, to a goat trail going straight up. We made it less than 1k and decided this was for trekkers/backpackers only and we were none of the above today.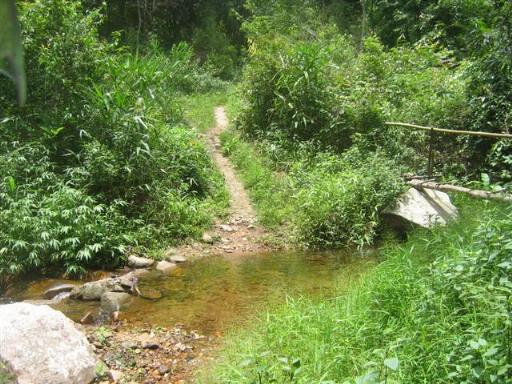 We did have some good laughs along the way getting a little wet and muddy.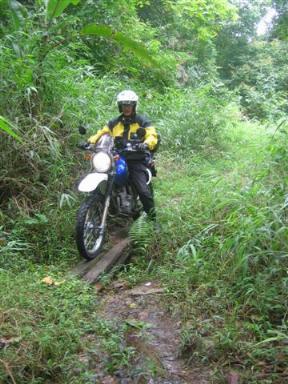 The laughs ended when I discovered I had a rapidly deflating front tire. We quickly back tracked to the village and asked some locals where we could find a shop that had a tire repair or at least air. We felt lucky when one of the men took us just across the road to his friend's house. Unfortunately his friend wasn't home. He told us if we could make it 5 minutes up the road and turn right, we would find something in the village. I knew this area and could not imagine any shop there. We made it on the low tire and I again knew why I like a Thai/Lanna speaking passenger. After several "over there", "straight ahead" and "I don't know", we found a guy who brought out an antique bicycle hand pump. The good thing was that the tire did not seem to be losing any air and was not as bad as I first thought. Fon thought this was great fun as she insisted on working the pump.
I'll never understand a Thai girl's sense of fun.
So now it was decision time. Go on or go home? Was it possible my tire was just low to begin with and I broke the major rule of "Check your bike before EVERY trip"? No, 1252 was not going to beat me again. We would continue.
We made it to Mae Chaem and again stopped for a well earned drink and a visit with the locals.
We reached the point that BobS and I turned around and found it filled in, but of course very muddy. After this there were a number of other mud patches as the road deteriorated. So as not to make this report TOO long, lets just say the road condition deteriorated as the steepness of the grades got higher and the mud became more frequent. Fon dismounted at a couple points as I worked my way around or over the worst of it, but she soon tired of this and just sat on the back shouting "Go, go, go" or singing Thai songs which is her favorite way of passing the time on long rides. This girl never complains.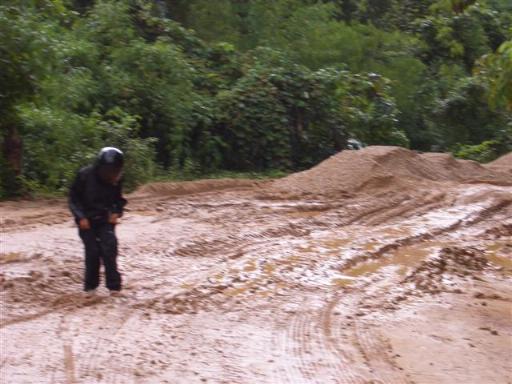 We had a little drizzle on and off for most of the trip and even some sun. But as luck would have it, it turned into a downpour before reaching any type of decent road surface. We continued dodging streams of water and mud coming from all directions as we slipped and slithered our way to 1035. Fon's comment at this point was "What? The dirt is finished? I wanted to ride on some difficult dirt roads." . Maybe next time.
I'll never understand a Thai girl's sense of fun!
Just before 1035 is the entrance to Jaeson National Pk and we were going to have a quick look at the waterfall, as the rain had stopped. At the entrance they wanted 200bt each, even for Thai, and as time was short we decided to pass.
At Kuong Kom we headed up 1035 to Wang Nua (about 50 km of nice blacktop).and joined Rt. 120. (this is the road that runs from Phayao to 118). Then another 30 minutes north to the Wang Kaew waterfall (follow the signs).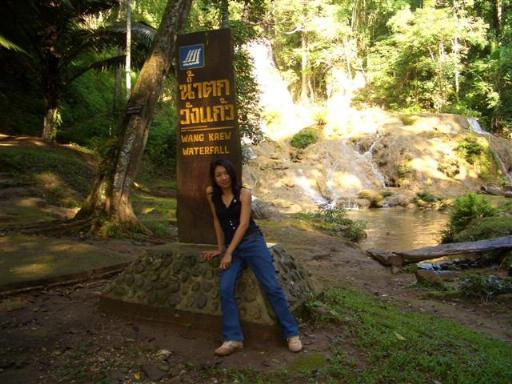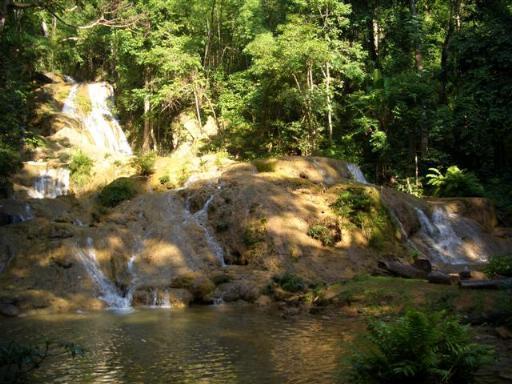 We were the only visitors and were charged only 35 bt for the two of us. We had some Som Thom and sticky rice and a snack (all they had available today), took some photos and headed back out towards Mae Khachan and 118, then home to Sansai.
It took us about 7 hours to complete this loop, but we spent about an hour playing around in our "scenic area" and finding a tire pump, and we spent 1.5 hours doing the Wang Kaew waterfall. This is a pretty good dirt loop that could be done in an afternoon depending on conditions (approx. 315Km). Of course now the conditions are changing daily due to the construction. Who knows when it will be finished but whomever said it is paved was not on THIS 1252 and you DEFINITELY would not make it in the roads current condition with a road bike.
Dave Early
Ever notice that "What the Heck!" is usually the right answer?