Started late... left Chiang Mai at 11:15 am and rumbled up 1001 to Phrao for lunch, then out 1150 to Highway 107. At the intersection, angled (left) across the highway and out the small side-road that runs through from Ping Khong, to make a left turn at Mae Ja onto 1178, and then right onto 1322.
Heading into mountains always lifts the spirits of a West Coast kiwi, born and raised in the Southern Alps of New Zealand. Through forests, on a motorbike... mate, this is heaven! 8)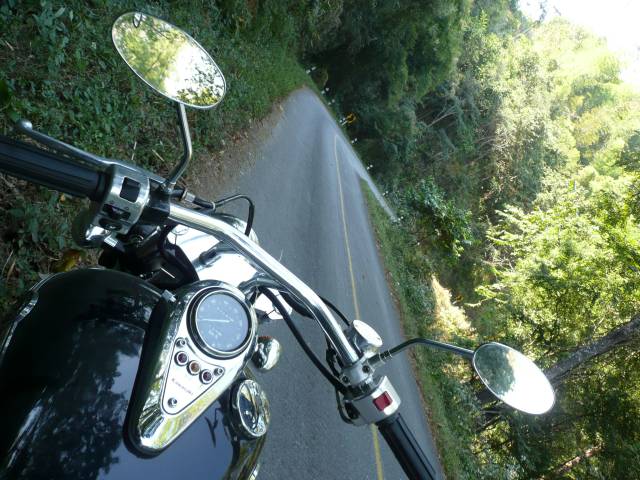 People up here build villages in spectacular places!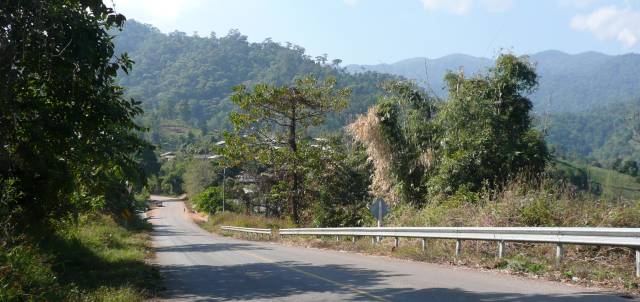 And the view from the houses on this ridgeline must gladden the hearts of its inhabitants.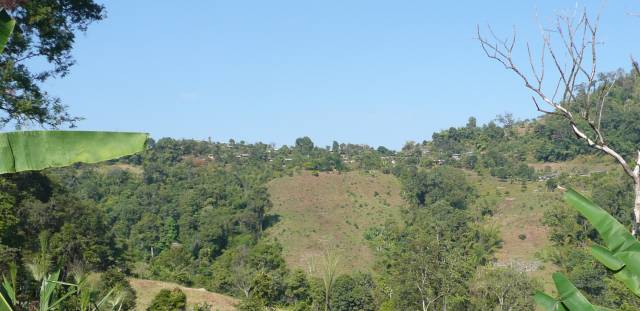 By god, the road is certainly a sheer delight... no shortage of hairpins, zig-zags - corners in every shape and form abound.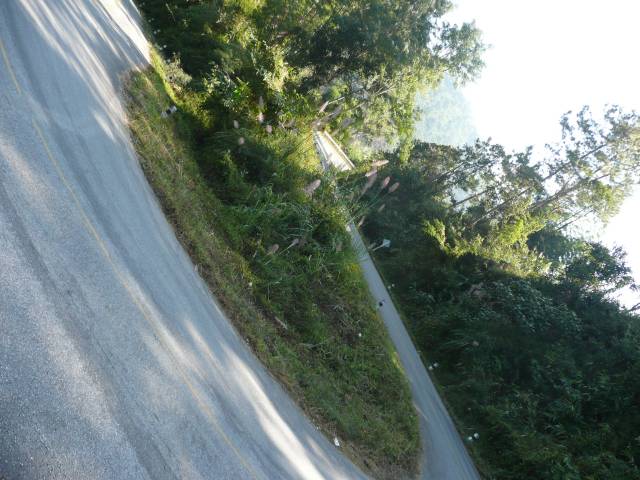 This road NEVER gets boring - there are little cameo appearances of glorious agriculture in stunning settings -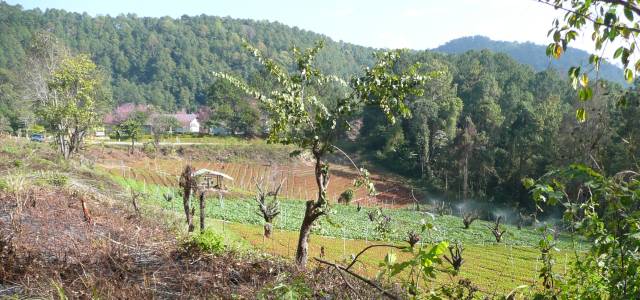 Then back to work throwing the bike left and right, flicking through gear changes, braking to cruise quietly through peaceful villages...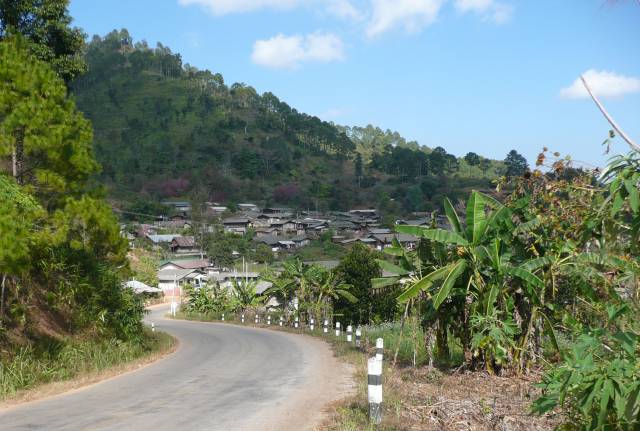 Glorious panoramas to right and left!

Then, wide-open throttle, up through the gears to the next corner, down through the gears, accelerate out - left, right - repeat endlessly!!!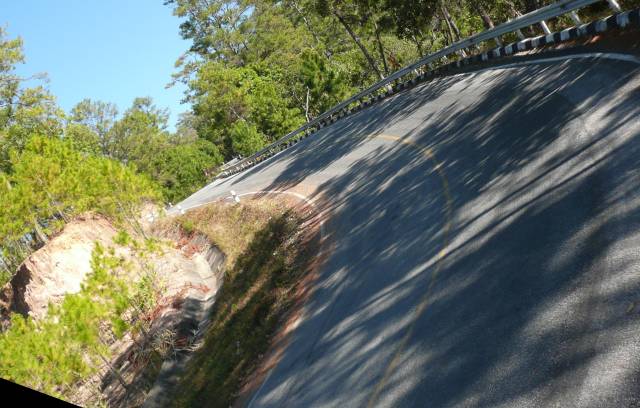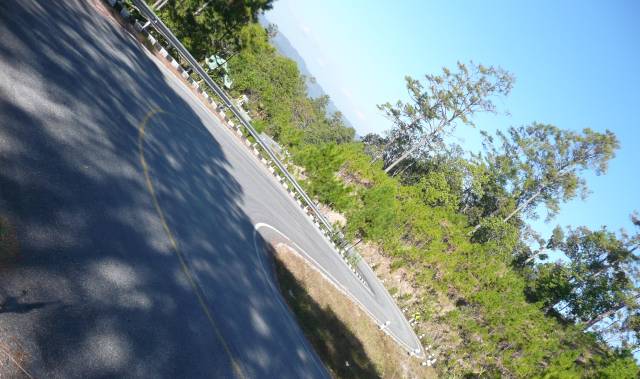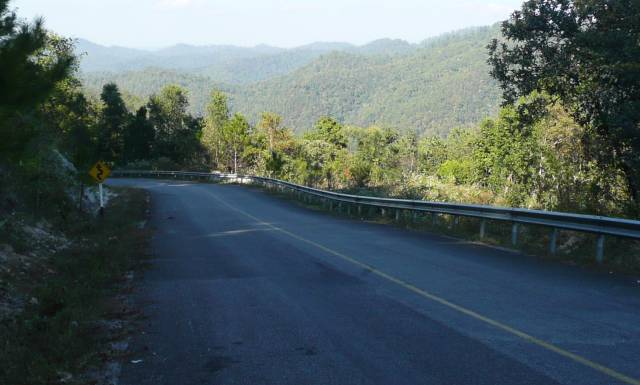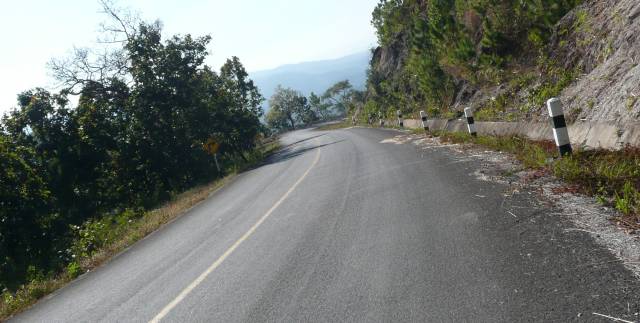 Eventually, burst out of the forest and mountains onto the Wiang Haeng valley floor, into open fields and pastoral scenes with a mountain backdrop...

This quaint little temple, guarded by a monstrous rooster - that certainly adds a surreal touch to the landscape! :shock: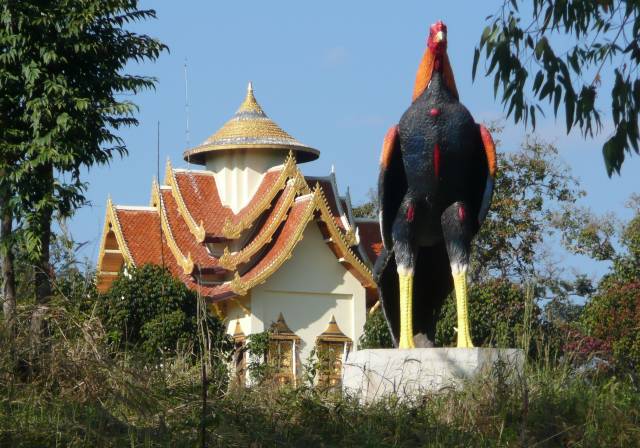 Even this section is narrow and twisty, with some lovely sweeping corners. Rumble through the sleepy little villages of Kong Lom, Chong, Piang Luang and eventually to the end of the line - Lak Taeng. Turn around, its getting late - 4pm - and roll back to do it all again in reverse order. The exit from Wiang Haeng valley sets the stage for the return;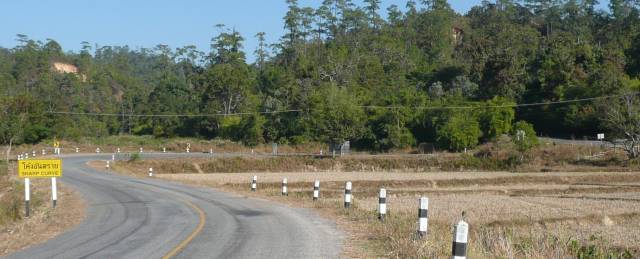 And when you see a sign that says "Sharp Corner" they ain't joking! There are only 3 sorts of corners on this road;
1: Sharp!
2: Sharper!
3: This is ridiculous!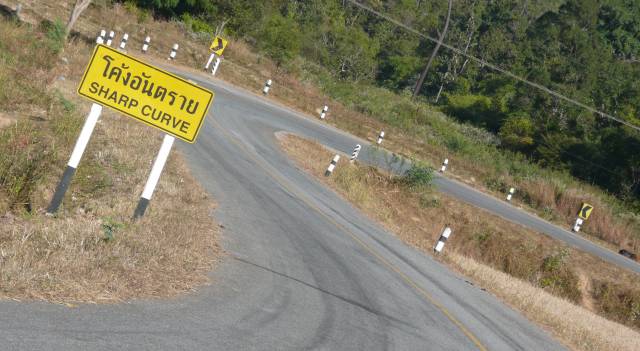 Summary: This was a bloody fantastic ride!!! The road surface is excellent over the entire length, with very few potholes or broken seal. The views are magnificent, and the road is quite incredible in terms of the massive gains and losses of altitude. Throughout the 75kms from 1178 to Lak Taeng, there is absolutely no part of the road without entertainment value! The return trip was equally enjoyable - in my book, that road offers about as much fun as you can have with your jeans on!
Question: does anyone know what the road from Chong through Kae Noi and out to Muang Nga is like? At Chong, it seems to turn to dirt real quick, and I was not up for exploring that alone, at 4pm... :wink: