Administrator
Staff member
Jan 16, 2003
12,229
2,514
113
67
Khao Pansa is celebrated nationwide on the full moon,
Buddhist Lent is known as Khao Pansa," when monks stay at the temple for 3 months during the rainy season.
On the first day, the day of the full moon is Asalha Puja.
On this day that the Lord Buddha preached His sermon to followers after attaining enlightenment. The day is usually celebrated by merit-making, listening to a monk's sermon, and joining a candle lit procession during the night.
On the first day after full moon is Khao Phansa
. This is the beginning of the three-month Buddhist 'Lent' period. At this time, all monks and novices must remain in their temples. They should not venture out or spend the night in any other place except in cases of extreme emergency and, even then, their time away must not exceed seven consecutive nights. This is a time for serious contemplation and meditation for both monks and laymen alike. Traditionally, it is also important for laymen to ordain their sons into the monkhood on this day to get maximum benefit from the Buddhist teachings.
During the 3 months of Khao Phansa many devout Buddhists refrain from consuming, meat, alcohol, and tobacco.
There are some spectacular parades for Khao Pansa around the country
Ayutthaya. 8 July 2017
Lat Chado Market Candle Festival
Where: Lat Chado Market, Phak Hai, Phra Nakhon Si Ayutthaya
In the festival, there will be candle parade on boat contest. The festival also features candle festival on both land and water. Watch Miss Lat Chado contest, Photography contest, a contest looking for the Best decorated house along Khlong Lat Chado and also local sports competition.
Ubon Ratchathani 8 – 9 July 2017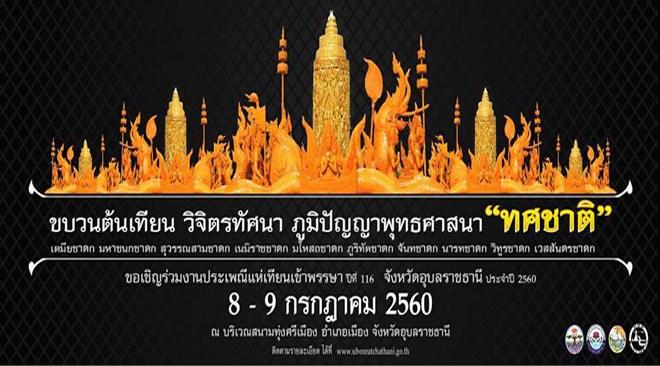 Ubon Ratchathani Candle Festival
Where: Upparat Road (in front of Wat Si Ubon Rattanaram) Rob Thung Si Muang Road, Ubon Ratchathani
Witness the stunning printed and carved candles parade. Watch local dance contest and a variety of product exhibition.
Saraburi 8 – 10 July 2017
Floral Alms Giving in Buddhist Lent and Candle Offering
Where: Wat Phra Phutthabat, Phutthabat District, Saraburi
Don't miss the chance to participate in the one and only Floral Alms Giving Ceremony in Thailand, and also Saraburi most sacred and biggest ritual. Witness the Floral alms giving ceremony and candle festival at Phra Phutthabat. Take part in paying respect to spirit of King Song Tham ritual and watch a stunning floral parade.
Suphanburi 8-10 July 2017
Where: Wat Pa Leilai