Wimpy and I had just changed the fork oil in the TL1000s and VFR400r with some trick Race Tech oil from the States and now it's time to try it out so the Samoeng loop was on the cards. After fueling up, our first stop was Samoeng for a bite to eat and a cold beer and then onto the Sala for the obligatory stop, where I swapped bikes with Wimpy for the run down to Mai Rim. There we turned around for the return journey, being much more interesting than riding into CM down 107. The run back to the Sala was much quicker having got the feel of the TL. Wimpy had warned me about the sensitive rear brake and those 6 spot calipers up front worked a treat.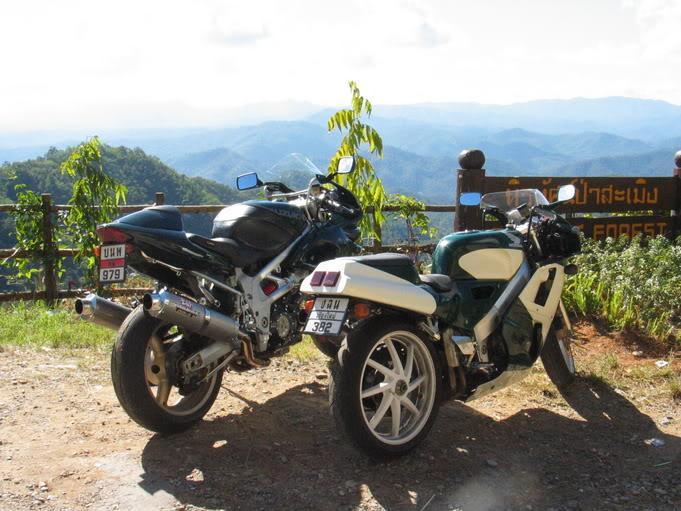 What a nice bike to ride, having heaps of torque and low down grunt for punching it out of corners. It wasn't too difficult to get the back end a bit loose nailing it out of those posted 35/45k corners and was glad to hand it back to Wimpy unscathed as it's his pride and joy!. After the usual photo session at the Sala we fanged it back to CM not sparing any horses and was surprised to be running onto reserve at 137kays. With a new set of sticky tyres, some suspension tweeking and an open can the VFR was running and handling very sweet and much improved from the previous year when I last rode it.By the time we got back to Wimpy's I had a huge grin on my dial and was in the mood to knock the top off a few coldies. Excellent day riding. The stage was set for a long run around the North of Thailand.
Wimpy had to go to Bangkok for a few days so I thought I'd take the opportunity to do a run down to Sai Ngam, 30kays east of
Kamphaeng Phet to visit some family. So with the misses on the back we headed out to Lampang and continued down Hwy 11 to Dan Sai.
The road winds it way through the hills and gets quite tight in places and with a good surface it wasn't long before the side stand was leaving it's mark in the road surface. We were cruising along at 140kays when a Lancer with a bolt on go fast plastic body kit passes us and then had to watch uncomfortably as he tried to drive around the bends in a uncontrolled manner! Scary. Luckly we came up to a procession of trucks and cars and took advantage and passed the lot for a clear run through a twisty section down to the intersection of 101, 12 kays short of Dan Sai where we turned right. The next 70 kays down 101 was a pleasant ride winding its way through the hills and a good surface. From there it opened up and was just a run to our destination through Sawankalok, Sukhothai, Kamphaeng Phet and Sai Ngam where we were greeted with big smiles from our much surprised family. To be continued