Dec 9, 2008
1,070
829
113
After rebuilding the Thunderbird engine, it was time for a shakedown ride.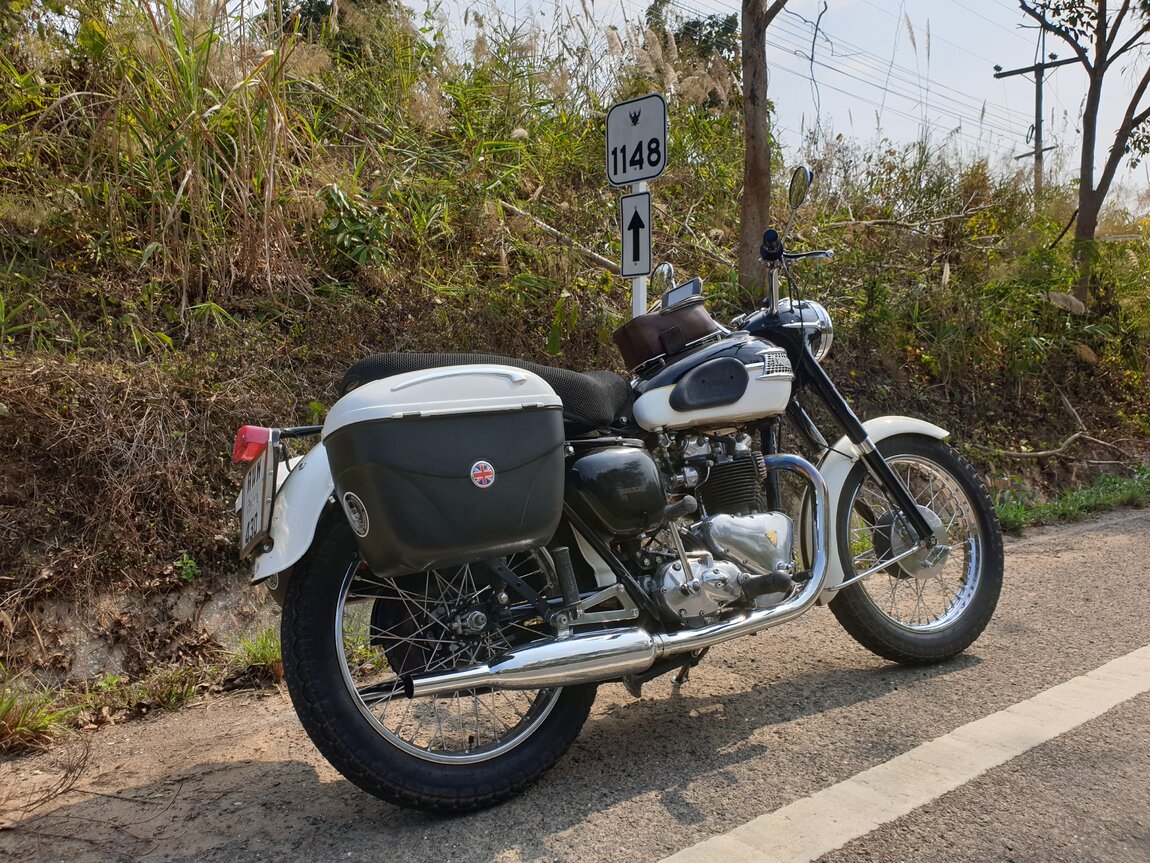 It was going to be a clockwise loop; Chiang Rai, Phayao, Nan, Uttaradit, Phrae, Lampang, Lamphun, Chiang Mai, Mae Hong Son, Chiang Mai, Chiang Rai.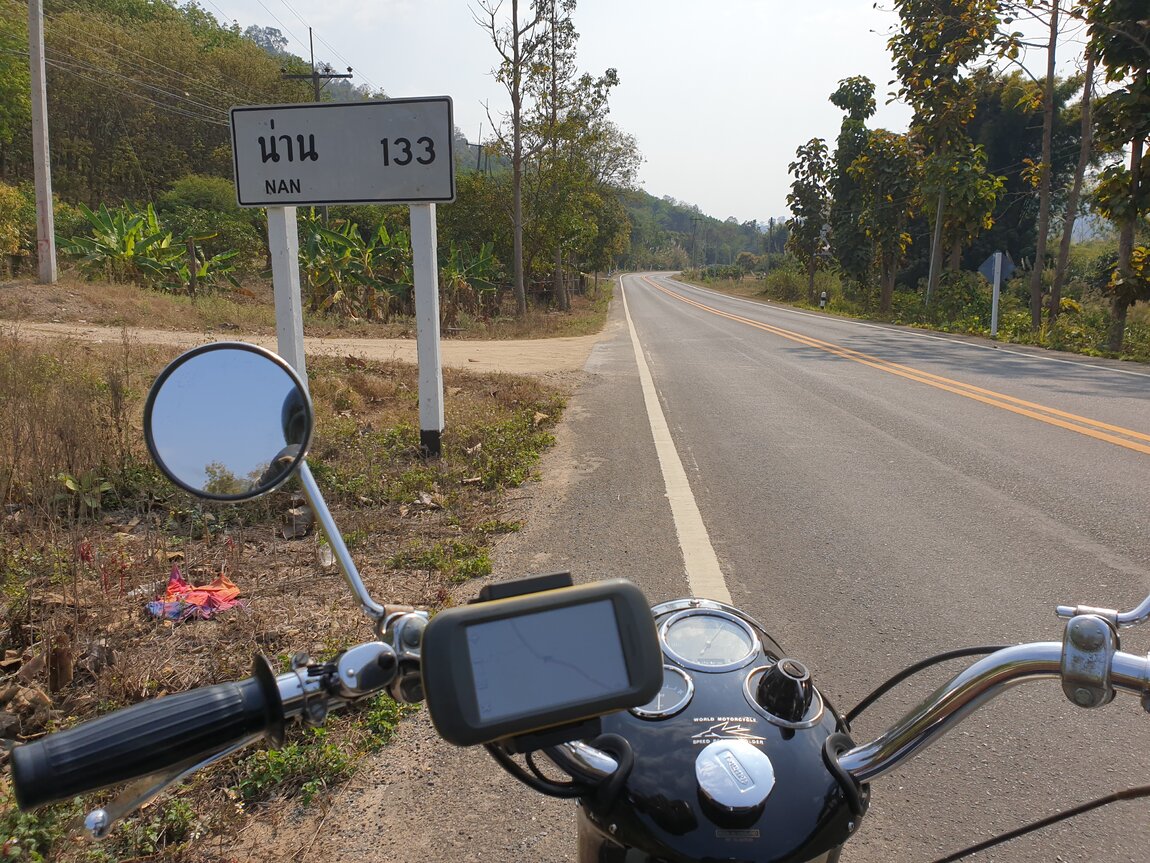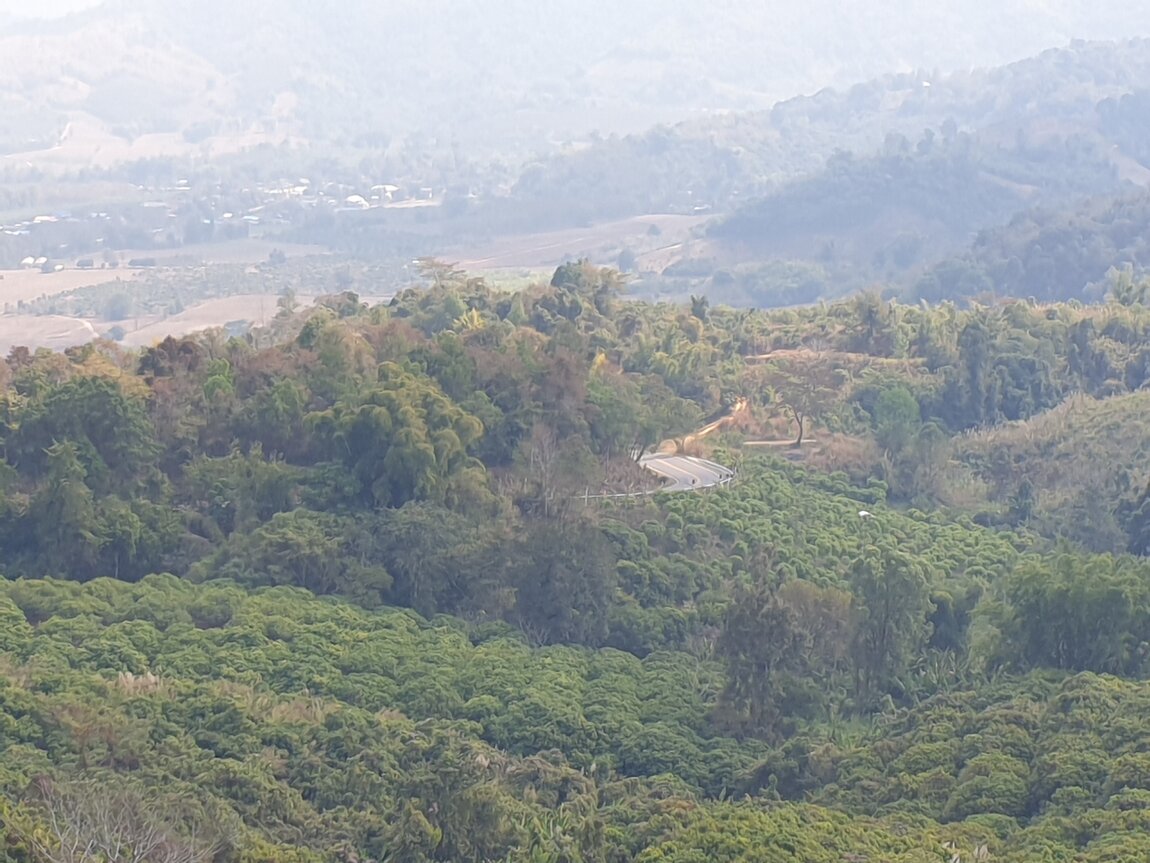 Sakoen valley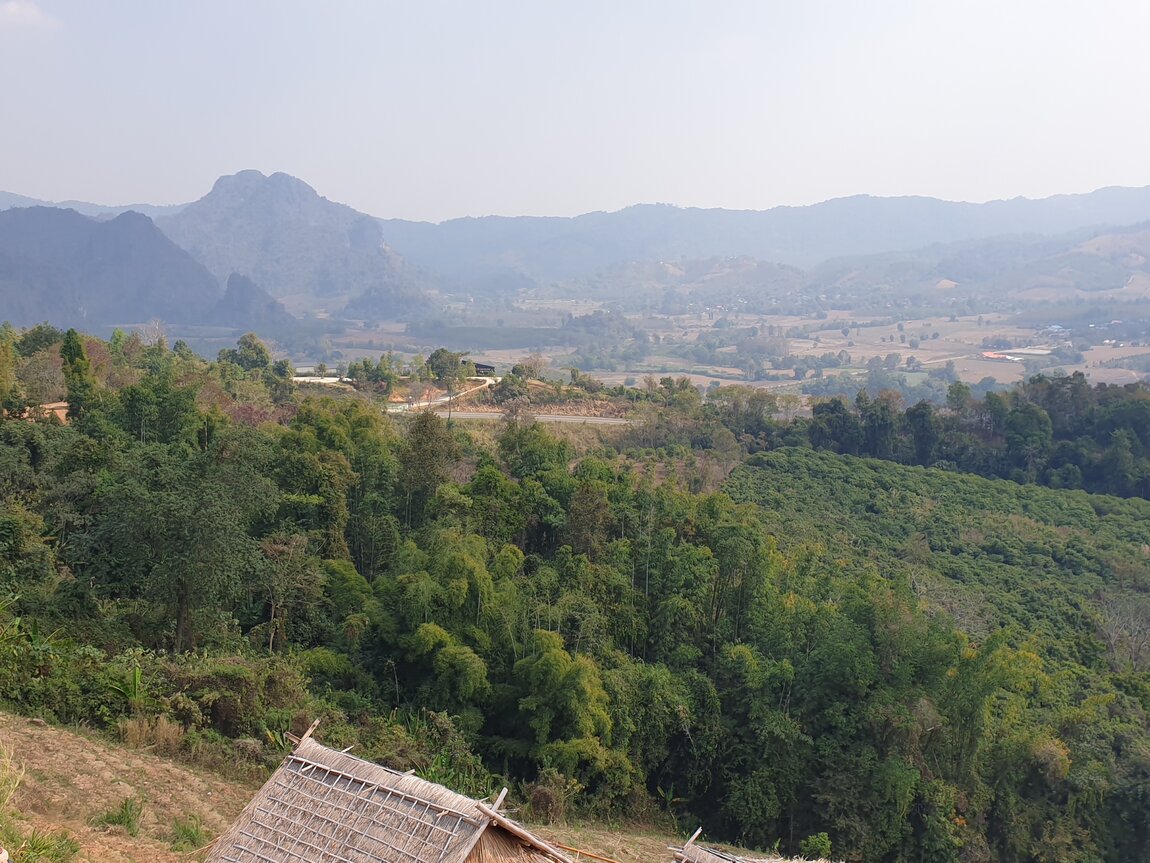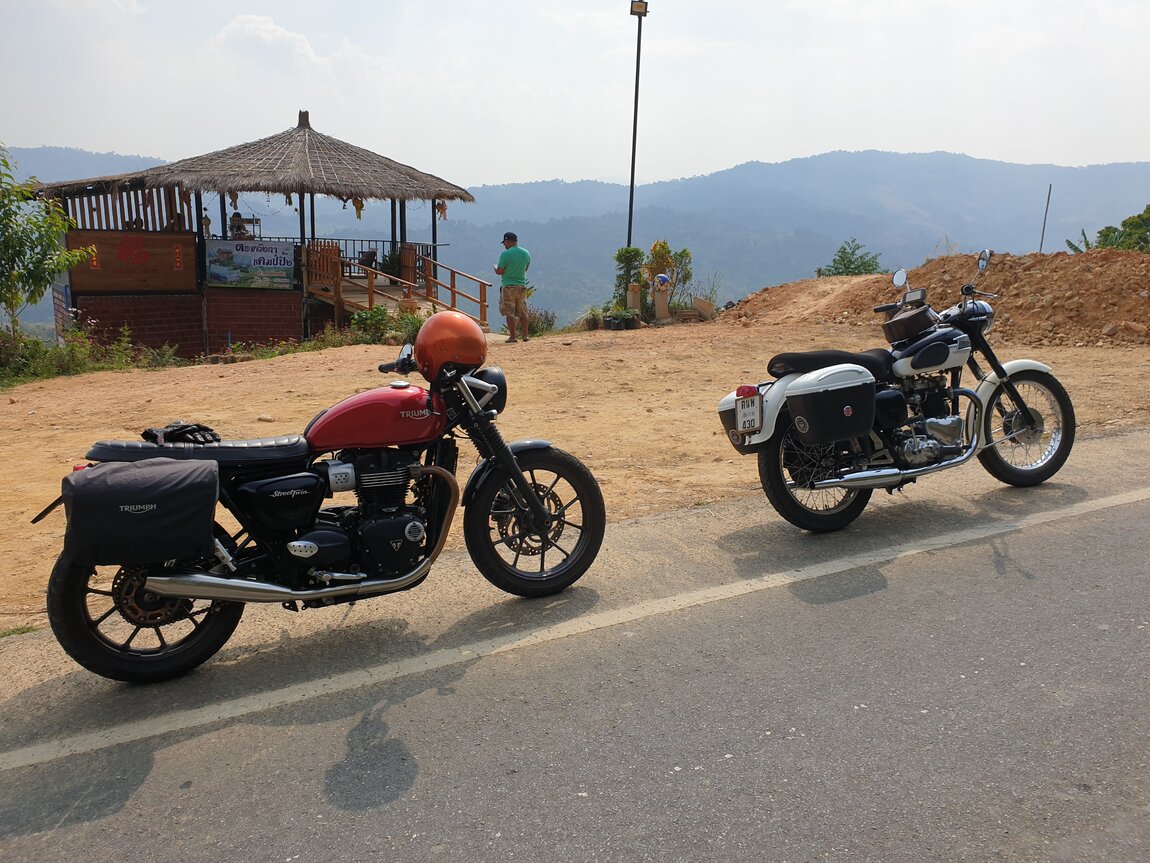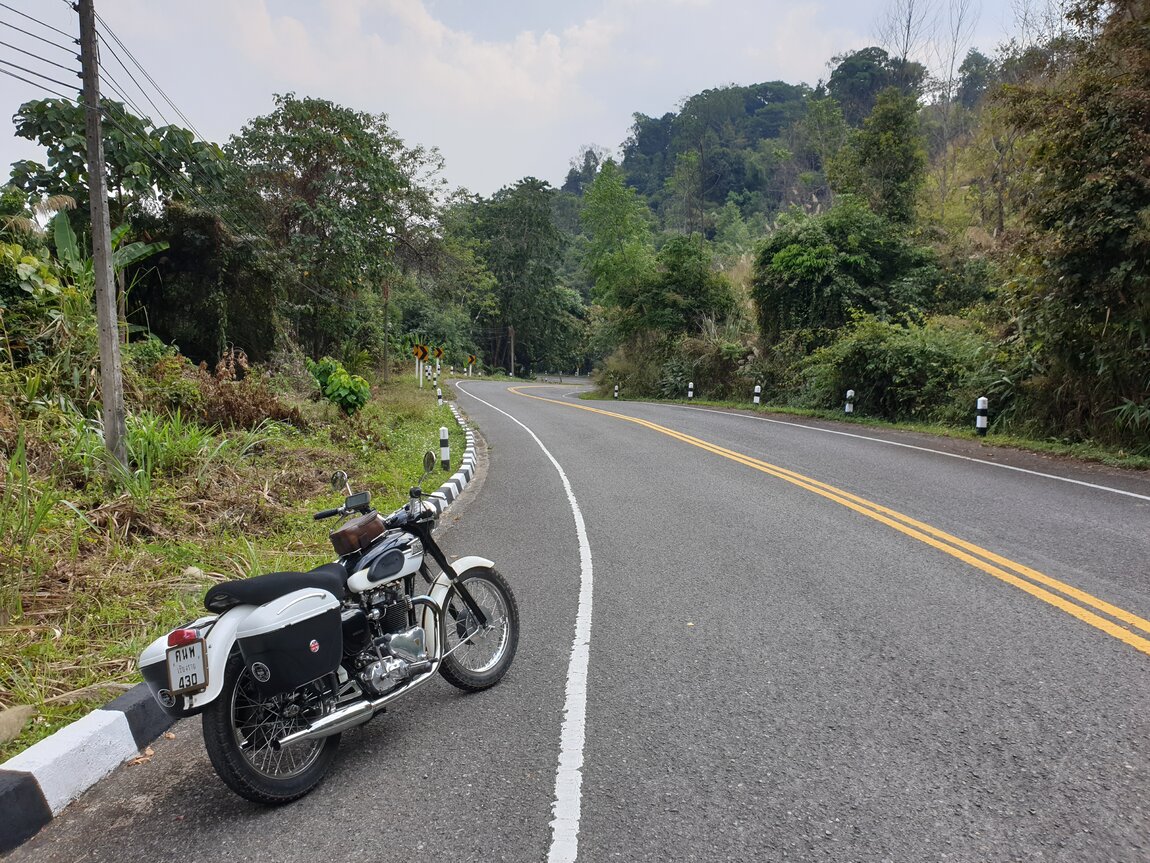 There is a great little road that cuts the bottom off the 1148, before Ta Wang Pha, running almost due east to 1080 and on to Pua.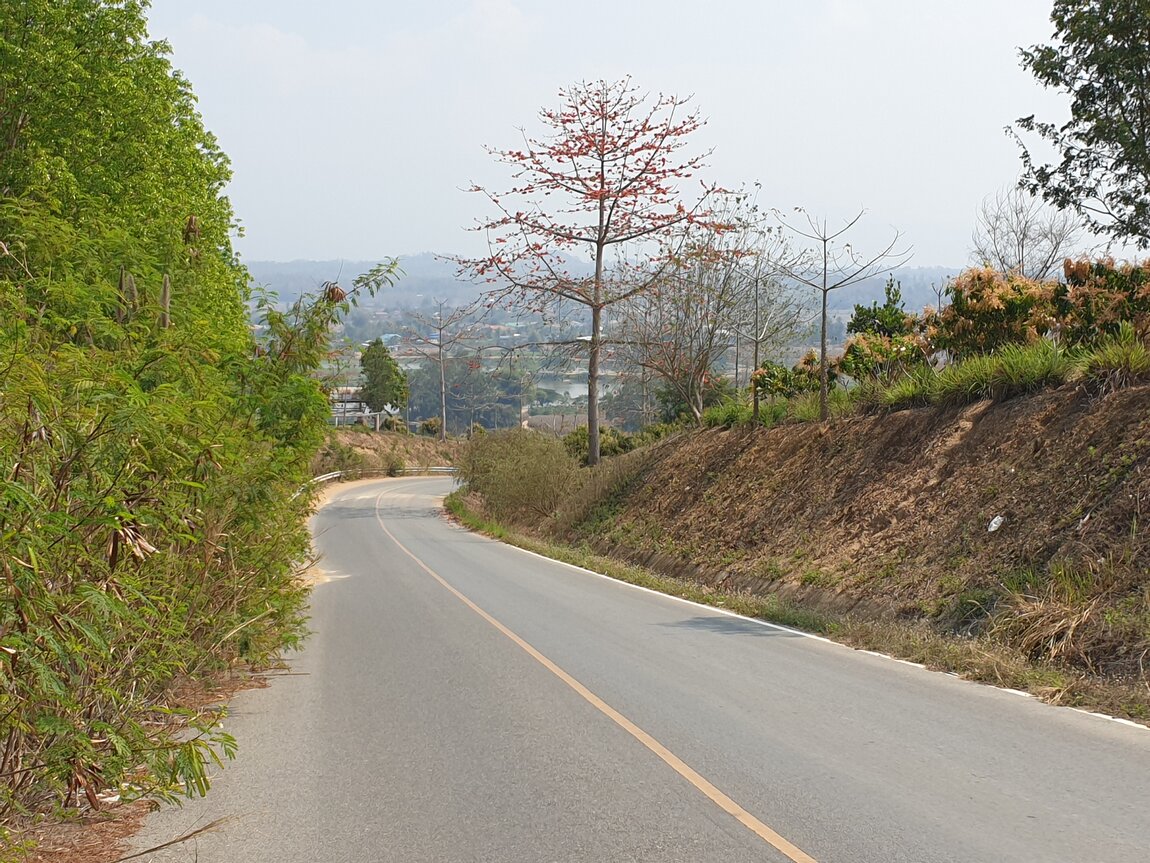 On the 1258 up to Doi Phukha.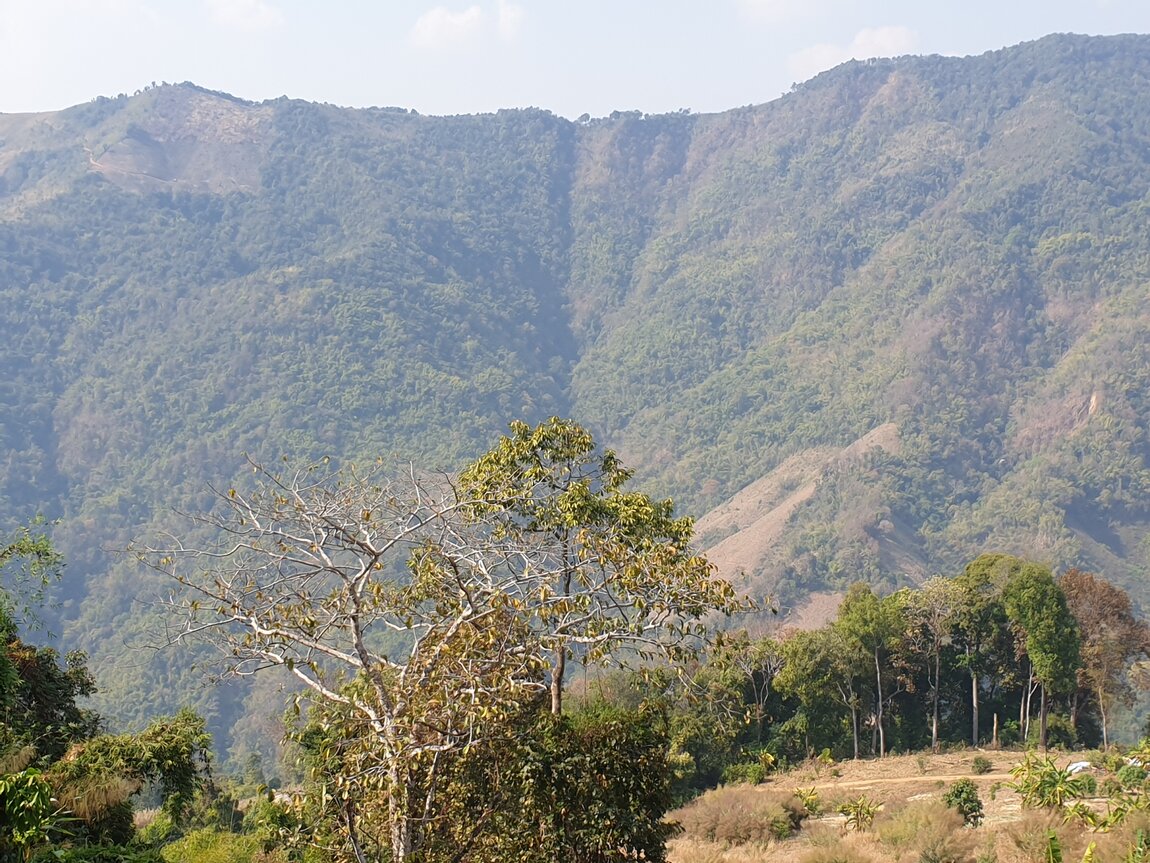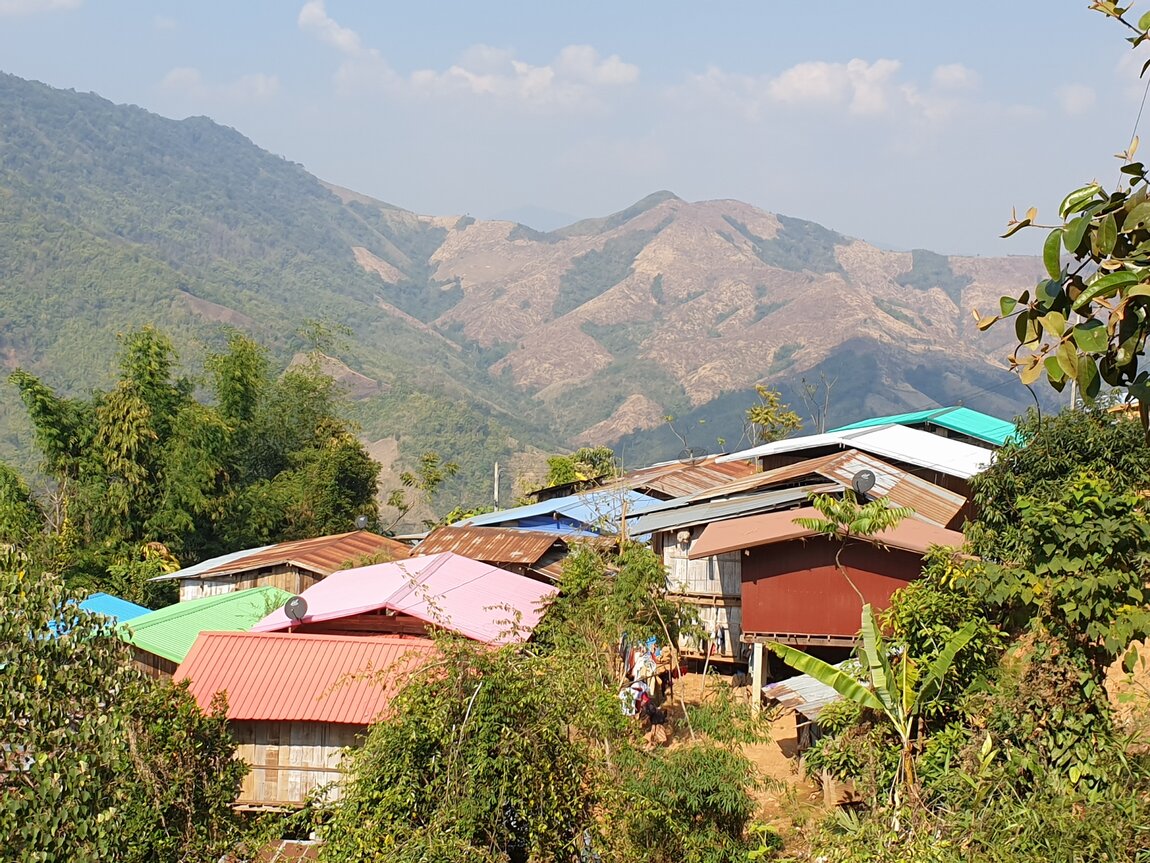 The wonderful Giant Fishtail Palms of Doi Phukha.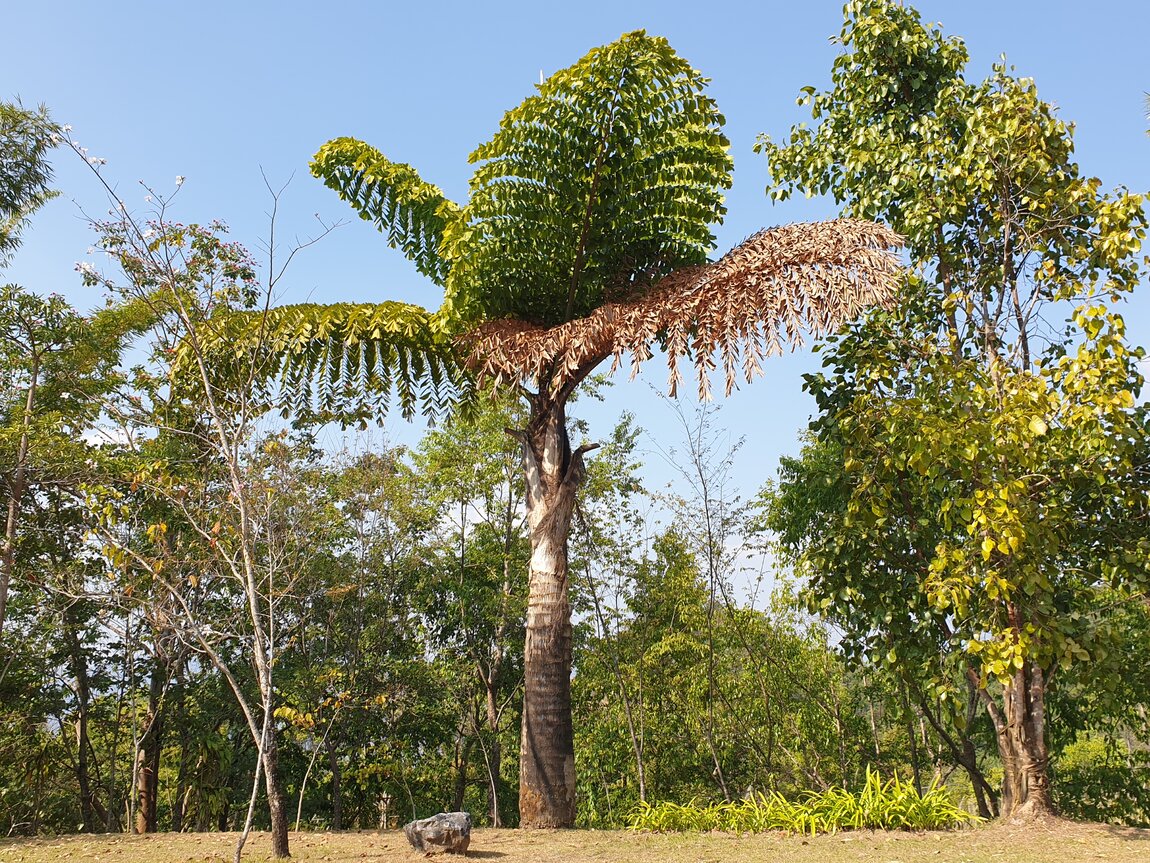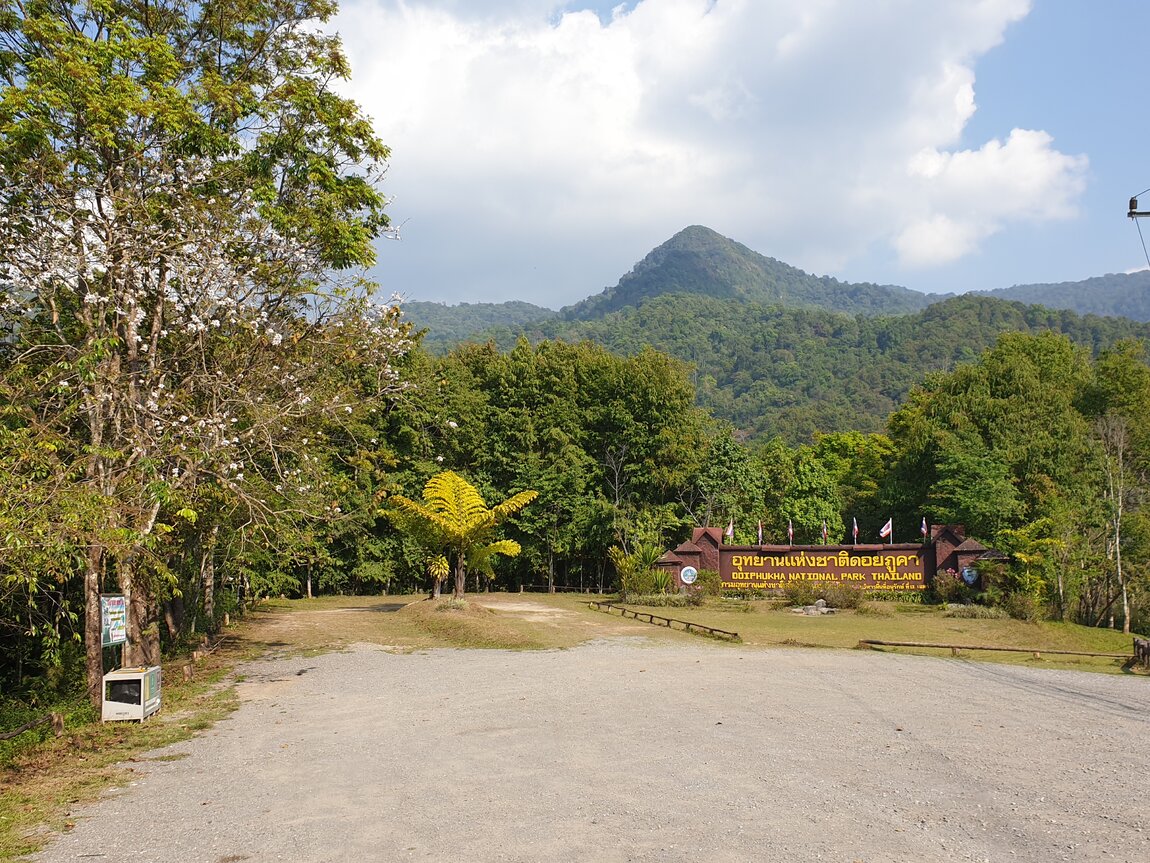 We got to the rare Chompoo Phukha trees, next to the road, but unfortunately, we were a little too early, the flowers were just starting to bloom.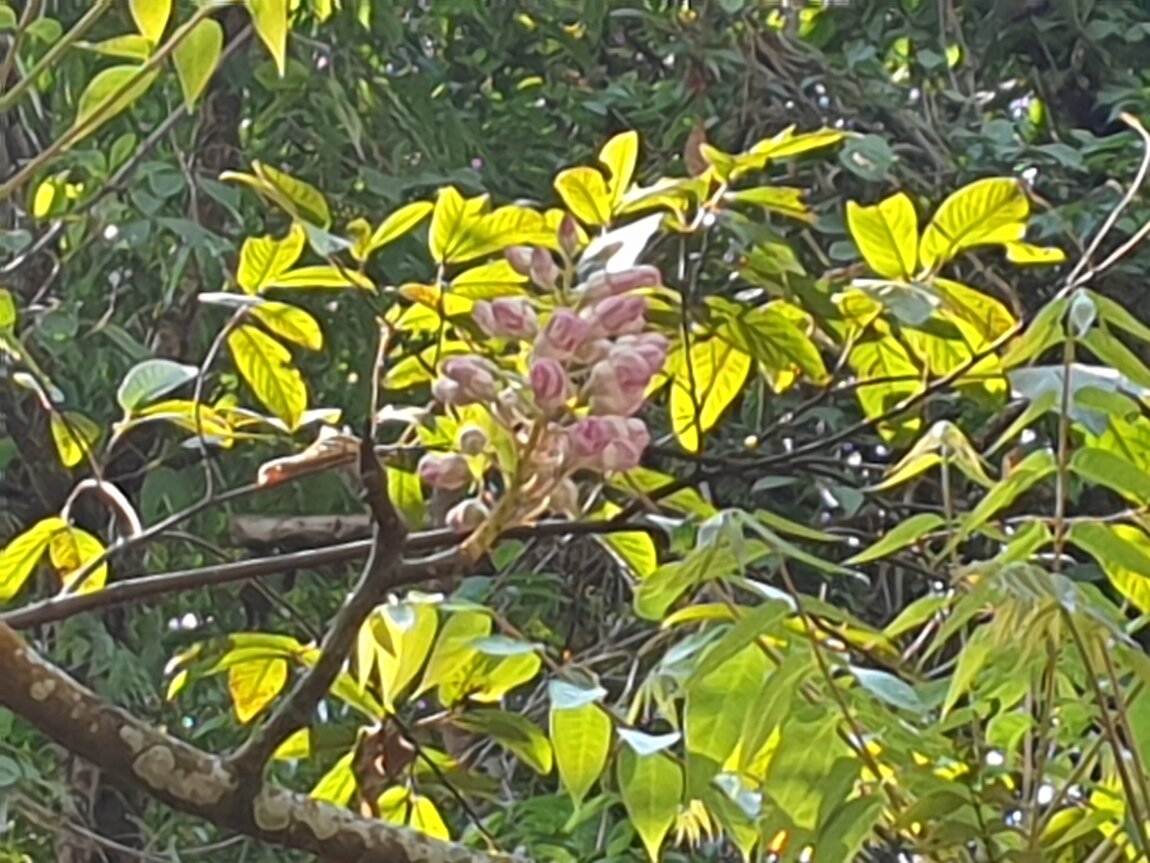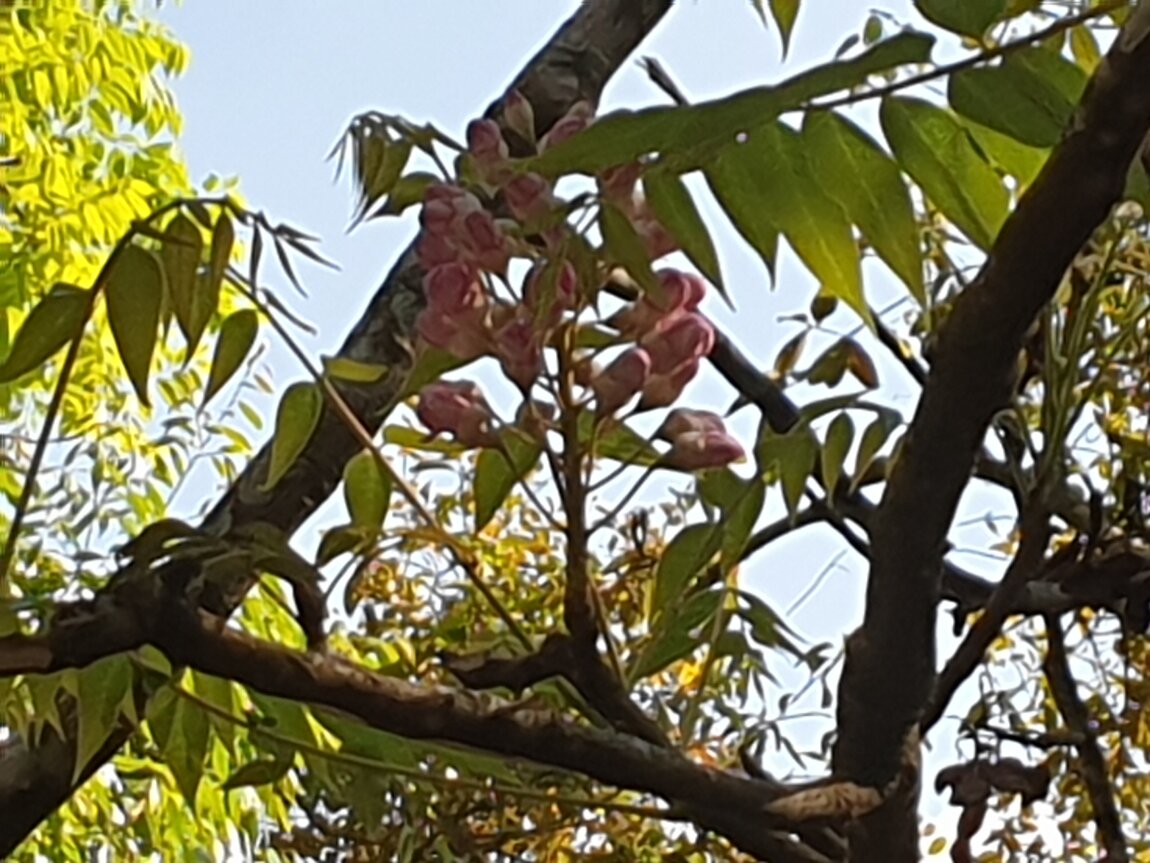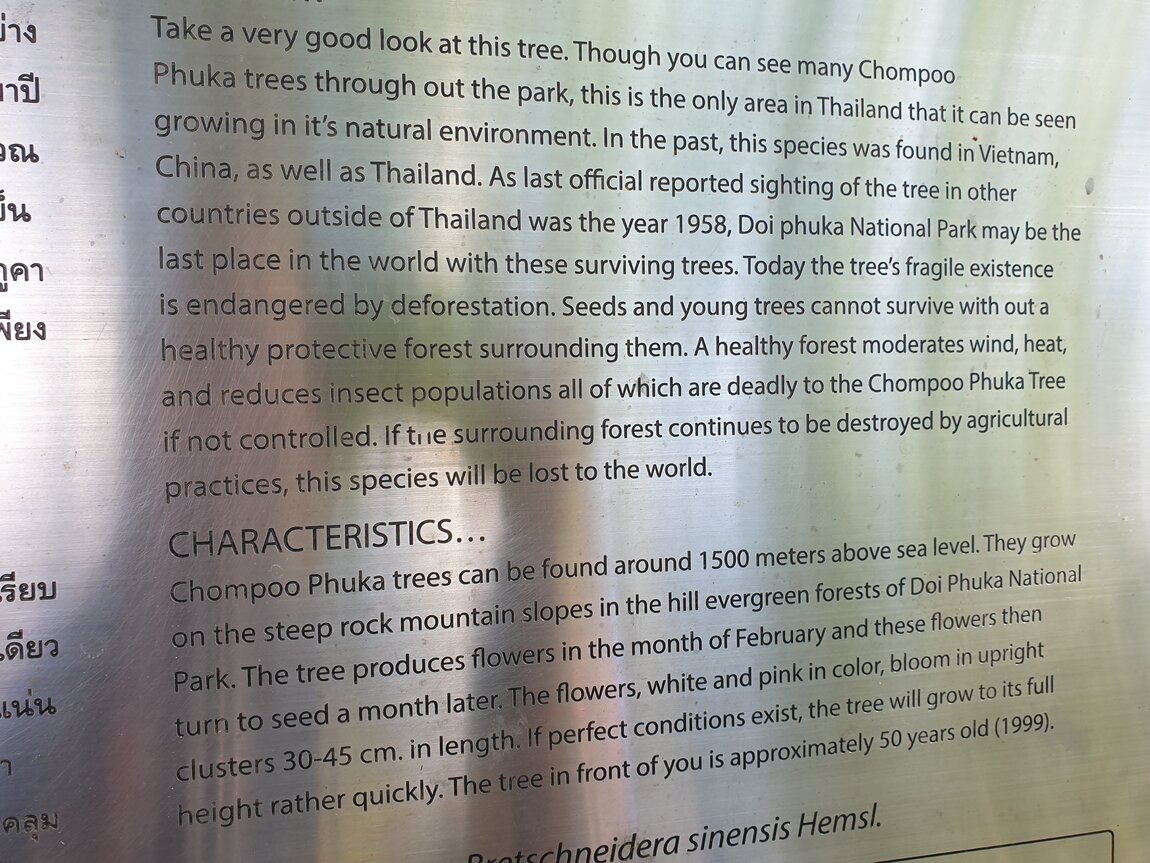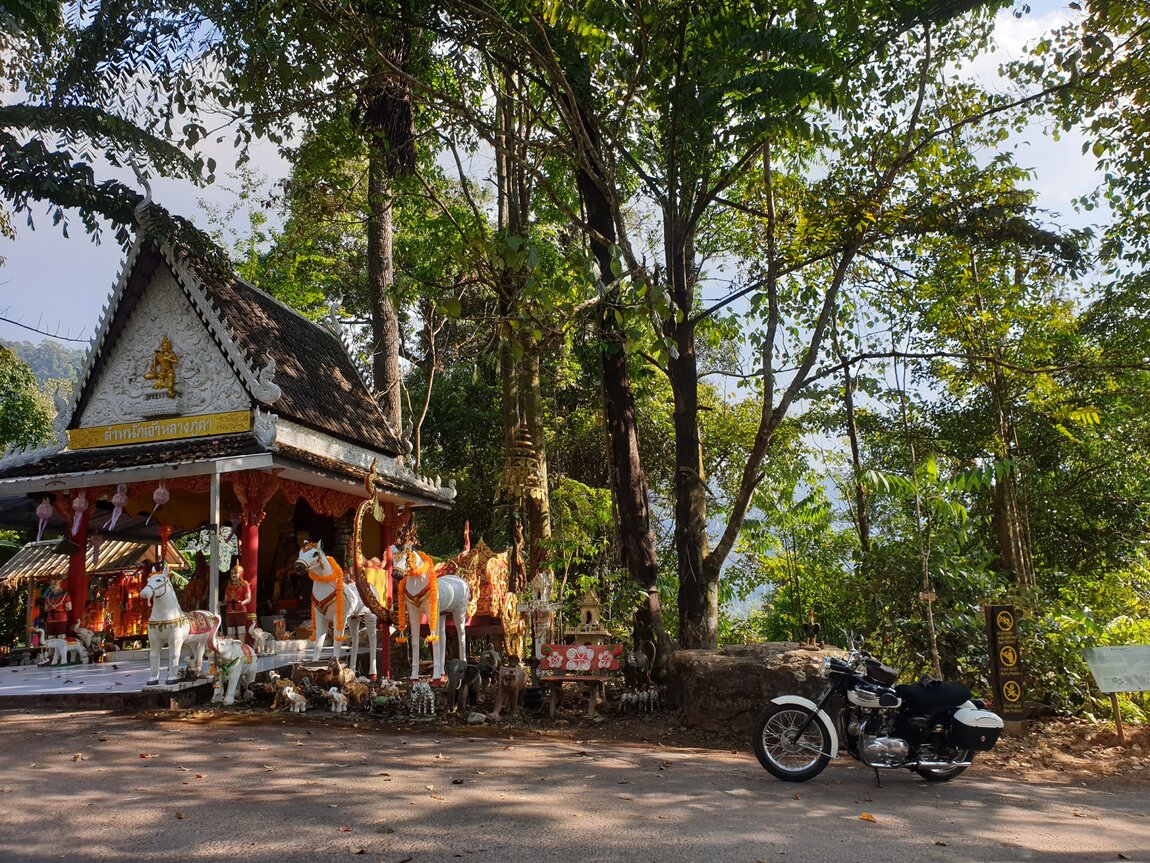 We rode on east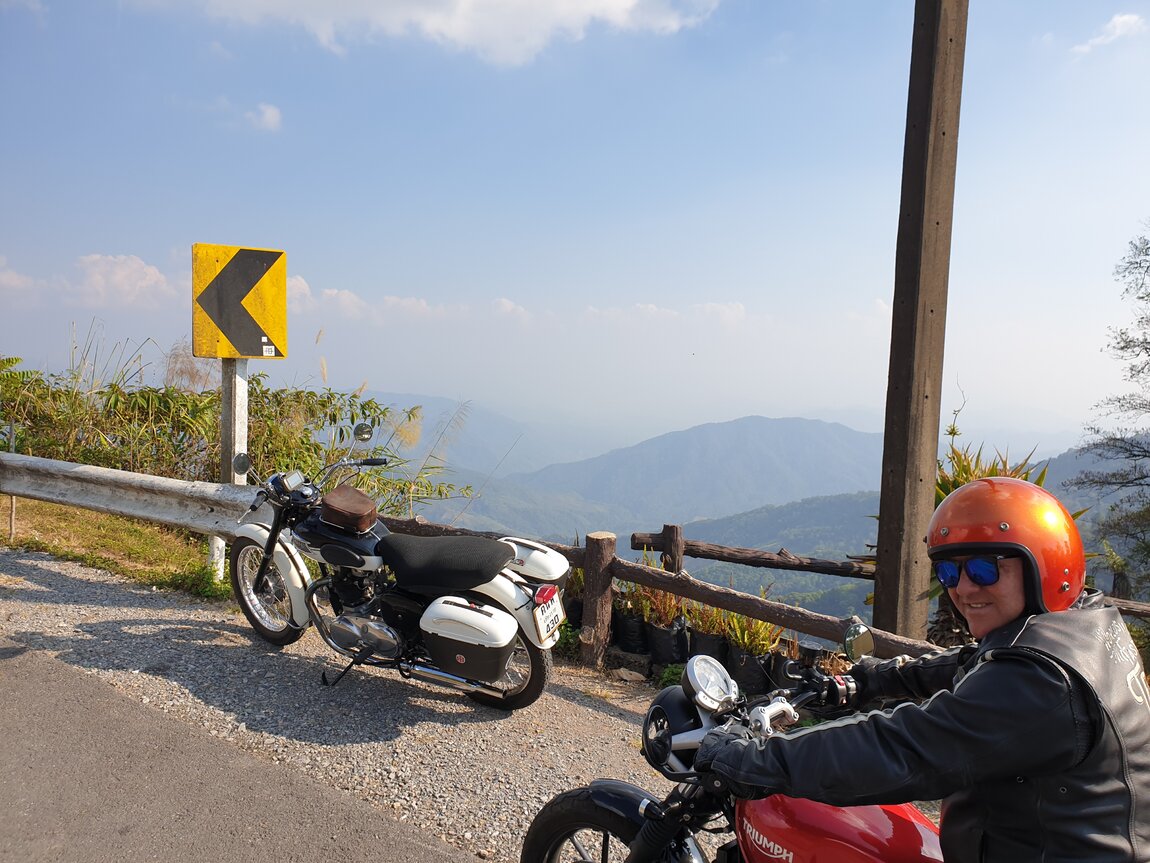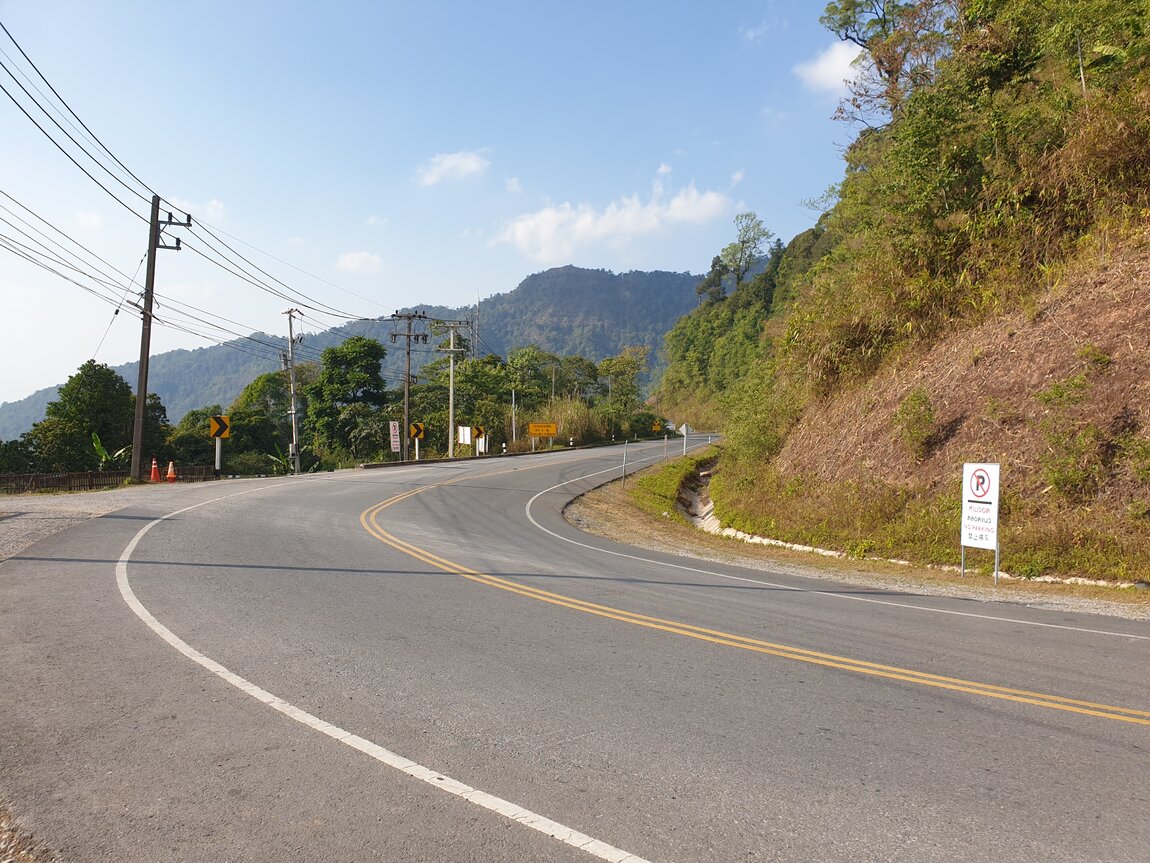 At the top of the mountain at Doi Phukha.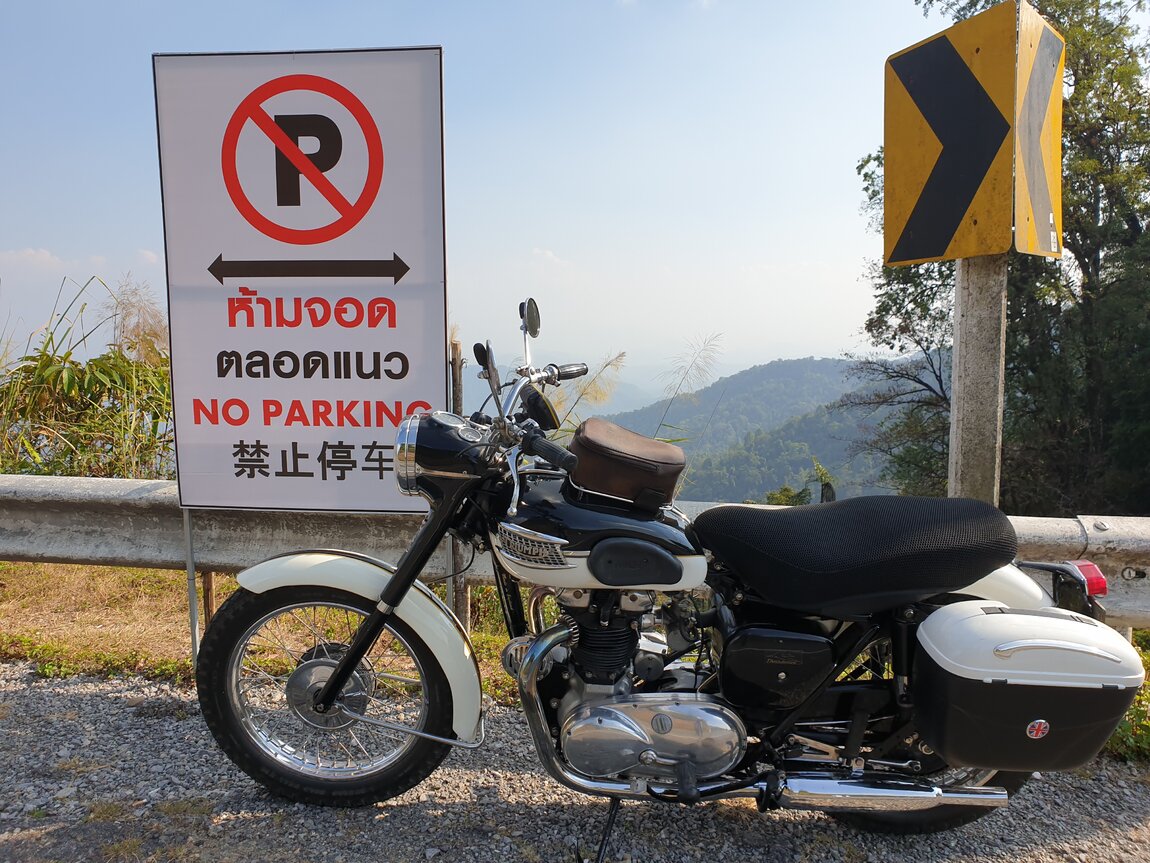 In Bo Klua, we stayed down by the river in a cheaper place, 300 Baht a night. We sat right in the river drinking beer at sundown.
My room was basically a mattress on a raised bed with a steel cage and tent around it.
But the people running the place were very kind and gave us a free Moo Ka Ta dinner, by the river.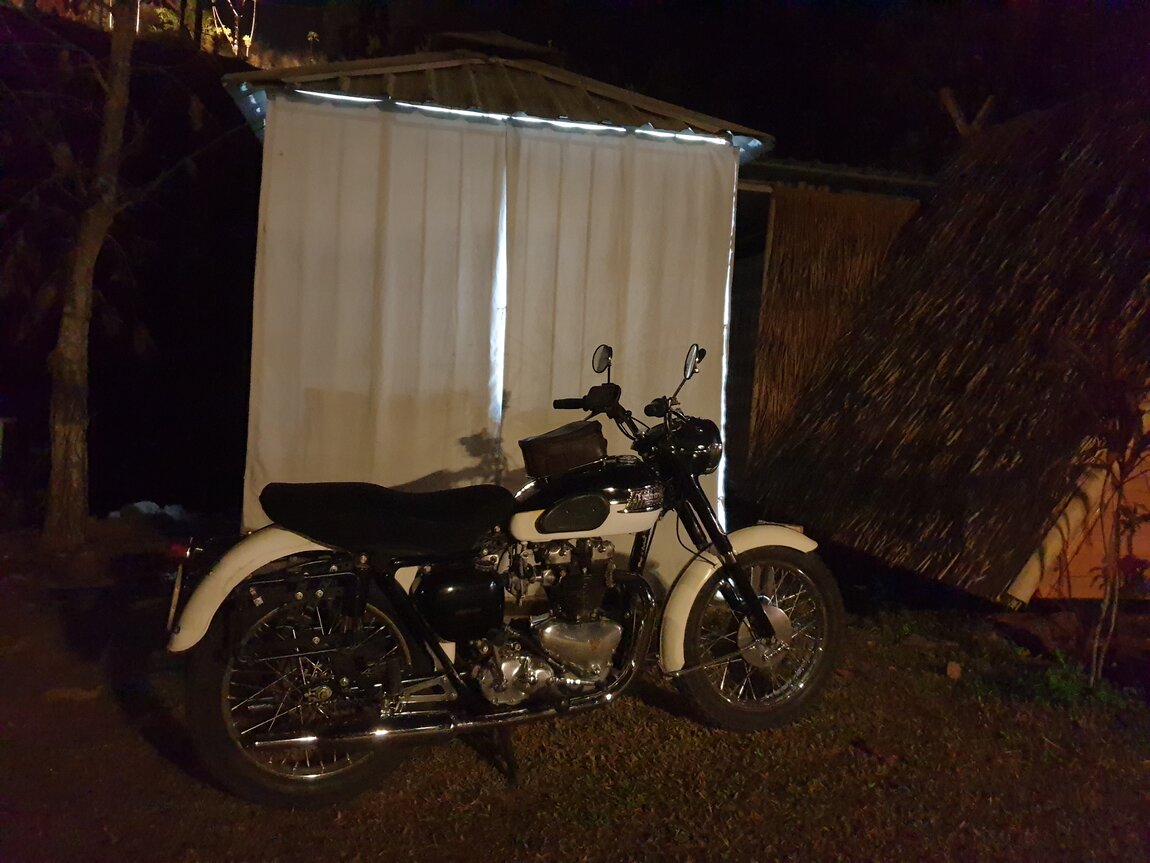 Next morning, onto the wonderful 1081 south.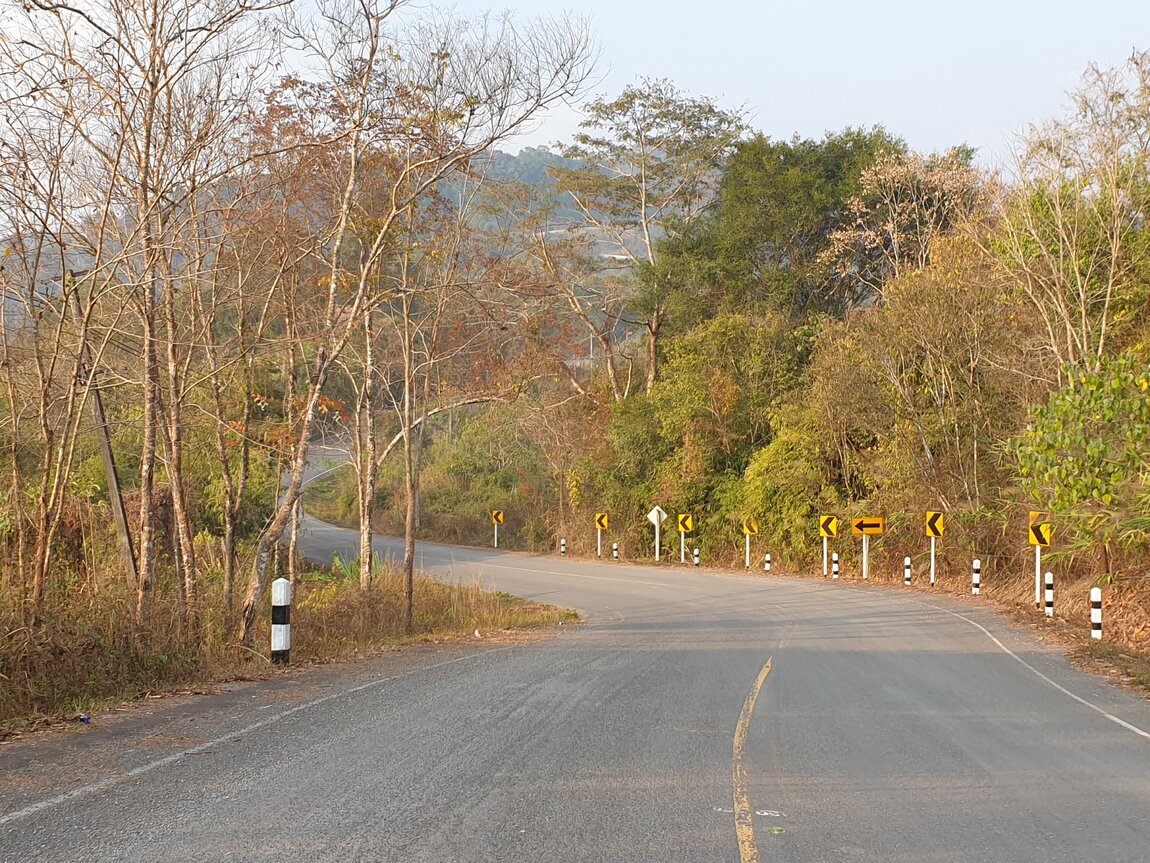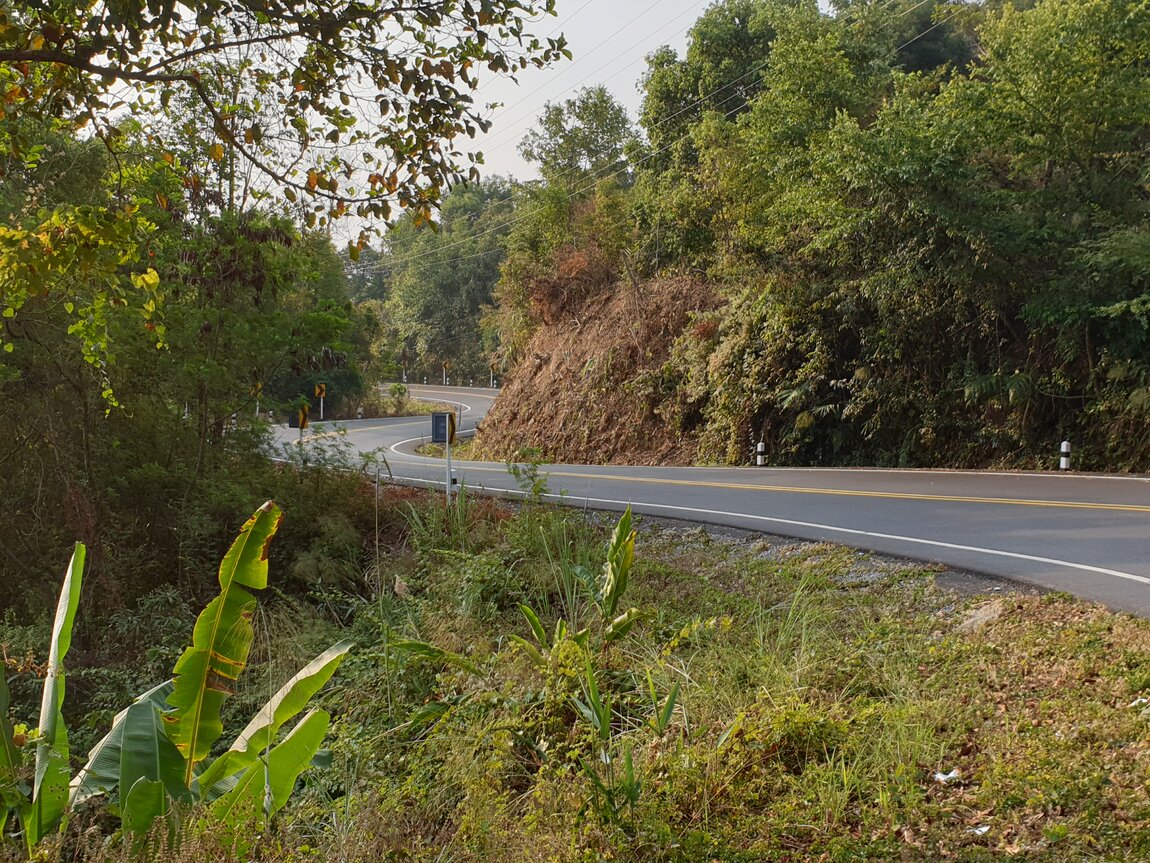 The late dry season is wonderful for flowering trees.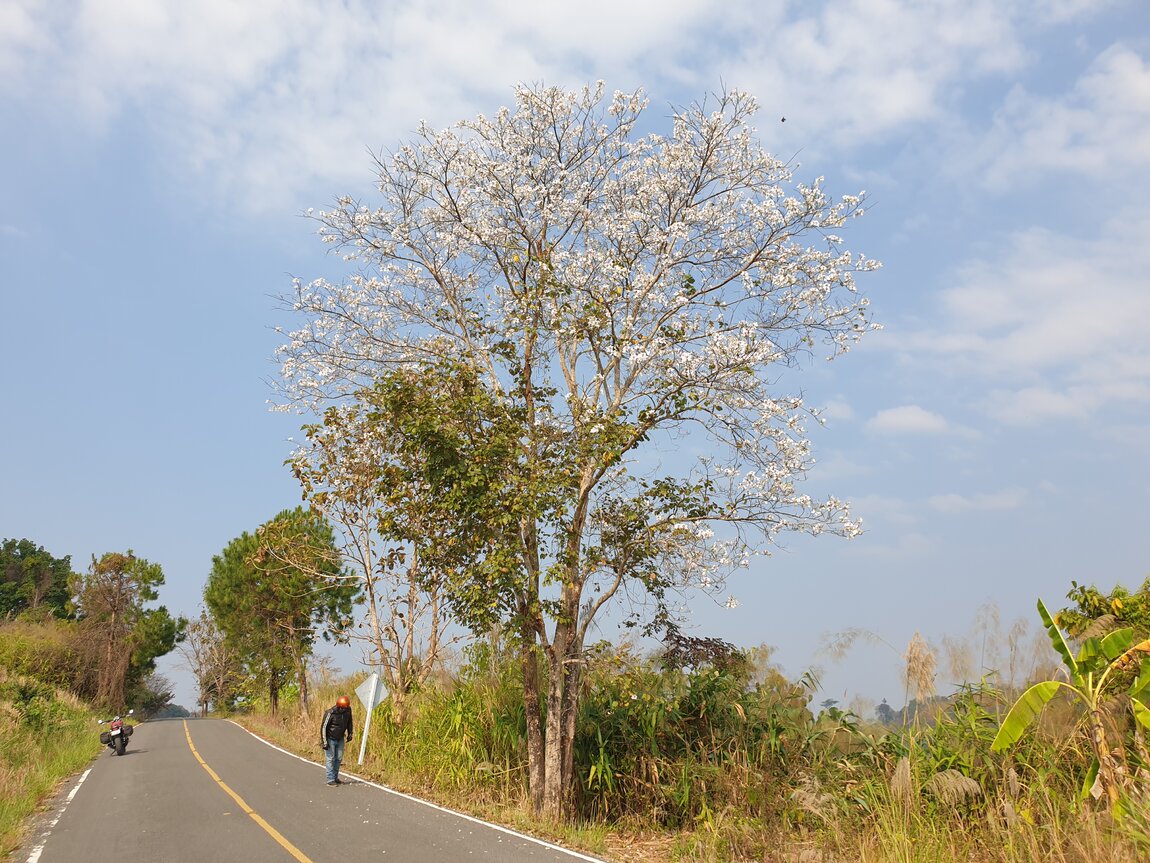 We took the super 1275 Santisuk ridge riding road.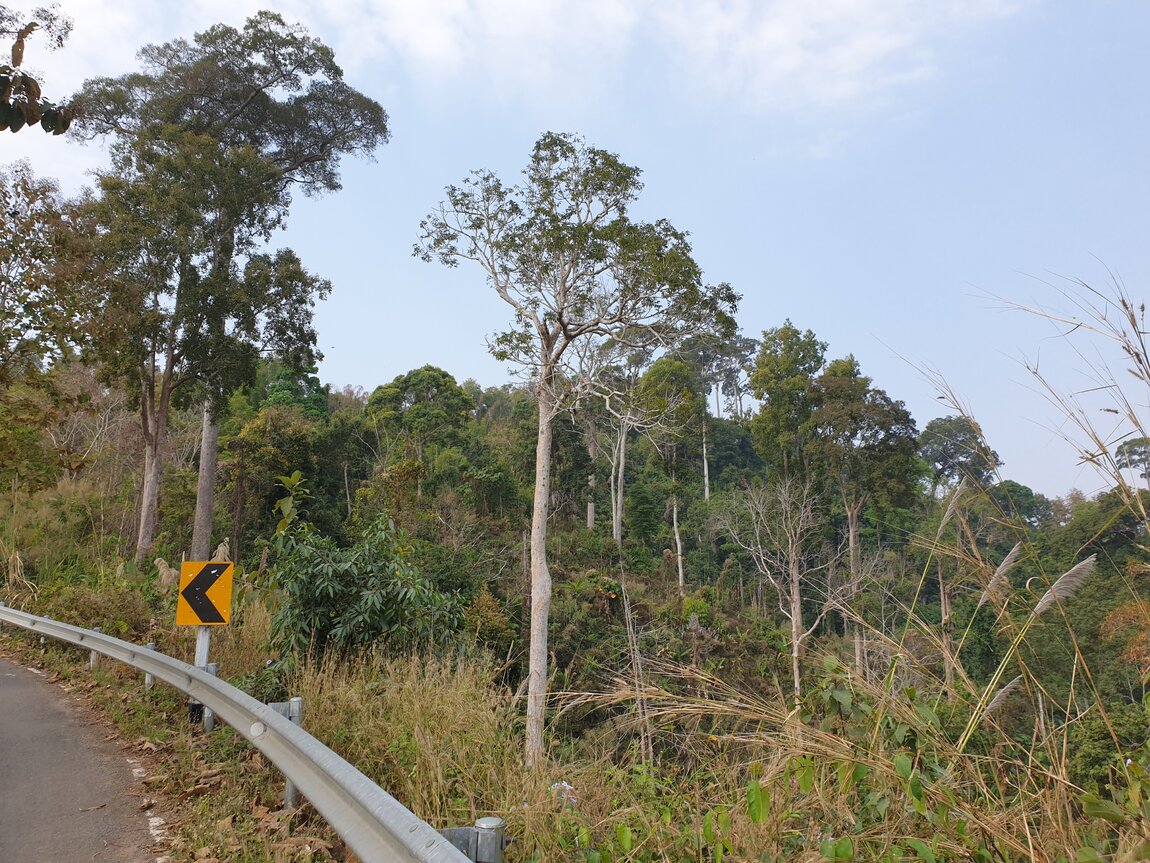 Past the giant old dipterocarp trees.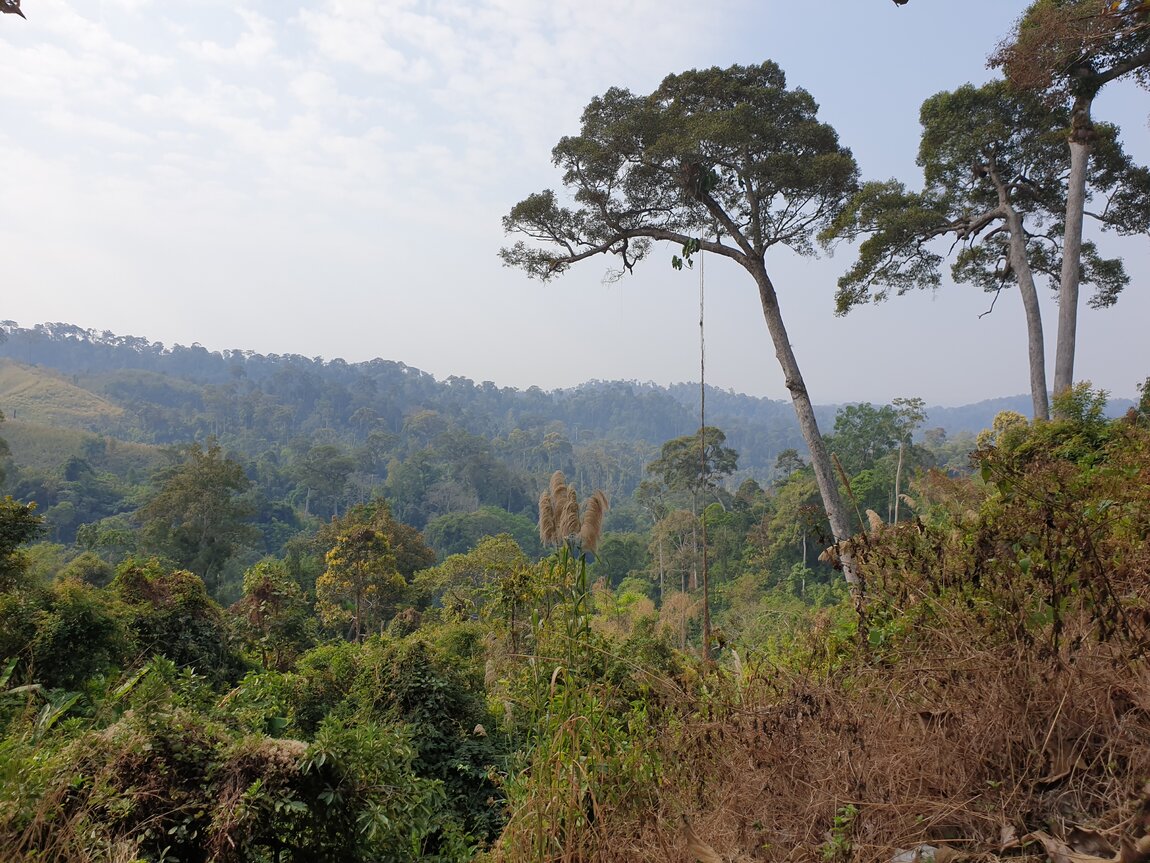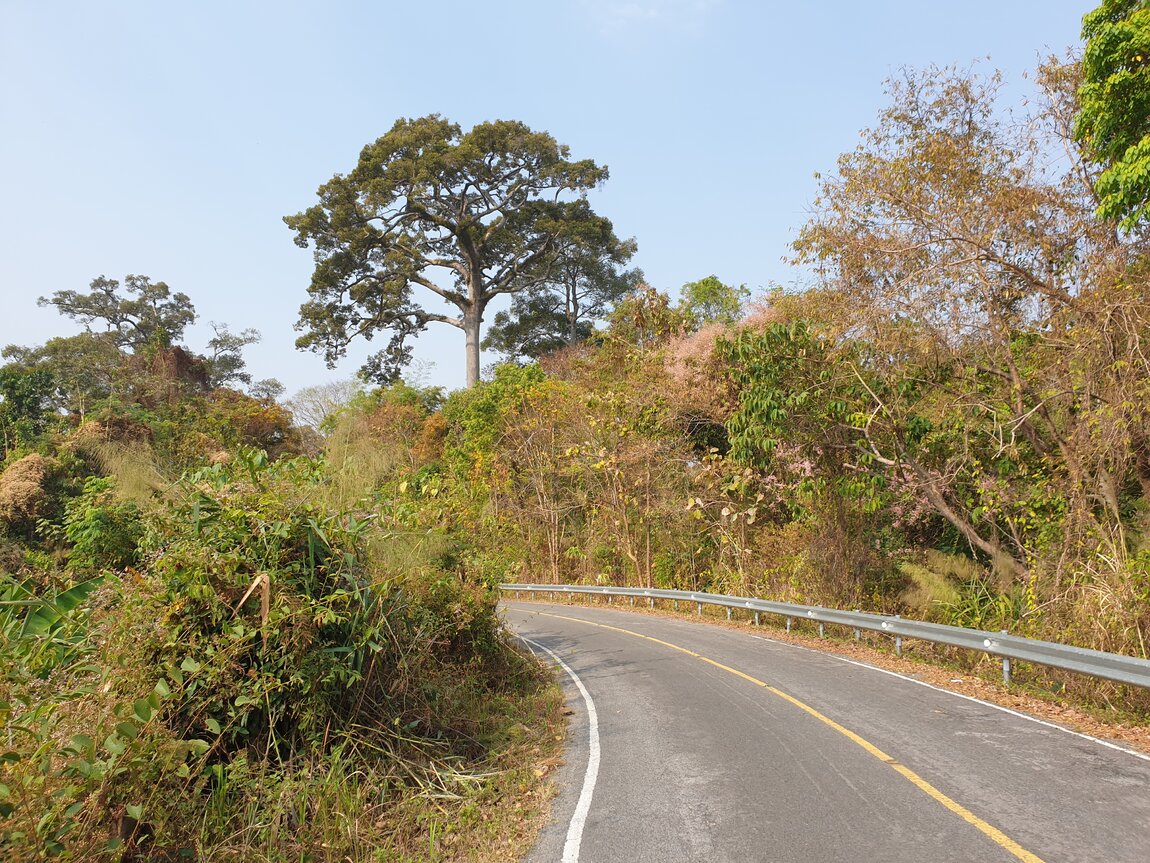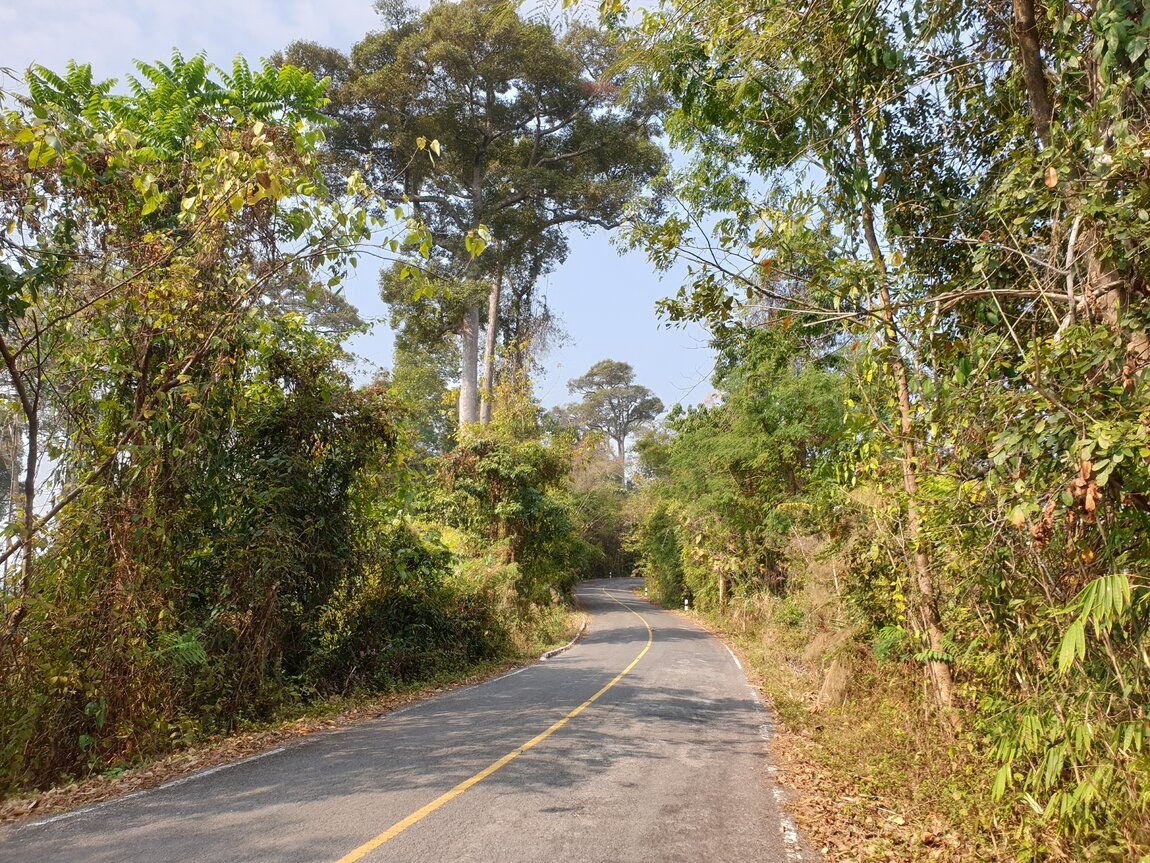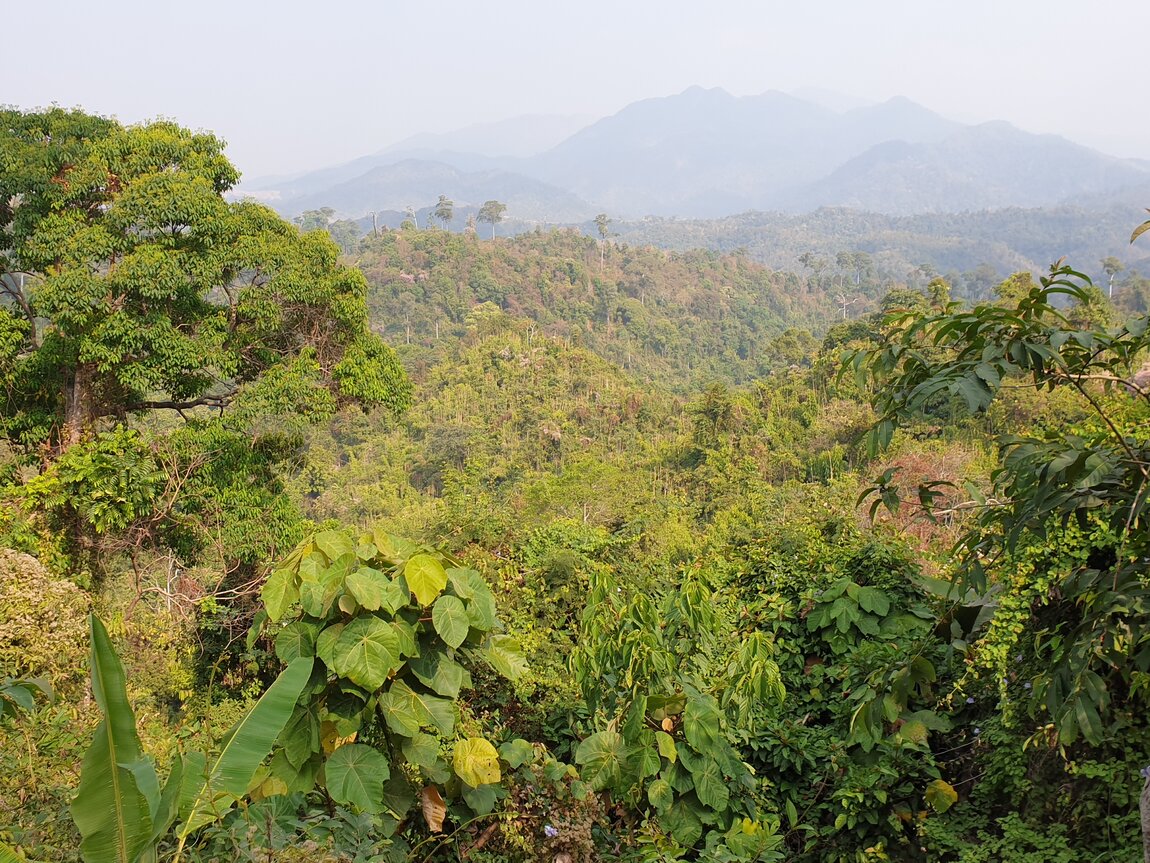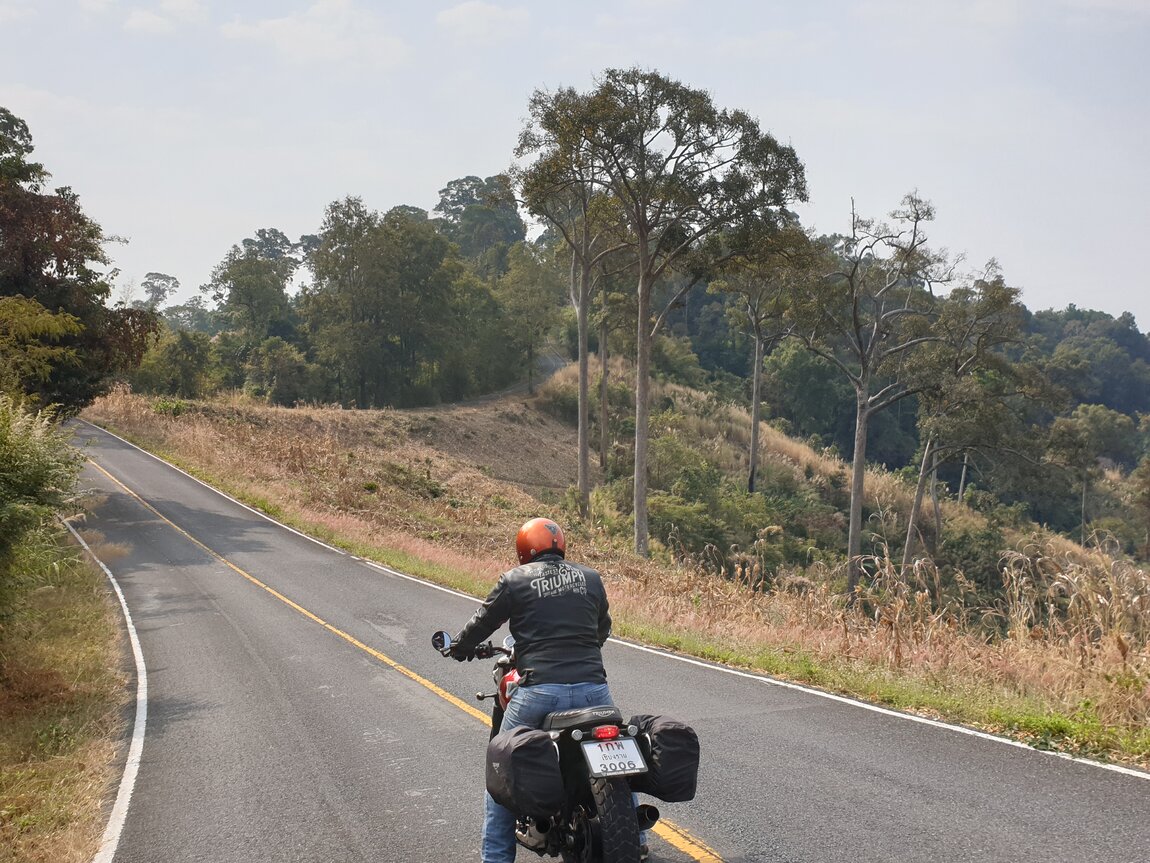 Nan ridge riding at it's best.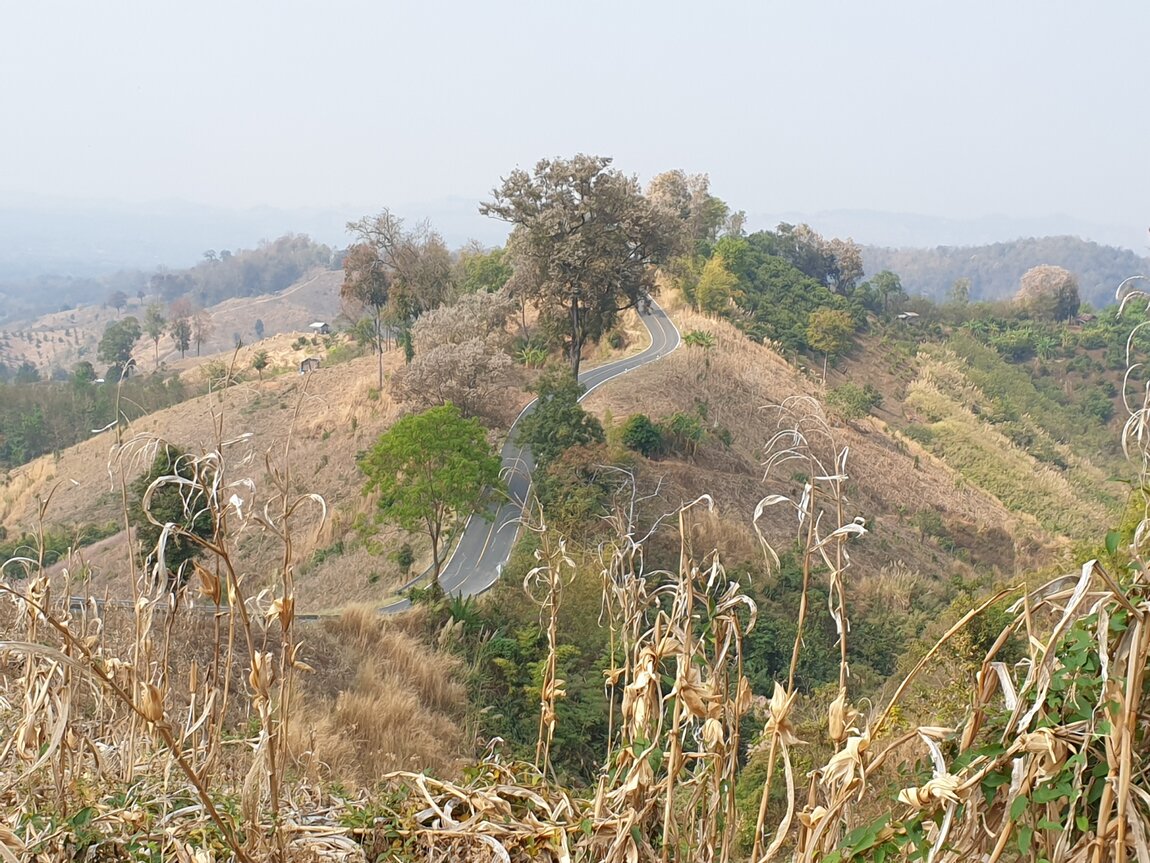 Then we took the remote eastern border road 1243, crossing from Nan into Uttaradit. It really is remote out there, almost zero traffic.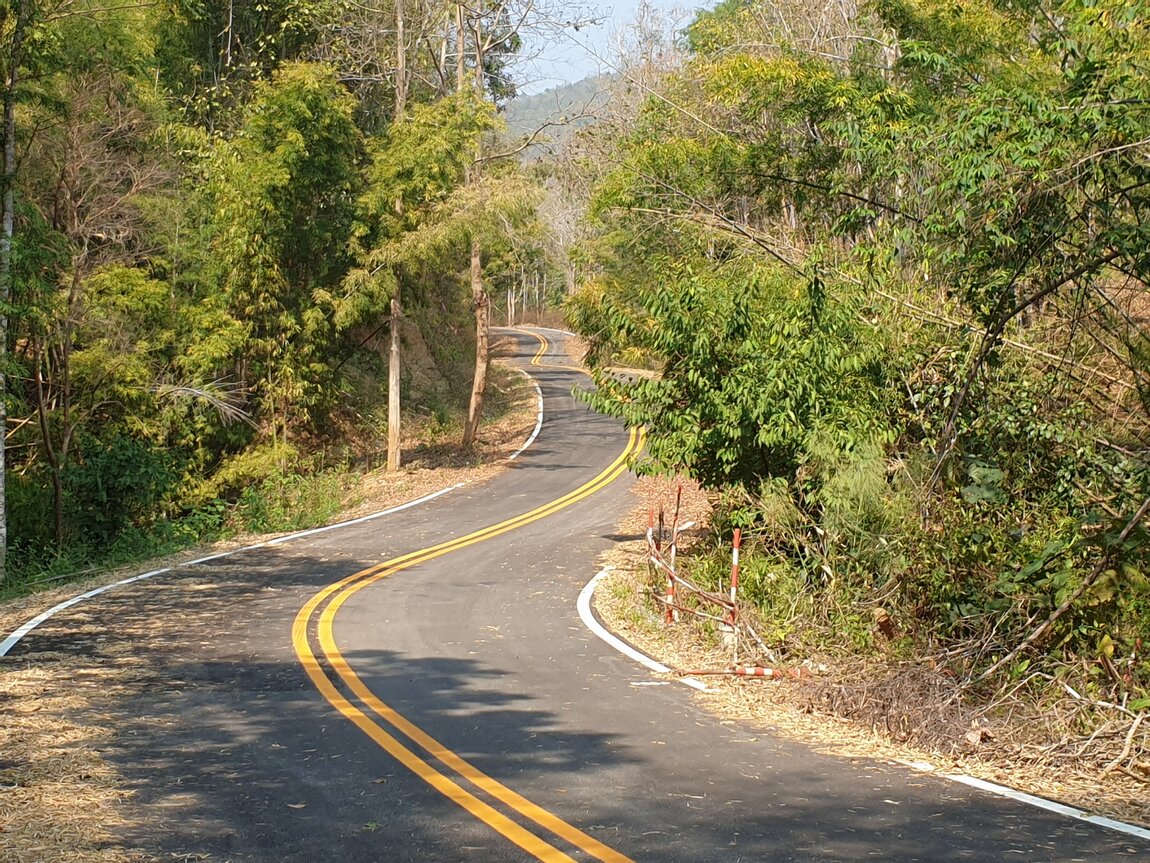 After a night in Nam Pat, we rode west.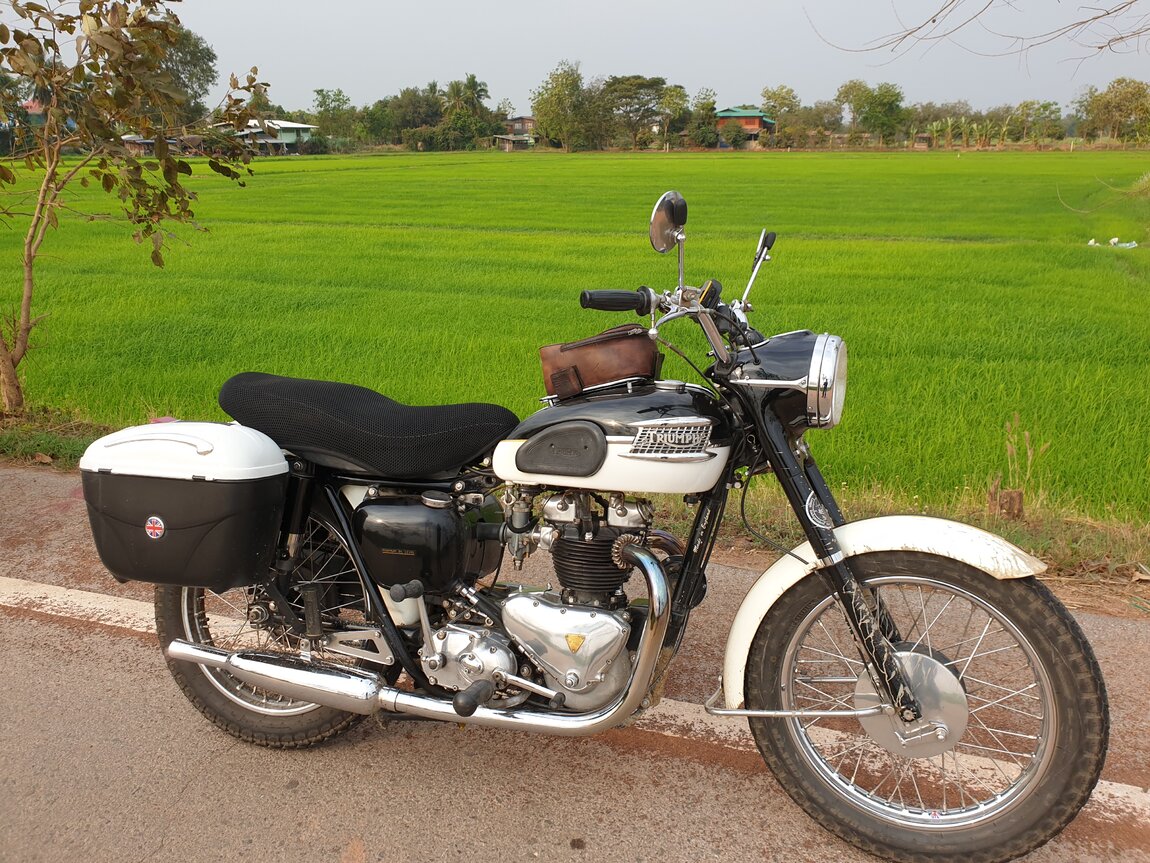 We rode around Uttaradit and through Denchai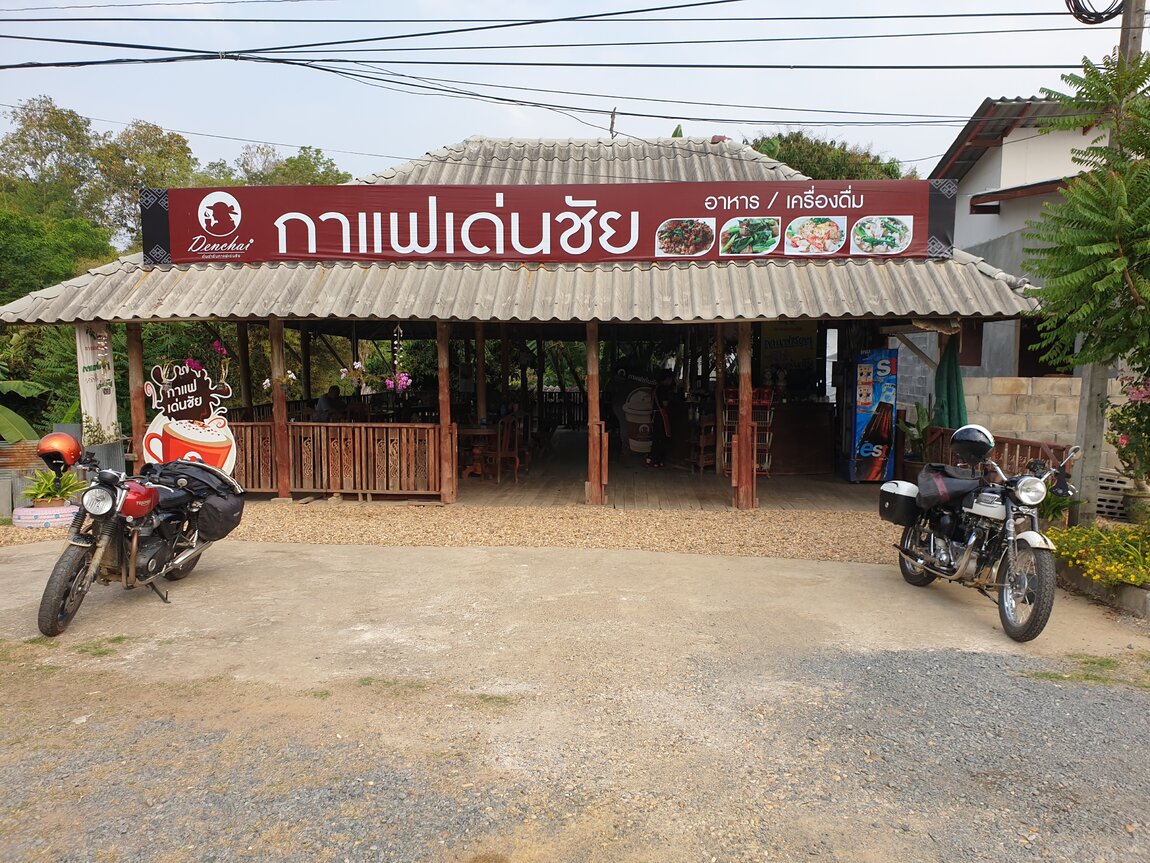 Wat Denchai is quite a stunner.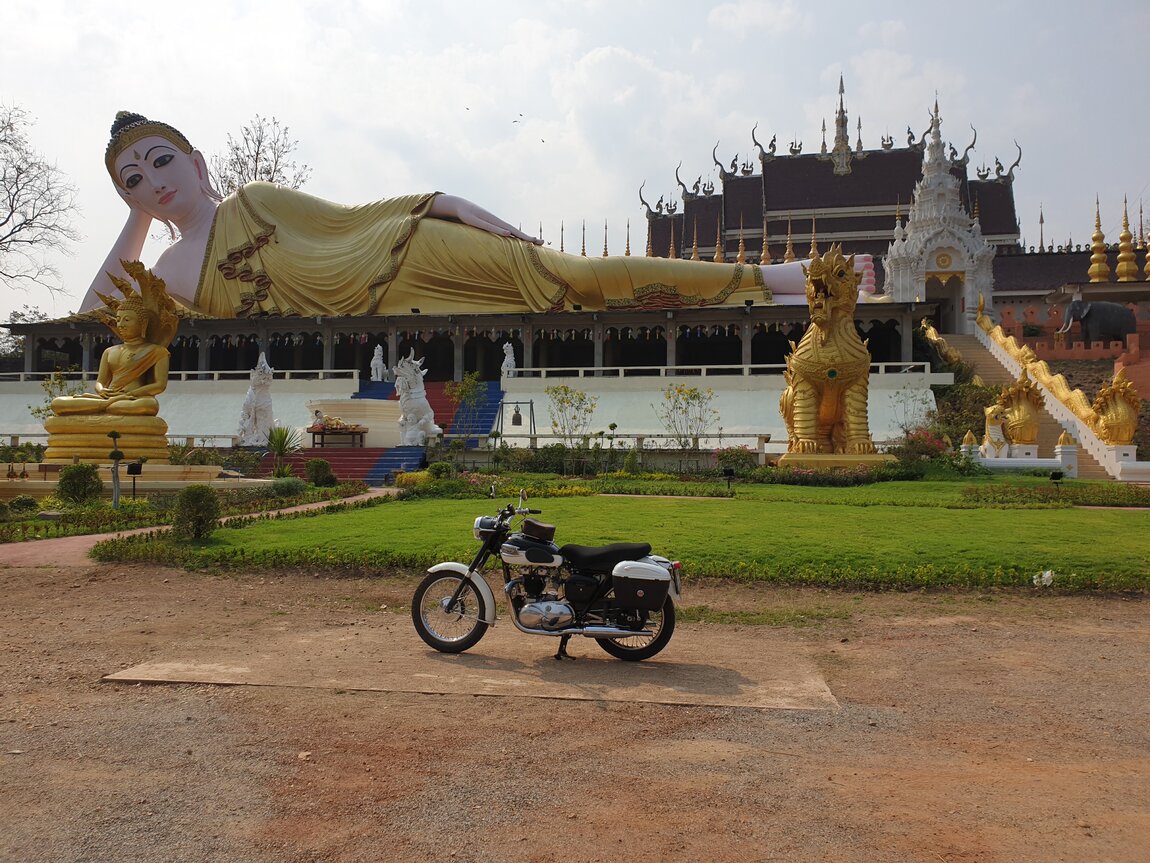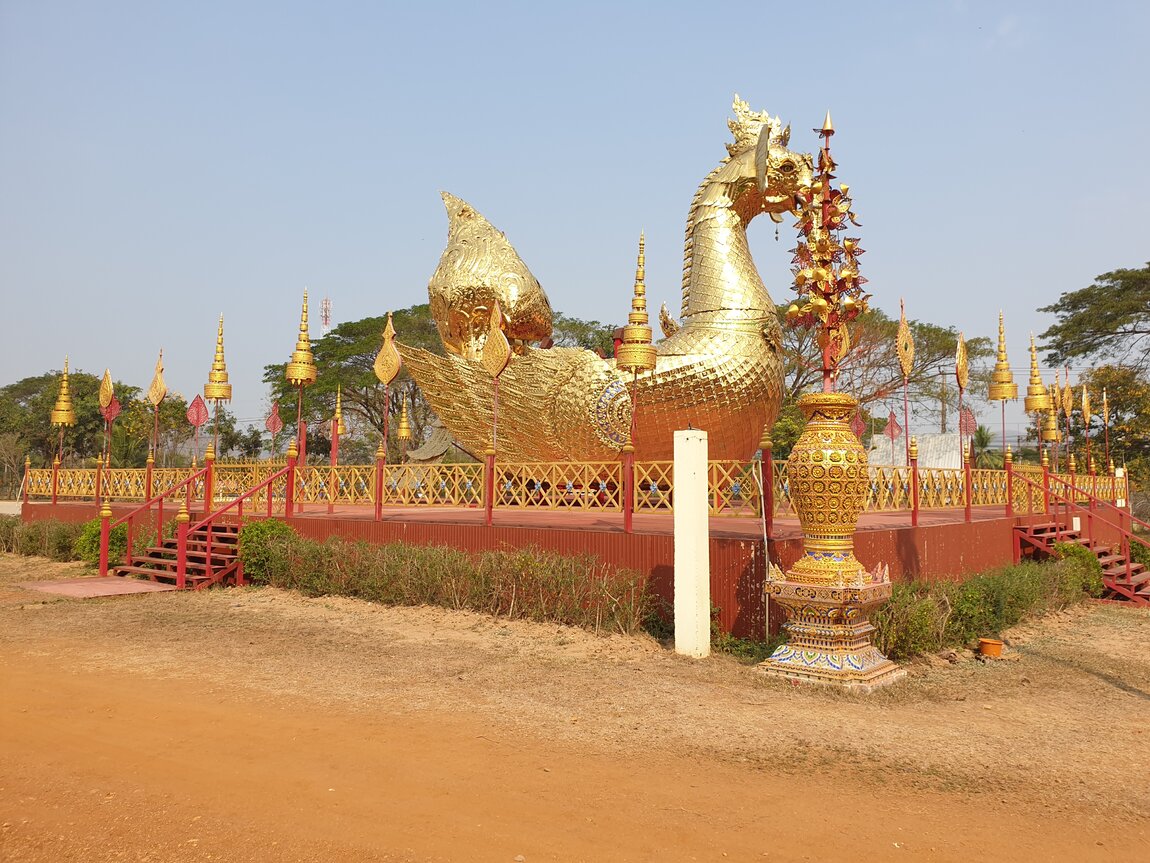 We stopped for a good look around.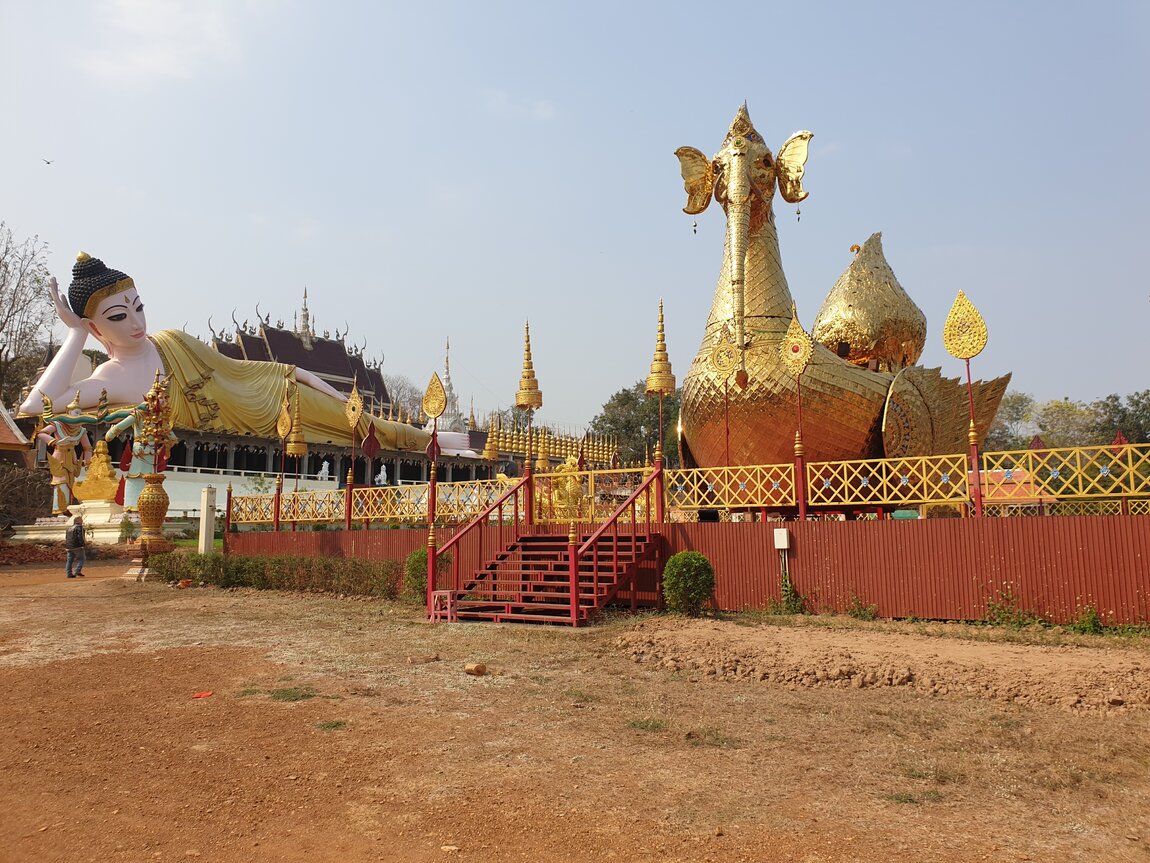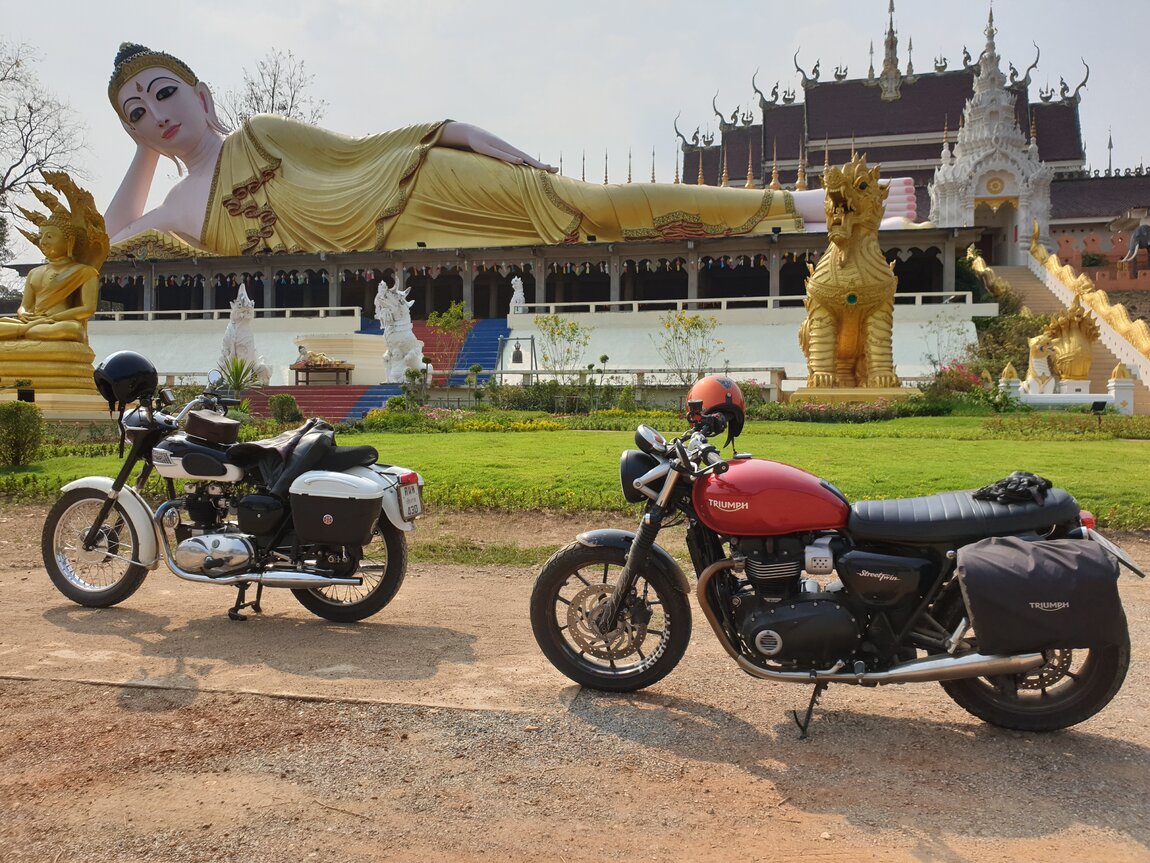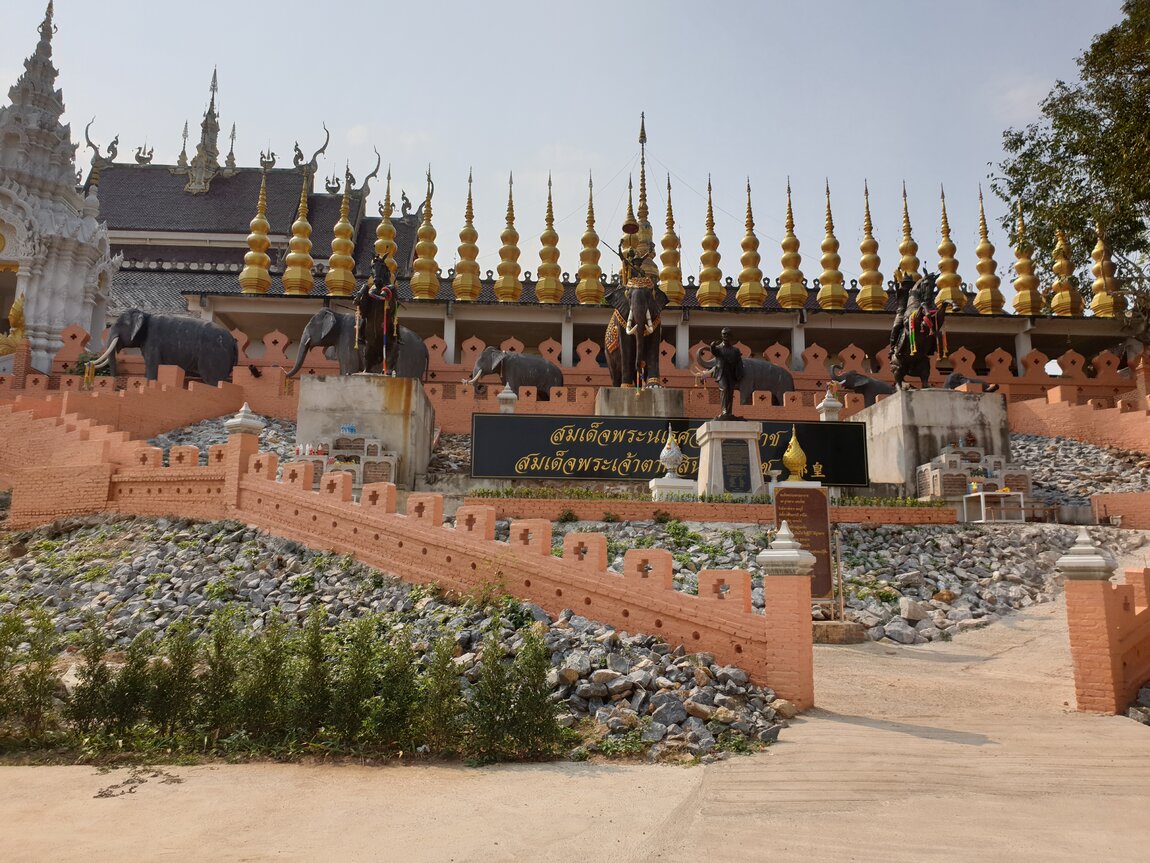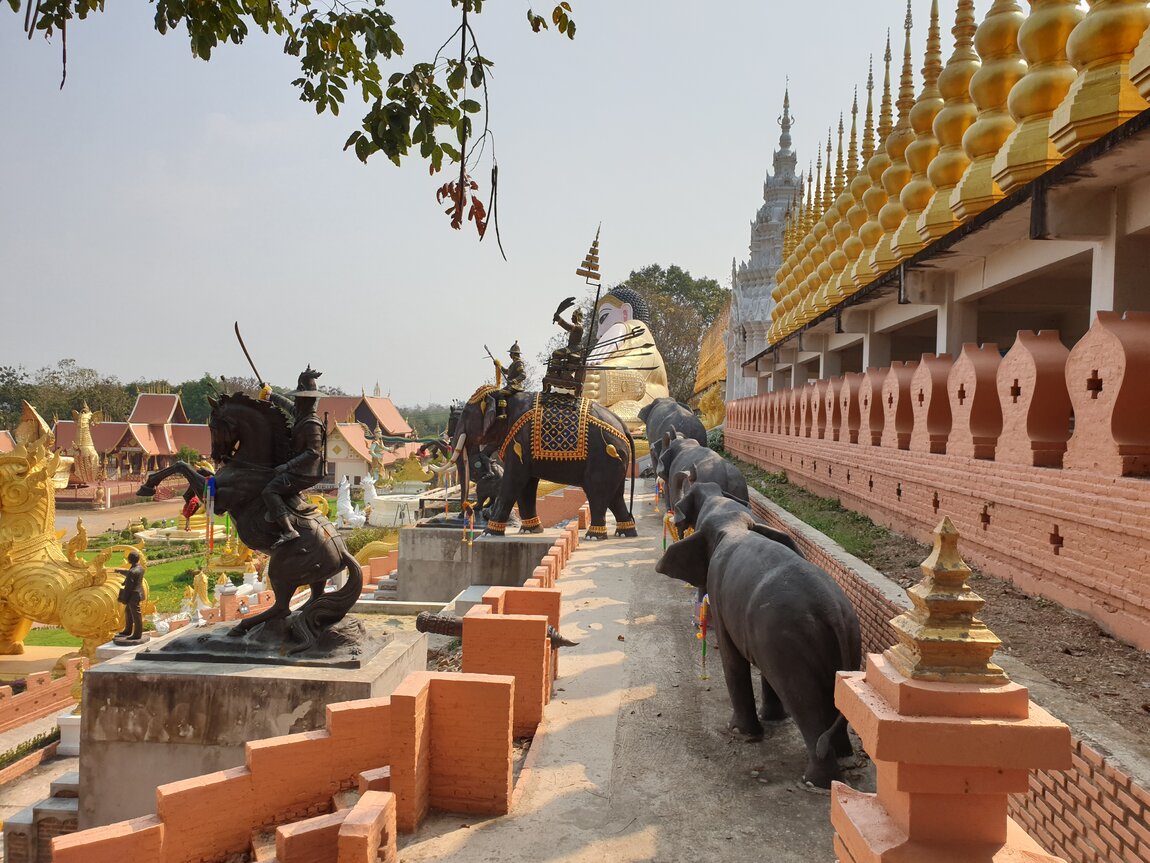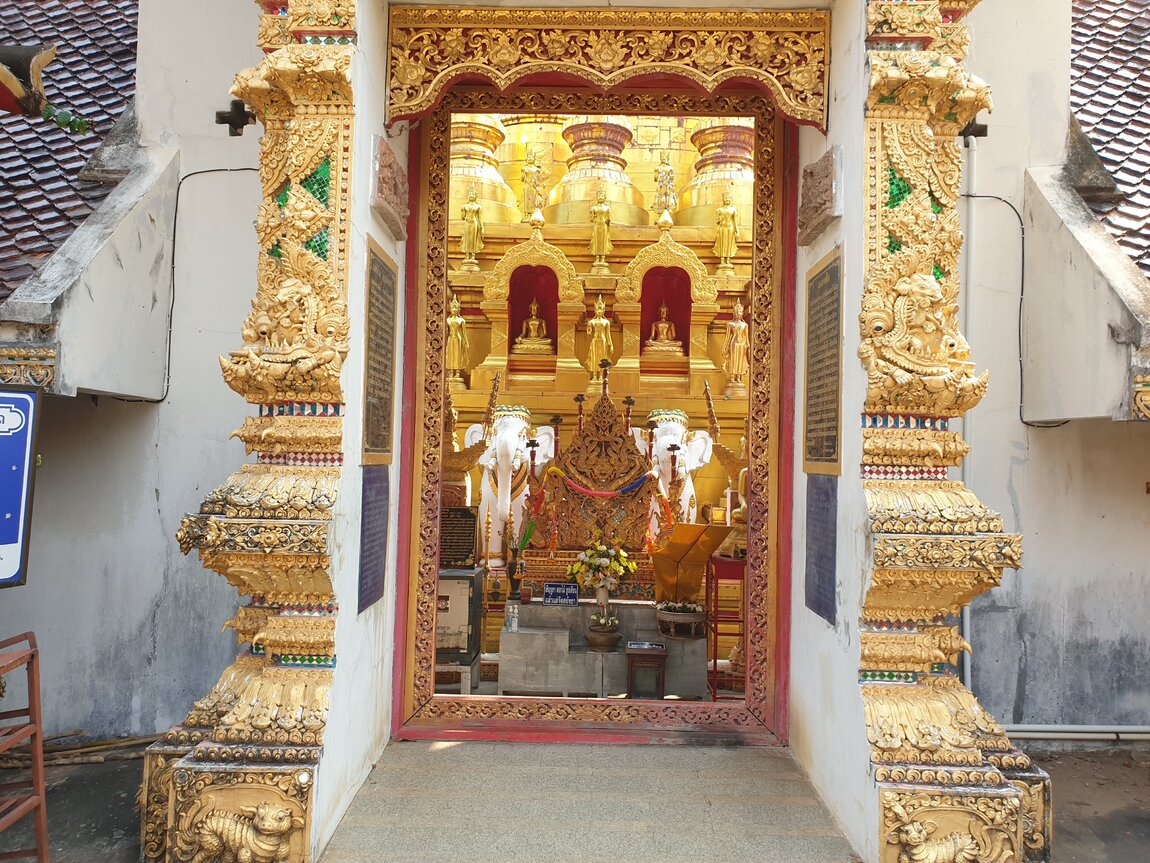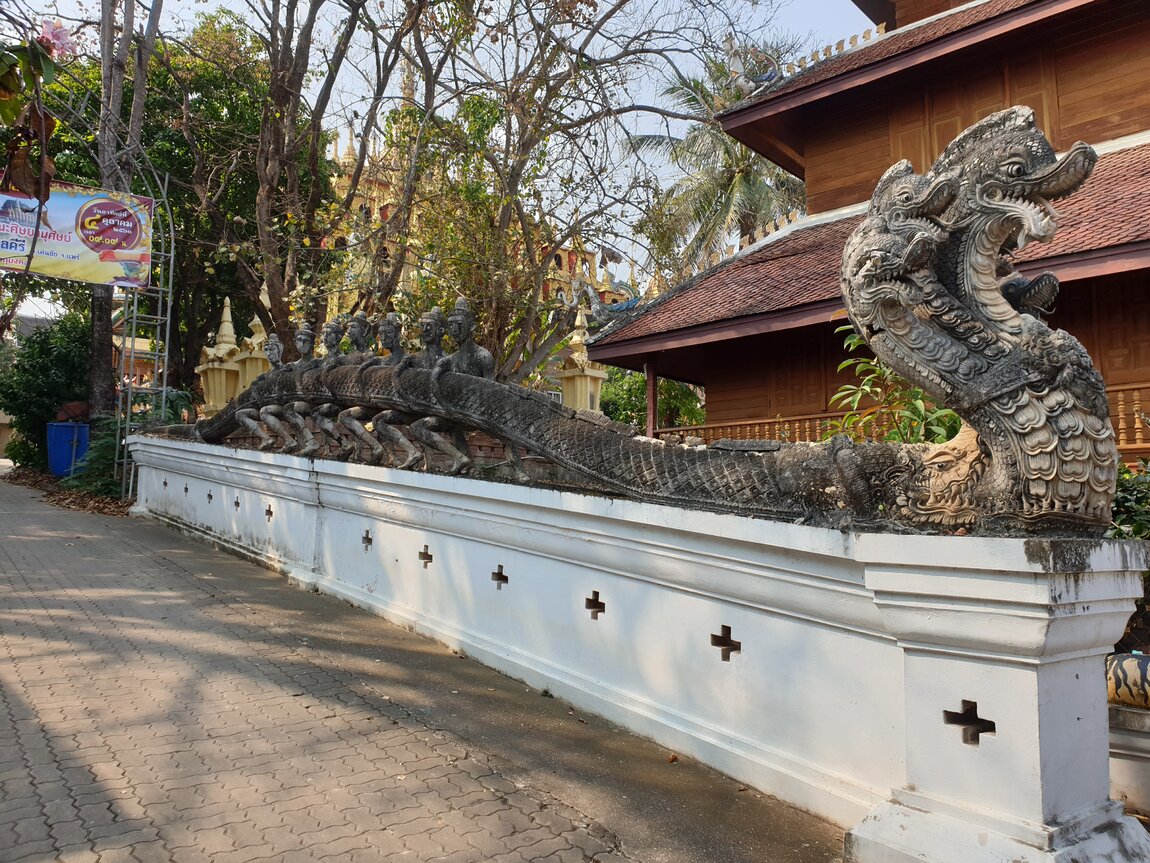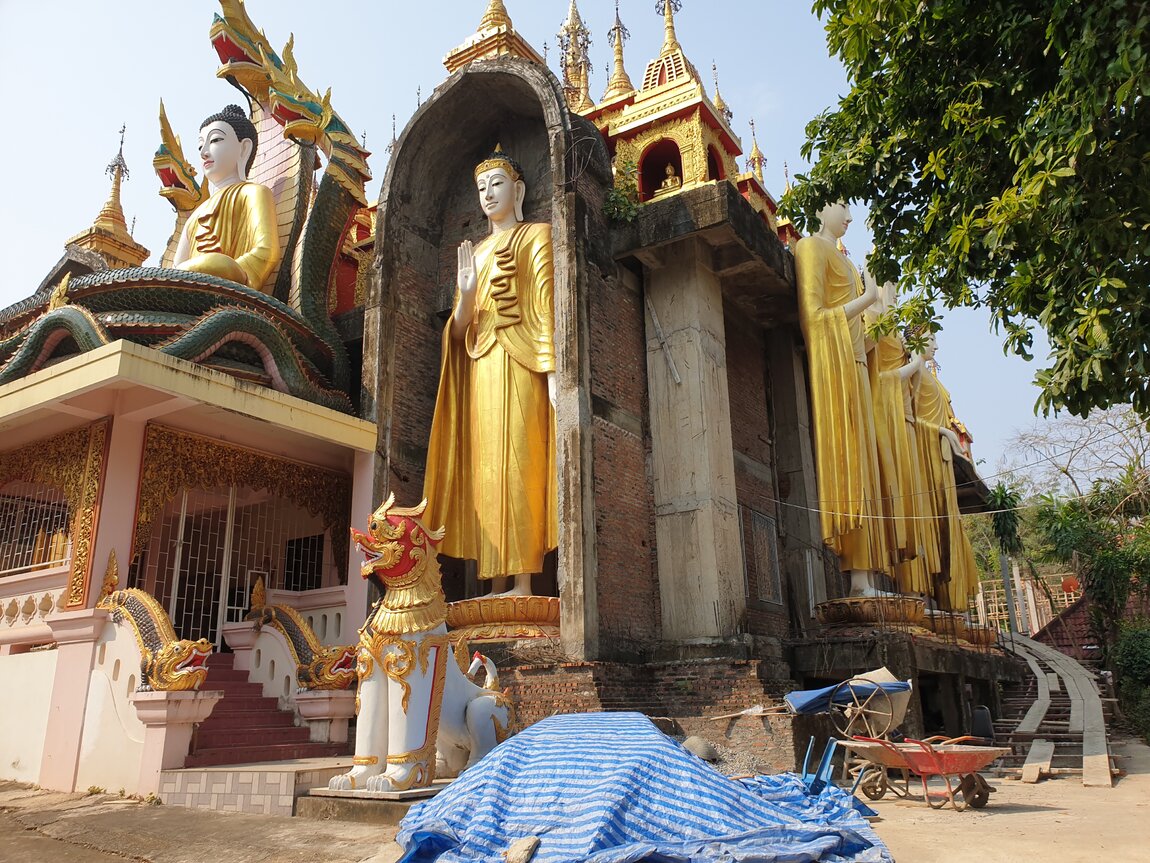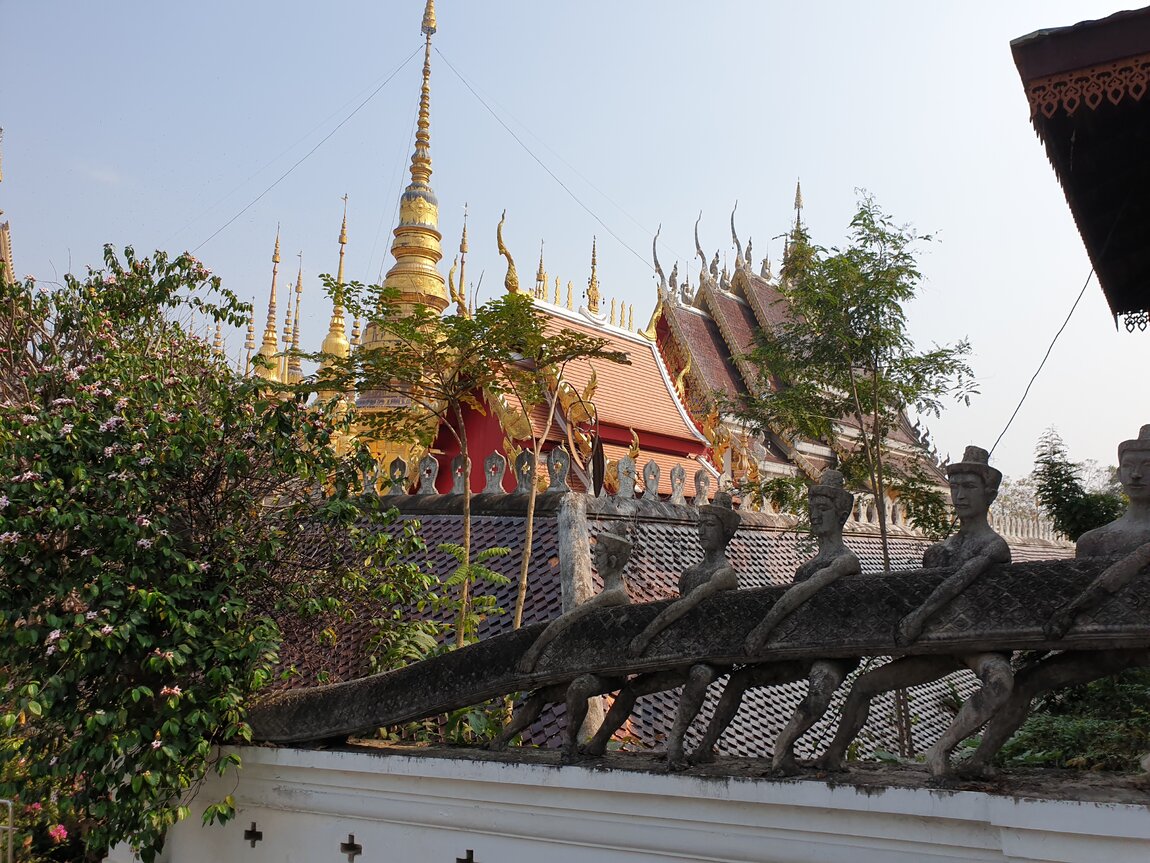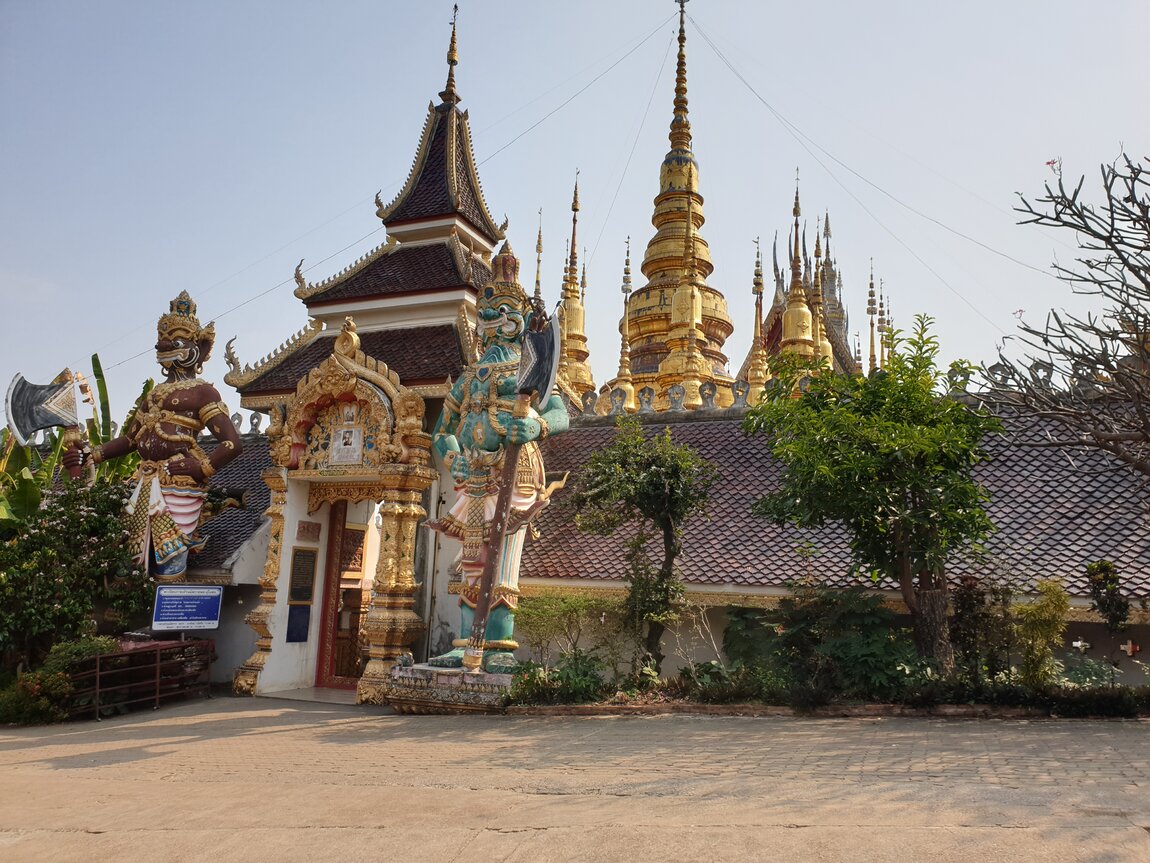 There were some very old chedi remains. This gentleman had died in 1815 a.d.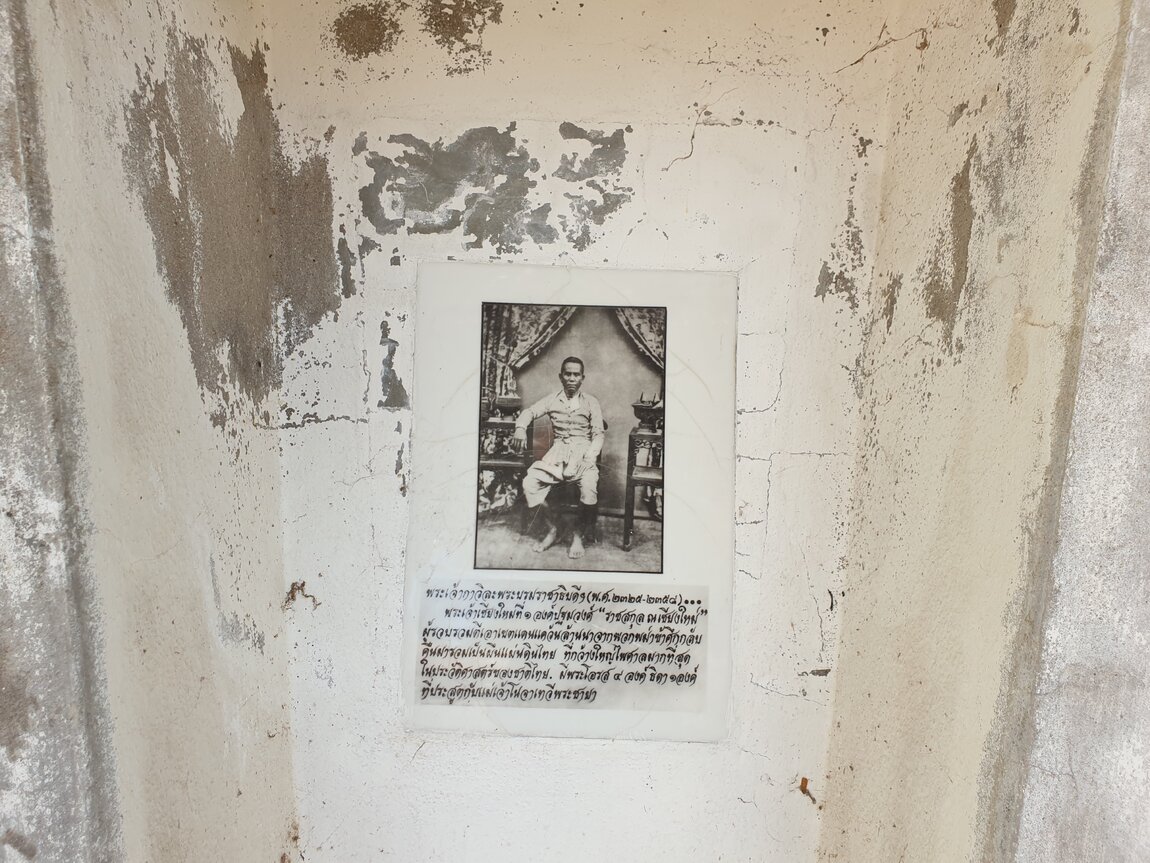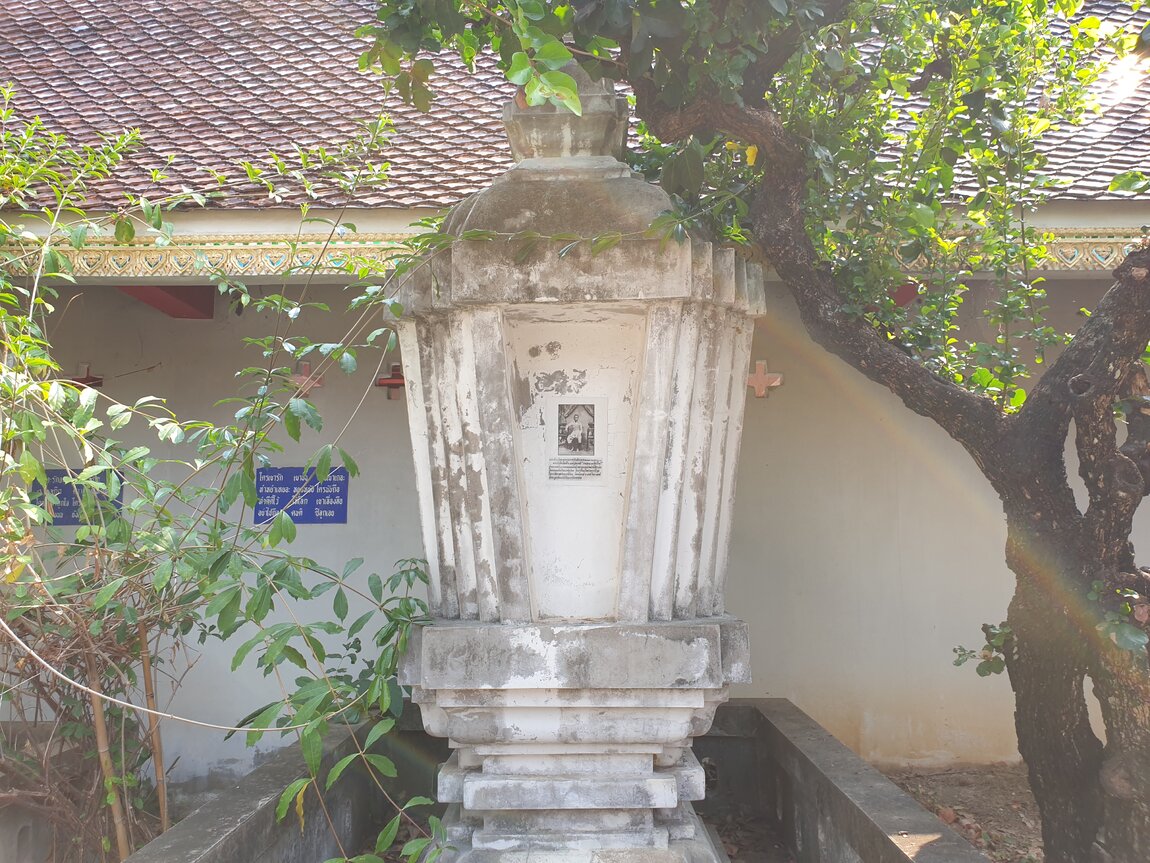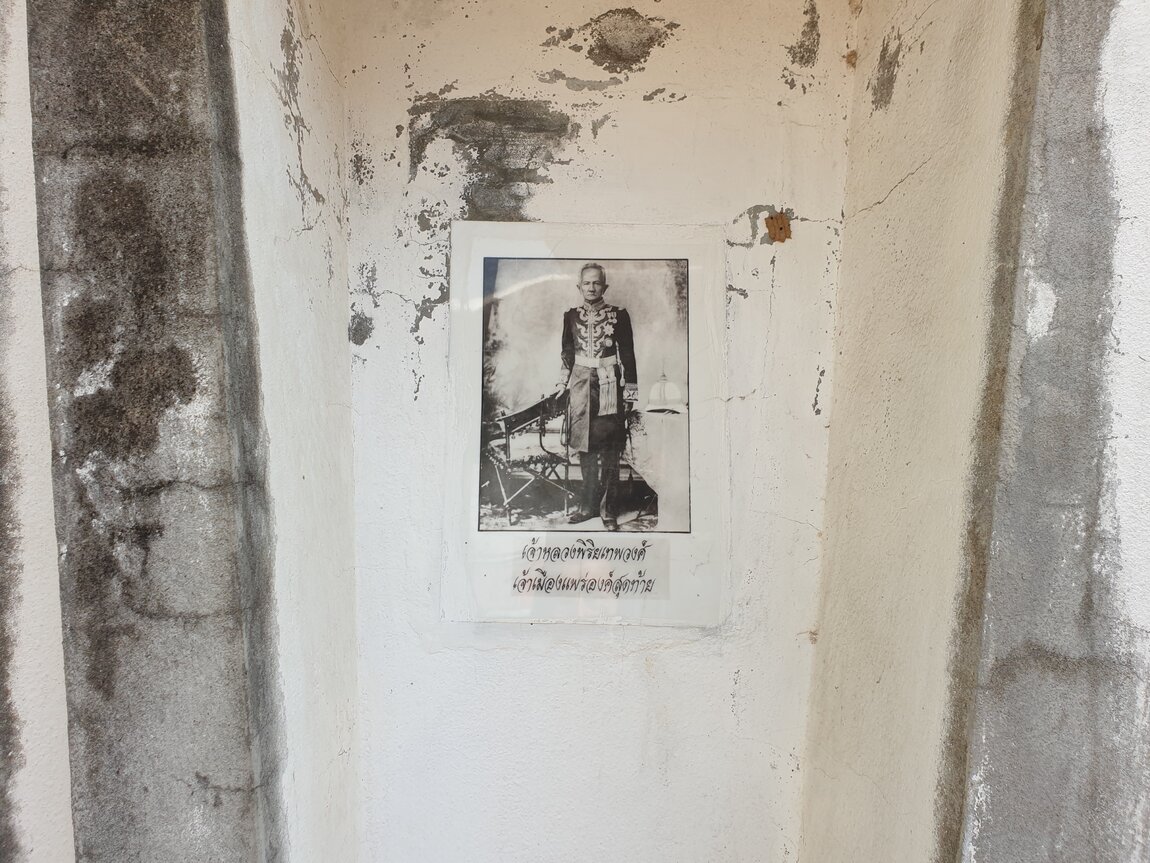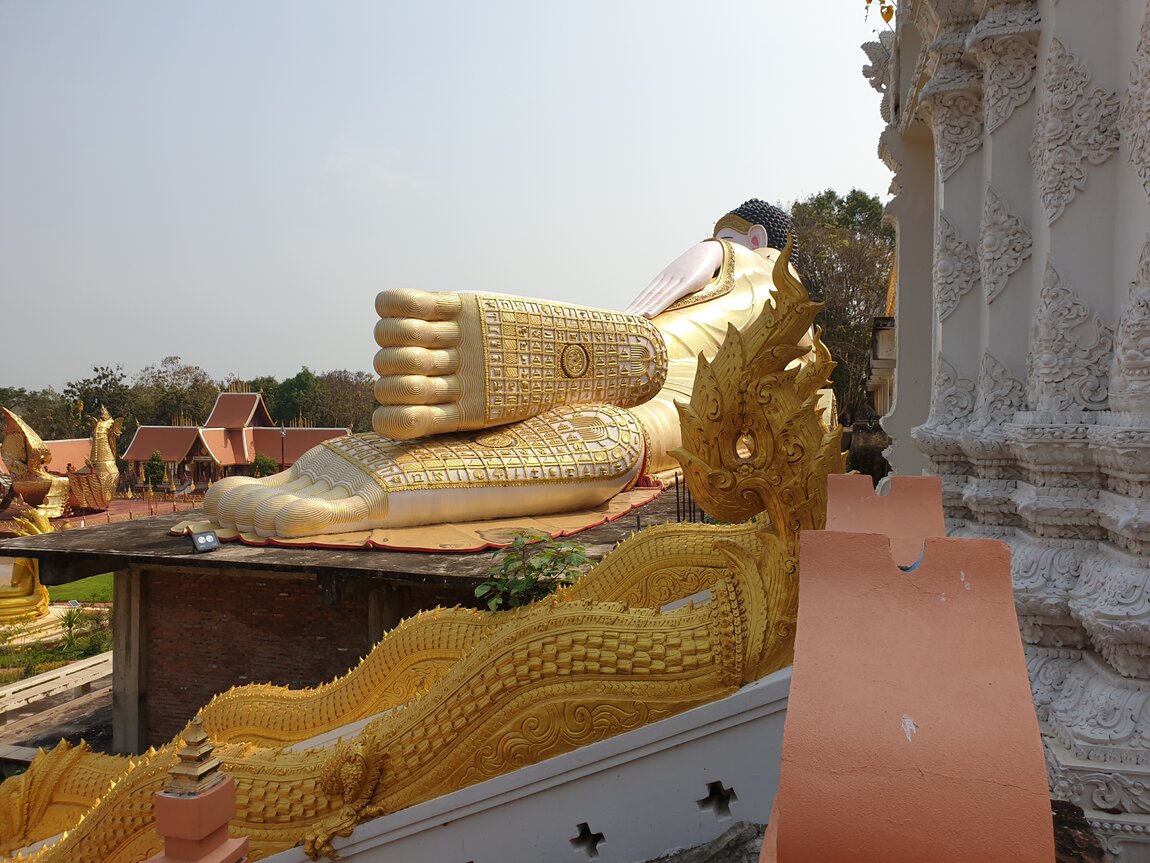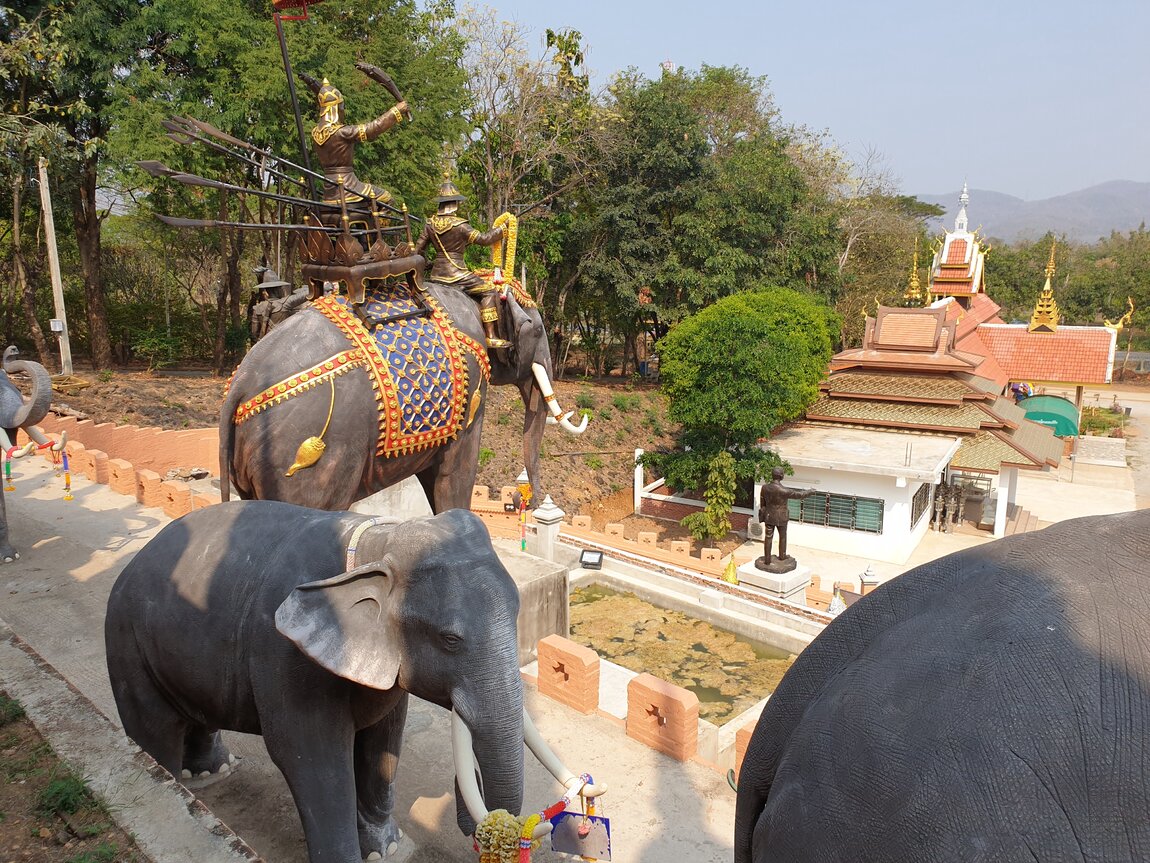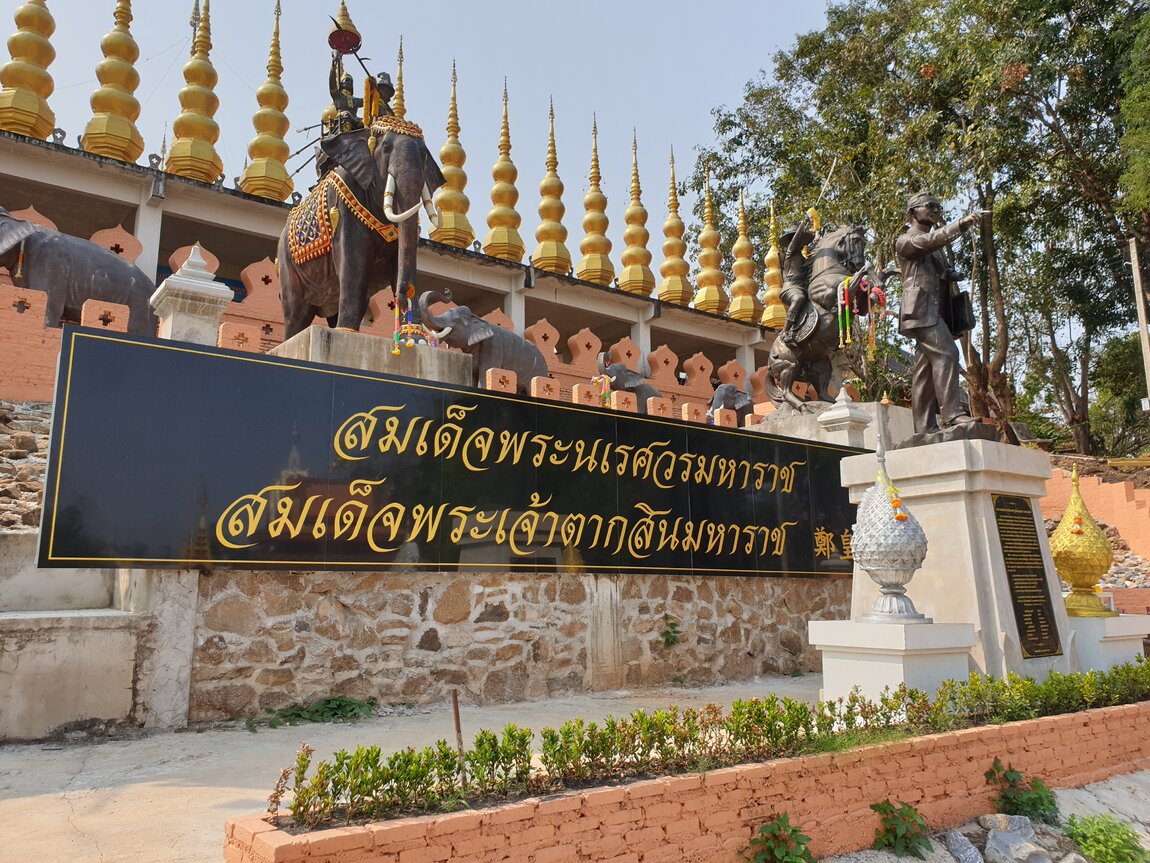 Riding on, there were flowering trees everywhere; yellows, reds and gold; Luang Preedeeatawn, Don Niew and Gah Salong Khum.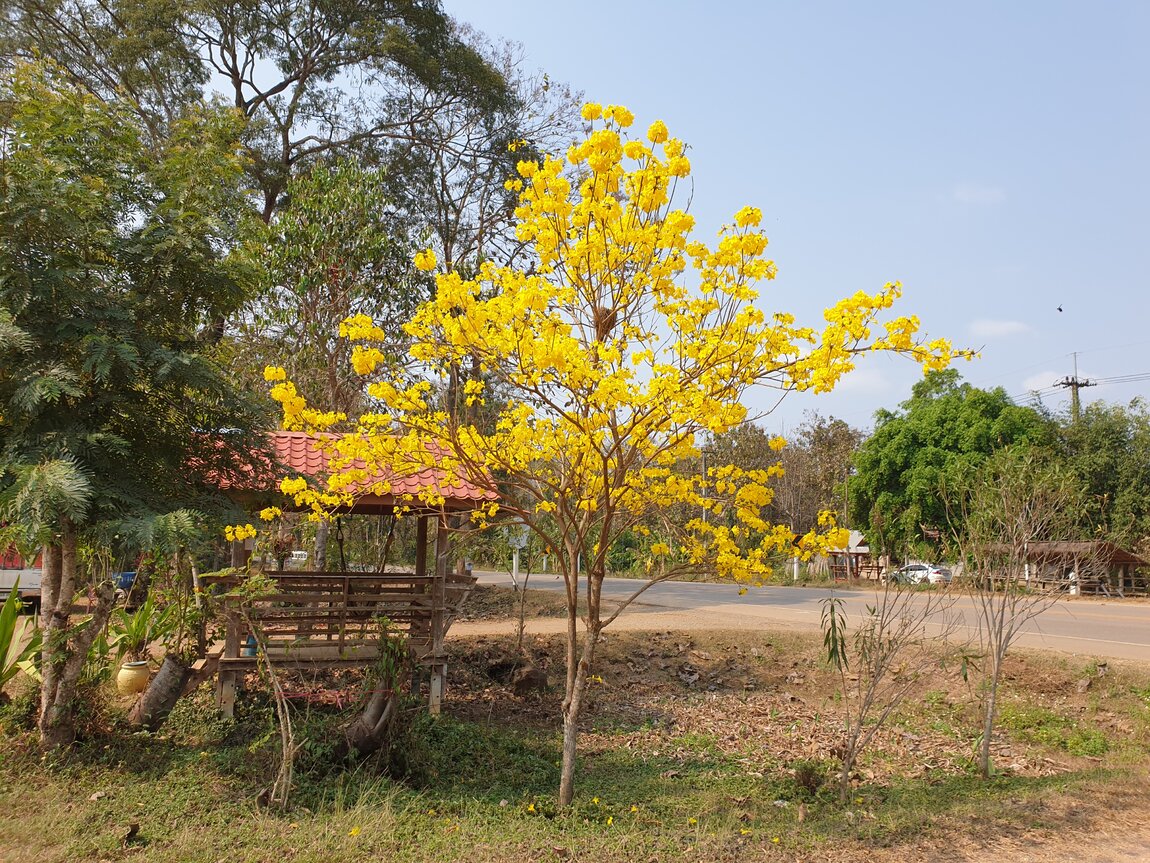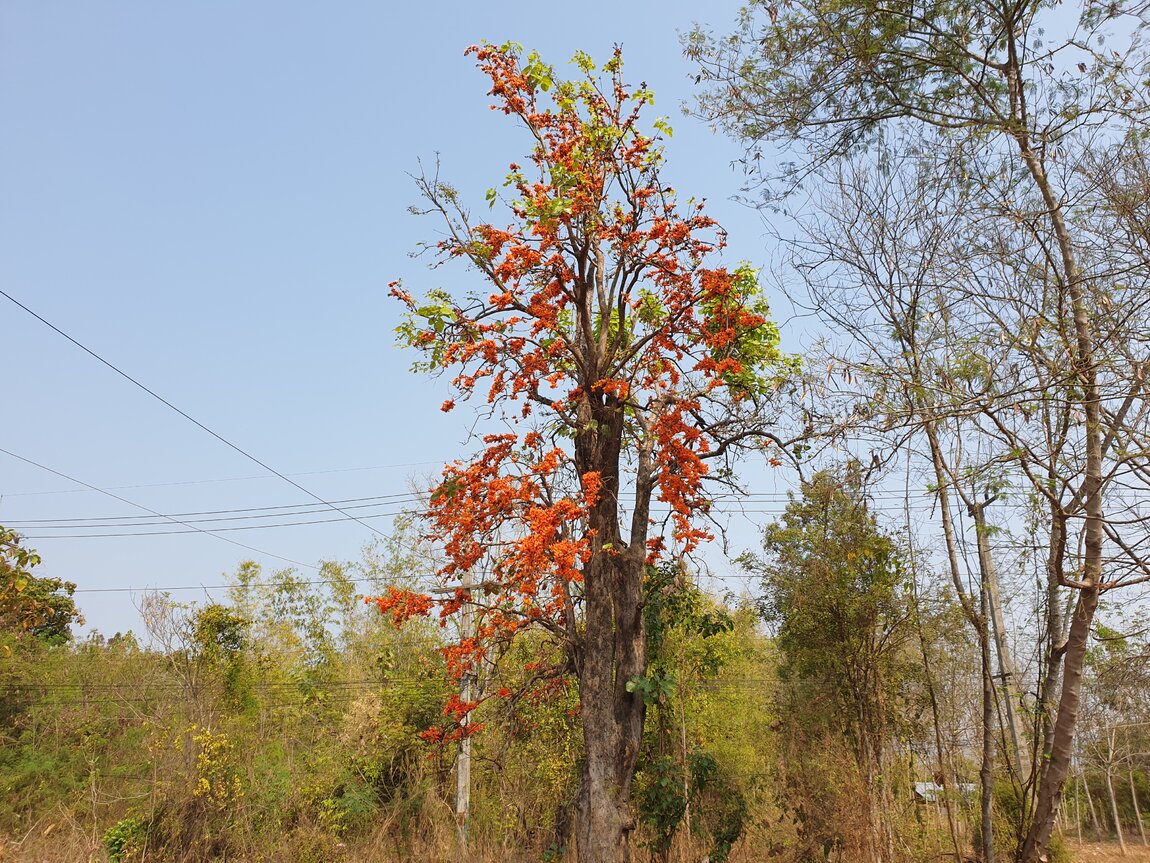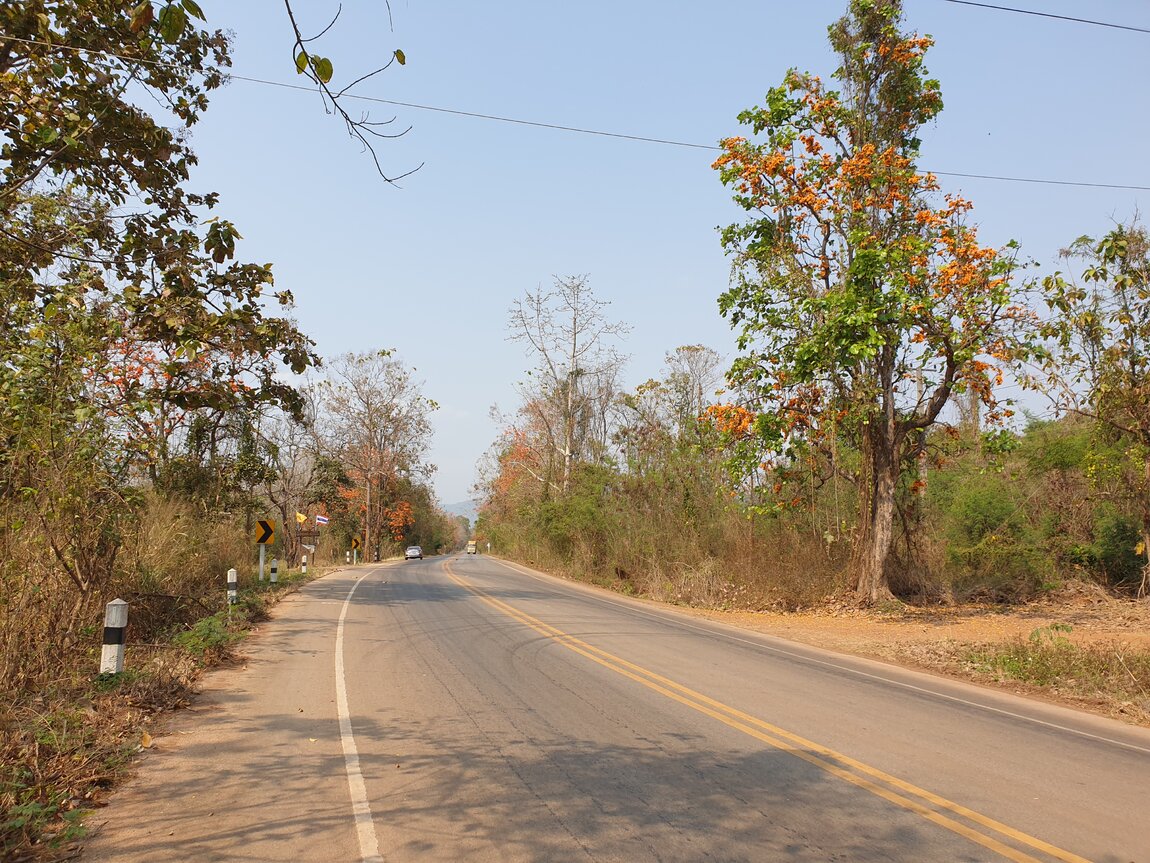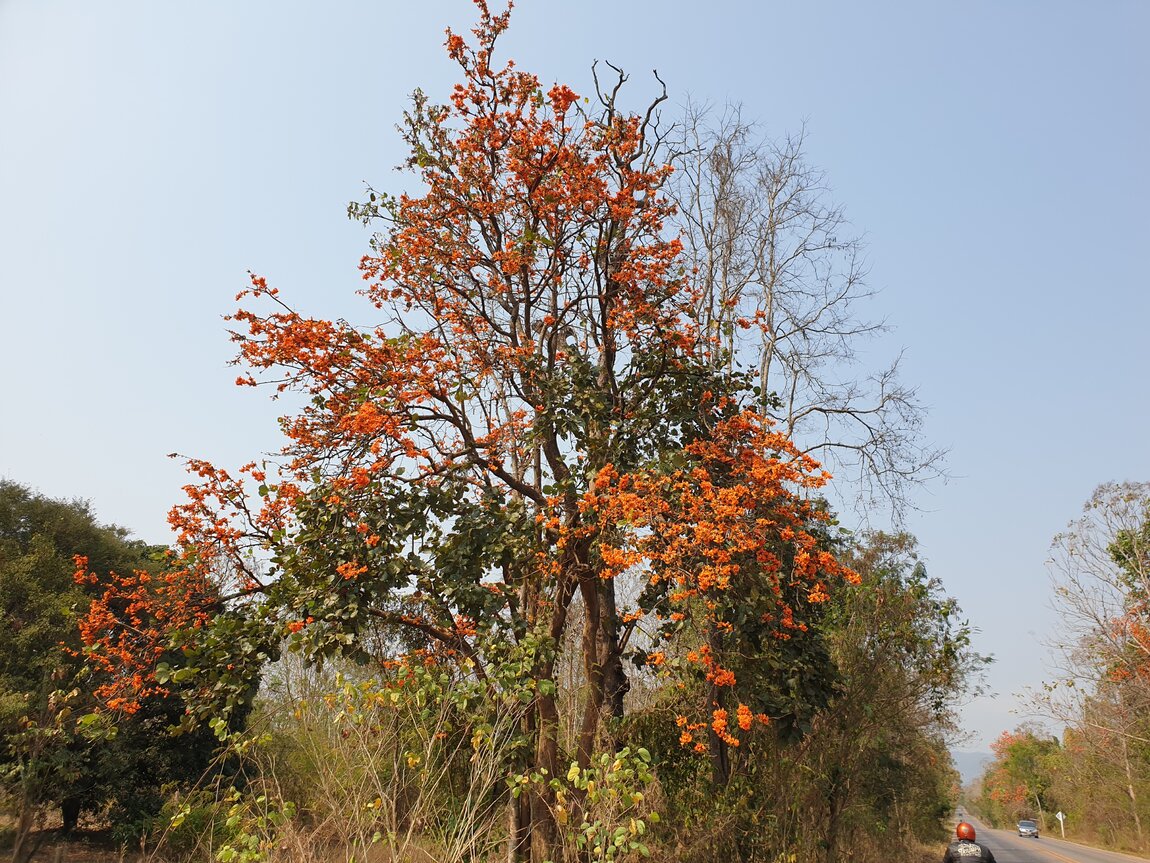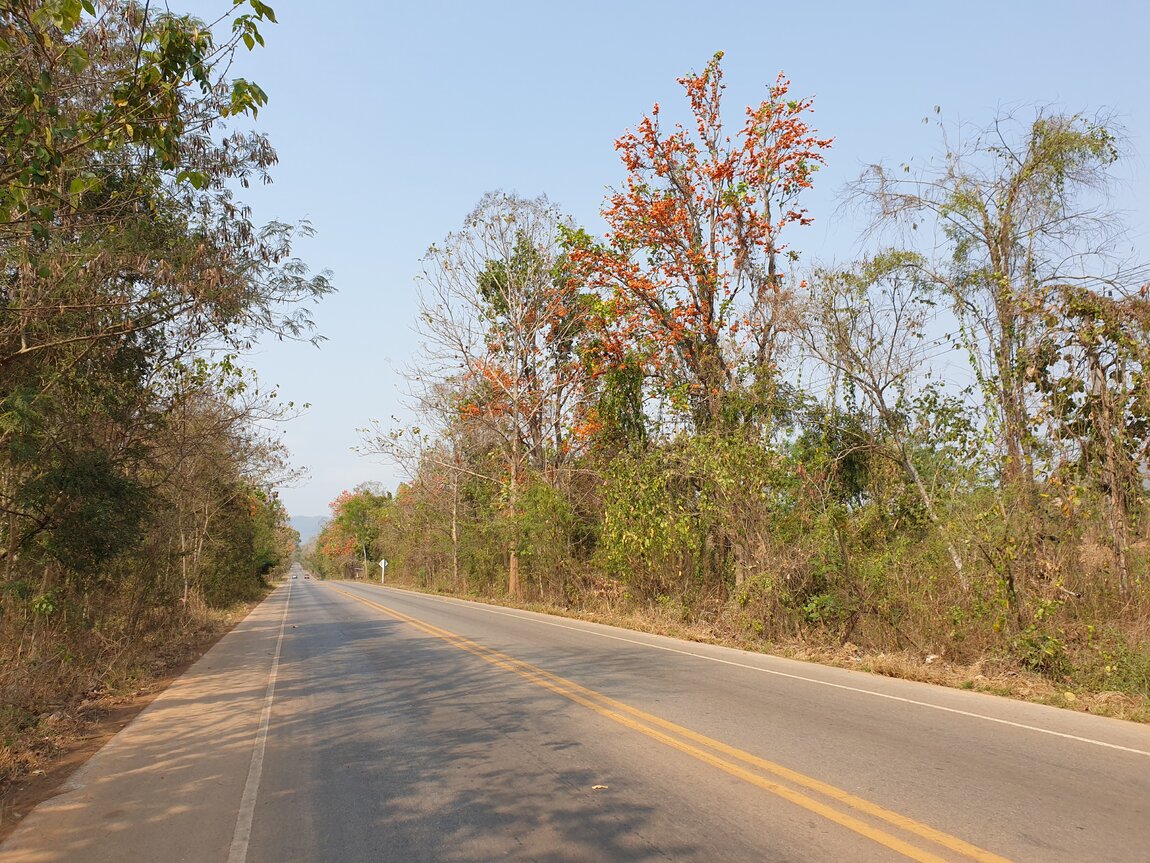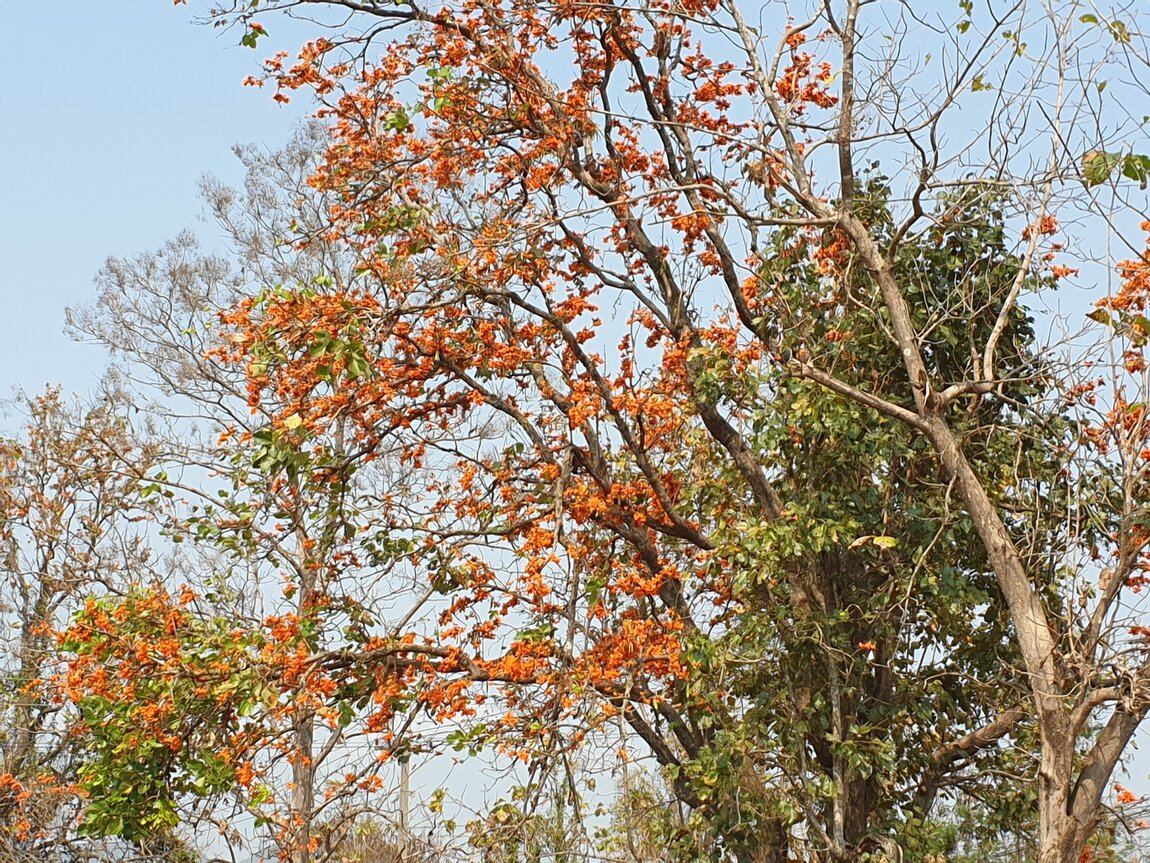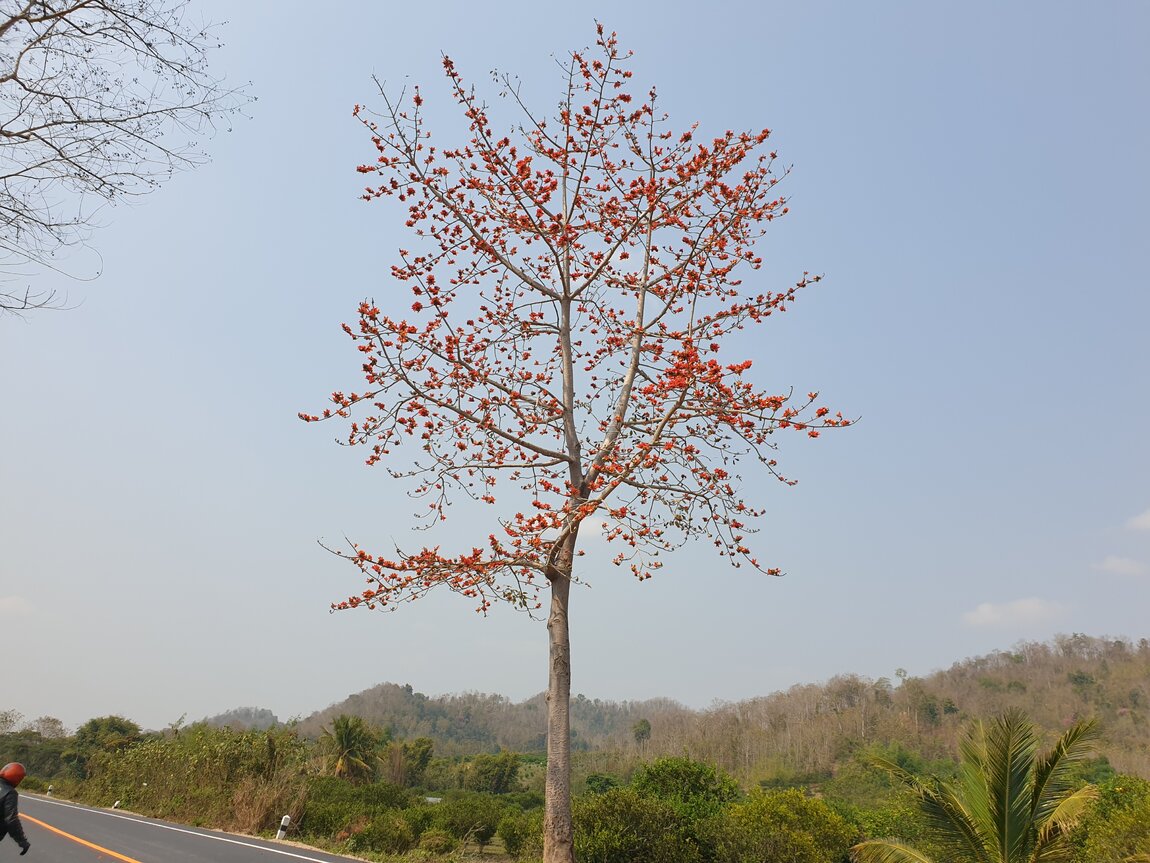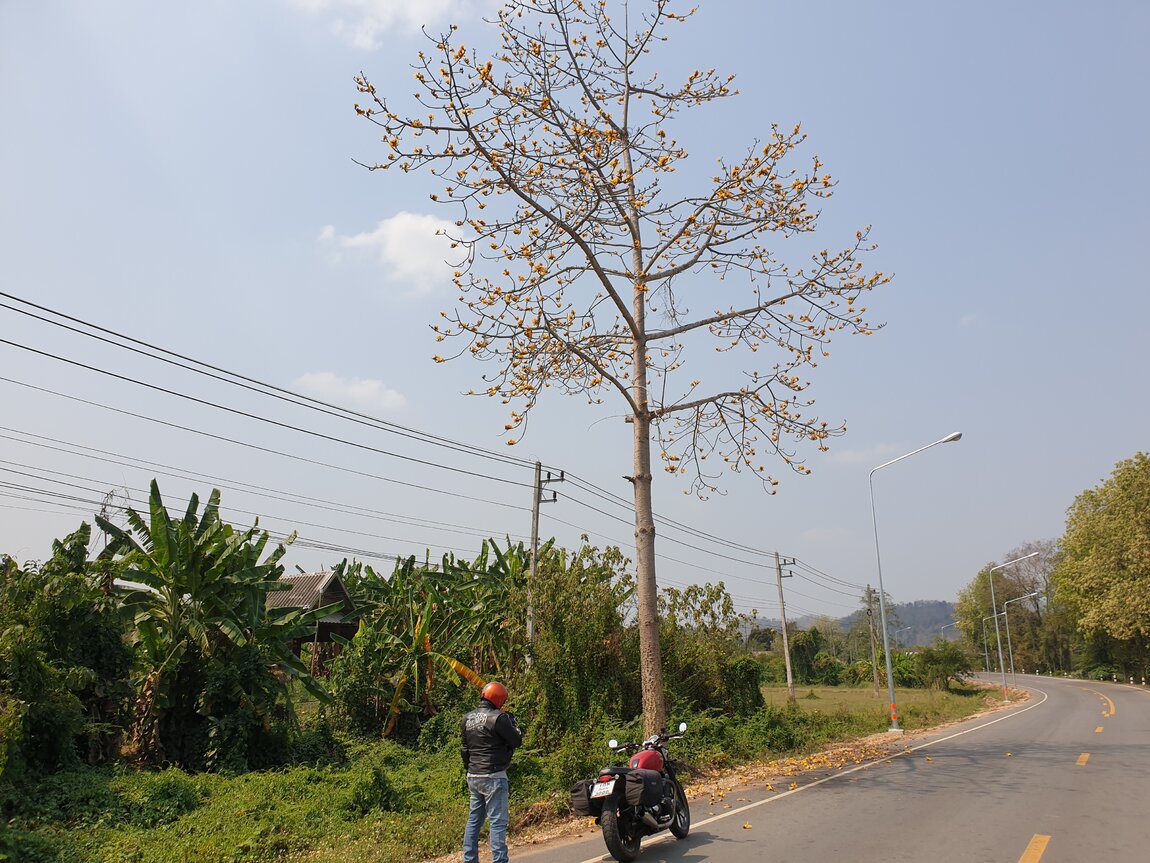 We arrived at the next destination, between Denchai and Wang Chin.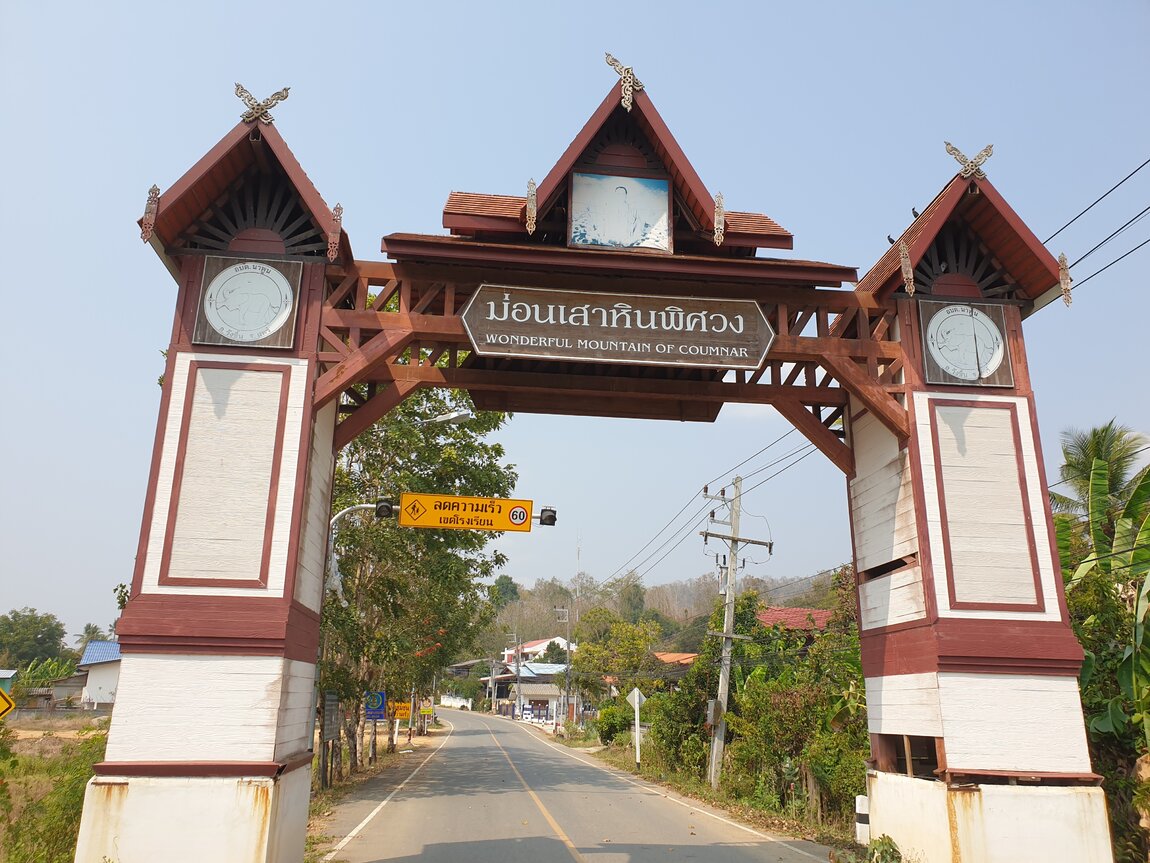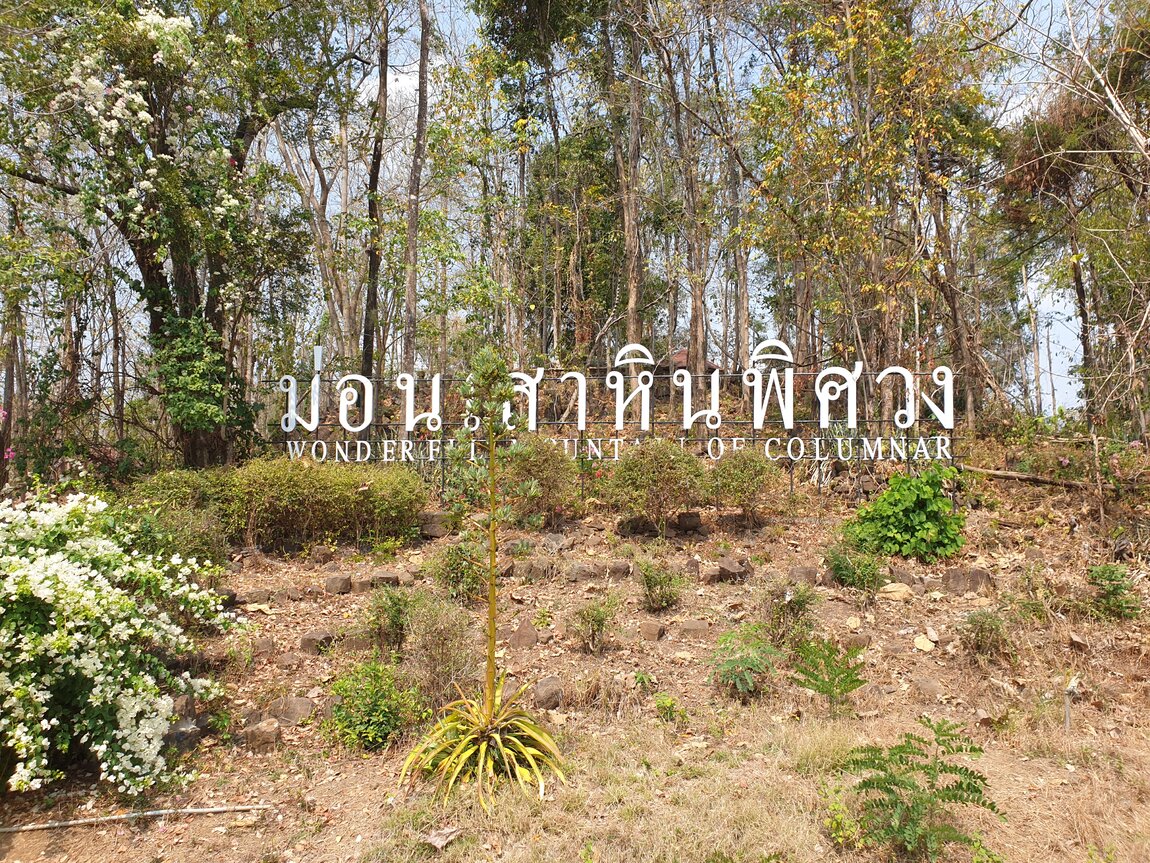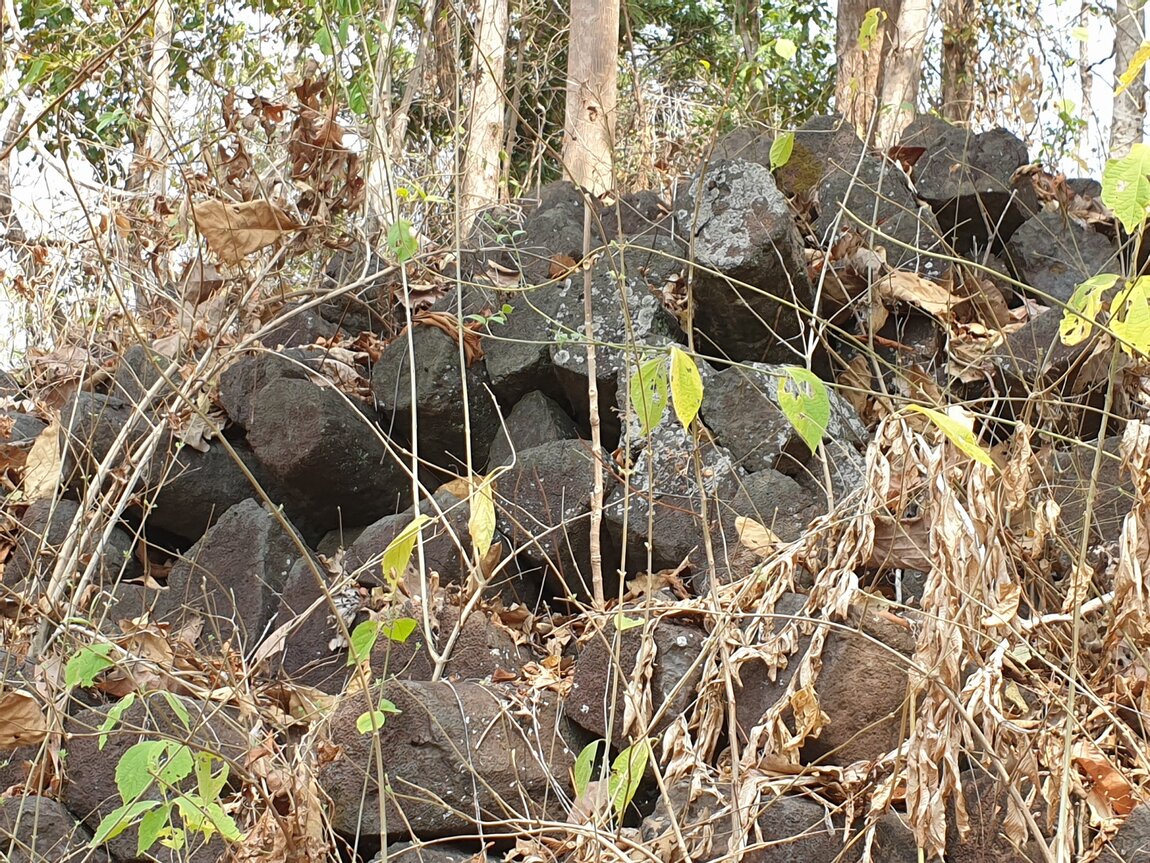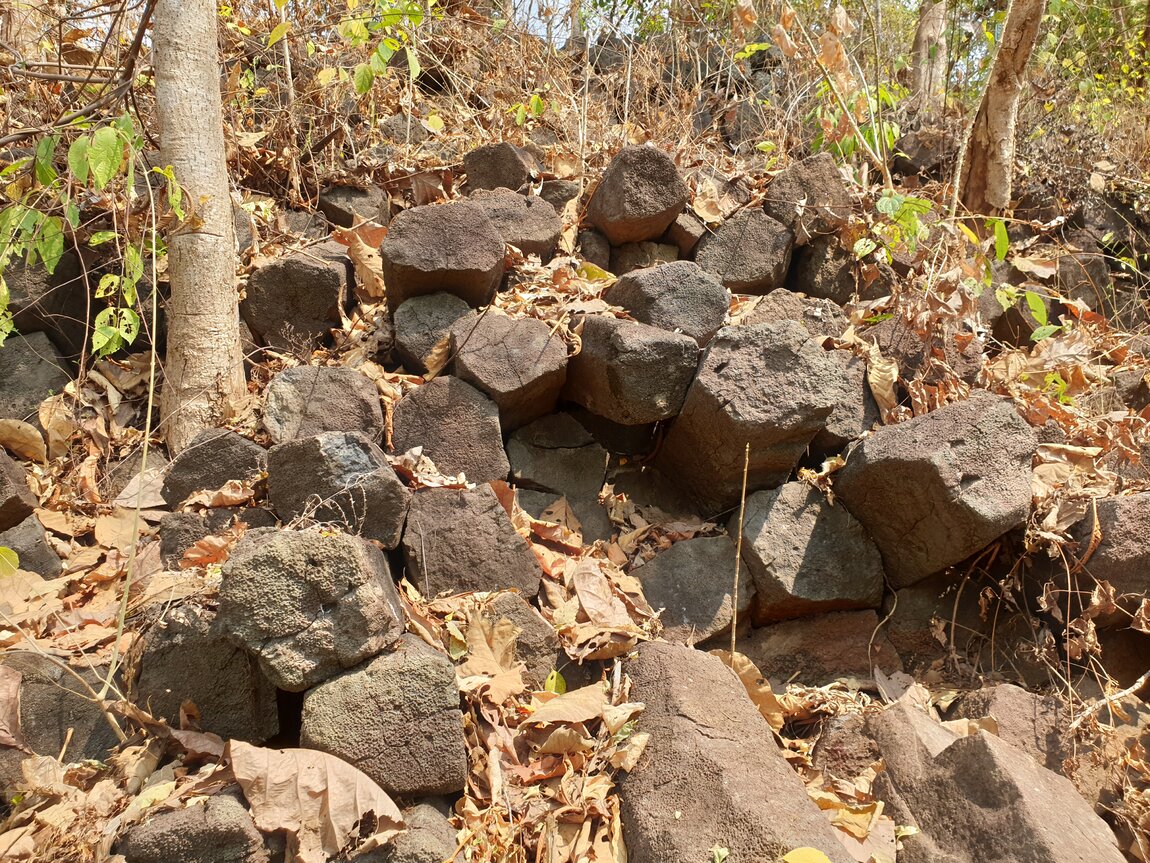 Columnar rock, a most unusual formation, same as at the Giant's Causeway in U.K.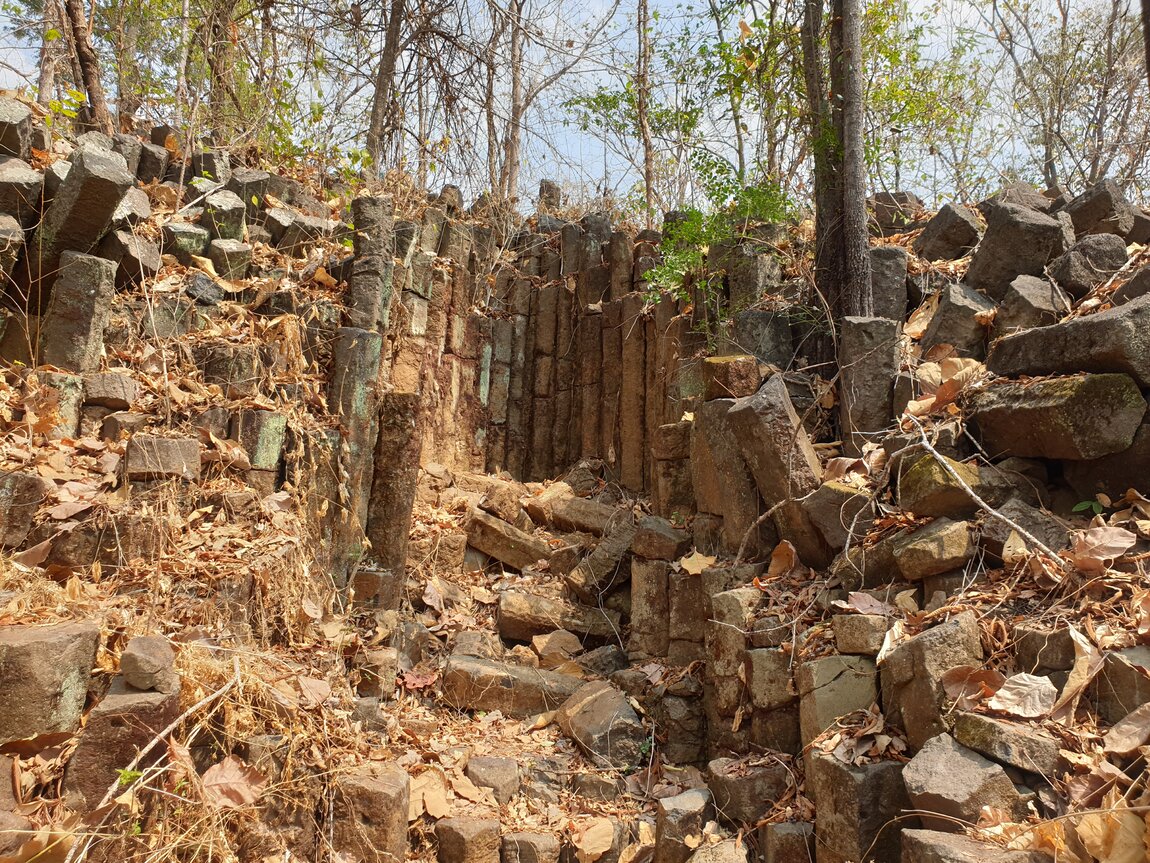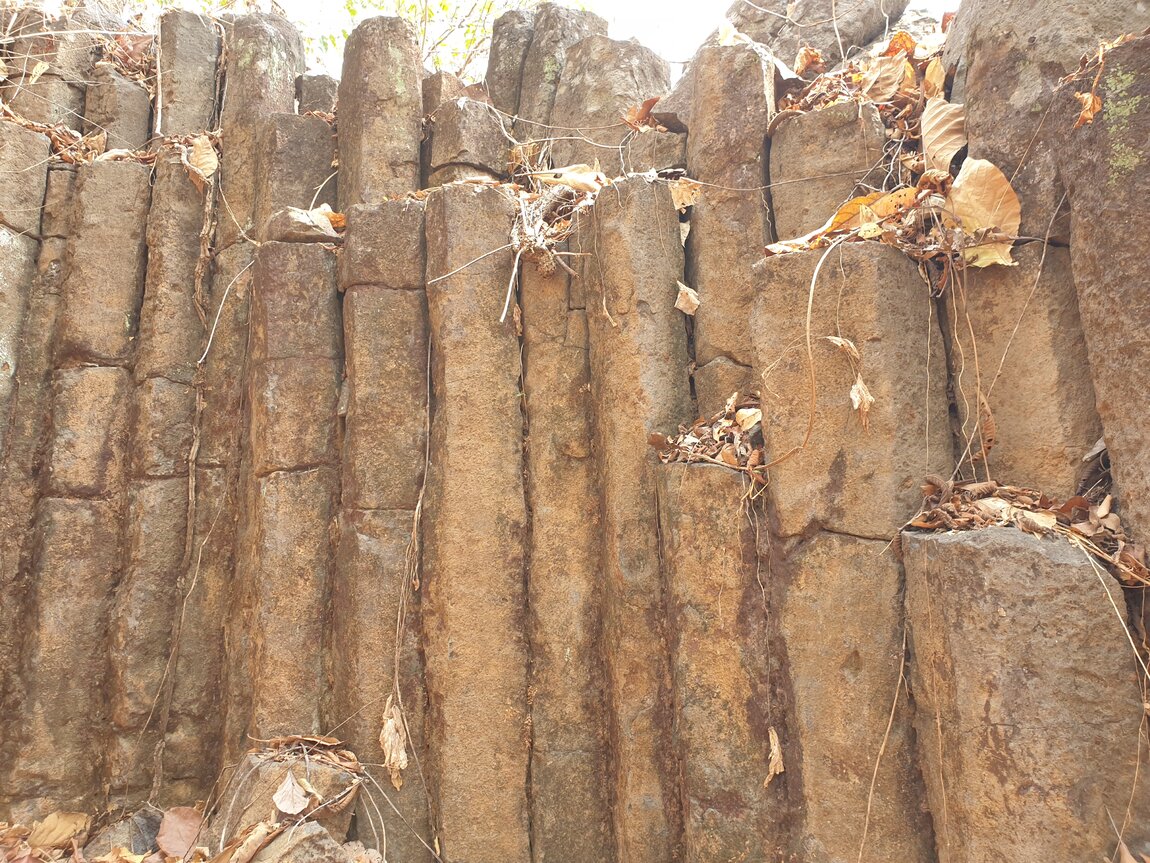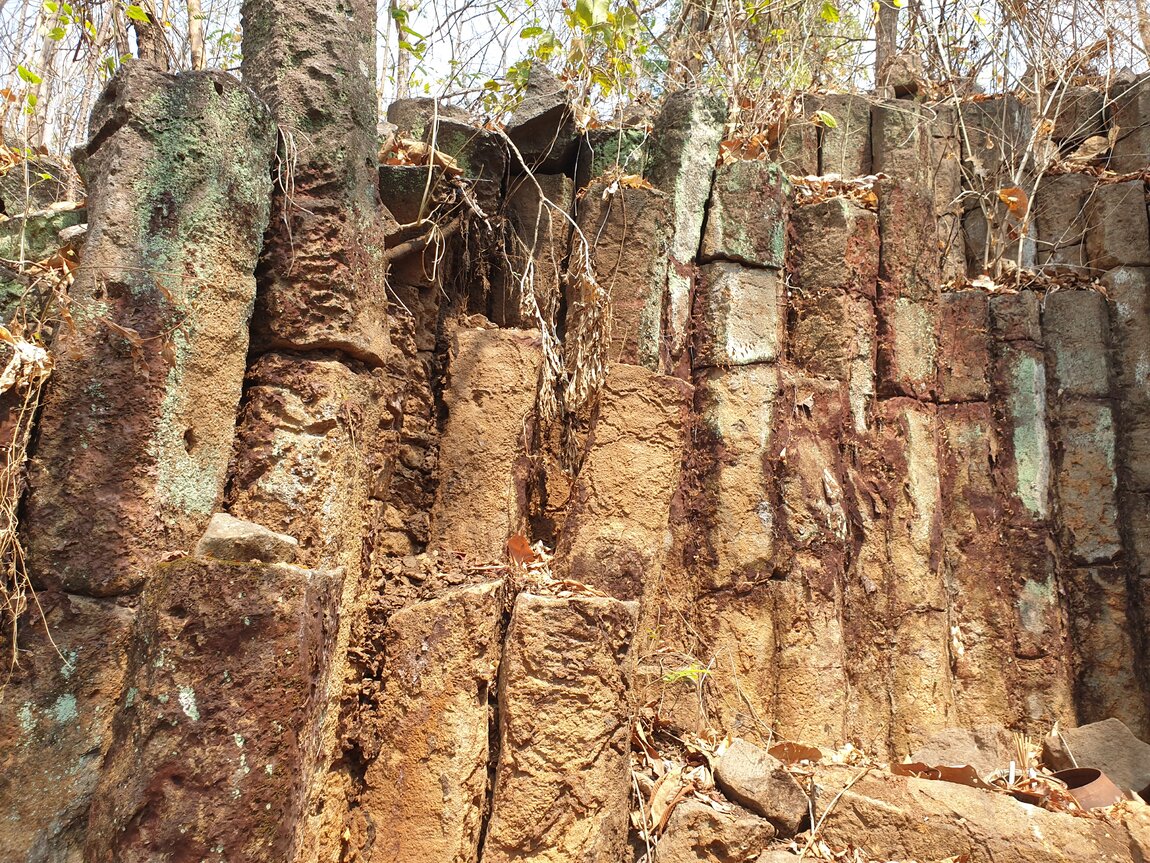 The hexagonal columns are made of black basalt volcanic rock.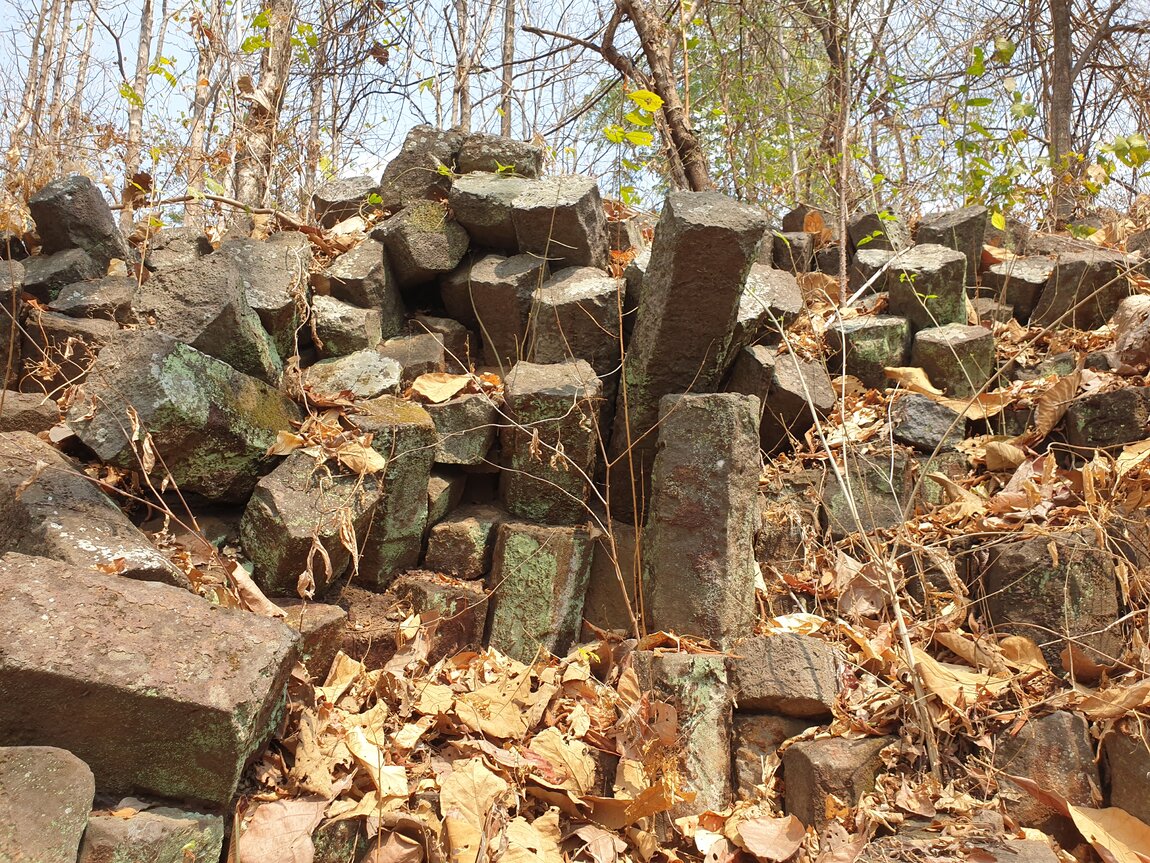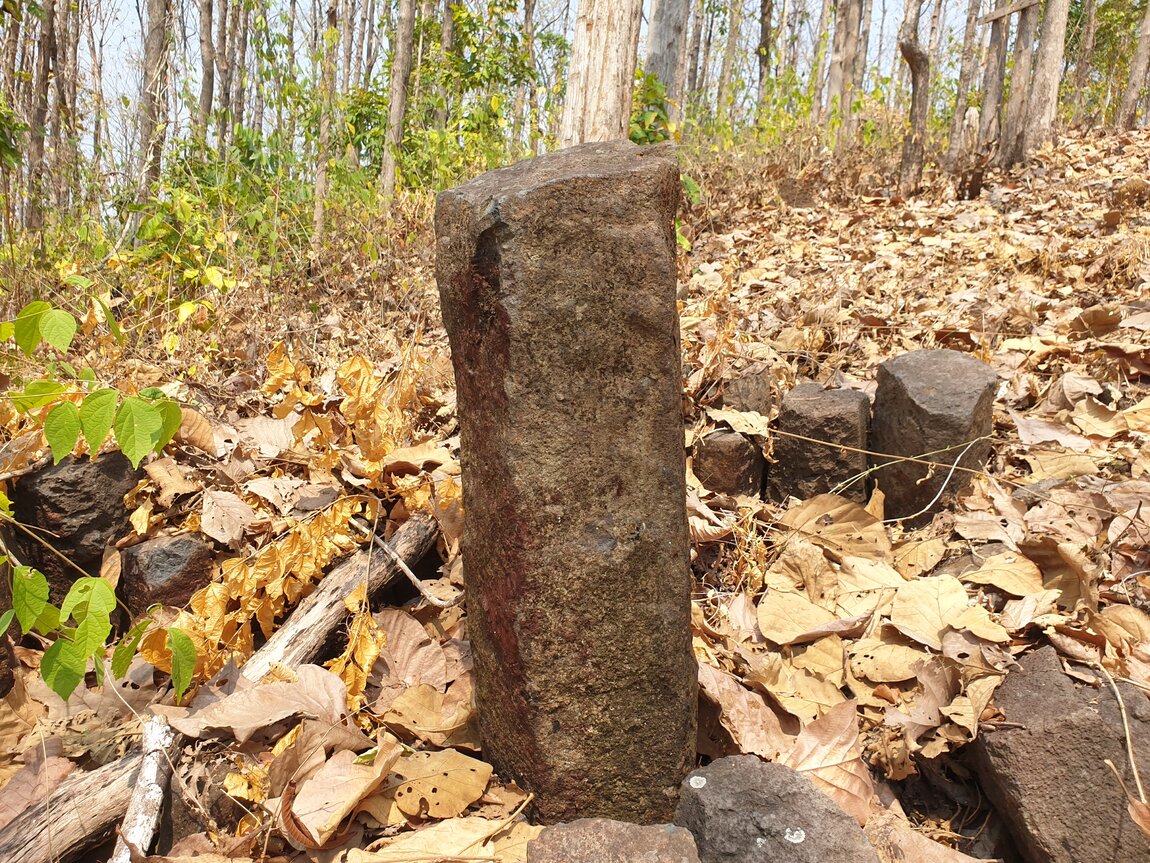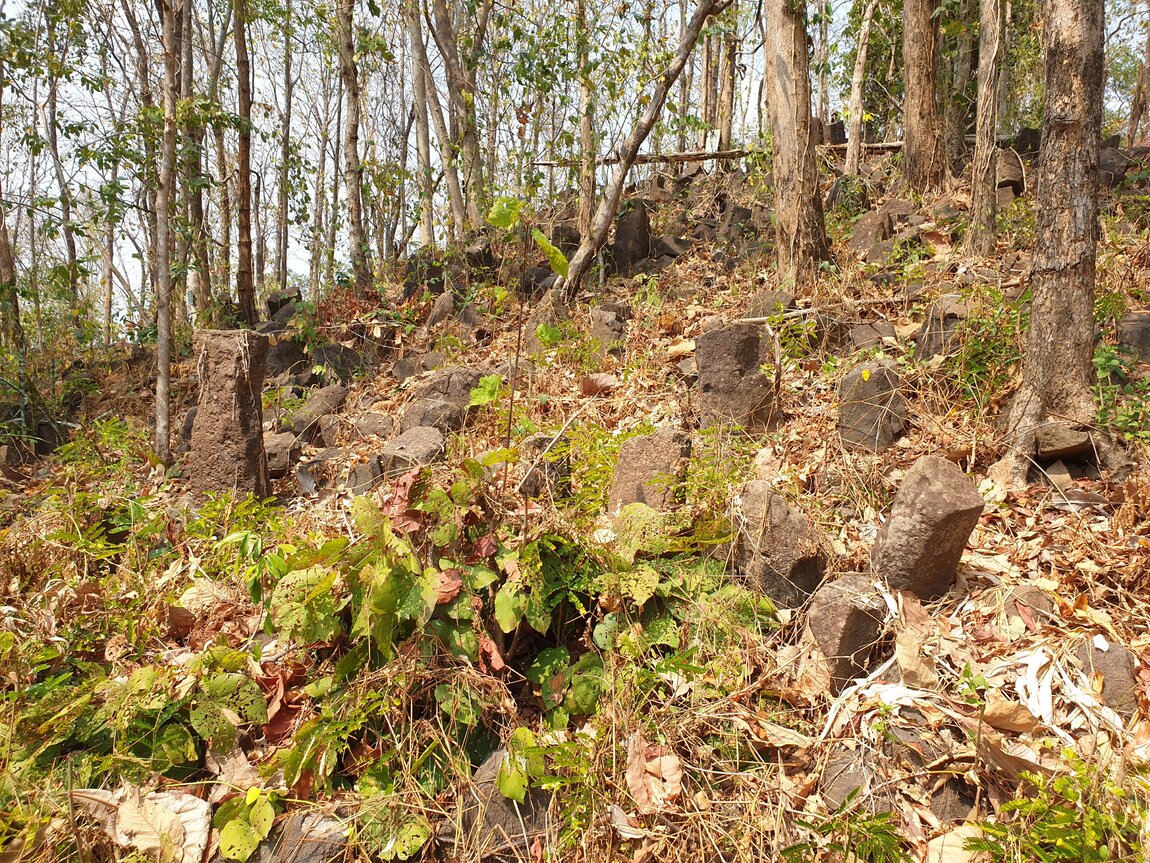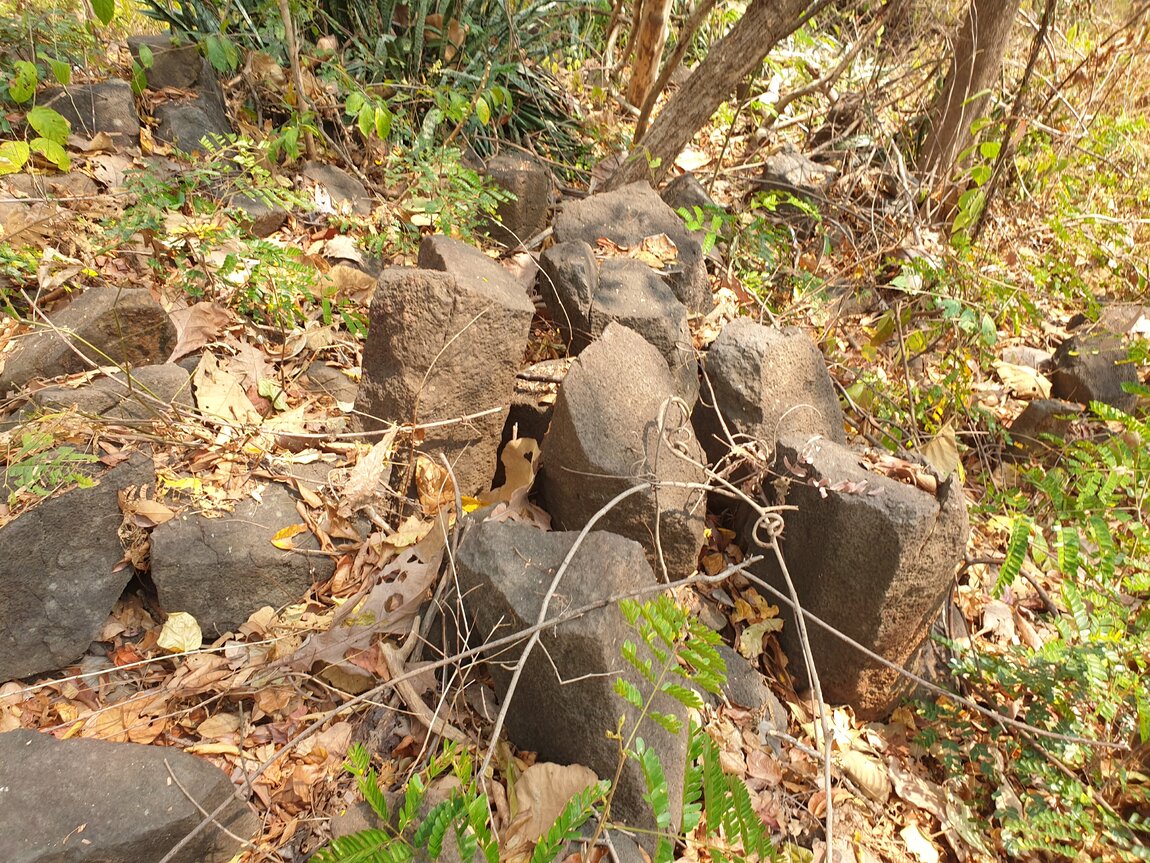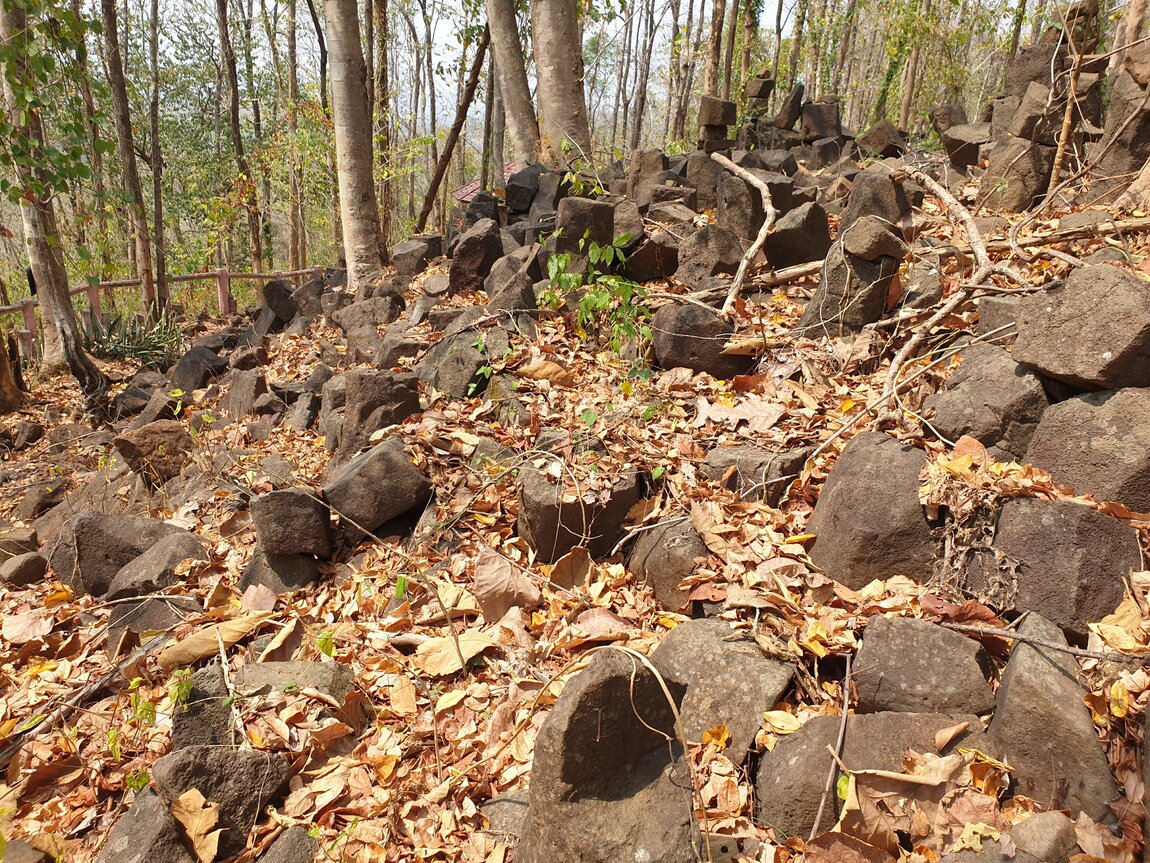 There were Purple Wreath flowering everywhere too.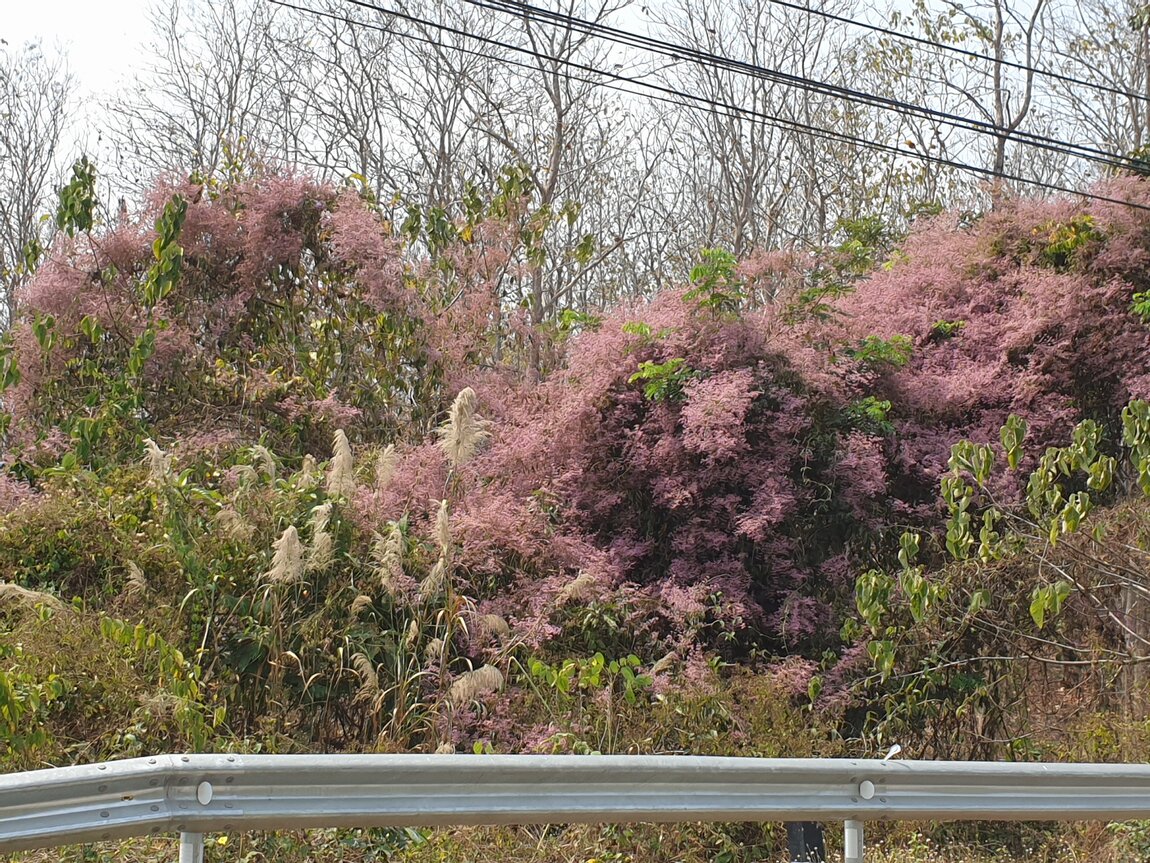 Crossing the Yom River at Wang Chin.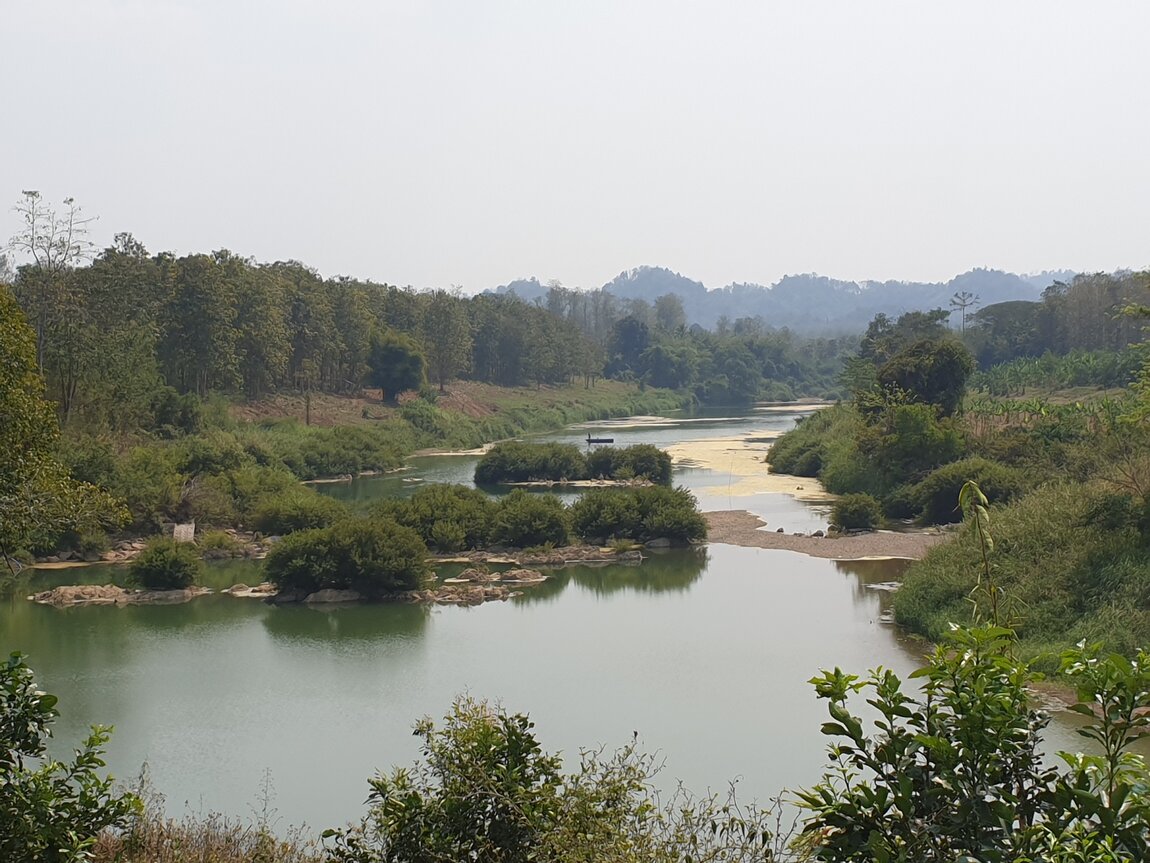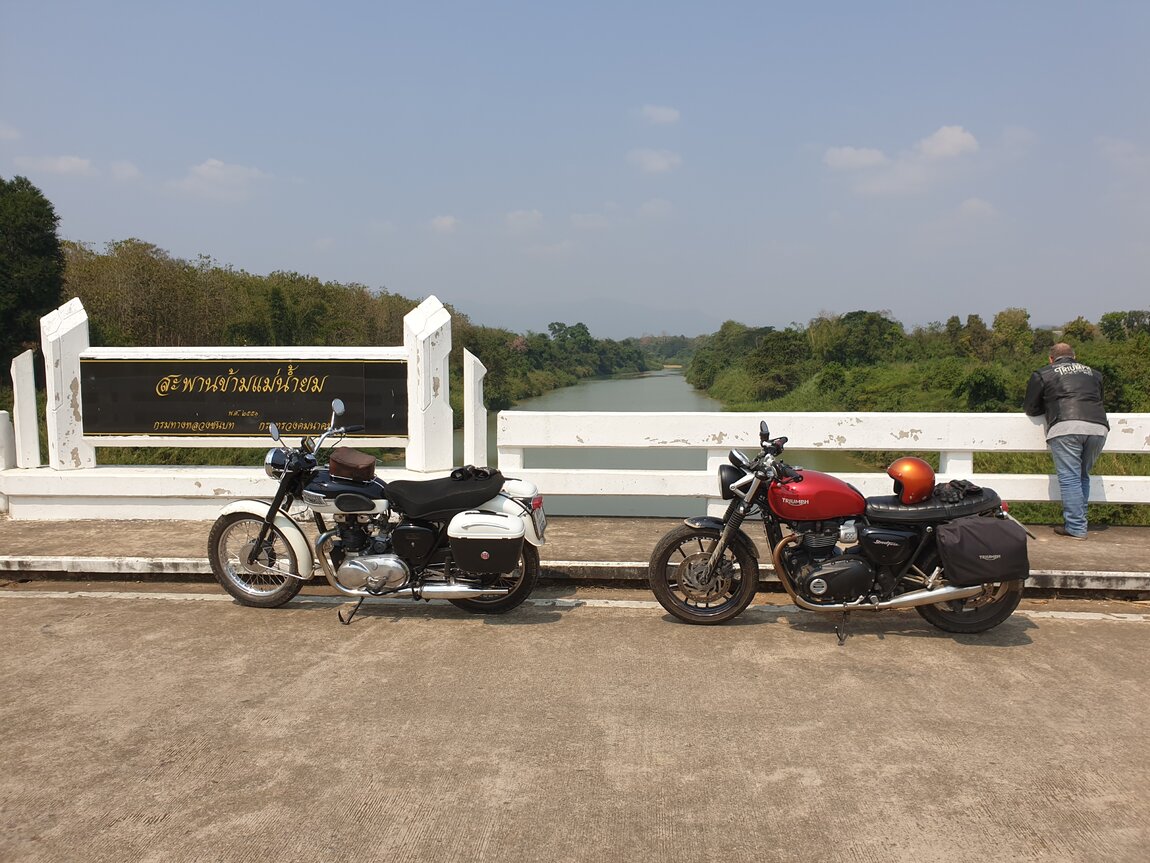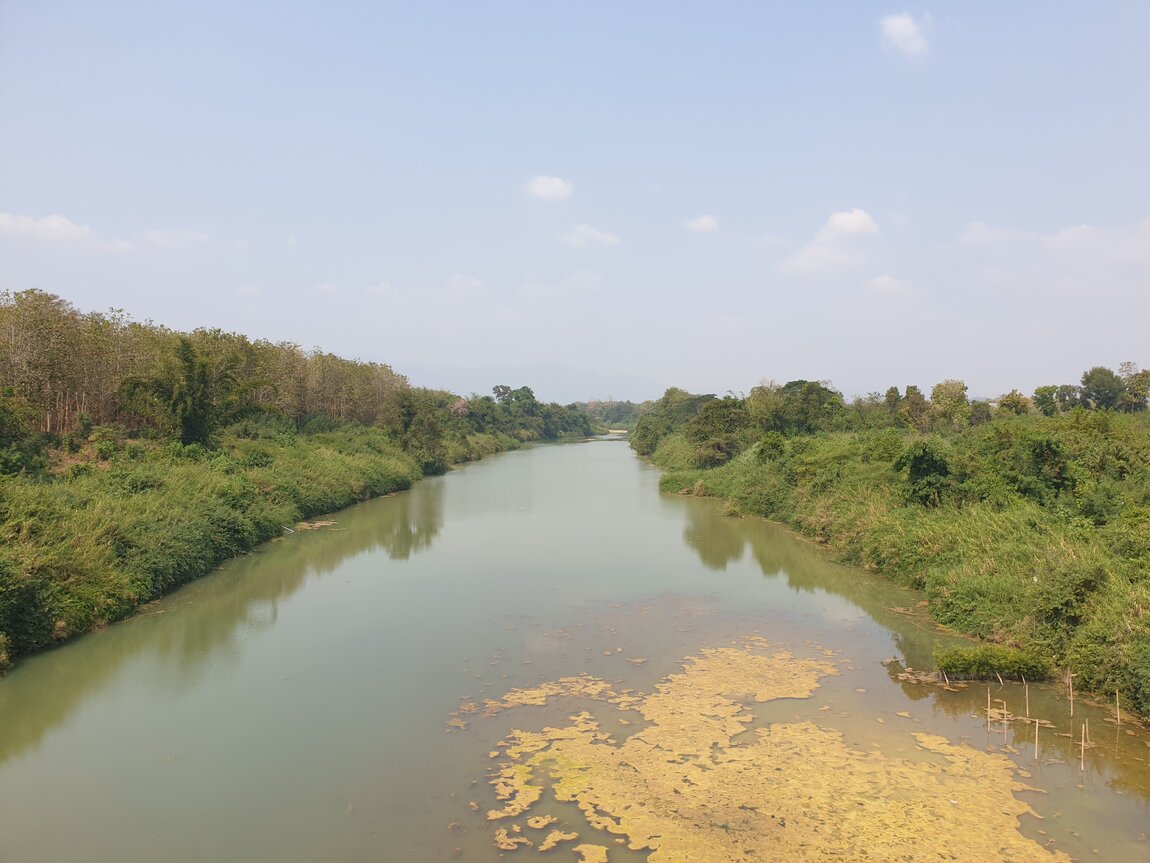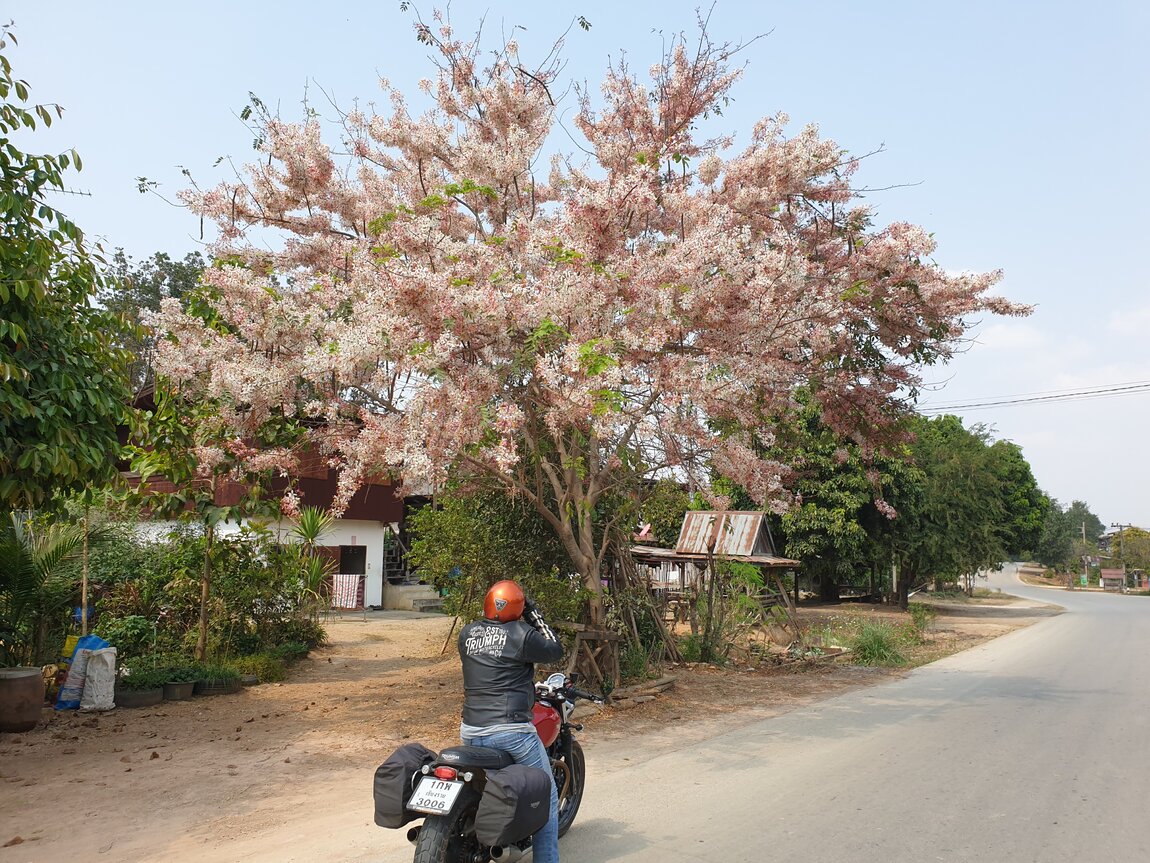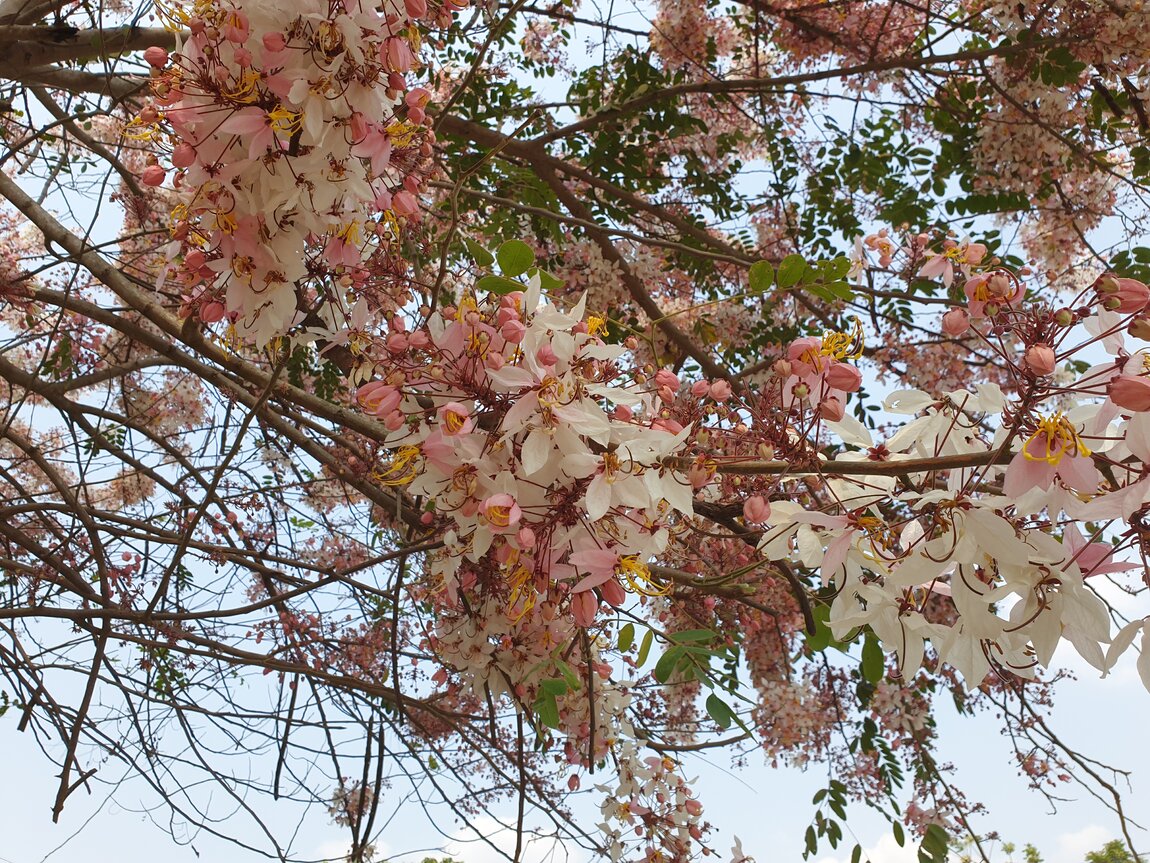 As we were close by, we had to take in the Mae Chok hot spring VIP rooms. Hot sping bath and cold water dip. Wonderfully therapeutic.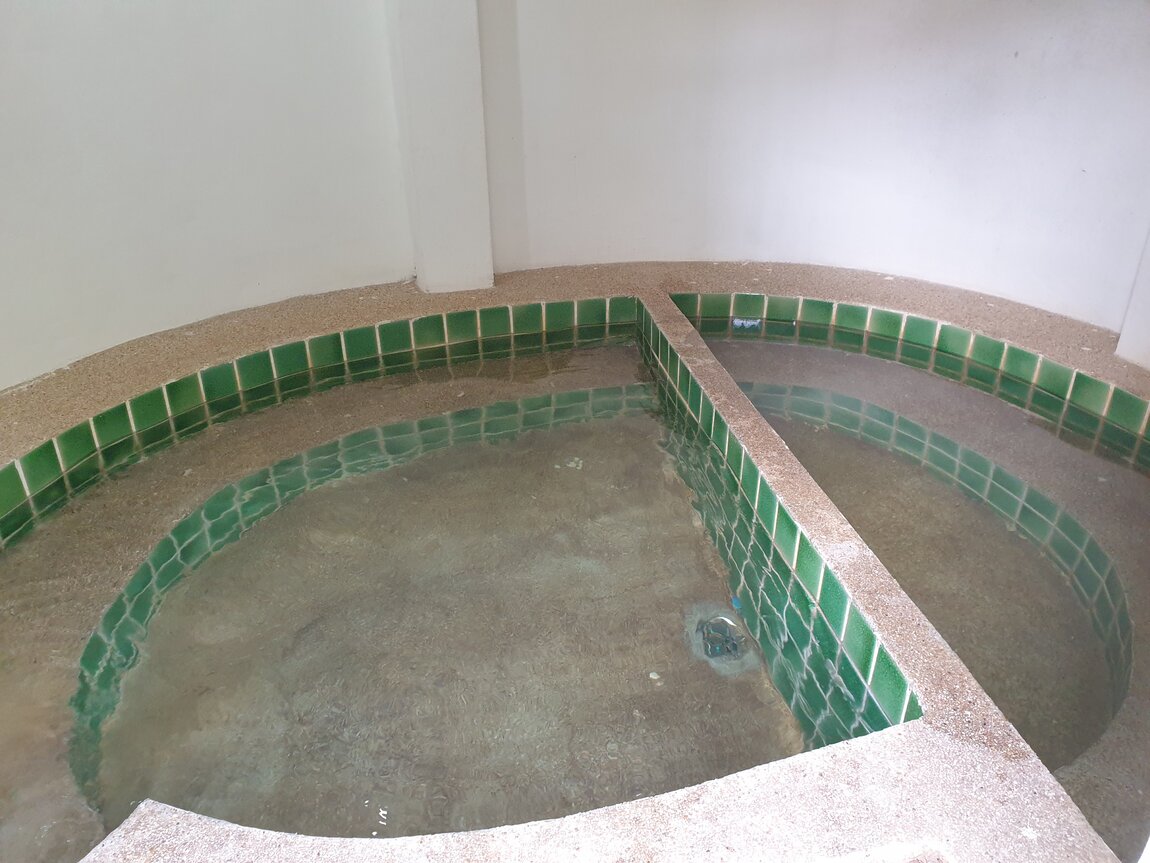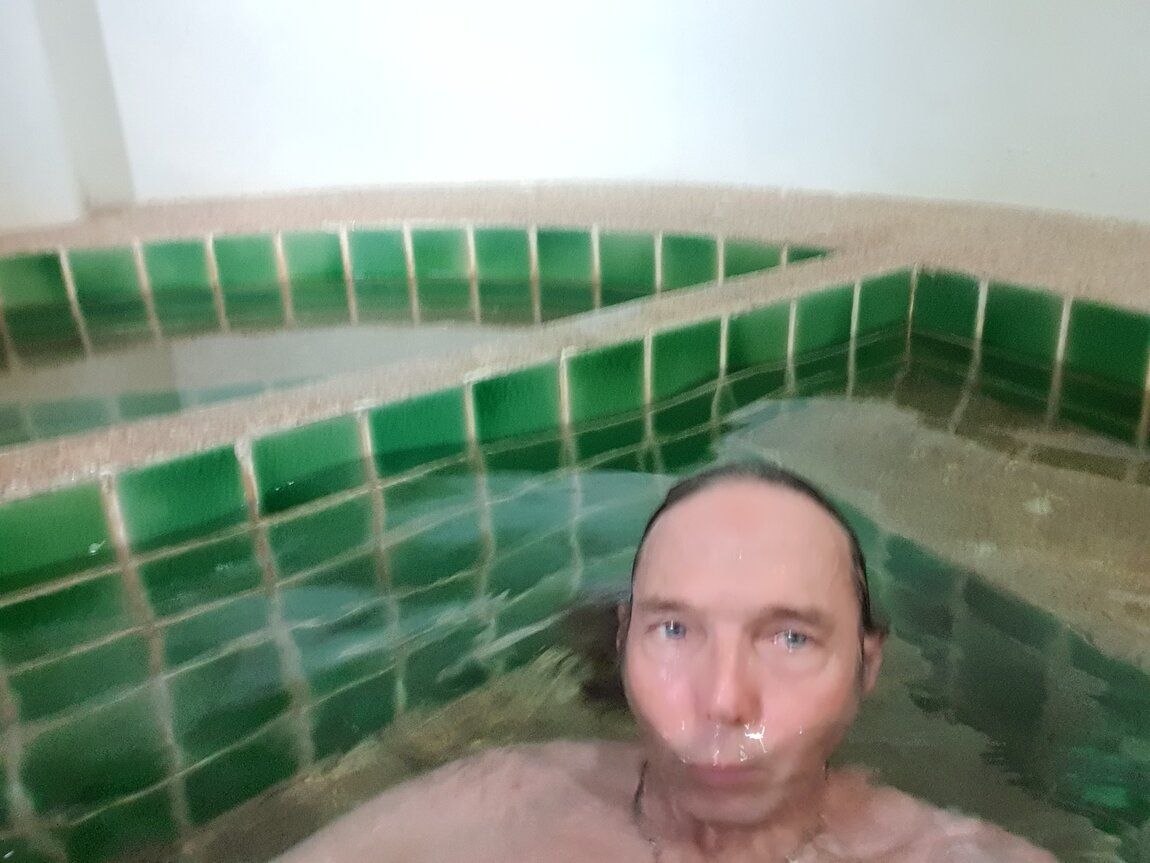 We finished the day staying at Darrell and Nicky's place, the Thoen Happy Home, in the old gas station, right on highway 1.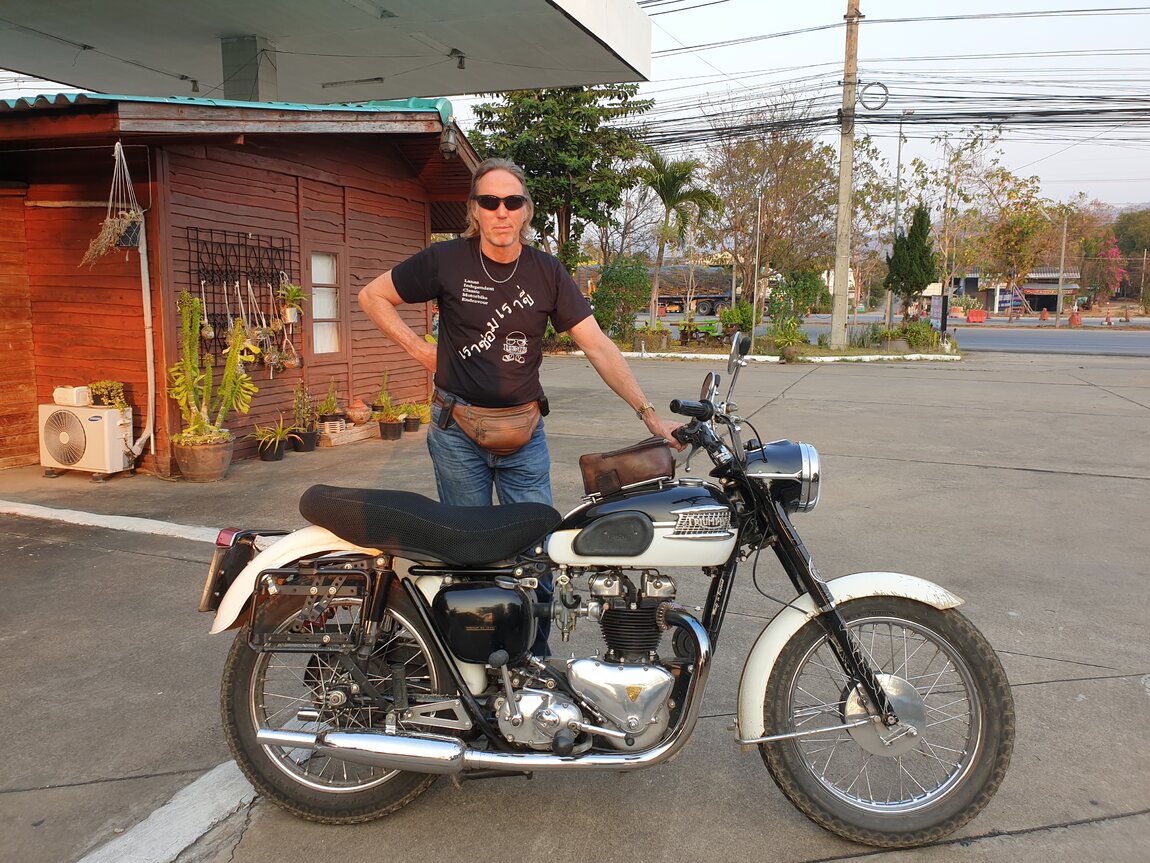 On the fourth day, we headed out of Lampang, through Lamphun into Chiang Mai.
But first, it was good to see there was almost no oil leaking out of the old Thunderbird.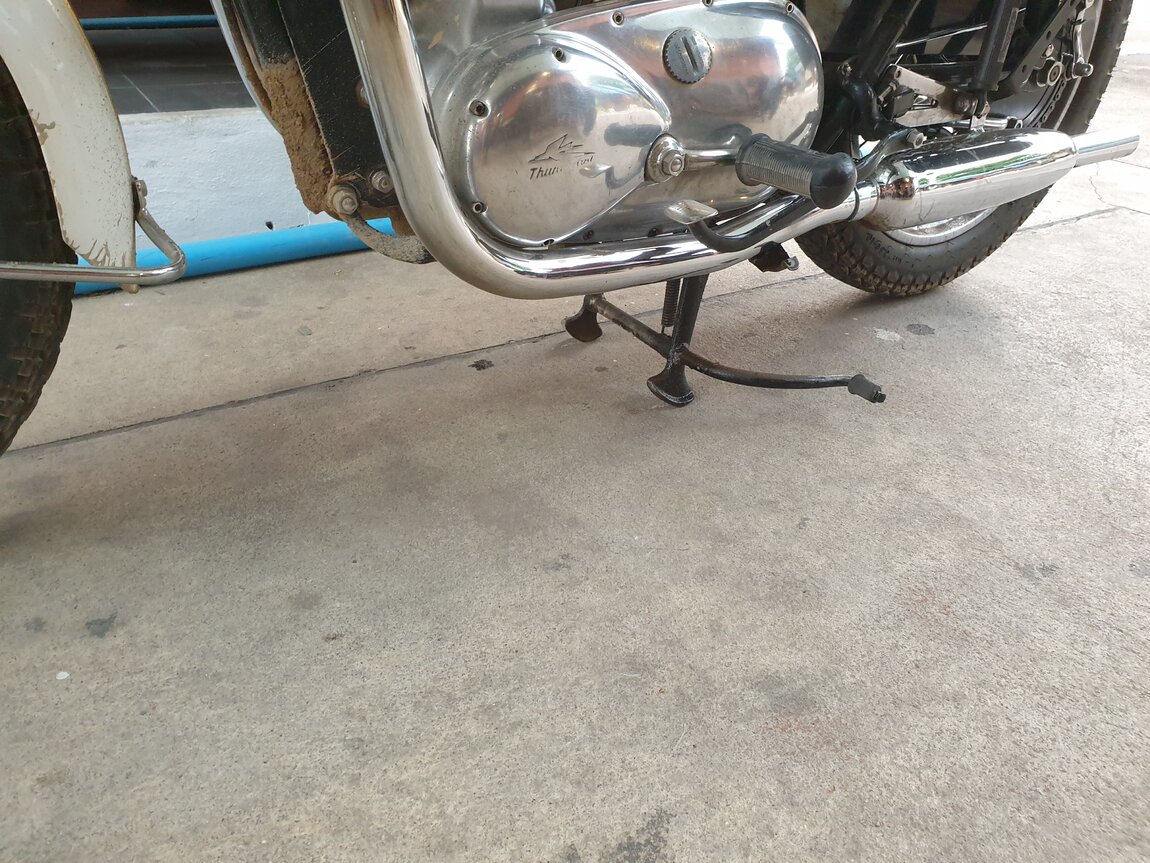 We had to ride NW out of Thoen towards Li on the 106. I find this one of the most unpleasant roads around. it should be good, a twisty mountain road. But I recalled the road from the past and it was just the same; continuous heavy trucks with trailers and a black oily greasy looking road surface. No fun at all.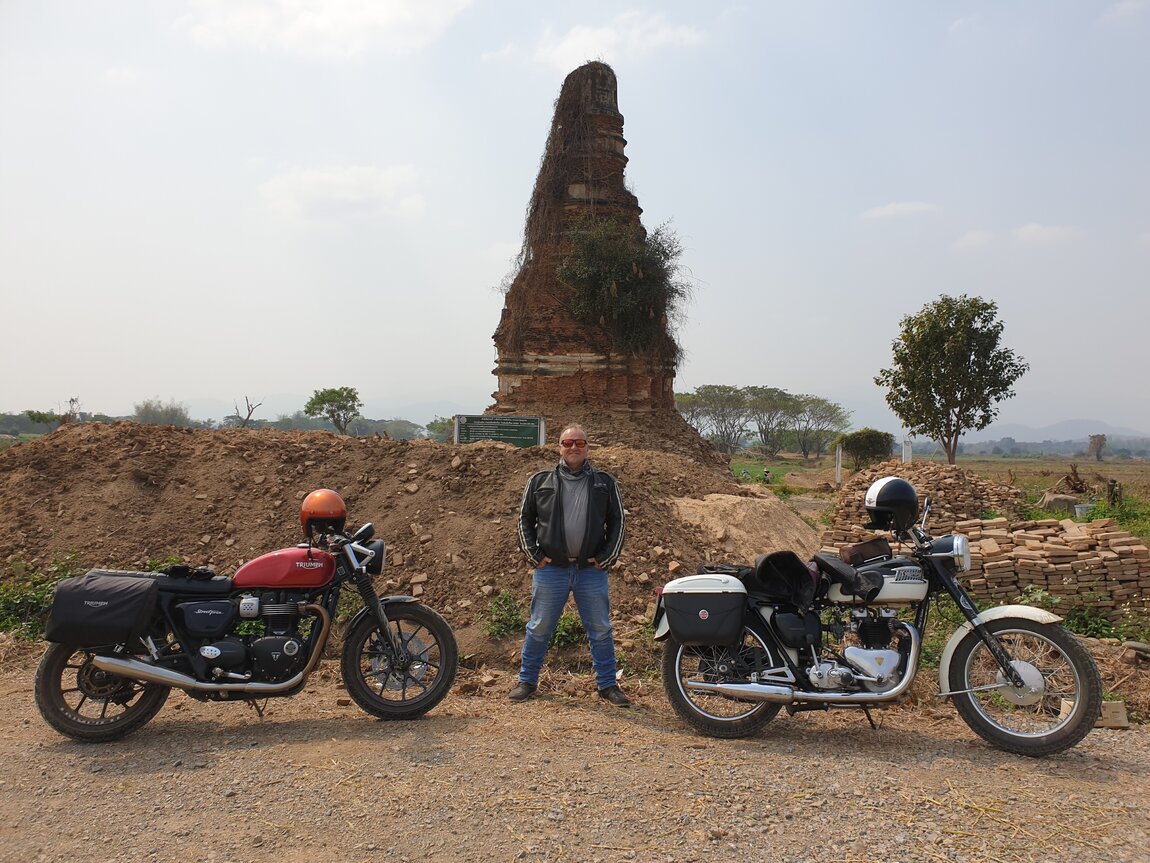 But then we got up to the old Doi Tao stupas.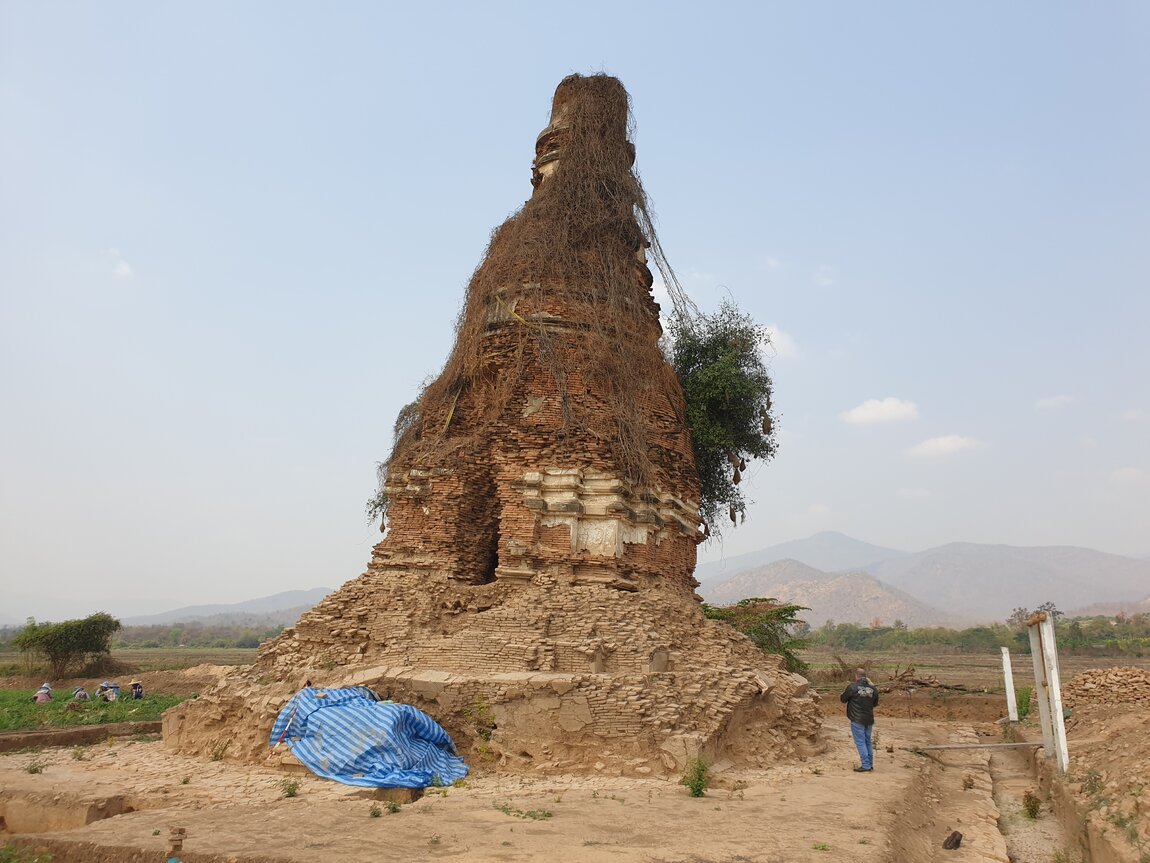 It was onion harvest time and the aroma in the air was fantastic.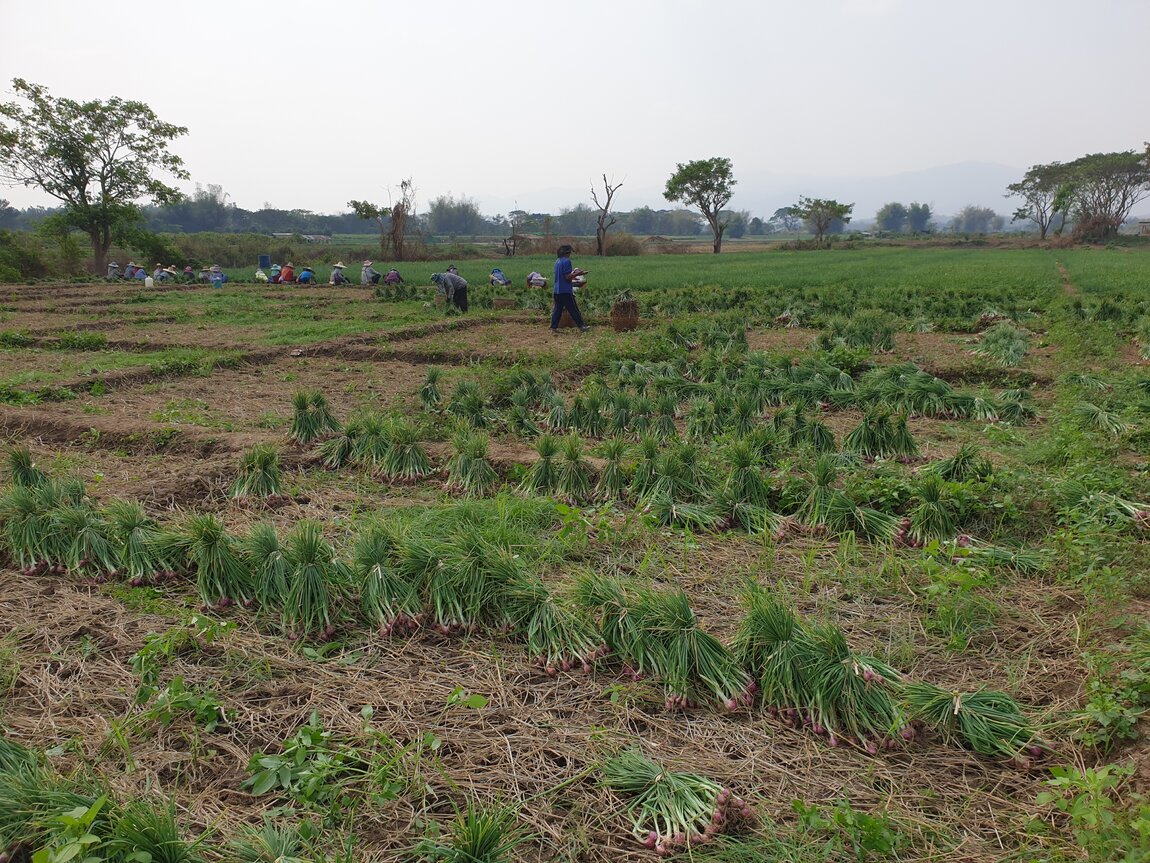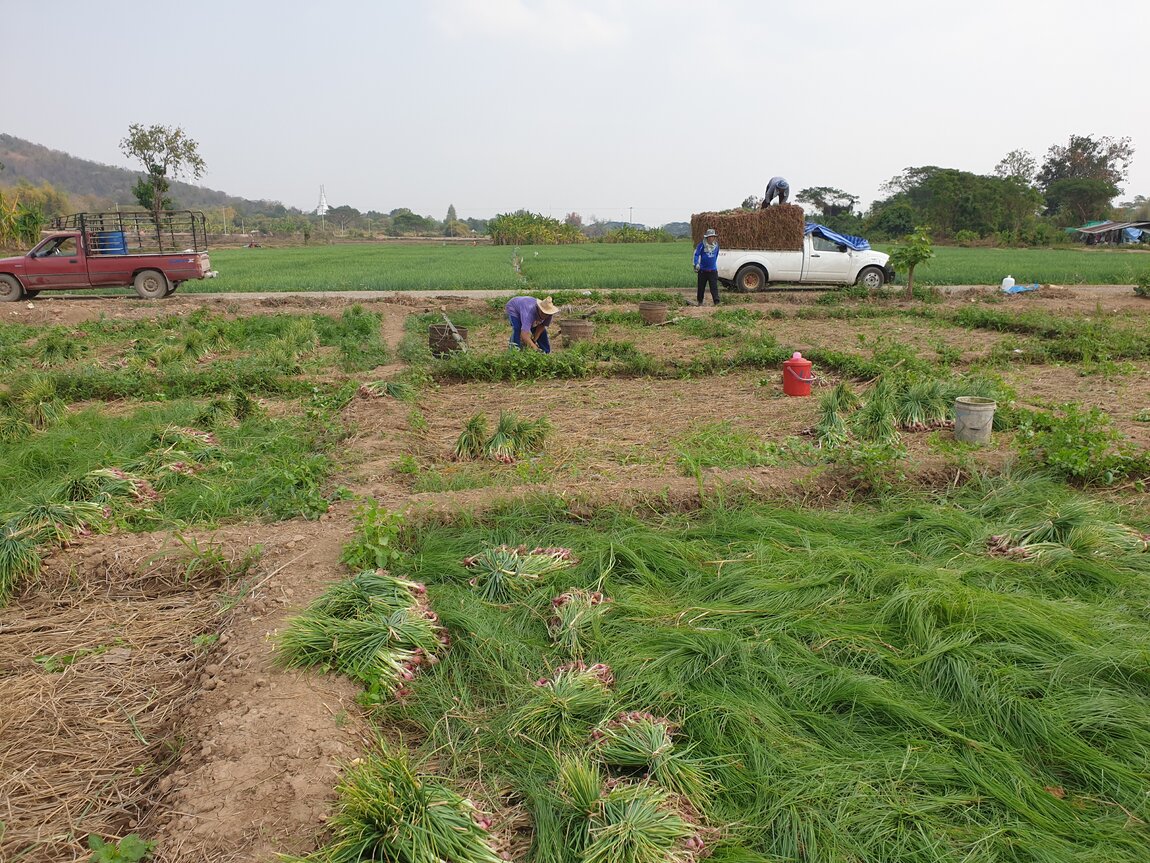 Happy onion farmers.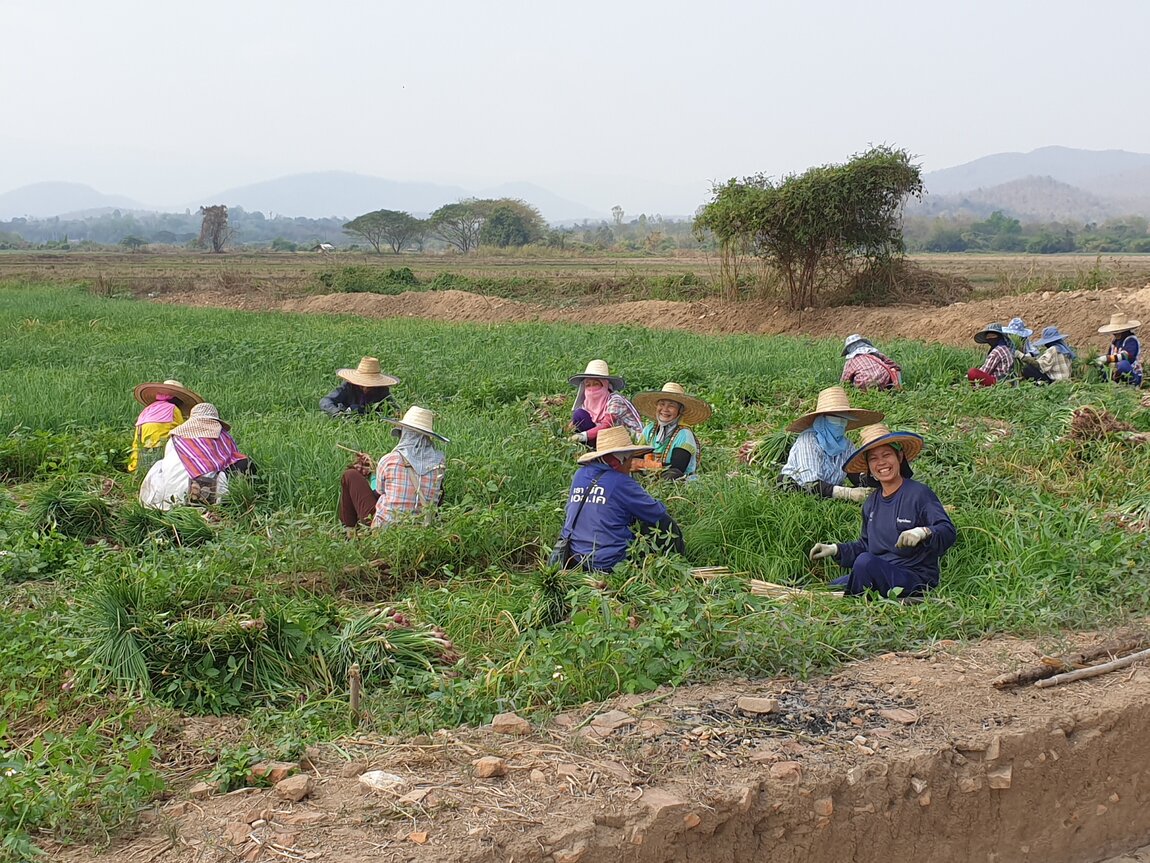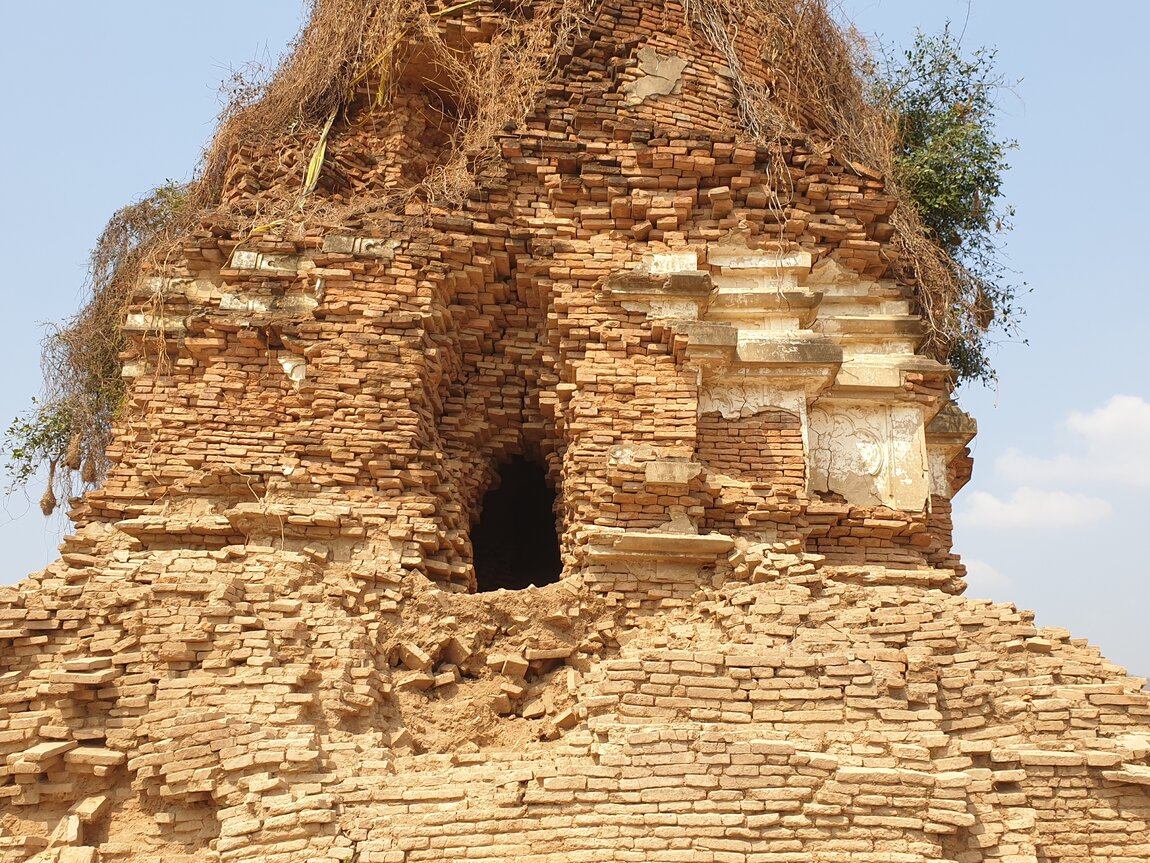 No doubt, the onion smell was making them happy...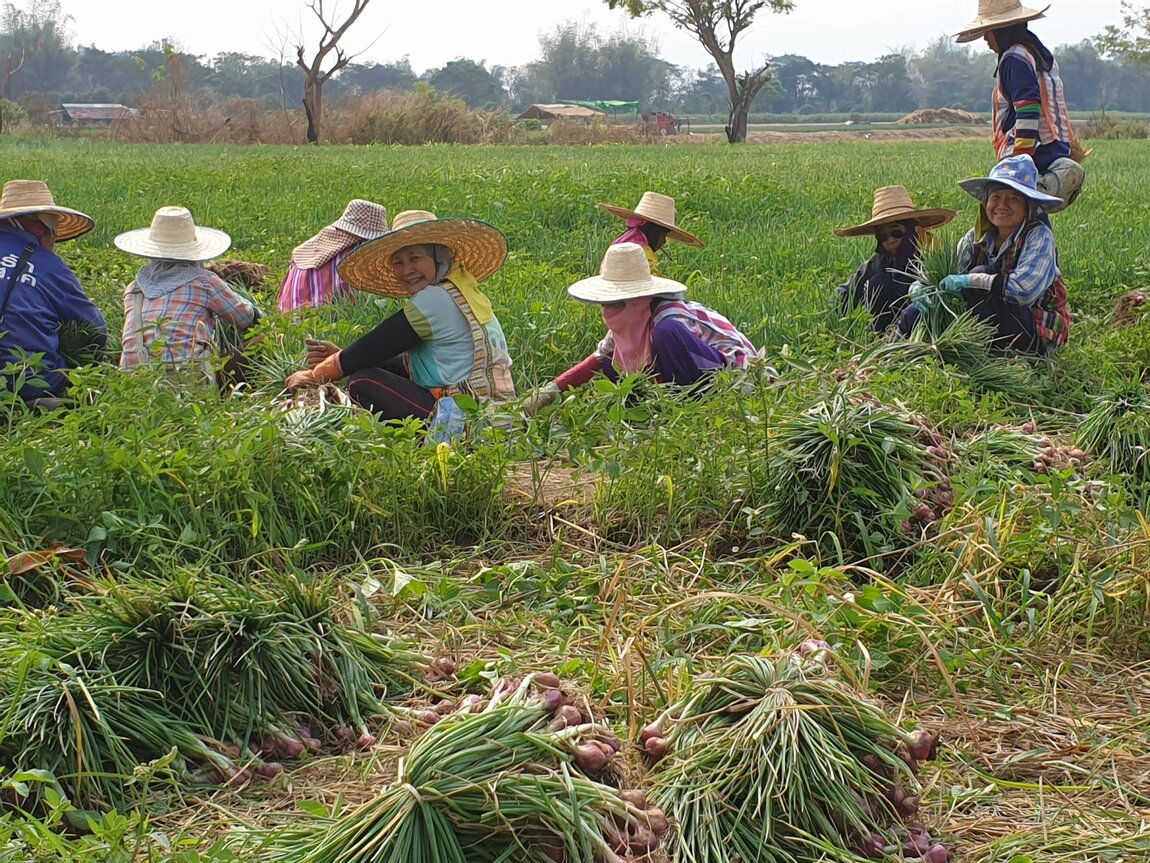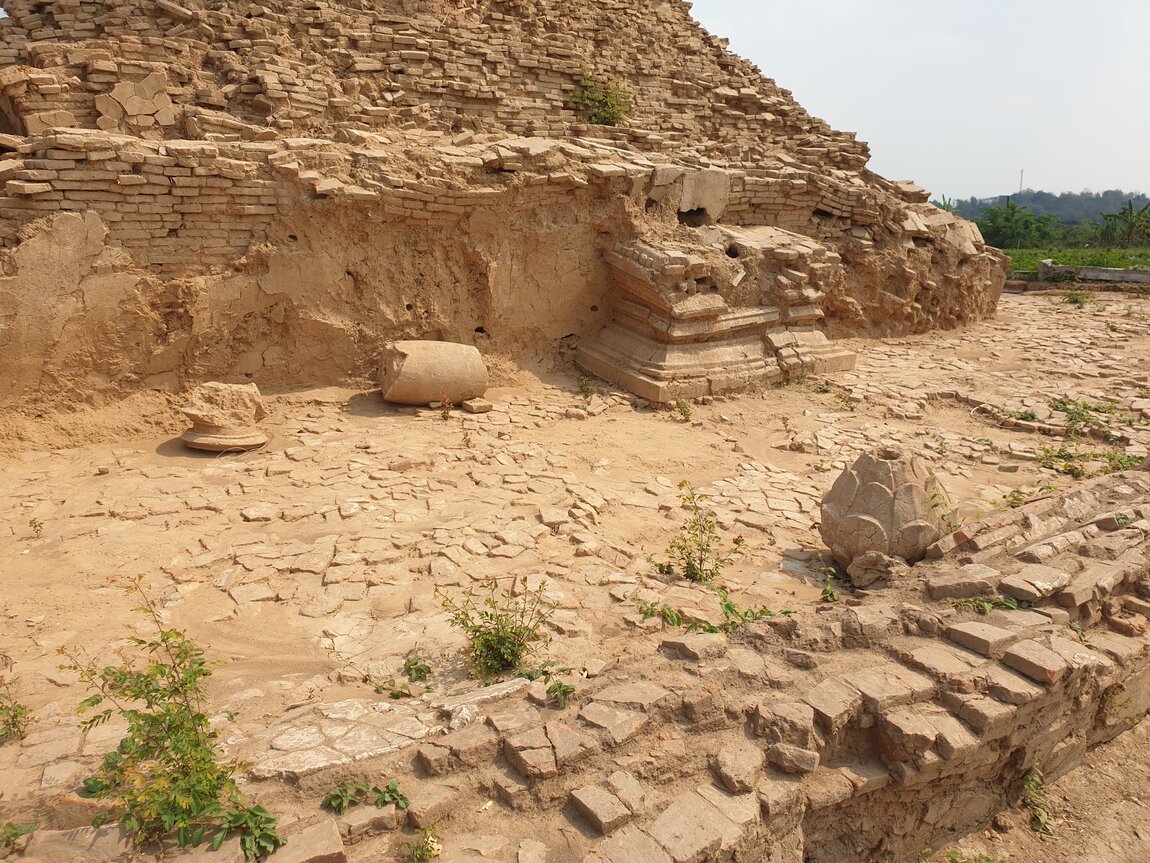 There is some archaeological research and restoration work going on.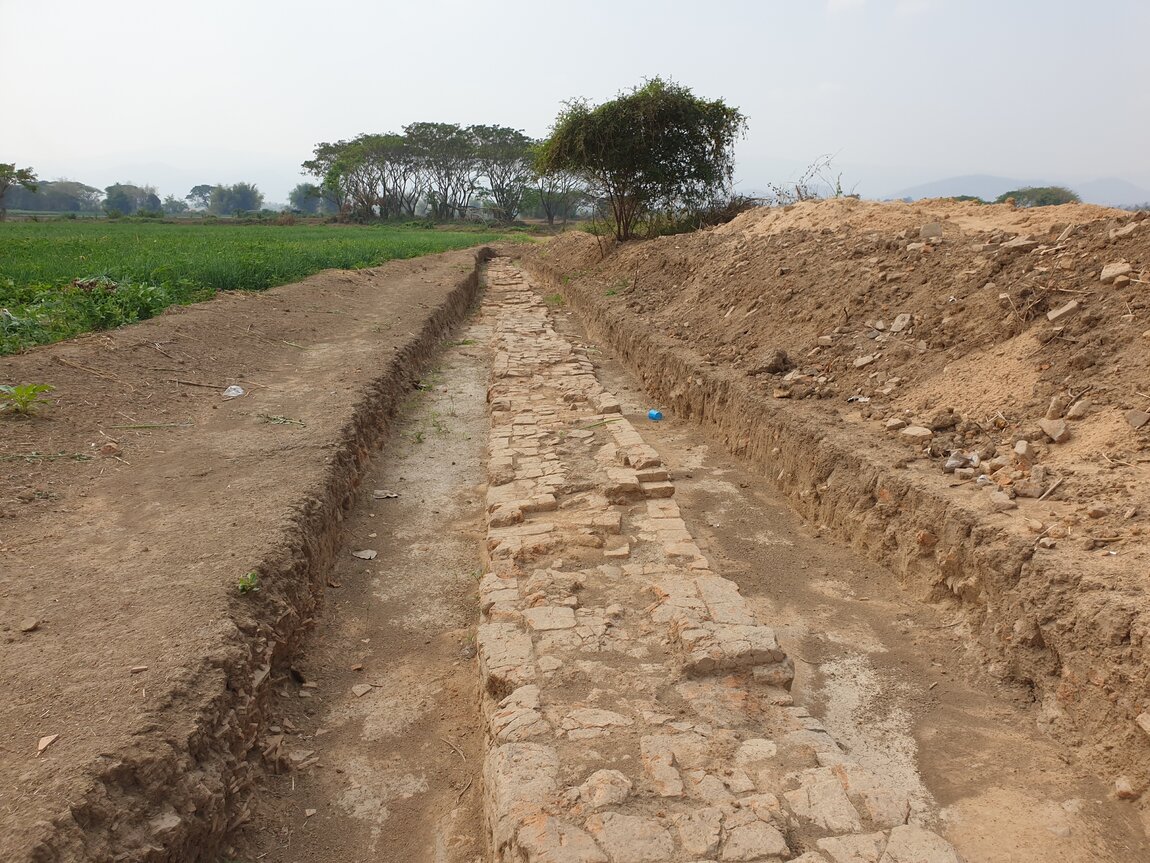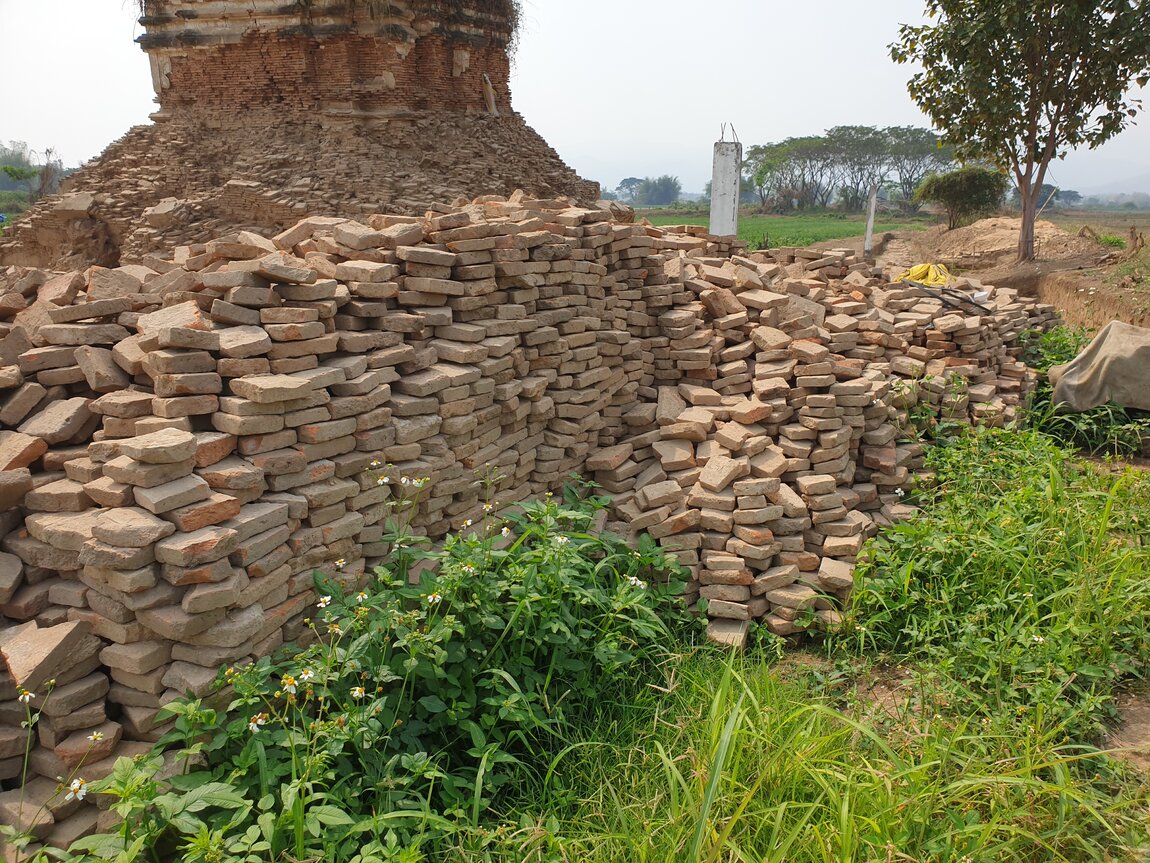 Two of the four stupas are off the road down a dirt track and unrestored.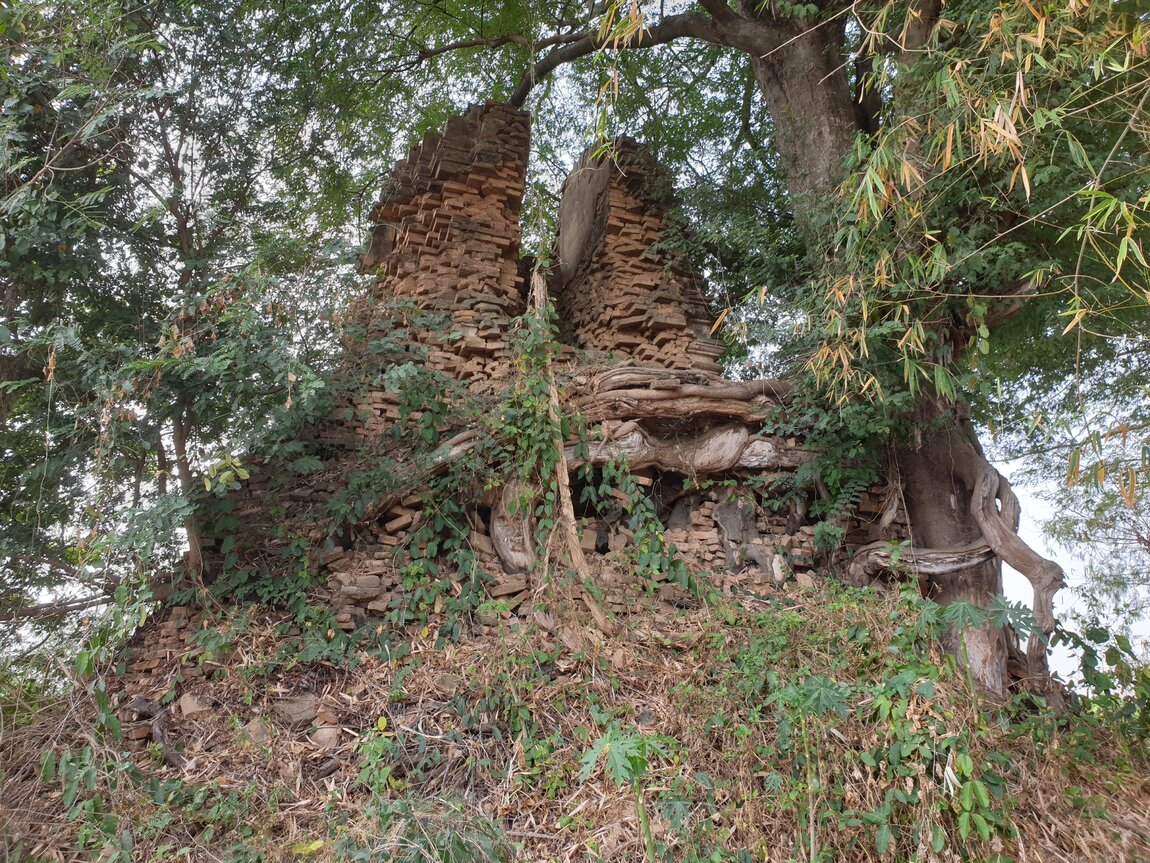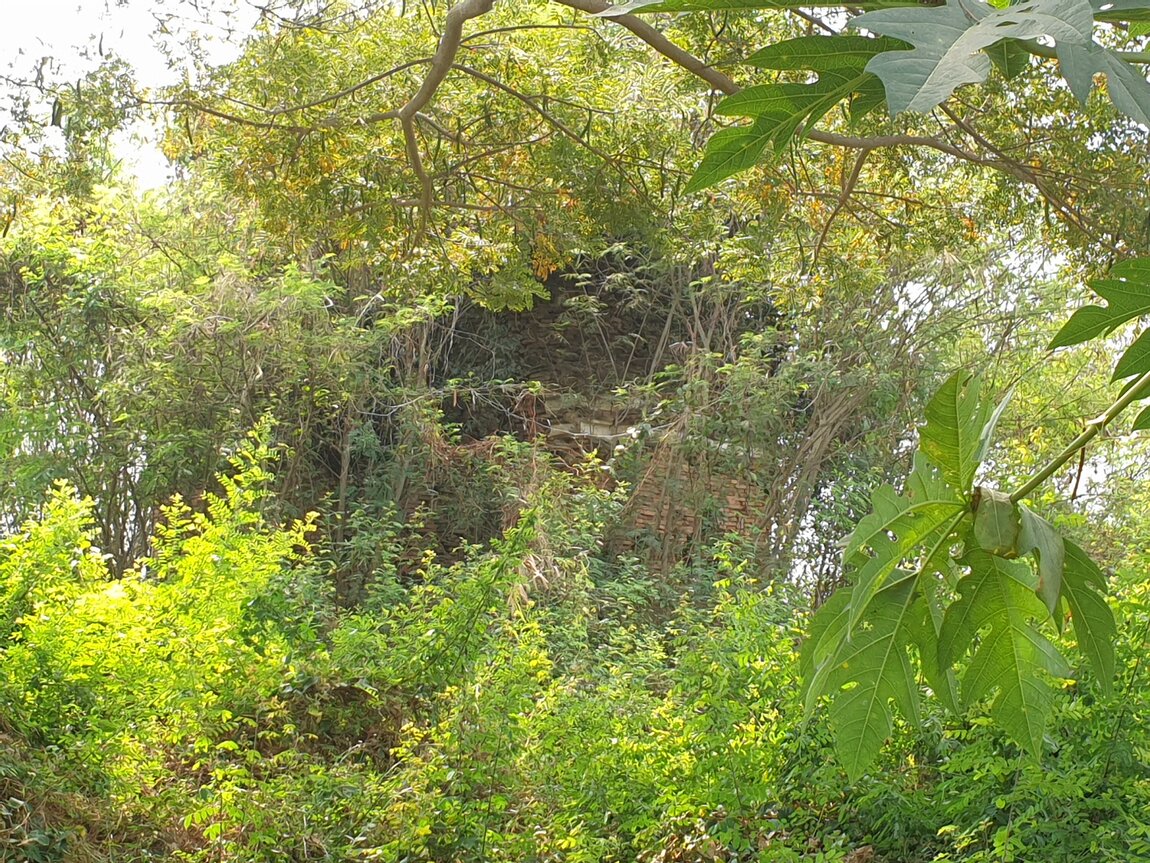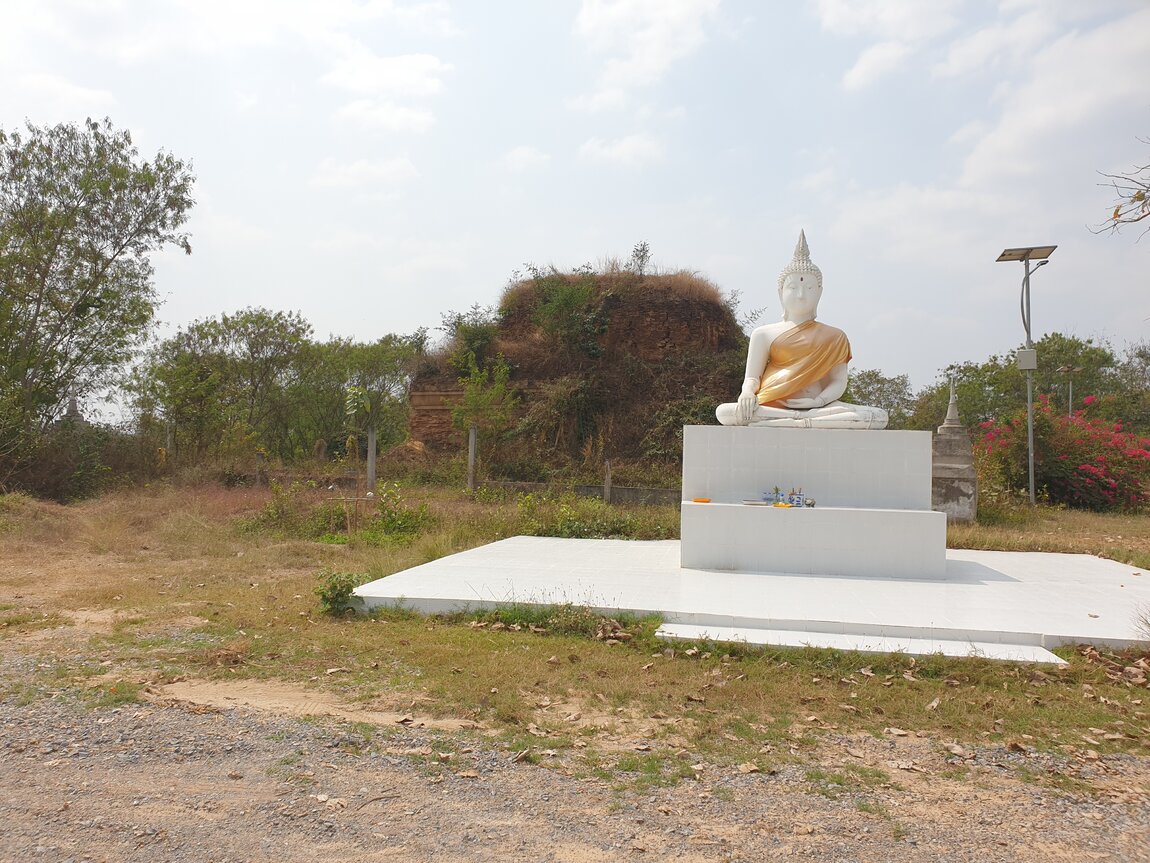 After Hot and Ob Luang, we stopped at the Theppanom Hot Spring National park, which was really good.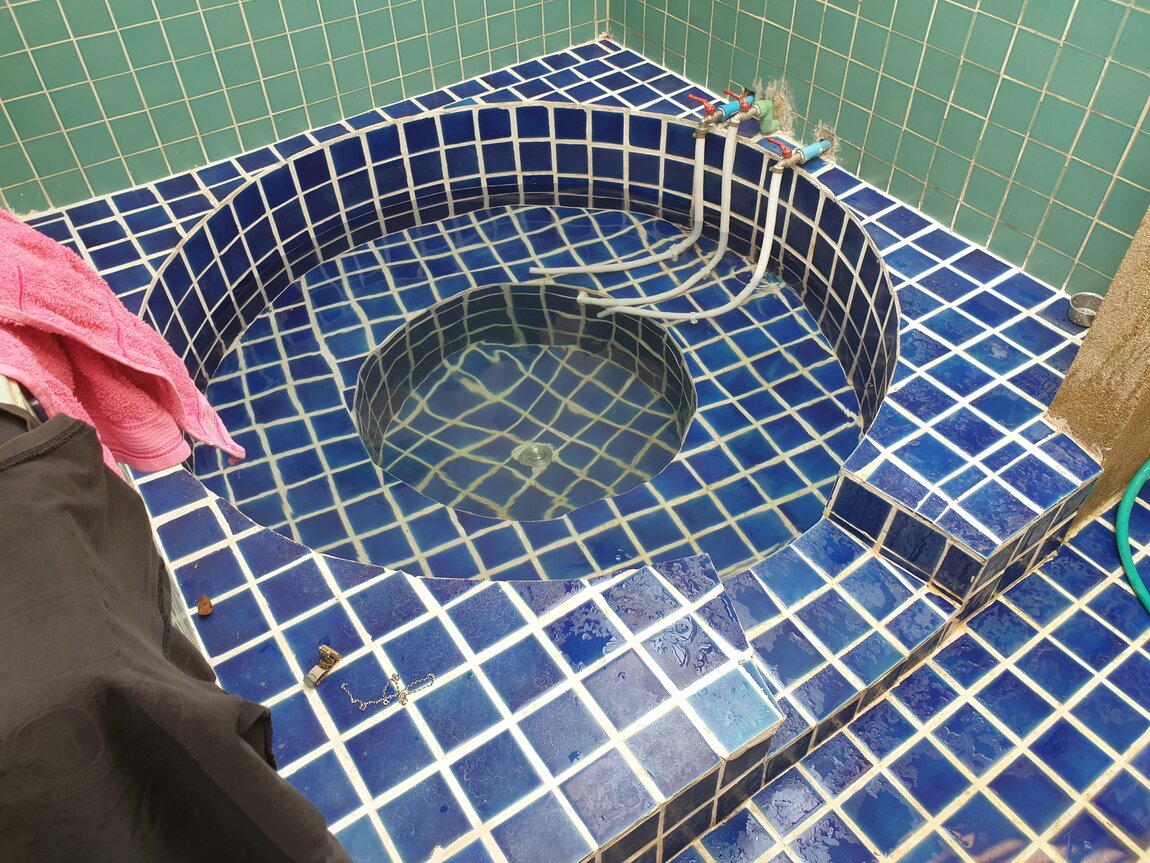 We had stopped for the night at Hot Coffee in Bahn Na Chon, on the 1088, north of Mae Chaem. The place was set up by a missionary group and is run by Karen refugees and orphans. They have nice bungalows by the river.
Very nice approach.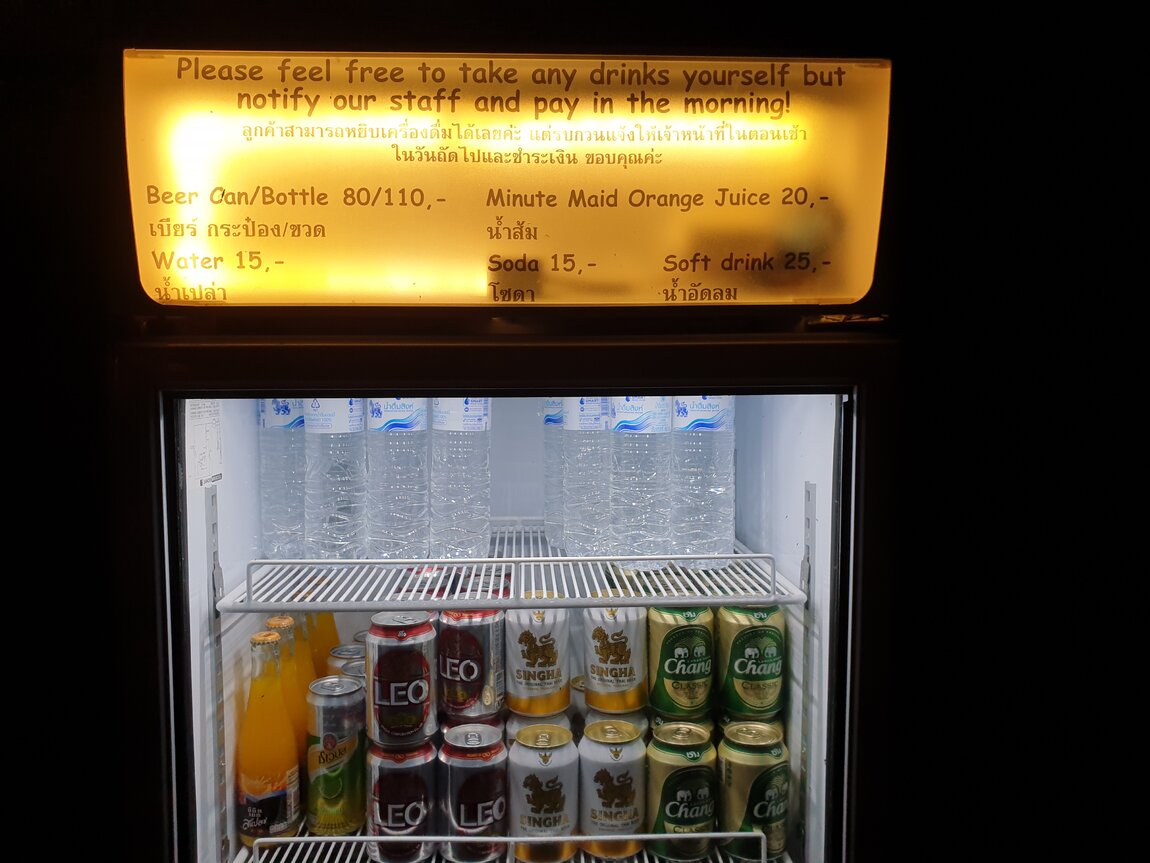 The farmed countryside was looking particularly brown and dry. But almost no signs of burning anywhere.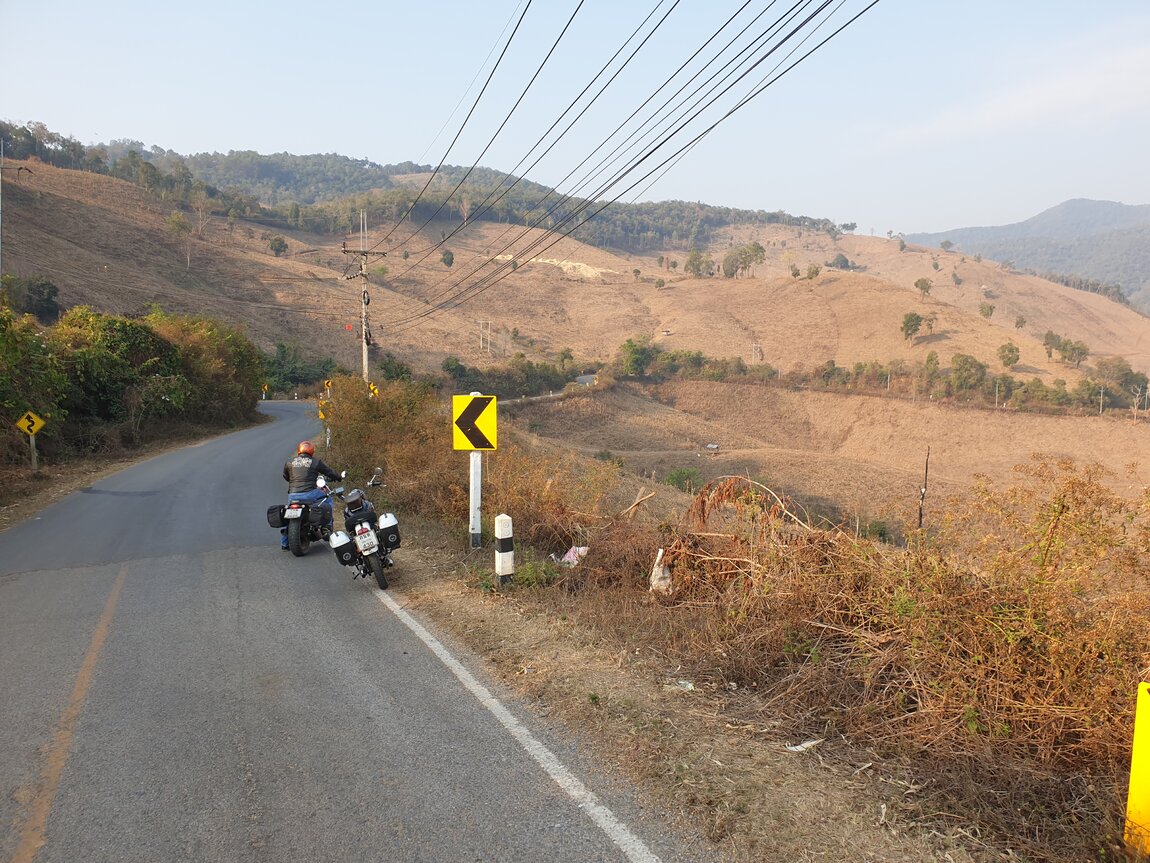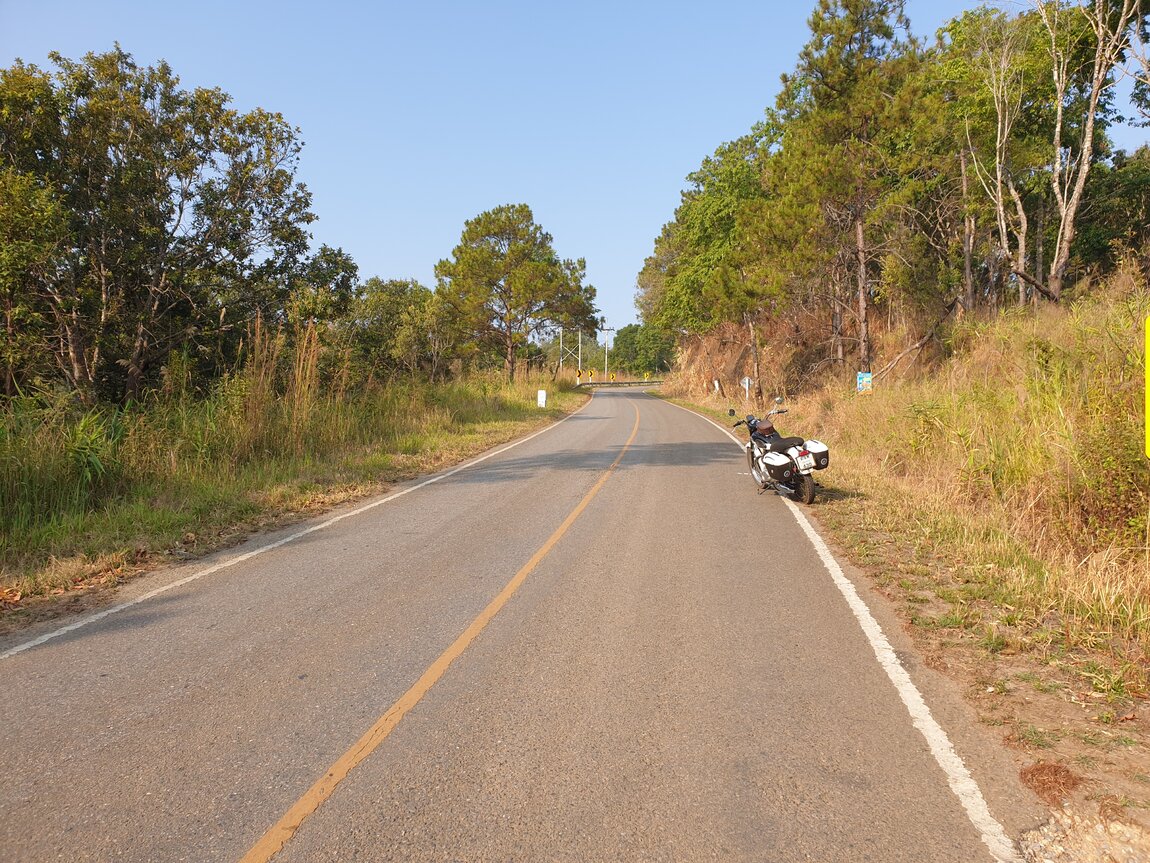 A strawberry farm area on 1263.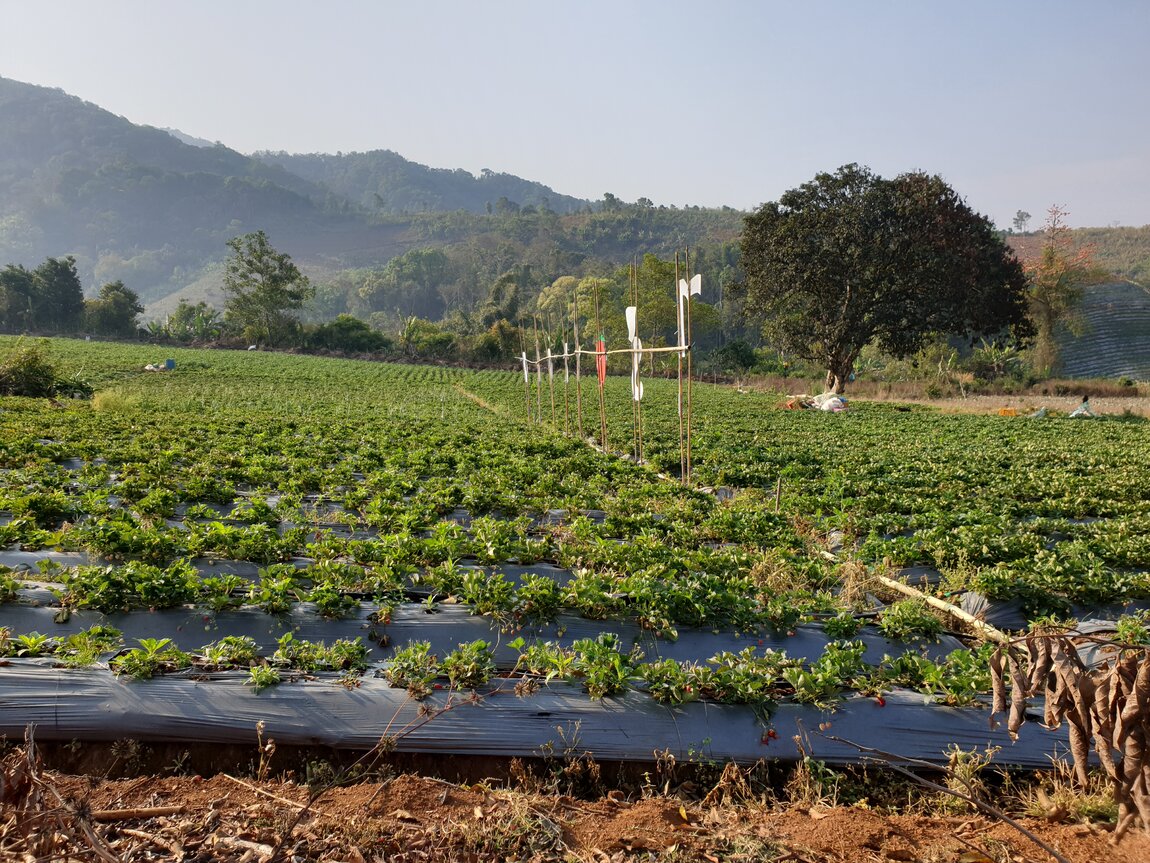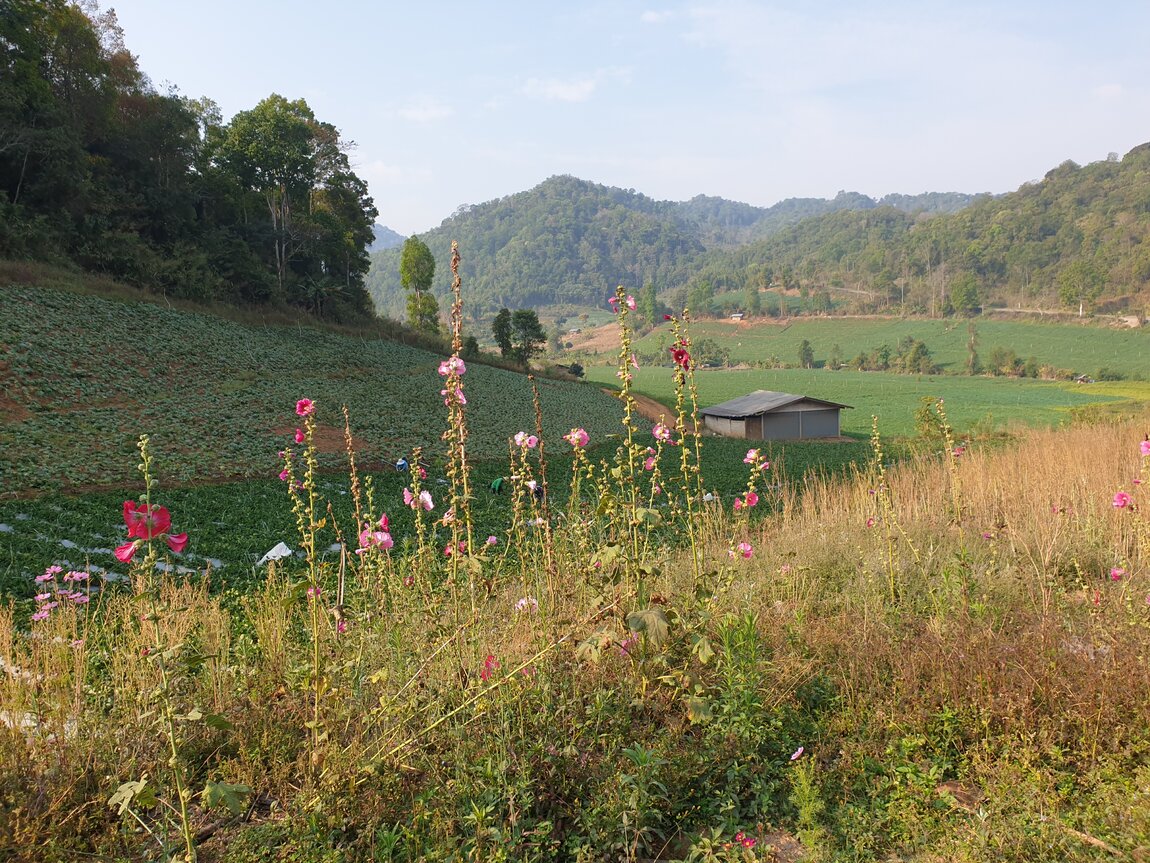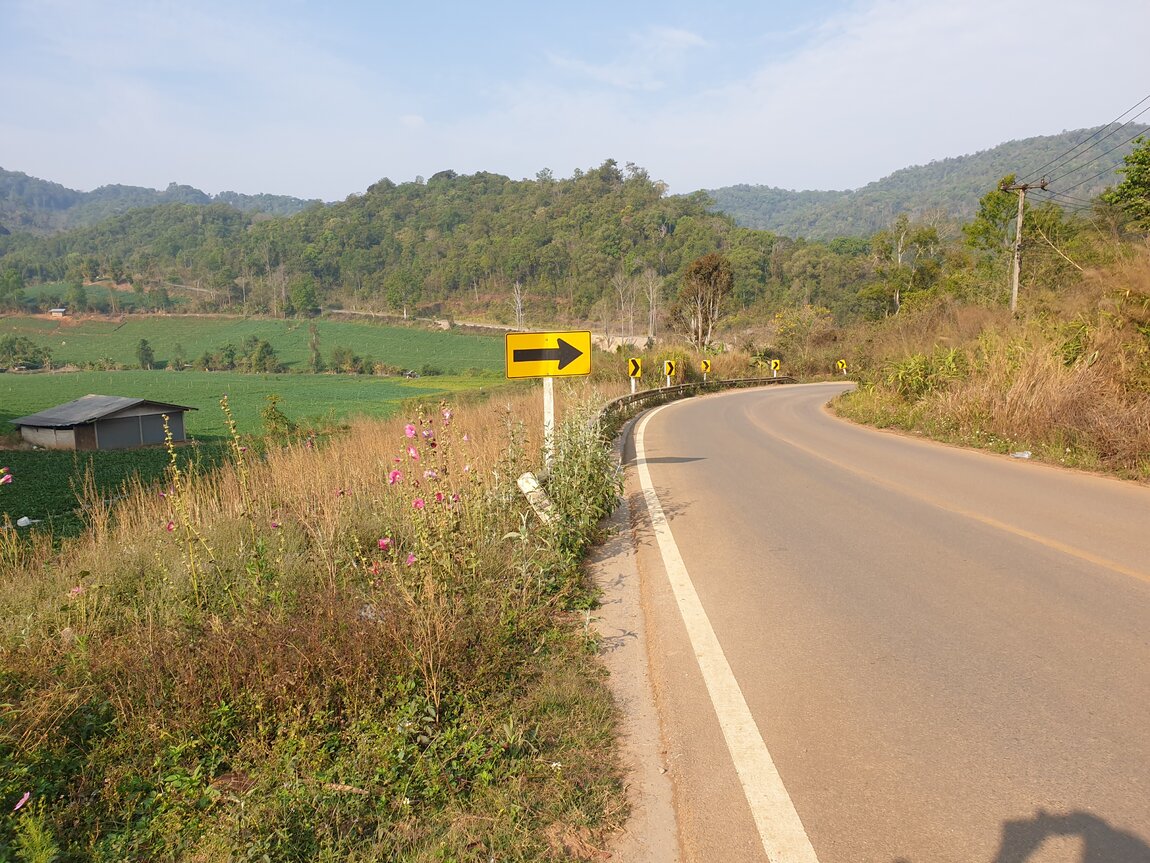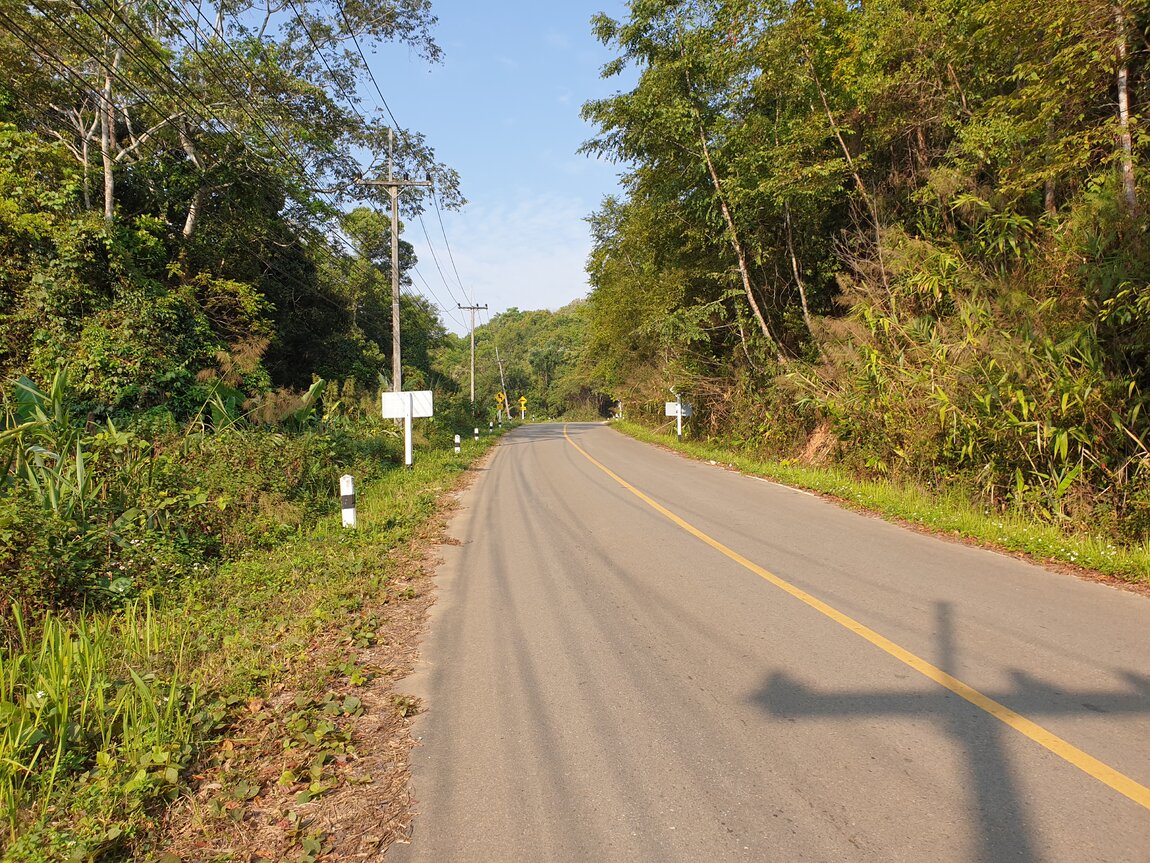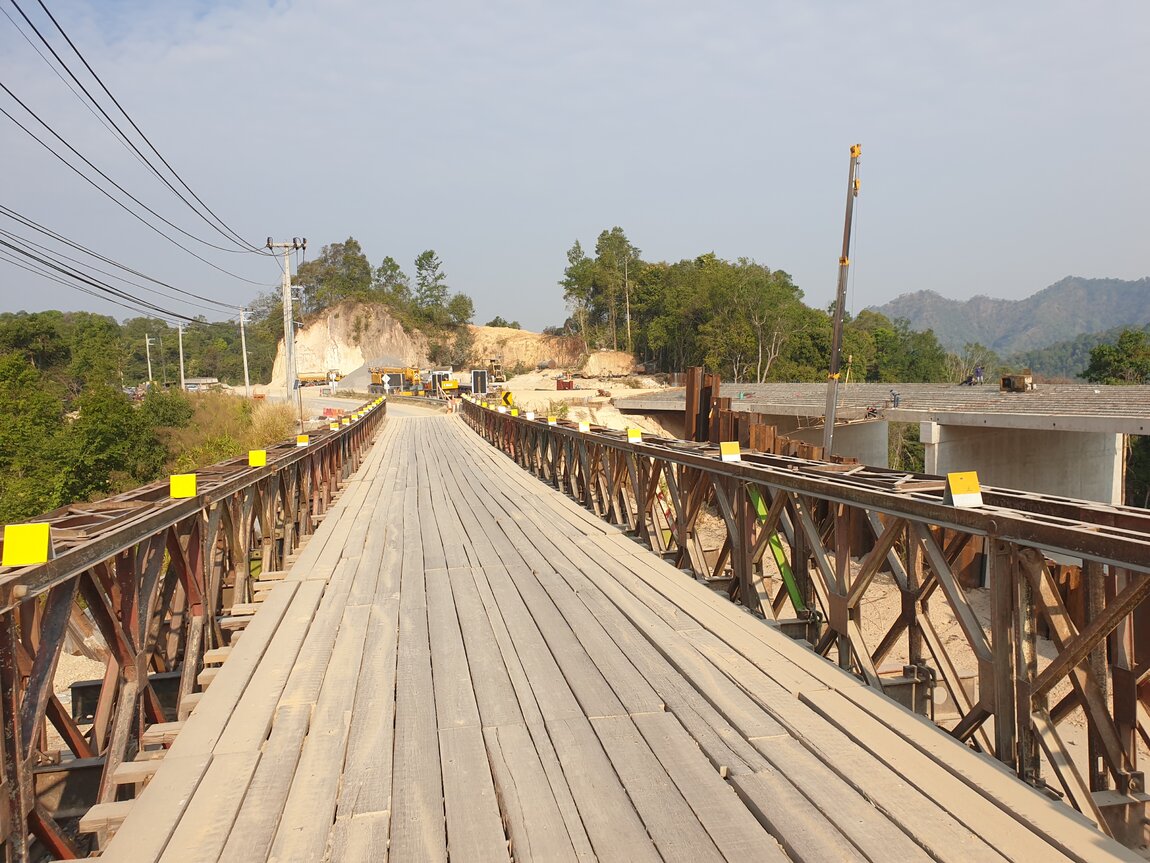 Then after Khun Yuam, on to the 108 north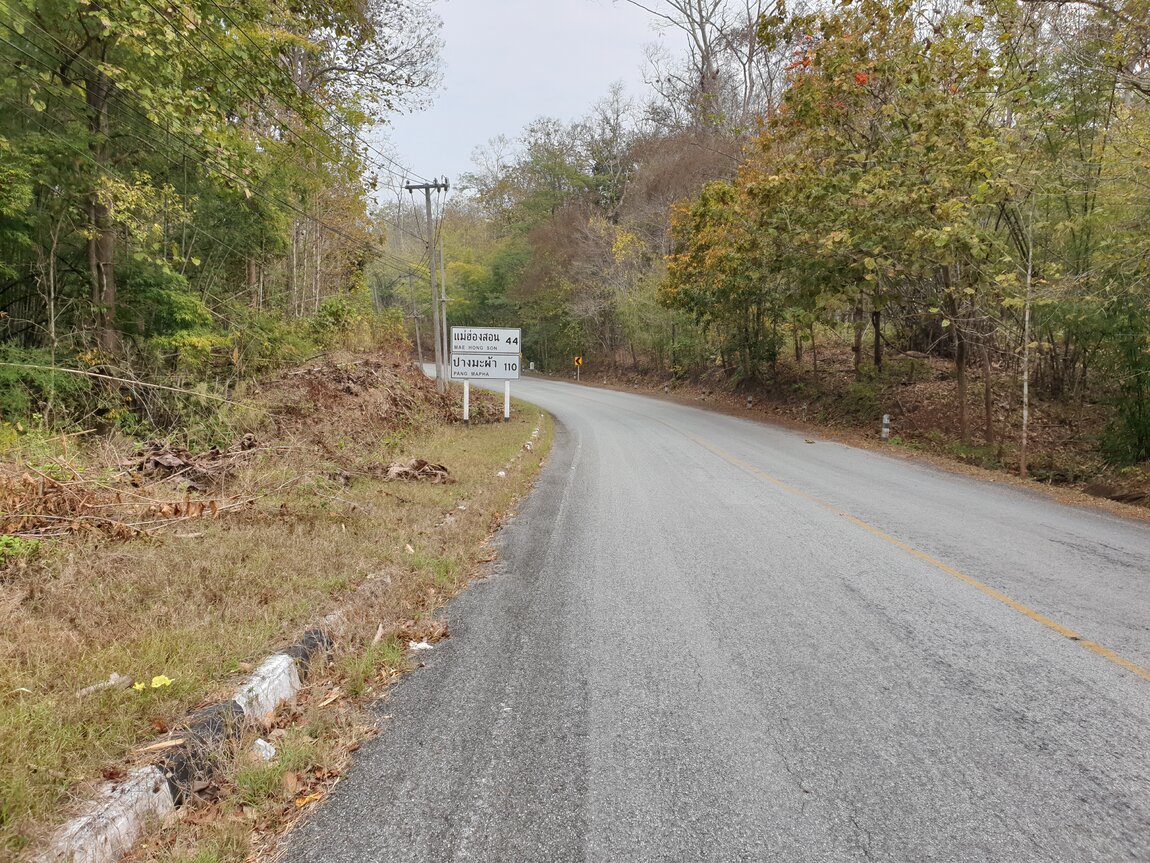 Lotsa fun, as always.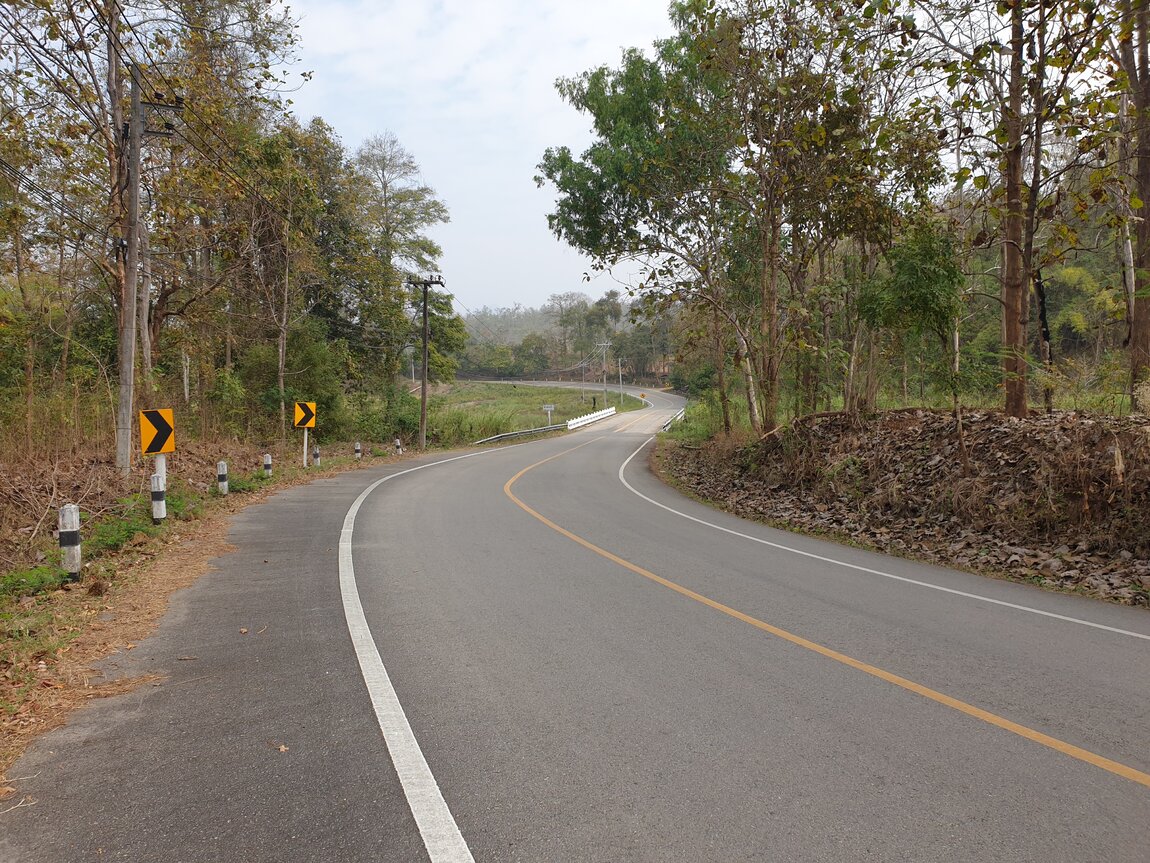 Lovely stuff.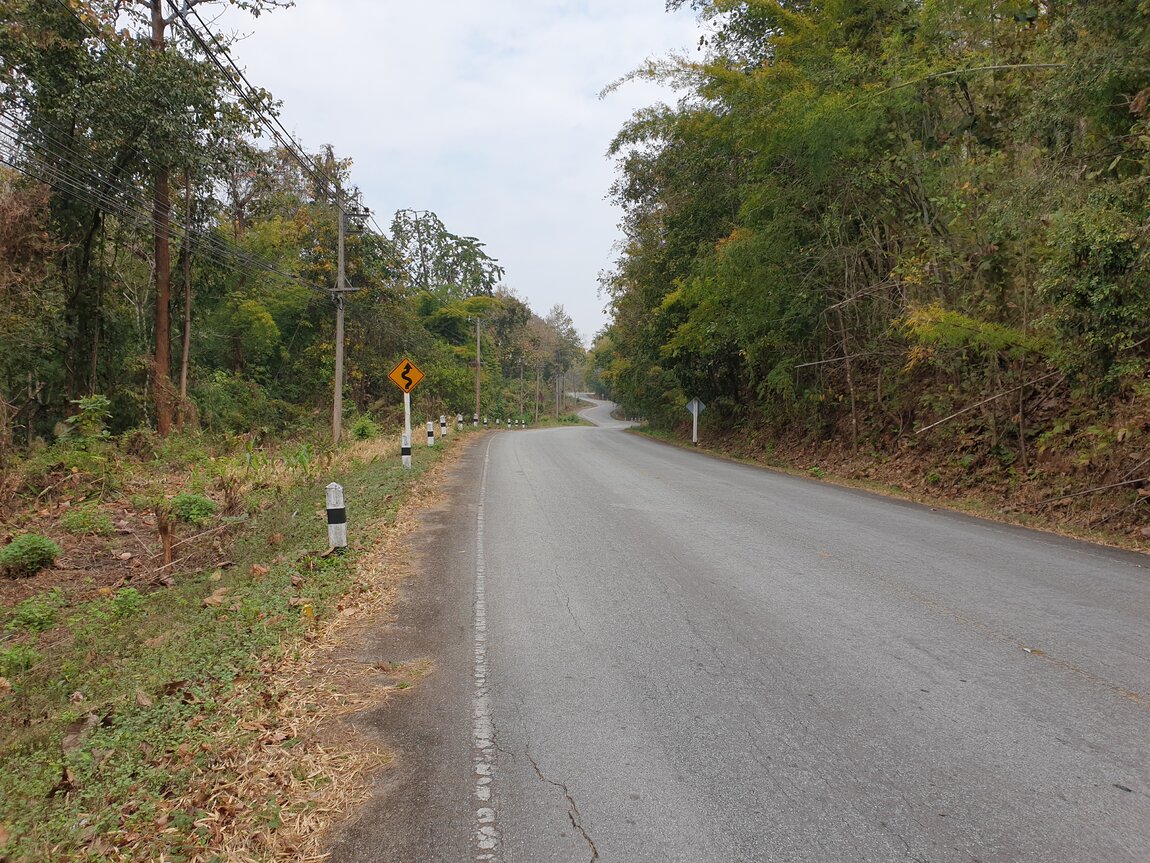 The rooms at the Pa Bong Hot Spring were closed, so we only got the hot foot bath.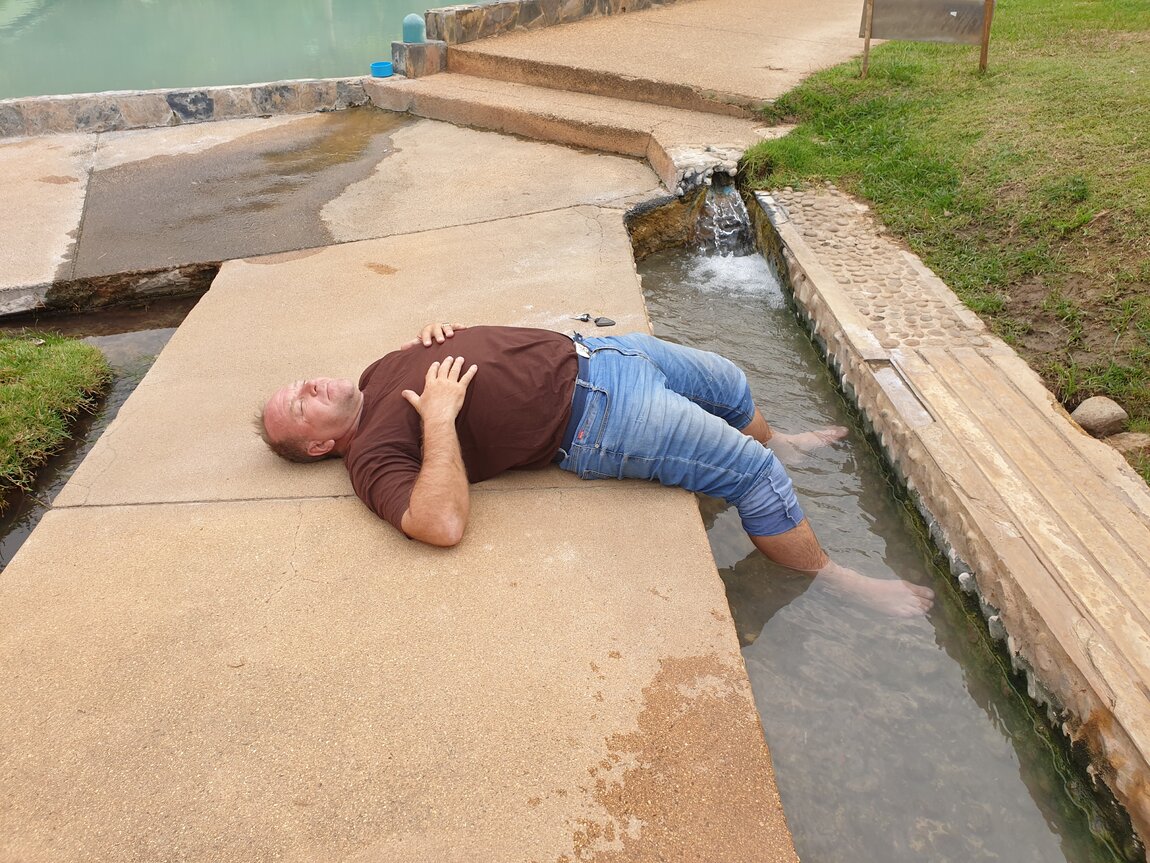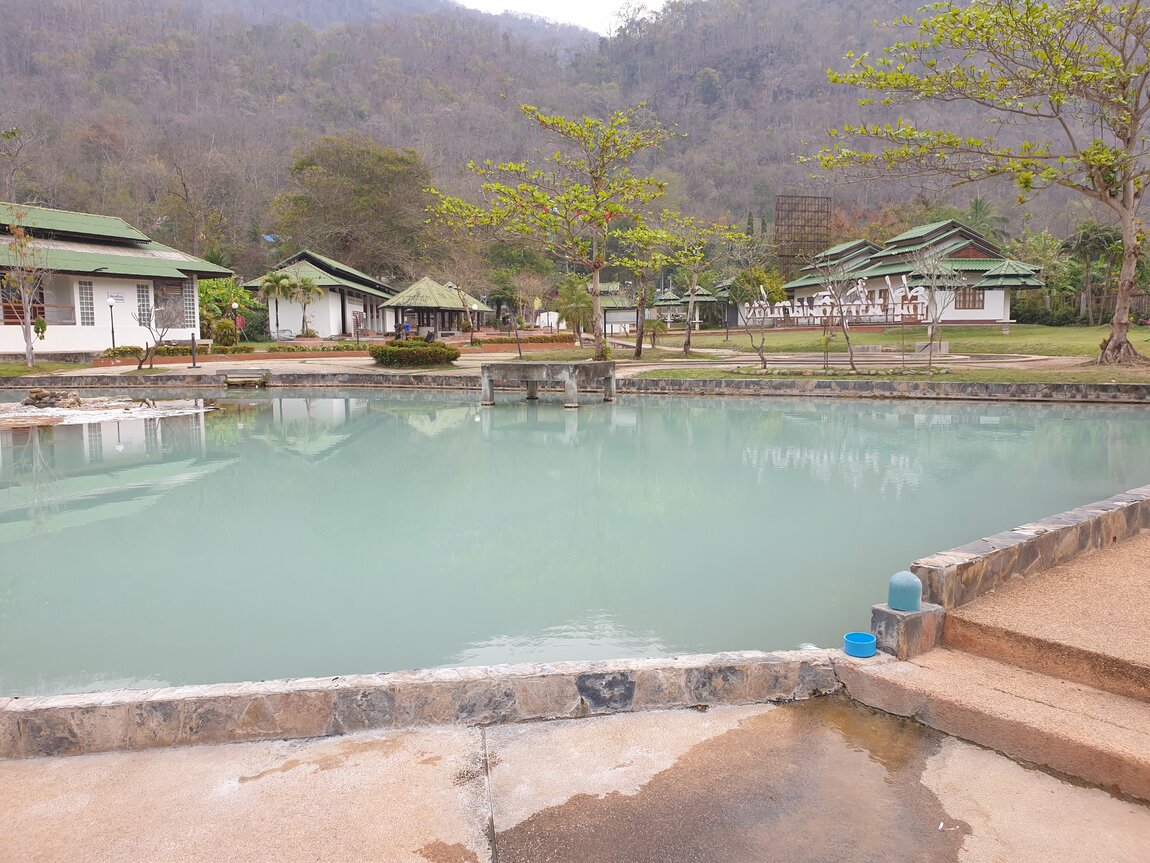 We stopped in Mae Hong Son to see Herbert at the Pizza Primavera. The best restaurant in the city, easily. His italian food is superb. We had Caprese, pumpkin soup, spinach and cheese, salad and affogato. He has a good selection of wines and is now selling his own coffee, too.
One of the new Royal Enfield Meteor 350's. very nice.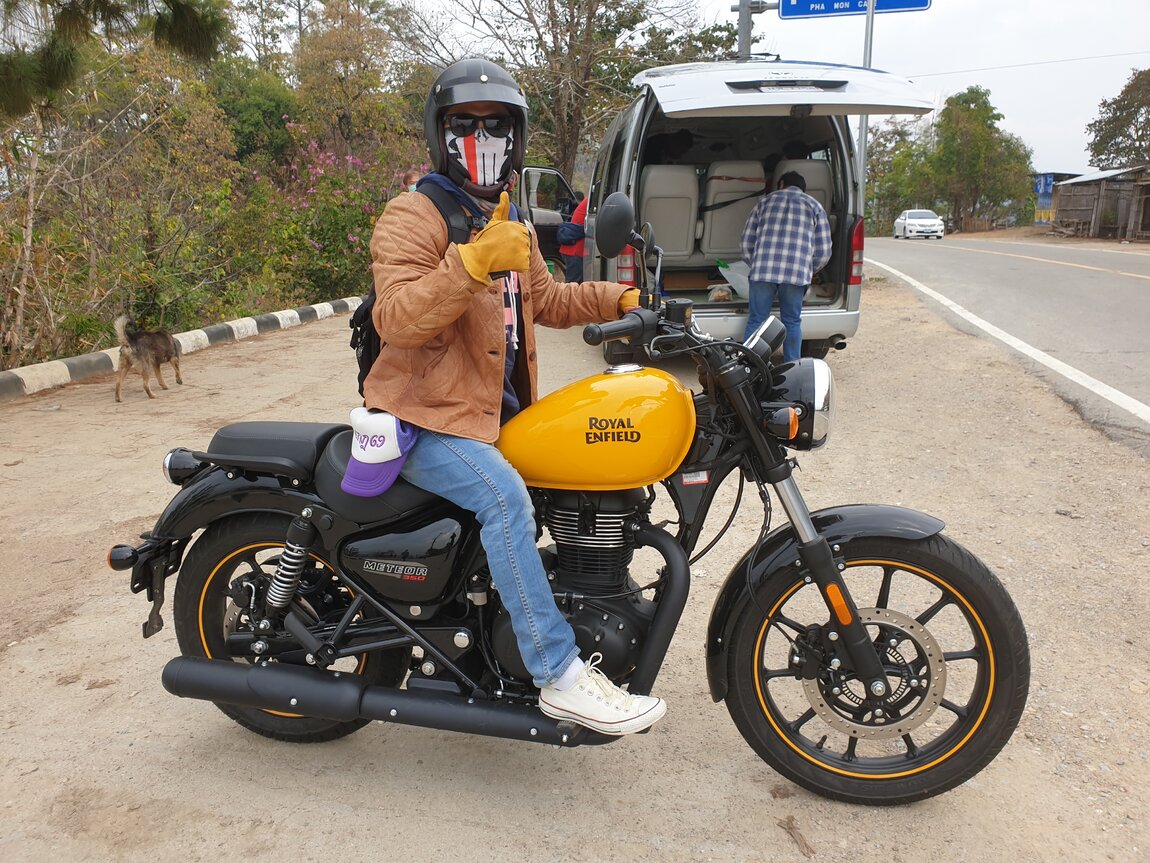 A usual coffee stop near Pang Ma Pha.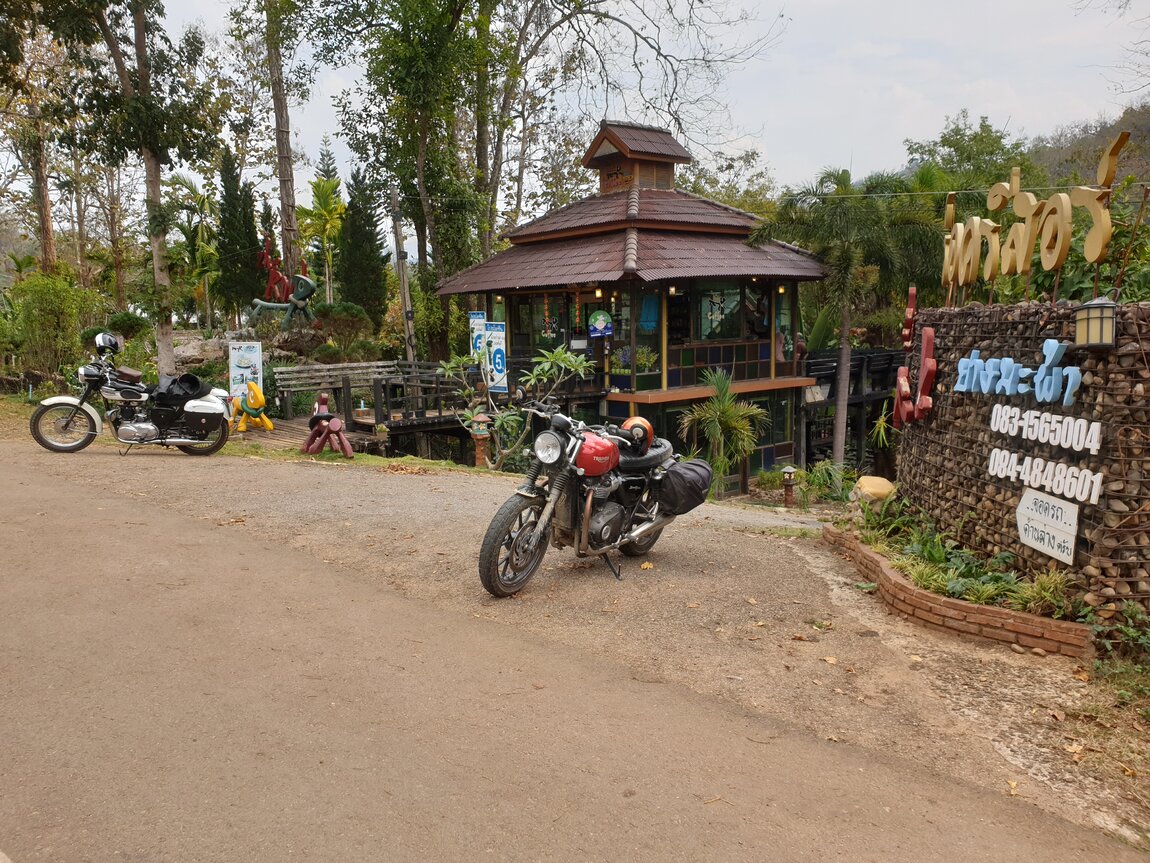 As we pulled in to Pai, we saw a bunch of bikes in this resort, so figured it would be a good place to stay, which indeed it was, next to the Pai River.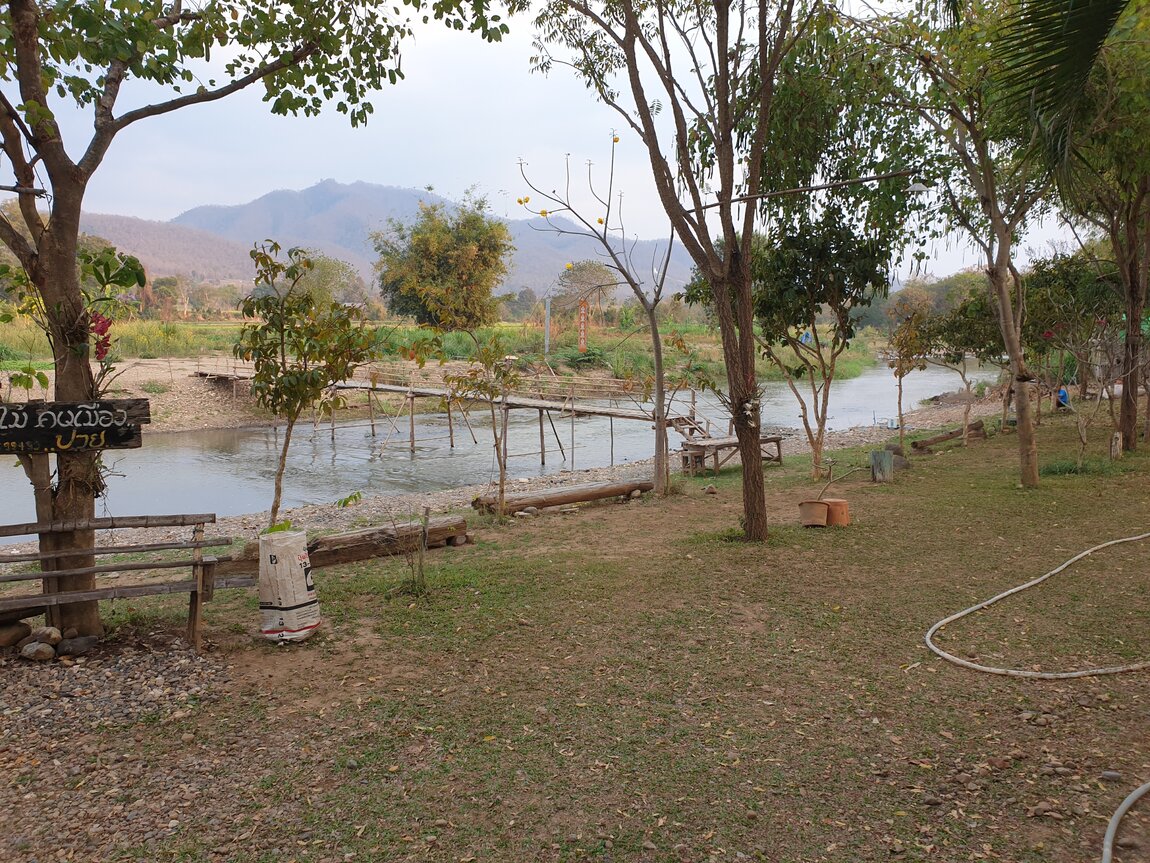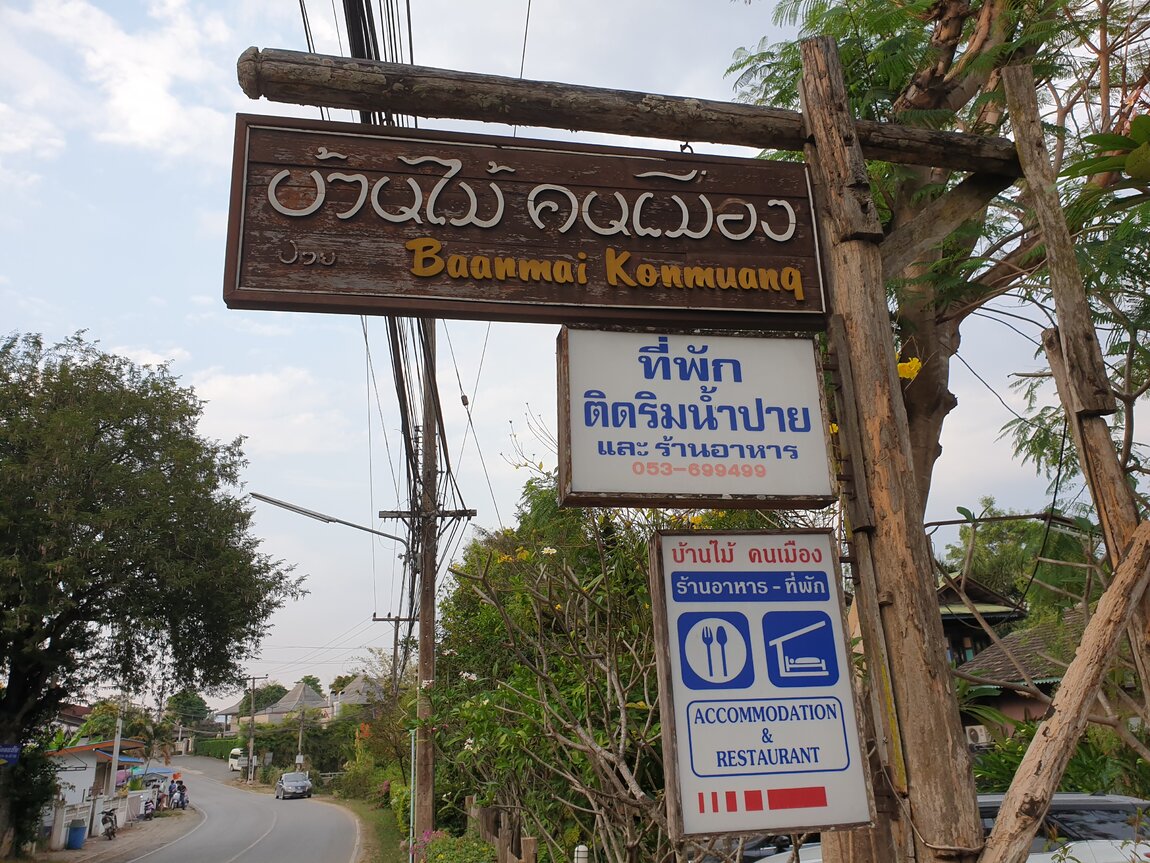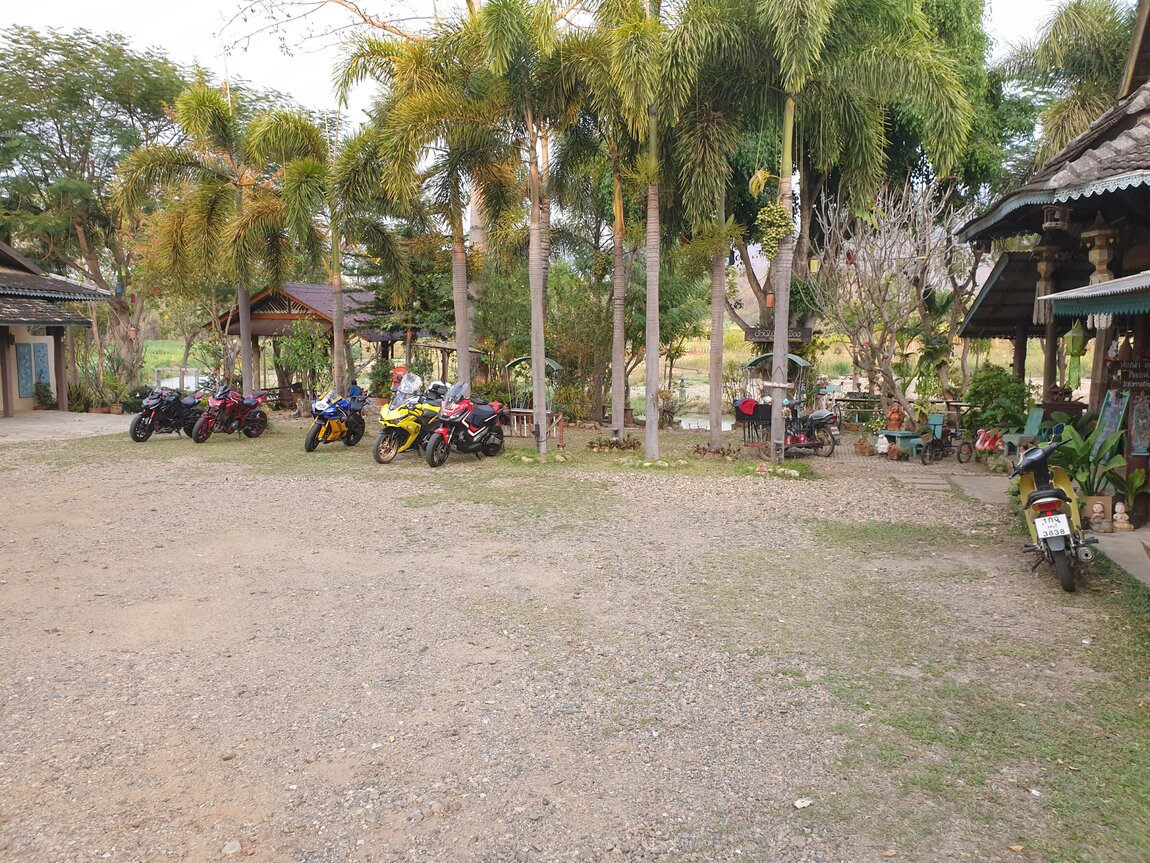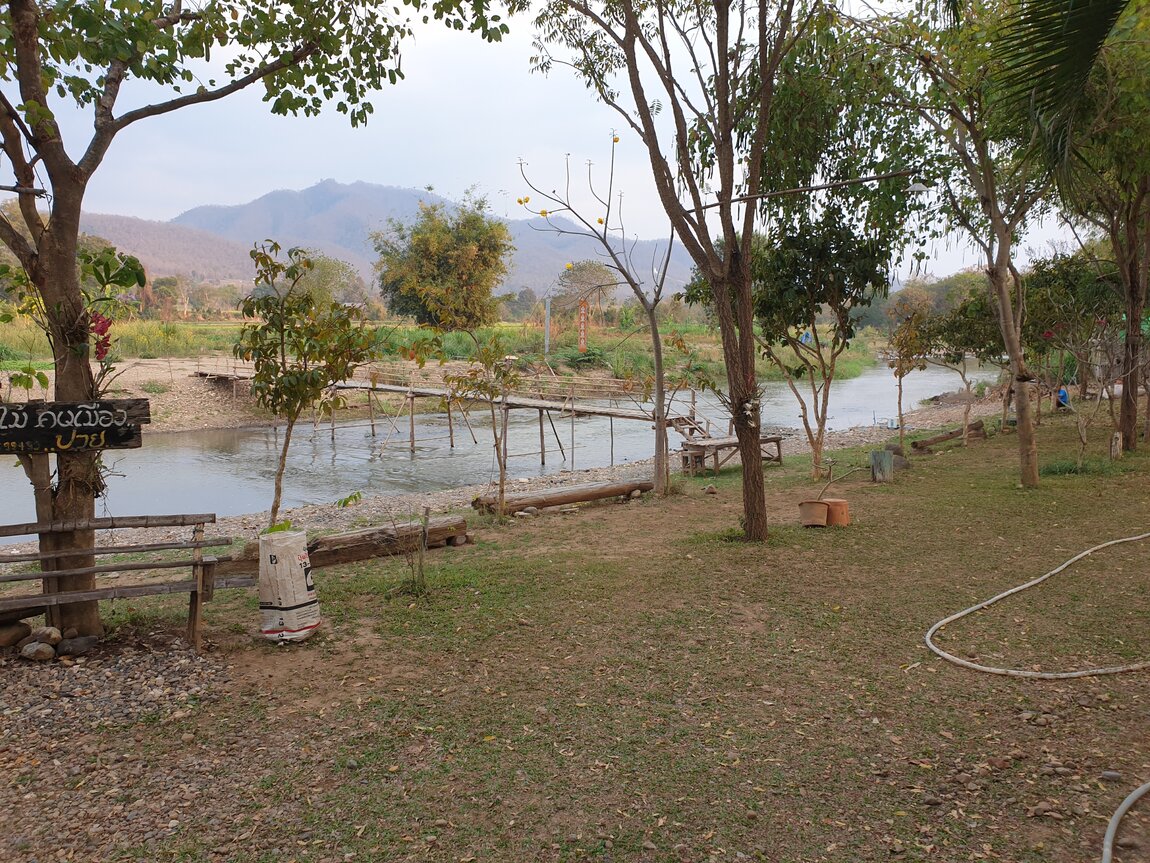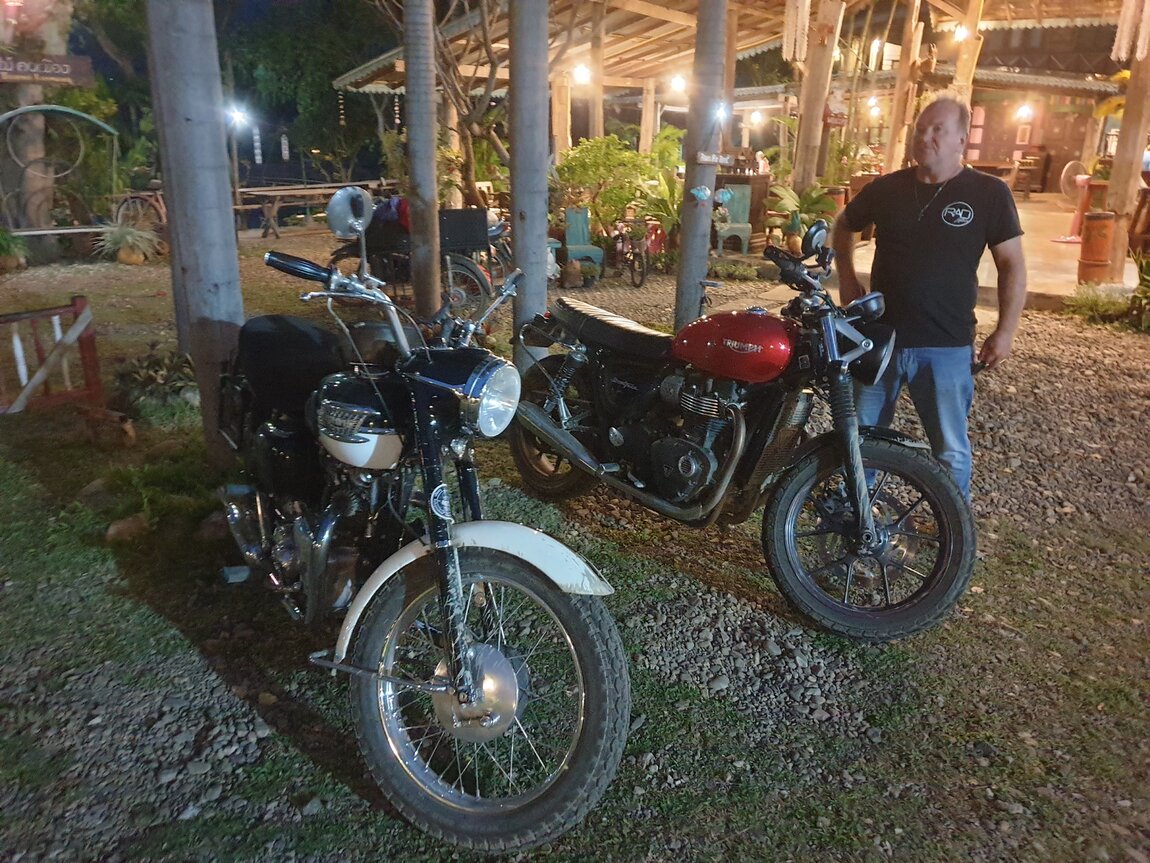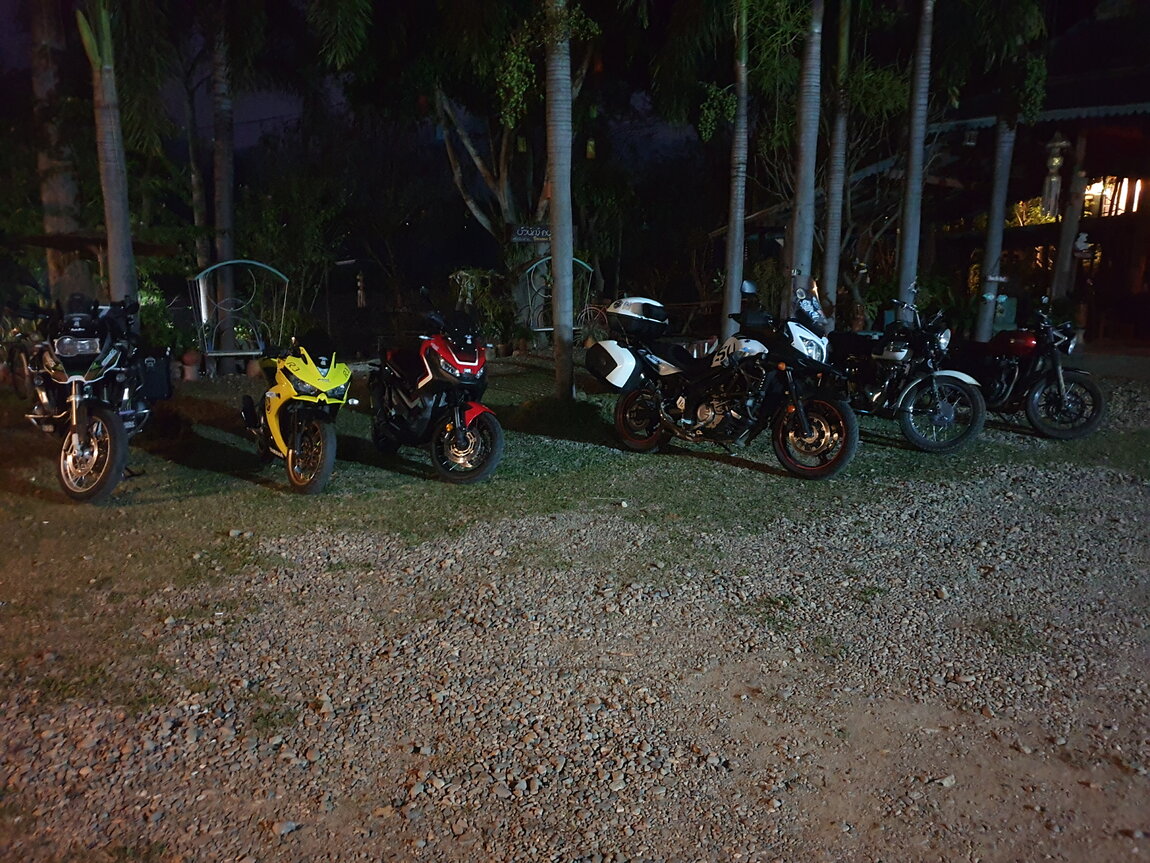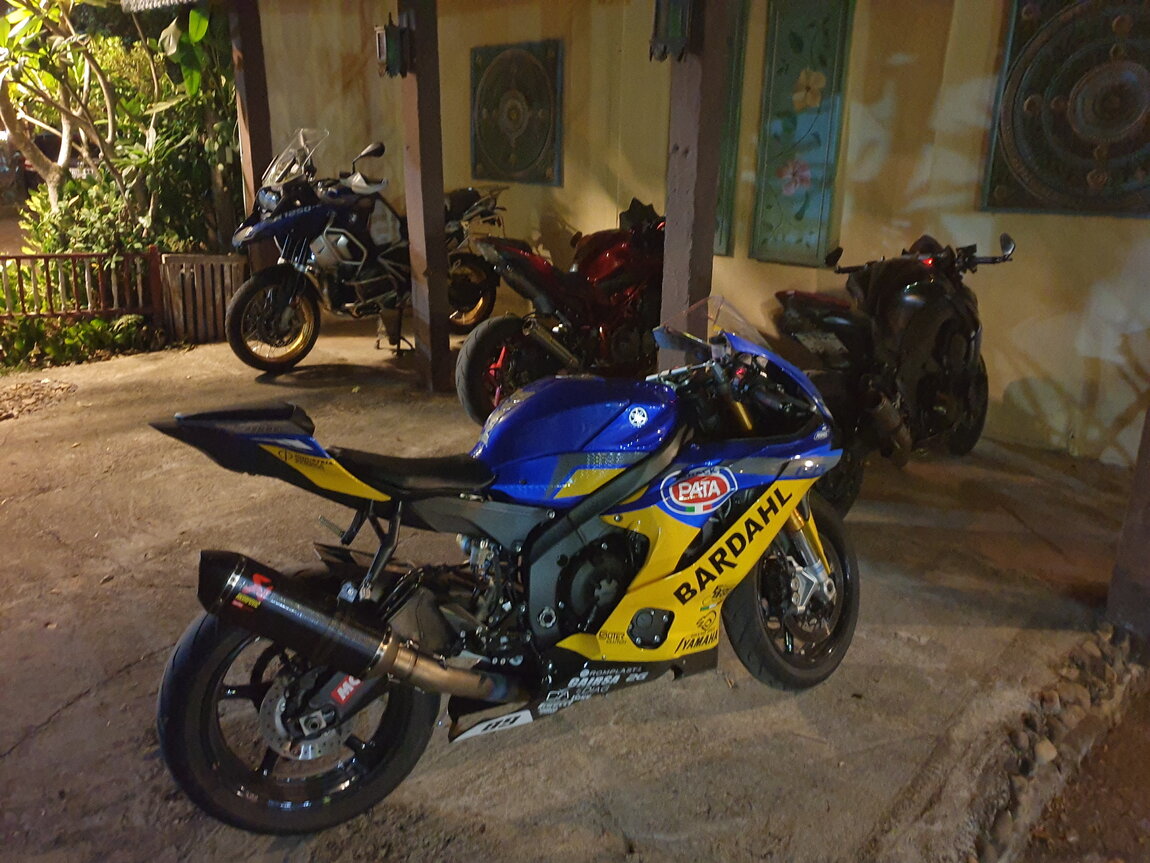 The last day was a ride for home. Down the 1095 to Mae Taeng.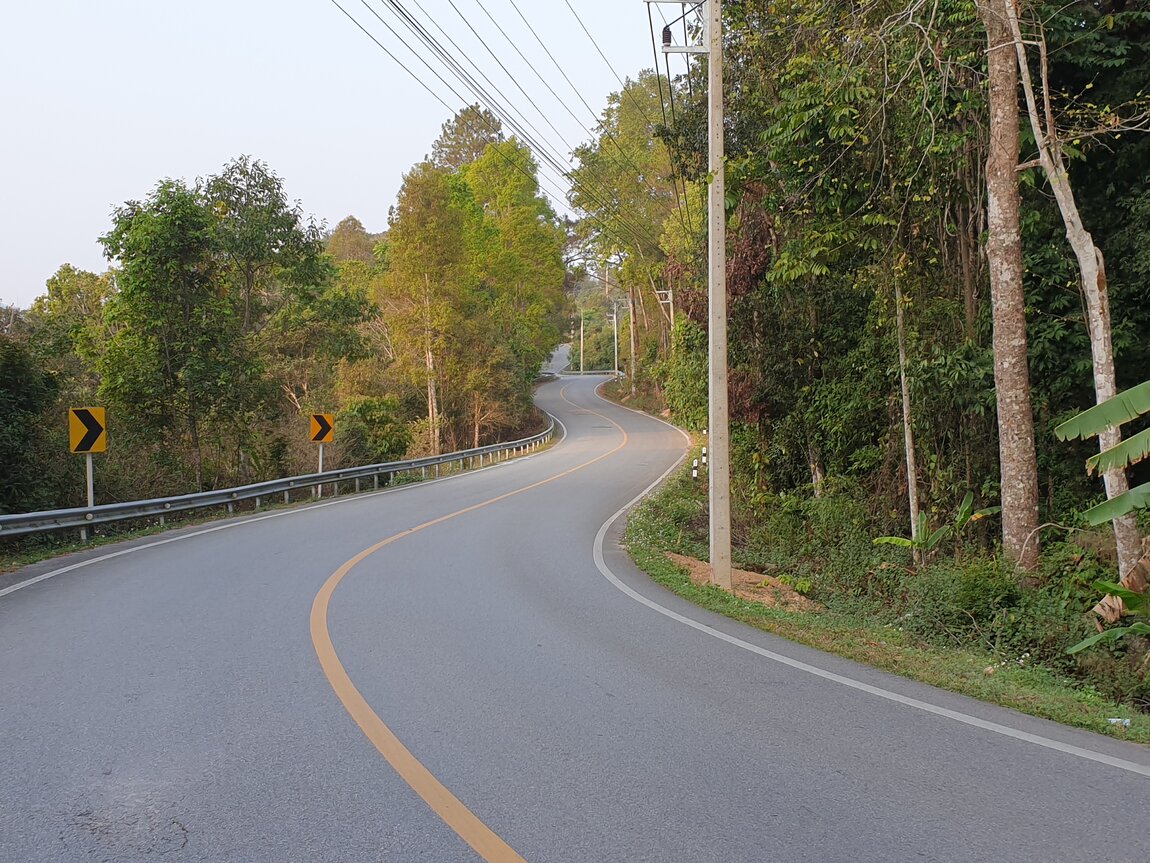 At the Witch's House for coffee.
Then more coffee on the 118 at Seney, a super cafe on the bypass opposite Doi Chang Dao.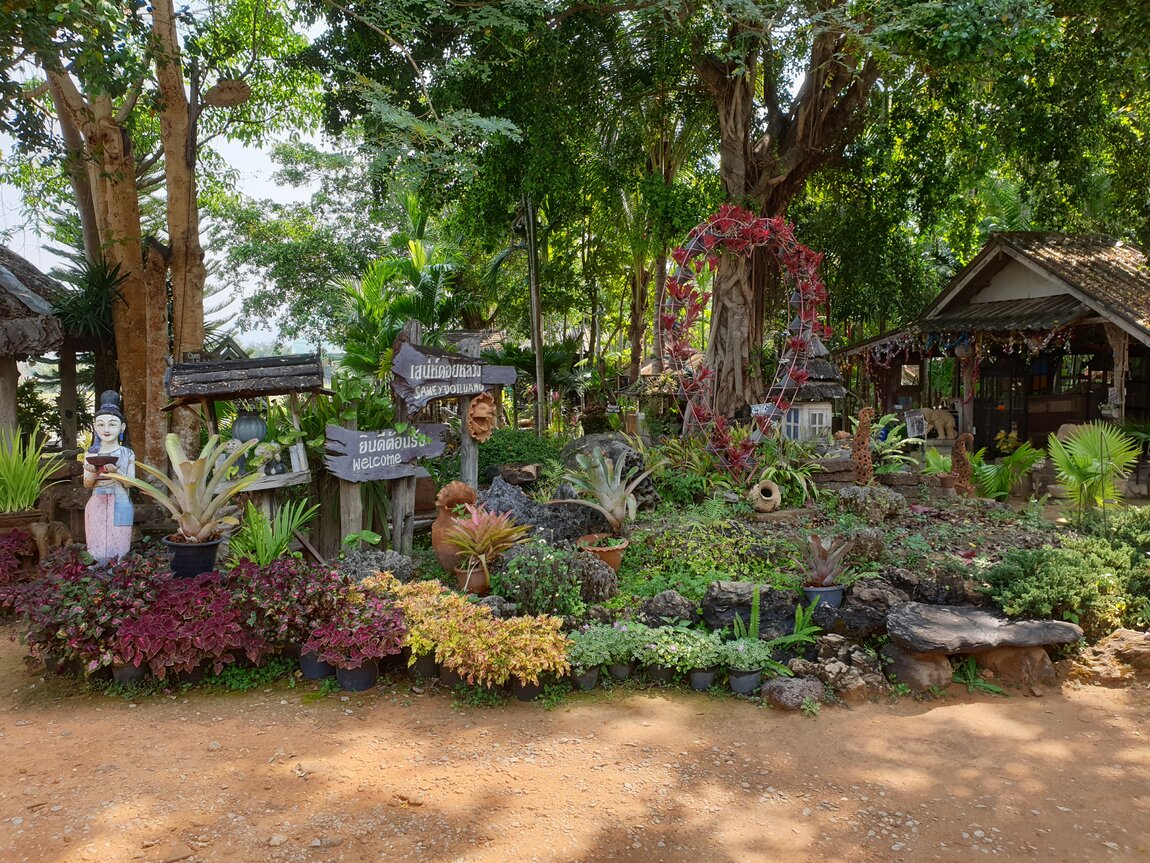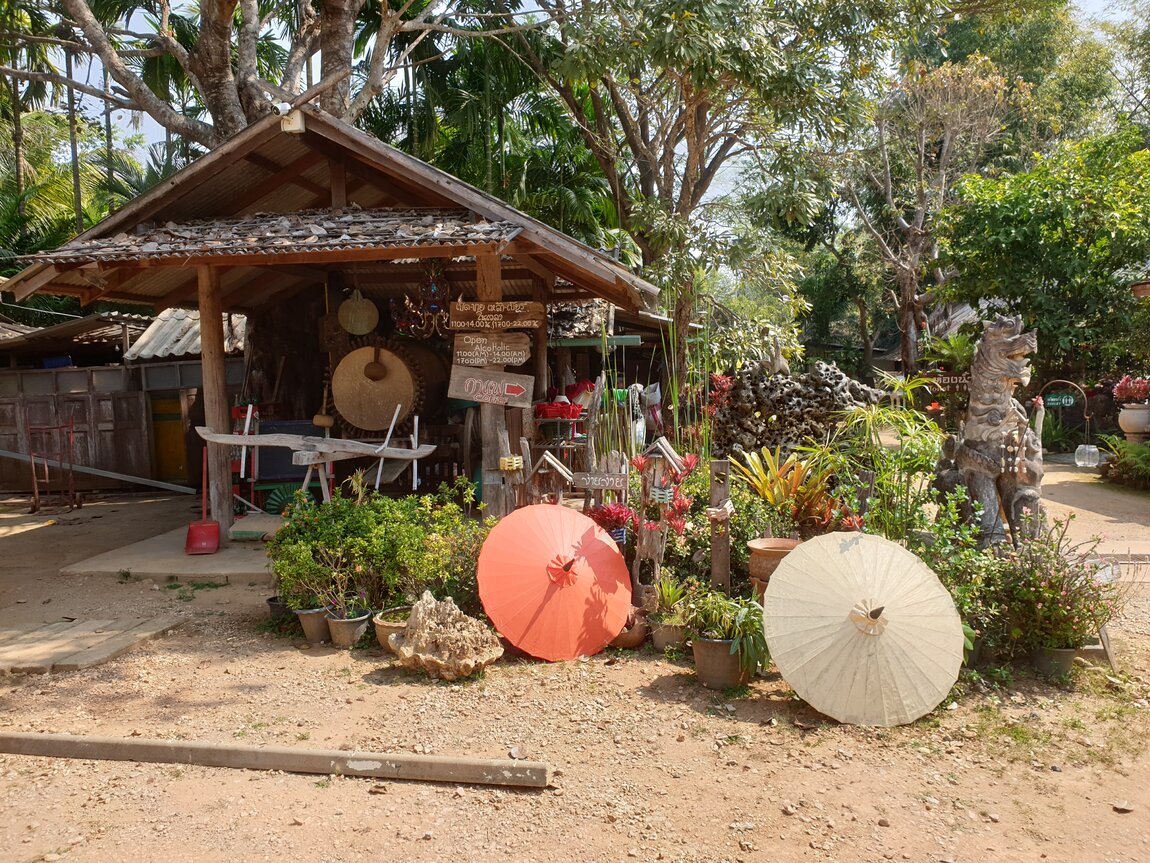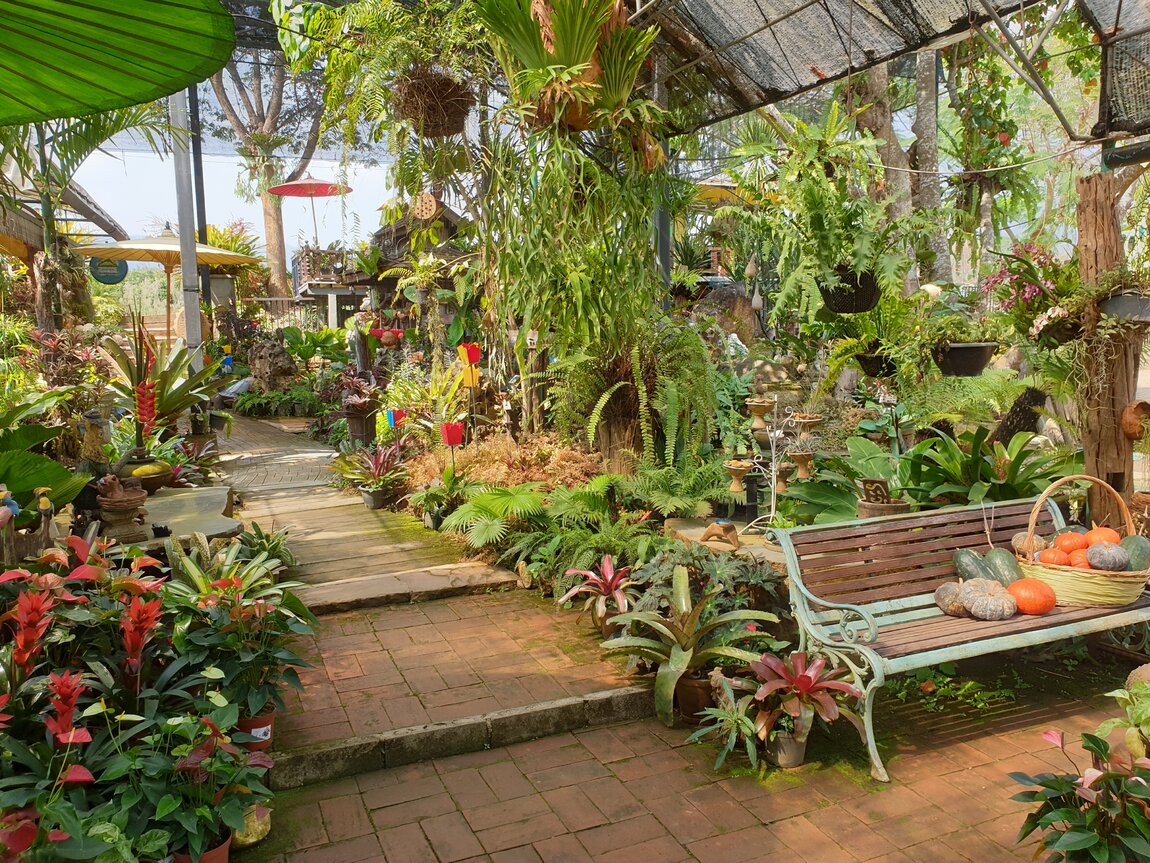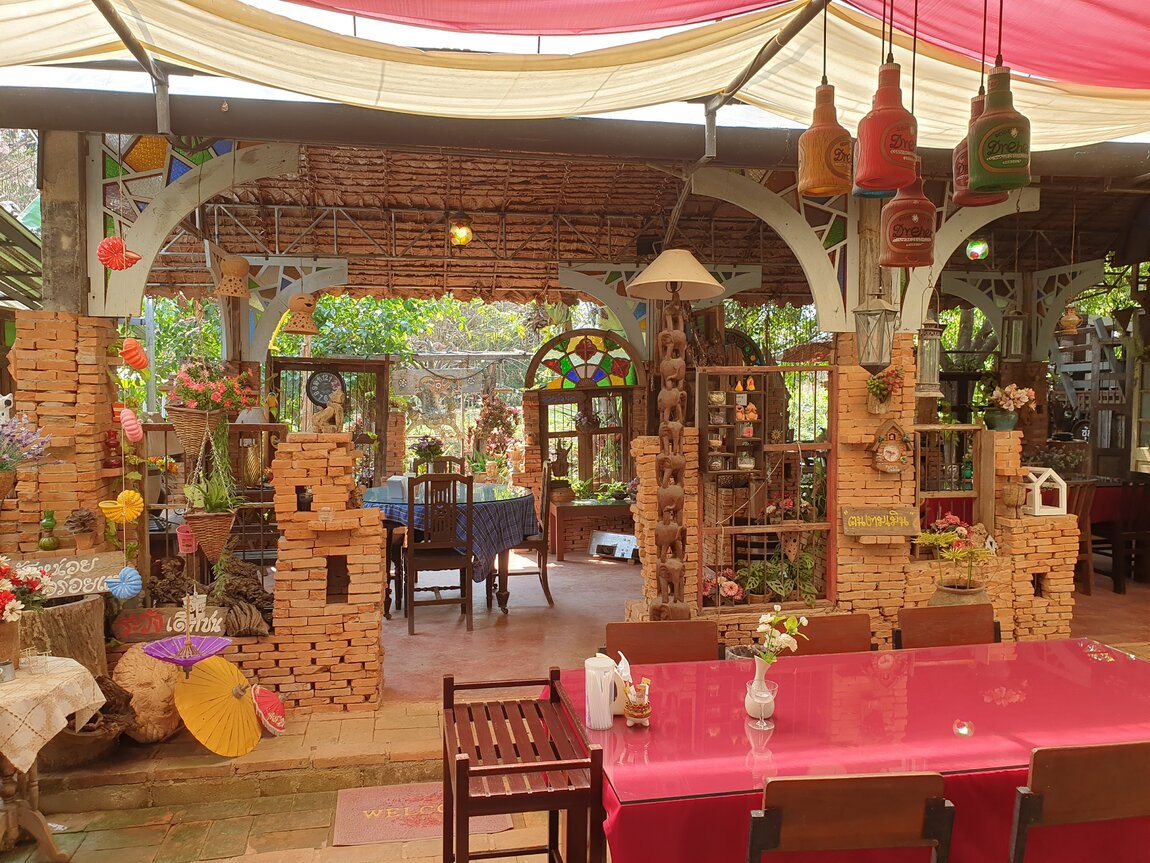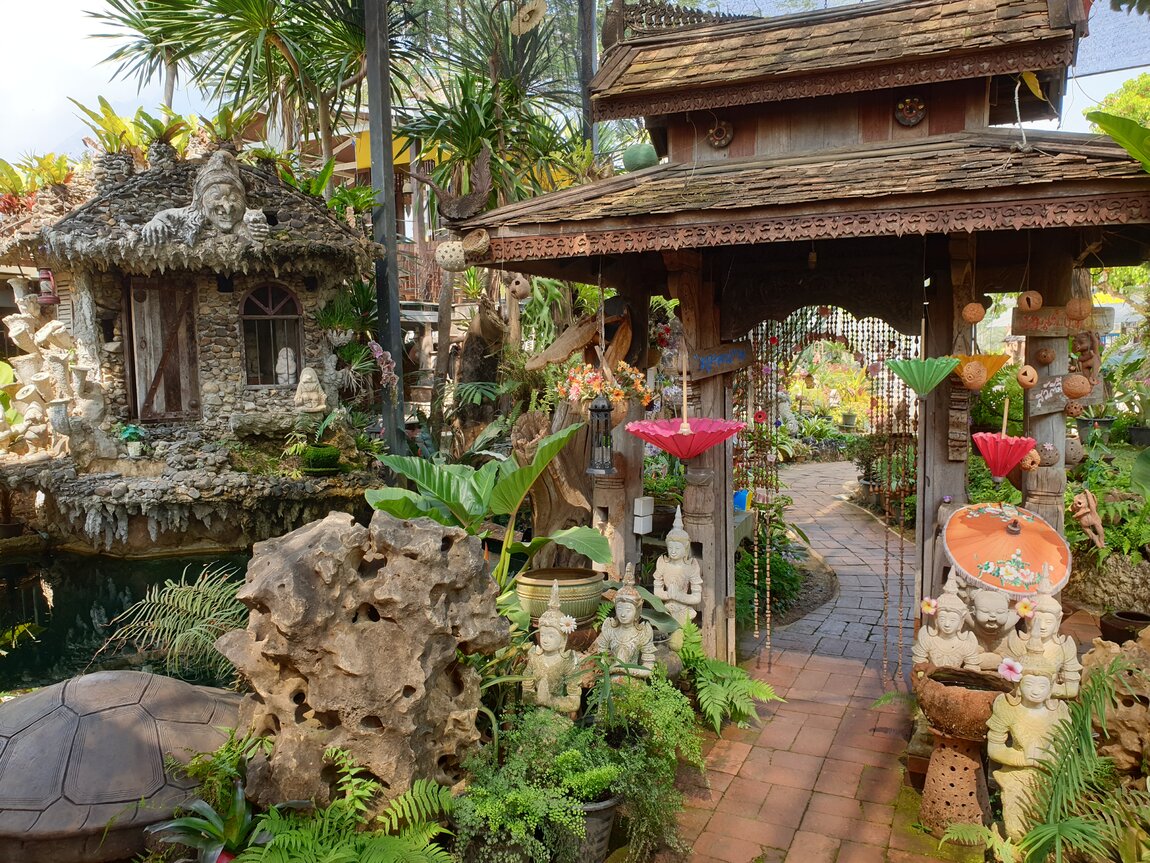 Later, on the 1089 towards Mae Chan.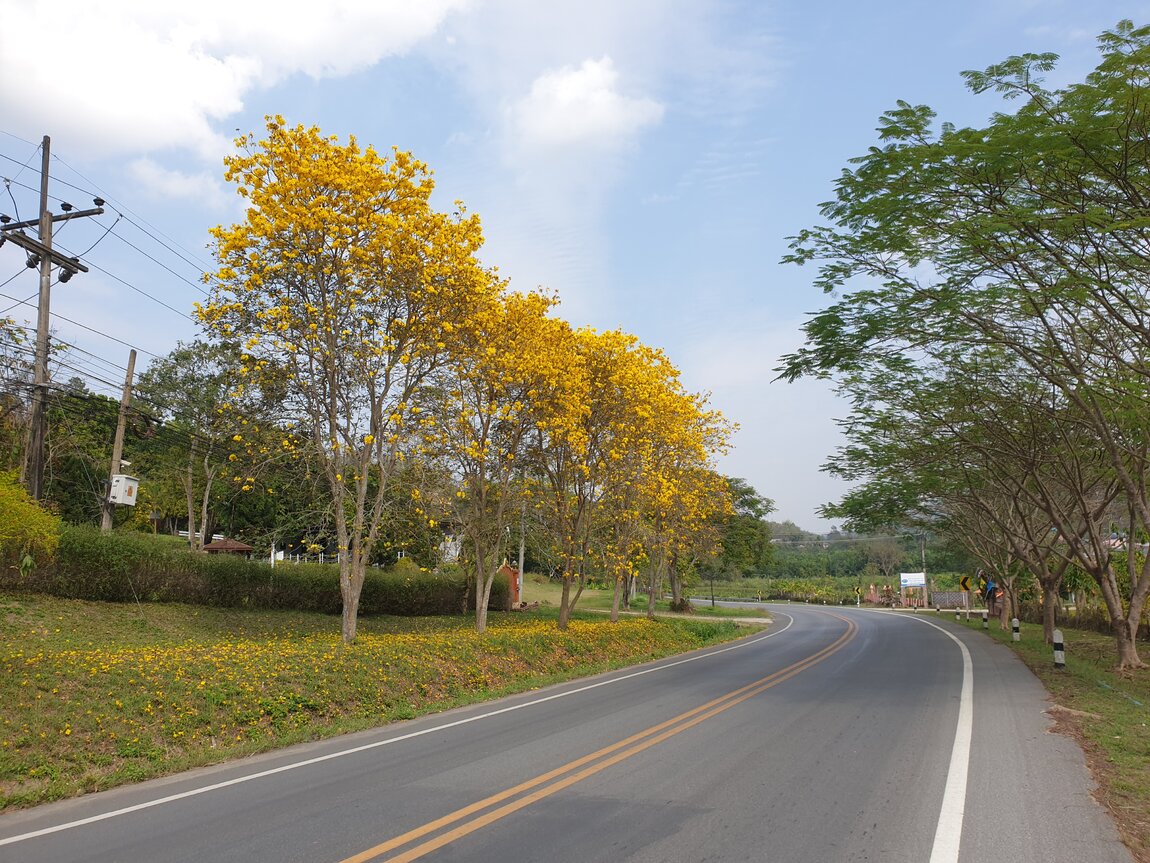 Had to stop for a hot spring bath at Pa Tueng. Simple but effective....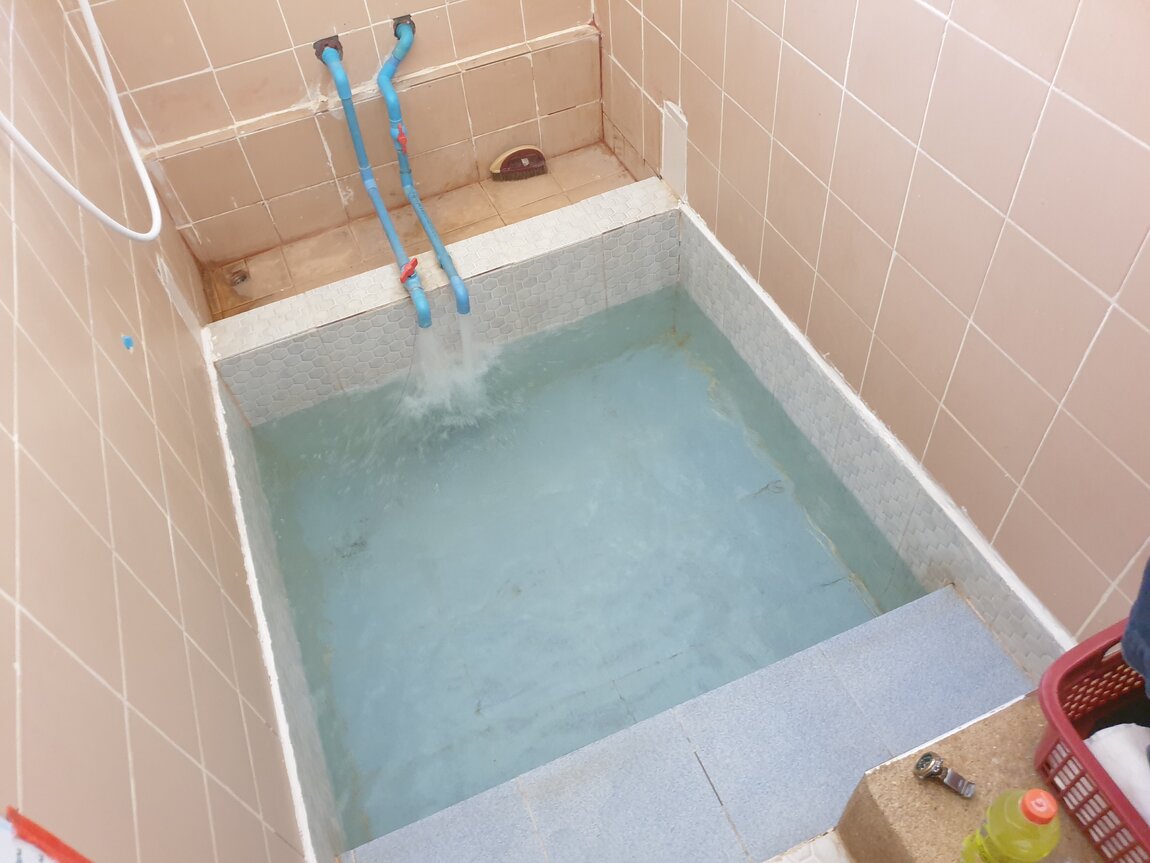 Late lunch at the Panor Coffee House. They do a great fish & chips.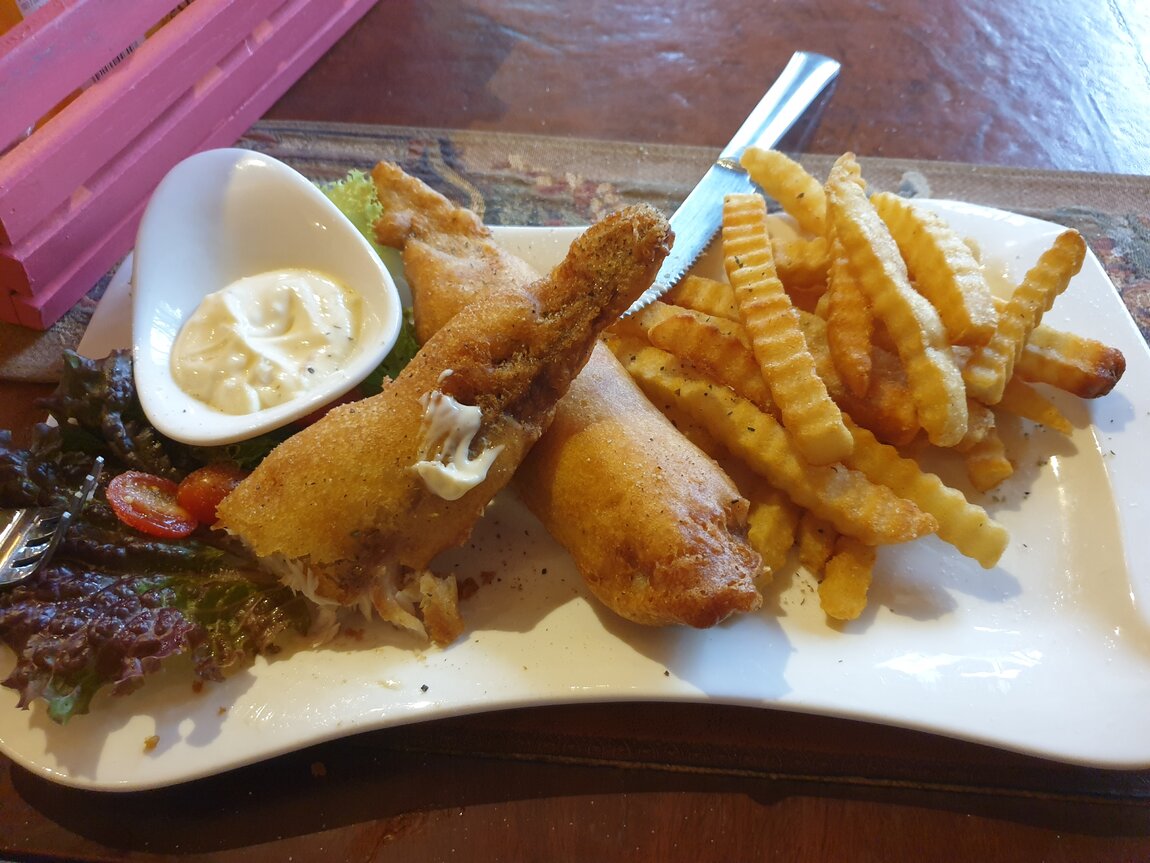 Then more wonderful flowering trees at home...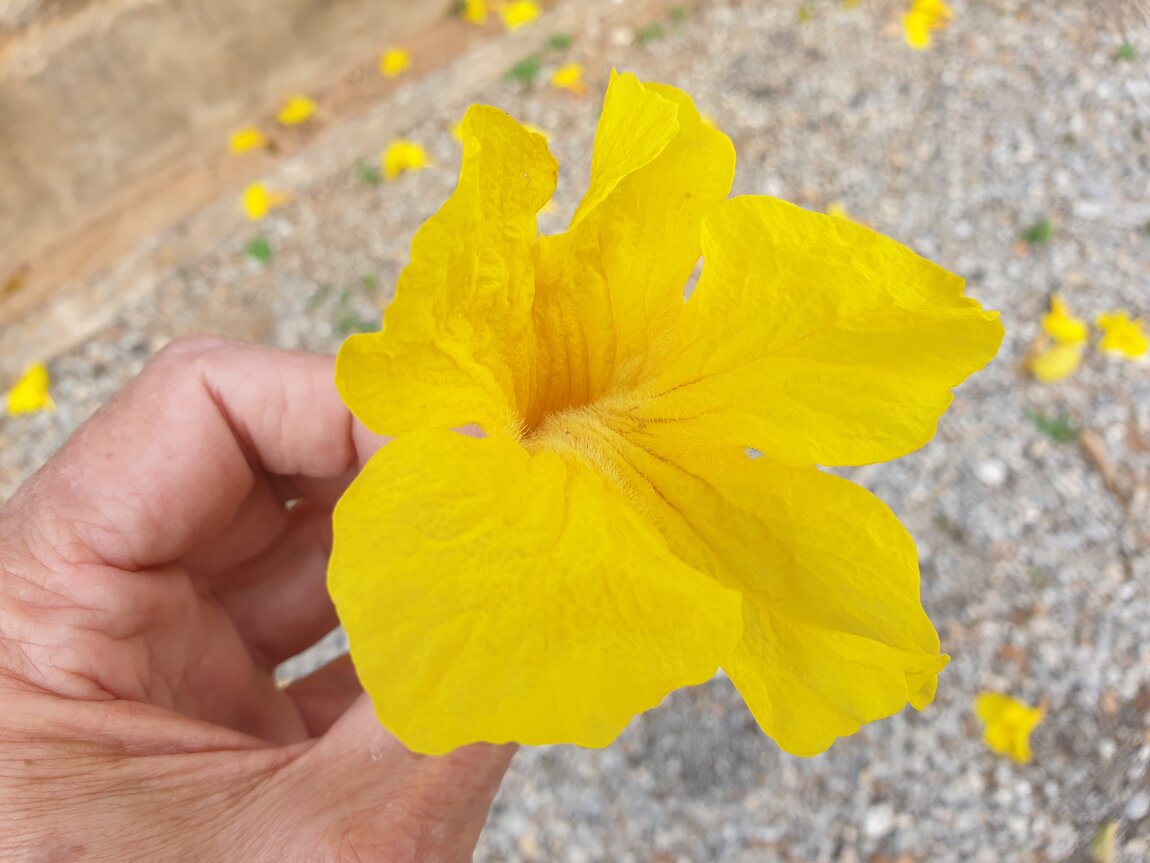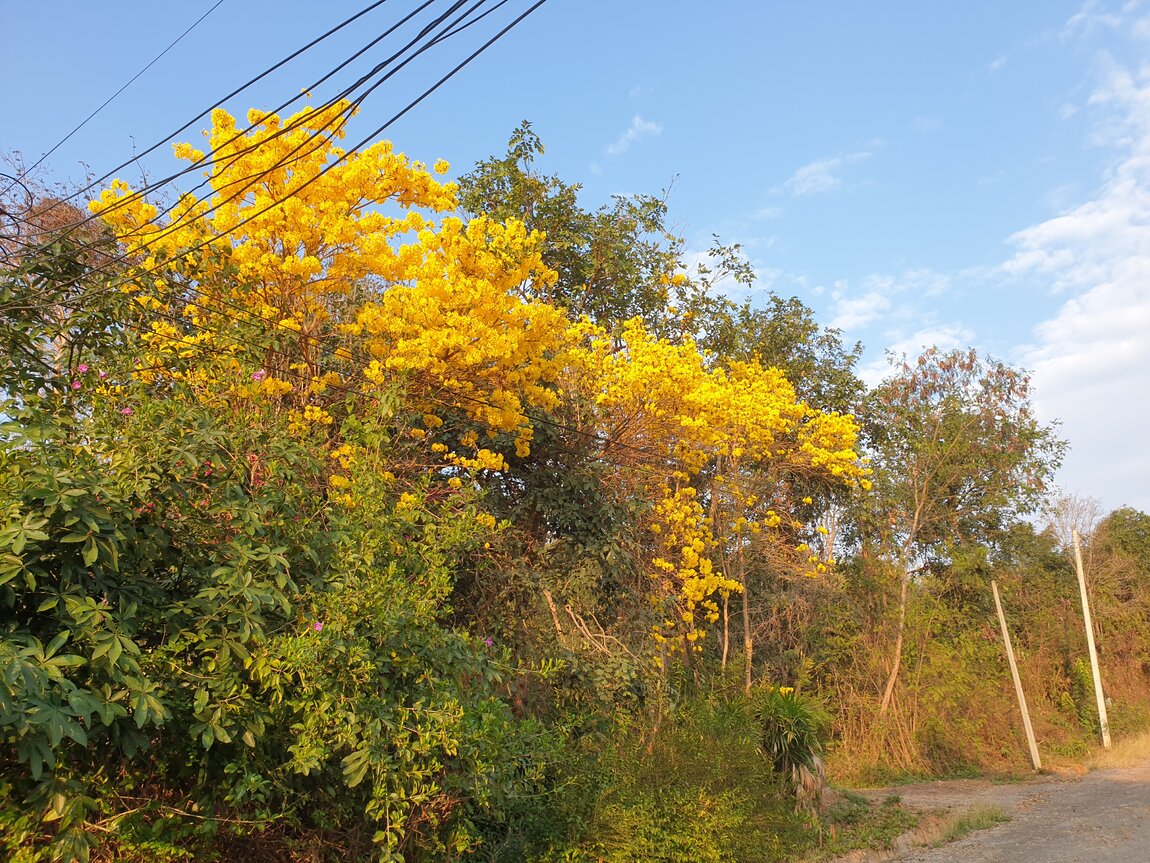 Late February can be a great time to ride, not too cold and not so hazy.
I did about 1200 miles on the old Triumph without any real issues, although had a poor tickover, so the Amal Monobloc carb got a full clean out after getting home.
Last edited: