A Journey Into the Special Zone!

A bright red full moon lit up the night sky as I contemplated my journey the next day into the Saysomboun Special Zone. Was this a sign? And if so, what did it mean? Was I heading towards disaster or were the gods looking over my shoulder? Read on.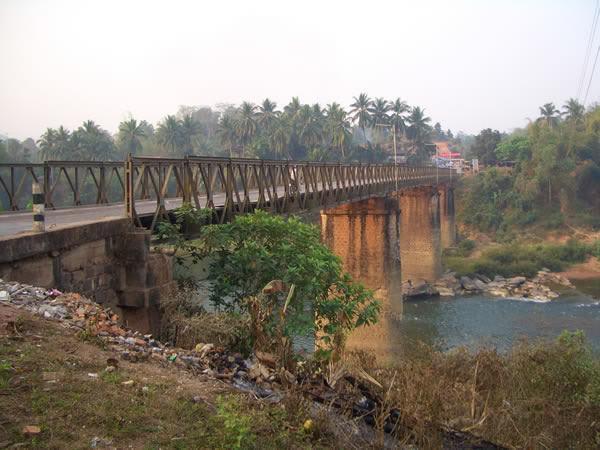 Bridge over Nam Lik at Hin Hoeup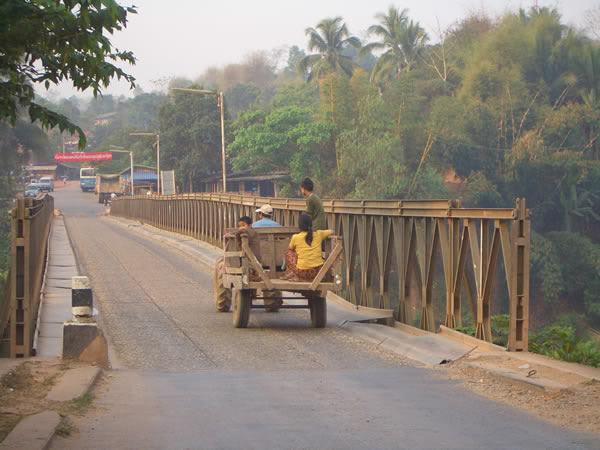 Local transport on Route 13
Alert readers will know that the Saysomboun Special Zone has been dissolved and the districts absorbed into their respective provinces but "the Special Zone" sure sounds better than Vientiane Province in the title.
Dressed in my newly acquired riding gear (no discounts so no product or shop names will be mentioned) I set off from my home in Vientiane at a pre-dawn 6am. This proved to be a better choice than my earlier 5am departures as it was light before I reached the first set of hills on Route 13.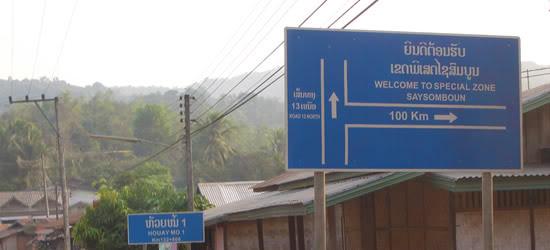 The turn-off to Saysomboun is well signposted in the town of Houay Mo, about 130km out of Vientiane on Route 13 North. As soon as I turn off the highway I am struck by what appears to be a relatively un-travelled track. I think this is going to be hard going and wonder if this is such a good idea or should I turn around and head to Luang Prabang for a decent meal and a few beers beside the Mekong. But no that's for sissies. Luckily the gods are just testing my fortitude as the road soon improves and some reasonable speeds can be maintained.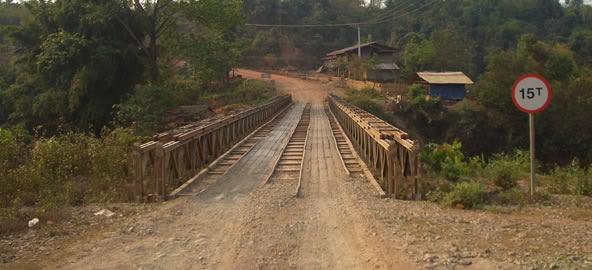 There are quite a few of these in various states of disrepair.
I notice on this road that the kids aren't waving like they do on Route 13. I suspect that they're totally not prepared for farang on motorbikes and they can do little more than stand and stare opened mouthed.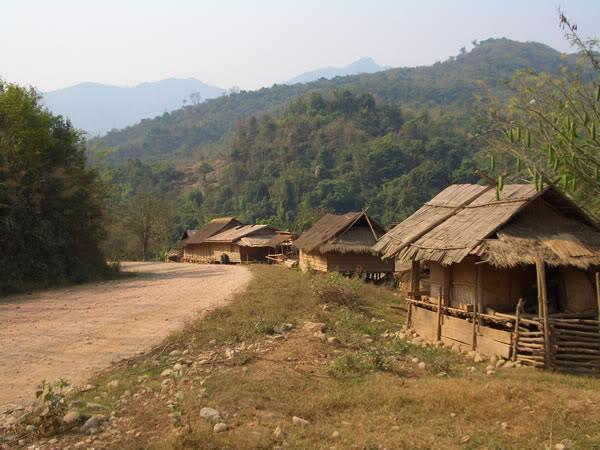 Fairly typical scene in rural Laos.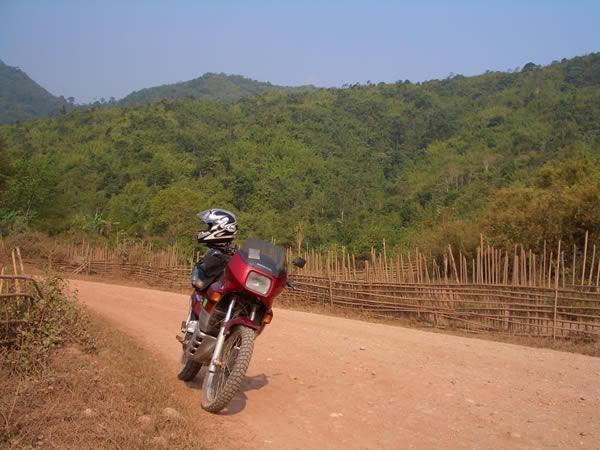 The smooth surface.
The journey continues through similar territory until reaching Houay Kham This is near the Phu Bia mine site. The town is just a bunch of shops selling goods to the mine workers and construction crews. On the edge of town is a T junction, left is to Longcheng, right to Saysomboun. I choose right, saving Longcheng for another time.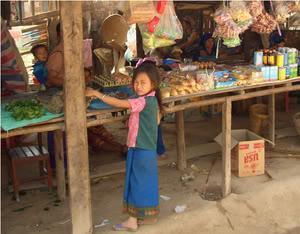 Houay Kham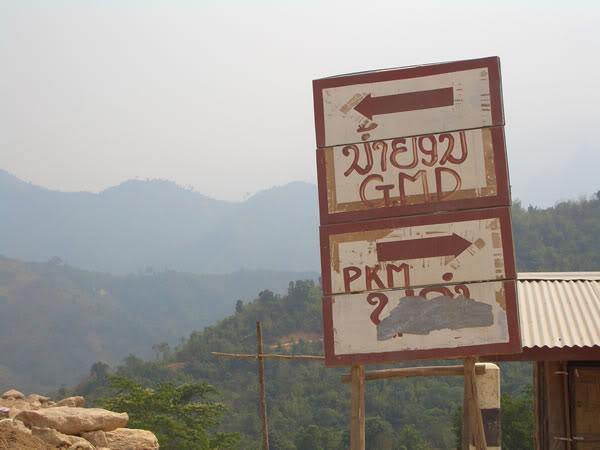 Left to Longcheng.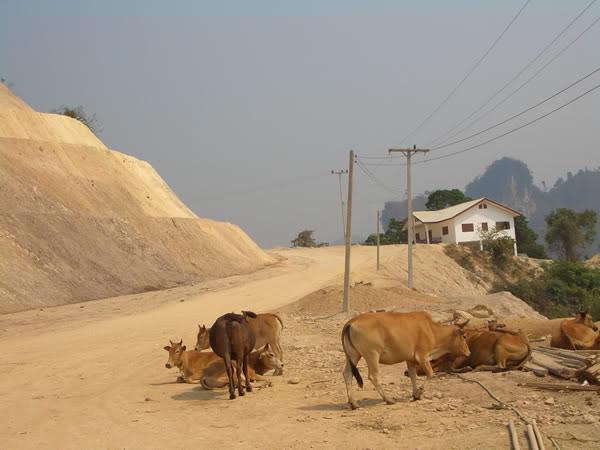 Longcheng is up there.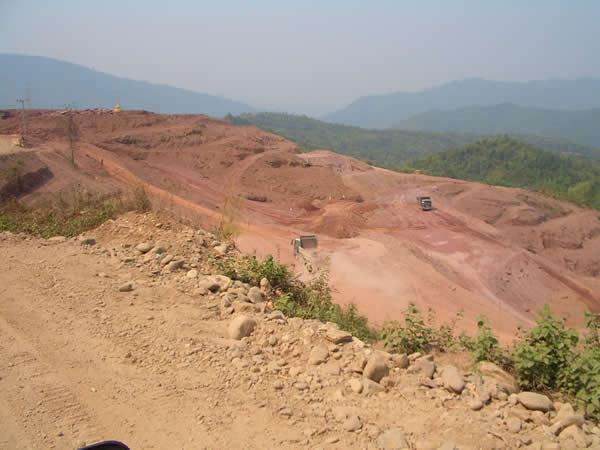 Serious construction going on.
Entering Saysomboun City is surreal. Here in the middle of nowhere I find billiard table smooth pavement, proper street lighting and some of the most bizarre monumental sculpture.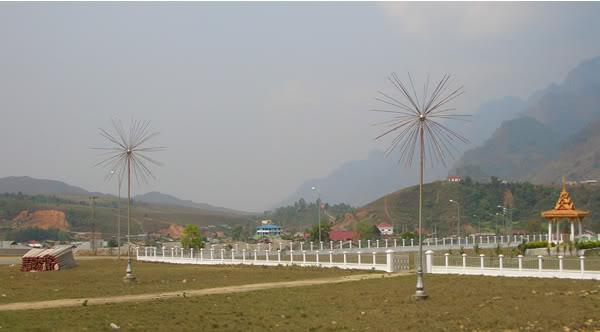 Saysomboun City
Leaving Saysomboun the road quickly deteriorates. I wonder if I've taken a wrong turn and backtrack to check the road signs against my map. I'm on the right track and wonder what lies ahead.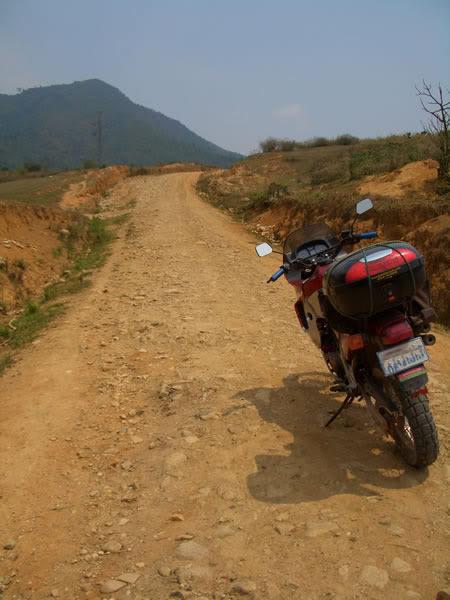 Road conditions near Saysomboun.
The road deteriorates to a point were I am crawling along in first gear. The drop off is terrifying and I move to the other side of the road so I don't slide and disappear into the abyss.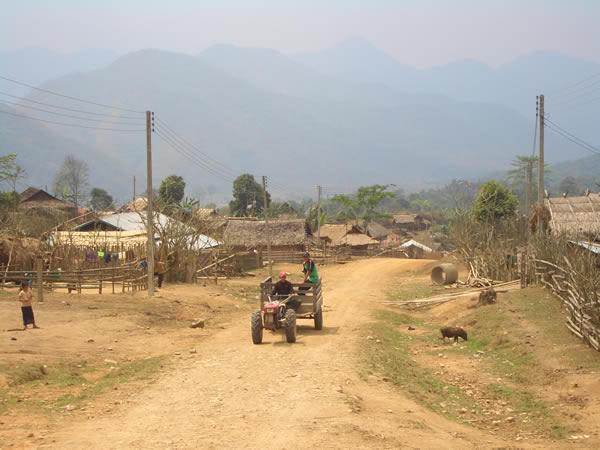 You're not in Kansas now!
After what feels like an endless first gear decent I arrive at the forbidding river crossing. The is about 40 metres wide and covered by a bridge made of floating bamboo with lengths of 6 x 2 planks laid lengthways and three wide. The last two metres covered with a loose single plank. As luck would have it someone with a camera is standing by to catch my fall into the river. Me thinks he must have been waiting for more than a month to get the shot. Unfortunately for you dear reader I don't provide any entertainment. What really happened was that a fellow rider passed me abouut 300 metres from the river, we stopped and chatted about road conditions and he offered to take a few photos and help. I didn't get his name but think from his accent he is from Sweden so will call him Sven.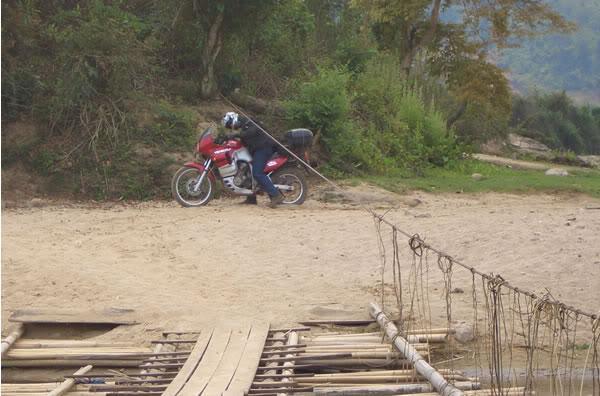 Watch your neck!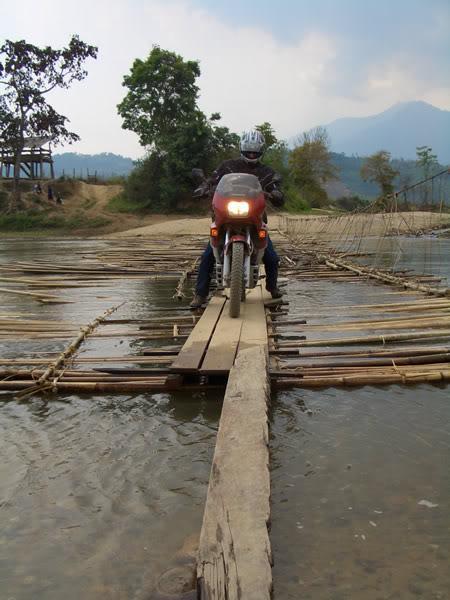 Note how the bridge sinks under the weight!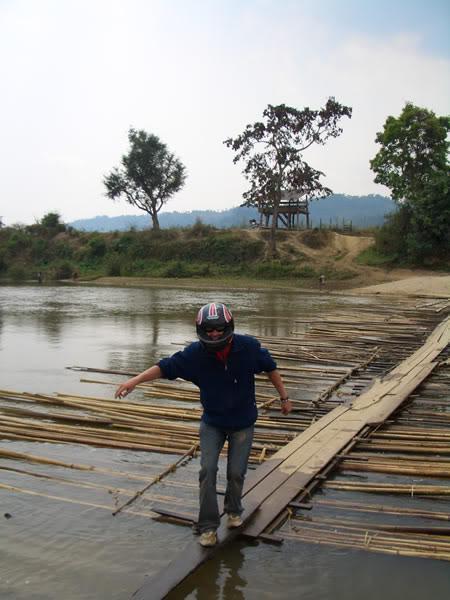 Sven walking the plank.
The bridge is crossed without drama. The sand on the bank is soft and I spin the rear wheel and shoot a high rooster tail of sand in my efforts to make any headway. This bridge does make this a motorcycle only road as there is no car access to the river.
The village on the east side of this river is Tha Vieng, I take the left fork at the T junction and quickly happen upon another river ford. This is a snap and the journey continues following the river bank. I don't know the name of this river but it is quite stunning when I get a chance to glance away from the road.
The logging trucks become the major hazard of the dirt segment of this trip, they tend to drive on the wrong side of the road, can't or don't see to the rear and don't hear my dual horns. Me thinks that with the amount of timber coming out of Laos you had better order that single slab table soon before the large trees are all gone.
After the log trucks are dealt with I finally hit bitumen after 220 km of dirt roads. I can't resist the urge to open up to 100-110 km/h speeds. The Buddha statue at the intersection in Mouang Khoune seems to be smiling at me.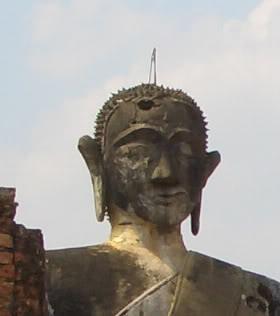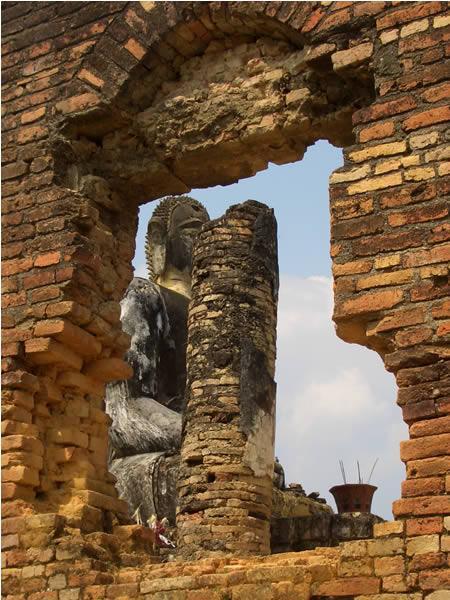 Muang Khoune
I reflect on the red moon and what it meant for me. I turn left and open it up for the 20 km blast into Phonsavan. Tomorrow I head back via the best roads in SEA Route 7 and Route 13. Or maybe I will head to Luang Prabang for dinner and a beer by the riverside.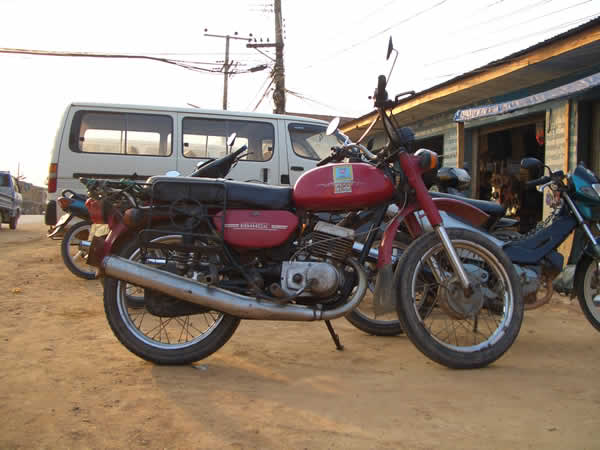 Just in case you want to know what a Minsk looks like.
That's really the end of the important part of this story. I did decide to go on to Luang Prabang for a beer or two but decided against these two choices for Sunday Roast at Nam Chat!
Menu choice 1.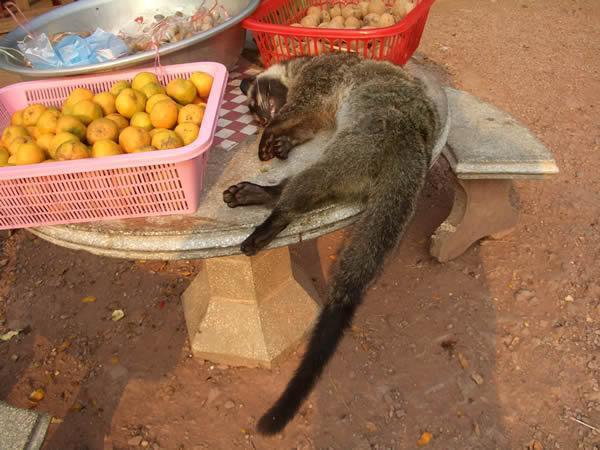 Menu choice 2.
The trip down from Luang Prabang was less than ideal. It had rained overnight and there was a heavy fog and further rain from Kiu Kacham down to Kasi. I managed to let the bike fall while navigating some serious mud at some road works about 40km out of Kasi, no real damage but my efforts to get the bike upright had me spinning the bike around as I couldn't get the tyres to grip in the mud. As usual there is always someone around in Laos and a couple of likely lads came over and helped out.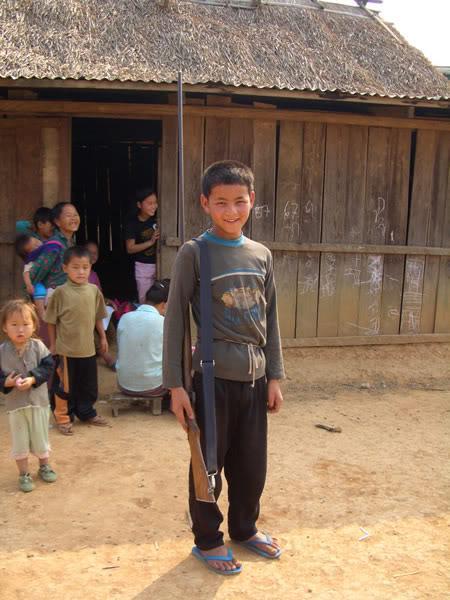 This Hmong kid's rifle is bigger than he is.
I arrived home sore, wet, dirty and tired but ready to do it all over again.
If you're interested in the road through Saysomboun, there is a total of 220km of dirt, distance to Phonsavan from Vientiane is 390km and it took me 8 and a half hours. Petrol is available at Saysomboun.
Get [email
[email protected]
]
[email protected]
[/email]
Mike