Excerpt
: This story is a sidekick, particularly to my chapter 5: "Laos West of the Mekong". Following the paved road's rapid completion, developments in Xayaboury (Sainyabuli [1]) province are galloping. I recently visited this region again and this report, although not in sequence, adds information for Pak Lai and updates for Route 4.
A Mekong Promenade
Part 5b – Pak Lai stopover
First
(1st) part: The Isan Rim (
A Mekong Promenade - The Isan Rim
)
Second
(2nd) part: South Laos (
A Mekong Promenade Part 2 – South Laos
)
Third
(3rd) part: Vientiane to Luang Prabang (
A Mekong Promenade, Part 3 – Vientiane to Luang Prabang
)
Fourth
(4th) part: In memoriam of some Mekong explorers (
A Mekong Promenade - part 4: In memoriam of some Mekong explorers
)
Fifth
(5th) part: Xayaboury, Laos west of the Mekong (
A Mekong Promenade - Part 5: Xayaboury, Laos west of the Mekong
)
Fifth B
(5B) part: Pak Lai stopover (
A Mekong Promenade - Part 5b: Pak Lai stopover
)
Sixth
(6th) part: Chiang Khong (
A Mekong Promenade - Part 6 : Chiang Khong
)
Seventh
(7th) part: Along the Golden Triangle (
A Mekong Promenade - Part 7: Along the Golden Triangle
)
Eighth (8th) part: Cruising down the Mekong river (To be published next)
Preamble
Once a lively city, when river transports on the Mekong were the easiest link between Vientiane and Luang Prabang, and when ox carts were a usual mean of transportation, Pak Lai nearly fall into oblivion in recent years. It had played an important commercial and strategic role in the 19[sup]th[/sup] century, and during French colonial times, as a junction between a caravan road from Siam and the fluvial transports on the 'Big River'. Pak Lai, together with other territories on the Mekong's west bank, has changed suzerainty various times, its history also includes visits by famous French explorers like Mouhot, Garnier, and Pavie; furthermore, it was a favorite secondary residence of Lao's last king.
In the 21st century, communications by road improved in Laos, particularly along Route 13, and the fluvial transports north of Vientiane dried out. As Pak Lai was only deserved by often impassable and dusty trails, few travelers chose to visit it. This might, however, rapidly change as it holds again a key position, as a crossroad of newly paved links.
After a recent visit to this region, I decided to include this trip report into my "Mekong Promenade" stories, out of sequence – this stopover was at the very end my trip – as there is a deficit in recent information for this region.
1. Pak Lai
My first visit to Pak Lai, in February 2014, was a soft landing; friends unloaded my bike from a boat, while I was allowed to snap the event into my box; we had arrived at our "Second GT-Rider Mekong Cruise's" destination. From there, everyone would drive its own journey back home.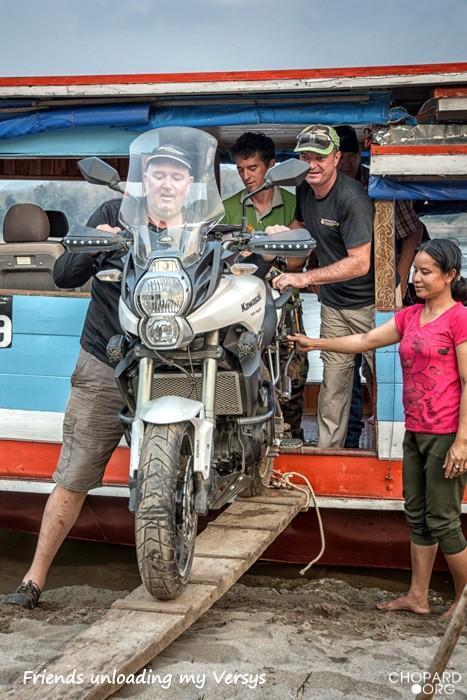 "The Magnificent Seven's" bikes were safely unloaded to the landing pier. Actually there should have been eight mounts, but one was lost along the way, in Thailand, at the trip's beginning.
Most friends had chosen to leave Pak Lay the next morning, toward the South, on various itineraries. As for me, I decided to spend a whole day in this small city, before heading north, toward Xayaboury and the Thai border.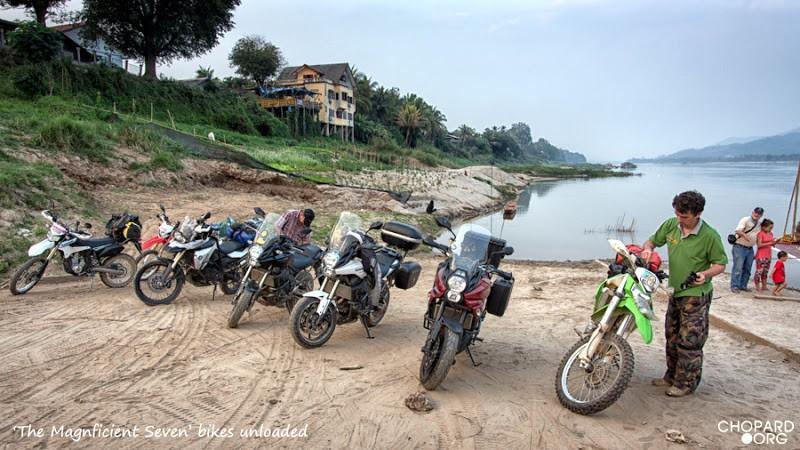 After disembarking, by happenstance, we followed a car uphill and checked in to "Na Na Guest House" (80'000 Kip with 'aircon'). This proved to be a reasonably good choice, a friendly reception, clean and spacious rooms with working hot water, air conditioning and (Thai) TV. It is well adapted for travelers with their own transportation mean.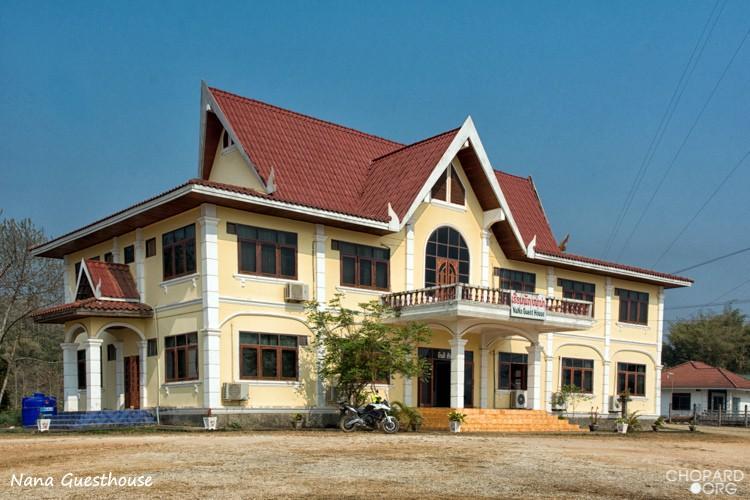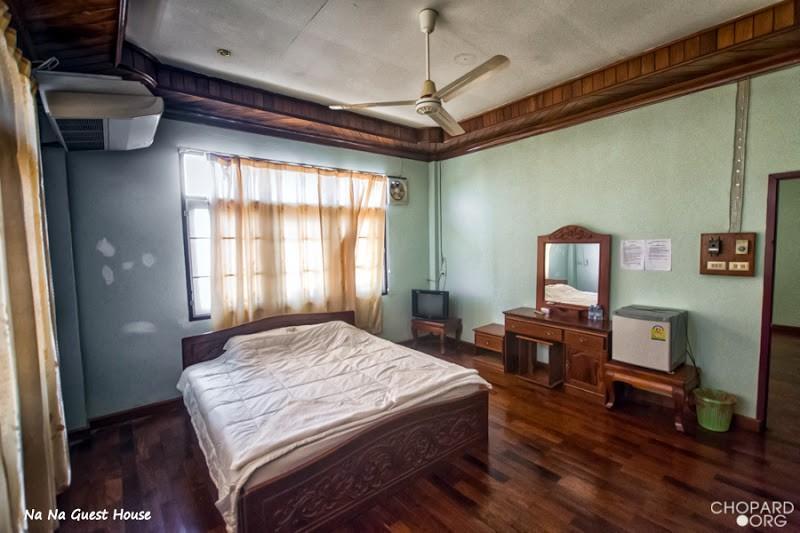 Our bunch of buddies spent the evening in an eatery ('Donut Restaurant') whose only selling point is "air-conditioning", nothing fancy, but fair enough to cater for the group's good mood.
"Na Na Guest House" is strategically located on a hill, as is a neighboring FM station. "Radio Pak Lai" has the peculiarity to simultaneously broadcast wireless and through loudspeakers, with music and announcements starting before the break of the day, dwarfing any alarm clock.
This early morning call allowed me to contemplate a luminescent dawn's panorama, with the rising sun curtained by thick fog and a dull and quiet horizon line where mist covered the Mekong.
'Beerlao', an essential bikers diet, is available everywhere, but coffee, or a kind of American breakfast are still rarities. Guest houses generously offer "three in one" drinks, but black "coffee Lao" or even plain 'Nescafé' are difficult quests. Fortunately, things are improving fast, and by sourcing items from different suppliers, it is possible to "fusion" a yummy morning meal. One shop sells baguettes (congee), fried chicken and sausages are easy to buy, and I found a corner stall using an Italian 'Saeco' machine to brew an enjoyable 'Bolaven' coffee. Different combination, including yogurts and fruits, are possible, for people not keen on the ubiquitous foe (noodle soup).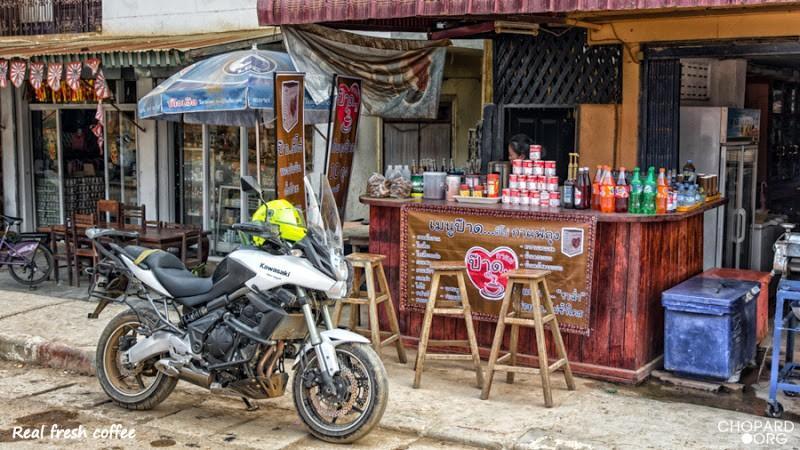 Henri Mouhot [2] describes Pak Lai as a bustling village. In the 19th century, when trade was flourishing in the region and into China, it was actually an important crossroad where goods were transshipped from road to water transports. The nowadays Laos territories, west of the Mekong, have paid tribute to Lane Xang, and Bangkok, before being attached to the French Indochina colonies in 1893 (after a gunboat diplomacy with Siam). They shortly switched to "Phibun's" Thailand, in 1941, when Japan was Indochina's master, and returned to French sovereignty, in 1946 and, later on, to modern Laos.
This is what Henri Mouhot wrote about his sojourn [2]:
"On the 24th of June [1861] I arrived at Paklaïe, lat.19° 16' 58'', the first small town on my northward route. It is situated on the Mekon[g], and is a charming place; the inhabitants seem well off; the houses, elegant and spacious, - larger, indeed, than I have seen before in this country; and everything betokens a degree of prosperity which I have also remarked wherever I have stopped since".
Louis de Carné, a member of the "French Exploration Commission" who sailed through the region in April 1867 had a slightly different appreciation [3]:
"At the eighteenth degree the Mekong makes a bend which is not on any map, and it does not turn to the north again, till after having inclined for nearly two hundred miles to the west. The village of Paclaï, which marks the end of this bend, was the point farthest from Bangkok, at which we had rested since living Craché. The caravans coming from the upper parts of the river land there, to go on to the capital of the kingdom of Siam; and the merchants going to Luang-Prabang, or the higher provinces, in the same way embark there. This poor village would soon grow, if commerce were any way active; but it is still in an embryo state. Every one supports himself only, and Paclaï sees more functionaries passing on the way to Bangkok, or returning, than bales of silk or cotton."
In June 1887, Pak Lai also harbored August Pavie when, together with Luang Prabang's king Oun Kham, they escaped down the Mekong, running away from the Chinese Haw brigands.
After the French annexation, the city became a garrison, strategically located on the caravans' road. As a fire had once destroyed the village's center, few houses remain to testify about that period. The largest structure is the prison, which, despite its dilapidation, is still used for the same purpose by the Lao police. I was asked to take pictures around the compound only, what I respectfully did, lest I would be locked behind these sinister walls.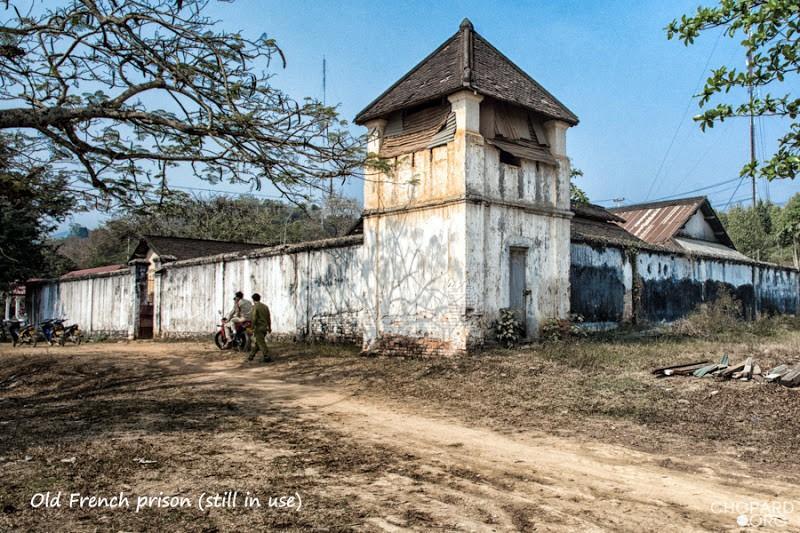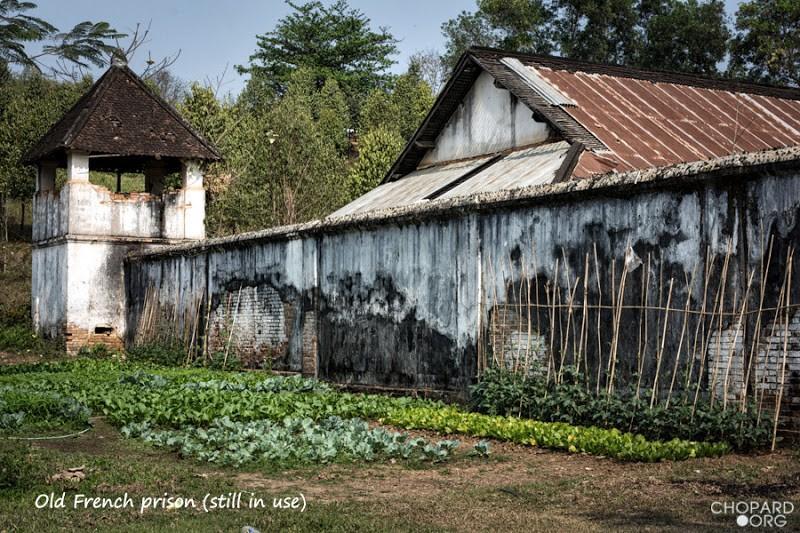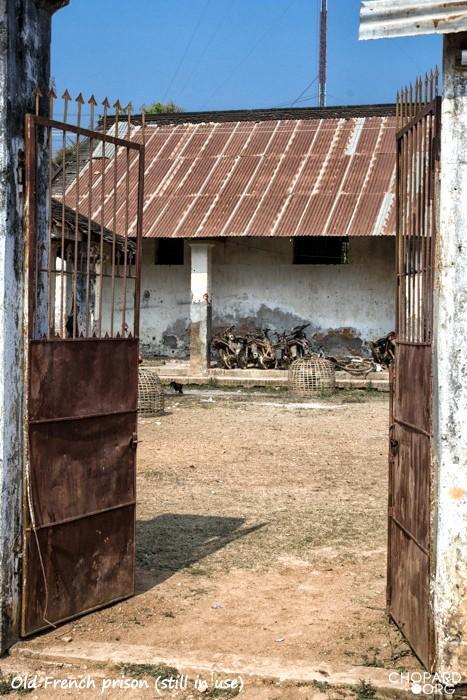 One remaining colonial building now serves as the tourism office; besides Lao language, its large signboard is labeled in French: "Bureau de l'information, de la culture et du tourisme de paklay". I had a chat with the person in charge (Adjan Kami). We were able to communicate in 'Molière's language', and he remembered the colonial times, when he was just five years old.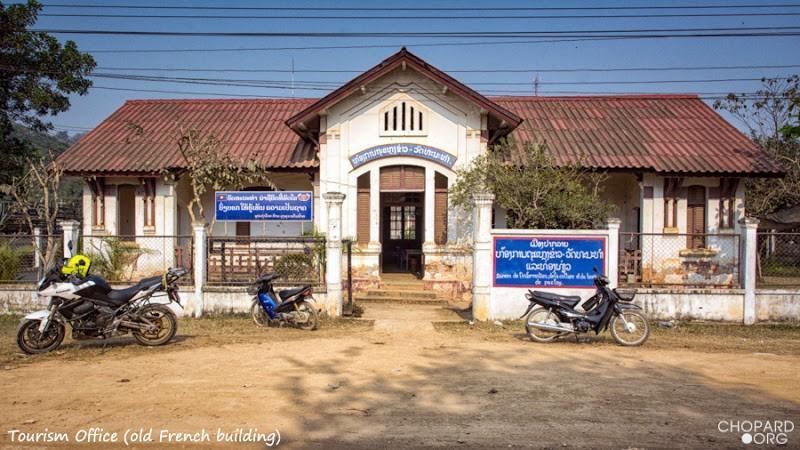 Until recently, when roads were hectic and bus services between Luang Prabang and Vientiane chaotic, Pak Lai was a stopover for Mekong cruises and transports. The river traffic has now been widely abandoned, with few boats stopping at this town's landing jetty. Paved trails, the competition to the waterways, are now taking over and are putting Pak Lai back as a crossroad on the commercial map.
Its major links are with Thailand (Nan in the North and Loei in the North-East), Vientiane, Luang Prabang, Oudom Xai and Yunnan. Another road, the revival of the former caravan trail, is under construction toward Phudu, the Uttaradit province border point. The Laos stretch is apparently already completed.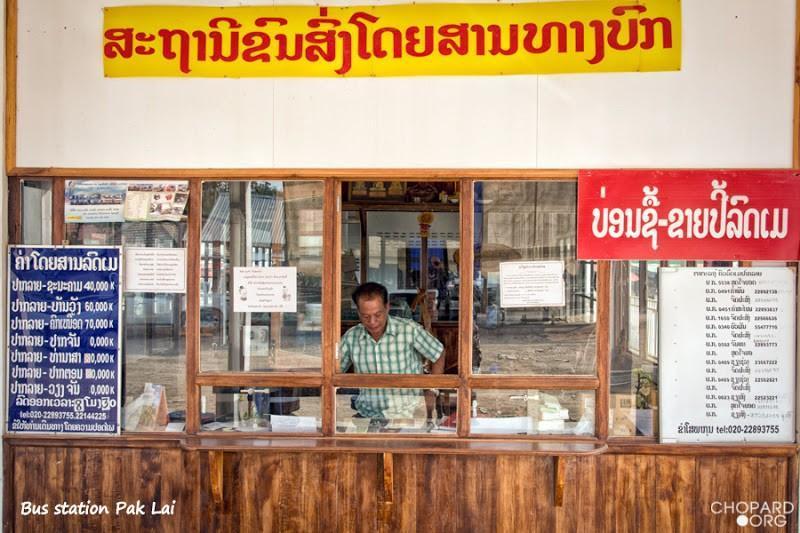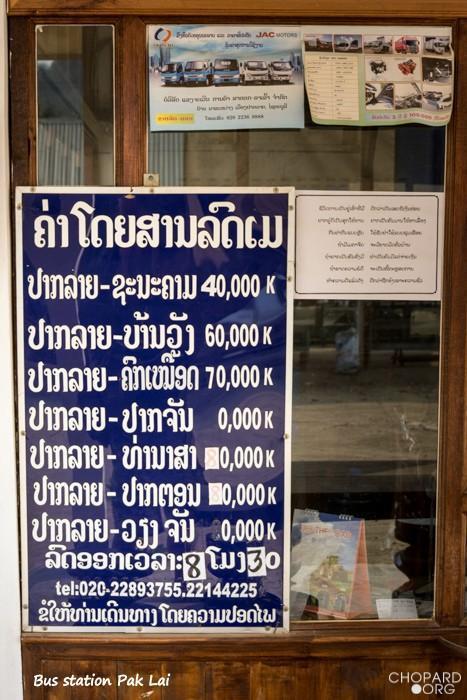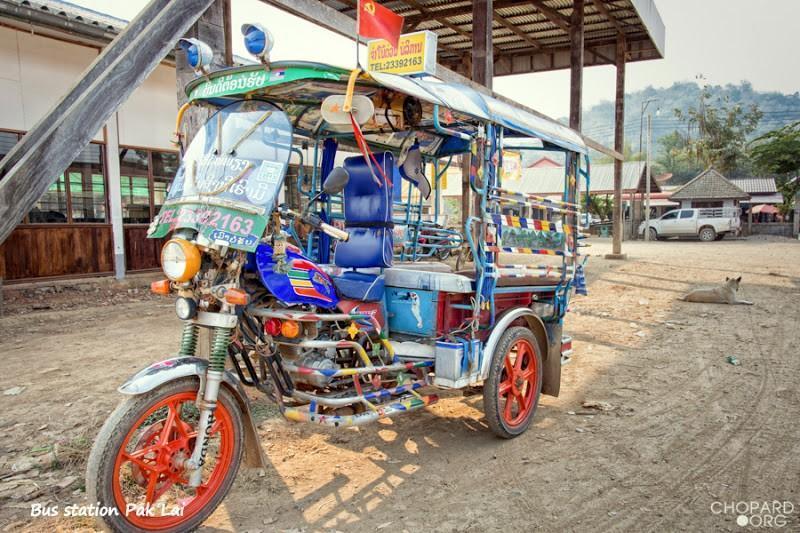 Pak Lai's main road is paved, but byroads, and even the link along the Mekong, are mostly dirt trails.
Some narrow neighborhoods are perched along the river's bank, high enough to avoid flooding. Their inhabitants enjoy the remoteness from Route 4's growing traffic. They often live in shanty houses with gorgeous views over the 'Big River'. Some shacks, however, are already under renovation and these charming quarters might soon become bustling if more residential and touristic infrastructures are built.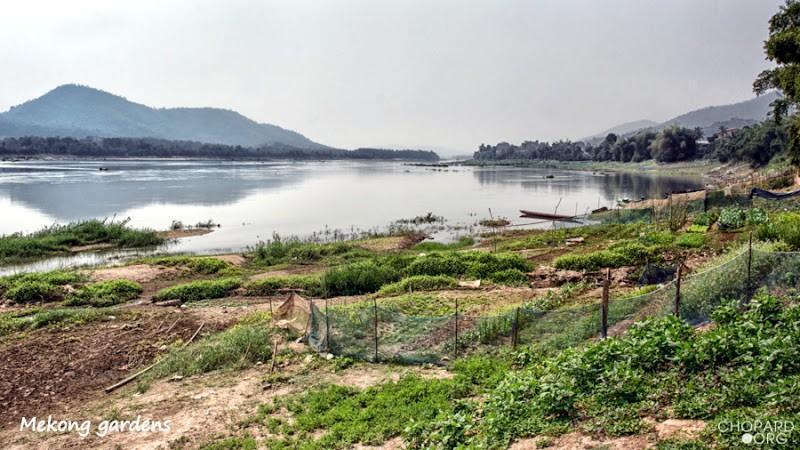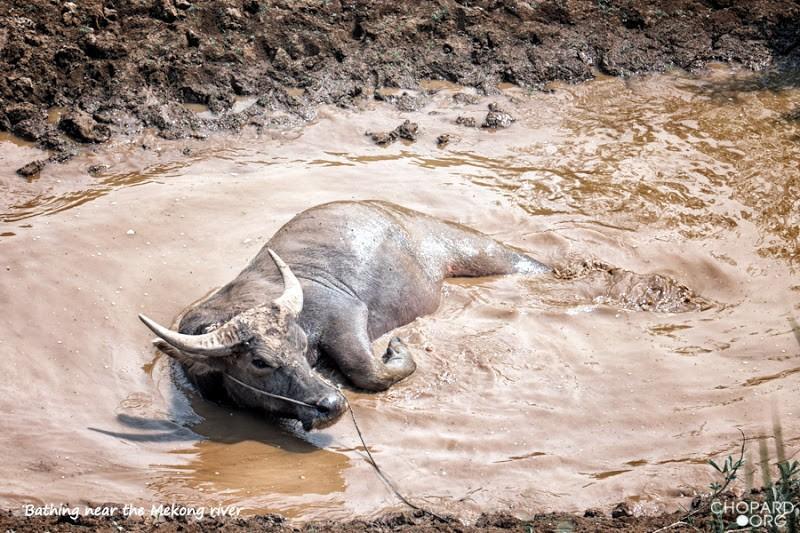 An enchanting old wooden bridge gives access to a charming neighborhood. There, I met an old craftsman making sticky rice baskets. He needs about two days to finish one and collects the material himself from trees in the forest.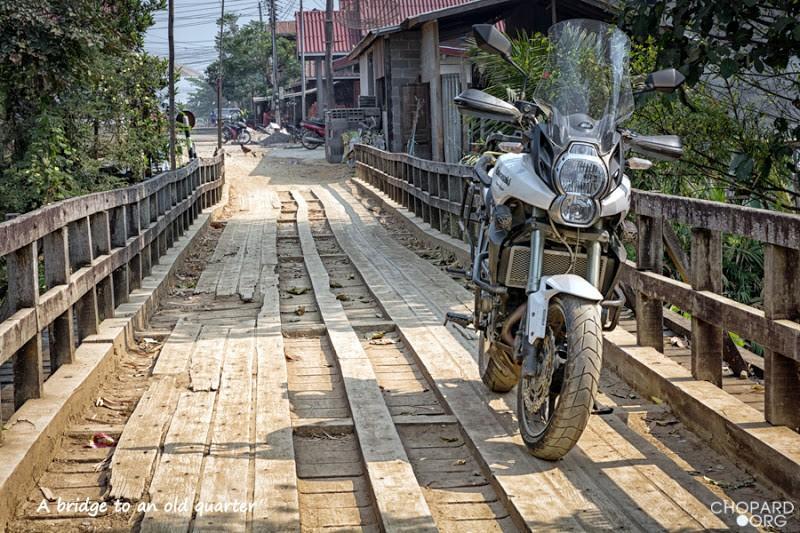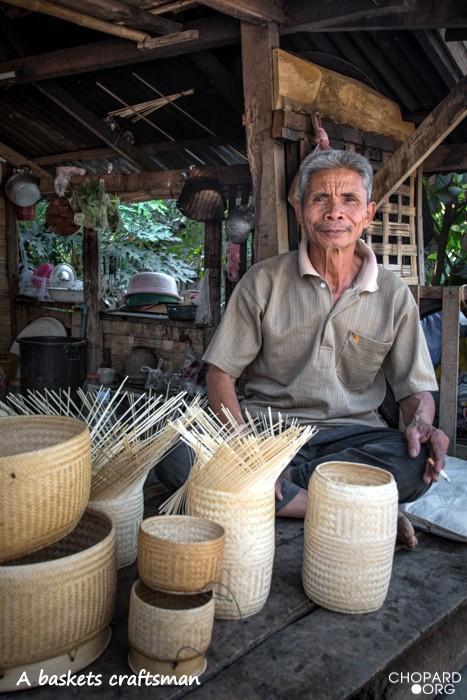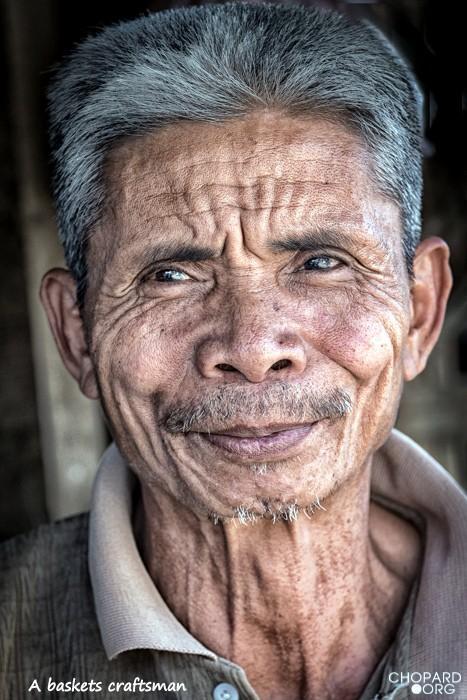 Often, in Laos, Kids are still amazed to meeting foreigners. They are excited to be photographed and taking their pictures is a nearly impossible task when they are agglutinated around the lens.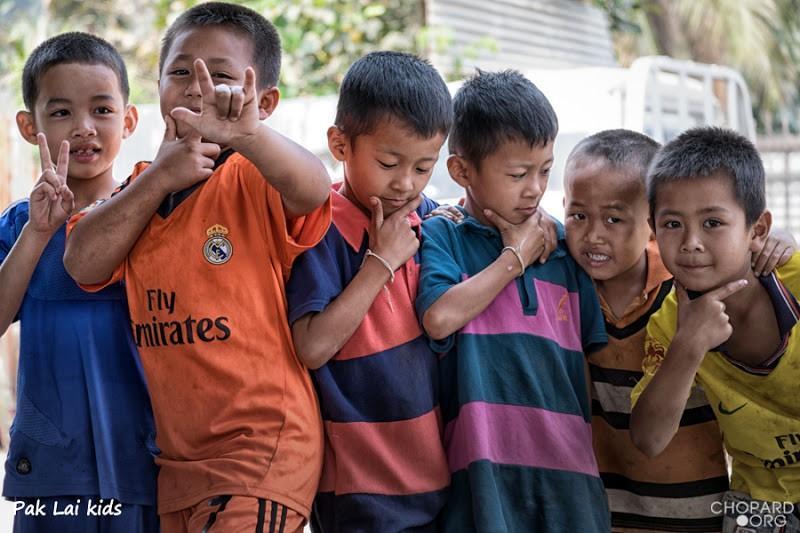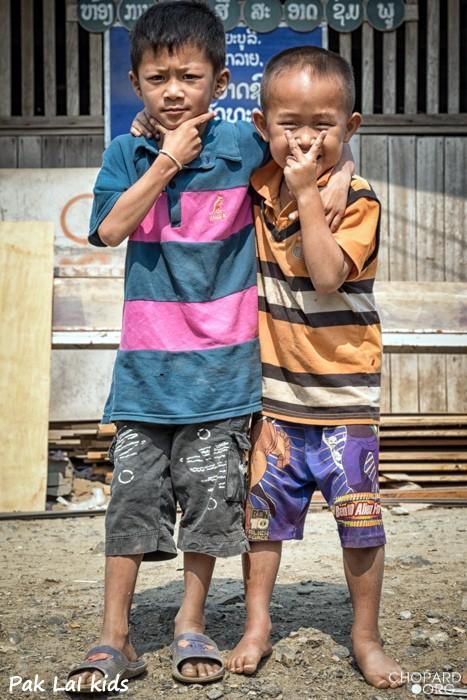 Maybe a reminiscence from the Thai epoch, Pak Lai also celebrates a Phi Ta Khon (ghost festival), at the same dates as the one in Dansai (Loei province).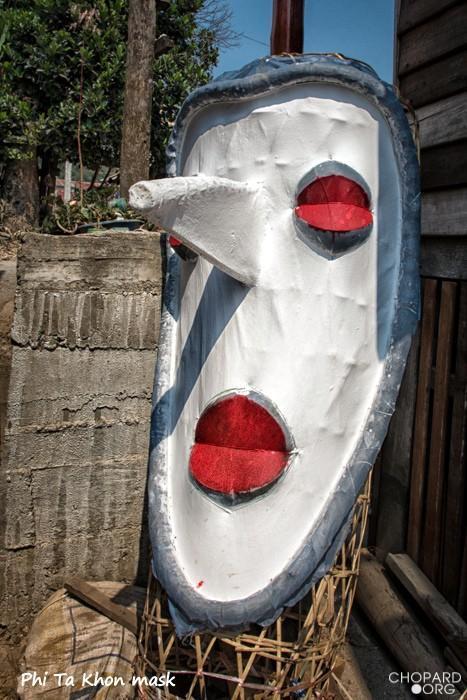 Pak Lai's five temples are modest in size and artistic value. However, as they often host many novices, they are interesting place for cultural exchanges. The ordained kids live on the temple's compound and study in a local school. Once they have finished their education, they might disrobe and return to their mondain life, sometimes in remote provinces.
Pali language is an important part of their study, but English is also taught and the young monks are keen to meet foreigners in order to increase their communication skills.
I spend some time in Wat Si Saat Shom Pou, an uphill temple on the city's south side, chatting and taking pictures; in an amiable atmosphere, water and smiles are offered heartily.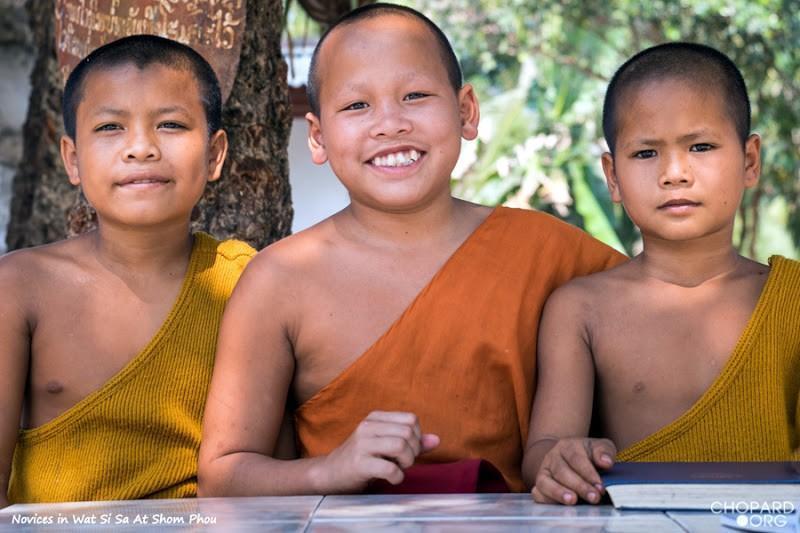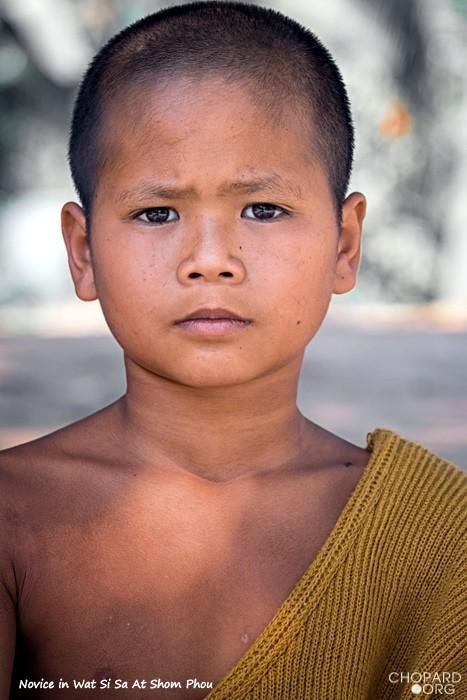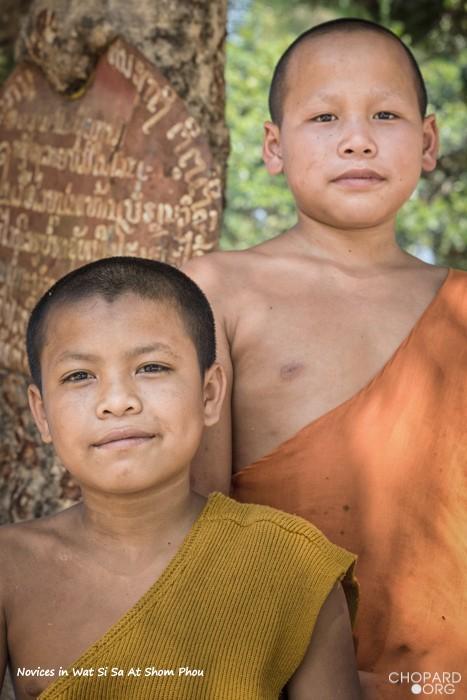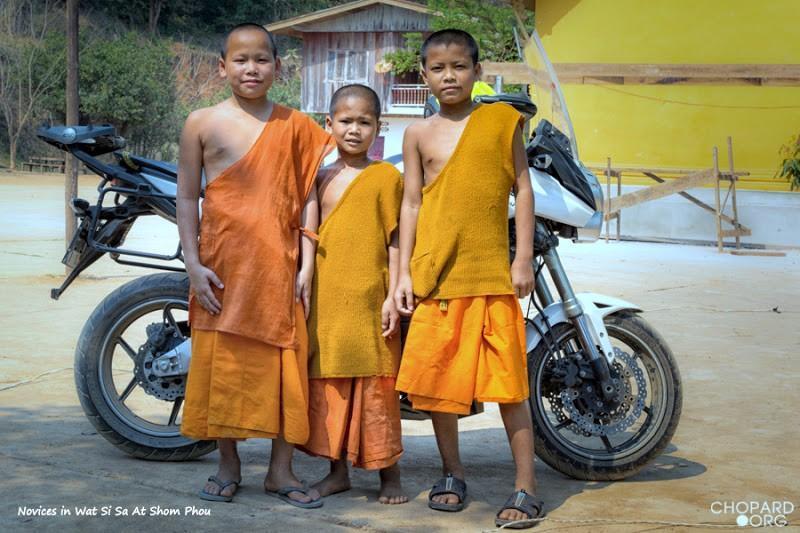 Wat Sisavang (Sisavangvong) is Pak Lai's most important temple. It was built by the last Lao king (Sisavang Phoulivong), who regularly spent time in this small city.
This compound is now also a playground for youngsters.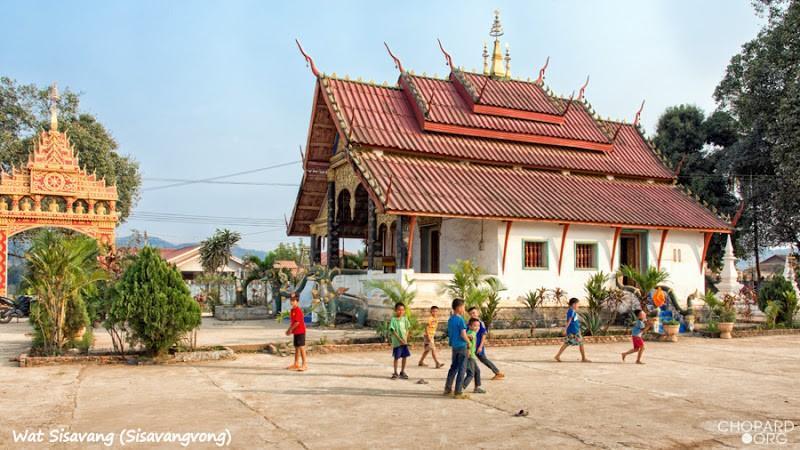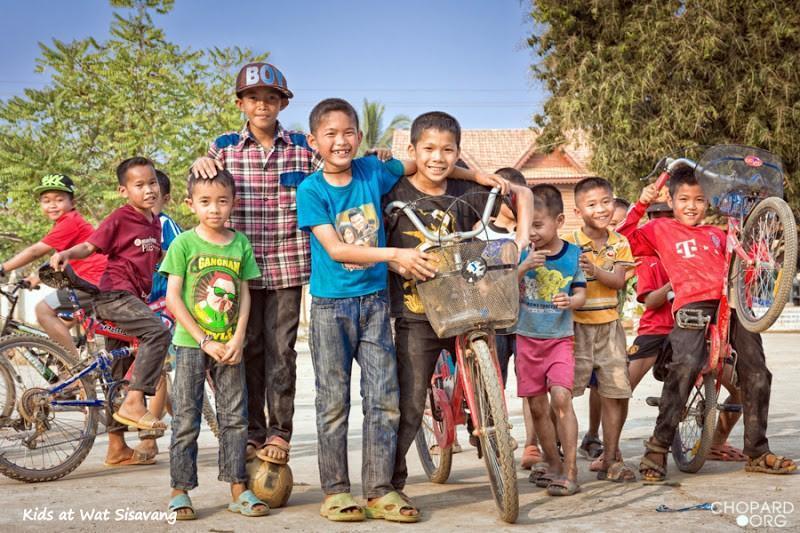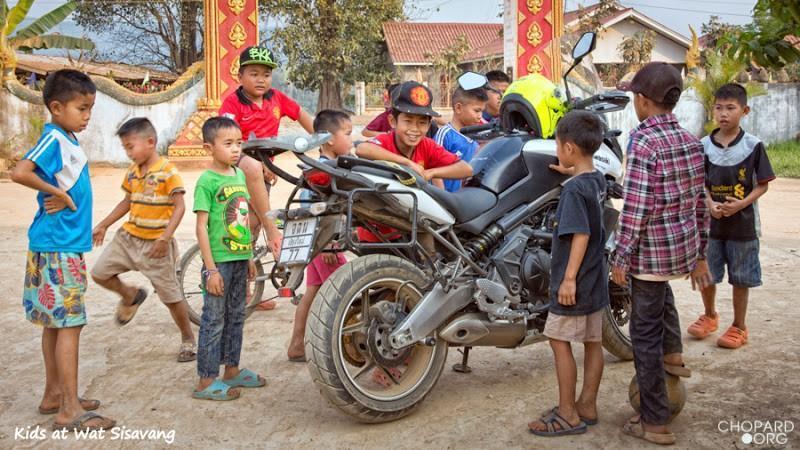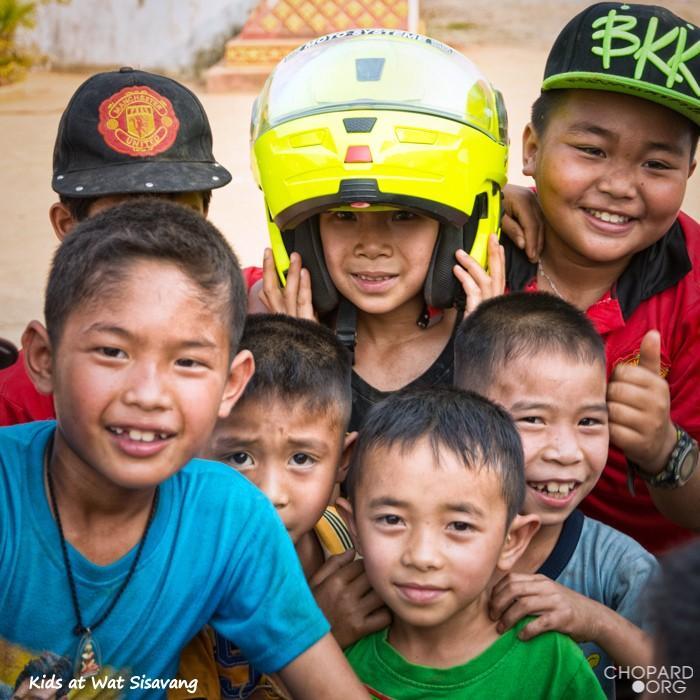 Down from the temple, a floating restaurant is anchored at the Mekong's rim. In the late afternoon, a nearby sandy stretch is colored with saffron-clothes bathers and animated by playful kids.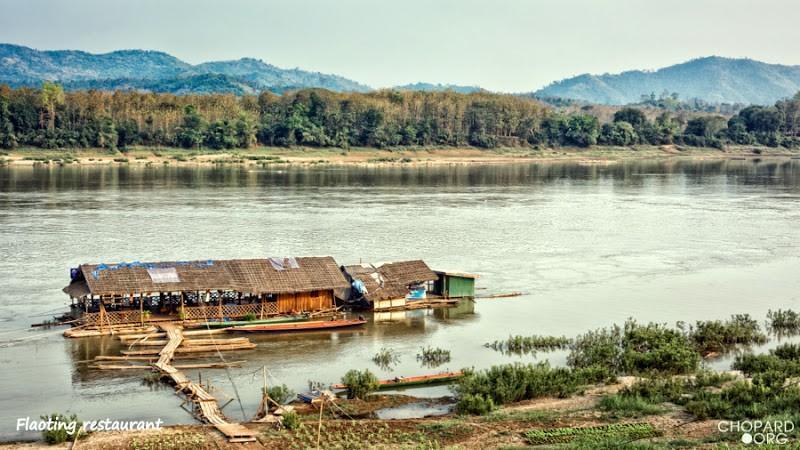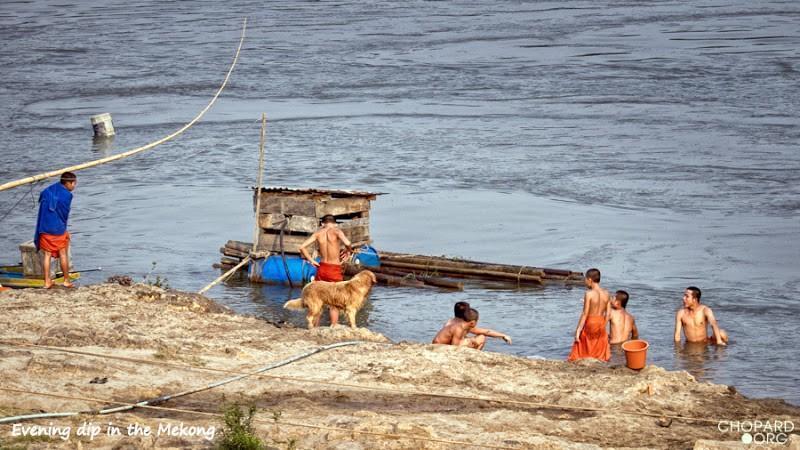 Pak Lai's already comfortable accommodation choice might be developing rapidly. I was happy with my sojourn in Nana Guesthouse, but still had a look to some other lodging possibilities, without trying to survey all of them. Anyway, as different travelers have different appreciation criteria, recommendations are always difficult, particularly as the prices are in the same range, under 400 THB (100'000 Kip).
Nana Guesthouse (see 'check-in' above in the text)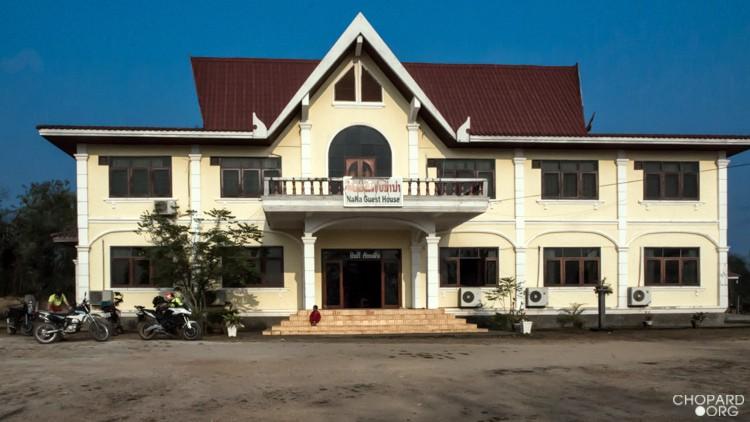 Some friends spent their night in Sayadeth Guesthouse; they also made positive comments about this place.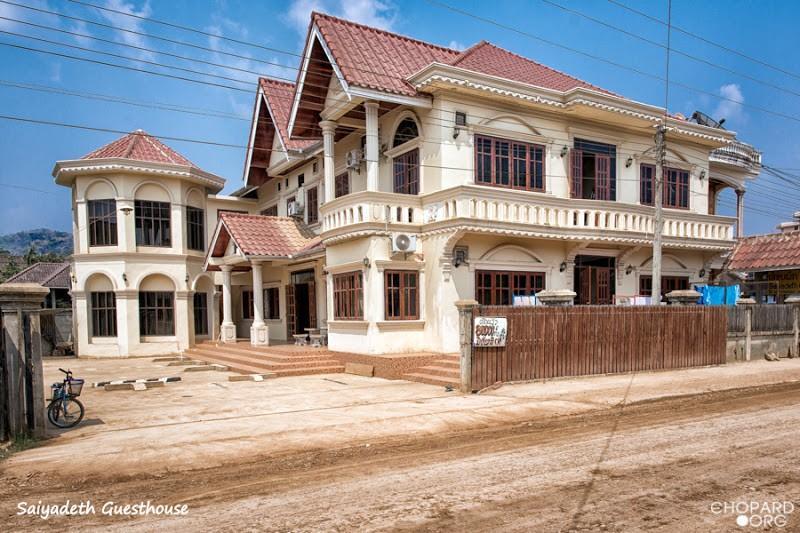 In addition, I visited two dwellings with WIFI, which is not yet ubiquitous. Prices for air-conditioned rooms were again between 80'000 and 100'000 Kip.
Anousone Guesthouse (WIFI), along the Mekong rim road, opposite to a balcony restaurant, near the pier. Ventilator rooms 60'000 Kip, aircon rooms 80'000 Kip
Anousone Guesthouse | Facebook
Tel: 074 550082, 28688880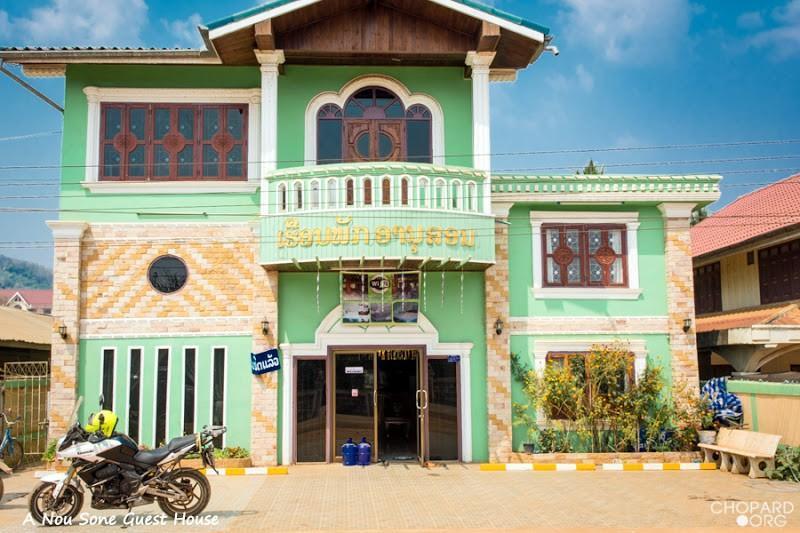 Si Champa Guesthouse (WIFI), Ban Sayamoungkhoun, in direction of the bus station. Eight rooms, second floor extension under construction. 'Aircon' rooms 100'000 Kip.
Tel +856 2054268888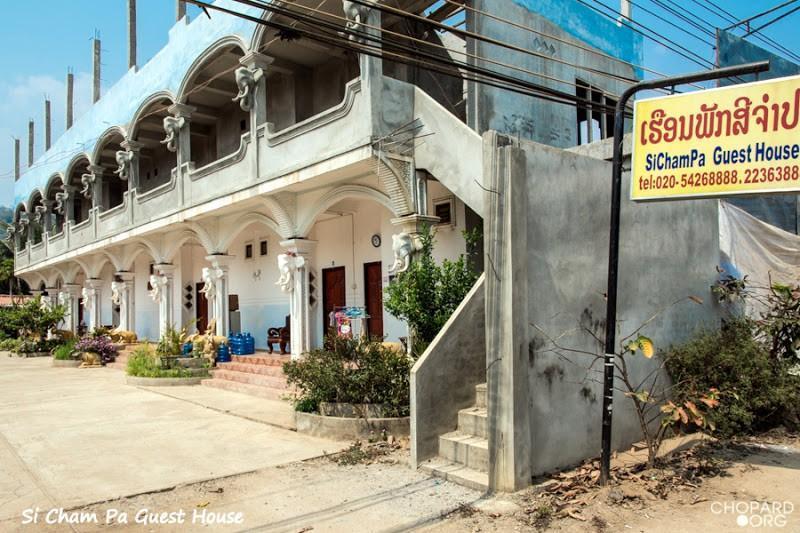 Several eateries are located near the Mekong, a floating restaurant and a couple of balconies with view over the river. The items listed on the menu were not always available but there is still enough local food variety for palates accustomed to Lao spices.
2. The road to Xayaboury
Pak Lai has a relatively important monastic population, particularly in terms of novices who, in the daybreak hours, walk around the city in colorful processions. The sight of these alms rounds might not have Louang Prabang's grandeur, but it surpasses the 'Royal City' in authenticity and fervor. Here there are no street vendors selling 'tak bat' food and the holy men are certainly still amused to see tourists taking pictures.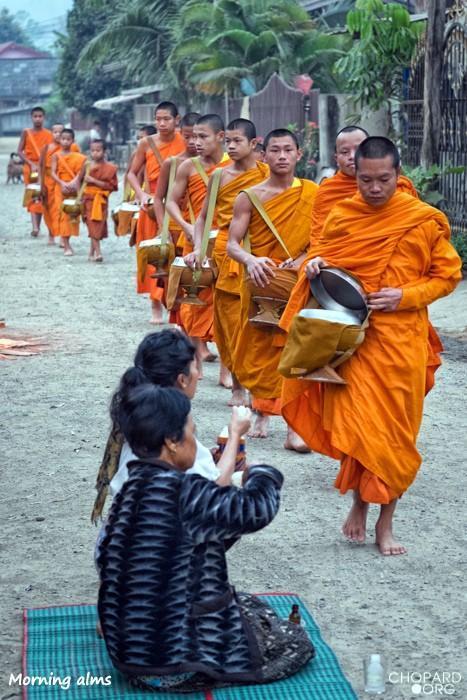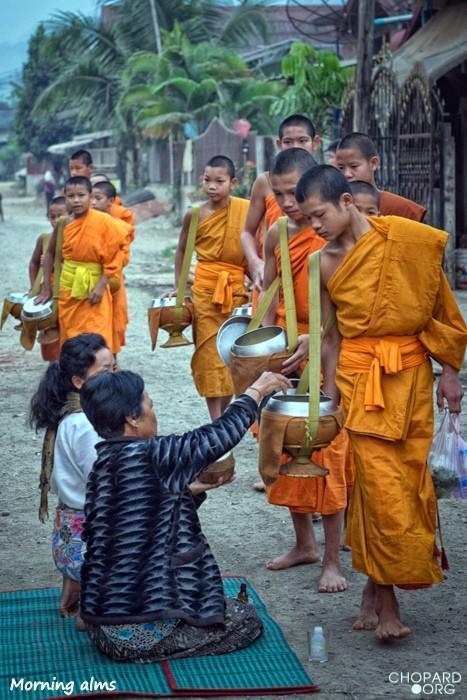 As I was kneeling down to get a low perspective, a group of monks and novice lined up in front of me, and chanted while I took their pictures. Such unexpected and unforgettable moments definitively anchored my fondness for this city.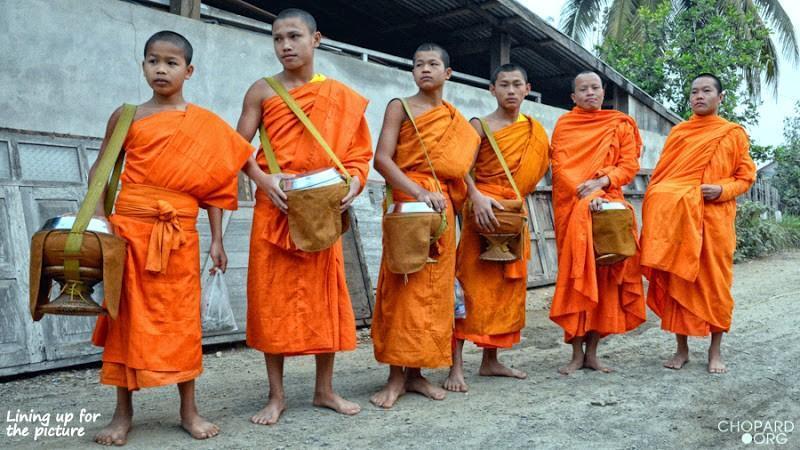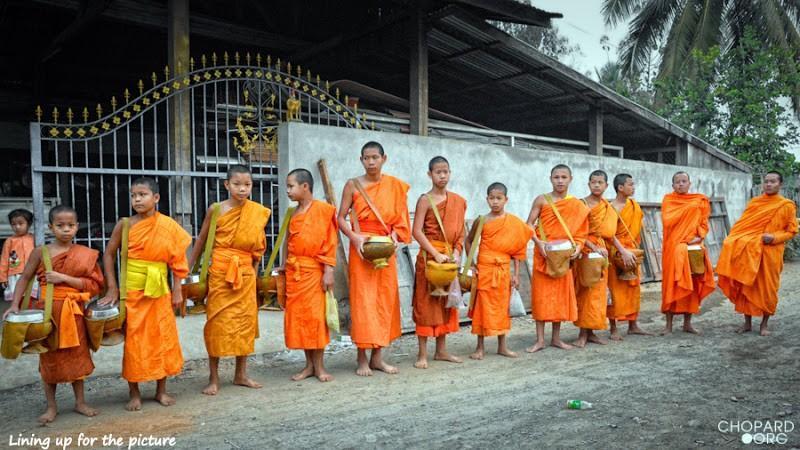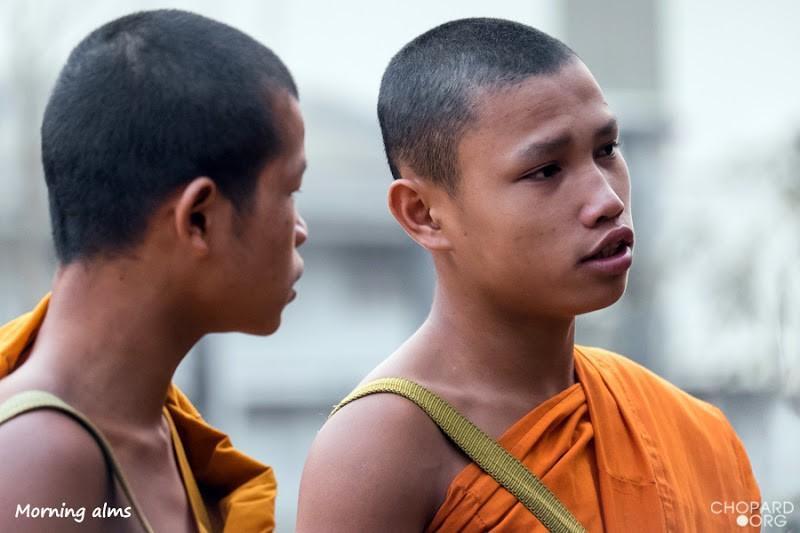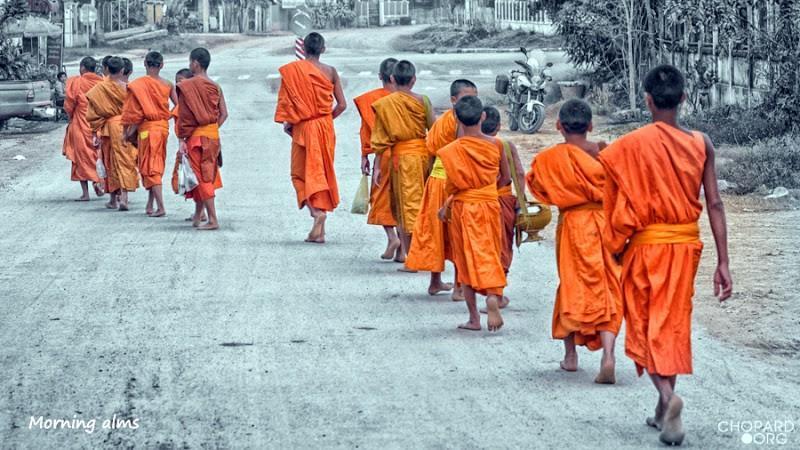 After gathering again some 'foreigners' food' from different suppliers, and washing it down with 'Nescafé' in a tiny stall, I hit the road toward the North, crossing a bridge spanning the river who gives its name to the city; literally, Pak Lai means "the mouth of the Lai river".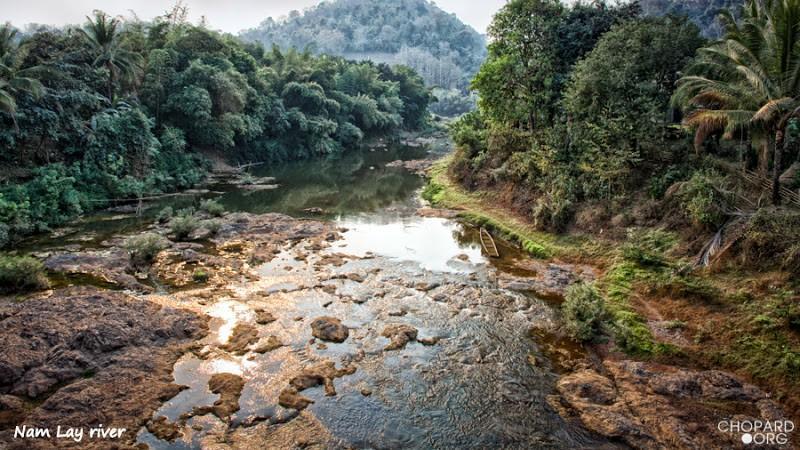 The itinerary to Xayaboury, on Route 4, is now a 153 km, well asphalted link. Before my arrival in Pak Lai, however, I was not really sure what to expect; I had gathered inconsistent information from different travelers. This is, for instance, how Lonely Planet, in his 2010 Laos edition, describes the road (Sainyabuli to Pak Lai):
" Although major roadworks are underway, for now the mostly-unpaved Pak Lai – Sainyabuli route is a hellish ride. The road is almost impassably muddy after rain and appallingly dusty when dry. The endless clouds of dust are further stirred up by numerous logging trucks whose booty has seen the nearby hillsides virtually stripped of their once-majestic forests in recent years."
The new 'Laos Lonely Planet' (edition February 2014), does not yet bring updated information on this itinerary, and I was pleasantly surprised to discover that it is now totally paved. The mountains, of course, are still mostly bald, while the upgraded road attracts more vehicles and caravans of trucks with their usual oil spilling. That morning the traffic seemed to flow essentially in the opposite direction and was not a hindrance to an enjoyable ride.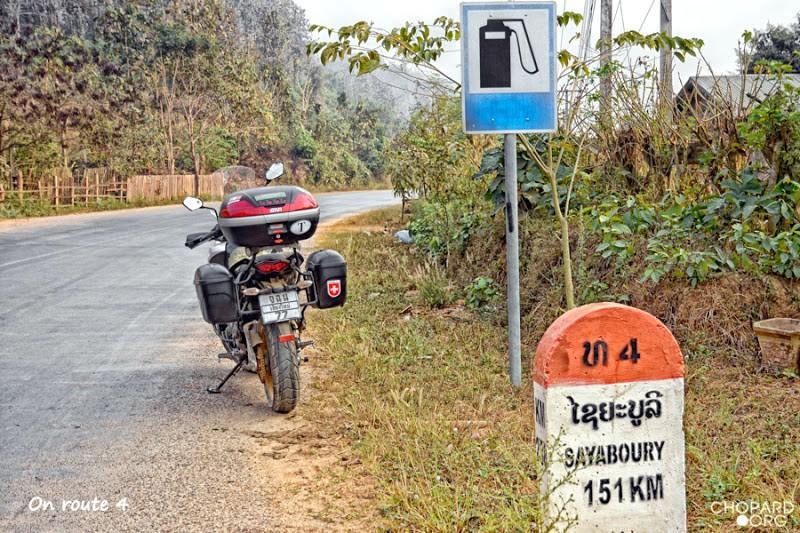 After about 10 kilometers, sensing that the 'Big River' took a different course, I drove down a narrow private byroad to an 'Integrated Wood Factory". From its compound, I bid farewell to the Mekong, as this would be our last encounter during this trip's itinerary in Laos.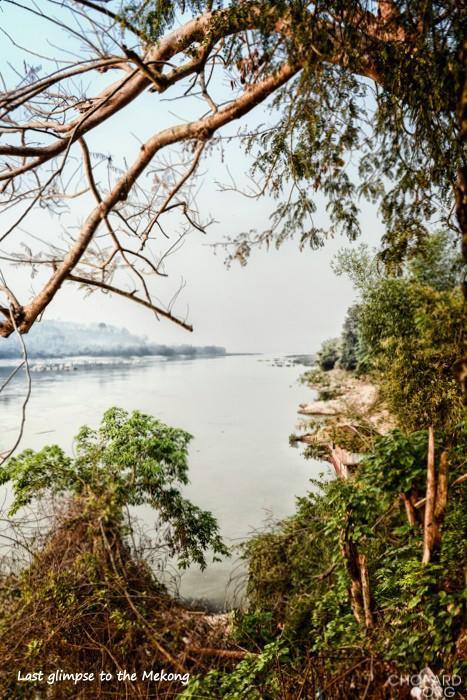 Despite some bucolic portions and the crossing through nice villages with animated schools, my predilection goes to Route 4's other stretches; this region's forest has paid a too heavy tribute to the furniture industry.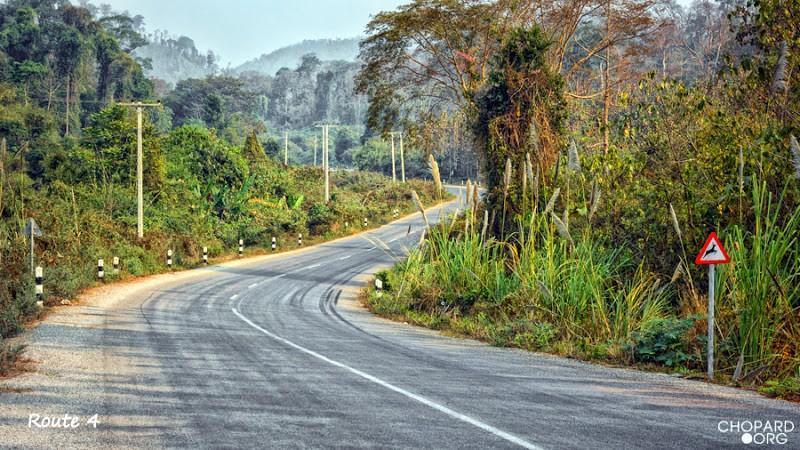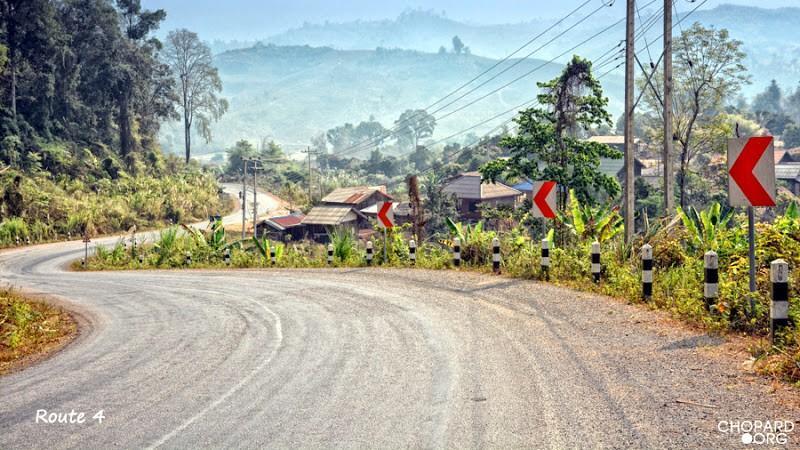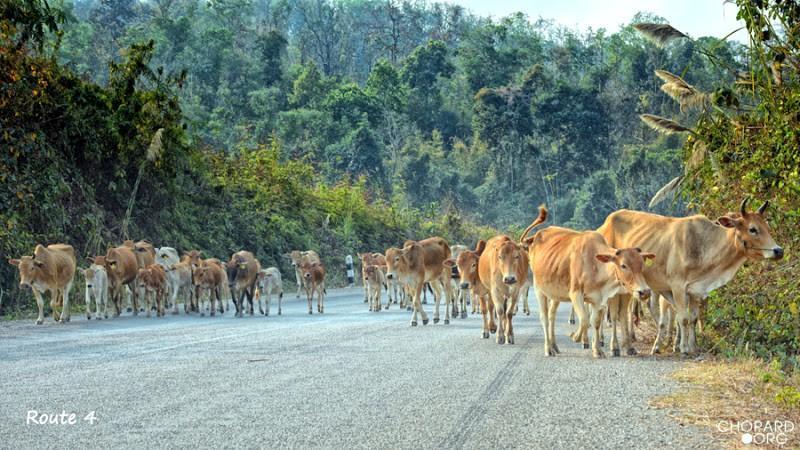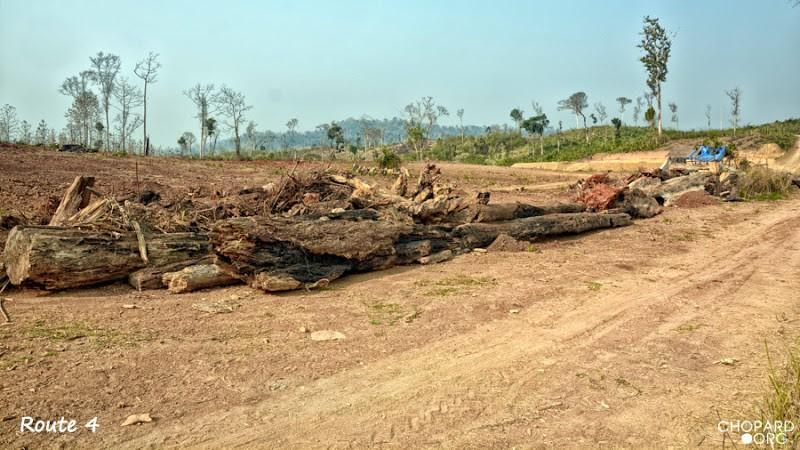 As I reached Ponsaat school, it was break time and the pupils were running all around the playground; this was a good opportunity to stop for pictures. When kids see a foreigner (Falang) pointing a camera in their direction they are usually amazed, amused and the young girls are often shy; this is always an hilarious experience, even so the snapshots often look rooted to the spot.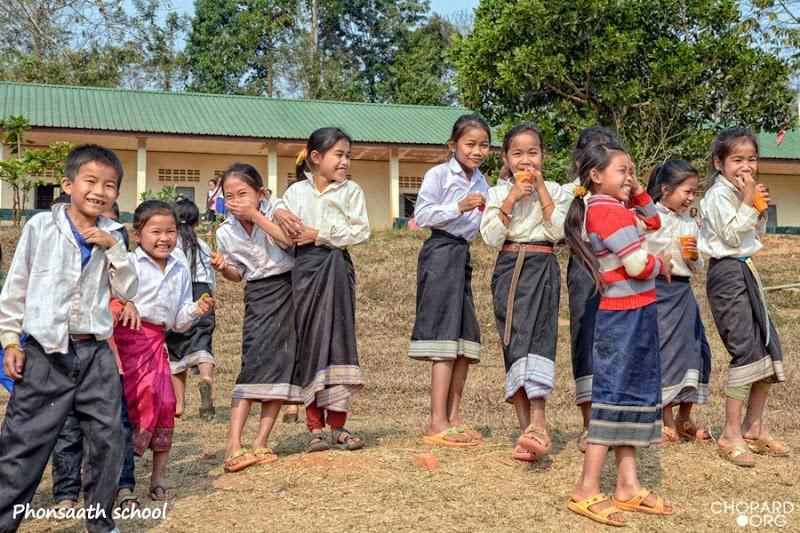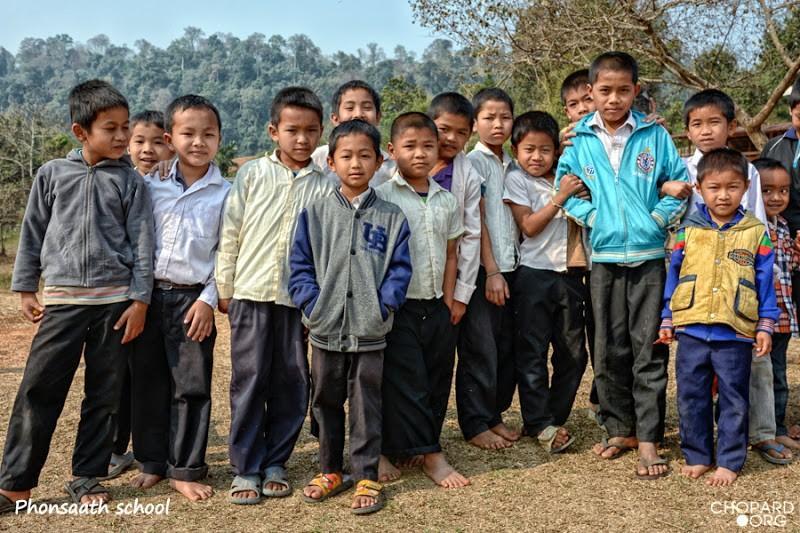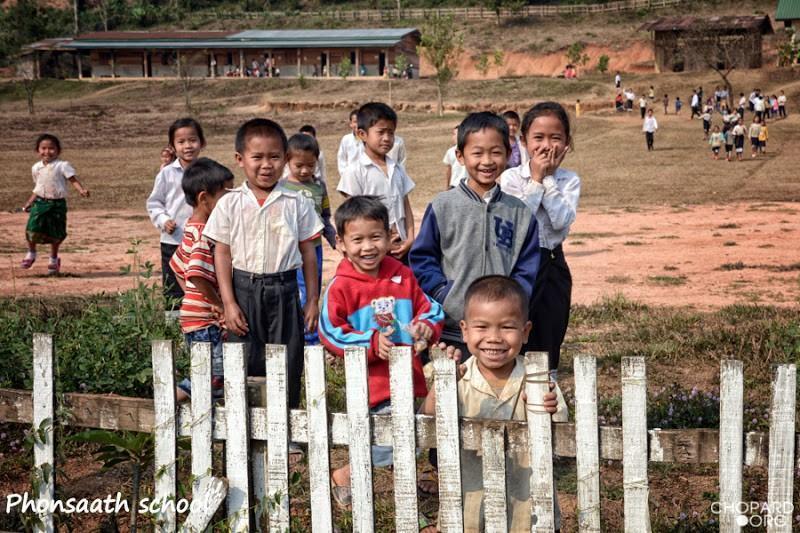 Further along the road, I passed Ban Nale school where I made another stop. The kids were so enthusiastic that it was difficult to take pictures; all wanted to be 'in the box' and they hardly left space in front of my camera's lens.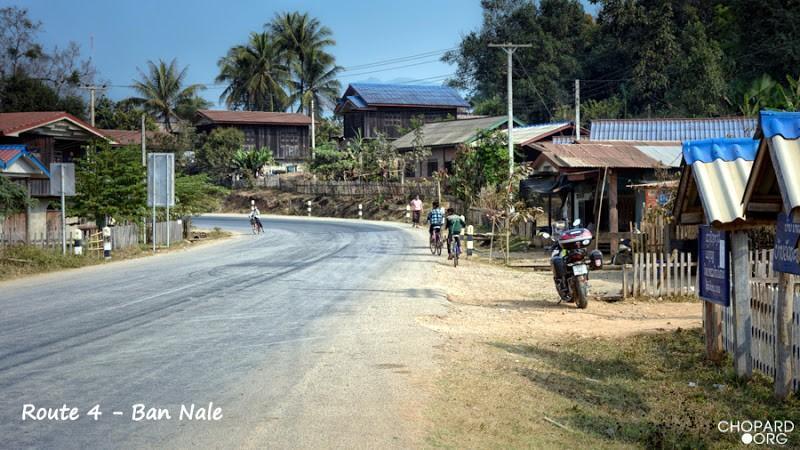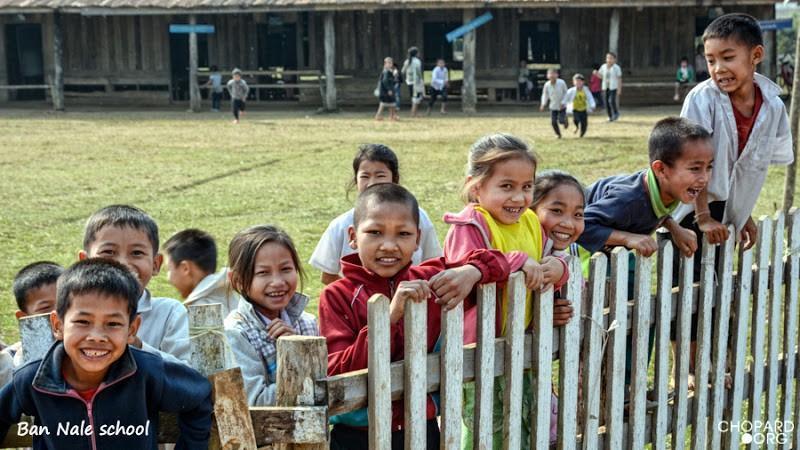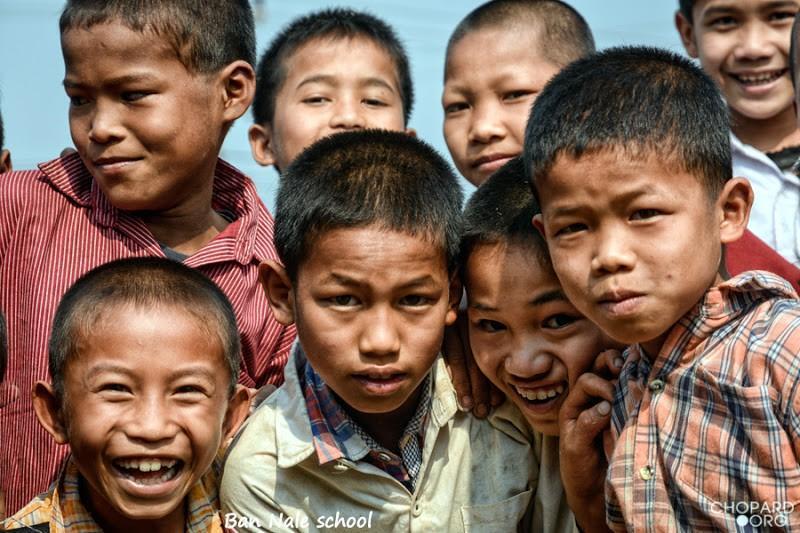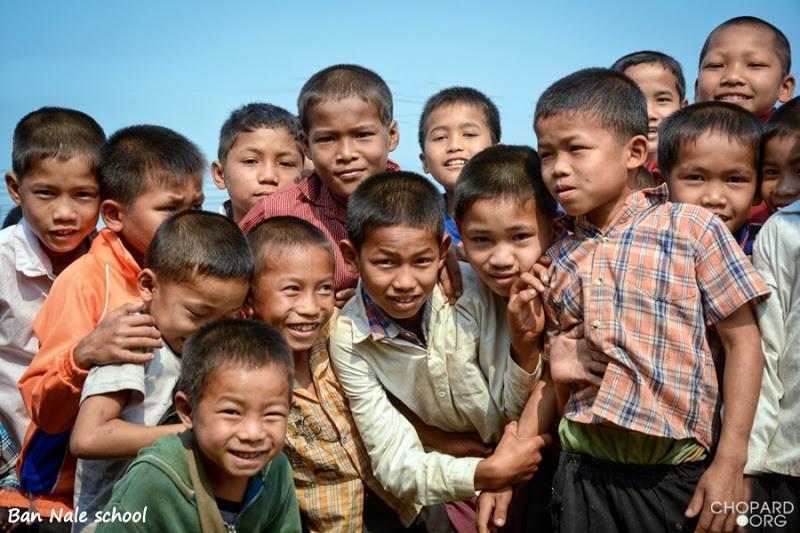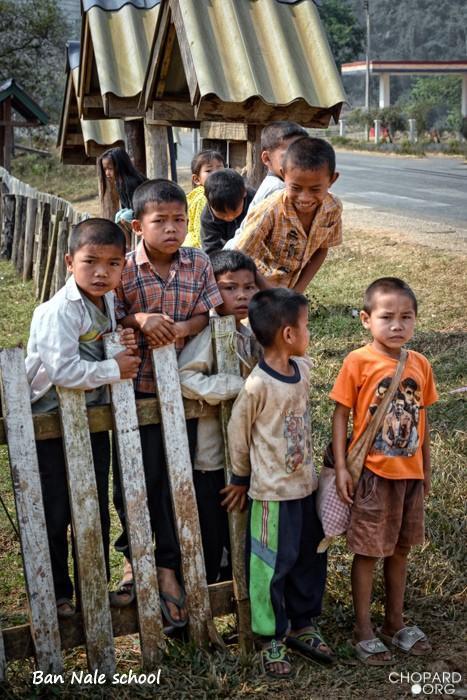 On the hill, just before Phou Khon, I halted at a tiny Hmong settlement.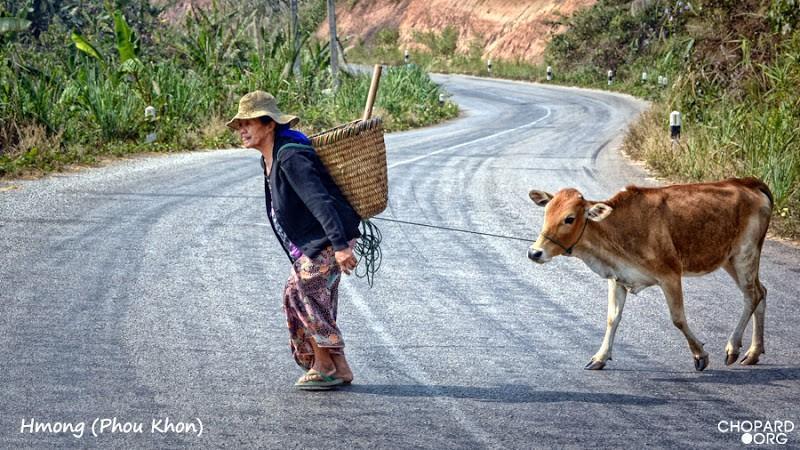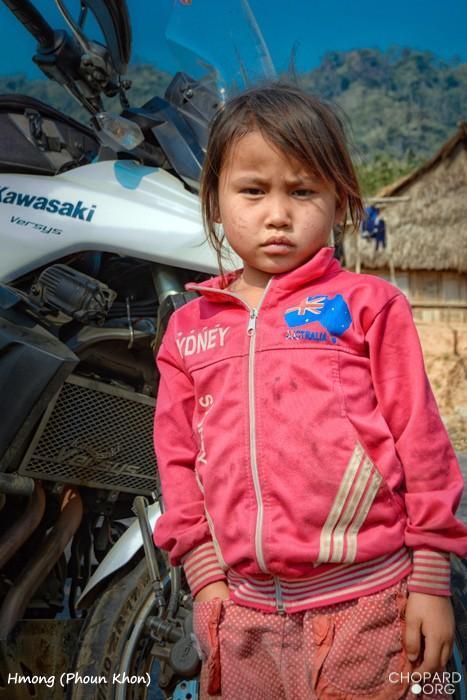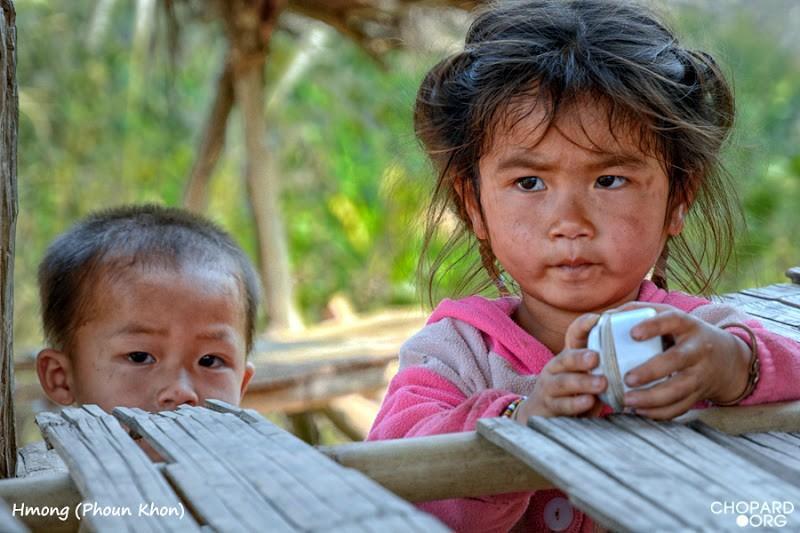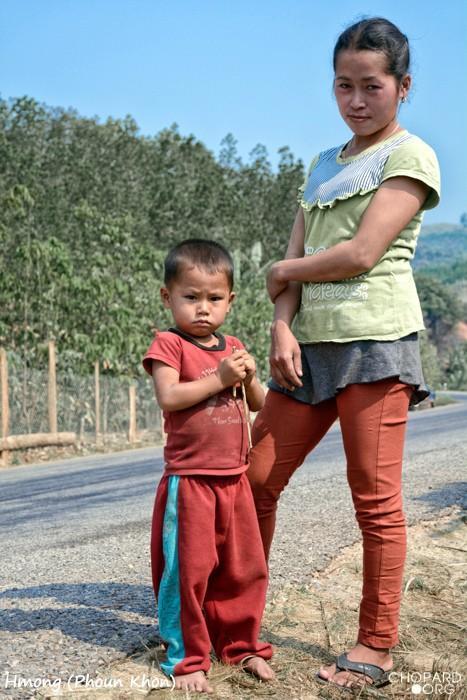 Around Na Khem, the itinerary becomes more scenic and, finally, changes to a straight and flat road toward Muang Phiang.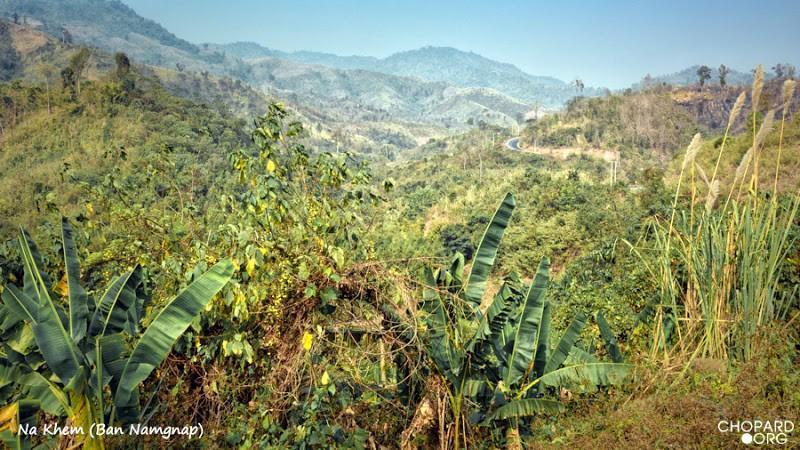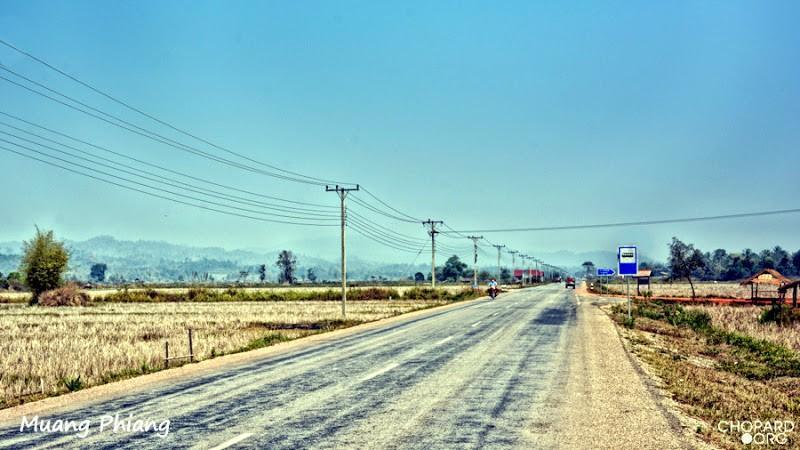 As I entered Xayaboury, I drove down the large central boulevard (Anousavali avenue) and checked in to Sayananh hotel. I was not attracted by its apparent grandeur, as the building is now aging, but by WIFI availability. Rooms are at 150'000 kip (Tel 074 211116).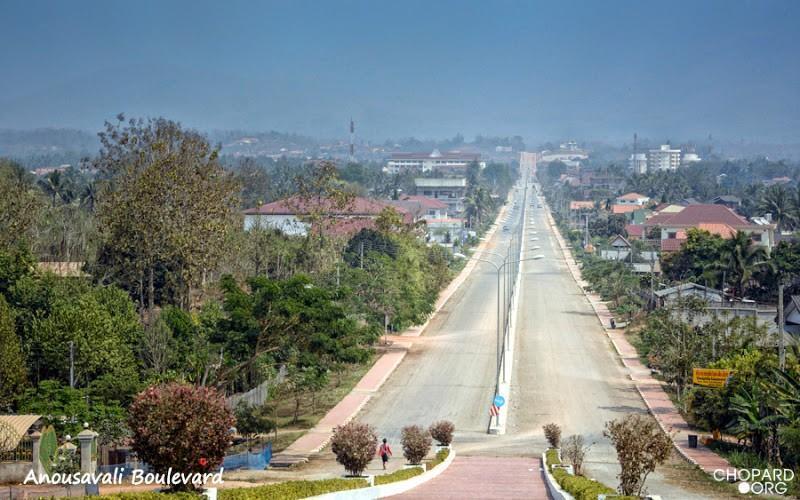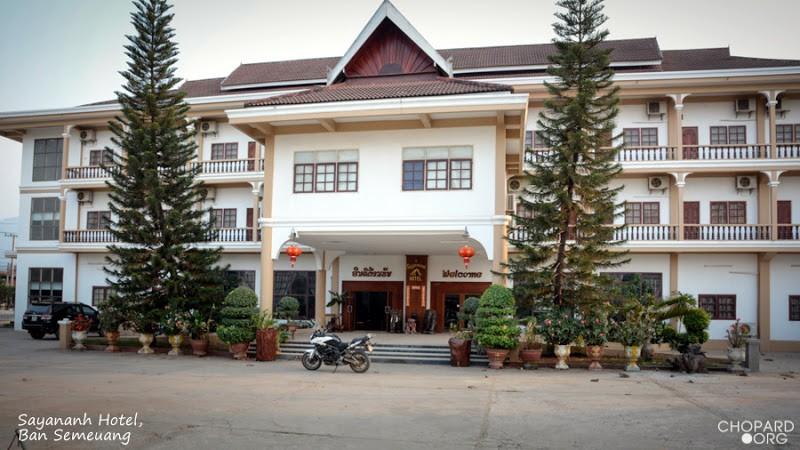 After a crisscross through the city and after asking advises from locals, I finally stumbled on a small restaurant with coffee, WIFI and a friendly 'familiy service'. Its nameboard in not written in English, but it is easy to find, right along 'Anousavaly' avenue, in the uphill monument's direction.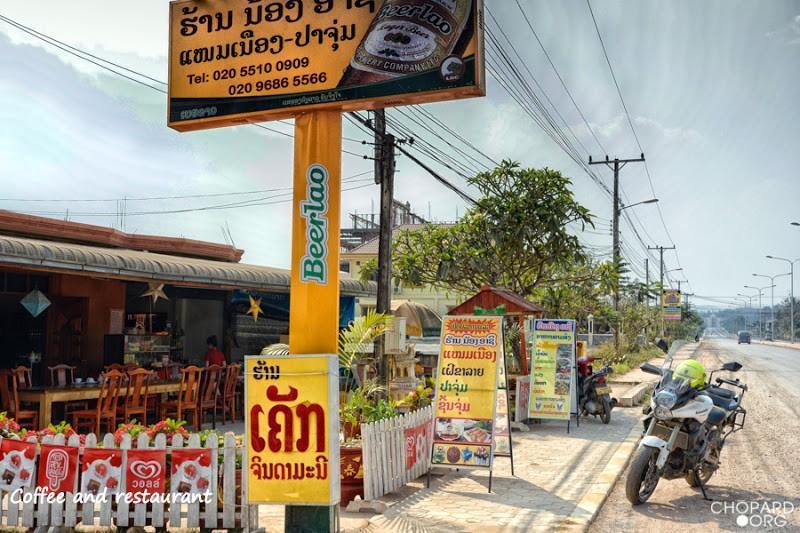 While I had lunch and coffee, flocks of cyclists passed in front of me. Pupils were pedaling to their afternoon lessons, swinging colored umbrellas against the harsh sun. This cheerful sight is like watching dancing bouquets of flowers or clouds of hued butterflies.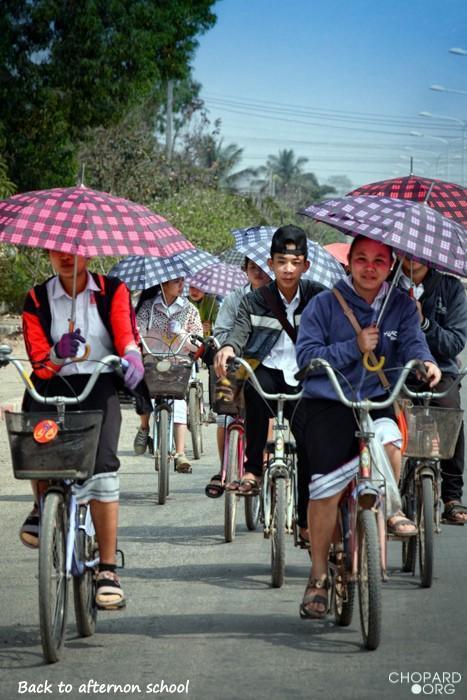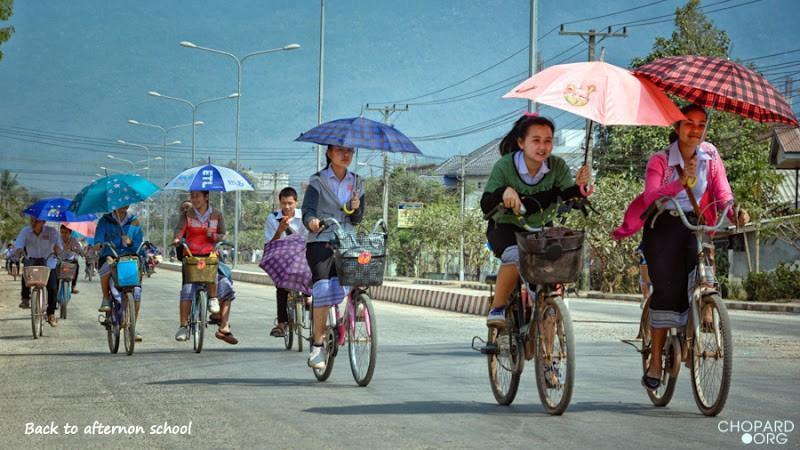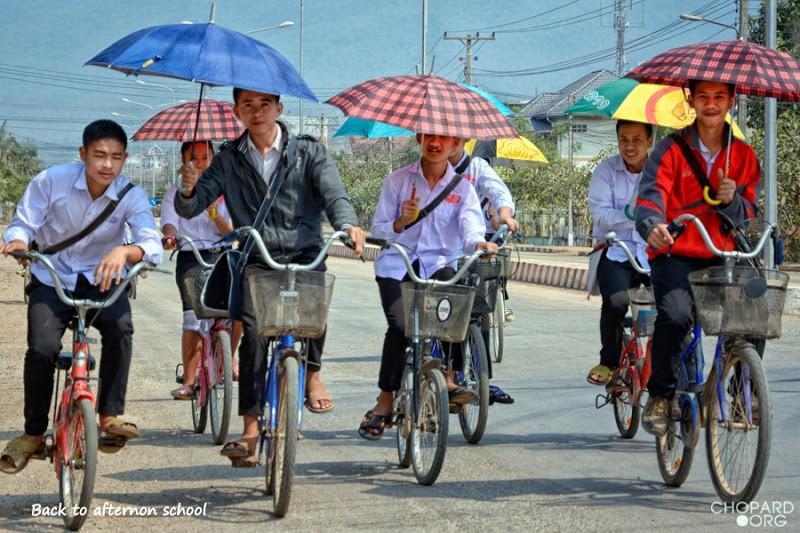 Back from school, in the late afternoon, the youngsters are still joyous, but, as the sun is lower, the picturesque shades remain mostly folded.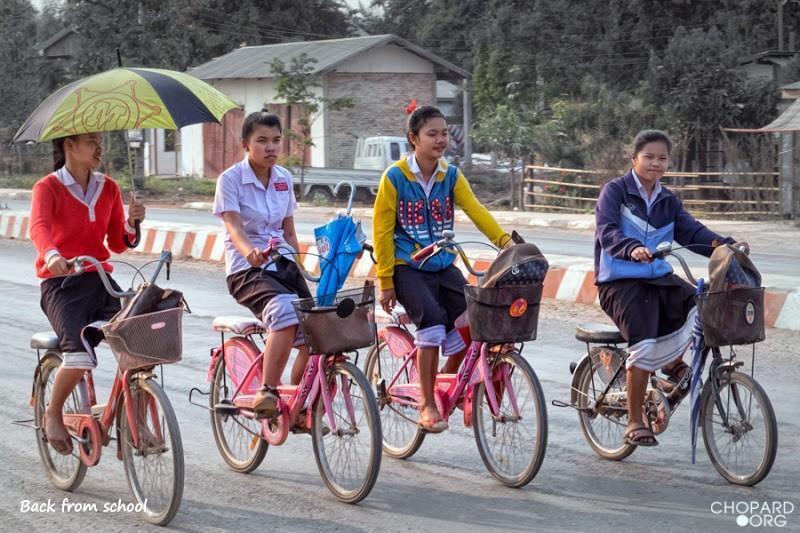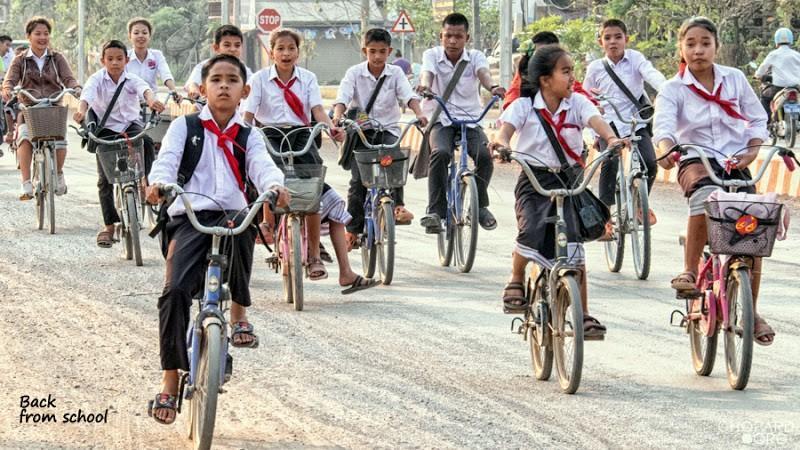 My evening diner, at a riverside restaurant, was disappointing; a road is under construction along the Nam Houng's rim and the environment was dusty. It would have been better to patronize again the small restaurant, where I had spent an agreeable afternoon.
As this is my second Xayaboury write-up, additional information about this city and the road to Hongsa can be found in my former trip report: (
https://www.gt-rider.com/thailand-m...nade-Part-5-Xayaboury-Laos-west-of-the-Mekong
)
3. "Jumbo" and elephants
After an early rise and with a fully packed bike, I made a call again at the small restaurant for a "Farang style" breakfast. Soon after, I was on Route 4A, leaving beside me the intersection with the link over the new bridge to Tha Deua and Luang Prabang.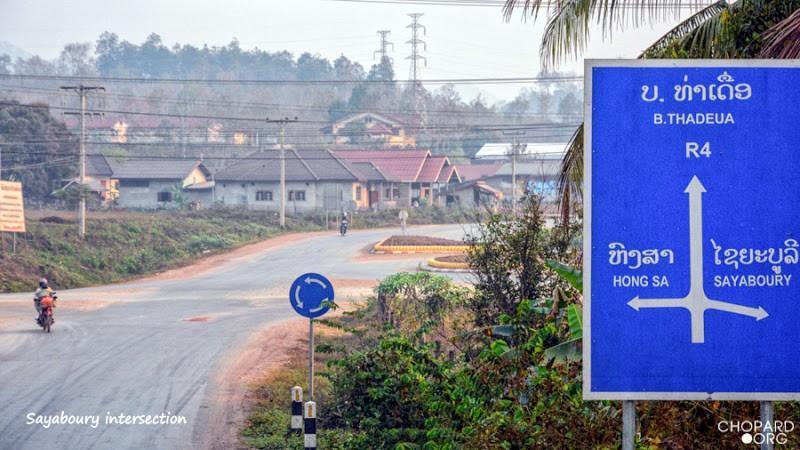 Route 4A, from Xayaboury to Hongsa is one of my favorite biking itineraries. It is a scenic stretch with roller-coasters, gently winding through primary forests, punctuated with many hamlets inhabited by numerous Lao tribes. It always takes me half a day to cover its short 80 kilometers; even so the pavement is mostly well asphalted.
As I reached the bridge over the Nam Houng river, at about the same time as during my former trip, I stopped again to watch the kids walking to school.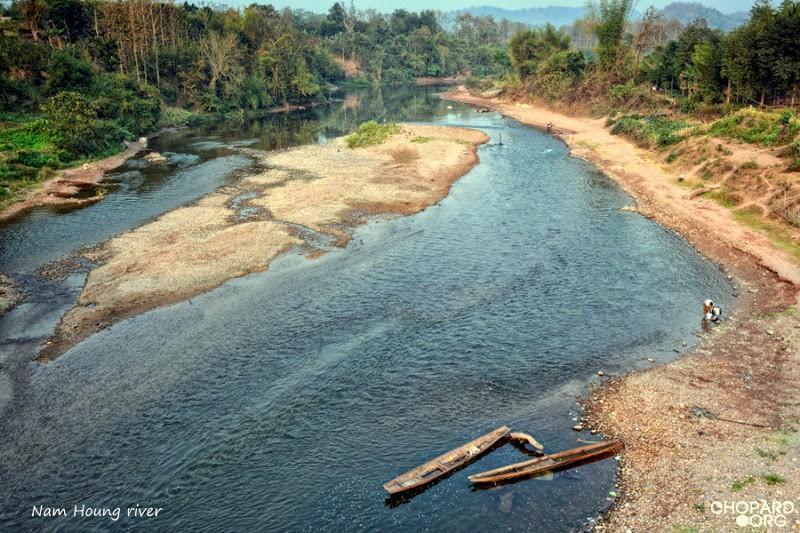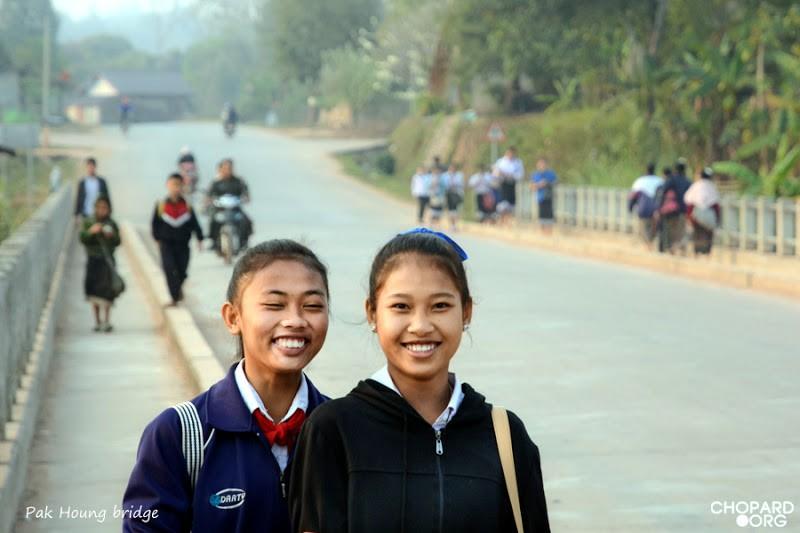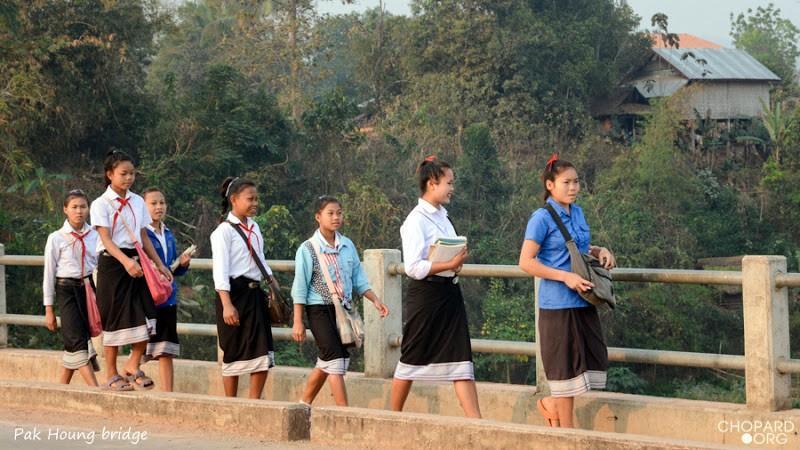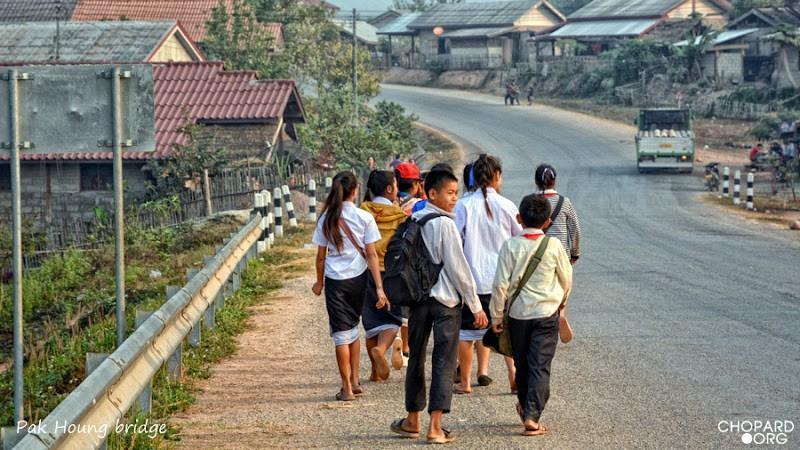 At a slow pace, in order to fully appreciate the environment and to observe the local life, I happily glided down, along Route 4A.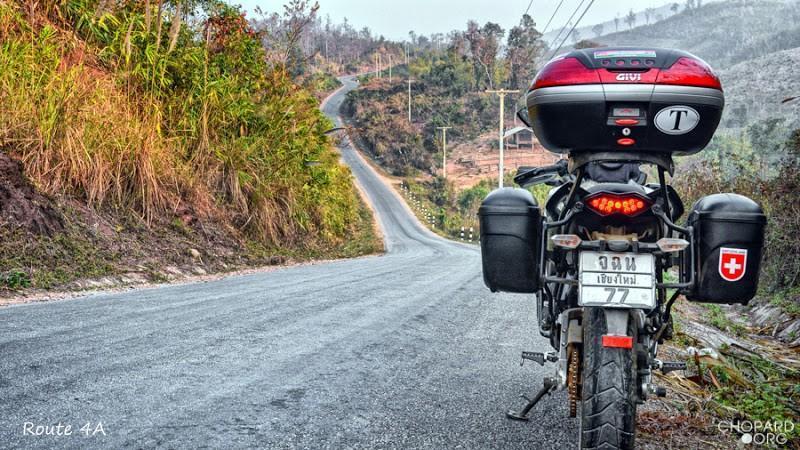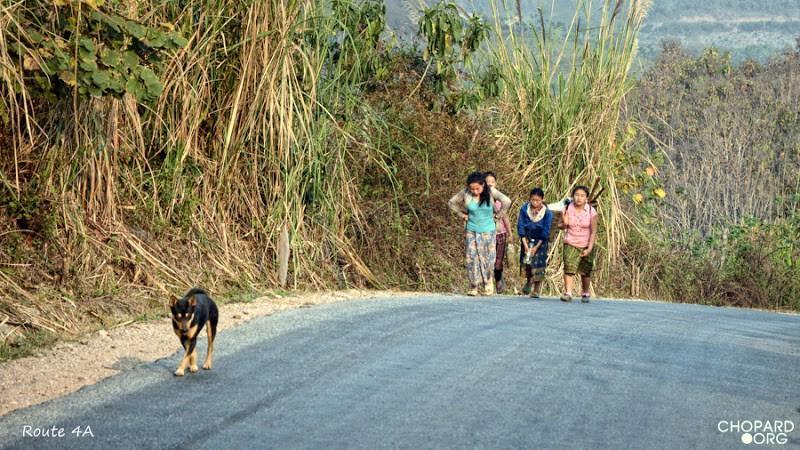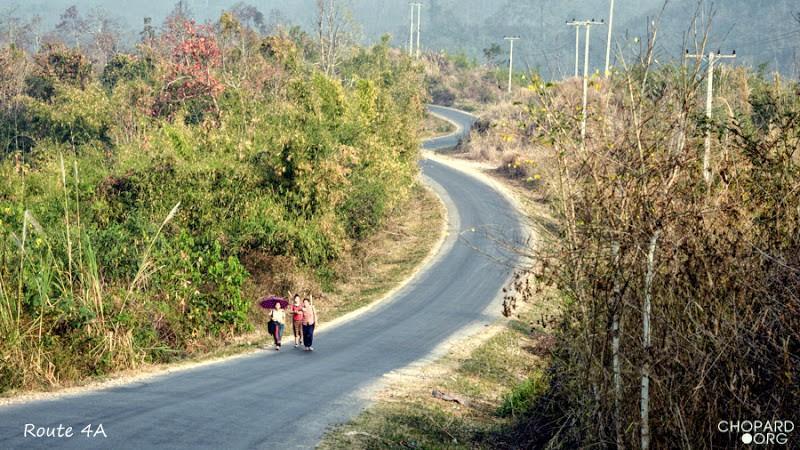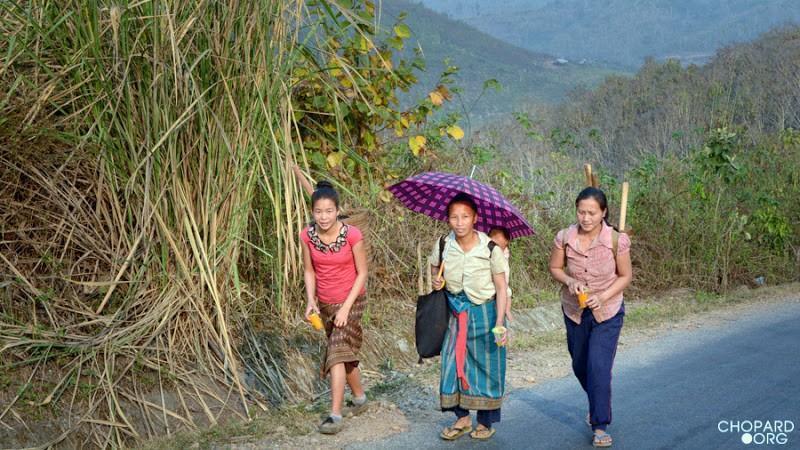 For me, the distances written on the road stones are irrelevant markers. Despite the new tarmac's quality and because I have all my time, this region does not invite me to rush.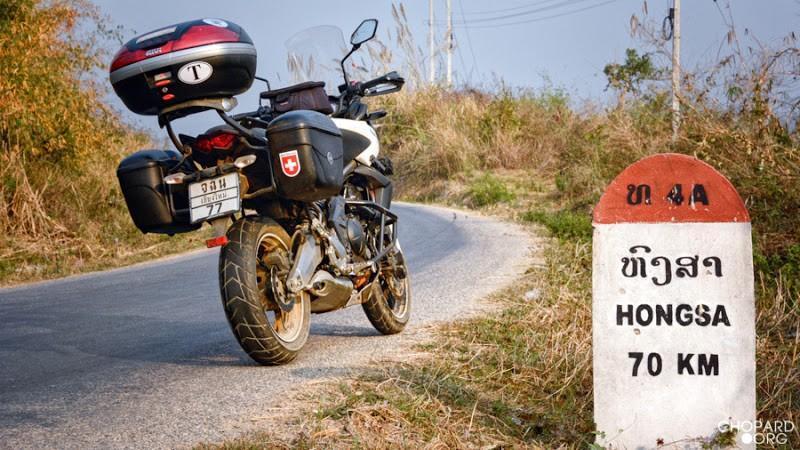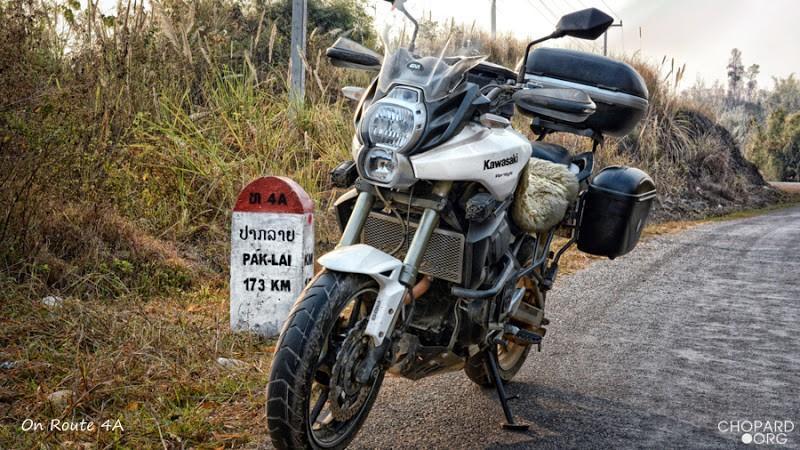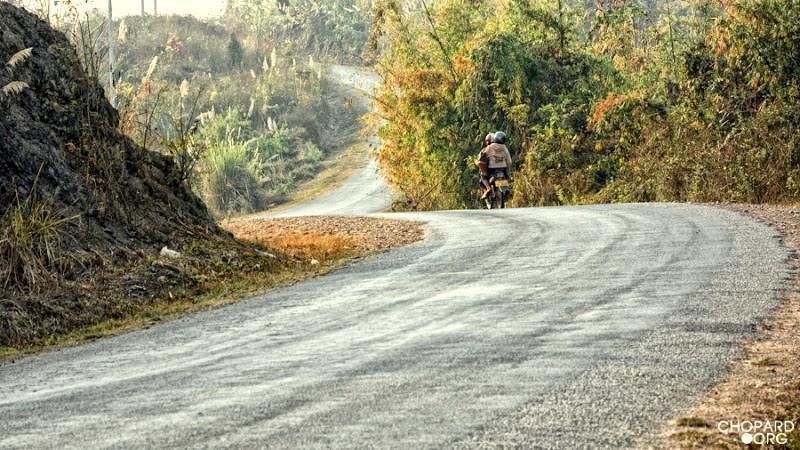 In Ban Nong Nong, I met gentle Hmong people; after taking some pictures, I always regret that I do not spend more time at each stop.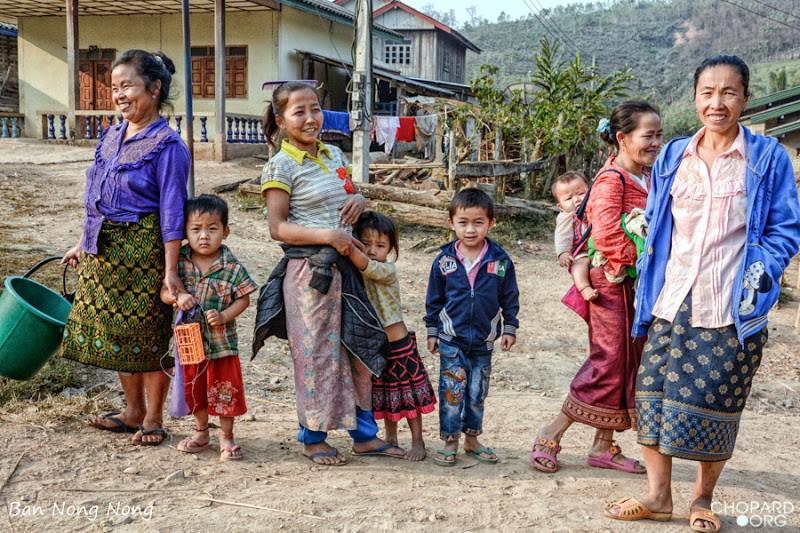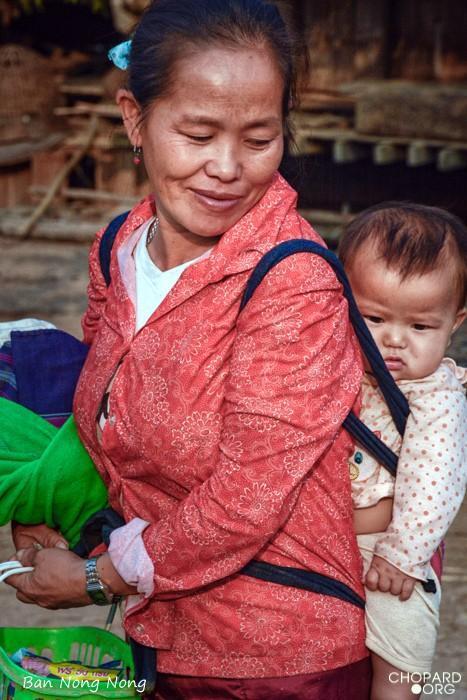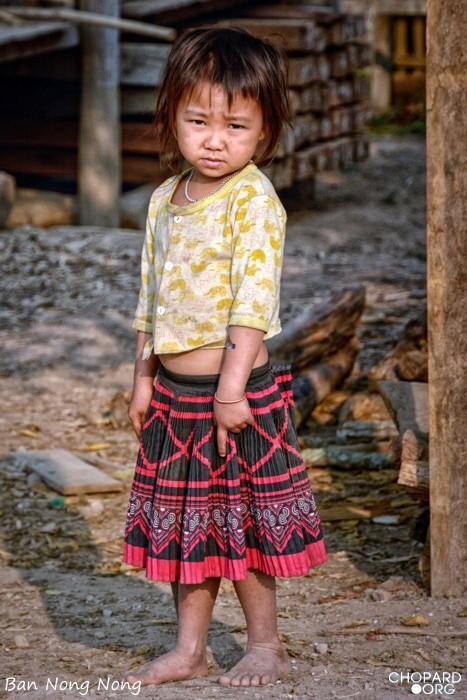 Some kilometers further, in Ban Tha, I stopped along the road to make a portrait and chat with an 75 year old Hmong.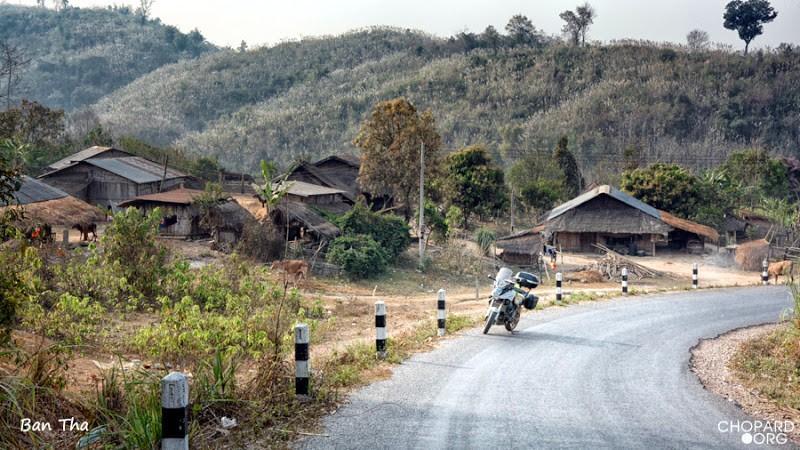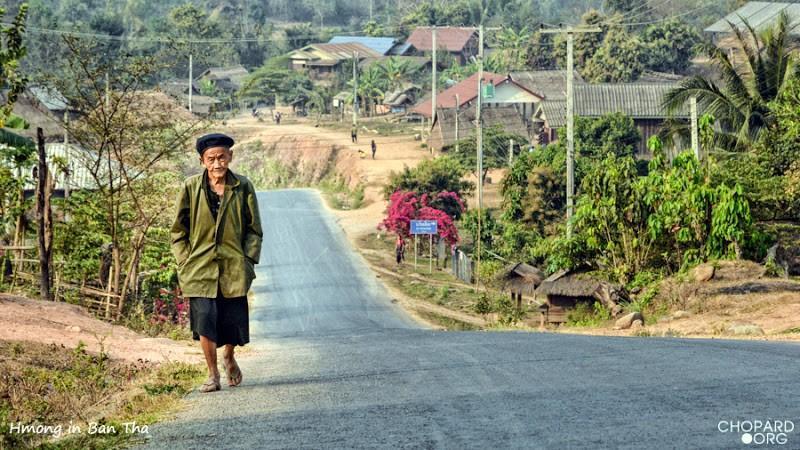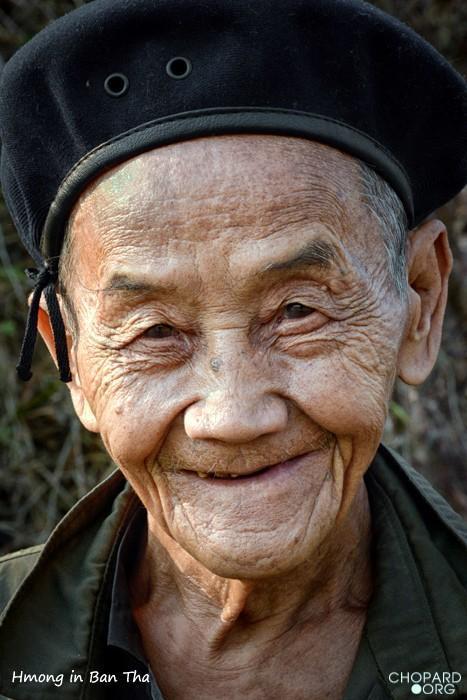 Light is not always bright along Route 4A, some places are deforested and burnt, hills are cleaned for crops and the tarmac - probably not of the highest quality – suffers from overloaded trucks. Despite these blemishes, I keep my five star rating to the link between Xayaboury and Hongsa, particularly for its denizens gentleness.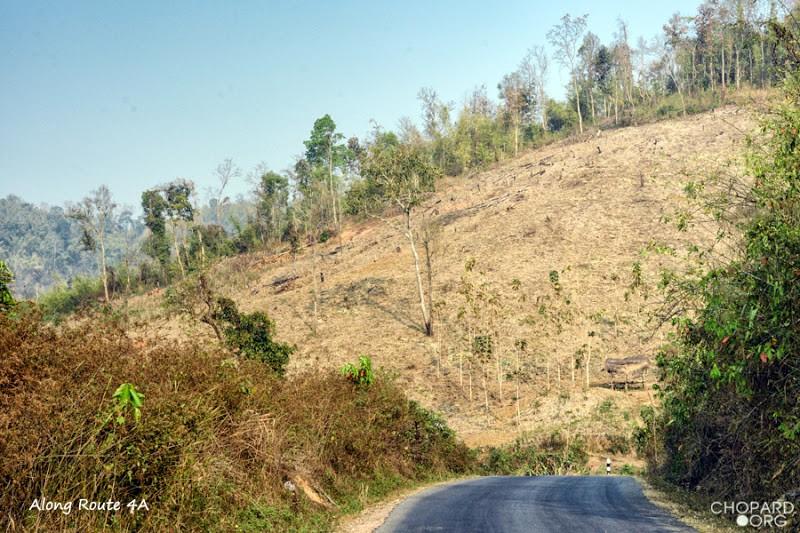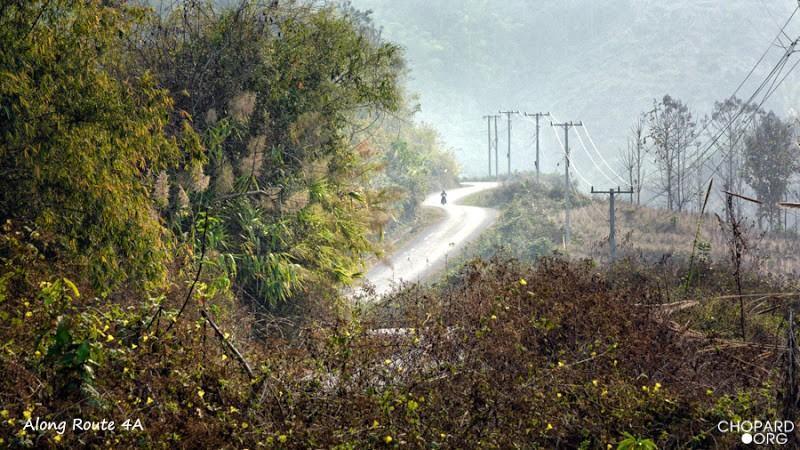 Ban Longsaeng is an ethnically mixed village. At its entrance I met a Khmu family preparing a bamboo cripple; this gave me another opportunity to chat and take pictures.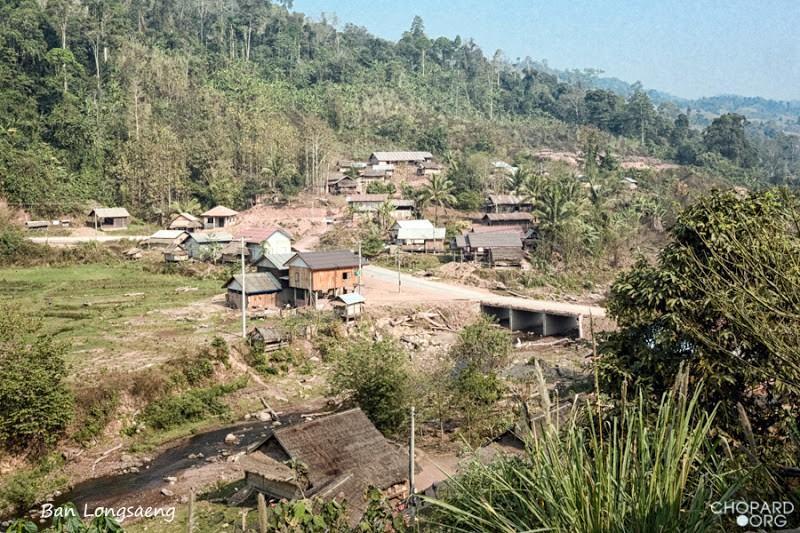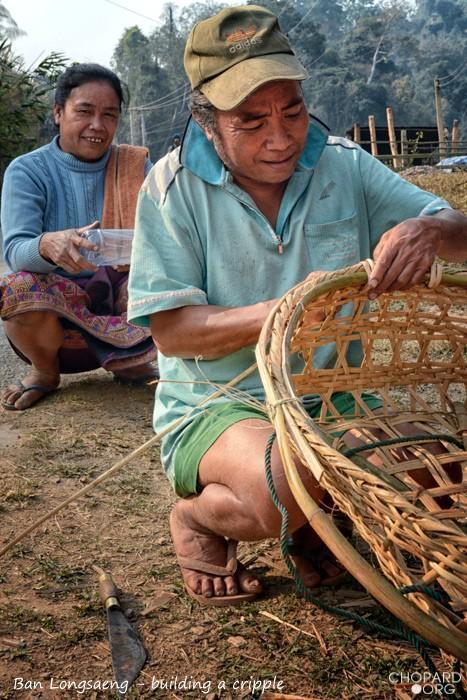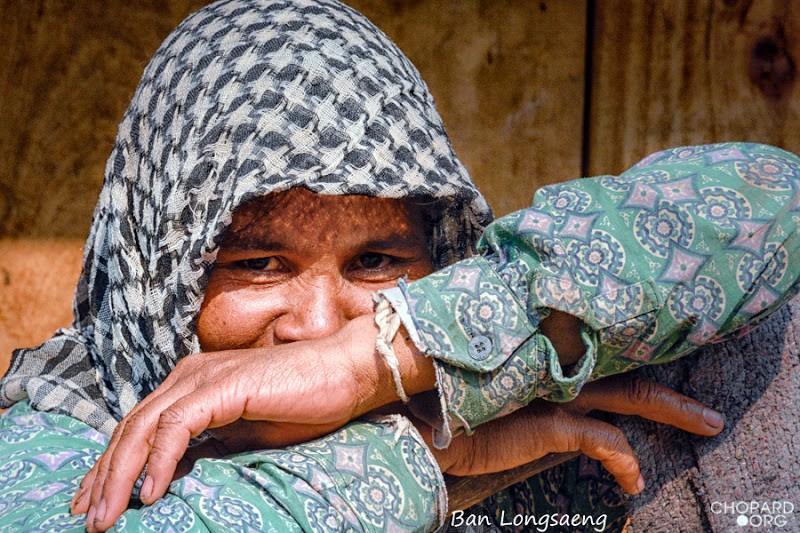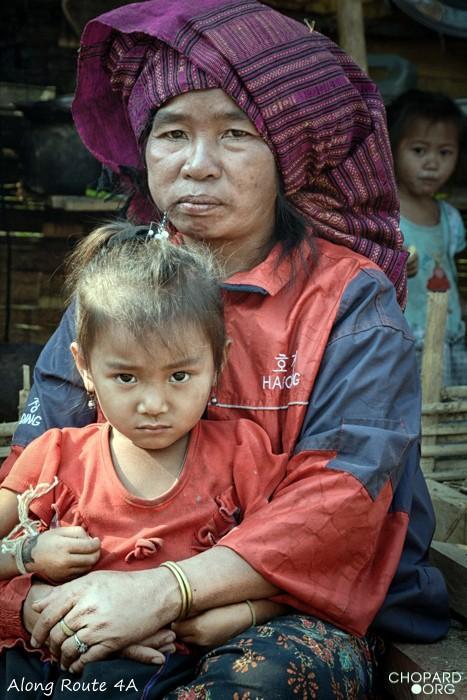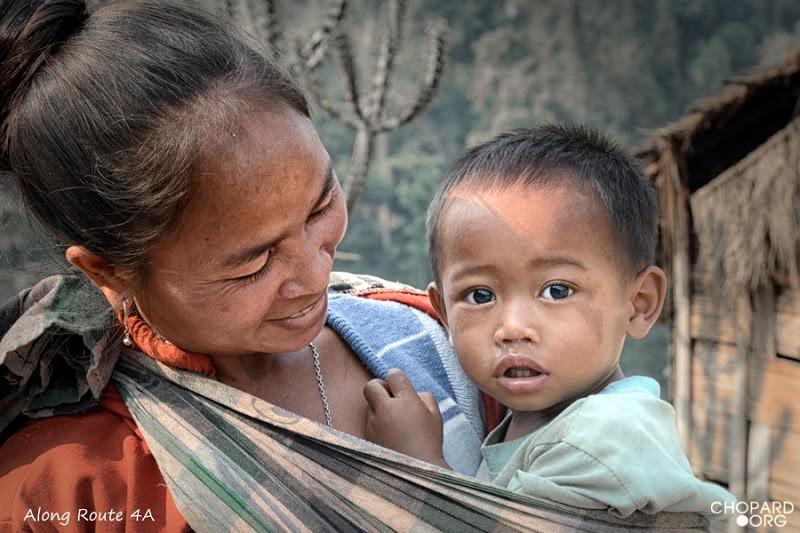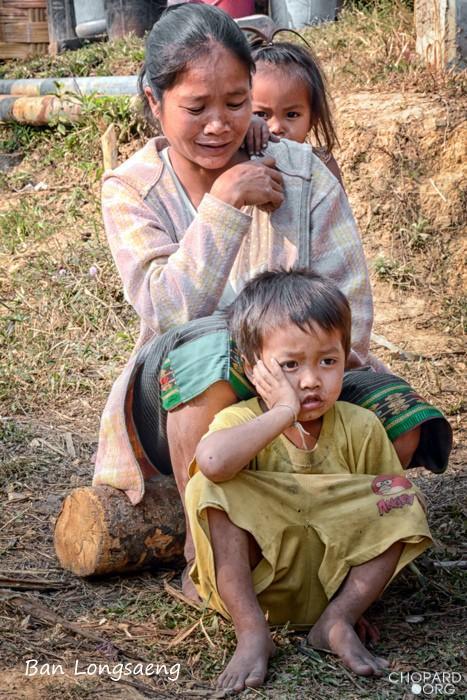 Further down the road, far from any settlement, I stopped at a remote stall where a lonely mother was selling packs of sugar cane; three of her young children starred at me with amazement. I bought a bunch of her merchandise, but, as I could not spot a hungry elephant nearby, I gave it back to her; my bike is already overloaded.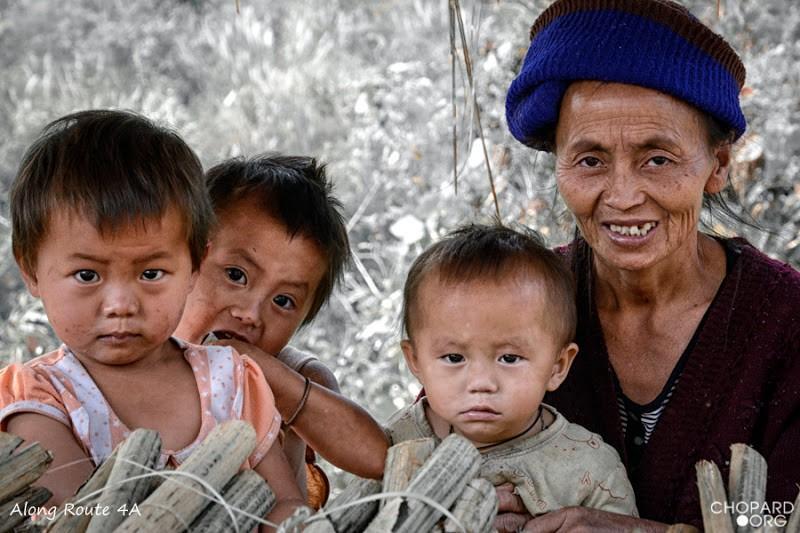 After crossing the Nam Met river, and circling around potholes, I stopped again at a roadside shack. 'Phai' dwellers, a Khmuic ethnic group that I had never met before, were producing brooms made out of dok khem, a bush growing in the nearby hills. I learnt that they are quite numerous in Xayaboury province and are called Lua in Thailand [4].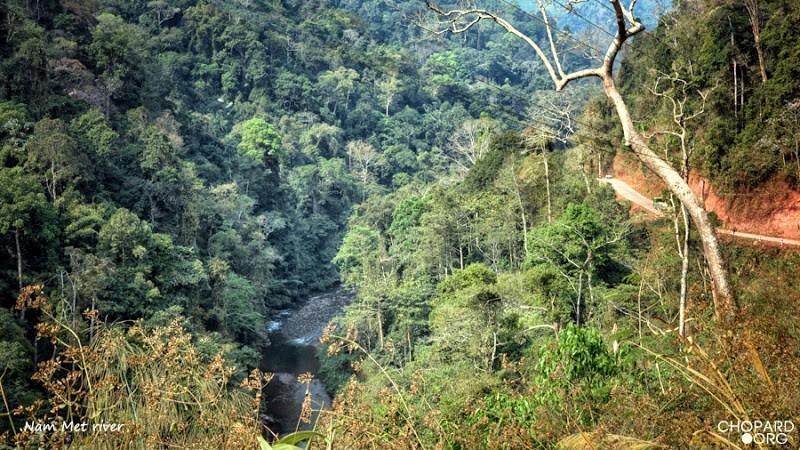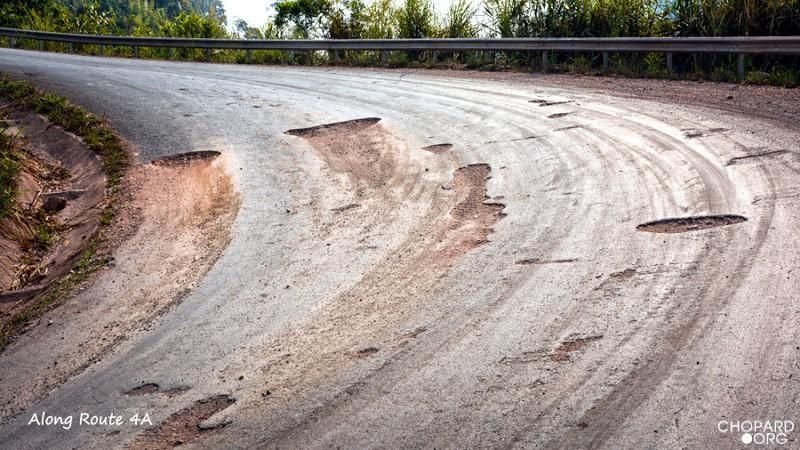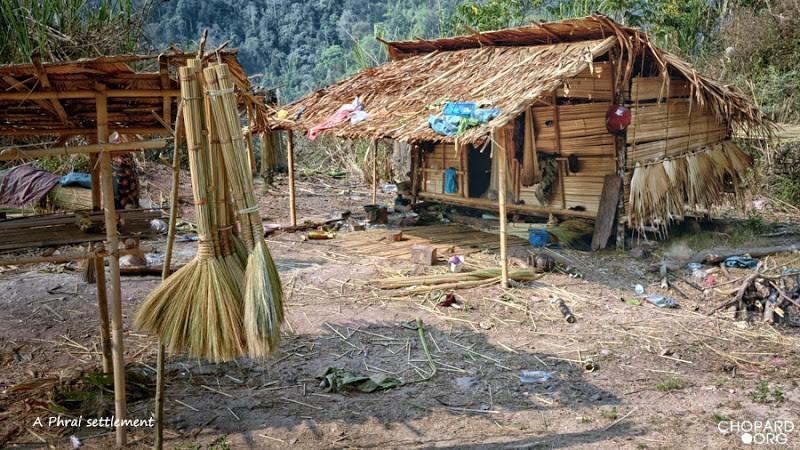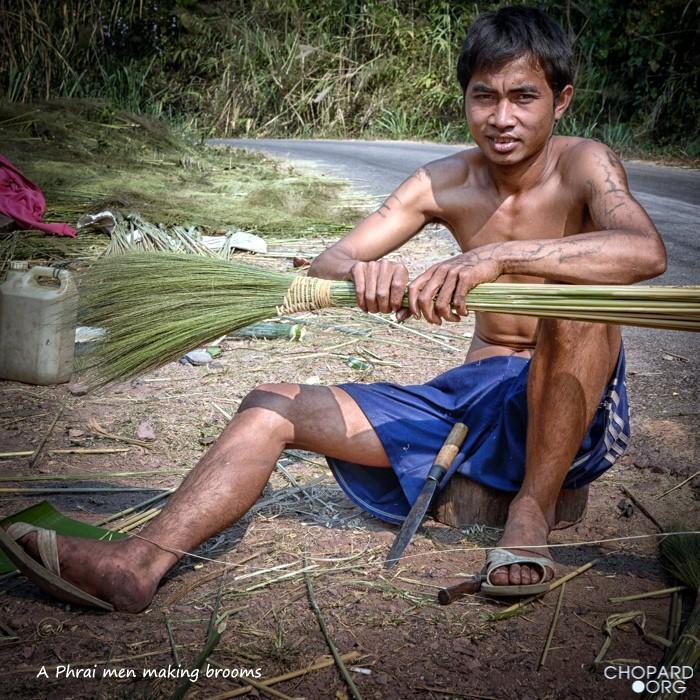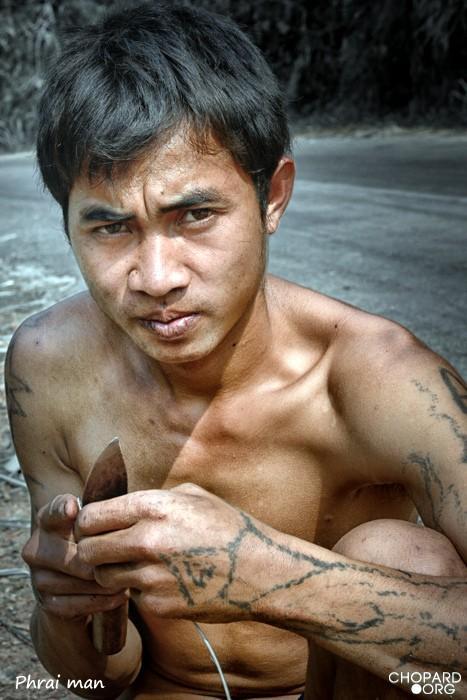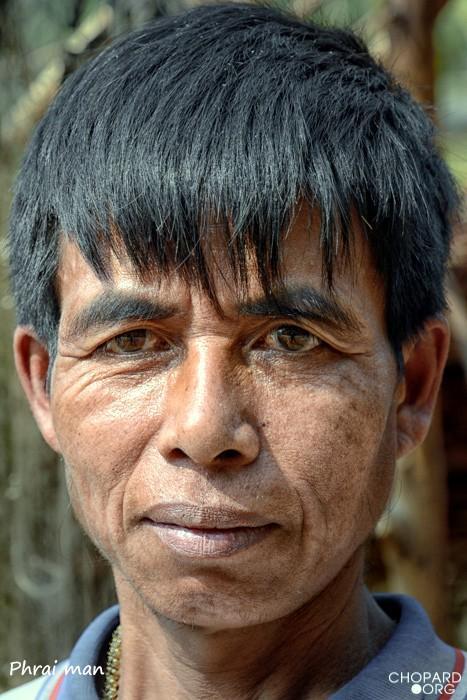 Another bridge brought me over the Nam Yon river, and I went on, cruising smoothly through more hilly stretches with gorgeous landscape backdrops.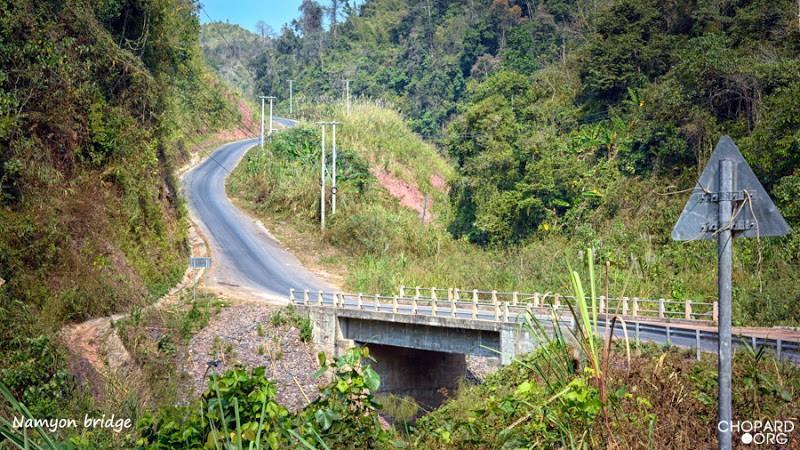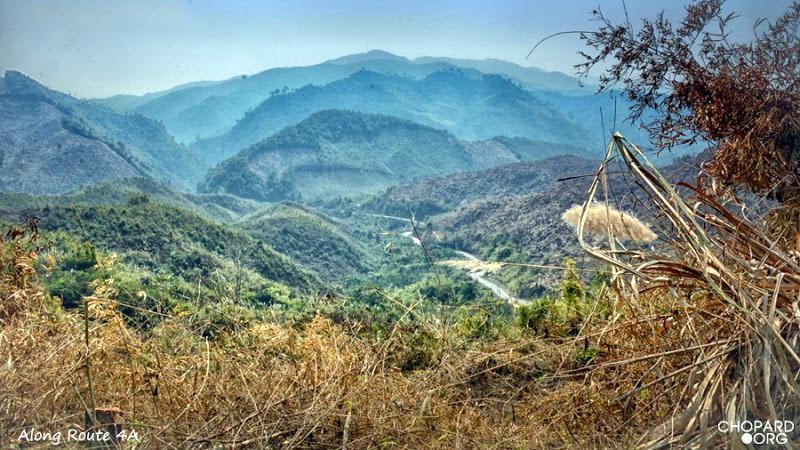 My last stop was at «Le Pouleng» school where I had taken many pictures during my first visit. Unfortunately, I was ill-prepared, and had forgotten to bring prints for the pupils; this is, at least, an enticement to be back soon.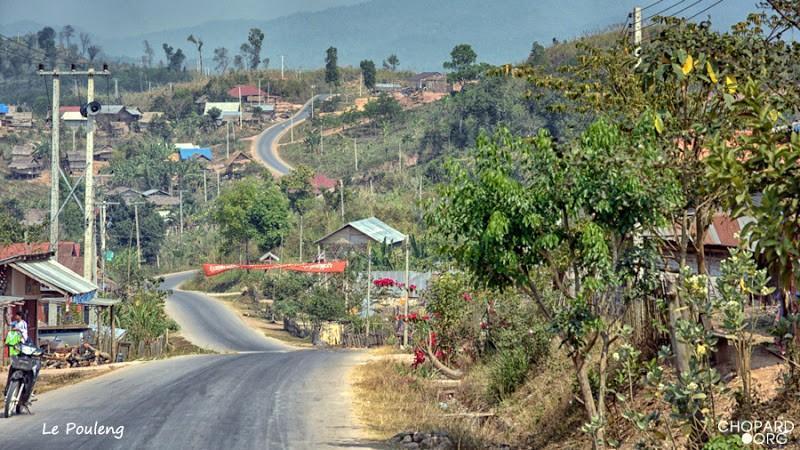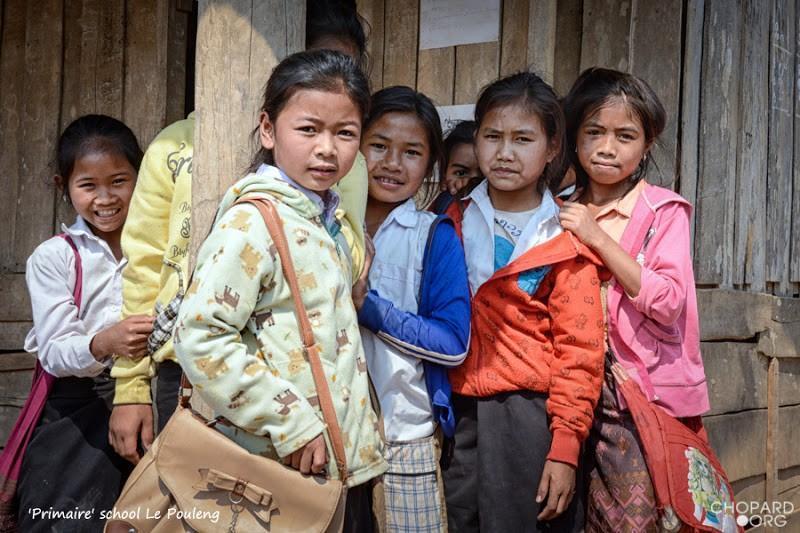 In Hongsa I checked in to Monica's 'Jumbo Guesthouse', a friendly family dwelling where I had already sojourned during my last trip [5]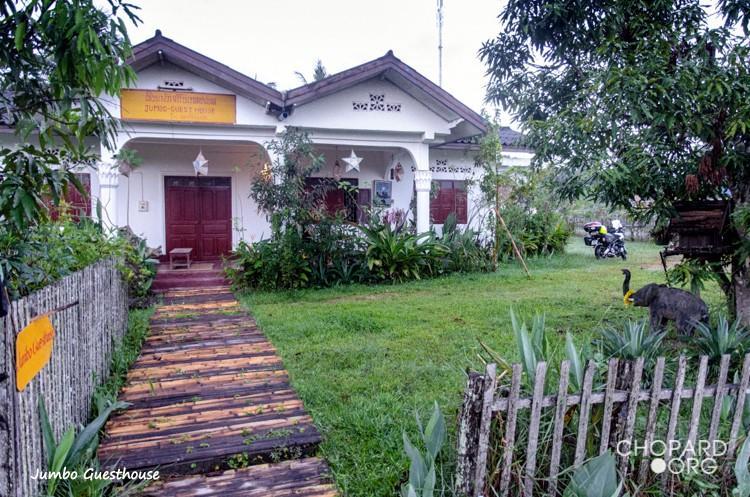 As I rambled around the city, in the afternoon, I got a panoramic view of the lignite power plant [6]. The contrast between a modern heavy industry and frail straw roofed shacks is dismaying. However, besides obvious environments concerns linked to this production, not everything is negative. As Monica [6] points out, progress has now reached the region's remote hamlets:
"The villages uphill like Huaylay, Ban Nam Khan, Kewsala and all the others are now electrified and some villages are now connected to better roads. They also benefit from the power plant as a huge employer around Hongsa. Wherever you go you see new houses – they have money. Even uphill you see now houses out of concrete with good roofs …"
Various interesting places are located on the city's north side. I rapidly visited again Ban Viengkeo, a the Tai Lue village known for its weavings; since the textile exhibition was not open, I drove back and stopped at an afternoon market.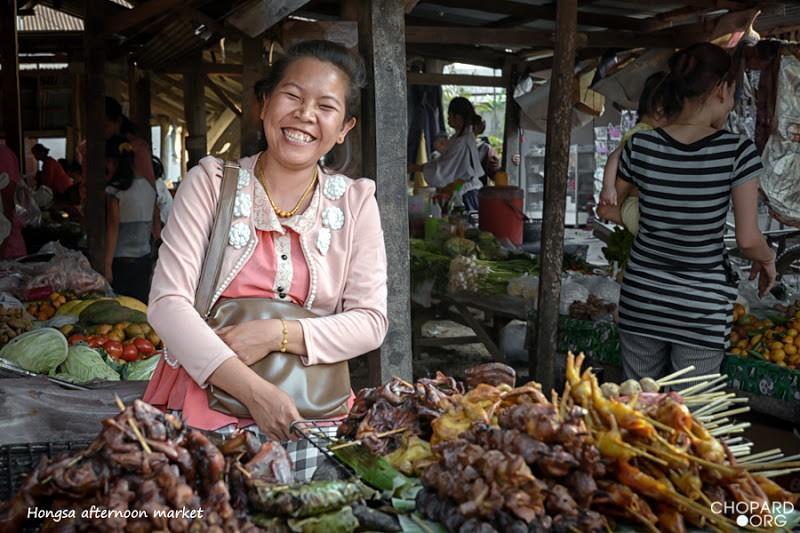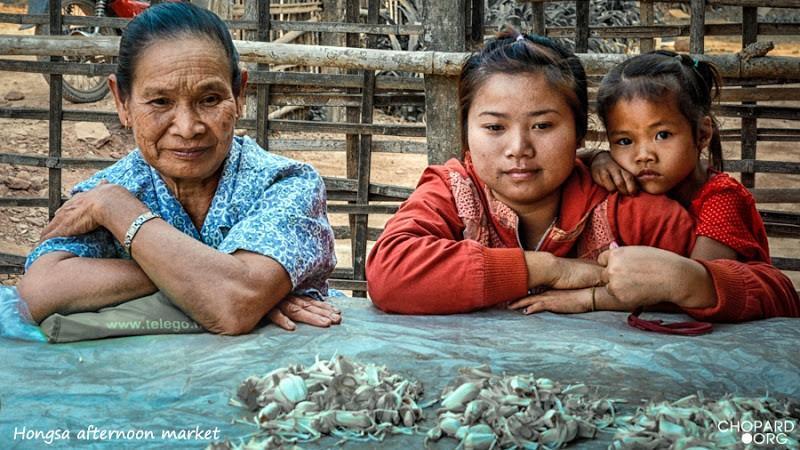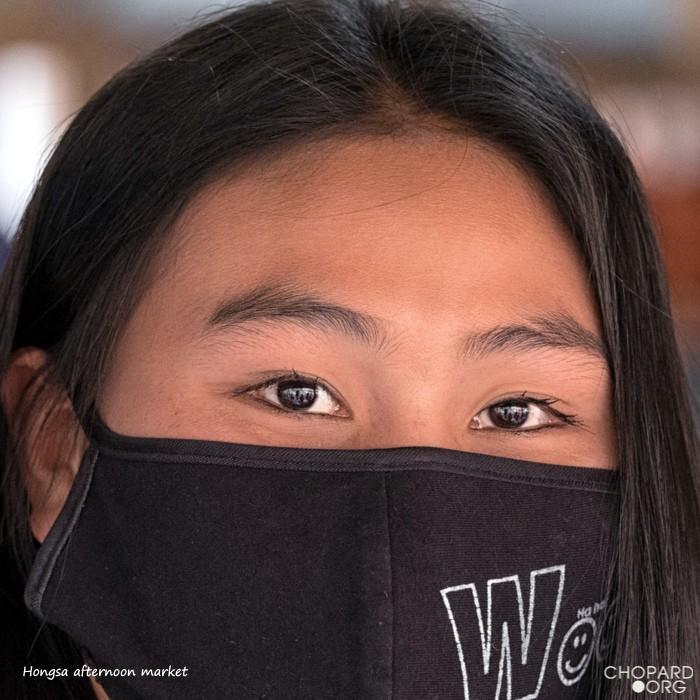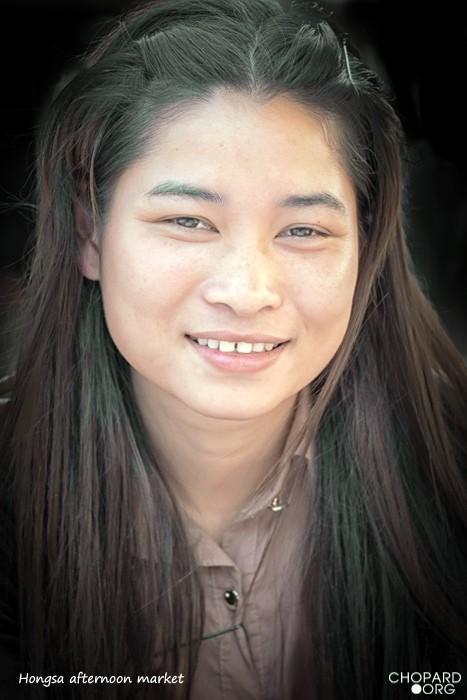 As kids drifted back from school, it was time for me to climb the small hill to That Lak Meuang Stupa. From there, a panoramic view overlooks rice fields colored by the sunset hues. The temple's silhouette, backlighted by the day's last shine provides a peaceful picture to close a pleasant day.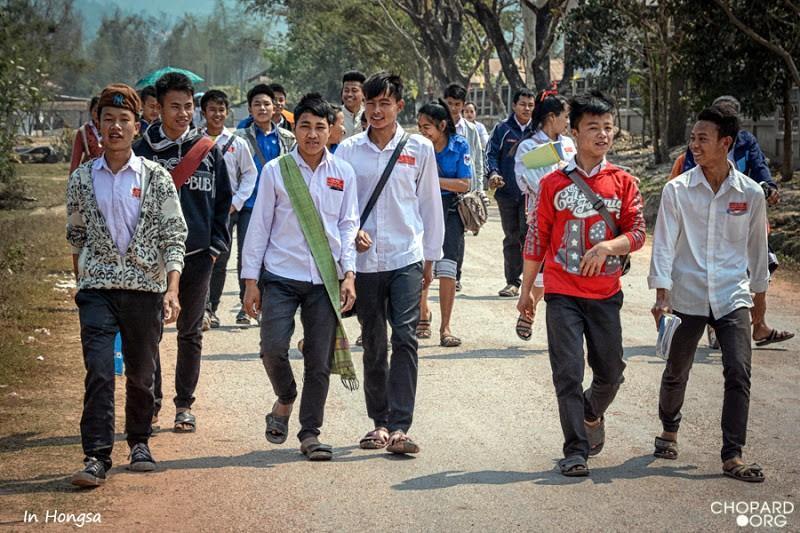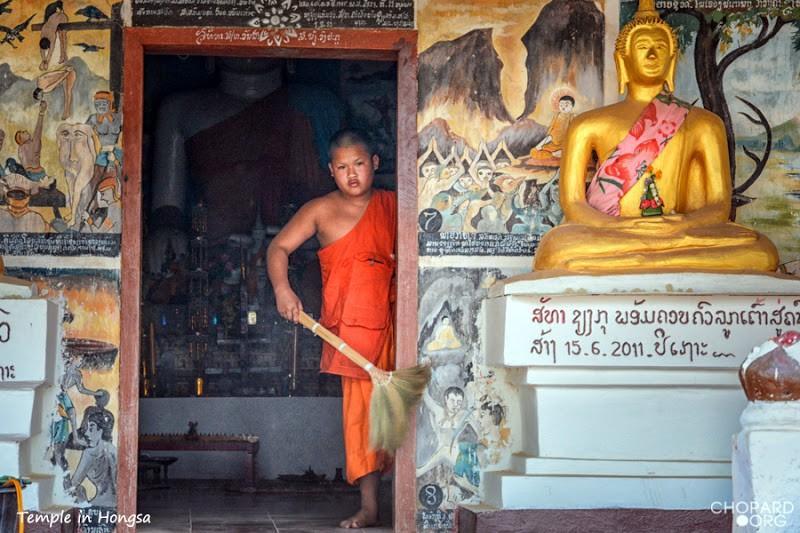 Together with other travelers, I spent the evening as a host at Monica's table. Some guests had traveled by motorcycle, some by bus and one couple had cruised up the Mekong, from Luang Prabang, disembarking at the Tha Suang pier before taking a tuk-tuk to Hongsa.
Early morning, before breakfast, it is worth to accompany Monica to the nearby fresh food market. I had already taken many pictures during my former visit and could recognize many vendors' faces. Despite their hectic selling chores, they glance in amazement - sometimes severe, sometimes smiling – toward a Farang visitor.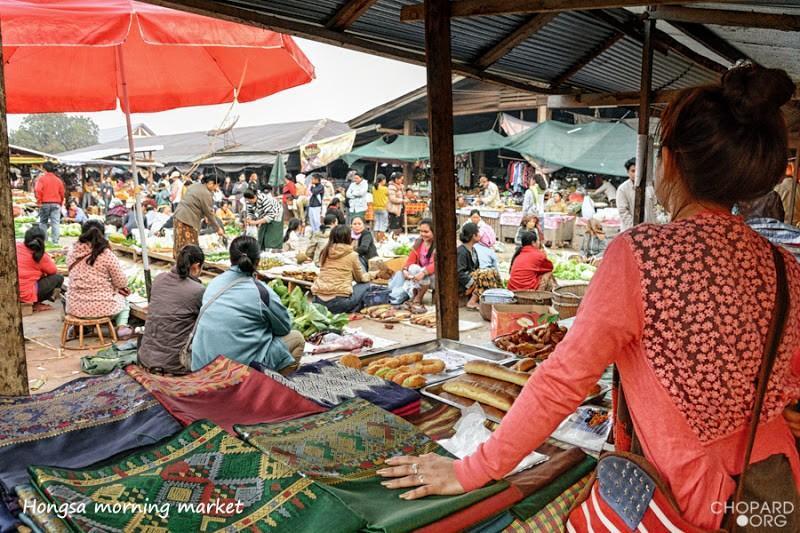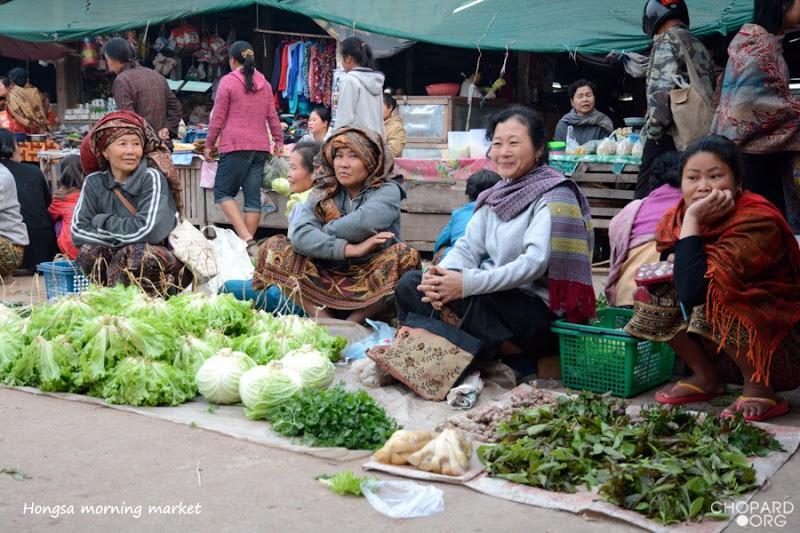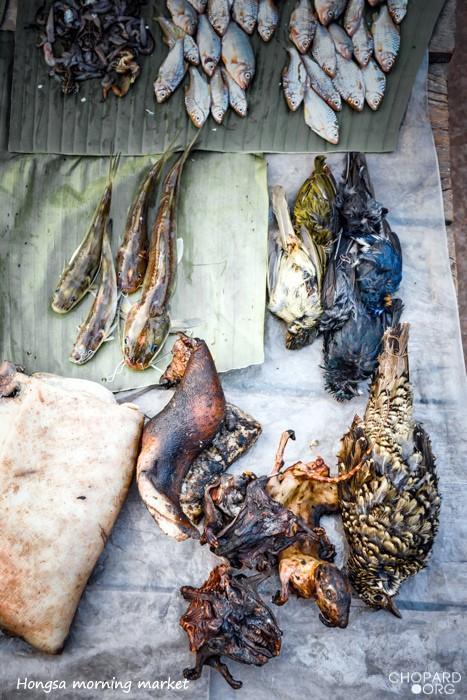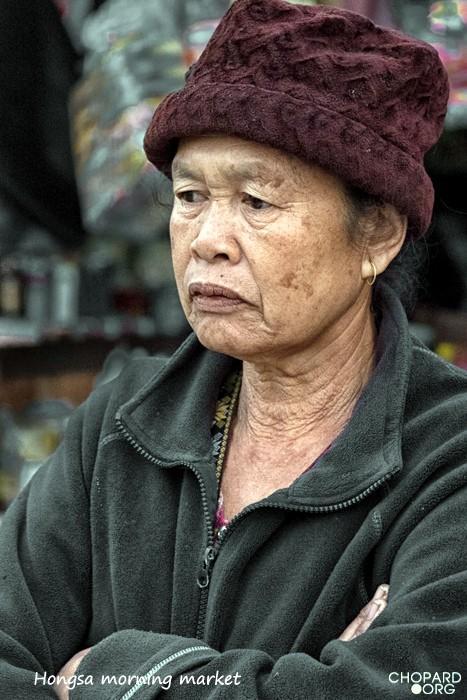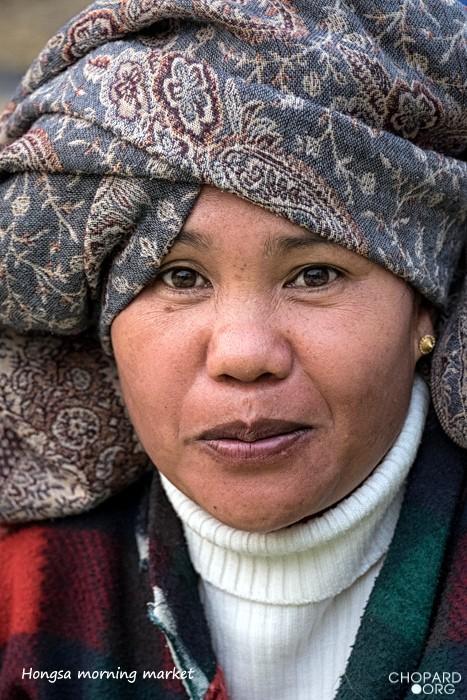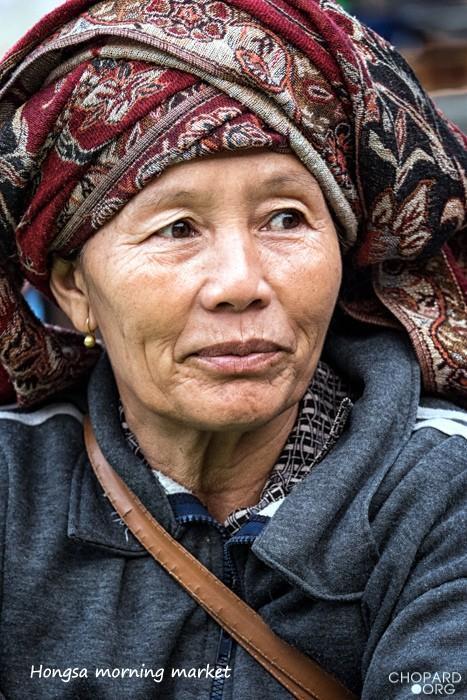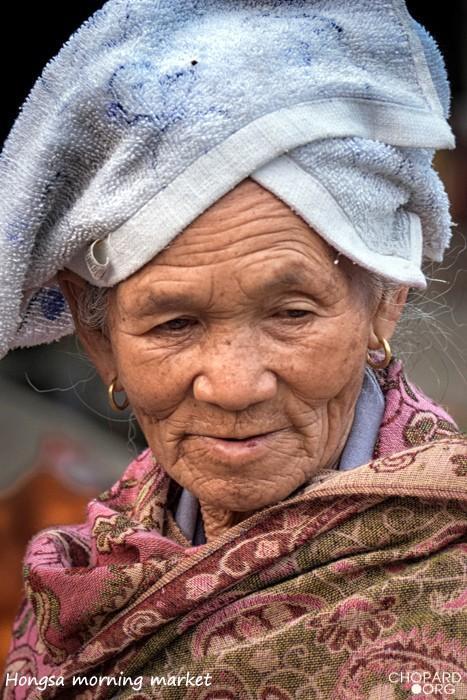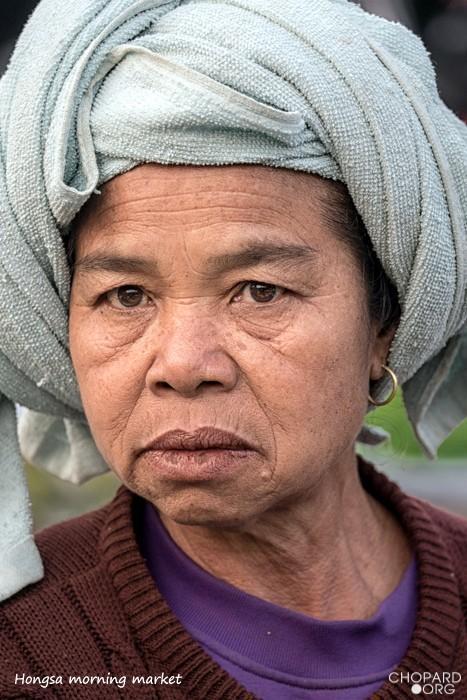 After breakfast, two large elephants appeared in Jumbo Guesthouse's garden. The impressive beasts dwarfed my - suddenly tiny – motorcycle. Two of Monica's guests had booked a two days tour, through rice fields and jungles to a remote village. Hongsa is recognized (second in the Lonely Planet listing) as one of the best place, worldwide, for elephants riding.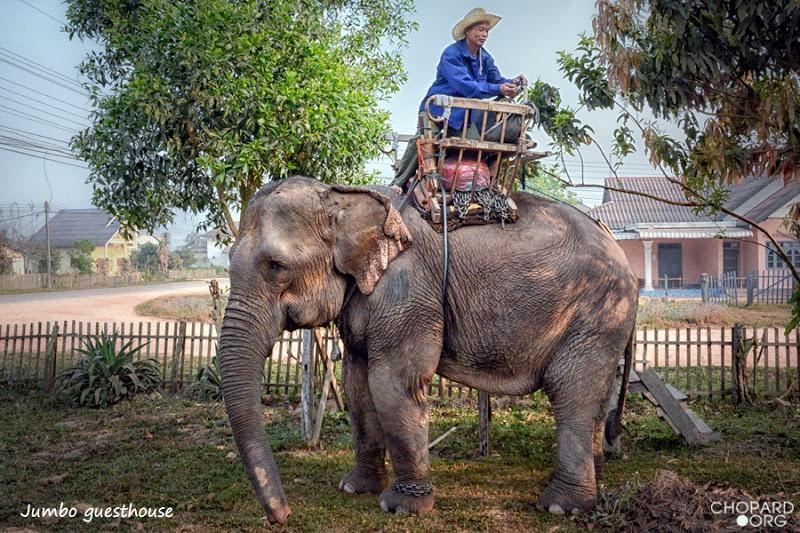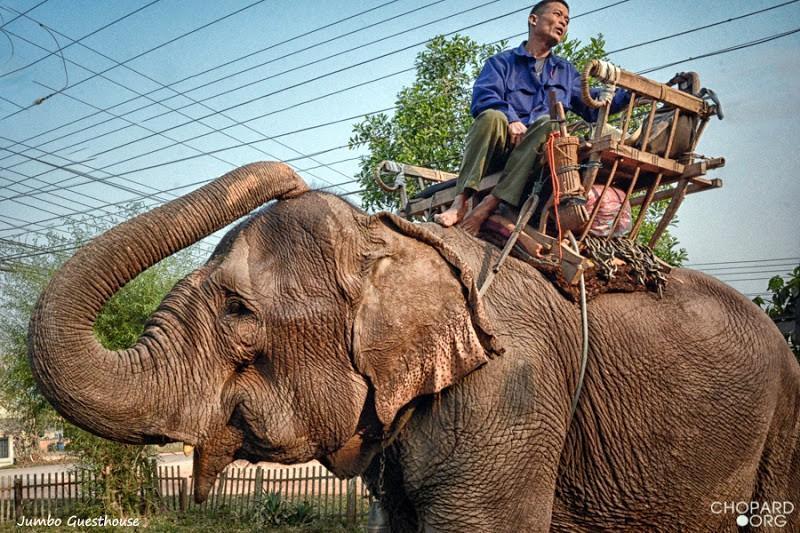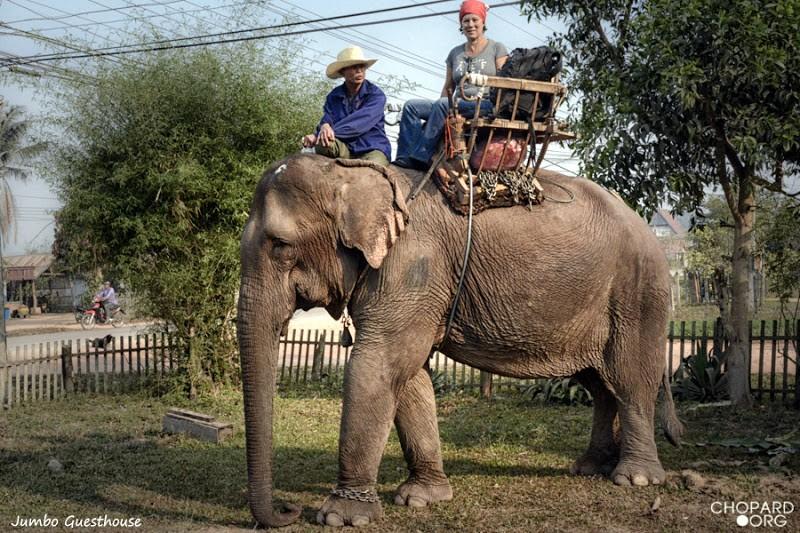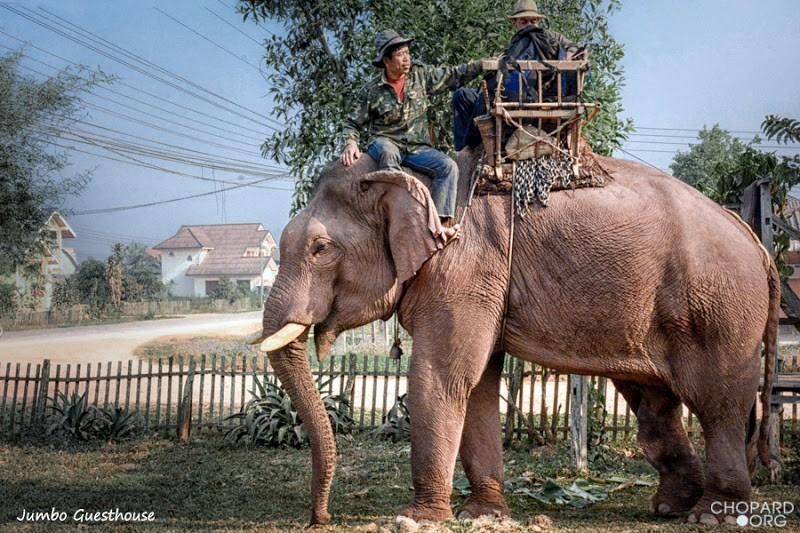 It was time for me to bid farewell to Monica and to take the newly build Route 4A's fork. This link cuts away from the power plant, which, however, still marks its massive presence on the horizon.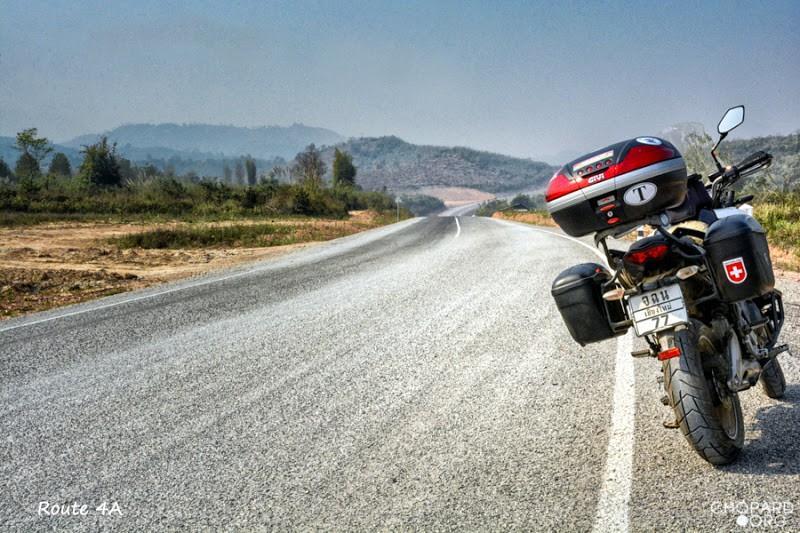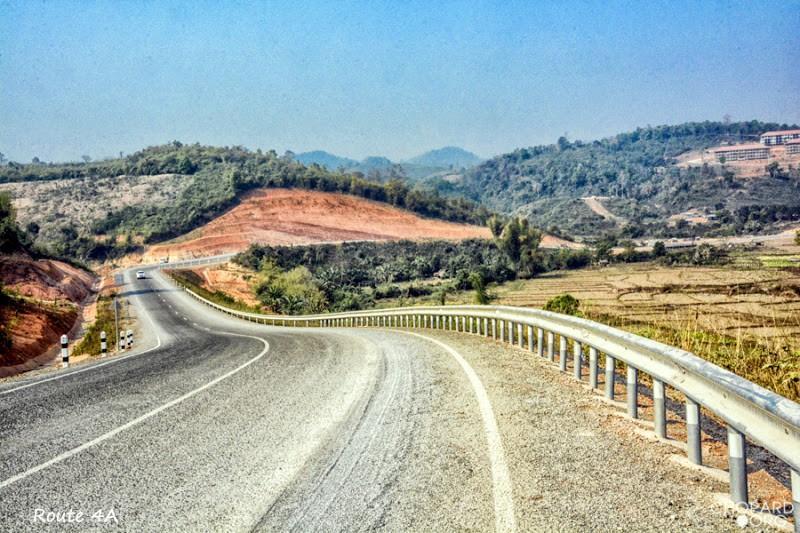 A couple of undulating curves, some smooth hills, a 'racing track' tarmac, soon Route 4A leads to the Lao-Thai border and to Nan province.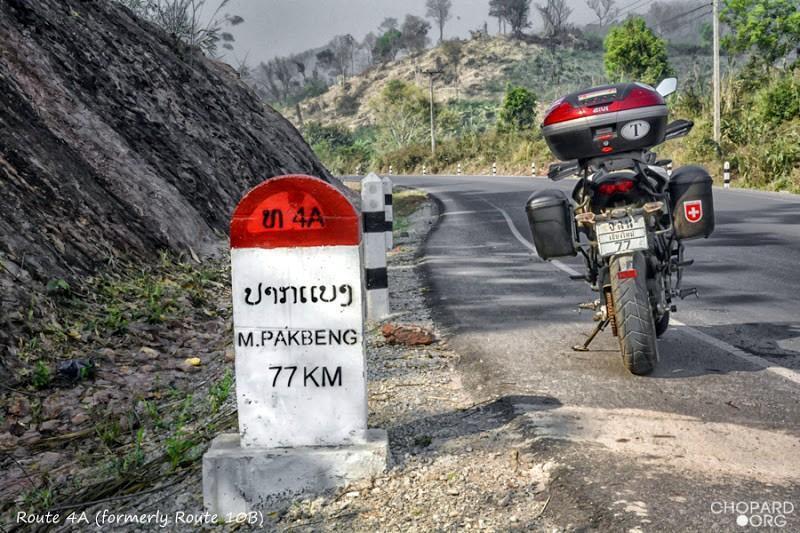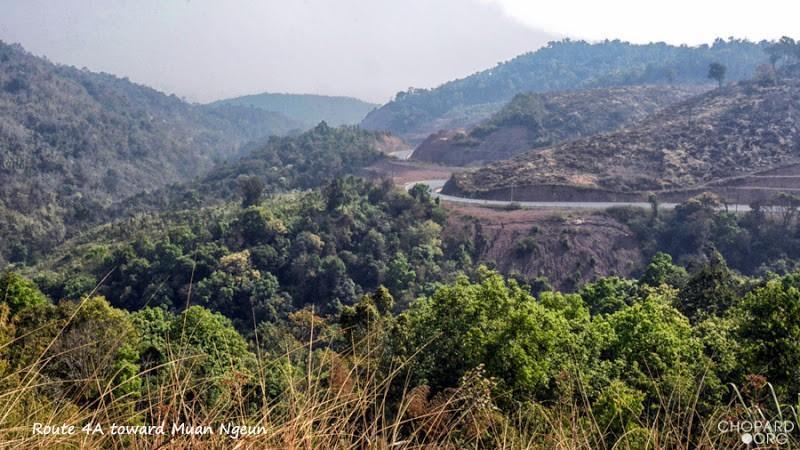 --------------------------------------------------
Notes:
[
1
] Xayaboury (I still use this old fashioned writing) should 'normally' be called Sayabouly, as there is no more 'R' letter in modern Laos alphabet, and because spelling Lao names with 'X', is a French legacy. Things are, however, not so obvious, the alternate spellings Sainyabuli, Xaignabouri, and Sayabouri exist. The US National Geospacial Intelligence Agency writes Xaignabouli and, on the Sayananh Hotel's leaflet I found Xayyaboury; these is probably not yet a comprehensive listing.
[
2
] Travels in the central parts of Indochina (Siam), Cambodia, and Laos, during the years 1858, 1859, and 1860
Henri Mouhot, Charles Mouhot
Murray publisher, 1864
In two volumes
[
3
] Travels on the Mekong
Cambodia, Laos and Yunnan
Louis de Carné
White Lotus , Bangkok 1995
[
4
] The Phai or Phrai, Prai, Phay, Pray, Khmu Prai, Kha Phay or even sometimes Htin are an Khmuic ethnic group found in Laos and Thailand. The people that I met during this trip told me that they are called Lua in Thailand. My further research did not totally confirm this; different ethnic groups seem to be covered by this designation. All, however, belong to the Mon-Khmer group, which comprehends the Khmuic family.
Phai people - Wikipedia, the free encyclopedia
[
5
] Jumbo Guesthouse:
Monica Domeij-Gaul:
http://www.lotuselephant.com/Jumbo_G...UESTHOUSE.html
Jumbo Guesthouse in Hongsa Lao PDR
Jumbo tours:
Best places to see elephants (up close) - Best in Travel 2013 - Lonely Planet
WELCOME TO JUMBO GUESTHOUSE
[
6
] Monica's Pi Mai message, (Facebook and email, 11 April 2014)
Last edited by a moderator: