My friend Joe was in America, and wanted to come over for some riding. We have done
many rides together in the past. The idea was to do a loop up over to Laos, back to
Thailand, drop down to Cambodia, then back to Thailand. I was riding a 1983 MTX 200
which I restored last year. It is a two stroke with lots of power..... To leave on this trip,
I never touched the bike to get it ready. I just strapped on a bag, and took off....So first
segment for me was a non stop ride of 900 kilometers from Pattaya to Chiang Mai where
I would meet Joe. He is riding his XR 250. A rest stop along the way. And yes, there are
a lot more straps underneath the rain cover holding the bag onto the bike..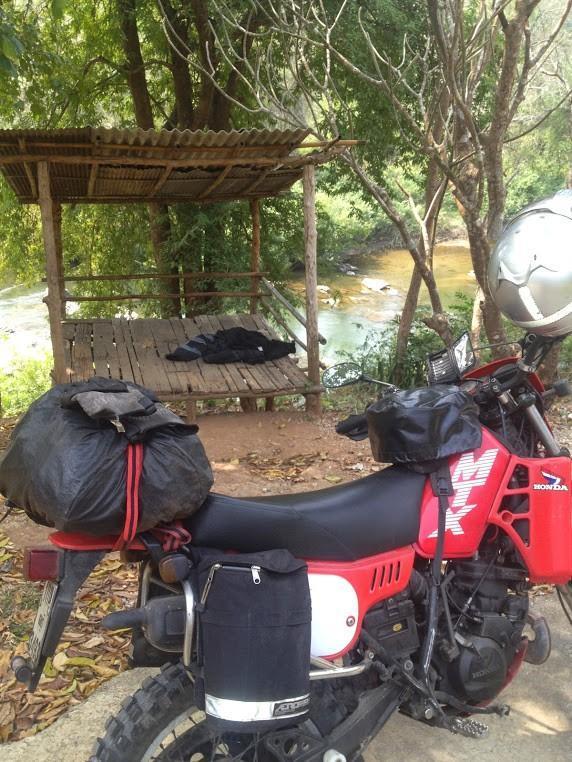 Getting near to Chiang Mai, there is a sort of pass which has a lot of little statues and
spirit houses for good luck. No idea why there are zebras in the mix.......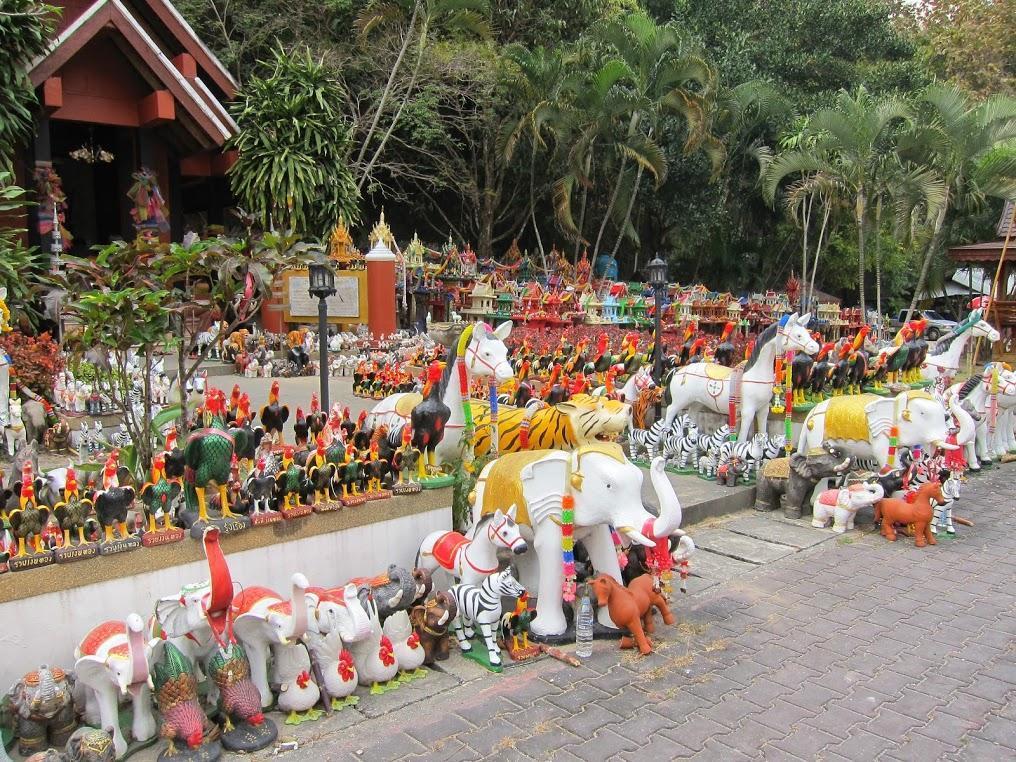 A few days in Chiang Mai catching up with old friends, and then off to Laos. A
pretty painless border crossing at the one north of Nan , and then head for
Luang Prabang the same day. We elected to take the shorter dirt cross over road
near to Hongsa. Met a fellow Canadian motorcycle traveler on one of those toy
KSR 110 bikes with little wheels. The last time I was on the road it was pretty
good, and I was on a fully loaded Africa Twin at the time. So near the turn off
the guy asked me about the short cut. I said it was a good road. Now remember
he is asking this question of two guys that are on serious dirt bikes......Anyway the
road was pretty bad from zero maintenance. A piece of cake for us however... Along
the way, Joe on an easy stream crossing.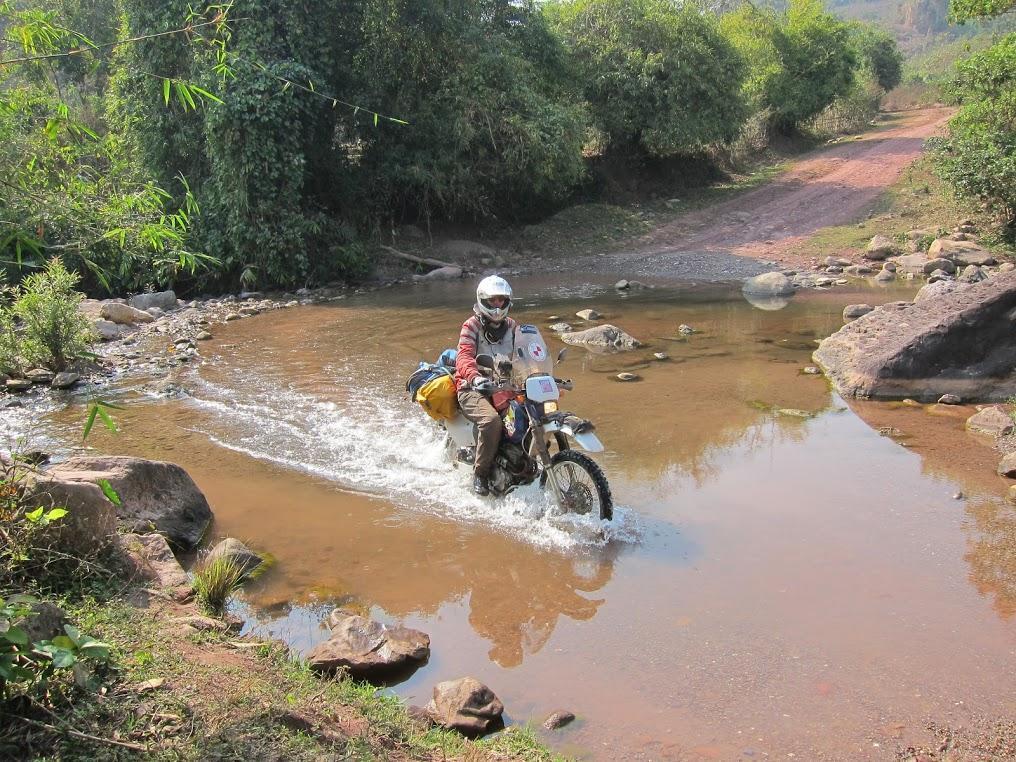 Finally reach the ferry crossing to Luang Prabang. Just as the ferry is about to leave,
amazingly enough the guy on the KRS rolls up. He must have been hammering to be
able to catch us... I asked him what he thought of the road. He was really pissed off,
and told me in an angry tone I had done three years of wear and tear on his bike
from that road. So I guess no more free road travel advice from me....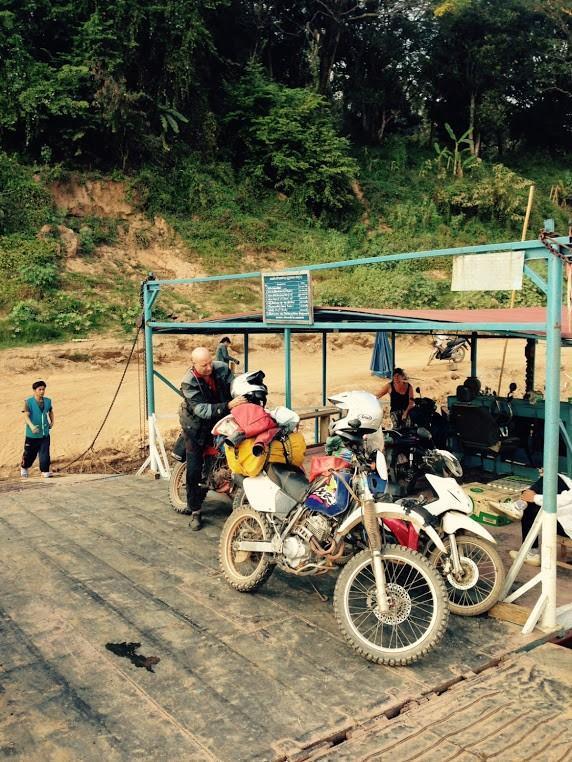 One night in Luang Prabang, then off to Phonsavan for the next night. Next day,
the windy road to Xam Nua. Keep tight to your side of the road, as the local vehicles
swing wide into your lane. I knew that, and still had a few close calls... Got into
there in the afternoon so had time to shoot up to the Pathet Lao cave area. This is
where the Laos revolutionary government hid from American bombing. A very pretty area.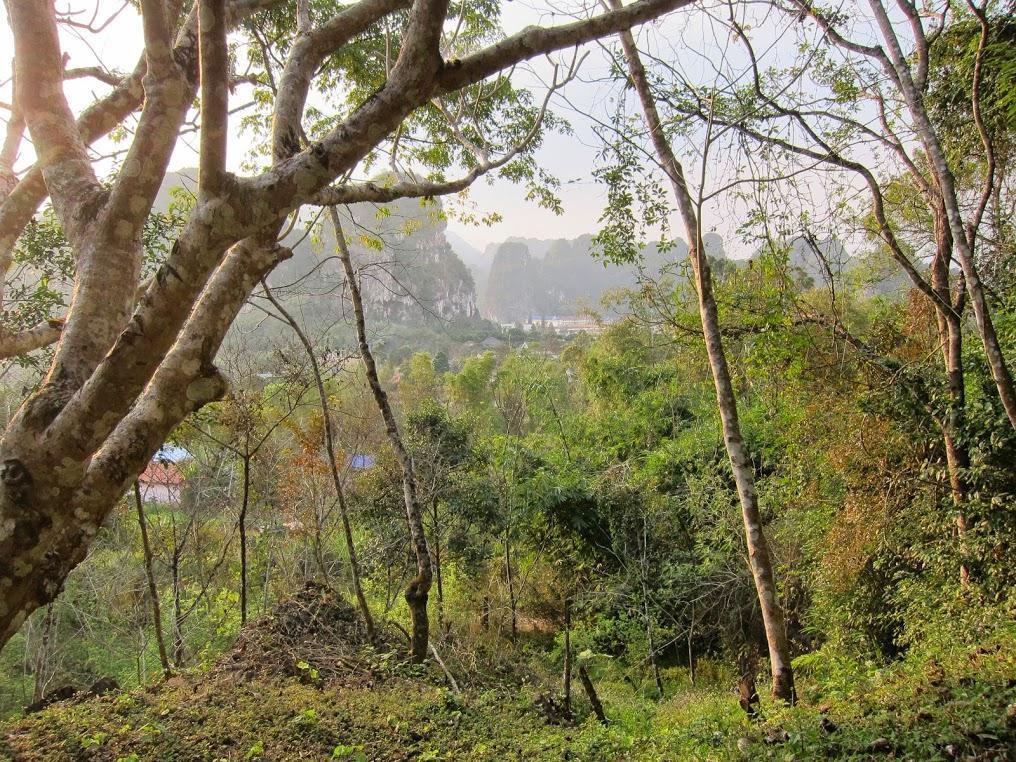 The house for the leader. They would stay in the houses, and when the bombs started
dropping they would run into the caves. The house of course was right next to the cave
entrance. There was a period of intense bombing where they stayed in the caves for an
extended time.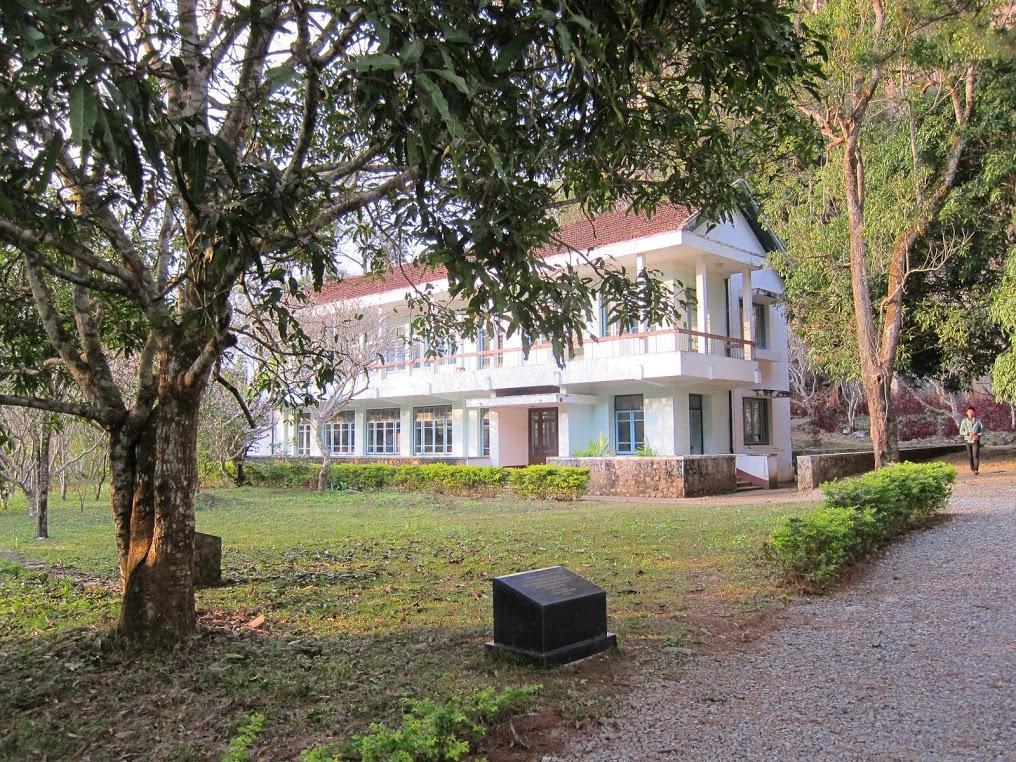 Inside the caves. A sealed door with an air pump pulling through a filter in case of a
chemical attack.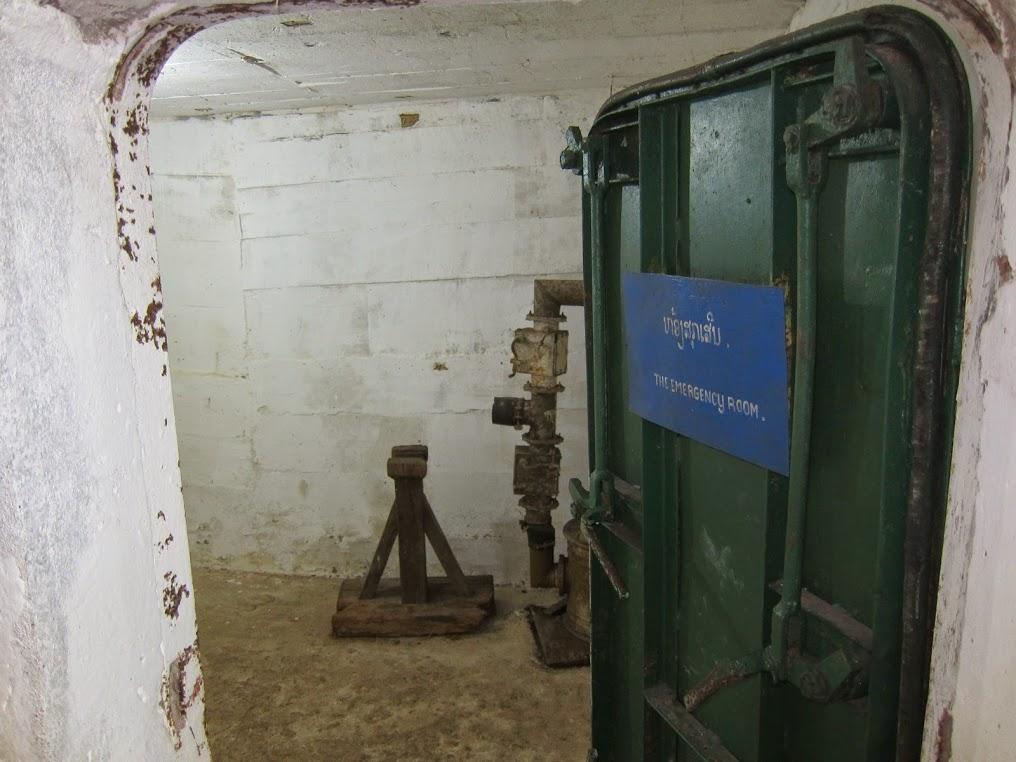 A pretty serious blast wall protecting the entrance to one of the caves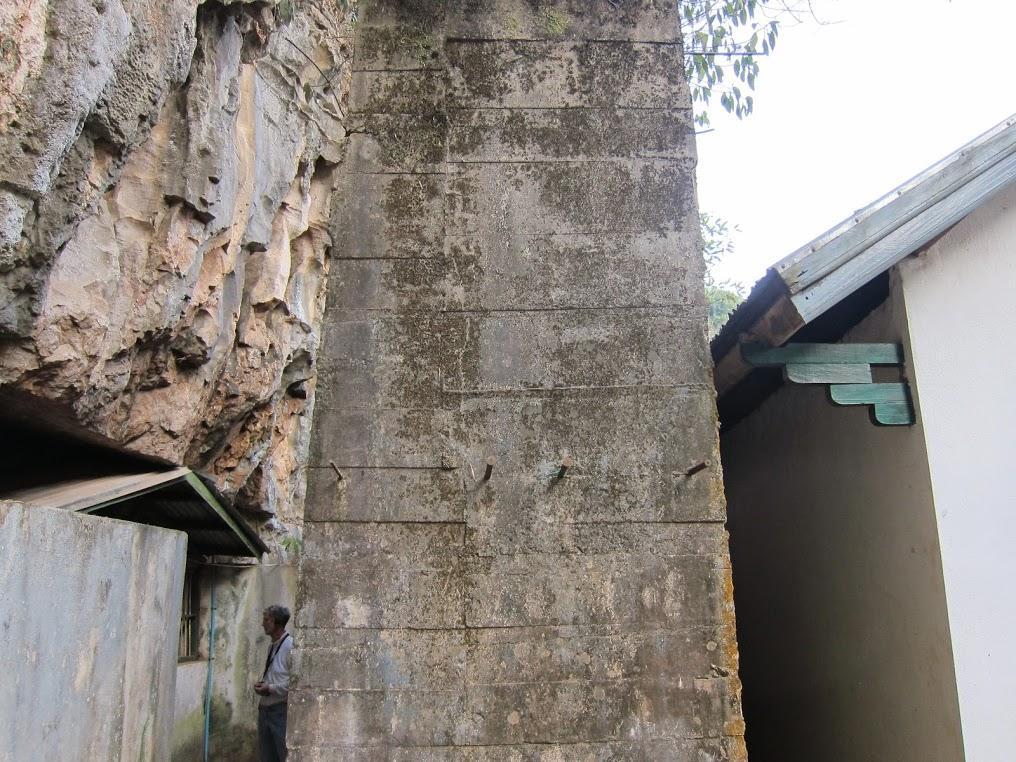 Here is a position where an anti aircraft gun was placed. The black is the gunpowder
residue. It is a steep climb up from the cave.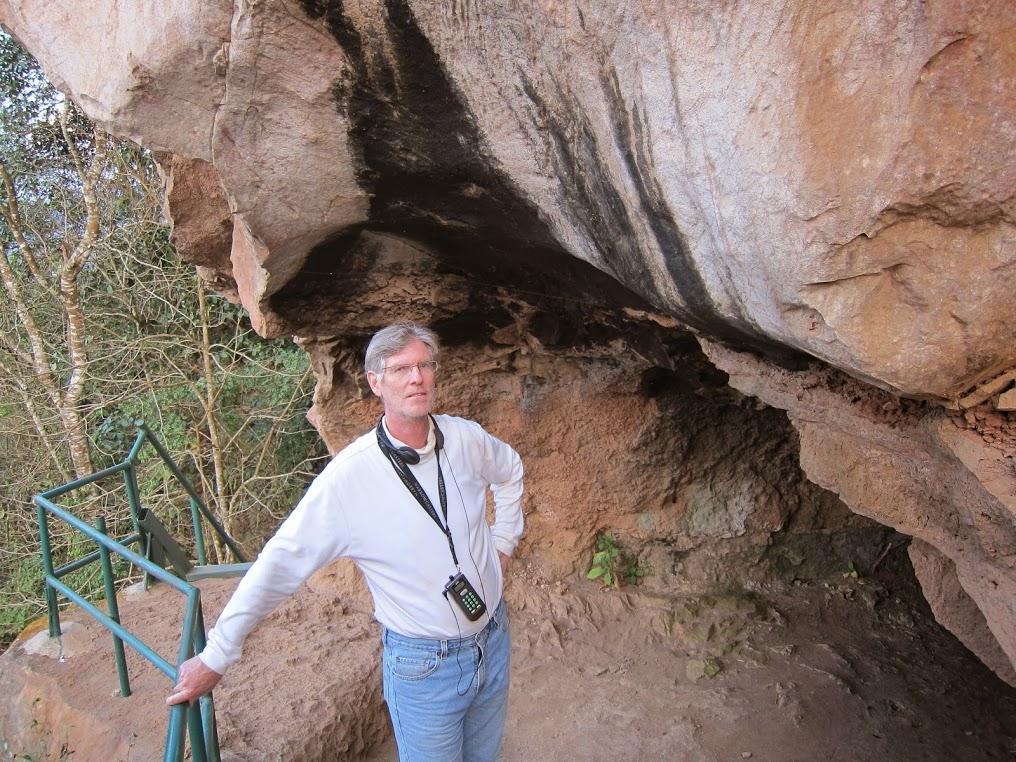 A Russian vehicle. Think it was amphibious , but would not stake my life on it...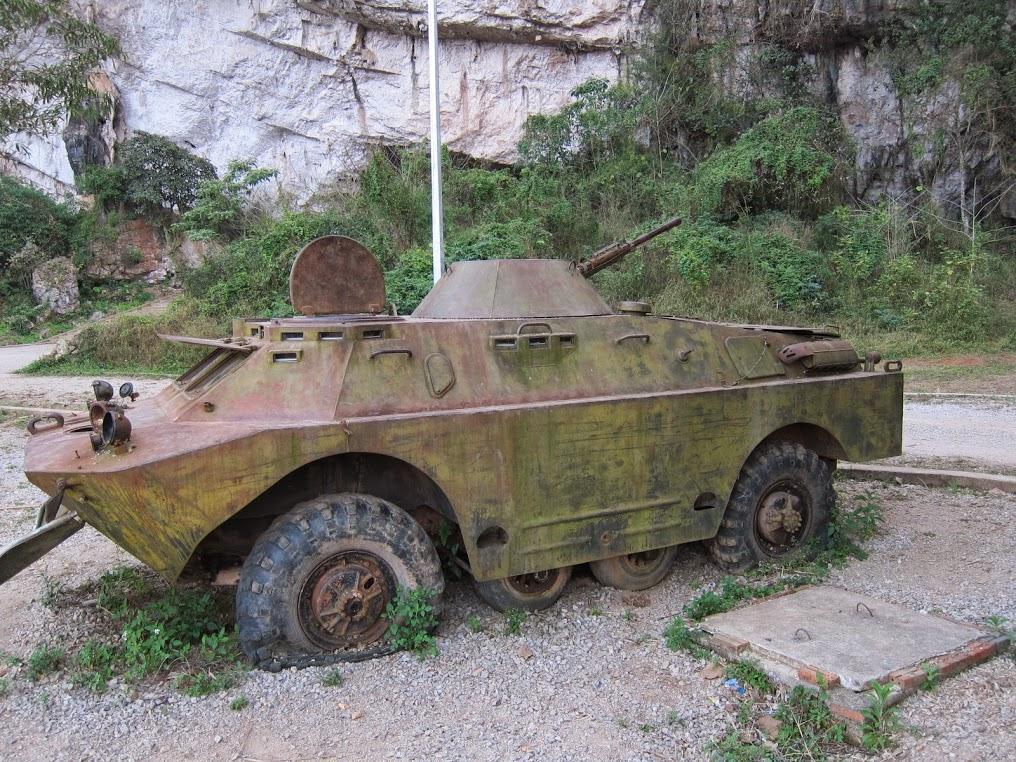 Next morning we departed in the dark at 6:00 AM to head up towards Lima site 85 .
A fascinating part of the Vietnam war.
http://en.wikipedia.org/wiki/Battle_of_Lima_Site_85
It used to be a really nice road that sort of wandered through the jungle. Now it is a
massive road construction project. Have no idea why, as the road basically goes to nowhere...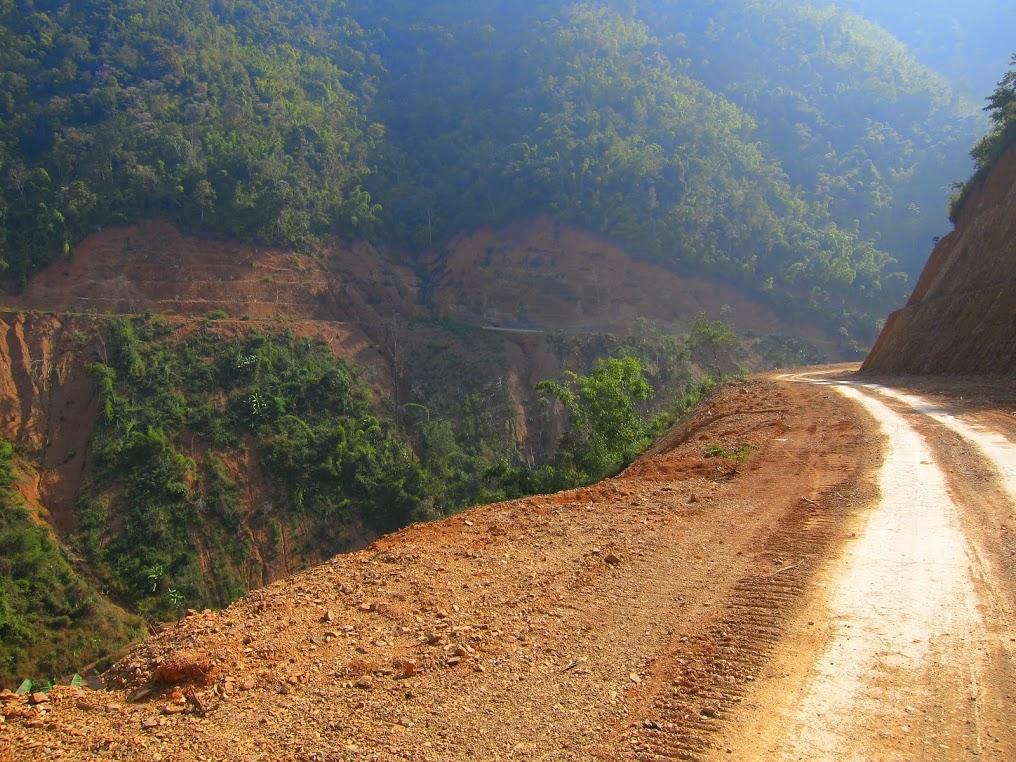 Contractor was doing some blasting along the way. Blasting times were posted ,
but we still paid attention to any possible work occurring above the road...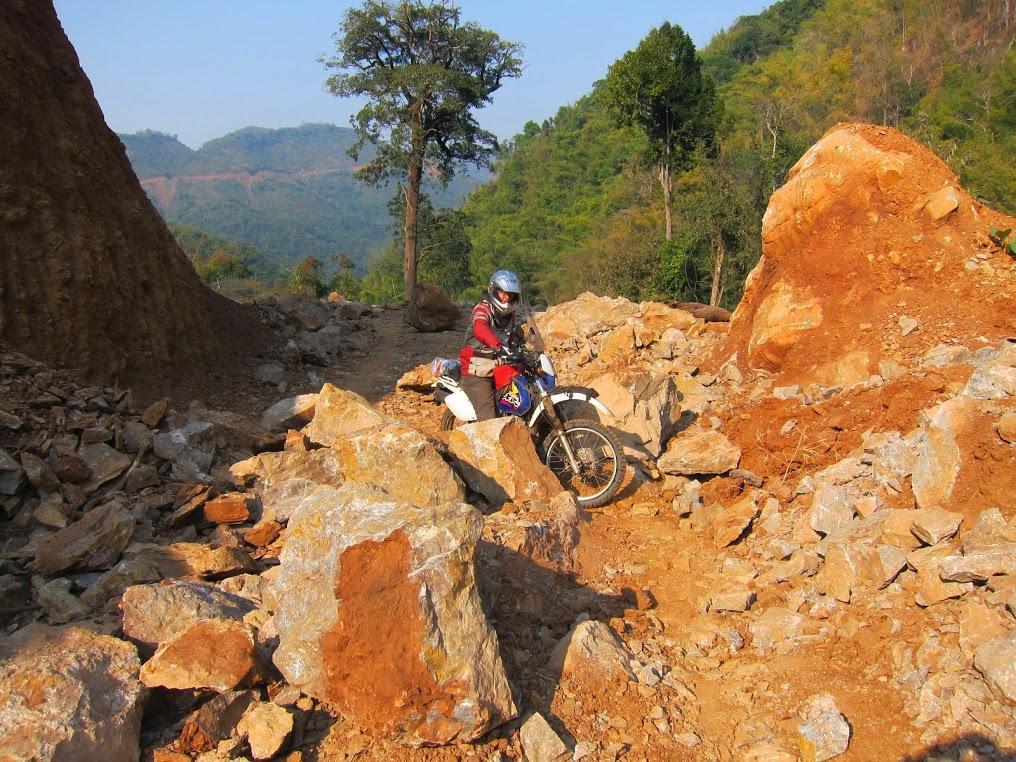 As we get near, you can now see Lima 85 in the distance. You can clearly see
why America picked this site to place a radar for directing bombing runs into Hanoi .
It is naturally nearly impregnable. When the Vietnamese attacked it, they had to
cut their own path up.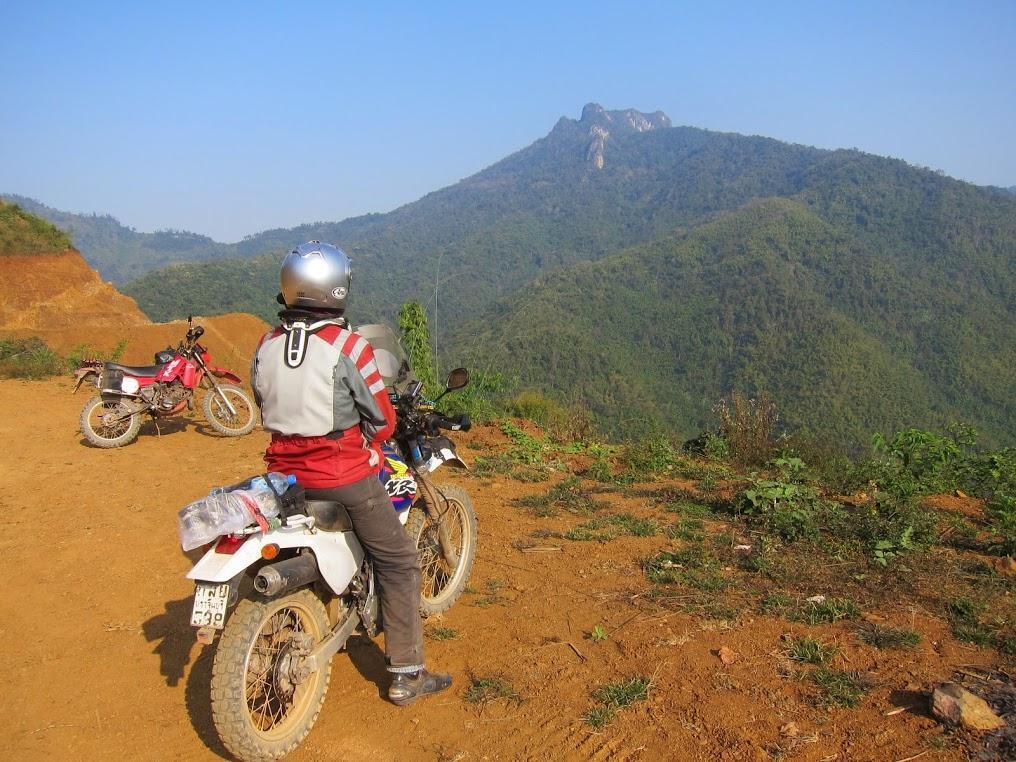 Getting near to Houyma, an easy water crossing.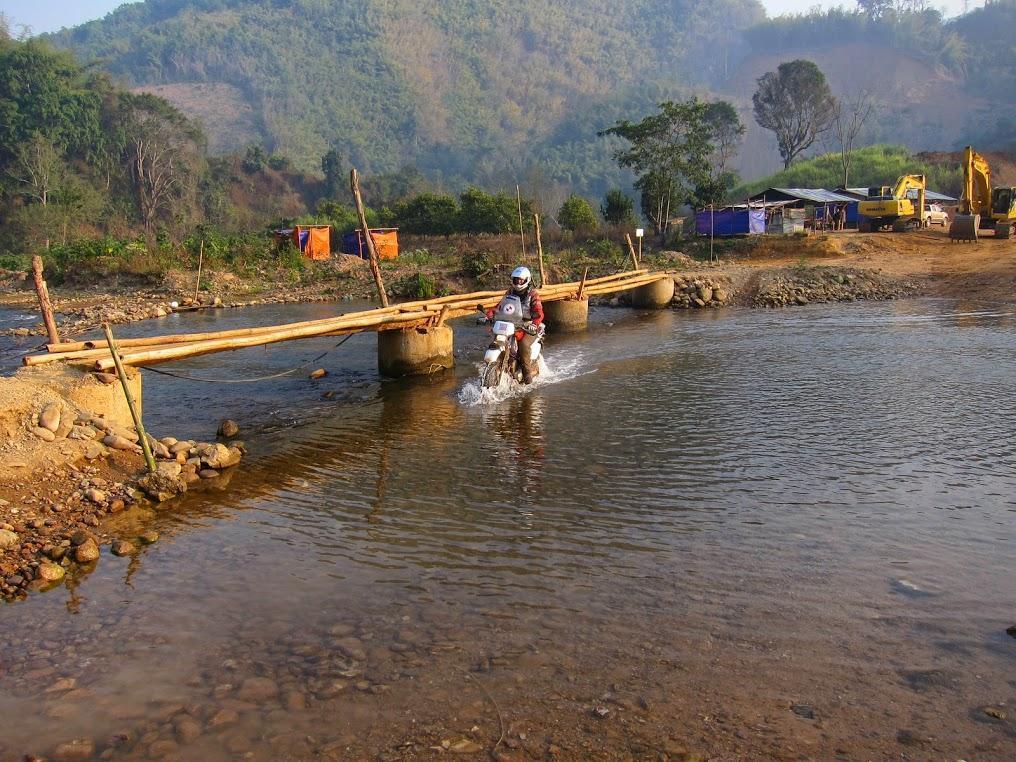 This is the fork at Houyma. The left fork goes a few hundred meters into Houyma.
The right fork goes towards Pathi which is at the base of Lima 85. However you
cannot go.....A few hundred meters up the right fork is a pretty serious
military camp. Another trip we went that way, and were questioned and detained
for several hours. Nobody knows what the camp is protecting. Am guessing either
opium growing or illegal logging.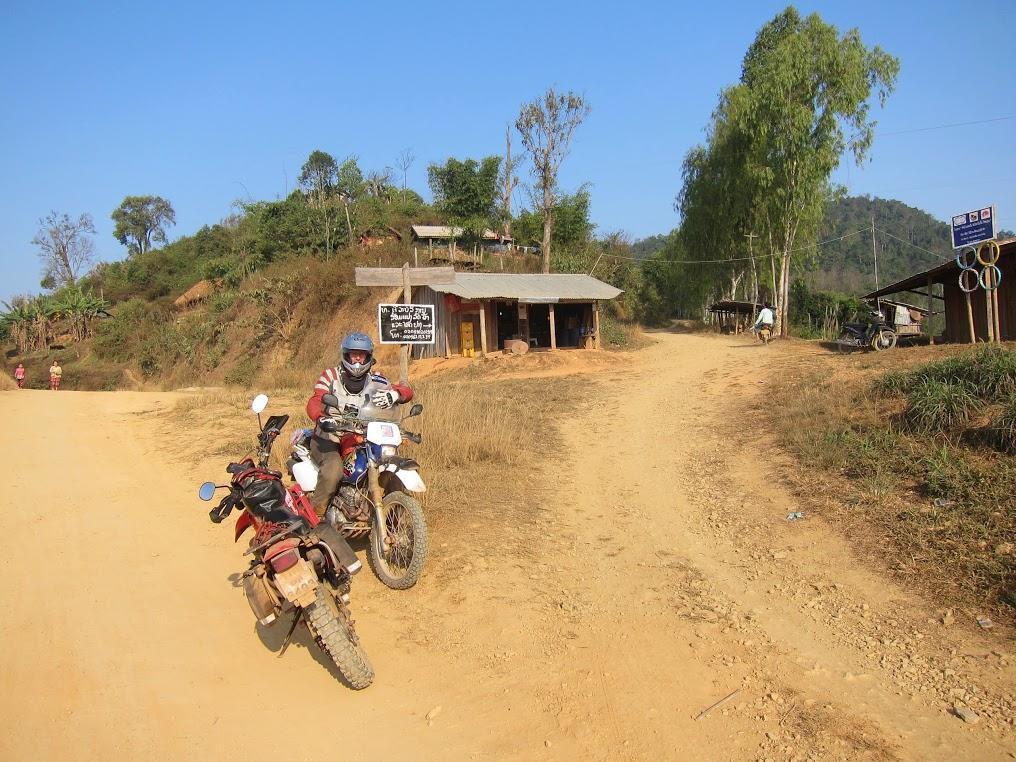 So next day, back to Phonsavan. Then over to Vang Vieng. This is an absolute
mandatory stop on the Asia backpacker trail. It used to be pretty nice, but now is
just jammed with people. Sort of a shame, as it is a really pretty area.
Next morning wheels rolling at 5:30 in the morning, as our goal was to reach the
fabled site of Lima 20. It was pitch dark, the headlights on our bikes were crap,
there was fog, and to add to the fun, a lot of dust thrown up by the trucks. Made for
a really nasty ride until the sun finally showed up.
Lima 20 was the main base for CIA operations in Laos. At its peak 50,000 people
lived there, and it was one of the busiest airports in the world. It has always been
absolutely off limits to outside people, and well guarded. We had tried
in the past to get there from the northern access but were questioned and turned
back. Now apparently the governor of the area has opened it up, and you can ride
right in !! More information here on Lima 20.
http://www.nationmultimedia.com/life/The-CIAs-secret-city-30202107.html
So the dark/dust/fog morning ride road , we cut off the main highway and head east
towards Xaysomboun. A lot of dams are being built so the road is pretty good. So a bit
before Xaysomboun we take the cutoff road that head towards north towards Long
Cheng, which is where Lima 20 is located. On the way in, road is pretty good due to
mining activities in the area. Never thought I would lay eyes on this sign....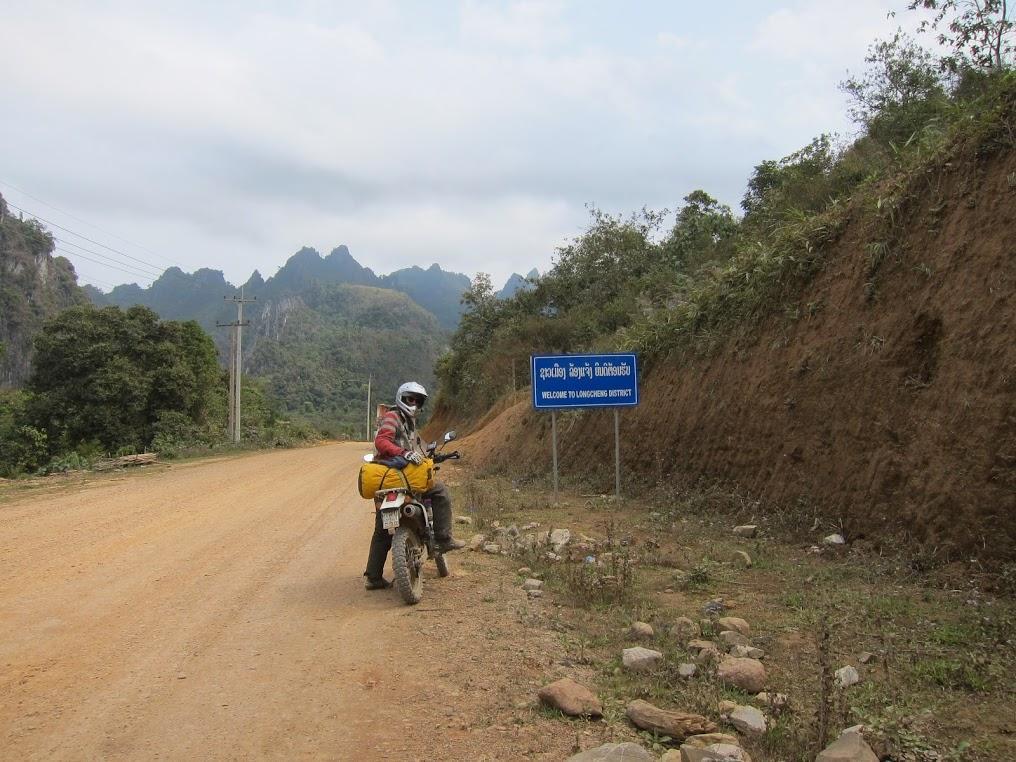 About 15 kilometers before the base , trouble starts...
Due to the road construction, the road has a lot of bull dust on it. Then that morning
was a heavy rain. It made for one of the nastiest road surfaces I have ever ridden on.
Sort of like trying to stay upright on gooey ice.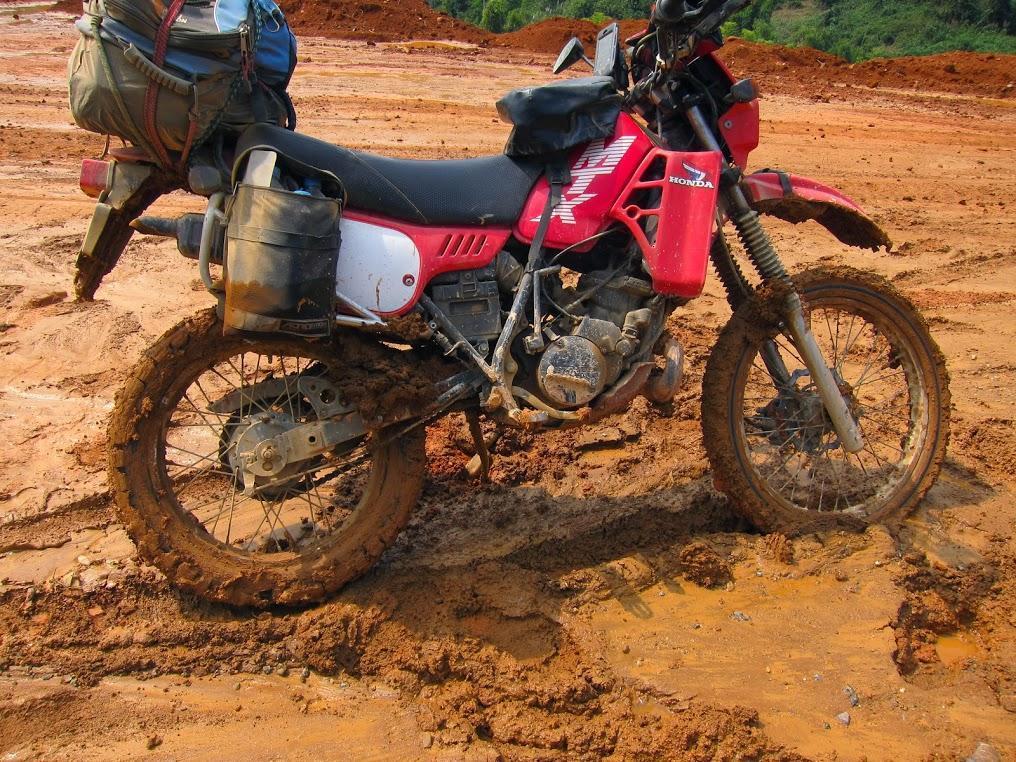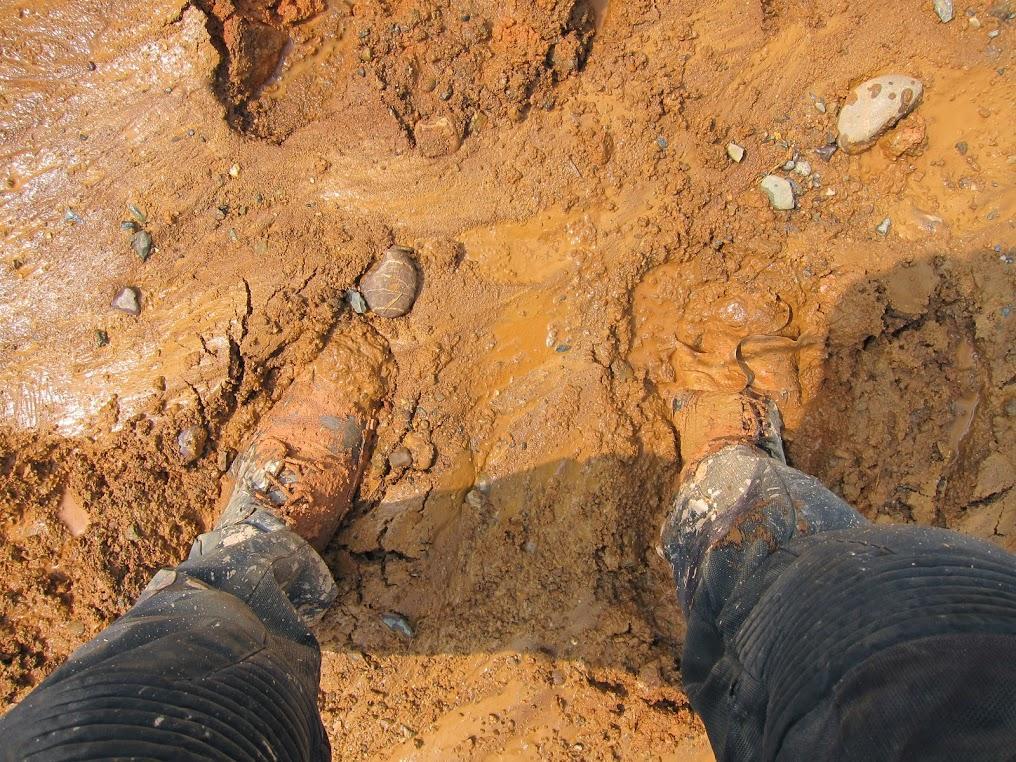 Sliding sideways on a very slight decline. Supposed to be heading to the right...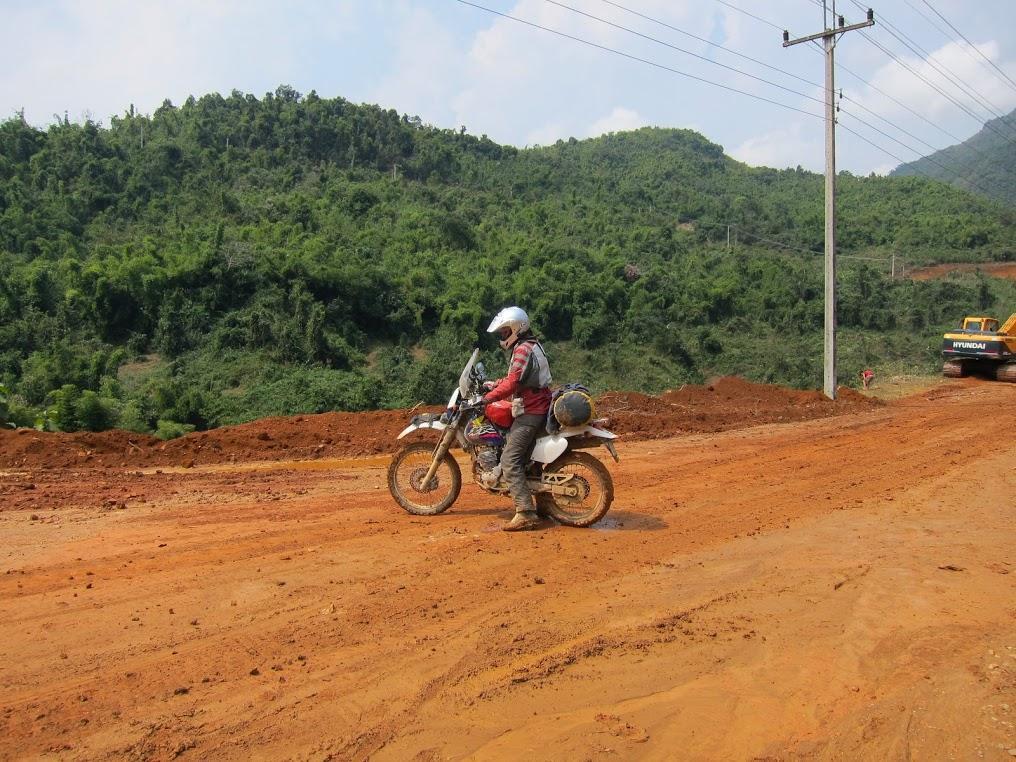 The mud was a bit sticky. It jammed up the rear wheel, had to find a stick and poke
the mud out to allow the wheel to spin.
You can see the knobs are not really doing a whole lot of good...
Adventure footwear... My riding boots had died from excessive water immersion
from a previous jungle ride. Not easy to find size 14 riding boots in Asia, so just
took a pair of leather shoes. Was not really planning on doing any hardcore offroad. :-(
So here you see their death, hastened by the muddy road from hell. I threw them away,
and rode the entire rest of the trip in open sandals.
Finally myself and Joe standing on the runway at Lima 20. At last !!!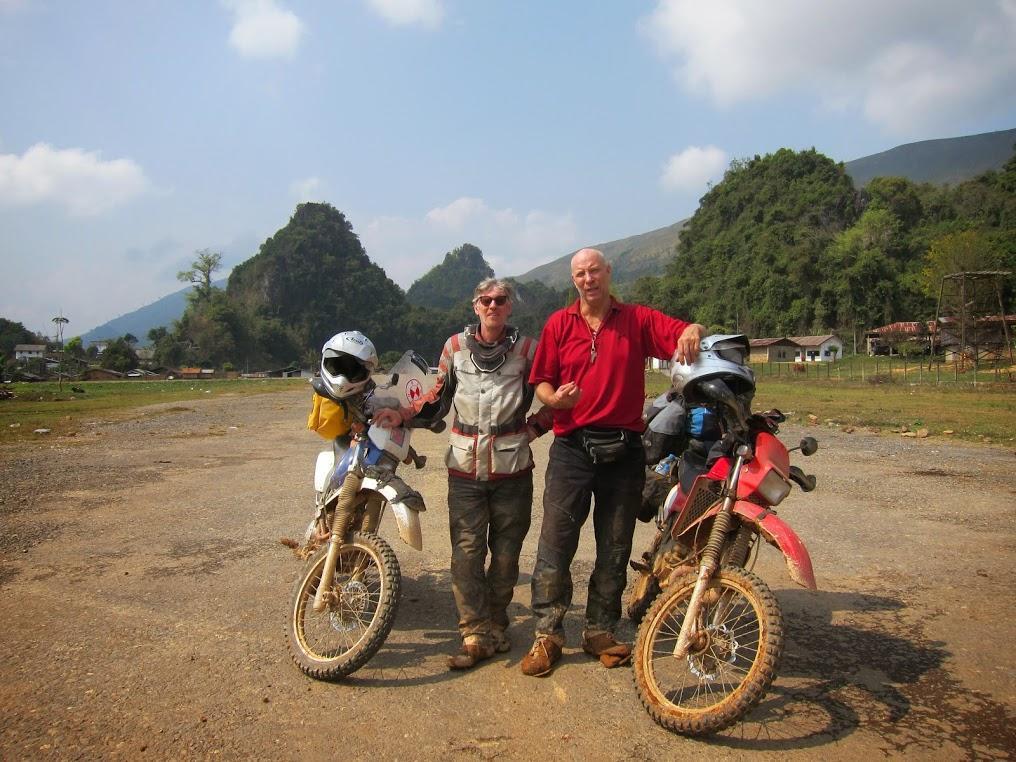 As we certainly did not want to go back the same way, we opted to head north to
Phonsavan on the other entrance to the base. While at the base, some very friendly
military guys came over and wanted us to go to their office with them. So they just
asked a few questions , took down our passport information, and wished us good luck
on our trip.
Here on the road north. You can just see the backs of the two small peaks that are
at the end of the runway. The peaks were referred to as vertical speed brakes.....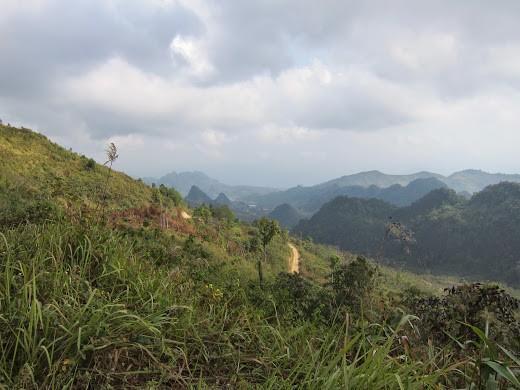 So back to Phonsavan just beating darkness. I was completely trashed, just fell into
bed and zombied out......The next day was a long ride to Vientiane. Joe was on a
short vacation, so we were blasting along. The following day rode to Surin in southeast
Thailand. Then crossed the border into Cambodia, planning on a one day ride to
Phnom Penh. Turned out there was a 100 kilometer road project which made for a
hellish ride. On a narrow part of a construction bypass road, a car came straight at me.
I just missed by inches crashing off the road as I was forced up on a loose dirt berm.
A great meal in Phnom Penh, and then onto Sihanoukville . One night there, and then a
quick blast back home to Pattaya. Joe then flew out the next day.
Overall a great trip. Total distance for me was about 5000 kilometers, all done on a
two stroke dirt bike. The bike is a 32 year old antique, and it performed flawlessly the
entire trip. If it failed to start on the first kick, it was because I had left the kill switch
in the off position .
A tip of the hat to Brian and Oddvar who got in here first without being " connected".
I know that Auke has been here before because he knew some people. Pretty cool
now to be able to just rock in by yourself. It is a long way to go if
you are turned back, so their success in getting in gave us the courage to give it a try.
At this point I think anyone can just ride in. As long timers know, things in Asia can
change by the week. So if you want to go, would do it soon in case things change.
Also in case you want to go, the north entrance is no longer guarded as well. So an easier
trip would be to come in from that direction. A pretty good dirt road, with a lot of the
section on the Phonsavan side already " improved " to being an excellent fast road.
A few little steep sections with loose rocks, so don't plan on taking your loaded up
street bike unless you have big balls...