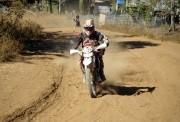 Mar 30, 2010
2,139
278
83
Hi Fellas,
Mike, Frank and myself went for a bit of a romp at Bo Din a couple of weekends back.
Just remembered we have a few snaps. Looking forward to the dry season and firm ground.
Fun day but it really is like a bog a Bo Din. When the bike got stuck in the mud, even three of us couldn't lift it out..
Had to get the bike on its side and pull it over to a firmer bit of ground.
At some stages we were up past our knees in this stuff..
All good fun...
The challenge
Time for a soapy at the end of the day ;-)