0
Staff member
Subscribed
Jan 16, 2003
13,762
4,724
113
69
RIDERS & BIKES
1. The SEO guy & Kawasaki Vulcan 400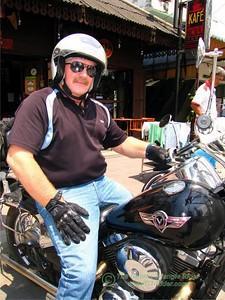 2. David Unk & Honda Africa Twin 750.
Why: for a visa run, plus a ride along the Laos border.
THE WAY
Chiang Mai – Chiang Rai - Mae Sai. Routes 118 - 1
Mae Sai – Golden Triangle – Chiang Saen – Chiang Khong – Phu Chi Fah – Thoeng – Chiang Rai. Routes 1290-1129-1020-1155-4029-1093-1020
Chiang Rai – Chiang Mai. Routes 1-118.
THE WEATHER
Heavy overcast / cool / humid / tropical.
DATES
Friday 9th May – Sunday 11th May 2008.
HOW IT WENT
Got away from the Kafe at leisurely 11.00 am, but not before spying Mrs. Mechanic's niece sporting a GT rider shirt. Miss Yui's been working at Mr Mechanic's for 6 months & is one hell of a sweet young gal.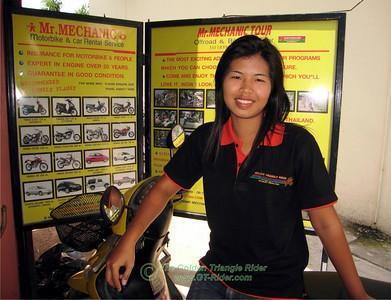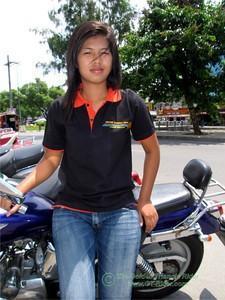 I also think she's following in Gung (Mrs. Mechanic)'s footsteps as I'm sure she likes to be wined & dined as well.
ON THE ROAD
It was a straight run down 118 direct to Charin Resort & some cheesecake 'n cappuccino.
The road works on 118 between the hot springs & Mae Kachan are only a minor irritation & almost not worthy of a mention such is the rapid progress lying on some nice thick asphalt.
And I noted that Ben did not even back off on the dirt riding his 400 chopper; so he's a good rider, got a good bike, or the dirt's a piece of cake. Or it's a combination of all three. Good on you Ben.
The traffic lights on the Chiang Rai super all seemed to go against us, until we did the Thai motorcyclist's trick & cruised through a red one on the shoulder of the road. From then on we only got green ones. Ha. Ha.
We hit Mae Sai around 3.30 pm & checked into the Umporn Resort. A bit out of town but with rooms at 600-700-800 baht I reckon the 700 baht ones are excellent value for money. Quiet, clean, secure parking, strong hot water pressure & whisper quiet cool air con. Plus there's a nice on-premises garden restaurant with music, good food & good service.
The trip was only a regular visa run for me, but the SEO guy had not been in Mae Sai / Tachilek for a few years, so the novelty was still there & we spent an hour or two fossicking around in Tachilek – mainly music CDs, looking at the imitation bike gear, plus a few bots of duty free for the night & a bit more. Back at the Umporn for happy hour, an SMS comes in from Happy Feet, he's on his way also on a visa run & expects to hit town at 8pm.
So as luck would have it happy hour got extended somewhat & we were the last to leave both the Country Home Pub & the BM disco. It was a highly entertaining night; on account of a couple of separate happy go lucky inebriated local guys' first in the Country Home Pub, then in the BM. And not surprisingly the next morning I noted that that my 2nd bottle of 12 yr old whisky was a bit low. Not that anyone else had consumed much (I don't think) but it did seem a bit of a waste. So the tip is if you're already sufficiently lubricated, don't take your good whisky to the disco & expect to have much left the next day. I should have taken the cheaper Benmores!
The next day was a bit slower than normal, although we did get on the road by 10.45.
I think I felt a bit "ancienent" & in need of a massage in Mae Sai after the big night out......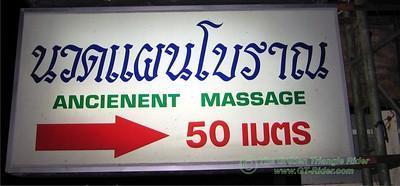 Happy feet tagged along until Chiang Saen, then peeled off to Chiang Rai to supervise Honda Honkey getting set up for the local enduro race.
The SEO guy & I continued on along the 'Khong & what a glorious day it was.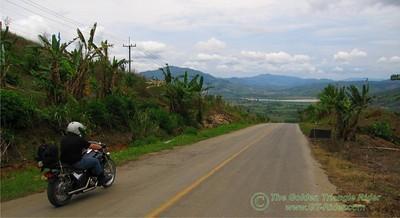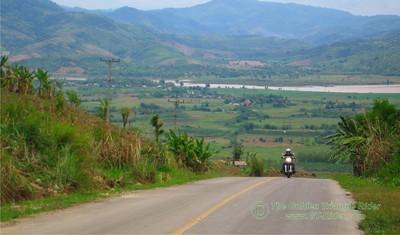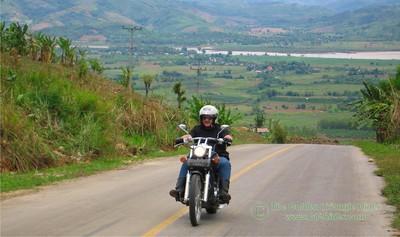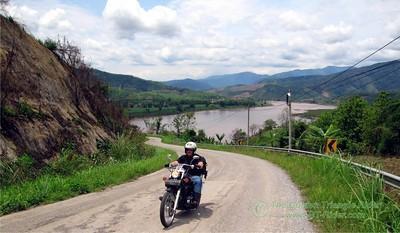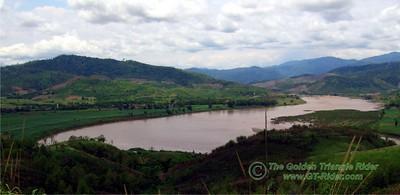 Brunch was one of those "Mae Chan American breakfasts" at 2.15pm, at the Easy Bar & Restaurant in Chiang Khong, & what fantastic value for money the Easy Bar is......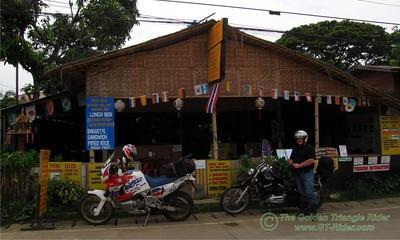 From Chiang Saen on all the roads were new for Ben & I seem to think he really enjoyed himself, even with the late thrash into Chiang Rai in the dark!
On the road, riding the Khong.....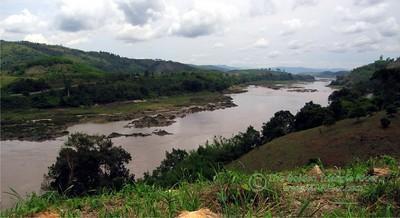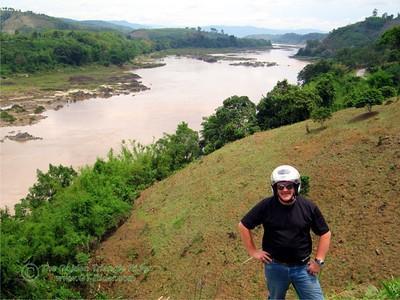 The route from Chiang Khong then was 1020-4029-1093-1155-1020.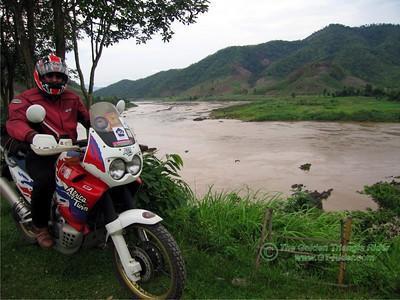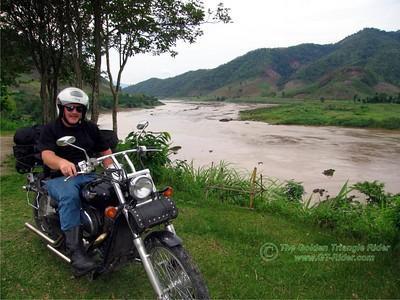 For those of you who don't know R1093 is the Lao border Phu Chi Fah road & it rates as one of the top rides in North Thailand.
But before you get to R1093 you have to do R1155 & R4028. R1155 is an excellent hilly twisty one & 4029 is a real "steepie" to ascend from R1155 & Pang Had to Pha Tang R1093.
Pix below: Riding R1155 & R4029.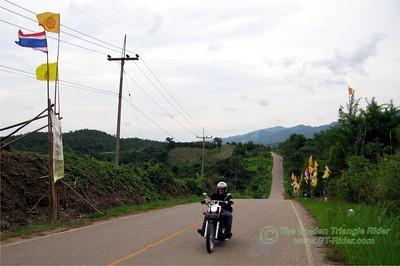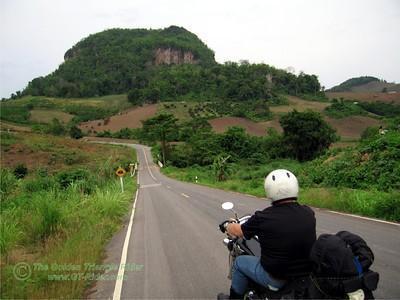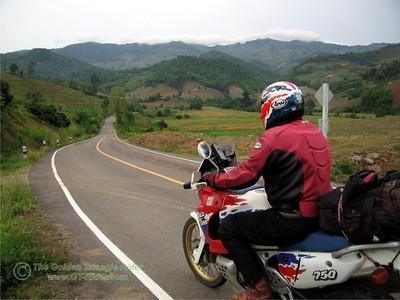 We weren't the only ones on the road...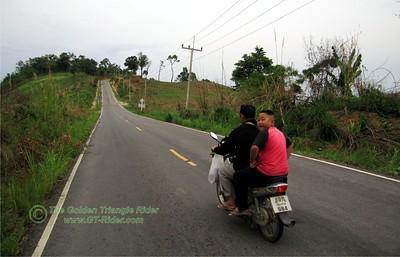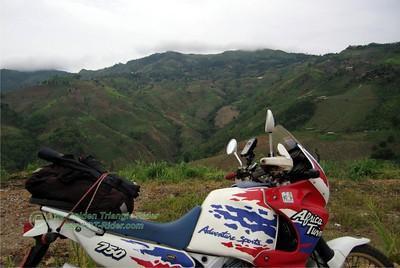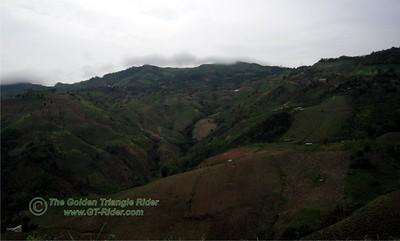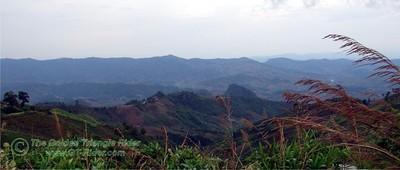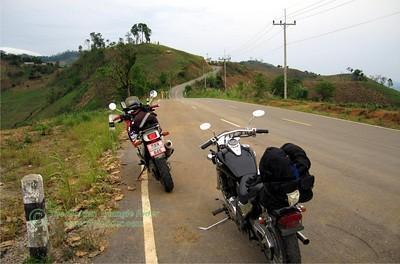 Pha Tang is an old Chinese KMT village that was off-limits for many years, for suspicious border activities that you weren't supposed to know about.
It's claim to fame now is Pratu Siam from where you have spectacular views of the Mekong (on a clear day) & the "road to Phu Chi Fah. Otherwise it's a real sleepy hill top town.
Down town Pha Tang, a hive of activity….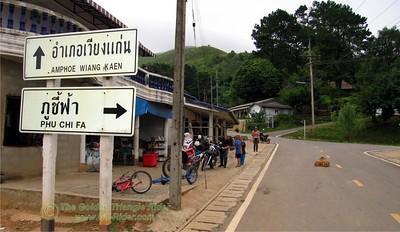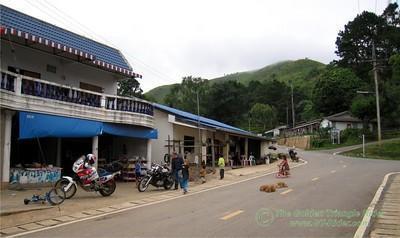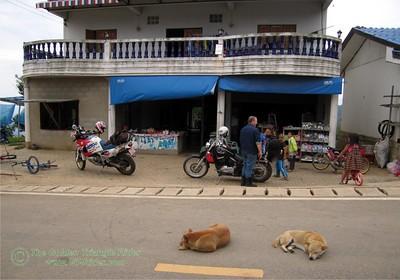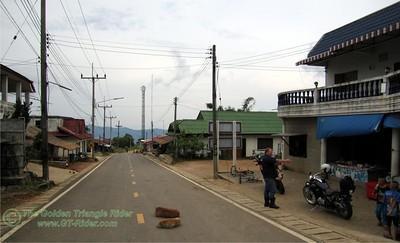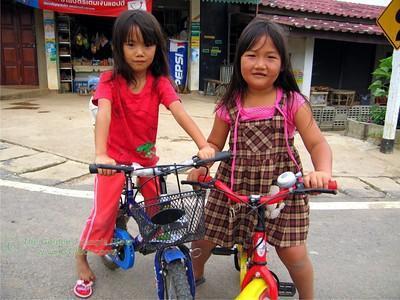 R1093 at the north Pha Tang end has a few bumpy bits & 2 bailey bridges from flood damage in the wet season 2 years ago....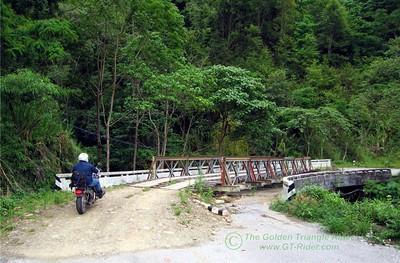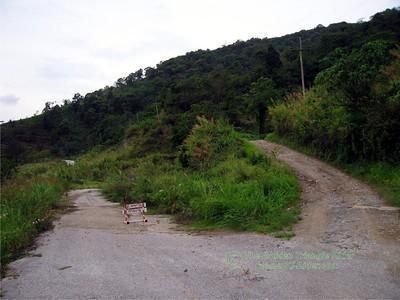 Rom Fah Tong is the "Phu Chi Fah village" with all the guesthouses & resorts.....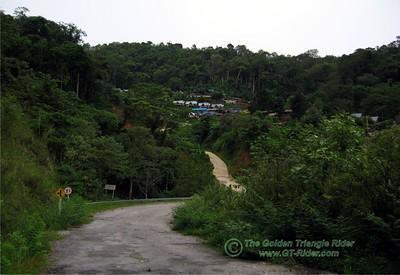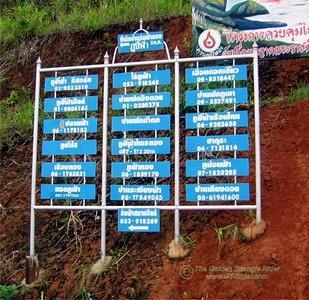 In the cold season & specifically New Year thousands of Thais in the cars come here to experience the views & cold. Yep they even have traffic jams way up here on the Lao border!
From Phu Chi Fah it was straight down the short cut to R1155. This road rates right at the top with the Doi Ang Khang roads for the steepest in North Thailand.....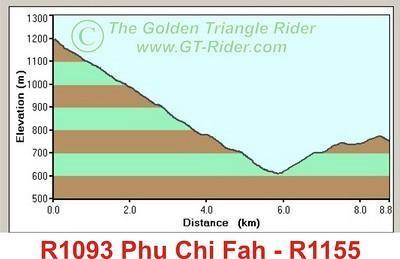 Back on R1155 it was a lefty & head south for Thoeng.
But before we got there it was time for a drink in Pang Kha. Here I noted the road to Lao U is now all asphalt & as the last time I used this road it was all dirt & a wild one & also as steep as, I thought let's check it out…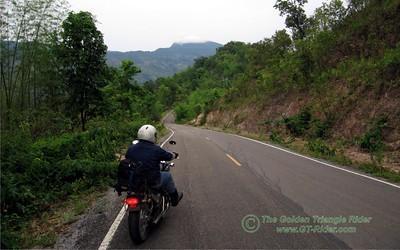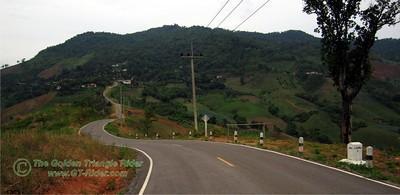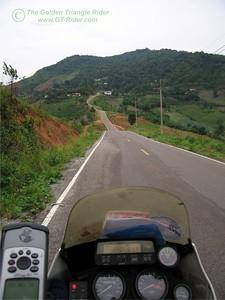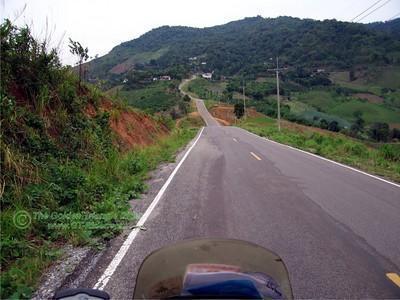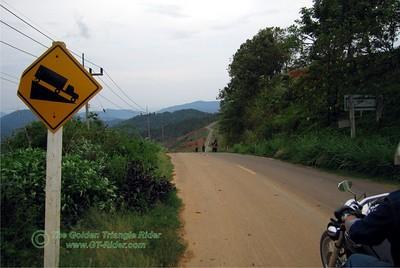 Ben & I both agreed that we think the Lao U link up is steeper than the Phu Chi Fah short cut, but the profiles don't seem to suggest there's much difference. Either way check both out if you're ever in the area. You'll find them incredibly exhilarating.
Below: Lao U on R1093 & the turn off to R1155 & Pang Kha. Not very inviting from R1093 but do it!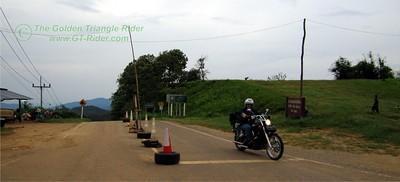 What your missing if you don't…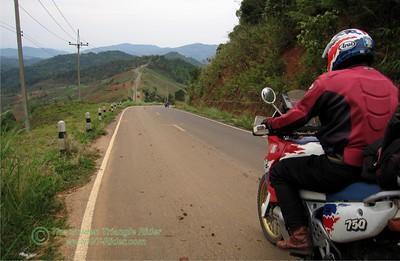 The SEO guy & I did this Lao U link up both ways from R1155 & I've never seen such a huge smile on Ben's face when we got back to R1155! Could it have been better than sex? I don't know, but I could see that his smile had that huge Cheshire cat grin, indicating something extremely gratifying had happened.
Ah, it was just another day at the office.