In repsonse to The GT Riders question where was this place and the thread that developed. Tuy and I found it today and say thank you to the GT Rider for a great day out from KK.
Location Long101.74313. Lat 17.05056. From KK about 180km. From Loei about 60km.
From KK no 12 highway past Chumpae 13 km turn right onto the 201 to Loei. A pleasant open road, light traffic and good views, passing Phu Pu Man National park and then passing Phu Kradueng which is off to the left.
66km out from Chumpae, pass the RH turn 2141 to Pha Khao. 10 km past this one sees this sign to Huai Dua.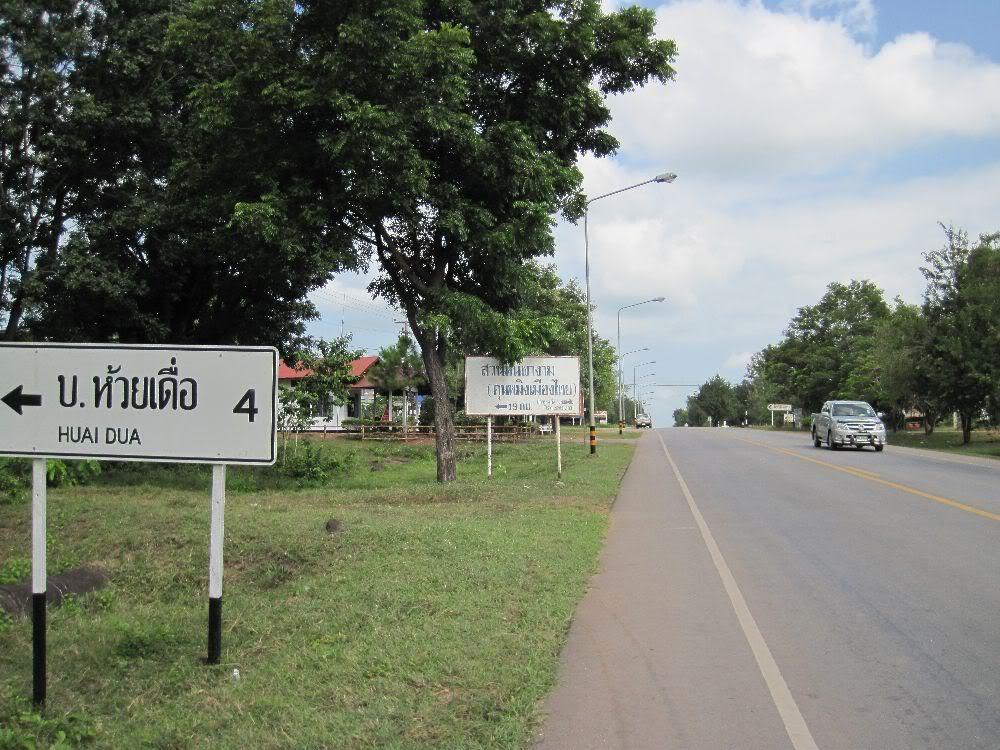 The Thai sign beyond it reads. Suan Pa Hin Ngam and below that. Khunming Muang Thai. 19km.
We turn left onto this small but reasonable condition unnamed road.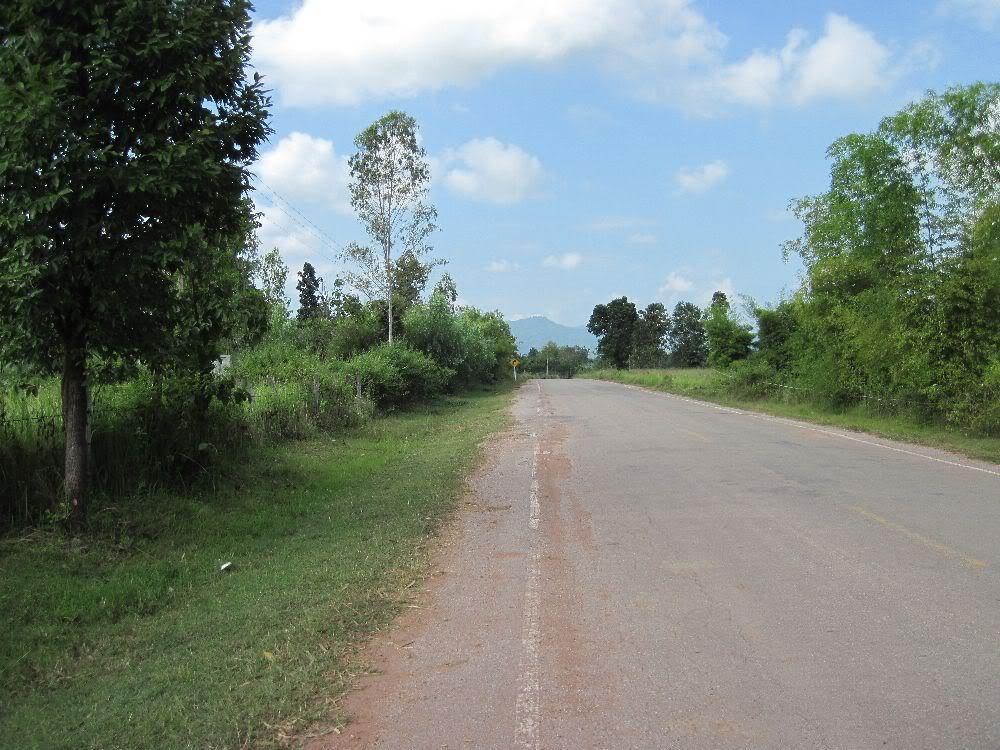 With a view of the hills we are heading for in the distance.
The whole of this 19km is very enjoyable, Beautiful scenery, roads small but reasonable condition, and these amazing outcrops of rock occuring both sides of the road. Very little traffic and a real sense of wild country.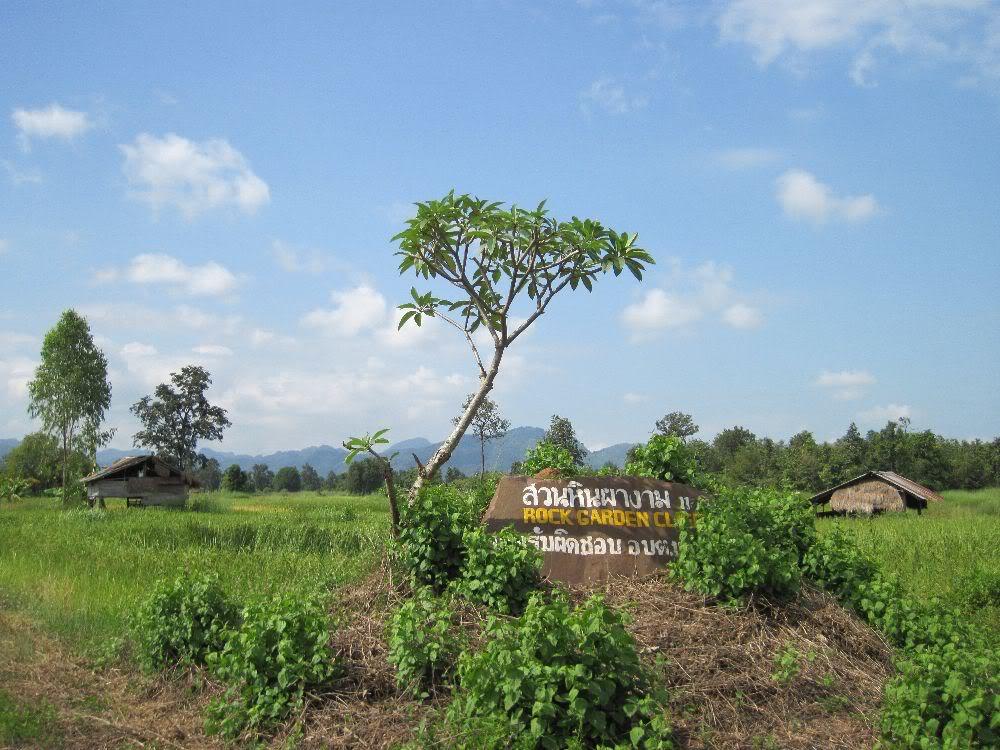 After a few Km we see this sign to our destination. The locals call it Rock Garden Cliff.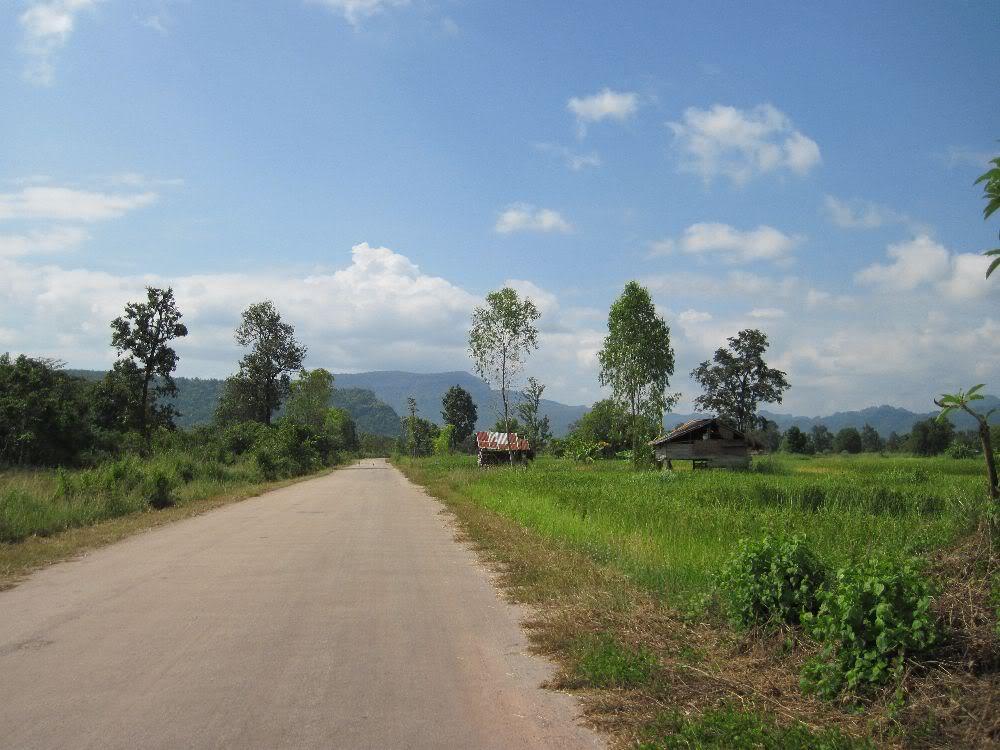 Good road lovely scenery.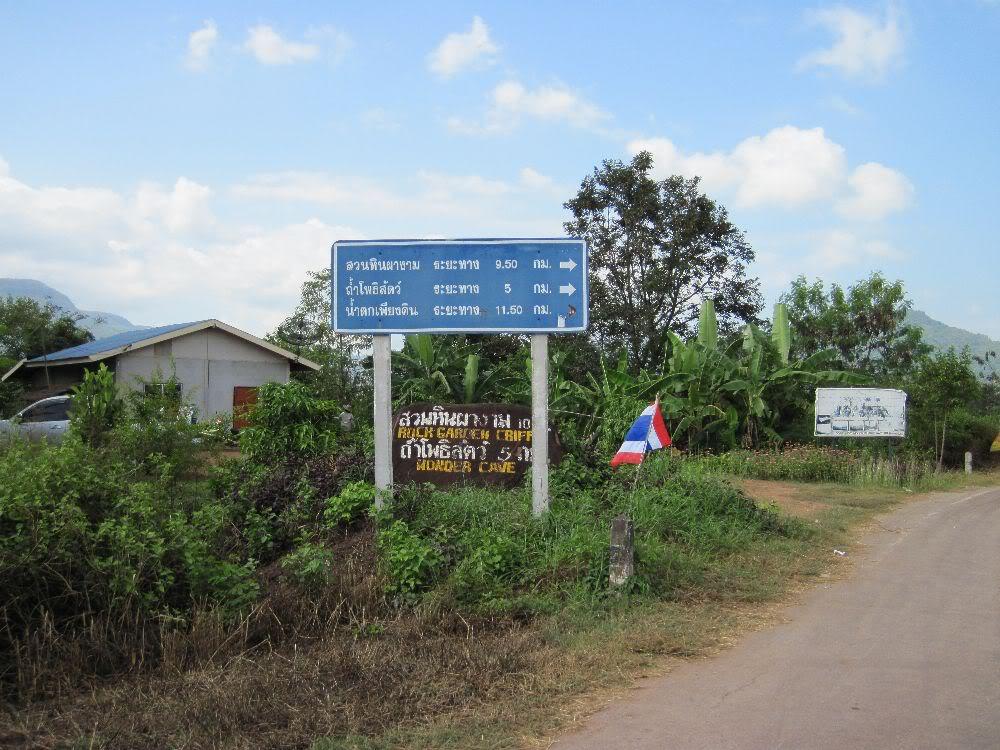 Now the first of the official signs. In Thai, the top line telling us to turn right. Now 9.5 km. With the rock sign underneath.
Now a left turn at this T junction Now 8.5km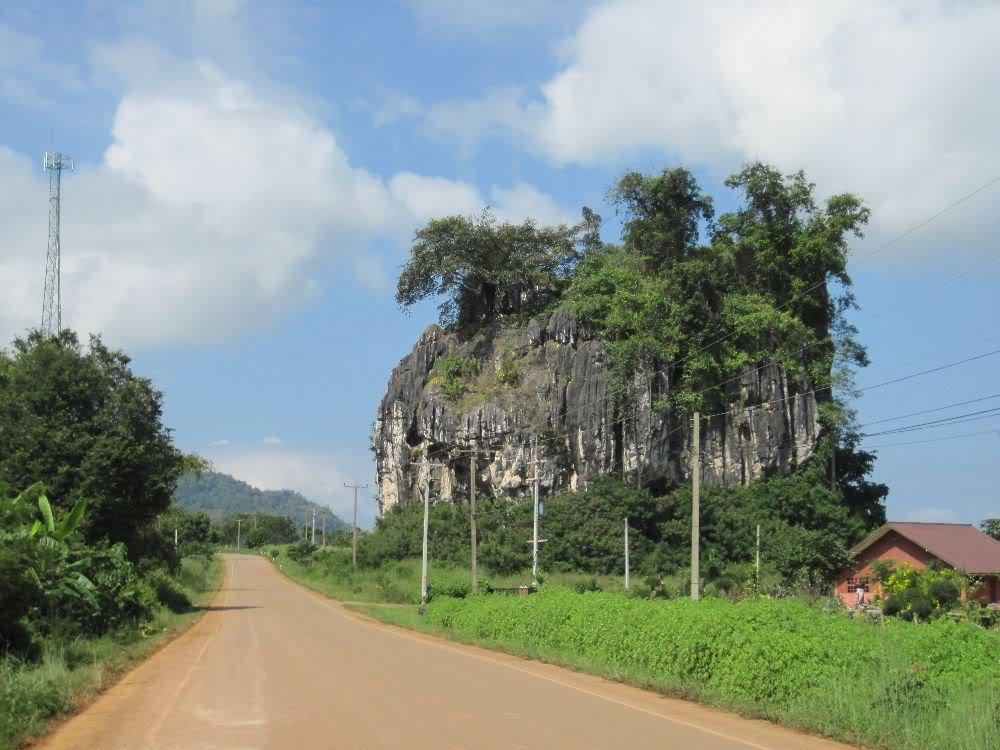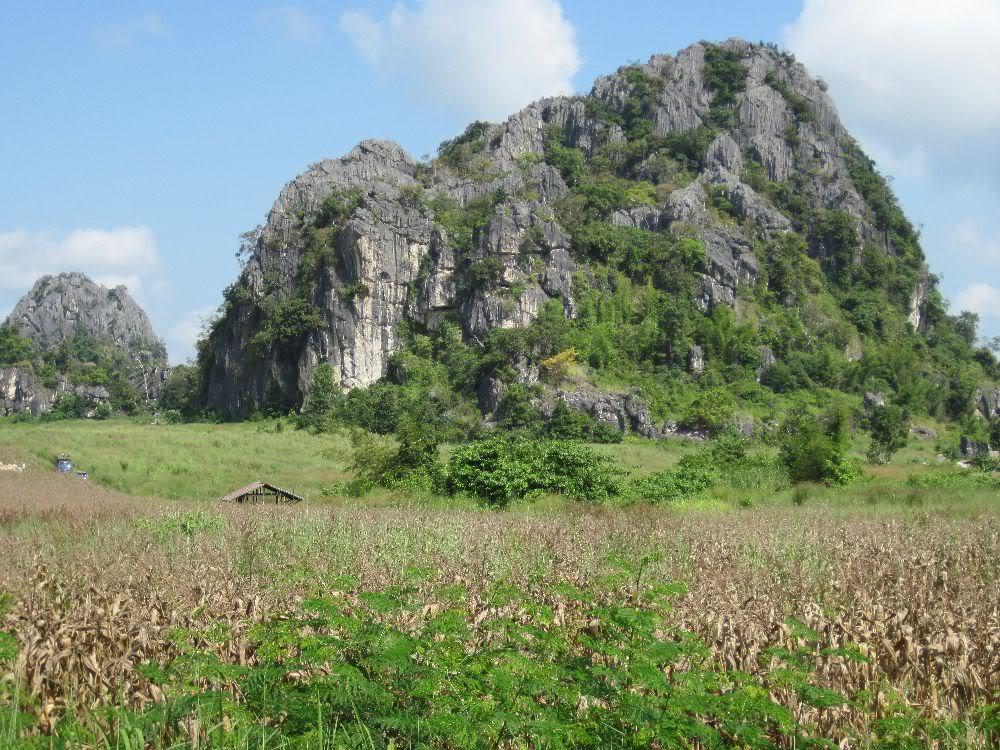 Amazing rock formations, How do those trees find somewhere to root?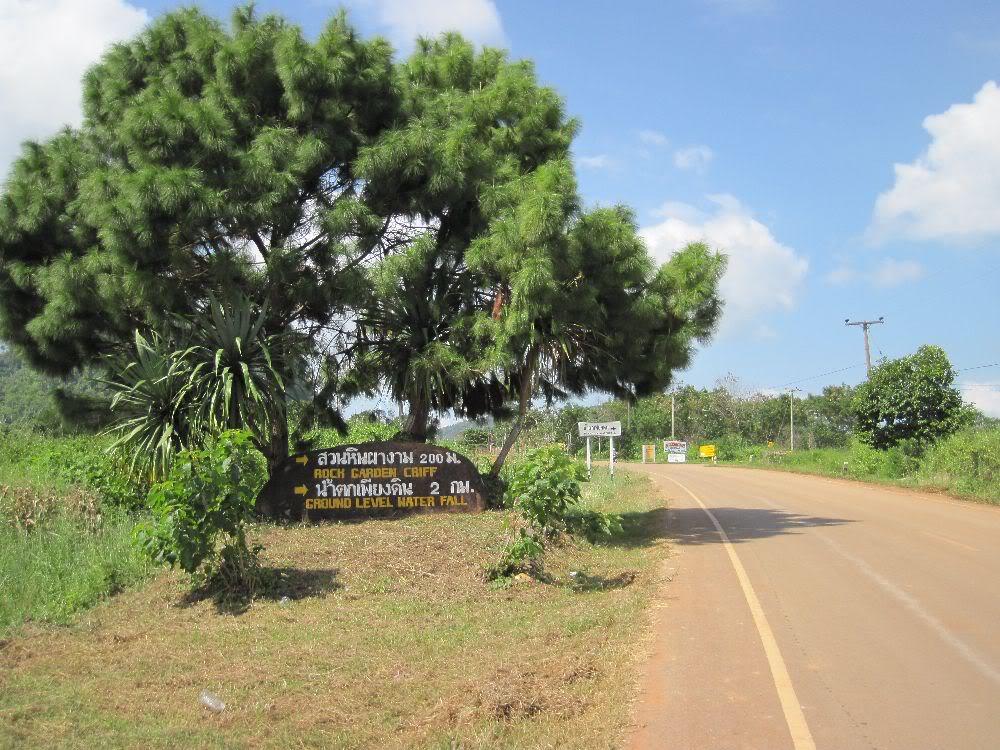 Now the last sign. Turn right and the garden only 200M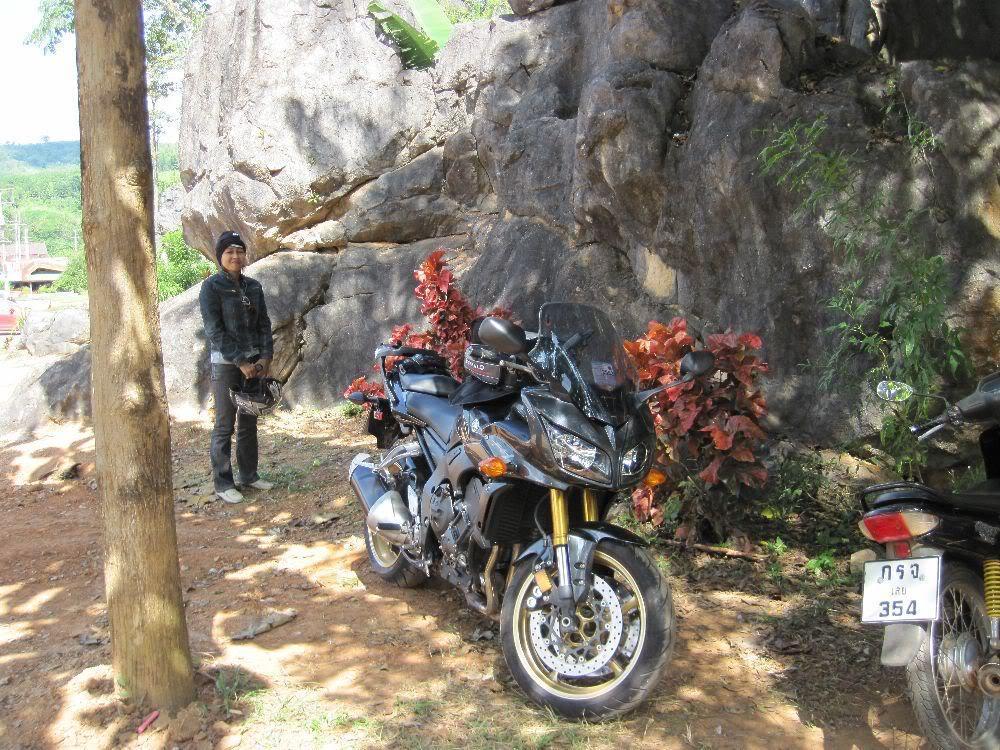 And sure enough after a few hundred metres there it is on the RHS, and we park the FZ1 under a shady tree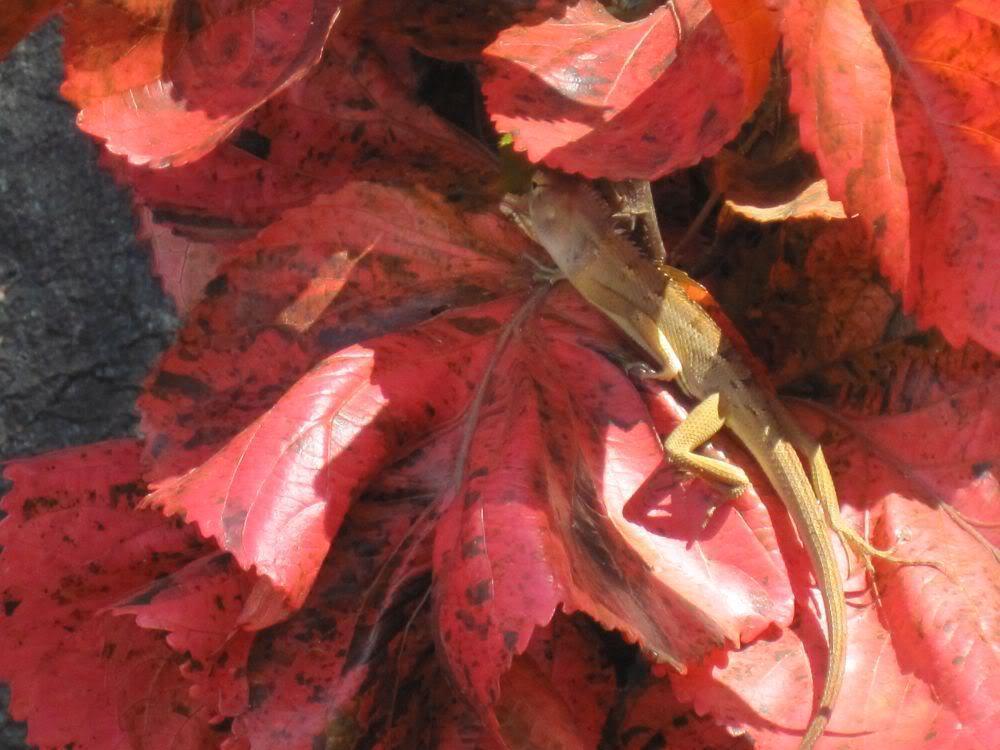 And in the red foliage behind the bike, Tuy notices one of the shy locals.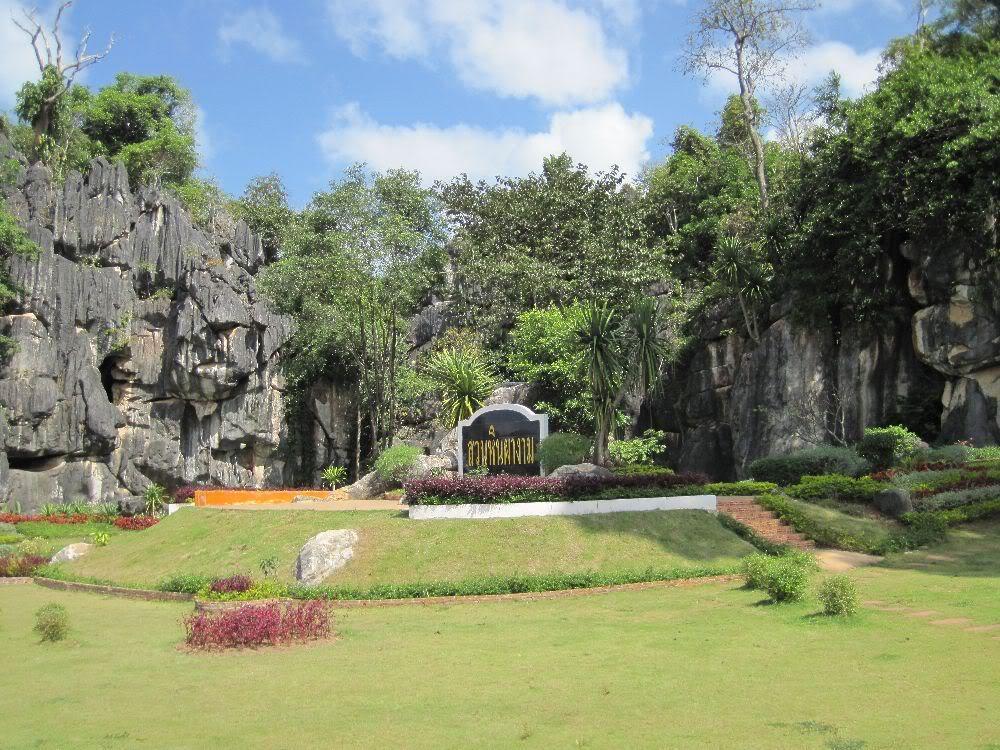 So here we are. The lady looking after the toilet building was happy to look after our helmets. Nobody around the garden area so we wander up the steps through a hole in the rock wall to the right, we are following a stone cobbled path and this will lead us to the garden, although there is no sign to say so..
Heading thro the rocks.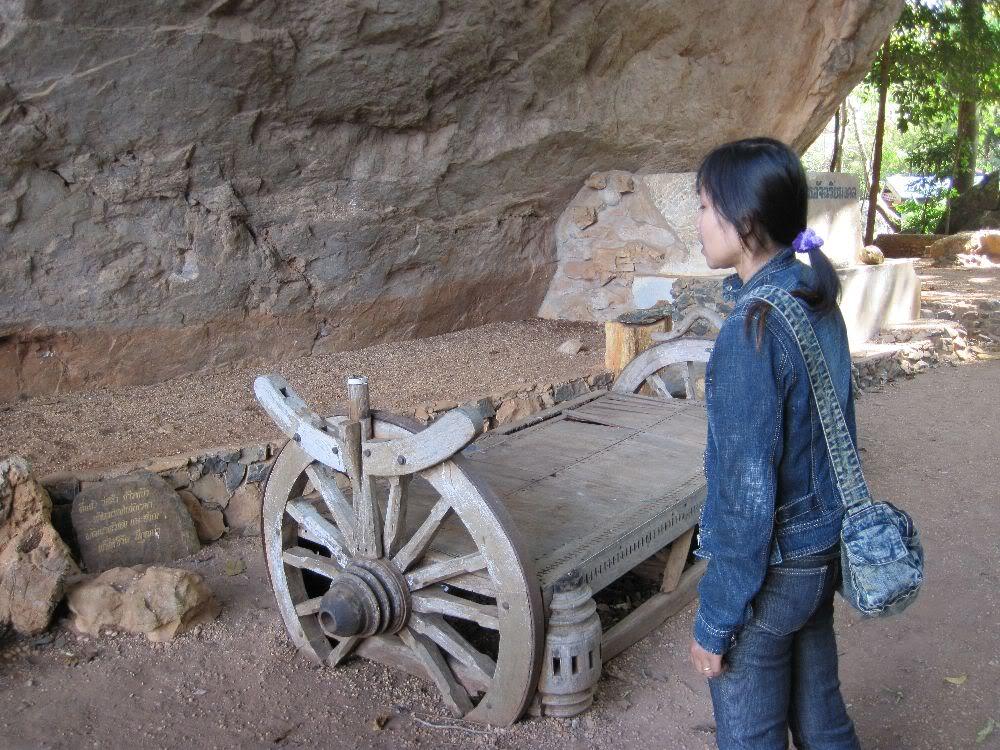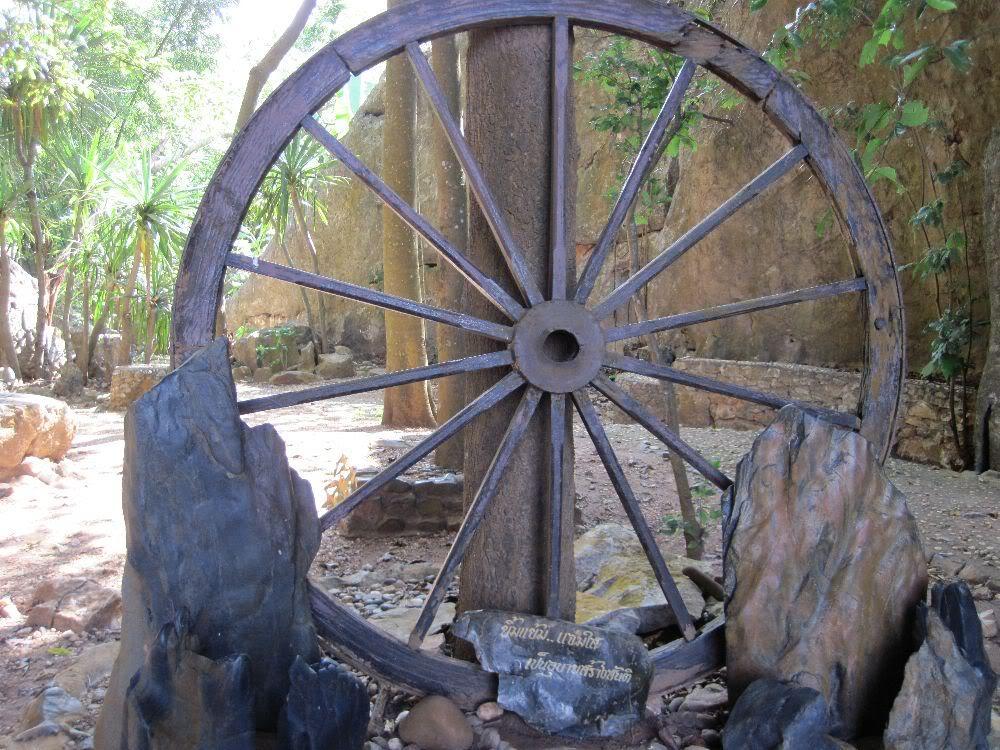 Plenty of well made little displays with Thai sign boards to look at.
No one to give us directions, we just follow the path.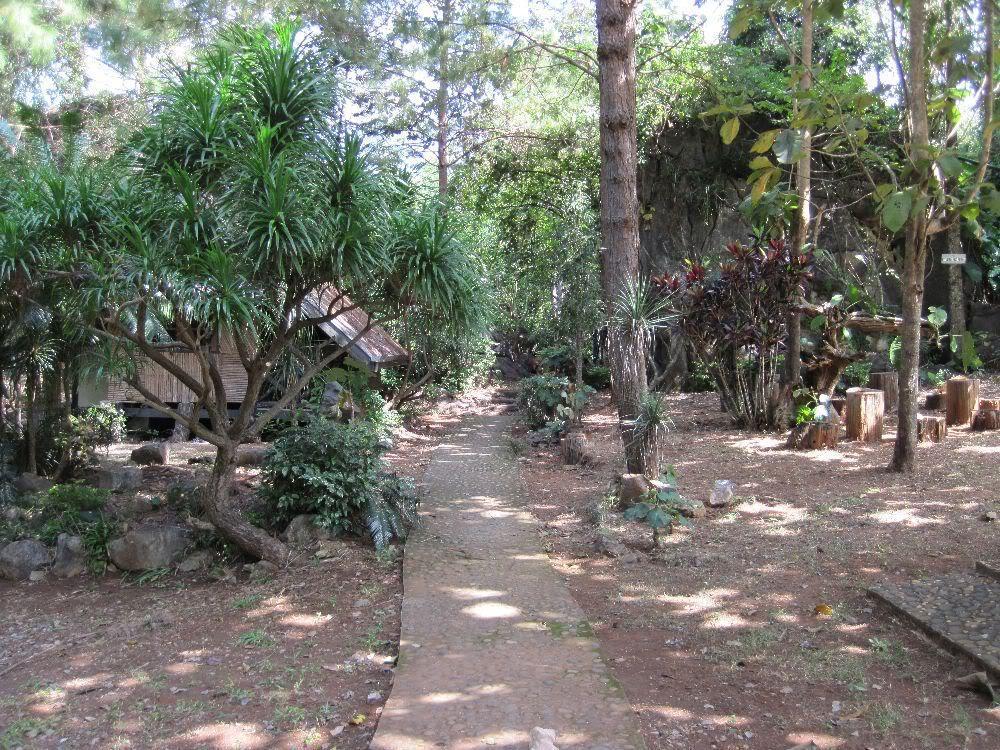 Which passes through rocks and thro woodland,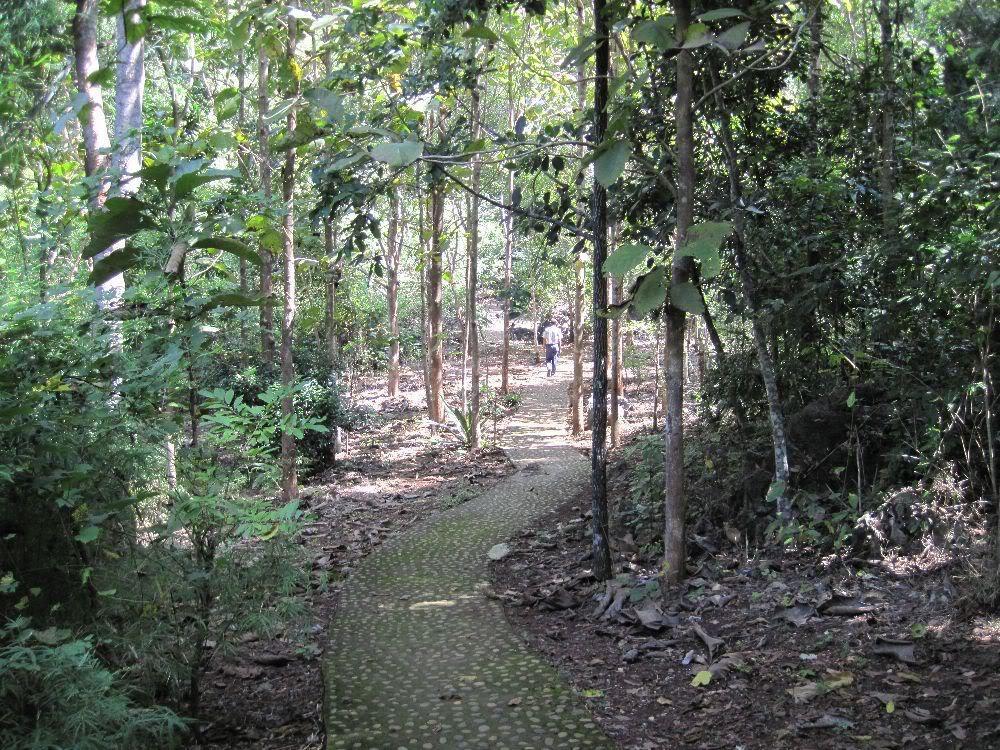 We spot one man in the distance who appears to be clearing sticks from the path, but he is not very communicative.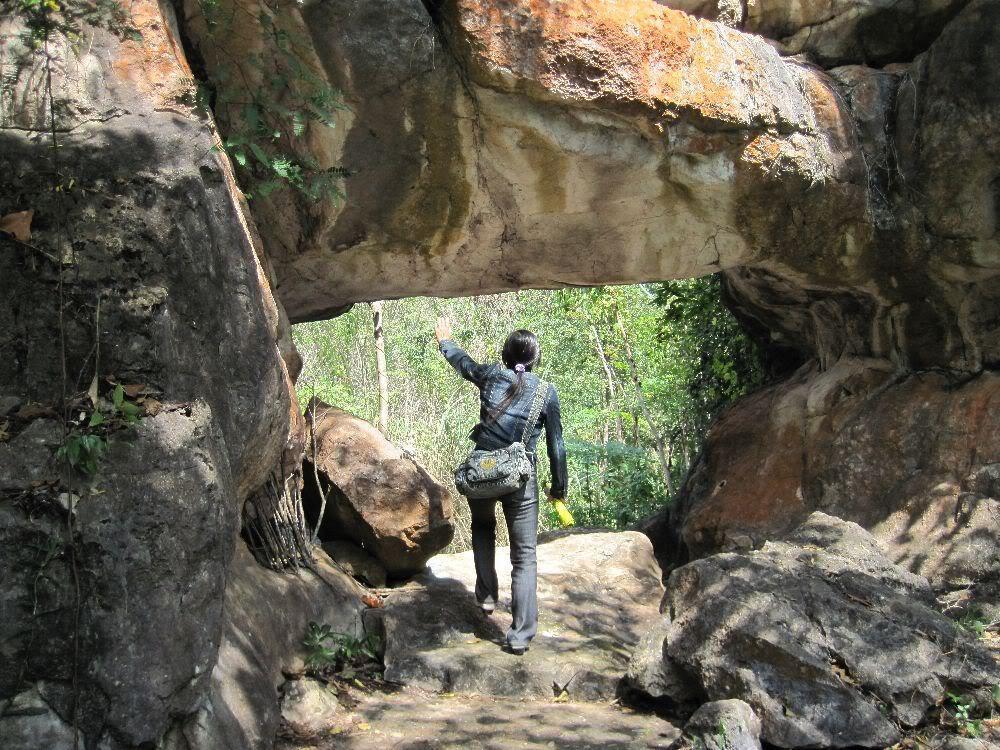 A good pair of shoes advisable for the varied terrain, easy enough in dry weather.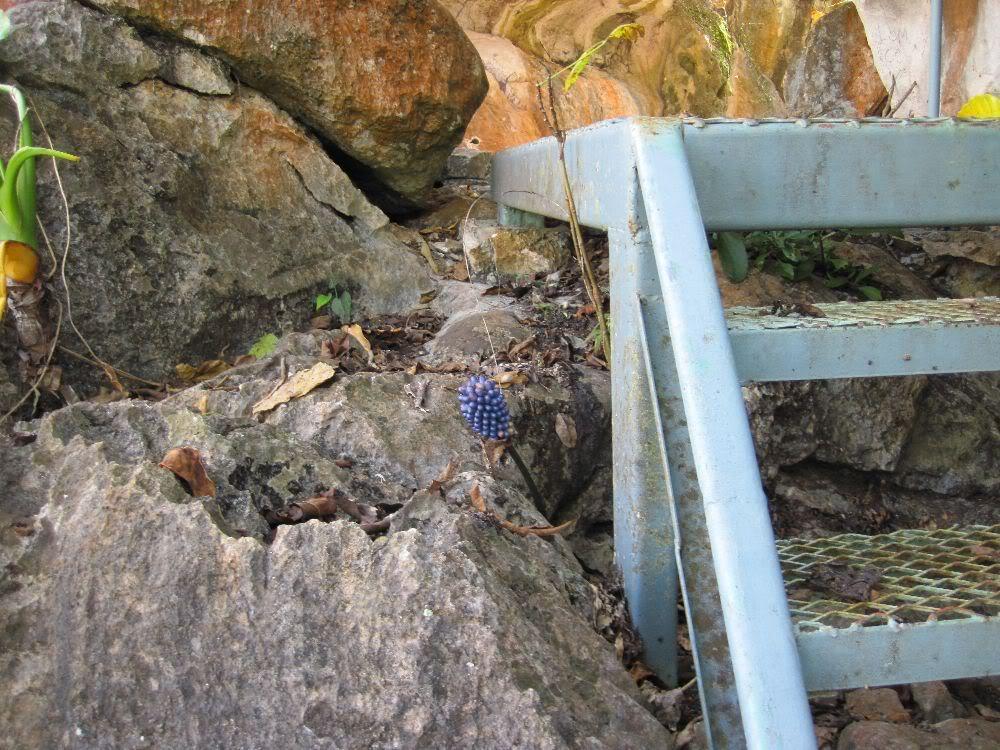 Quite a few of these metal mesh walkways, some of them deteriorating a bit, but all sound. A lot of varied plant life around. One could spend a long time in this garden area. Obviously this must have been a big expensive project to set up, but as often maintenance is a problem.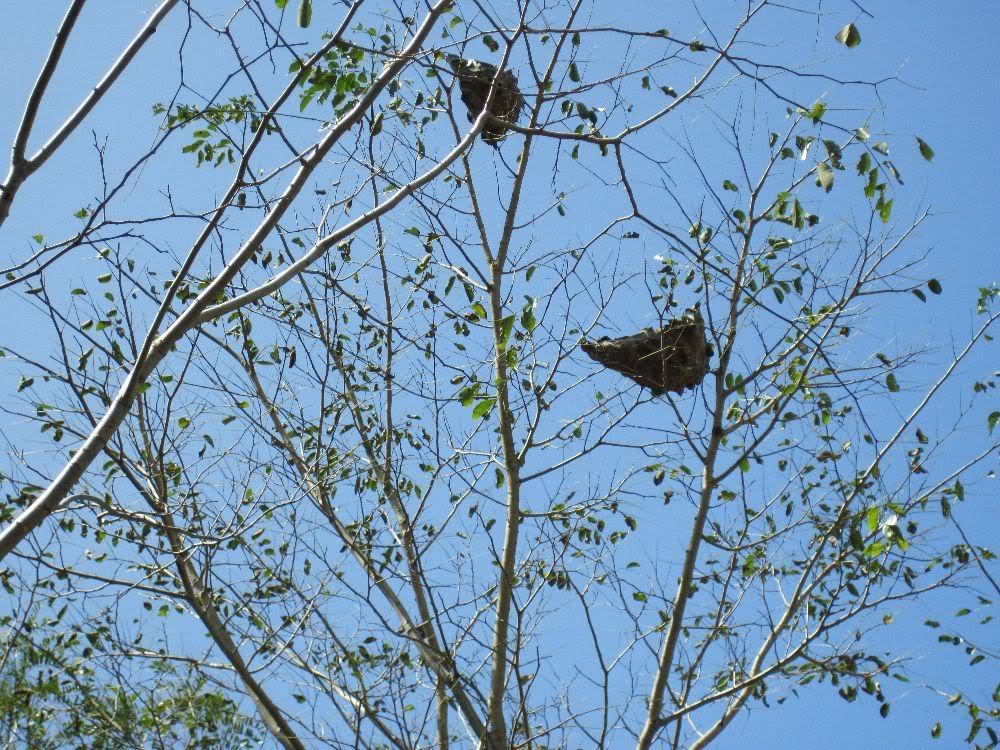 My wife informs me that these are red ants nests, very delicious
Not sure what this one says, something about the direction but maybe the important direction arrow missing.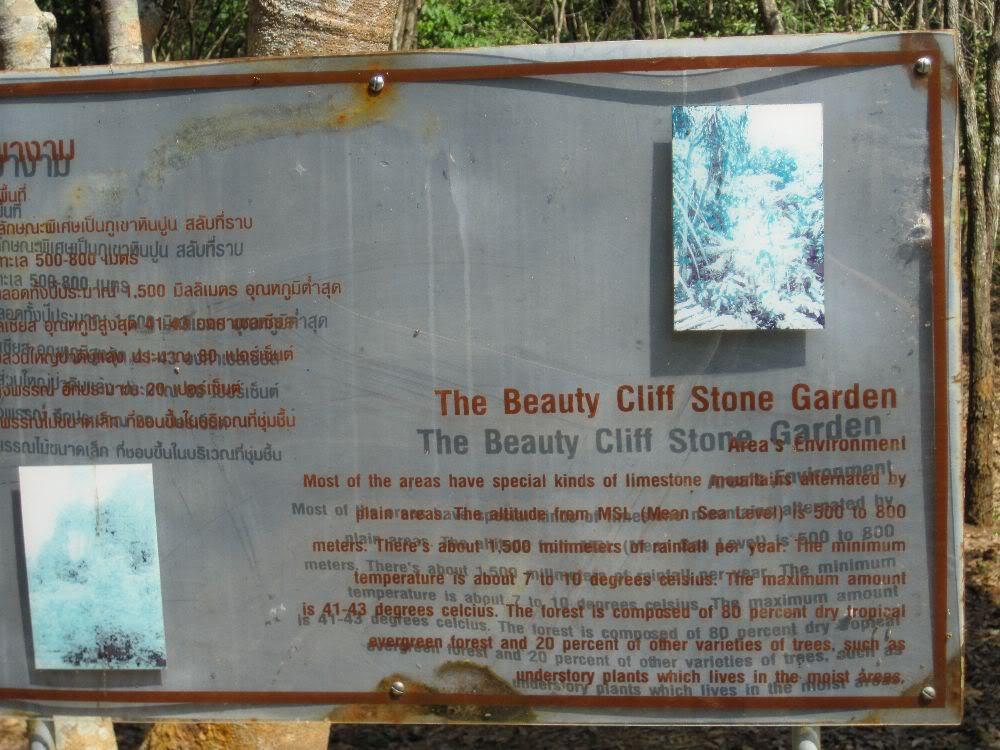 Some info about this beauty stone garden.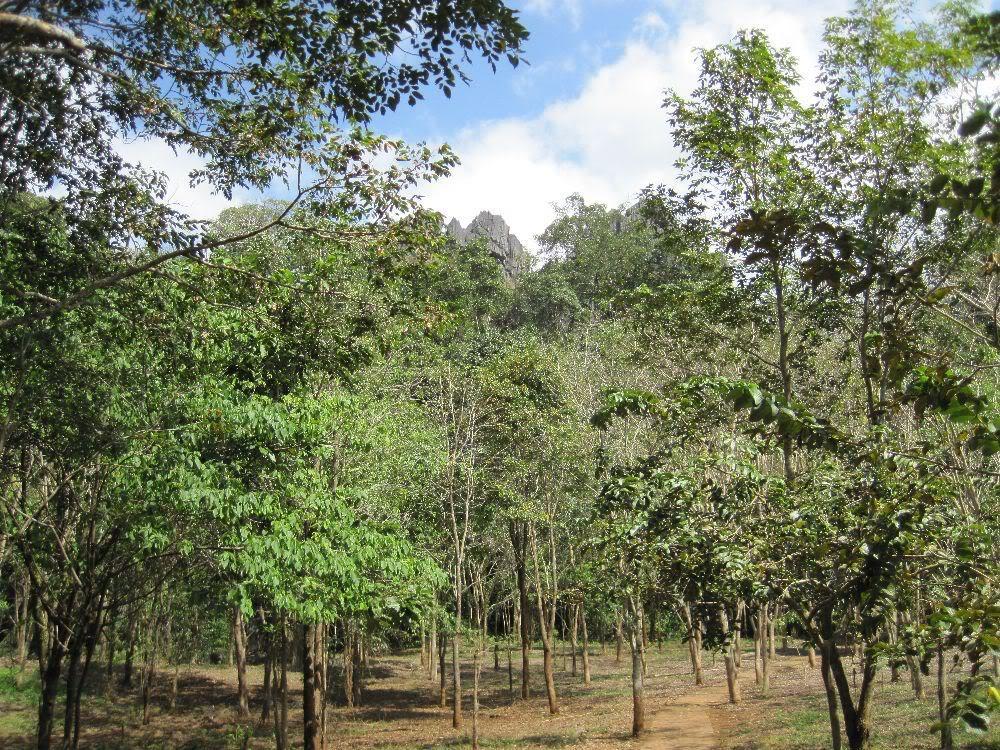 And finally a view in the treetops of the rocky mass the path is heading towards.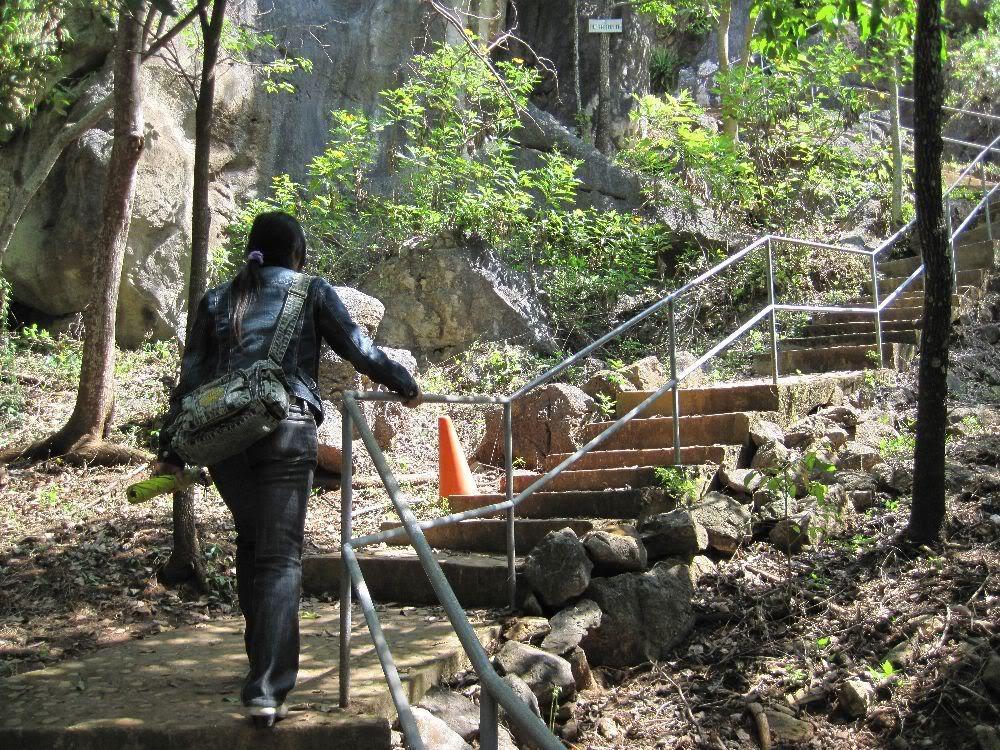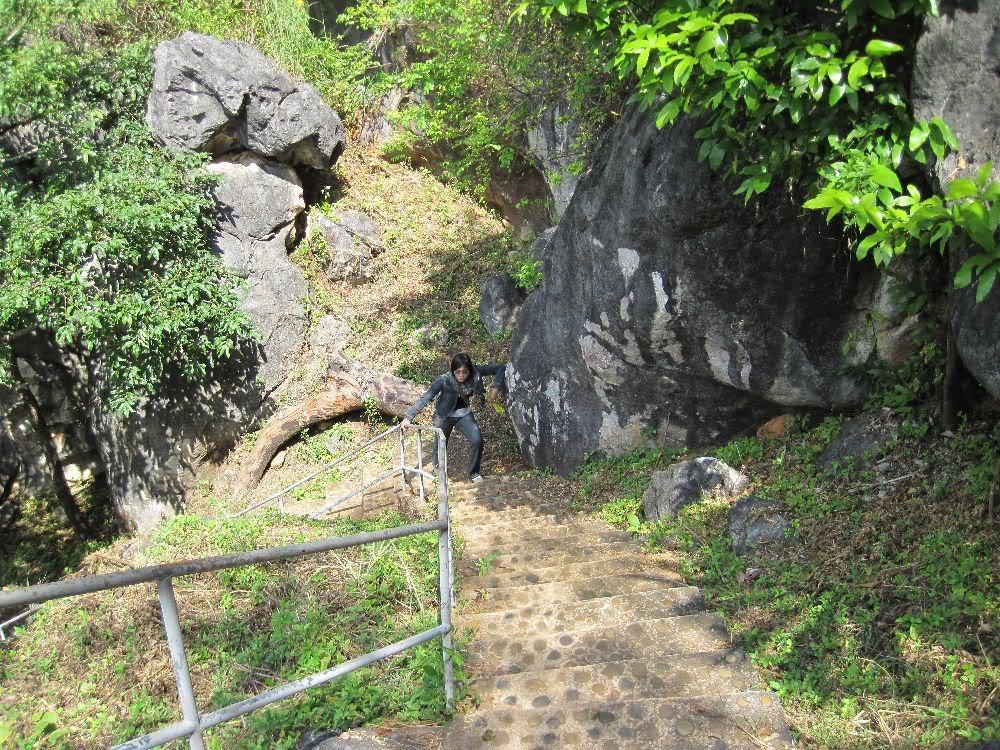 And after walking for about 2km through the woodland areas we start some serious ascent into the rock.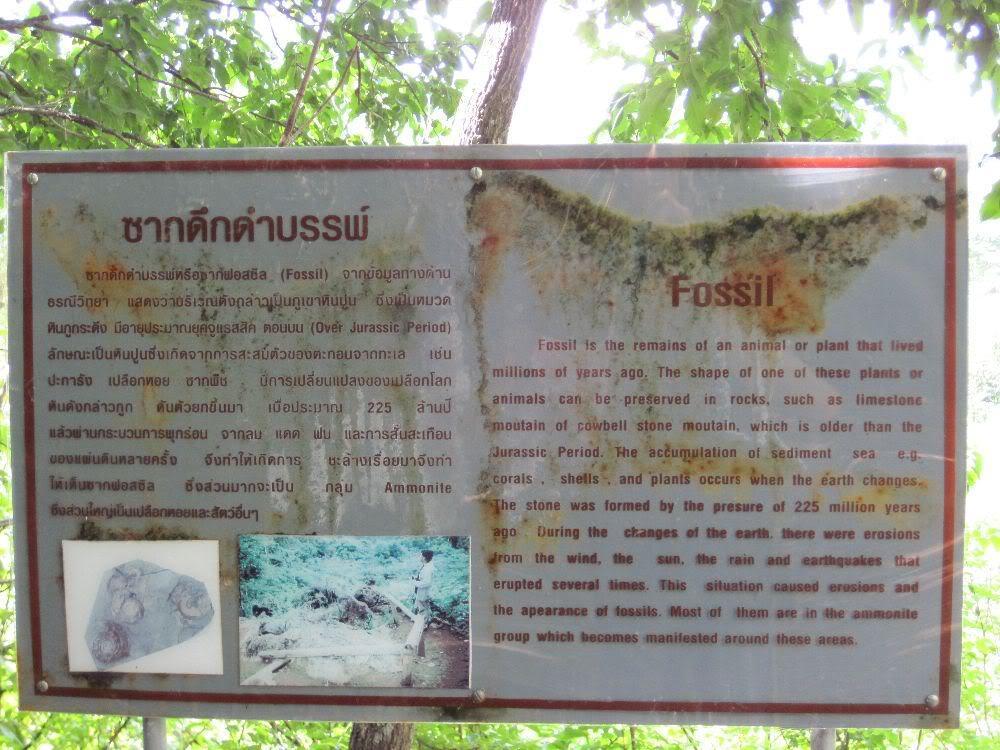 From time to time there are various infoboards, with quaint English translations, all sadly deteriorating, but that in no way spoils the experience as we are surrounded by beautiful nature.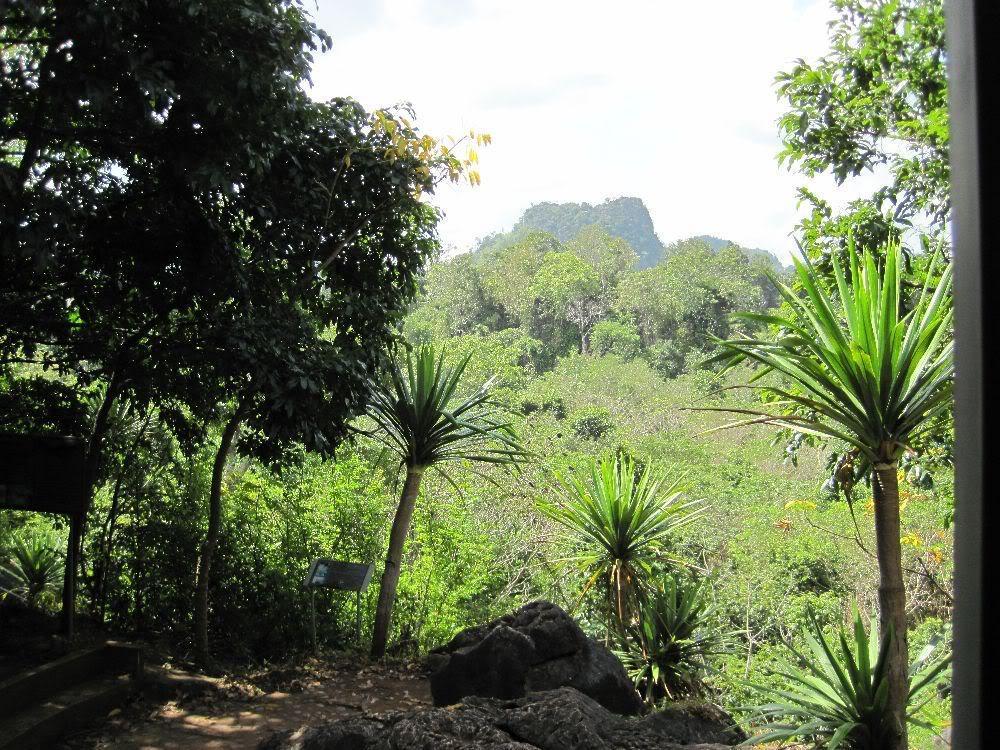 The sign deteriorates, but nature does not as it seeks to reclaim mans encroachments.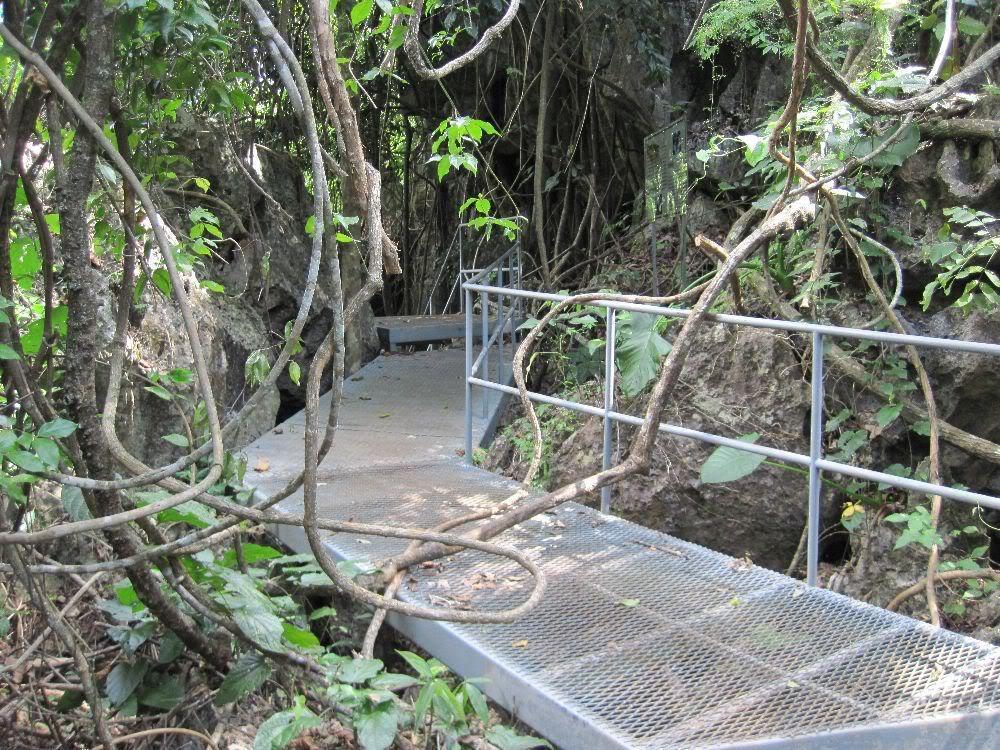 As seen on these walkways.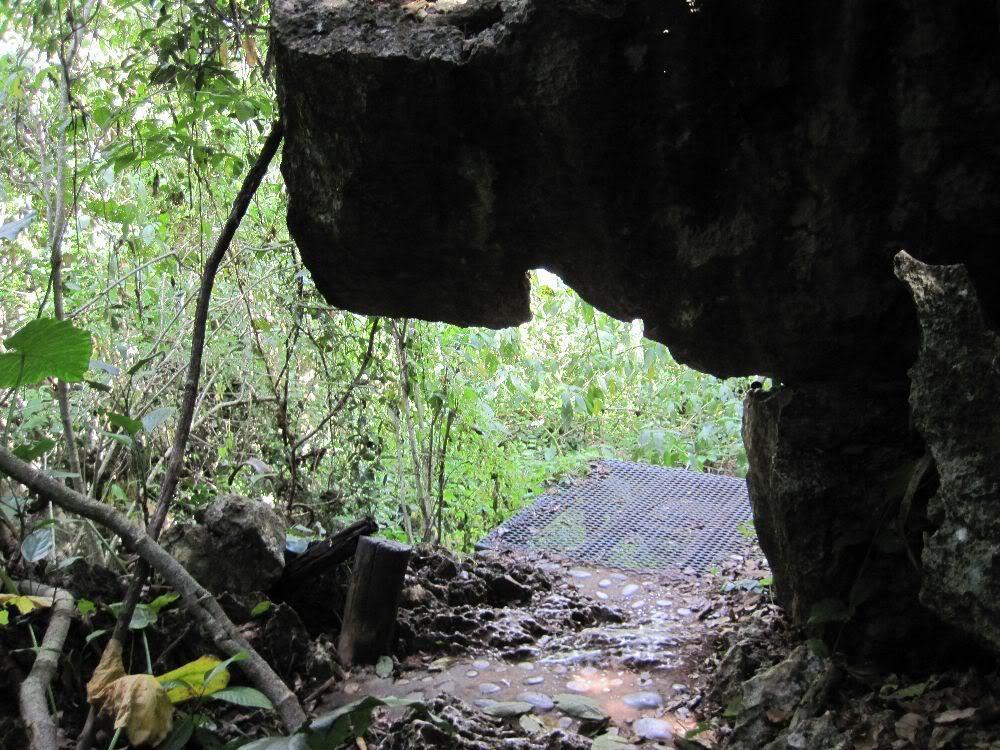 We are climbing around and sometimes thro passages in the rock.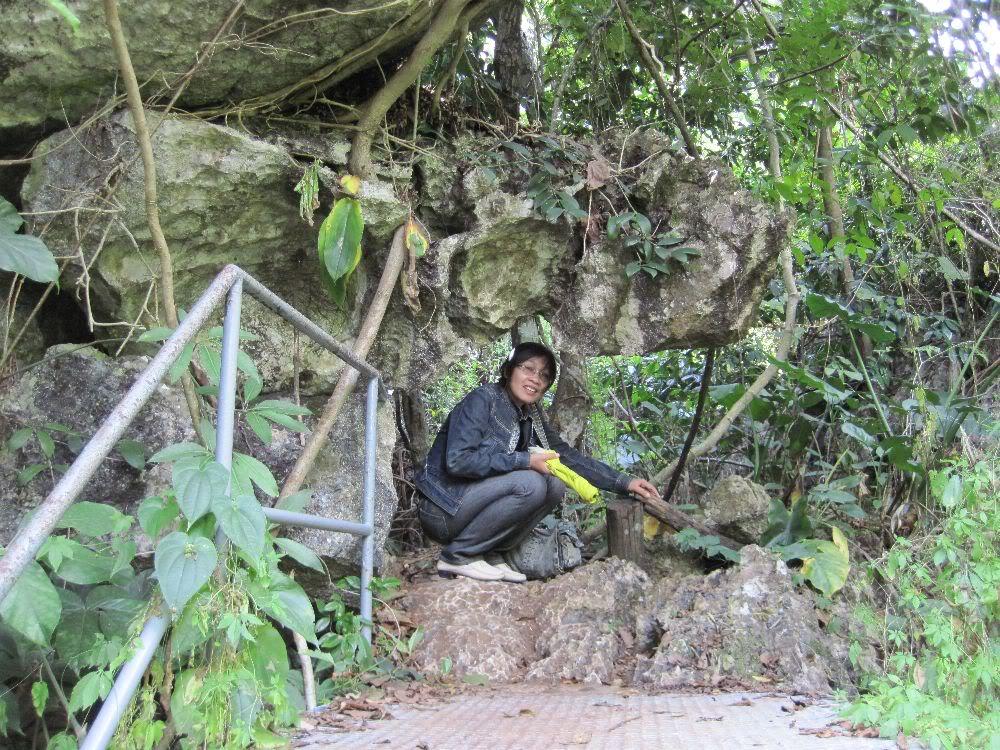 A little flexibility needed. Now the metal steps starting dropping again and my wife decided she was going to sit and wait for me, we were not sure how far we had to go.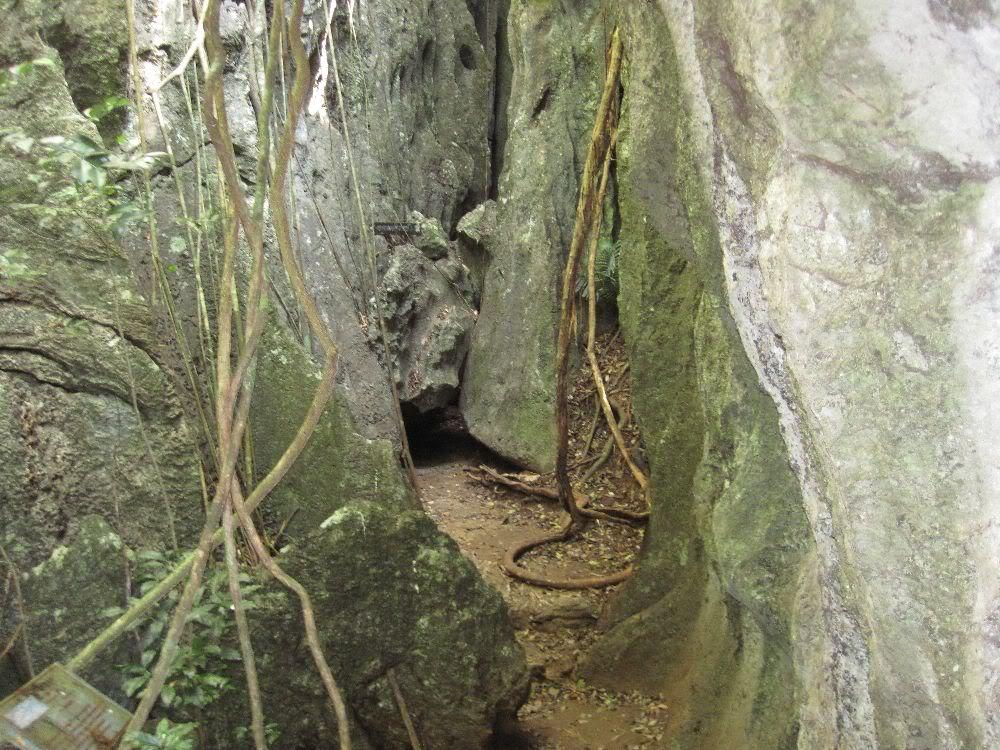 This one threw me at first, no way round, seemed to be about big enough for a dog.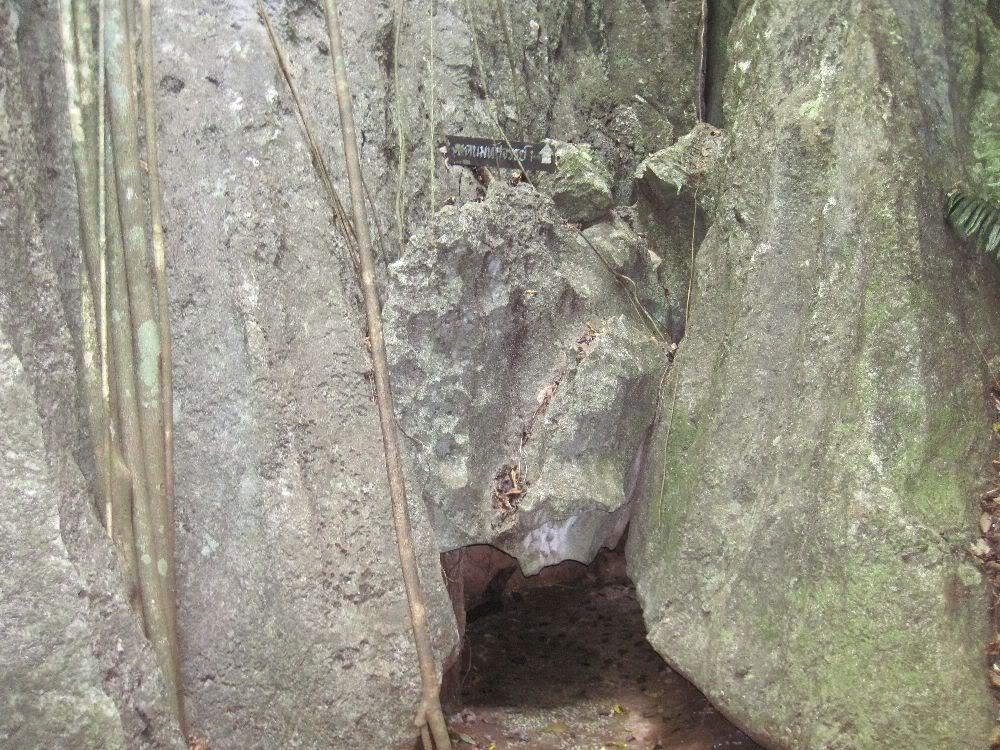 The sign on top seemed to indicate going over. I climbed over with some difficulty, and I am a mountain walker with climbing experience. I would not recommend it and the rock did not show wear from other people going that way. They must all slither/limbo underneath, which is what I did on the way back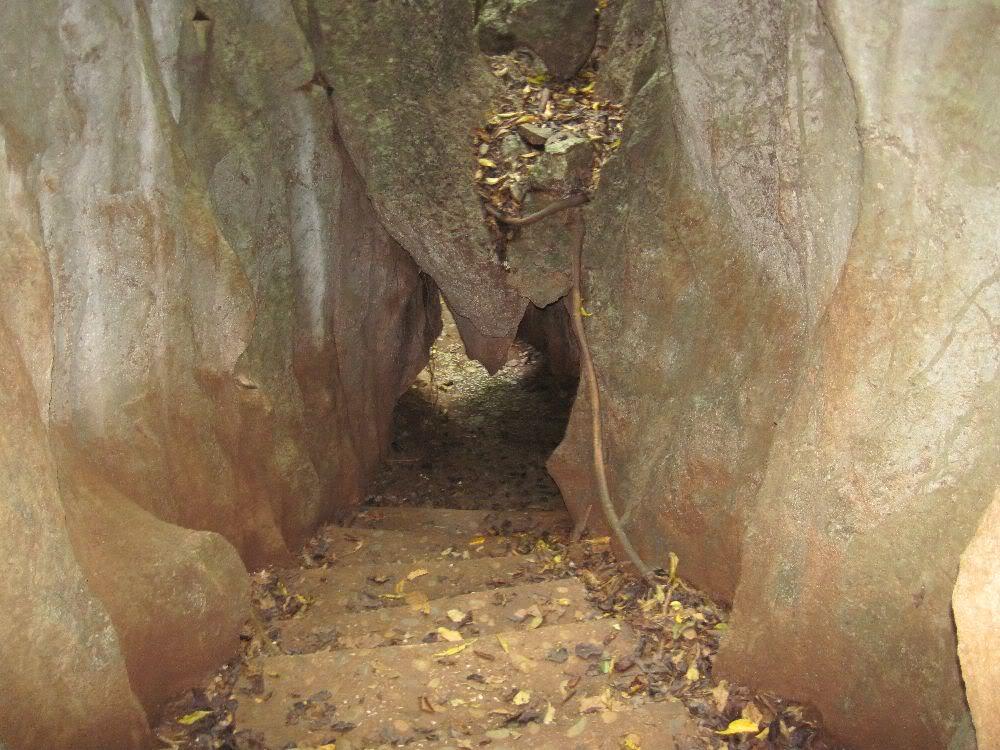 Looking back it looks slightly easier.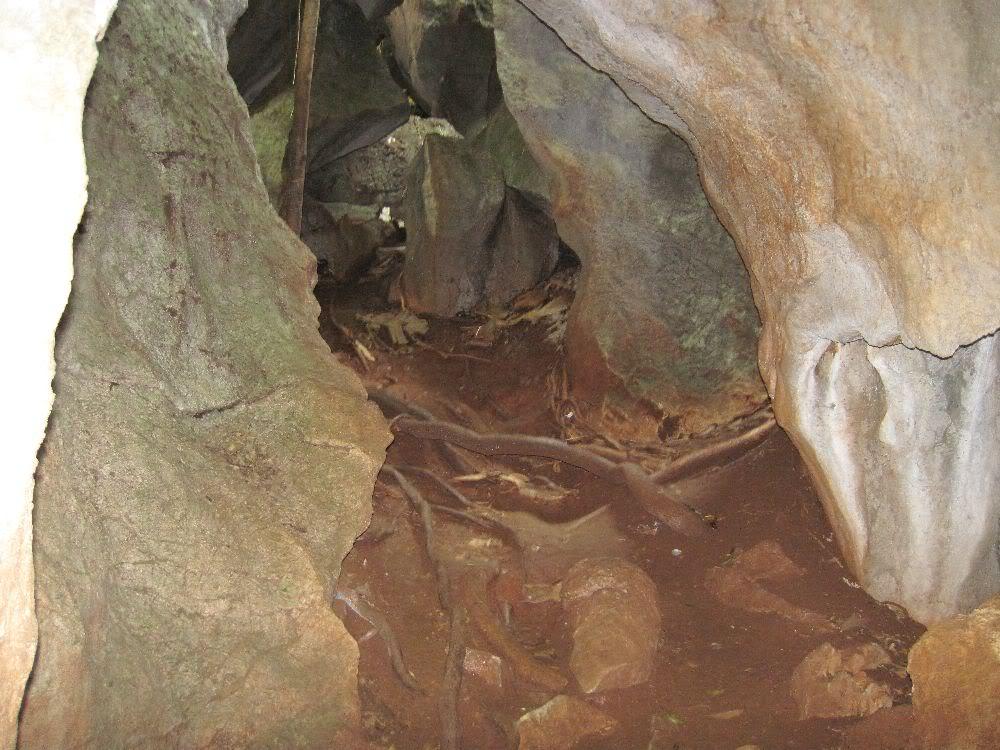 The trail continues up through the rock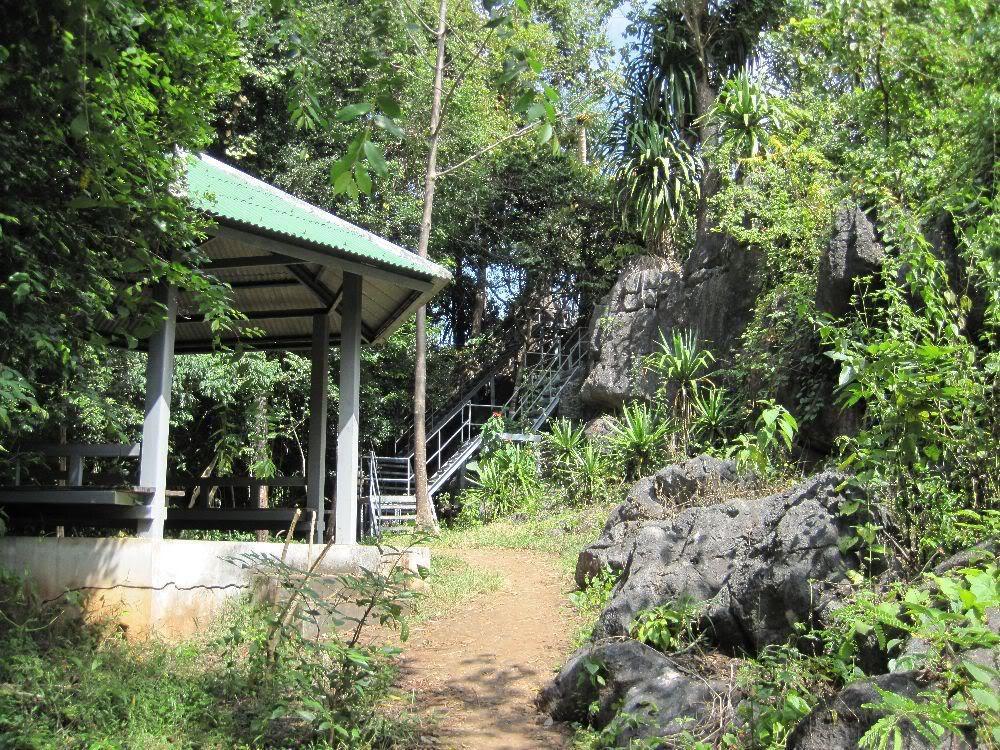 emerging at this shelter and the final metal steps to a large viewing platform built into the rock face.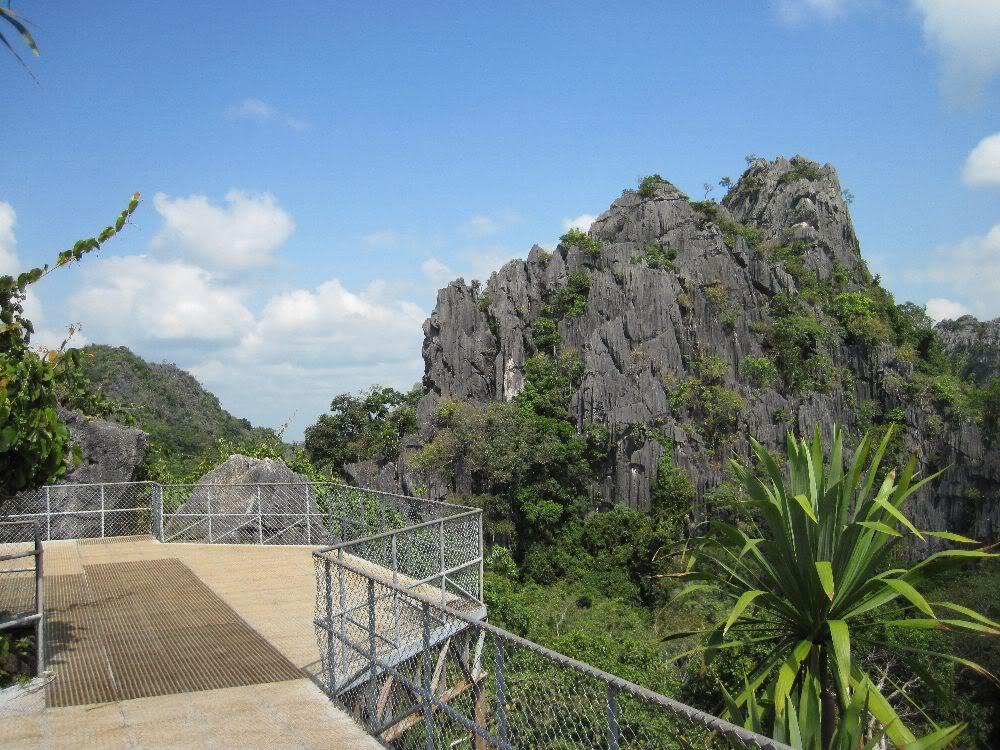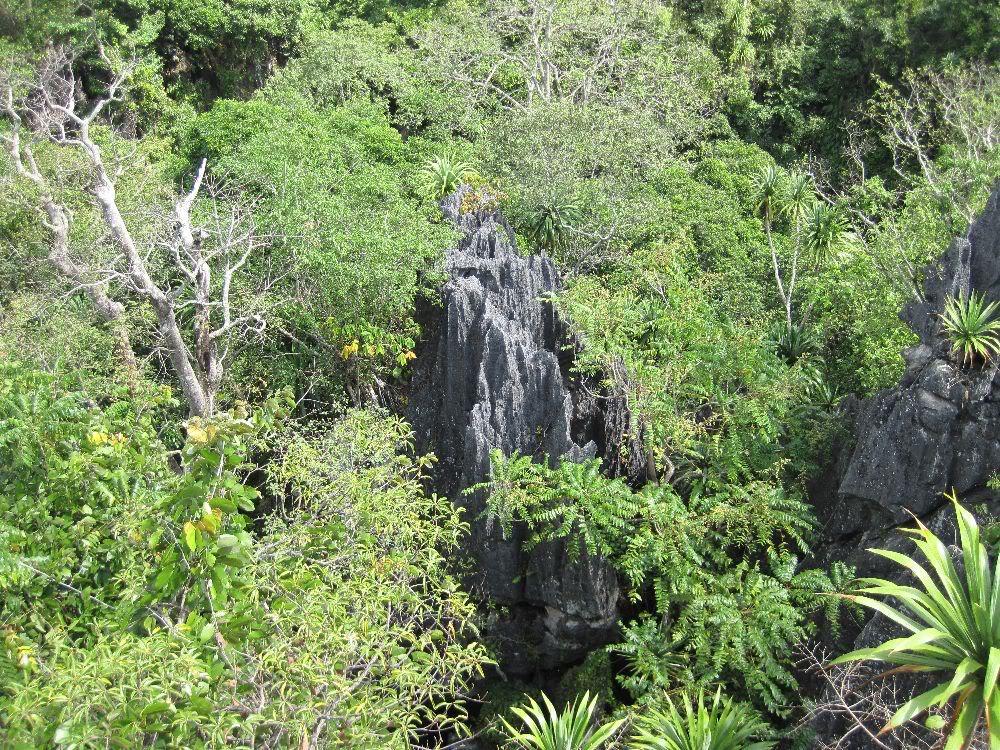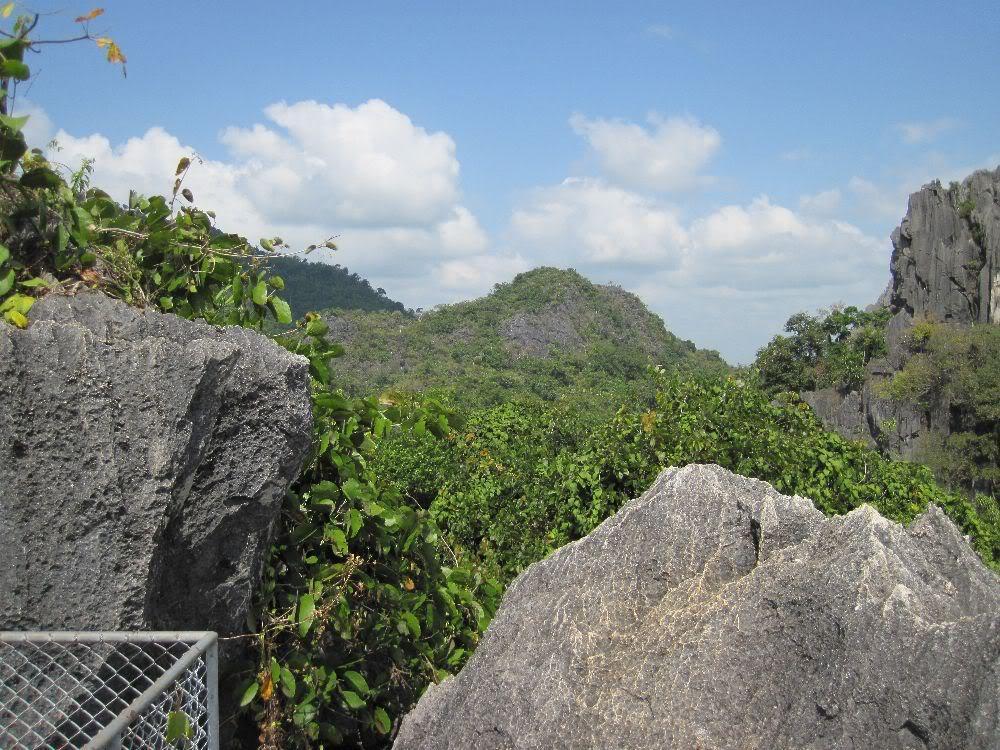 Superb views of the garden below and many other rock outcrops going into the distance. Only one person up here, and he was waiting for customers for his camera and battery powered printer setup. Unfortunately coming up alone, I did not use his services, afterwards, felt a bit mean for not doing so.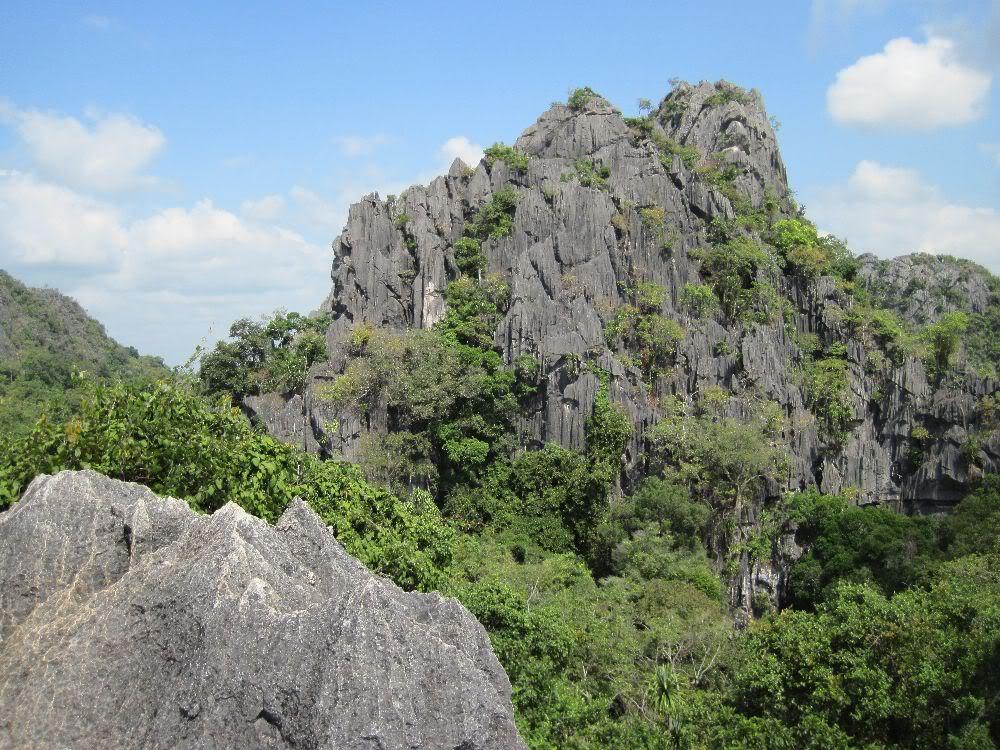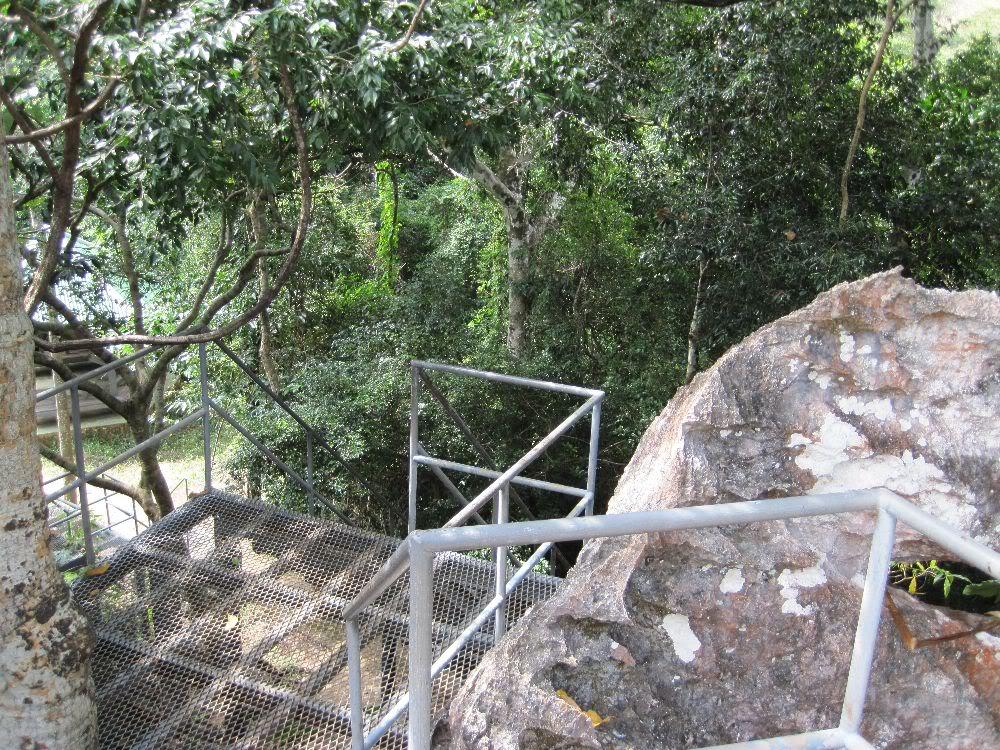 The platform is about 100m long and at the far end descends again.
Total time from the carpark about 40 minutes, maybe 3km long.
At the bottom of the steps I noticed another path going in a different direction to the one I came on, as my wife was half way down my path I could not check it out. There may be a way that goes around the rock I came through. No direction signs obvious.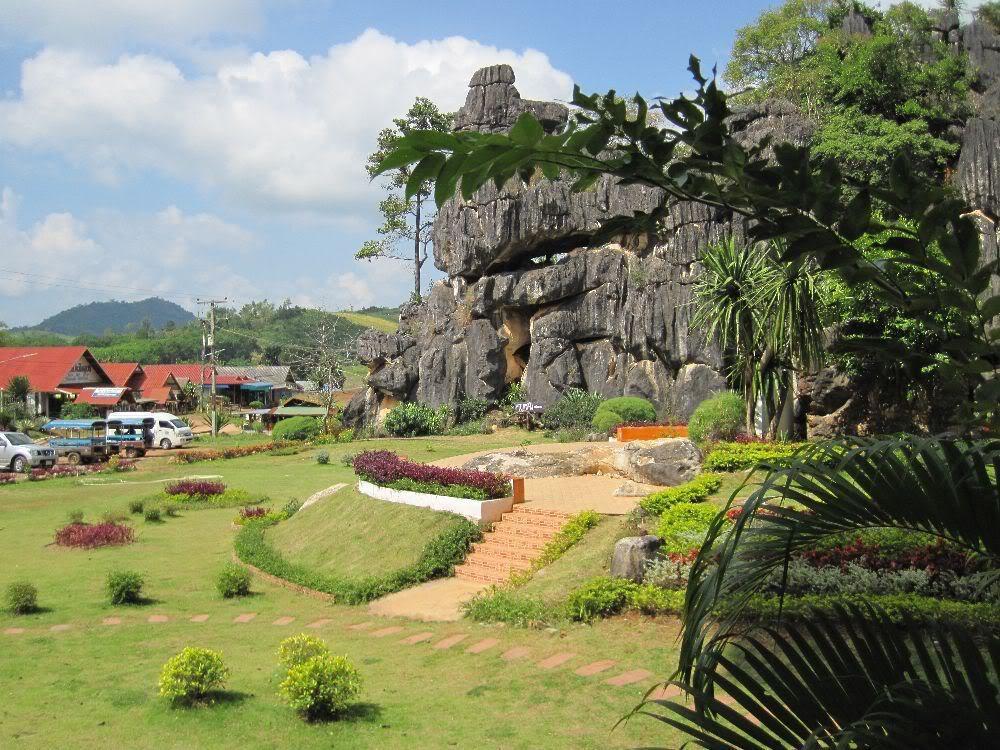 So back down the same way, pick up the wife and down to the bottom garden. In the opposite rock wall, I see another hole with a sign.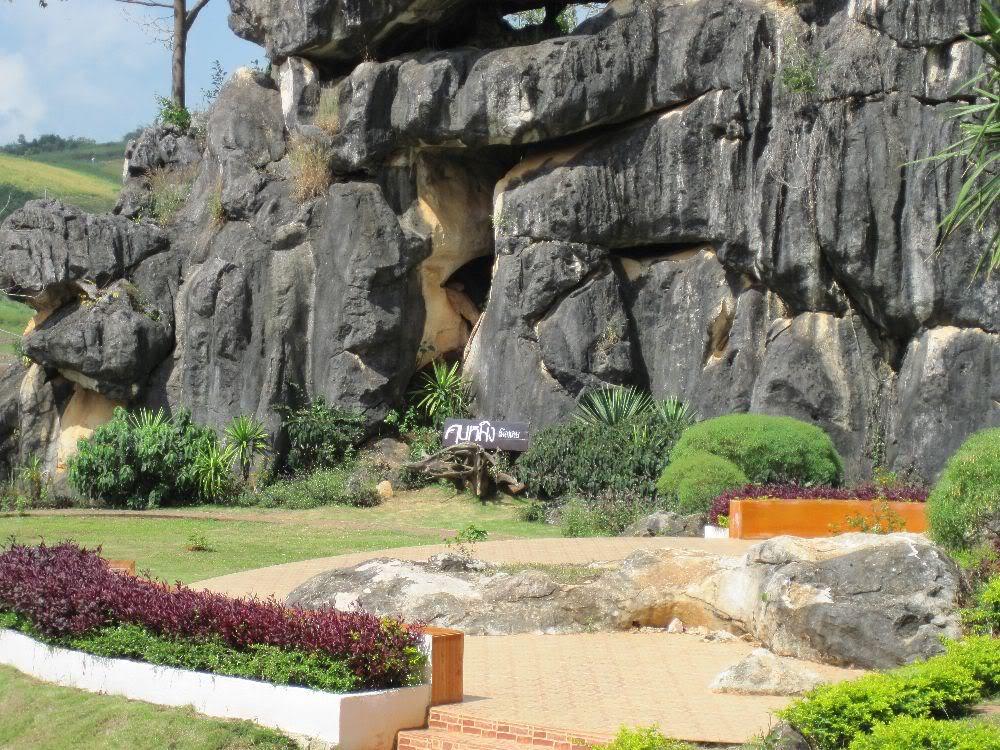 That says Khunming. So maybe thats the easier way. For checking out another time. Time now for food. Several eating places and some local weaving and other craft products. More cars here now, but mostly in the shops, met noone else on the path to the top.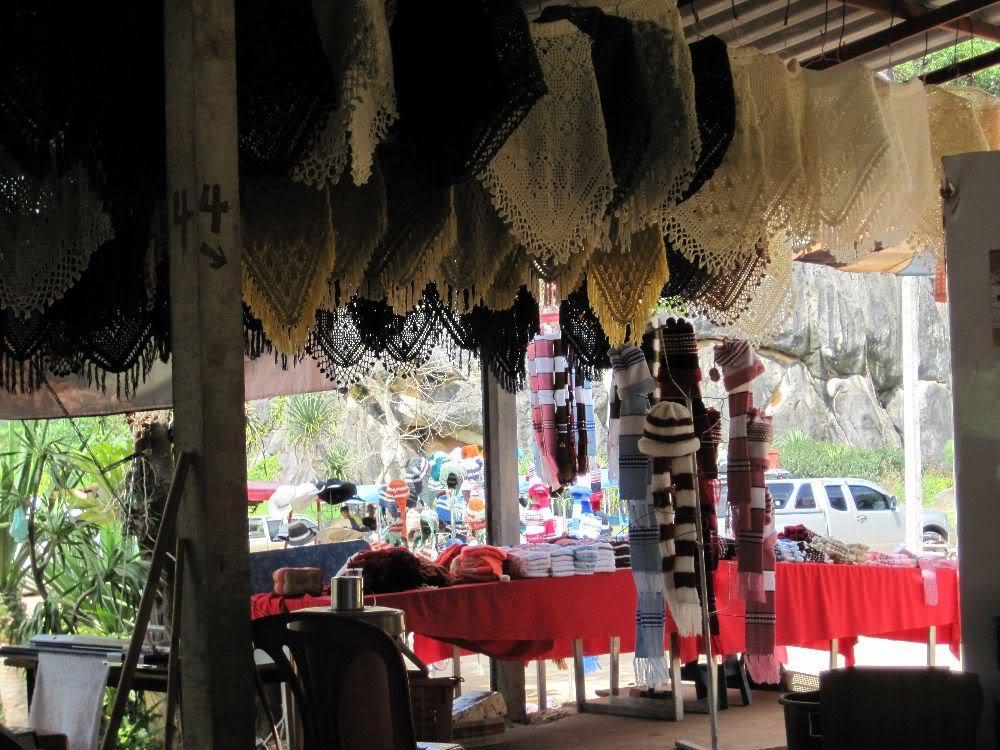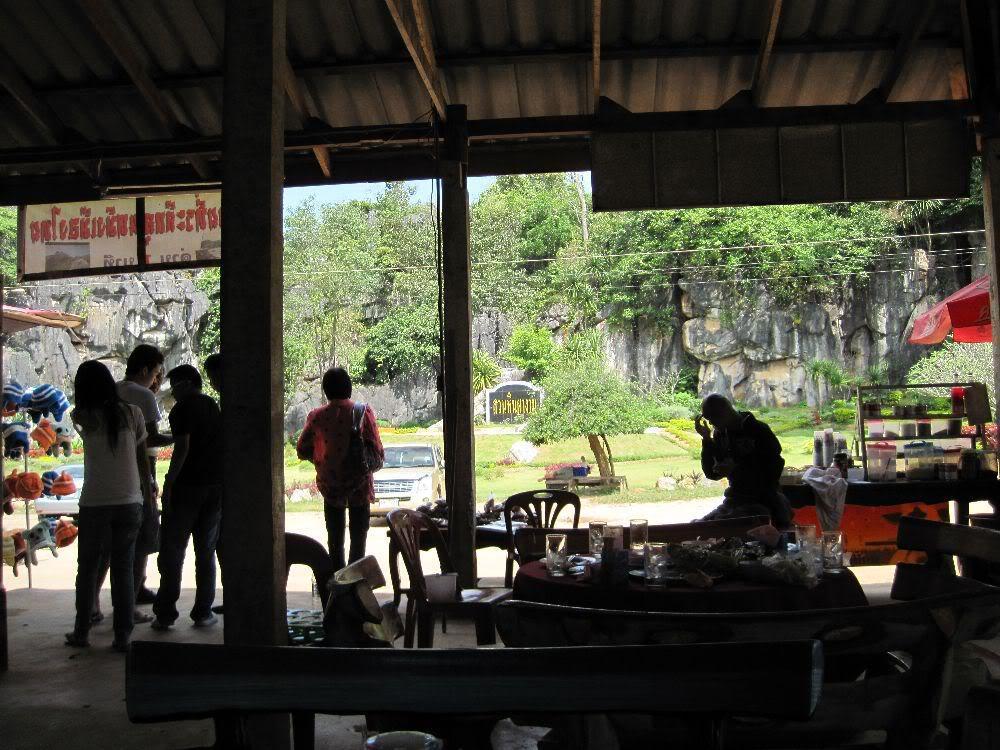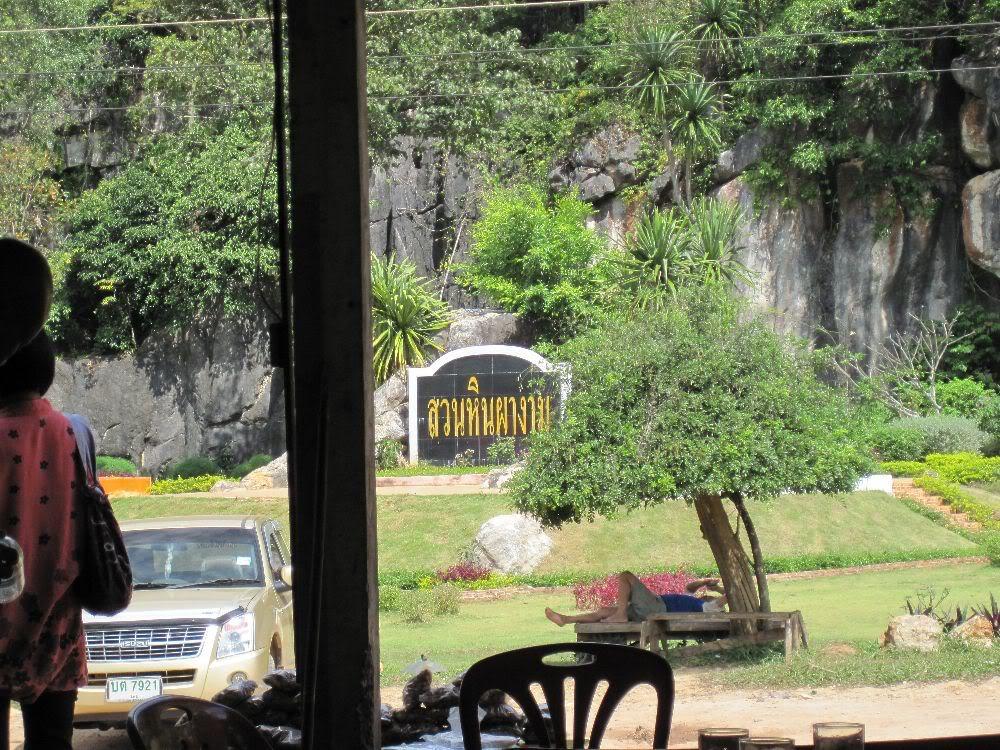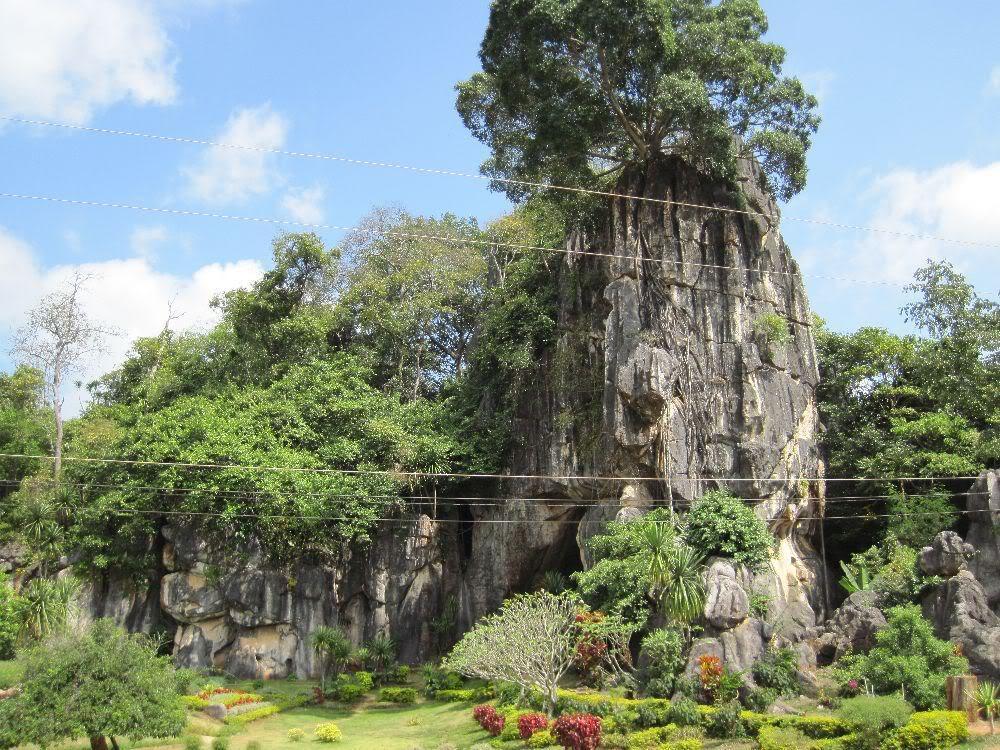 The area contains many other attractions, Wondercaves, and road level waterfalls and other exotic descriptions we saw on the way that will tempt us back before too long.