Back biking in the Land of Smiles had me grinning from the start.
I had been in Chiang Mai during Songkhran and had done 3 days of primarily off-road training
with Thai ace enduro rider, Khun Nop.
Learning to ride in Thailand, is I gather different to what I could expect back in the UK.
For one, there is no two stage test and little bureaucratic red tape to get on the road.
Riding during Songkhran is another matter.
Even though we were riding well out of town more often than not coming around the corner
into a small village, we would be greeted with a cold bucket of water.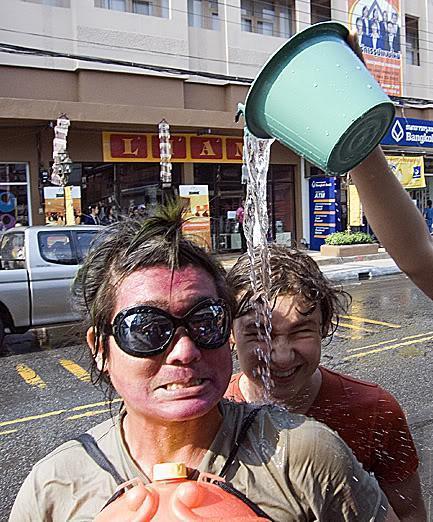 Nop, who was riding in front would normally get the first barrage.
Whilst Dad riding at the rear would get the secondary blast as they refilled quickly!
There were some visual compensations though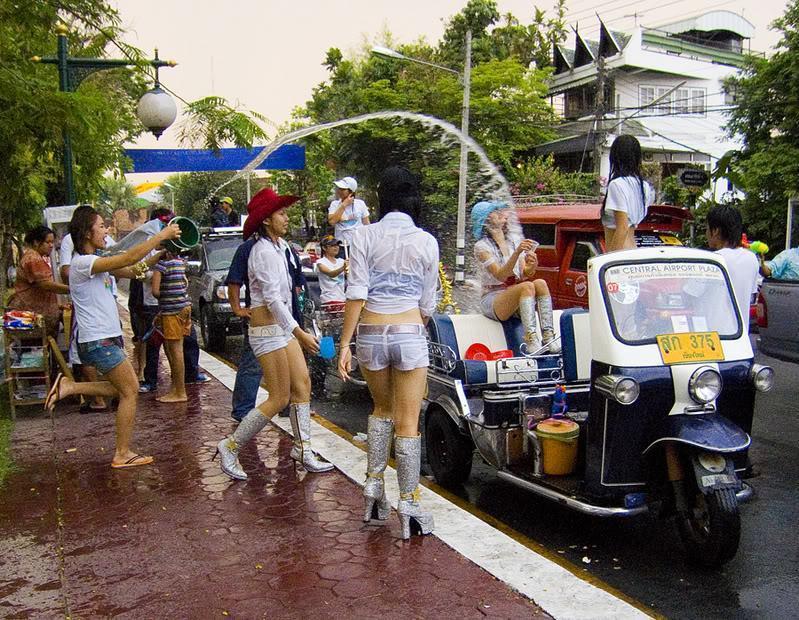 It was good meeting up again with the GT Riders in the Kafe – David FL, Dave Silverhawk
[who had some really cool pictures from his time racing at Bonneville Salt Flats], Pikey & Justin Big & Tall.
It is really thanks to all you GT Riders that gave me the riding bug,
along with Jimoi & Quynh in Laos, who made my holiday adventure a reality.
A VERY BIG THANK YOU GUYS!
Sadly I missed hearing & seeing the Bouncing Betty from TiTS Radio which is now off the air.
Perhaps she was too wasted judging from her heroic drinking tales she used to broadcast about herself.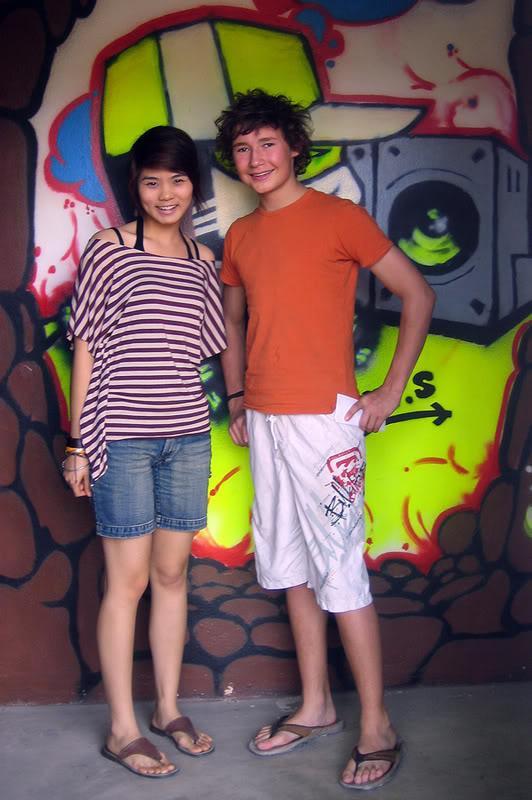 All TiTs Radio - All the Time
On the first Day we headed out towards the stadium, where Nop put me through slow control exercises.
Riding fast, on the whole, presents little problem;
but controlling the throttle in conjunction with the clutch, I was finding,
determines your ability to ride slow & steady,
whilst hopefully keeping the bike under control.
Nop, as you can see, demonstrated his one-sided riding technique.
Very Cooool!
After a morning of skills, we headed out to Houai Kao Lake, where we had lunch at the lakeside with fried chicken & rice.
Meanwhile a brief shower came down.
Afterwards, we dropped by the X-Centre for a coffee, running into Pikey, who had just got back from the UK and seeing Ian, but only briefly.
Back on up the hill, hanging a right, along a scenic side road,
which I was told would be similar to the roads I would be riding in Laos.
Eventually we reached the top where we took a dirt road through the Hmong hill-tribe villages.
We had to be careful of oncoming traffic as the road was barely a car's width wide.
The next two Days Nop and I went out together.
Dad was still having electric trouble with the Trumpet so was stuck in town.
We rode the Samoeng Loop in its entirety and did a lot of traffic work in Chiang Mai,
culminating in ten circuits of the moat.
Nop was awesome both in riding & teaching skills, as well as keeping patient with a good sense of humour.
I read somewhere that readers were asking for off-road trainers
– you would be hard pressed finding someone better than Khun Nop
– you can reach him on 0801237129
[email
[email protected]
]
[email protected]
[/email]
Finally, we visited his playground of terror.
This is the enduro course he has designed & made himself.
Certainly not for the faint-hearted.
Here, I learnt the basics of high-speed jumping and mud riding, which wasn't on the road-riding schedule.
But a really good high to end three hard days where we must have travelled over 500 kms.
After three days of intense road work with Nop,
Boong took me out for a night on the town
o) with her friends
from the office to Guy's Bar
So Far So Good
, where there was no
shortage of beautiful girls in tight Tiger outfits!
5 minutes later, Guy came out looking like his normal suave self,
and told us that there was a new drink that we must try:
Slippery Nipples
?!
Boong and I both looked at each other with confused faces.
So after a long debate weather we should try out this "new drink" of Guy's
we decided it couldn't be that bad….
Unfortunately it was!
Afterwards we went to see some full-on Thai Boxing
The little lads were really knocking each other about!
Later that night we ended up watching Davif FL's happy go lucky HGLGF sing her heart out at Fine Thanks (1).
Meow was the only singer that night who actually understood the lyrics of the song that were sung,
and she was the only one who could hold a note,
and by God could she.
After an enforced period of absence, Meow was very much back on form.
Next Stop - LAOS!
Lessons Learnt
Lifesaver - always check over your right shoulder before setting off.
Mirror, signal, manouvre.
Ride Defensively