I love this site and particularly this forum, and I enjoy spending time to read up on all of you guys' adventures. You inspire, encourage and provide me so much useful knowledge for our own trips! Before we embarked on our journey, I pledged to myself that I would try to return something to the GT-Rider community by posting a report.
(I wonder if this first paragraph will earn me a rider status upgrade…?) ;-)
Halfway through my endeavor, I ran into technical difficulties that I'd rather not elaborate on. Now it's finally done, and believe me, I'm beaming with pride! :lol:
We didn't want to start off wrecking our sexy butts by clocking up 700 km of straight expressway, so we opted to ship our Shadow to CNX by truck, while the Missus and yours truly flew up. Our first destination was the Khun Tan rest area on the fast route 11, where we were greeted by our good friends from Triple M Lampang. They took us to the Elephant Conservation Center, then to a rather exotic local market and subsequently to Wat Prathat Lampang Luang before we headed for dinner.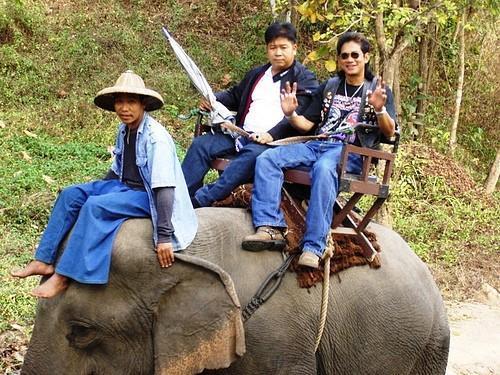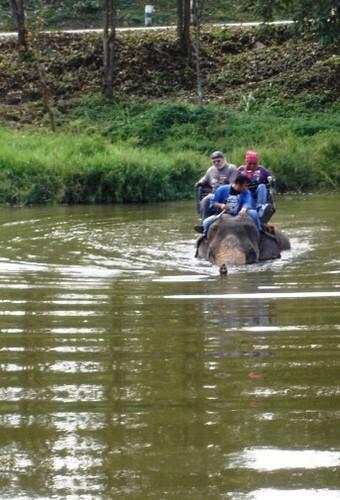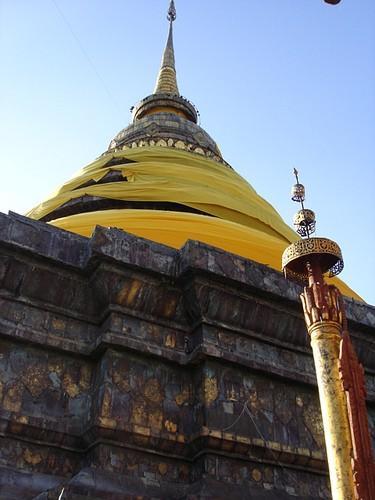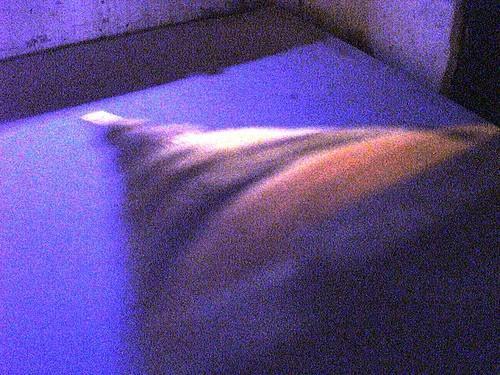 For the night we had booked a room at Akhamsiri Home in Lampang (054 228791 or 081 8837989,
www.akhamsirihome.com
). This stylish new boutique hotel opened its doors only a few months ago and is located in a quiet soi. We truly enjoyed the staff's warm hospitality, our well-equipped room and the tasty breakfast (not included in the rate of 450 baht for the night).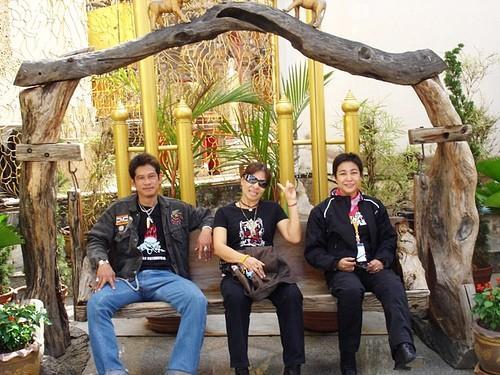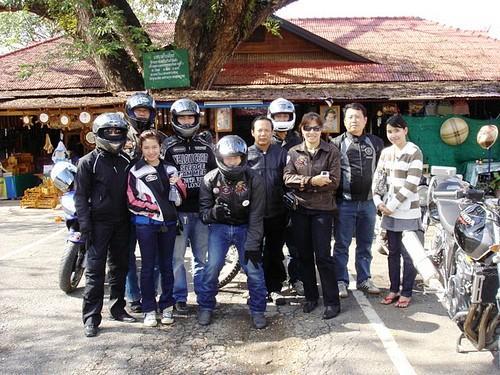 On Sunday morning a bunch of our Triple M buddies rode to Phrae with us. Again we followed route 11. It was only about 10 minutes after our take-off that we ran into a patch of light rain, just as we rode thru a few kilometers of road construction. Another 20 minutes later we were back in bright sunshine, and as we arrived in Den Chai for a bowl of noodles we were dry again (and our bikes filthy &#61516
. As it turns out, this was the only rain we encountered in a full week of traveling. Not bad, huh?
In Phrae we said goodbye to our good friends and continued via Rong Kwang and Wiang Sa into Nan. Traffic was pleasantly light for a Sunday; we enjoyed the smooth tarmac and the spectacular scenery of the tree-lined route 101. On arrival in Nan we were greeted by Chart of the Phukha Riders who set us up with a luxurious room at the brand-new Sasidara Resort. The standard room rate is 750 baht incl. ABF; Chart's connections helped reduce that to 640. We recommend this hotel to everyone who has the chance to visit Nan and likes to spend his nights in clean comfort.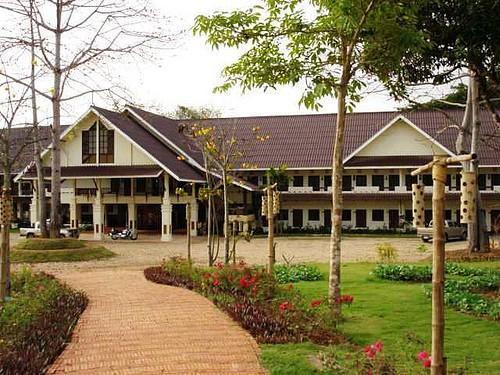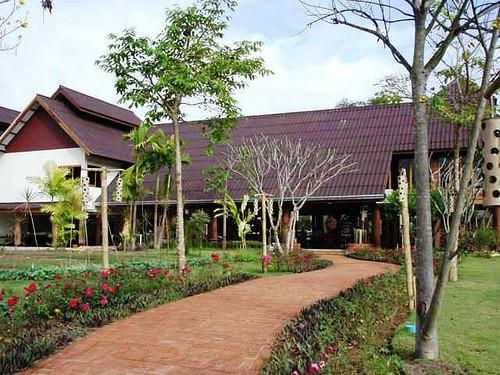 Together with Chart we took a stroll on Walking Street (not quite the same as its namesake in good old Pattaya!) and then tasted local specialties at a restaurant on the banks of the Nan River. The temperature dropped so low that we were real glad we had brought sweaters!
Chart added his own recommendations to the knowledge that we had received from this forum and from the dudes at Triple M. Equipped with all that information, we nearly burst with excitement as we strapped our bag on our bike on Monday morning. We were headed for the famous route 1256! To start with, we followed route 1080: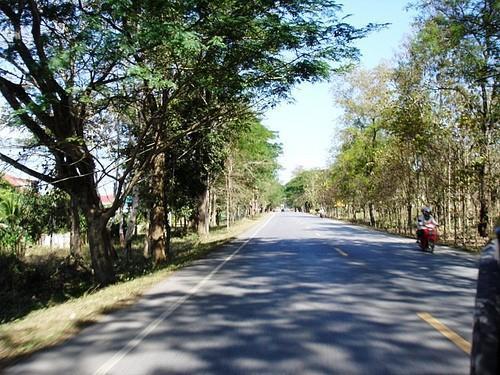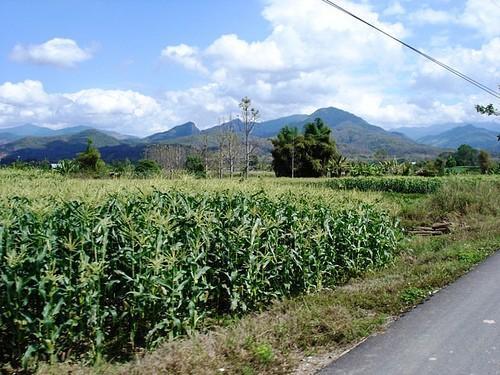 The road is not only scenic, but makes for easy riding. After filling up our tank in Pua we started the steep climb up towards Doi Phukha National Park. What an amazing mountain pass that is! The forest all around is so lush and appears so intact. Absolutely delightful!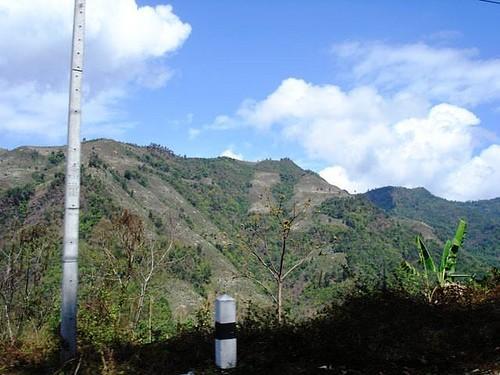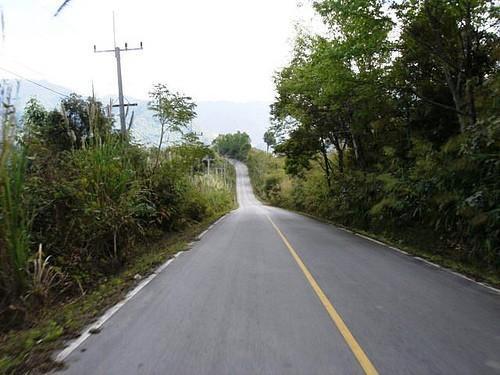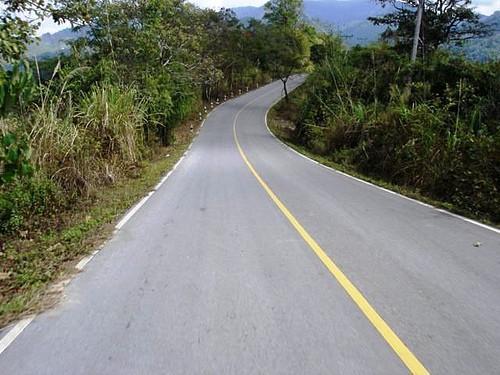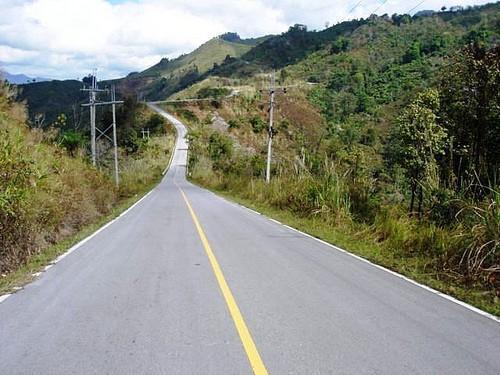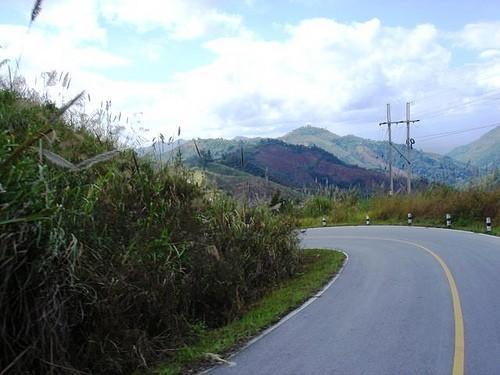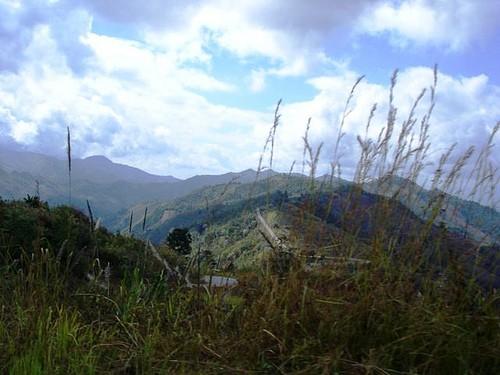 The ride is a little challenging at times, but worth every bit of effort! We went all the way to the viewpoint near the campground in the park and enjoyed an extended rest before resuming our journey.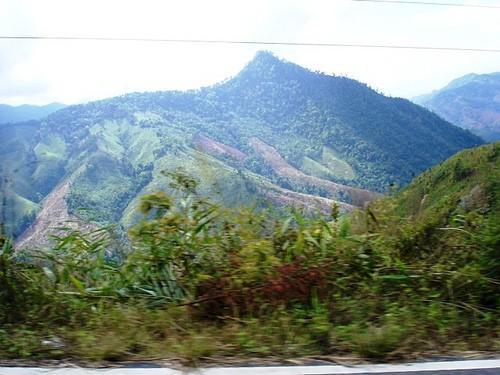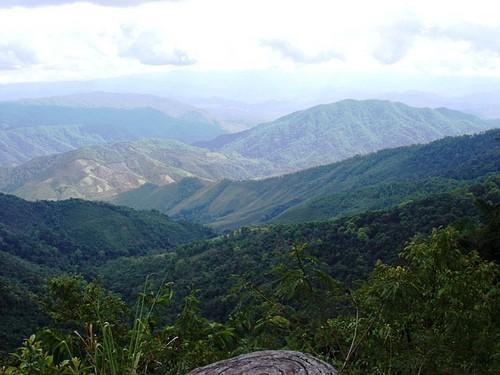 Our destination for the day was Bo Kluea, the small settlement at the eastern foot of Doi Phukha. "Why Bo Kluea?" you will ask. Well, there's a small hospital for which we helped collect donations during Northern Bike Week in Uttaradit last November.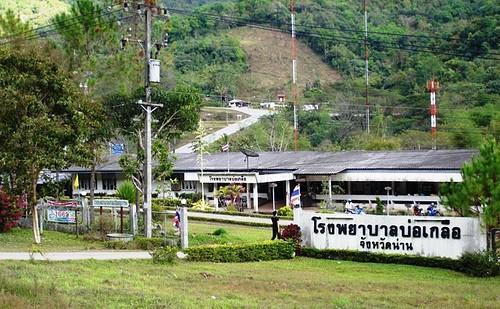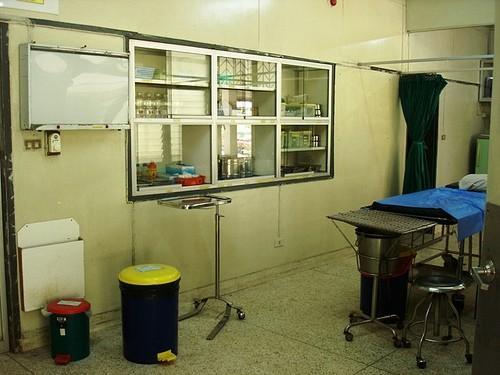 They plan to add an accident victim treatment center, and we wanted to see how the project is progressing.... As it turns out, there are still difficulties with the distribution of the proceeds from the bike week. As a result, no trace of the new facility is visible yet.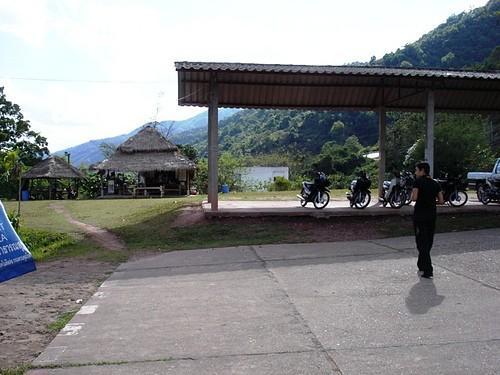 The hospital was designed for 10 beds, but the resourceful staff has managed to increase the capacity to 20. On the day we visited it appeared that this suffices for now. There's only one doctor here.
Instead of the lonely Doi Phukha cottages, we opted for the Bo Kluea View Resort just before the bridge at the town entrance (081 8096392, 054 778140,
www.bokluaview.com
). At 1,600 baht per bungalow, it's not cheap. The peaceful, natural atmosphere and phenomenal food are well worth the price though.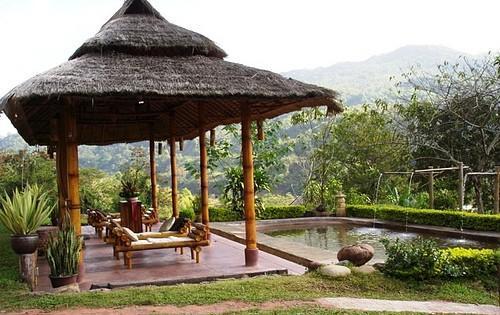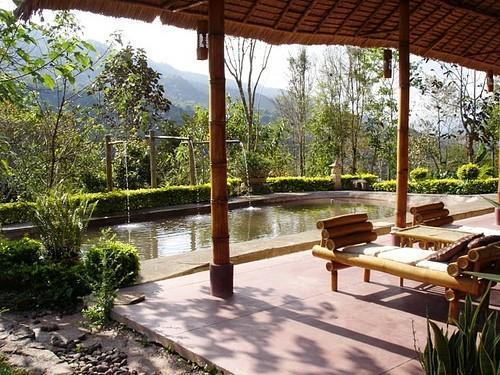 We pulled into the resort and noticed a parked BMW R100GS. Soon enough the rider showed his face. It was none other than Doc Steve Moore, whom many of you will know from his regular visits to North Thailand! He had merely taken a rest at the resort and left after a brief chat, offering to check out the condition of route 1081 heading to Huai Kon near the Laotian border. Little did we know at that point that he had forgotten his cellular phone at Bo Kluea View and would have to come back for it the very next day (but that's a different story!). Steve did call his own number that night and asked the resort manager to tell us that 1081 northbound was not his recommended way out of town… :lol:
After a pleasantly cool night and a hearty breakfast, we mounted our horse in brilliant sunshine. We paid a visit to the salt shacks in town, then made a right turn on 1081.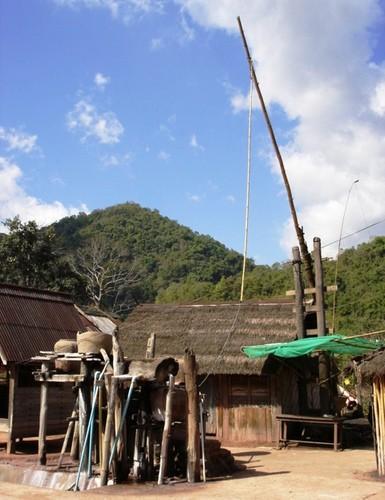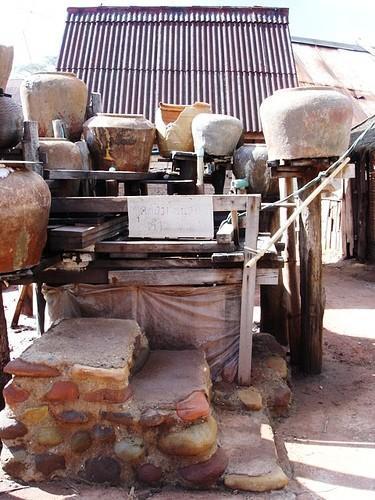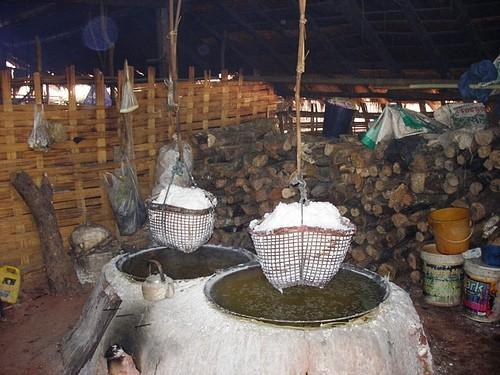 Man, were we ever enchanted with our choice!!
First we took a little side trip to Phu Fa, a royal project to the east. The road appears brand new, so smooth is the surface almost all of the 15 km into the jungle.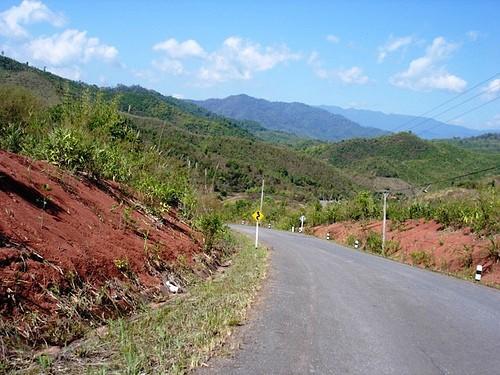 It's a dead end, so we had to return the same way to 1081. From the intersection, the fun factor increased to permanent idiot grin level!! Only your bike's ground clearance will rule your speed as you fly down the smooth tarmac through some of the nicest sweepers you have ever experienced!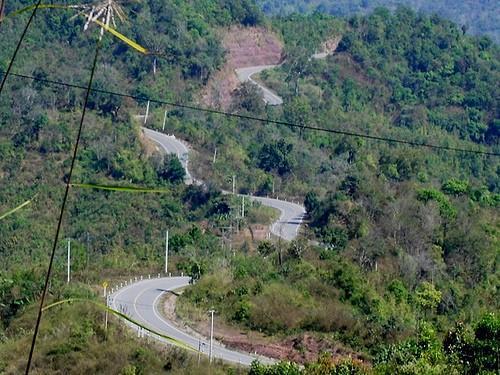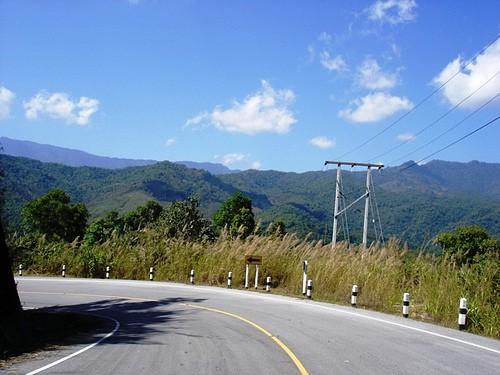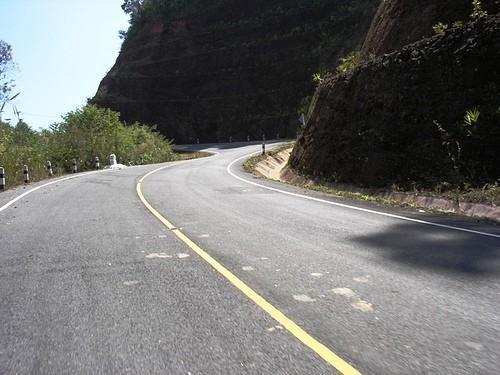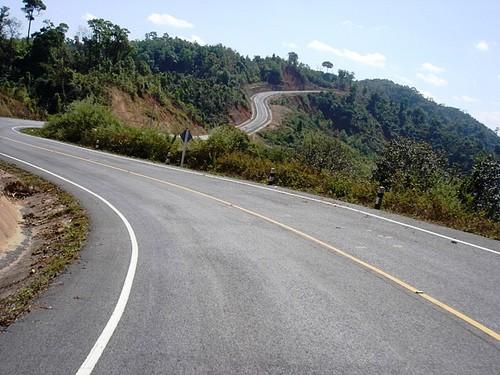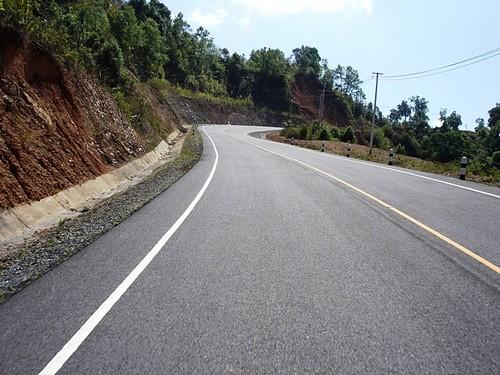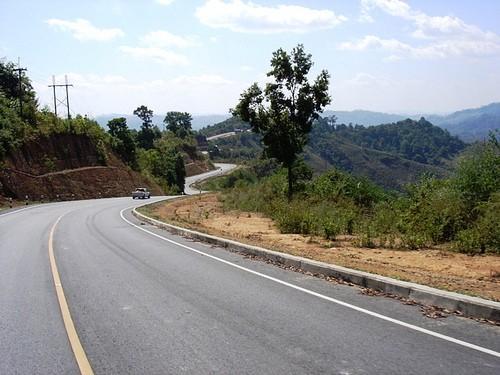 Regretfully, the new road is not completed yet, so the fun stops about 15 km from the Phu Fa intersection. You'll have to make it through some 4 kilometers of rough terrain till you reach the remaining old section down into Nam Yao, where we took a right into Pua, then a left to Tha Wang Pha…….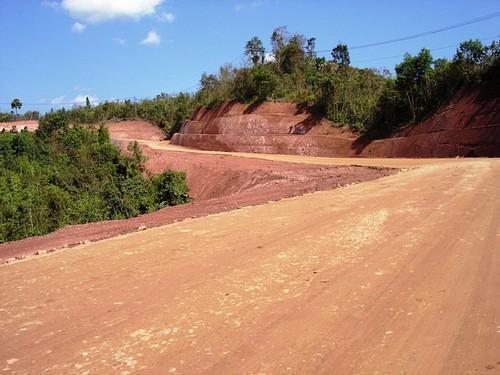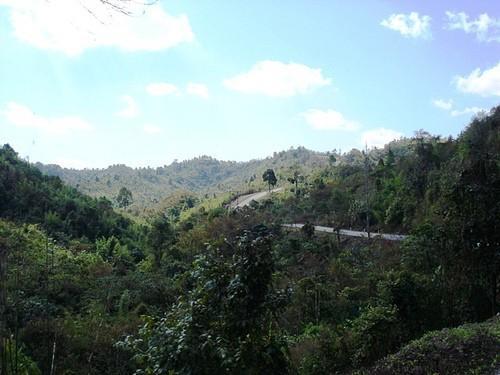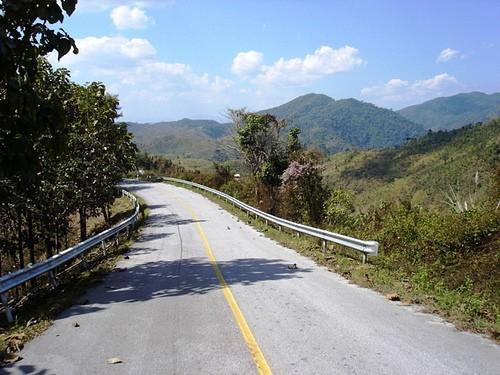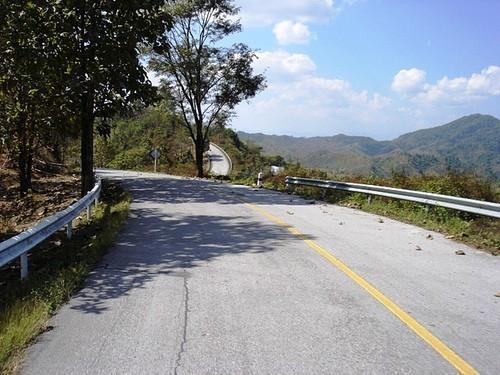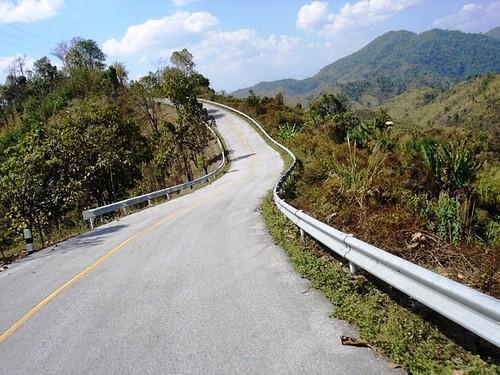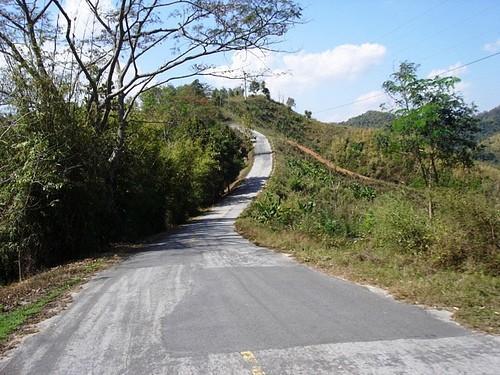 Everybody always talks about the famous route 1148. It starts right here!!
I don't have words that could adequately describe this amazing 125 km of asphalt via Song Khwae all the way to Chiang Kham! God knows how many times my footpegs scraped the road. I can only say the ride was so good that we completely forgot to take photos. Go ahead and kill me for it!
The beauty of being a rider is that you get to control the ride (or at least you think so)
. The pillion rider, on the other hand, has the luxury of fully enjoying the view. More importantly, she determines the speed, without ever touching the throttle grip no less! :lol: Well, someplace along the way she hit my leg so hard that that I swore I must have run over a newborn baby! Guess what: She spotted Steve Moore's beemer parked next to a sala in a left-hander! And there he was, fast asleep in his helmet and all, dreaming of choppers tearing through the hills!! :lol: We rode into Chiang Kham together and ended up staying at the Chiang Kham Garden Resort because we couldn't find anything more acceptable. This place is run down and sleazy, so we can't recommend it. Right opposite the hotel, however, you'll find "Phet Restaurant"; we all liked the food there a great deal!
Predictably, we did not sleep well that night. It seemed like something invisible (or very miniscule) was nibbling away on our legs, so we were extra glad to hit the road in the morning. 5 km north of Chiang Kham, we hung a right turn to route 1093, the famed Phu Chi Fah Road. What starts as a fairly nondescript secondary road develops into one of the most rewarding routes. Practically no traffic. Panoramic views and lush vegetation abound, as 1093 snakes its way through the hills.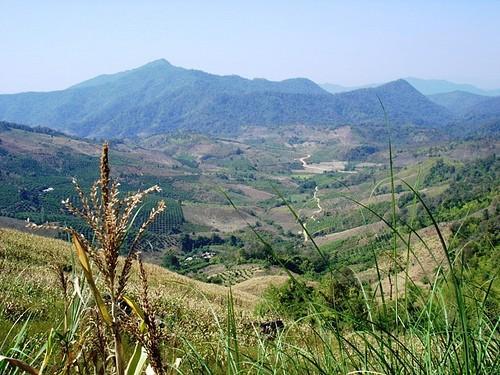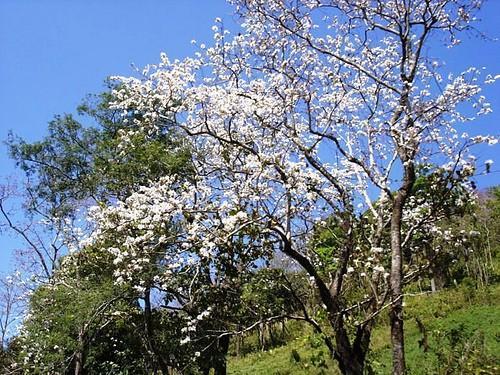 The surface quality is good throughout.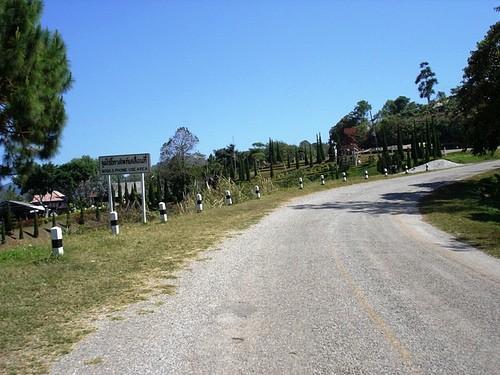 The only signs of civilization along the way are various Hmong hill tribe villages.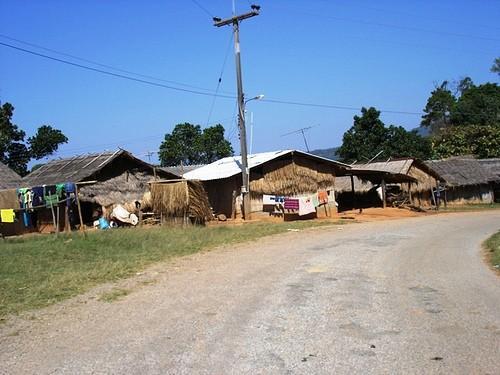 A special treat for us Bangkokians was the extremely clean air. In various places the fragrance from blooming trees was so strong, it seemed we were riding thru a perfume store!
From the parking lot at the top, you can see the summit of Mount Phu Chi Fah quite a distance farther up. The only way there is on foot. Our 11-year old guide walked us up there while entertaining us along the way. The climb was truly worthwhile for the spectacular scenery!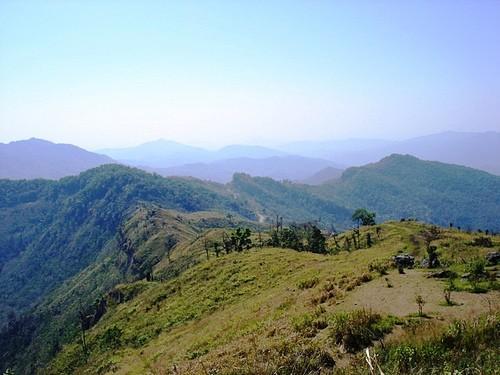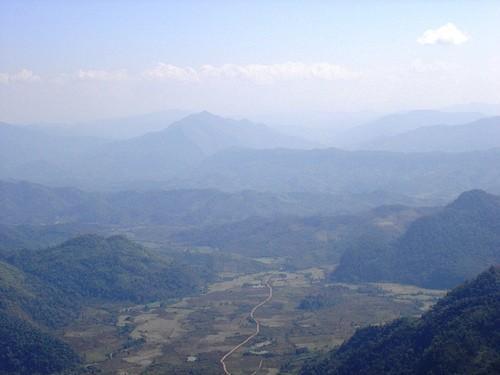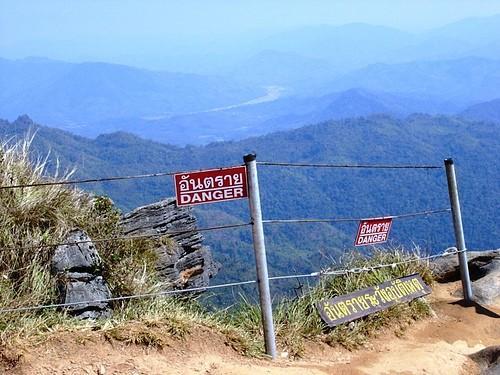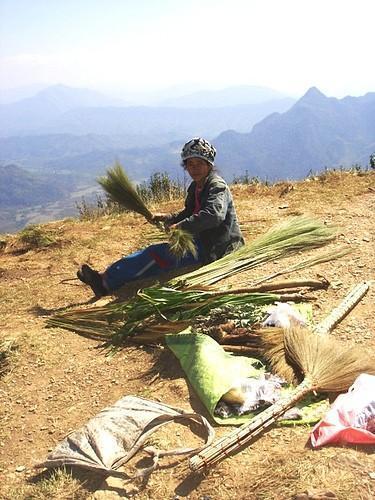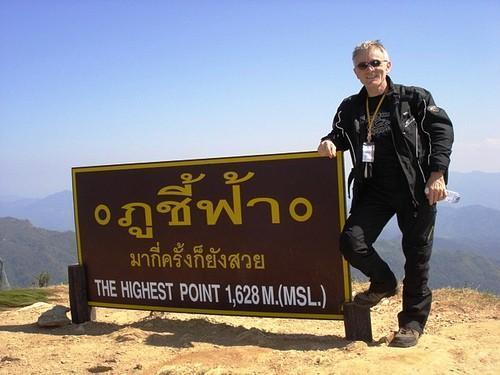 Back on the road, we savored a quick bowl of noodles down in the village and then started our descent on route 1093 into 1155. Last March we rode 1155 shortly after the first GT-Rider reports praised it for its impeccable surface. Now the road is still lots of fun, but the asphalt is deteriorating at its northern end near Wiang Kaen.
Our destination for the day was Chiang Khong, where we stayed at the pleasant Rim Nam Guesthouse (053 655680, 500 baht/night).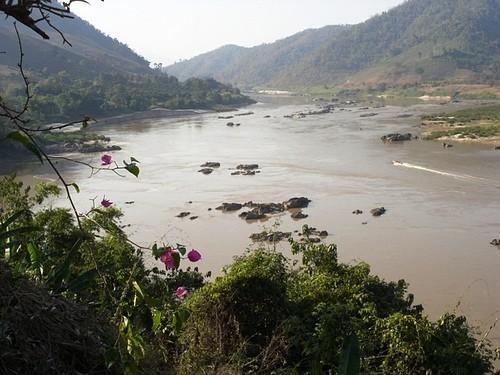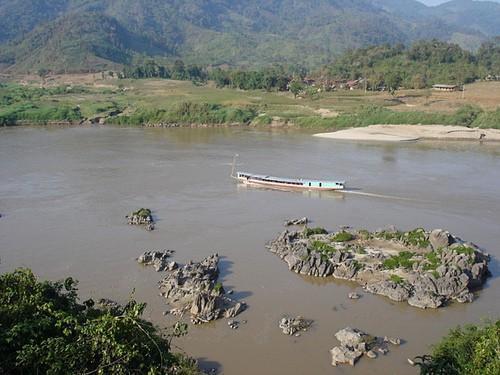 At the guesthouse we met four bikers from Malaysia whose plan it was to head into Laos the following day. The idea struck us as adventurous, so we asked the dudes if they'd take us along. In true biker spirit they accepted spontaneously. Early in the morning we reached the ferry pier and lined up at immigration. Unfortunately it was right there that we had to say goodbye to our new friends: They held transit papers for their bikes; all we had were our passports and the original registration book. We would have held our mates up forever, so we decided to postpone our endeavor until the next opportunity, and we made a mental note to be real well prepared next time.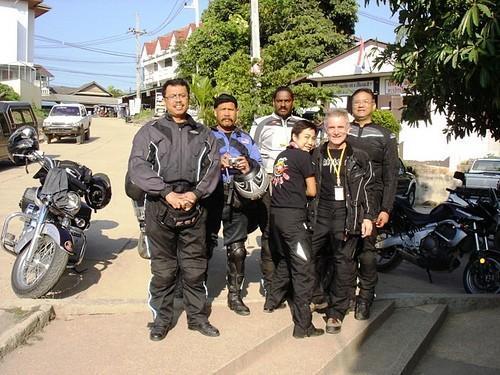 Along the beautiful Mekong River we continued our journey on routes 1020/1129 to Chiang Saen and on 1290 into Mae Sai. 1290 is developing serious patches of potholes and is in need of repair, but the view is superb. From Mae Sai we went south on 110. About 20 km out of Mae Sai we took a right towards Mae Fah Luang and a few kilometers further, a left on route 1338. Our map showed this as one possible access to Doi Mae Salong, and the map was right. What a ride! The road is barely 15 km long, smooth as a baby's ass and totally devoid of traffic. (Unfortunately our camera ran out of batteries, so you'll have to go check this one out for yourself!) If you're looking for a place to practice your cornering skills, this is it, man! It's narrow all the way, one tight corner after another, until you finally make your right turn onto route 1234 towards Doi Mae Salong.
Despite Chinese New Year, 1234 was surprisingly quiet. The road is steep and winding, the asphalt is good, and the mountain views are simply brilliant! We enjoyed a yummy lunch at a Chinese restaurant on the top and then descended down into Thaton for a night at the nice Thaton Chalet (053 373155-7, 1,350 baht for a quiet and clean river view room).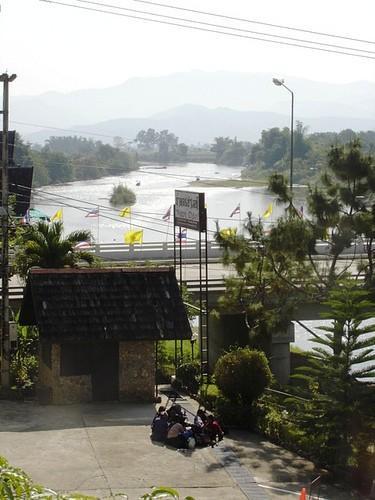 The following day we rode straight along 107 to Chiang Mai, not without a hearty lunch at Mon's and Kurt's in Chiang Dao though. Despite various visits to the Kafe over the following 3 days, we never met David or any the other regulars there. Oh well, this'll give us a reason to return!  8)
All in all, an unforgettable trip. By the next cool season, some of these roads will have deteriorated and others will have been repaved, so I'm sure we'll find fresh territory to cover when the mercury drops again!