Excerpt: After exploring Oudom Xai's neighborhood, I took fabulous route 13 toward Luang Prabang, with an overnight in Nong Khiew. LPG is still an Asian jewel city worth a longer stopover for cultural visits or just to hang around.
Second part of a Laos trip report (2).
The road to Luang Prabang
See also:
Part 1 - Crossing the border :
An Easy Road to Laos - 1 Crosing the border
Part 3 – Plain of Jars :
An Easy Road to Laos - 3 Plain of Jars
Part 4 - Back to Nong Khai
An Easy Road to Laos - 4. Back to Nong Khai
The complete
photo story
can be found at :
http://picasaweb.google.com/campusadvis ... ngPrabang#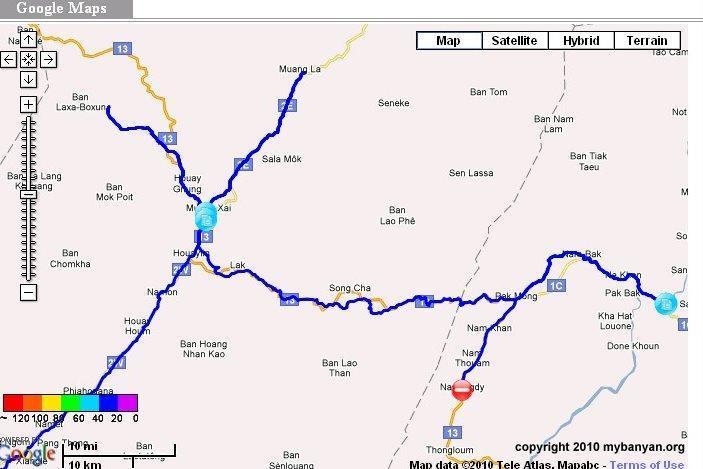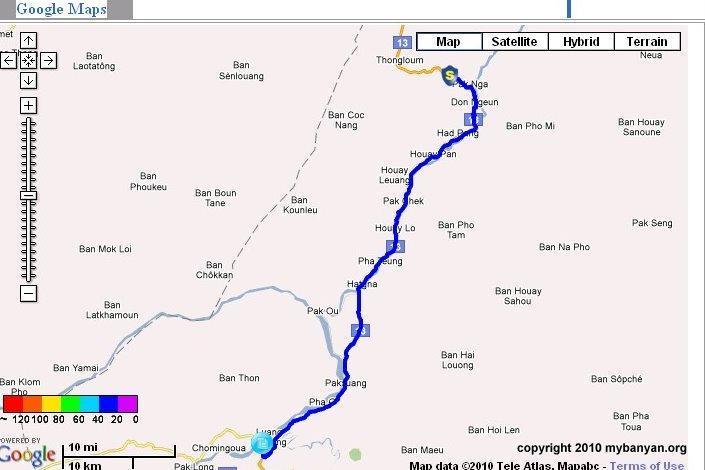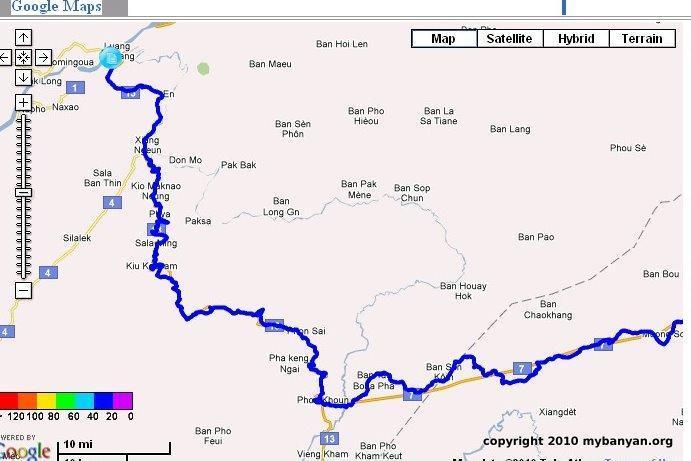 Oudom Xai (and region)
After checking in to Oudom Kham hotel, I wasted no time to settle down. Sheer curiosity pushed me to scout the road toward Luang Namtha and I jumped on the bike, crossing Oudom Xai (1) toward the North. I had changed my initial Laos itinerary, and entered the country in Muang Ngeun, to avoid this road under renovation. But now, I felt safe to explore the wild territories of route 13, starting from the end.I had already reached my retreat for the night and could turn back at any moment.
Wearing a T-shirt and shorts (a usual mistake), but at least a "hard cover", I went on the dreaded track. After a couple of curves, the trail showed his colors, a stony and crumbled surface, with scattered boulders waiting to be integrated into the construction. I progressed at the pace of a bicycle, but the ER6 behaved nicely, without any attempt to throw me out of the saddle. She probably took example on a couple of "Hondas" driving the same itinerary with heavy loads on their small shoes.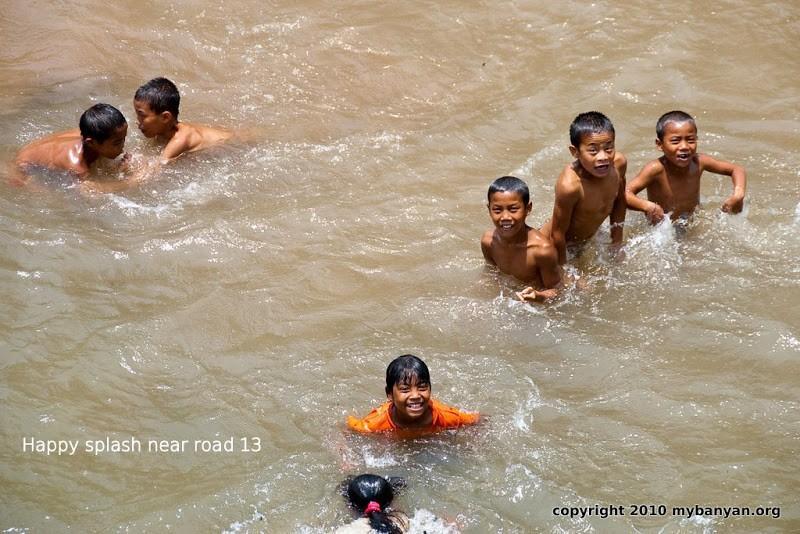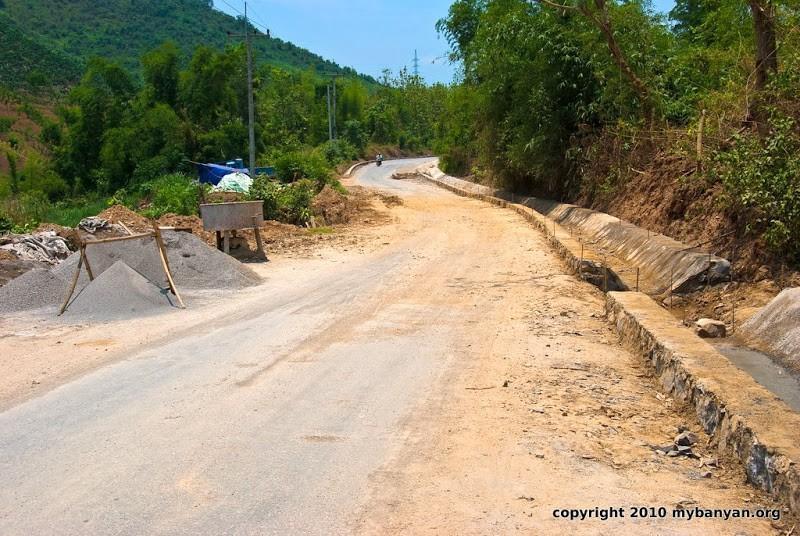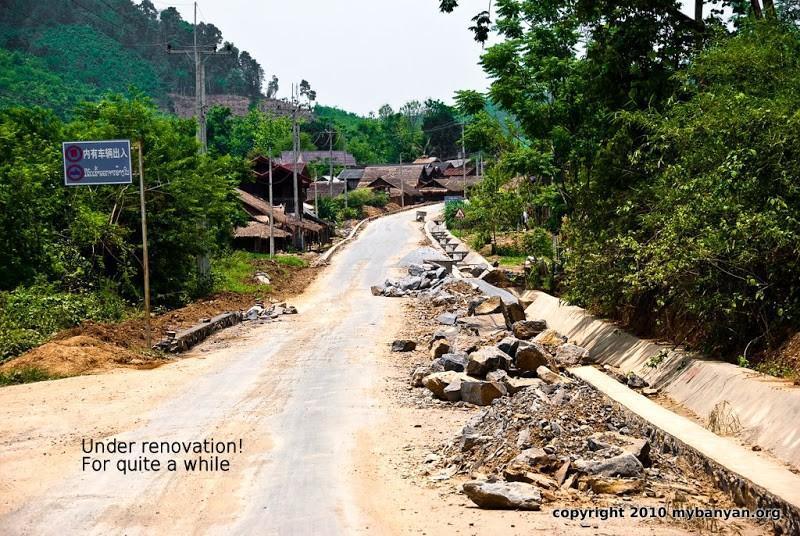 Big vehicles are kings on this path. If they are not trapped in a congestion, they speed their way across the track, mostly encroaching on the entire tarmac. A dense cloud of dust is another bonus of each encounter with these VIP buses, lorries and construction trucks.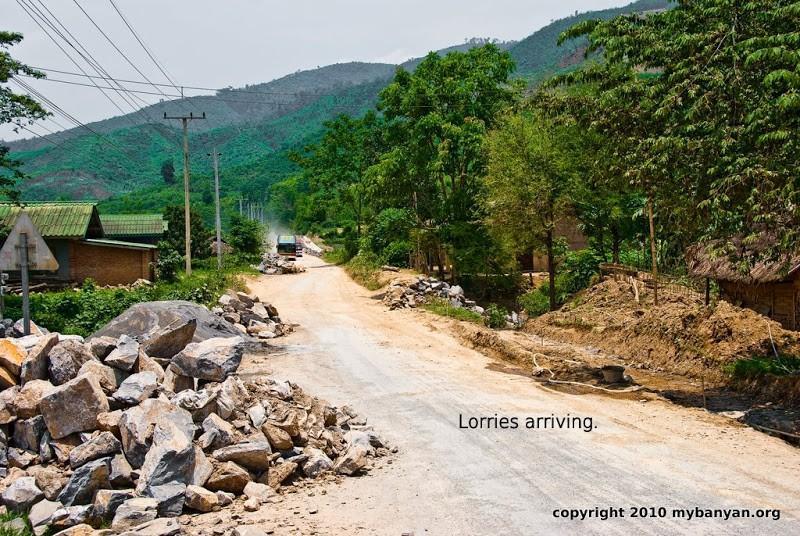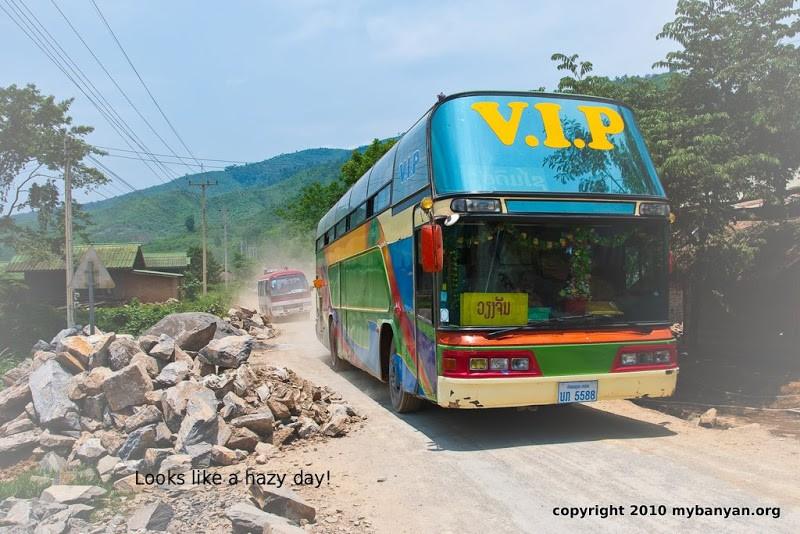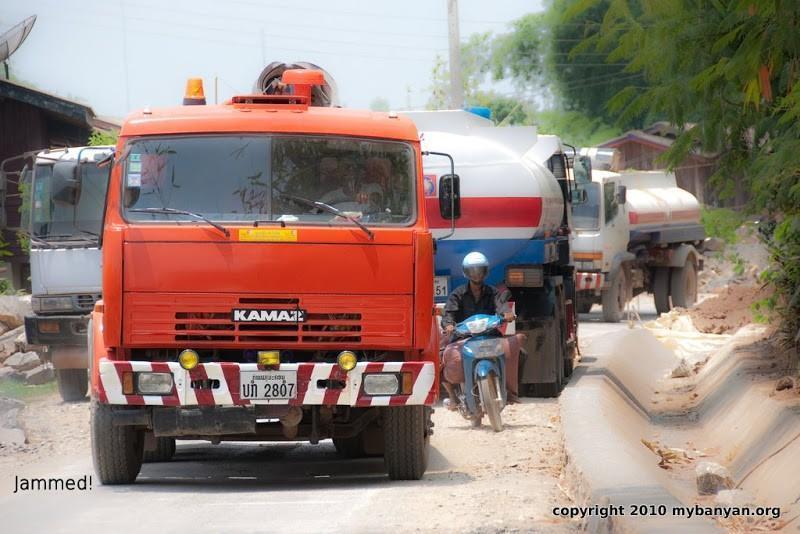 As I worried about the razor shaped stones, testing their teeth on my tires, the road suddenly became a smooth carpet, a wonderful renewed promenade. It was a dream, a glance at a fully updated link through North Laos, a bite of the driving feast that route 13 might soon provide to our two wheels. In a couple of month, we might totally enjoy this itinerary, at least till monsoon, landslides, heavy lorries and poor construction crumble it again.
After a short respite, the construction started once more, and I went on, jumping my way up till an altitude of 1066 meters. Suddenly a roadblock stopped the traffic, heavy operations were ongoing on the other side of the stalemate. This triggered my decision to turn back, as I had satisfied my curiosity and remembered that the same mess was waiting on my way home.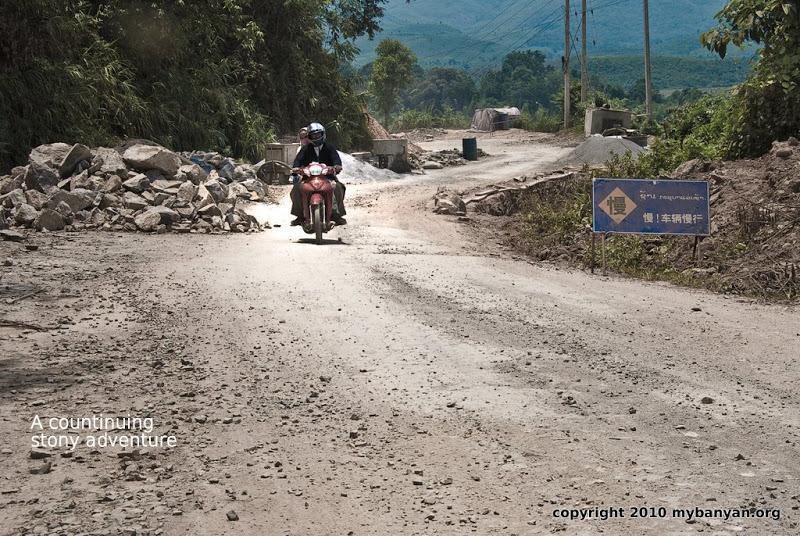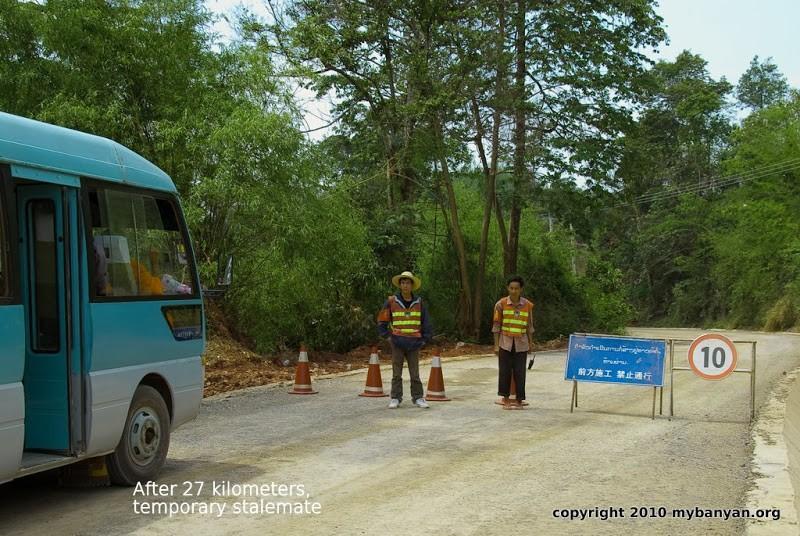 I knew what to expect from the pavement and had more possibilities to enjoy the panorama on the return journey. Nevertheless, places under construction, with signalizations mostly in Chinese, and racing trucks, still commanded permanent attention.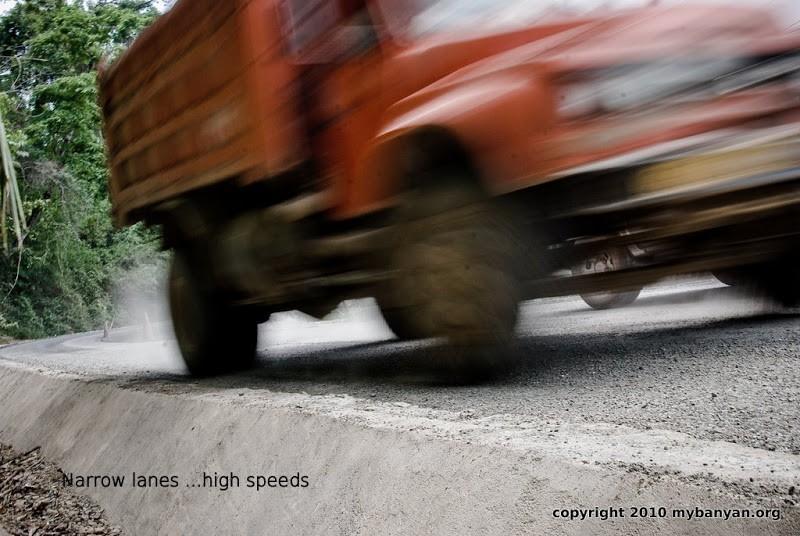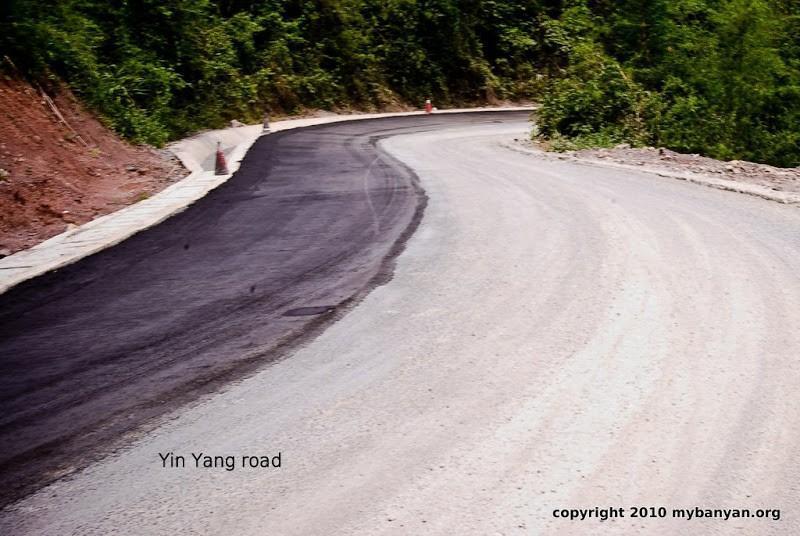 Travelers in North Laos enjoy lush sceneries, green hills rolling toward blue mountains, winding roads shadowed by large canopies, and, all along the trails, villages with cheerful people. Unfortunately they also have to endure the distressing and ubiquitous view of a dying forest, burned down to baldness.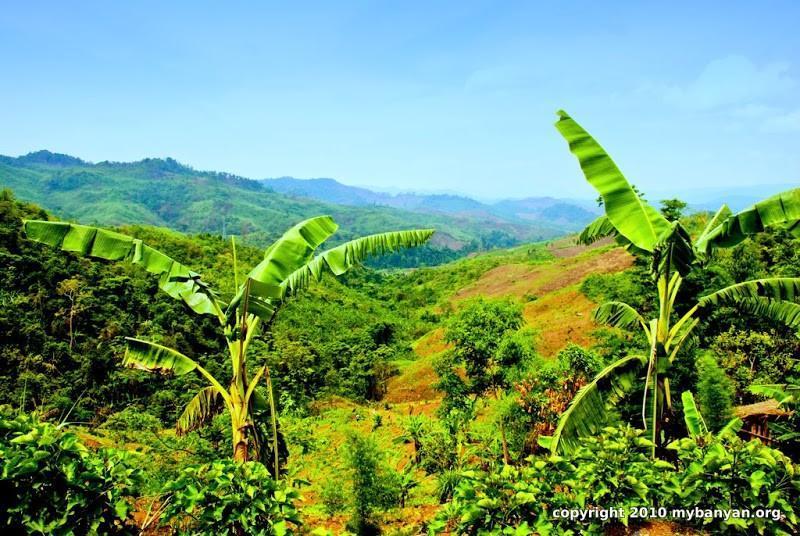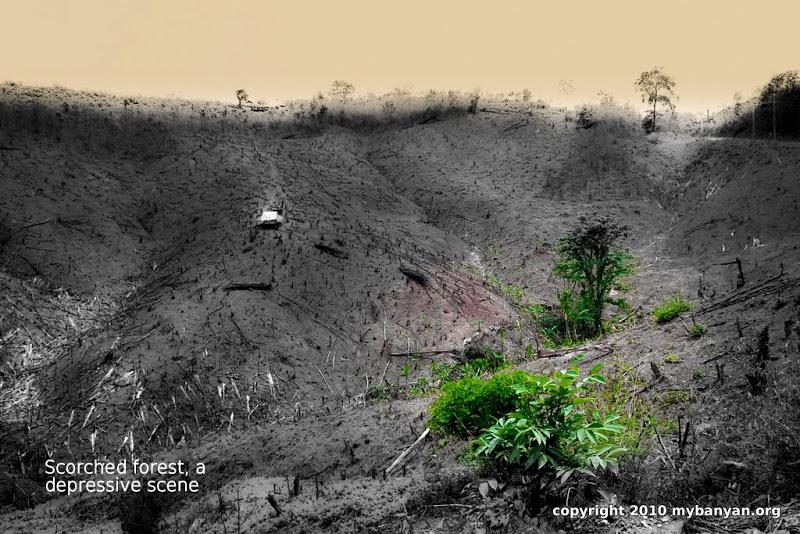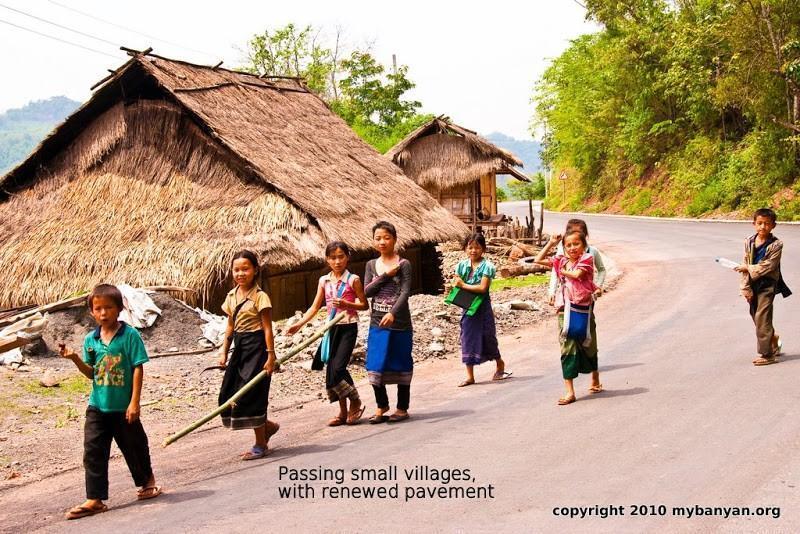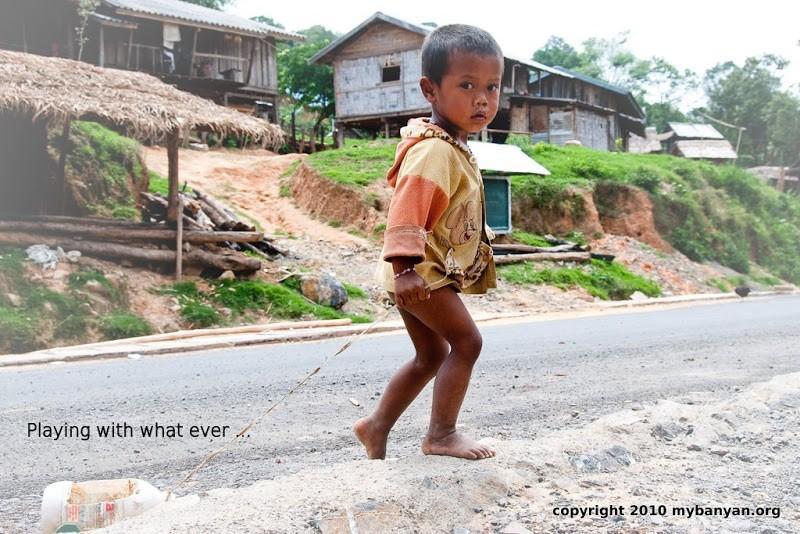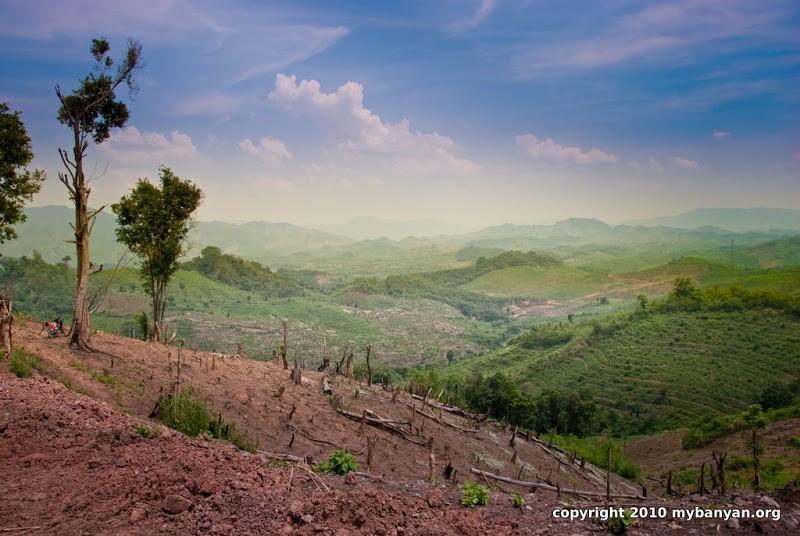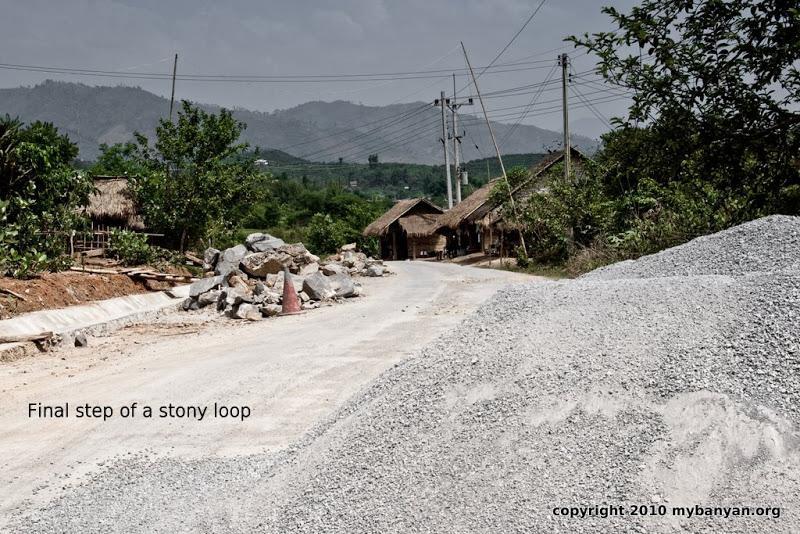 After my treat of dust and shakes, I was happy to settle down in Simphet restaurant for a late lunch. This place is probably the only foreigners hangout in town. There, I had a chat with a biker arriving from Luang Namtha on an off road gear. He said that the last piece of the cake was the most messy, making me wonder if my curiosity had pushed me twice on the worst segment, the one I wanted to escape from, even for a single journey.
Despite the construction sites, the track from Luang Namta to Oudom Xai seems feasible on an "ER6 touring bike", sometimes at walking pace. Nevertheless, I do not regret my alternative itinerary, as the entry through Muen Ngeun was also enjoyable.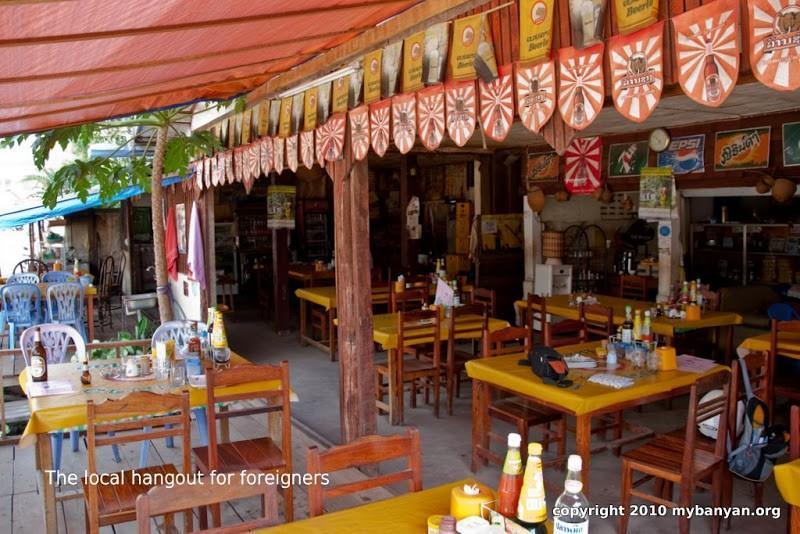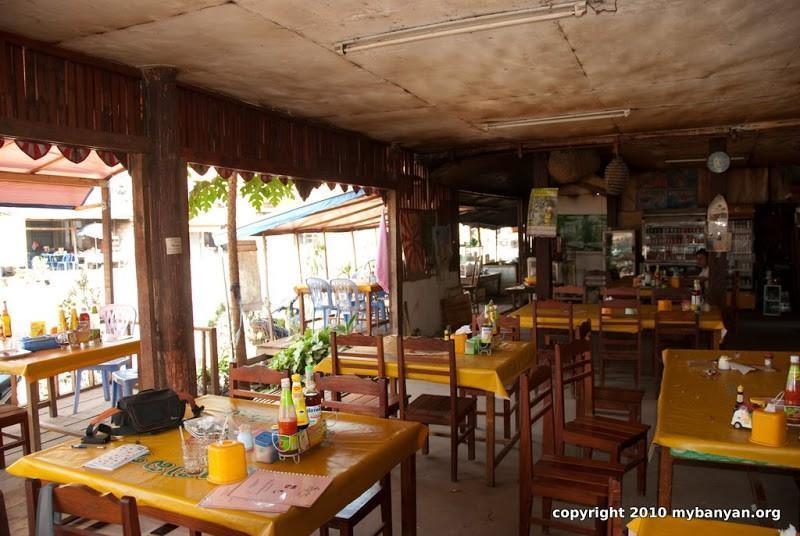 The stupa, on Phu That hill, is a landmark of Oudom Xai. It is worth a visit, not only because of its size, his traditional Lao architecture, and his large standing Buddha image, but also to enjoy a peaceful environment and a great panorama of the region. After being destroyed during the war, it has been recently rebuilt as an important worship place.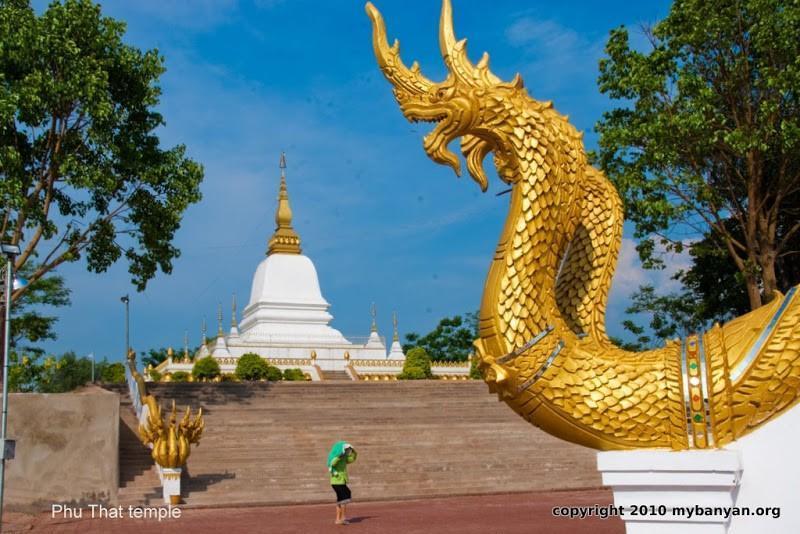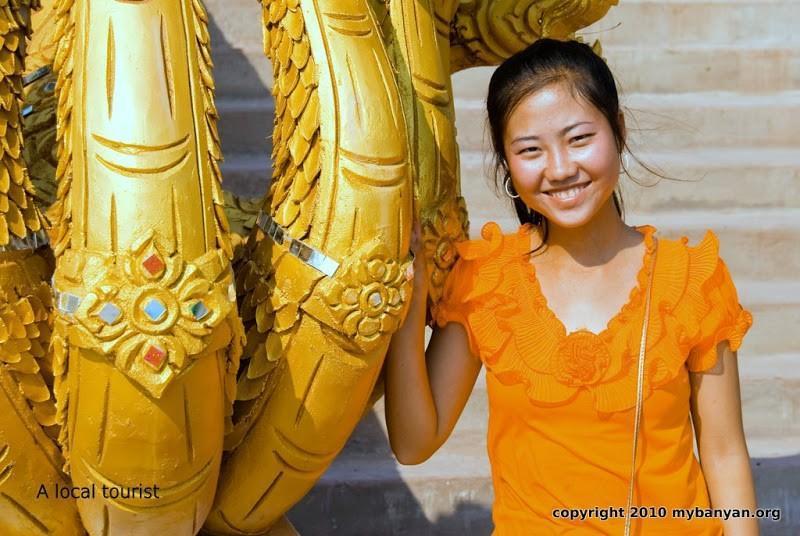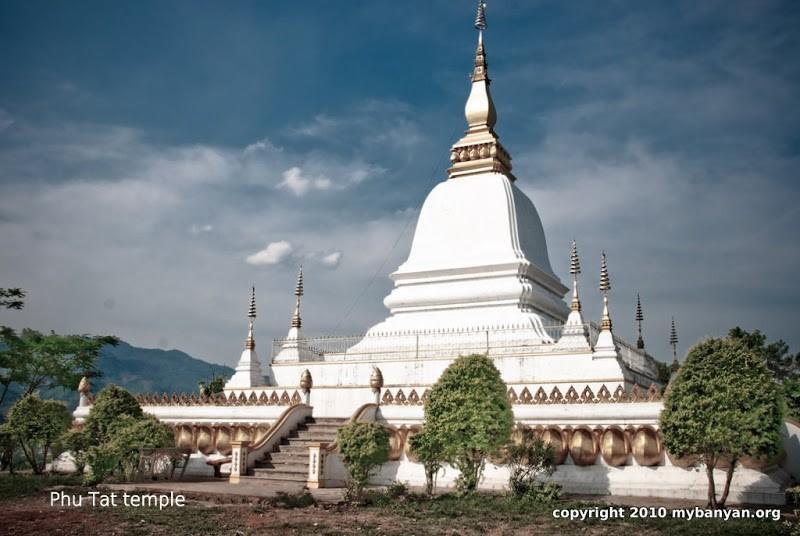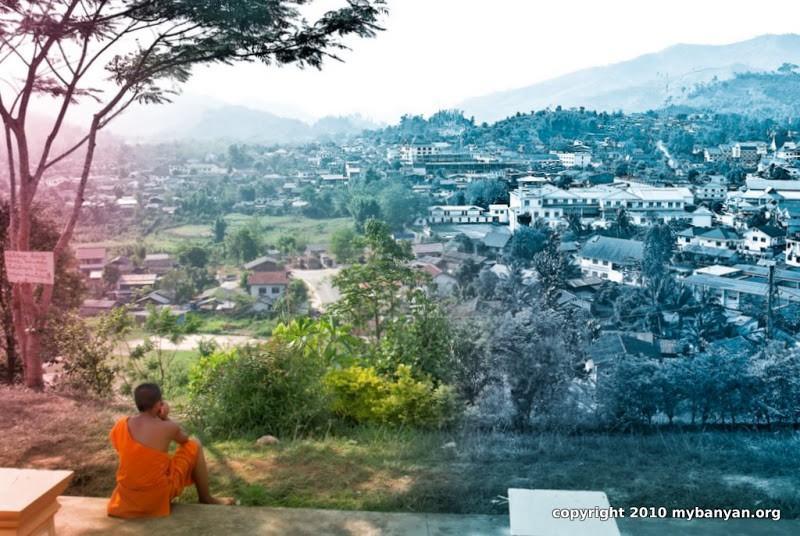 Oudom Xai is a crossroad city. It is traversed by route 13 and linked to 2W (Pak Benk) and 2E (Phongsali). In my eagerness to taste all branches of the junction, I decided to drive a short loop to the East. It is the beginning of dream journeys toward the Chinese border or Dien Bien Phu, in Vietnam (see, for instance, the trip reports from David_fl:
https://www.gt-rider.com/website-news/ch ... rcycle.htm
and SilverhawkUSA (
the-curse-of-the-hill-tribe-women-t5213.html?hilit=phongsali#p29954
).
After my experience on the Luang Namtha itinerary, I was surprised about the quality of route 2E, at least on the 30 kilometers sector that I explored. The surface is well sealed and the link drives through forests, smooth hills and villages along the Nam Pak river. As usual, black, bold and scorched mountains are part of the scenery. I turned back just before Muang La and, as I learned later, this was a mistake. This relaxed village is host to a traditional style lodge (Muang La Resort), well worth a visit. It is too upmarket as a standard biker's shack, but a good hint for honeymooners.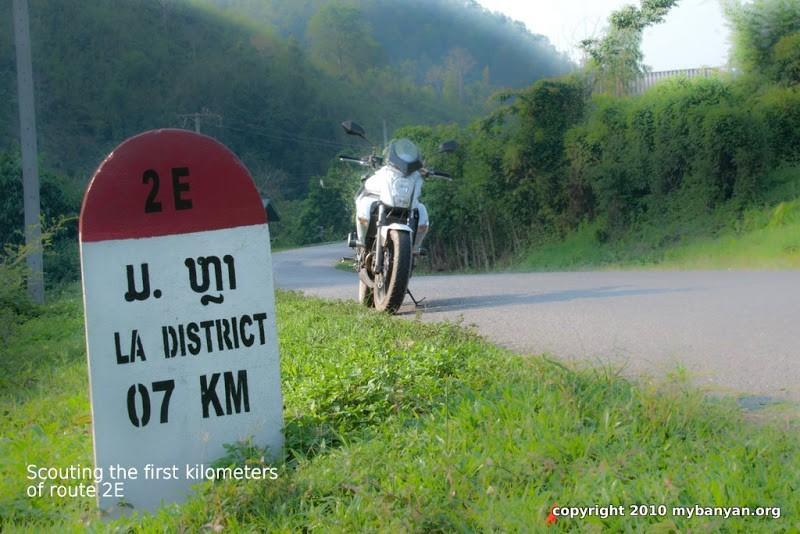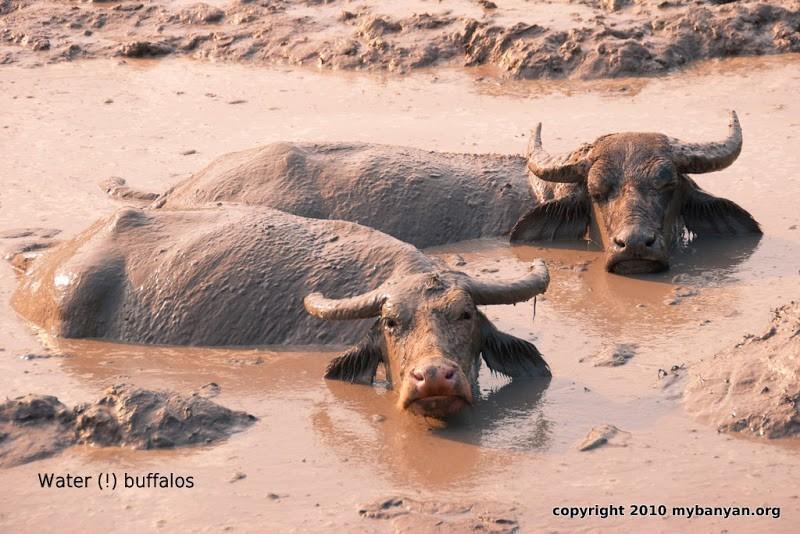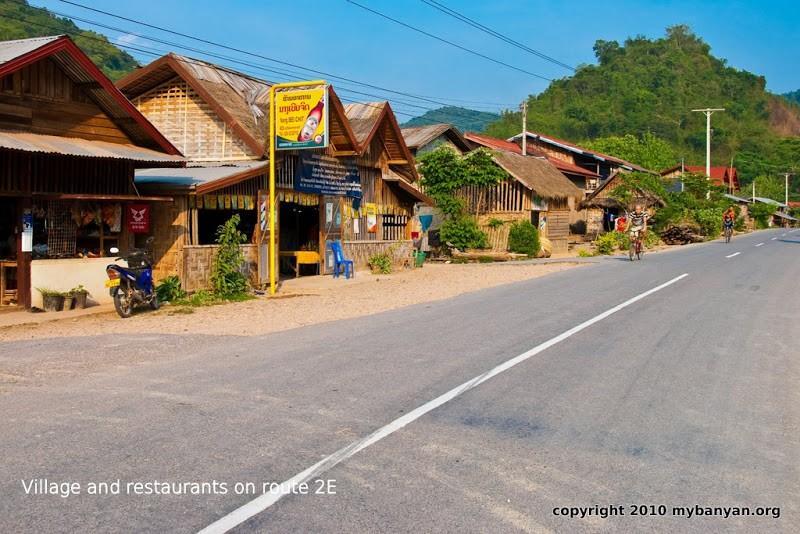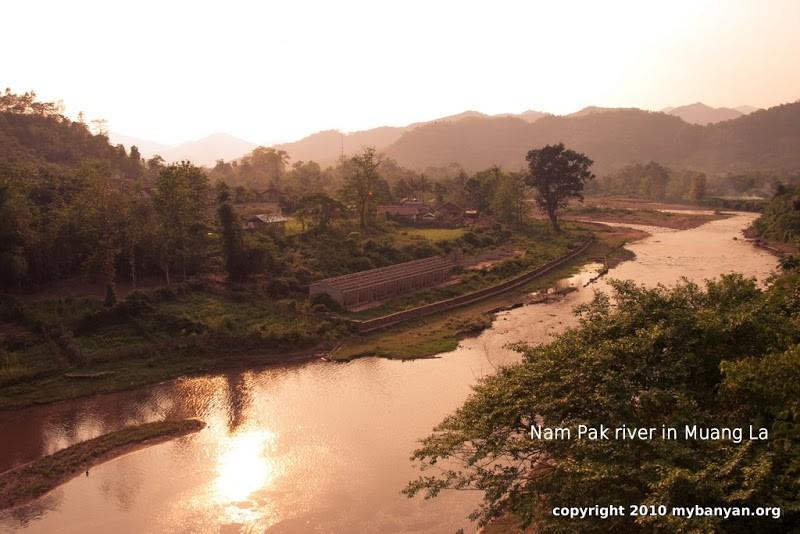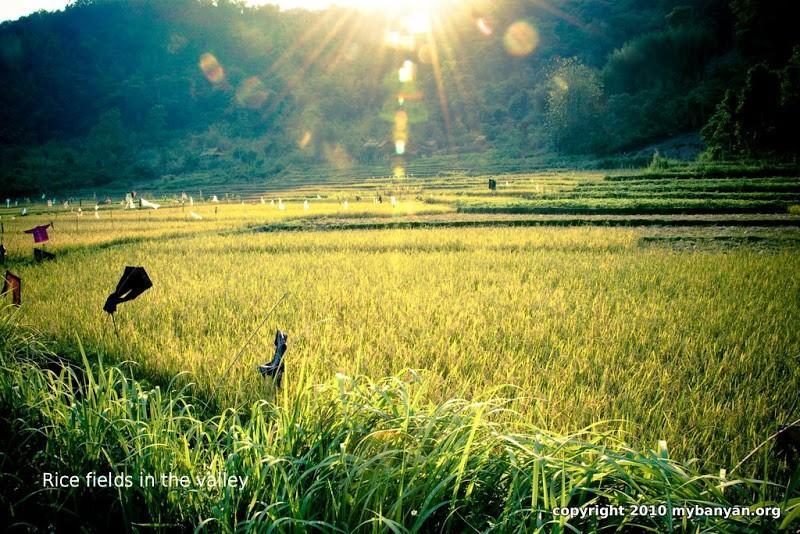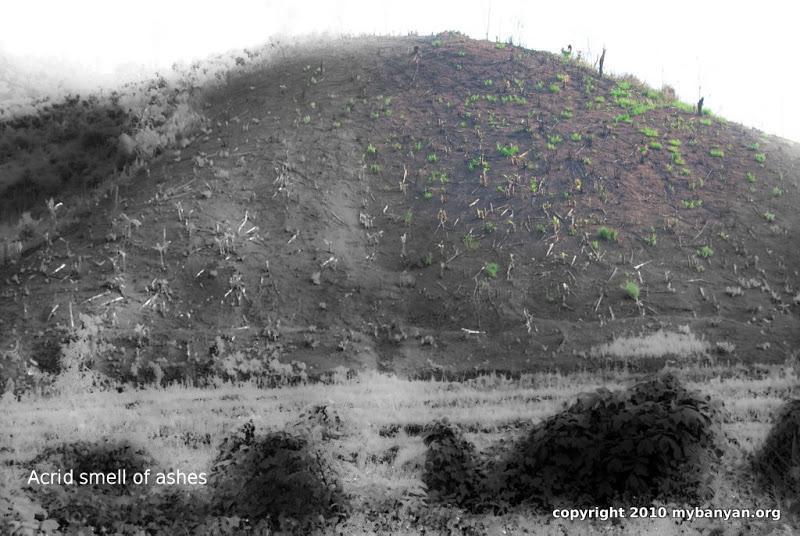 Vat Phu That is worth a second visit at sunset. No merit is gained for climbing the hill, as the summit is accessible to vehicles. Nevertheless, I always relish to end my biking days with the serene sight of a dimming light over mountains. The darkening orange and red colors drape a theater where familiar objects are cut out like shadow puppets.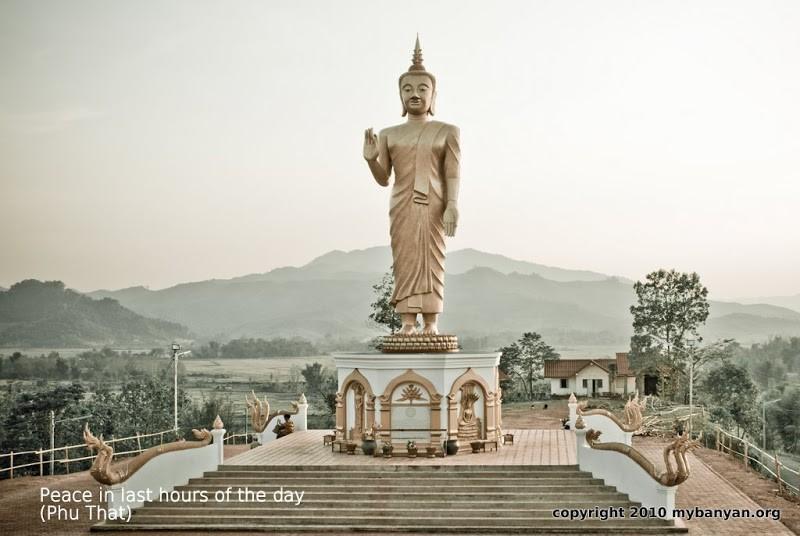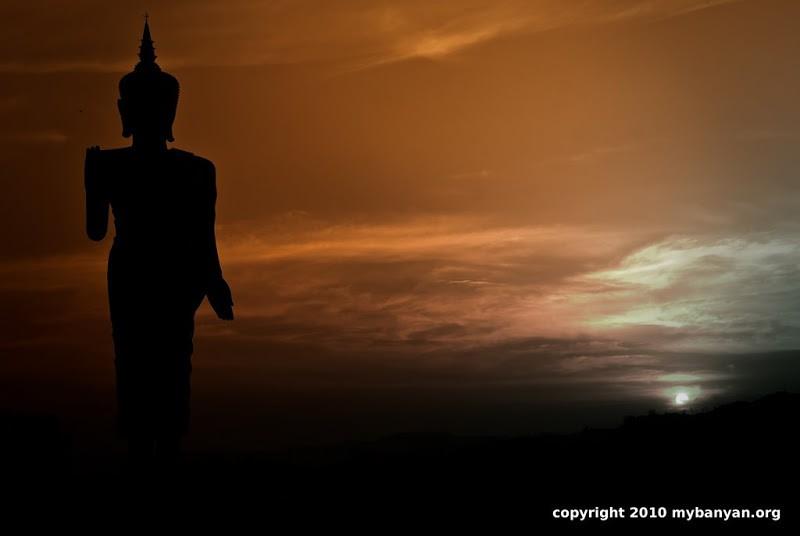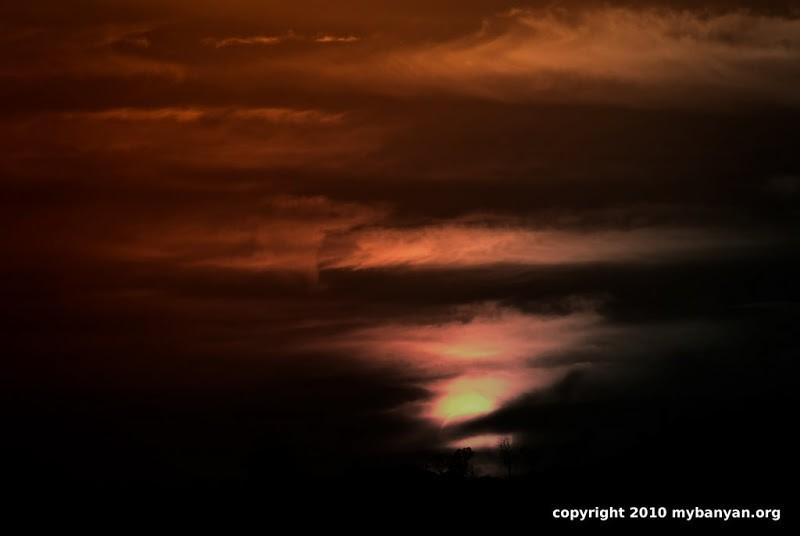 A night in Nong Khiew (route 13 and 1C)
As morning light filtered through the curtains, I jumped to the window and admired the clear sky of a day inviting to travel in any direction. Nong Khiew has the reputation of a relaxed place and I decided to ride the short loop, away from route 13, to spend a night there.
Just after six o'clock, I was driving toward Houaylin. At the outskirt of Oudom Xai, I met a procession of monks walking for their alms round. Such scenes always fill me with bliss, as I remember my short retreat in the Thai Sangha. The saffron robes, warmed up by the morning light, appear narrow and inviting against the far blue horizon.
A little farther I crossed a caravan of joyous students. Cheerful youngsters, walking toward their education and valuing this privilege, are a touching sight. A bus was arriving, and I thought that some kids might be fortunate not to walk. The vehicle trailed a deep haze, making us spit and cough, but everybody was still laughing.
I enjoyed the morning atmosphere along route 13 and drifted through the meanders leading to Pak Mong. As I passed other children, I wondered if they were also going to school, or just rambling around.
The road is in average condition, but commands concentration as curves are often worn-out.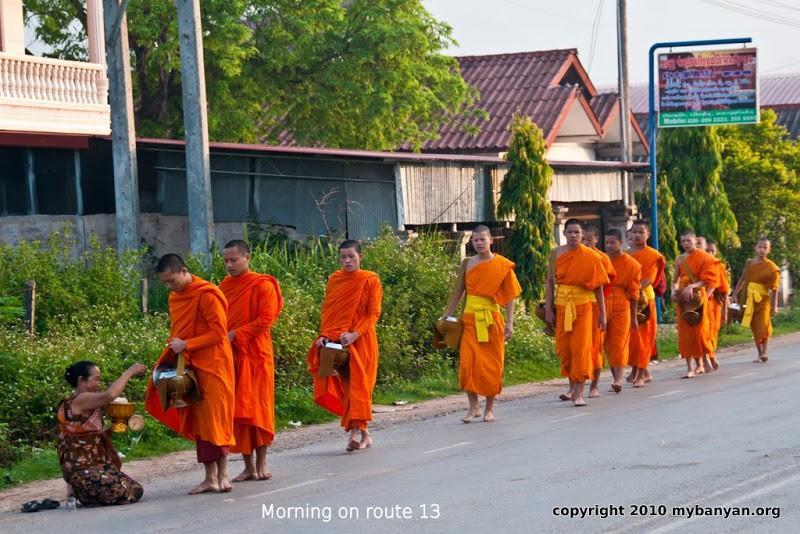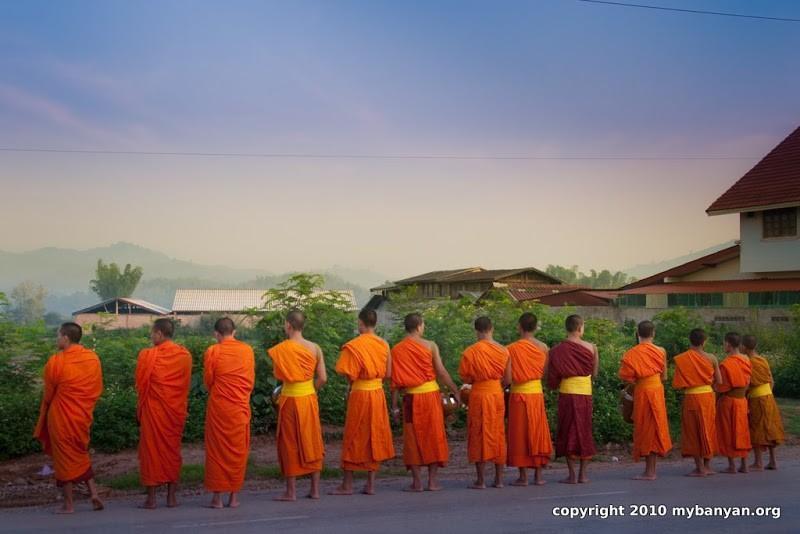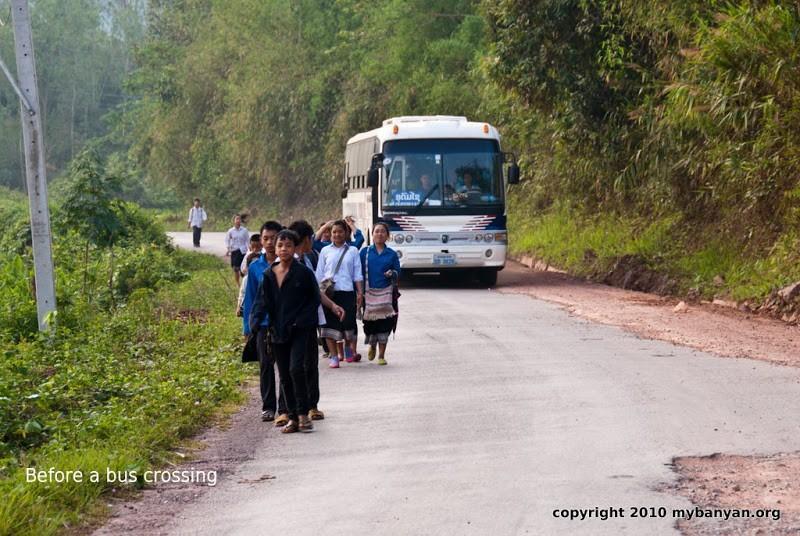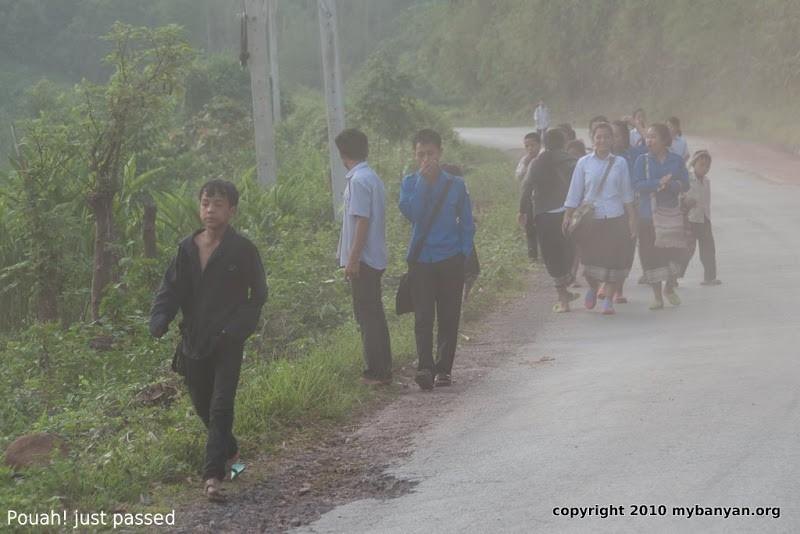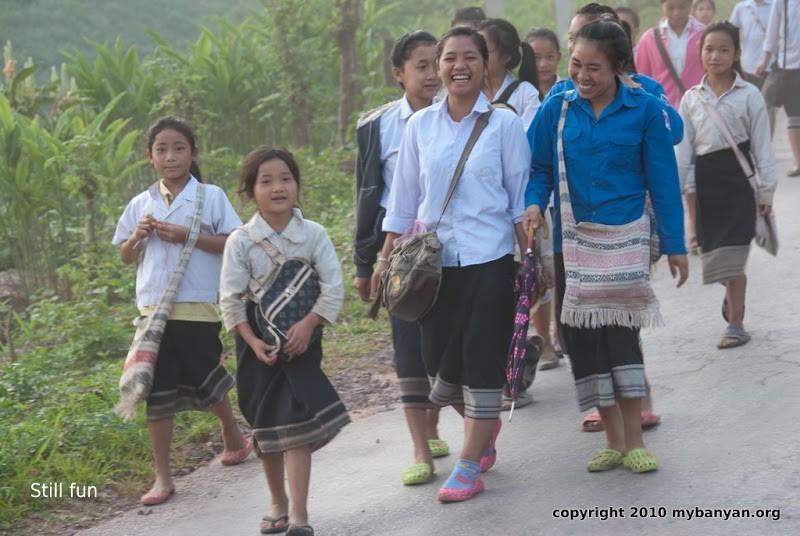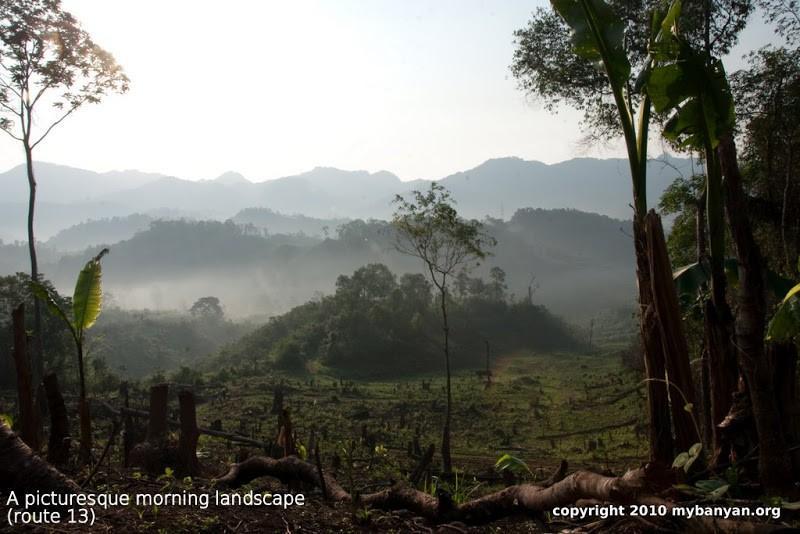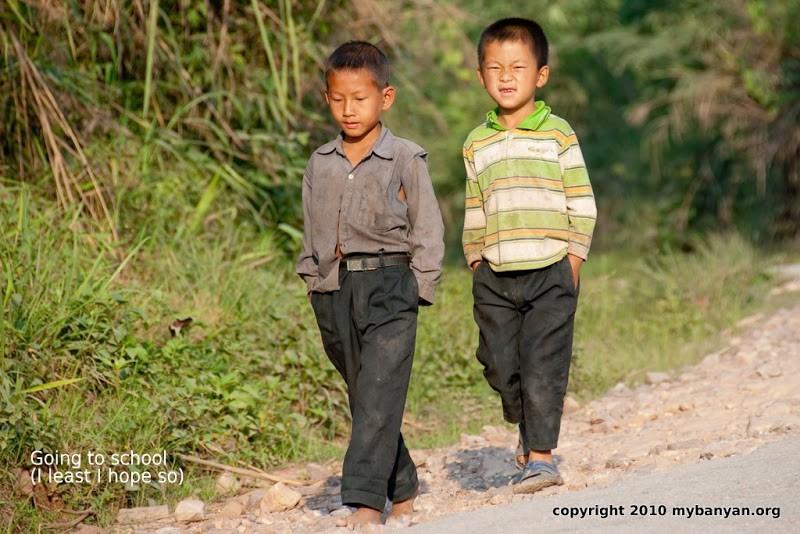 Laos is rich in ethnic and cultural diversity. Each villages is different in features, dwellings, populations, activities and pattern of dresses . Morning hours are favorable to observe traditional activities and to communicate with inhabitants (in Thai language).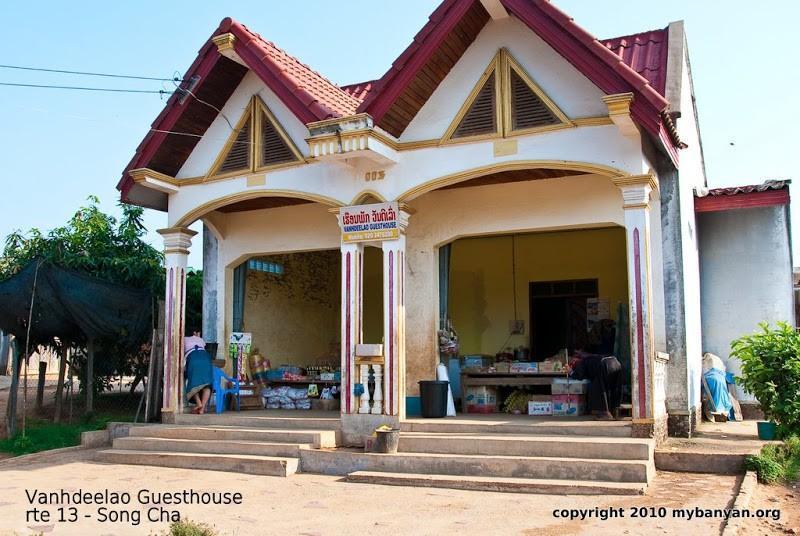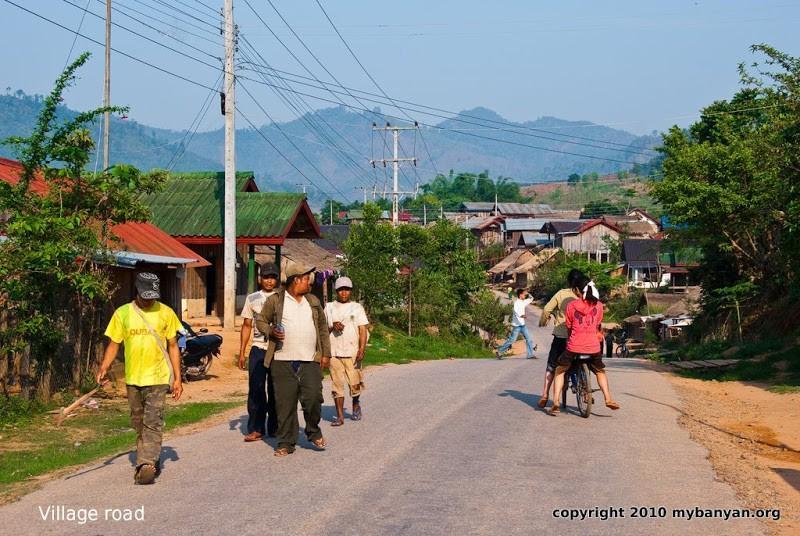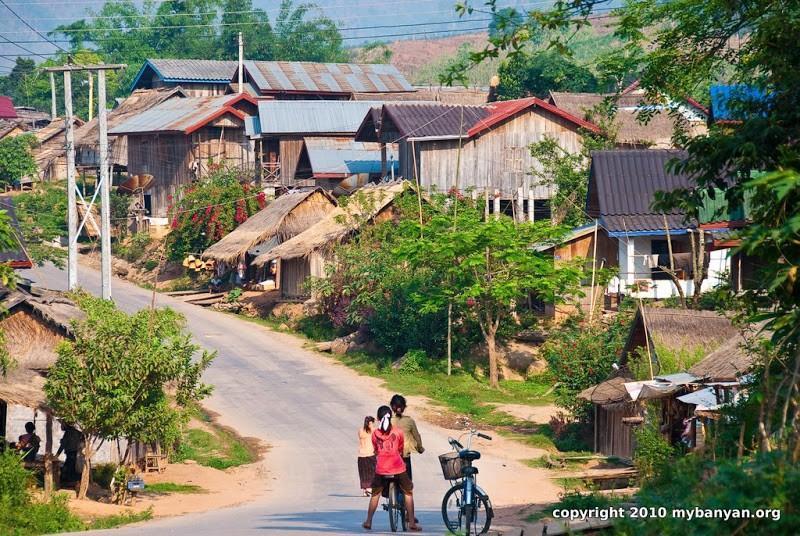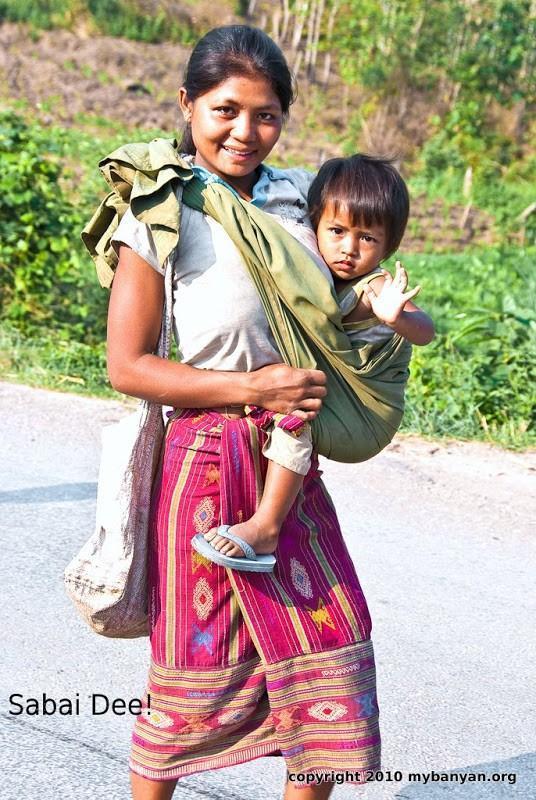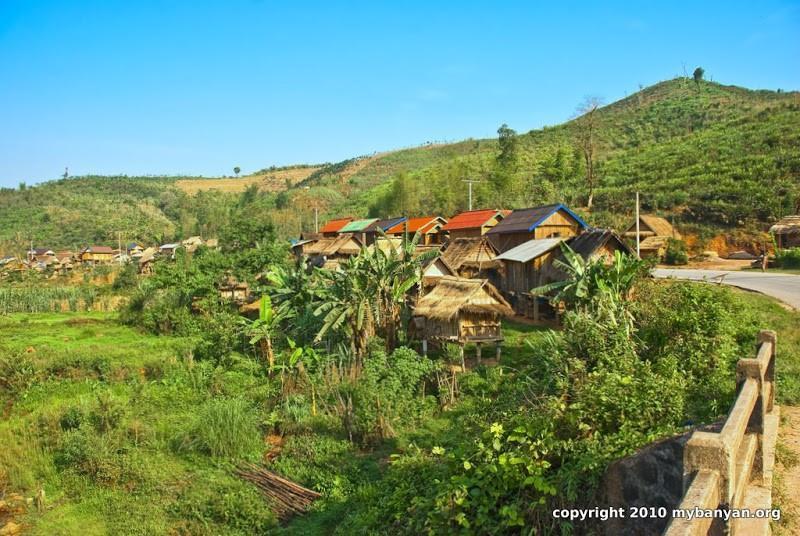 The French made "Route Coloniale 13" is not yet "Legendary Route 66". Even for Asian bikers it remains a new territory, recently repaired, opened to tourism traffic and just liberated from the last bandits. It is the main thoroughfare of Laos, a vital spine, but without any resemblance to the national highways of neighboring countries. Even paved, it remains adventurous, tortuous and untamed, often commanding a slow pace to enjoy encounters with local people and to appreciate his gorgeous panoramas. The traffic is still low. Between Oudom Xai to Pak Mong, I crossed one single sedan car: a brand new Mercedes.
From China's Yunnan down to Cambodia, on a length of 1300 kilometers (personal estimation, not verified), the road competes with the Mekong river as Laos's backbone. First on different curses, they shortly meet in Luang Prabang, and join again in Vientiane, for a common journey down to Veun Kham (Cambodia border).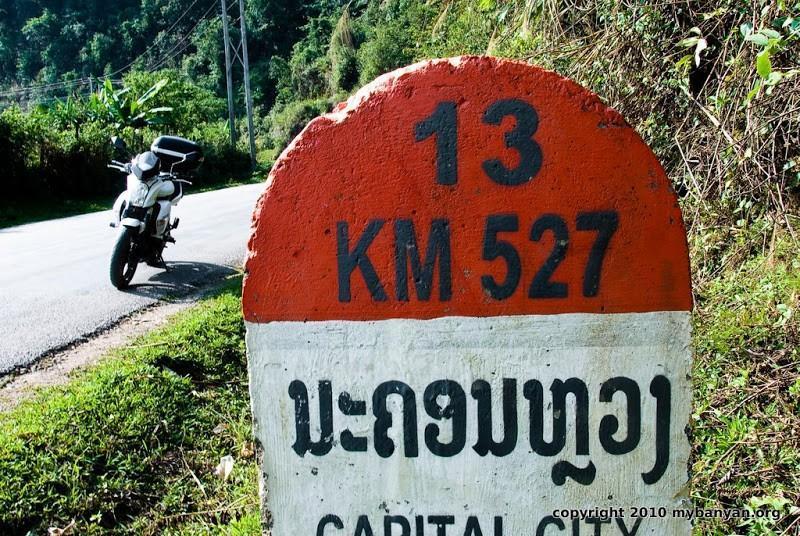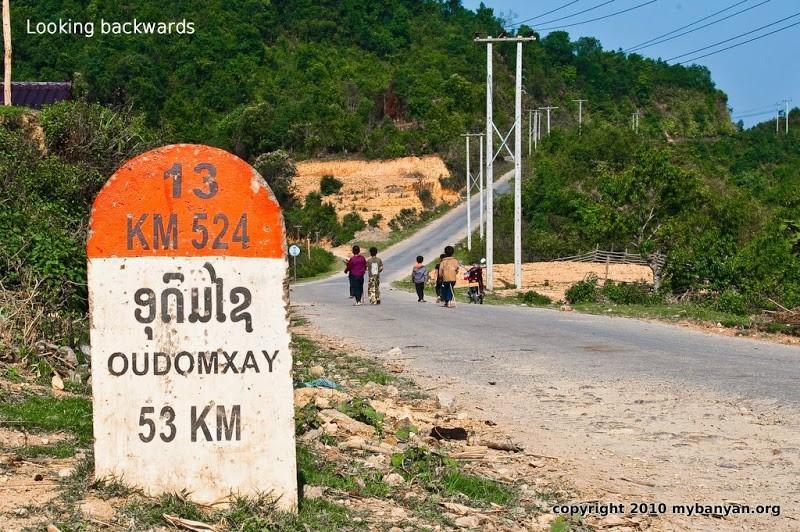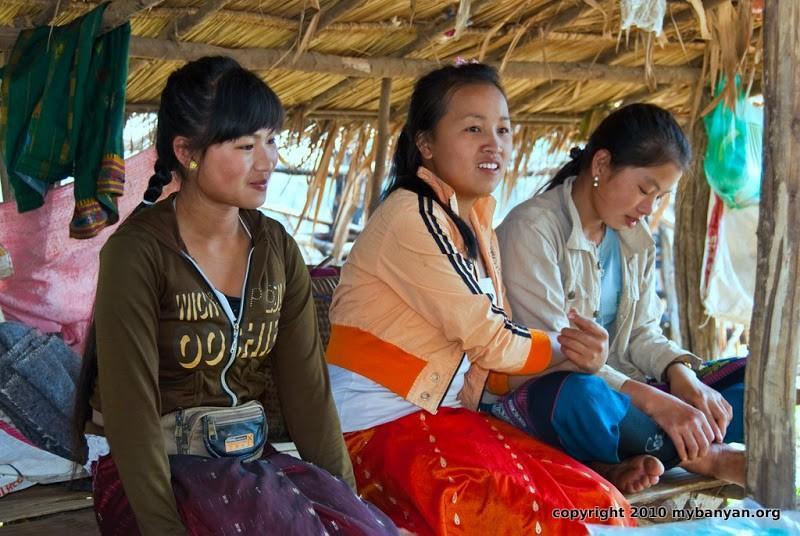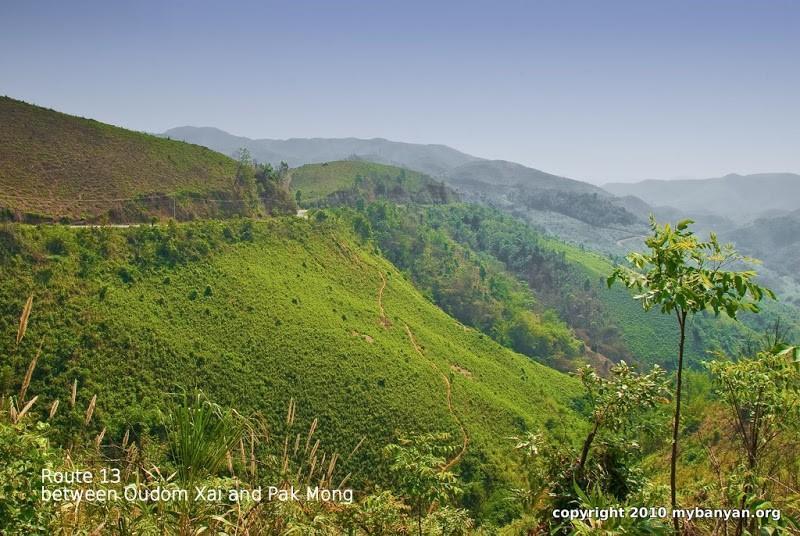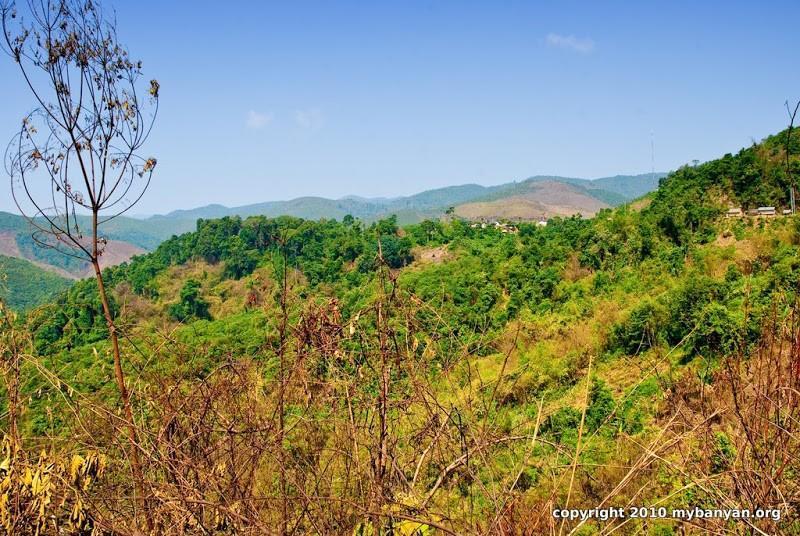 In Pak Mong, I took route 1C for a pleasant 30 km drive, on a smooth pavement, following the Nam Bak river. Before Nong Khiew, the view opens on the Nam Ou, with his karst limestone background, a trademark of the region.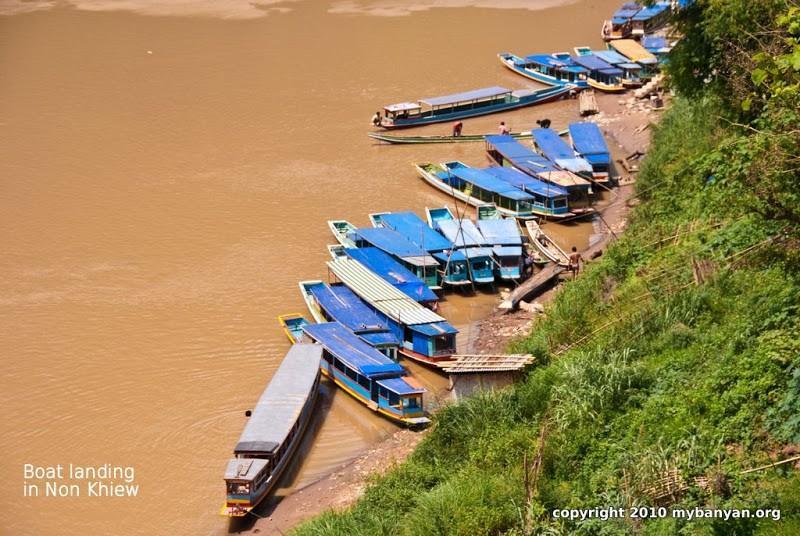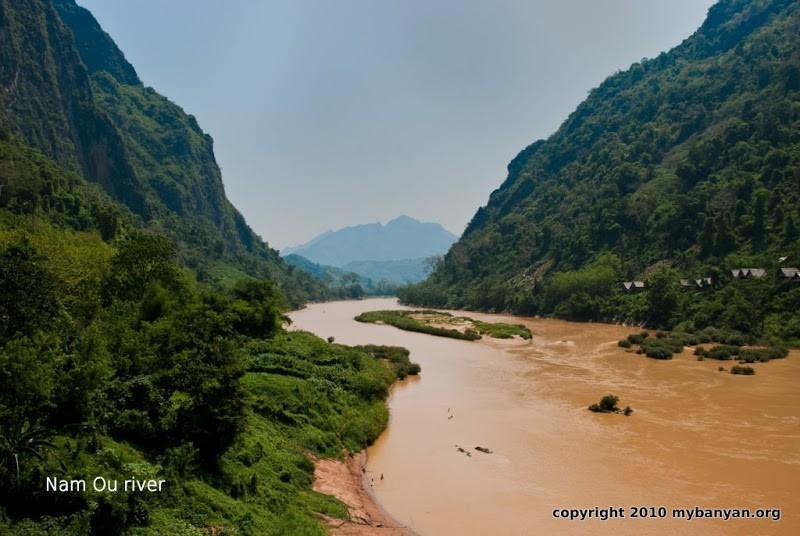 I checked in to "Nong Kiau Riverside Resort", a small wooden paradise. It is slightly upmarket for a biker's shelter, but worth every Kip it costs (1000 THB with breakfast, low season), if time is available to enjoy the spectacular panorama, the laid back terrace restaurant (with wifi), and the large bungalow rooms overlooking the Ou river.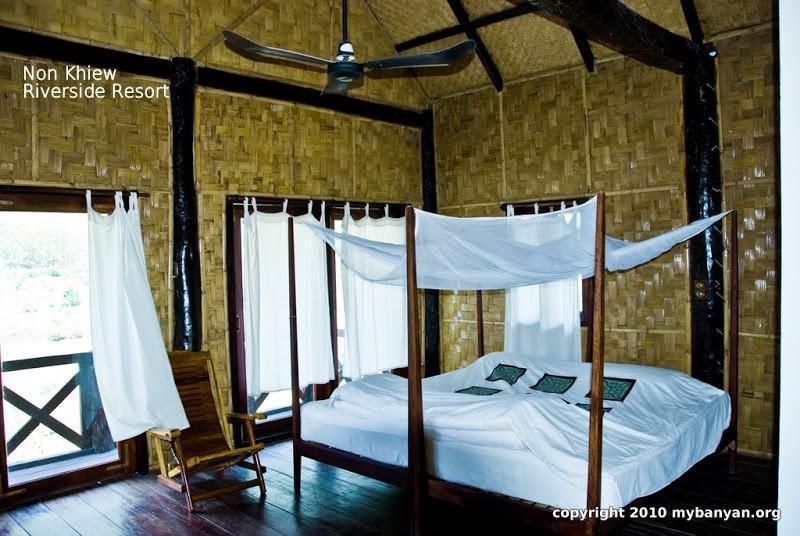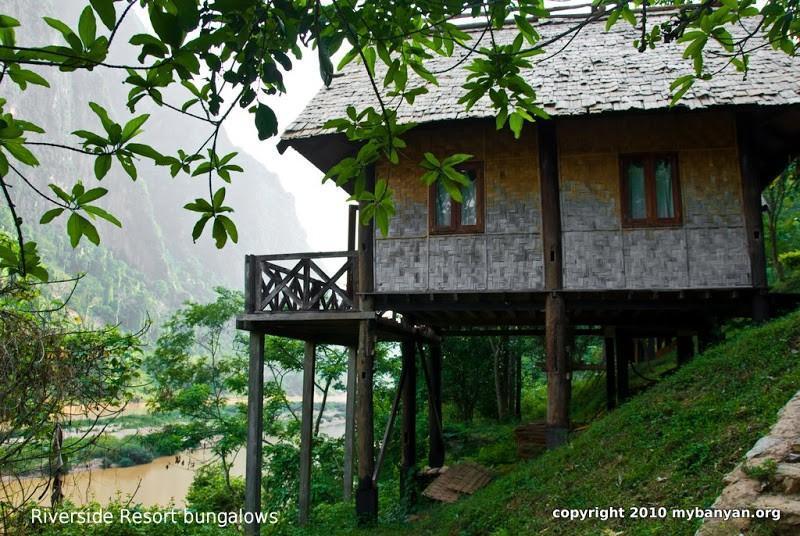 Limestones, water and a large bridge are the backdrop of Nong Khiew. In Laos, rivers are not only splashing playgrounds and washing places, they play a key role in communication. Boats are often the only mean of transportation along the Ou River. In low season, travelers to Muang Noi have to catch one of the two daily boats sailing up to this remote town.
During the heat of the afternoon, children were cooling down in the low level muddy river. During this season it is off limits for foreigners, but – as I was told - when clear water flows vigorously, it is accessible to adventurous tourists.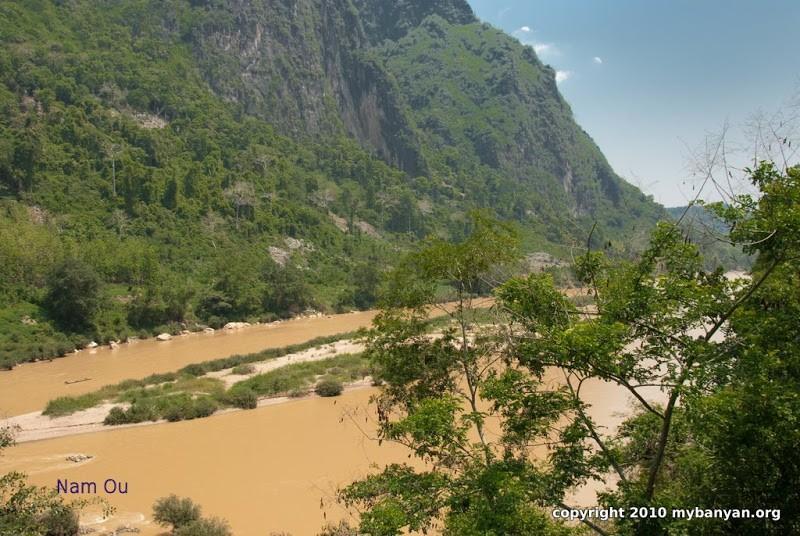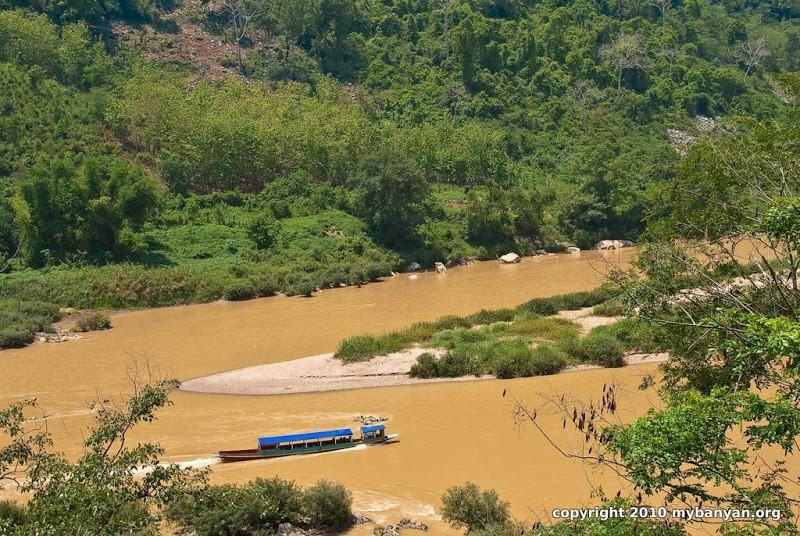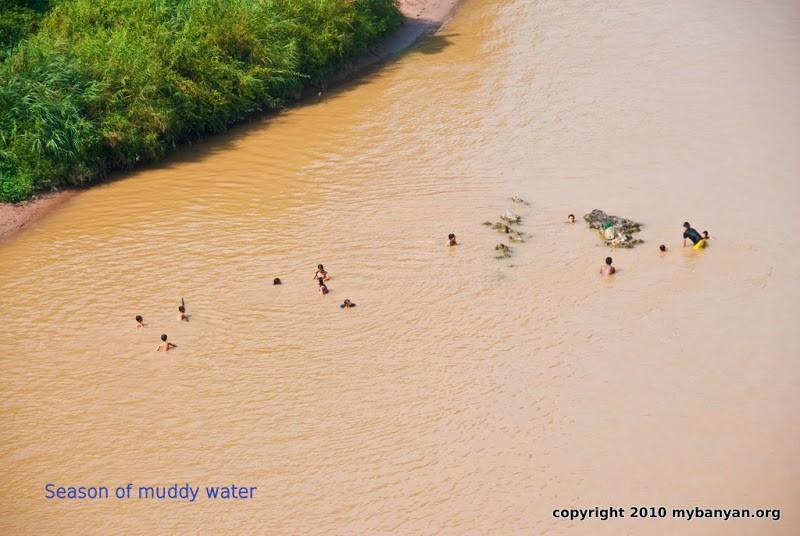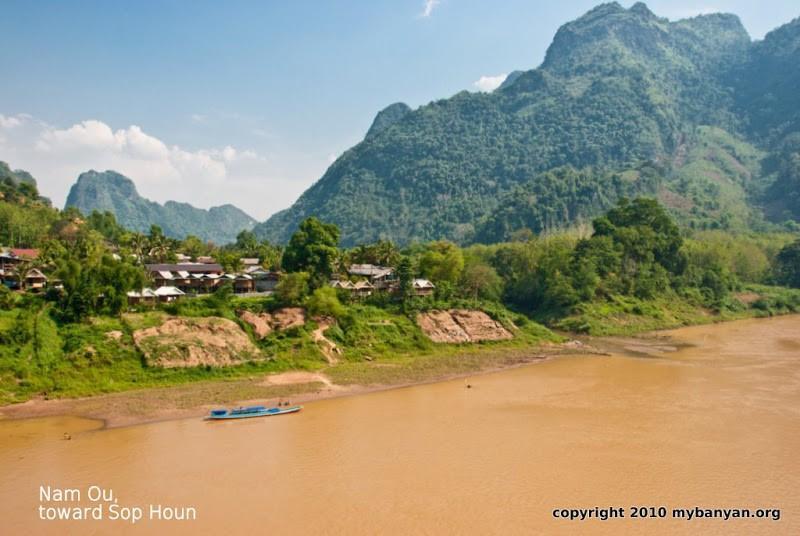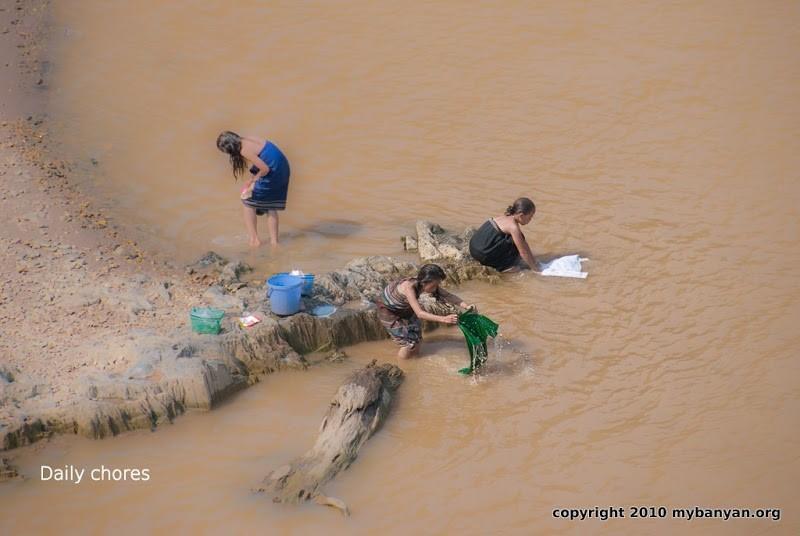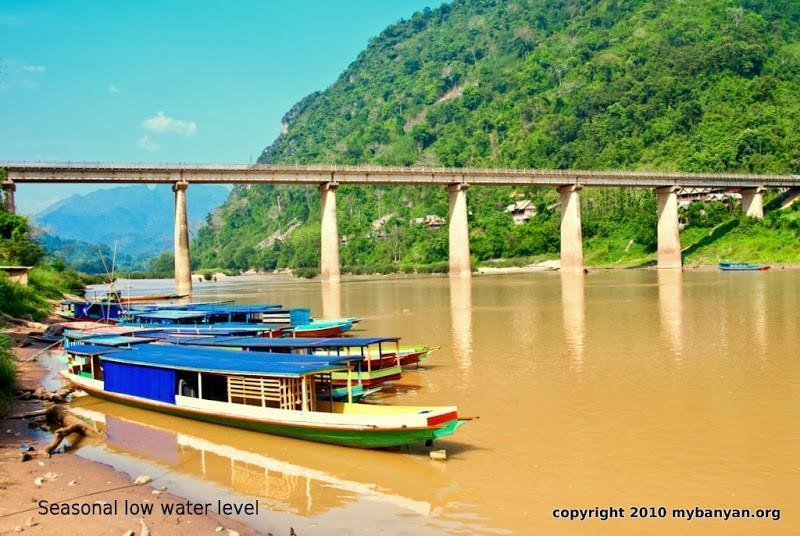 Route 1C eventually leads to Xam Nua and to Vietnam, or to Luang Prabang over Pak Xeng. Both itineraries are appealing, but before driving alone on these paths, I would require more reliable road information.
For rambling pleasure, I closed a short loop to the East, driving twenty kilometers through small villages. In this karst area, limestone hills are eroded to abrupt cliffs. Tone on tone, the dark carbonate rocks are cut out toward ash colored mountains, where smoke and fire signal a melting forest.
In the shadow of steep rocks and under the umbrage of large canopies, the air becomes fresh and perfumed, with the fragrance of humidity. Farther down, hot wind blows again in the sunshine, with the relaxing effect of a natural hamam.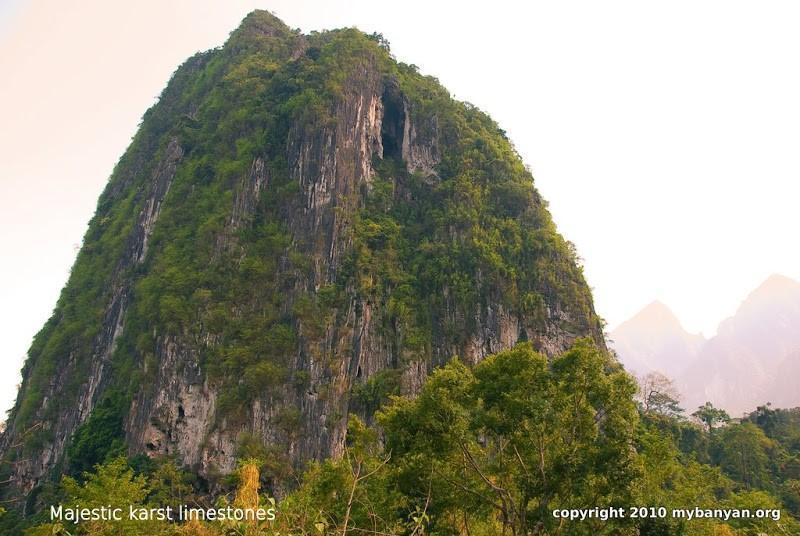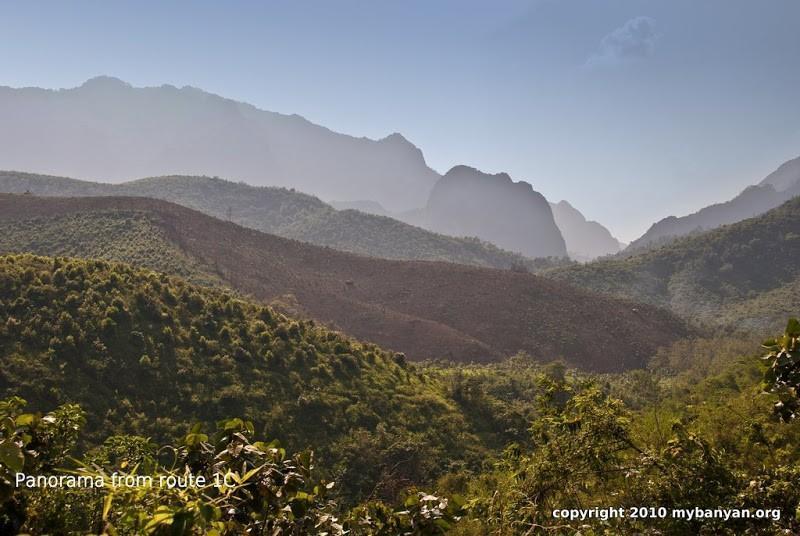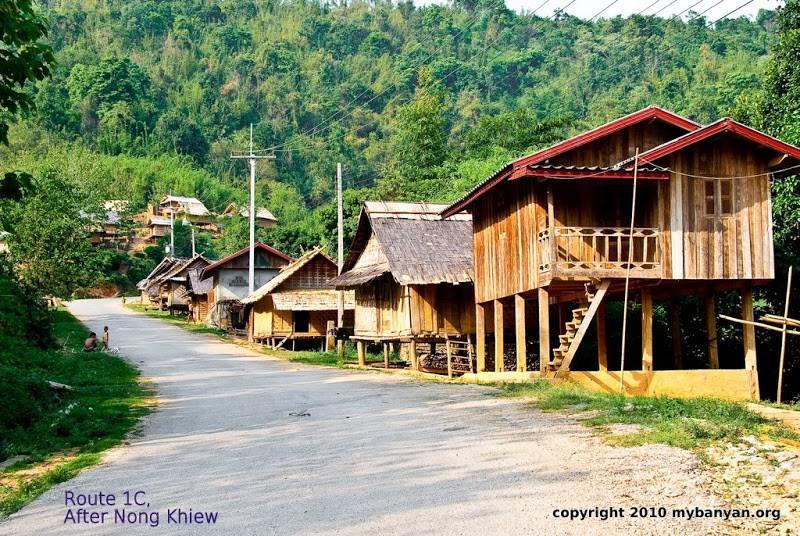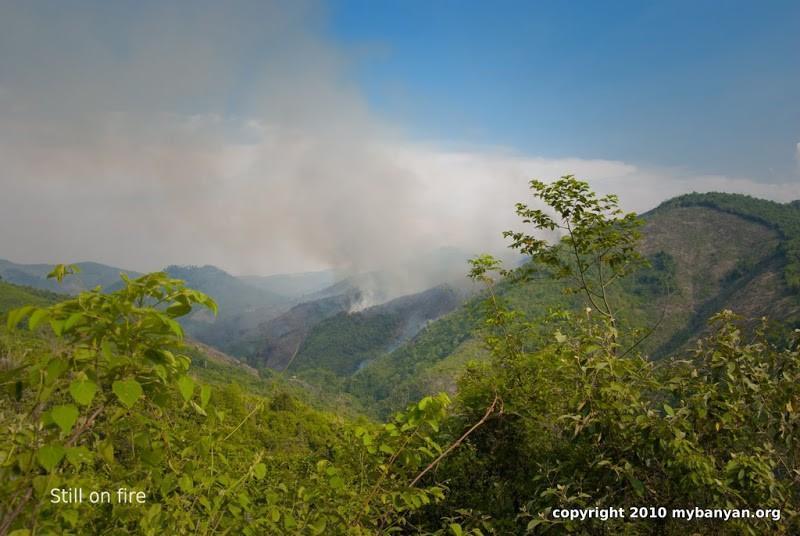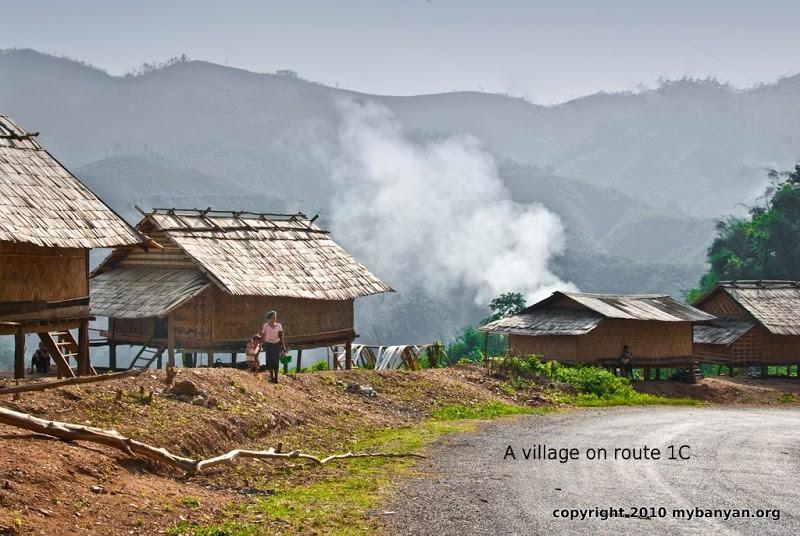 "Nong Kiaw Resort" is located in Ban Sop Houn on the East bank of the river Ou, just across the bridge. It is an ideal place to watch the dimming light over karst mountains, either from the restaurant's terrace or from the bungalow's balcony.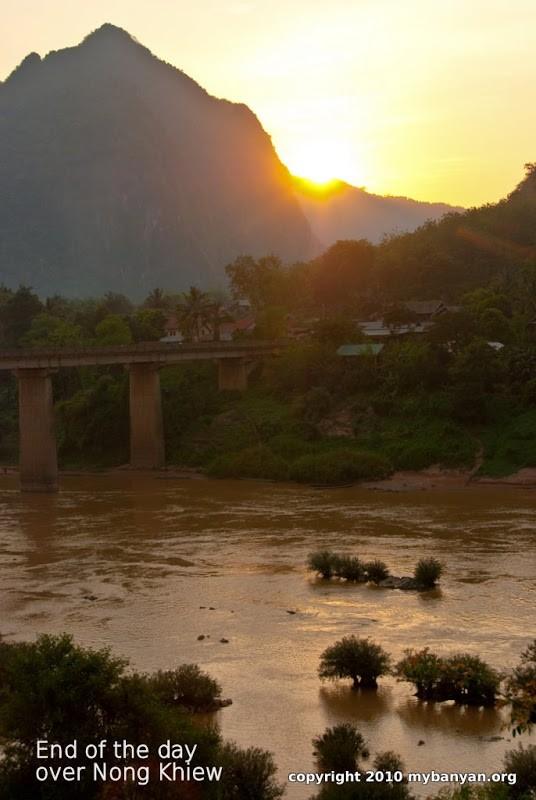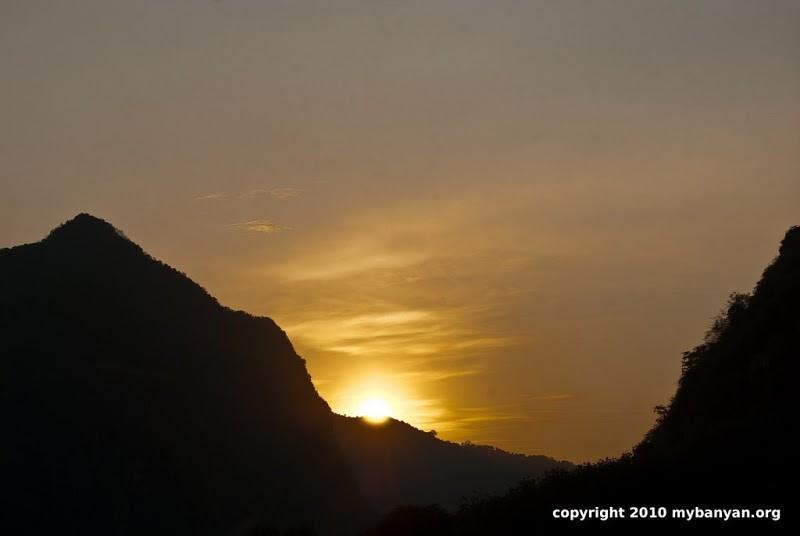 Despite the quiet surroundings and only a short ride on my schedule, I got up early. Breakfast was open at six thirty, but I only hit the road at eight o'clock, bidding farewell to the Nam Ou, Nong Khiew, and, a little later, to route 1C.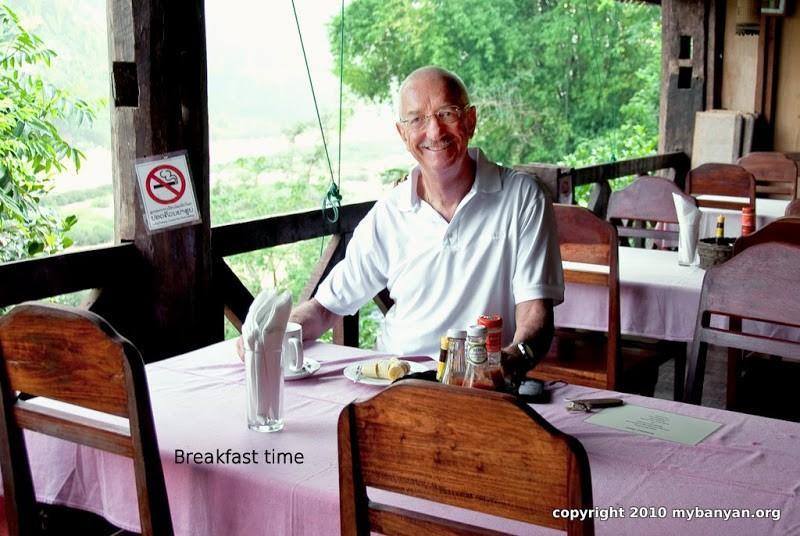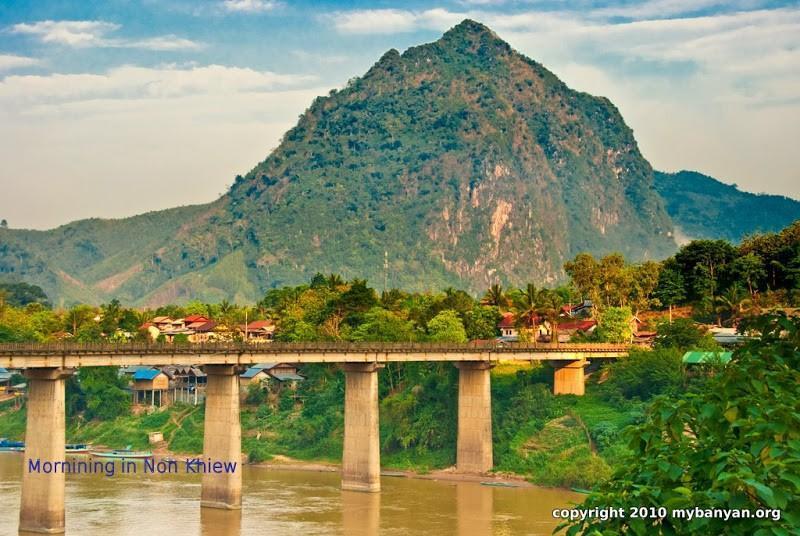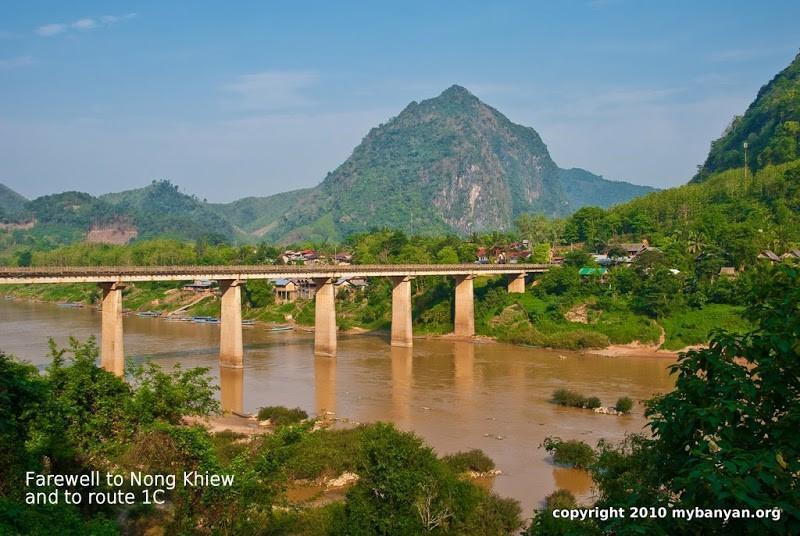 Luang Prabang
Now, I was on route 13 again, this time a groomed bride, with minor flaws on scratched sectors. Overall a fancy journey allowing to savor the surroundings whilst gliding smoothly through hills, along rice field and near the Ou river.
Another French legacy in Laos are the red capped kilometer-markers. Their information are quite astonishing and vary from stone to stone. They do not always indicate the coming city, but a place downstream, like "Capital City" or any another agglomeration. It takes a couple of marks, and kilometers, to know the distance to the next destination. Finally, it doesn't make a difference, why hurry?
The way to Luang Prabang runs through several small villages with thatched bamboo shack as standard shelters. I was amazed by the number of large satellite dishes installed near shanties who are hardly connected to electric power. On their TV sets, people are mostly tuned to Thai TV, watching the latest «*soaps*» from Korea. But how can I be sarcastic as, not so long ago, we invited «*Dallas*» and other «*Chateau Vallon*» on European prime time TV.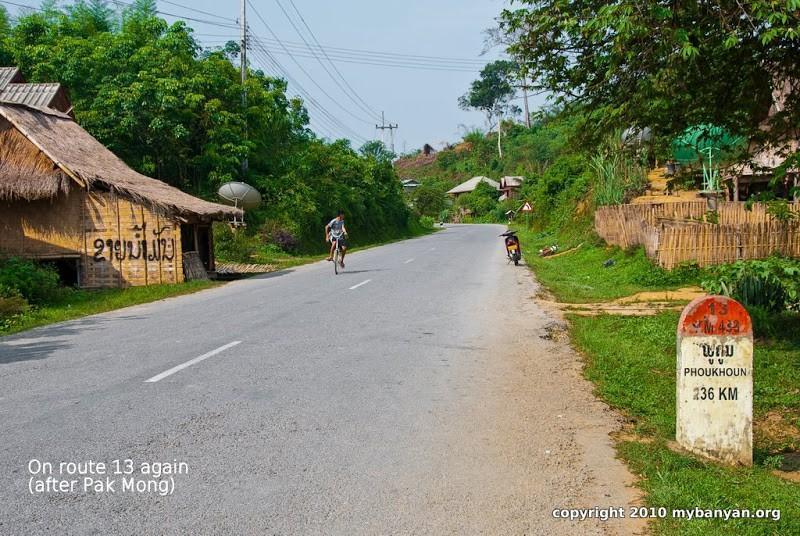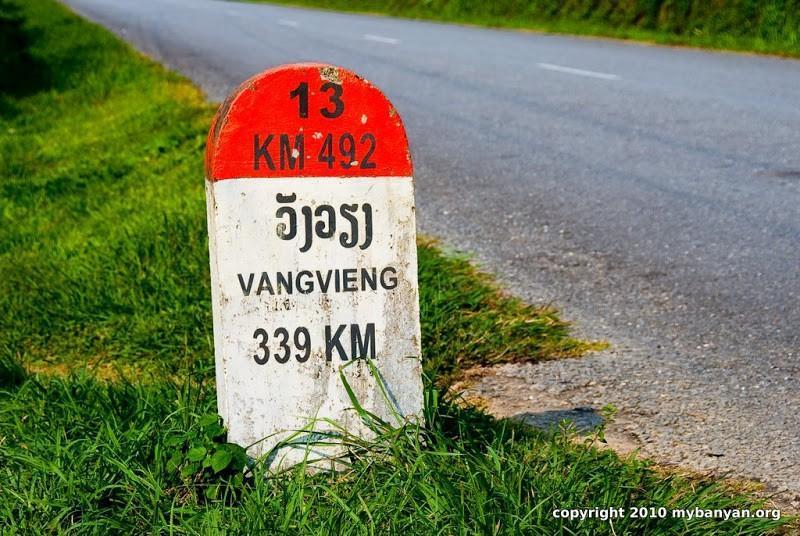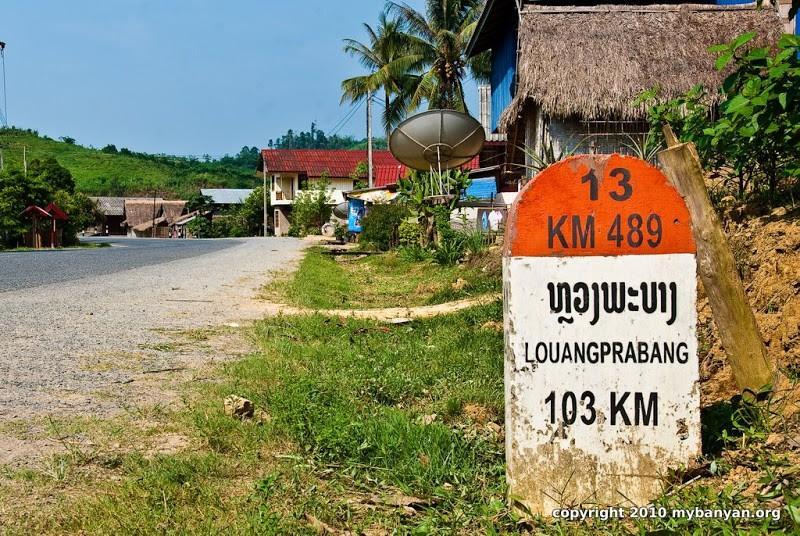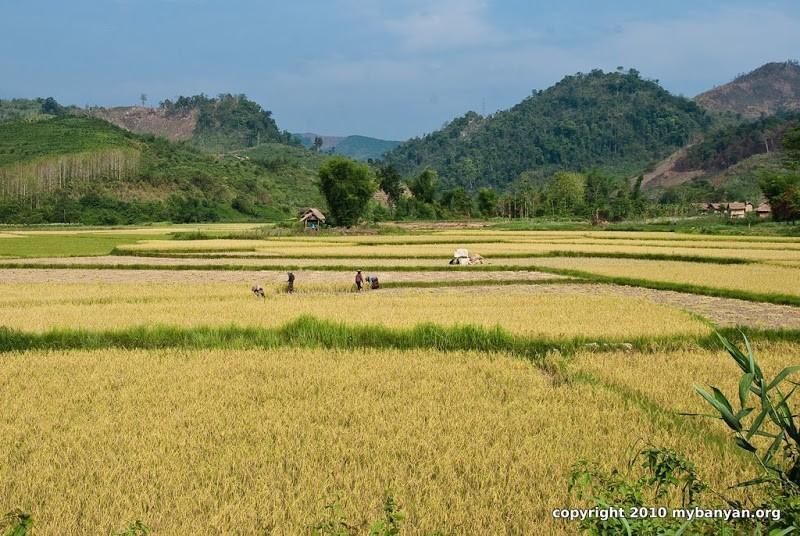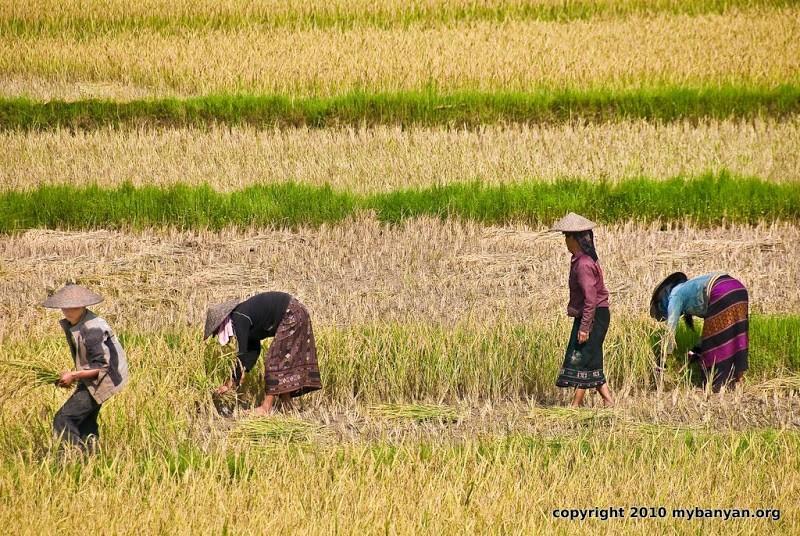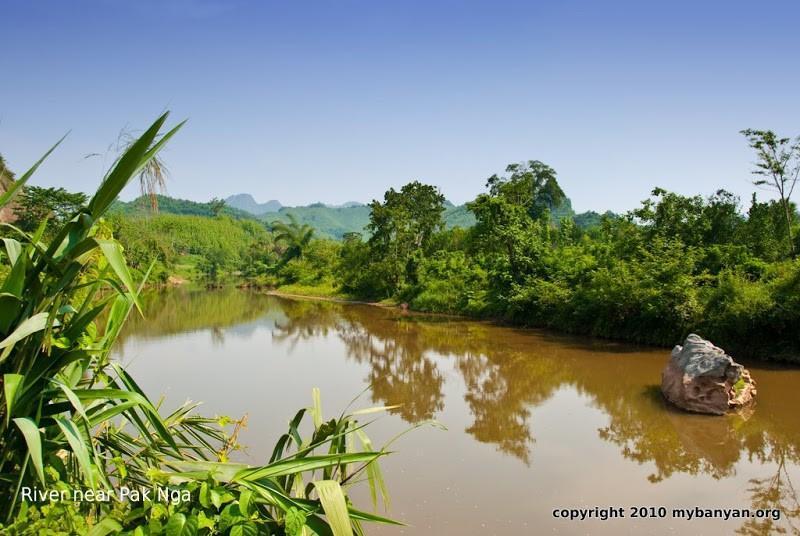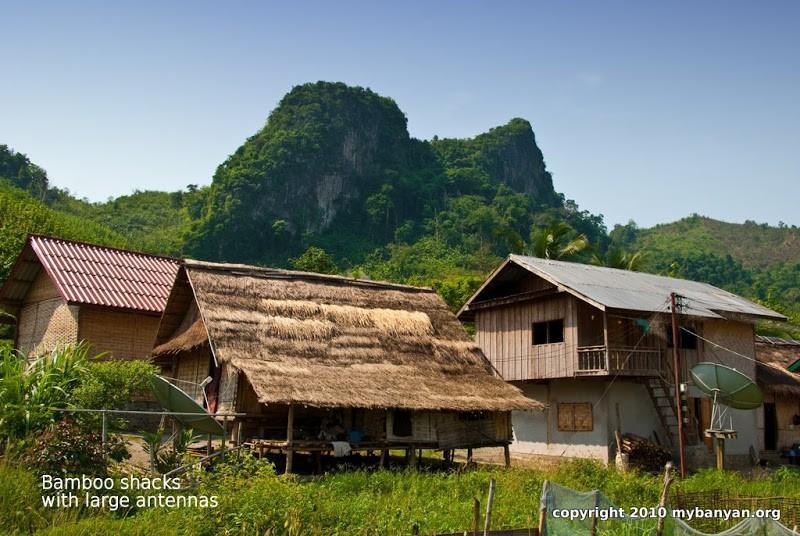 For my first visit to Luang Prabang, driving to the Mekong was the easiest way to localize my hotel. Once on Souvanbanlang road it is not difficult to find the small link to Oudom Souk Guest House (a recommendation from David_fl). Rooms are 400 THB in low season and 800 THB in high season. Another facile access goes down from "Joma Backery", on Chao Fa Ngum road, a central place to the city.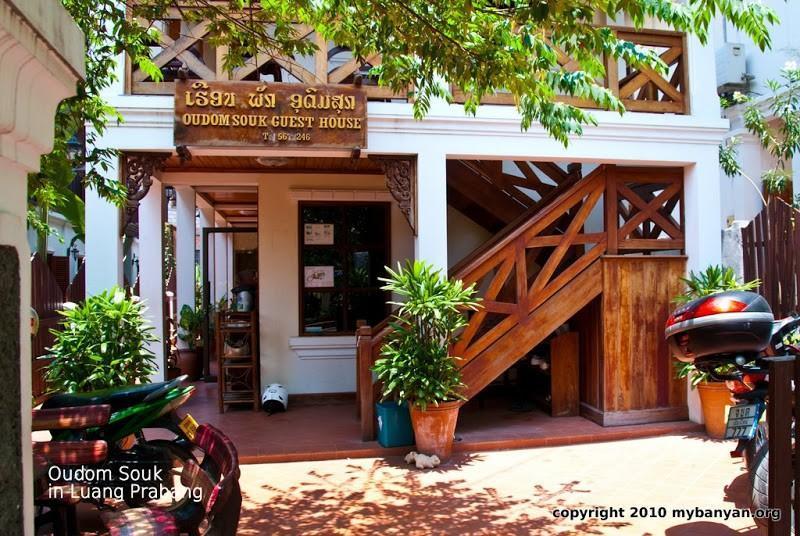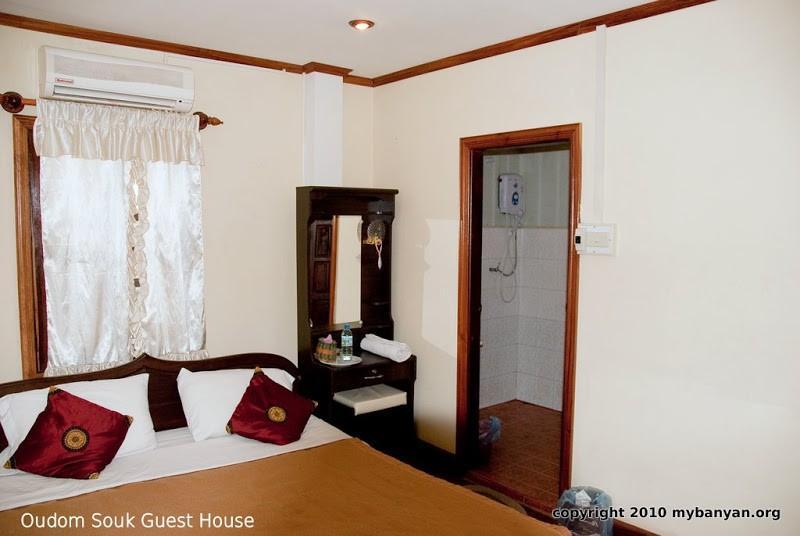 In the early evening, I walked up the steps of Wat Phu Si. The panorama from the summit compensates the efforts to climb a hundred meters and, in the evening, the sunset adds another reward. A crowd was waiting to get the last light of the day in their "souvenir boxes" and I eagerly joined it.
Along the slope of the hill two caves are sheltering images of my favored monk, pha Kasai (Thai: Phra Sangkajai). He is often confounded with the laughing Buddha, a Chinese representation of Maitreya.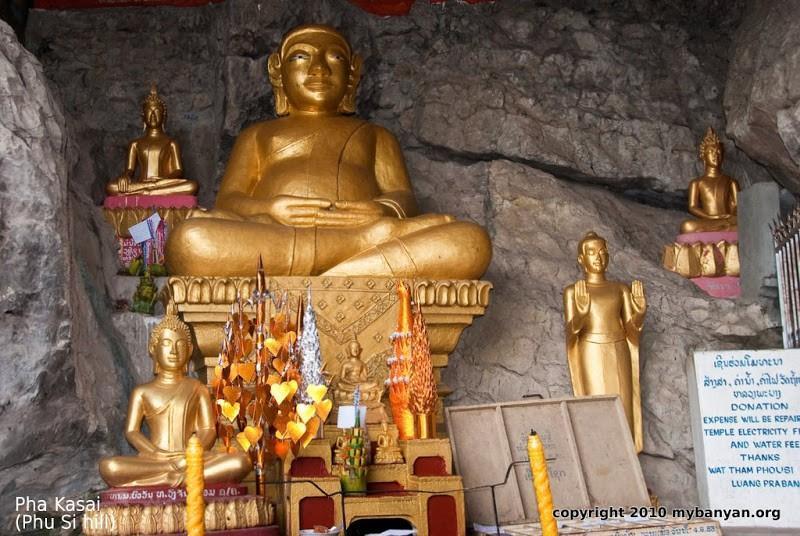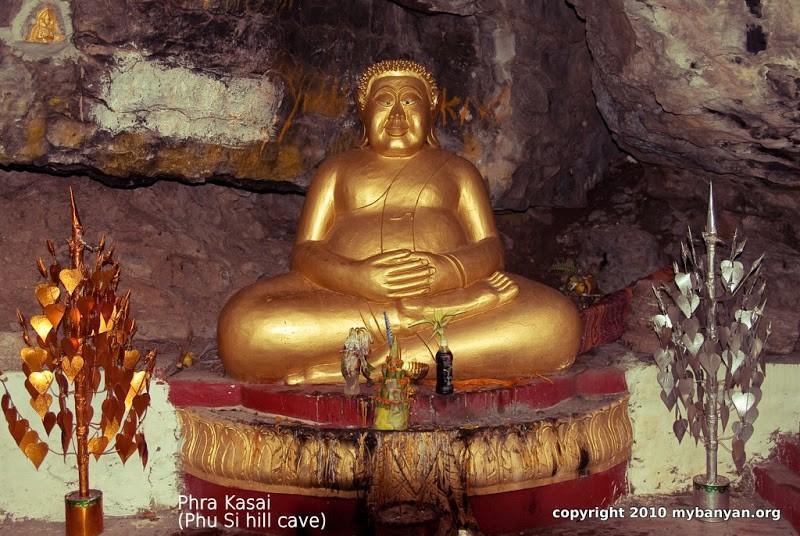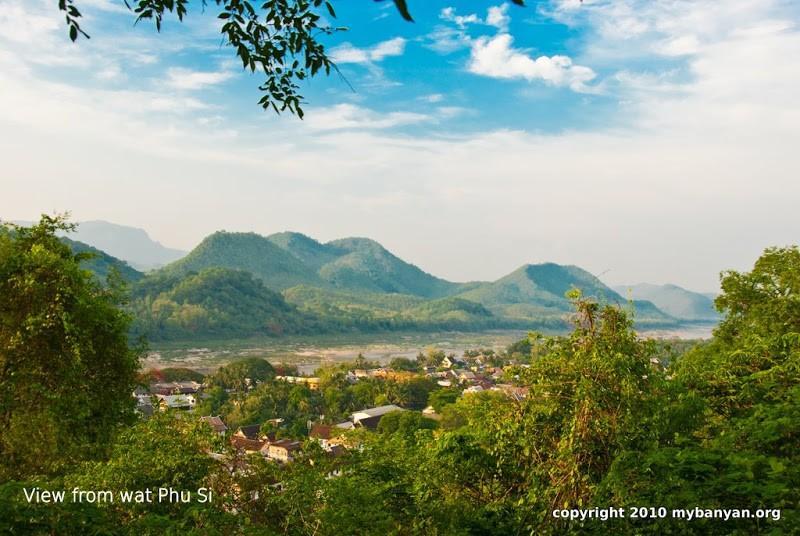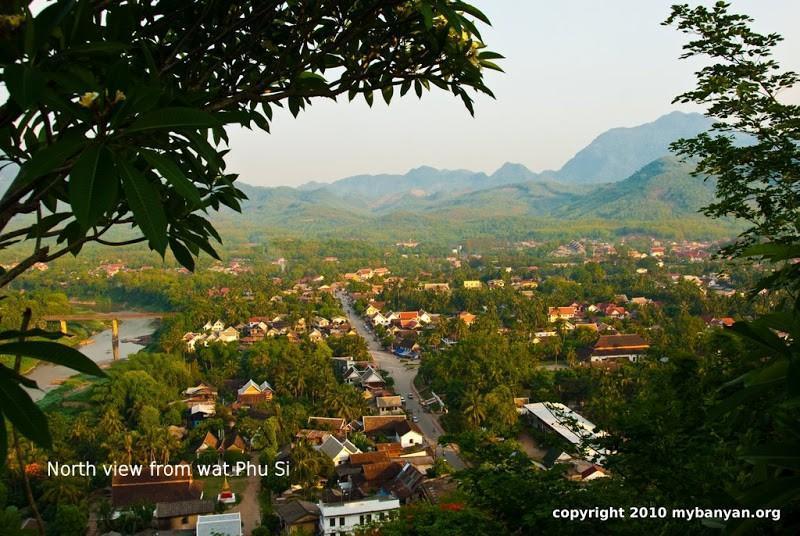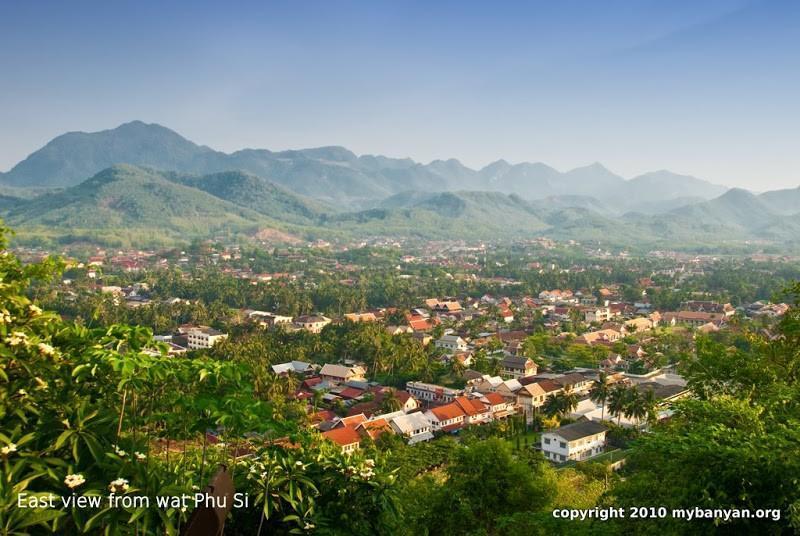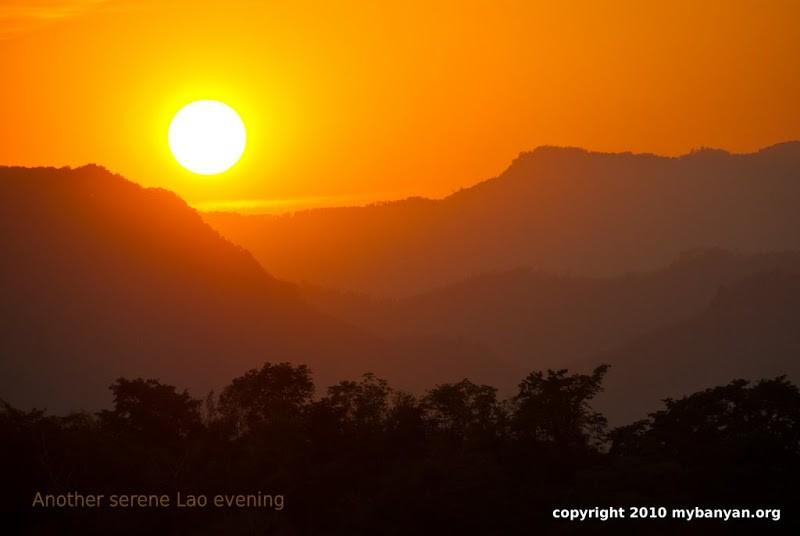 Sisavangvon road is the place to stroll at the end of the day. A handicraft market offers all sort of local souvenirs and food. In the low season, there are more vendors than tourists, and it is a quiet and laid back night spot, maybe the only one in town.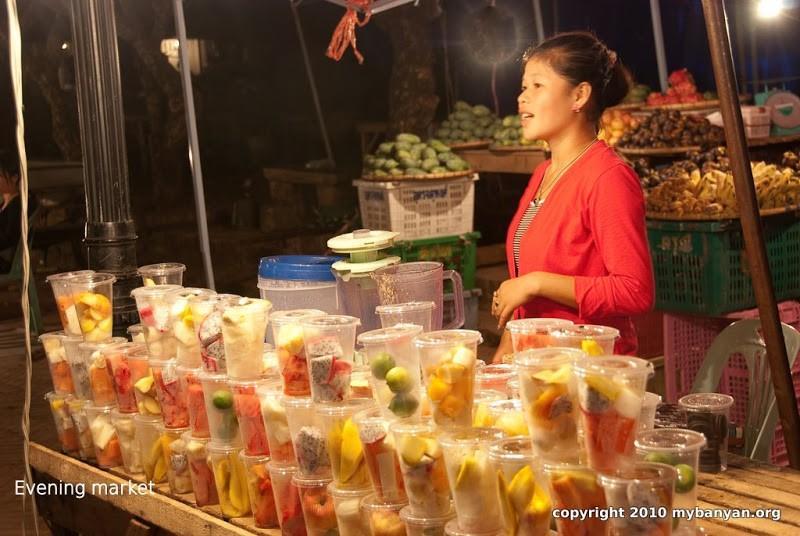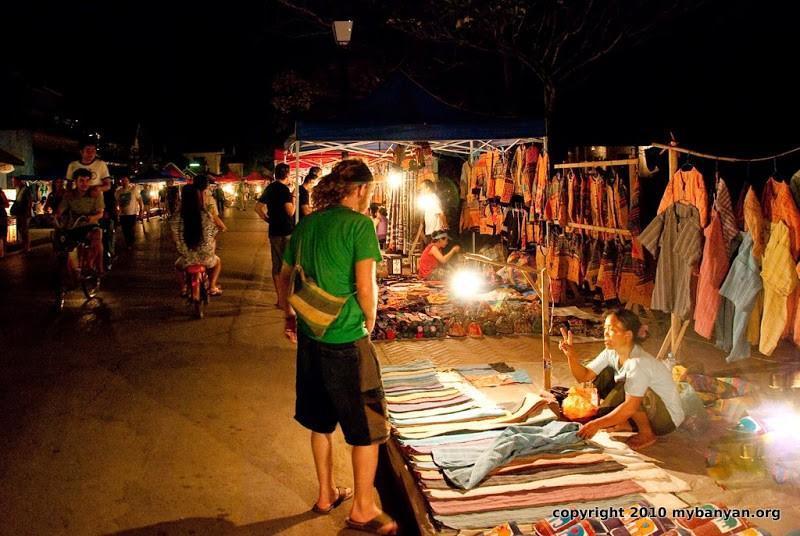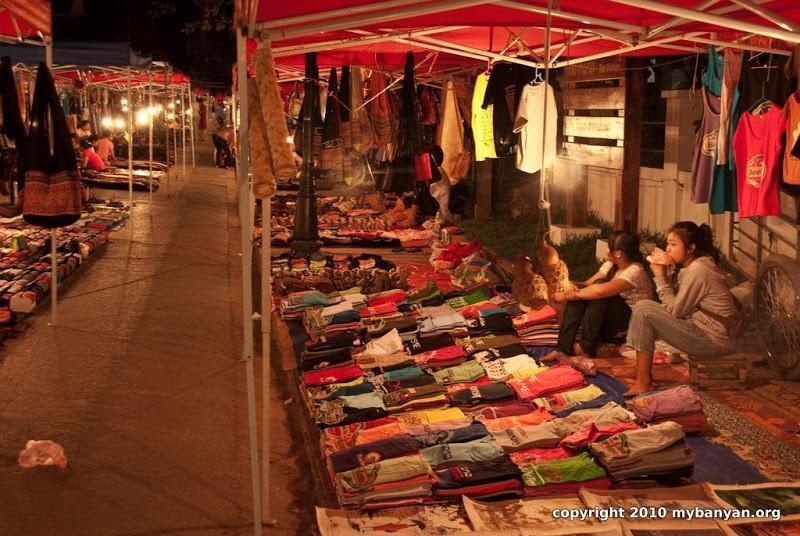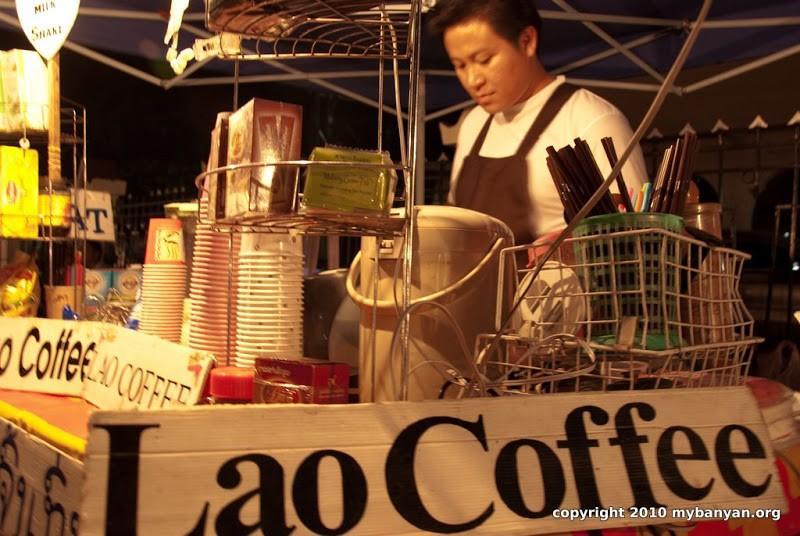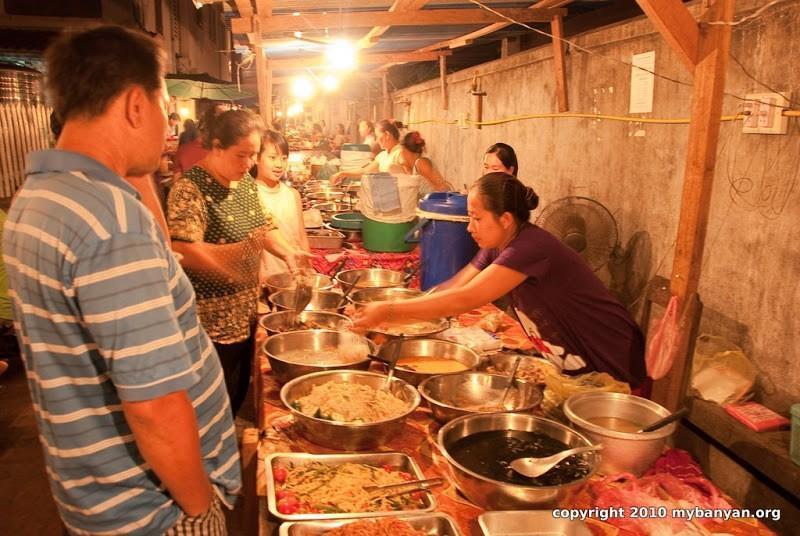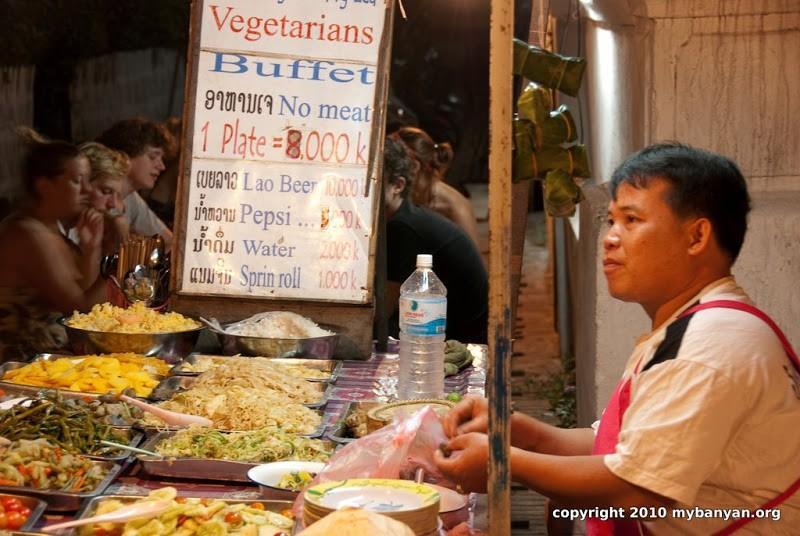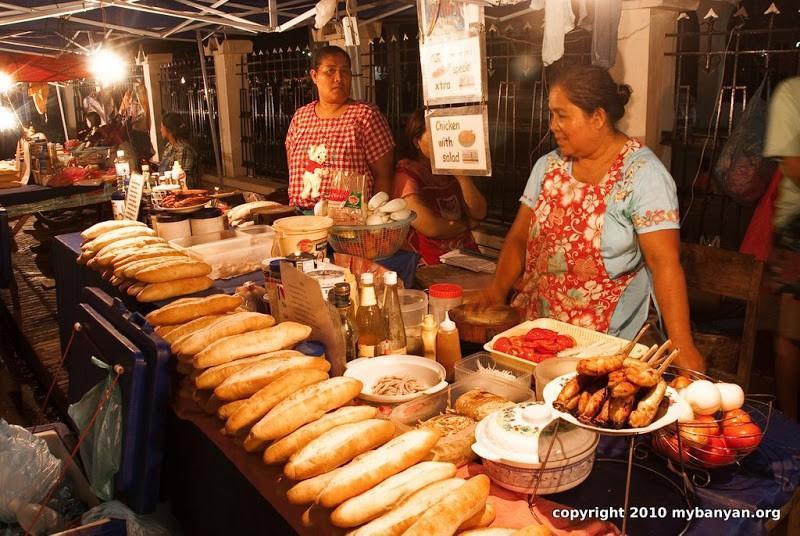 In the first light of the morning, hundreds of monks and novices walk in the streets of Luang Prabang to collect alms. Watching this colorful procession provides a strong motivation to get up early. Women are the most assiduous to offer food to the religious community. As they cannot be ordained, it is a way for them to make merit.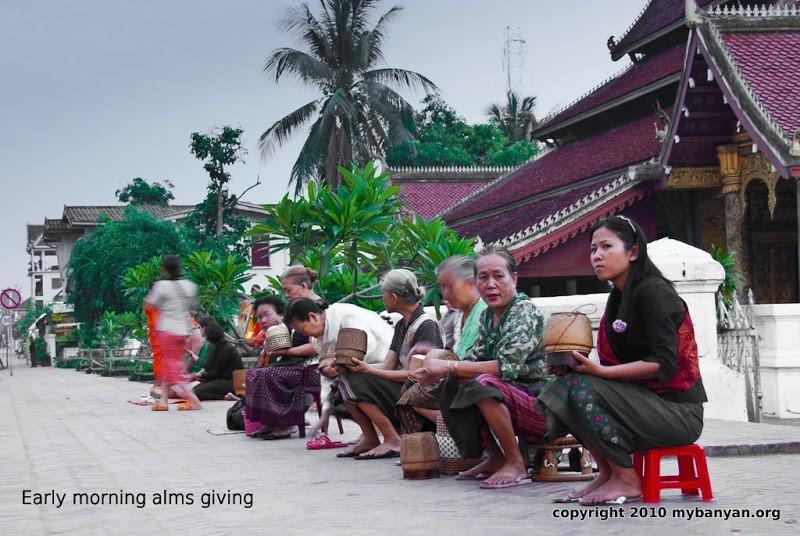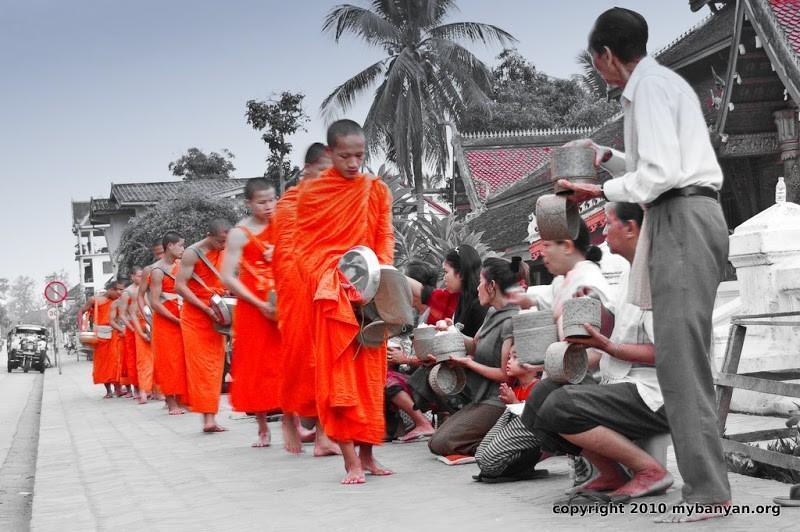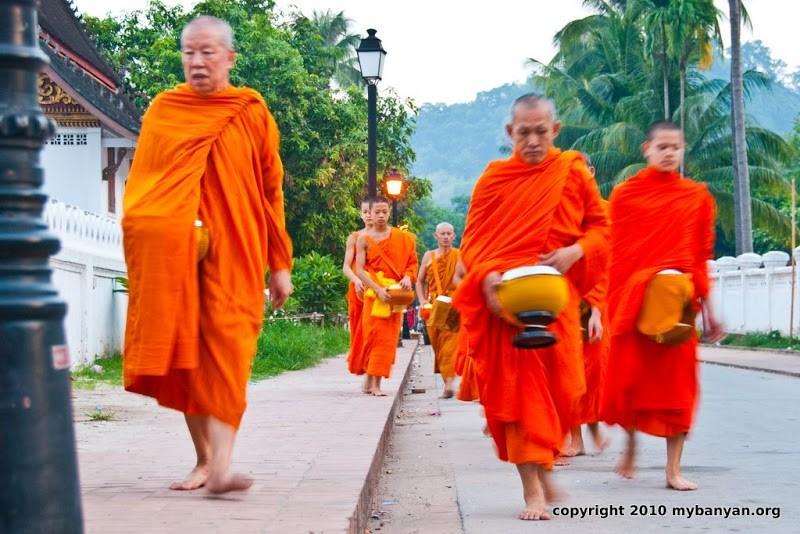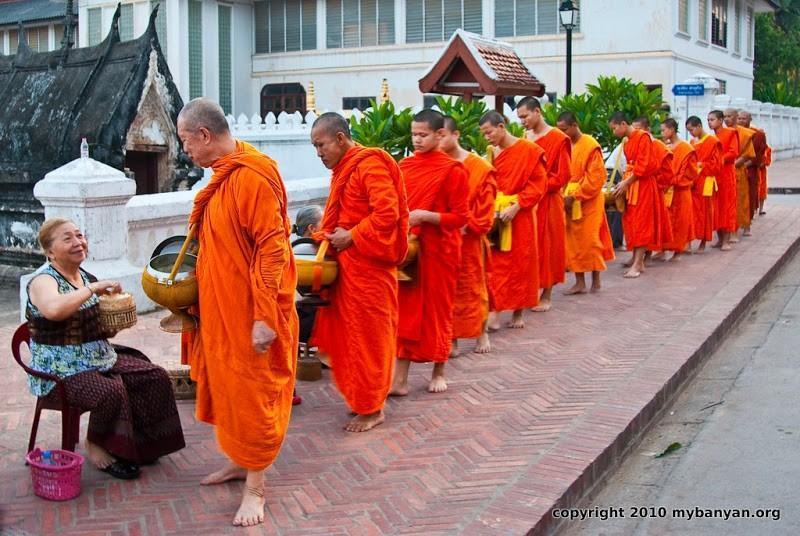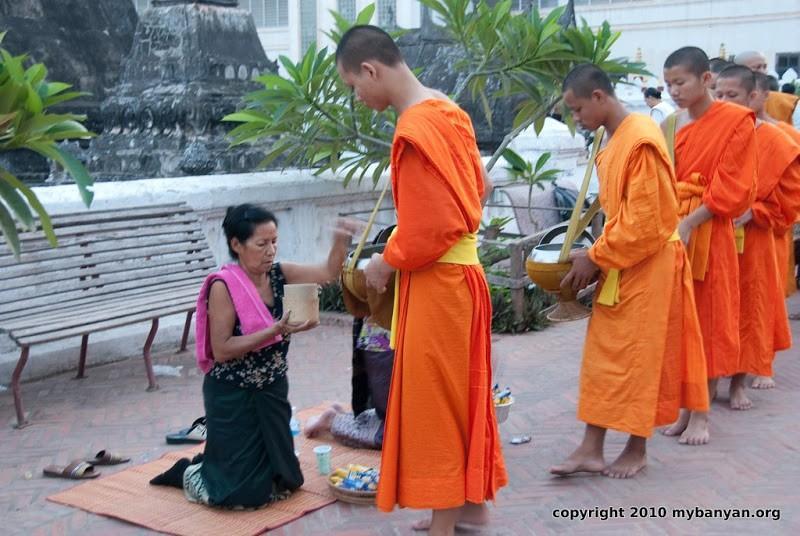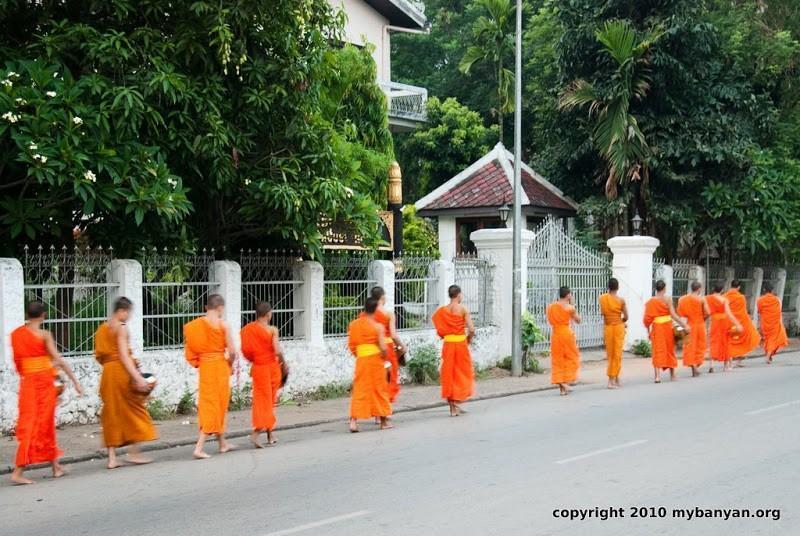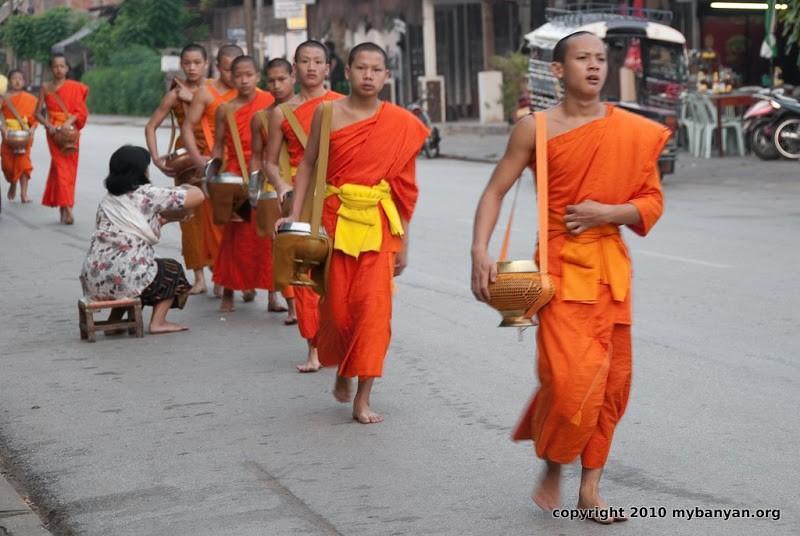 The former capital of the "Kingdom of a Million Elephants" is a cultural showcase, recognized as a UNESCO world heritage. On my trip through North Laos, the "Great Royal City" was just a stop over, and I had not scheduled time to visit his most important places or to study his historic legacy. Nevertheless, I could not leave without spending at least one day to taste some of the local delicacies. Temple visits were naturally part of the menu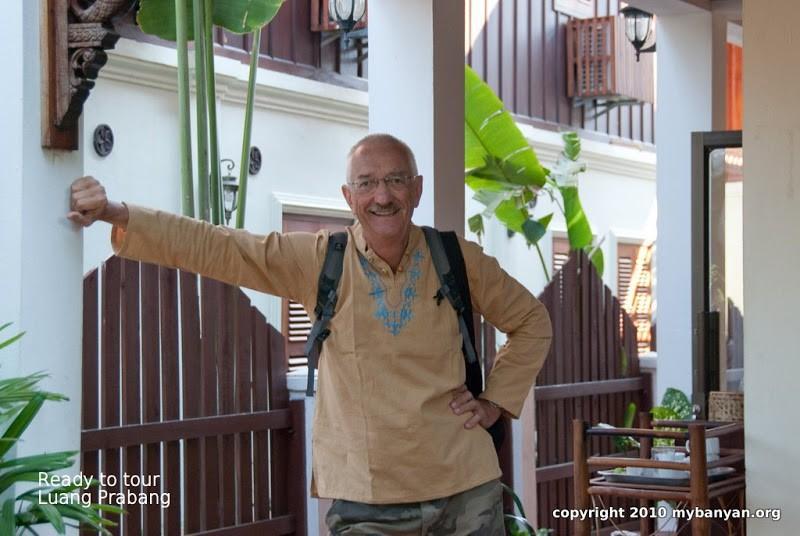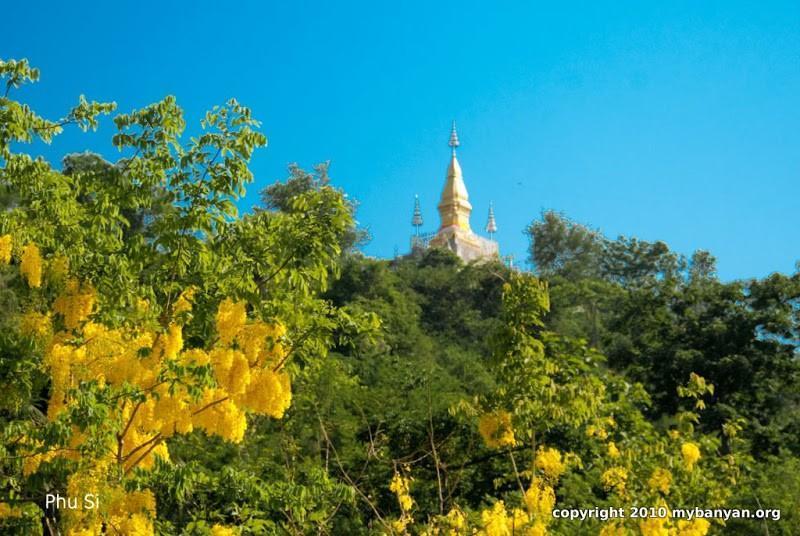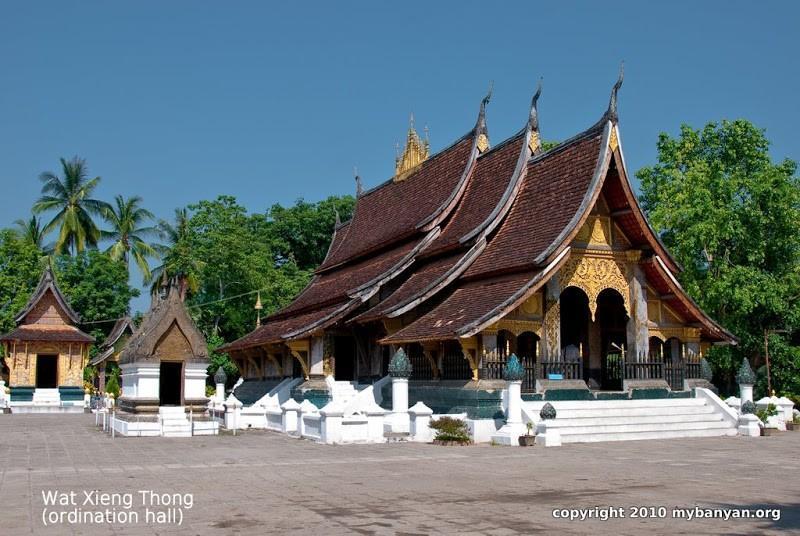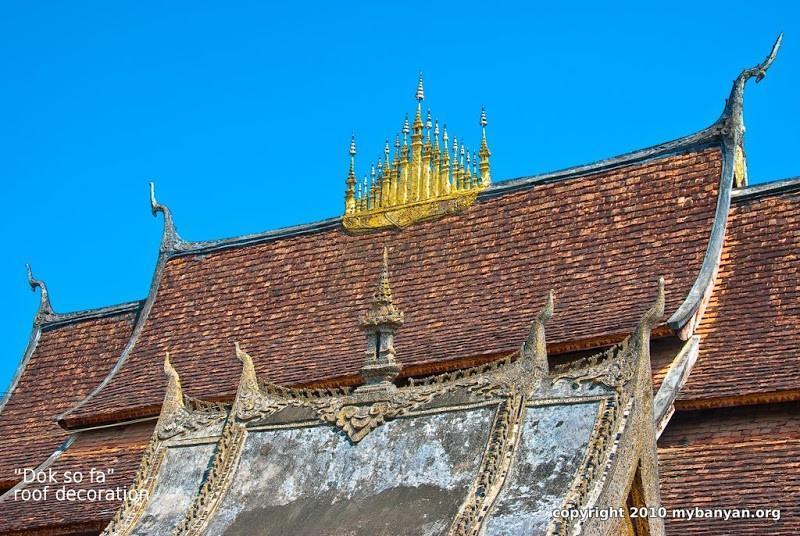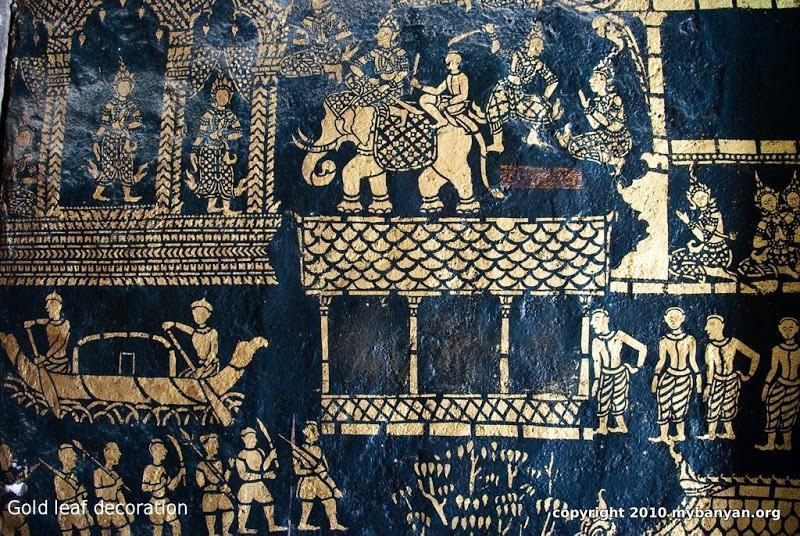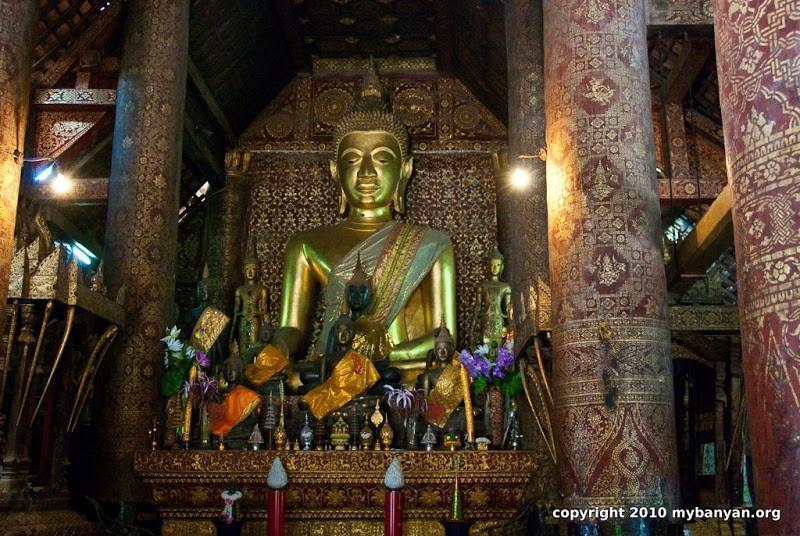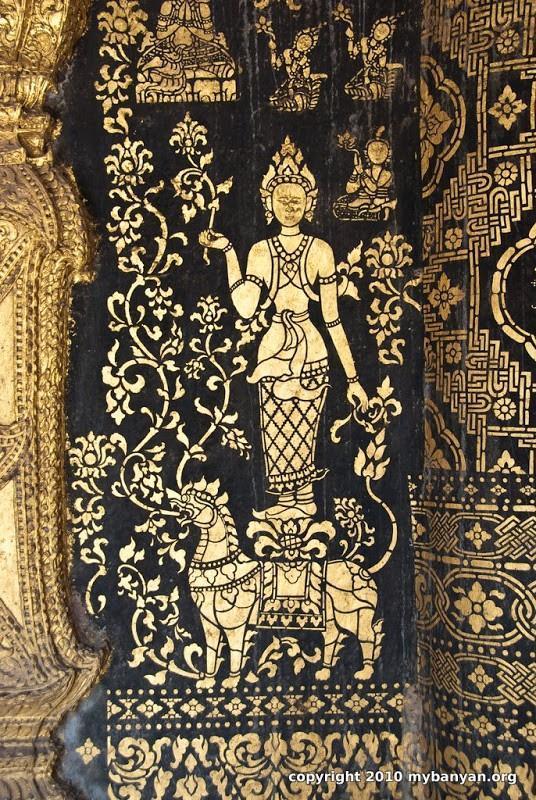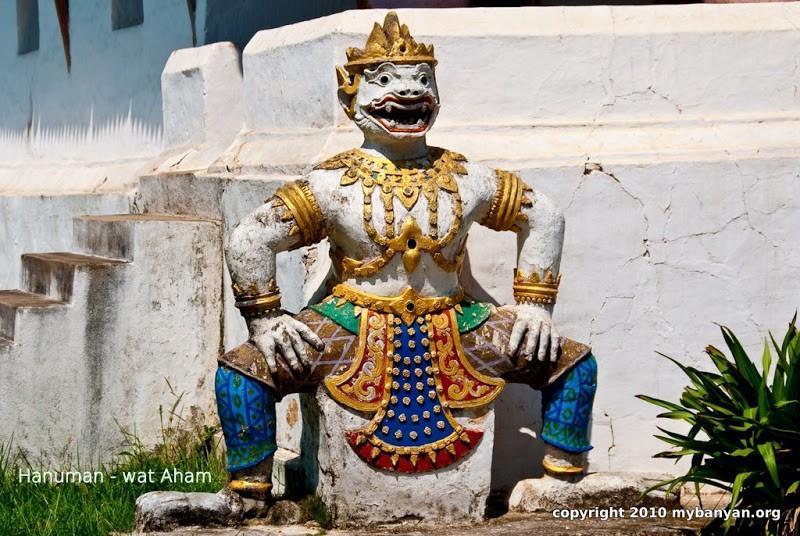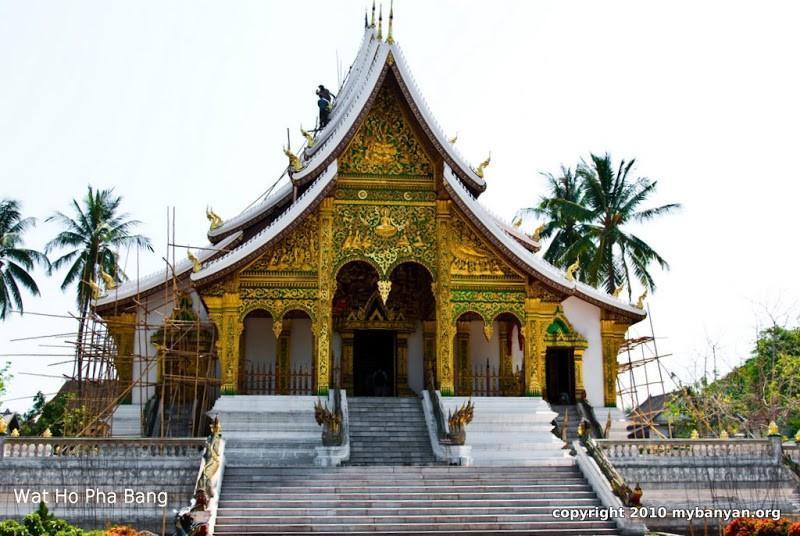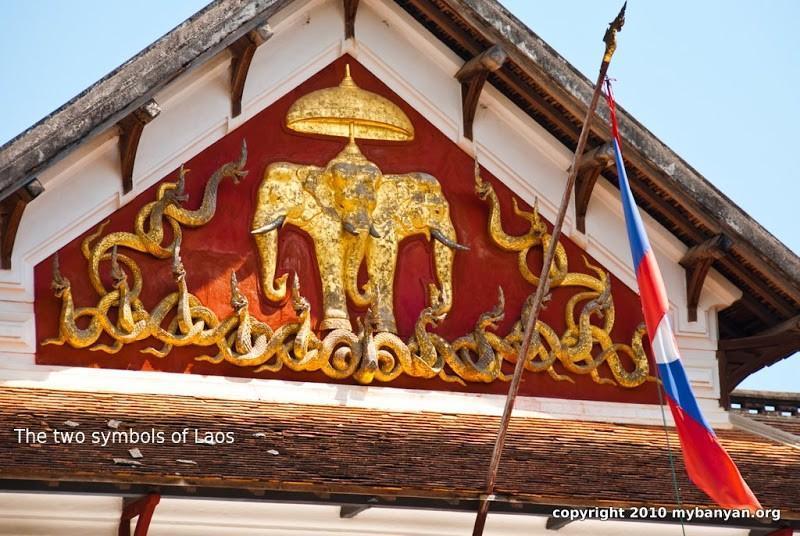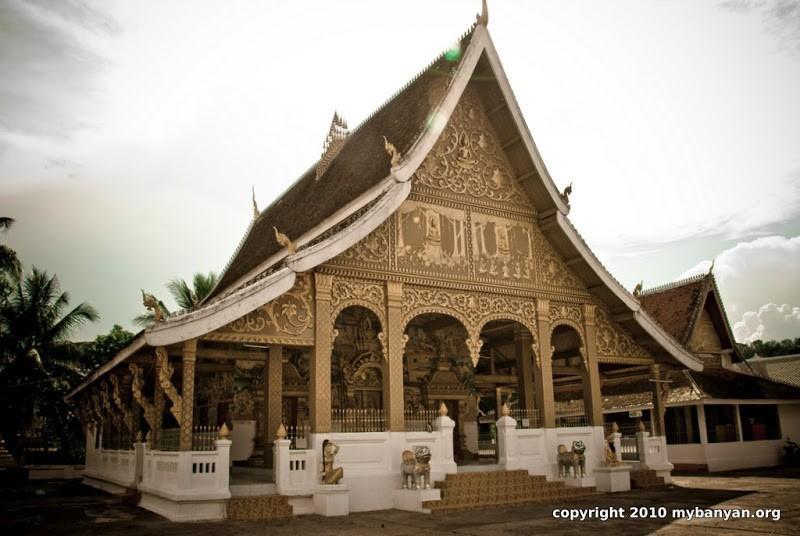 River Khan, a tributary of the Mekong, arriving from Xieng Khoung province, sculpt a peninsula on the North side of Luang Prabang. His rims are linked by a couple of bridges, two of them being open to motorcycles. Other places, worth a visit, are the colorful day market, picturesque small roads with colonial houses and "l'Etranger" a hang out for coffee lovers and books.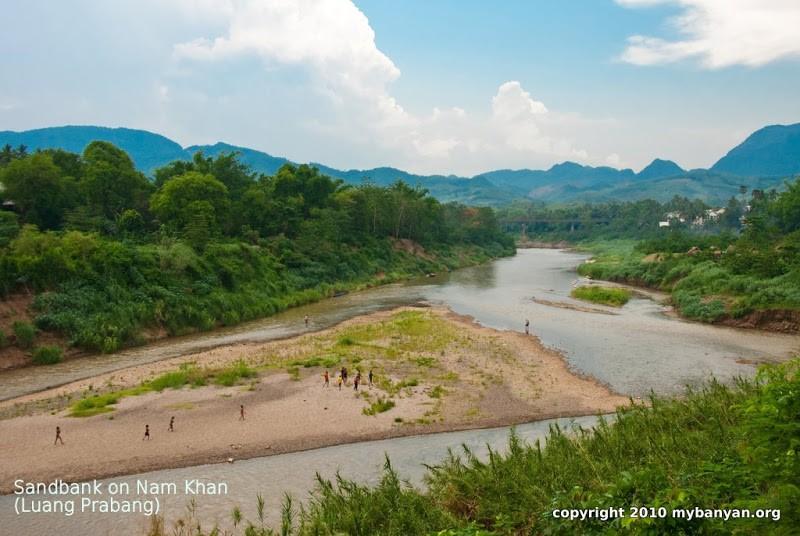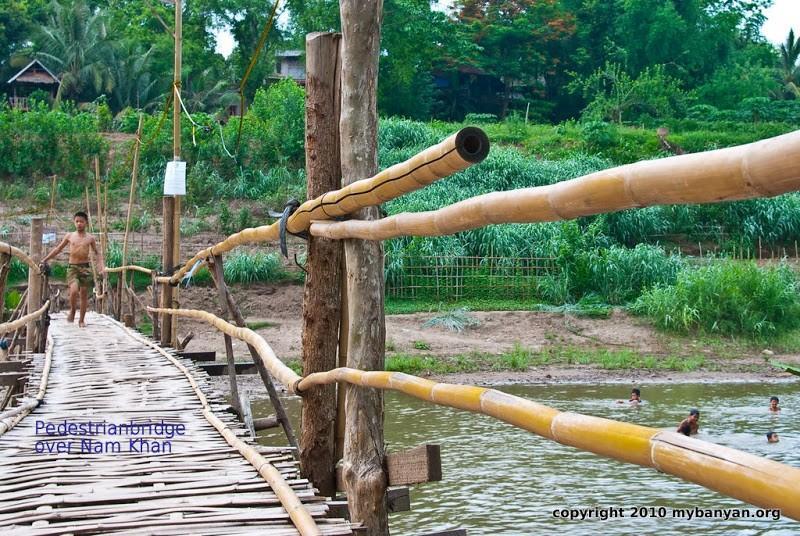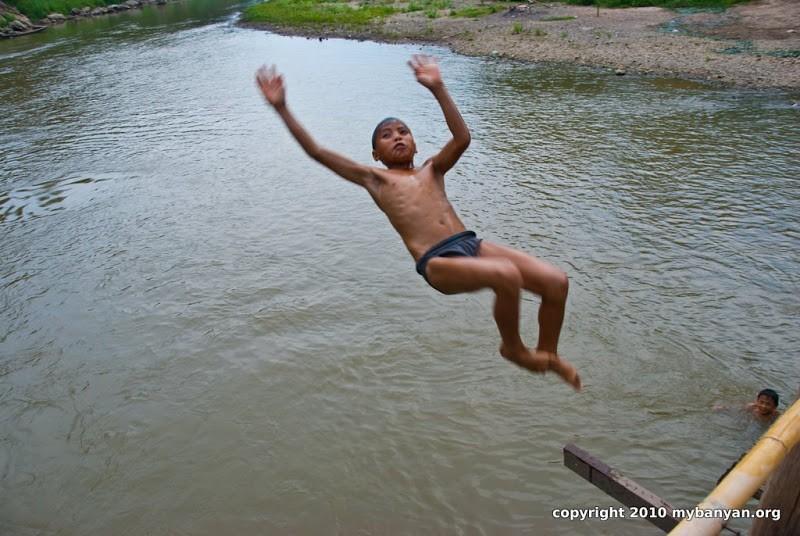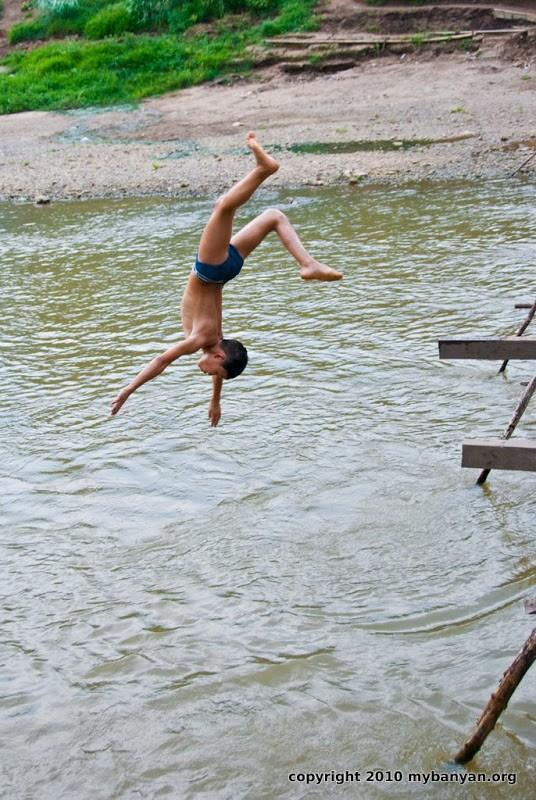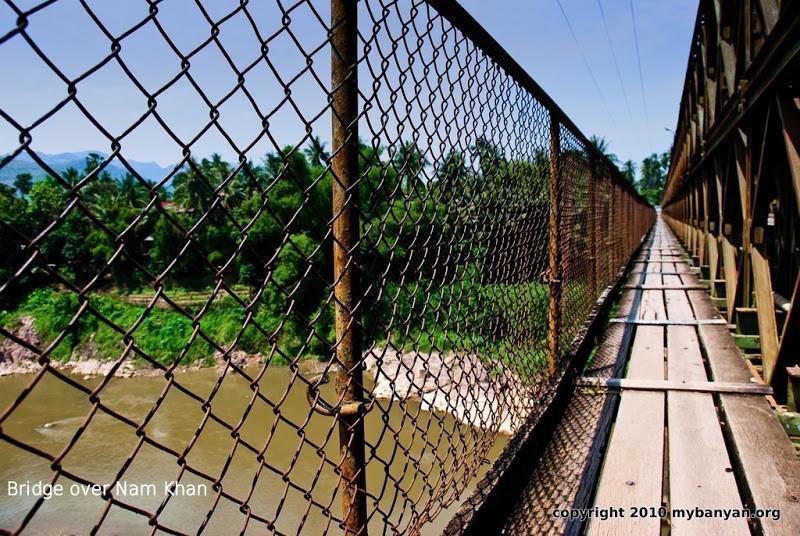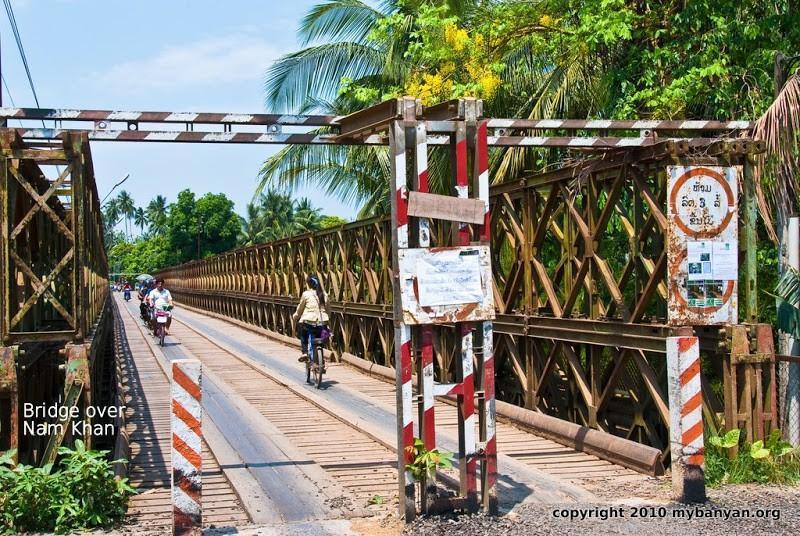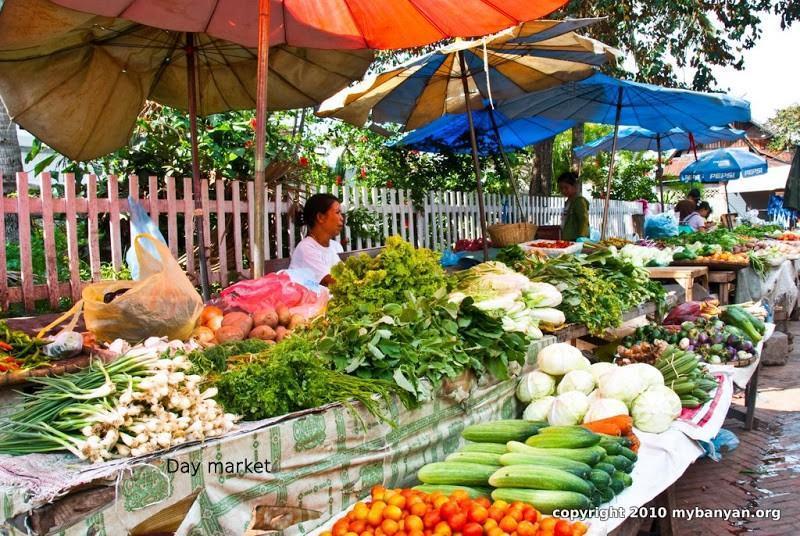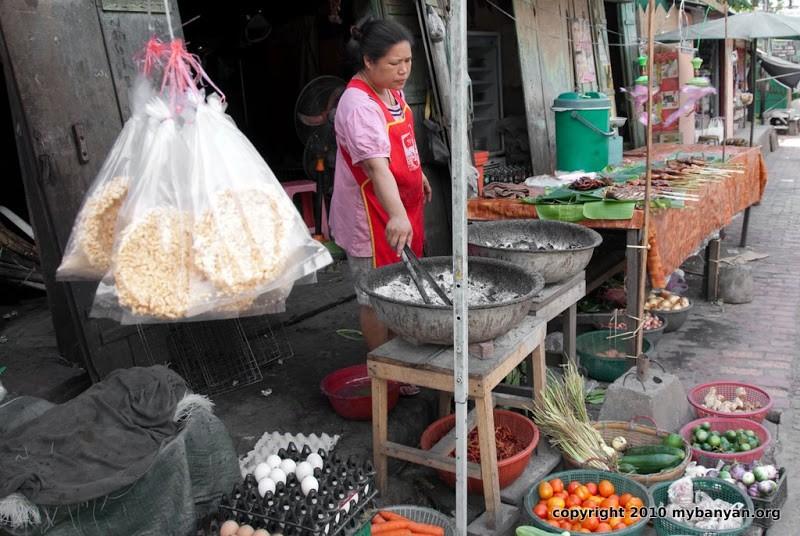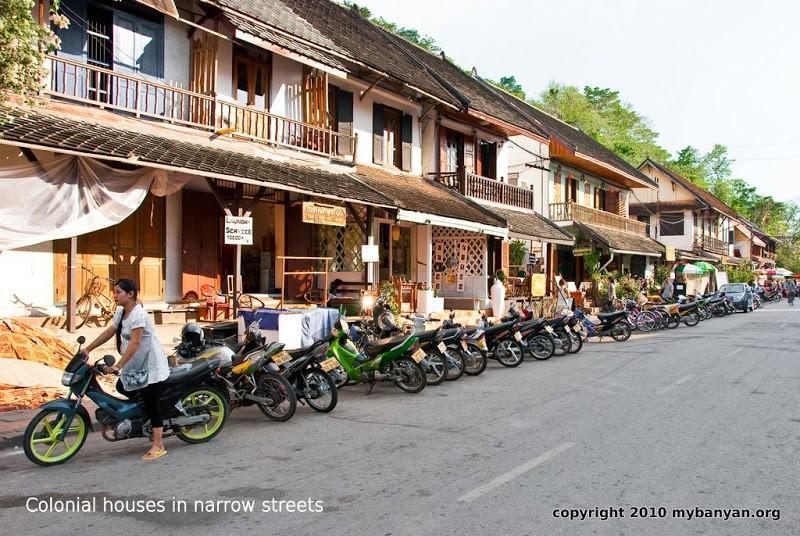 Last not least, an important attraction is the Mekong, the mother water of Indochina. On this sector it is completely owned by Laos. Mighty or tame, depending on the season, he never fails to offer stunning panoramas, tinted in all shades of the daylight.
Traditional activities, boating, fishing and slow pace cruises are sometimes disturbed by modern hustle like speed boat trips or four wheel driving in the river's bank. At crepuscule, when the twilight of the day, drape the horizon in his last colors, all returns to quietness and serenity.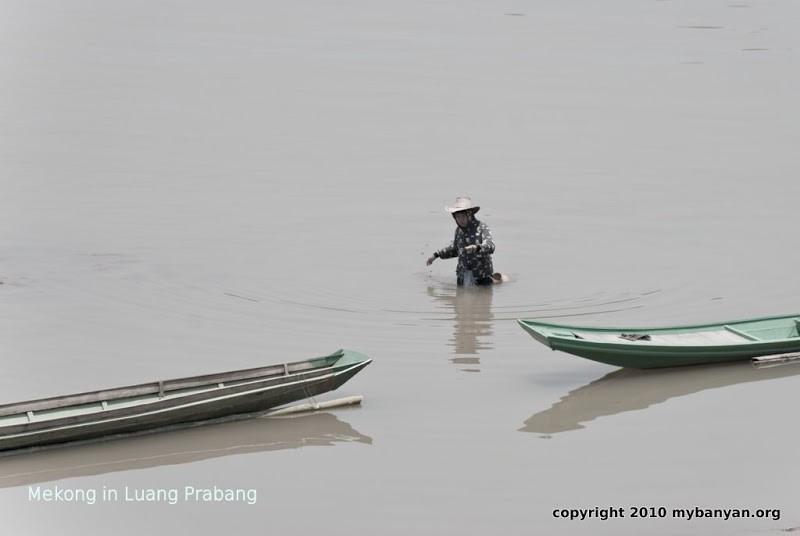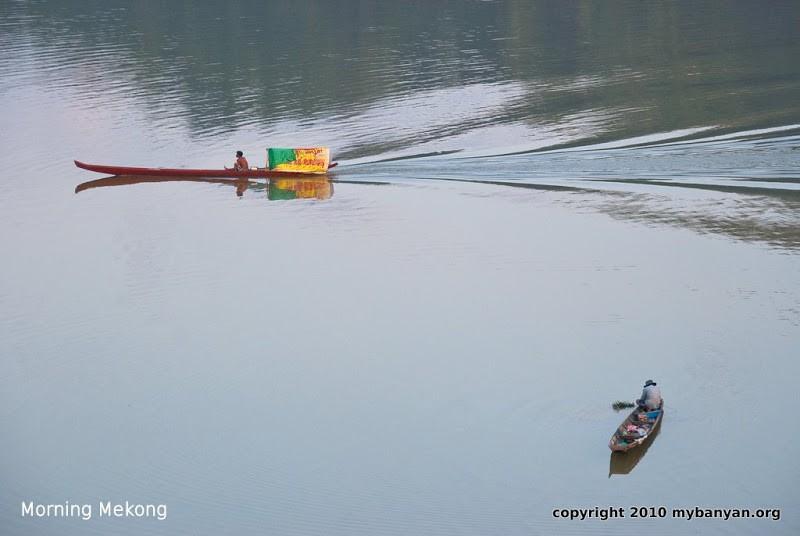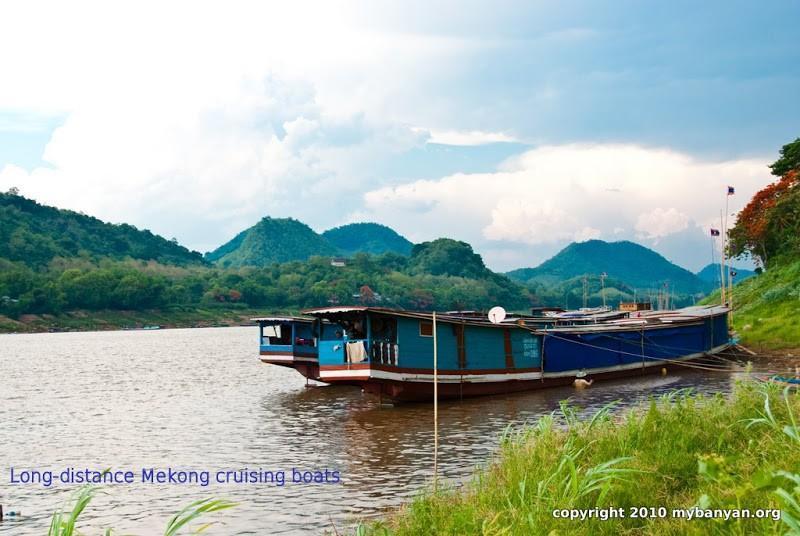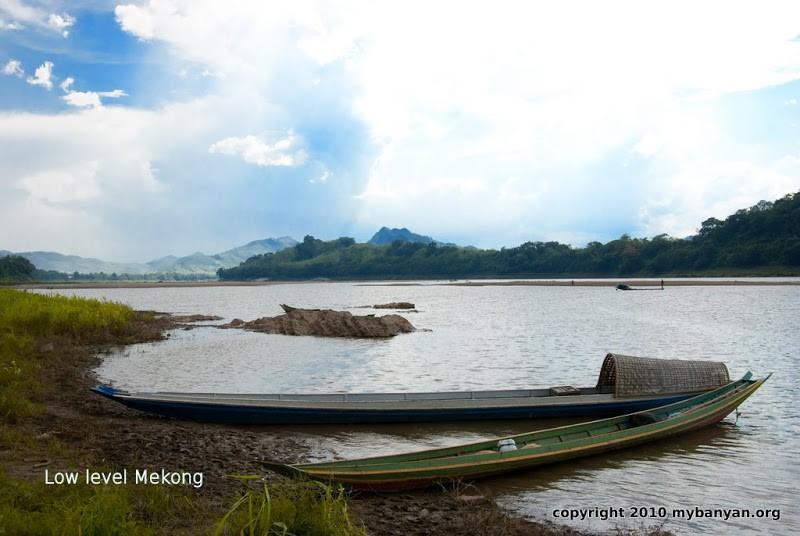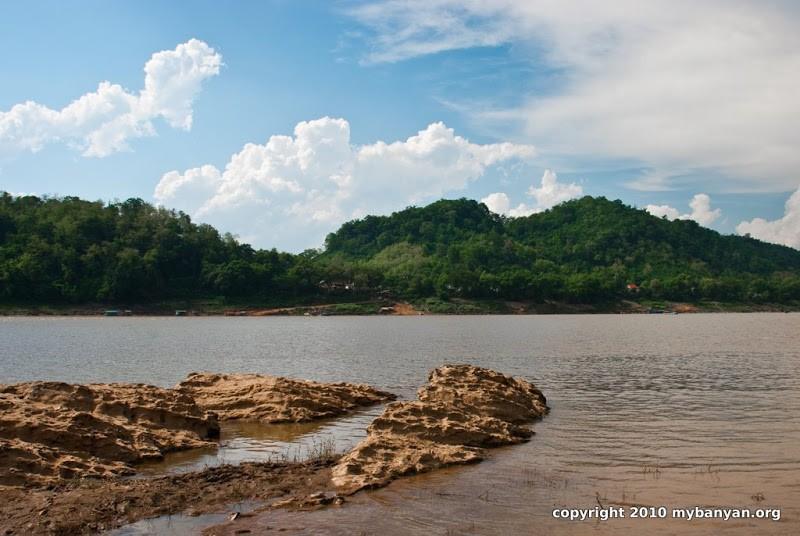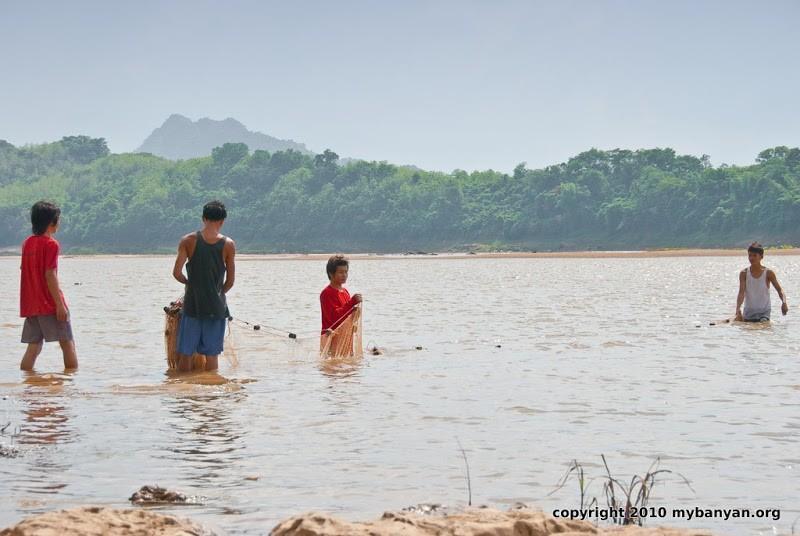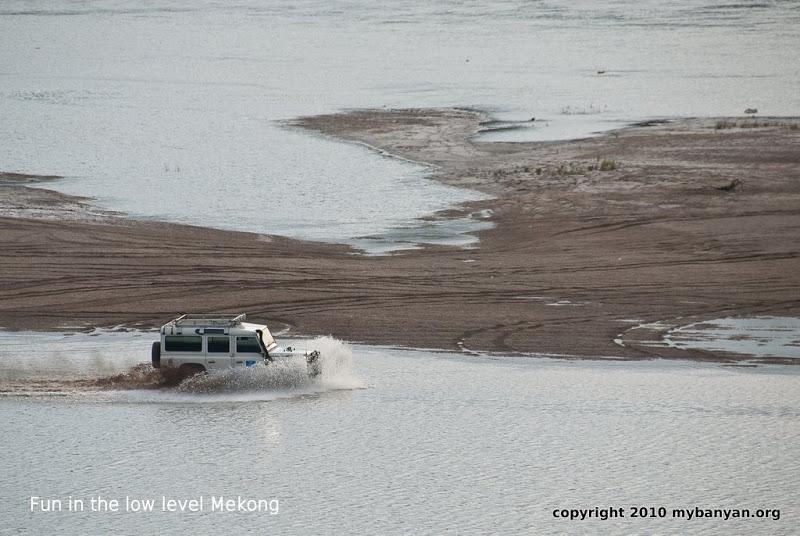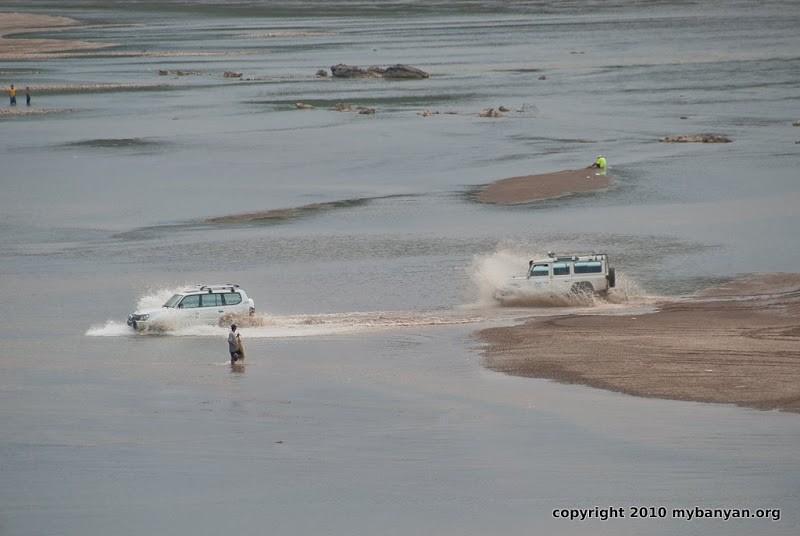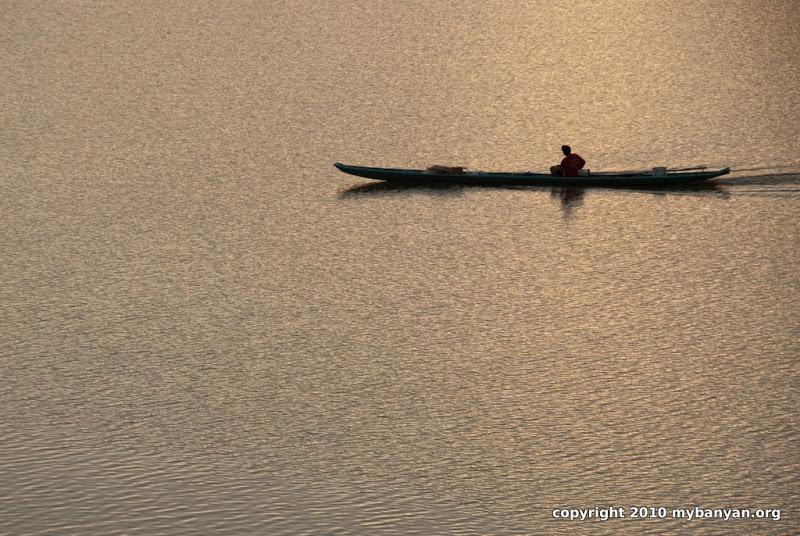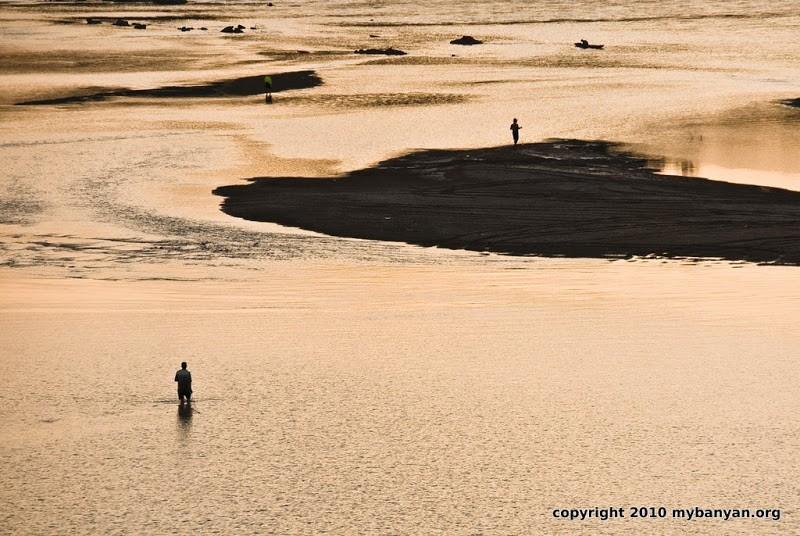 My alarm clock was set to five o'clock, as I wanted to shot another round of photographies from the monks. A strong thunder and the familiar drumming of heavy rain, replaced a wake-up call at four thirty. I reflected that my schedule was dead in the water, but slowly the downpour stopped, allowing me to go out for the pictures.
Surprised by a wet and muddy road, I landed in the uncomfortable position of a goalkeeper. I saved my camera from a shattering death and got the warning about adherence, on two feet or two wheels. As "Joma Backery" just opened I wiped the dirt from my cloth and took solace in a fresh brew.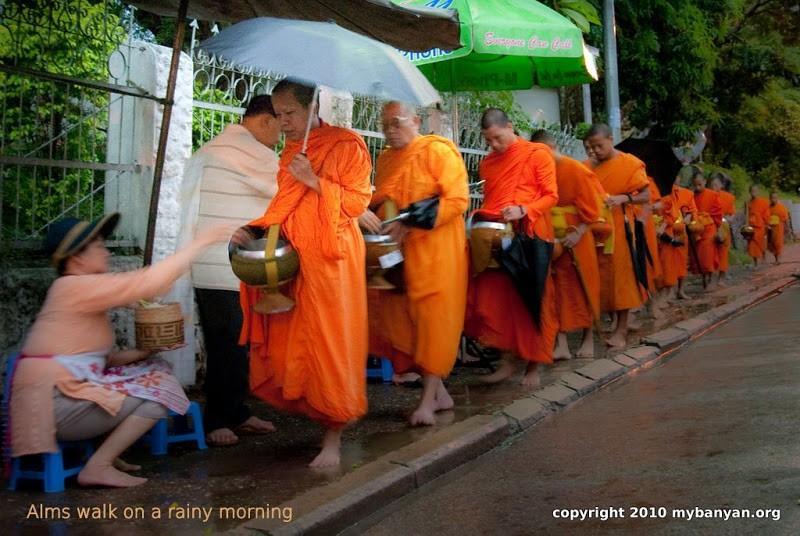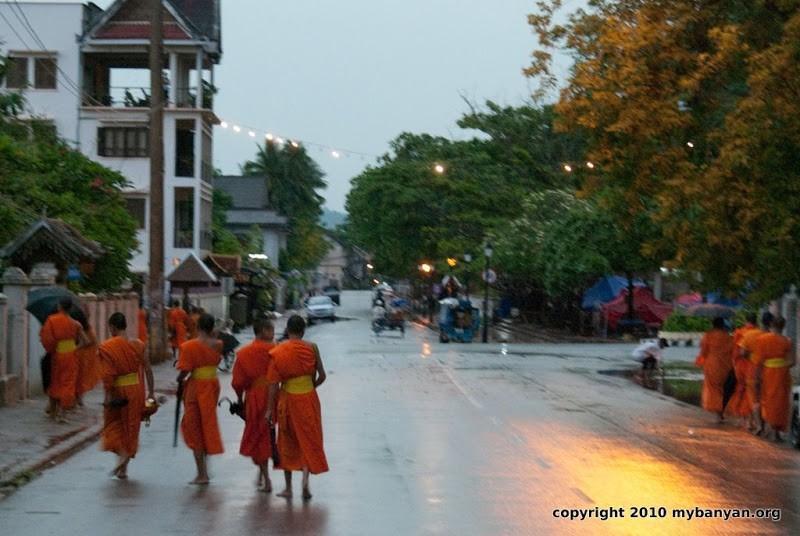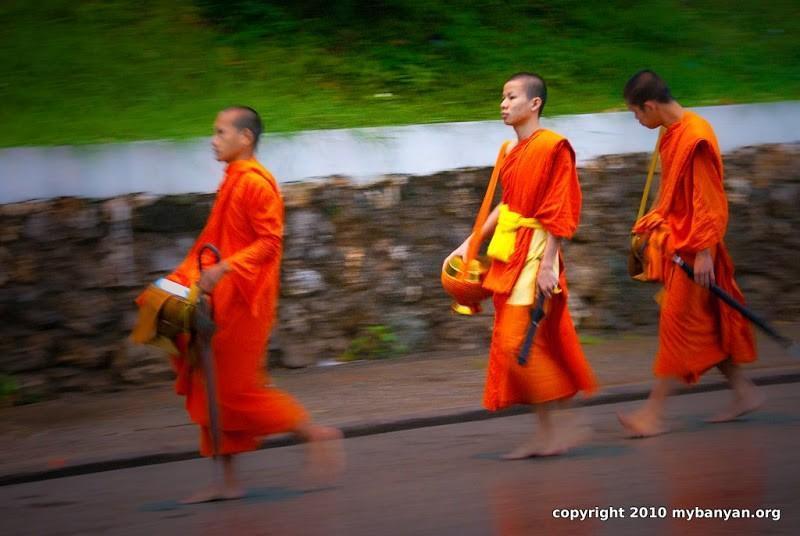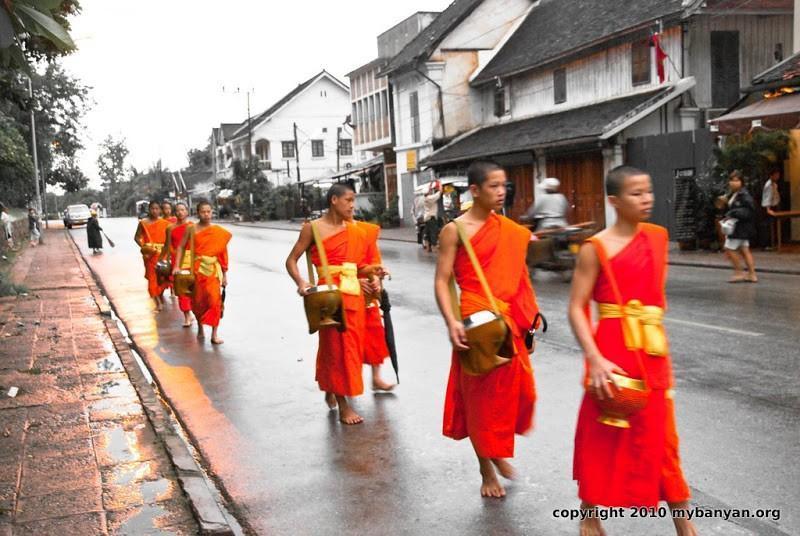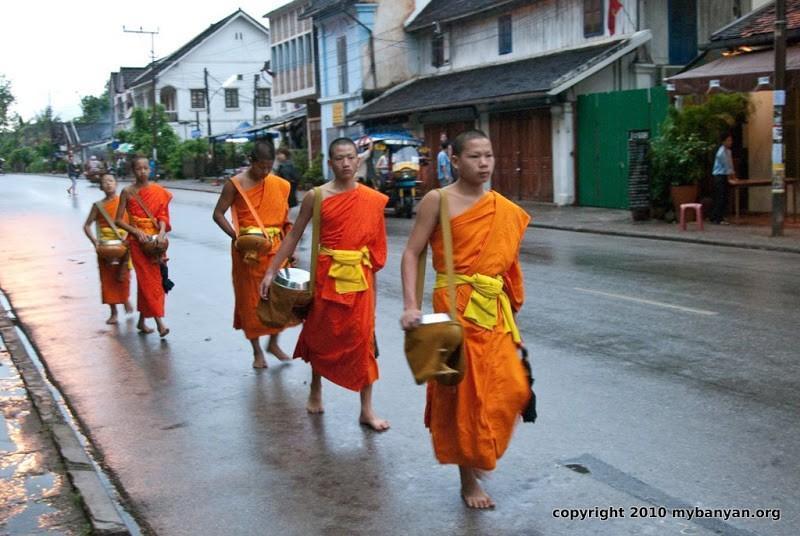 At seven thirty, I was driving down route 13 again, not sure where I would end my day. Vang Vieng was a safe choice to cope with downpours, and the plain of Jars my alternative for clement weather.
After Luang Prabang, the road is in good health. Following a heavy rain, however, additional vigilance is required. Small footpaths are melting down to the pavement, rendering curves slippery and some places are covered with scattered gravels.
It was not long before the sky cleared up, making driving through the hills an enchantment. As on other itineraries, larges areas were cut bold of any vegetation, showing the reddish wounds of the earth. Such desolated sights are unfortunately habitual in North Laos.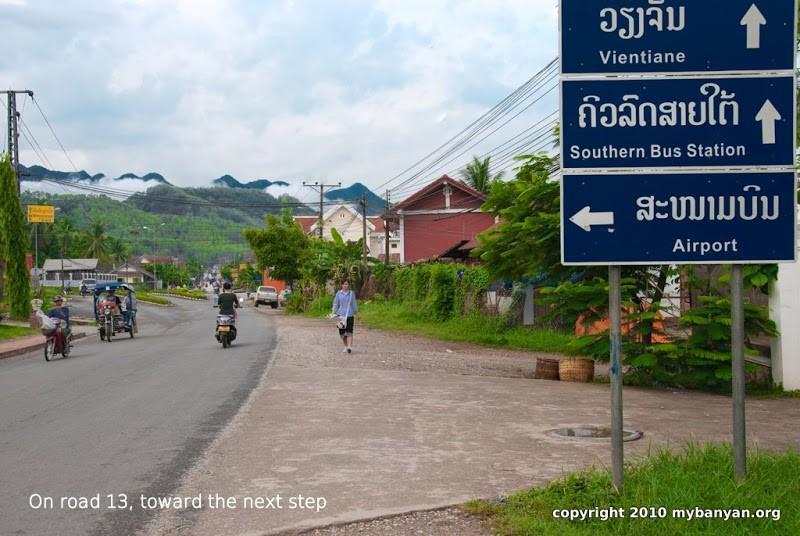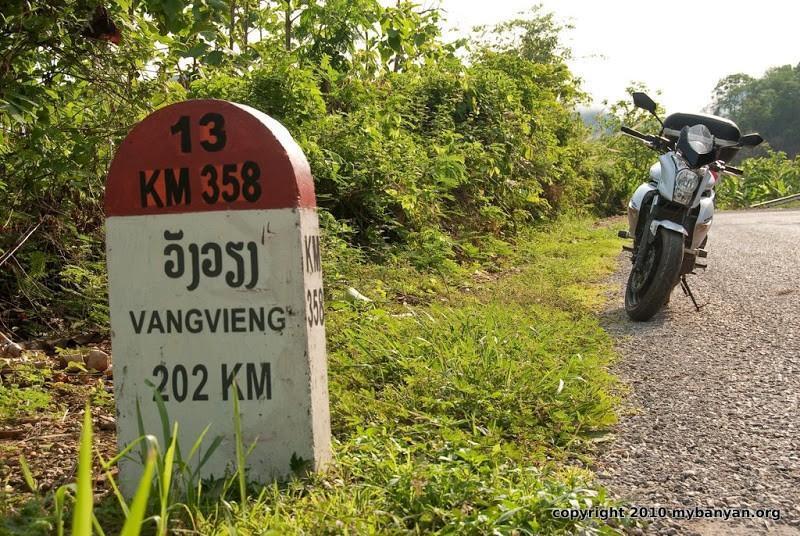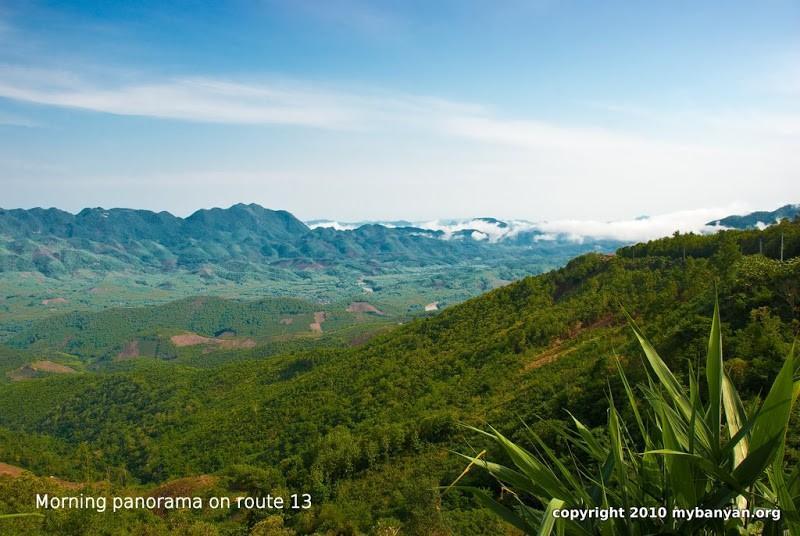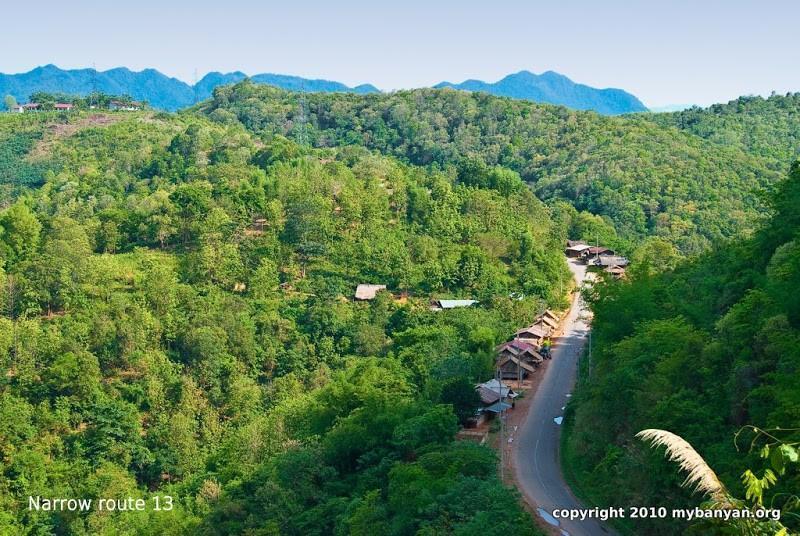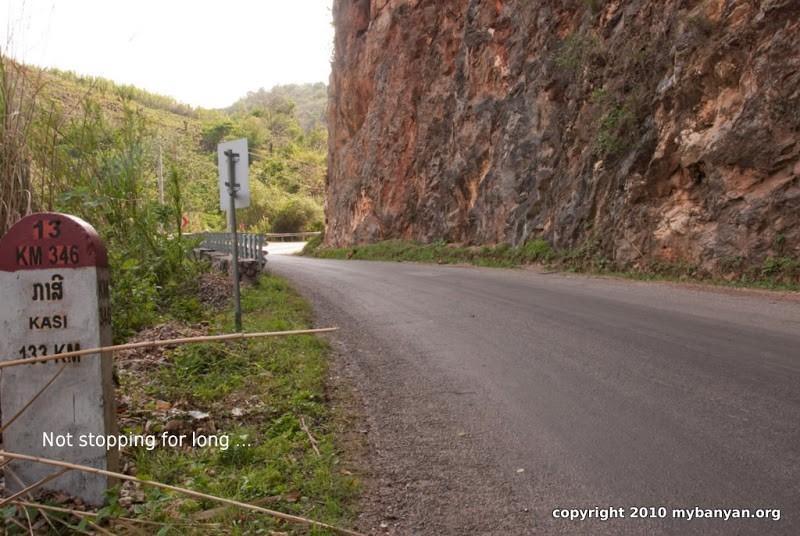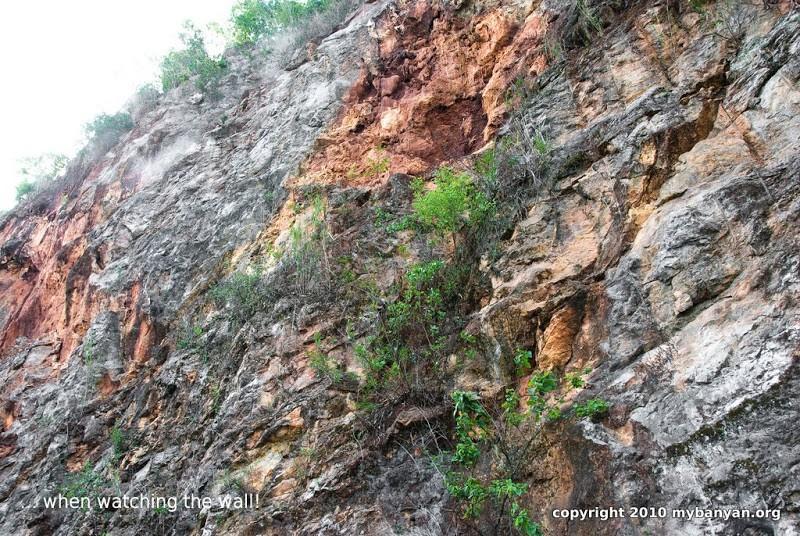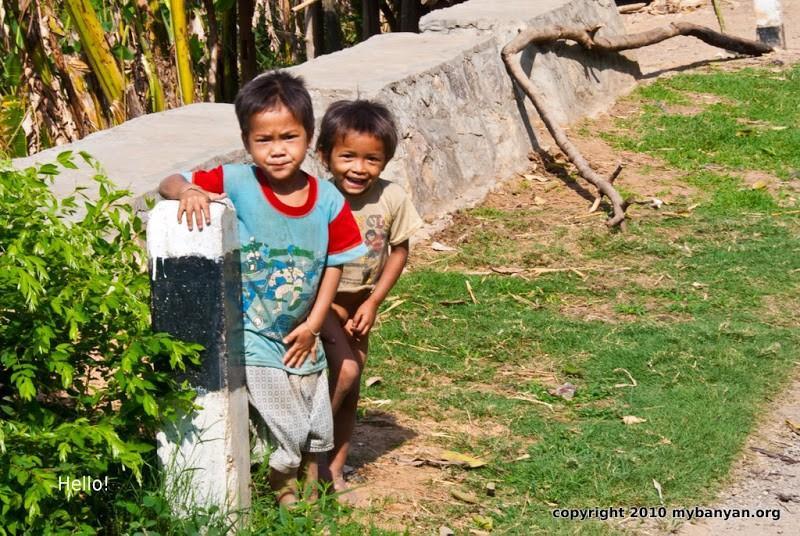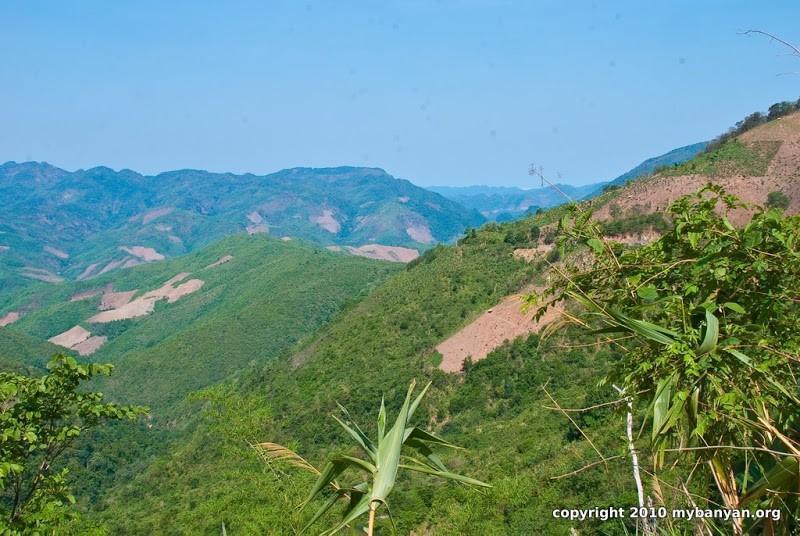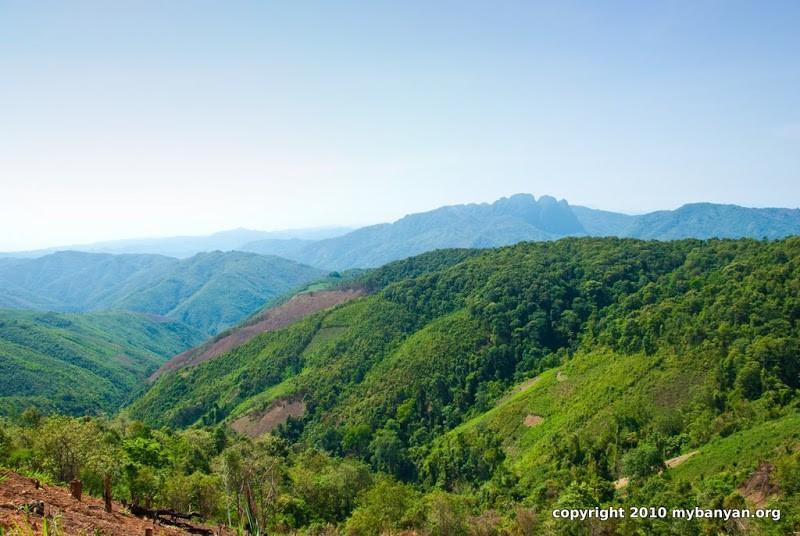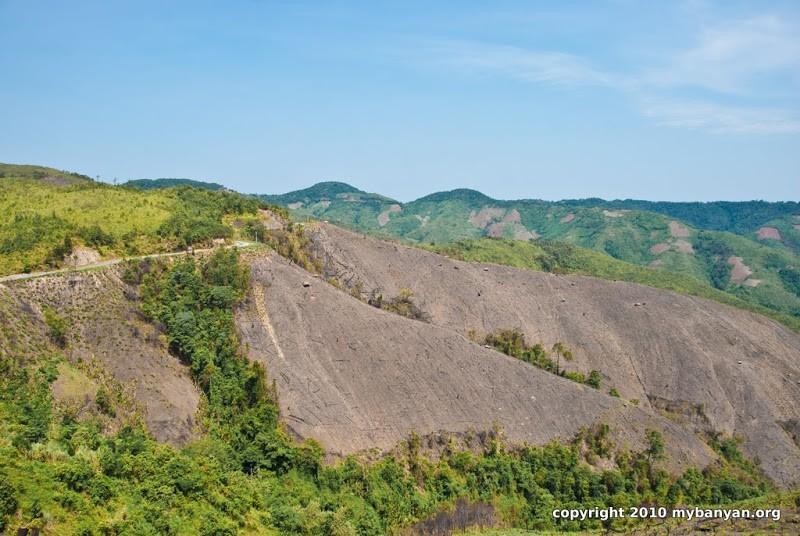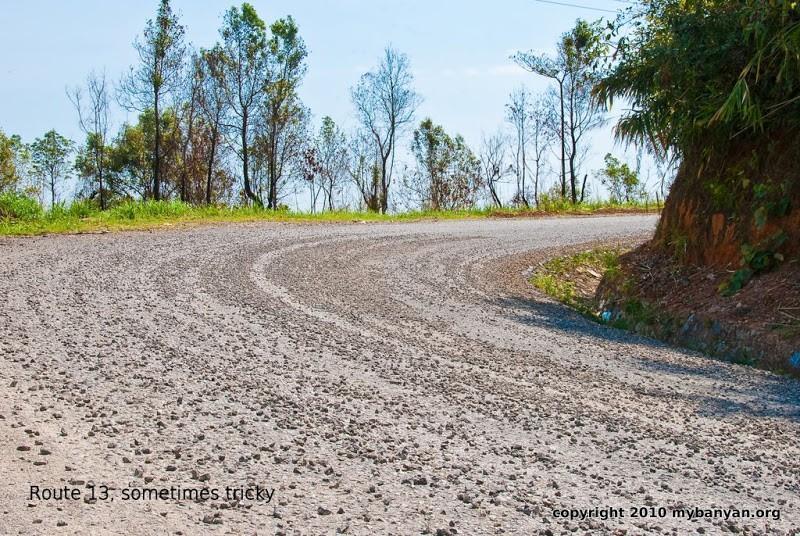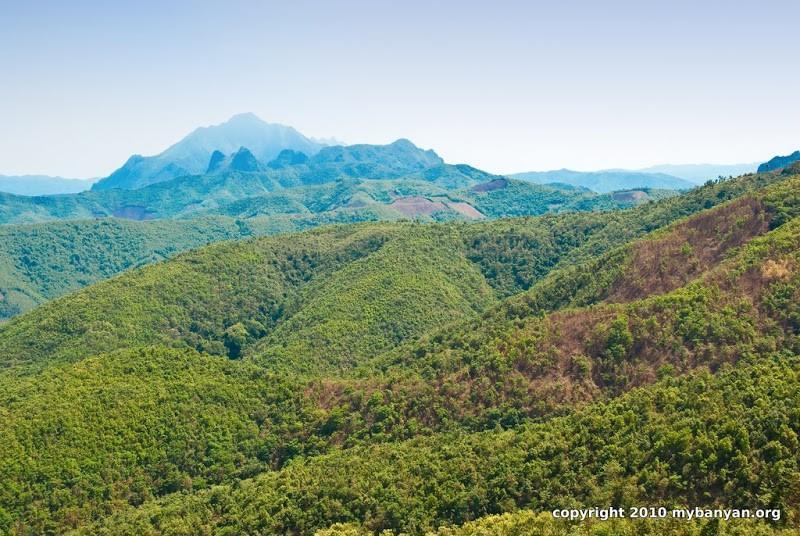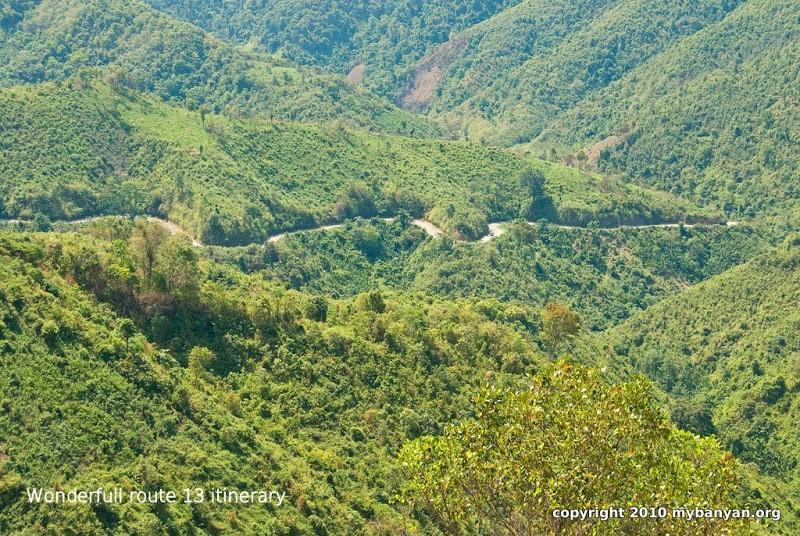 When roads exist, they are the backbone of Lao villages. Settlements are build along any track, from the less beaten paths to the national highway. Despite a low population density, people are everywhere along the travelers journey. Modern gears, satellite dishes and a couple of "Hondas", punctuate a way of life routed in long time traditions and slow changes.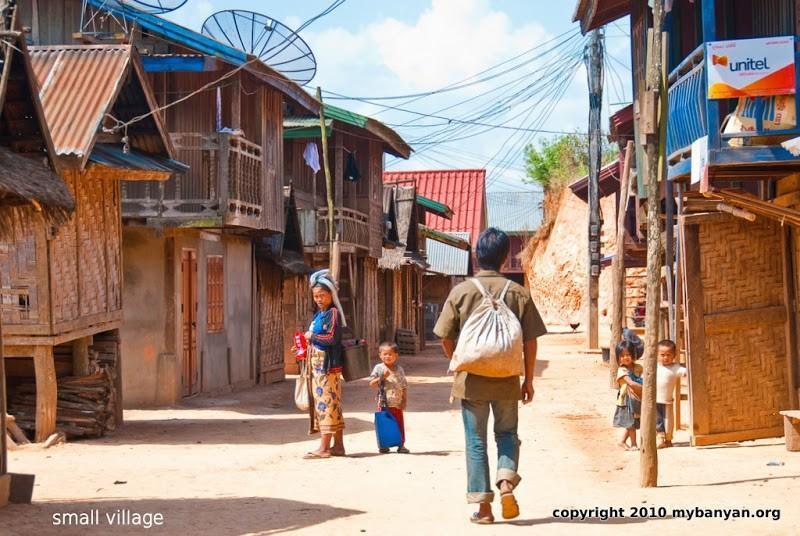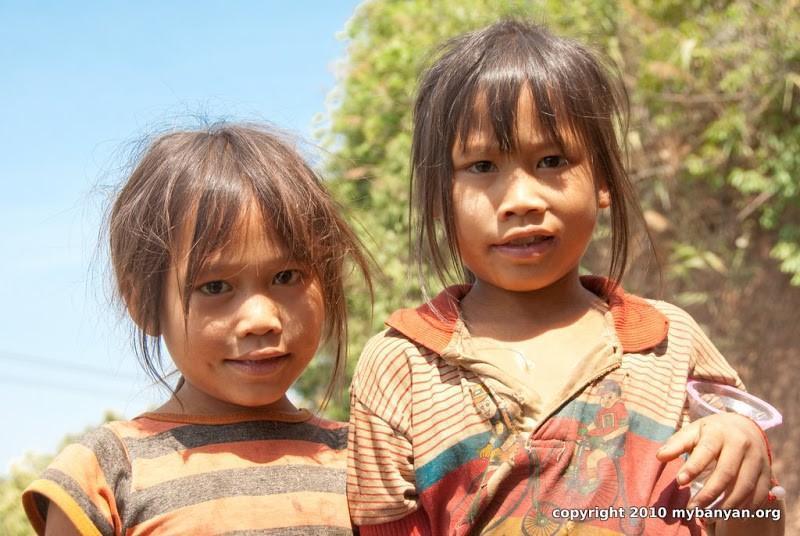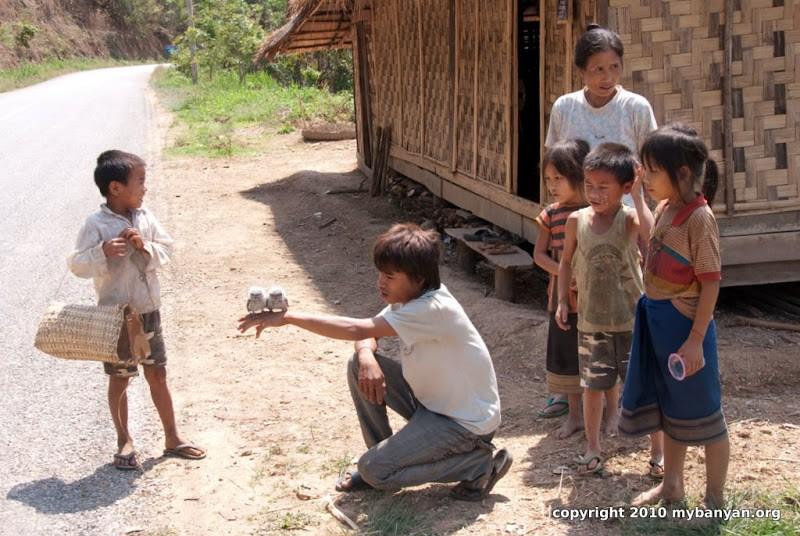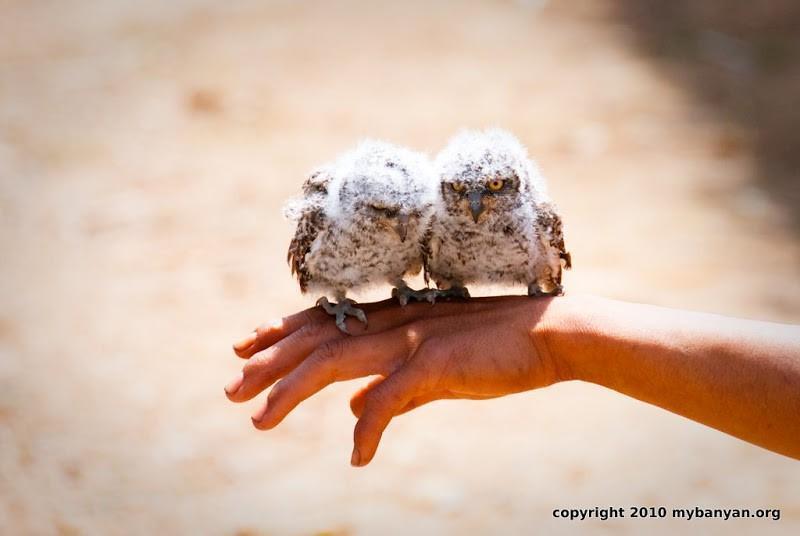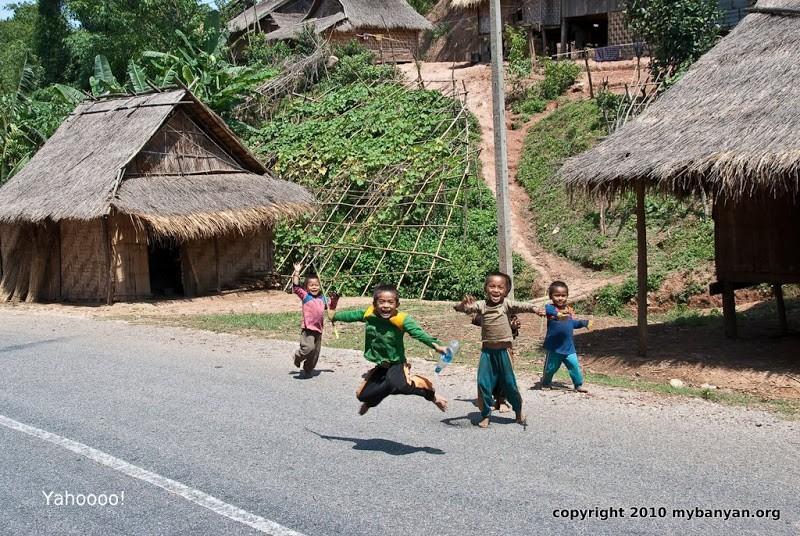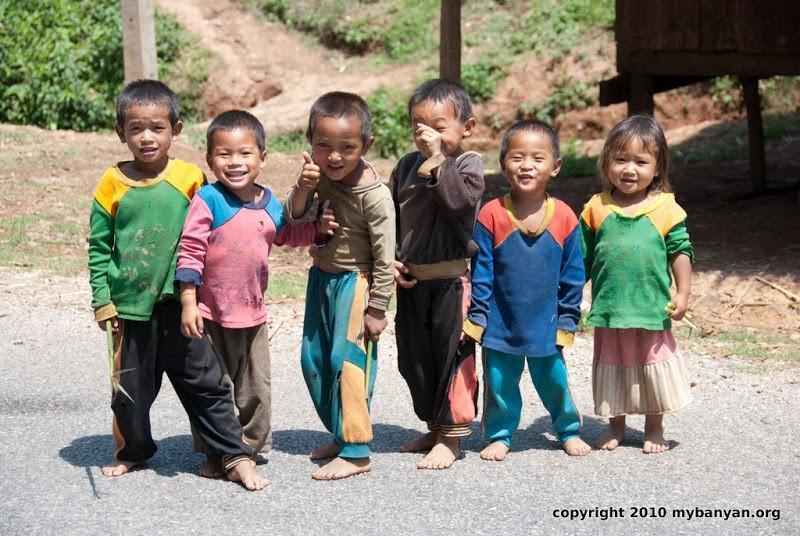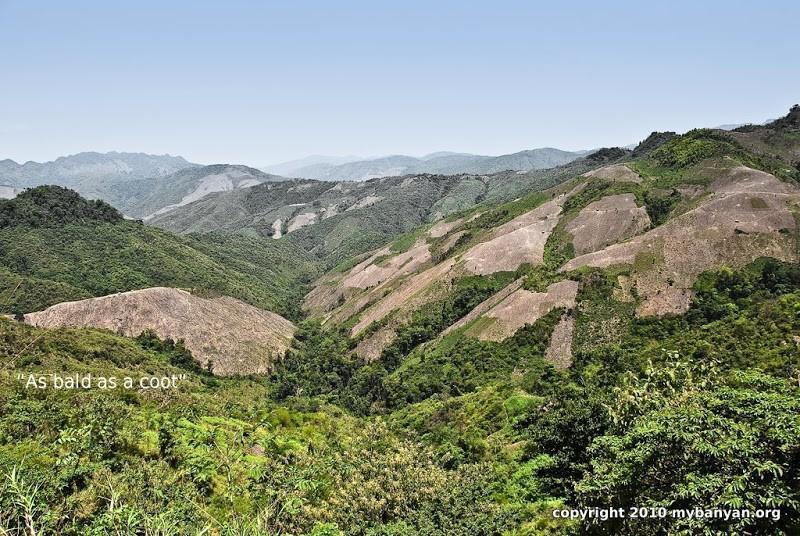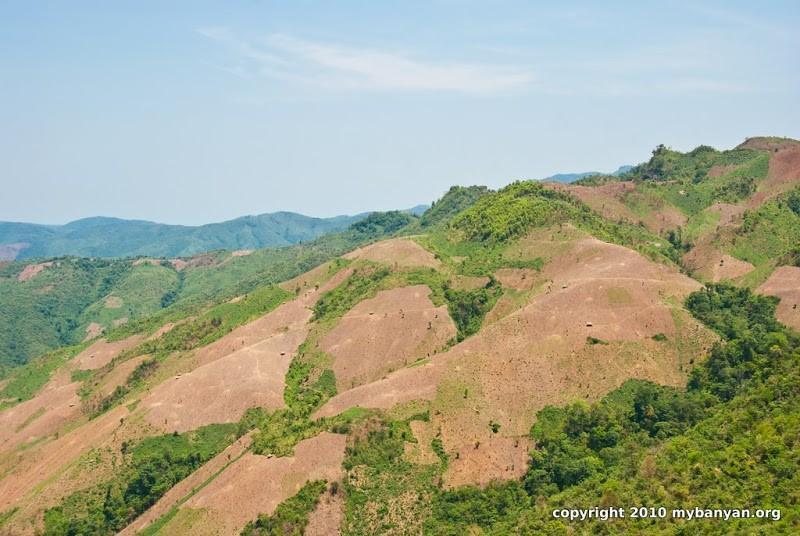 Phou Khoun is the junction city for a trip toward Phonsavan and the plain of Jars. As the weather was good, I decided to switch to route 7 and to visit Xieng Kuang province. After filling my stomach and the bike's tank, I left route 13 and headed toward the East.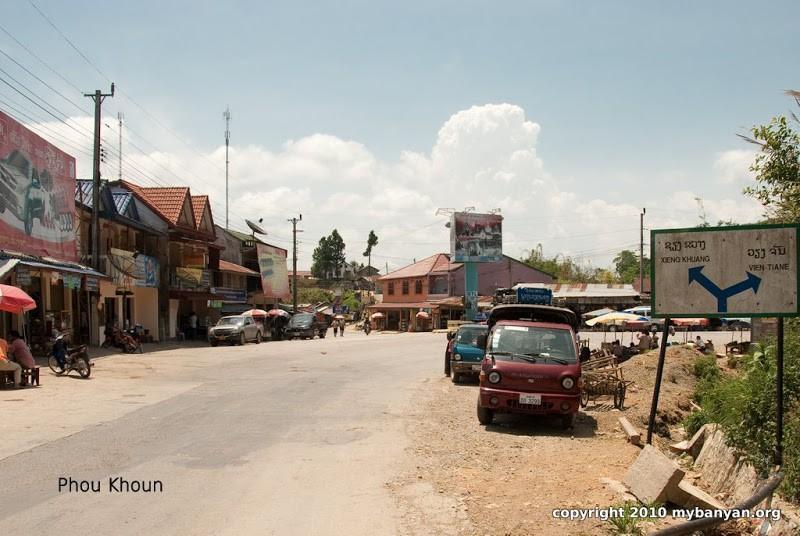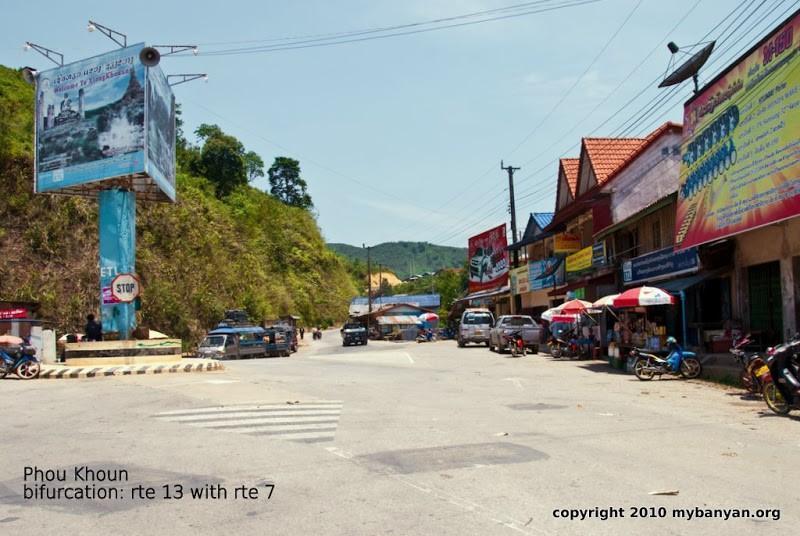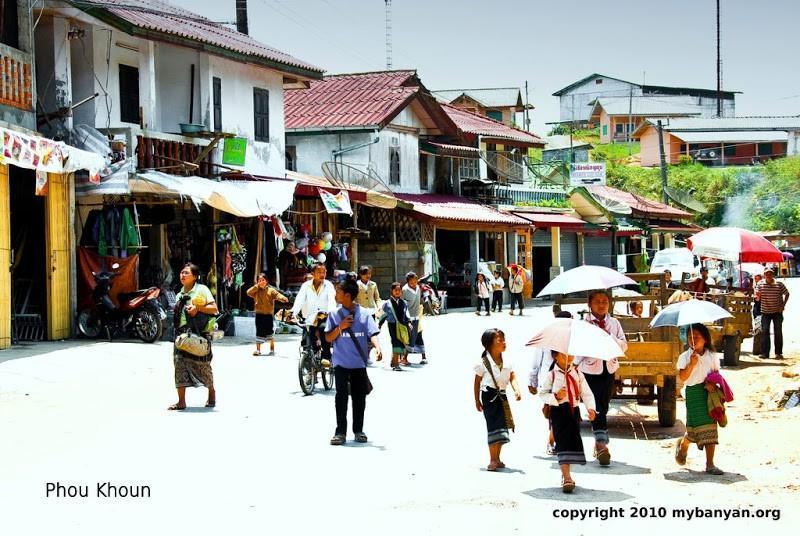 Last edited by a moderator: