Excerpt
: After a first arc, circling the upper North of Thailand, this is the second half of the story, the lower North Thailand arc, with a stop over in Sukhothai.
"An Unbroken Circle"
Second part : Lower North Thailand
See also first part:
"An Unbroken Circle 1 -
Upper North Thailand"
https://www.gt-rider.com/thailand-motorcycle-forum/threads/34587-%93An-Unbroken-Circle%94-1.-Upper-North-Thailand
Larger pictures and the complete photo story can be found at : https://picasaweb.google.com/campusadvise/NorthCircleLowerNorth#
To the Old City of Sukhothai
Itinerary from Nam Pat to Sukhothai: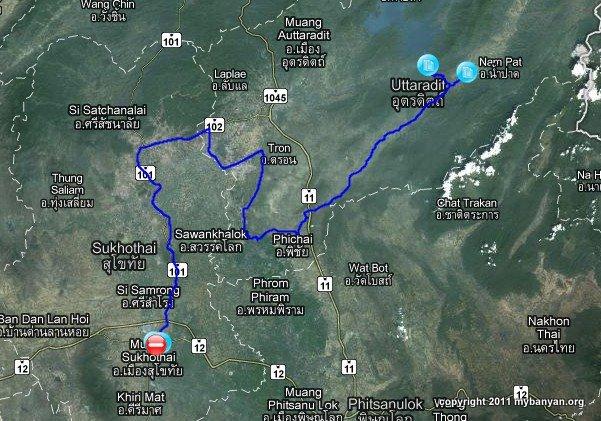 In reality, there was continuity in my journey around the North of Thailand, and the subdivision in two parts is just a writing convenience; This trip report is about the south-west arc.
After a dull evening, the morning was cloudy and bleak. I left the hotel early, in direction of the "Sirikit Dam", located just twenty kilometres away (starting on route 1047, then shortly on 1046).
The "Rabiang Nan" (Nan balcony) restaurant was already open (starting at six thirty) and I savoured a copious breakfast. With the greyish weather, my visit up to the dam did not harvest bright pictures, but it is still interesting to discover such majestic monuments.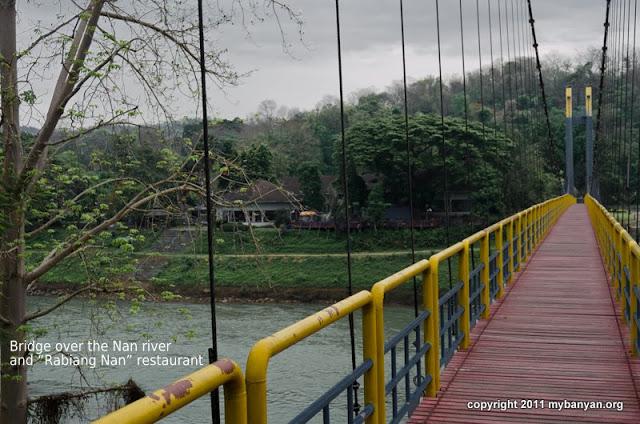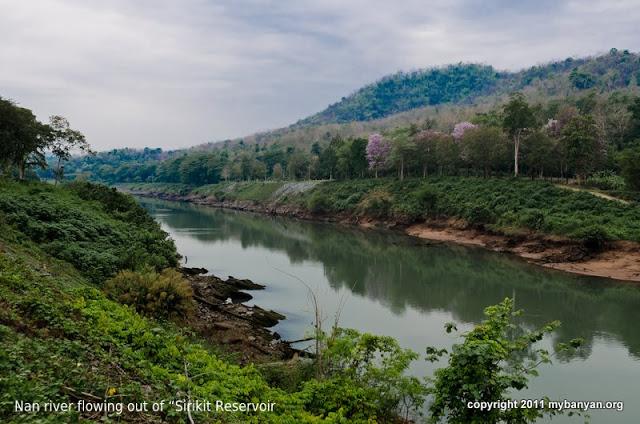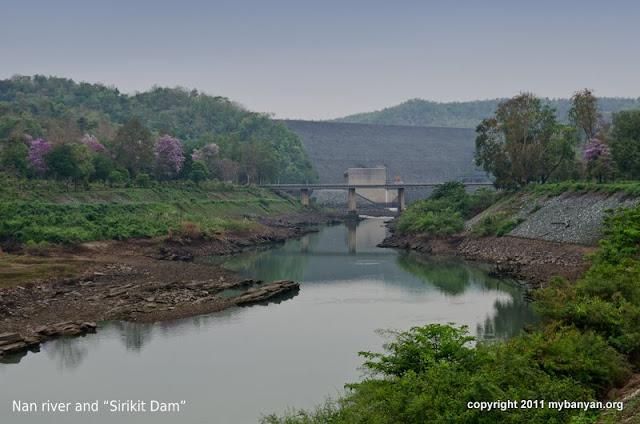 Back on route 1047, I continued my journey toward Pi Chai and Sukhothai, when I met the first natural shower of the day. It was intermittent and tenuous so that, at least for the moment, I was spared from slipping into my waterproof sealing. This road is an enjoyable link, with slopes through forests. After a bifurcation, on route 1214, it changes to straight links, running through the green landscape of the Klong Tron valley. Another crossing and I was following the more worn out route 1246, in direction of the highway 11 junction.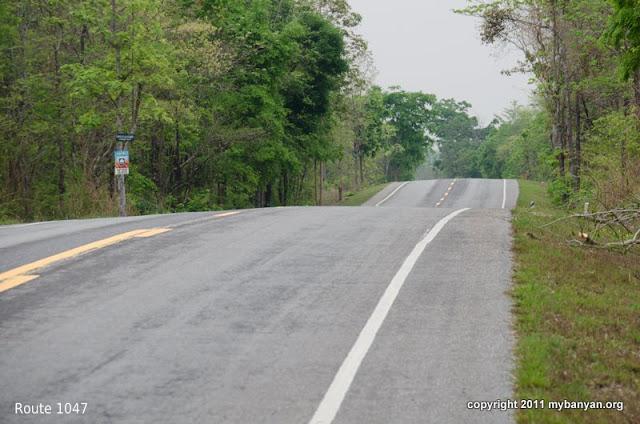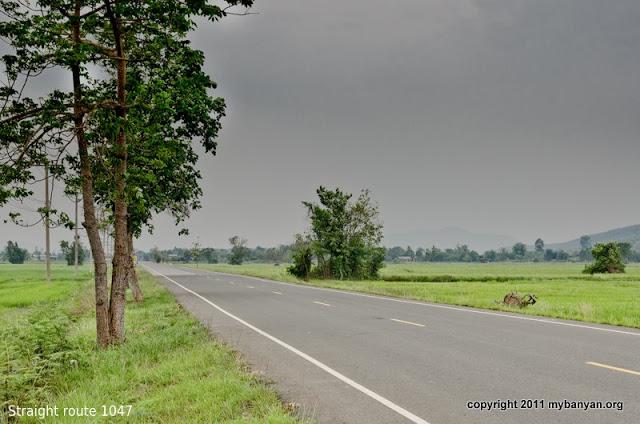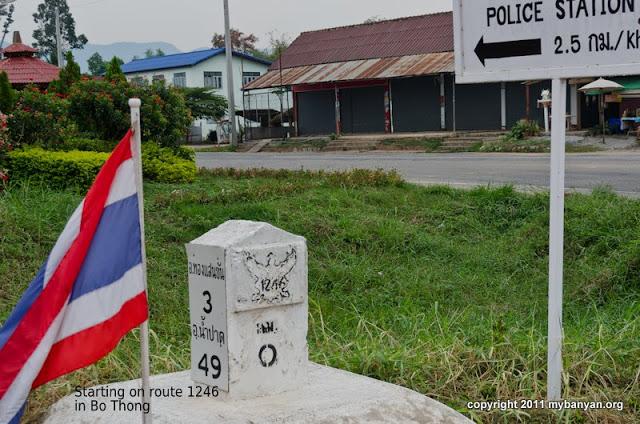 It was sugar cane harvesting season and I appreciated the scene of farmers overloading their small trucks. No heavy lorries were collecting crops in that region as the yield is probably limited and small vehicles can handle the transportation tasks.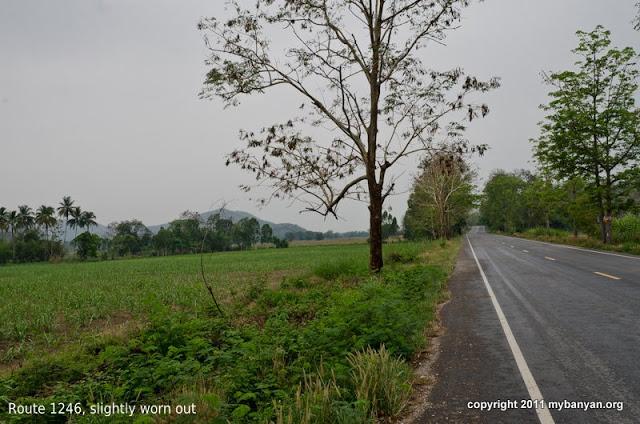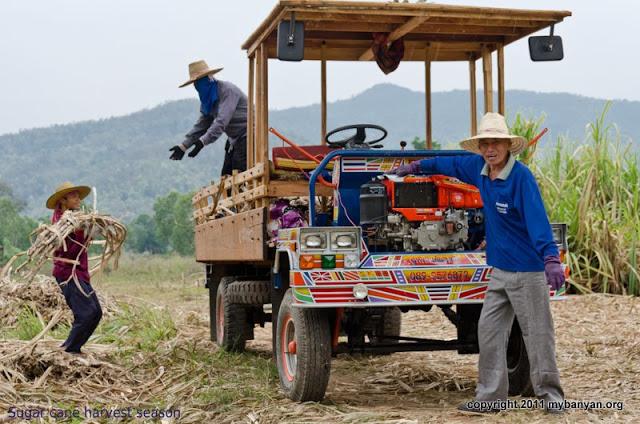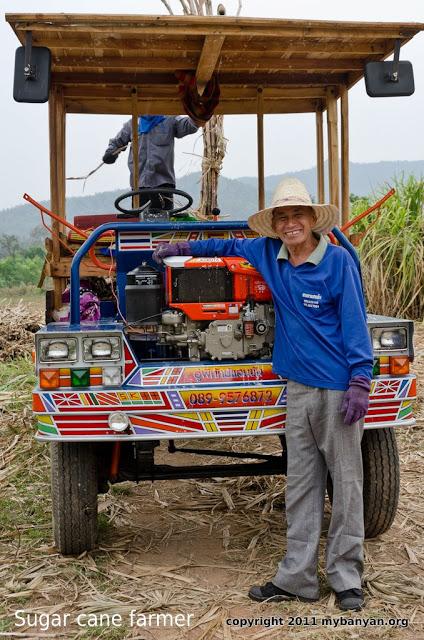 Passing the intersection with highway 11, I continued straight to the West, on route 5003. After crossing the rail-road, I reached Pichai station, a halt on the Chiangmai - Bangkok train line.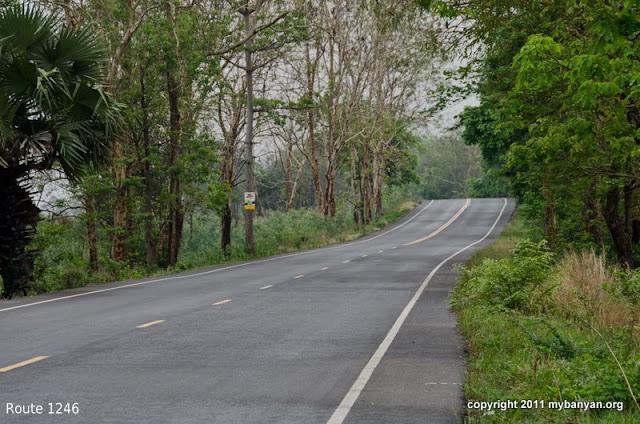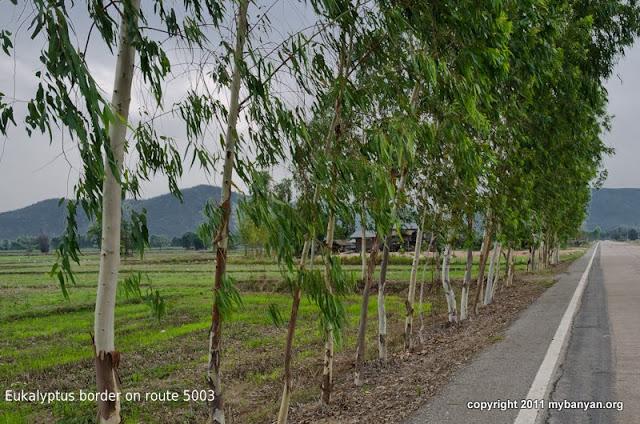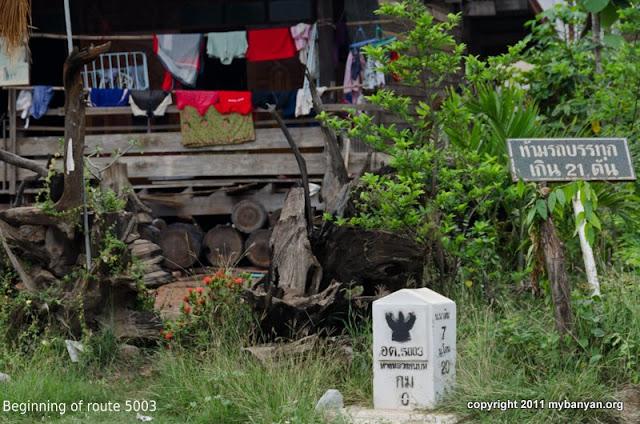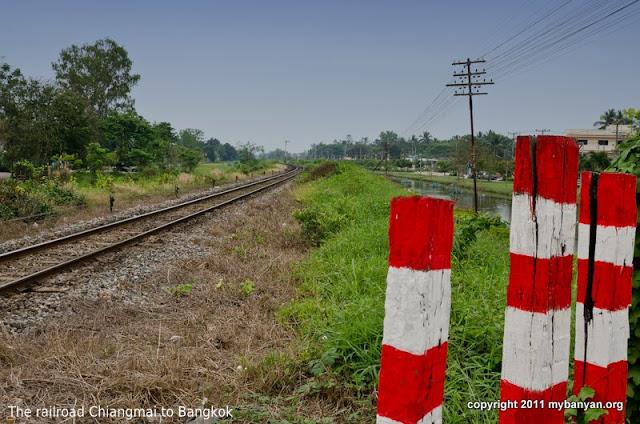 The city is named after Phraya Pichai, a heroic warrior who defeated the Burmese. His shrine, erected just behind the station, is a testimony to his bravour and loyalty to King Taksin. At that period, it was usual for guards to follow masters in their death.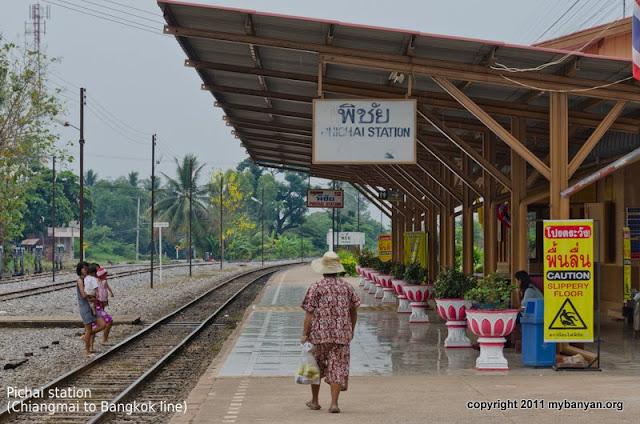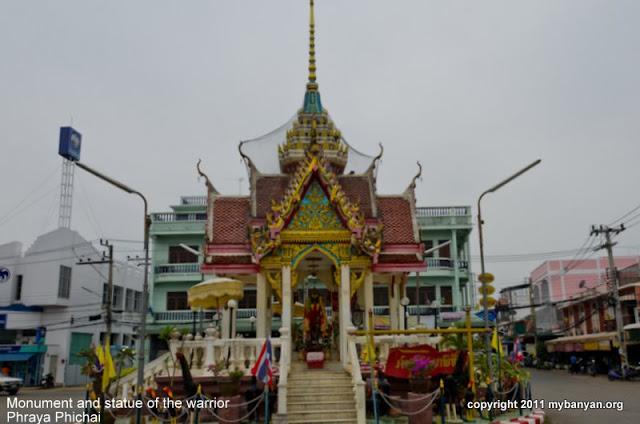 Crossing the Nan river, after Pichai, route 1104 drives toward Tron. Another bifurcation and I was on route 102 where rain became more persistent. With sixty kilometres left, it was worth to unpack the waterproof covers.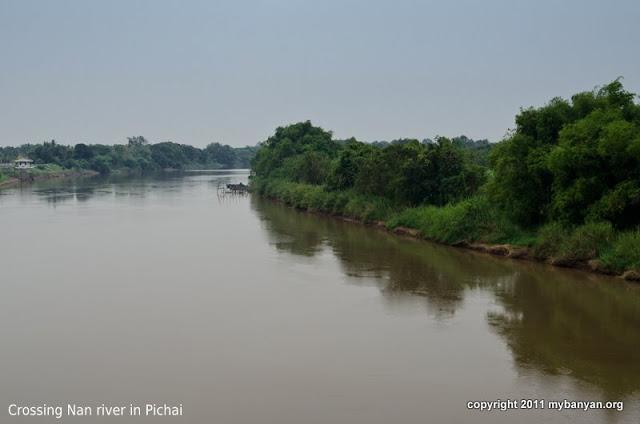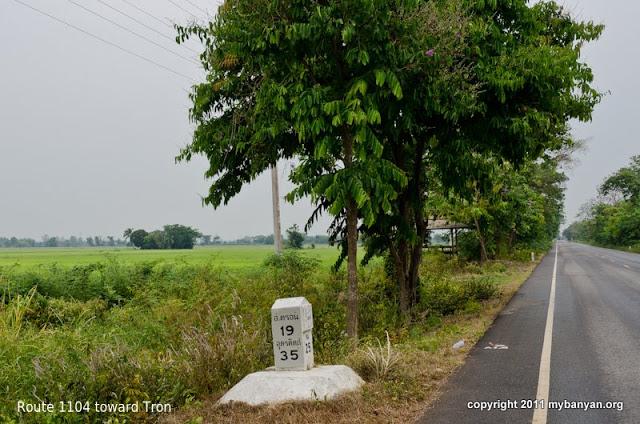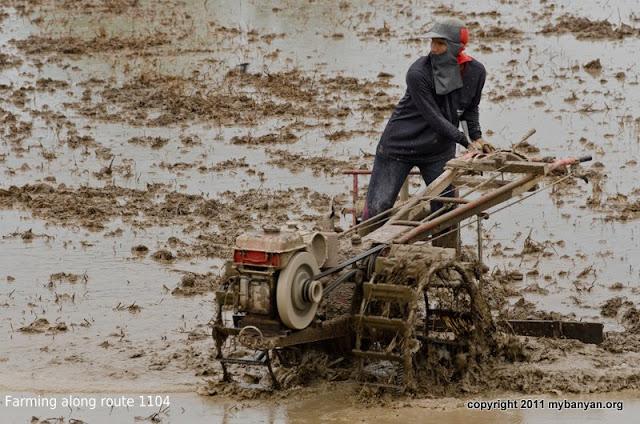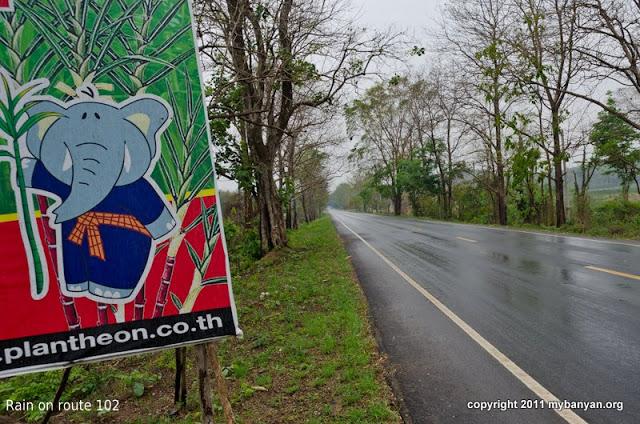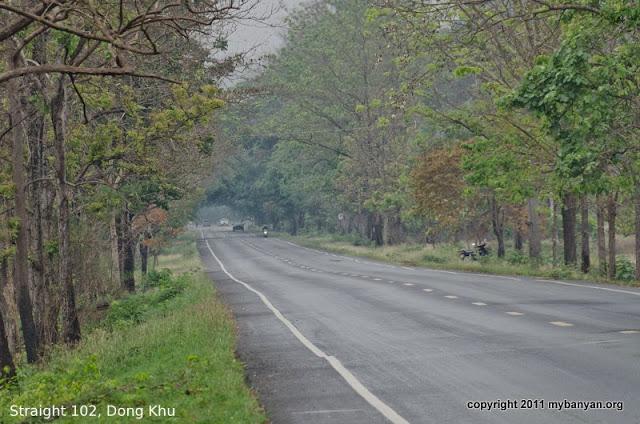 In Sukothai I checked into « At Home » guesthouse (500 THB). A comfortable small place, actually a large private house, transformed in an accommodation. Food, books and wifi are available, in a cosy environment, without TV to spoil the ambiance.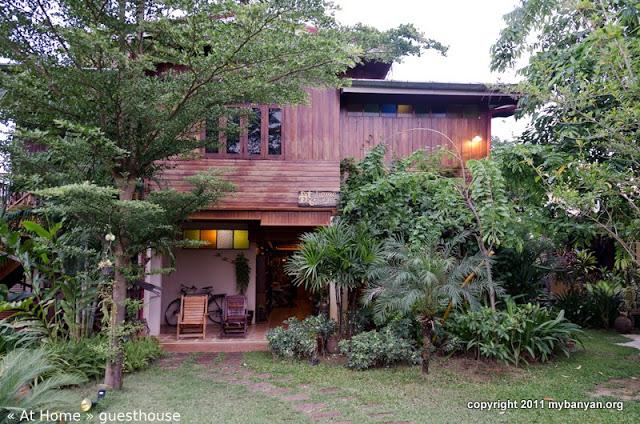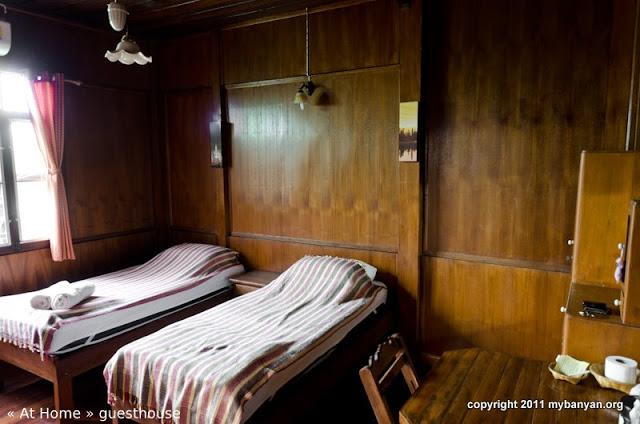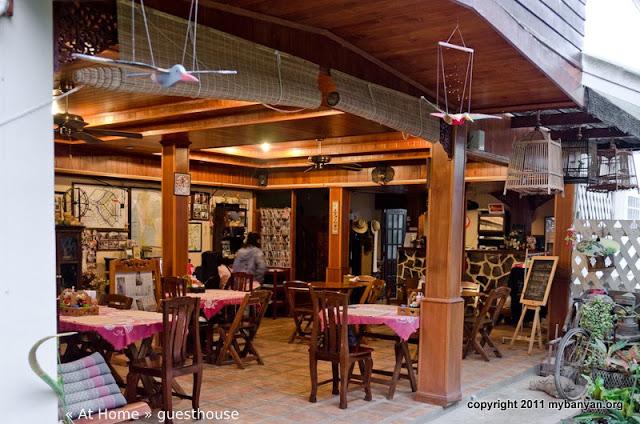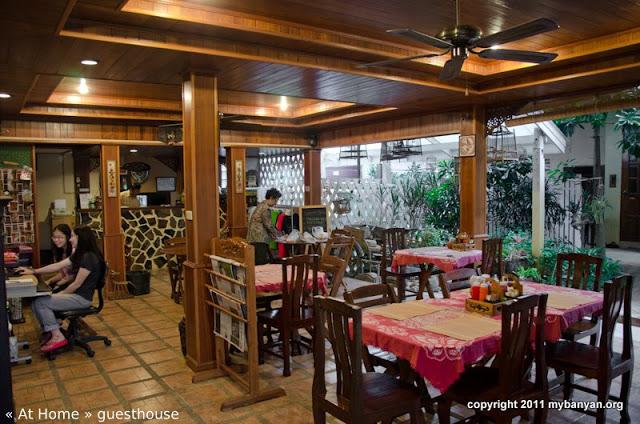 In order to prepare my next day's visit to the "Historical Park" of old Sukhothai, I toured the place and collected documents from the visitors information centre. In the evening, I only wanted some subsistence, a couple of drinks and an Internet connection. As everything was available in the guest house, I did not leave the place anymore.
The distances from Nam Path to Sukhothai was 240 kilometres. I added another 60 kilometres of local tours.
Someone heard my prayers to Buddha (he avoids to intervene in such matters) and I was gratified with the nicest weather in store in Thailand. No boring rain, no sun casting harsh shadows and making me sweat, but a sky draped with clear clouds and a light breeze to sense the freshness of the air. I spent the whole day rambling through the historic place, enjoying the rugged testimonials of past splendours, contrasting with the serene images of the Buddha.
Ramkamheng's statue is an appropriate starting point for the visit of Old Sukhothai. The "Great King" initiated the Thai script, and promoted Theravada Buddhism. His contribution to the culture and national identity is paramount.
My next call was Wat Maha Tat, a large edifice and the most important of the compound. Then whilst walking though the ruins of all these temples, I contemplated their majestic past and imagined an incredible heritage, had time and human destruction spared them.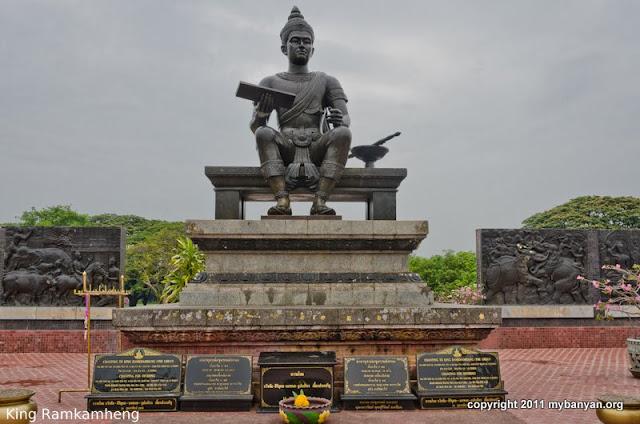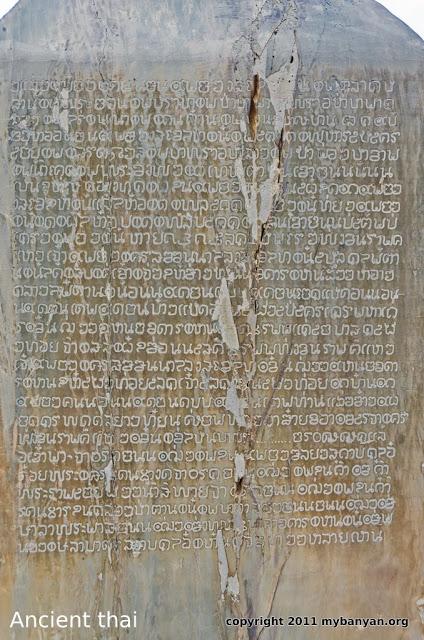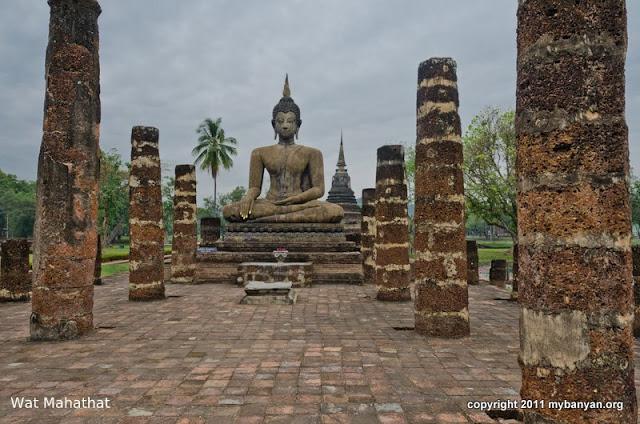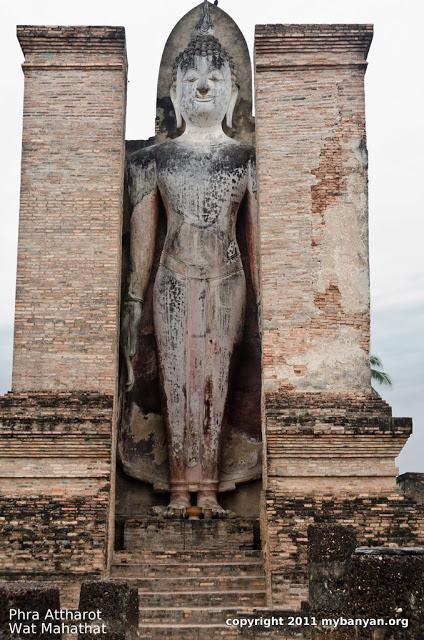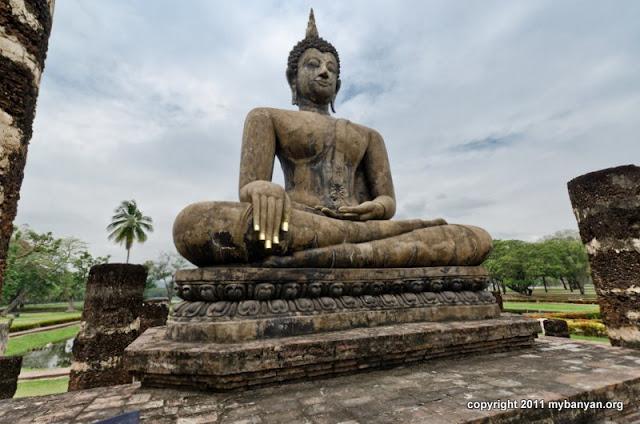 After a day in the park, my electronic memory was filled with souvenirs. The following overview is just an incentive, for people who have never visited Sukhothai, to include it in an itinerary.
Additional (and larger) pictures are posted here:
https://picasaweb.google.com/campusadvise/NorthCircleUpperNorth#
Wat Chana Songram, wat Si Sawai (khmer style) wat Traphang Ngoen, Wat Sra Sri, wat Phra Pai Luang (khmer style), wat Sorasak (with the elephants) are some of the temples located inside the coumpound: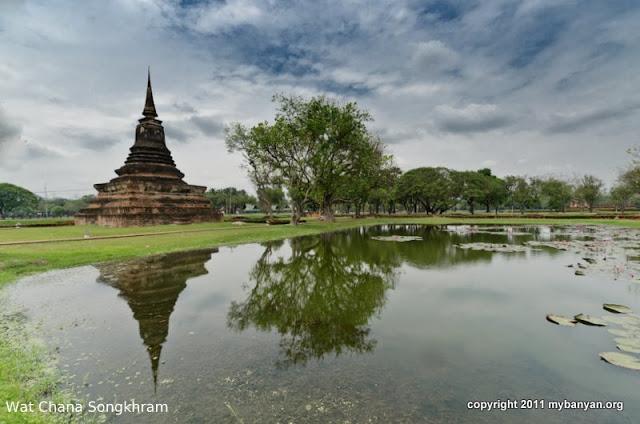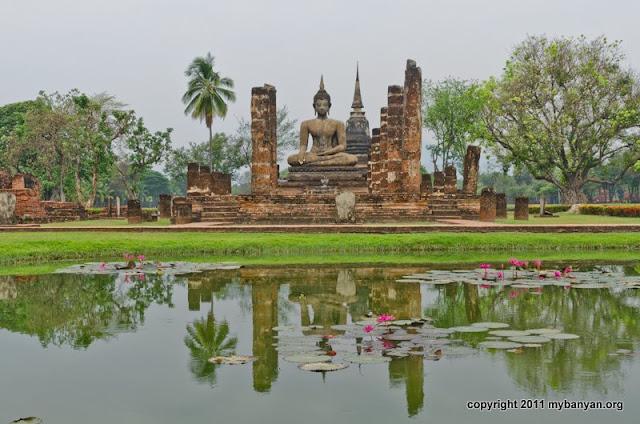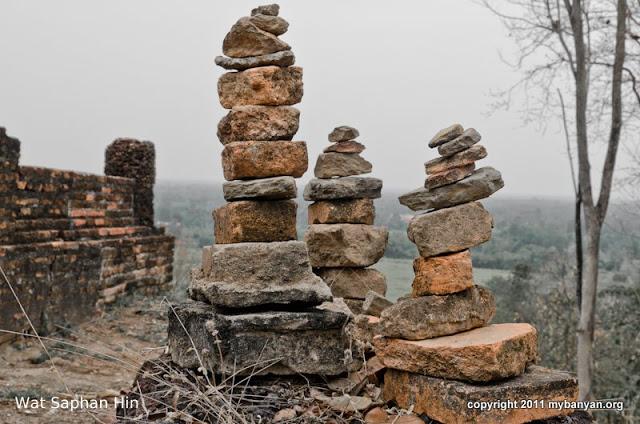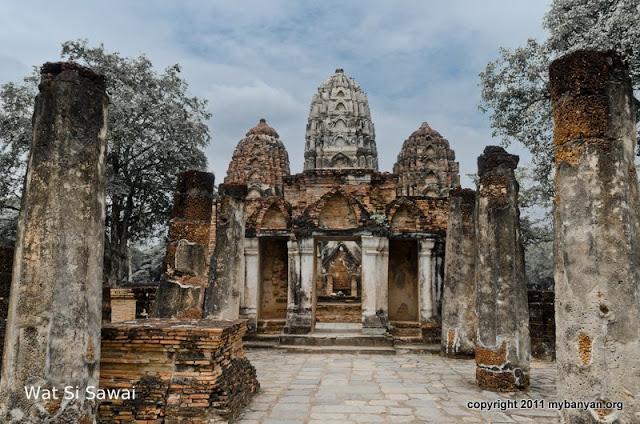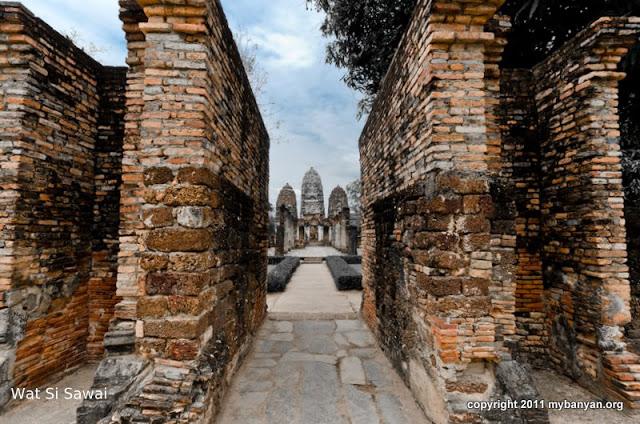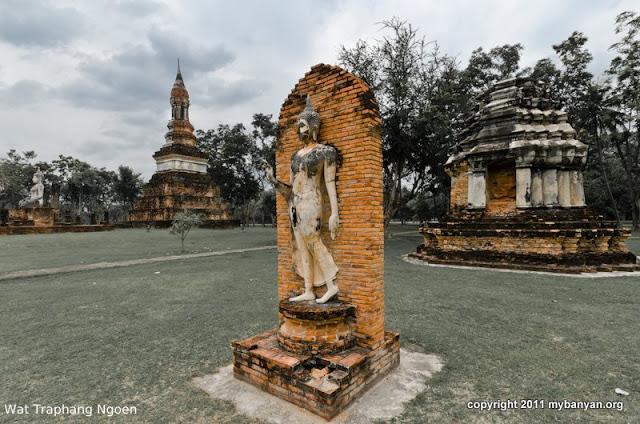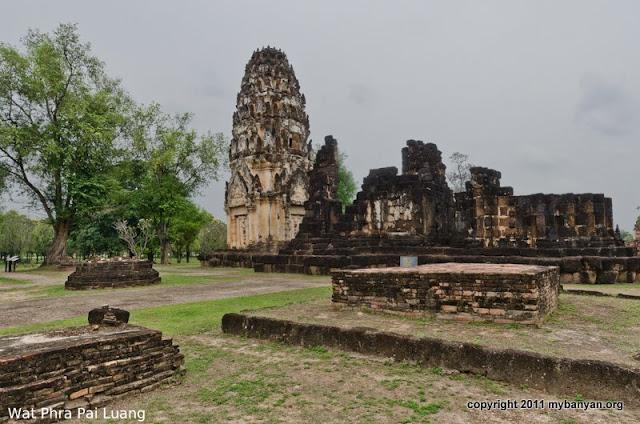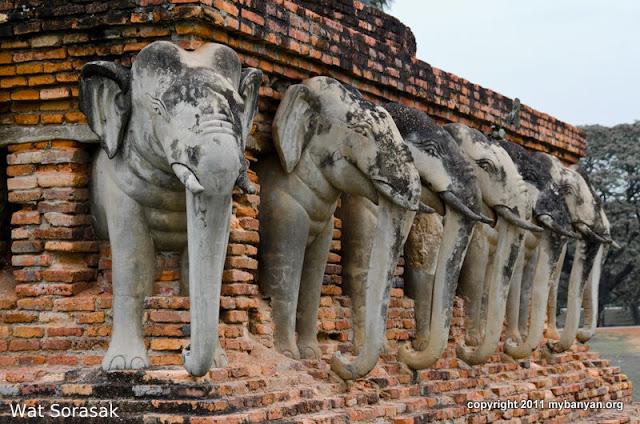 Other temples are located outside the walls, for instance Wat Saphan Hin and Wat Si Chum (with famous Phra Achana image):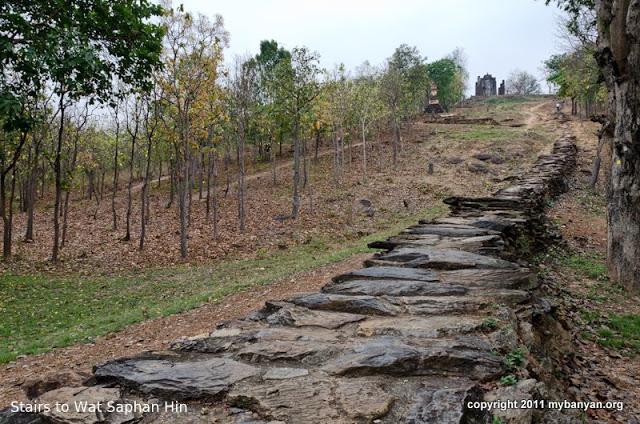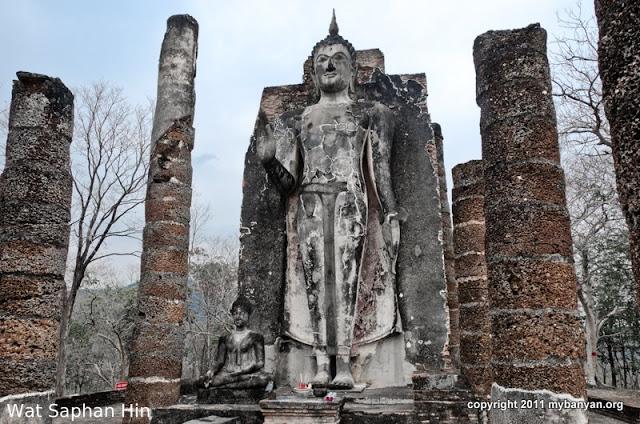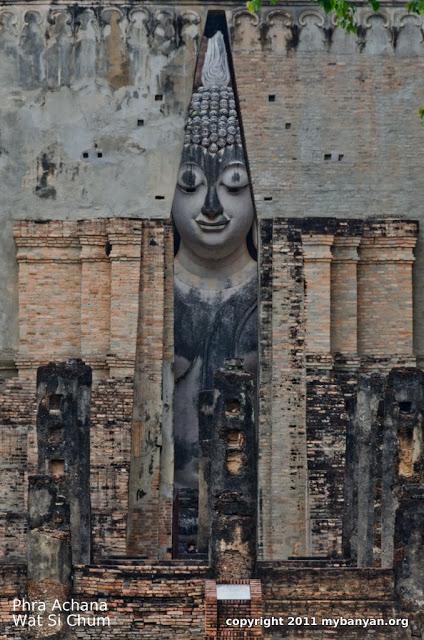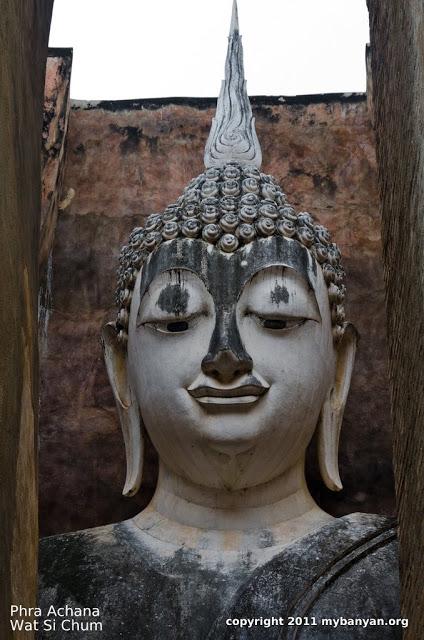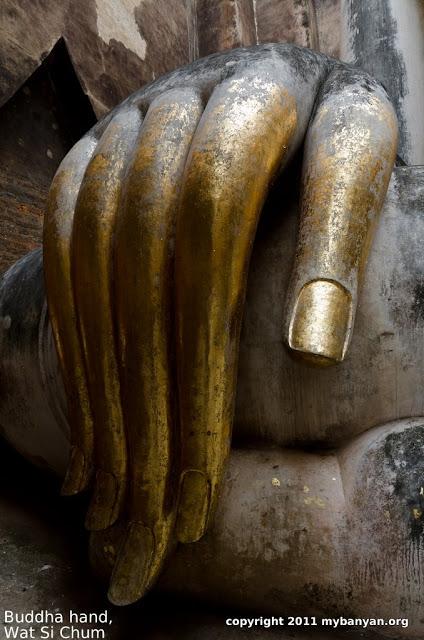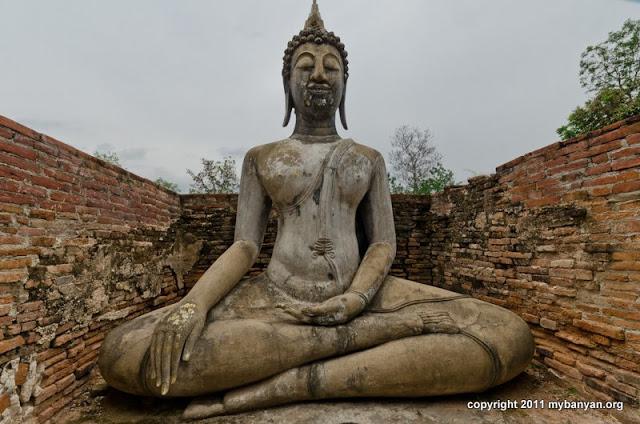 The Kaliang road
At 6 A.M, when I woke up, wet weather was well established. I had expected this downpour for several days; even so it is abnormal for the season. To wait for better skies was useless, and I packed everything waterproof, filled my stomach with a generous breakfast and started my journey on route 12 (Asian highway 16).
The first part, toward Tak is a straight link. After that city, the ride goes up to the mountain, directly into the clouds. Visibility became poor and the lorries traffic important. The road itself, with three or four lanes, is enjoyable under better meteorological conditions. Travelling in the rain is uncomfortable, but still feasible, on these types of pavements.
At eleven o'clock, I arrived in Mae Sot were I had planed to stop. Then, I reflected that driving another two hundred kilometres would give me more time and choices for the next days. After throwing down a couple of Amazon "black shots" (they are now everywhere), I continued my journey, climbing route 105 toward Mae Sarieng.
Progressively, the rain dried out and blue colour replaced grey mist. The pavement was still wet, a reminder of the recent downpour, but the shower seemed over.
As I reached Mae La refugee camp, I extracted my camera from her waterproof hiding. The view of these compact settlements, harbouring some 50'000 Karen refugees, is touching. Despite the romantic sight of traditional thatched houses, barbed wire fences and vigils at every entrance, point to the hardship of these displaced people.
My feeling, during this trip, was that a lot more guards were on duty than during my previous visit. This might only be an impression. (
="https://www.gt-rider.com/thailand-motorcycle-forum/threads/31631-Mae-Sot-a-short-loop"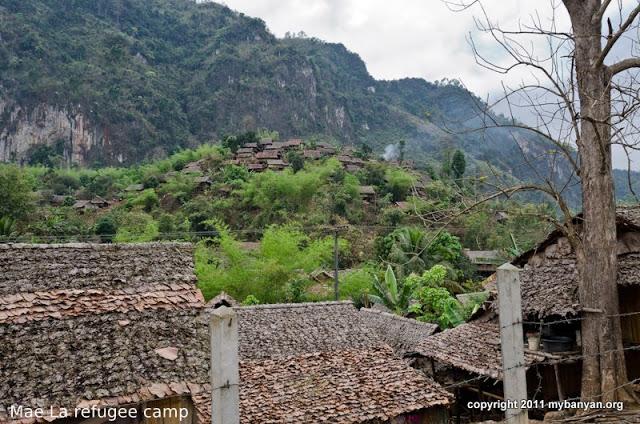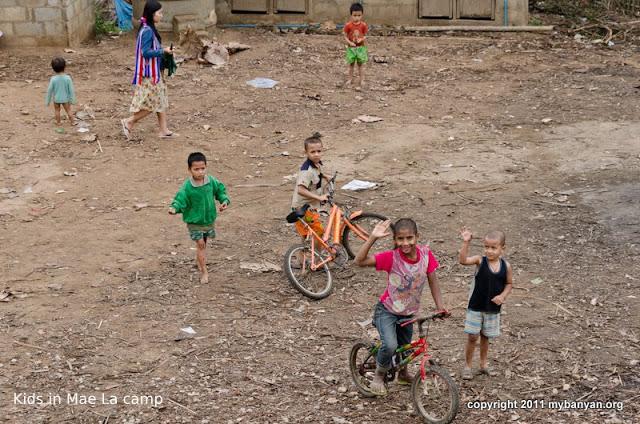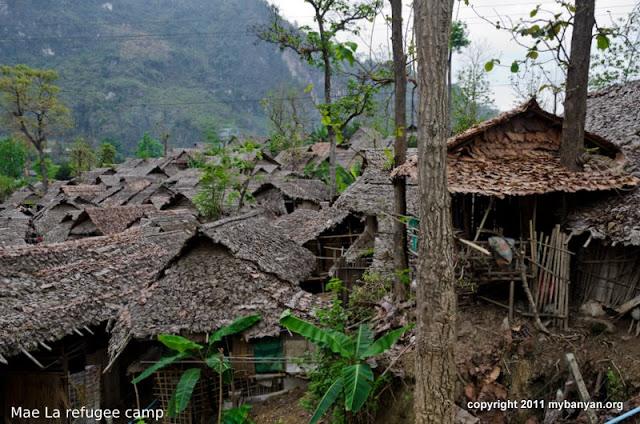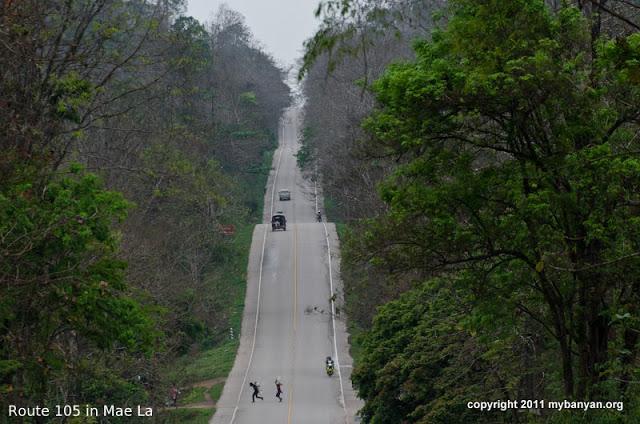 Business is done, directly on the road by Karen families selling what ever they yield from the forest. It was the season of "Dok Khae Khaao", the flowers of a wild tree, who are boiled and eaten with "nam prik" or "kaeng som". I am more interested in the sales people than by the vegetables and, when I asked about their origin, they answered, "we are Kaliang".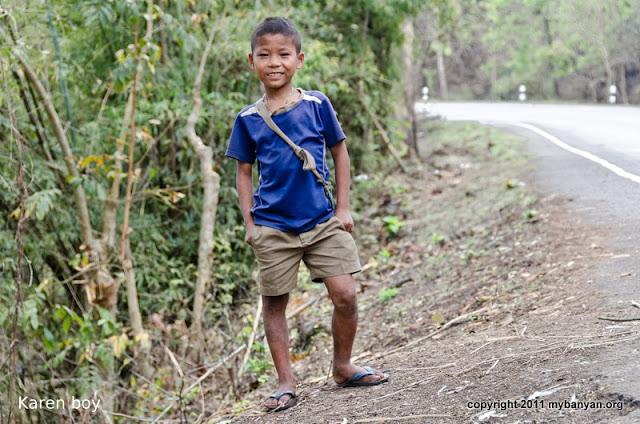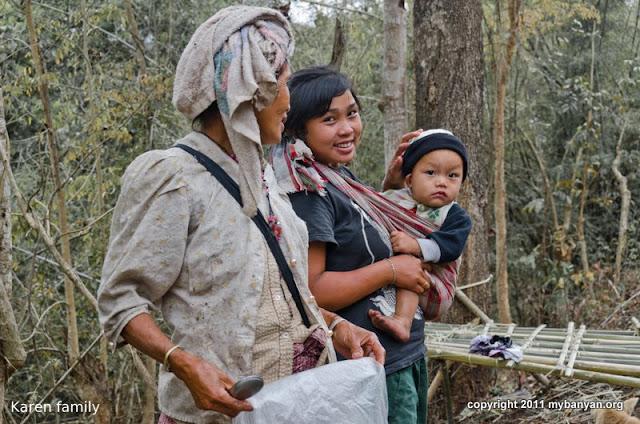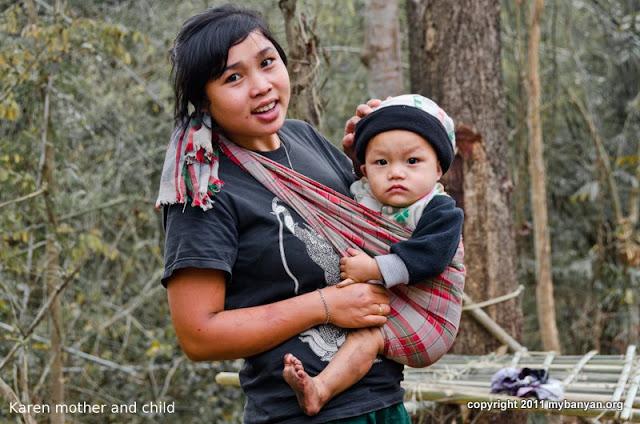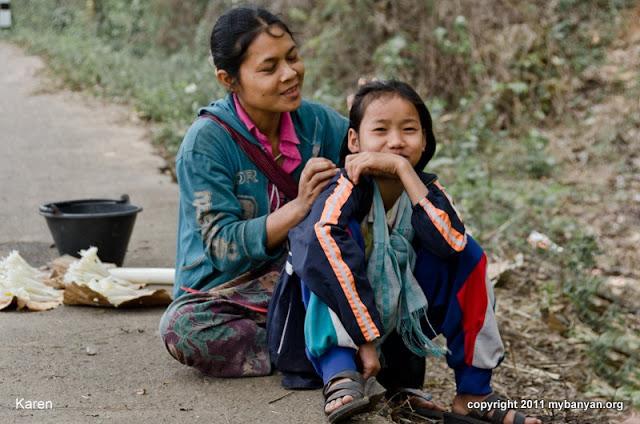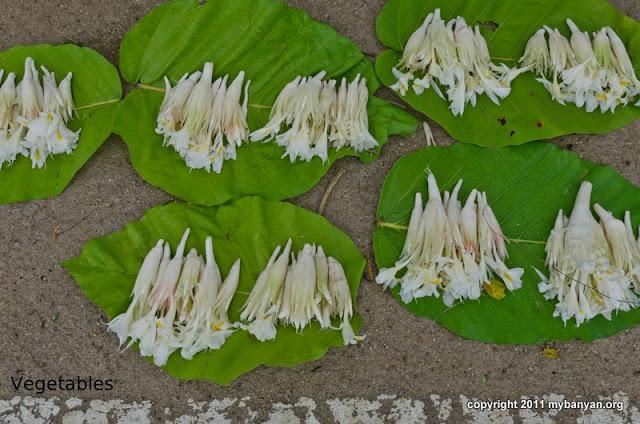 After a wet morning, I enjoyed the weather on fancy route 105, the gentle curves, loving through the forest, and a smooth pavement on that sector.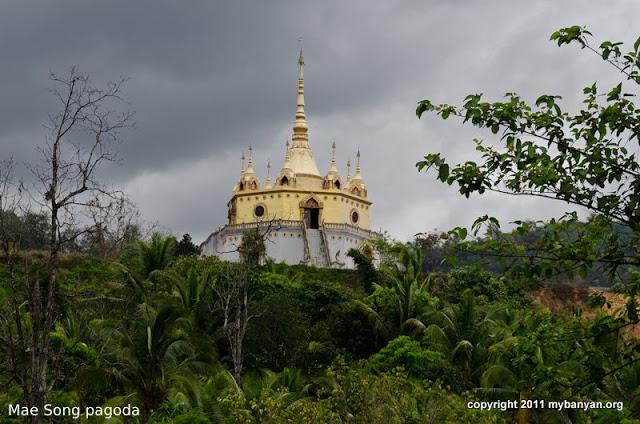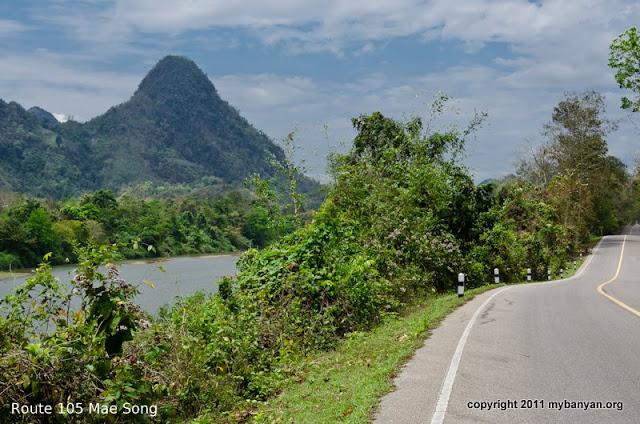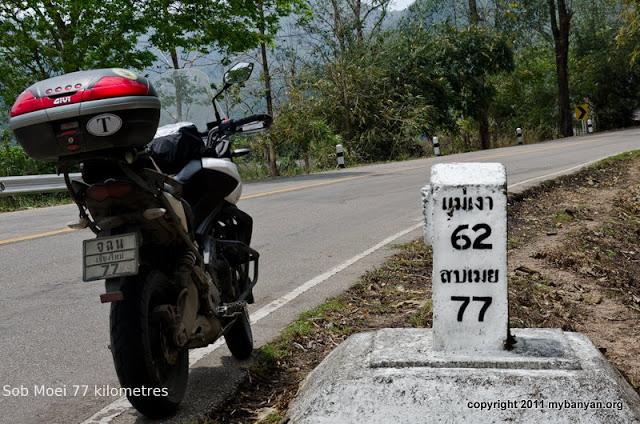 While the sun increased his celestial share, my double linen became uncomfortable and I looked for a place to rest. A gilden temple, next to a Karen village offered an appealing harbour. The Abbot of "Wat Phra Tat Jula Manee Sri Siam" welcomed me with food and drinks. His generous ration of roasted bee nests and bee larvae was a sweet treat, too big to be enjoyed at once. He also invited me to spend a night on the premises, during another trip.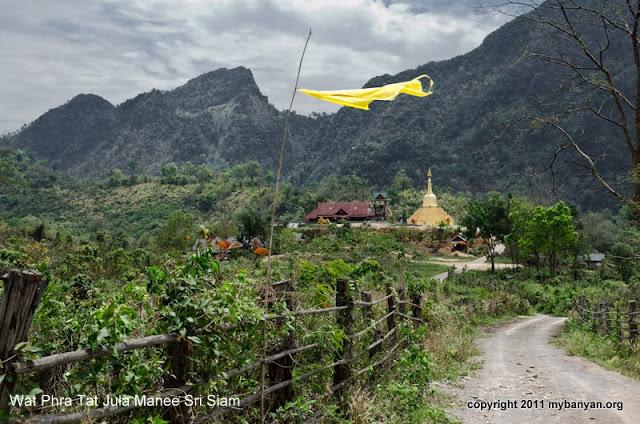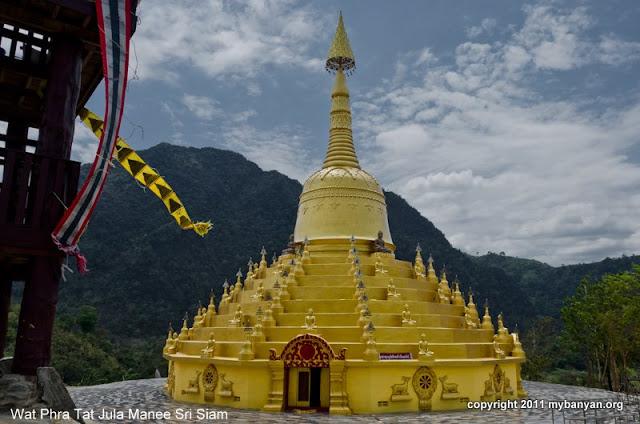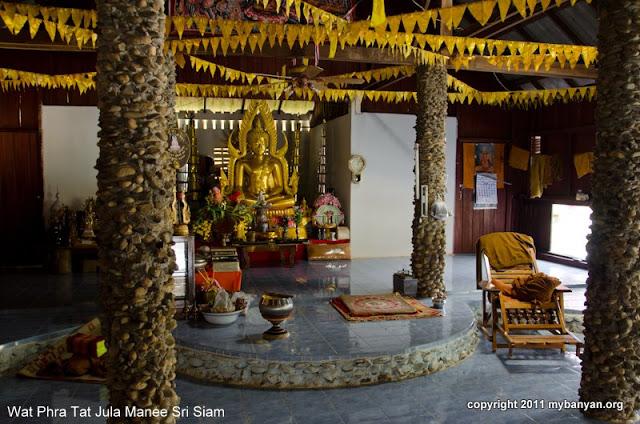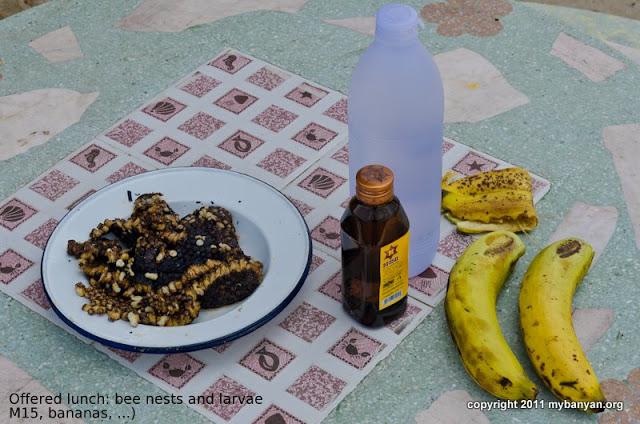 The temple has a statue of King Naresuan (Somdet Phra Naresuan Mahara) a monarch who fought the Burmese. His saga was recently brought to the modern screens.
Around the place, ordained trees are protected from the covetousness of the neighbour village. Few materials, others than wood pillars, bamboo walls and thatched roofs, are available to build houses. Erecting a couple of shacks is, nevertheless, inconsequential compared to the logging abuses of the Salaween forest (1)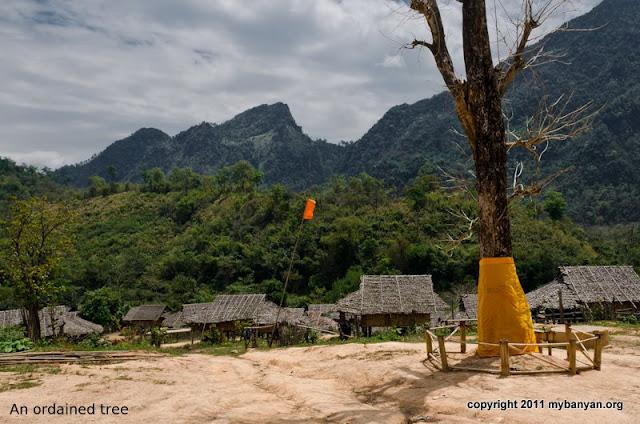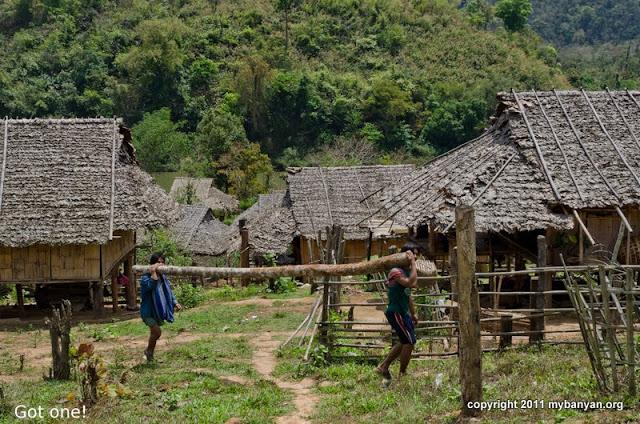 The first hundred kilometers of route 105 are a racing track. Thailand invests heavily in improvements and developments of his roads network, building fabulous links with smooth pavements all around the country. The inconveniences of this process are portions under construction, with red dirt and gravels, and, just after, worn out trails. This "work in progress" scenario was ongoing, just before Mae Sarieng.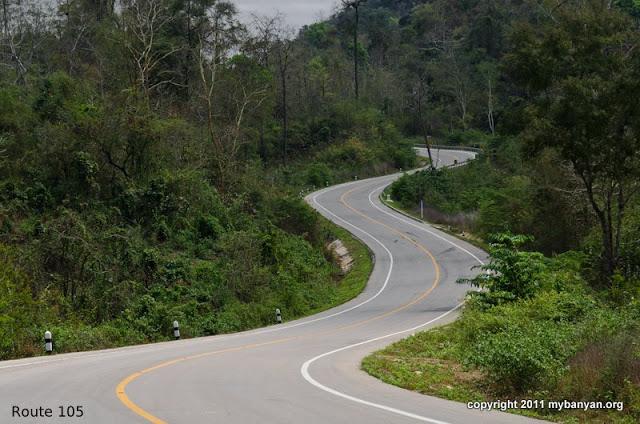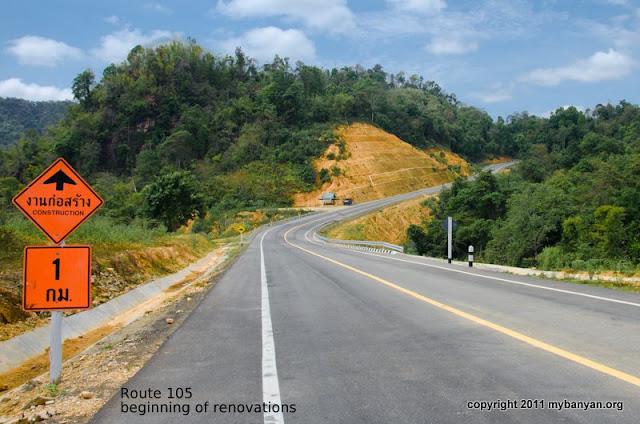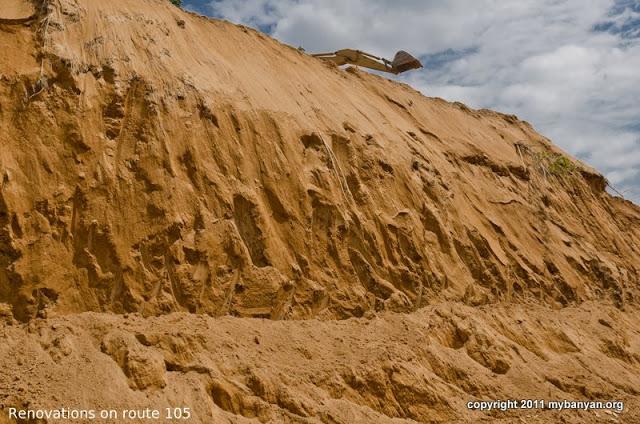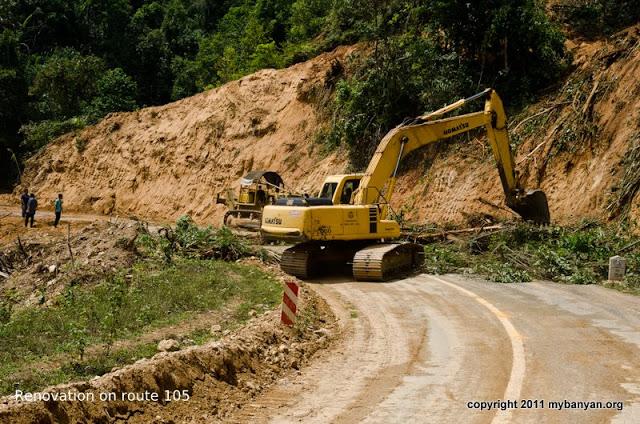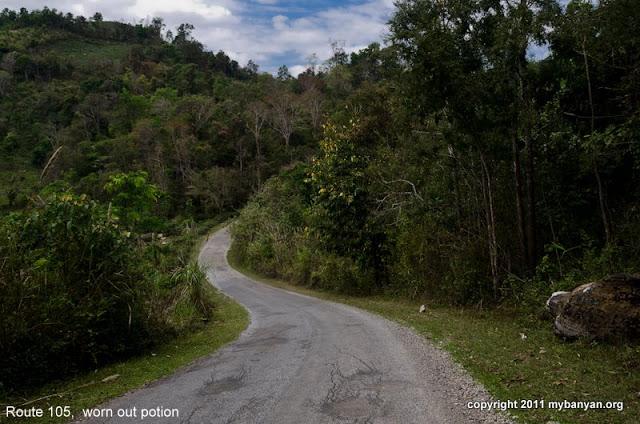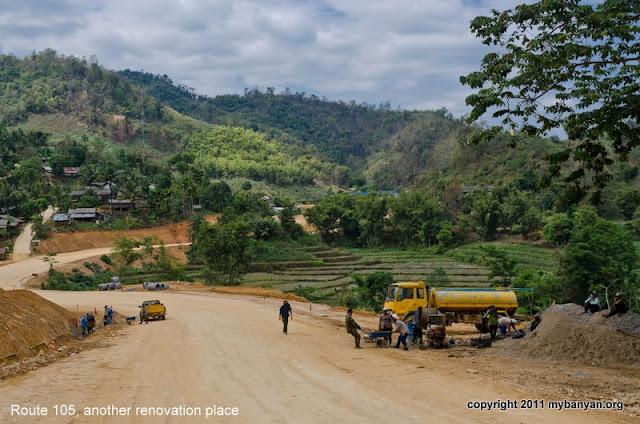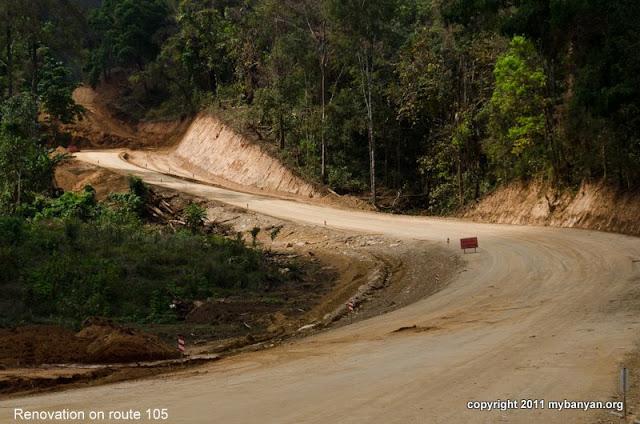 Eventually I followed the Yuam valley and reached Mae Sarieng were I checked into Riverside Guest-house (350 THB)..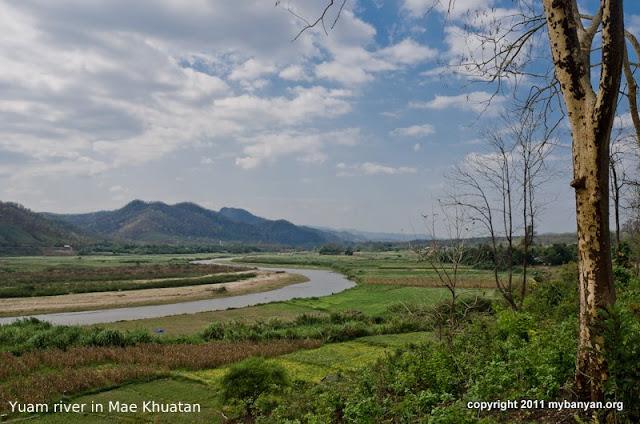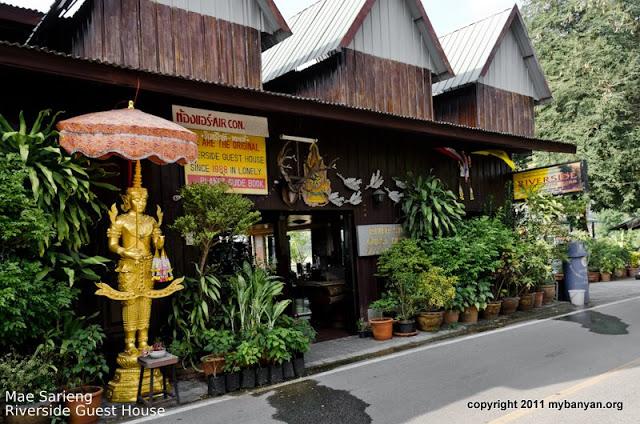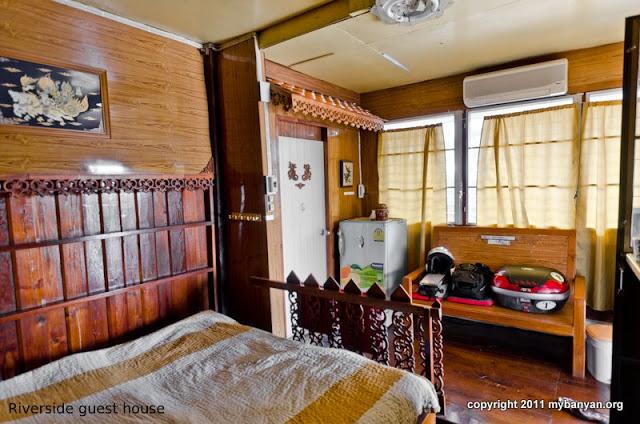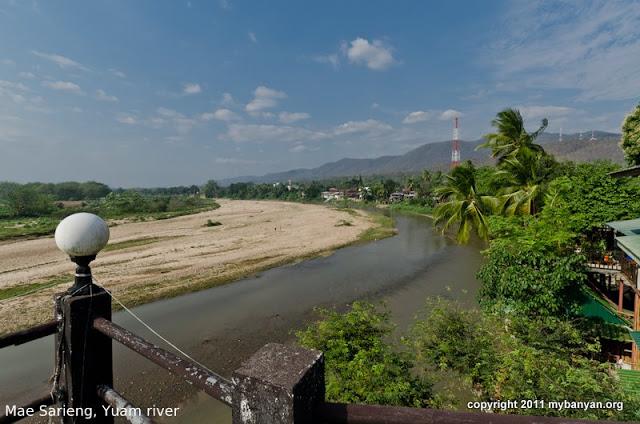 I like to amble around this small city, short rides conduct to several interesting spots.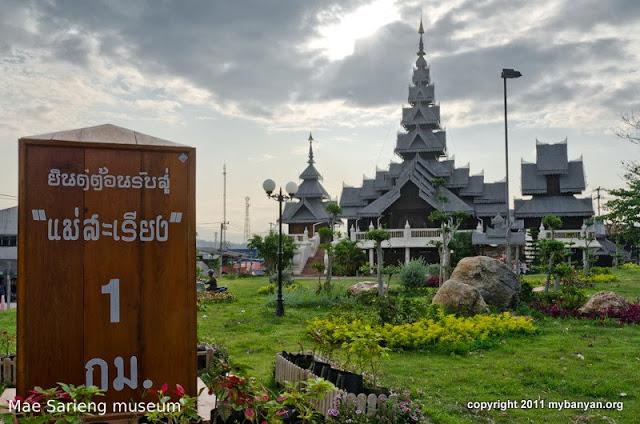 My final destination was up a hill, paying a visit to wat Chom Thong. Sitting near a large Buddha image I watched the last colours of the day playing with the Yuam river. A strong breeze brought an agreeable freshness to this scenery. It was the end of a long day, starting under water but ending in a spectacular twilight.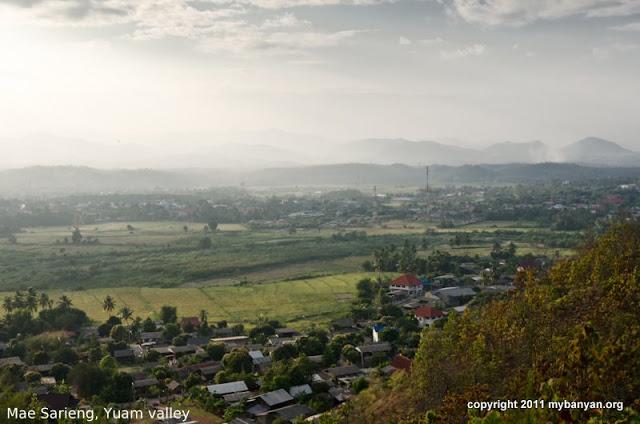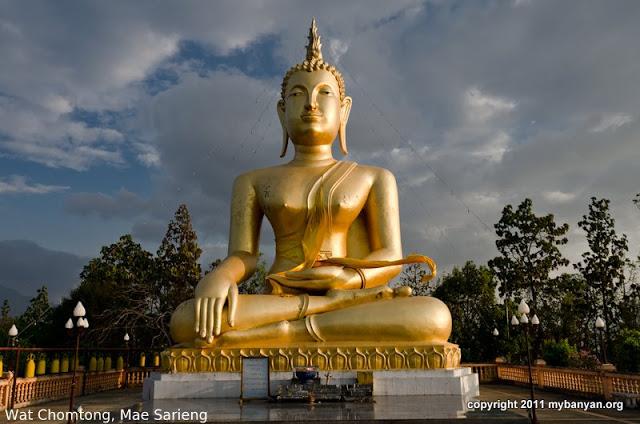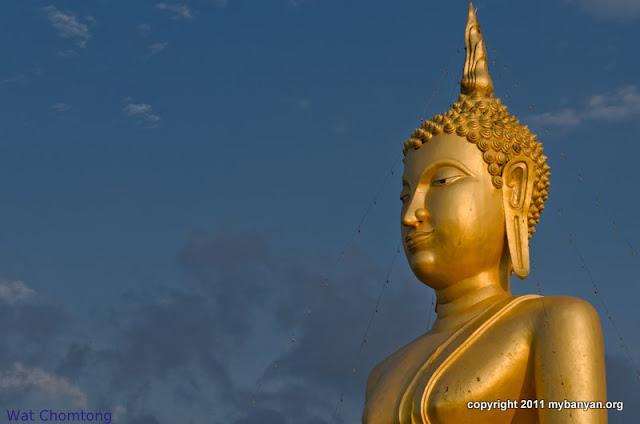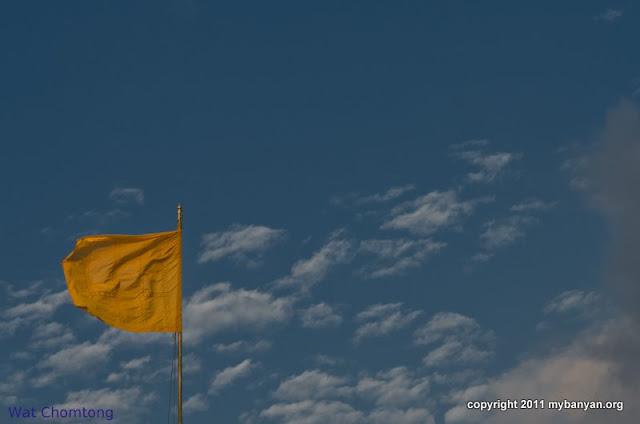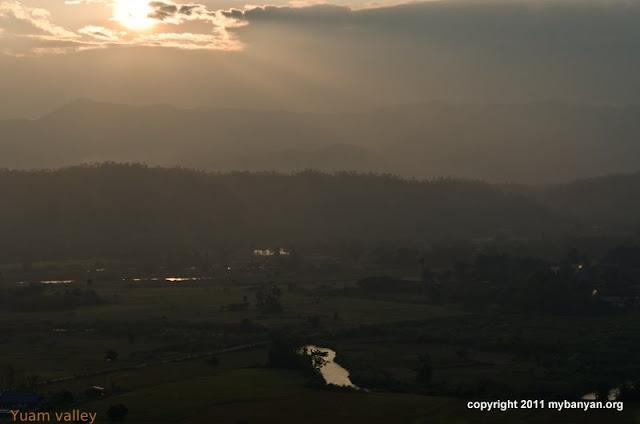 Total drive of the day 414 kilometres
A Night in Pai
Dawn broke with a fresh morning, one of the coldest since my departure on the North Circle. Some rainy days and Mae Sarieng's altitude cleaned the air and made it invigorating, without being chilling.
Before leaving the city, I filled the bike's tank and bought a couple of 7/Eleven "treats" for breakfast. Down the road, monks were walking for alms, a happy beginning for everybody.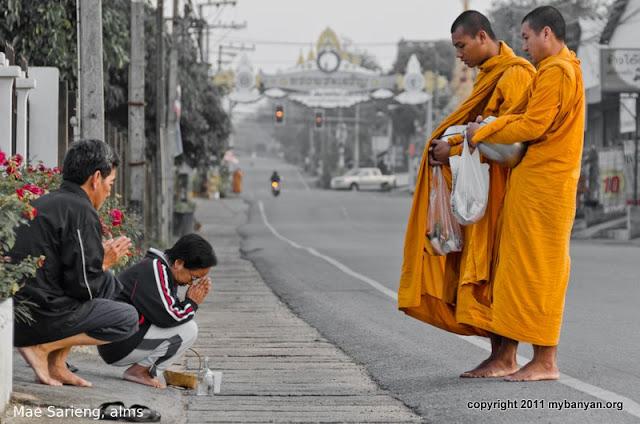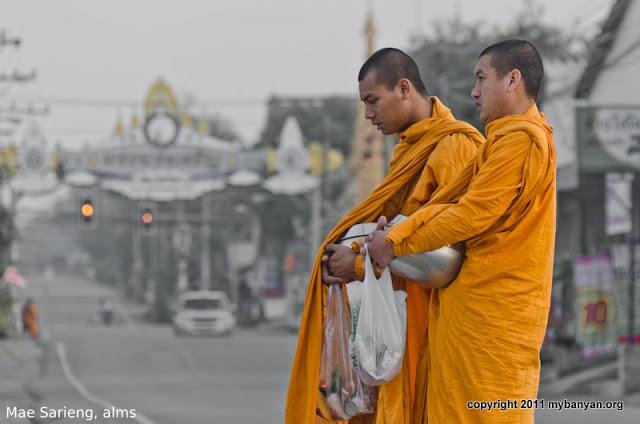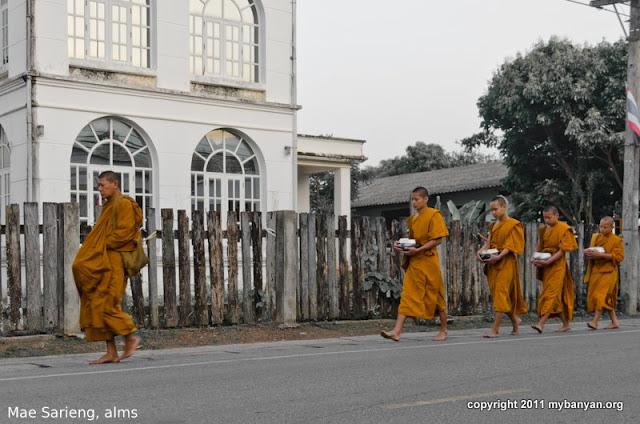 After Mae Sarieng, the road's number changes to 108. It is again a nice winding trail, with his share of "77" milestones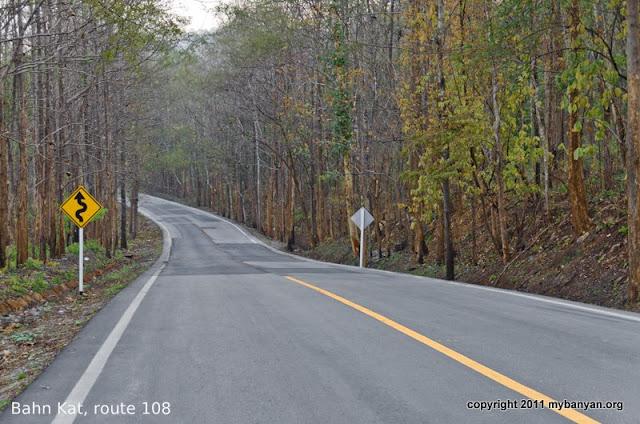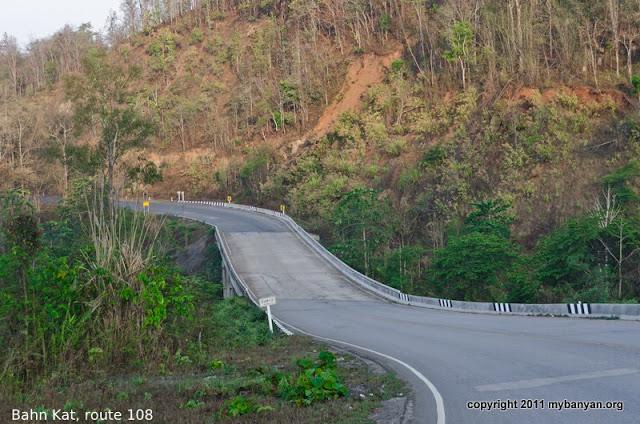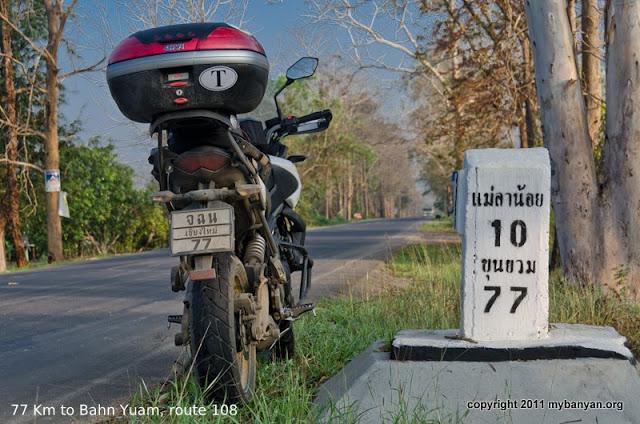 Just before Mae La Noi, a coffee shop catered for my "morning call". It is a relaxed stop-over, with a charming panorama on the valley. Traffic is light, particularly in the morning hours, and people are happy to chat, whilst preparing the drinks.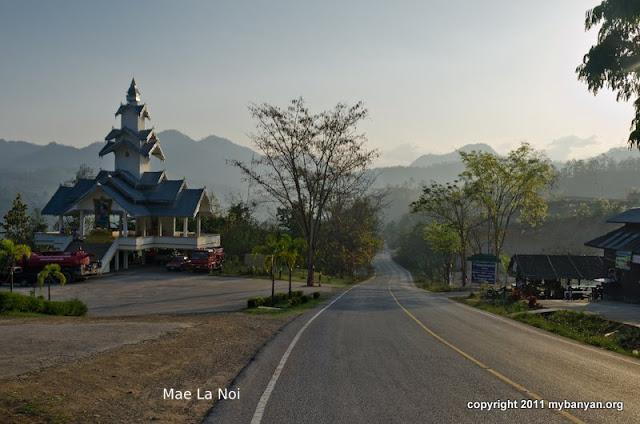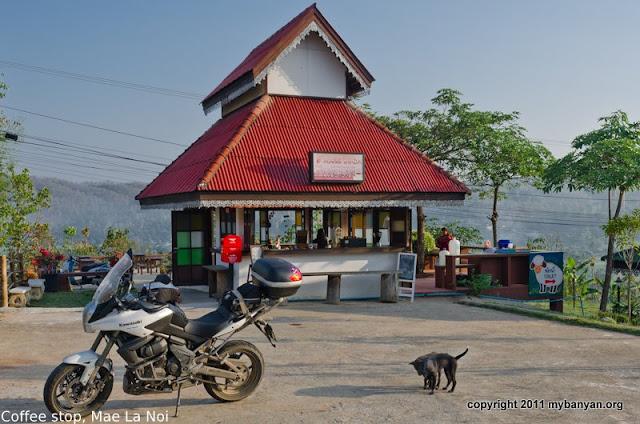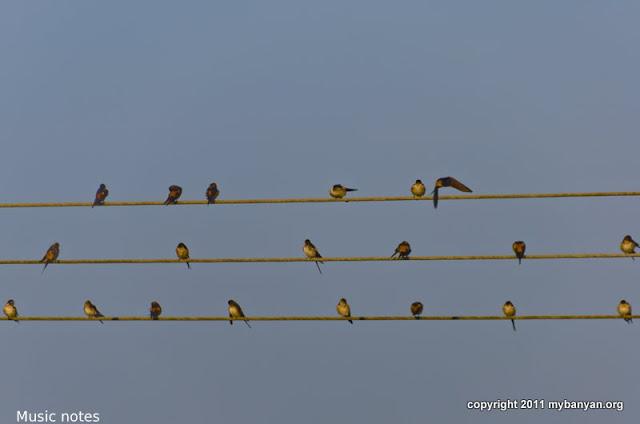 The twisting continues toward Mae La Luang, Khun Yuam and finally Mae Hong Song, on a smooth winding forest road, boarded by colourful trees with a backdrop of scenic landscapes and plunging views toward valleys.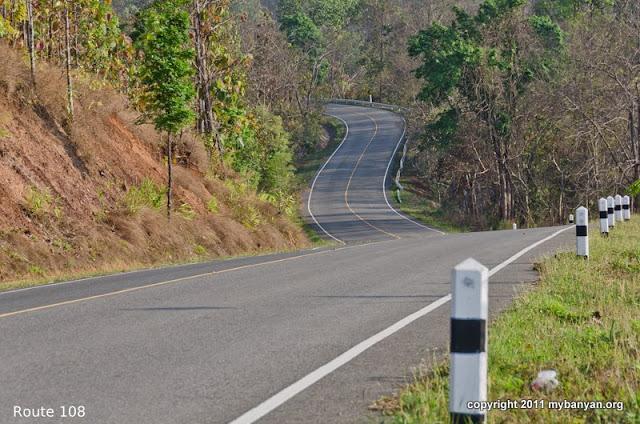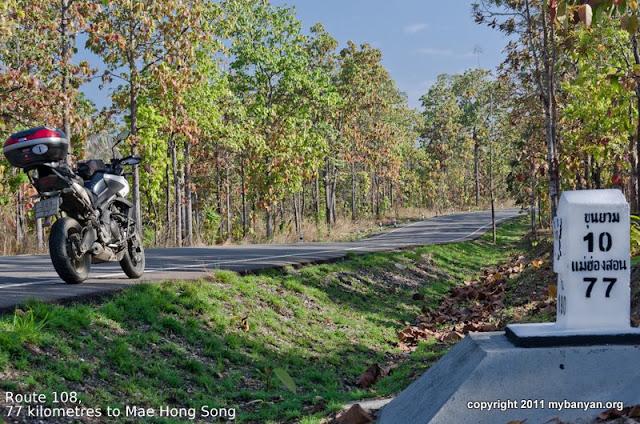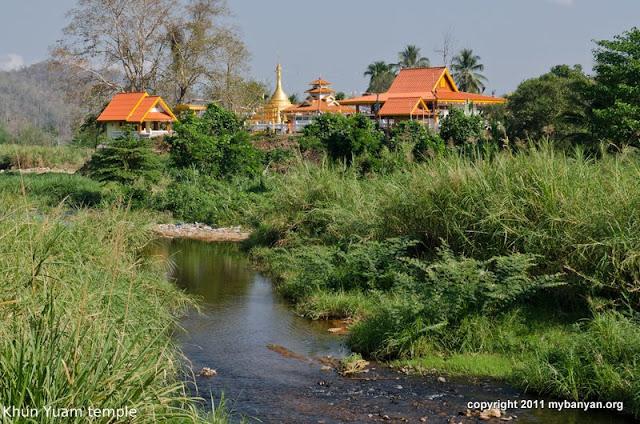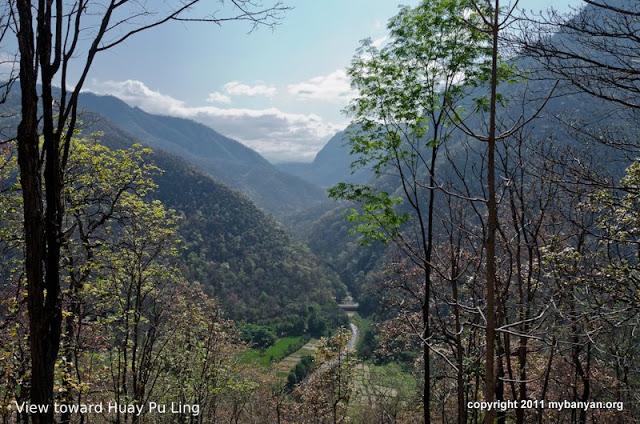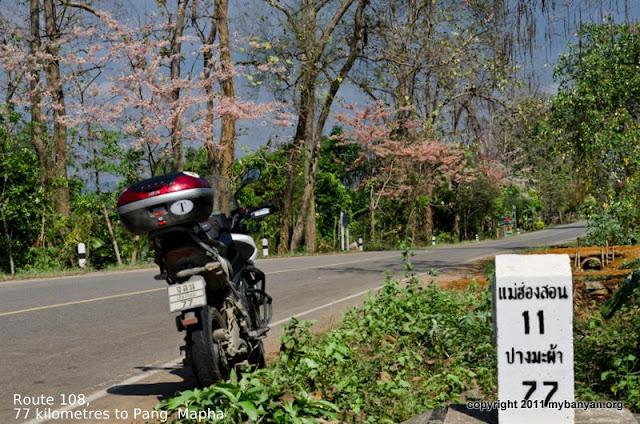 I had visited Mae Hong Son recently and was not surprised by the cosmetic changes, since my first trip, about twenty years ago. (
="https://www.gt-rider.com/thailand-motorcycle-forum/threads/31733-Mae-Hong-Son-loop-twenty-years-later"
Whilst adapting to an increased tourist flow, the city has kept his magic and the character of a remote settlement. In the past, only "Bayoke Chalet" and few other places catered for foreigners. Now a KFC opened next door, and lodgings are available in all categories.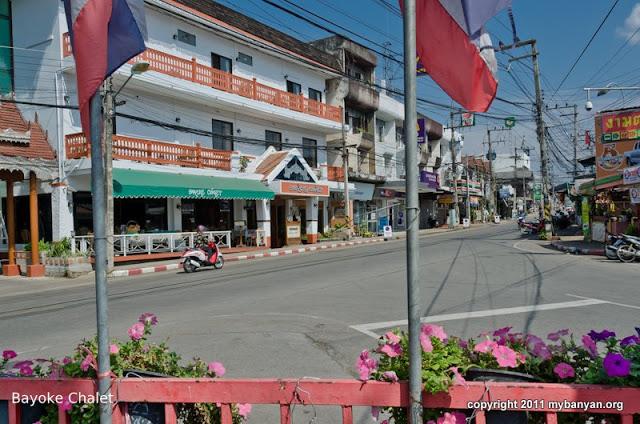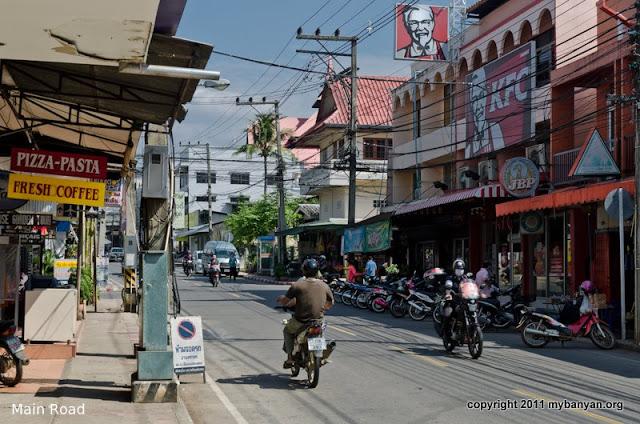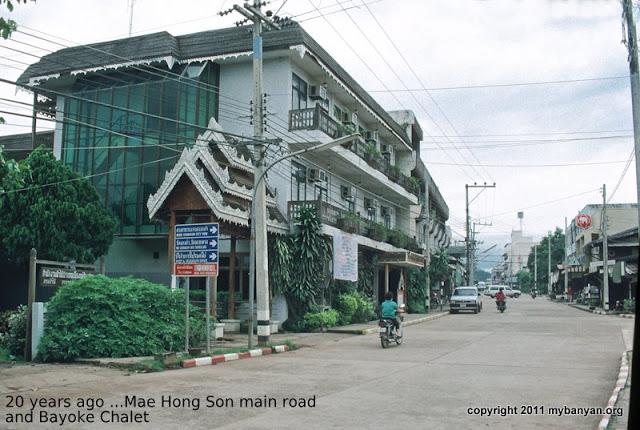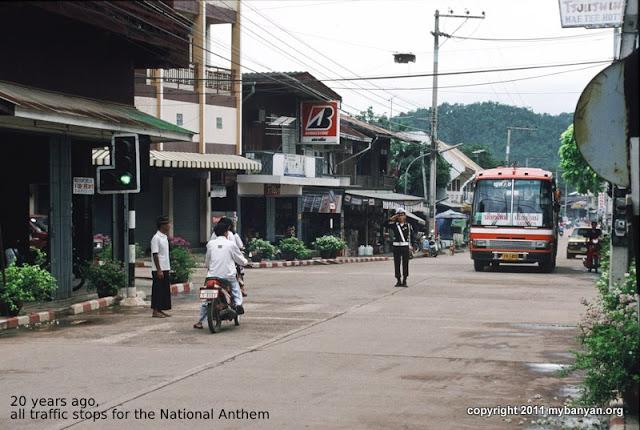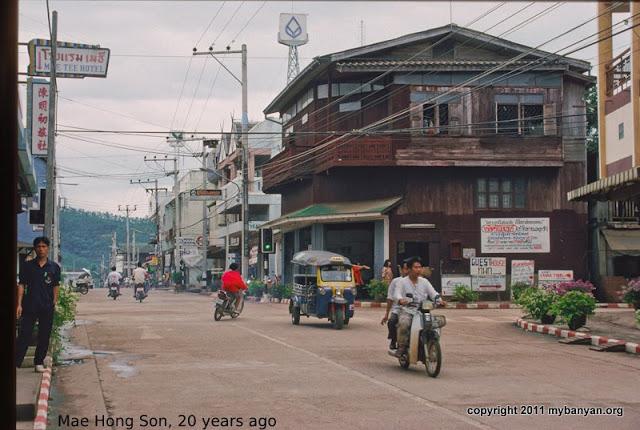 As it was still early, my favored break, "Crossroad Pub", was closed, and I continued my journey.
After the city, the link gets a new number and becomes route 1095. Out of the "1864 curves" of the Mae Hong Son loop, some of the most exhilarating were cut along this sector. Wrapped in a grandiose panorama, the ride through the region of Pang Mapha (Sophong) is a delight.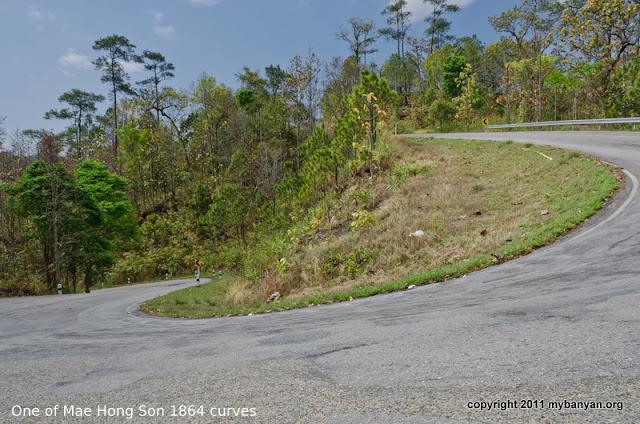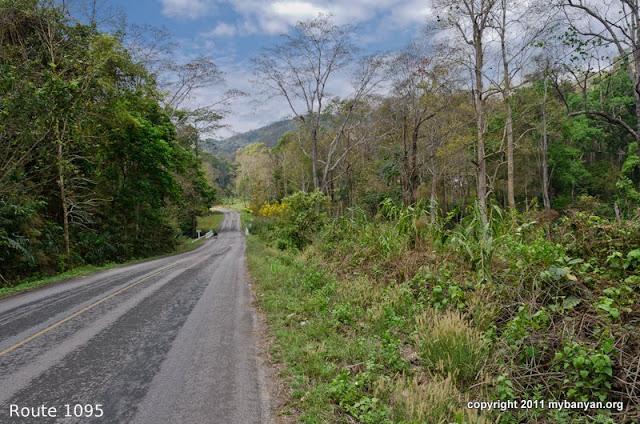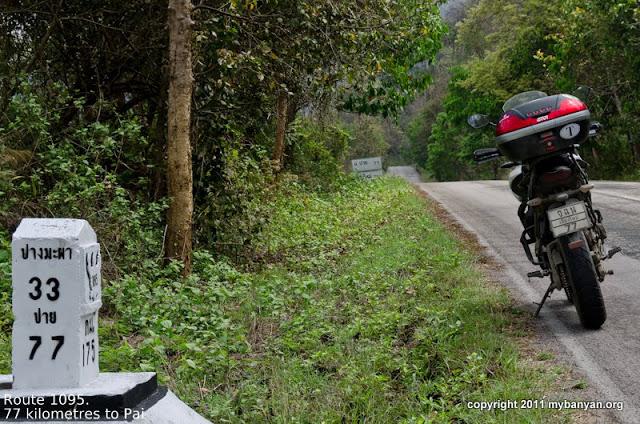 At a roadside rest place, a couple of Lahu hill-tribe (Muser for Thai people), entertained passer-by with music. Despite the language barriers, it is possible to chat and joke with these people and to put souvenirs in the box.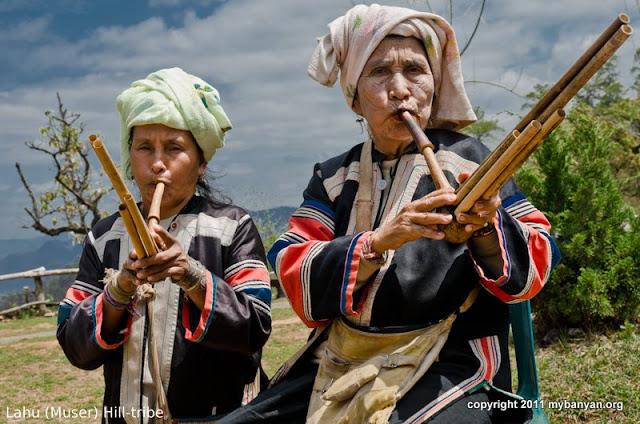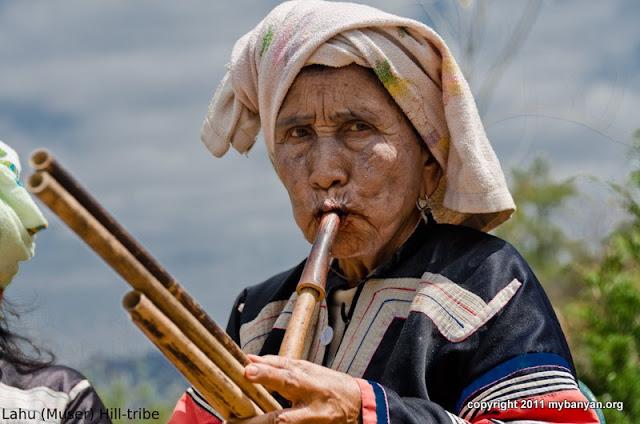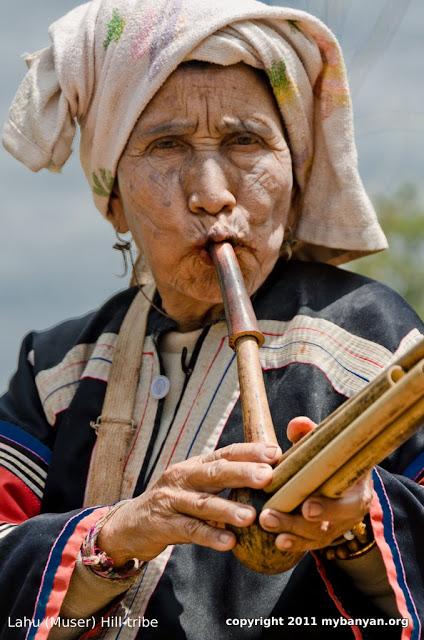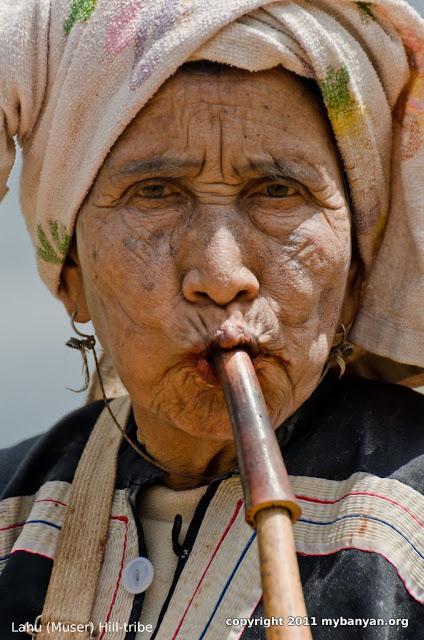 On and on, rolling and climbing, route 1095 leads to Kiu Lom view point and, eventually, down again toward Pai.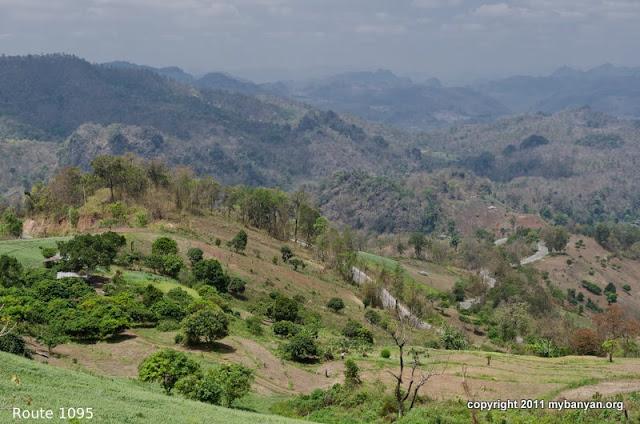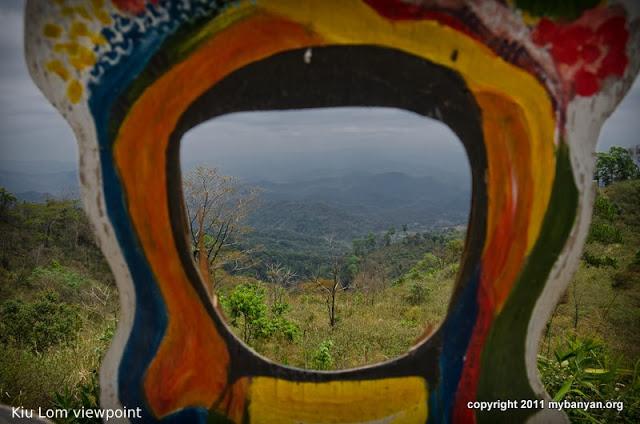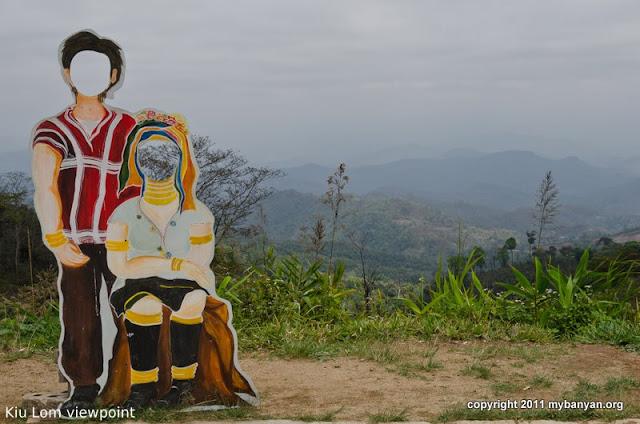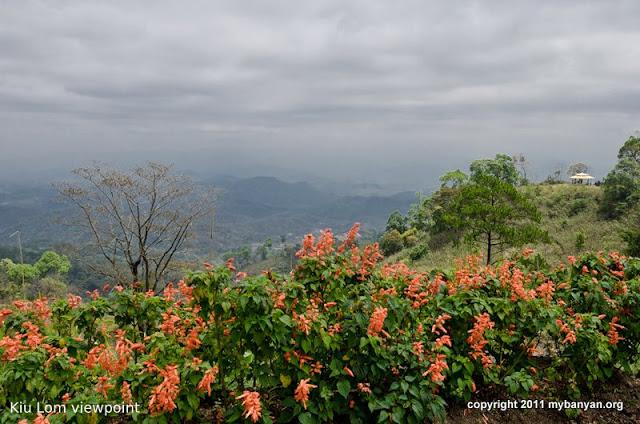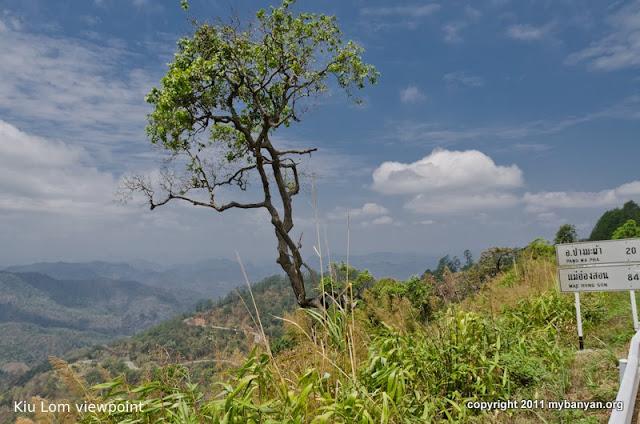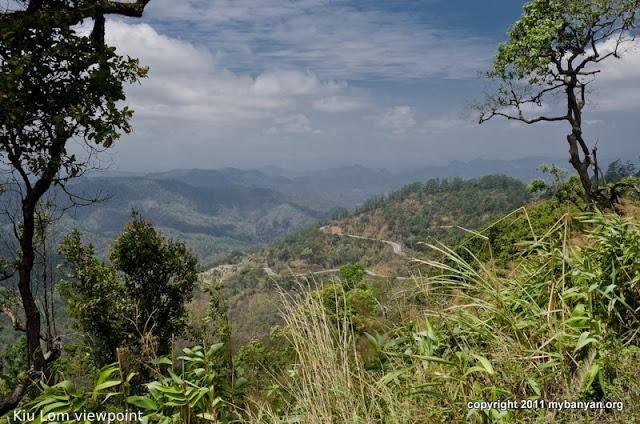 In Pai, the northern hip city, I checked in to "Breeze of Pai Guest House" (500 THB, wifi). I could have completed my journey the same day, but as I had never spent a night in this city, I decided to give it a whirl.
The relaxed atmosphere of a low season week day was pleasant, and I spent my time rambling and hanging out in tourist spots.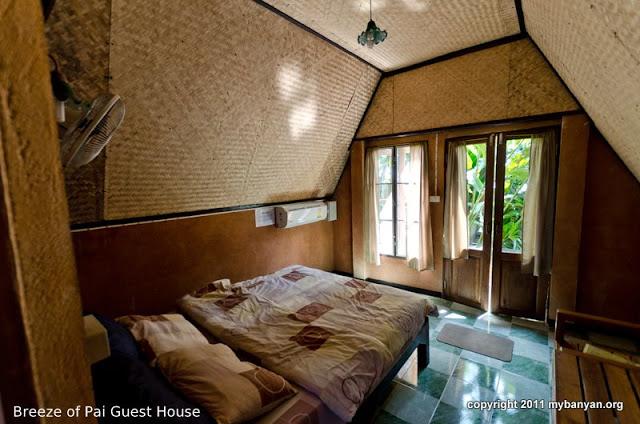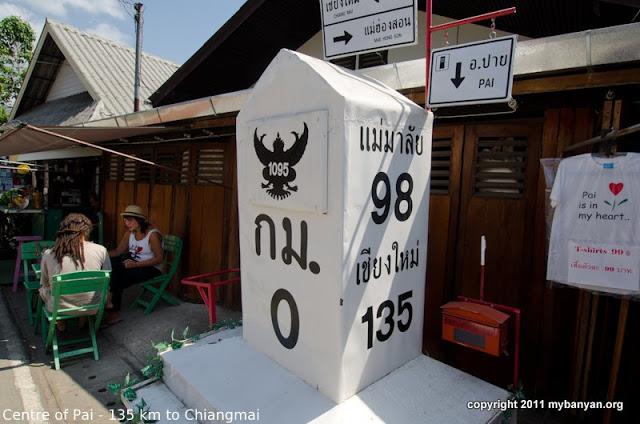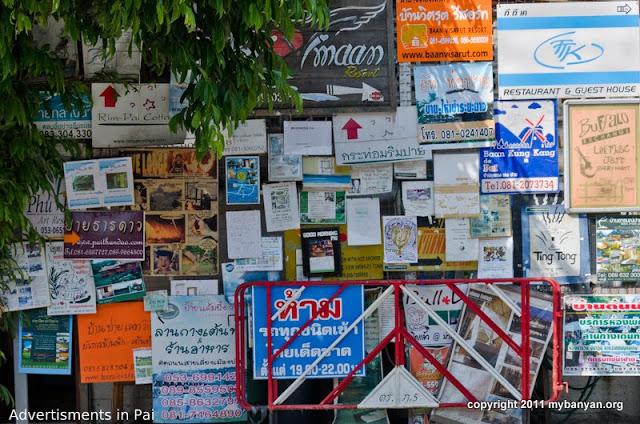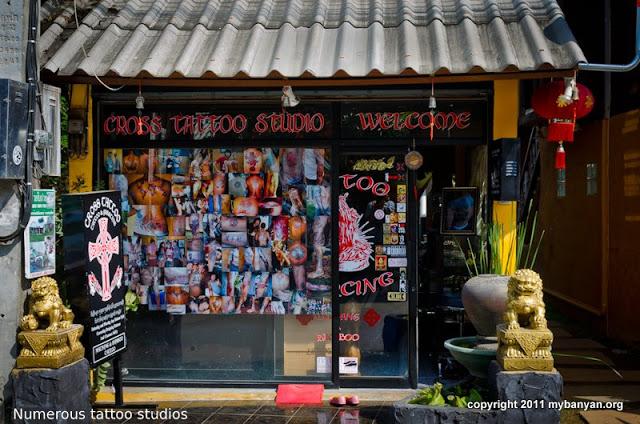 My evening entertainment was similar, some food, some wine, a slow walk through narrows lanes, the gradual obscurity of the twilight and, finally, the end of a plentiful day.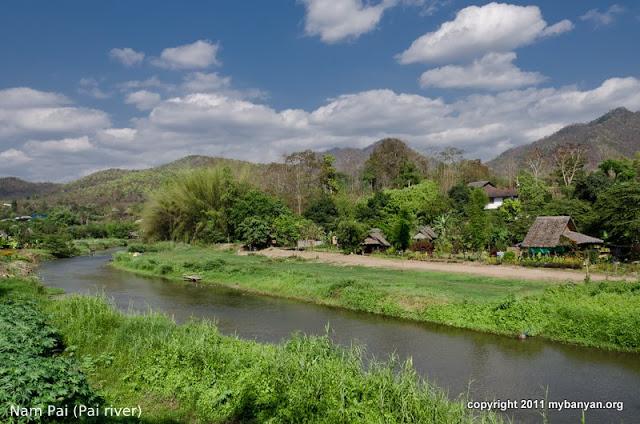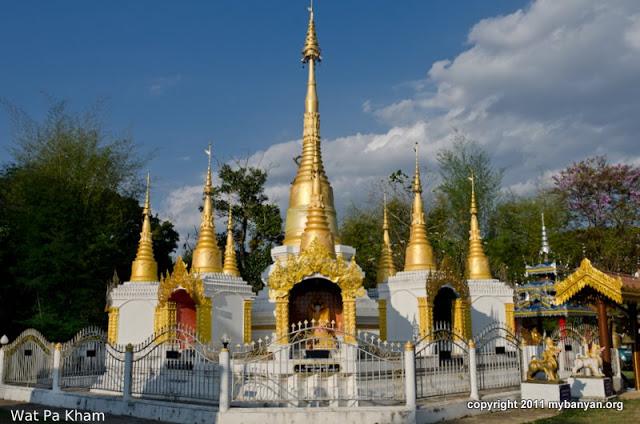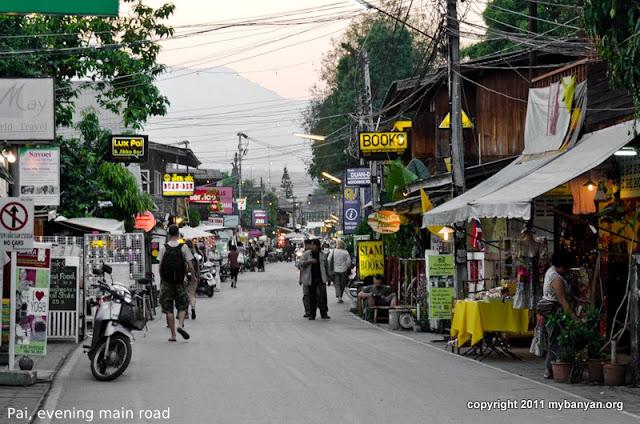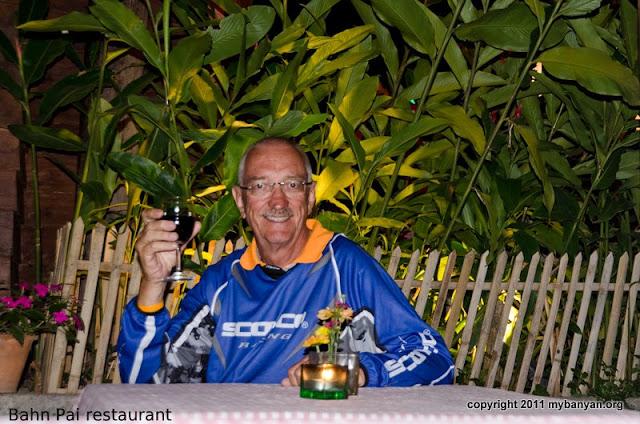 Journey from Mae sariaeng to Pai = 264 kilometres
The blue tint of a spotless sky colored the small window of my bungalow. Dawn was breaking on another pleasant day and on the last short sector of my North Thailand circle. Without time pressure, I ambled to " The House" restaurant, for a lavish breakfast.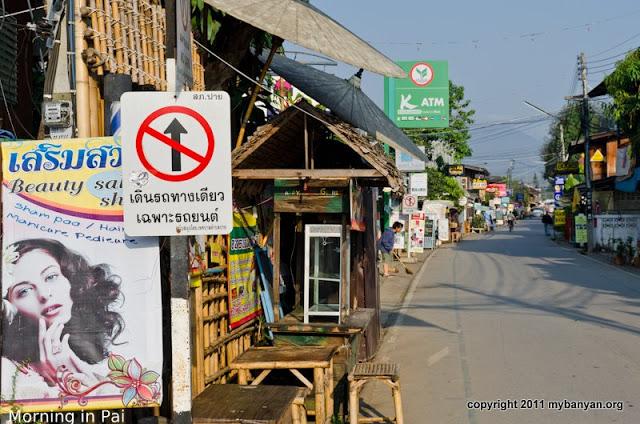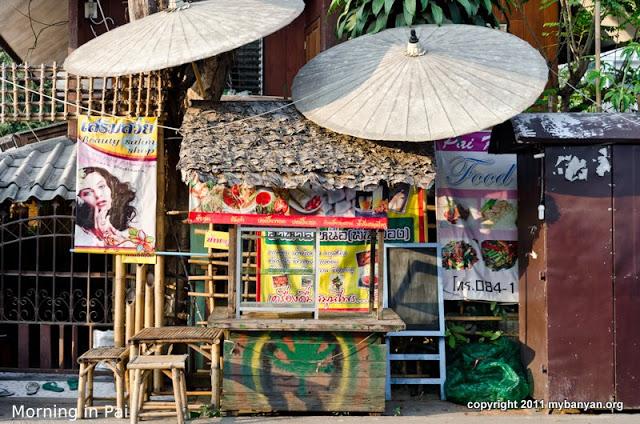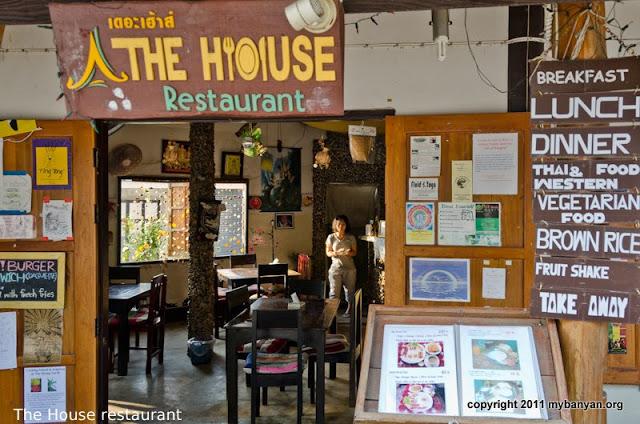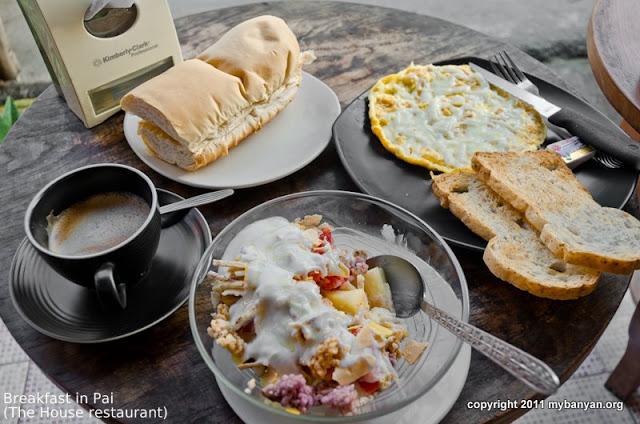 Instead of taking route 1095, the main link toward Mae Taeng, I made a sidekick on route 4024 to May Yen, on the East side of the Pai river. This promenade drives through shady forest, scenic viewpoints toward the valley, and a couple of elephant camps.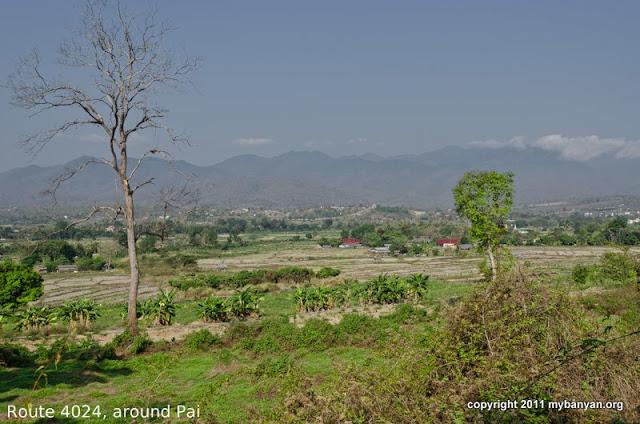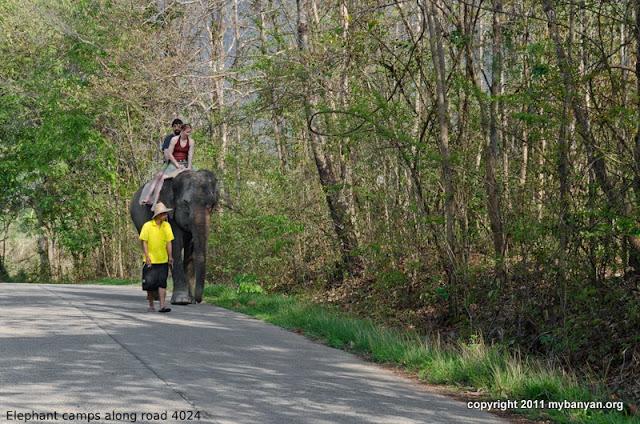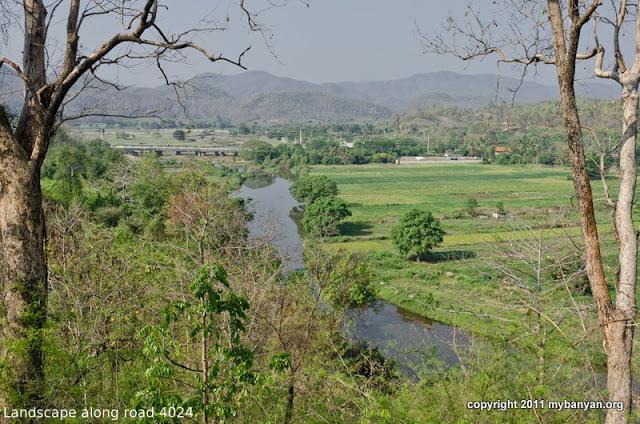 The final rush is on route 1095 again, passing the "77" kilometres marker to Mae Ma lai (Mae Taeng) and twisting through the remaining curves to close the loop on one of the most interesting and bending itineraries of the North.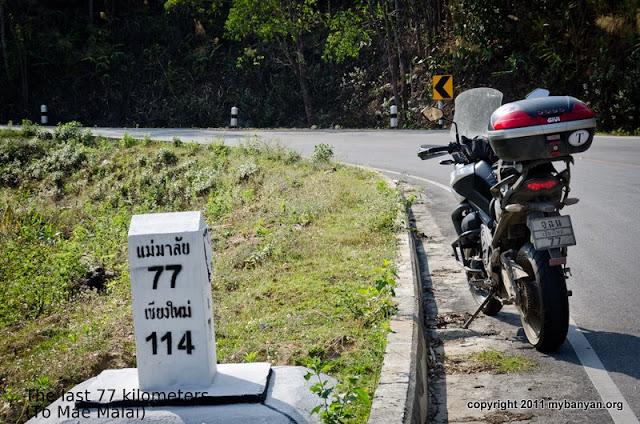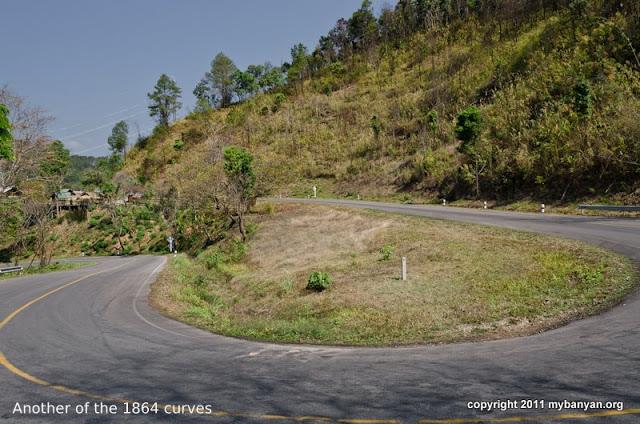 With the last roller coaster in front of me, I glided to the finishing line, the kilometer zero marker, at the beginning of route 1095. I got the ball rolling at that milestone, 10 days ago and had added 2354 kilometers to my odometer.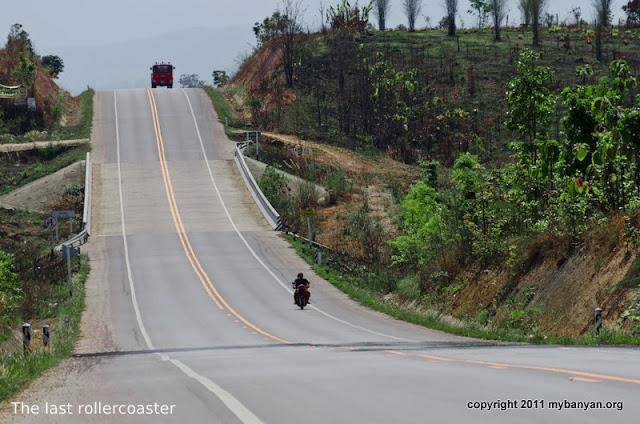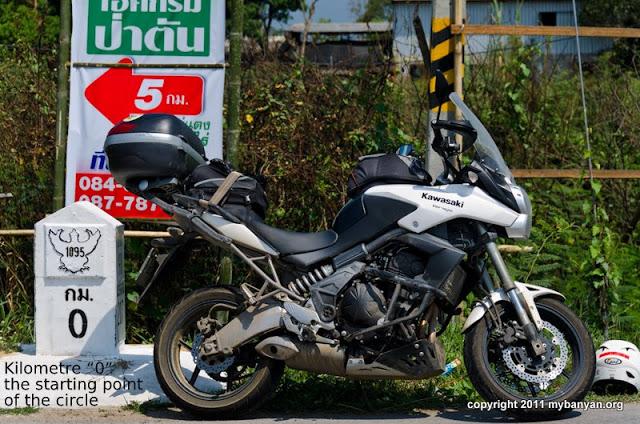 The distance of the circle was 2354 kilometers, for a total journey of 2394 kilometers (adding the "radial" distances, Mae Rim to Mae Taeng and back). Local tours and side tracks are included. I spent nine and half days to complete the journey, including one full day excursion in Sukhothai. By cutting out the night in Pai, the driving would take just 8 days. Some corners could also be ironed out, for a smoother circle. However, the chosen itinerary follows mostly mountain roads, with pavement qualities from track race to "under construction" red dirt (and worse). Some sectors are straight, but the charms of this tour are the numerous winding and undulating roads, as well as the profusion and diversity of opportunities to stop for pictures.
First part - Lower North Thailand
https://www.gt-rider.com/thailand-motorcycle-forum/threads/34587-%93An-Unbroken-Circle%94-1.-Upper-North-Thailand
Map of the circle: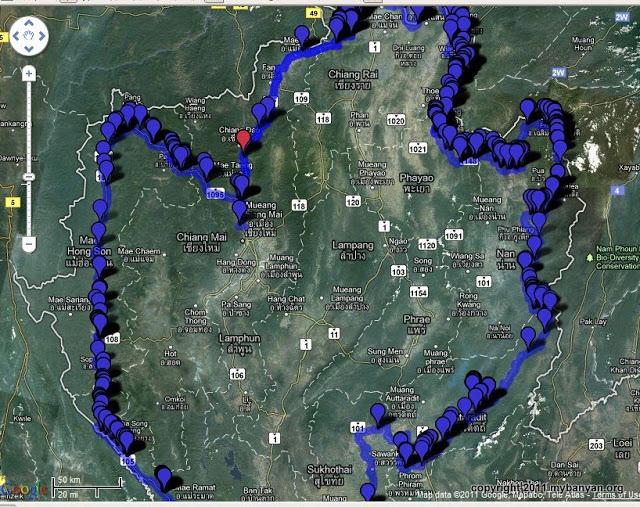 -----------------------------------------------------------------------------
1 Index of links to my related stories:
1 - Mae Hong Son Loop – Twenty Years Later:
="https://www.gt-rider.com/thailand-motorcycle-forum/threads/31733-Mae-Hong-Son-loop-twenty-years-later"
2 - Mae Sot – A Short Loop:
="https://www.gt-rider.com/thailand-motorcycle-forum/threads/31631-Mae-Sot-a-short-loop"
3 - The quest for the Laughing Buddha: work in progress pictures only
https://www.gt-rider.com/thailand-motorcycle-forum/threads/34907-North-Thailand-1-The-quest-for-the-Lauging-Buddha
4 - The North by the Book : work in progress pictures only
https://picasaweb.google.com/campusadvise/NorthThailandMotorcycleTour#
https://picasaweb.google.com/campusadvise/NorthThailand99#
5 - A New Golden Triangle work in progress no pictures posted yet
6 - A Loop through Eastern North of Thailand:
="https://www.gt-rider.com/thailand-motorcycle-forum/threads/34267-A-loop-through-Eastern-North-of-Thailand"
7 - Down The Central Plains:
="https://www.gt-rider.com/thailand-motorcycle-forum/threads/34445-Touring-The-Khorat-Plateau-first-part-Down-The-Central-Plains"
8 - Crossing the Border:
="https://www.gt-rider.com/thailand-motorcycle-forum/threads/33280-An-Easy-Road-to-Laos-1-Crosing-the-border"
9 – Bridges and Mountains:
="https://www.gt-rider.com/thailand-motorcycle-forum/threads/32199-Bridges-and-Mountains-Mukdahan-to-Chiangmai"
10 - Back to Northern Mountains no pictures posted yet
(1) On Salaween logging some examples:
http://www.ecologyasia.com/news-archives/2003/apr-03/bangkokpost_030424_1.htm
http://www.burmalibrary.org/reg.burma/archives/199906/msg00167.html