Excerpt:
This trip moved me around North-Thailand, to catch up with the atmosphere of the "Golden Triangle", twenty years after my first visit. I recollected places and, finally, fulfilled my quest for a "Laughing Buddha" image.
Around North Thailand
Part 3 – A New "Golden Triangle"?
The first part "Around North Thailand", can be found here:
https://www.gt-rider.com/thailand-motorcycle-forum/threads/34907-North-Thailand-1-The-quest-for-the-Lauging-Buddha
Other trip reports about North Thailand (see note 1)
The complete photo only story is on Picasa:https://picasaweb.google.com/111845057494533452431/NorthNewGoldenTriangle

Preamble
"How deceptive beauty can be. The panorama was breathtaking in his vastness, its peace, its vitality. And yet there, under those trees majestic as cathedrals, under those bamboo thickets exuberant as fireworks, lay the origin of a trail of sorrow that knows no borders, that crosses every sea and penetrates every country to invade our homes and kill our children. What I saw before me was the heart of the Golden Triangle (what a deceptive name!), the source of much of the heroin produced in the world today."
From: A Fortune-Teller Told me by Tiziano Terziani (3)
In 1989, I made my first excursion to the "Golden Triangle", followed by a couple of other trips and a long period without any visit. Twenty years later, in 2009, I inaugurated a rambling life, on a newly acquired (old) bike, driving again around this region, in a quest for a laughing Buddha image (see:
https://www.gt-rider.com/thailand-motorcycle-forum/threads/34907-North-Thailand-1-The-quest-for-the-Lauging-Buddha
)
At the beginning of the Nineties, the "Golden Triangle" still had the largest share of world's opium production. North-Thailand was heavily involved in the traffic and, even widely open to tourism, not totally safe. I remember a trip, on the Kok river, when every small boat was accompanied by an armed guard.
"A New Golden Triangle
?
" After reading encyclopedic books, like the McCoy (4), I wondered if the place had changed in the last twenty years; had development, apart from building a couple of roads and scattered resorts, polished the darkest side of the region? Driving my bike along the open "Northern Trails", would not bring an answer, nevertheless, I was keen to go back, to revive memories and renew my impressions.
This is the final part of my trilogy « The Quest of a Laughing Buddha image ». It was my first motorcycle trip around North-Thailand, starting in September 2009. This story is from an October 2010 trip.
Ban Thoed Thai
My quest for a "Laughing Buddha" image (1) had been unsuccessful, and I desperate to ever meet it again, when I got an unexpected message. David Unkovitch (David_fl) wrote:
" I am in Doi Thung, your Buddha is here, he has been moved and renovated three years ago".
The resemblance of the statue had struck me, during my visit, but I failed to recognize it.
With this good news, and a year after my first trip, I headed north again, on route 107, toward Chiang Rai's mountains.
Morning mist still veiled the landscape, when I started my journey. The early winter coolness flew through the interstices of my mesh attire and, after fifty kilometers, I was deep frozen. Putting on another layer of nylon, I went on, appreciating the pleasant October weather.
I had upgraded my bike to a more comfortable mount and progressed at good pace. A picture stop for "Doi Chiang Dao », an homage to Wat Ton Luang's large Buddha image, the guardian over a steep and winding curve, a drive through rugged karst boulders, and I reached Ta Thon, for a "toasty" breakfast at Sunshine Café.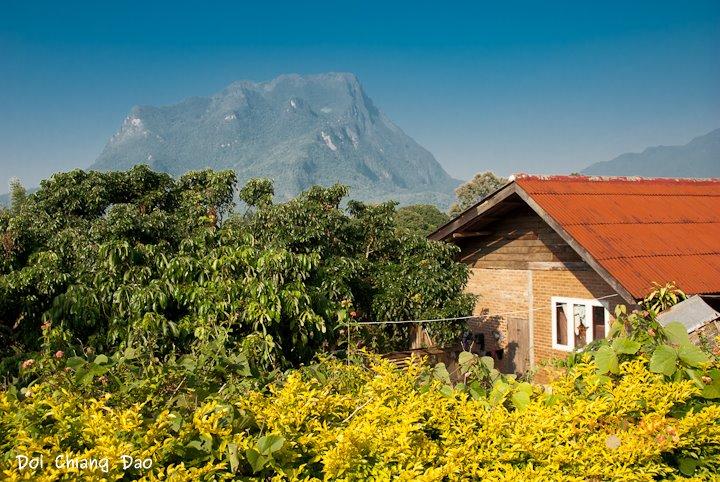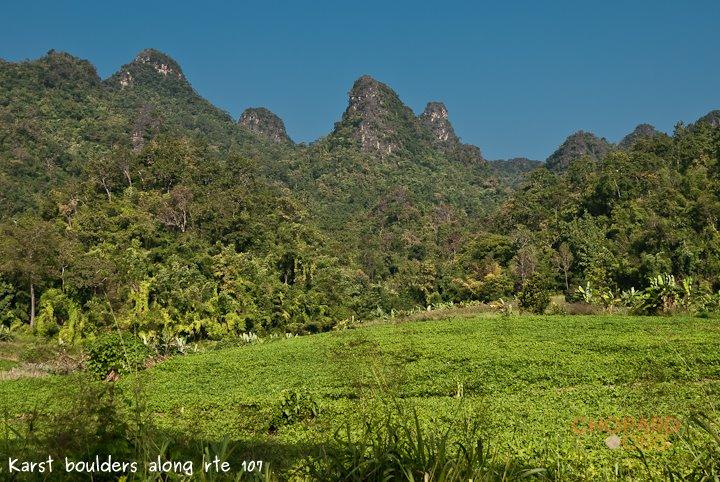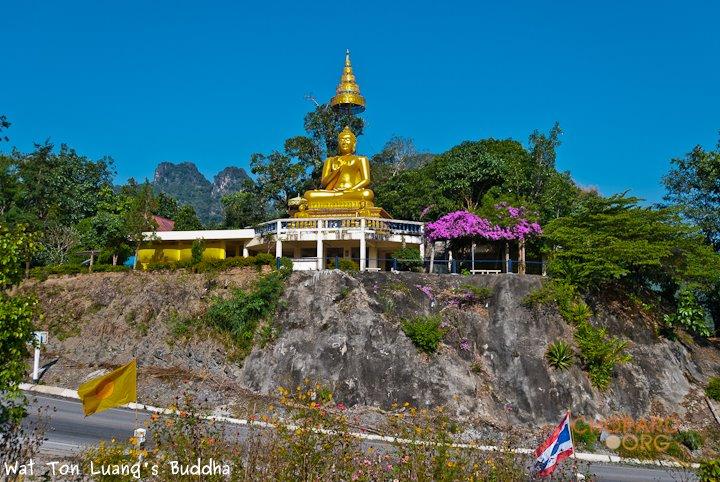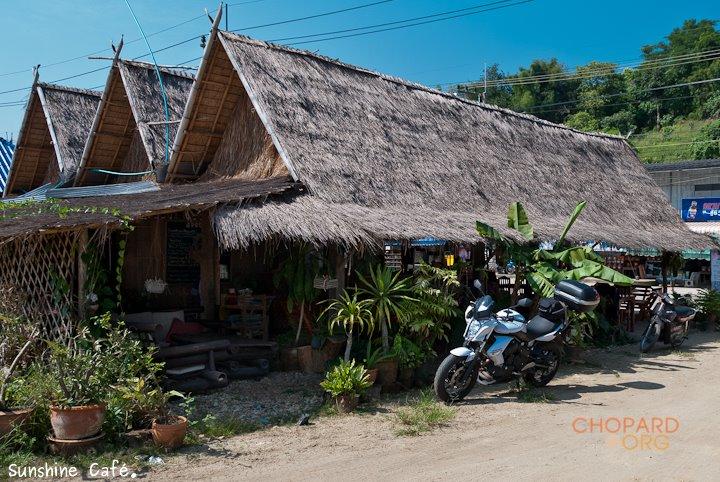 On the road again, after the light repast, I followed route 1089 toward Kiu Sata, stopping at a papaya orchard, an heaven for "som tam" lovers. Next intersection is with route 1234, the winding link up to Doi Mae Salong.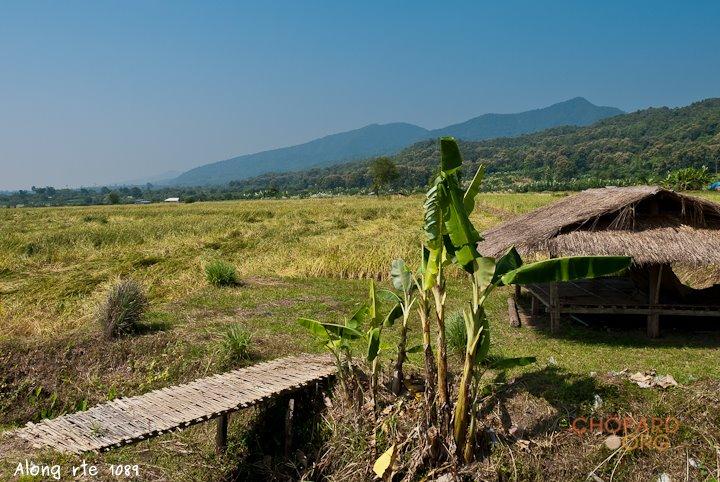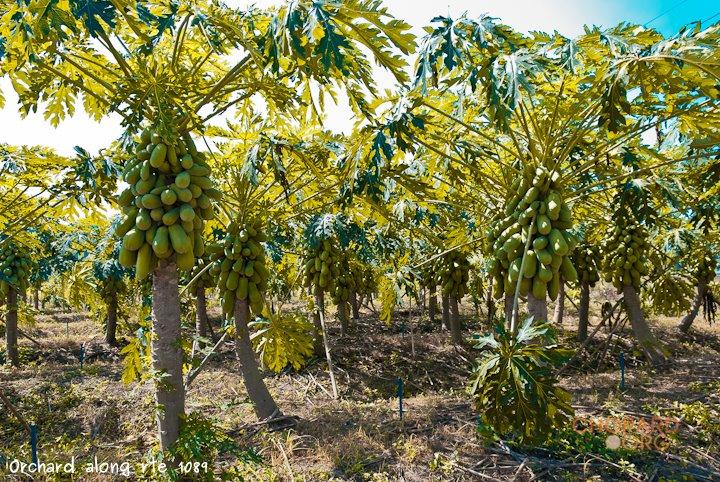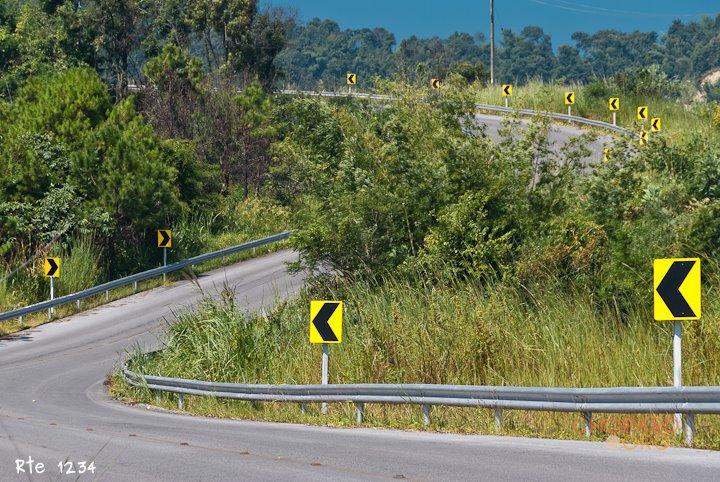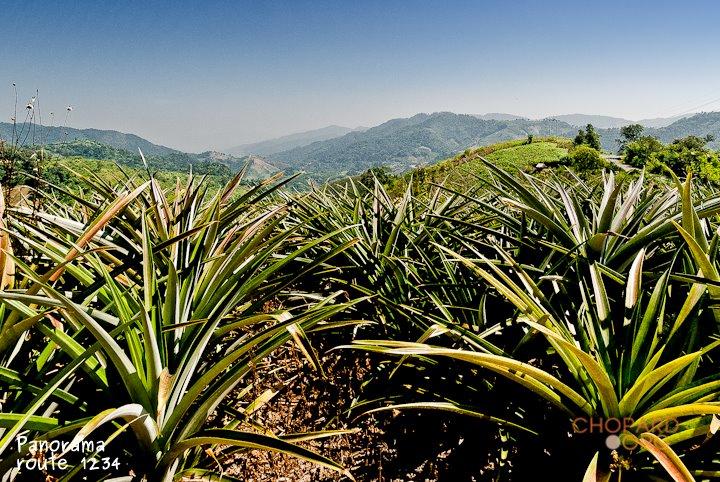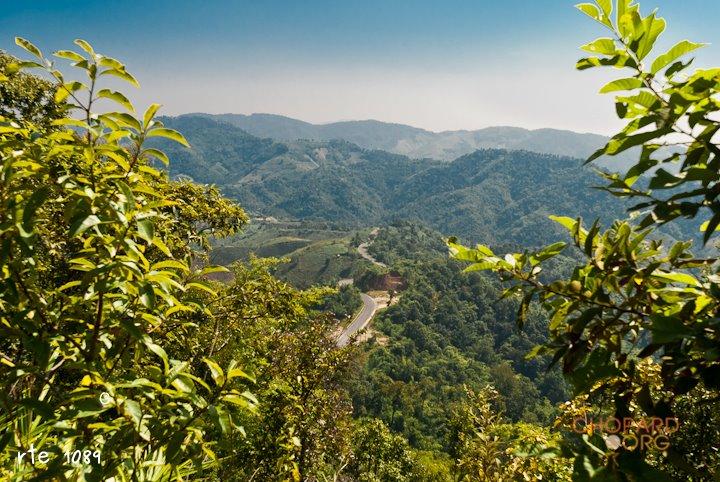 In rambling mood, I took the short branch out leading to "Ban Aico", a Lisu village. Pausing in hilltribe dwellings is rewarding, as locals are often open and amazed to chat with foreigners. Hamlets close to frequented trails might have some "souvenirs" at hand, to be exchanged for a couple of Bath.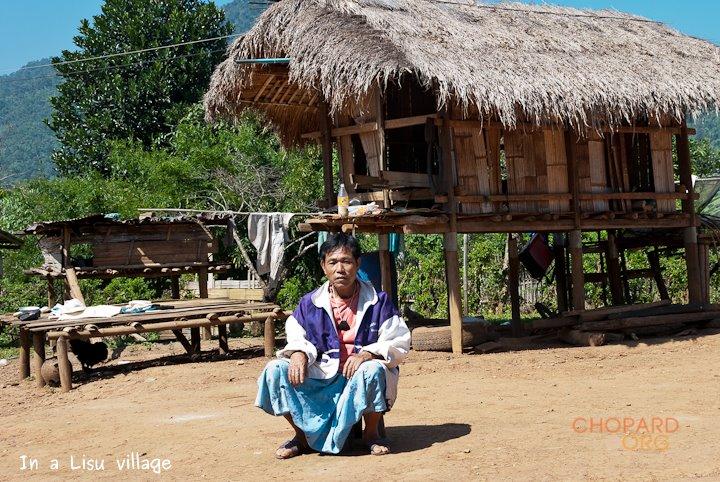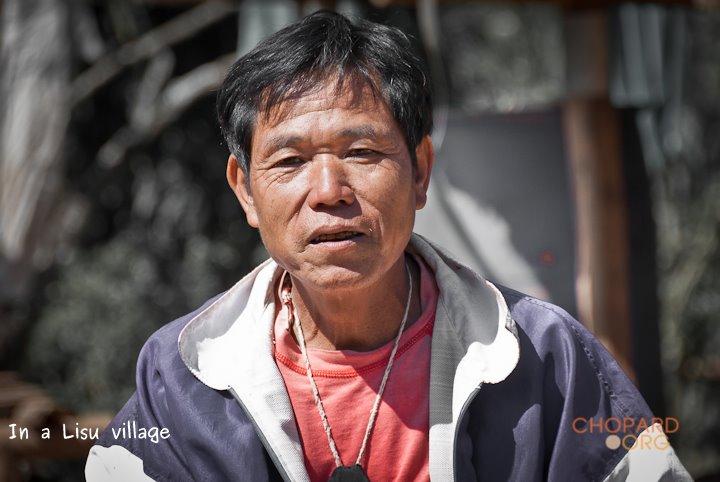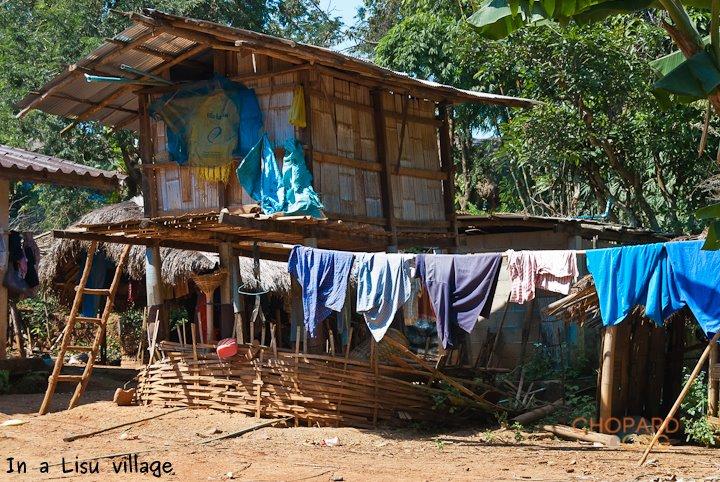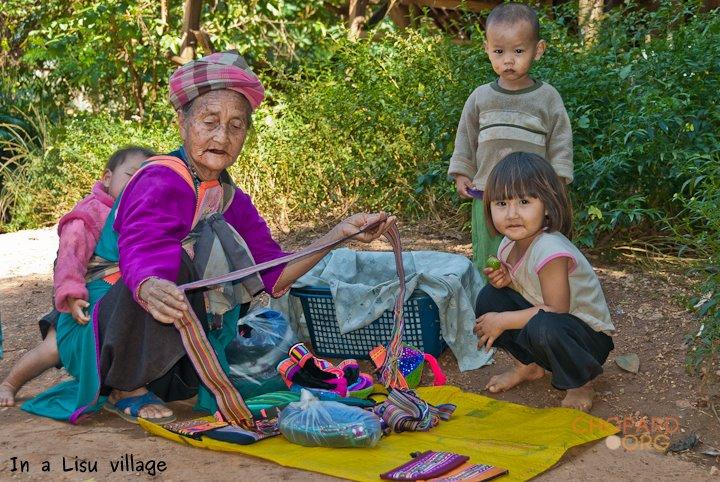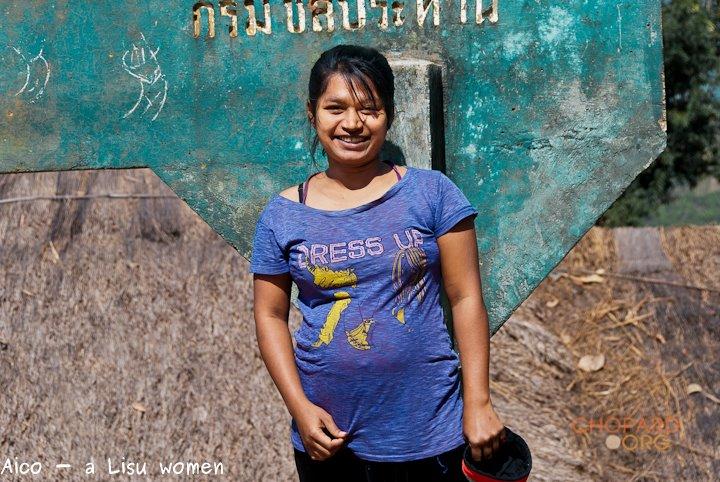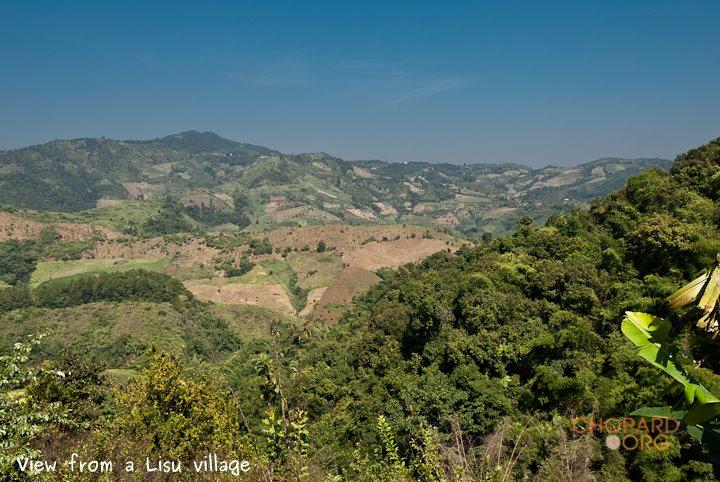 Scenic Mae Salong, actually renamed Santikhiri, is well worth a longer stop-over; something to remember for my next trip. After enjoying the view toward the gilded chedi of Phra Boron That, taking a picture of a proud local father and amused by a "laundry" panel, I went on, driving along the tea plantations.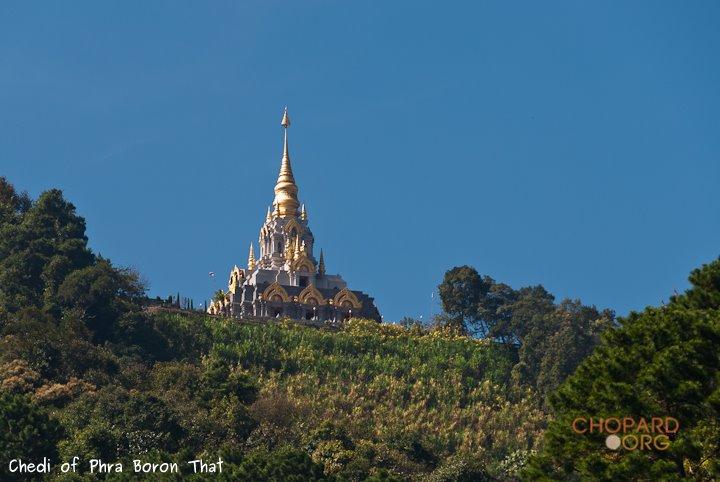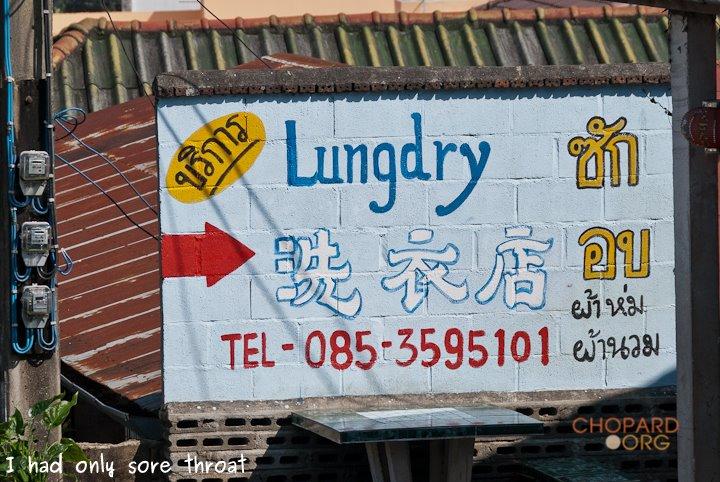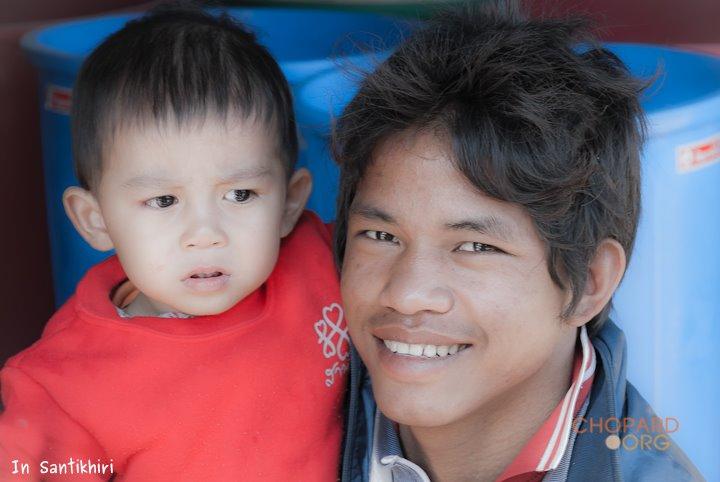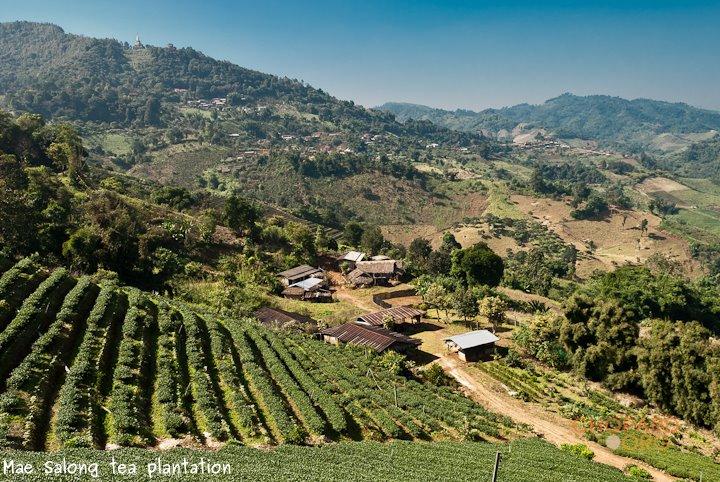 At "Sam Yaek" (Three Branched Carrrefour), I climbed route 3051's rollercoasts toward the North. An Akha man was drying his tea harvest on the tarmac. He had about 3 kg of dark leaves, for a selling price of 180 THB (60 THB/ Kg). The whole region is now successfully growing evergreen tea plants, as an alternative cash crop to the colored poppy fields.
In Thoed Thai, I checked in to "Rim Taan", a relaxed small resort, where I got a bungalow close to the river.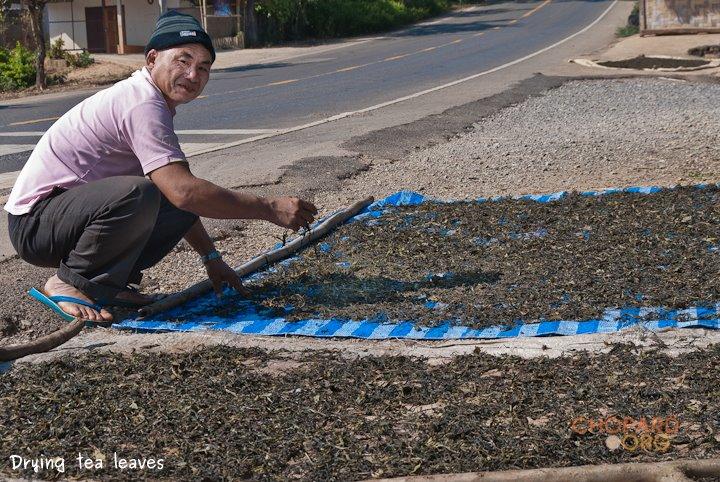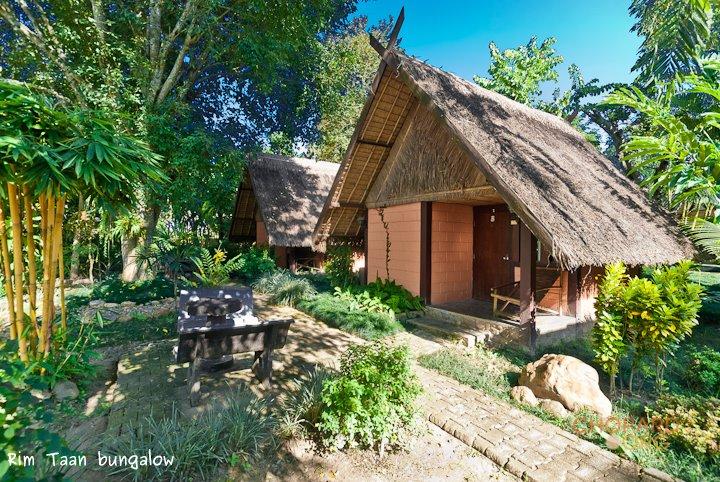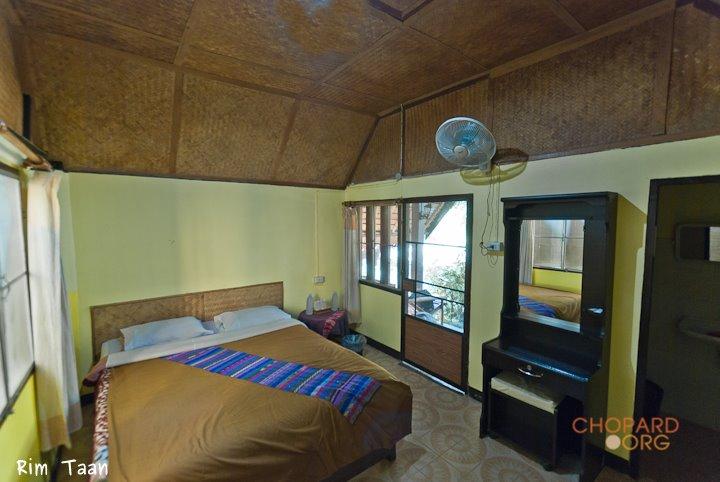 Enough time was available to explore the neighborhoods and I went north, toward the Burmese border. I passed small villages, delighted in the sight of hills covered with tea plantations and, as it was blooming season, admired the golden patterns drawn by Mexican sunflowers.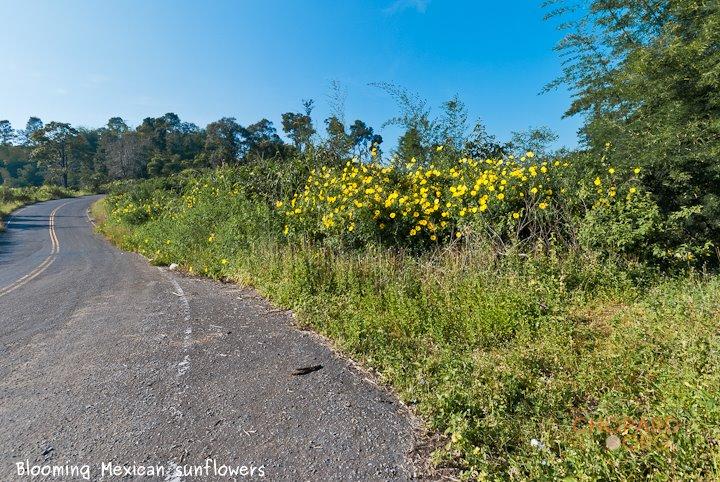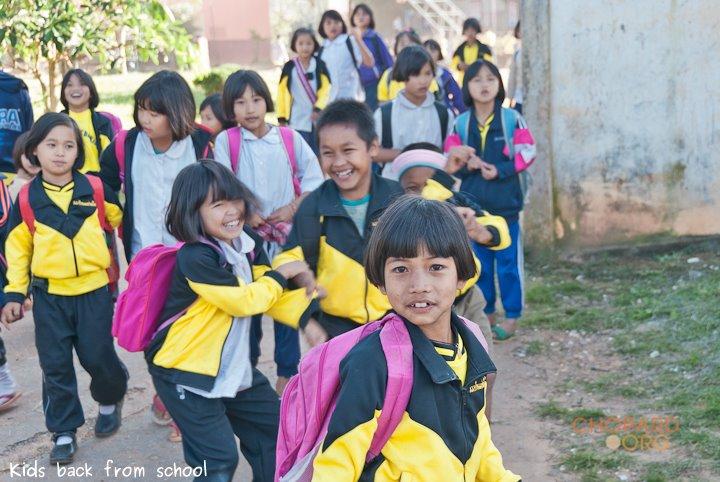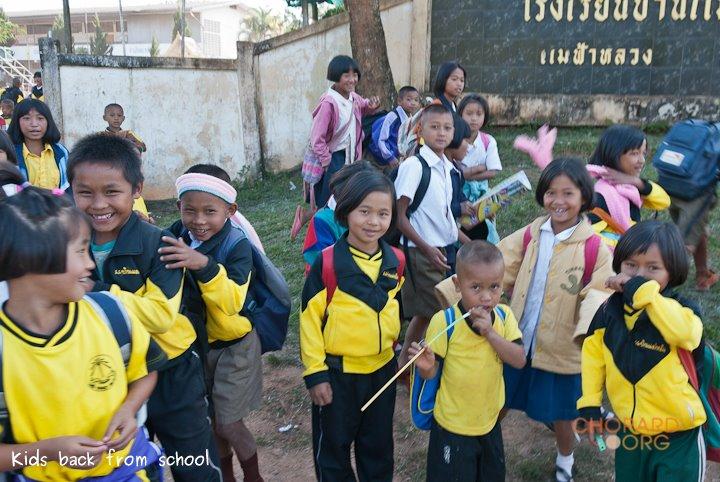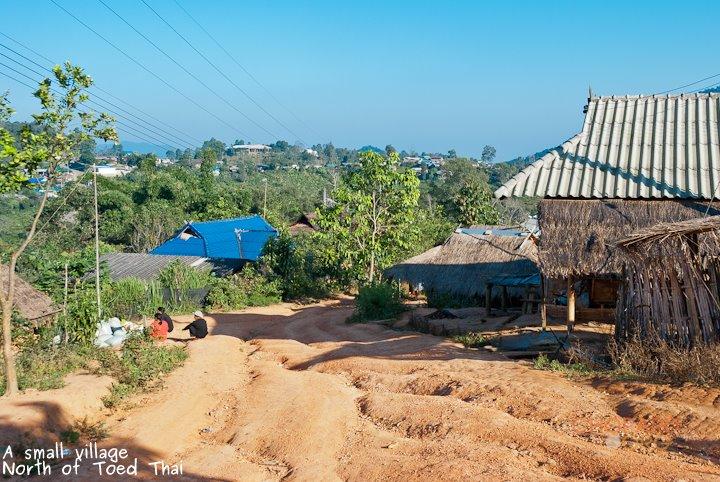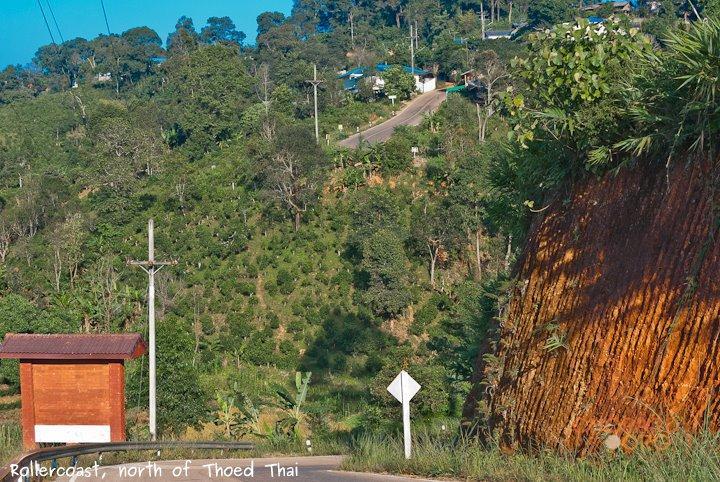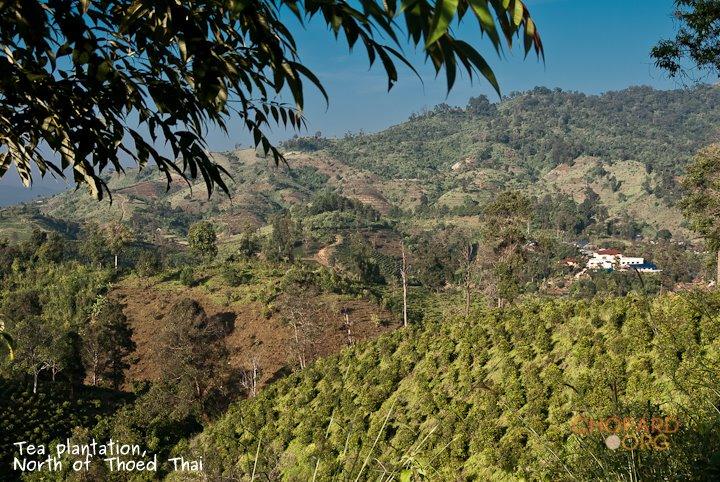 Akha tribes are the first dwellers of Thoed Thai, they are well represented in this cosmopolitan region. I spotted one of their traditional swings, and stopped my bike to visit the village, with kids running all around me.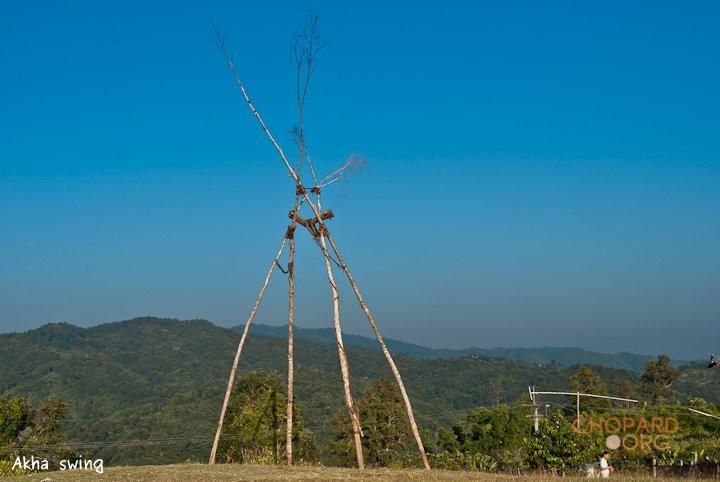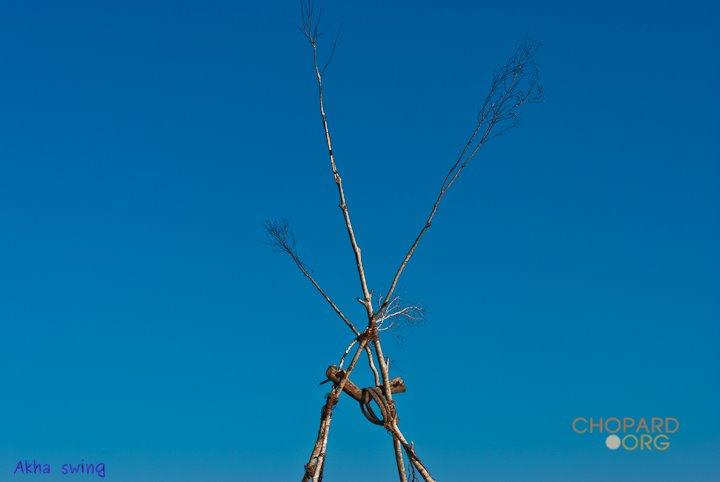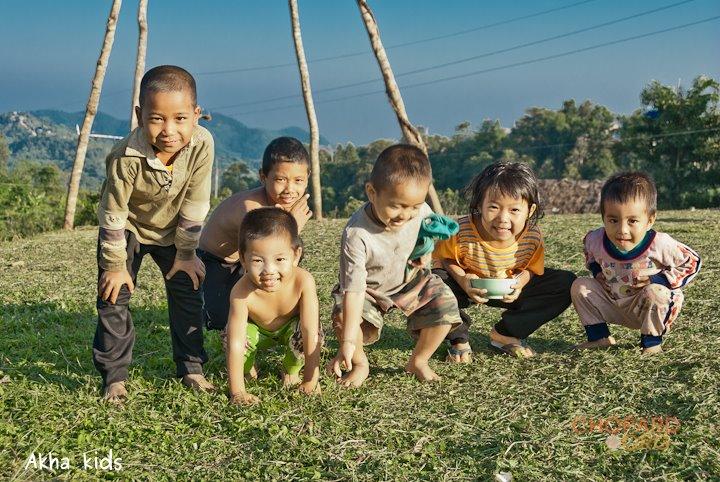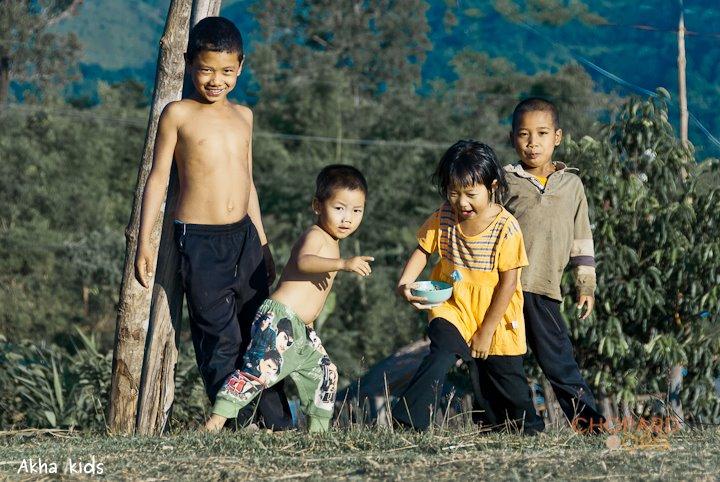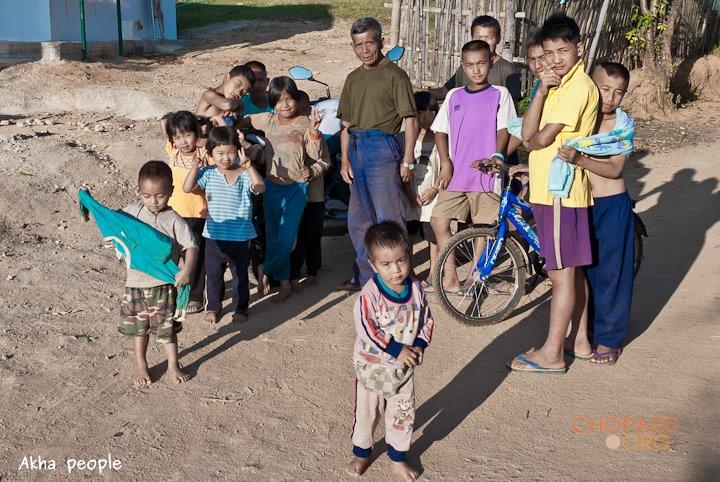 At times when Khun Sa, the opium warlord, had his base in « Thoed Thai », it was called « Ban Hin Taek ». Now his "Old Camp" is a small museum, showcasing his power and struggle to control the opium trade, for the sake, as he said, of liberating the Shan states from the Burmese occupation.
After the nomination of general Prem as prime minister, and under American pressure, the Thai army became tougher against drug trafficking. A bomb shell, marked 21 February 1982 (2525 Thai aerea), testifies about a strong intervention. Khun Sa fled over the border and, later on, resettled to Homong, north of Mae Hong Son, in Shan territories.
Tizinao Terziani (3) visited him there, and wrote in: «A Fortune-Teller Told me":
"Khun Sa lit a 555 cigarette. Speaking very slowly in Shan, which the 'foreign minister' translated, he replied: 'First of all, the deals are not so lucrative as they seem to you. A shipment of heroin which is worth $ 1 million here with us, by the time it reaches your countries is worth $ 100 millions. Then who makes the big profits? Certainly not Khun Sa. Certainly not the Shan."
"... in the last century it was you foreigners who brought drug to Asia and imposed them on us. Now it is Asia that sends drugs to the West. Perhaps it is a question of Karma. The West is paying for its past actions"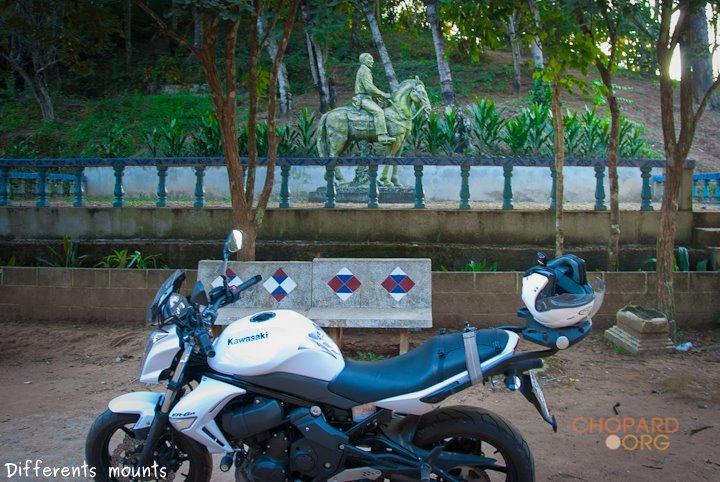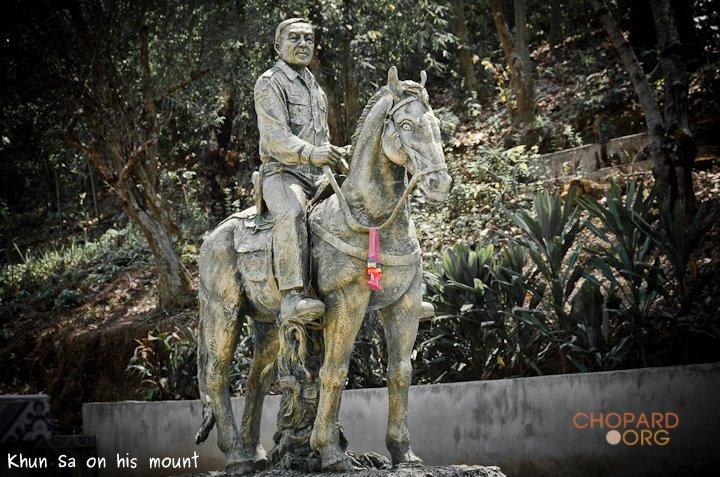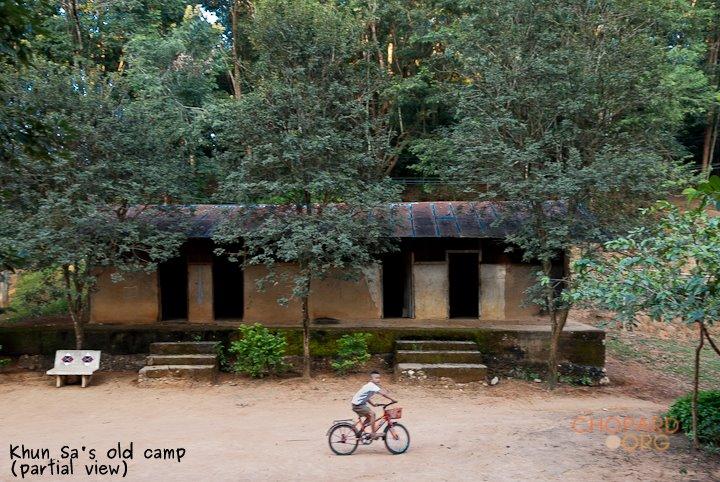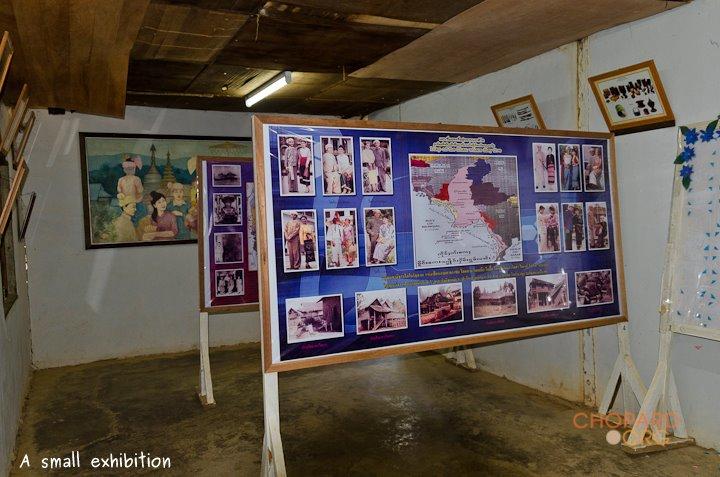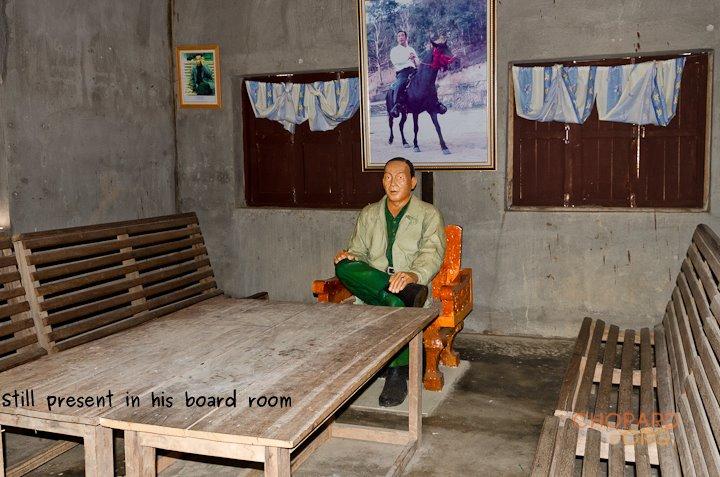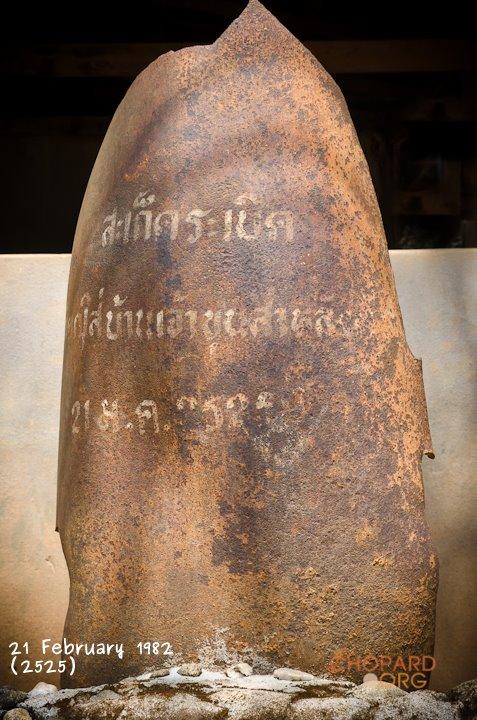 Khun Sa surrendered to the Burmese authorities in 1996 and died in October 2007. How fundamental were the changes in illegal trafficking after these events? Published information and statistics gave me few credible insights.
Setting up a bronze statue to a death dealer and promoting his hide as a tourist attraction is also controversial; probably a reason to keep « Old Camp » exhibition modest. I feel that historic and didactic values should prevail, and Sop Ruak's two opium museums are well patronized showcases.
GT-Rider's website contains some substantial contributions, covering Khun Sa's life and the opium traffic. Links are referenced in my end note (2), particularly Rod's research:
https://www.gt-rider.com/thailand-motorcycle-forum/threads/34817-ON-THE-TRAIL-OF-A-quot-MULE-quot-A-Drug-Run-Through-The-Golden-Triangle
.

Leaving "Khun Sa Old Camp", I drove south, uphill to Wat Kam Ka Kao. The temple displays a large image of Arya Maitreya, the future Buddha, against a serene panorama, tinted with the warm late afternoon's hue.
As pilgrim monks were chanting inside the Ubosoth, it was closed to visitors; I decided to come back, early next morning.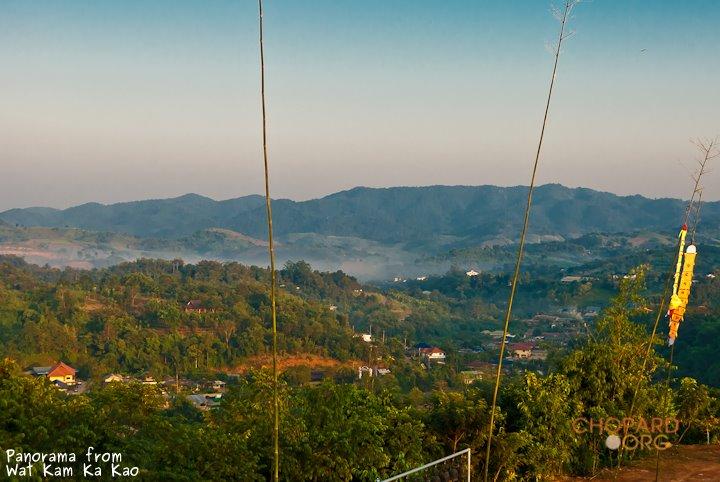 Many religions are worshiped in Thoed Thai, reflecting a peaceful coexistence of various ethnicities. In addition to Buddhist and Chinese temples, I have noticed a large catholic church, on a hill, and a mosque; hilltribes also follow animist believes, sometimes intermingled with another faith.
Back to the city's center, I walked up the stairs, behind the market, to visit "Wat Phra That Ka Kham" a Shan style Buddhist temple. Night had already obscured the valley and the monk's mystical chanting filled the air. Nothing spoiled this serene moment, even not the place's "sponsor" recollection.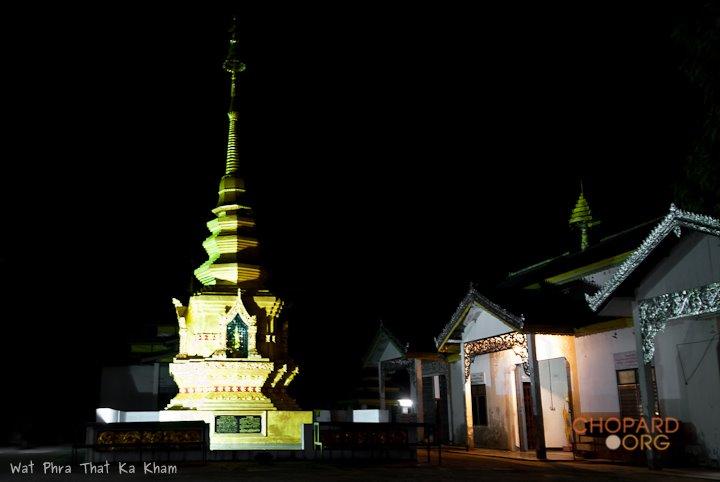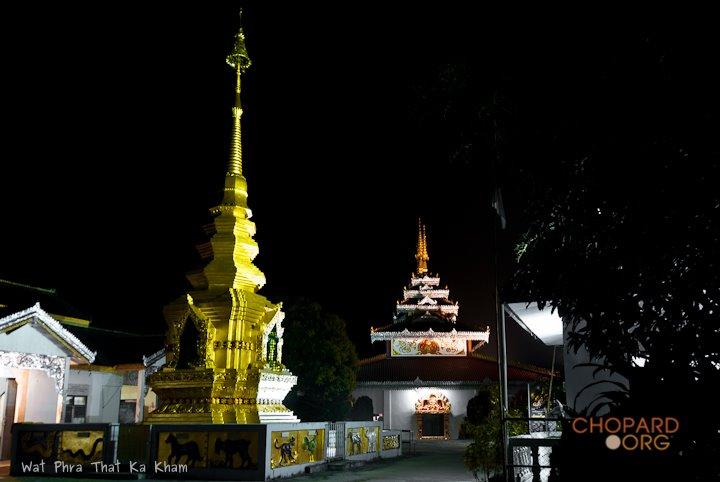 Along the city's main drag, I only found "Santiburi" restaurant, as and adequate diner. It is a rustic place, but does the job for simple meals and beer; other choices would be "karaoke" bars, probably without earthy food!
Progressively, the evening became chilly, and people warmed up by lighting fires, right on the tarmac.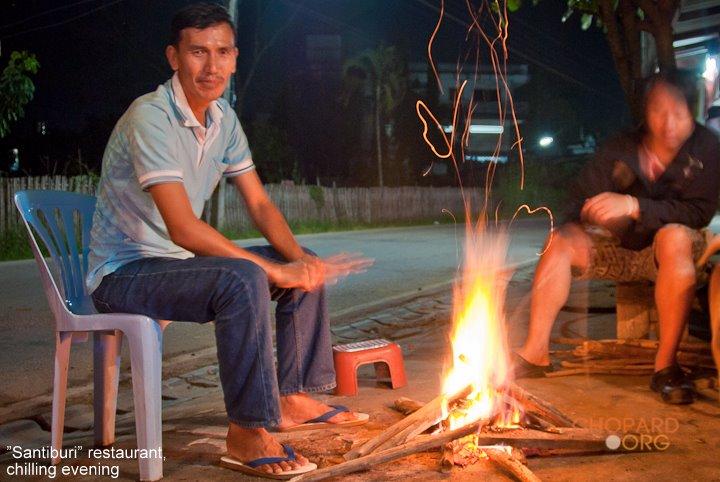 Climbing Doi Thung
Fog was all around, completely draping the morning mountains; a difficult environment for an early start, on a winding trail. Without a precise itinerary, I had no reason to rush and dawdled through the market.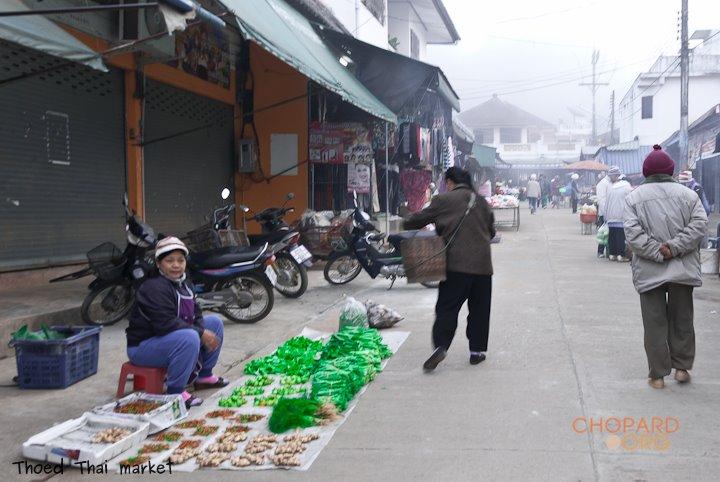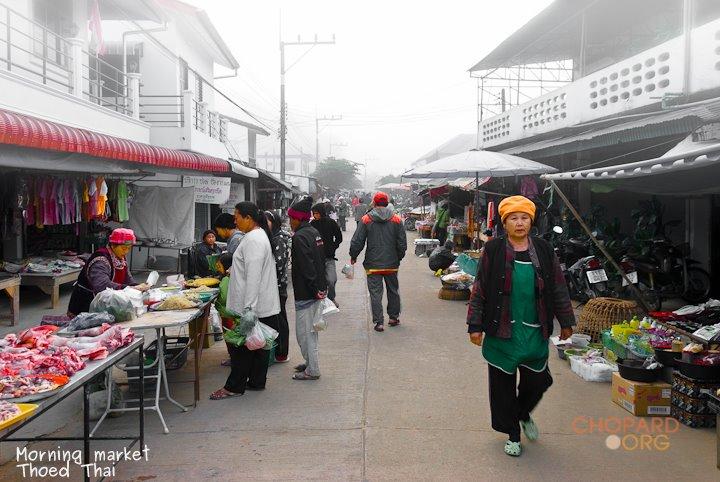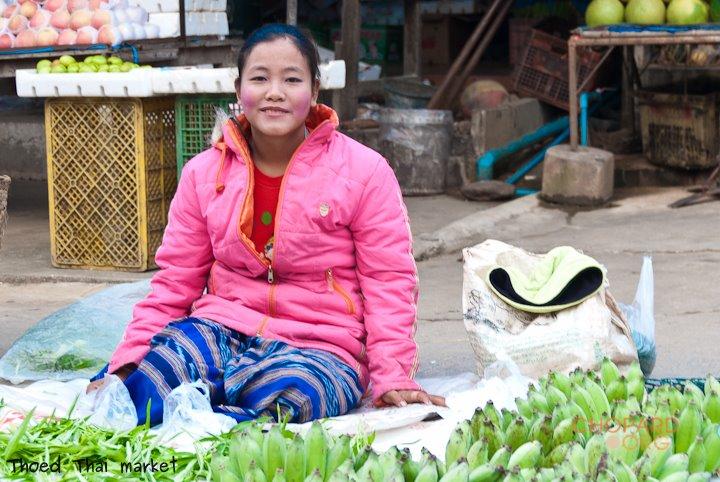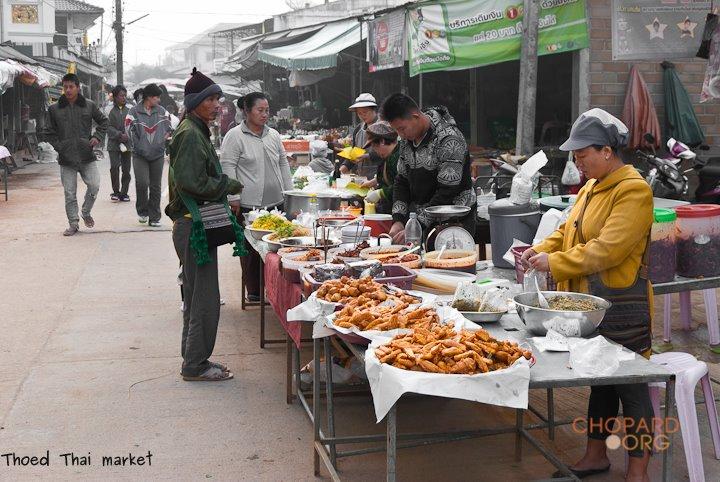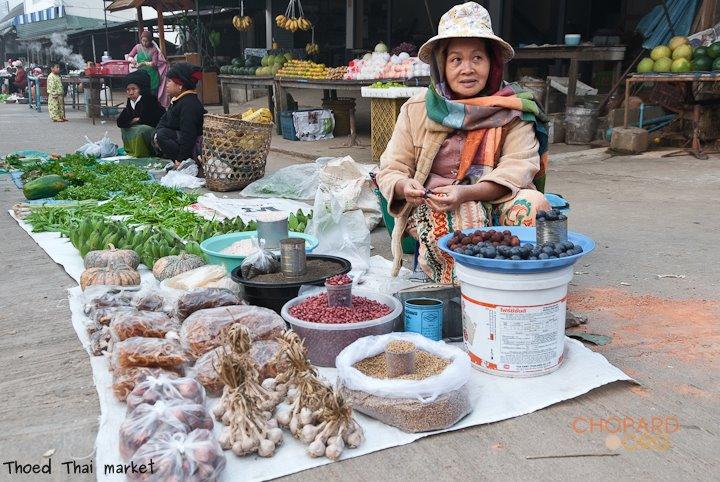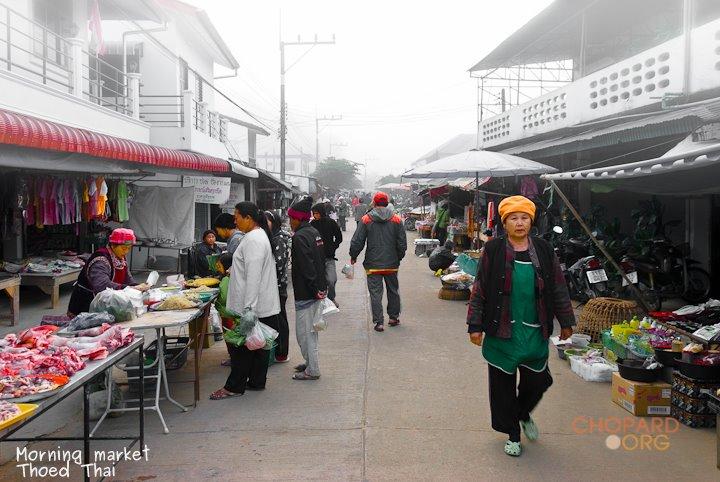 Remembering my intention to pay homage to the temple, I climbed to Wat Kam Ka Kao. Magically, the sea of fog played with the hill's apex, alternatively veiling the panorama or coloring the neighborhood with the morning's warm hue.
This multicultural compound displays various Buddhist representations, Tibetan prayer bells, images of Phra Sankajai, Chinese Laughing Buddha and Kuan Ying, together with respected Thai monks statues (
http://www.arayun.com
– in Thai only).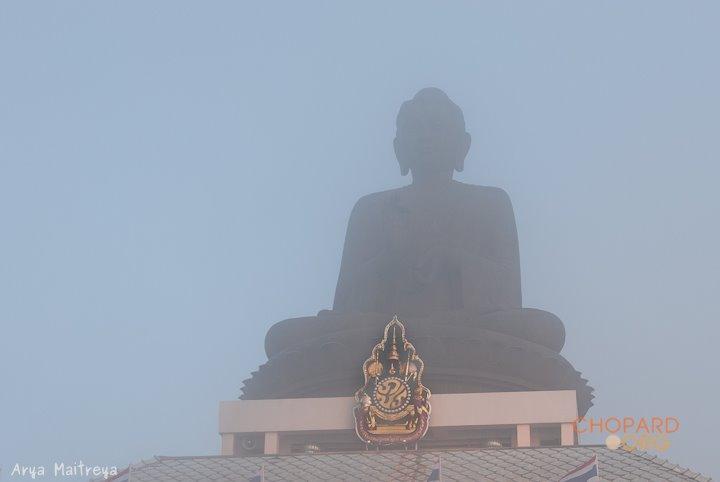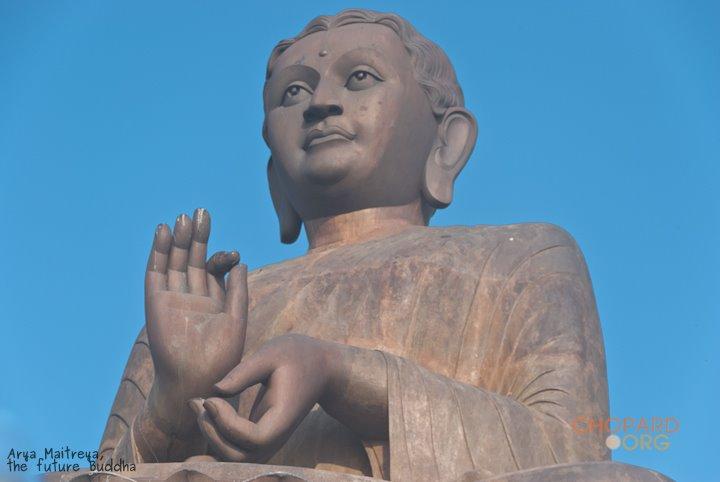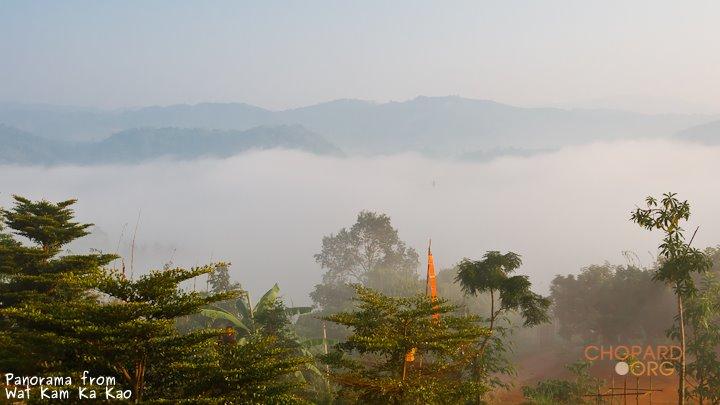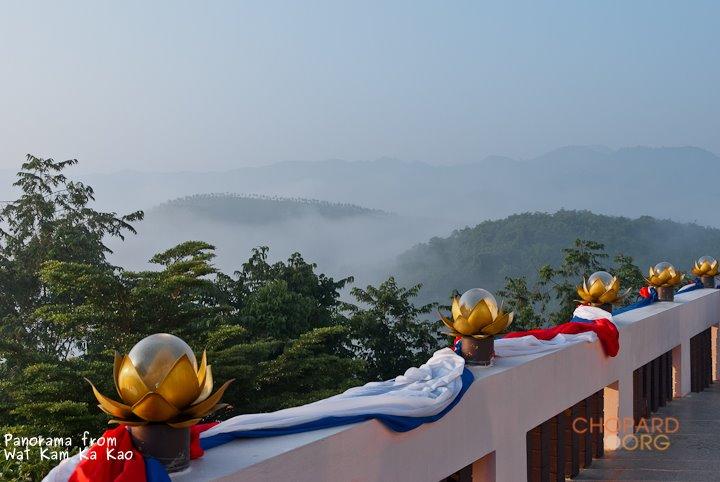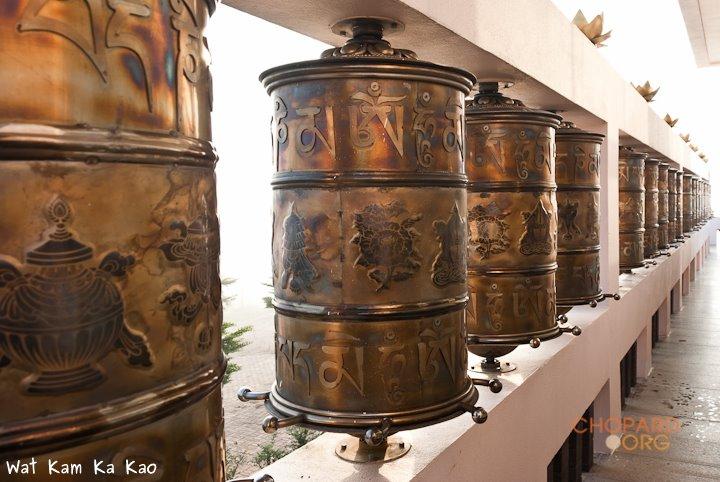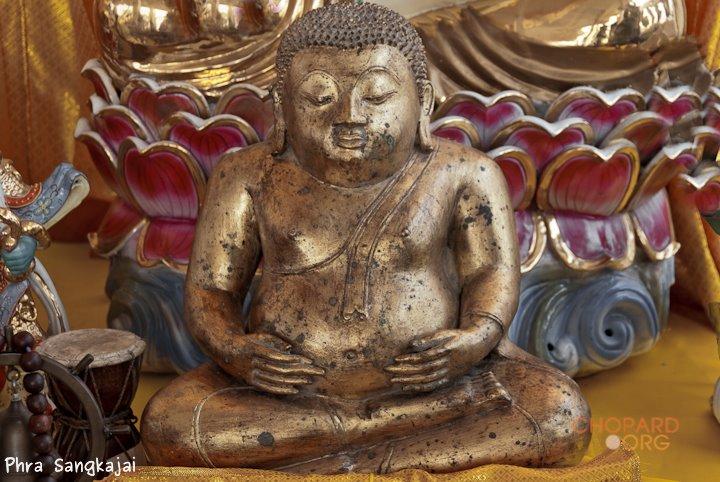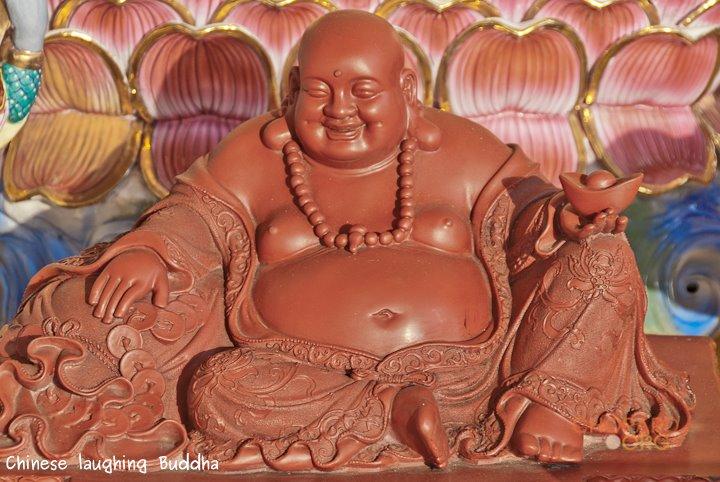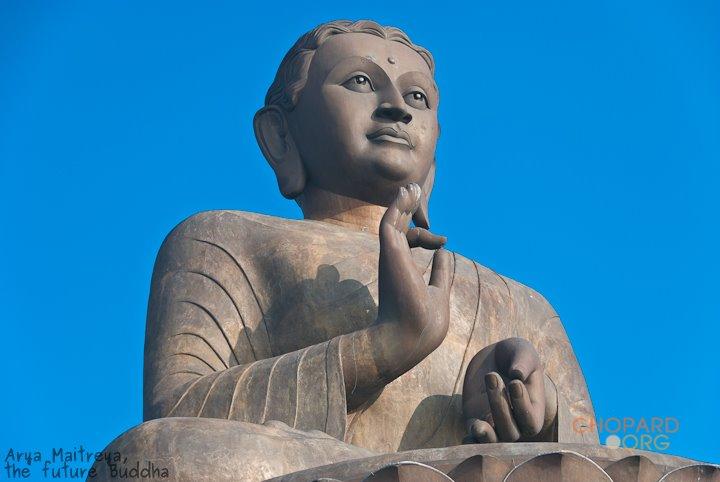 After a Rim Taan breakfast, I was set to climb the road toward Mae Fa Luang's garden. At the beginning, the track is potholed and eroded, no real hindrance, however, for an appropriate bike. Some sectors are smooth, particularly after the Palace. Globally it is an agreeable ride, cutting through lush forests, perfumed with pungent humus scents, along a small river and passing few settlements.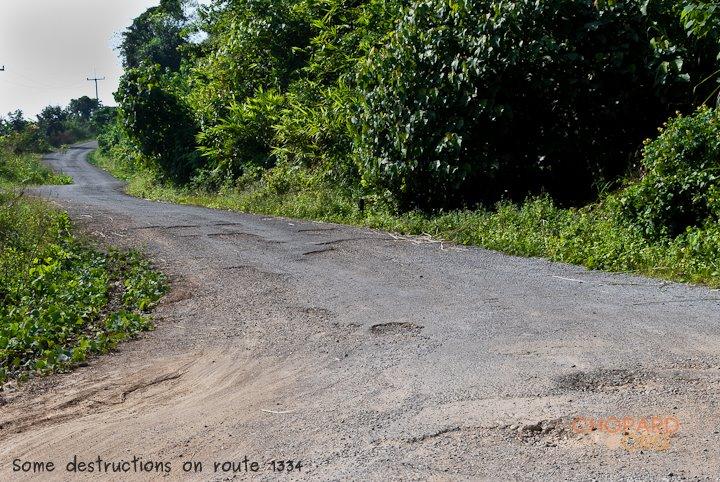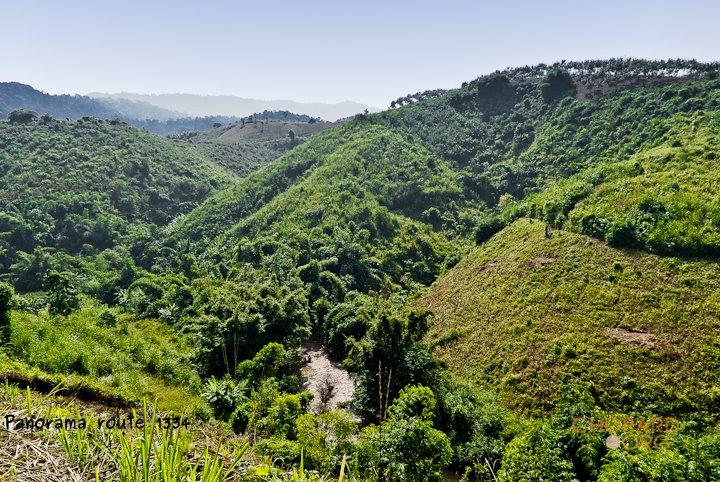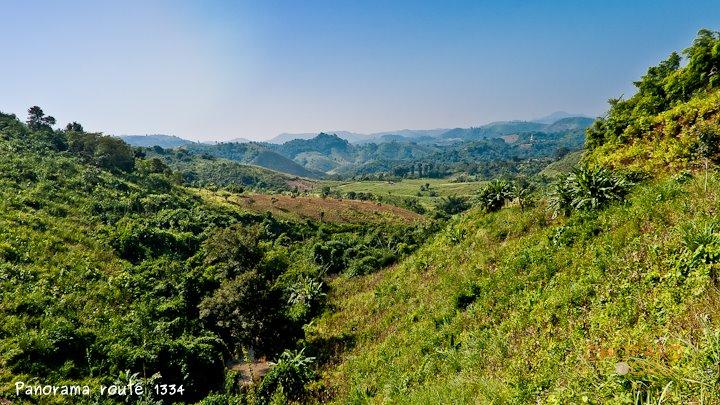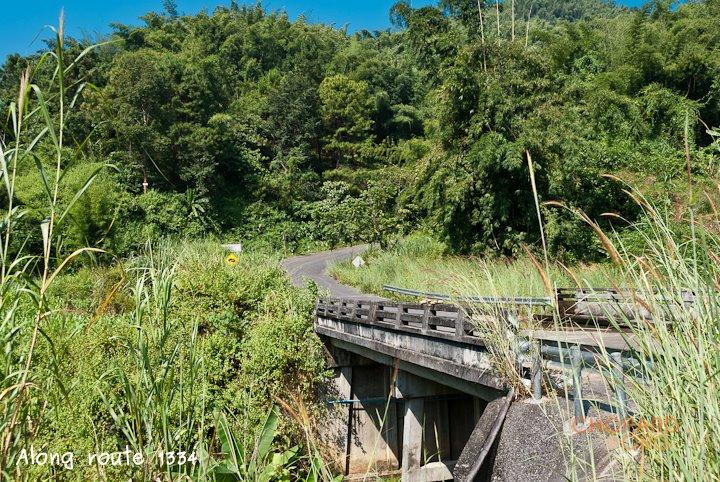 Twenty years ago, on the way to Doi Thung, I had visited an Akha village, near to an impressive landscape remodeling. It is the successful "Doi Thung's Royal Project", providing sustainable agriculture and tourism revenues to hilltribes, in a former opium producing region. I forgot to stop for new pictures, and have now a good reason to schedule another trip, up to the "Flag Mountain".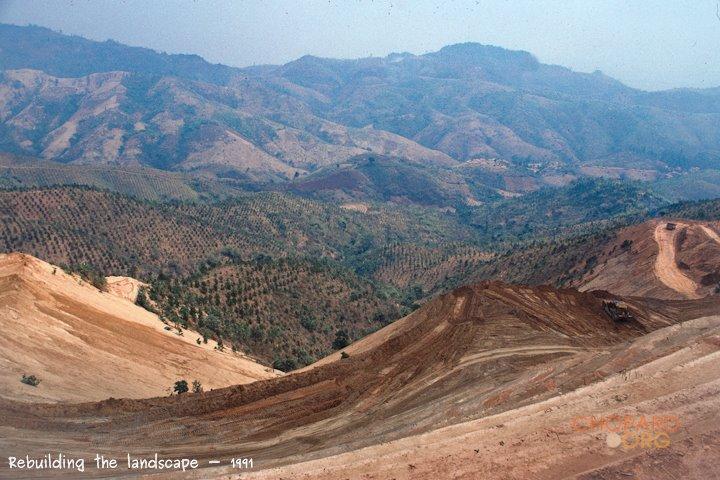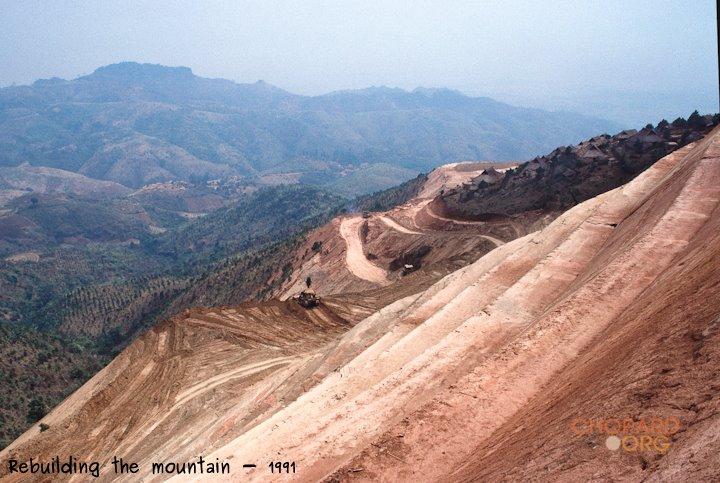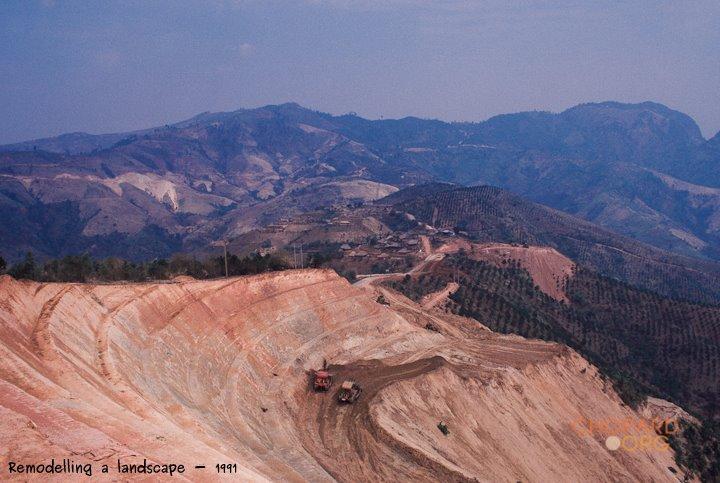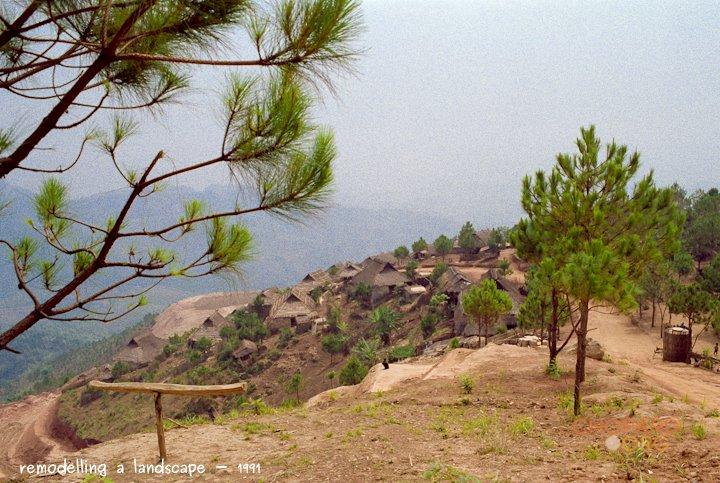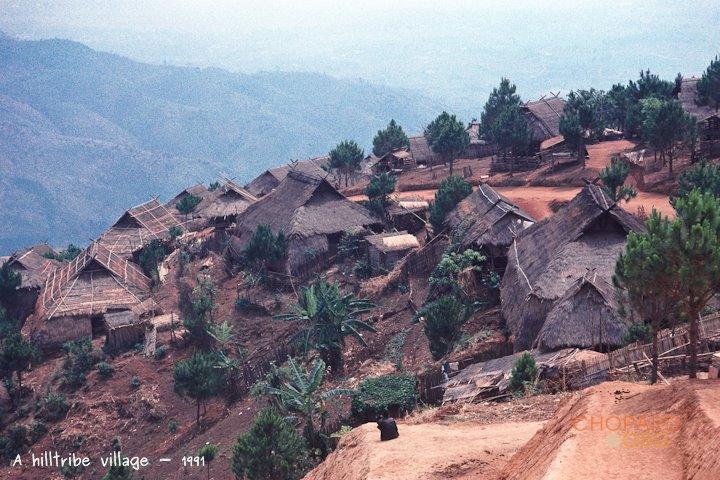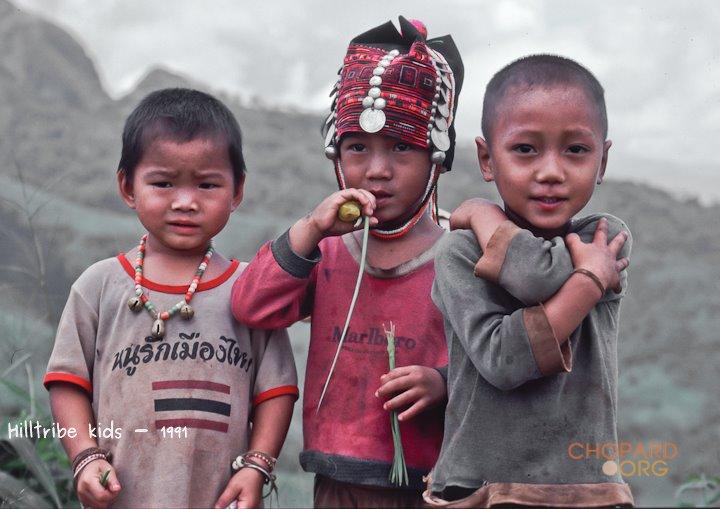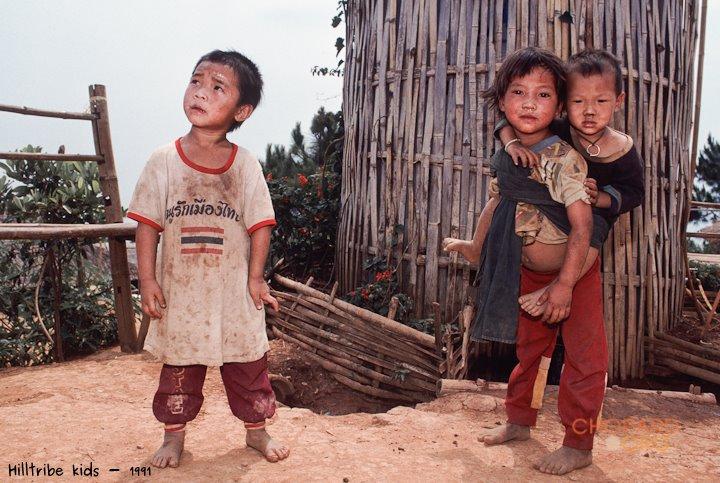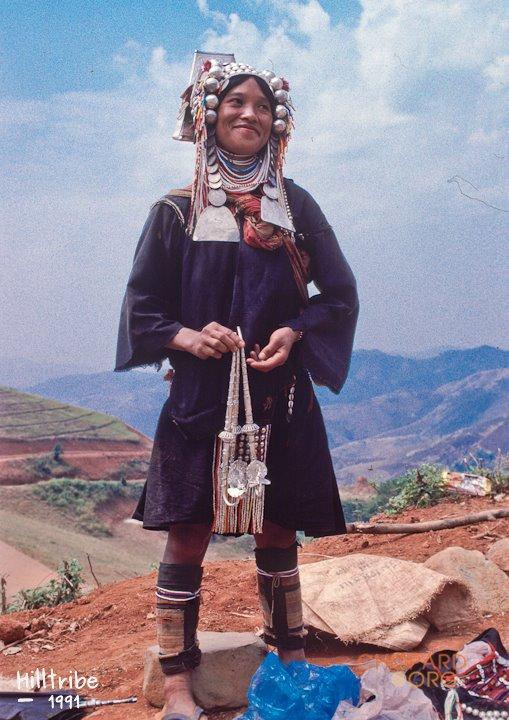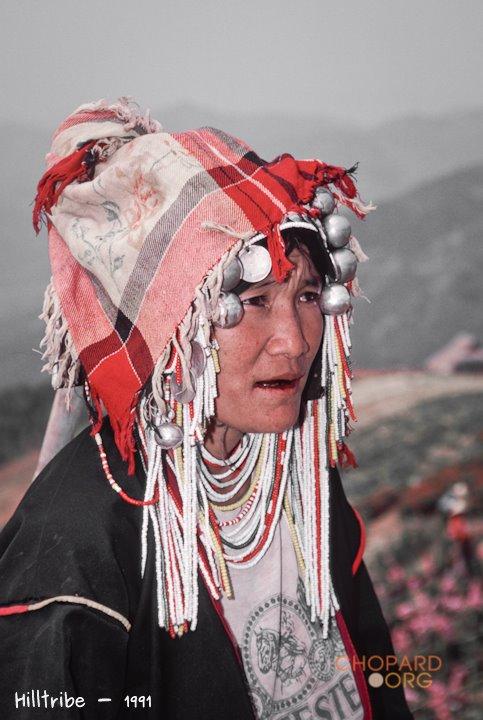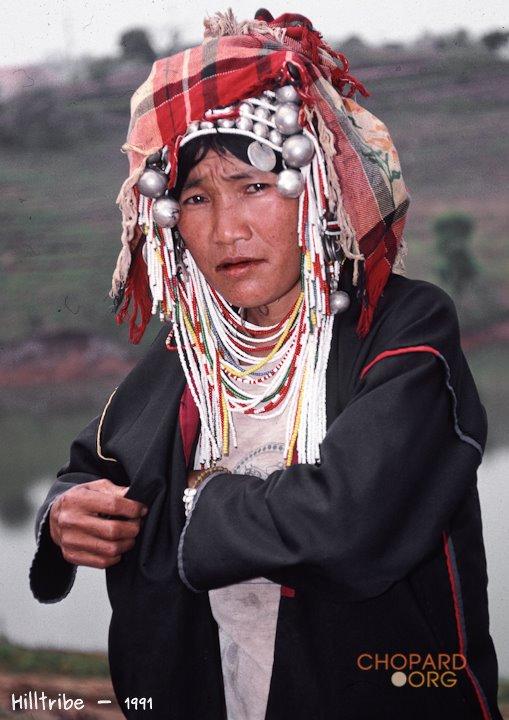 Eventually, I called at Doi Thung's hill base. Partly as a pilgrimage, partly to obliterate memories of my last visit's acrobatic sliding, I walked up the steps, straight to the Laughing Buddha.
When I met the renewed, gilden and polished image, my feelings were mixed. I fulfilled my quest and paid homage to "my" statue, but regretted its new assignment as "Phra Sankajai". I also worship this venerable monk, but it is a different story, he is a different holly man.
The original image allowed pilgrim's to thrown coins in its navel, to make merit and, as I was told, secure a return to Thailand; a charming tradition, probably weird in its new role. Now the navel has been sealed, and a Theravada civara robe dressed around its upper body.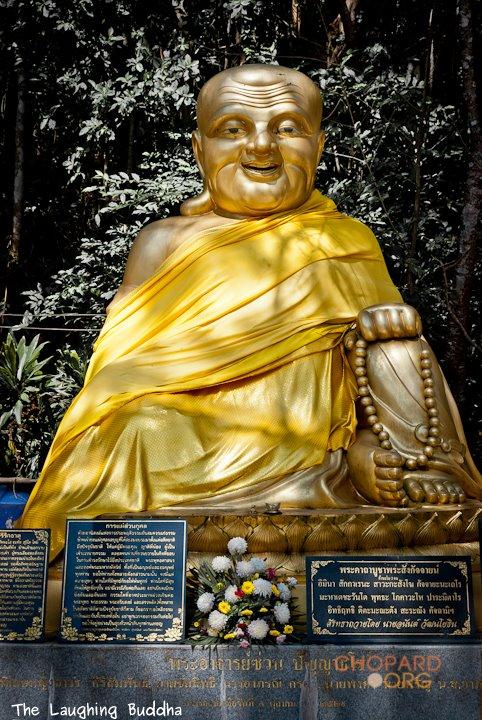 Pictures from my first visits show the Laughing Buddha in the winter season, dressed with a robe, but keeping the navel accessible to "merits". In the second photography, I rush to getting my "return ticket" to Thailand, and then, I ring the bells, to add another good deed.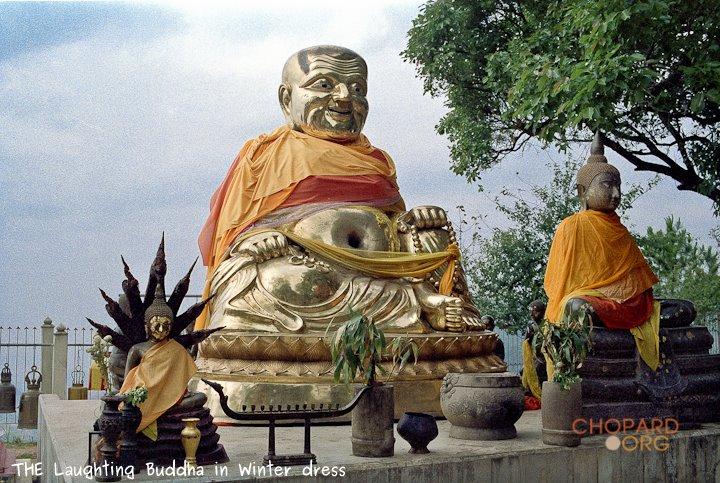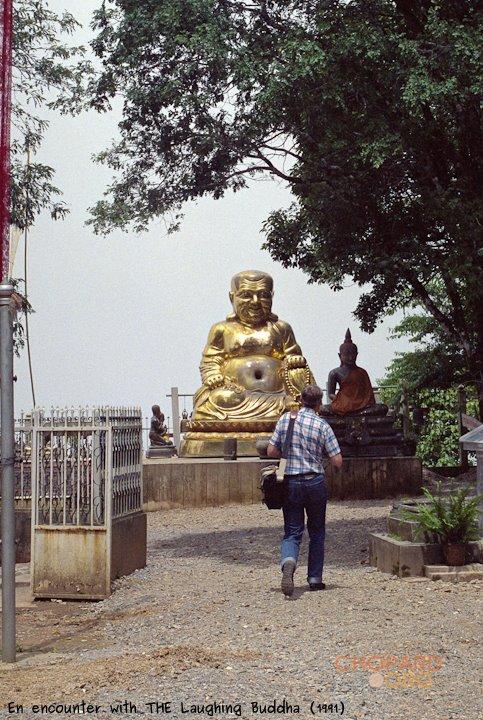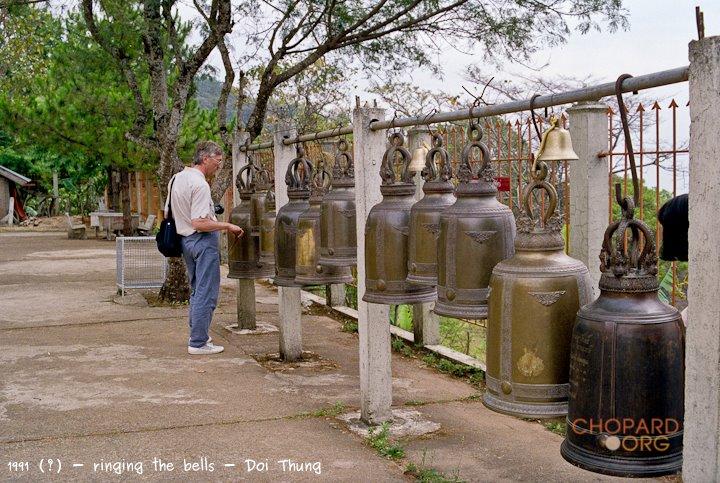 Wat Phra That Doi Thung is an important worship place. The Lanna style chedis are believed to contain a left collar bone of Lord Buddha. They were renovated by the famous Chiangmai monk, Khruba Siwichai, an active builder, and Doi Suthep's road initiator.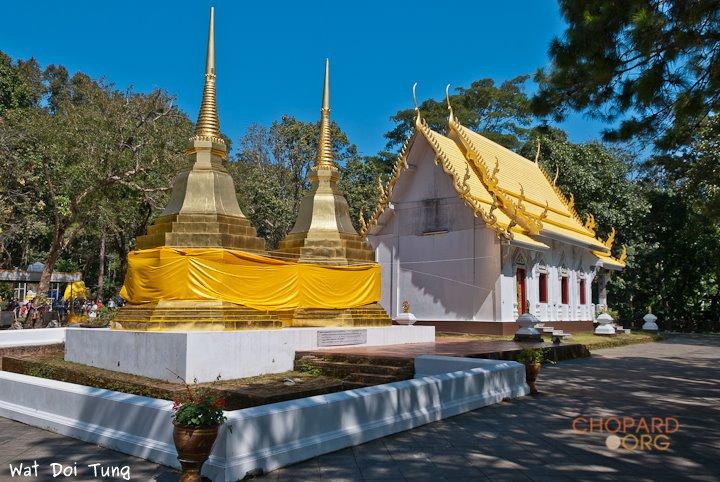 (Information about the assimilation between Phra Sankajai and the Laughing Buddha can be found, as an endnote, in my first story : https://www.gt-rider.com/thailand-motorcycle-forum/threads/34907-North-Thailand-1-The-quest-for-the-Lauging-Buddha)
After Doi Thung's temple, the road still climbs, leading to a viewpoint with a panoramic sight toward Burma.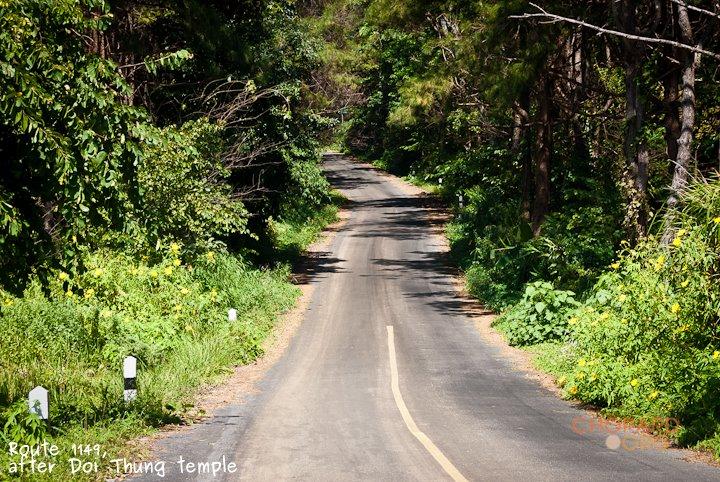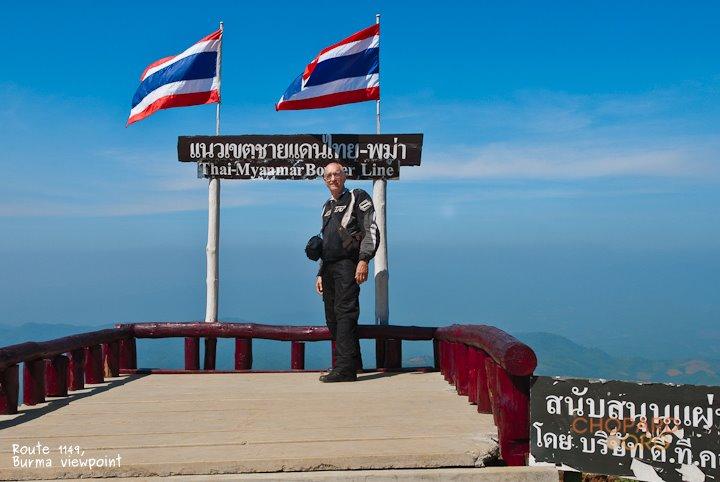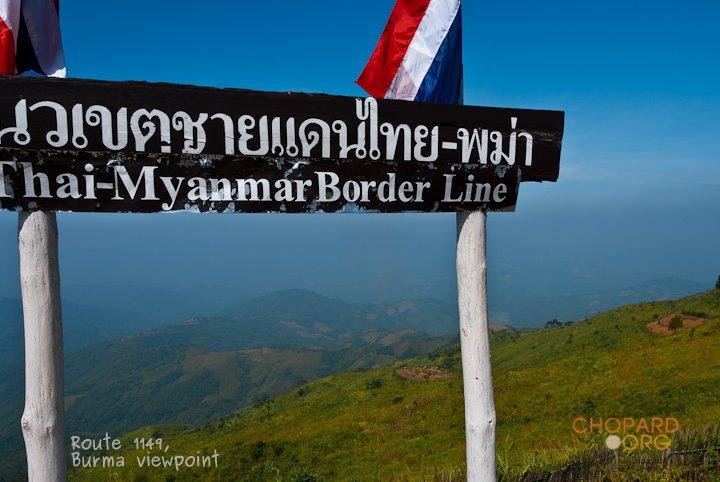 Steep, winding, with ravishing panoramas on both sides, route 1149 glides down to Mae Sai, passing the small Pa Mi village.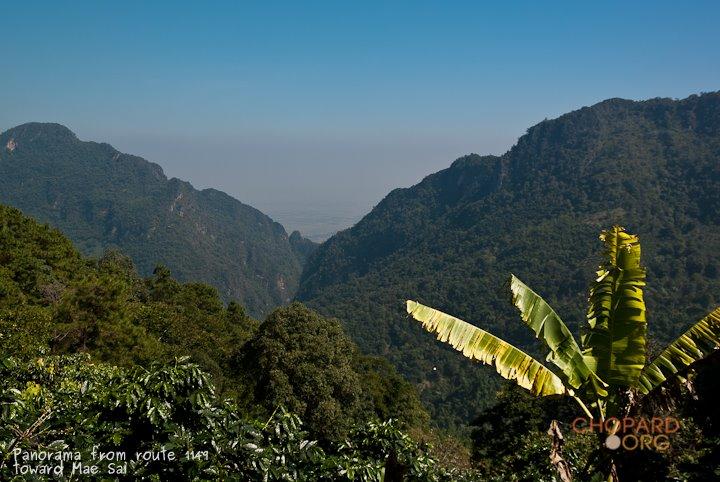 Mae Sai and his sister city Taschilek, on the opposite river side, are now well stocked up markets. During my former trips, the exchanges were mostly agricultural products; but, I also remember a Thai friend, bringing back, "under the bridge", a load of carved teak decorations.
Today the core business are counterfeits or bargain commodities, from copied DVDs to bootleg cigarettes, over fake medicaments, all type of branded goods and cheap hardware products. The bridge is a "highway", a link to illegal merchandises, gaming, prostitution and other dubious activities. The new imposing "custom building", on the Thai side, testifies about the modern border trade's status.
At the other end, the former small barrier was marked "Union of Burma". In 1989 the regime changed the name to "Union of Myanmar", a still controversial appellation, often ignored, to mark reprobation toward the Junta's politics.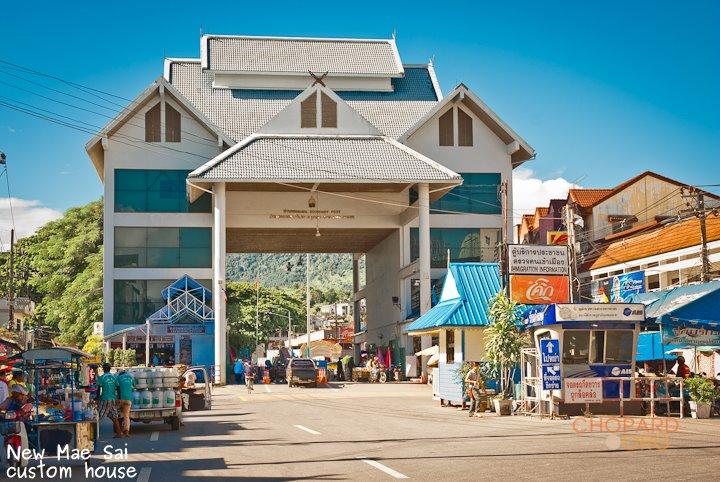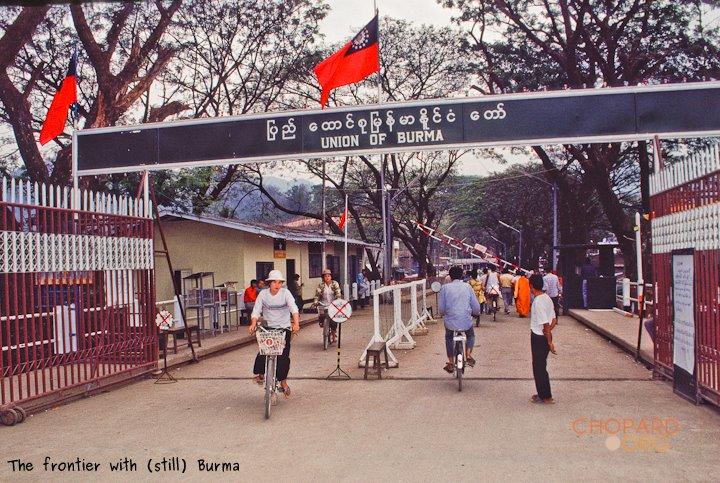 Between Mai Sai and Sop Ruak, a new express link was under construction, with the usual hindrances, as long as it is uncompleted. It will provide a smooth connection between attractions in the Golden Triangle and facilitate tourism flows. During that trip, the situation was particularly difficult, driving me directly south of Chiang Saen.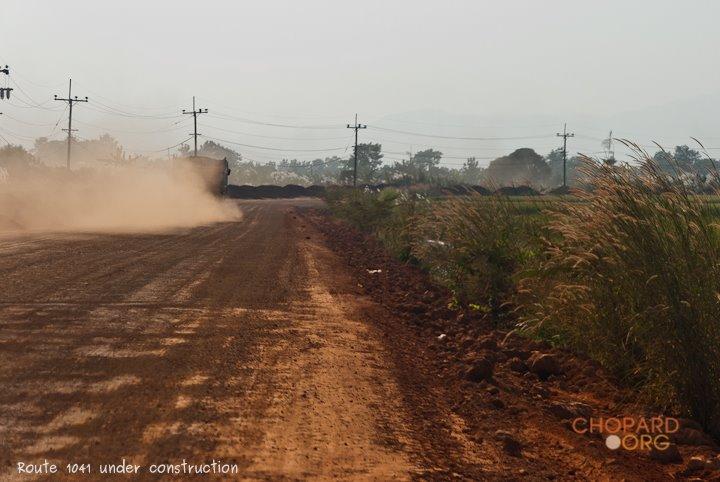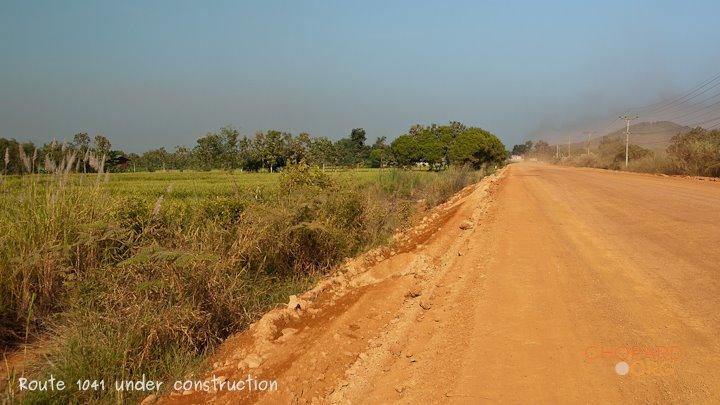 Following the great Mekong's rim, I appreciated route 1129, a link driving me straight to Chiang Khong, one of my favorite cities along this river.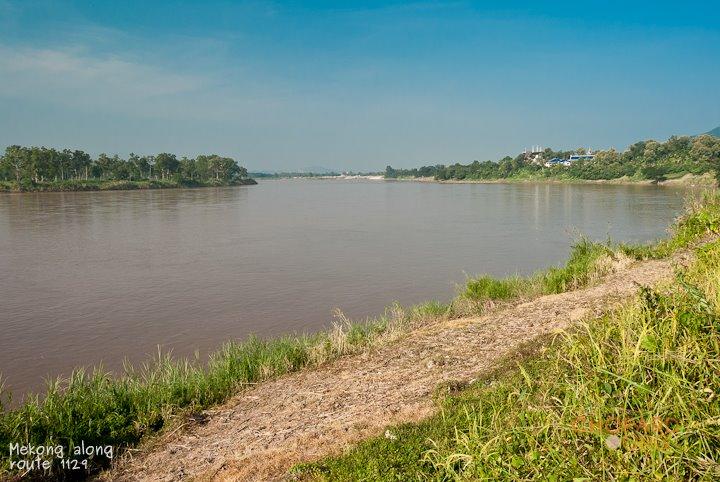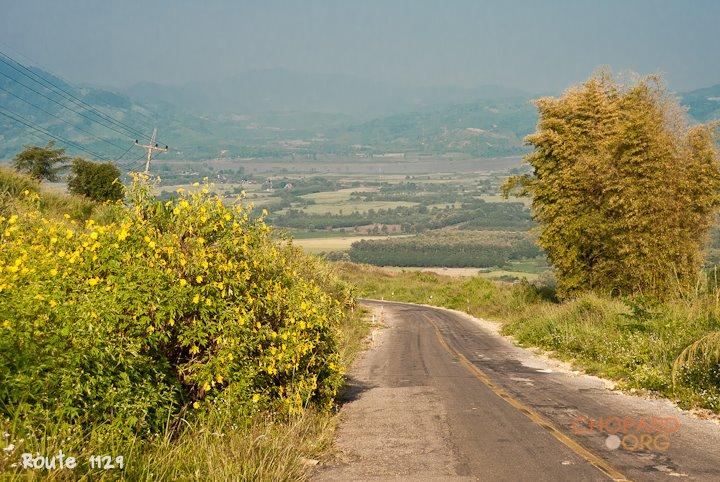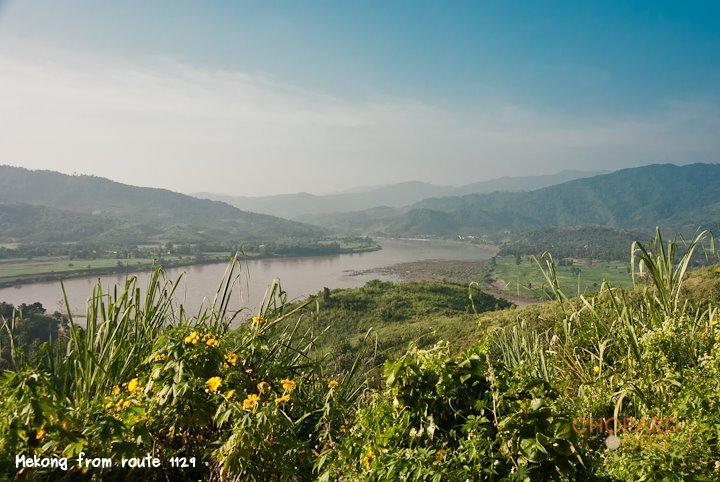 At four o'clock, I checked into Tammila guesthouse, in my preferred room, with a delectable sight over the reposing Mekong.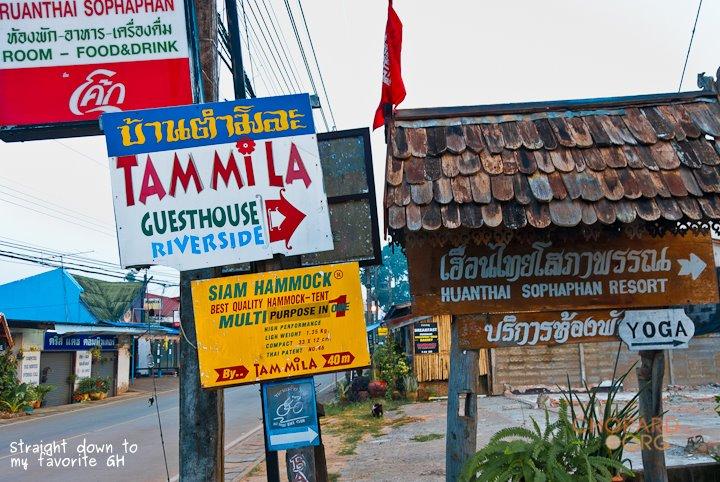 The Golden Triangle
"The quest for the Laughing Buddha", my first drive to ramble around North-Thailand, was over. Before returning home, I wanted to go back to the region's apex, to Sop Ruak, the geographic center of the "Golden Triangle".
Early bright, before the heavy traffic, is a peaceful moments in Chiang Khong. These are hours when the dawning sun pierces the haze, casting warm reflections over the bluish Mekong, and when fishermen, in small boats, pull back their nets, with the day's catch.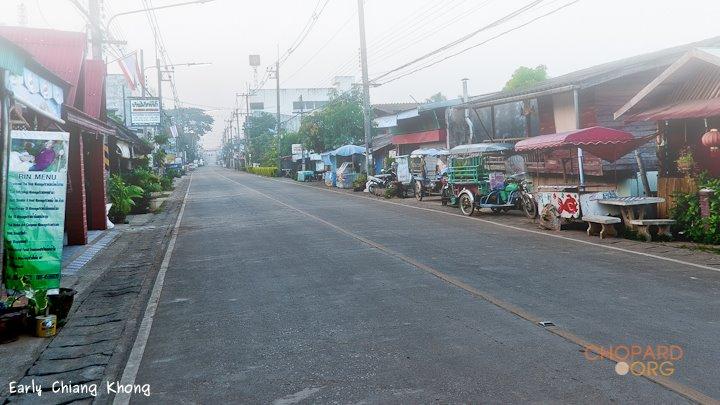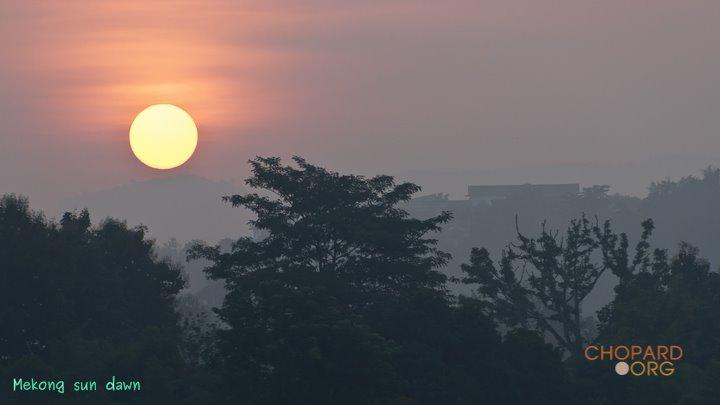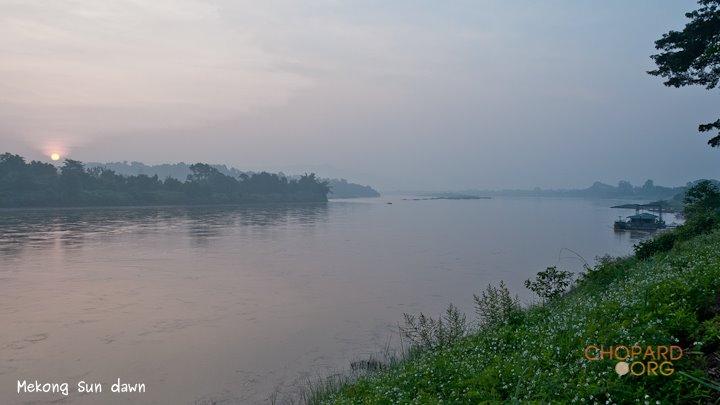 In the fresh morning, route 1129, toward Chiang Saen, was veiled in haze. I bifurcated to route 4007, following the Mekong, but both trails are pleasant.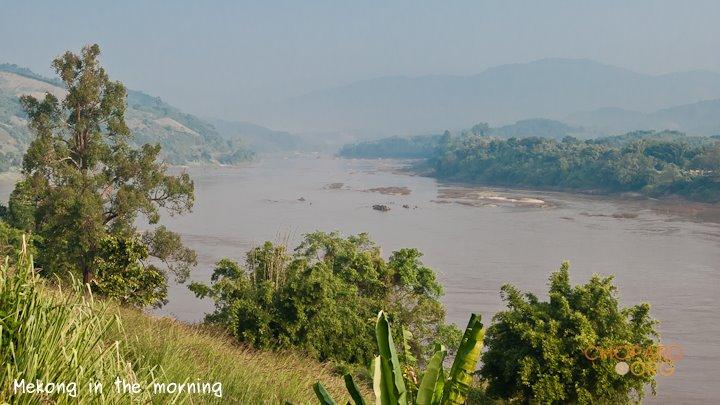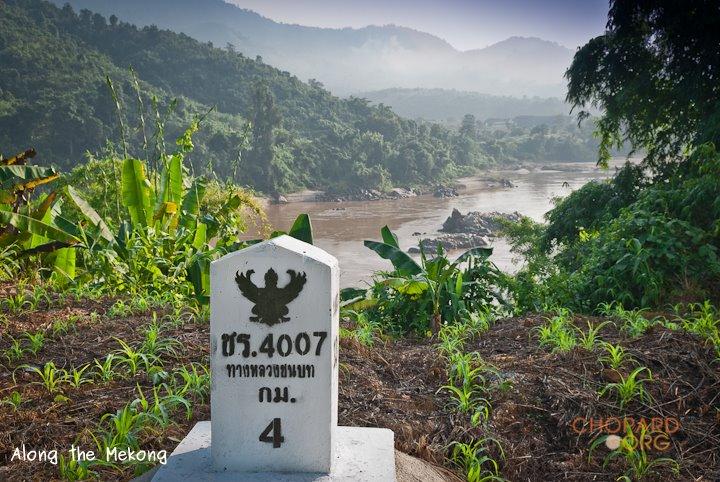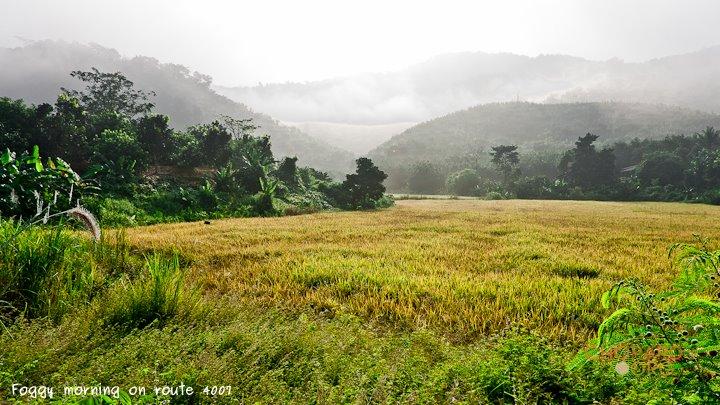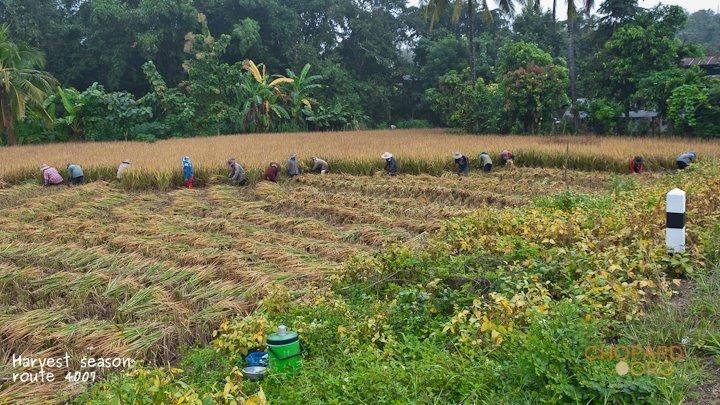 Wat Phra That Hua Kuan is again on route 1129. The temple of 108 Buddha, still under construction, makes a pretty stop-over with a scenic panorama over the Mekong.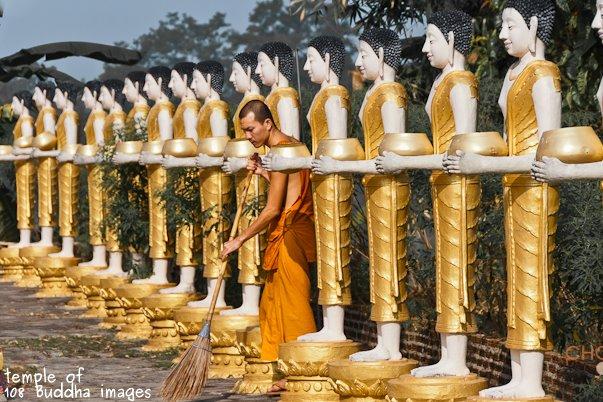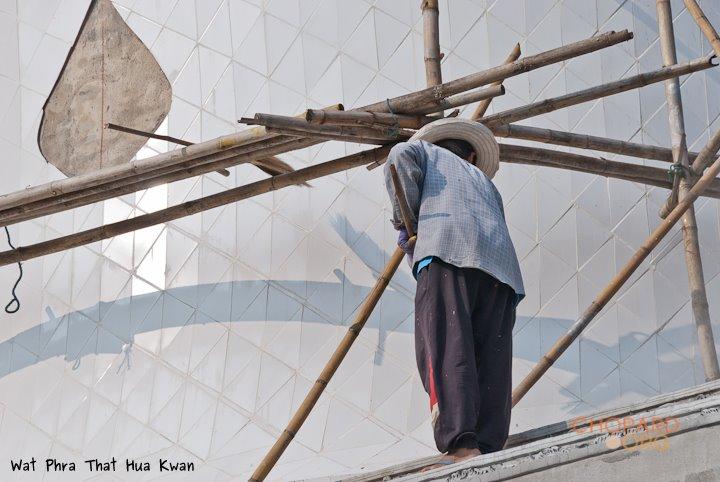 In Sop Ruak, a large signboard points north, toward a sandbank, the Mekong and Ruak rivers's confluence. It is the border point between Thailand, Myanmar and Laos, the physical "Golden Triangle".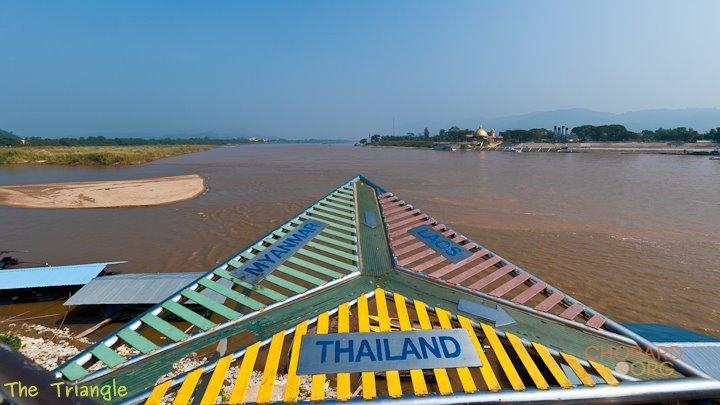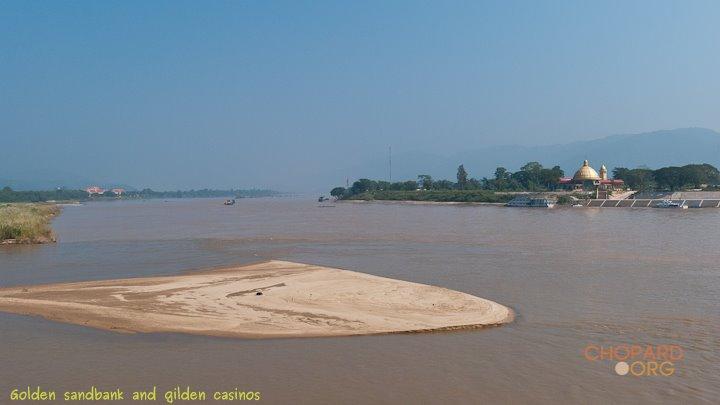 This sandy delta, whose size varies with the water level, is just symbolic. The epithet "Golden Triangle" was coined by Americans, referring to the opium producing region in North-Thailand, Burma and Laos.
Thailand has appropriated the name to promote Sop Ruak and his attractions, whereas, for bikers, "Golden Triangle" largely covers North-Thailand, with driving itineraries referenced on the GT-Rider map and GT-rider website.
References to poppy flowers, opium-smoking and a once lawless region are fading out. For instance, new panels, in the surroundings, are less (or no more) decorated with the "papaver somniferum" flower.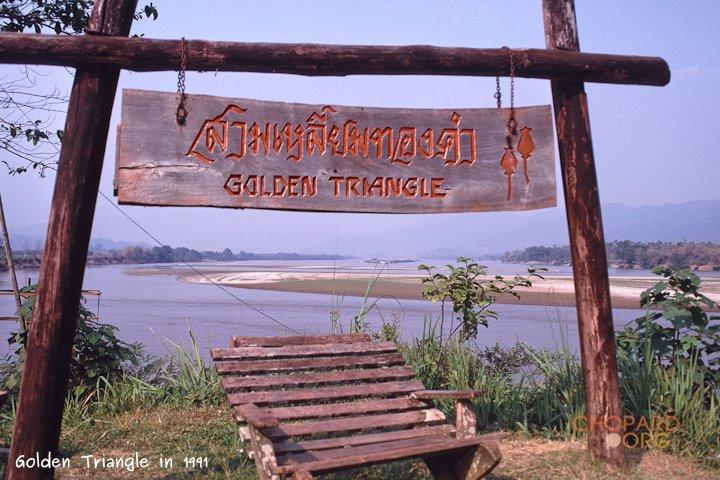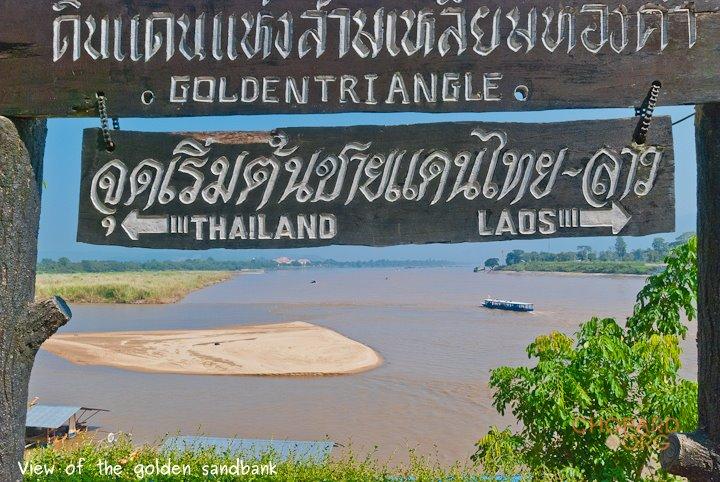 Other amazing developments are the casinos constructions in Burma (Regina, Allure, Paradise) and the new mega project in Laos (Kings Roman Group). Illegal in Thailand, they attract gamblers over fuzzy borders. These types of businesses often raise questions about their investment's source and the cleanness of the chips.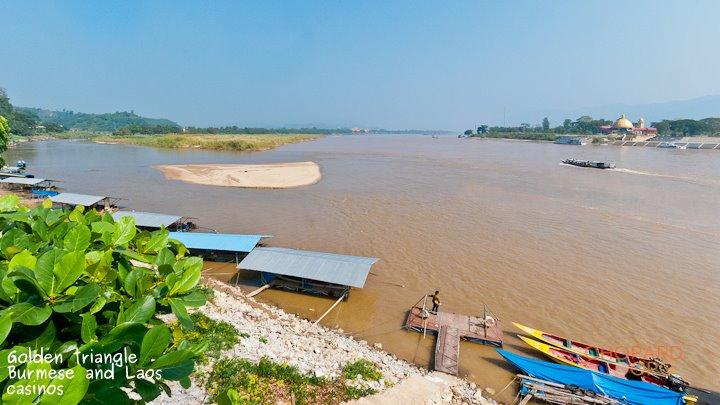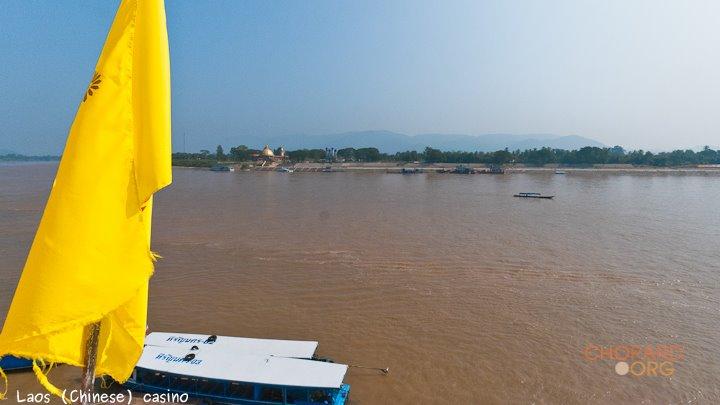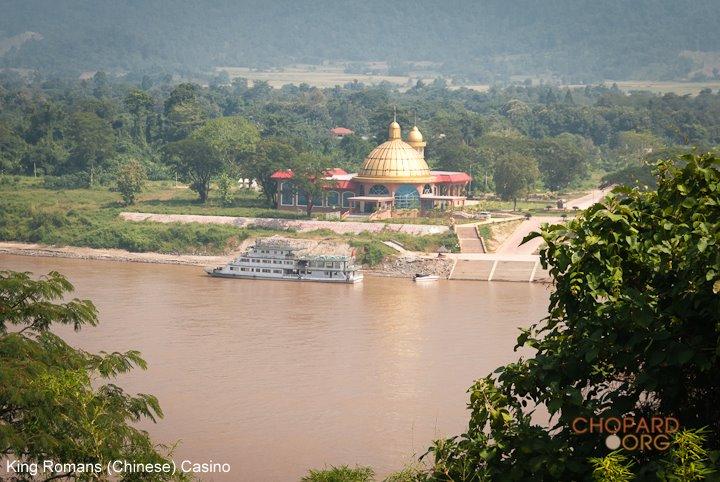 A large Buddha image cruising on a "Lucky Boat" has been built as an inescapable tourist attraction. The steel ship is also home to a Chinese "Laughing Buddha", a "money glutton" with and insatiable navel. Whereas "my" statue required some pilgrim's ability, in order to make merit, this one has "spilling proof" channels, leadings the offerings straight to target, with a big laugh, from a loudspeaker.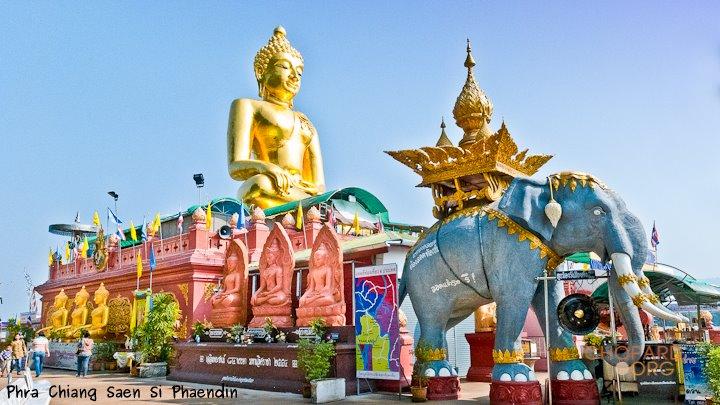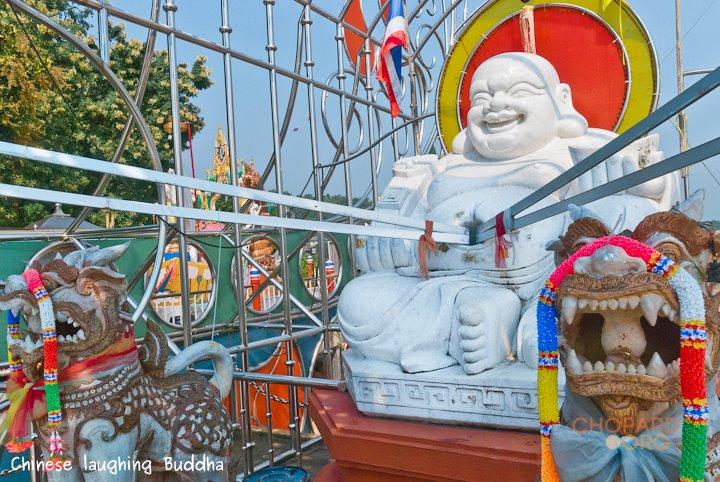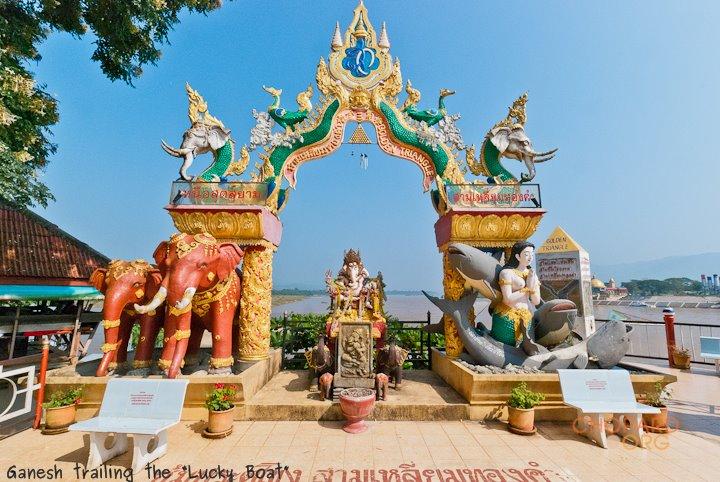 During my first trips to the Northern regions, I had visited a small opium museum, located in a hilltribe village (on Doi Suthep?). It showcased a tiny plantation and illustrated addiction's dark side (with black puppets).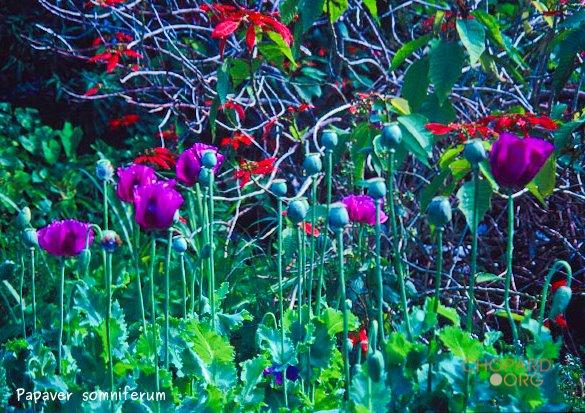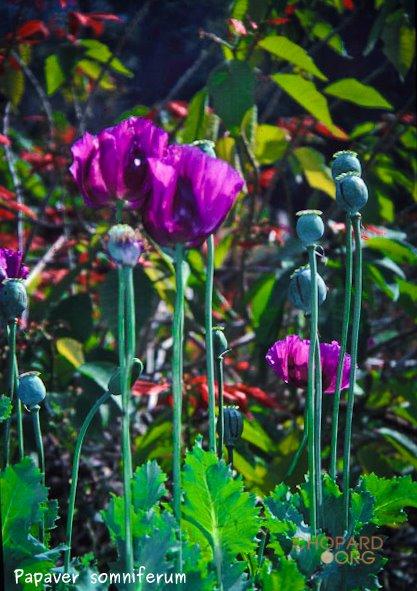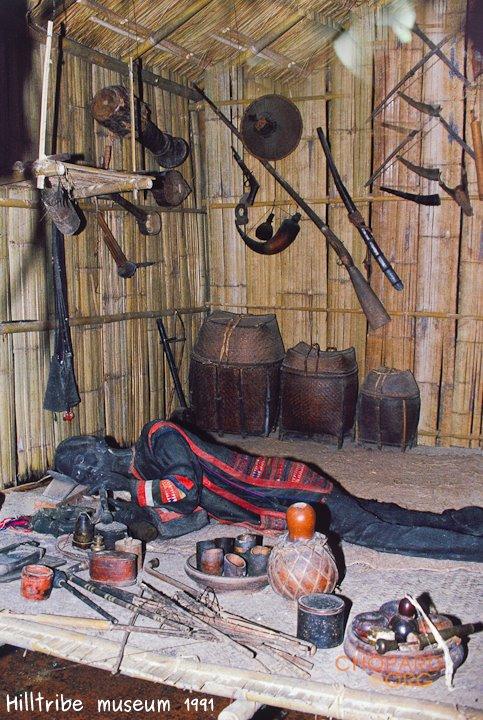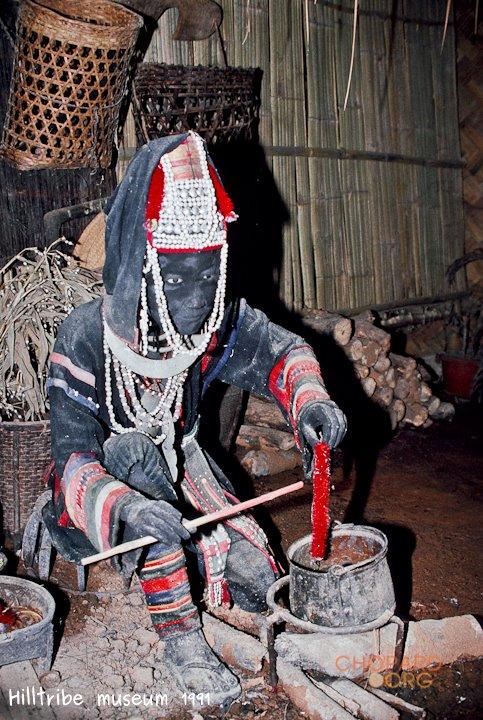 This time, in Sop Ruak, I visited the "House of Opium" a more developed, albeit still modest, museum.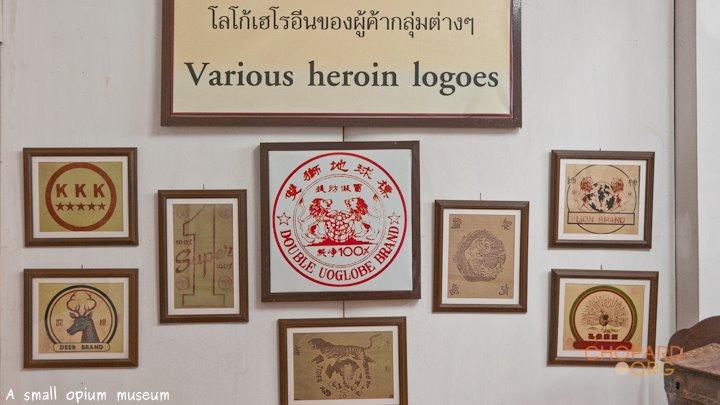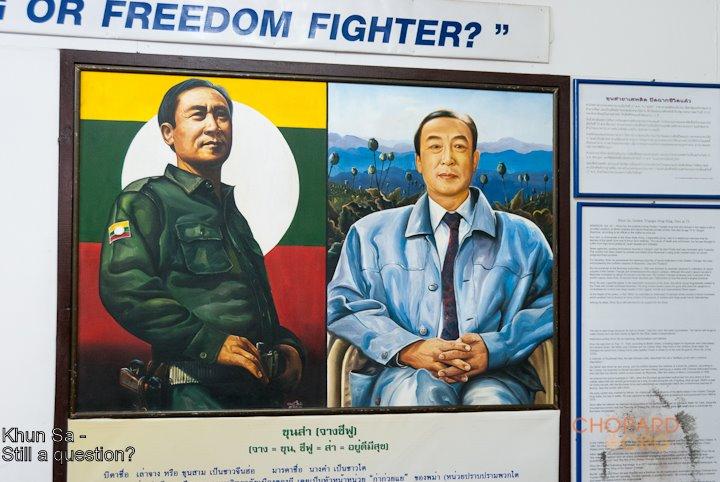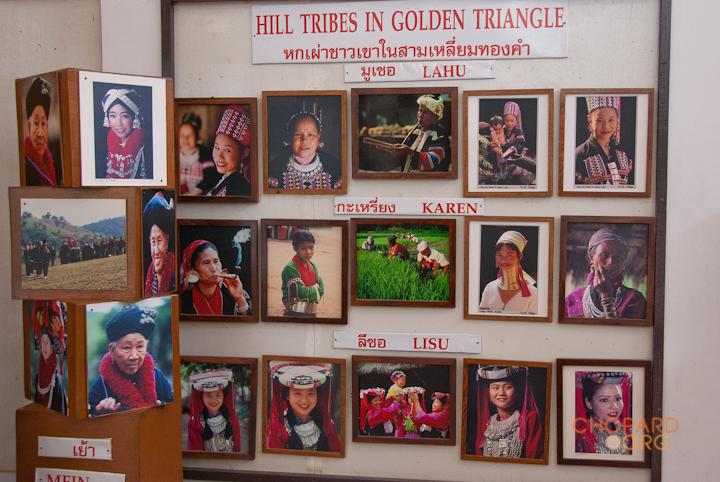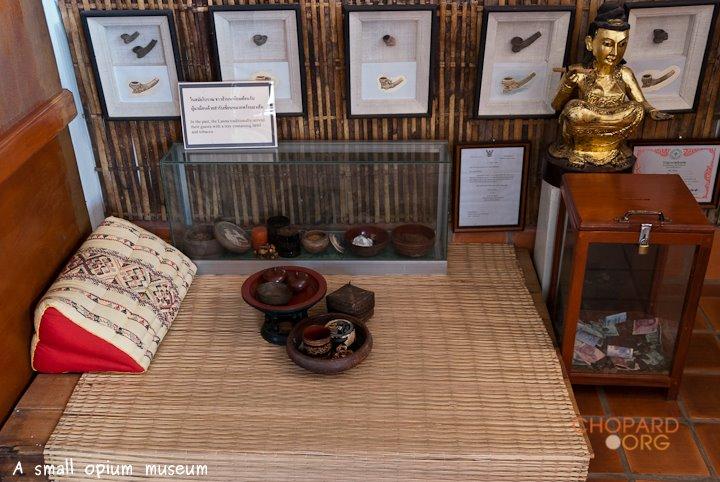 My next call was at the "Hall of Opium", an impressive exhibition with a didactic audiovisual supports, but also an interdiction to take pictures. The historic comments are well balanced, pointing out the boomerang effect of drugs promotion and political exploitation. I remembered Khun Sa's words:
"… Perhaps it is a question of Karma. The West is paying for its past actions".(3)
On my way back to Chiang Khong, I stopped again at Pa Ngao temple, to pay homage to a large Sankajai image. It represents correctly the venerable monk, a contemporary disciple of Lord Buddha.
I also wanted to make a last halt, on route 1129, a Kiu Khan's Hmong village. As it was already packed with tourists, and I glided down the mountain, to my evening R&R.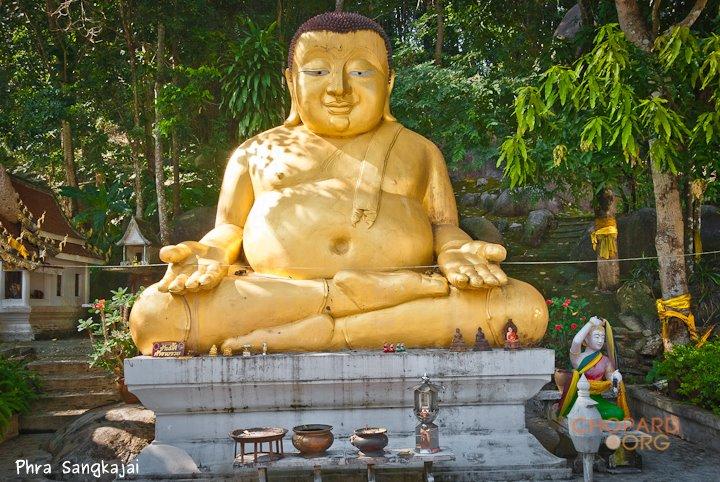 On Saturdays, Chiang Kong's main road hosts an evening market. Ambling along the stalls provides an opportunity to poke into local food, and to chat with the "mae ka".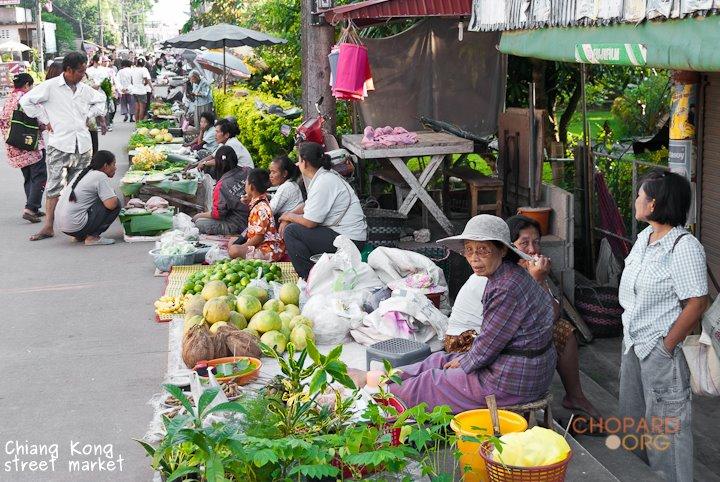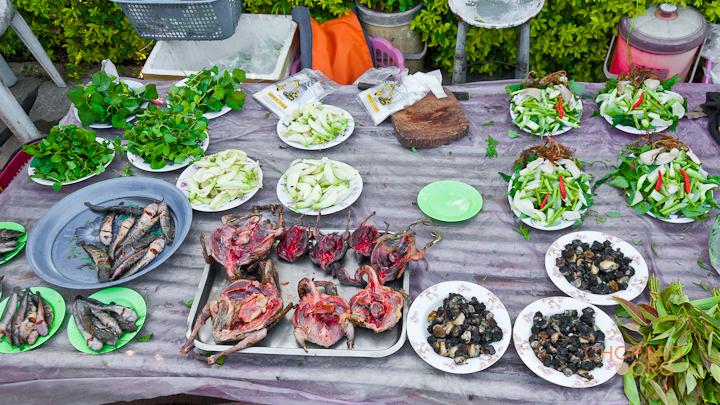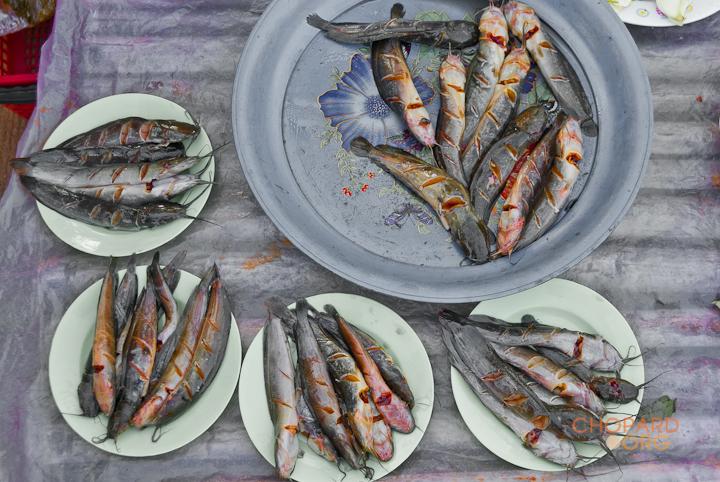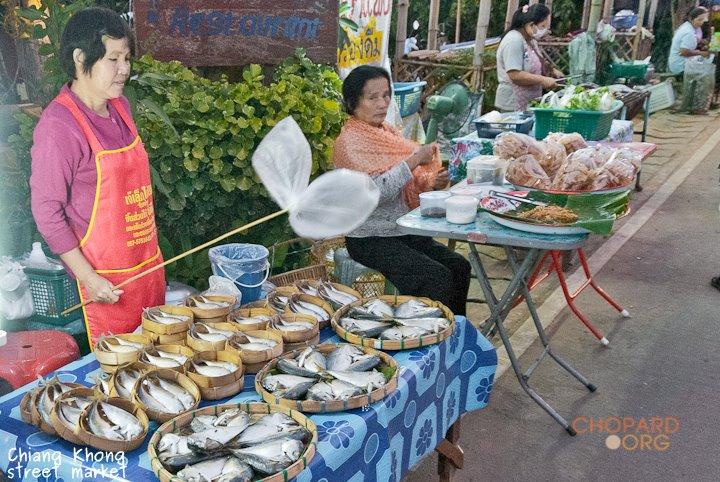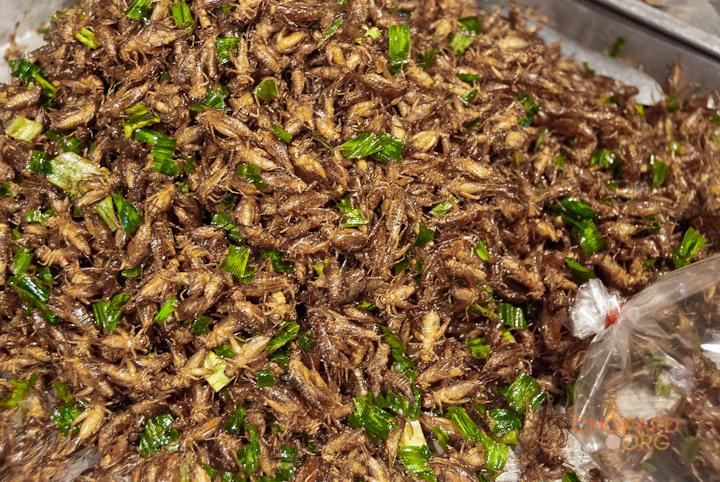 For a change, I like to patronize the « Bamboo bar – Mexican food » in the evening. The owner, with his guitar and always in chatting mood, resembles « Aed Carabao », a famous Thai singer.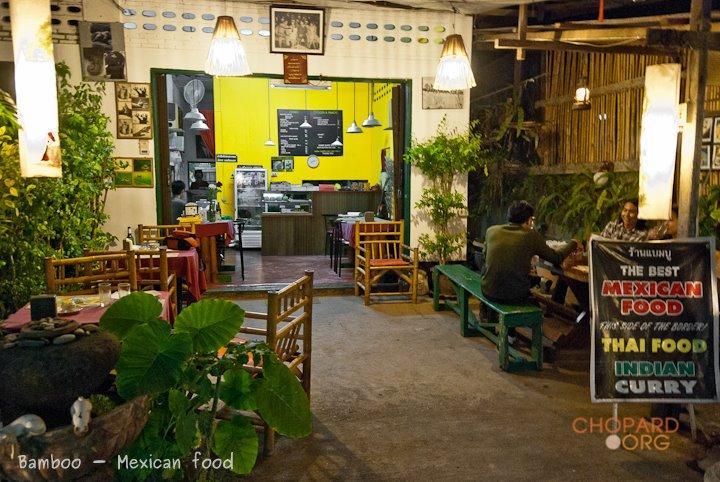 After a lavish breakfast at Tammila, the link back to Chiangmai, along route 1174, 1020 and 118, can be devoured in four to five hours, nearly non-stop. However, during my frequent "excursions" along this trail, I have discovered several interesting spots, worth a stop-over for touring bikers. I have the intention to describe them in a later specific trip report.
In the meantime, I end this report with a shortcut, jumping over the loop's last 280 kilometers, but with a coffee stop in Mae Suai, at "Charin Backery", it is located about half way of the return journey.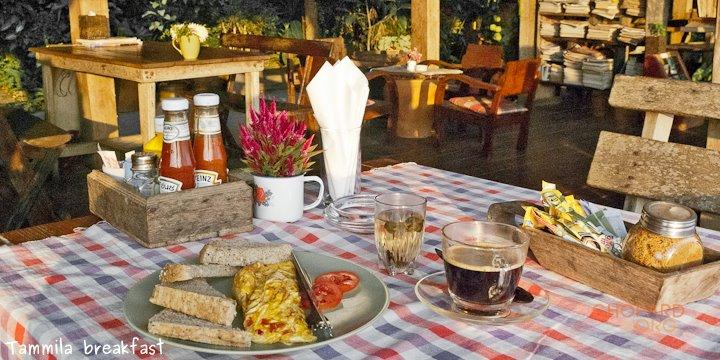 Epilogue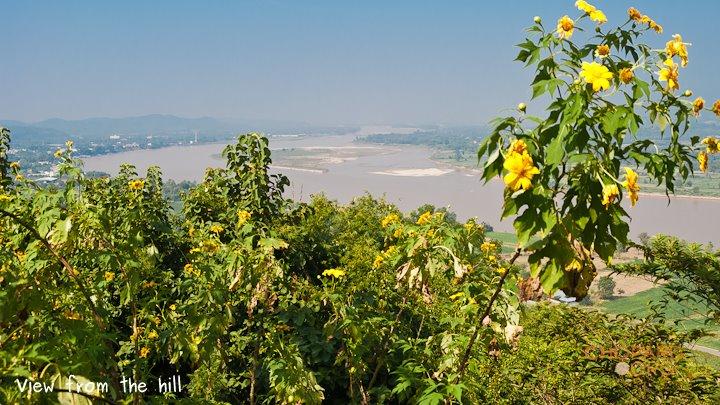 What is the new "gold" in the "triangle": tourism, Vegas style resorts, commercial exchanges in the "quadrangle" (including China's Yunnan), or activities controlled by former warlords, amphetamines production, traffic of bootleg goods, money laundering and extortion.
My information are not reliable enough to draw conclusions, I have just a (non comprehensive) list, showing well known facts:
- Khun Sa surrendered to Burmese authorities in 1996 and died in October 2007.
- Roads up to Doi Mae Salong are paved and the region is now covered with tea
plantations, as alternative crops.
- Royal projects, like in Doi Thung, were successful in providing revenues to hilltribe
people
- A strong anti drug crusade, under Thaksin's administration, was deemed successful,
but it is still controversial. A new campaign was announced by Yinluck Shinawatra.
- Images of poppies and references to the lawless region are no longer driving forces
for tourism
- Casinos were built and mega projects are still under construction
- Opium cultivation has shifted toward Afghanistan
- Criminal syndicates developed methamphetamine production, making these drugs a
severe problem for Thailand
- New roads were added to the network, Asian Highways projects should provide
transnational links
- China is gaining influences and control over resources in North Laos
- Around Mae Sai, "big money" is made from bootleg goods and other dubious
activities
- Armed incidents, on the Mekong, create political tensions, while corpses are floating
down the river.
--------------------------------------------------------------------------------
(1) My other trip reports about North Thailand

Around North Thailand (part 1 and 2):
https://www.gt-rider.com/thailand-motorcycle-forum/threads/34907-North-Thailand-1-The-quest-for-the-Lauging-Buddha
https://www.gt-rider.com/thailand-motorcycle-forum/threads/34983-North-Thailand-2-The-North-by-the-Book
Mae Hong Son and Mae Sot:
https://www.gt-rider.com/thailand-motorcycle-forum/threads/31733-Mae-Hong-Son-loop-twenty-years-later
https://www.gt-rider.com/thailand-motorcycle-forum/threads/31631-Mae-Sot-a-short-loop
Circle around the North Mountains:
https://www.gt-rider.com/thailand-motorcycle-forum/threads/34587-%93An-Unbroken-Circle%94-1.-Upper-North-Thailand
https://www.gt-rider.com/thailand-motorcycle-forum/threads/34748-An-Unbroken-Circle-2-Lower-North-Thailand
https://www.gt-rider.com/thailand-motorcycle-forum/threads/34267-A-loop-through-Eastern-North-of-Thailand
(2) Interesting GT-Rider contributions (Thoed Thai, Khun Sa, Opium traffic):
https://www.gt-rider.com/thailand-motorcycle-forum/threads/34817-ON-THE-TRAIL-OF-A-quot-MULE-quot-A-Drug-Run-Through-The-Golden-Triangle
.
https://www.gt-rider.com/thailand-motorcycle-forum/-und-quotprince-of-death-und-quot-road-trip-khun-sa-memorial-t3096.html
http://www.doi-mae-salong.com/thoed-thai/khun-sa-opium-warlord
(3) A Fortune-Teller Told me
Tiziano Terziani , Harpers Collins 1997
(4) The Politics of Heroin

CIA Complicity in the Global Drug Trade
Alfred W. McCoy, Revised Edition 2003
Covering information, including the Golden Triangle region, till 2002
Reference links:
Incident on the Mekong:
http://www.atimes.com/atimes/Southeast_Asia/KD07Ae01.html
http://www.atimes.com/atimes/Southeast_Asia/MK05Ae02.html
Opium replacement:
http://en.wikipedia.org/wiki/Opium_replacement
Royal projects:
http://www.doitung.org/
http://www.royalprojectthailand.com/general/english/main.html
Thaksin's war on drugs:
http://www.economist.com/node/10566797?story_id=10566797
http://news.yahoo.com/thailand-launches-war-against-illegal-drugs-134008278.html
http://www.asiaviews.org/index.php?option=com_content&view=article&id=23595:reportalias4770&catid=2:regional-news-a-special-reports&Itemid=9
Golden Triangle
http://www.nytimes.com/2007/09/16/weekinreview/16fuller.html
--------------------------------------------------------------------------------
Synopsis: Around North Thailand
1 The quest for the Lauging Buddha
Driving to Chiangrai
Mae Sai and Doi Thung
Temples near the Mekong
2 The North by the Book
Chiang Khong to Nan
Doi Pu Kha
Payao
3 A New Golden Triangle?

Thoed Thai

Climbing to Doi Thung
The Golden Triangle
Chiang Khong and the road back to Chiangmai