Gorgeous weather and perhaps our last chance to escape the city before the mobs return on Monday so a last minute plan was hatched to ride out the the Khlong Tha Dan dam and reservoir which is on the southwest edge of Khao Yai National Park in Nakhon Nayok province. Khlong Tha Dan is also commonly called Khun Dan Prakan Chon Dam and the signage is mixed, but they are one and the same. Ah, just found out why it's got two names:
The Khun Dan Prakan Chon Dam was originally named the Khlong Tha Dan Dam. The Thai authorities subsequently changed the name to the Khun Dan Prakan Chon Dam, which is the stream that flows from Heaw Narok Waterfall. You may still see some road signs pointing to Khlong Tha Dan Dam but most now call it the Khun Dan Prakan Chon Dam. They are the same place.
(
http://www.nakon-nayok.com/khlong_tha_dan_dam.htm
)
Neil and I left from my place at 0830 and met up with Satonic across from Red Baron then blasted out of town. Major roadworks are underway with the widening of the 304 / Suwintawong right now causing a lot of dust and traffic- recommend avoid that stretch until the construction is complete. The 3481 to Prachin Buri is always a pleasant ride- rice fields, rivers, birds and fresh air!
Coffee and cheesecake stop at
Cafe Amazon @ PTT , Prachinburi
.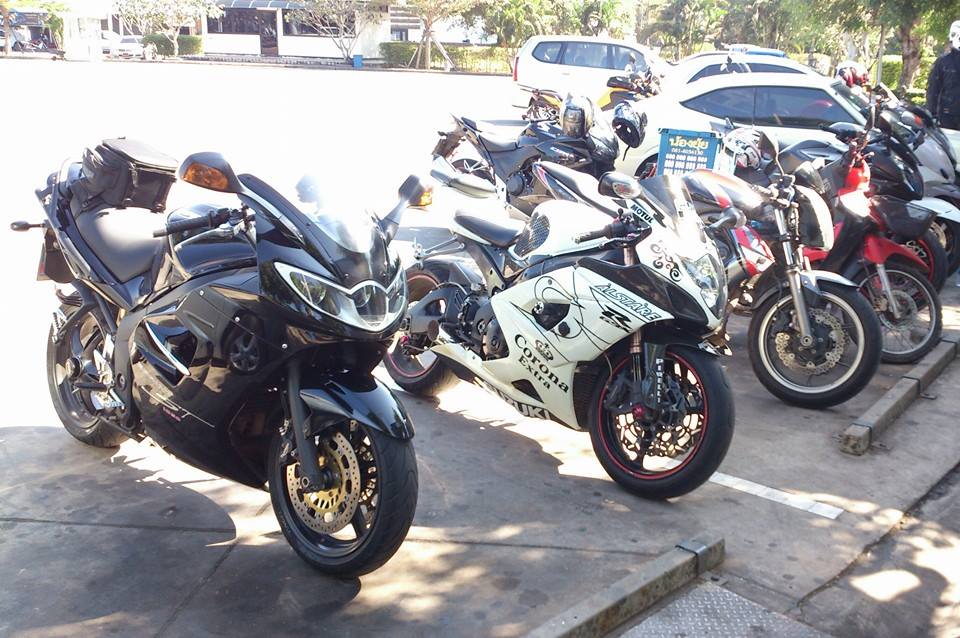 Tons of bikes out and about, smiles all around :mrgreen: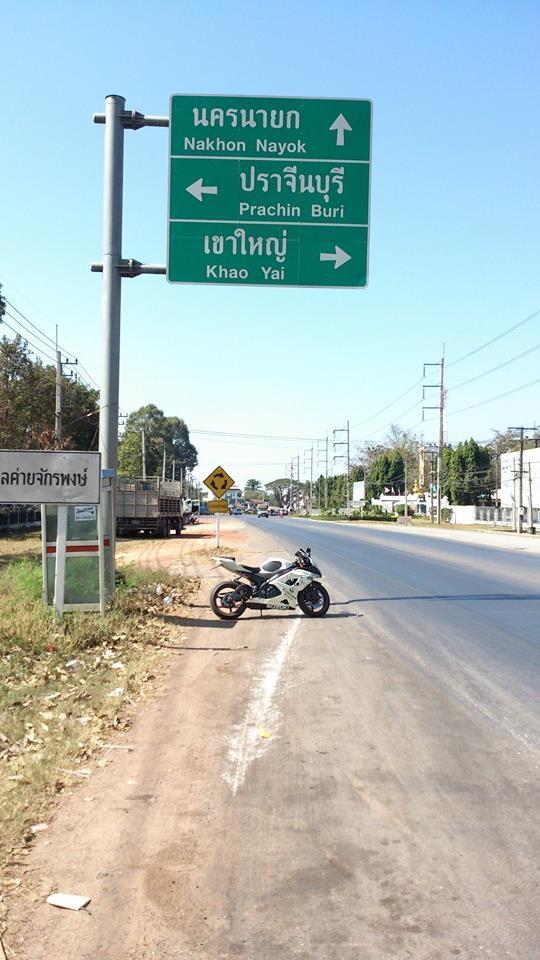 Just as you reach the south entrance to Khao Yai National Park hang a left and ride east on pleasantly twisty Rural Road 4005 and follow the signs past the Wang Bon Reservoir and Wang Mueng Waterfall until you reach Khlong Tha Dan dam and reservoir. It's very well signposted, you can't possibly miss it.
Khlong Tha Dan is a huge hydro-electric dam and is a popular place for fishing and and lake cruises. The dam drains into the Nakhon Nayok river which is a popular spot for white water rafting, canoeing and tubing.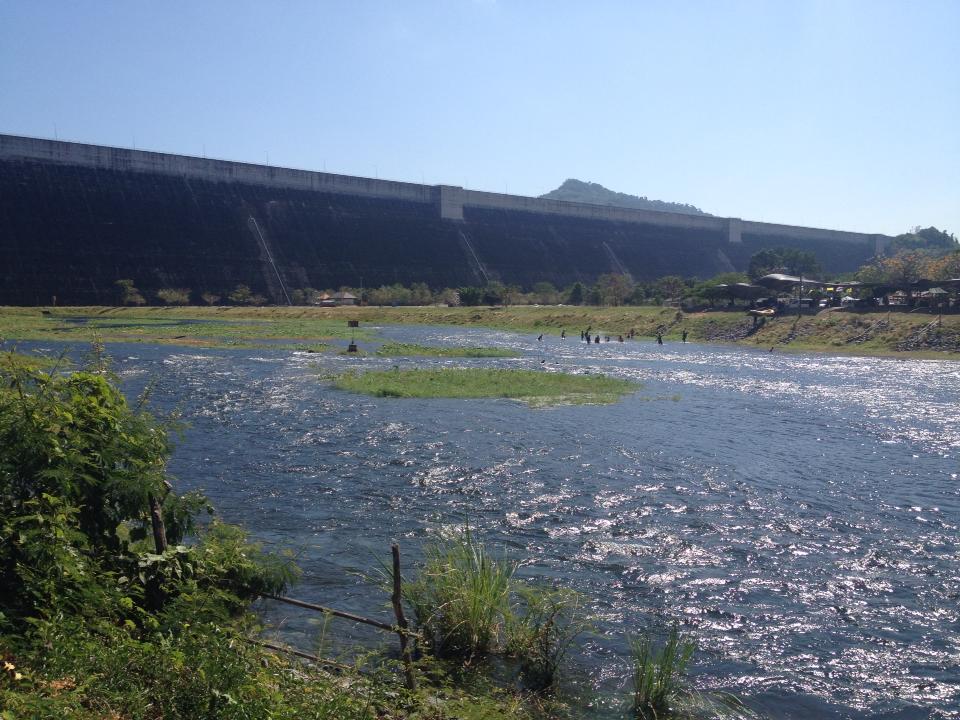 We grabbed a nice spot on the river near the base of the dam for lunch-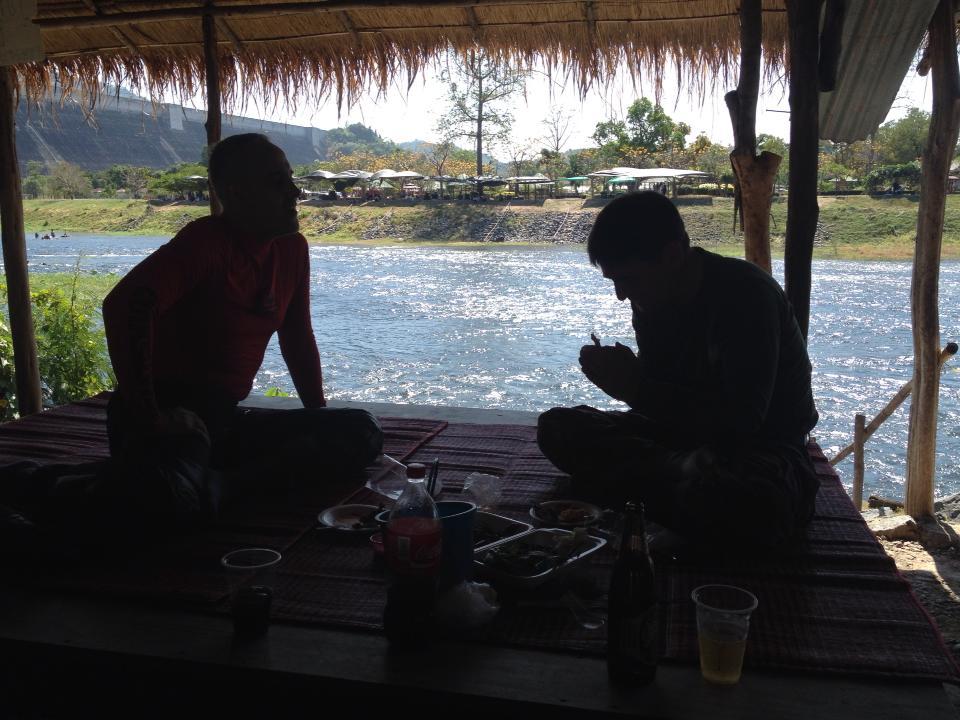 Typical Thai fare- grilled chicken, papaya salad and sticky rice with plenty of Leo beer to wash it all down
We chilled out there for a couple hours- it's a popular spot for families and I want to come back here soon with my kids and take them rafting. Could have easily spent the entire day there but wanted to get home before dark, so eventually we hit the road-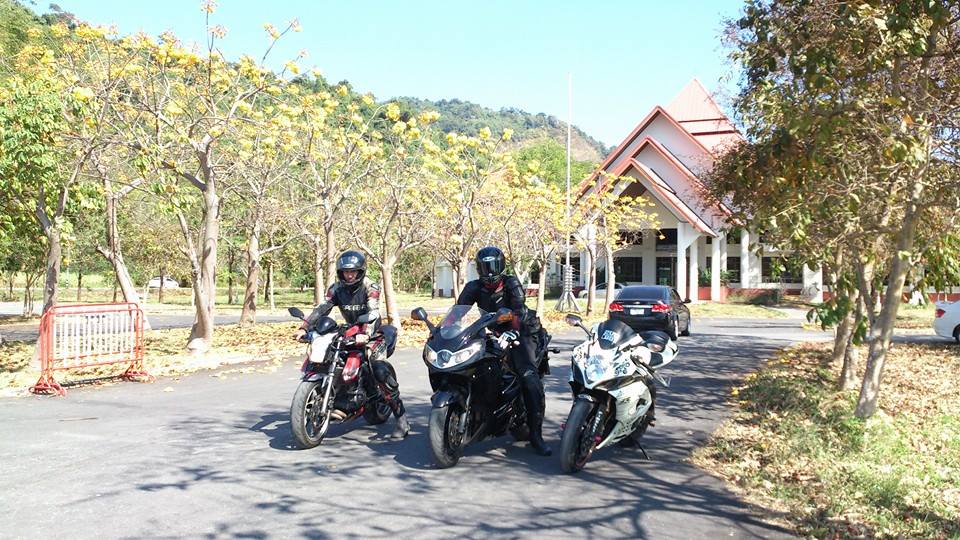 Quick ride up to the top of the dam to check out the views-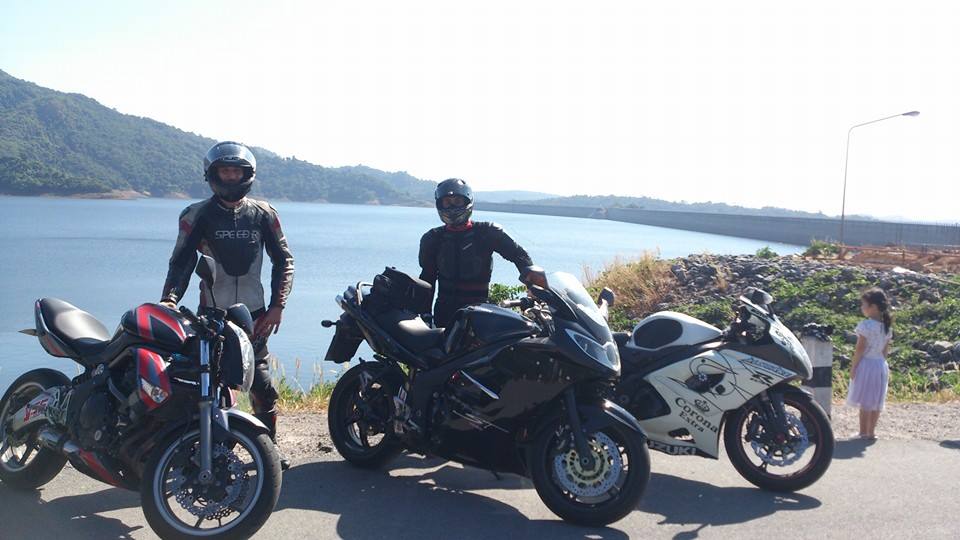 The Three Amigos at Khun Dan Prakan Chon / Khlong Tha Dan Dam :mrgreen: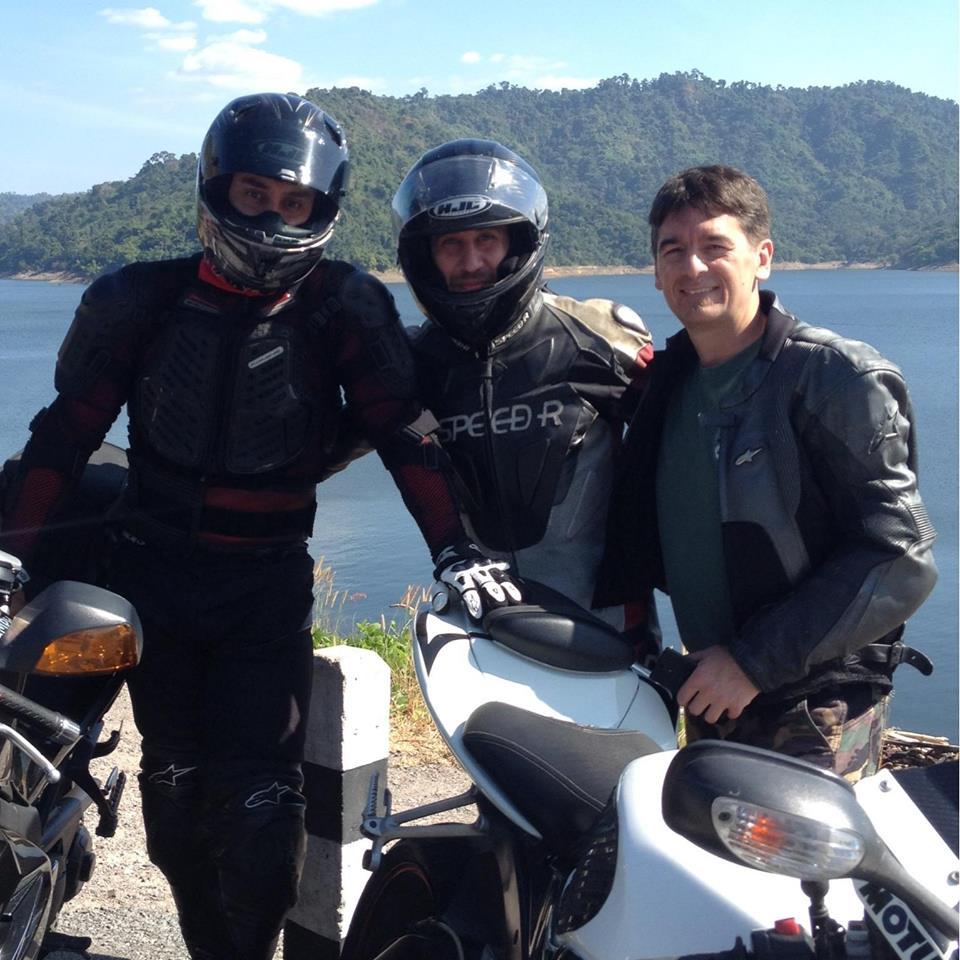 A wicked-fast blast back into town on the 305 and 4012 to Nong Chok. Here's a map of today's loop: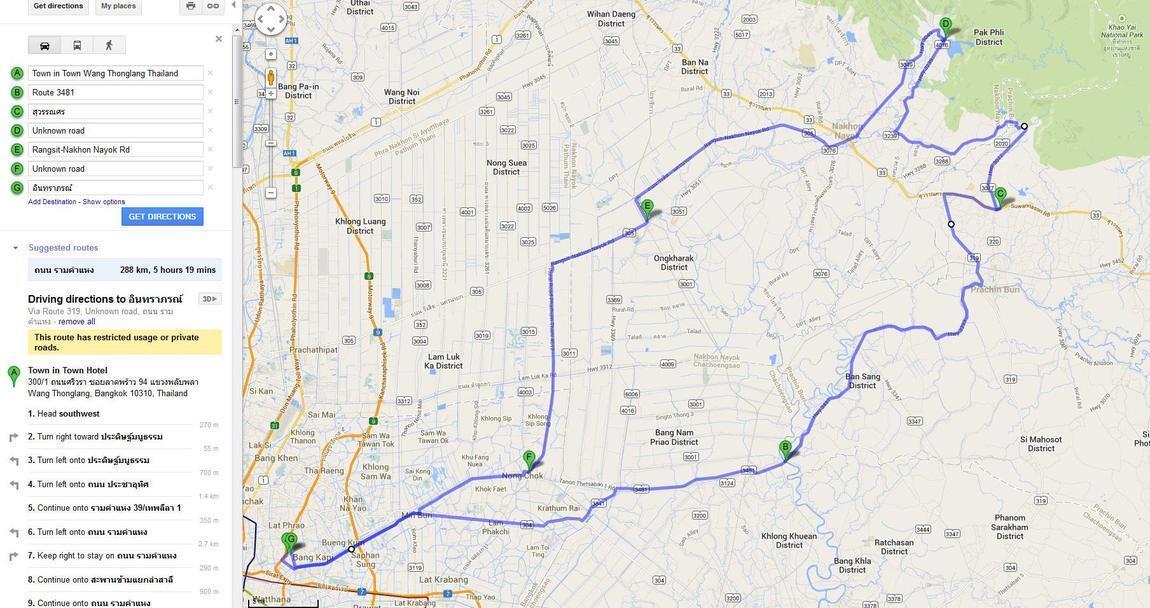 Google maps link:
https://maps.google.com/maps?saddr=Town+in+Town+Wang+Thonglang+Thailand&daddr=Route+3481+to:14.1191261,101.3246231+to:%E0%B8%AA%E0%B8%B8%E0%B8%A7%E0%B8%A3%E0%B8%A3%E0%B8%93%E0%B8%A8%E0%B8%A3+to:14.2214803,101.4037149+to:Unknown+road+to:Rangsit-Nakhon+Nayok+Rd+to:Unknown+road+to:13.7789097,100.6771568+to:%E0%B8%AD%E0%B8%B4%E0%B8%99%E0%B8%97%E0%B8%A3%E0%B8%B2%E0%B8%A0%E0%B8%A3%E0%B8%93%E0%B9%8C&hl=en&ie=UTF8&ll=14.312708,101.321518&spn=0.017798,0.033023&sll=13.805742,100.736217&sspn=0.142697,0.264187&geocode=Fdop0gAdXyn_BSHZAnvPVOHcSimfe3wnBp7iMDHZAnvPVOHcSg%3BFTml0wAdzVwHBg%3BFdZw1wAdTxcKBilnl4aXo6wdMTHUyZk0032a6g%3BFaeu1wAdkuUKBg%3BFagA2QAdQkwLBilj3ESJvU0cMTGiqa6VWTFlAg%3BFe9l2gAdQ_8JBg%3BFaF91wAdWxUFBg%3BFSB60wAdMSIDBg%3BFd0_0gAdJDYABilfEFbt2WMdMTG-1CQdEBItXA%3BFR0p0gAdWjn_BQ&oq=Town&mra=dpe&mrsp=8&sz=13&via=2,4,8&t=h&z=16
Home in time for Happy Hour! :mrgreen: