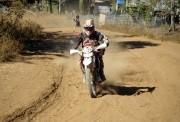 Mar 30, 2010
2,139
278
83
Hi All,
Just a quick report.. This weekend was the Bangkok Run event to Baan Ricky.
On the Saturday we went to the lake and had a nice lunch, then headed to Pilok - Thai , Burma Border.
Great twisty road there.. some loose stuff to slide about on but all good.
Then back to Ricky's place for sunset and a great BBQ and camping on the lawn.
Then today more riding around the trails before heading back to Bangkok at lunch time.
Will let the pictures do the talking :-
Tried the alternate way back to Bangkok to avoid the crazy traffic around Nakom Pathom.. Adds around 30km to the trip and my first time to ride it.. roads are not great.. but you do avoid a lot of trucks and buses head to and from Kanchanaburi and can make a good pace until you get to Bangkok proper.
Breakfast on the way 60km out from Sai Yok Yai
GPS overlay with Google Earth
Google Maps routing.
This is the twisty road to Pilok. Where the gas pipe line comes in to Thailand. Minor road, loose gravel and other stuff on the road.. great scenery.. We all had tyres slide out here and there along the way there and back.. Great ride and lots of fun.
Lunch
Observation area about 12km from the border
Made it on the trusty KLX.. great little bike.
Standing just inside the border on the gas pipeline.. Burma starts at the fence line.
000 marks the beginning of the the gas line.. The guard house and house on the hill are in Burma.. No border patrol or police in sight from either Thailand or Burma.
Standing in side the guard house area
Another guard house that is not in use. This leads to the gas line maintenance road. Best quality road I have seen in Burma..
Lay Krathong
Great BBQ with camping and more riding the next day.
Thanks Ricky for a great weekend and fantastic BBQ. It did get cold at night.. glad I had my sleeping bag..
Cheers
Brian