We would continue northwards up the Mekong Delta staying as far as possible to the east. Such a journey inevitably involves the crossing of many rivers & canals, estuaries & tributaries. The larger, most readily available maps don't include any reference to ferries, the more detailed provincial maps sometimes give an indication, but finding the vast majority of places where crossing is possibile requires 'discussions', well 'sign language', with locals. It would prove a challenging yet most interesting run!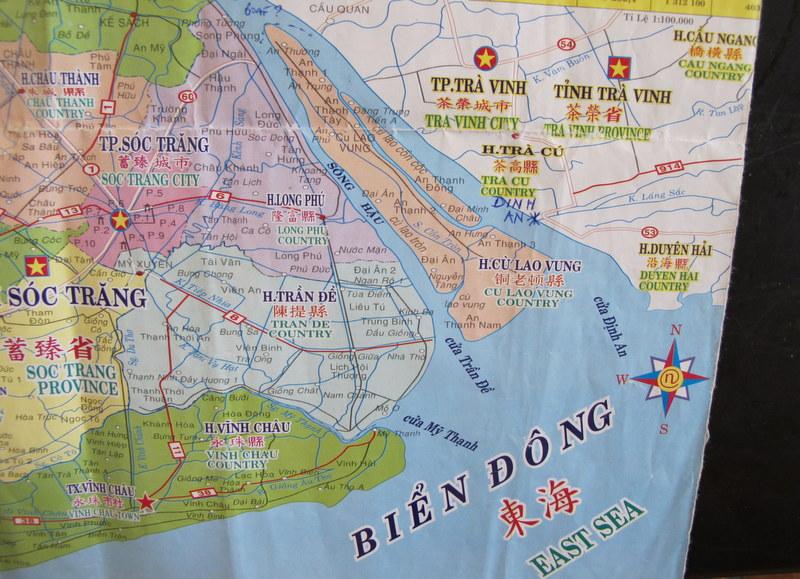 We headed out from Soc Trang along R60 with Dai Ngai in our sights. Its a pleasant run out through countryside we had come to see in the Delta but had sadly been met with the tragic reality of mass flooding. A shot of the countryside showing the bird-life is ever present: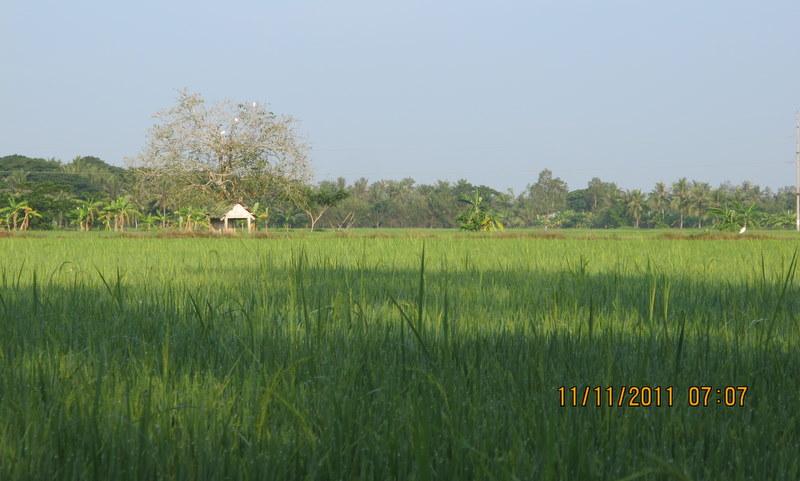 Dai Ngai is a small town typical of many along the Delta yet to feel the weight of tourism with a very active market place & small wharf. By chance I found a 72 year old who spoke french & was able to determine that the ferry did indeed cross to Cau Quan. The ferry wharf at Dai Ngai: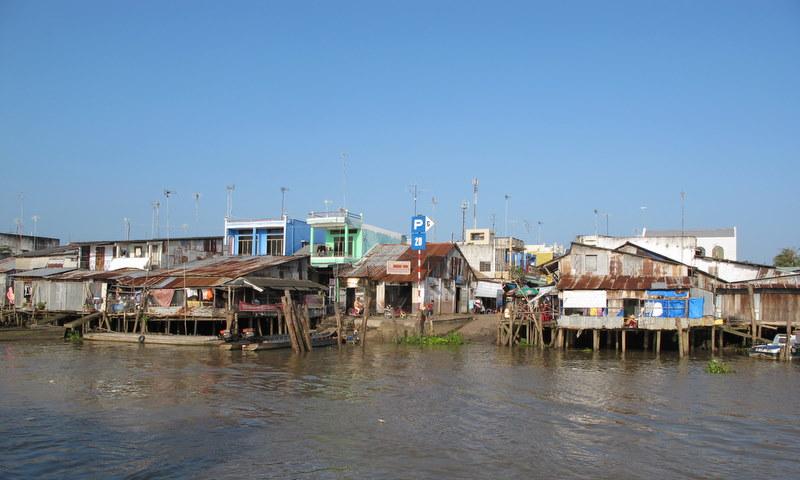 All aboard: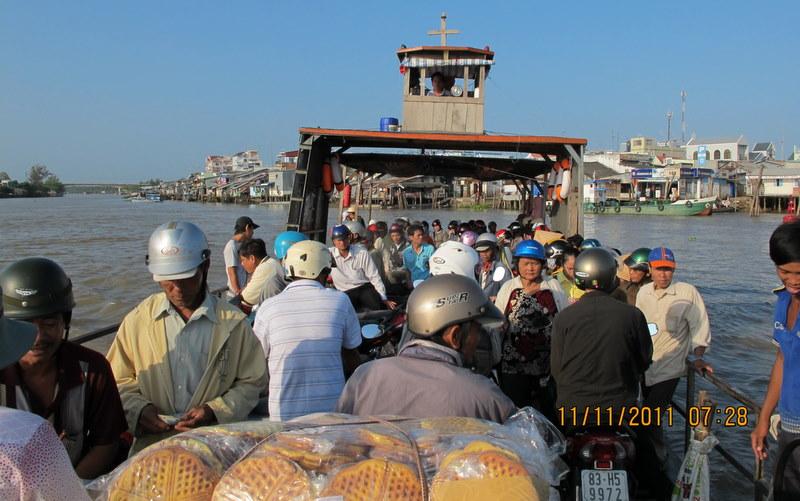 Point of disembarcation:
A closer look at the return ferry being loaded shows the proceedure whereby you ride on then immediately spin your bike 180 degrees on the support leg to ensure an easy egress on arrival: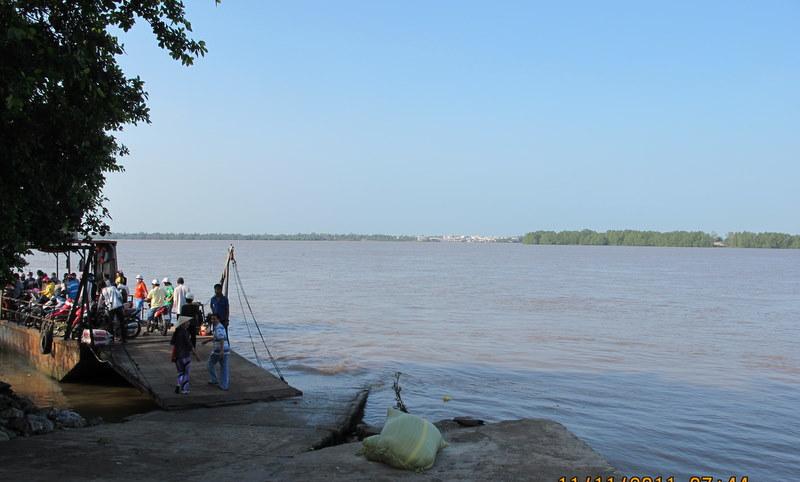 Once back on dry land we rode on feeling invigorated by the isolation, the authenticity of where we found ourselves. The road dog-legged right at a small village we came to determine was known as An Thanh I: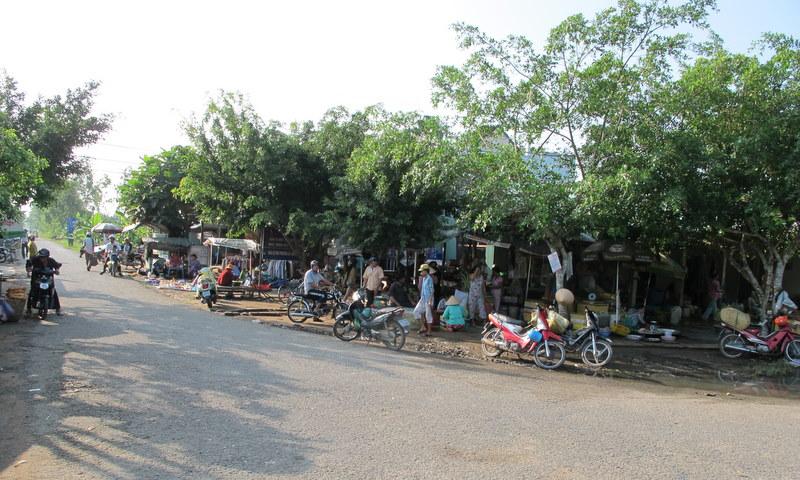 On we rode...........I was checking the GPS but each time I extended out past around 500m the image would show us riding off into the Pacific Ocean! We laughed & rode on, at one stage the GPS showing us some 8kms out to sea! We stopped & asked the way to Tra Vinh from time to time, sometimes receiving a shrug of the shoulders, at other times a 'straight ahead', & yes, sometimes a signal that we should turn back. We arrived at another village, this time referred to as An Thanh III yet knew that on the basis of time & desired direction we were well astray of our intended course. Maps were useless as locals seemed unable to read them, the GPS had us way out to sea, we could not get any agreement as to the way to Tra Vinh from locals. We ultimately acted by taking the route to where most locals pointed but often the road, well path, would just not add up - no way it could be down a small dirt track whilst our mapping showed sealed roads.
On this occassion, when we didn't take the 'track' as suggested & started plouging on ahead, we suddenly found ourselves being pursued by locals on bikes. They indicated we follow one amongst them - down every imaginable back-track, over small wooden bridges, across endless streams & canals, through ricefields & jungle before arriving at: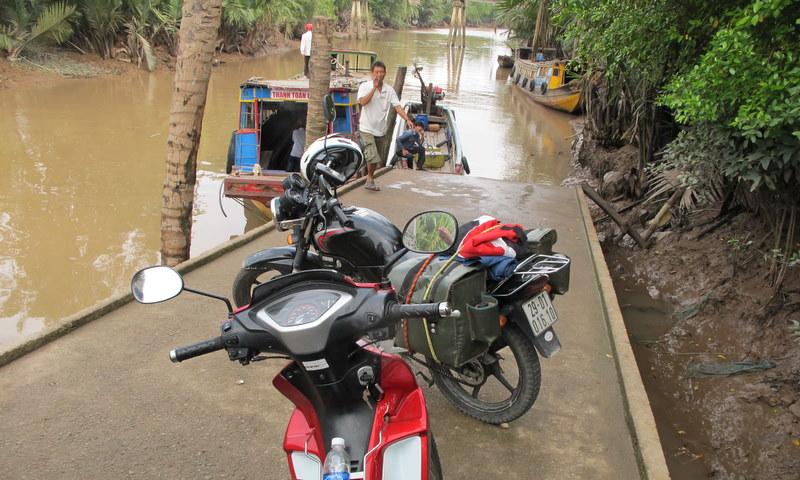 The bikes were loaded - though mine would not fit through the opening without 'adjustments'. It was of little concern on seeing certain other bikes loaded to keep mine company: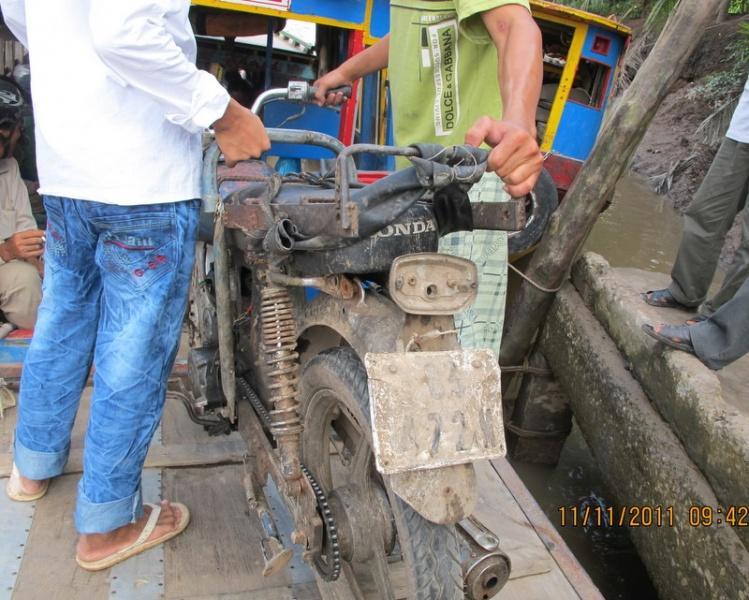 Off we headed as we looked back to the wharf from which we had departed: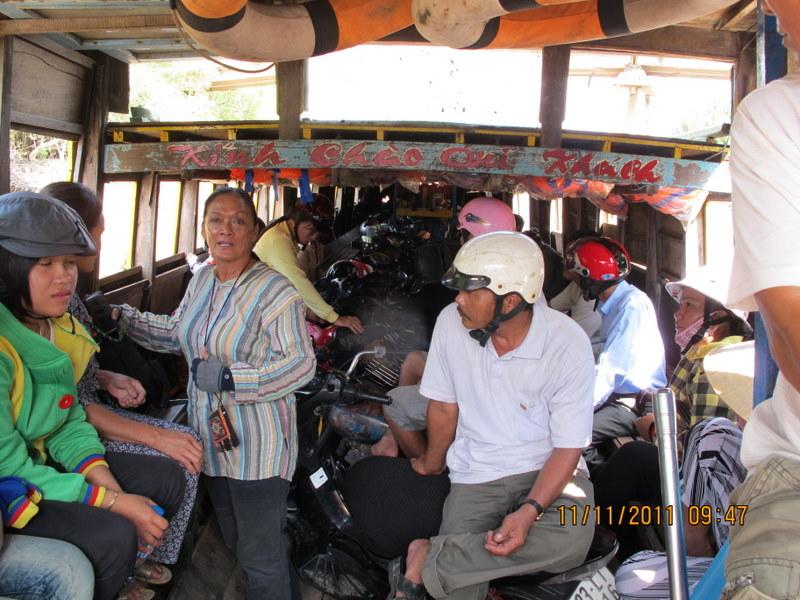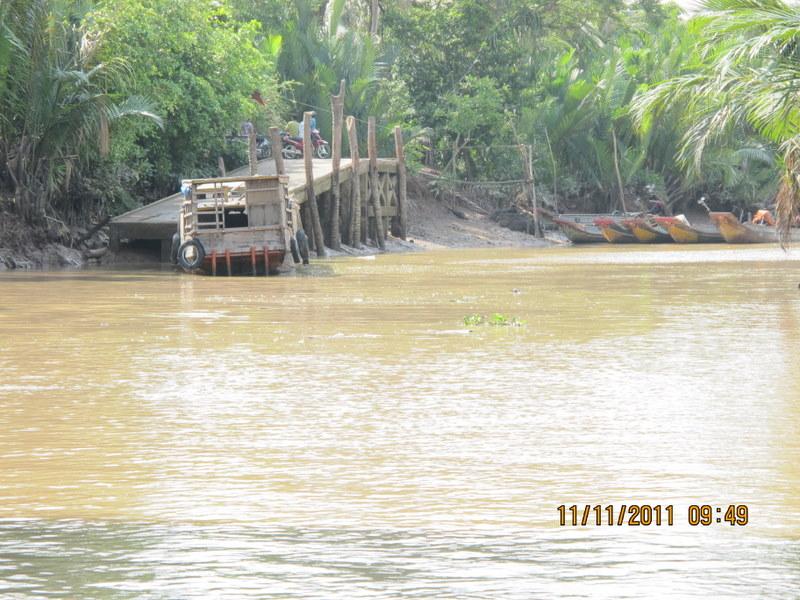 We would find out later that despite the assurances of so many about our arriving in Cau Quan we had actually disembarked on My Phuoc -
my phuoc' ing oath
we had - a smallish island in the middle & at the mouth of the Hau Giang River where it meets the South China Sea.