Poster with details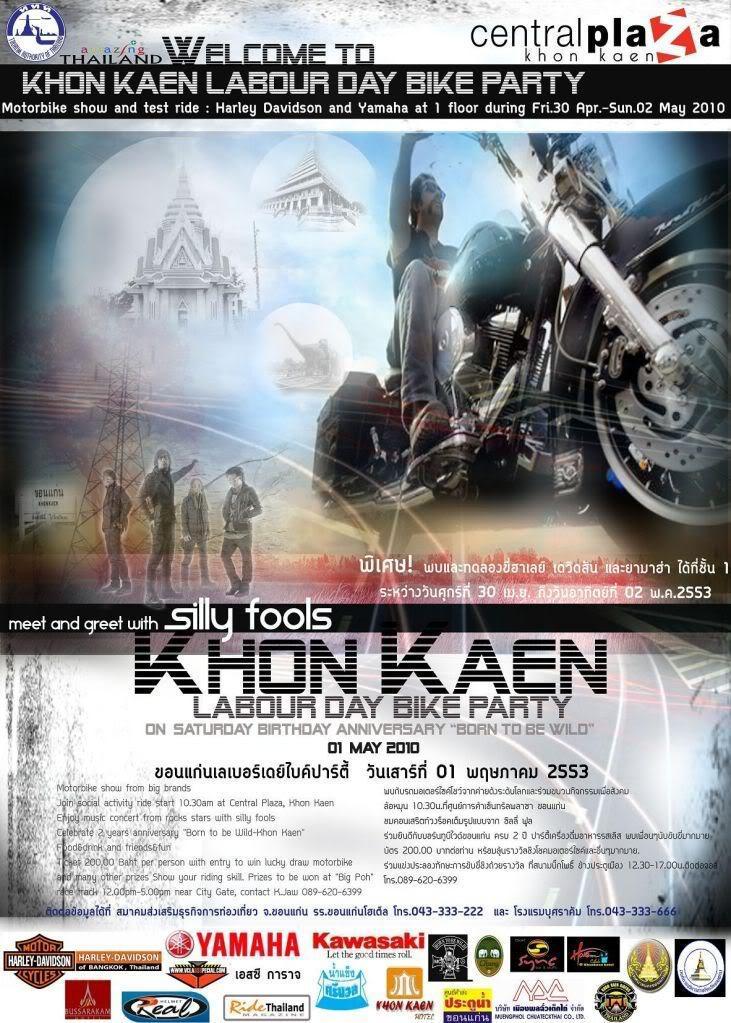 Following KK Bike Week Volume 2 in February 2009, we had decided to leave Volume 3 until the Winter of 2010, probably November, to give us cooler weather and very little likelyhood of rain. This is still our intention. However one of our major sponsors, TAT, the Tourist Authority of Thailand, has been very generous with a donation, but is keen that we hold an event earlier in the year; to promote Khon Kaen town and province as a suitable and constantly improving tourist destination.
To that end we invite you to join another Bike Party on 1st May 2010. The venue is the external space around the new Central Mall, located at the main town gate, on Mittraphap (Highway 2) and Sri Chan Rd, also known as Sticky Rice road or Khao Neaw Road.
Details below.
KK Rider will always try to include some social activity in these events, usually involving visits to meet local orphaned or underpriviledged children and any funds raised are used to help these activities which occur several times a year, apart from the bike week and bike party events.
For any visitors to the area or anyone else interested, I will also be very happy to take a one day bike tour of local roads and attractions on either Friday 31st April, or Sunday 2nd May, or even both if people interested. Please contact me if you wish to do this on 0831501035..
John Gooding
PS. The planning for KK Bike Week Volume 3, for the late part of 2010 will continue, including stands from the major bike manufacturers etc.
I will post a firm date as soon as available.
Khon Kaen Bike Party Sat.01 May.2010
Place: Kao Neaw outdoor space, Central Plaza Khon Kaen
Enjoy music from heavy metal big band "Hin Lek Fai"
We invite all friends to come on Labor day to Khon Kaen. Great food & drink and to enjoy professional music from Khon Kaen town. Meet people and biker friends from around the town. Get to win prizes for free and enter the auction to raise the funds for Khon Kaen Bike Week activity for social work, Participation open to all who interested in any brand or form of biking. We aim to provide an enjoyable event and environment for all who are bikers or have an interest in biking in Thailand.
The New Central Shopping Mall is a great meeting place, easy to find, easy to park.. The Bike Party will occupy the outdoor space surrounding the mall. Shelter, cool air and all the indoor facilities available as well,
Objectives:
Join social activity supporting underprivileged children from the area, along with biker friends from all around Khon Kaen town and nearby provinces
Promote tourism business in Khon Kaen province
For more information: contact Tourism Business Association of Khon Kaen, Office of Khon Kaen hotel Tel.043-333-222
Agenda
10.30 Meet at Central Plaza, Kao Neaw outdoor
11.00 Start parade to meet children
Remark: Need clothes, dry snacks, UHT milk, stationery, books and so on
12.00. Lunch with kids
14.00. Back to Central Plaza
15.00. See bike racing at Big Pho race track
18.00. Join Khon Kaen LaBor Day Bike party
19.00. Food&drinks and music from heavy metal band "Hin Lek Fai"
21.00. Lucky draw
22.30. End of event