Laos Section
Left BKK at 0500 headed north out via Don Muang – the GPS as usual in BKK was playing merry games intent on steering us onto toll-paying expressways. After an hour or so of horsing around with the blessed GPS, SteveP [as he is known on this site] finally took over as he knew the roads better than ESRI and we were finally clear of the early commercial commuters and heading NE towards Saraburi, Khorat and onto the 226 heading east. After Buri Ram the GPS pulled our leg again and detoured us seriously off-road through paddy fields. Evidently the folks at ESRI truly believe that the road deviates south thru some real slushy stuff. Though there were signs of some road works, it was definitely a detour to nowhere; but someone was evidently profiting on this phantom bucolic bypass. However, it was a very good chance to feel the bikes react to off-road muddy riding conditions before the journey got serious.
Without further ado and after three stops in700 kms, in an unimpressive 10 hours of riding, we arrived at Chong Mek. We did a final PTT refill at Sirinthon and a hotdog at 7-Eleven. Before passing the massive Sirinthon Dam and then erroneously headed north and missed the turning for the border.
When we finally arrived at Chong Mek the warmth of the welcome by Thai customs could not be understated. Clearly the arrival of two mud spattered soggy riders was something for amusement and rather unusual. Boots off and we were asked in from the rain. They then politely persisted in insisting that we needed 'purple vehicle passports'. They even took us across the border to the Laotian border guards to prove that they also needed to see such a fabulous document. They looked as though they had been rudely interrupted in the ancient Asian art of navel gazing and shook their heads in bemusement, wondering what on earth the nice Thais were going on about.
A call to Customs HQ confirmed what David FL was telling me at the same time.: "the PPs were only for cars – not bikes". In the meantime we were given drinks and offered tea & coffee. The rest of the paperwork with immigration was quickly dealt with and then we were told to walk just over the border and get stamped in by the Laotian authorities. Again not too difficult, just time consuming and by now the rain was proving the seasonal name, making the ink run on the voluminous paperwork we had so rapidly acquired. The insurance wallah was the only active participant refusing to sell me a year's insurance when we our bikes stamped into the country for only a week. Oh and another dollar please we are working overtime after 4pm. Who said commies weren't canny?
With all the formalities over and a cursory glance at the duty free shops, we trundled east avoiding the quasi tractor-trailer traffic and remembering to ride on the right. It was nearly 5pm and the rain had stopped when we rolled across the Japanese bridge and checked into the Pakse Hotel.
http://www.hotelpakse.com/En/index.htm
Here, we got decent rooms and started drying out kit and equipment. Sadly, during the rainy season the rooftop restaurant is closed. So having attempted to watch a fleeting sunset behind dark clouds we went on down to the ground-floor restaurant. Good spring rolls and curried chicken attended by an unctuous waiter, who was doing his best to avoid the loud Indian family chirruping away beside us. When we finished we went out to the market but it was after 8pm and all but closed. A trip to the foot massage across the road was well worth it even if the Indians followed still yakking away incessantly. Just as well I was still rather deaf after our trip.

Morning and the sun was out in all its force and having surveyed our options from the roof terrace, we decided to go up to Tad Fane waterfalls on the Boloven plateau.
http://www.tadfane.com/_home.htm
A climb of nearly a 1000metres and sipping our delicious coffees and wolfed down baguettes, but we all but choked when the Indians turned up.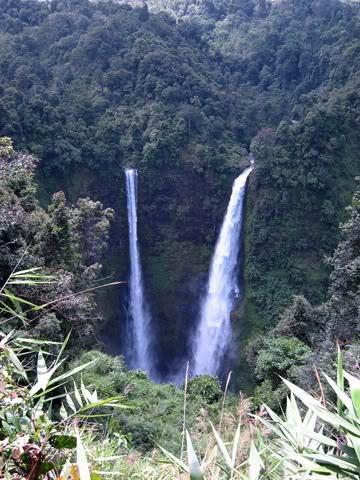 Back into town where I tried to sort out a fuse for my Stebel horn. A local 15 amp worked for about two more PARRRRUPS and then died.
Young Lao Bikers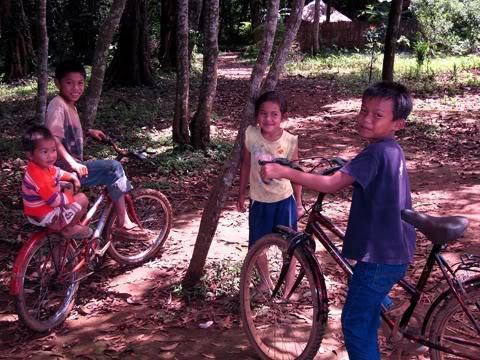 After filling up we headed south on route 12, bypassing regrettably Wat Phou. We took a break at Kingfisher lodge run by Massimo and his charming Lao wife, Ong.
http://www.kingfisherecolodge.com/
The journey is a joy in itself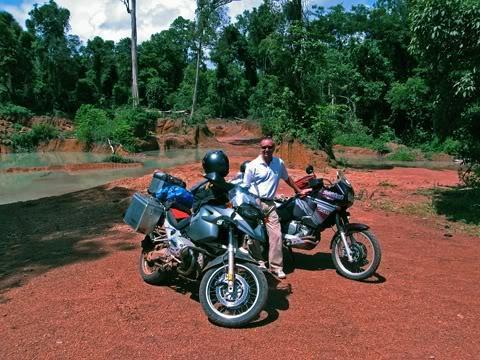 For the first time we found a place that didn't have ambient mechanical noise. A couple of Aussie girls had enjoyed the peace so much that they extended their stay. Highly recommended.
We get to Don Khong having blasted down the 12 at a 160 – no traffic. Crossing on the canoe platform boats was an experience for us novices. SteveP even managed to get the boatman excited when he dropped the bike!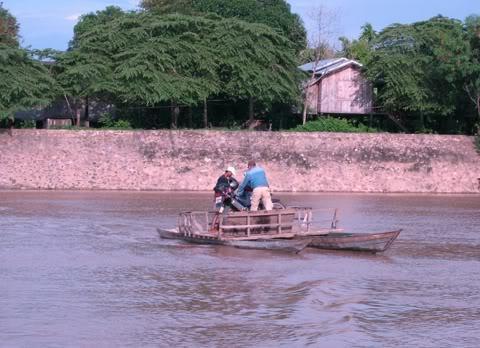 Afterwards - looking very cool!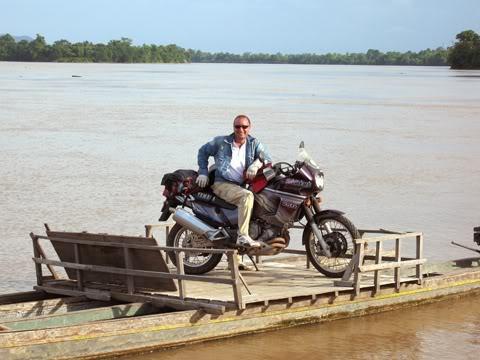 Arrived at the Auberge Sala in a rather soggy state – the deck lounging euros wondered what the cat had dragged in.
http://www.salalao.com/Salalao/Content/DoneKhong.htm
The delightful Miss Nong ushered us hurriedly out and into the annex. We could not have asked for better rooms on the first floor with its own balcony overlooking the Mekong and individual sitting rooms, we felt very colonial!
We wandered around town, but not a lot happens in the rainy season. It is best to order your food long before you actually sit down to eat. I asked for grilled chicken and was finally presented with something the size of a quail.
At 0900 we took a boat down to the adjoining islands of Don Deth & Don Khone.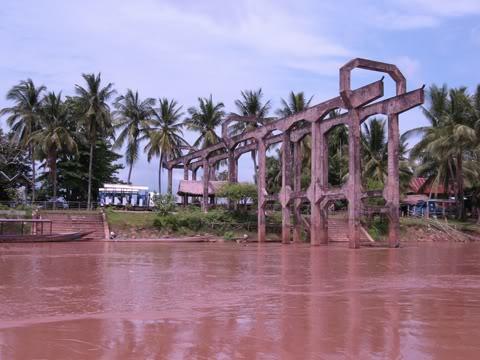 Here accommodation is more basic but quite idyllic.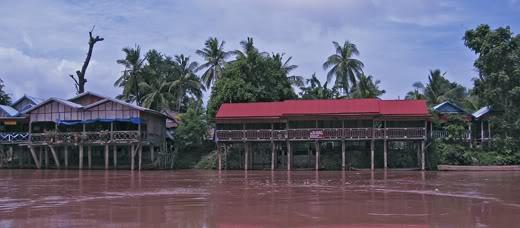 We alighted at Don Khone where Thomas the Tank Engine's French cousin stands rusting in all its Gallic glory.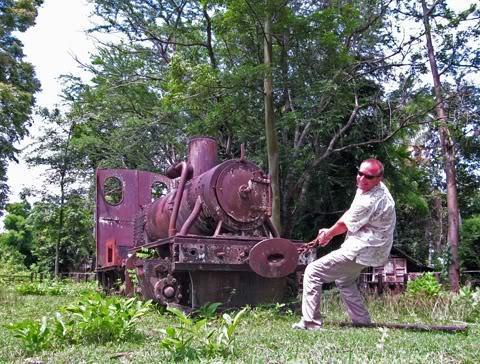 As a French officer proudly proclaimed to the travel noted writer Norman Lewis "If you wish to suggest that, in the sense of building railways and roads, France did little or nothing for Laos, then I agree. In other ways – and I say this proudly – we preserved it with our neglect…"
C'est tout!
Cycling on –we'd hired uncomfortable step-thru bikes –we rode through the grounds of a Wat with wandering monks and reached the Li Phi Falls. Which were spectacular, with the Mekong at near too full spate.

Returning via the railway, it is understandable why the French needed the comic little railway as a way around "climbing" the falls using the two little islands as stepping stones upon the turbulent water. Rather similar in principal as locks on a canal waterway. This made the Mekong at least partially navigable to Vientiane in the rainy season. A dream unfulfilled of Chinese riches to those colonists stationed way down in the malarial waters of the Mekong delta.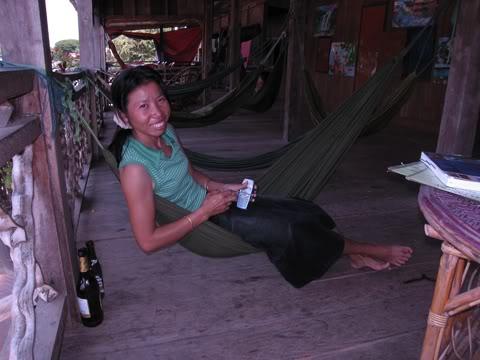 After a drink at the Reggae bar with the irrepressible Mama Reggae who gave short shrift to German/Dutch backpacker who wanted to share a room for only a $1, we headed back to Don Khong.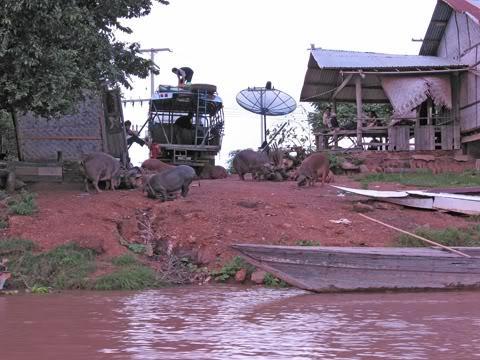 Hamlets and houses all seemed to have their own fish trap and accompanying set of hogs haphazardly strolling around. The incongruity of a Satelite dish was surprising.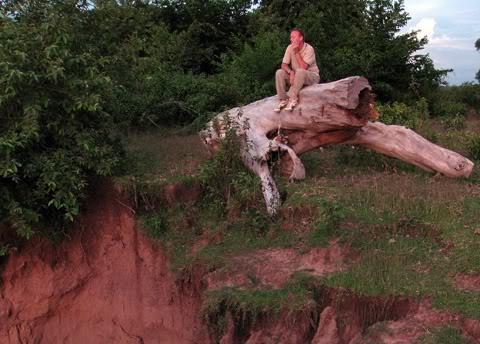 In the evening we set out to see the sunset, but again our quest was denied by boding black clouds. Instead we made-do with delights of locals who had caught some good-sized, if ugly river fish.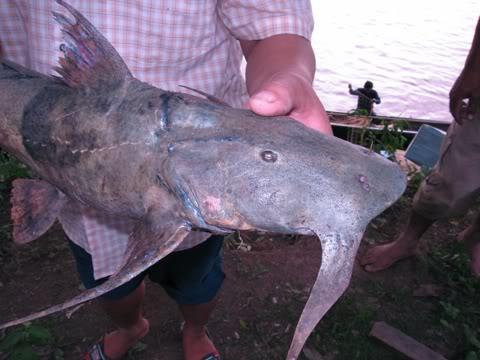 A water buffalo wallowed happily in its own personal mud-pit. Oh, to be so easily pleased…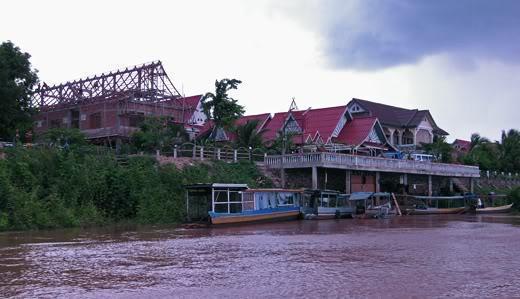 Back in the Muang Khong ville a group of earnest travellers had taken over one the few riverside eateries, apparently a cultural package tour on its way through. We had completed 1000 kilometres since leaving BKK. It is quite a thought how close such old-world charm and simplicity exists from the big city.
We left the following morning at 0700 negotiating the river crossing with equal nervousness and credulity.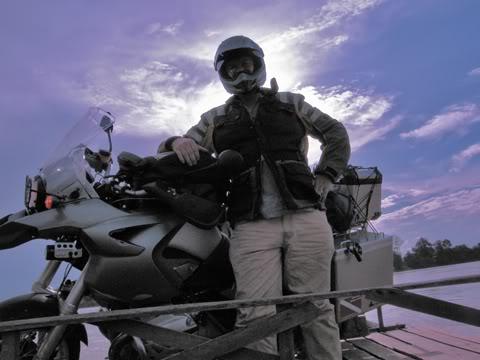 A larger vessel was awaiting further vehicles before departing. At 0730 we reached the Phapheng Falls, which are even more remarkable. But in the grey light of the cloud-cast morning we could barely make out all its churning gullies and tributaries. The fellow at the viewing point café was still wiping the sleep from his eyes, unable to make us some coffee.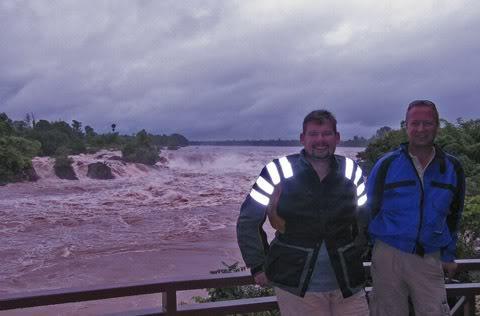 A few kilometres south we filled up with $1 a litre "cherry aid" gas at the last Lao filling point before Cambodia and indeed Stung Treng.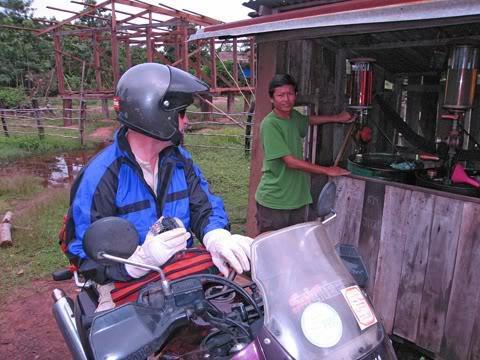 After this we continued south onto a wide good dirt earthy road. The one worker we came upon stopped us and sent us back telling us to take the right hand turning. Following what we thought was his directions we arrived at a border post that must have been purely meant for boat traffic travellers as they quickly waved us back down the bumpy road. The real one was a shocker, that barely merits the term track. Its potholed reputation has been well documented on this site before. I can only concur, and followed David FL's advice by keeeping the power on in 2nd gear and 20-25kph through the water-filled ponds.