Bridges and Mountains - Mukdahan to Chiangmai
The complete photo story can be found at :
http://picasaweb.google.com/campusadvis ... Mountains#
Third part of an Isan trip report.
See also:
mekong-in-upper-isan---chiangmai-to-nong-khai-t6910.html
and
a-cultural-trip-in-isan---udon-thani-to-mukdahan-t6949.html
Total tour: Chiangmai (Maerim) - Dan Sai – Tha Li – Hua river – Mekong river – Chiang Khan – Sri Chiang Mai – Nong Khai - Udon – Ban Chiang (loop) – Sahatsakhan – dinosaur park – Somdet –
Mukdahan – Mekong river - Nakhon Phanom – Bung Khla – Nong Khai – Tha Bho – Nam Som – Loei – Phu Rua - Dan Sai – Na Haeo – Ban Khok – (Nan national park) - Na noi - Wiang Sa – Phrae – Long – Lampang – Chiangmai (Maerim).
Total : 3500 km (including side trips)
Mukdahan – Nakhon Phanom
Trip: Mukdahan – Nakhon Phanom – Nong Khai 514 km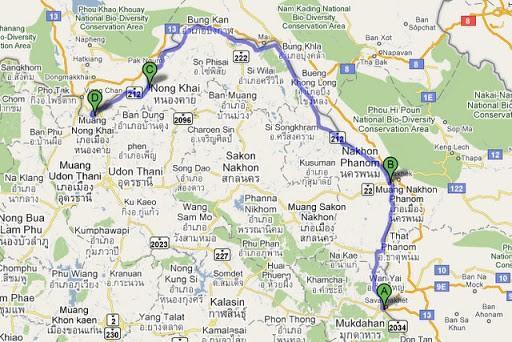 Touristic guides describe Mukdahan as a "sleepy hollow" and I did not expect too much entertainment. Nevertheless, after the straight rush down from Somdet, on route 2041 and 2042, meeting again with the mighty Mekong was a pleasure. The attraction here is the second "Friendship Bridge" to Laos (the third that I have met, when counting the one over the smaller river Hua, in Tha Li). The expected boom in tourist activities, following the model of Nong Khai, did not materialize here. I had dinner in a small, well-known restaurant, where the owner complained about his 1000 THB daily turnover, whilst he could sell for 10 to 15,000 THB in the past. The low economic mood certainly does not help the business.
Without better ideas or suggestions, I spent the night in Mae Khong River hotel.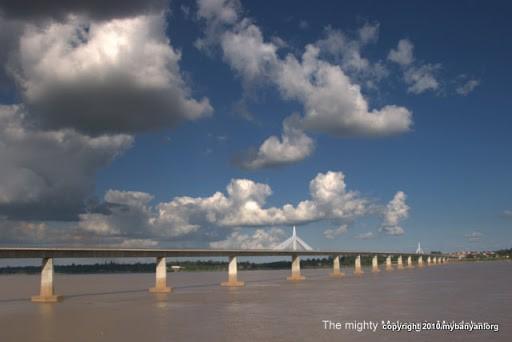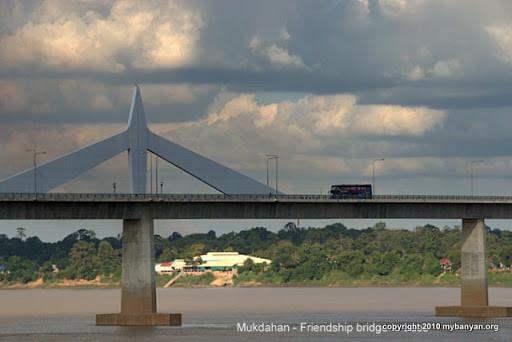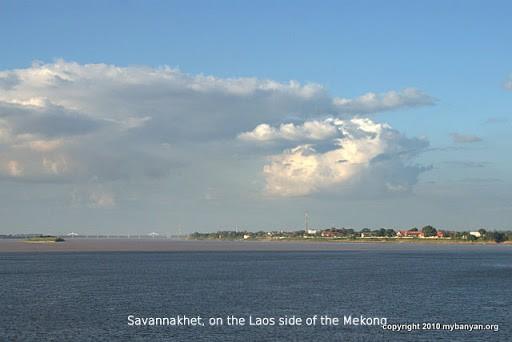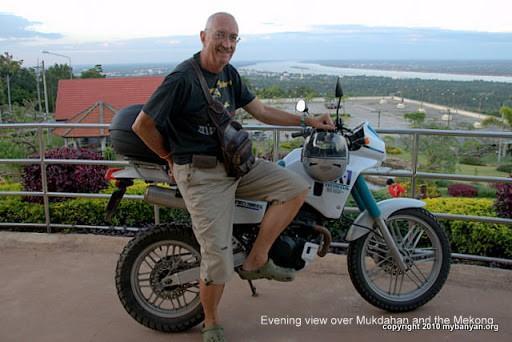 Mukdahan was the furthest city in my itinerary. From there, I began my return trip toward Chiangmai. An early morning start allowed me to catch the dawn over the Mekong (in October the sun rises at 05.45). Then I drove North, on route 212, which on that sector needs some refection and patches to cover the potholes. Sometimes, I attempted to follow smaller ways, trying to stay near to the Mekong. The river is often close but most of the time only a silver shine through the trees reminds of his presence.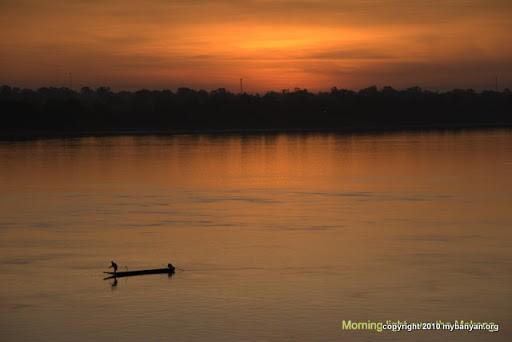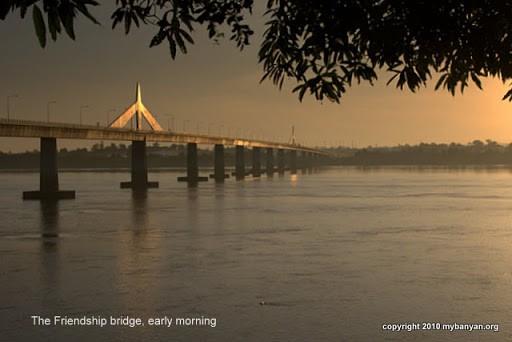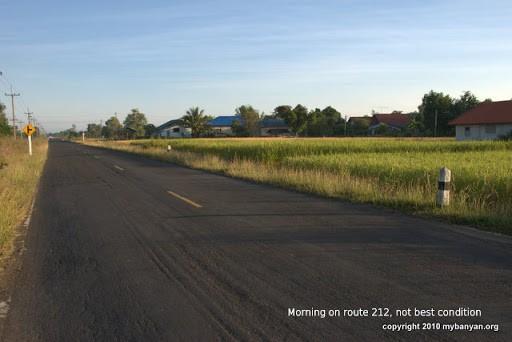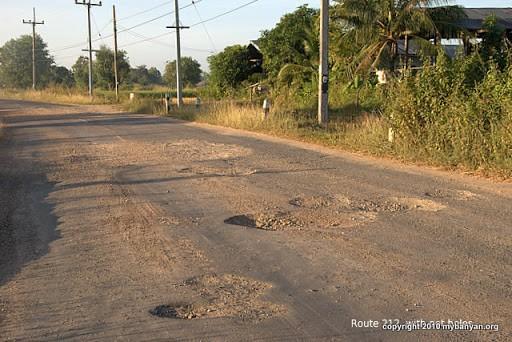 I spent more than 2 hours to cover the first 60 km, enjoying the early morning atmosphere in small villages, traveling many "soi" to find secondary roads. It is an ideal moment to observe life in hamlets, with people ambling to their markets and running errands in the fresh hours. Dogs are also very active, jumping from side to side in their quest for breakfast and mates.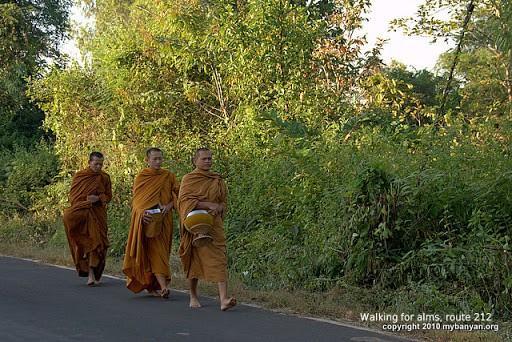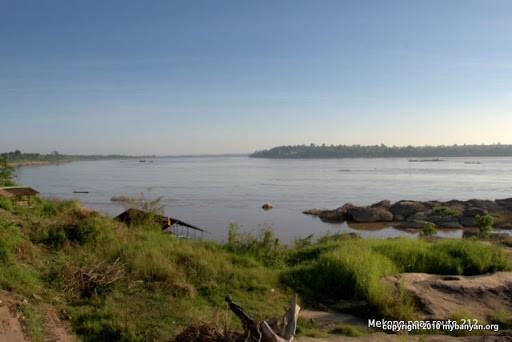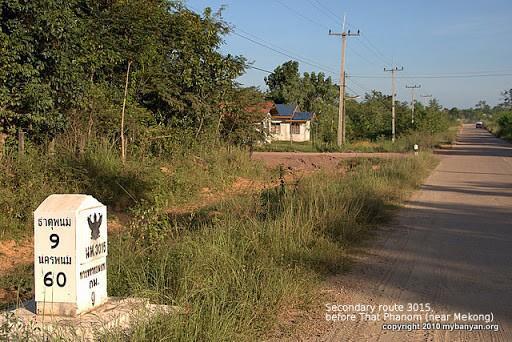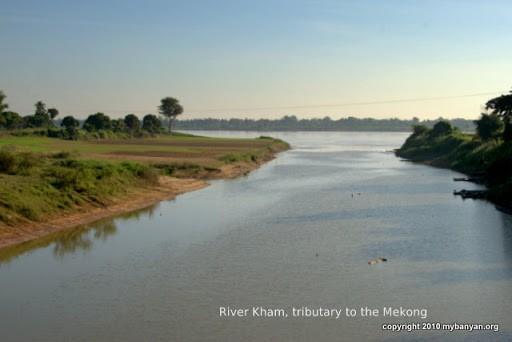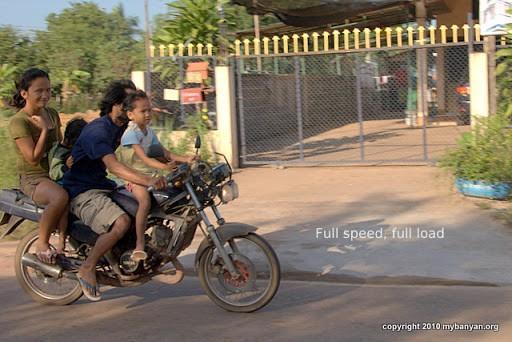 Wat Phra That That Phanom is one of the most revered building in the North East. Each day, hundreds of pilgrims worship the legendary relic of the Buddha's breast bone. For natives of the "monkey" year (like me), it is particularly beneficial to make a pilgrimage to that shrine. Theravada legends tell that the Buddha itself has visited this place.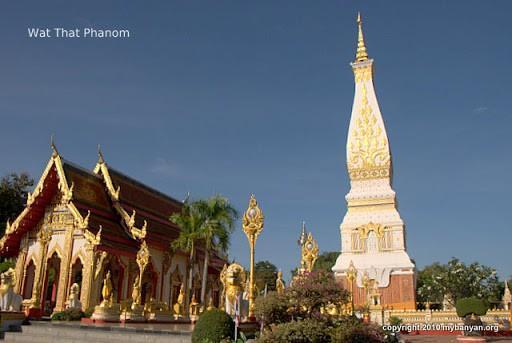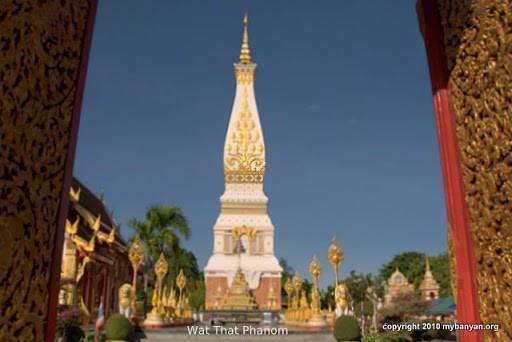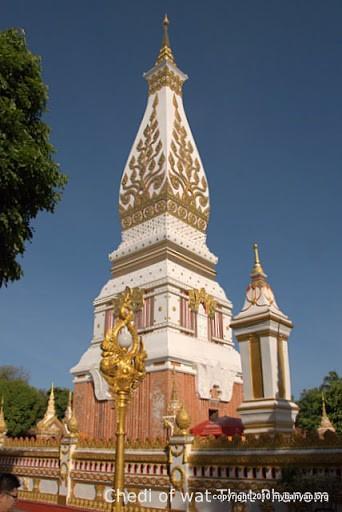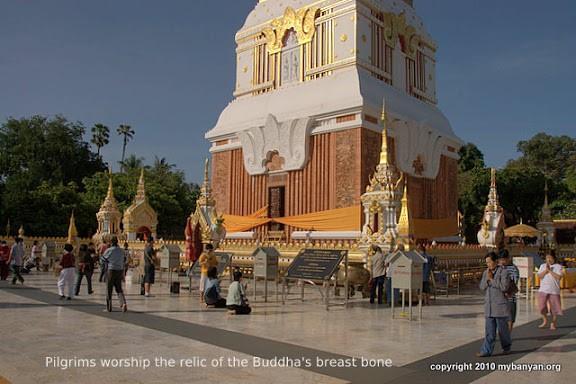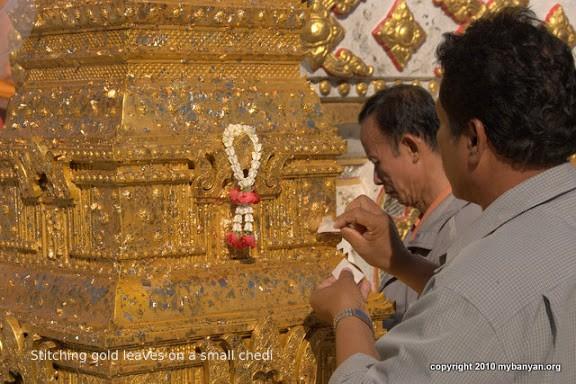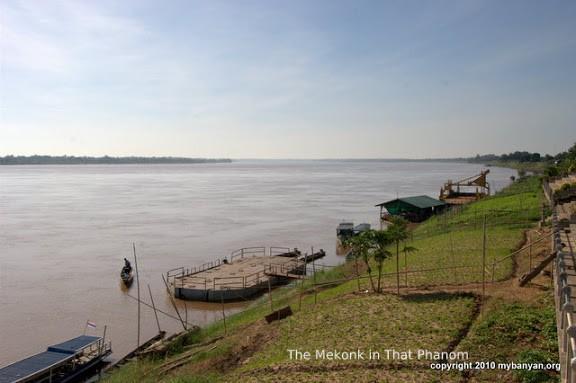 After That Phanom, route 212 becomes a speedway. Nevertheless, the landscape remains colourful, with ubiquitous rice fields and hamlets to be reached with just a small detour. I am always attracted by the view of big trees, particularly banyans. Escapes from the main roads often lead to enriching encounters with amazed Isan people, keen to ask all sort of questions, to be part of a picture session and to share cold water or their meals with foreigners.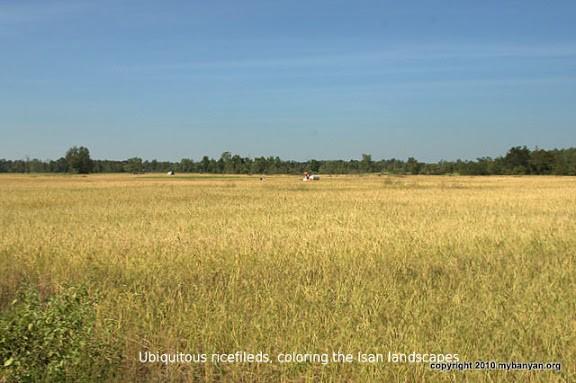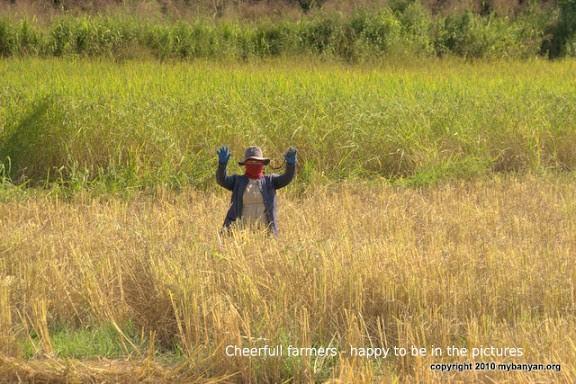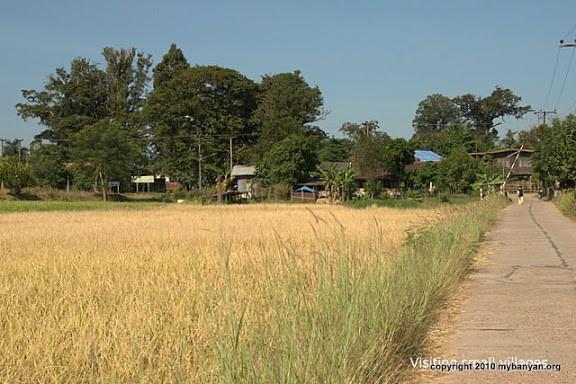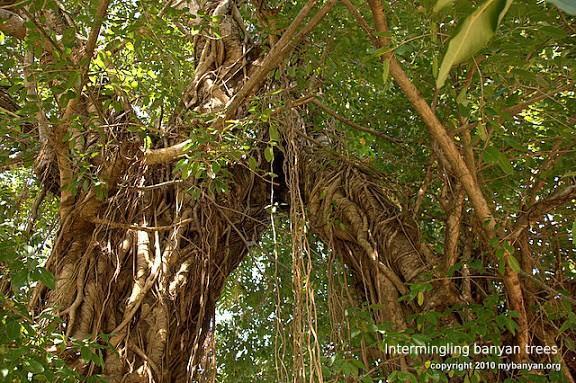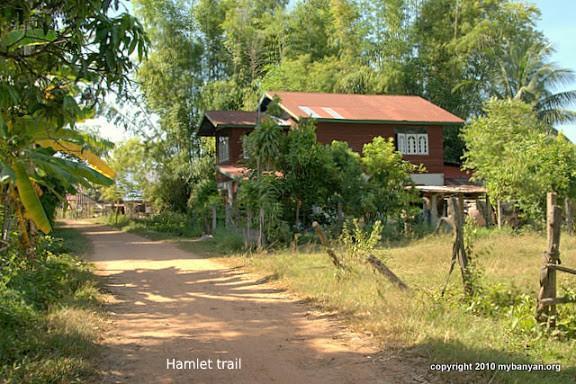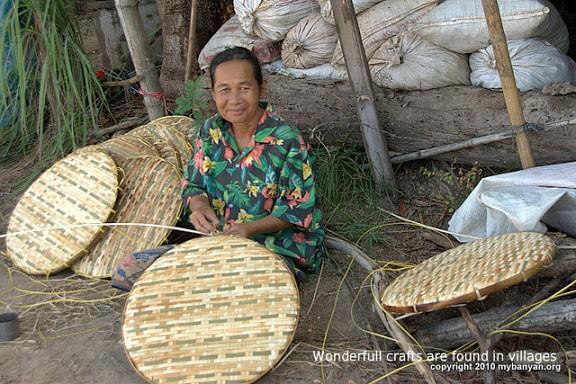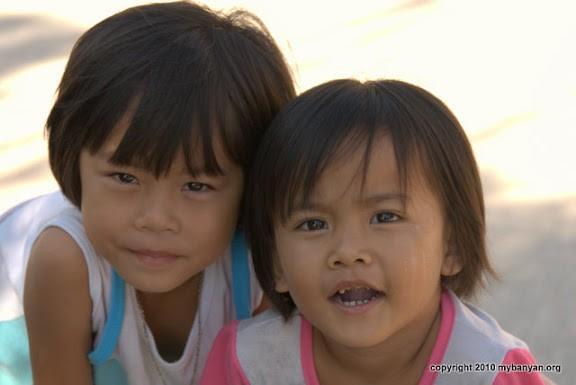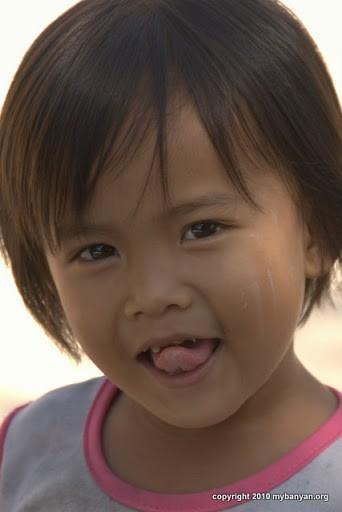 Nakhon Phanom means the mountain city (but the mountains are in Laos). I checked in to Viewkong hotel a "standard" Thai provincial place, with the usual red carpet in the rooms.
Having fulfilled some hard duties, the AX1 began to become noisy. I decided to have a complete oil change, to get it running smoothly again.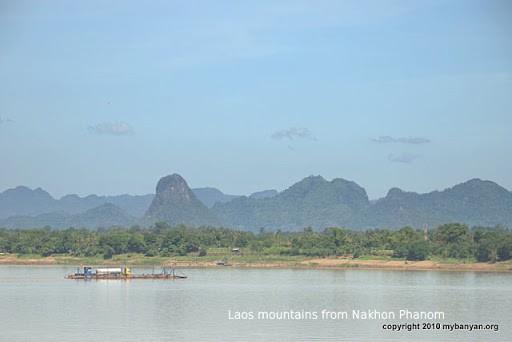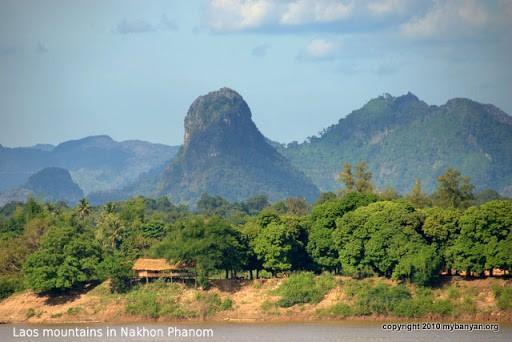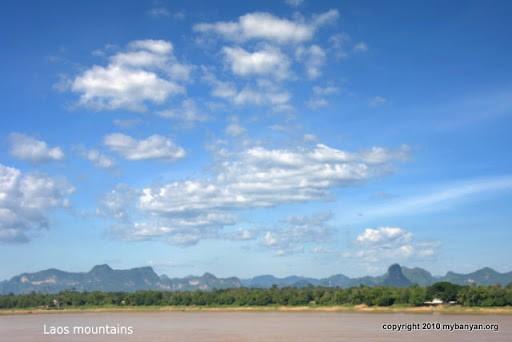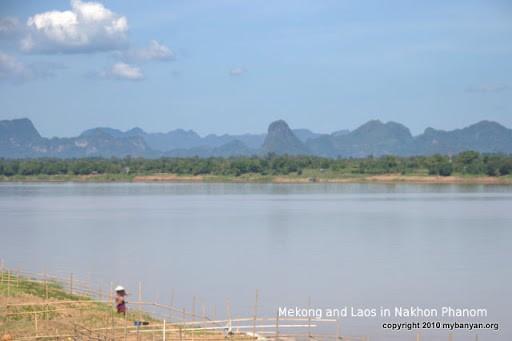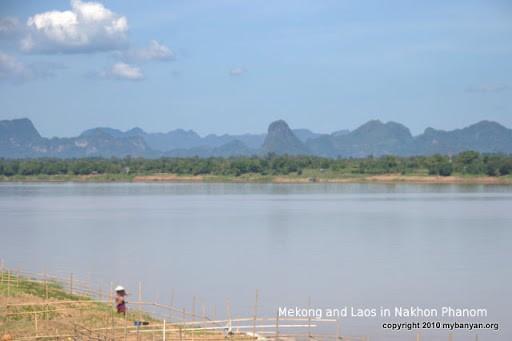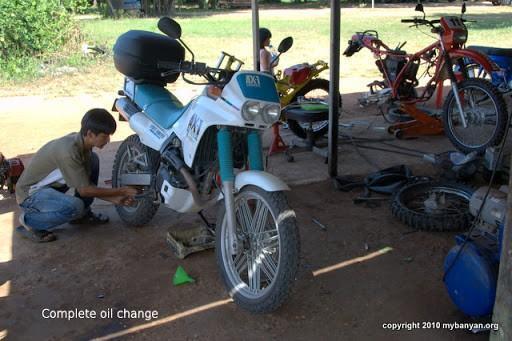 A large Vietnamese community lives in this region. Ban Na Chok, a couple of kilometres outside of the city, is host to a "Thai – Vietnam friendship" museum, as well as to a restored wooden house, were Ho Chi Minh lived whilst preparing his resistance movement.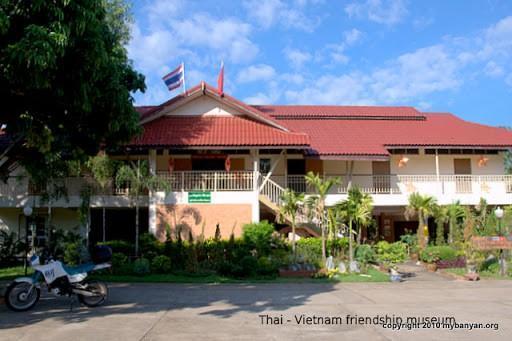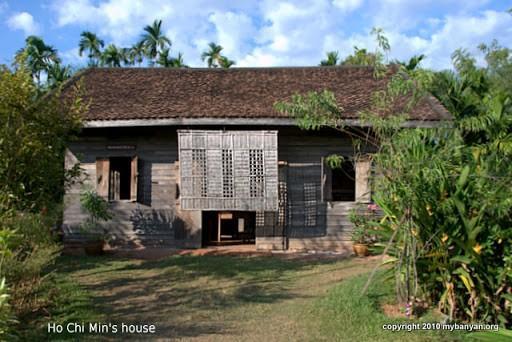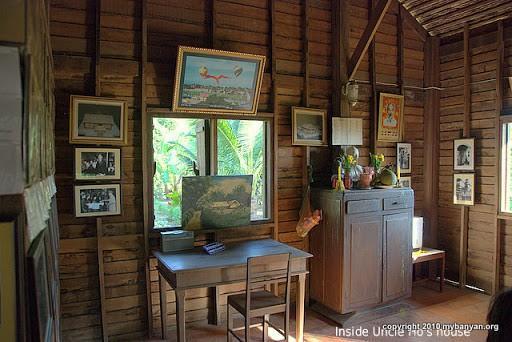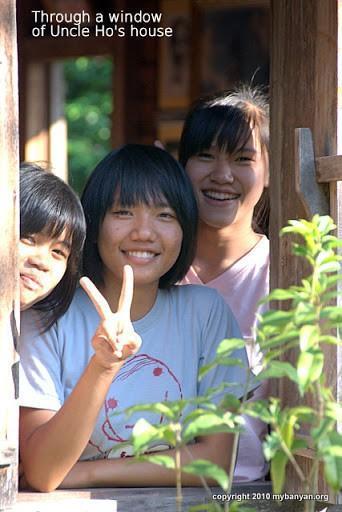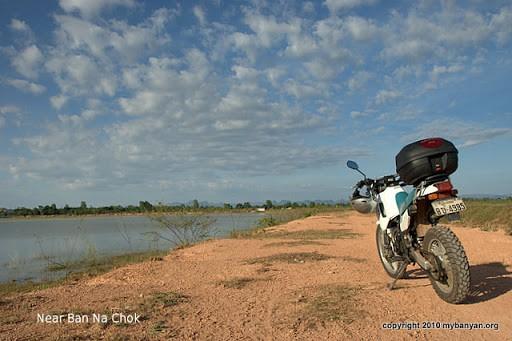 A cruise is available, at 5 pm, to see the sunset from the Laos shore. It gives a glimpse of buildings and life around Tha Khaek, whilst Nakhon Phanom is slowly wrapped with orange and gold colours. There was a minute of panic when acrid fumes escaped from the boat's engine and when the light went off. As the ship is of steel, I did not worry too much about the incident. After a shot from the fire extinguisher, all reverted to normal and the journey quietly went on.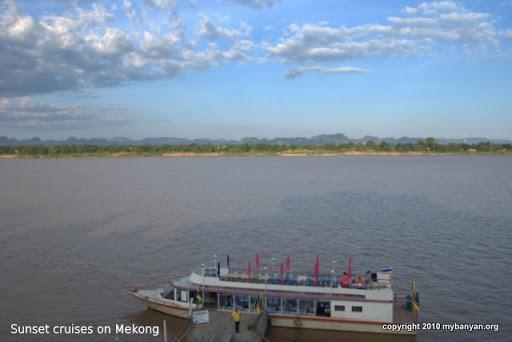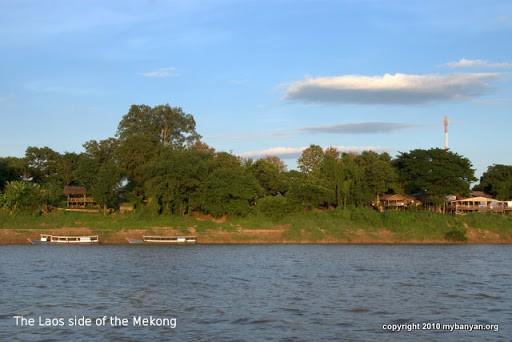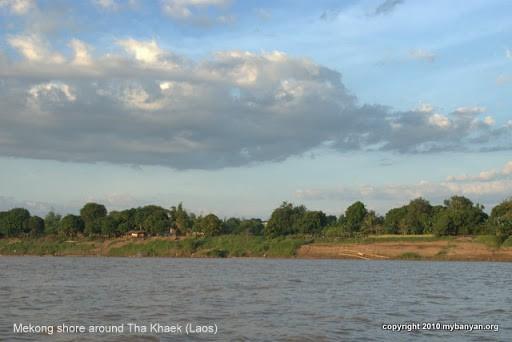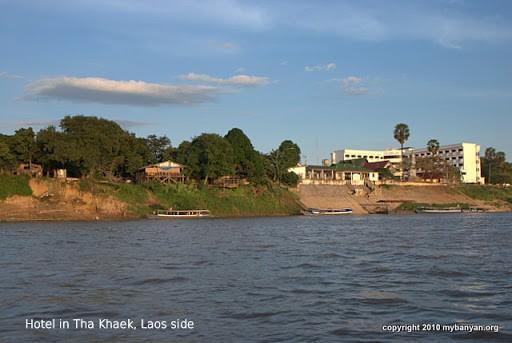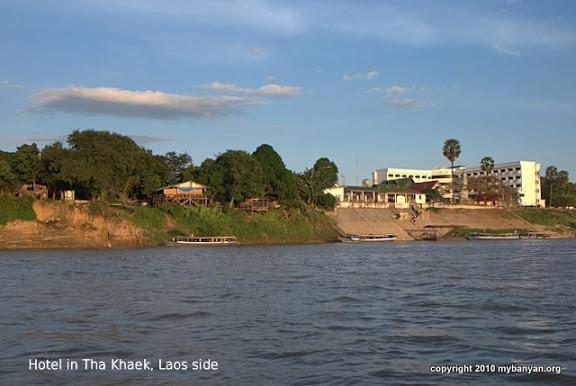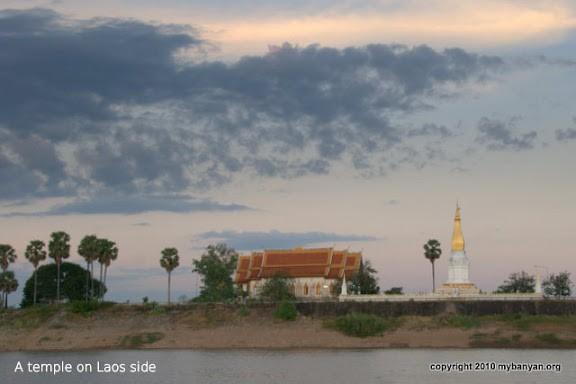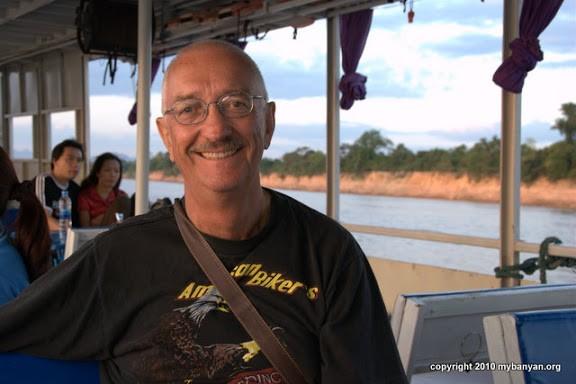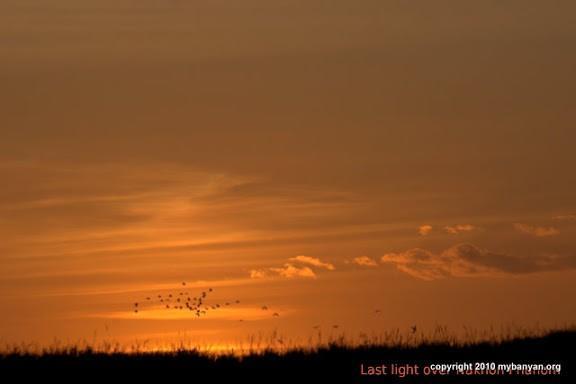 Vietnamese food is served in several restaurants and it is a good opportunity to sample some of it.
I settled for a small terrace place, the "Meringue Bakery", nicely located in the centre, near the Indo-Chinese market.
It was the last October evening and a fresh wind flow with the Mekong, inviting to stroll down the river bank and enjoy an illuminated temple, a church or the view of a large banyan tree.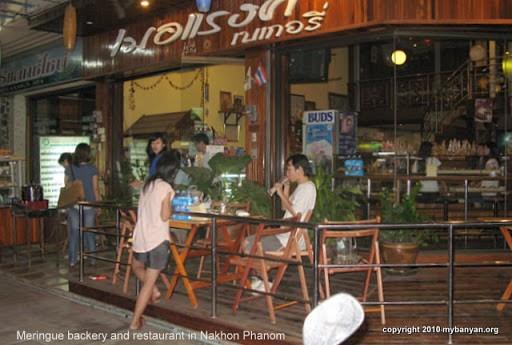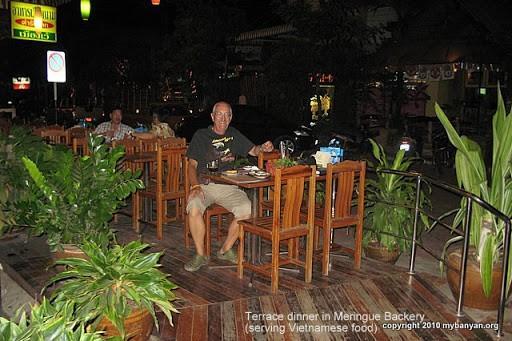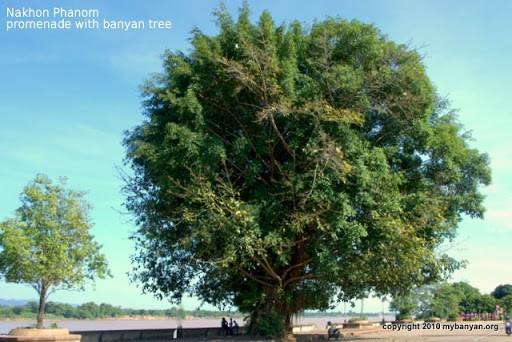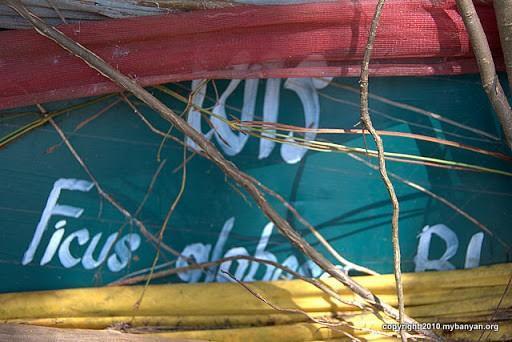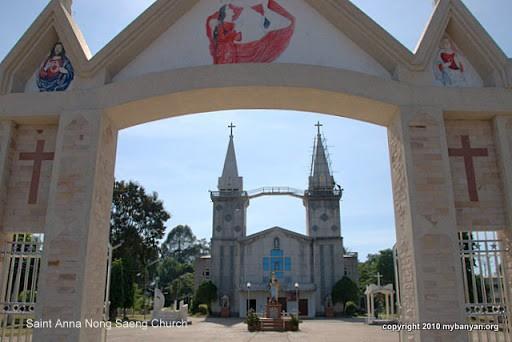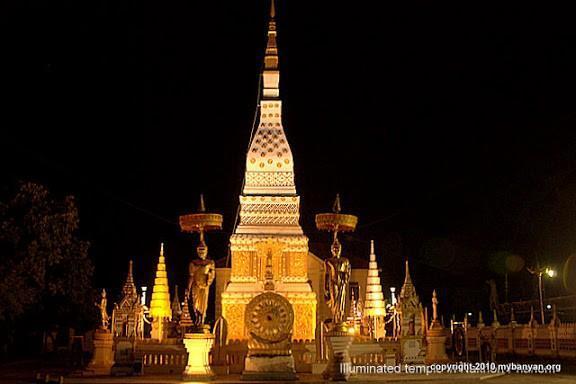 Nakhon Phanom – Nong Khai
Trip: Mukdahan – Nakhon Phanom – Nong Khai 514 km
The dawn, on the East side of the Mekong river, illuminates the sky with colours similar to the evening lights. As the sun rose over Tha Khaek, I was on my way to Nong Khai, still following route 212.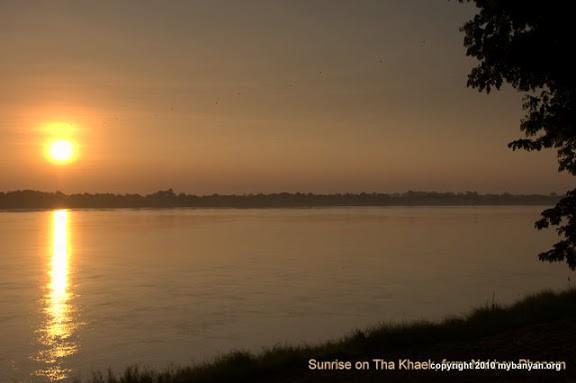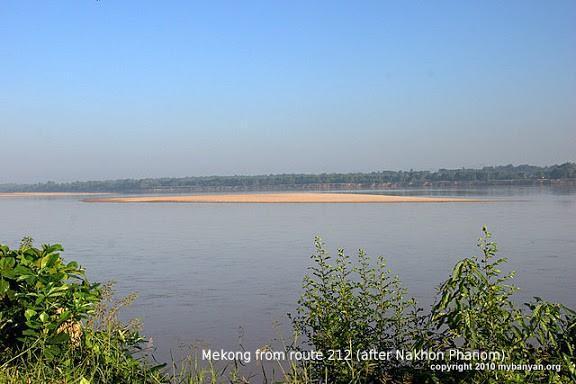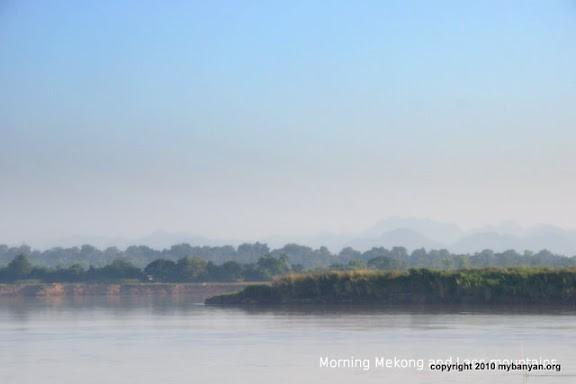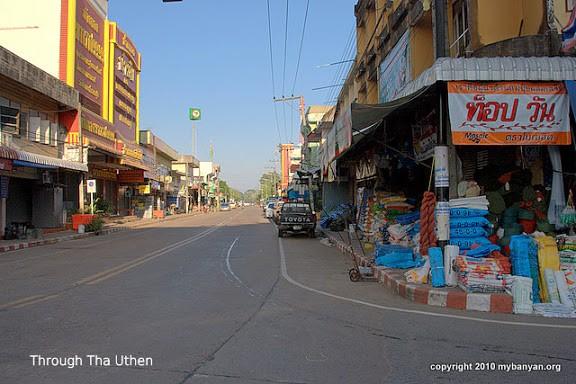 After Tha Uthen, the road crosses the river Songkram. A side trip to the right, toward the Mekong, leads to "Nam Song Si" (bi-colored river), a phenomena like "Mae Nam Song Si" near Ubon. The cleaner water of Songkram mixes with the muddy Mekong drawing, for a short while, a line where they keep their identities.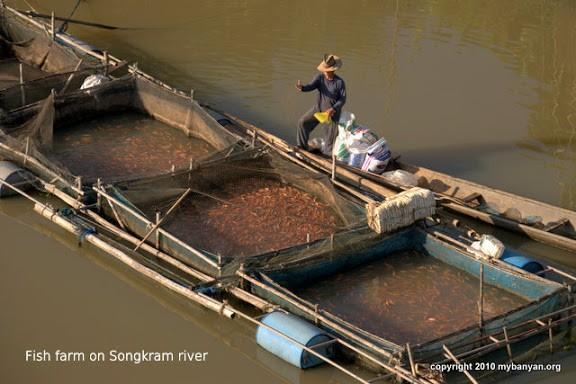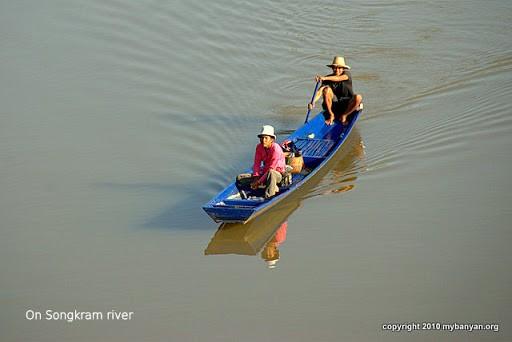 In Bahn Phaeng (Phaeng village), a water surface is used for boat races. The village has several resorts for people considering a stop-over for a night.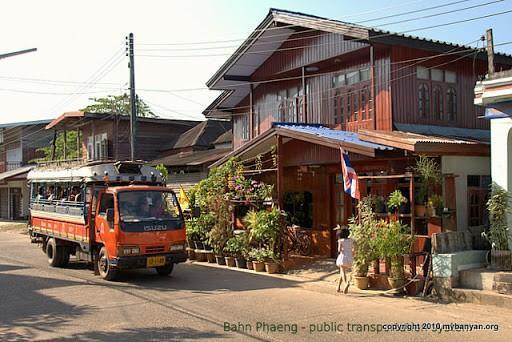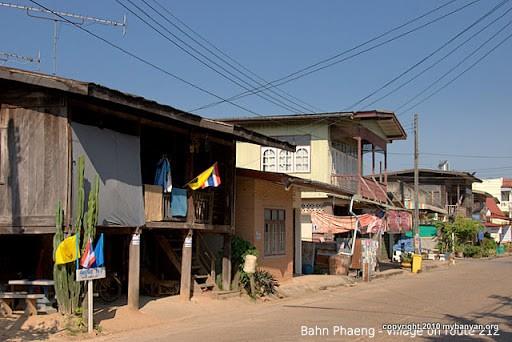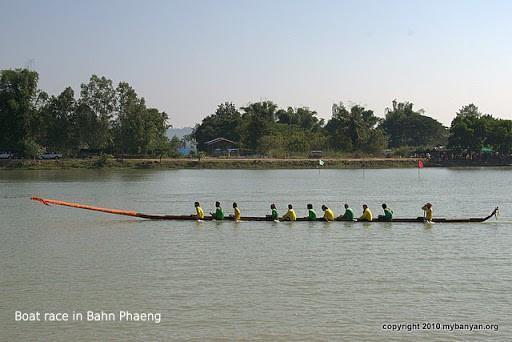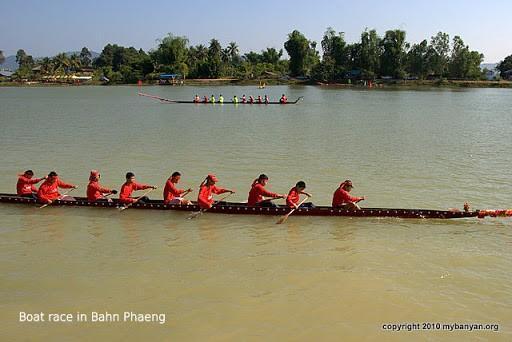 Route 212 follows the Mekong, usually without a direct view of the river. To get a glimpse at it, one has to drive down to villages and small "soi" taking secondary roads, not always in good conditions and sometime only dirt trails.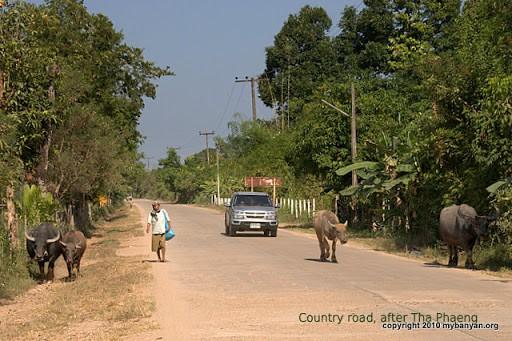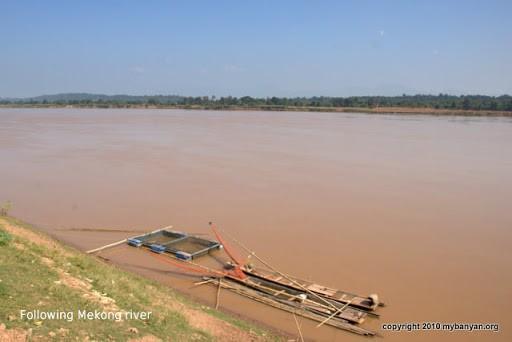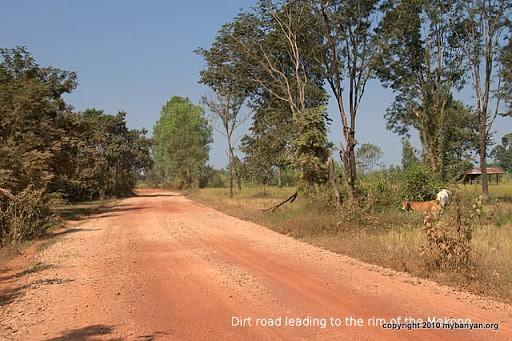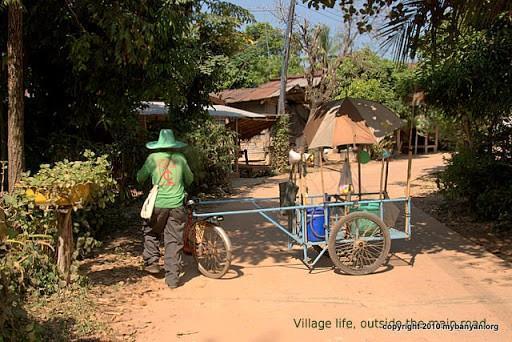 From Banh Phaeng to Bung Khla and through Bueng Khan, route 212 is straight for kilometres and kilometres, sometimes turning a couple of degrees before becoming another straight section. The traffic is low on that sector and allows a fast progression.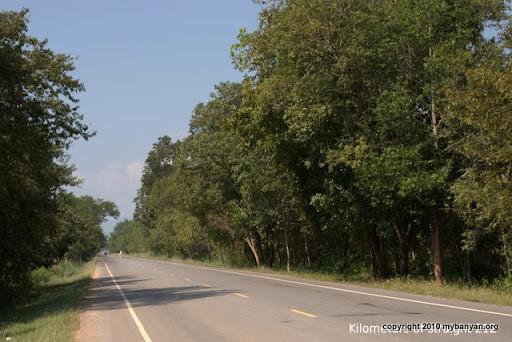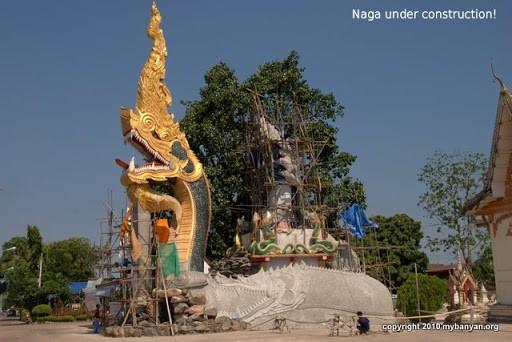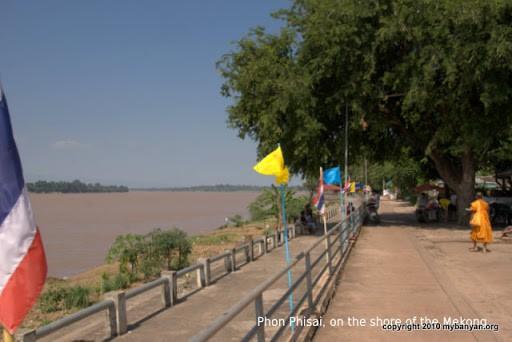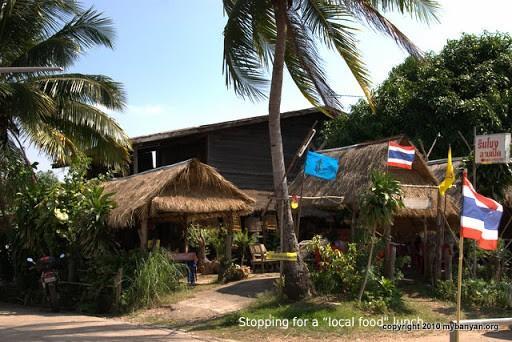 Arriving in Nong Khai, I checked in to "Mut Mee Guest House", where I had spent a night before starting the loop to Kalasin and Mukdahan. It was the eve of Loi Kratong and I decided to rest one day in this laid-back border city. "Mut Mee" garden is inviting to laziness but there are also many sites to discover in the surrounding province.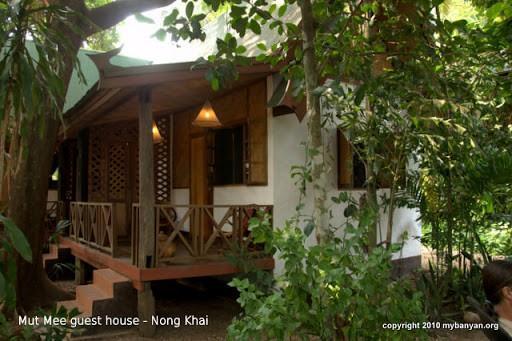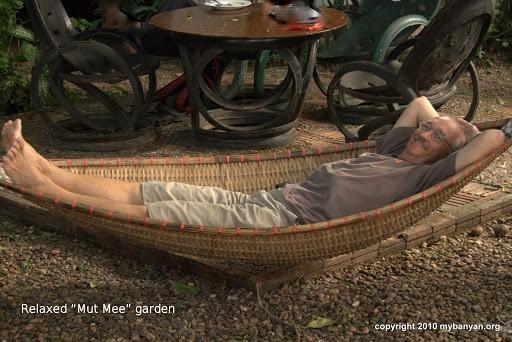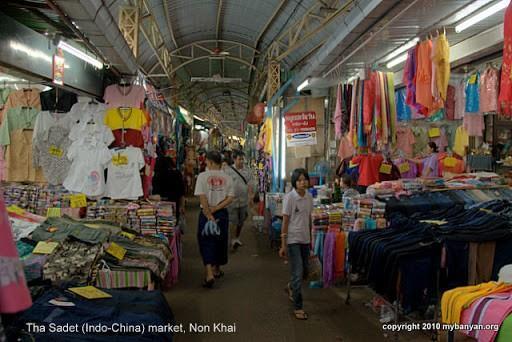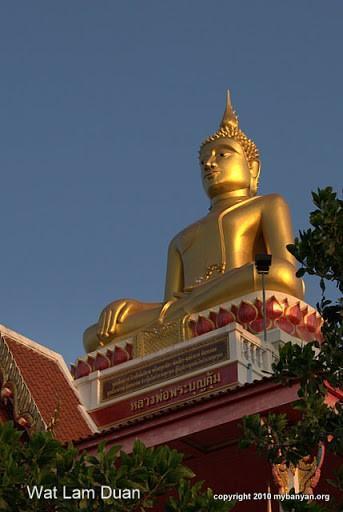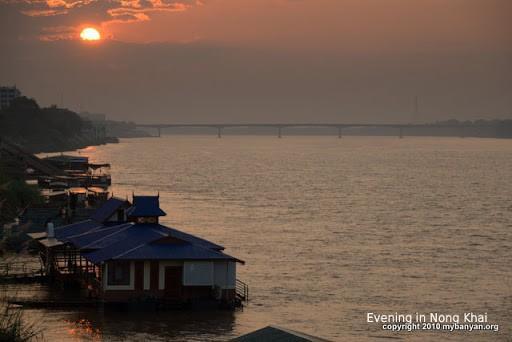 Around Nong Khai
Guest houses are closer to nature than hotel buildings. The freshness of the morning penetrates through open windows, together with the sounds of temple bells, the morning chanting , the distant barking of dogs and the crowing of a cock . Far from being wake up calls, these relaxing sensations invite to laziness.
The second of November was Loi Kratong and I started the day by visiting some of the numerous temples. Phra That Nong Khai is a landmark, a white spot at the Eastern horizon of the city, illuminated during the night. The original temple is submerged in the Mekong and part of his chedi can only be seen when the water level in low. The structure on the shore is a reproduction. This temple also houses a large "Phra Sangkajai" picture, my favoured laughing disciple of the Buddha.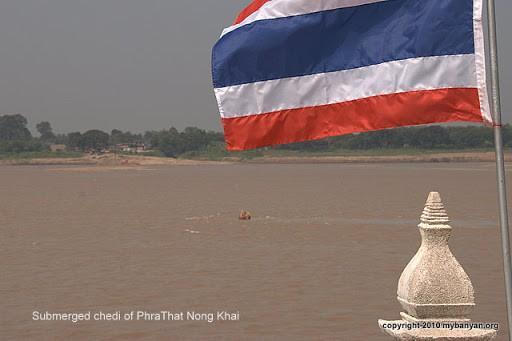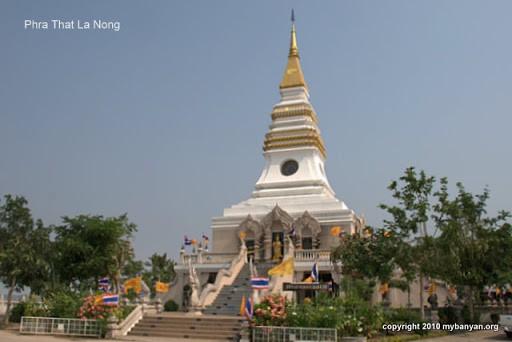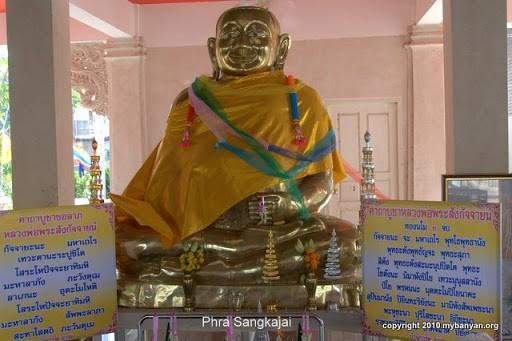 Going on with my strolling, I decided to drive to the countryside, staying to the East, toward some water spots recommended by locals. I crossed the village of Boet Noi and found some sand trails near Pon Ngam. It was a nice mid-day loop through picturesque water landscapes, on nearly deserted roads.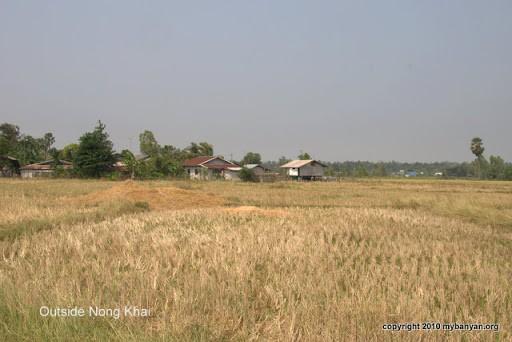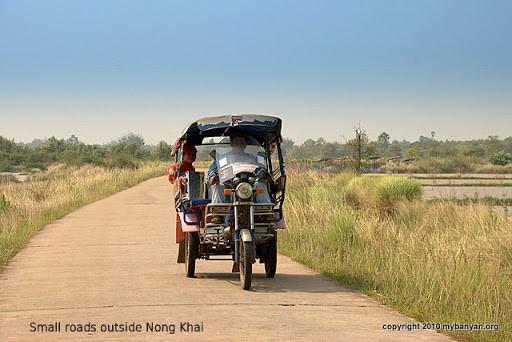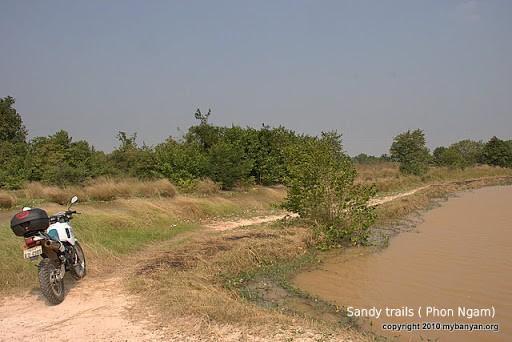 A great reward of riding a bike, compared to more "boxed" transportation means, is the direct exposure to all sort of scents. Often we enjoy the sweet fragrances of nature, sometime we inhale foul human emanations, but odours are always part of the ride. Thailand has nothing like "lunch time", food is readily available everywhere, sometime around the clock. In Isan, whilst passing small villages and markets, the sweet-pungent aura of charcoal is omnipresent. This reminds my stomach about his fondness for the "kai yang" (barbecued chicken) course. I have to stop for this local speciality which come always with sticky rice and sour papaya salad, sometimes with additional grilled pork.
Sitting next to local people, for a meal, is sure to attract interest and to generate a lot of questions. They wonder how long you leave in Thailand, where you are from and were your wife is. Pretending to be on a quest for an Isan partner is sure to generate giggling in the female population. Ordering a second portion of food saying "saeb illy" will definitively wins all hearts.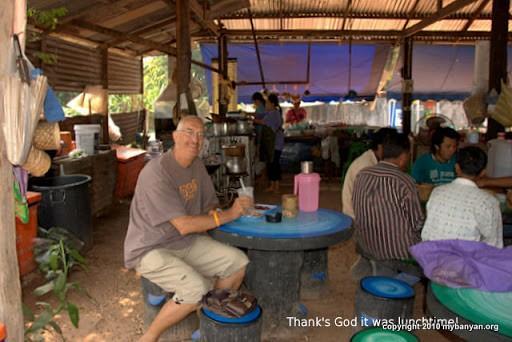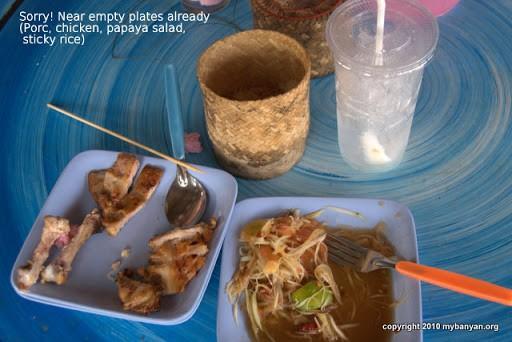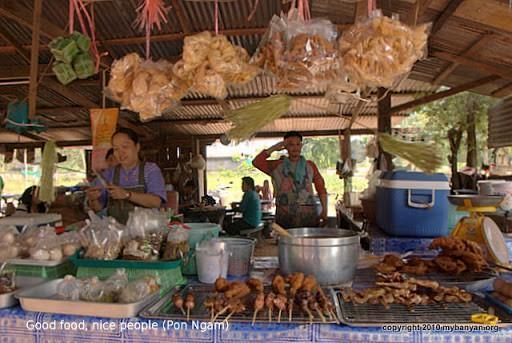 Nong Khai is a temple city and many places are of historical importance. Driving back to the agglomeration, I visited Wat Pho Chai which is housing a gold and precious stones Buddha image in a richly decorated altar. Mural pictures count the story of the three similar images who once travelled from Laos. Only one made it to Bangkok, the second one was kept here and the third sent to the Naga's underworld by a storm.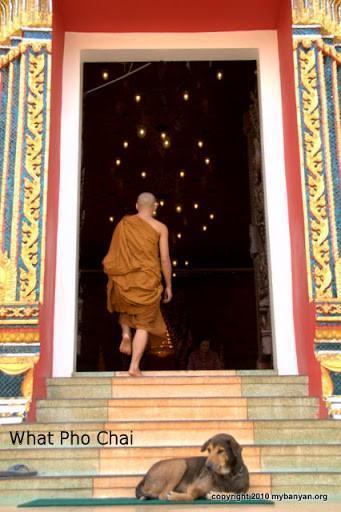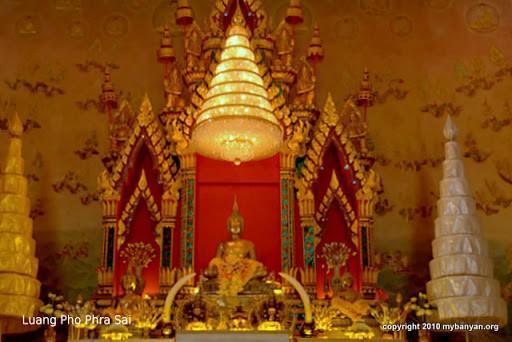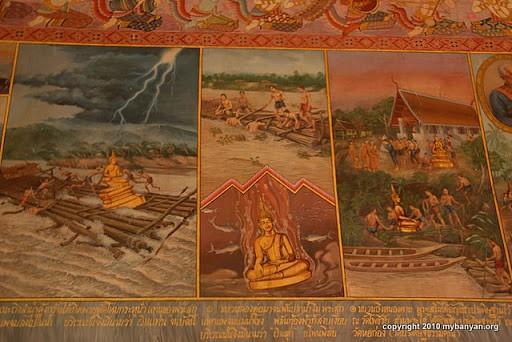 My last temple visit was for Wat Lam Duan. His massive Buddha image is watching over Nong Khai. He invites to climb the stairs and join him for a panoramic view of the shore line and over the city roofs.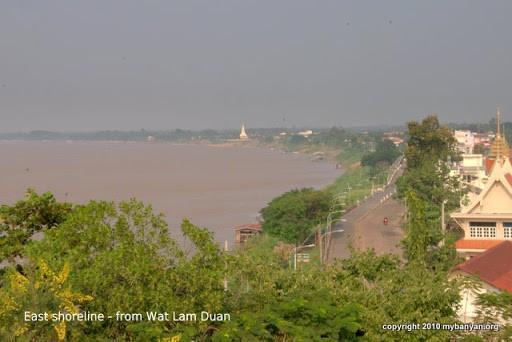 Whilst some people are waiting for the evening dusk, other prepare kratongs to be sold. Finally all join to let their sorrows flow or fly away in the fresh Mekong night.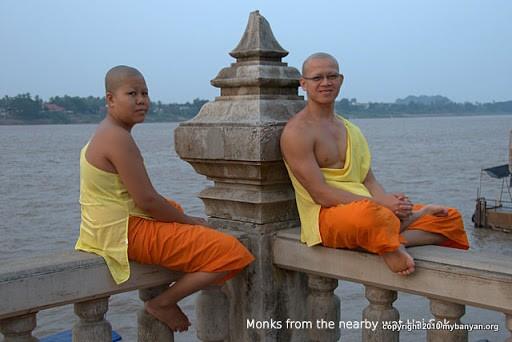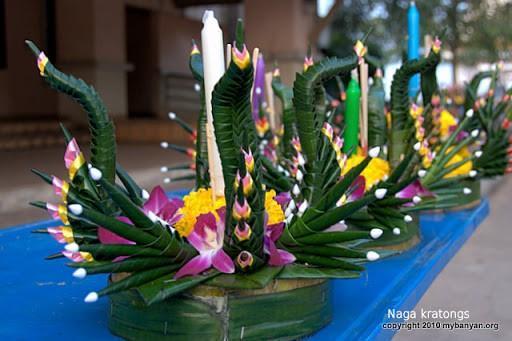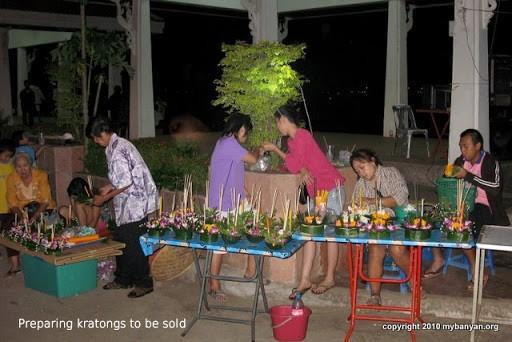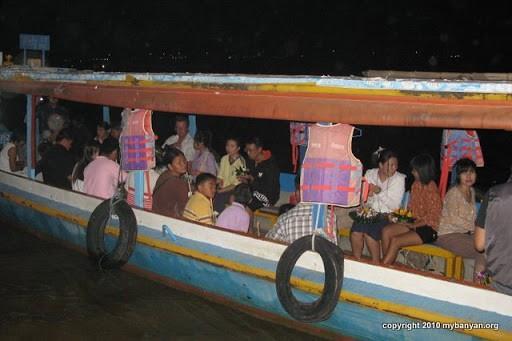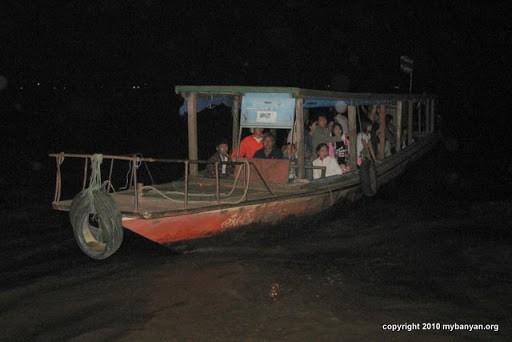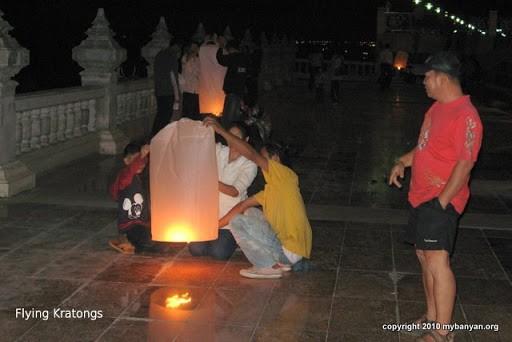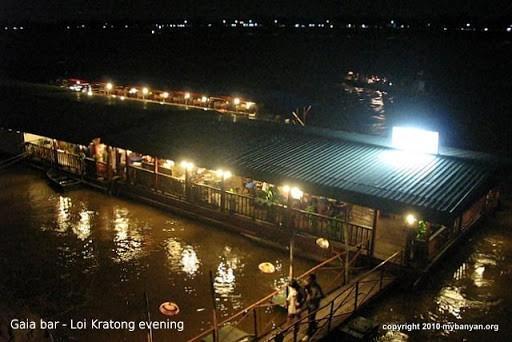 Nong Khai - Loei
Direct 220 km (4 hours), with side trips: 249 km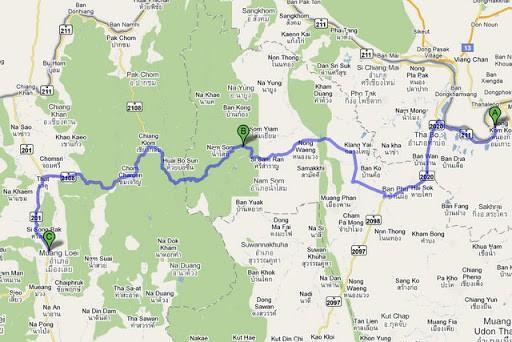 The next morning, after a "Mut Mee" breakfast, I headed toward Tha Bo (2020) – Ban Phue (2348), (2414) and Nam Som. There are places to visit on this sector (West of Nong Khai) but I did not stop much as I wanted first to put some kilometres behind me.
In the small city of Nam Som, I stopped for a drink and met a "Farang" (Danish) leaving there. He told me that the mountain road was quite new, it did not exist five years ago. When going through the hills, route 2414 is pleasing.
An alternative to driving down to Nong Khai, from Sri Chiangmai (a less agreeable sector) and then taking the highway to Udon, is probably to use route 2414 for a Loei – Mekong - Sri Chiangmai – Loei loop.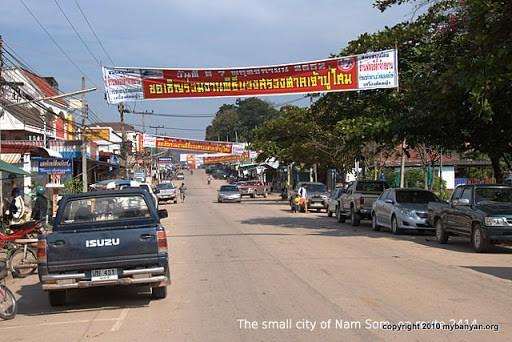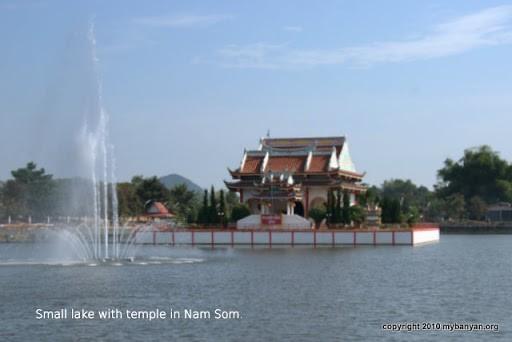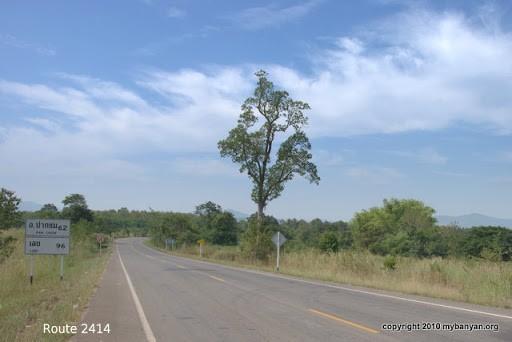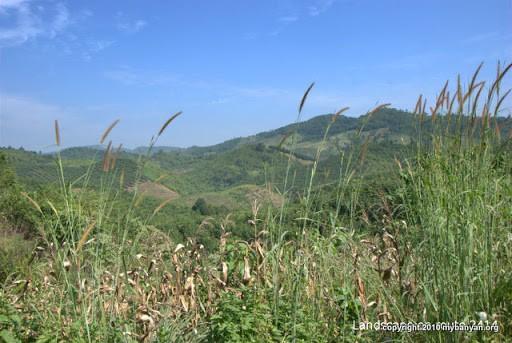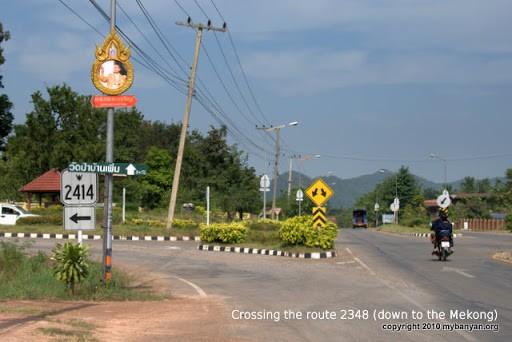 The last sector between Nam Som and Loei was sometimes heavily under "work in progress" or badly damaged. But it might have improved by now, or at least progressed.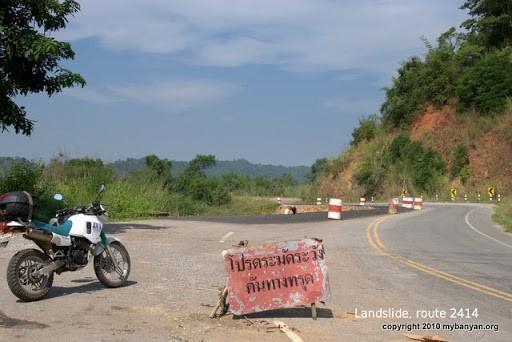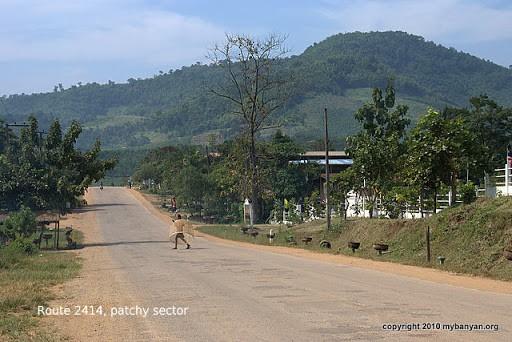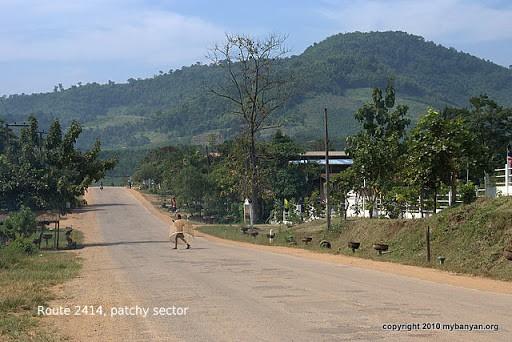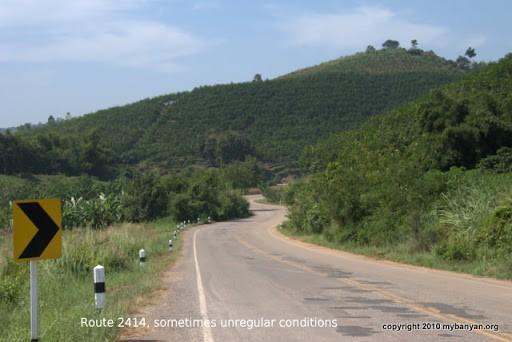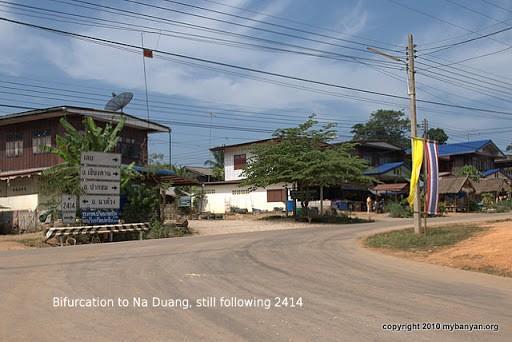 In Loei I checked in to "Thuang Sap Guest House" a centrally located place. Leaving the bike in the hotel parking, I strolled through the roads and rested at leisure at a coffee shop.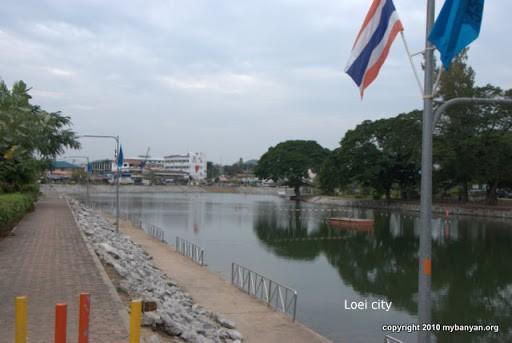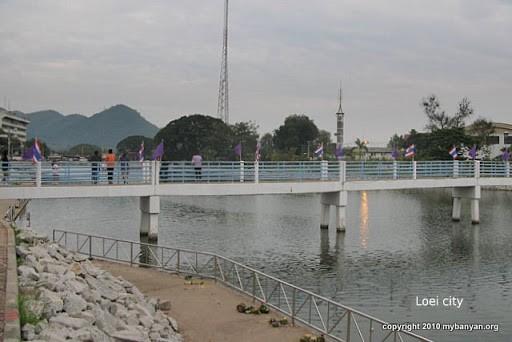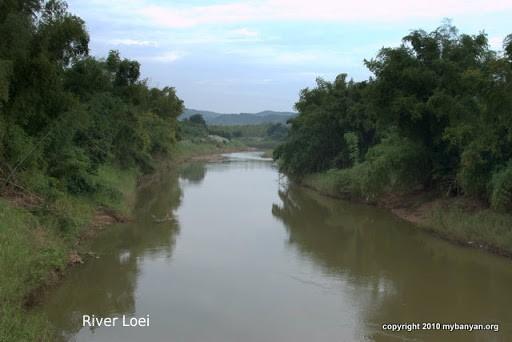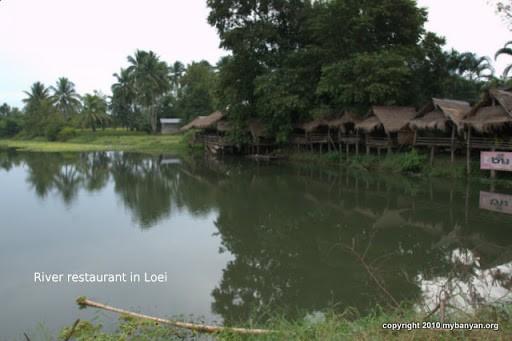 Following a "Lonely Planet" recommendation, I had dinner at Baan Yai (Grandmother's House). Their typical Isan menu is rich in insects and other delicacies. Unfortunately most of them were not available at that moment. No kiat (small frogs), kai jeaw kai mot daeng (red ant egg omelet) or goy hoy joob (spicy salad with field snails). Fortunately my favored rot duan tot (bamboo caterpillar) could be served, together with some cro moo yang (pork neck) and jaew het (spicy mushroom chili paste).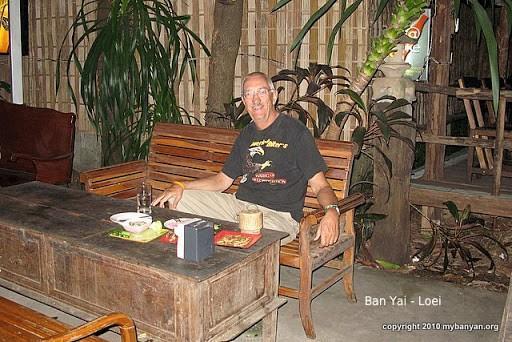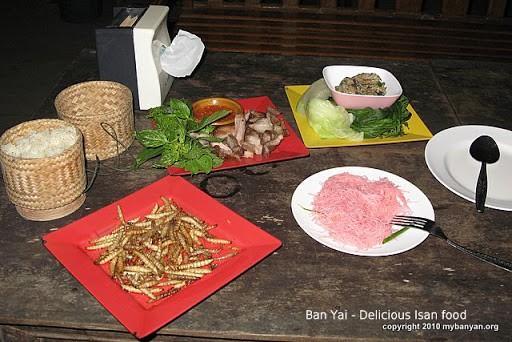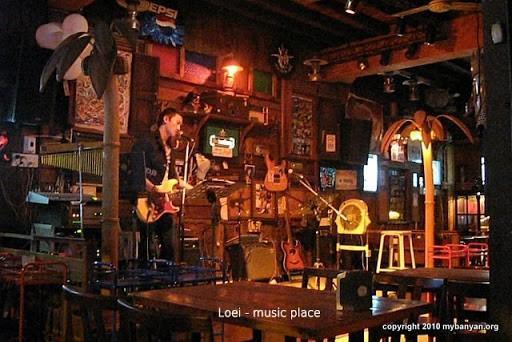 Loei – Wiang Sa
Trips: 381km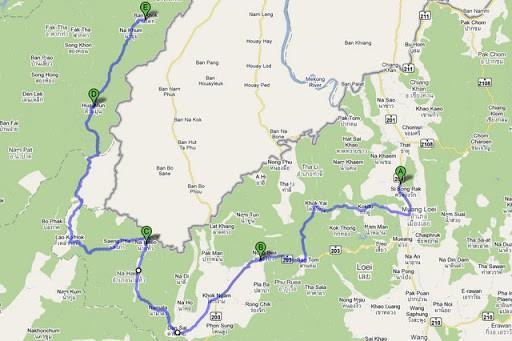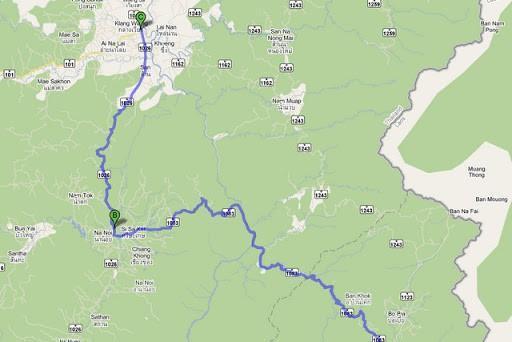 The noise of a heavy downpour woke me up at four in the morning. As my scheduled itinerary would bring me through a lot of mountains and forests I was not really cheering the bad weather. I left the hotel at 6.30 on wet roads, still enveloped in morning mist. Some rain an the legendary Loei province temperatures made the adventure very chilly and far from fun. My fingertips, pointing out of unsuitably short gloves, felt like deep frozen. When I reached the coffee shop on Phu Rua, I could hardly keep the hot cup in my hands.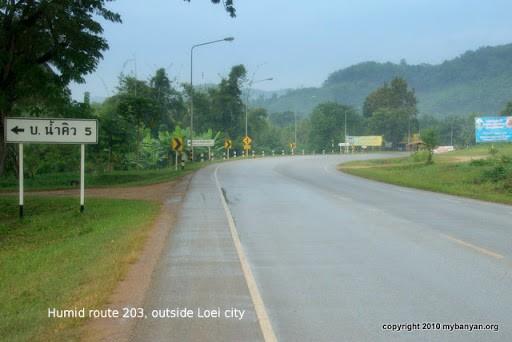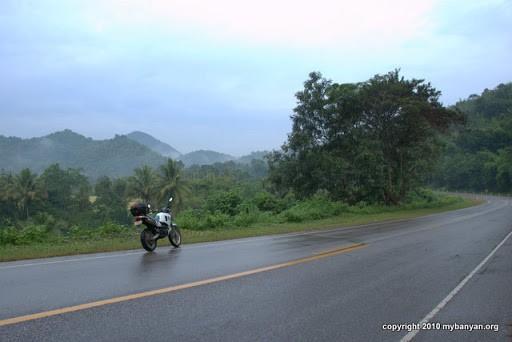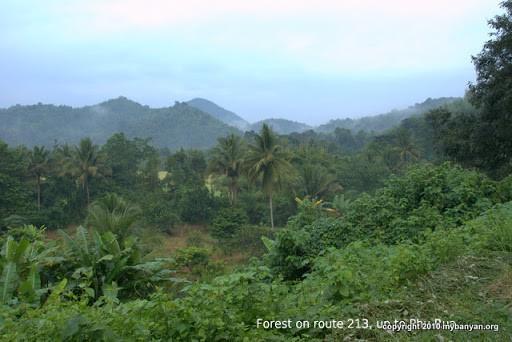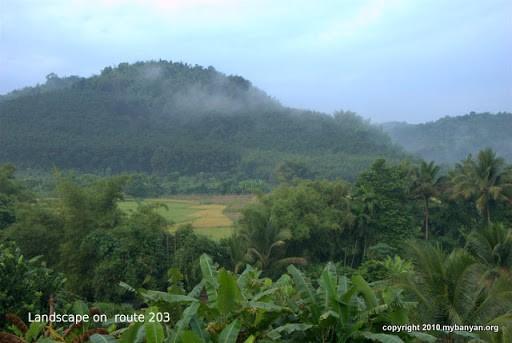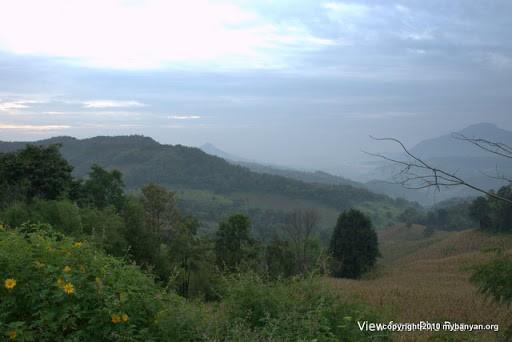 After some coffee shots and bakery stuff, I was ready to drive down to Dansai. I had spent one night and an enjoyable evening in that city, the first day of my trip. Another loop was closed.
From Dansai I went north following route 2113 toward Na Haeo. I did not stop (it's a mistake) to visit the historical "wat pho chai". In Ban Muang Phare, I turned left, on route 1268.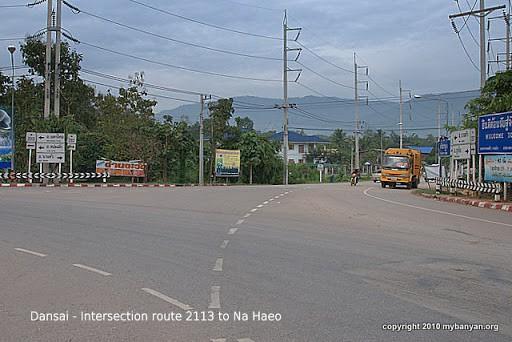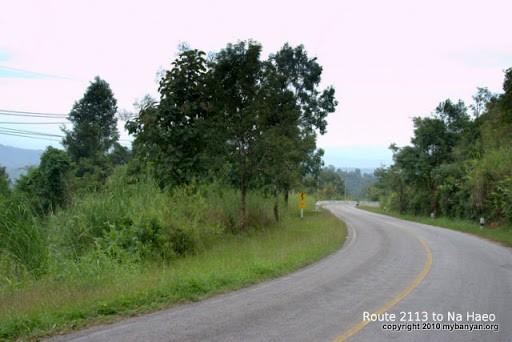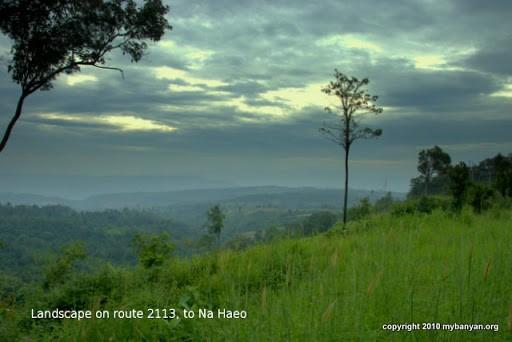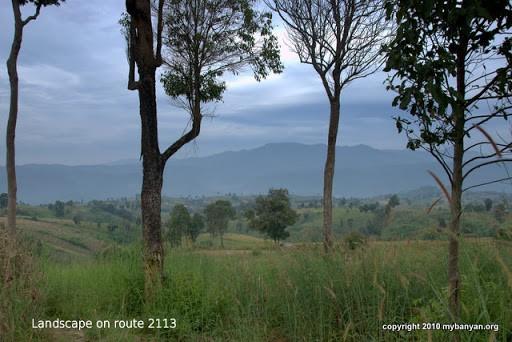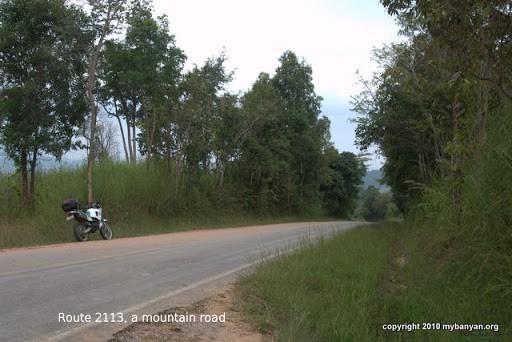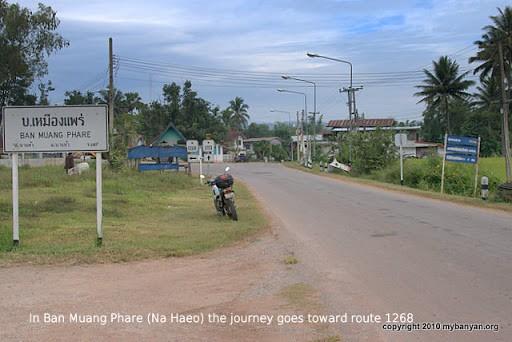 Passing Na Haeo National Park, I liked the mountain roads, but not all riders might appreciate them. Their pavements can be in irregular conditions, they are sometimes winding, sometimes steep, sometimes everything together. The day was still grey but the horizon began to light up bringing hope for some sunshine and a clearer sky.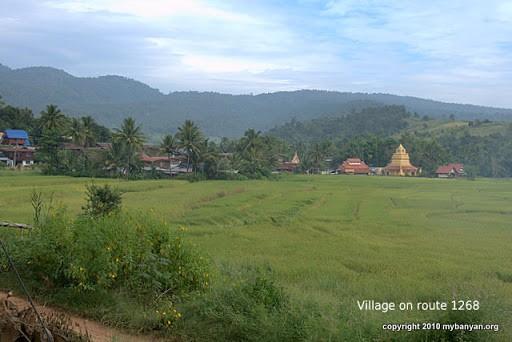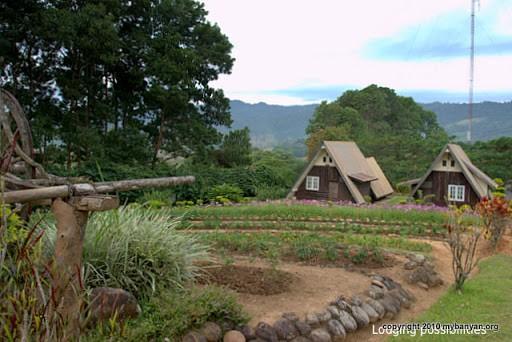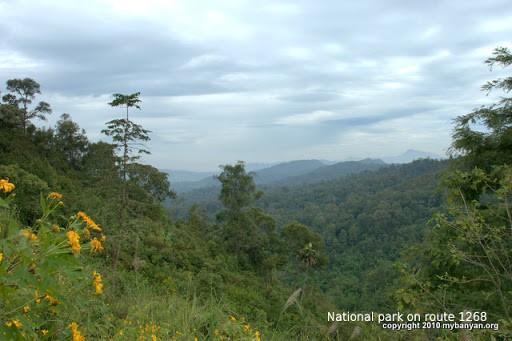 As I stopped at a road shelter, in the middle of the nowhere forest, I had the surprise to meet with a Thudong (ascetic) monk resting for a while. I was happy to have a chat with him, as these are always enriching encounters. Coming originally from a temple in Korat, he was walking to Chiangmai, through Payao.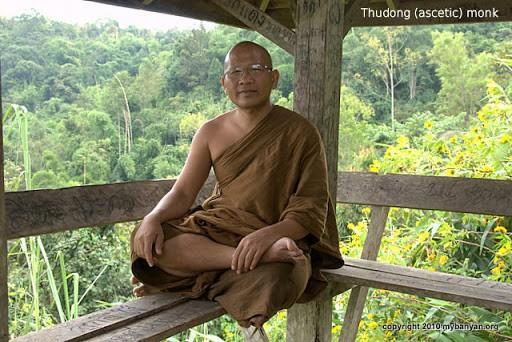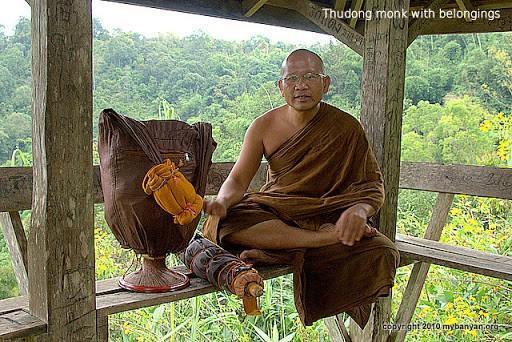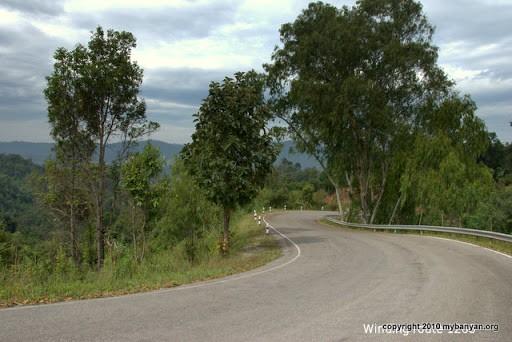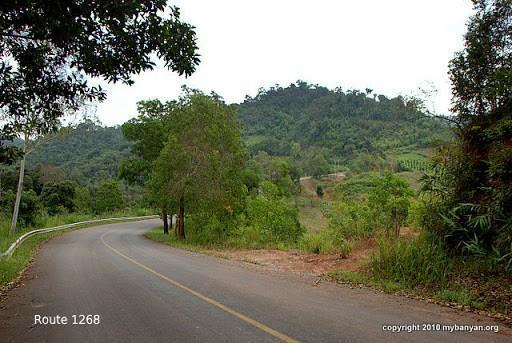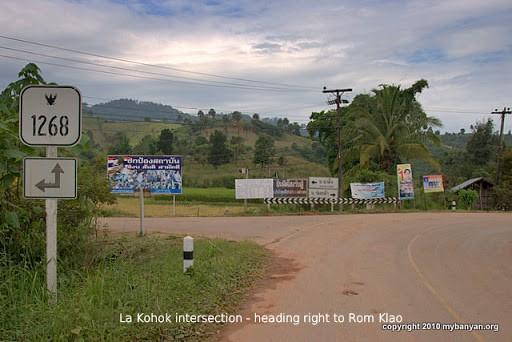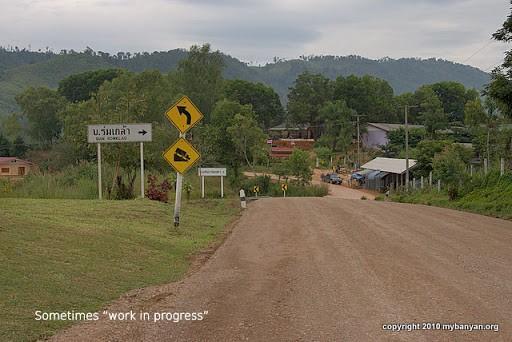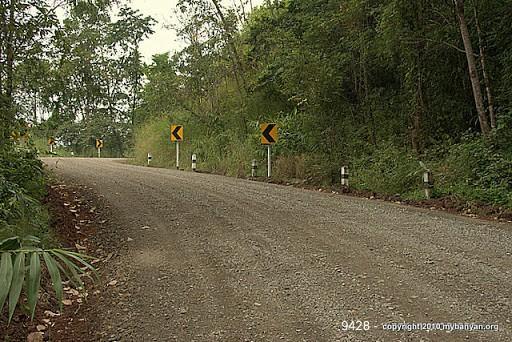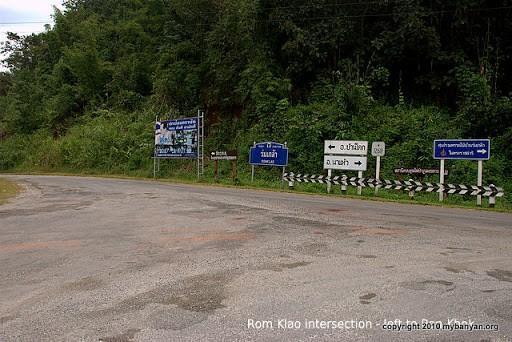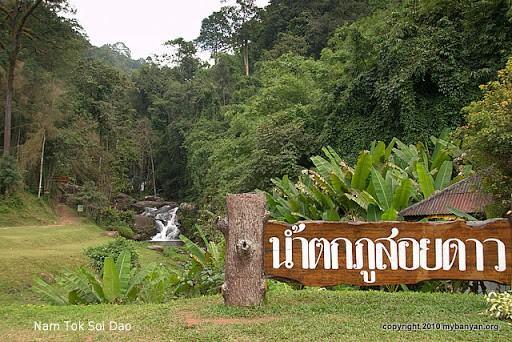 Arriving in Wat Hua Mun, I met a group of women, resting in a sala. They were on the way to harvest rice in a nearby field. It took the opportunity to go with them, to get a close up view of their work. It was not the first time that I watched this meaningful activity, but I was in a mood to jump of the saddle for a while.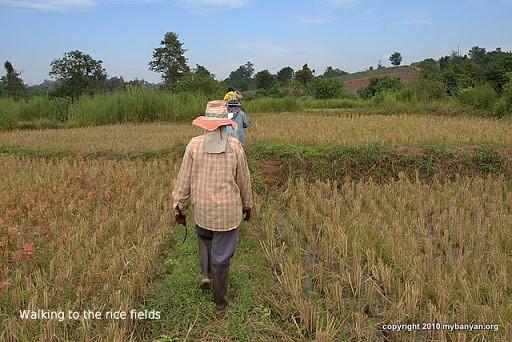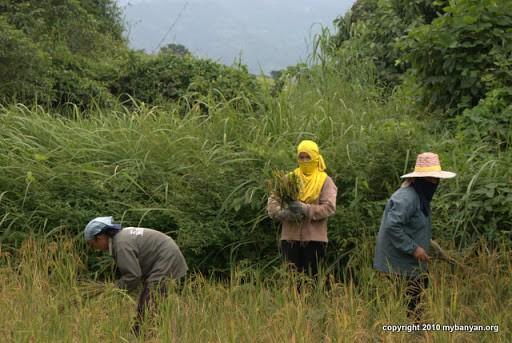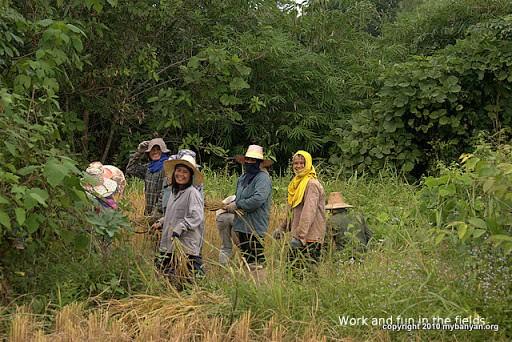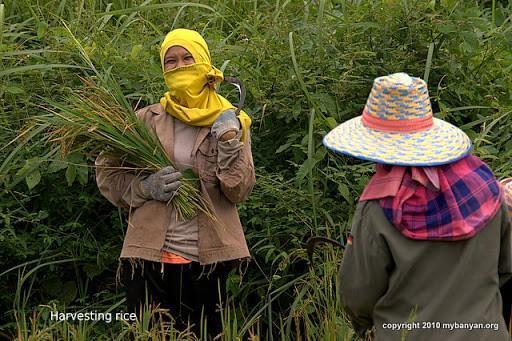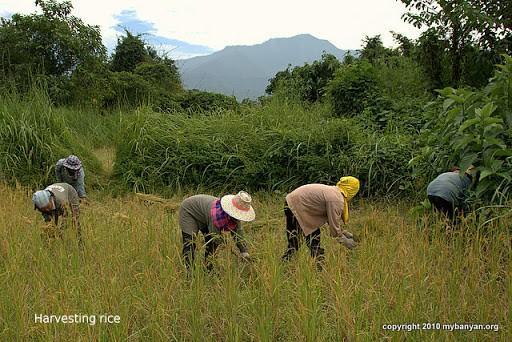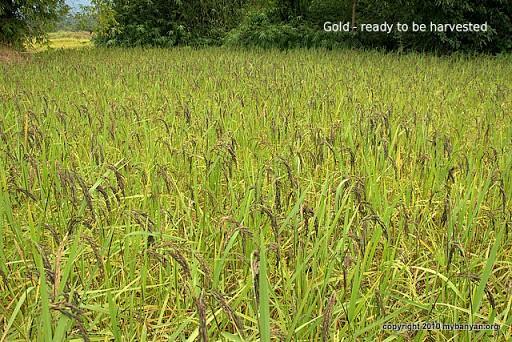 I made a note to decide about my itinerary at Wat Hua Mun. There is a possibility to drive toward Nam Pat and Uttaradit or to continue the journey, on 1268, toward Ban Khok and Phrae. Without playing the dices, and for no precise reasons, I decided to go further North, on the same route.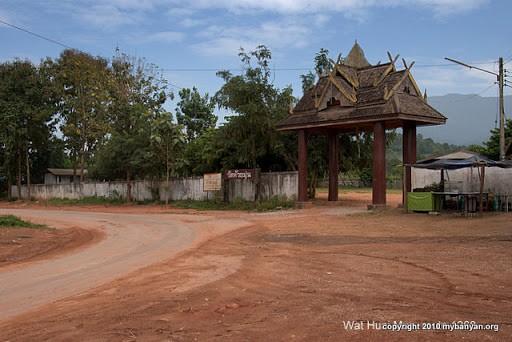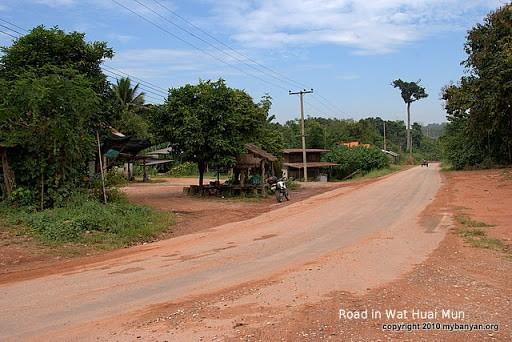 The road panel for route 1268, in Ban Khok, is confusing. There is an old and a new way, but actually it is just a short loop around the village. It was a right time for a lunch (it always is), and I stopped in a small place, remotely located in a "soi". Good food was served with good mood by nice people, as usual on Thai country roads.
After a couple of kilometres North, a bifurcation leads to route 1241 and 1083 to Na Noi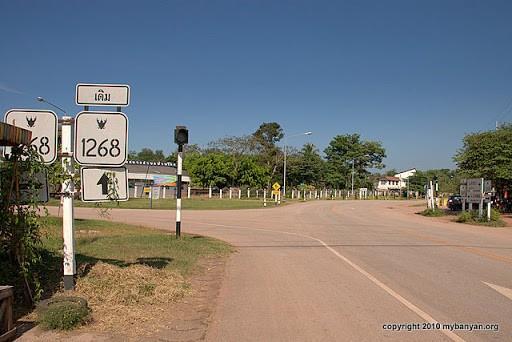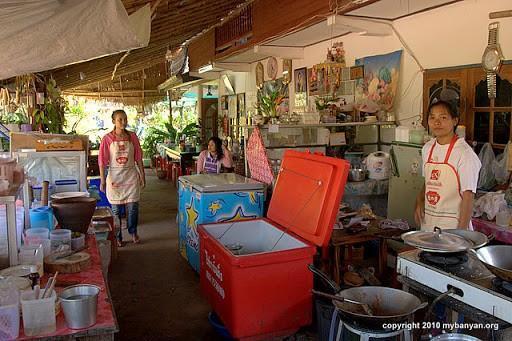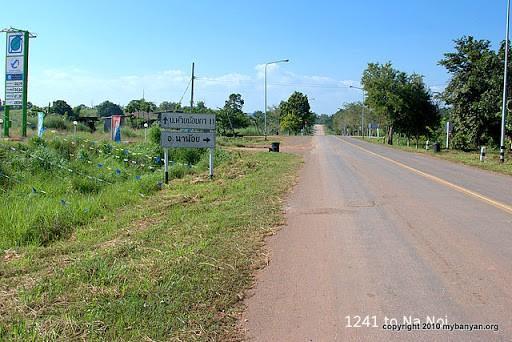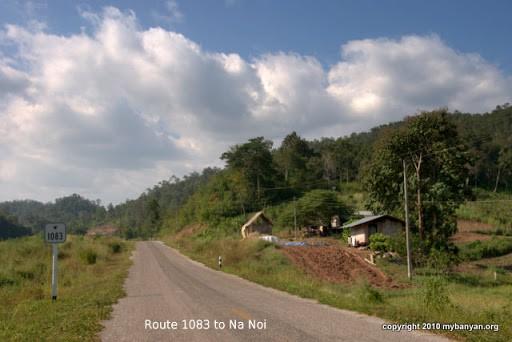 For kilometres and kilometres, on route 1083, I did not meet a single human. Cows and bullshit were everywhere. Dung often completely covered the road, making me wonder how fun a sudden break and contact with the fertilizer covered tarmac would be.
My other thoughts were for a possible bike failure. Without traffic and hand-phone signals, my daydream might become a nightmare, particularly as dusk would soon cover the mountain forest.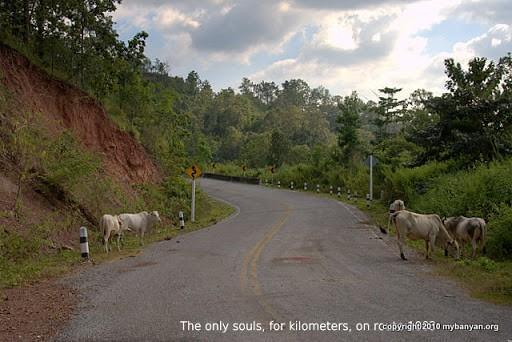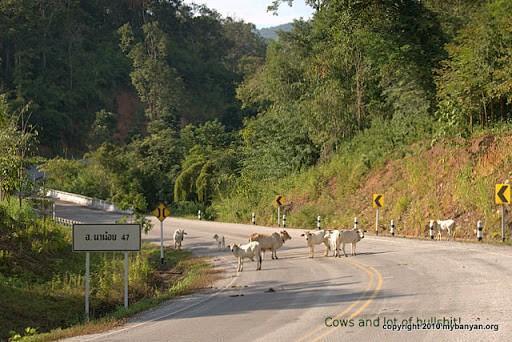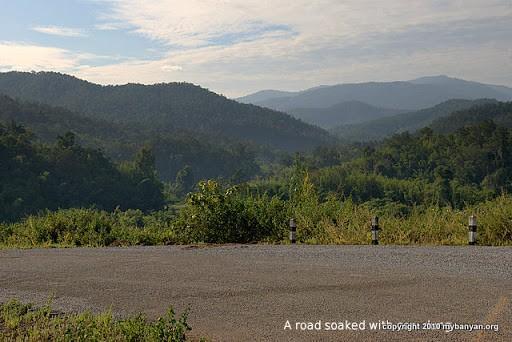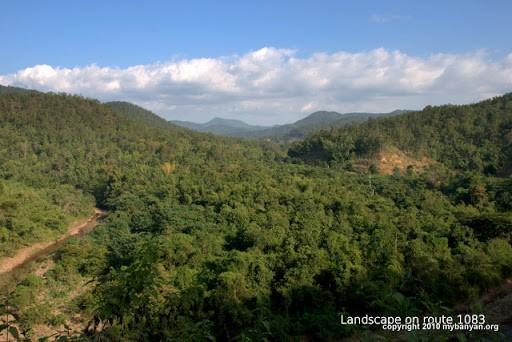 Finally I reached the bottom of the valley and crossed the majestic Nan river. This was the moment chosen by my AX1 to make my dreams come true. Her temperature was rising and green water flow down on the asphalt. My only tool being a Swiss army knife, I opened the side cover and waited in desperation. When a pick-up drove by, I asked for some water. With the usual smile and kindness of Thai folks, I got an old bottle, full of clean water. Half of it was enough to fill up the tank. With the rest in my backpack, I continued the journey toward Na Noi.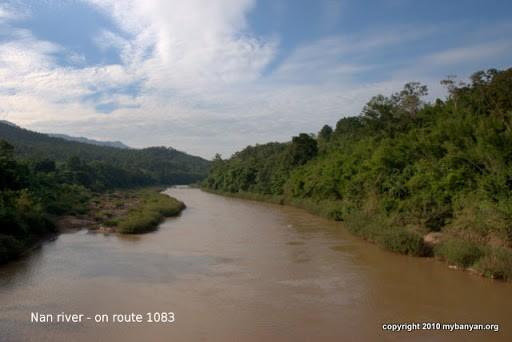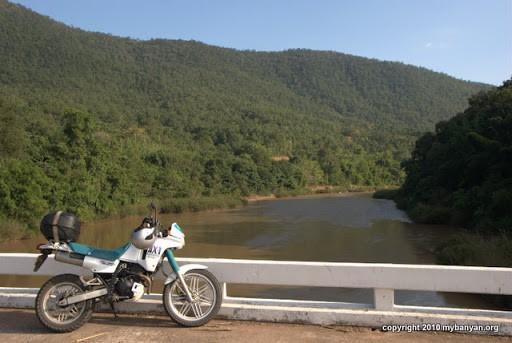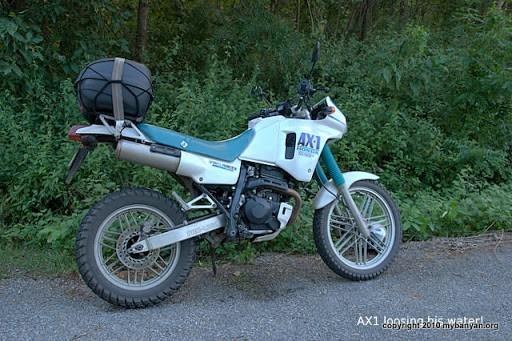 Route 1083 is climbing the mountain again and offers some fabulous glances on Nan national park.
Avoiding too many stops, I headed toward Na Noi were I found the usual village mechanic. As the water was liking through the rubber pipe, he installed a new one. It was not exactly "original" but would do the job till Chiangmai.
In between, a dark November night had fallen on the valley. Local people advised me not to drive over the mountain to Phrae (route 1216), my initial itinerary, but to head toward Wiang Sa, on route 1026. It was certainly shorter, but with just a dimmed motorcycle light, I could not really be fond of that winding forest road.
In Wiang Sa I had enough and decided to find an accommodation and to drive to Phrae the next day. The best recommendation was for a bungalow, in a gaz station, just outside the city. The attached open air "karaoke" provided the dinner and entertainment which filled my dreams, long time after I had fallen asleep.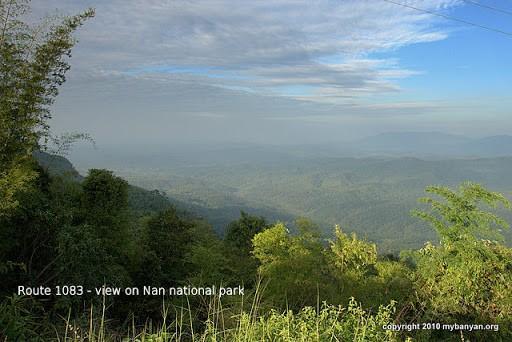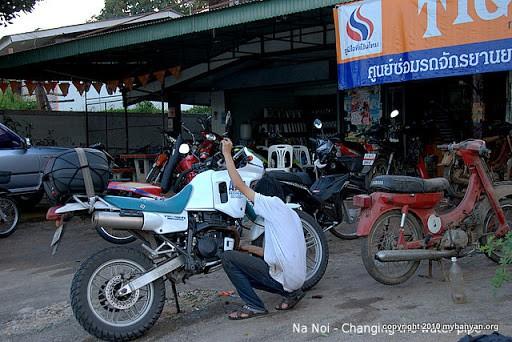 Wiang Sa - Phrae
With side trips: 162 km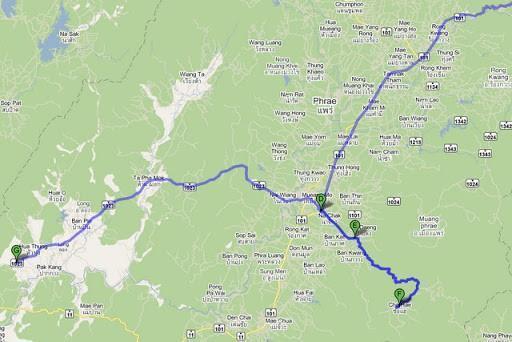 After an early departure, Phrae was just a short ride away, on route 101. It is an enjoyable drive, but it was loaded with traffic. I checked in to Bua Kao hotel, reserving the rest of the day to explore the city and his surroundings. Phrae is a very old city, with some of the characteristics of Chiangmai (walls and canals) but less developed.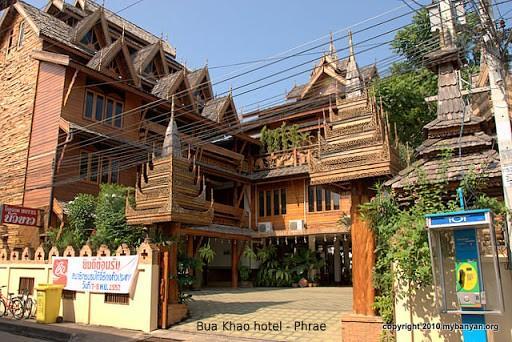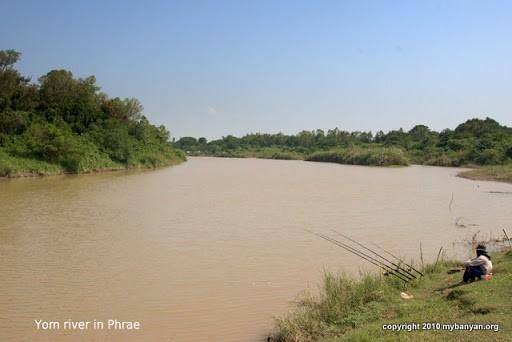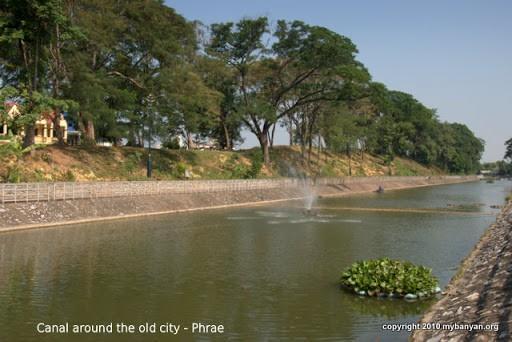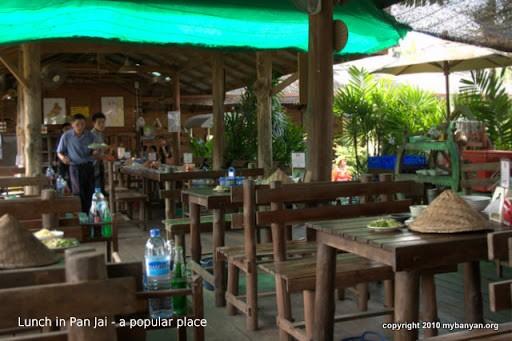 The famous temple of Wat Phra That Cho Hae, is on a hill, about 10 km South-East of Phrae, on route 1022.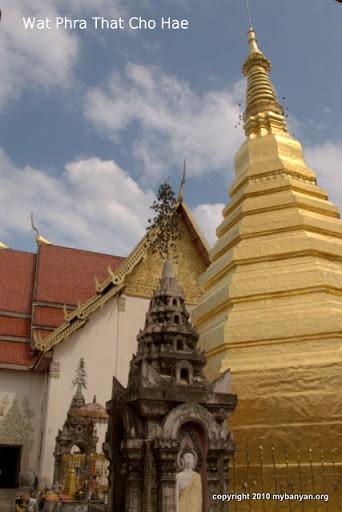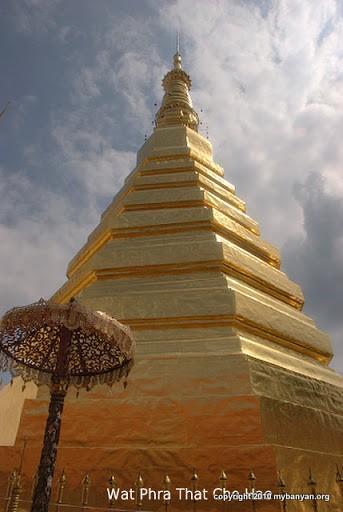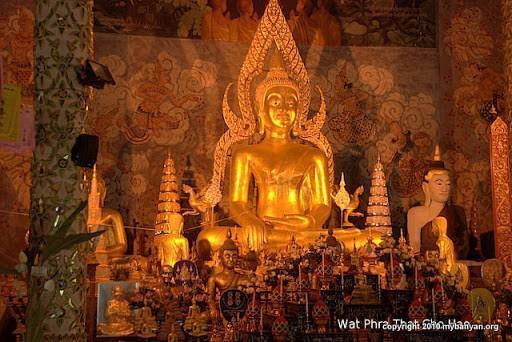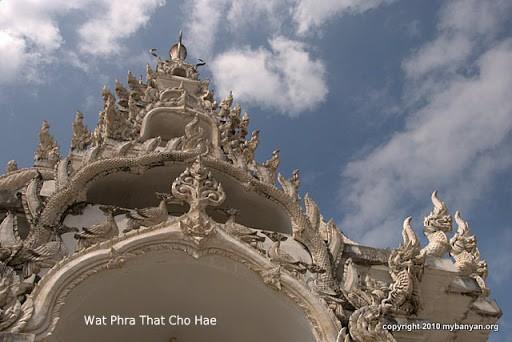 Route 1022 and 1341 climb toward A. Tha Pla and Sirikit dam. After Huai Mun waterfall the last 70 kilometres are for off-road vehicles. I had scheduled this trip but, as I arrived one day late to Phrae, I was just able to explore the firsts kilometres of the journey. On the same route, another temple, Wat Phra That Chom Chaeng, offers a panoramic view on the mountain and the valley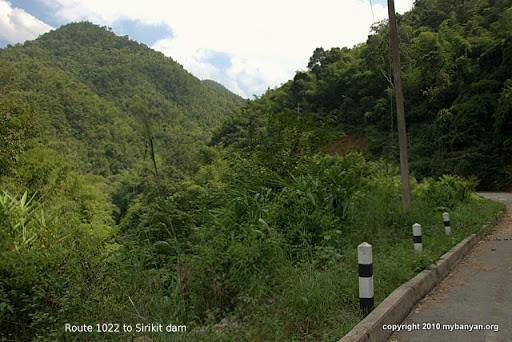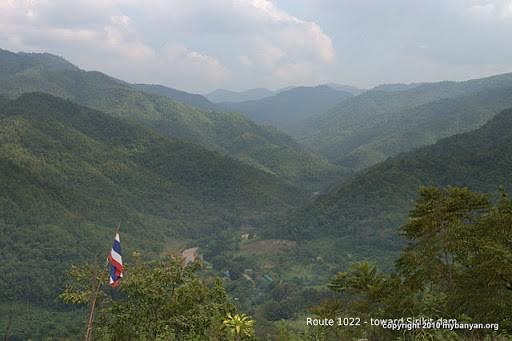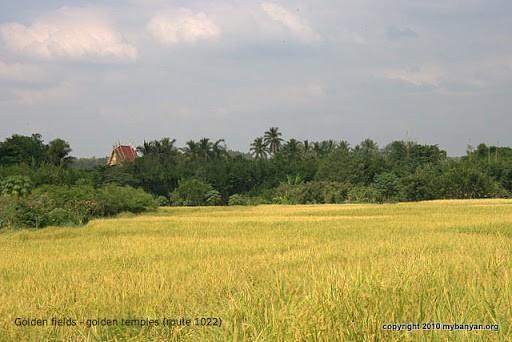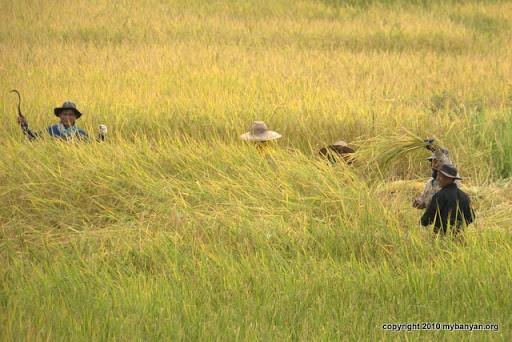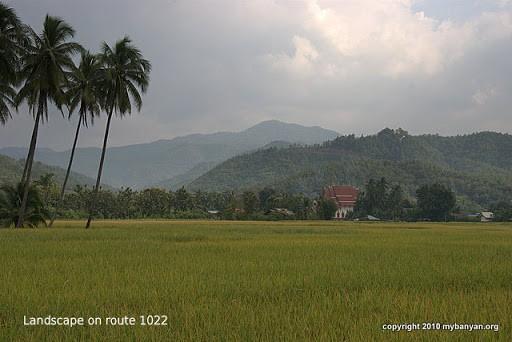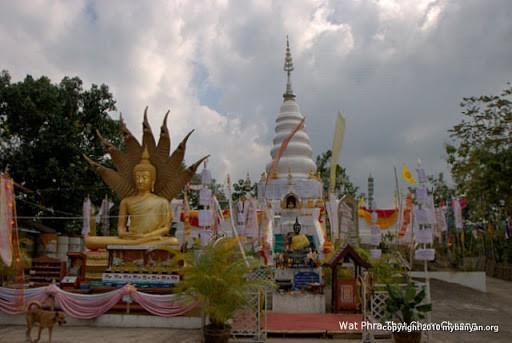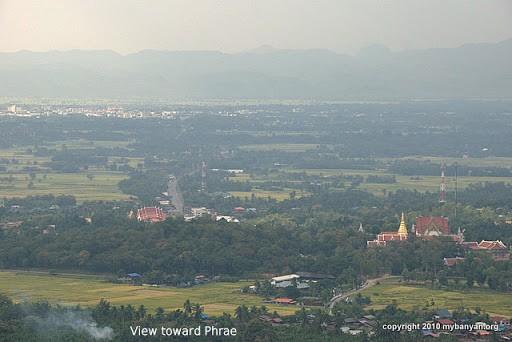 Phrae is small enough to walk around in the evening. A little market invites to stroll around and food is served in front of the Chinese shrine. I decided to have dinner in a more "established" place and went to "Kham Pan Koey" restaurant. To round-up the evening I had a couple of drinks in a typical karaoke bar.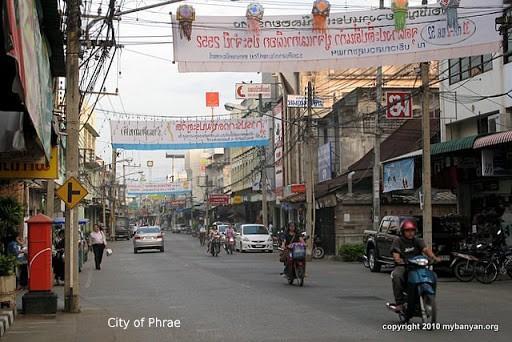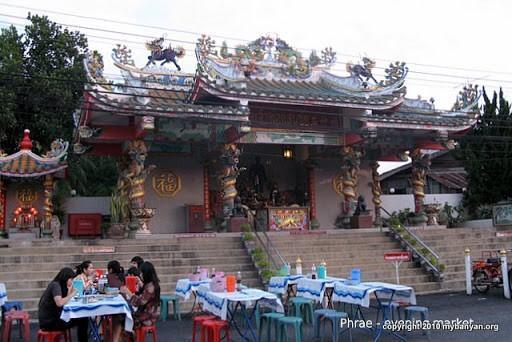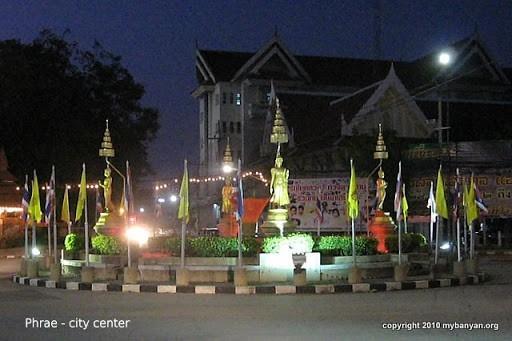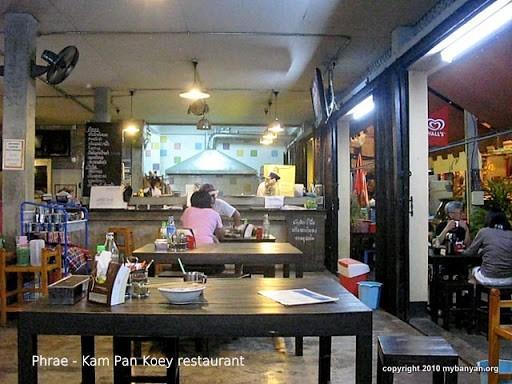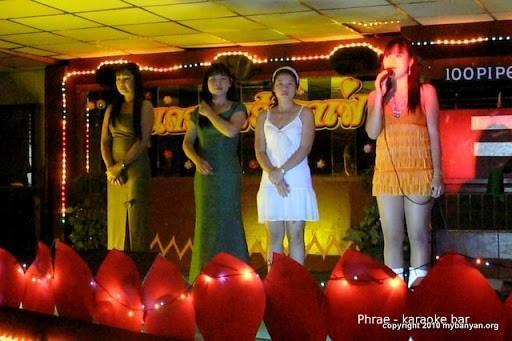 Phrae – Maerim (Chiangmai)
Trip: 234 km
At seven, and without breakfast, I was on my way for the last sector, back home to Chiangmai. On route 1023, to amphur Long, the fresh morning landscapes was nicely dressed in haze.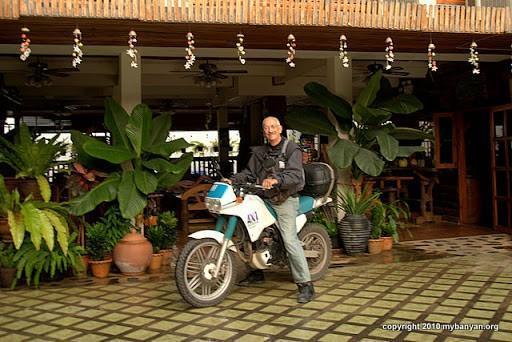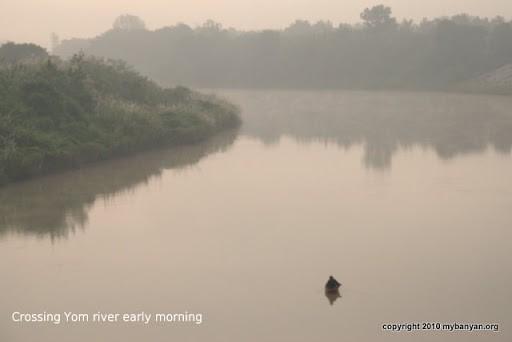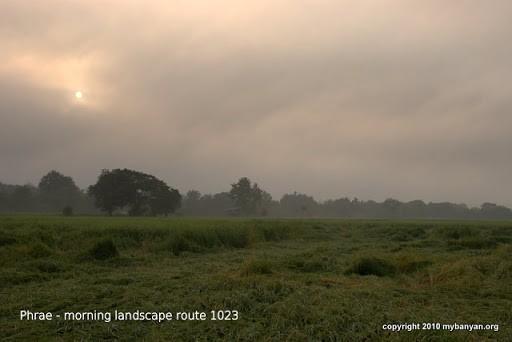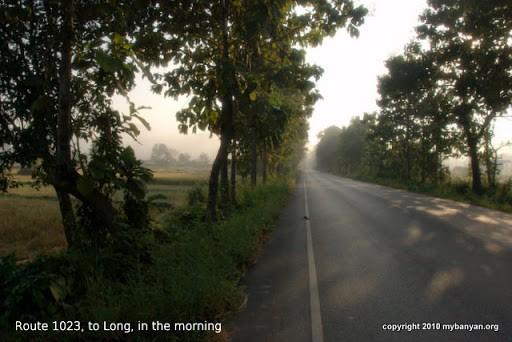 Before Ban Na Luang (on route 1023), I spotted the white shine of a large Buddha image, dominating a hill at the end of the green rice fields horizon. Deciding to have to have a closer look at it, I climbed a fancy forest road, passing several shrines.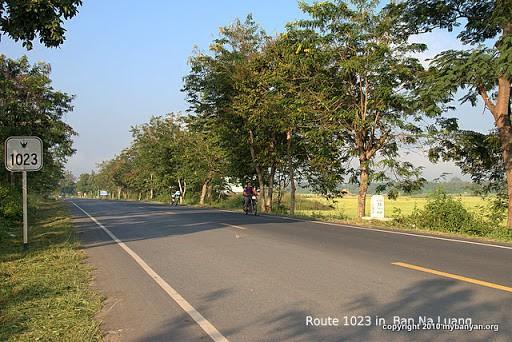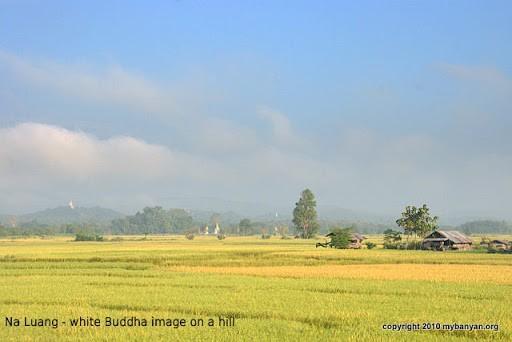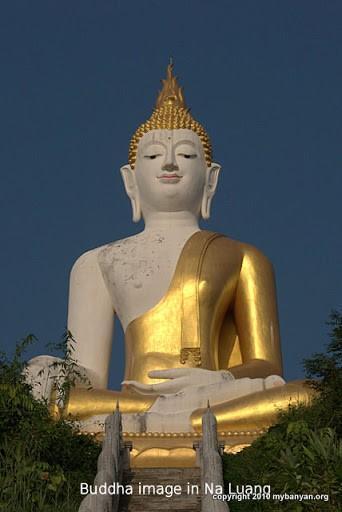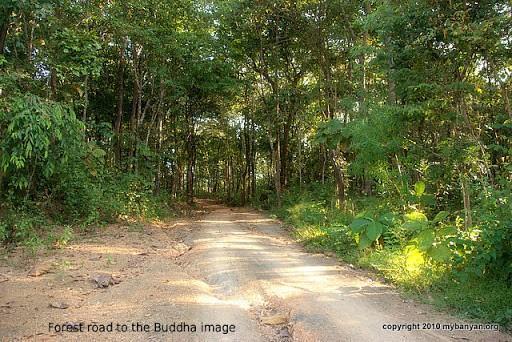 Children were assembled on the playground of Na Luang's school and I decided to pay them a visit. Teachers and kids where quite happy about the intrusion and I was heartily welcomed and bombarded with questions.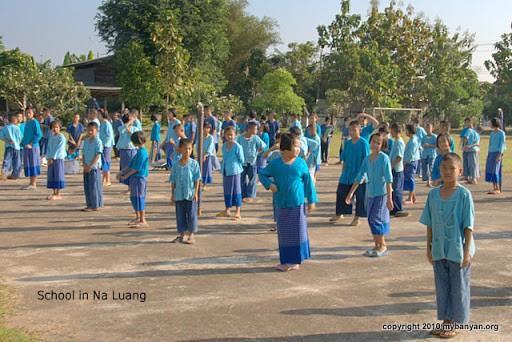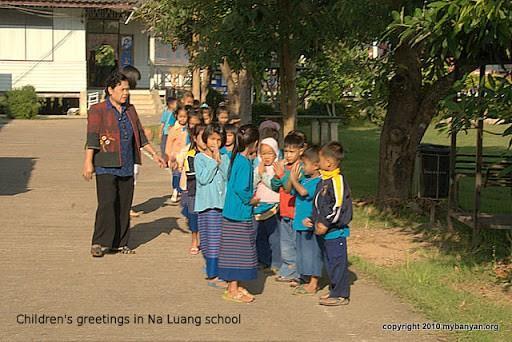 A couple of kilometres further, after Baan Mae Long, I spotted a group of walking Thudong monks. I stopped and waited for them to pass by. Suddenly, the last "Luang Po" in the row crossed the road toward me and covered me with gifts of all kind of sweet food. I was pleased but also embarrassed, as I had never experienced such a situation.
Driving up highway 11, I stopped at my usual coffee shop (Yonoke intersection in Lampang) to get some fresh brew and to enjoy the breakfast offered by a wandering monk.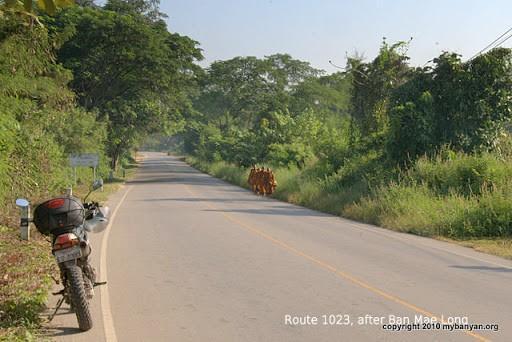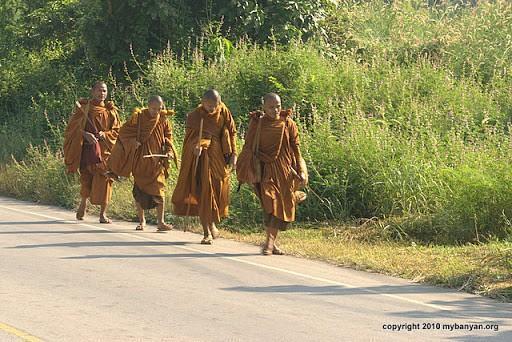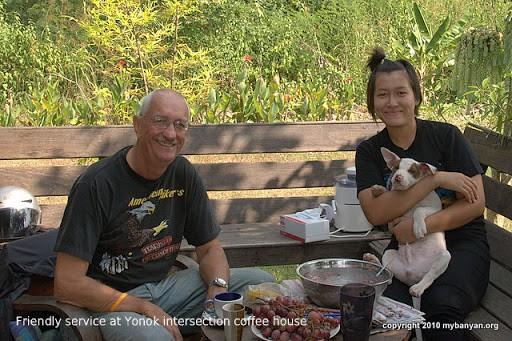 The next trip reports will be about a "Lower Isan" tour, through the Khmer heritage.